The best restaurants in Houston reflect the city's growing multiculturalism.
As the fourth largest city in the United States by population (2.3 million) and one of the country's most diverse, Houston has much to offer food fans.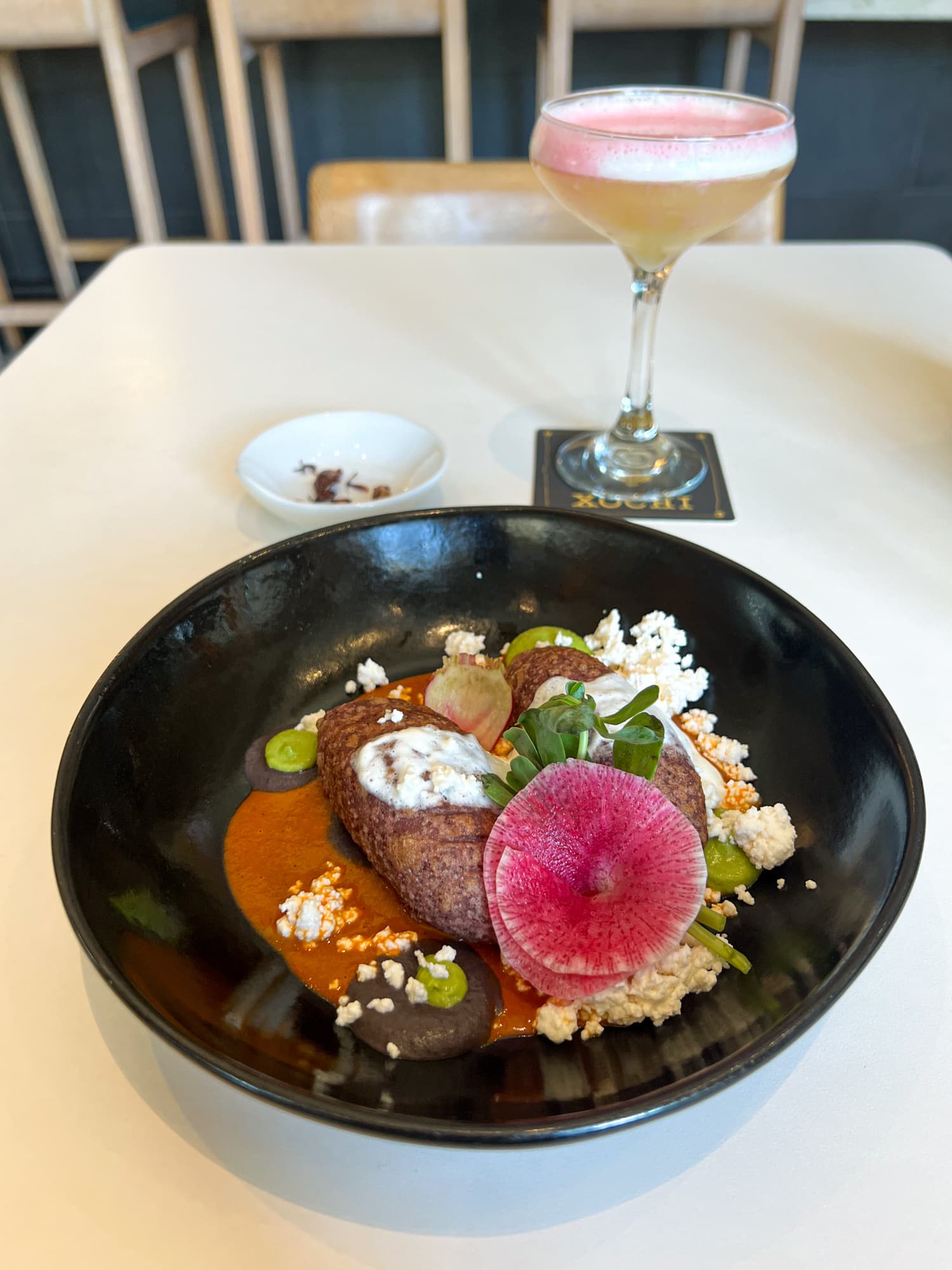 A lot of this diversification happened in my lifetime, albeit long before I moved to Texas.
During the 1970s, Houston received an influx of Vietnamese immigrants due to the war.
Today, it has the third-largest Vietnamese population in the country (after Los Angeles and San Jose, California). As a result, it's one of the best cities for authentic Vietnamese food.
And since 1980, the Hispanic population has more than doubled, from about 15% to nearly 39%.
As a result, the dining scene in the largest city in Texas is not unlike New York City or Los Angeles.
Once I picked up on this fact, getting to know the delicious food in Houston restaurants held new appeal for me. What follows are some of the best places to eat in Houston.
Top Houston Restaurants
1. Xochi
A hot spot in downtown Houston is Xochi by chef Hugo Ortega and the H Town Restaurant Group.
This popular Mexican restaurant, located on the Marriott Marquis ground floor adjacent to Discovery Green Park, specializes in Oaxacan cuisine.
Before relocating to Austin, I spent two months living in Oaxaca, a city and region in Southwestern Mexico known for mole and mezcal.
On Saturdays, Xochi serves brunch from 11:30 a.m. to 3 p.m. I saw this as an opportune time to sample the menu.
Brunch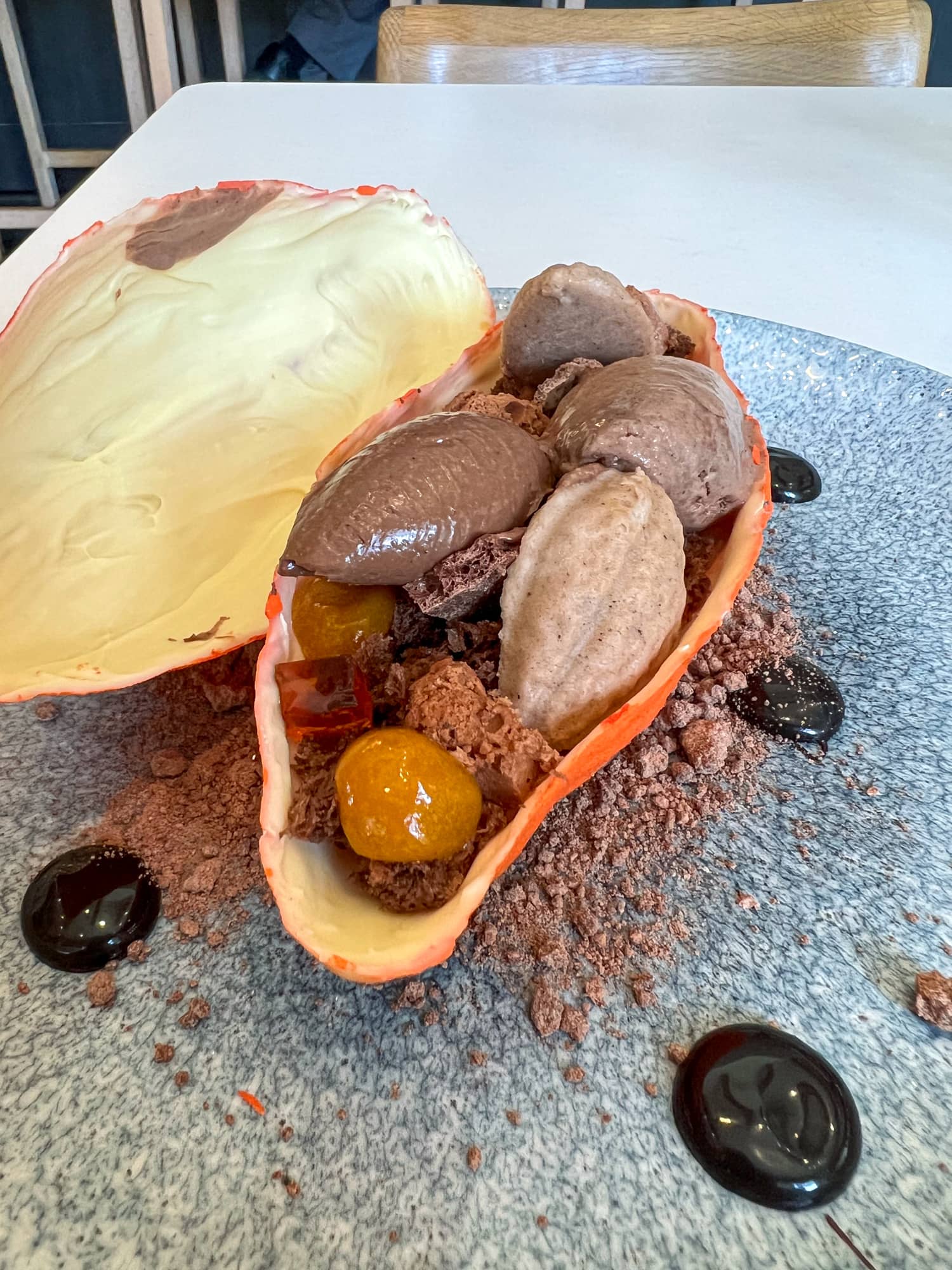 I began with a mouthwatering Spiced Pluma cocktail with tequila and hibiscus-salted margarita foam from the attractive bar before digging into Molotes de Xoxocotlan — masa cakes with potato, chorizo, avocado, chile de onza, crema, and queso fresco.
A crispy grasshopper was served alongside the masa, and I had no qualms about sprinkling it on top. I'd previously eaten chapulines in Oaxaca.
My entree, Memela y Huevos, featured a masa pancake with roasted chicken, mole negro, and two eggs. It was another heavy but oh-so-delectable dish!
The dessert menu is split, with chocolate options to the left and others like Horchata Mousse Cake to the right.
I chose the Cacao, which comprises various "chocolate textures," including tejate foam, milk chocolate cloud, and chocolate criollo soil.
It's served in a cacao pod, which reminded me of a similar dessert I'd enjoyed at Maido, one of my favorite restaurants in Lima.
Rubin Ortega, brother of owner Hugo Ortega, was a 2022 James Beard Award semifinalist for Outstanding Pastry Chef.
1777 Walker St, Houston, TX, xochihouston.com
2. BCN Taste & Tradition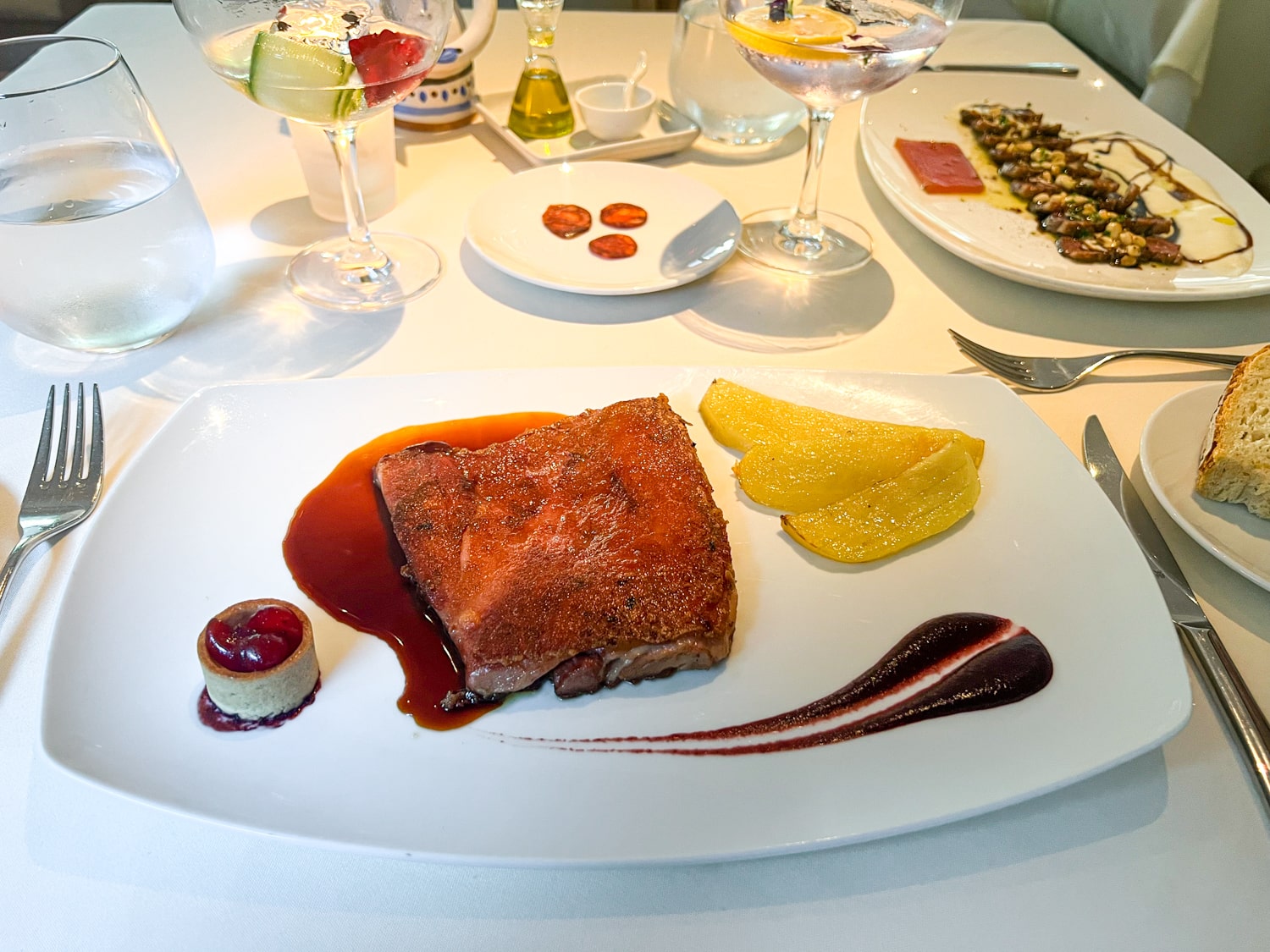 Let's leave North America for a moment to take in the flavors of Catalonia at BCN Taste & Tradition in Houston's Montrose neighborhood.
I've had the fortune to visit this region of Spain, including Barcelona and Costa Brava, several times.
It's home to a longstanding culinary tradition and two restaurants previously named the best in the world (El Bulli and El Celler de Can Roca).
Chef Luis Roger hails from Barcelona and counts a post-graduate internship working for famed chef Ferran Adria at El Bulli as a life-changing experience.
In Spain, Barcelona-born Ignacio Torres, a businessman based in Houston, met chef Roger and began talking about opening restaurants.
Dinner
Your European fine dining experience at BCN Taste & Tradition begins when you walk into the renovated 1920s bungalow.
Original works by Spanish artists, including Pablo Picasso, Dali, and Miro, adorn the walls. A gin and tonic menu features ten options to wet your palate.
My meal at one of the best restaurants in Houston began with chilled melon soup before the main event, Suckling Iberico Pig "a la Segoviana" with cherry and cardamom. It's a stellar preparation and one of the best dishes I've eaten in 2022.
I enjoyed a light rum-soaked brioche with coffee mousse and vanilla ice cream for dessert.
If the Michelin Guide operated in Texas, BCN Taste & Tradition deserves a star. Given the excellent service, it's well suited for special occasions.
4210 Roseland St, Houston, TX, bcnhouston.com
Art Alert: Give yourself 60-90 minutes before dinner to visit the nearby Rothko Chapel and Menil Collection; both are free.
3. Theodore Rex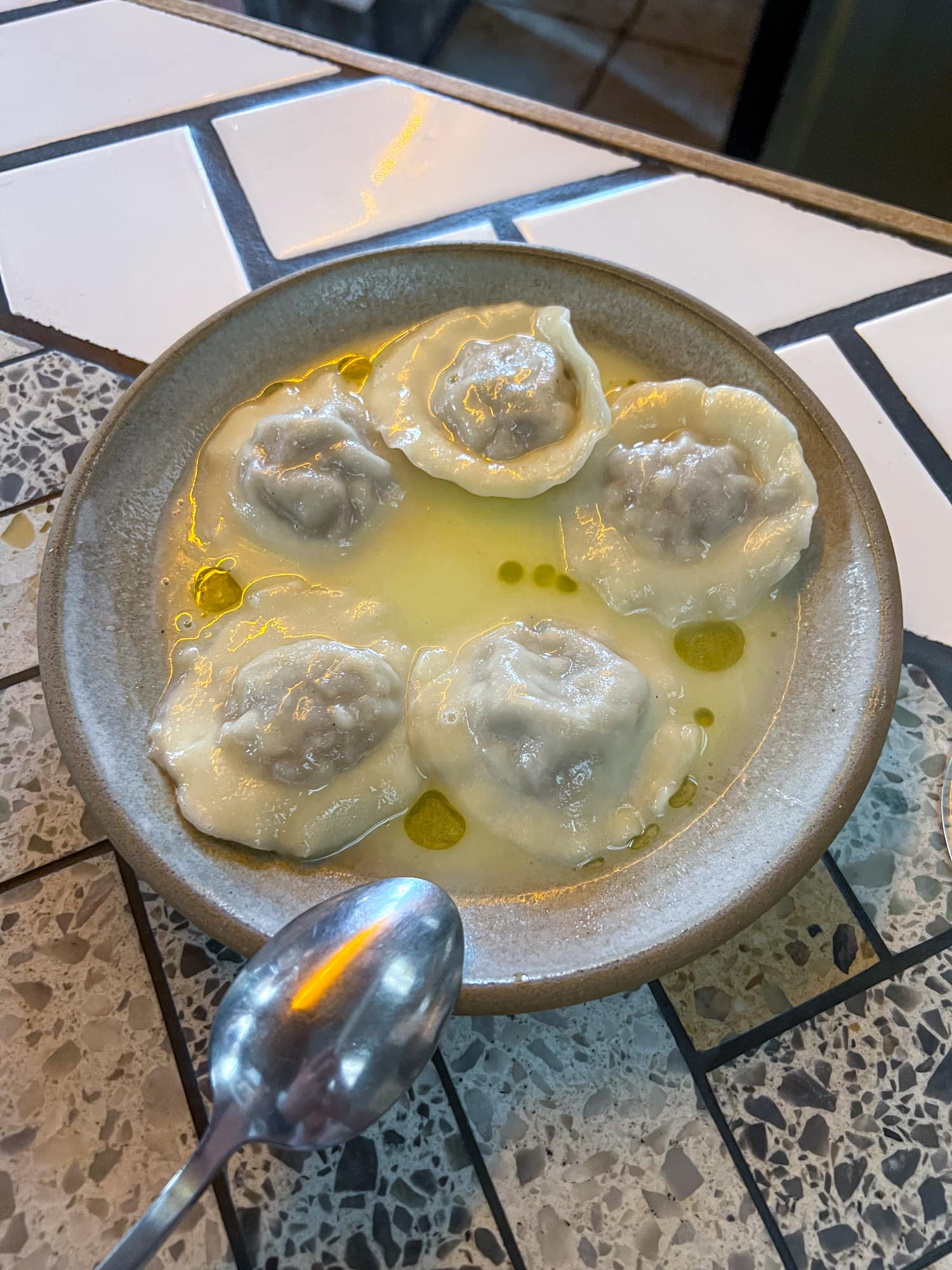 It was a dinosaur-themed day when Kel and I dropped by Theodore Rex for a date night following an afternoon at the Houston Museum of Natural Science.
Located in Houston's Warehouse District and billing itself as "relaxed fine dining with a French touch," Theodore Rex offers a seasonal menu of shareable plates and an extensive wine list.
Chef-owner Justin Yu's dining room is small and rustic, with exposed red brick walls and a wood ceiling.
There's a tiny open kitchen, which we viewed up close as the only reservation I could get was counter seating.
For dinner, we ordered:
Crepe of mung beans with alpine cheese, onions, and lavender
Boiled dumplings with grass-fed beef, Parmigiano-Reggiano, and ricotta
Chicken breast glazed in coconut with anchovy-garlic-chili-ginger sauce
Sunchoke and chocolate chunk ice cream with honey and chocolate mint
Warm blueberry butter cake with cold cream
The dumplings (pictured above) were our favorite because of the buttery sauce.
Theodore Rex is a non-tipping restaurant and instead adds a 22% service fee to all bills to benefit their staff.
1302 Nance St, Unit A, Houston, TX, trexhouston.com
4. Kata Robata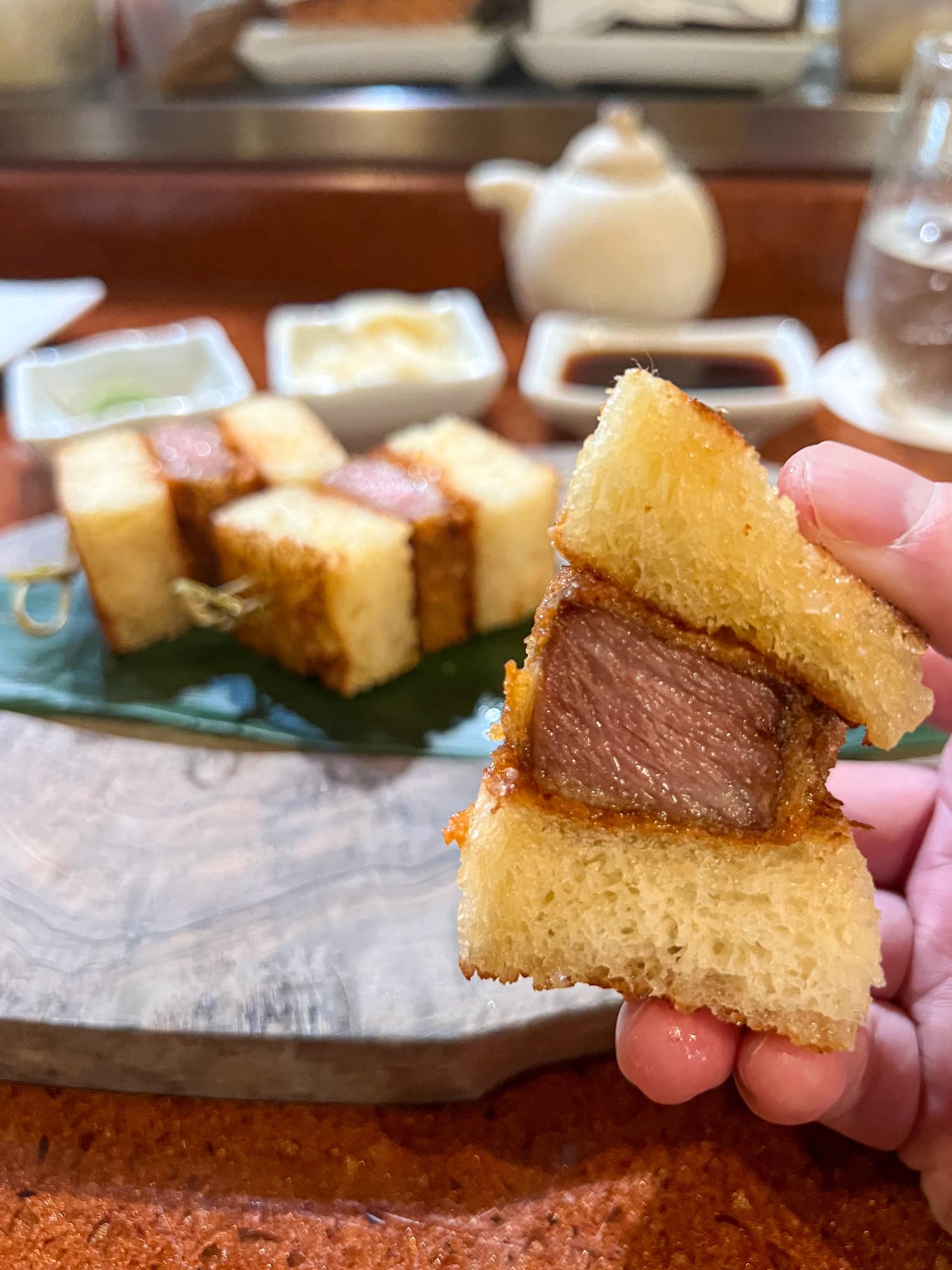 Japanese-born chef and four-time James Beard Award semifinalist Manabu Horiuchi has delighted sushi fans in Houston since 2009.
Chef Hori's credentials include graduating from the prestigious Tsuji Culinary Institute of Japan and certification in preparing fugu (blowfish).
At his restaurant in the Upper Kirby neighborhood, you'll find a casual setting for fresh sushi and sashimi served with premium ingredients.
I arrived for the first time a few minutes after opening at 11:40 a.m. on a Monday to find the Kata Robata already filling up. I sat at the sushi counter; my taste buds were primed and ready.
Salmon, quail egg, and black truffle comprised a bite of warm luxury. Japanese amberjack sashimi comes with a generous portion of melt-in-your-mouth foie gras.
Beyond the imported seafood from Japan, often featured in daily specials, there's the robata, a traditional cooking technique using hot charcoal.
Try the Texas Wagyu katsu sando with Japanese-style milk bread. Chicken skewers are prepared in three ways: spicy mentaiko, Osaka-style, and teriyaki.
The Chef's Premium Omakase experience is available for lunch or dinner.
3600 Kirby Dr, Suite H, Houston, TX, katarobata.com
Related: Best Sushi in Austin
5. Truth BBQ
Pitmaster Leonard Botello IV went from selling three briskets a day in 2015 from a shack in rural Brenham, Texas, to being rated the third-best BBQ joint in the state by Texas Monthly in 2021.
Long lines at Truth BBQ in Houston, his second location, soon followed.
The fatty brisket here is on par with Franklin Barbecue in Austin and, therefore, worth the wait (which, thankfully, is not as long as Franklin's). Truth BBQ is also known for its housemade sausage.
Savory sides include corn pudding, mac 'n cheese, and tater tot casserole, and for veggie lovers, there are green beans and Brussels sprouts.
Botello's mom, Janel, and head baker, Laquita Wilkins, bake the cakes. The enormous slices can be bought without waiting in the BBQ line.
110 S Heights Blvd, Houston, TX, truthbbq.com
Related: Best BBQ in Austin
6. Pondicheri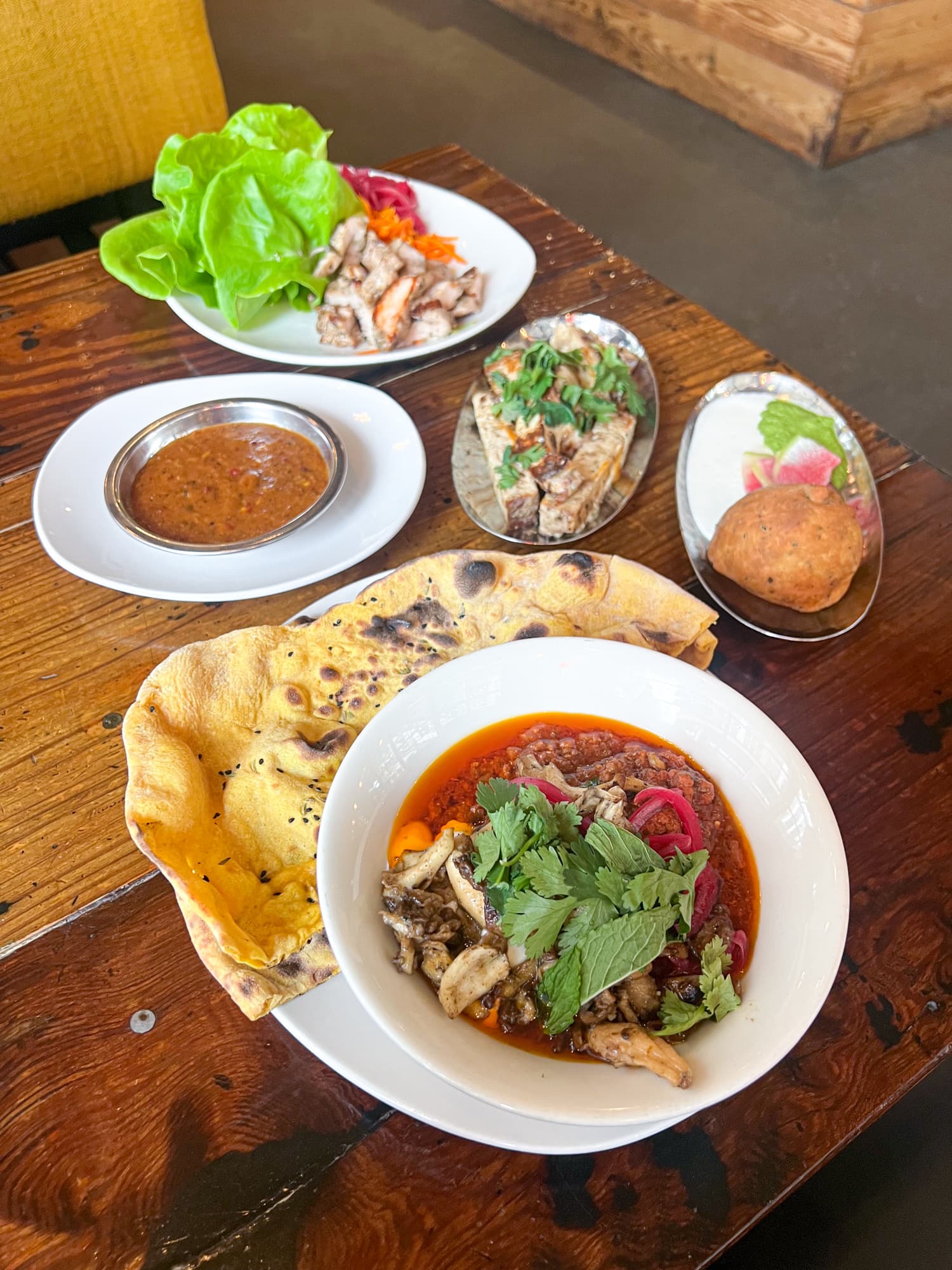 Indian food lovers will find much to appreciate about chef Anita Jaisinghani's second Houston restaurant, Pondicheri.
The full menu features modern takes on traditional dishes, from Punjab's butter chicken to Mumbai street food and Goa pork.
I savored a bowl of lamb keema, minced lamb meat in a tomato cardamom yogurt masala with wild mushrooms and naan.
Meatless Mondays encourage the exploration of Pondicheri's vegetarian and vegan offerings.
The industrial interior felt a little cold on a rainy autumn day; however, it wasn't hard to imagine a restaurant and patio full of happy diners on a sunnier one.
The contents of the pastry counter, by the cashier where you place your order, are unmissable. Ginger cloud, chocolate chili, and lavender cookies are a few sweet treats available.
Head upstairs to the second-floor Bake Lab for a complete selection of cookies, cakes, and confections to enjoy with chai tea.
2800 Kirby Dr, B132, Houston, TX, pondicheri.com
7. Ninfa's on Navigation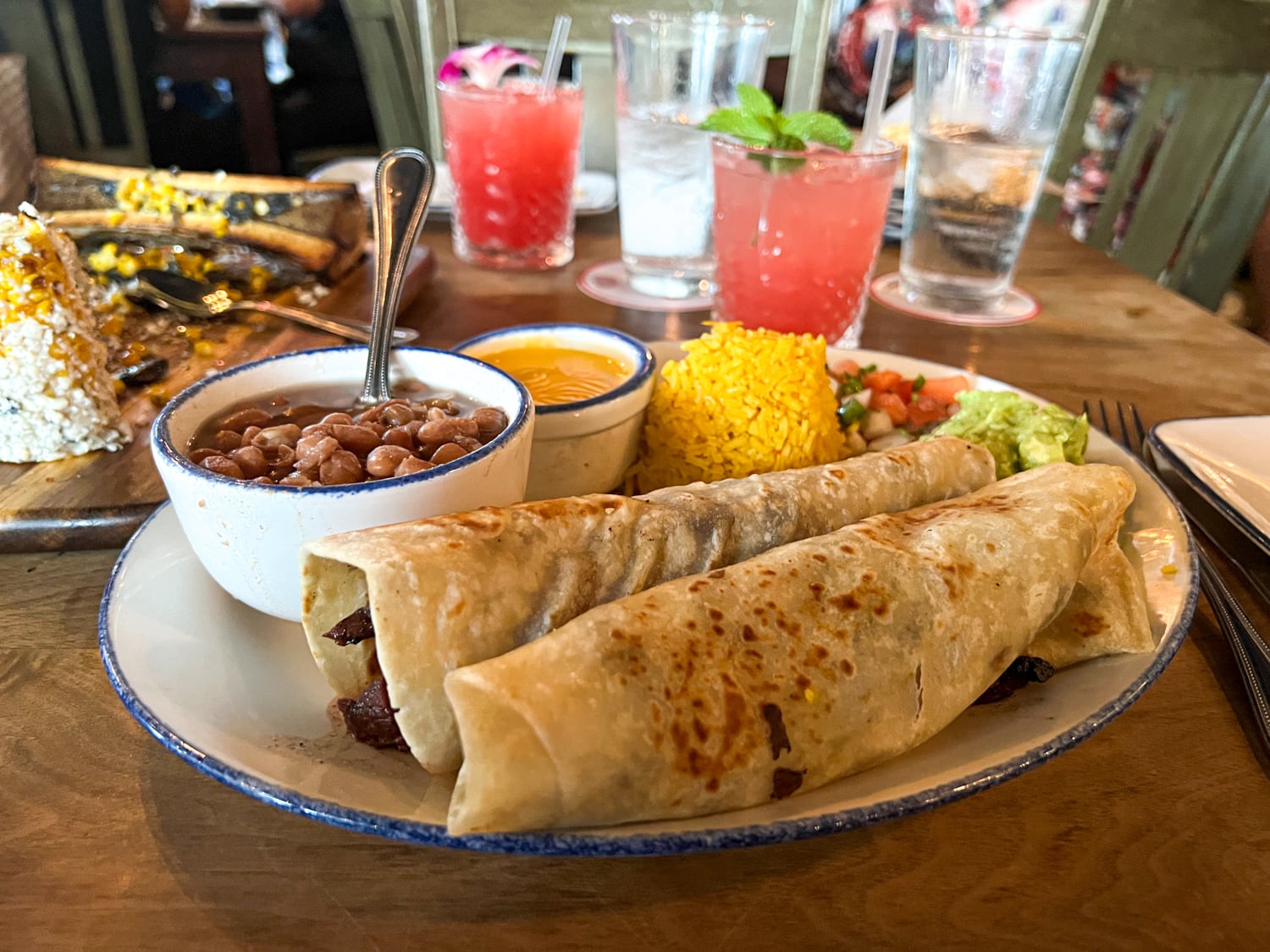 The Original Ninfa's on Navigation Boulevard is known for its beef fajitas.
In 1973, "Mama" Ninfa Laurenzo began serving grilled skirt steak in handmade flour tortillas at this location, helping to popularize the dish in Houston.
The Original Ninfa's was bought by Legacy Restaurants in 2005, and together with executive chef Alex Padilla, they've built on Mama's recipes.
Margaritas and Tex-Mex are on the menu here. On my first visit, I was impressed by the Elote Loco — Mexican street corn on the cob, with Huitlacoche aioli, cotija cheese, and bone marrow on the side.
The generously sized pieces of chargrilled sliced steak stuffed in each fajita are also noteworthy. If you have room for dessert, try the tres leches cake.
Ninfa's lives up to its reputation as a preeminent place for Tex-Mex and one of the best restaurants in Houston.
2704 Navigation Blvd, Houston, TX, ninfas.com
8. Xin Chao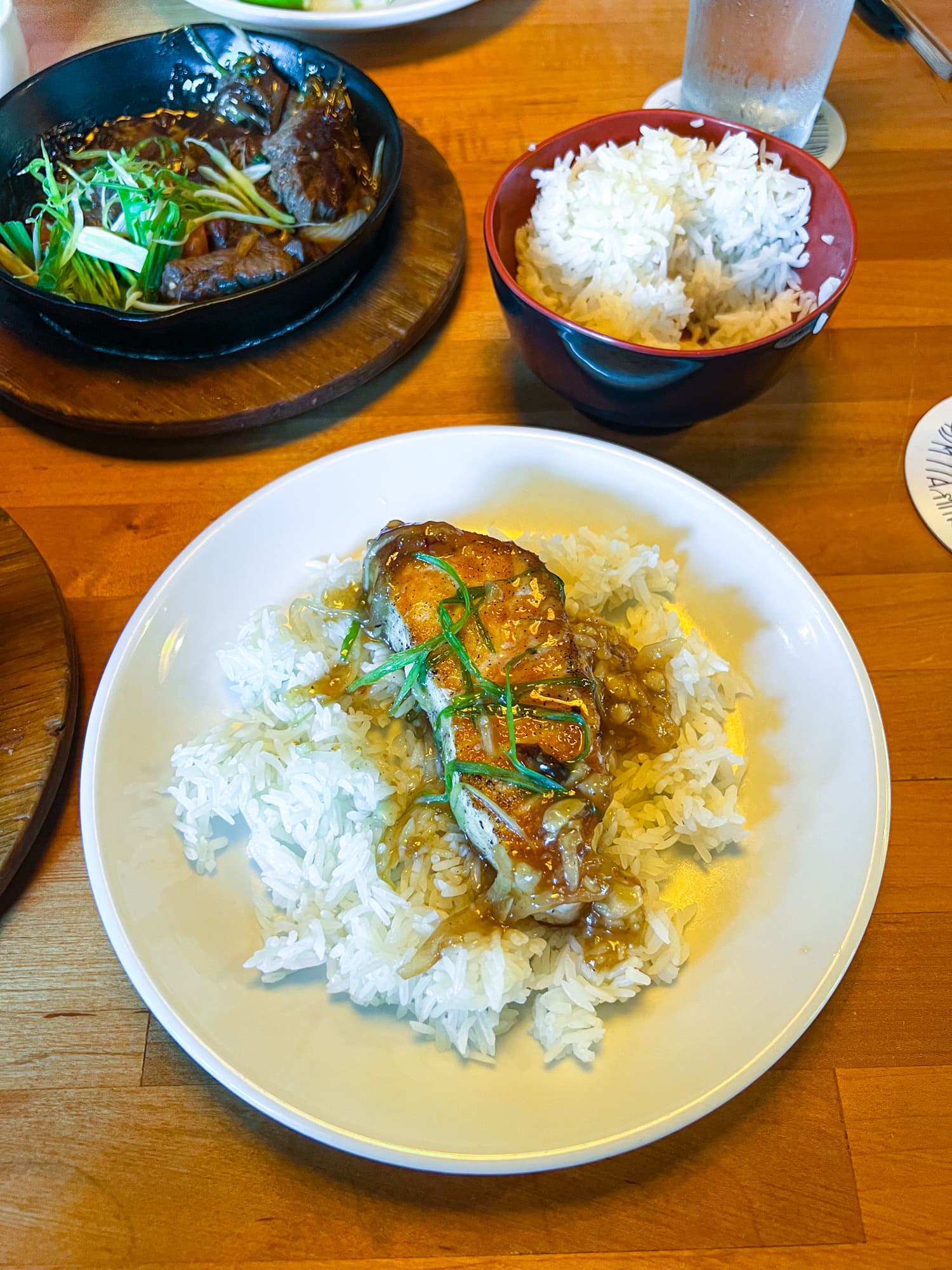 One of the best new restaurants to open in recent years is Xin Chao (which translates as "hi" in Vietnamese).
Vietnamese-American co-executive chefs Christine Ha and Tony J. Nguyen had previously opened restaurants individually in Houston before joining forces.
Ha had The Blind Goat in Bravery Chef Hall, and Nguyen was a partner at Saigon House. Together at Xin Chao, they were 2022 James Beard Award finalists for Best Chef — Texas.
Ten years earlier, chef Ha had been a contestant on MasterChef with Gordon Ramsay, and several items on the menu today are riffs on dishes from her experience.
I got the Caramelized Salmon with Rice, a version of another dish she cooked for her MasterChef audition, and the sauce was fabulous.
Additional mains on the lunch menu include Texas BBQ Fried Rice, Lemongrass Pork with Vermicelli, and a six-ounce American Wagyu Smashburger. All are from $14 to $17.
The Rubbish Apple Pie a la Mode is another dish that impressed Gordon Ramsay.
The menu indicates chef Ha has tweaked her recipe using star anise, ginger, lemongrass, vanilla ice cream, and fish sauce caramel. It's a one-of-a-kind dessert you won't want to miss.
2310 Decatur St, Houston, TX, xinchaohtx.com
9. Navy Blue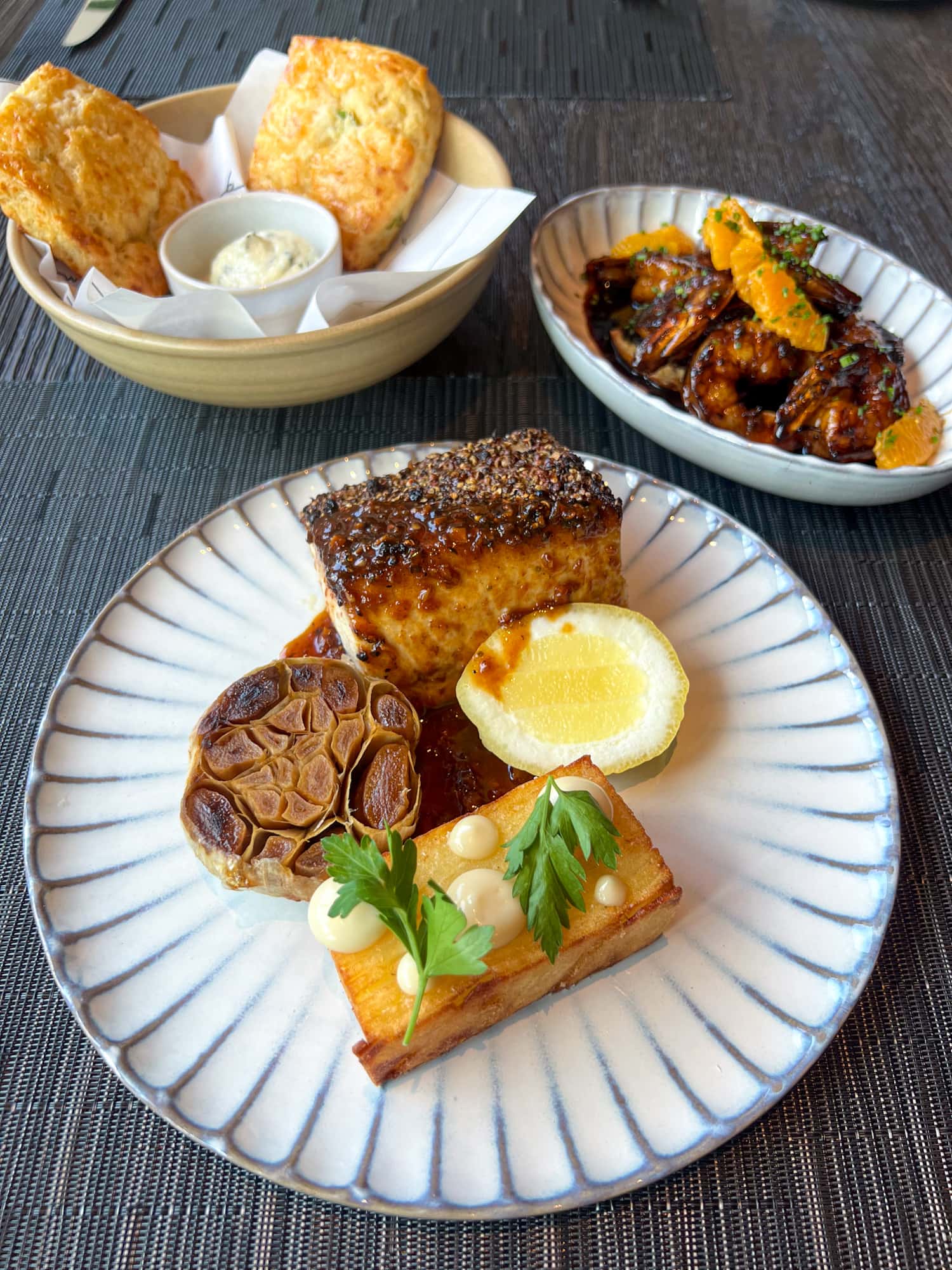 After recruiting top culinary talent from New York City, chef Aaron Bludorn opened Navy Blue, his second Houston restaurant, in November 2022.
Bludorn's modern American seafood restaurant is in Rice Village at the western edge of Rice University's campus.
The space, previously home to a food hall, has been stylishly redesigned. It now features white oak, navy blue banquette seating, a marble bar, and an open kitchen. An outdoor area along the sidewalk offers additional tables.
The menu items are predominantly seafood, starting with caviar, oysters, and chilled shrimp and progressing to branzino, blackened red snapper, and Dover sole prepared meuniere.
I ordered the hearty swordfish au poivre with green peppercorn sauce, which arrived with an entire roasted head of garlic. Kel got the BBQ shrimp. And we both enjoyed the complimentary cheddar scallion biscuits with seaweed butter.
For this bounty from the Texas Gulf Coast, we have executive chef Jerrod Zifchak, formerly of Cafe Boulud and Le Bernardin, to thank.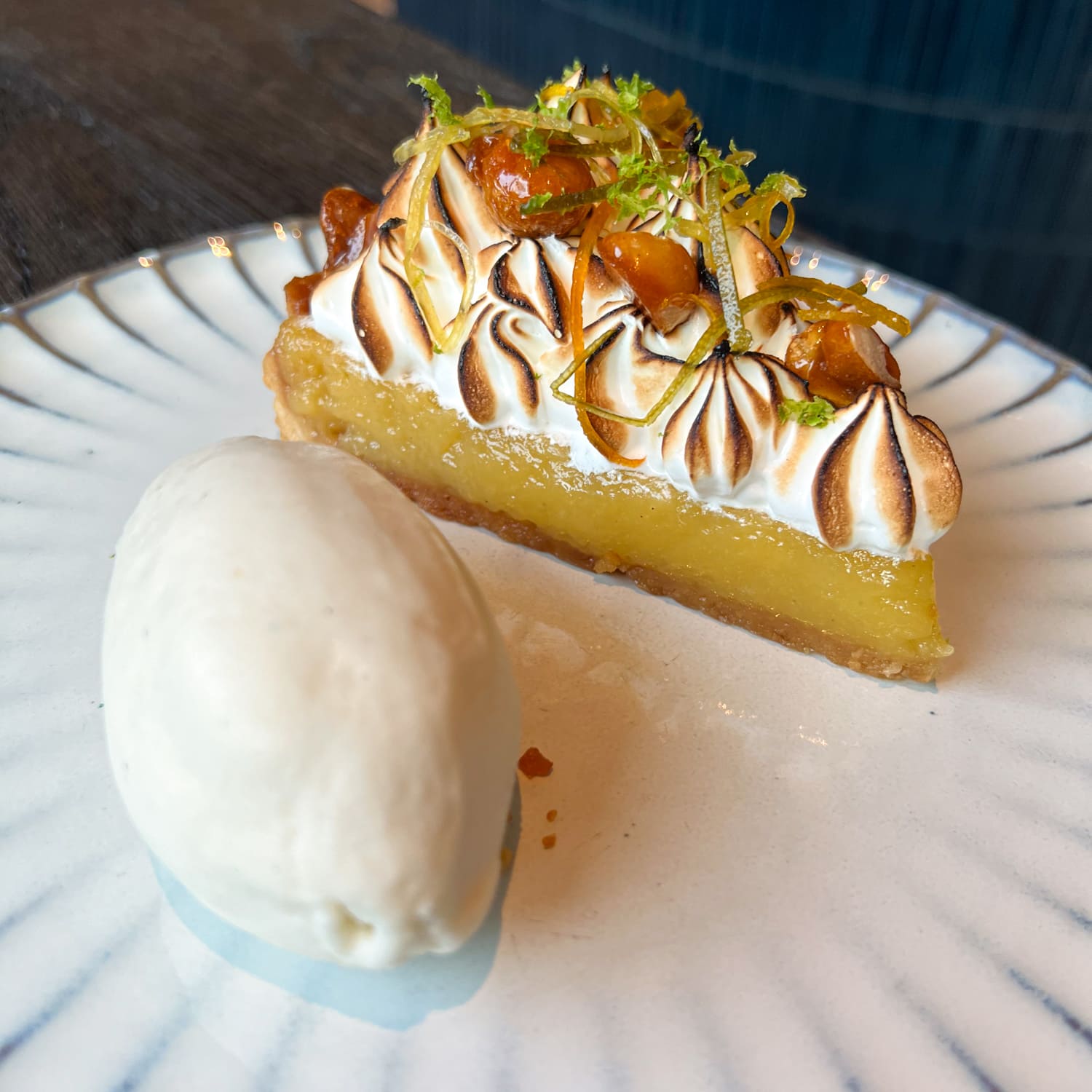 The dessert menu is equally incredible, thanks to executive pastry chef Mary Riddle, who worked under Daniel Boulud, Daniel Humm of Eleven Madison Park, and Christina Tosi of Milk Bar.
We ordered two. First, there was the key lime pie with macadamia nut crust, torched meringue, and citrus confit, served with a side of macadamia nut ice cream for good measure. And second, the chocolate coulant with salted caramel, passion fruit, and vanilla ice cream.
Navy Blue is a welcome addition to the Houston restaurant scene and a must-visit for any food lover.
2445 Times Blvd, Houston, TX, navybluerestaurant.com
10. Tejas Chocolate & Barbecue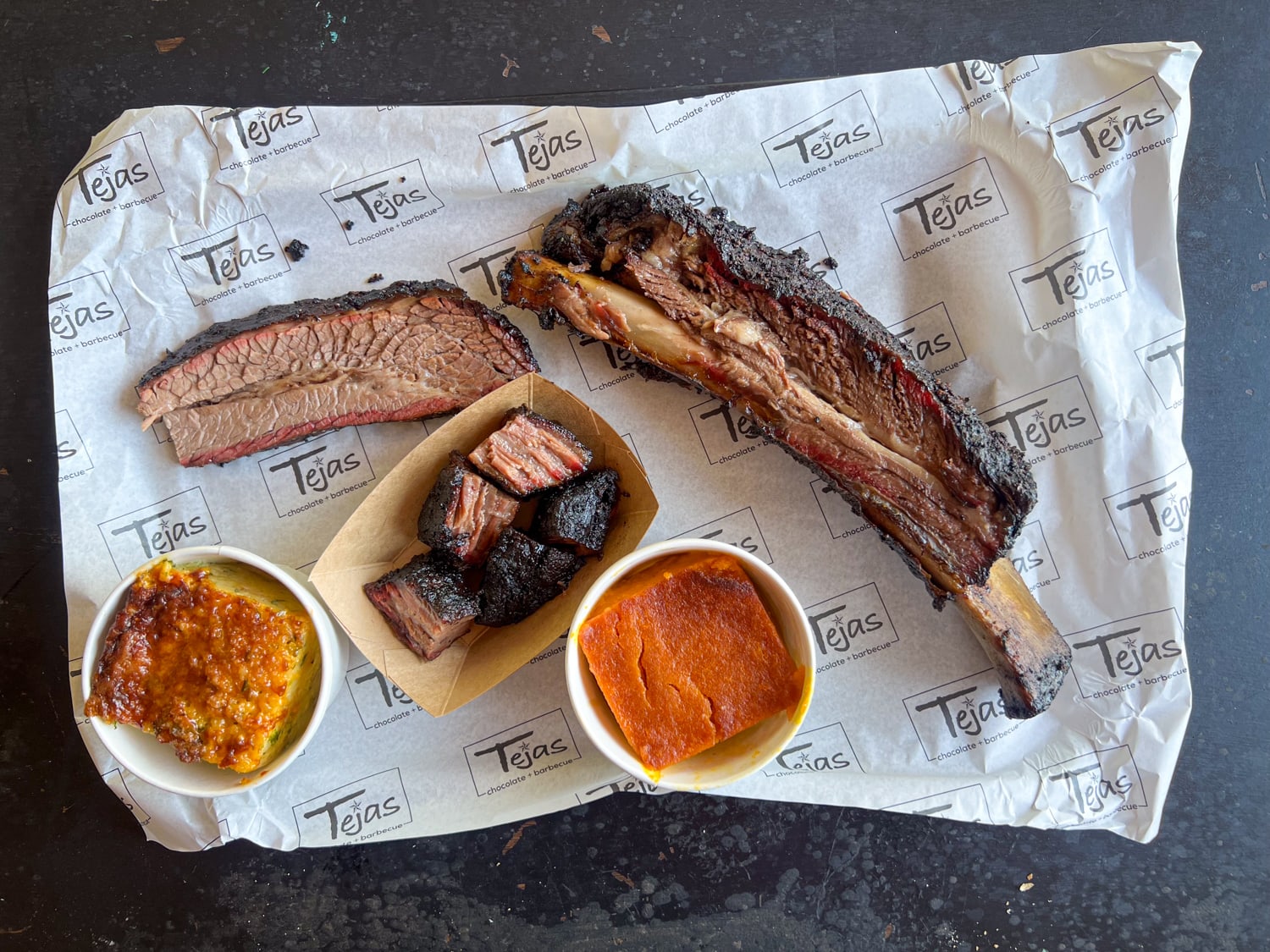 Drive about 35 miles northwest of downtown Houston, and you'll reach Tejas Chocolate & Barbecue, a winning combination if I've ever heard of one.
What began as a bean-to-bar craft chocolate business burgeoned into one of Texas' best barbecue joints. Tejas was included in Texas Monthly's most recent round-up of the top 50 barbecue spots in the state.
On my first trip to Houston in 2023, Kel and I drove to Tejas for lunch on a Friday and were grateful to find a bustling restaurant with zero wait time to order.
We got a gigantic beef rib, fatty brisket, some of their last beef burnt ends of the day, and two sides (carrot souffle and cornbread casserole).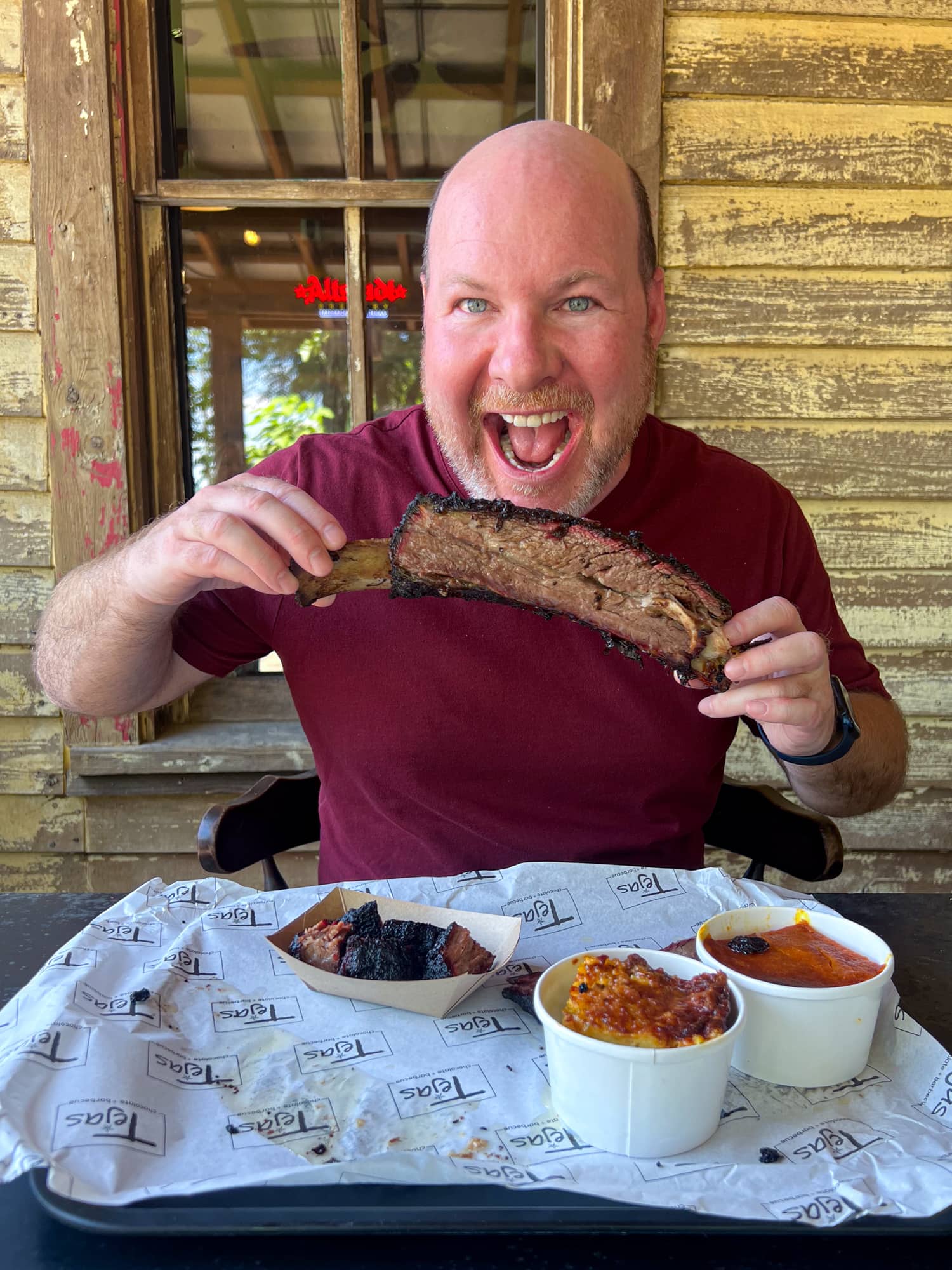 The beef rib was our biggest to date and extremely delicious. We both liked the burnt ends but would've preferred pork belly to beef.
I thought the fatty brisket was on par with expectations for a top barbecue joint in Texas. The carrot souffle was a novel side I have not seen anywhere else in my Texas barbecue adventures.
After devouring our lunch, we packed the leftovers and headed to the chocolate display case.
Chocolates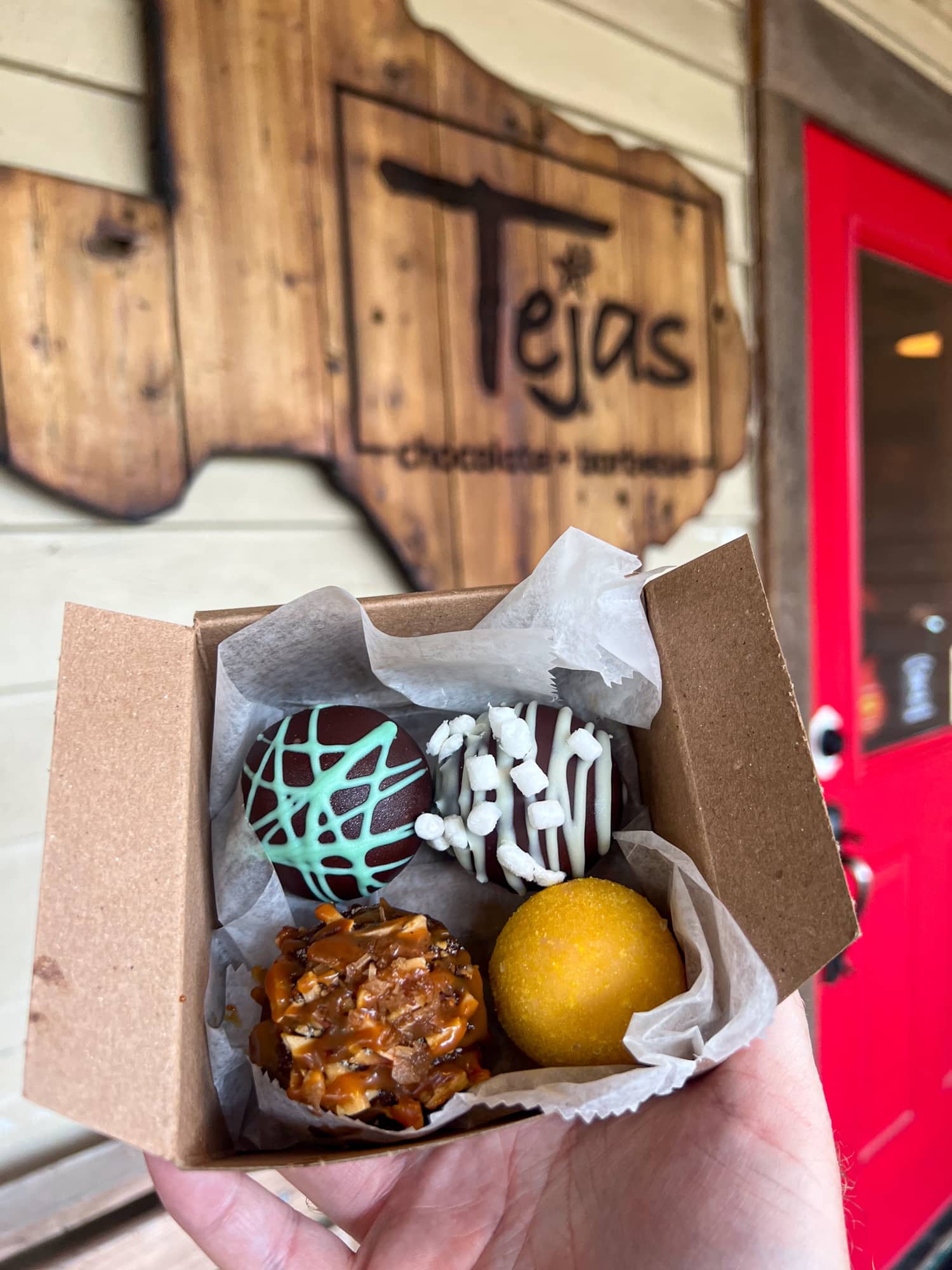 Four chocolate truffles for $20 may seem like a lot, but these are Texas-sized chocolates, not the dainty ones you come across in fancy shops.
Each truffle was worth about 3-5 bites, depending on how big a bite you take.
Choosing from the dozens of flavor combinations isn't easy. Of the four we tried, my favorite was the chocolate and mint.
200 N Elm St, Tomball, TX, tejaschocolate.com
11. TRIS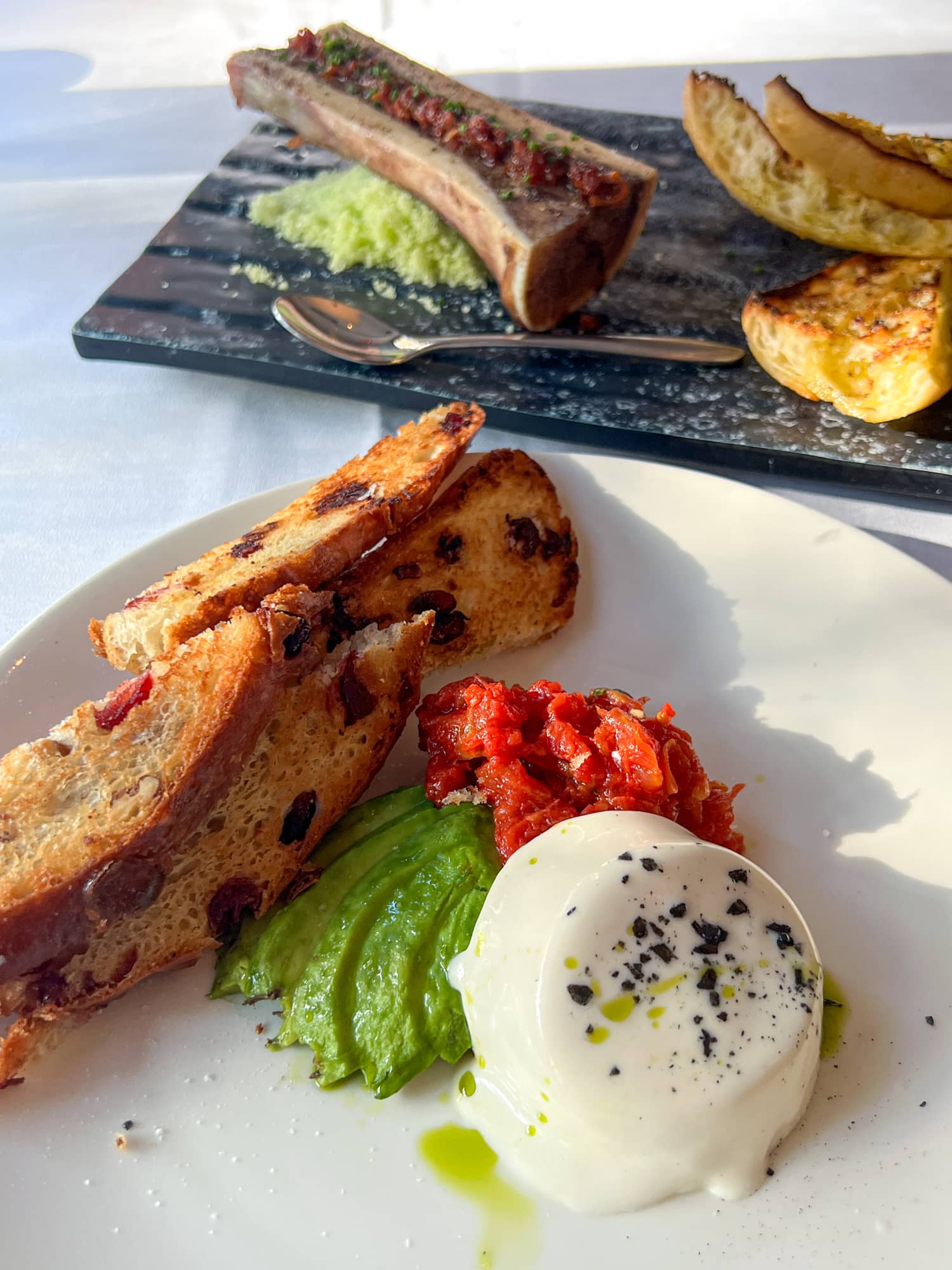 During Houston Restaurant Weeks, I discovered TRIS, a New American restaurant in The Woodlands.
Chef Austin Simmons, whose previous experience includes the Mansion on Turtle Creek in Dallas, has created a menu rich with premium steaks and seafood.
My 3-course dinner benefitting the Houston Food Bank included roasted bone marrow with bacon jam, blackened redfish with blue crab lemon goat cheese mashed potatoes, and tomato hollandaise. It was over-the-top delicious.
Dessert was a layered chocolate cake with sea salt caramel chantilly that reminded me of the Swiss cake roll snack cakes I used to love as a kid.
The dinner menu features Korean butter poached crab, ora king salmon, and Gyulais Wagyu (filet, strip, or ribeye).
24 Waterway Ave #125, The Woodlands, TX, triswoodlands.com
12. Money Cat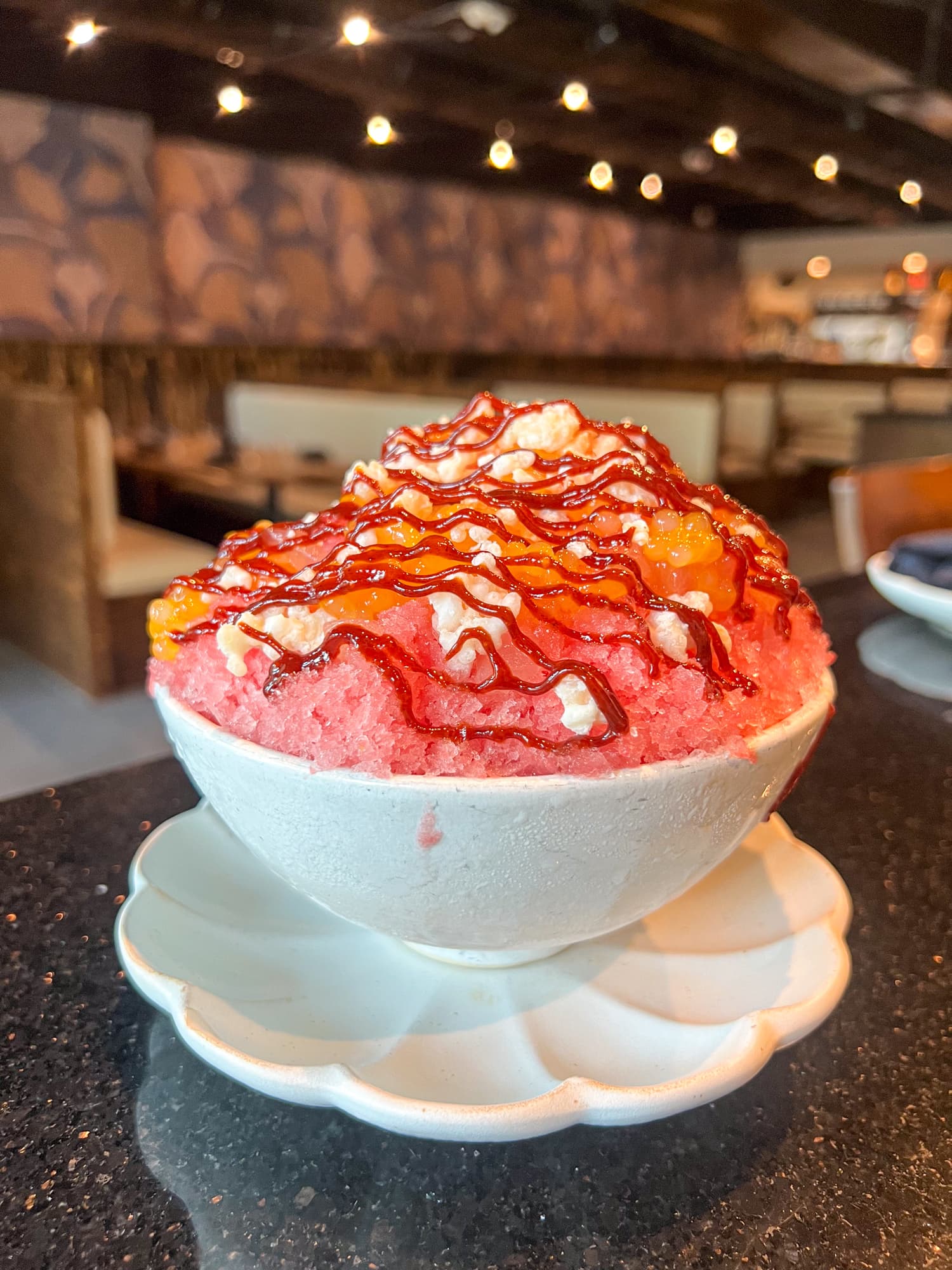 Money Cat, a New Japanese restaurant by Chef Sherman Yeun, opened in January 2023 a few blocks west of Kata Robata (a sign of great confidence, IMHO).
Pictures of a dark chocolate bonsai tree dessert served with ice cream caught my eye on Money Cat's Instagram, and I visited it in its first year.
I began with an order of the honey vanilla milk buns, served with cultured compound butter topped with smoked trout roe and honey.
The combination sounded odd, but I took an immediate liking to it. It's quite possibly the best butter I've ever tasted.
Seafood-wise, I enjoyed the Canh Chua, a sushi roll and customer favorite from the original menu, the hami hami (hamachi) with compressed melon, and the ora king salmon nigiri.
I was disappointed to learn they'd sold out of the chocolate bonsai desserts the night before I arrived for lunch.
However, the mountain of watermelon kakigori with mango mint ice cream, gochujang chamoy, mango baby boba, and yuzu puffed rice was a fun and filling substitute.
2925 Richmond Ave. Suite 140, Houston, TX, moneycathtx.com
13. Golfstrommen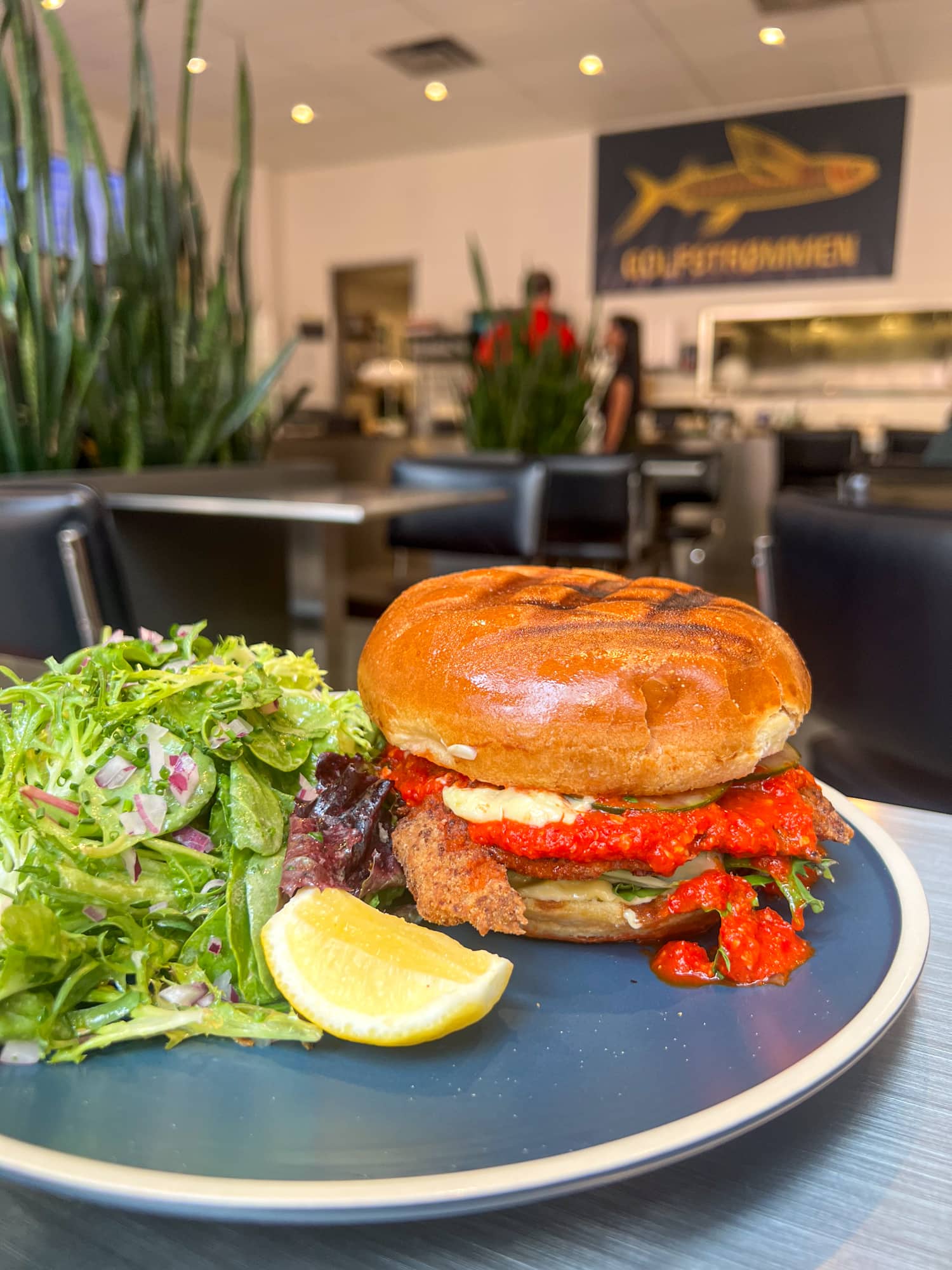 Golfstrommen ("gulf stream" in Norwegian) is the Nordic seafood spot named the #1 restaurant in the city by the Houston Chronicle in 2022.
The food editors' top pick is in the cavernous POST Market food hall in the recently redeveloped former headquarters for the USPS in Houston.
I visited Golfstrommen at 11 a.m. on a Thursday out of caution, only to learn it's pretty chill there during lunch service. It's jam-packed on Friday and Saturday nights (they accept dinner reservations).
Norwegian chef Christopher Haatuft and James Beard Award-winning Filipino chef Paul Qui partnered on this new venture. The seafood is sustainably sourced, mainly from the Gulf of Mexico.
I began with Norwegian salmon crudo, followed by a hot fried fish sandwich with house mayo, pickles, and smoked hot sauce. The latter, which left my mouth ablaze, is a customer favorite.
Oysters, lobster rolls, and whole fish are also on the menu, day or night, at this great spot.
Floor 1 POST Market Food Hall, 401 Franklin St, Suite 1295, Houston, TX, golfstrommen.com
14. MAD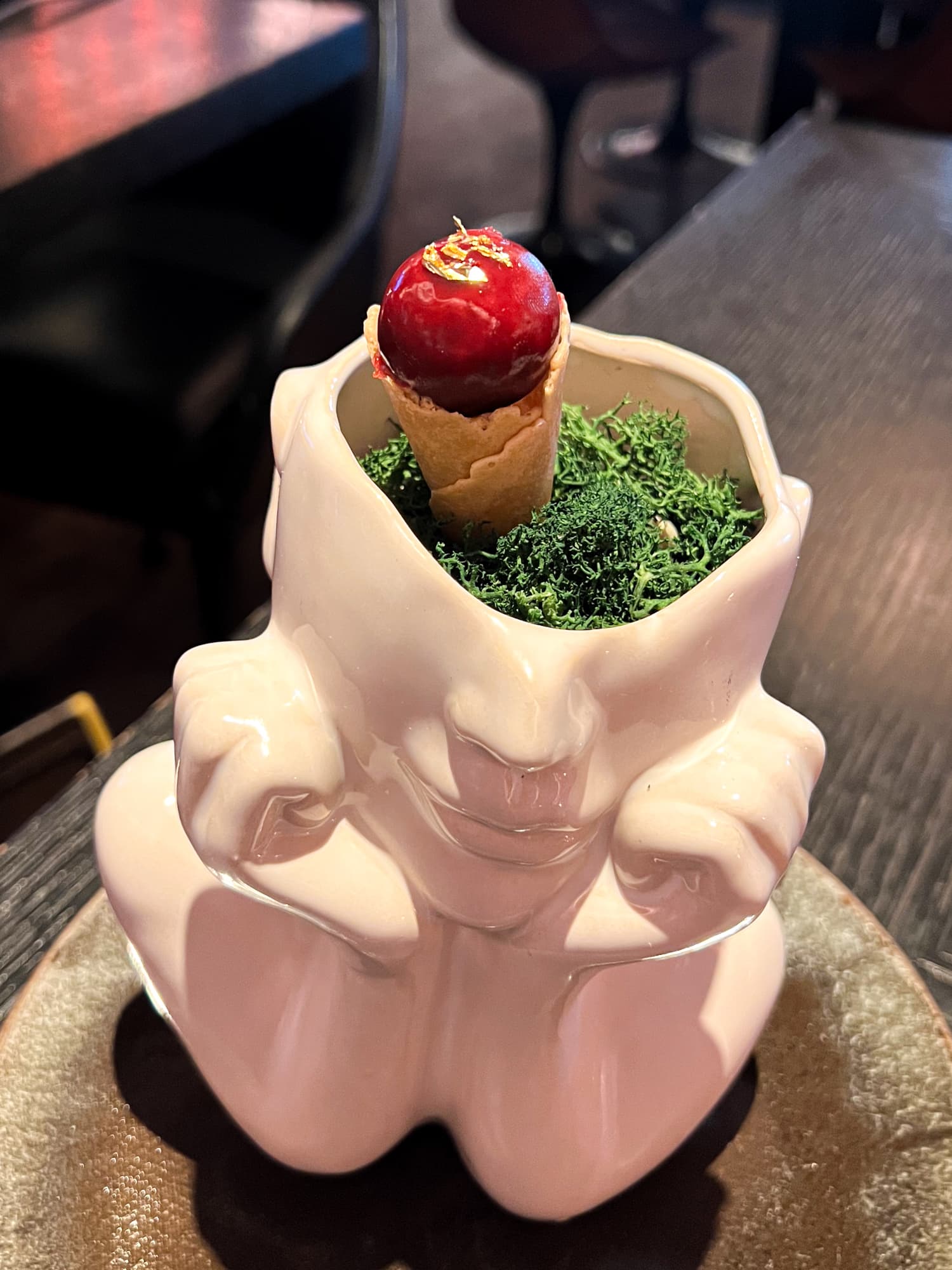 MAD, the second restaurant by BCN co-owners Luis Roger and Igancio Torres, offers a modern twist on traditional Spanish cuisine.
Located in the upscale River Oaks District, this restaurant is a feast for the senses, from its vibrant, art-filled interiors to its tasting menus.
The Spanish restaurant is inspired by Madrid's energetic nightlife and food scenes, and it shows in its tapas and signature paellas.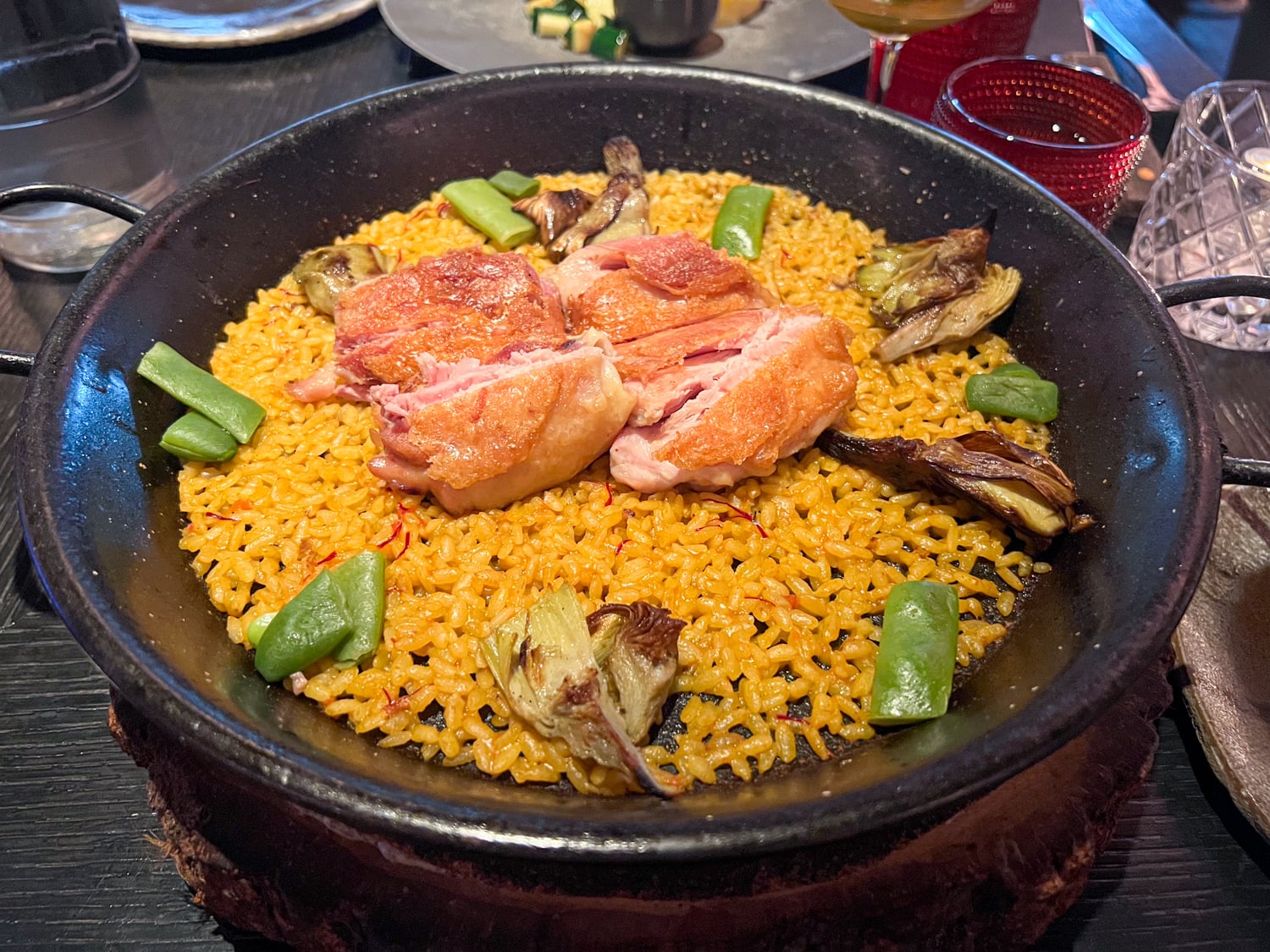 The bar serves Spanish wines, gin and tonics, and inventive craft cocktails that complement the food beautifully.
The atmosphere is electric, often amplified by live music or a DJ spinning tunes.
Whether you're out for a romantic evening or a lively Saturday night with friends, MAD offers an unforgettable dining experience.
4444 Westheimer Rd Suite C180, Houston, TX, madhouston.com
15. State of Grace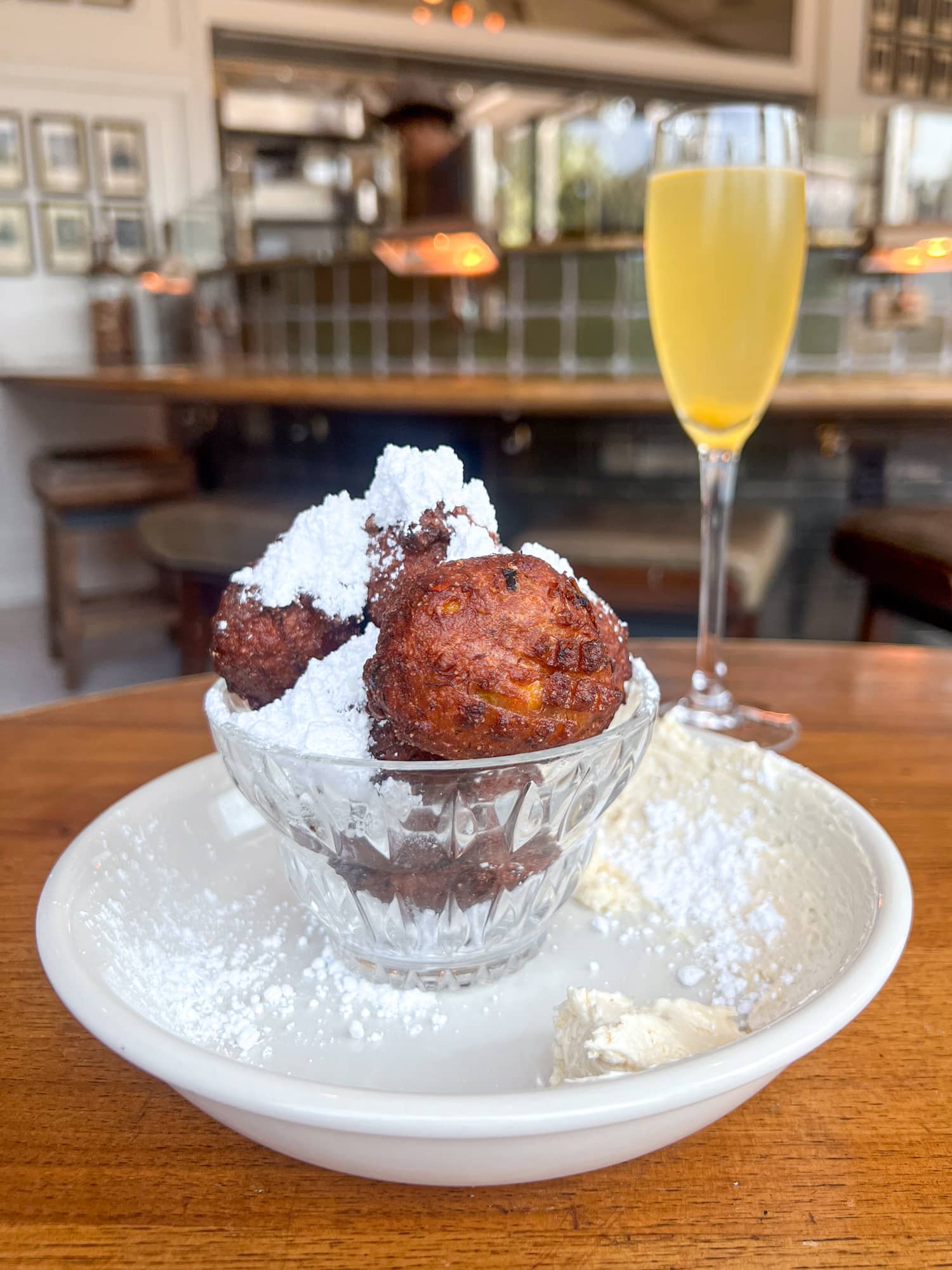 State of Grace, located in Houston's River Oaks neighborhood, blends Southern charm with global flavors.
The restaurant features a beautiful oyster room in the front that immediately captured my attention.
The morning light was pouring in through several large windows, and I knew it was where I wanted to sit without seeing the other dining areas.
The menu is a mix of Southern classics and international dishes. From Gulf oysters to steaks, the quality of seasonal ingredients shines through.
I began with oysters and blue crab hushpuppies for Sunday brunch before progressing to a grilled peach salad. I ended strong with decadent blueberry pudding cake a la mode.
Service is top-notch, making you feel like a valued guest from the moment you walk in.
3258 Westheimer Rd, Houston, TX, stateofgracetx.com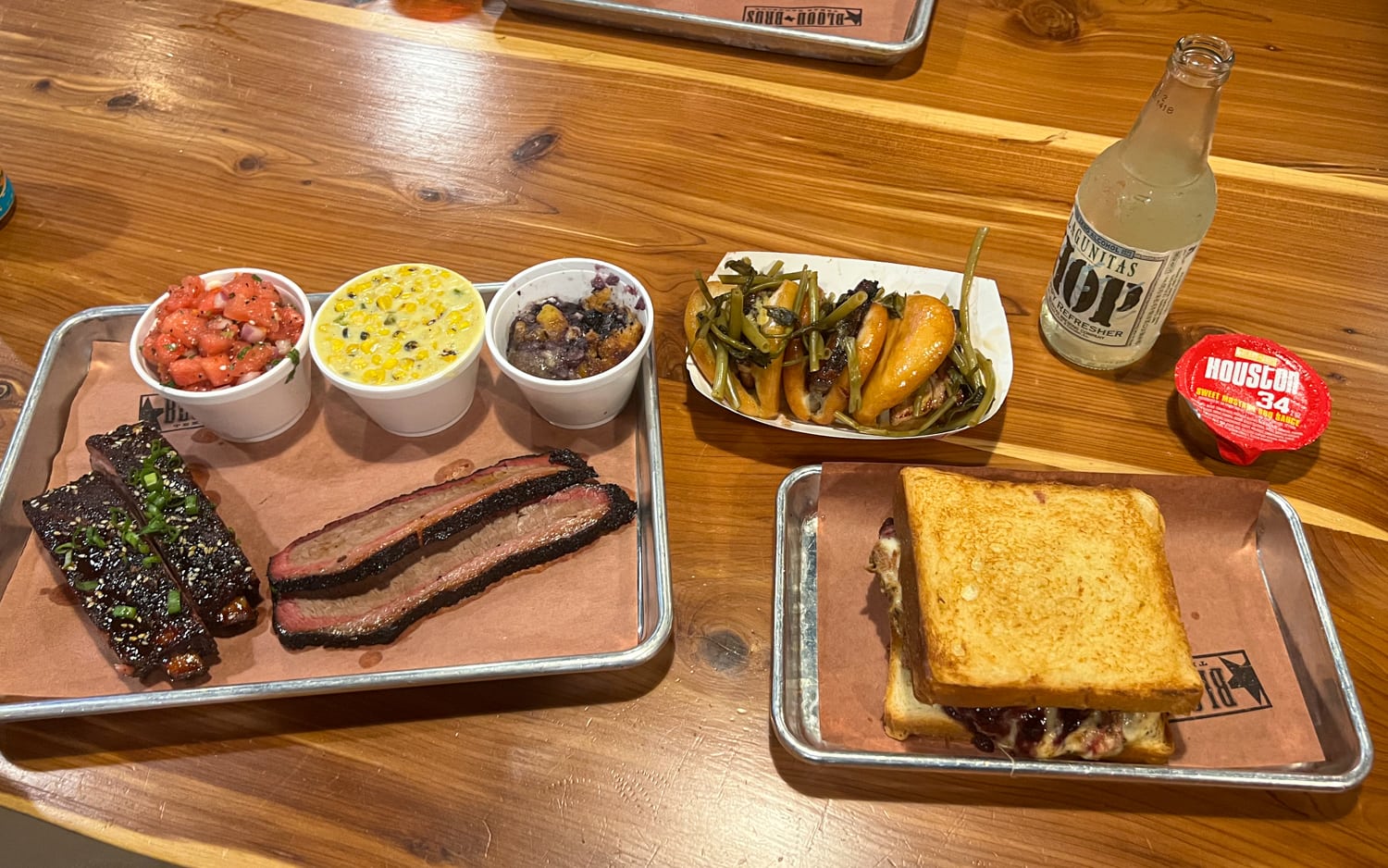 16. Blood Bros. BBQ
The perfect place to try a new approach to barbecue is Blood Bros. BBQ.
It wasn't the brisket that impressed me the most. Nor was it the Gochujang glazed pork ribs or pork belly fried bao buns.
No, it was the mighty Pig Moe sandwich with pulled pork, melted provolone-mozzarella cheese, and blueberry habanero sauce on grilled Hawaiian bread.
I only wish I'd begun with this epic sandwich instead of ending with it, as I was so full by then I couldn't manage more than a few bites.
For his skills and willingness to take risks, pitmaster Quy Hoang was named a 2022 James Beard Award semifinalist for Best Chef — Texas.
The backstory of how Blood Bros. BBQ began and became one of Houston's best restaurants is in Smithsonian Magazine.
5425 Bellaire Blvd, Bellaire, TX, bloodbrosbbq.com
Related: Best BBQ in Houston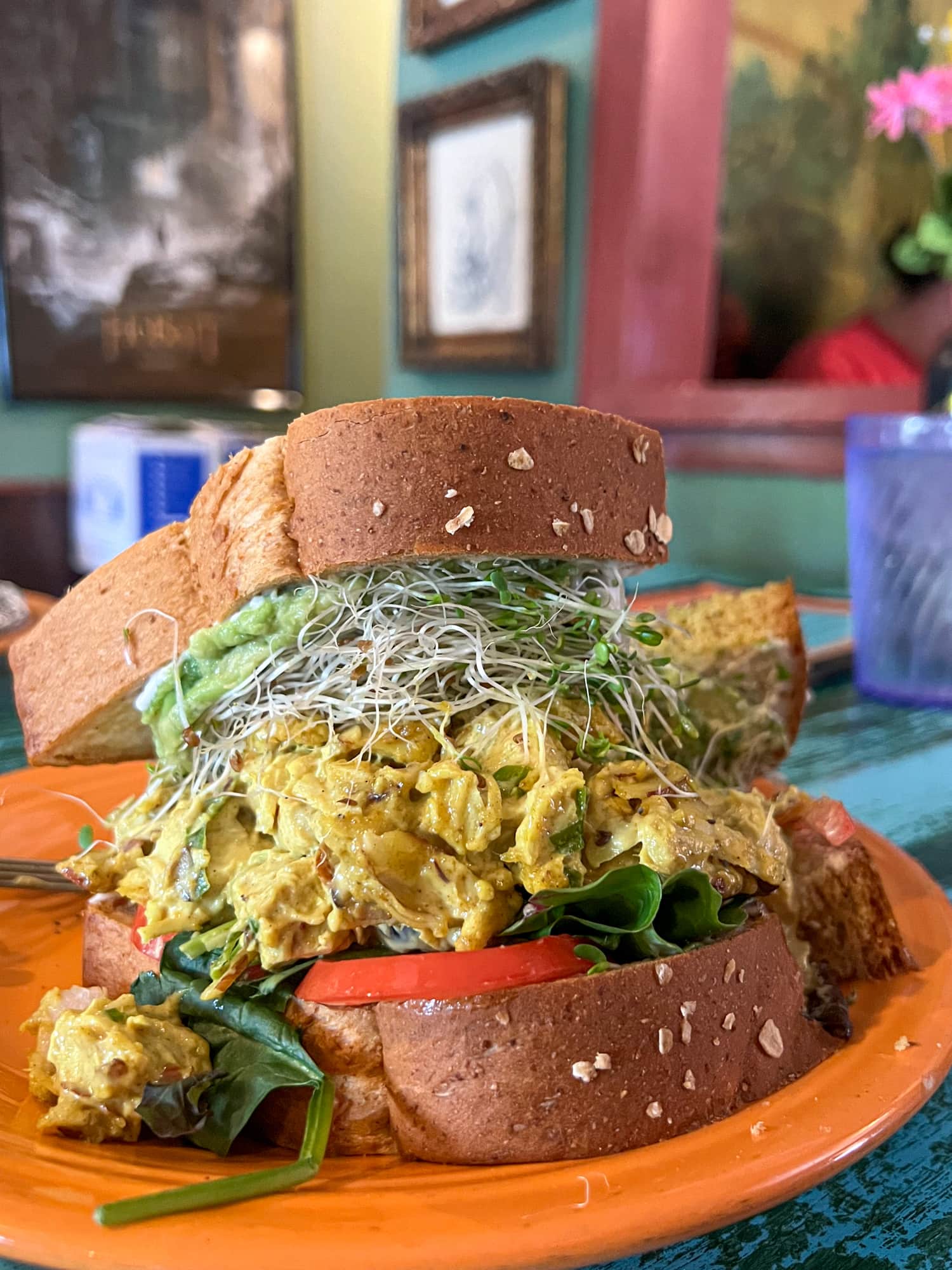 17. Hobbit Cafe
A few blocks east of Kata Robata is the Hobbit Cafe, which began as a vegetarian restaurant in 1972.
After its first ten years, the cafe expanded the menu to include meats, and today, it features a host of hobbit-sized sandwiches, burgers, brunch foods, and Mexican fare.
An extensive beer and mead menu is also available, making it a great place to enjoy happy hour. Outdoor seating is available under a giant oak tree.
Famous guests to have stopped by this Shire-inspired cafe include Neil Young, Jack Nicholson, and Depeche Mode.
2243 Richmond Ave., Houston, TX, hobbitcafehtx.com
***
What a culinary journey through Houston!
From the Oaxacan flavors at Xochi to the Catalan delights at BCN Taste & Tradition and from the modern American seafood at Navy Blue to the Texas-sized truffles at Tejas Chocolate & Barbecue, Houston's food scene is as diverse as it is delicious.
Whether you're craving traditional Tex-Mex, cutting-edge barbecue, or international cuisine, the best restaurants in Houston have something for you.
And let's not forget the smaller places like the Hobbit Cafe, a quirky spot serving up hobbit-sized portions since the '70s.
Whether you're a local or just passing through, Houston's culinary landscape awaits exploration.
So, the next time you find yourself in the Bayou City, bring your appetite. You're going to need it.