The annual Texas Renaissance Festival attracts more than 500,000 people to partake in Medieval role-playing on a grand scale every autumn.
The 2023 Texas Renaissance Festival marks the 49th year of food, fantasy, and fun in the woods of Todd Mission, TX, about an hour north of Houston.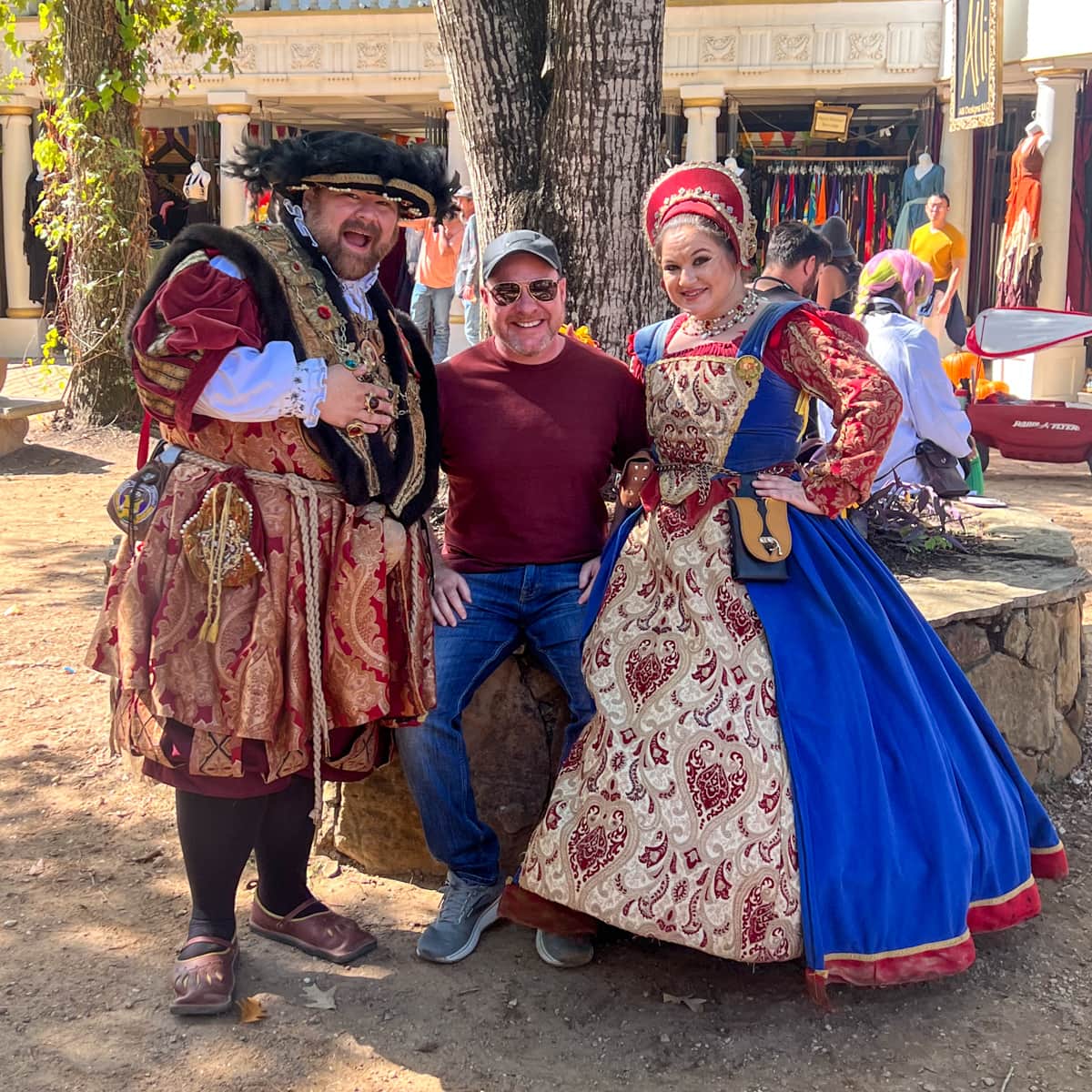 Hot on the heels of my first State Fair of Texas in Dallas, Kel was eager to introduce me to the nation's largest Renaissance Festival.
Before we get to our experience, including all the delicious food in this enchanted world, I'd like to share some important info for this year's Ren Fest.
Key Info
When is the Texas Renaissance Festival?
Saturdays and Sundays only from October 7 to November 26, 2023.
The gates open at 9 a.m. with a canon blast, and the festival ends each night at 8 p.m. with the Royal Fireworks (weather permitting).
Where is the Festival?
Dedicated fairgrounds in Todd Mission, TX, about 50 miles north of Houston. It's about an hour's drive from downtown Houston or 2.5 hours from Austin without traffic.
What's the parking situation?
Parking is free, and there's tons of it on unpaved lots lined by trees. You can pay $25 to park in priority rows closer to the entrance or $40 for valet. After 4 p.m., only general parking is available.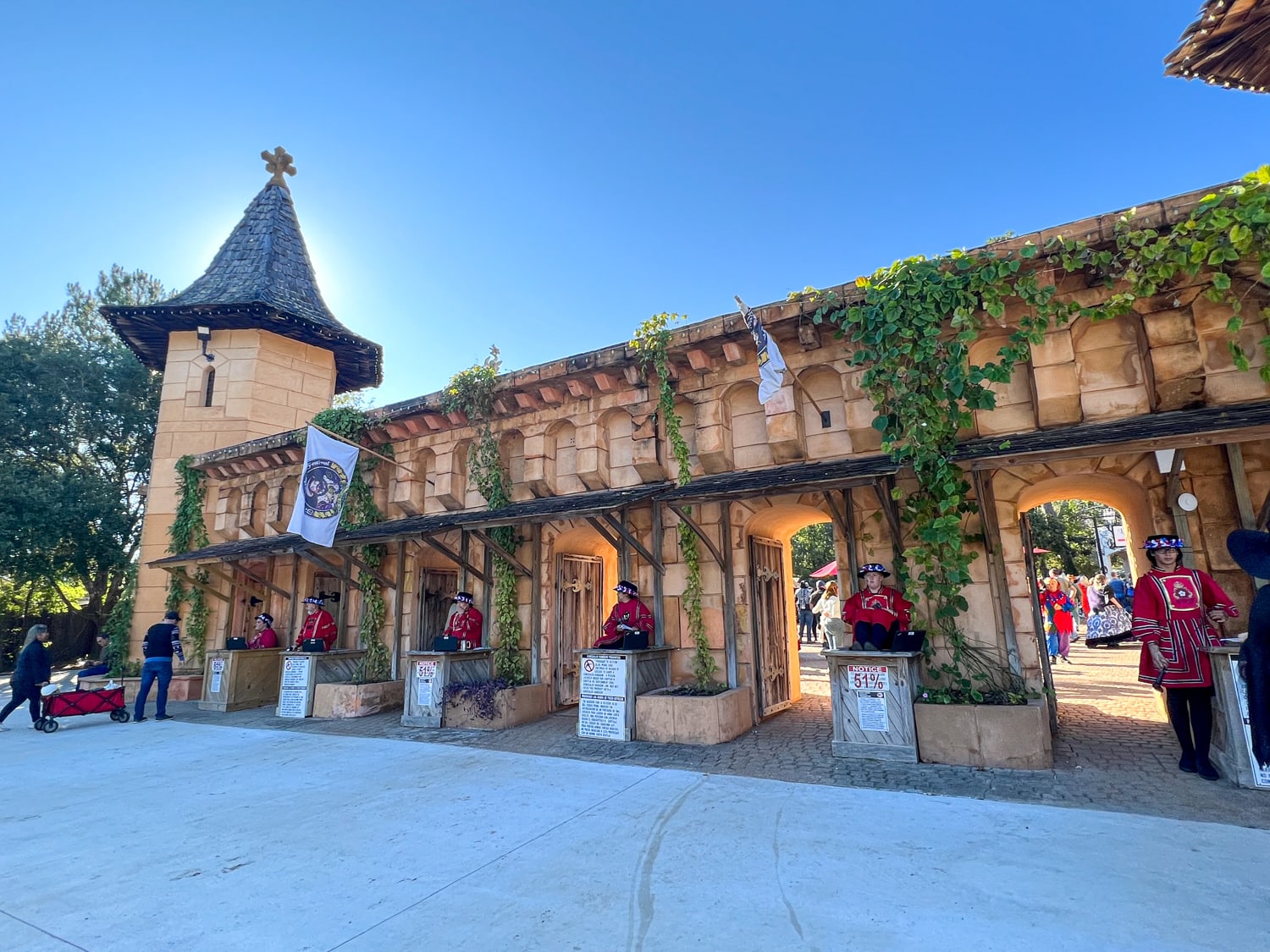 How much are the tickets?
Tickets are date-specific, and prices vary by day, weekend, and whether you pay in advance.
Adults (13+) are about $27, plus fees when purchased in advance. It's $5 more if you buy same-day, online, or at the entrance.
Children 12 and under are free on Sundays, and four and under are free daily.
Season passes are also available. Tickets are non-refundable, and there are no exchanges or rainchecks.
Can you bring a water bottle? Pet? Gun?
You can bring one unopened water bottle or an empty bottle you fill once inside. Pets and guns are not allowed.
Can you camp overnight?
Yes! The 200-acre Fields of New Market campground has glamping tents, cabins, RV pads, and RV rentals available for a fee.
Services and facilities include restrooms, showers in the King's Bath House, a convenience store, a paid shuttle to get you to/from the festival, and security.
My Renaissance Festival Experience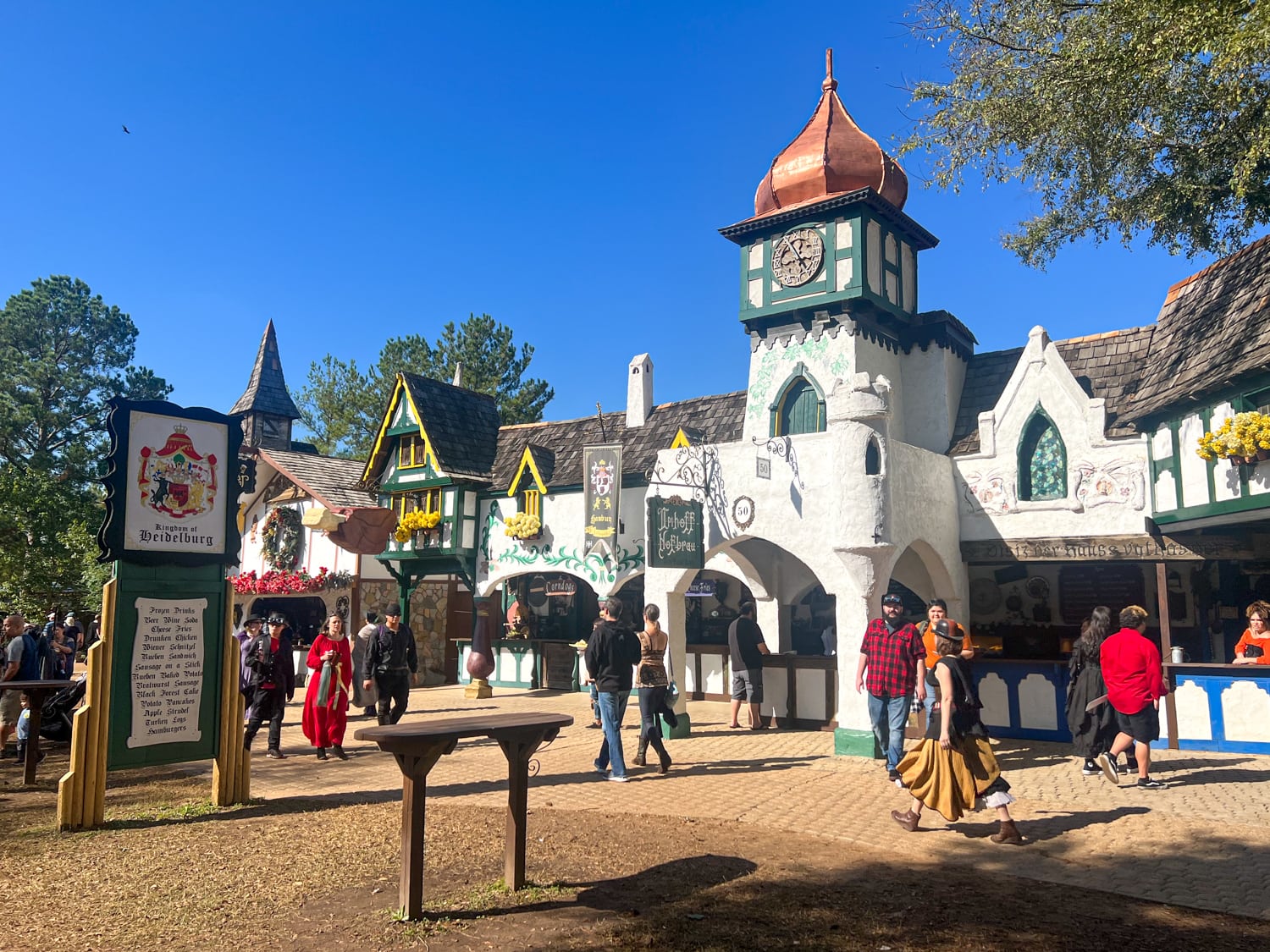 On the day before Hallows Eve, we drove from Austin to the fairgrounds in Todd Mission, which took about 2.5 hours non-stop.
We arrived at about 9:45 a.m. and parked in one of the free lots a few minutes walk from the entrance.
I'd reached out in advance to Carl Foy, Director of Marketing, about covering the festival for Feastio and was given two free tickets.
Before entering the grounds, I met Carl in the press room and asked about his favorite Festival foods.
He recommended the Scotch egg and drunken chicken and added that this was Ren Fest's first year with an on-site meadery; I made a mental note to look for it.
Food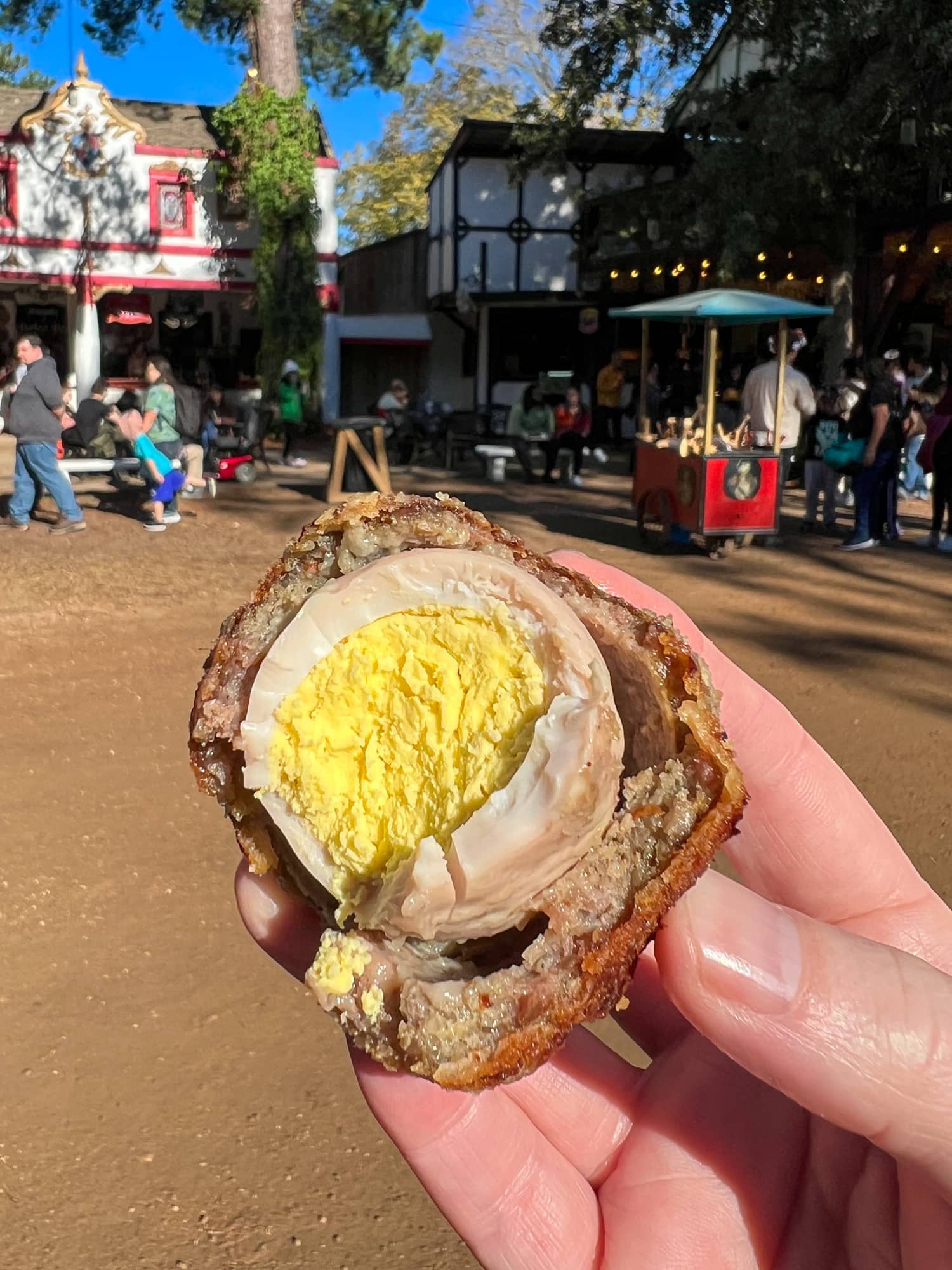 Scotch Egg and Biscuit
Within a minute or two of entering the grounds, we spotted the Queen's Pantry selling Scotch eggs for $8 a pop.
I paid for one with my AMEX Gold card, while Kel bought a giant biscuit.
A Scotch egg is a hard-boiled egg wrapped in sausage meat, covered with breadcrumbs, and deep-fried till golden.
The result is a crunchy exterior and a soft, juicy center. It was a nice hit of protein to start the day.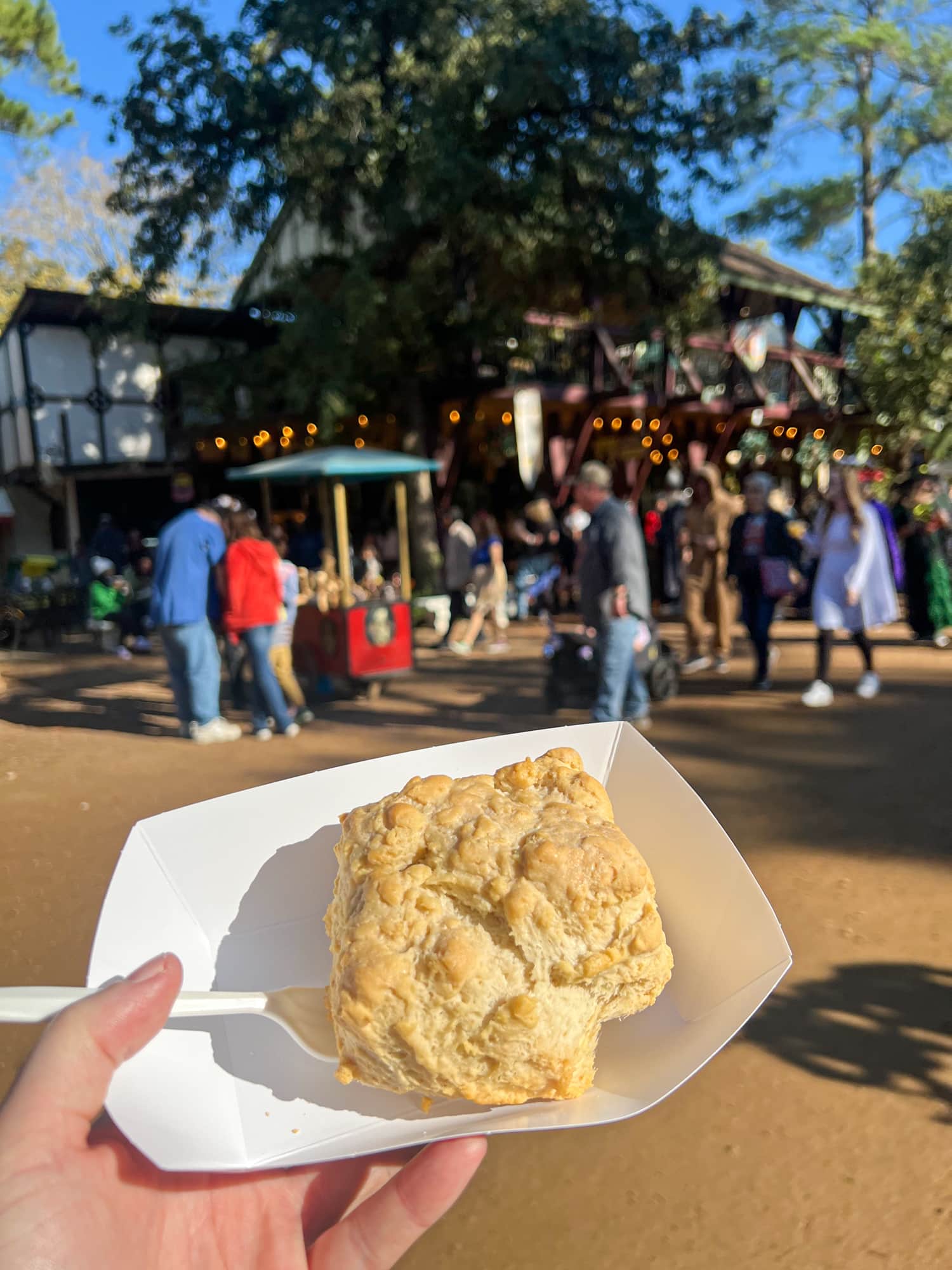 I was glad the Texas Renaissance Festival doesn't trade in coupons like the Texas State Fair, which requires attendees to buy them to pay for food.
In keeping with Medieval times, however, the vendors at the Renaissance Festival will refer to the cost of everything in "pounds." Don't let that confuse you.
One pound is one U.S. dollar. We could pay for everything using credit cards, and cash was also accepted.
There may be some cash-only vendors, but we didn't encounter them. Carrying small bills can be helpful in tipping service staff and performers.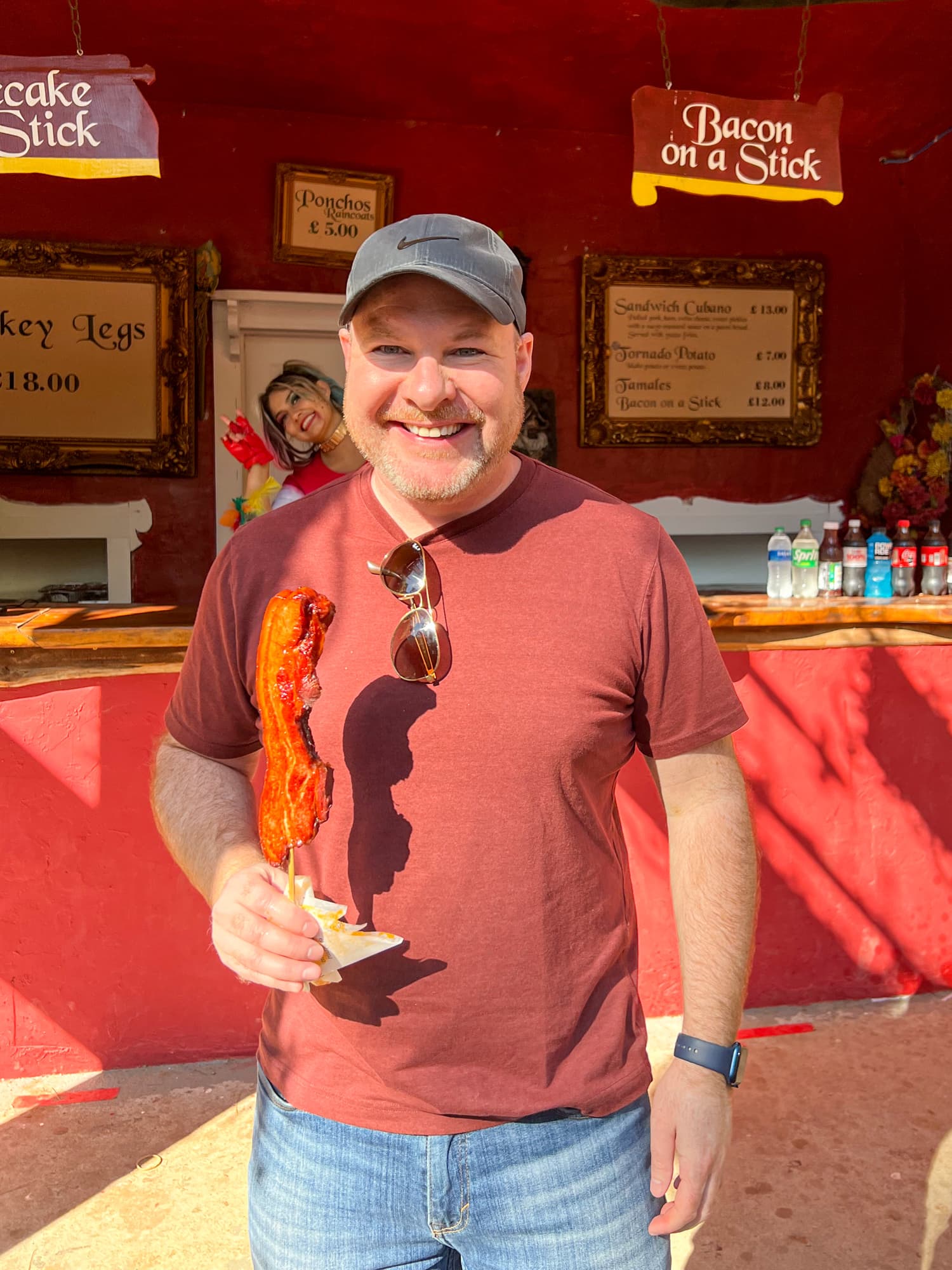 Bacon on a Stick
When I saw "bacon on a stick" for sale, I wondered how they managed such a feat, and I moved closer to investigate.
Then I saw the gentleman ahead of me handed an enormous slab of bacon on a slender stick.
I giddily paid the $12 and was handed a thick piece of bacon to gnaw on.
After a few photos to capture what was before us, I took the first bite off the top.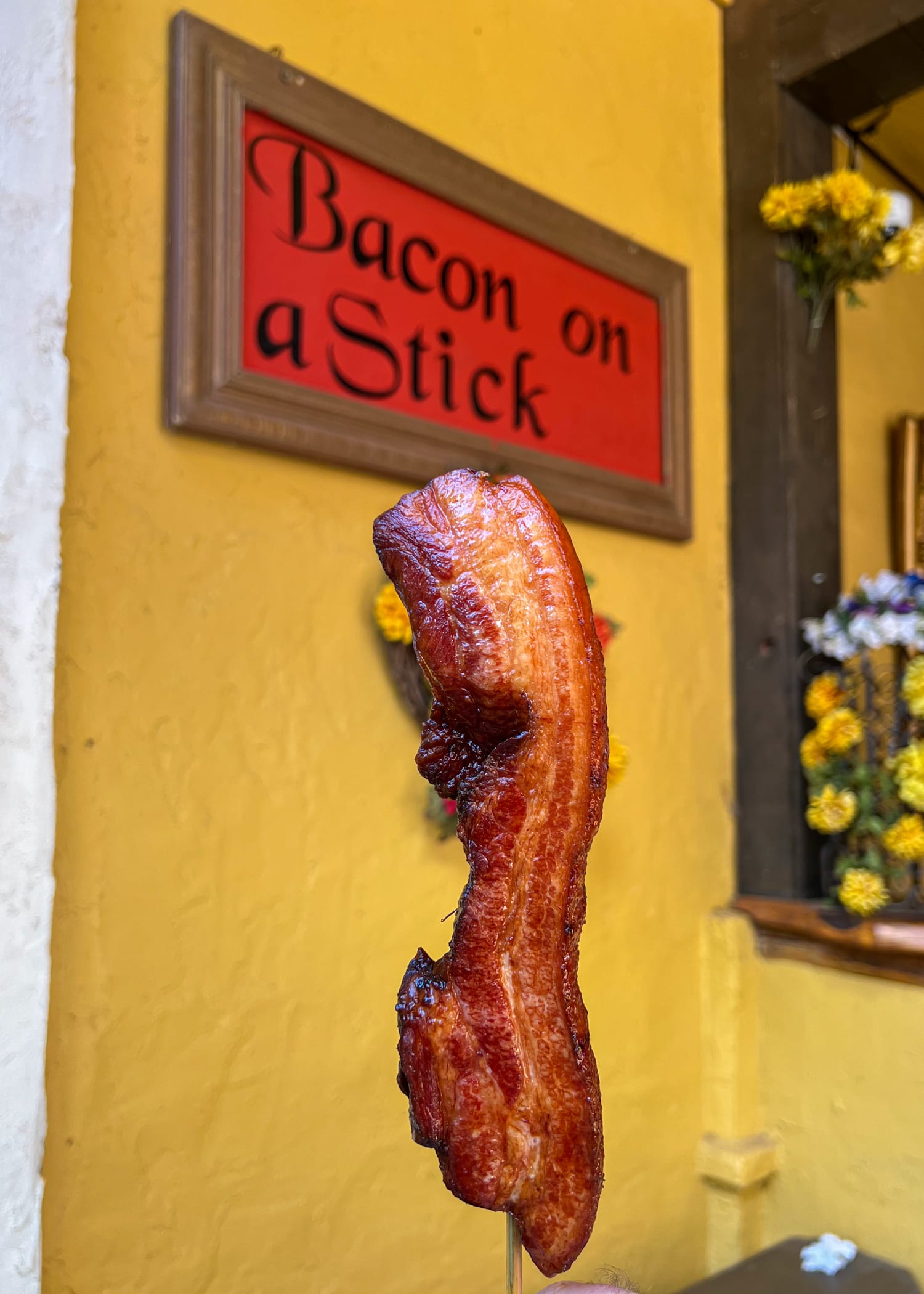 The delicious pork and fat were highly satisfying. Well worth the cost.
The same vendor sold Cuban sandwiches for $13, tamales for $8, and another ubiquitous festival food, turkey legs, for $18 each.
Plus, they had the $7 "Potato Tornado," a popular South Korean street food consisting of a deep-fried spiral-cut potato on a skewer.
I wanted to try one, but my hands were full of bacon.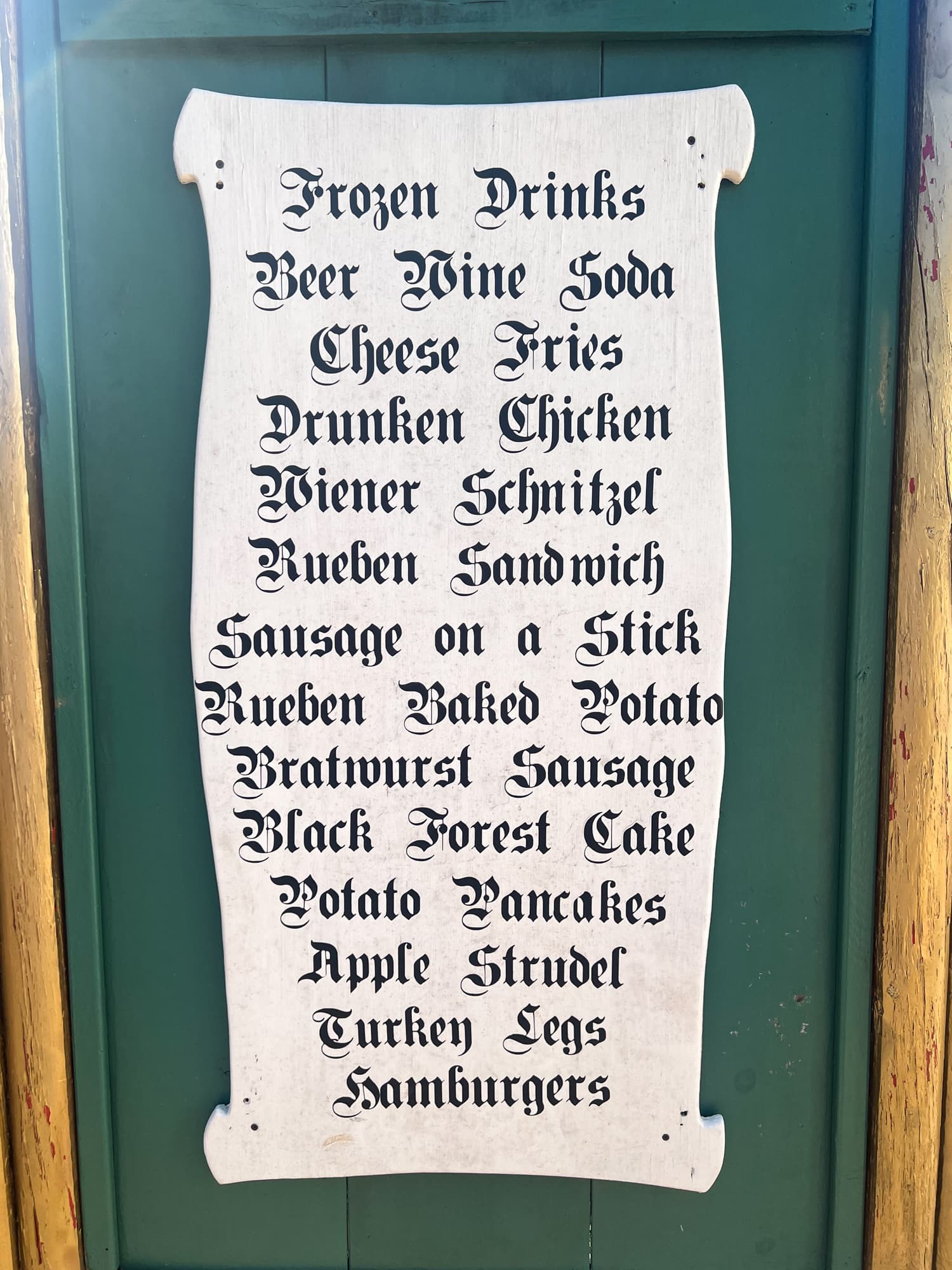 Drunken Chicken
As we walked around the festival grounds, we passed through numerous kingdoms, each reflecting a different region of Europe.
There was the Kingdom of Tuscany, serving Italian foods, and The Kingdom of Heidelburg, with traditional German foods like wiener schnitzel, bratwurst, and black forest cake for sale.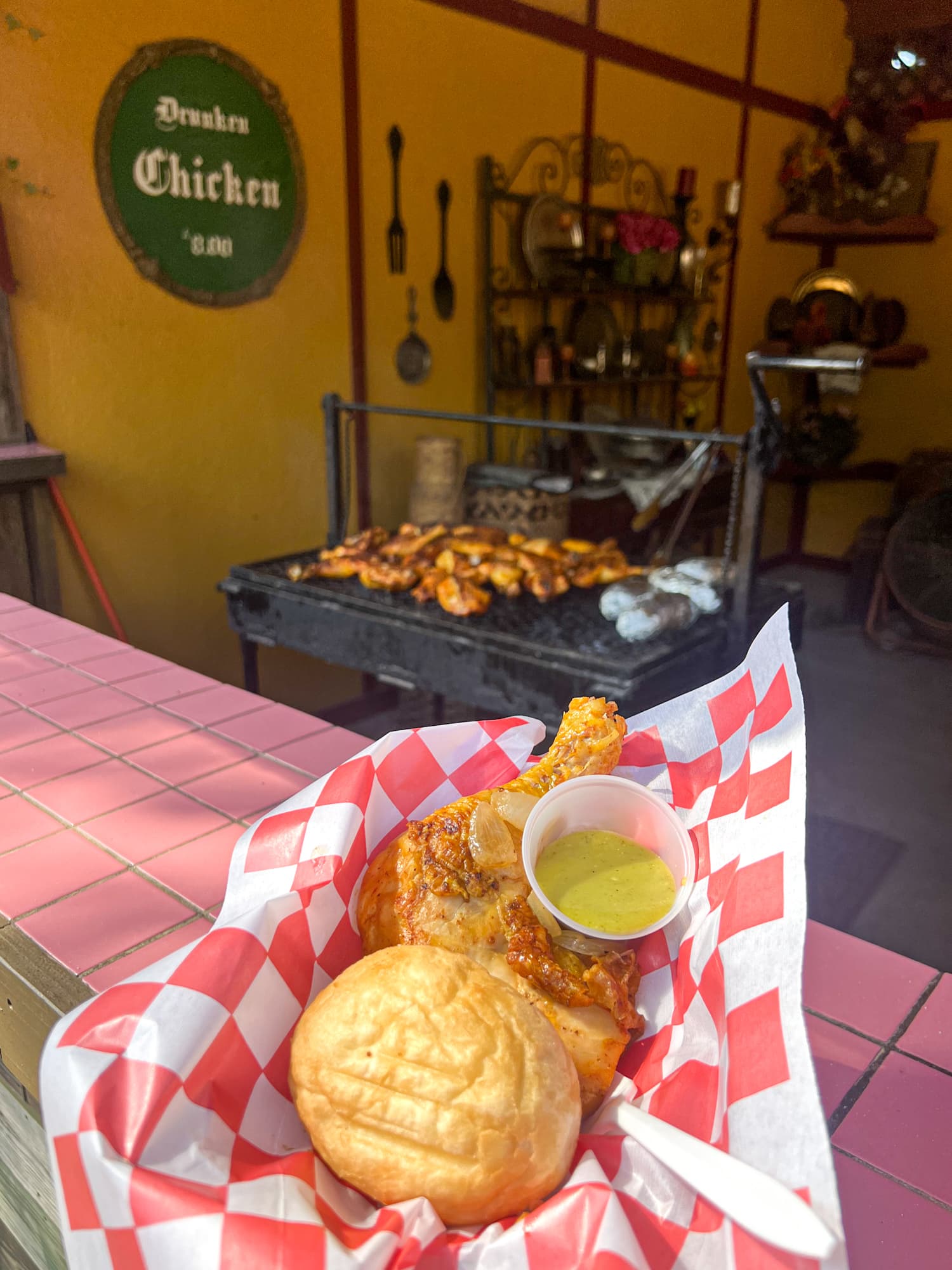 I don't know if "Drunken Chicken" is German, but since we got a tip that it was good, I bought a plate for a very reasonable $8.
The chicken had cooked onions, a fluffy bun, and green dipping sauce. Kel and I tore into it and were both happy with the purchase.
Related: Austin Food + Wine Festival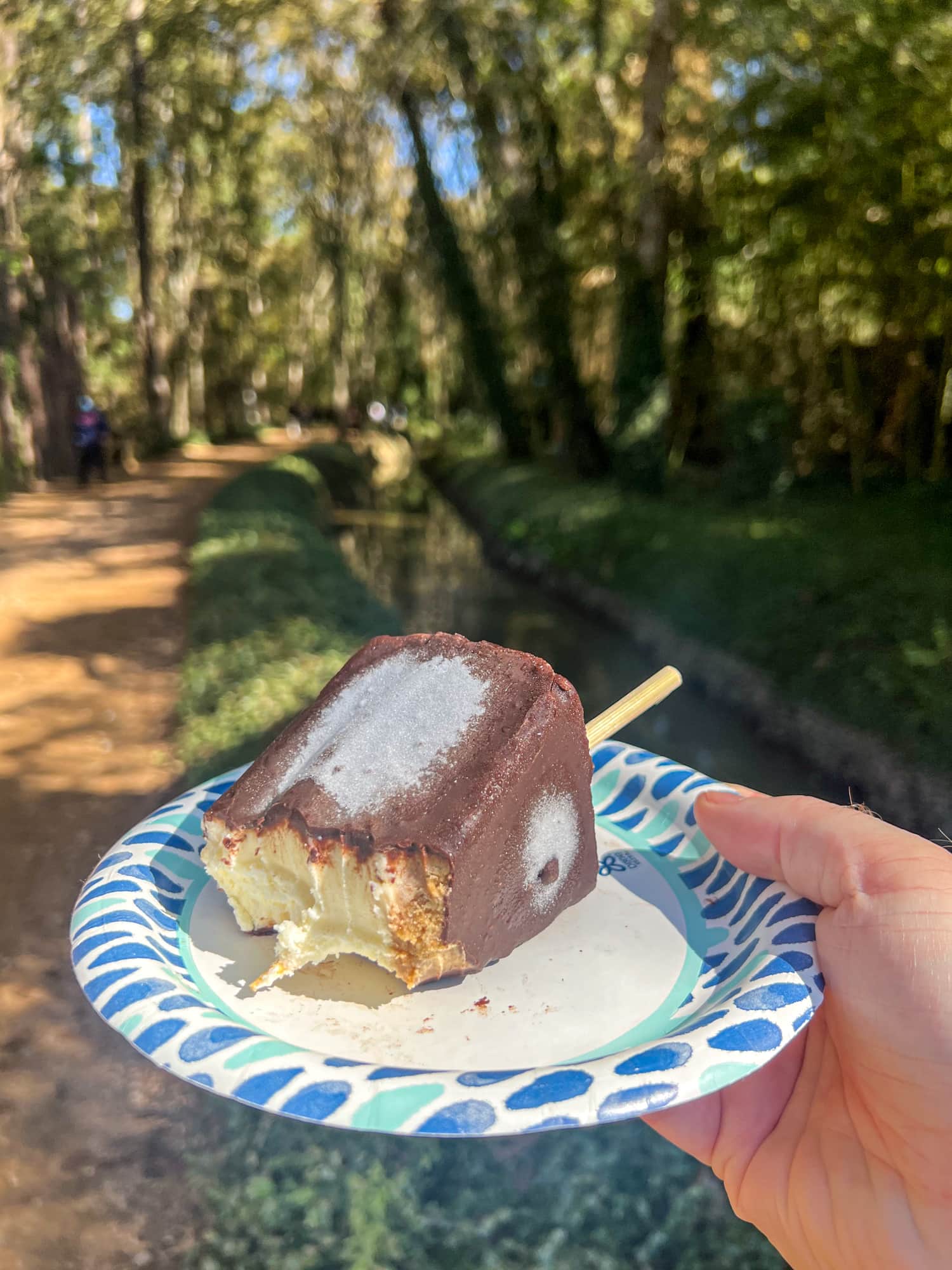 Cheesecake on a Stick
I was starting to crave something sweet, and having seen cheesecake on a stick all over the Texas State Fair, and I was keen to try it here.
Unfortunately, the chocolate-dipped cheesecake slice I received was frozen solid. I went back and asked for a paper plate because it was heavy.
I tried unsuccessfully to nibble on it, but it was useless. We had to wait 10-15 minutes for it to soften up and become easier to eat.
Once it had defrosted somewhat, the cheesecake tasted great. I liked that there was even a bit of crust in there.
My takeaway is to ask vendors in the future whether their cheesecake is frozen and only buy if it isn't.
Related: How to Eat Alone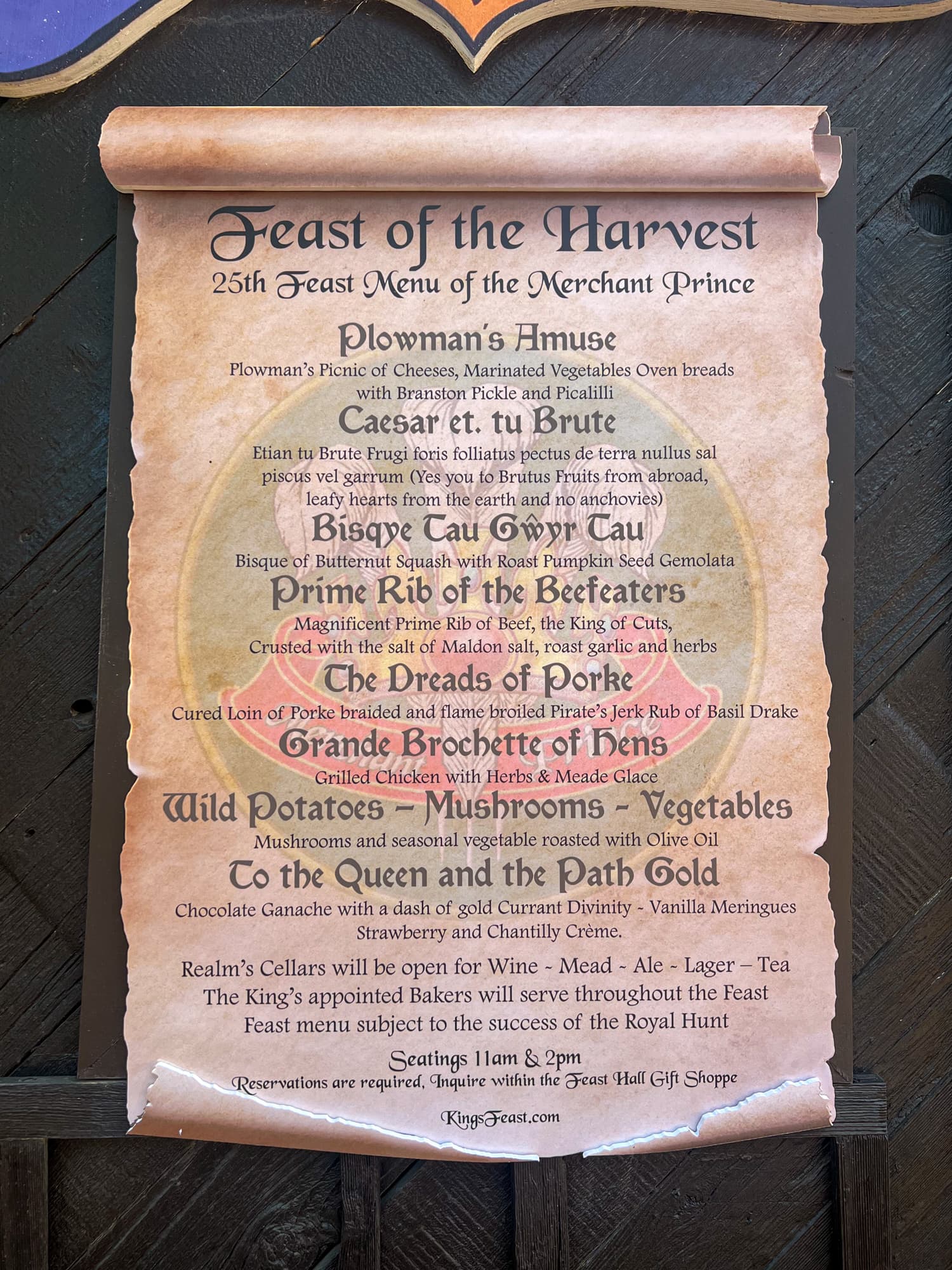 The King's Feast
The King's Feast is described as "a forkin' good time," but tickets to this 8-course lunch with prime rib and pork loin sell out quickly.
The cost is $119 (plus tax and fees) per person, with VIP packages including festival admission and preferred seating for $229 (plus tax and fees). The Feast includes live entertainment.
I would've enjoyed going. However, by the time we knew which day we'd be attending the Texas Renaissance Festival, seats had already sold out.
Check availability and make King's Feast reservations.
Drinks
In addition to eating well, we saved some room in our budget and bellies for a few drinks.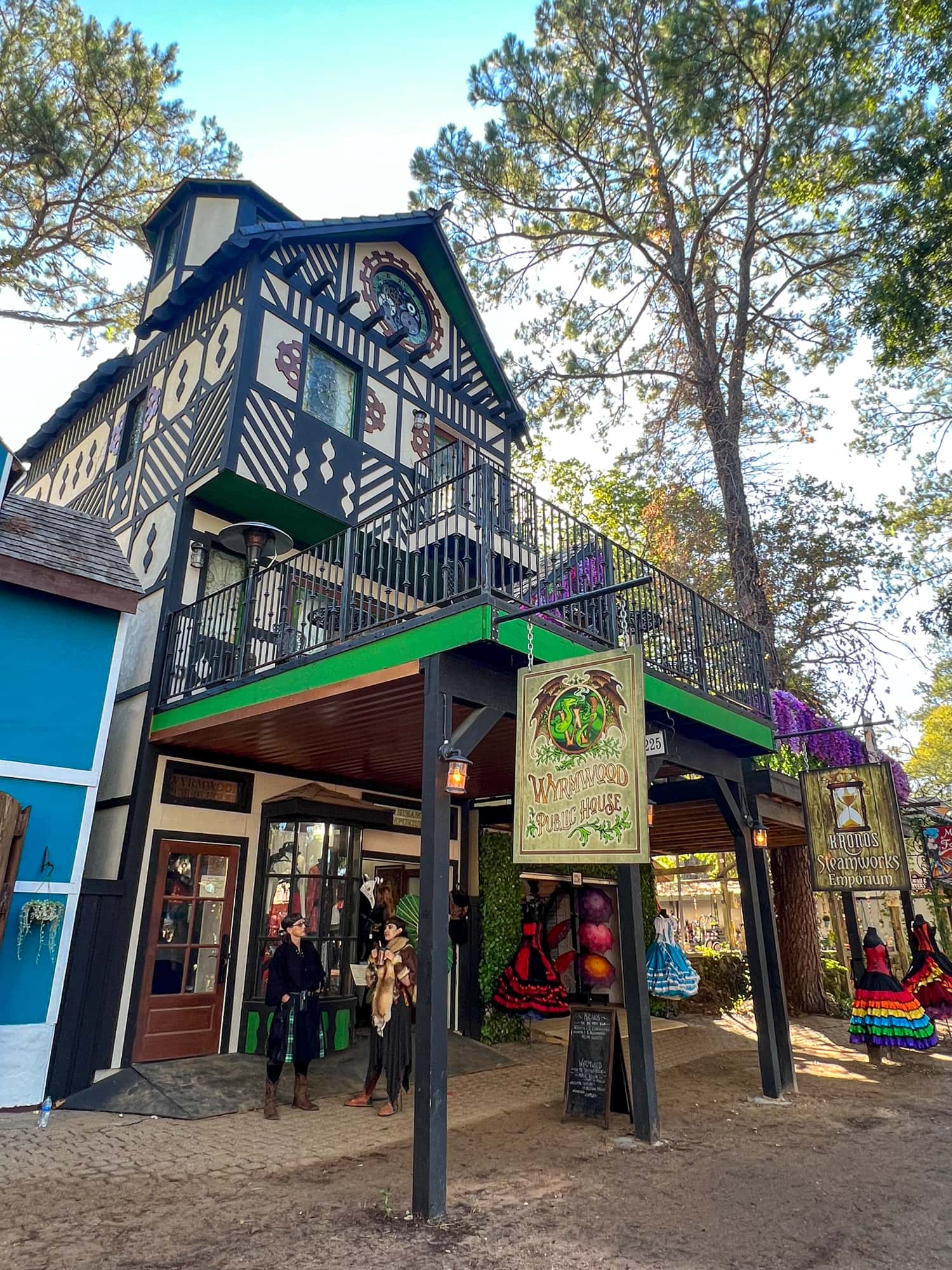 Wyrmwood Public House
In researching food and drink experiences ahead of time, I became aware of the Wyrmwood Public House.
This new addition for 2022 is described on the Texas Renaissance Festival website as a "multi-sensory entertainment and social experience, where the worlds of French Bohemia, retro-futuristic steampunk, and copper mining saloon culture collide with burlesque, sideshow, magic, and more."
That sounds like fun, and they're open early. The bar operates from 9 a.m. to 3:30 p.m., so we walked right in around 10 a.m. for a drink.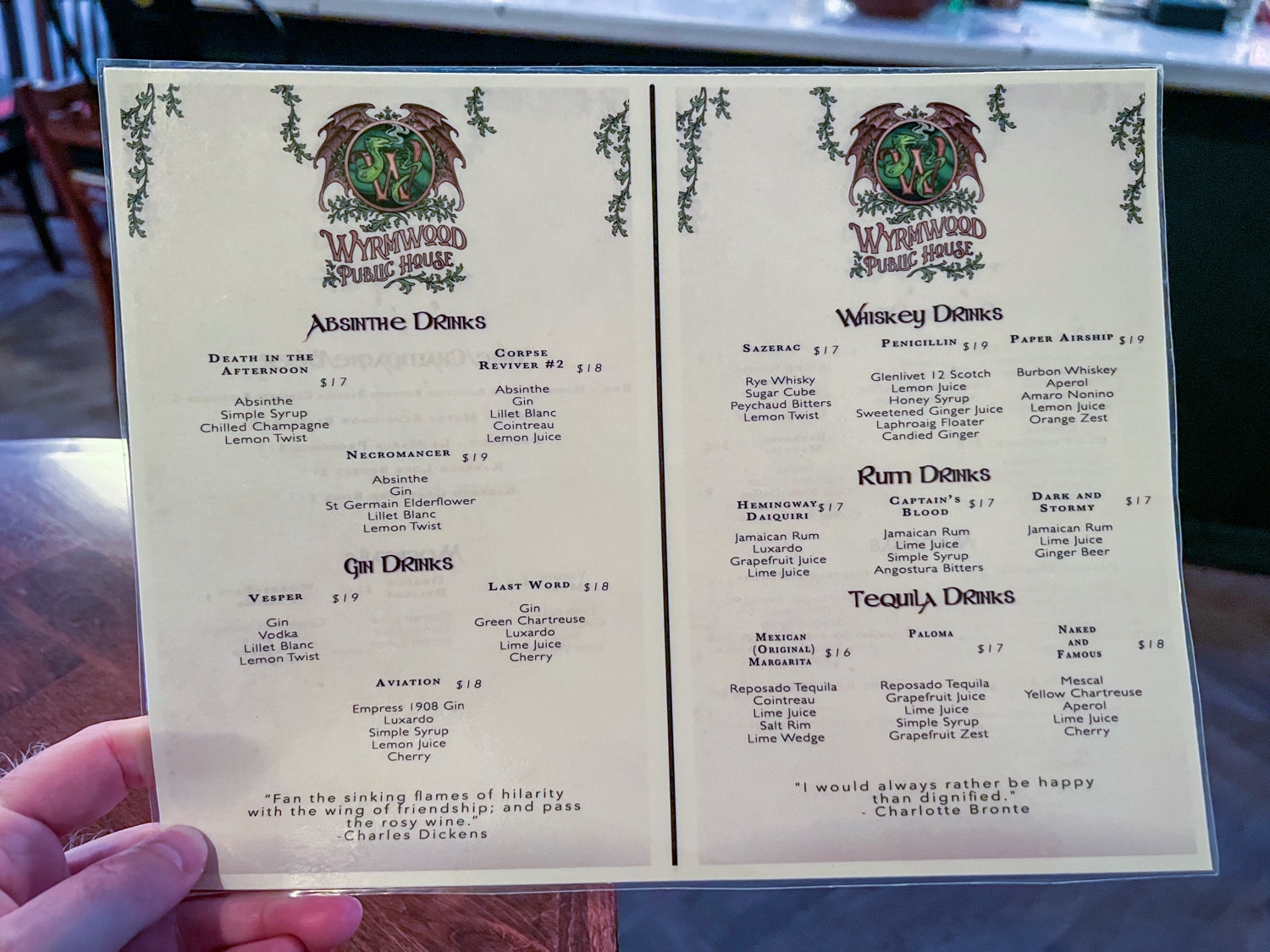 The second-floor drinking establishment fits the description well.
We were shown to a table for two opposite the bar and given cocktail menus with absinthe, gin, whiskey, rum, and tequila drinks.
I ordered Death in the Afternoon with absinthe, simple syrup, chilled champagne, and lemon twist for $17.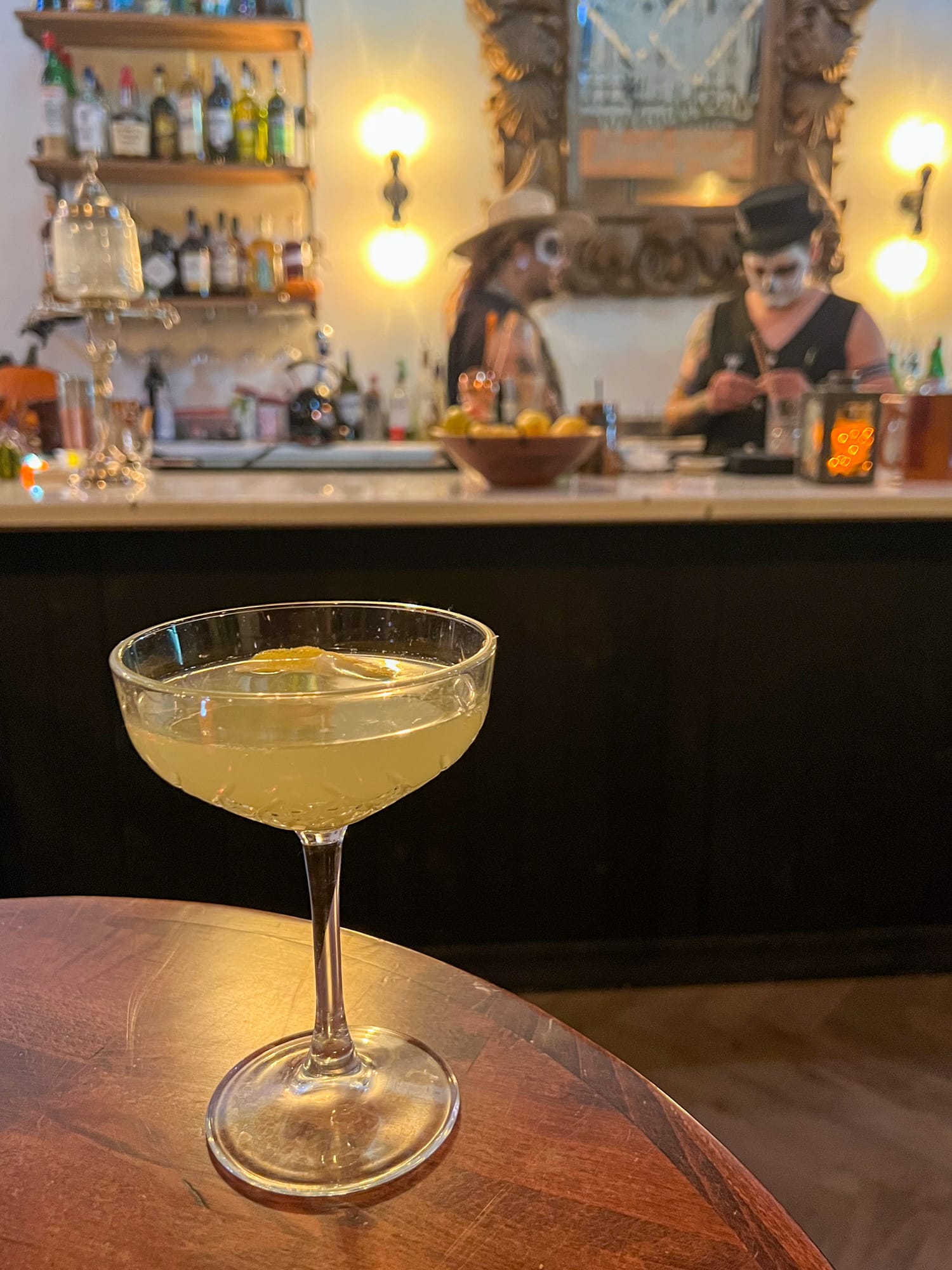 The absinthe's anise flavor was a little strong for me, but I liked the bubbles.
While sipping on our drink, a performer was on stage strumming an acoustic guitar and singing for the small crowd that'd entered the Public House so early.
Related: Best Bars in New Orleans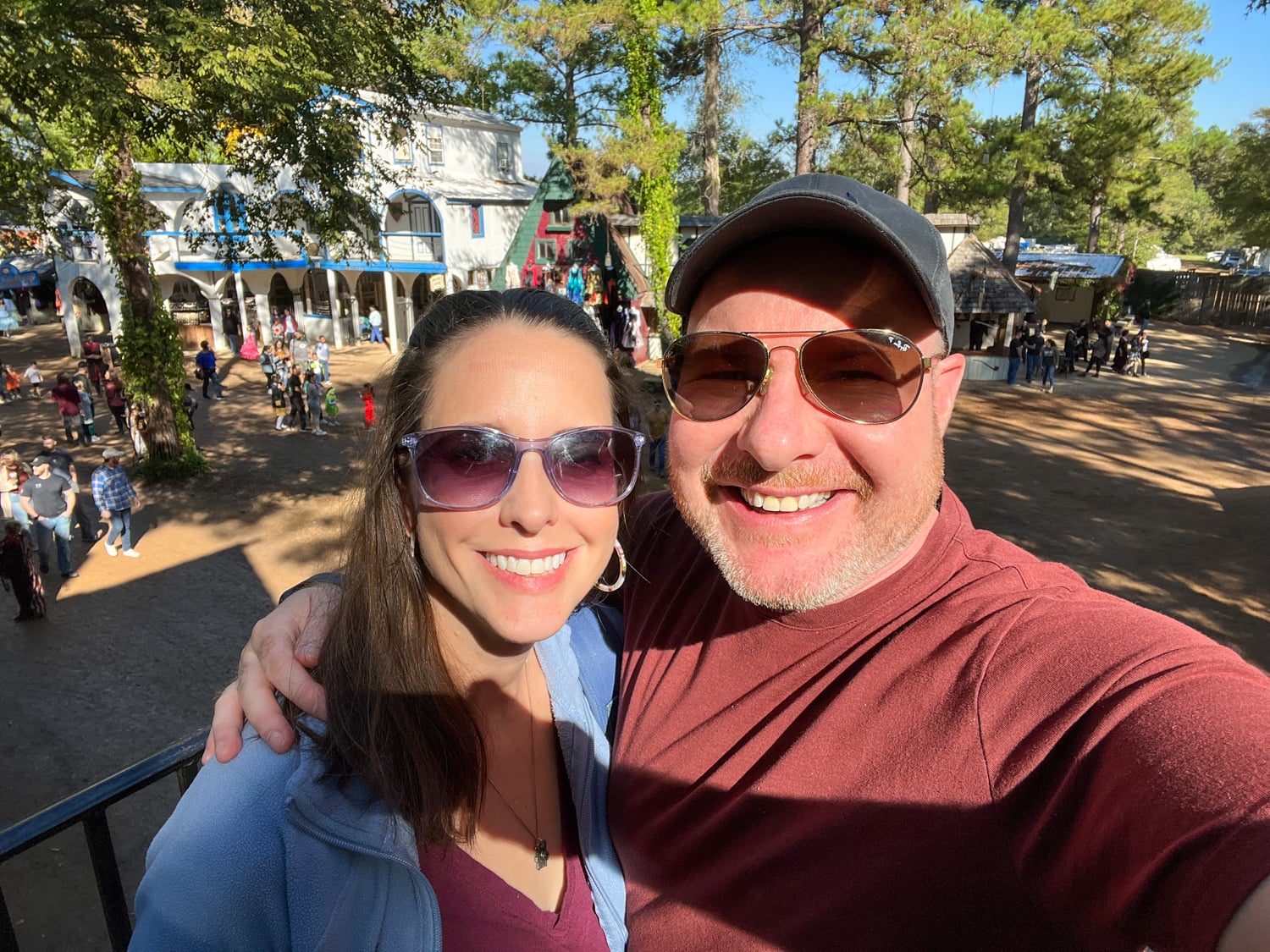 An outdoor balcony offered views of the people walking the grounds below. Kel and I took the opportunity to get a selfie before exiting.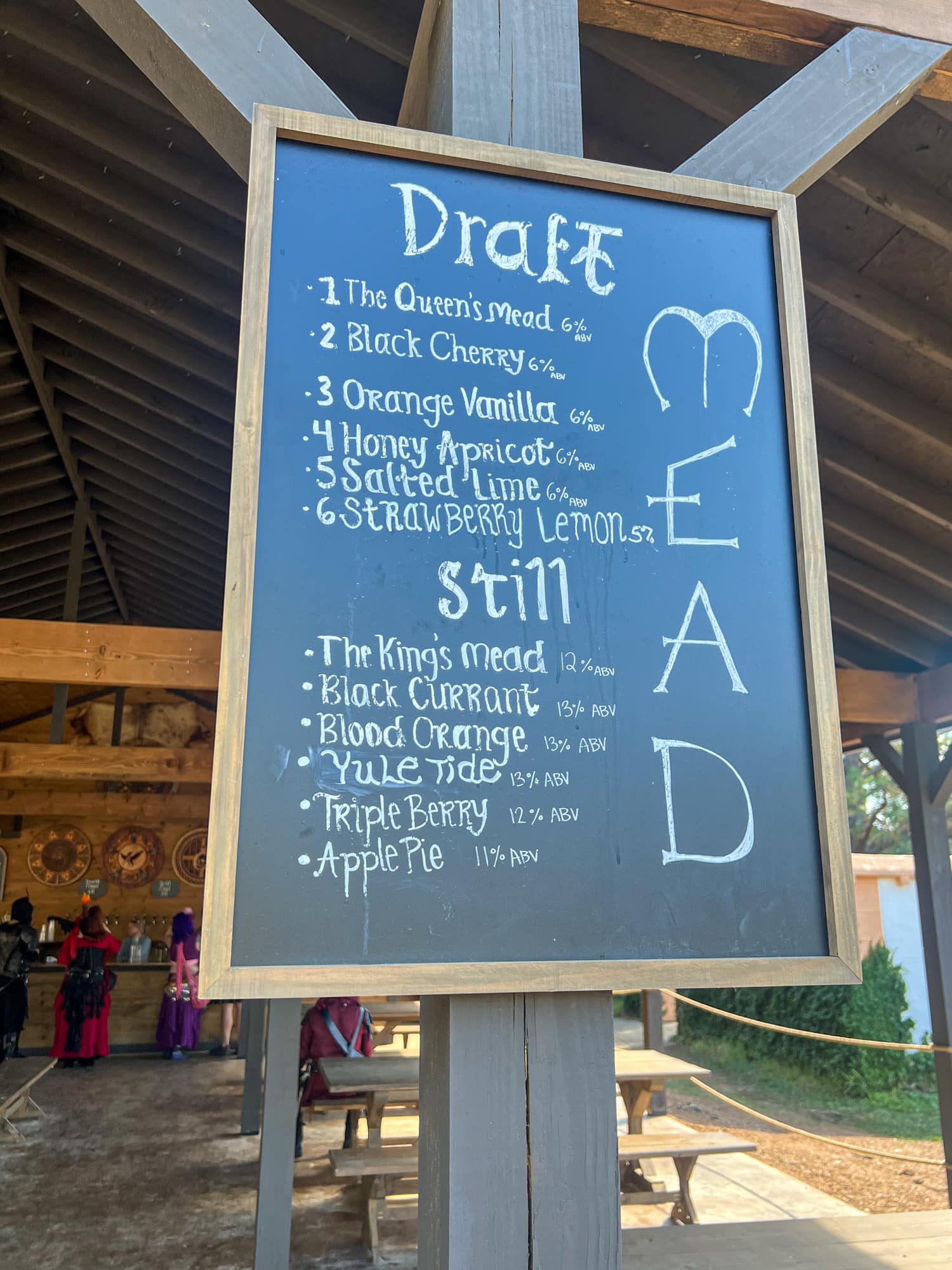 Meadery
The Heorot Mead Hall offers lords and ladies a choice of six draft and six still meads. I noticed the draft meads were about half the alcohol content of the still ones.
Flavors like orange vanilla, strawberry lemon, and apple pie sounded appealing. We settled on a black cherry draft mead with a rosy red hue. We both felt it was a little too sweet.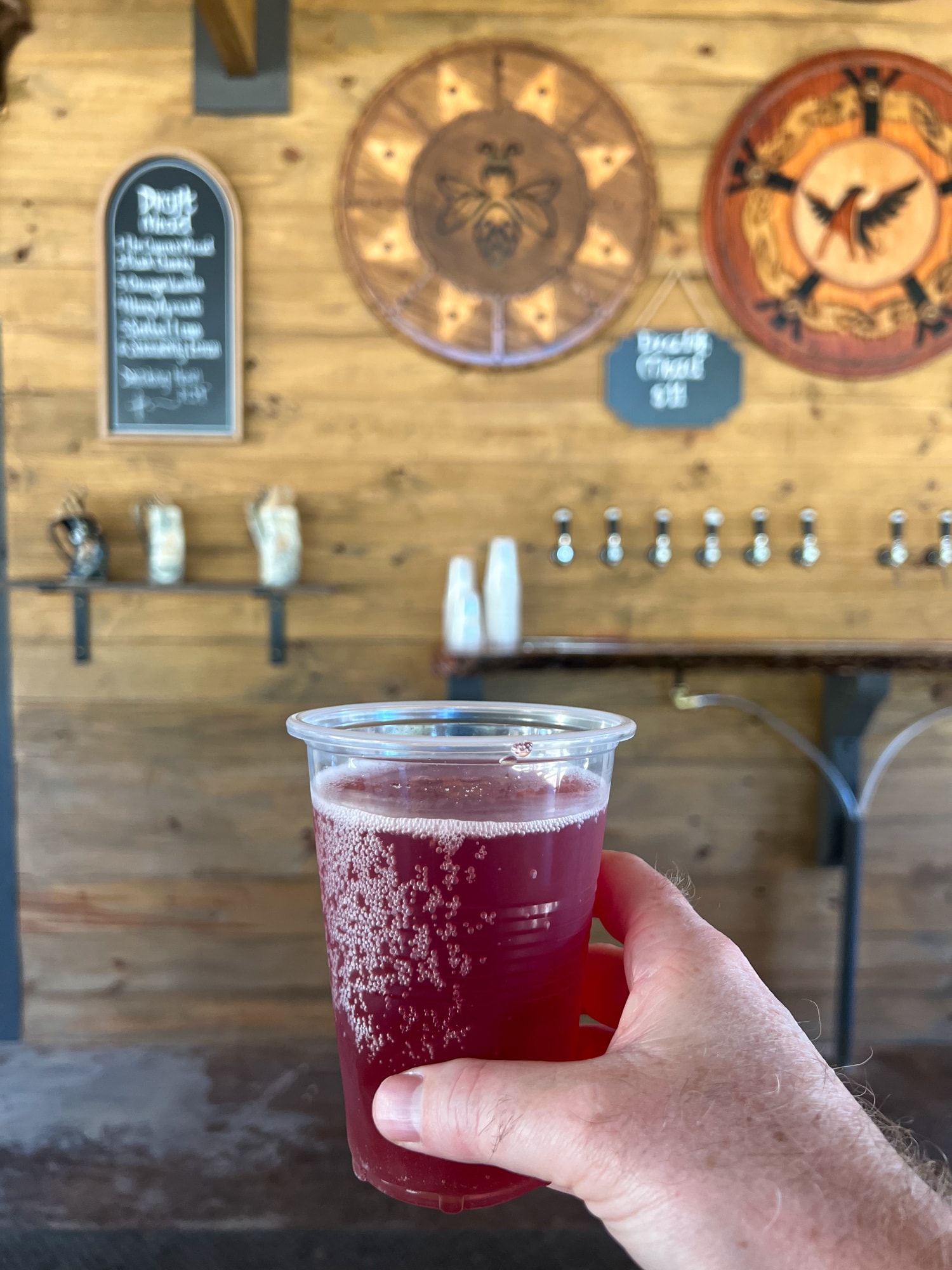 To avoid dropping money on a full cup of mead that doesn't suit your taste, you can opt for a mead tasting instead and sample a handful of their offerings.
Renaissance Festival Performances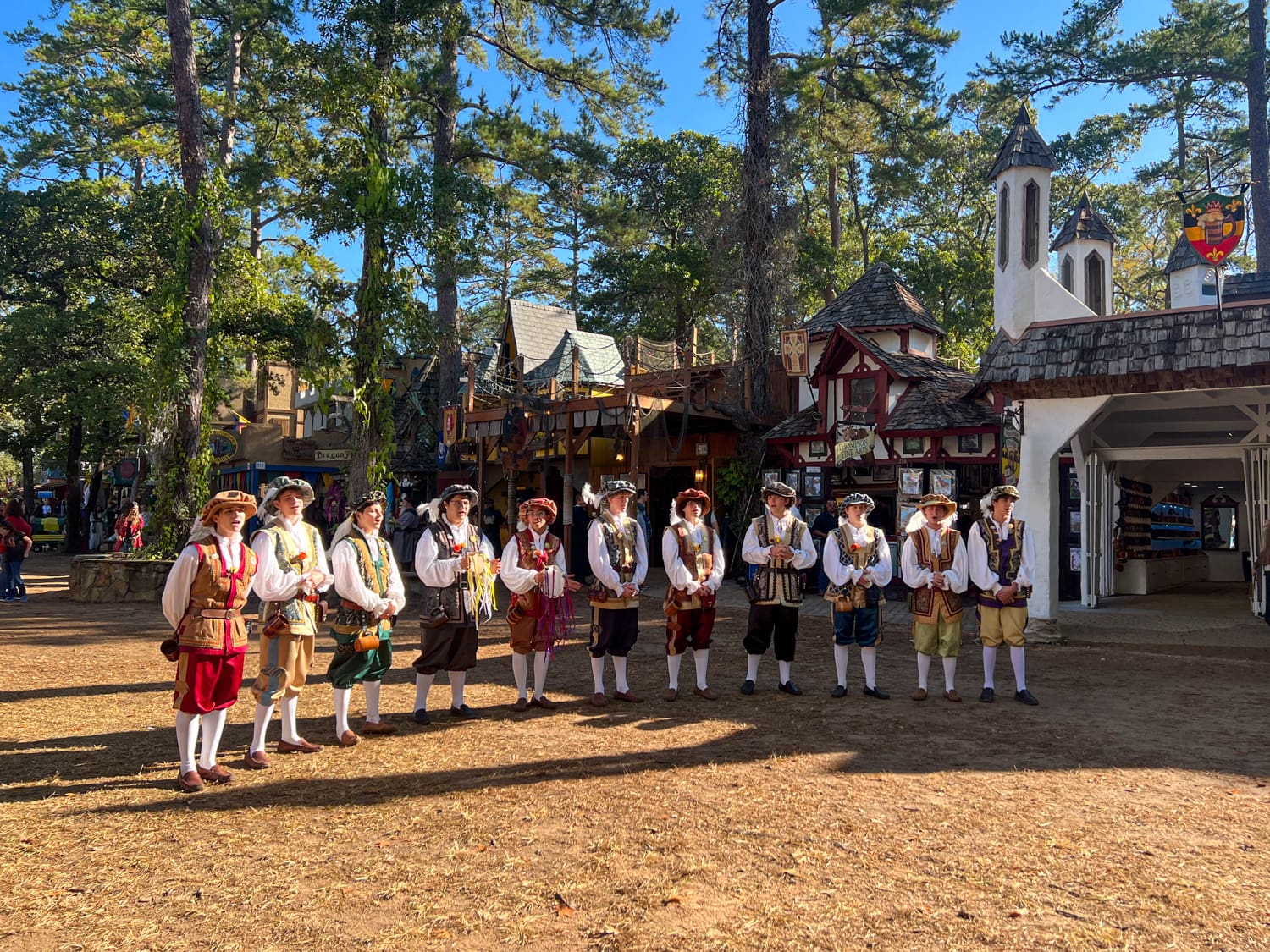 Beyond the food and drinks at the 2022 Texas Renaissance Festival, there's plenty of free entertainment.
I loved that almost all of it is included with the cost of admission.
Groups of singers serenaded the crowd, a fire dancer in a purple corset backed up by an energetic band, and birds of prey (falconry) demonstrations.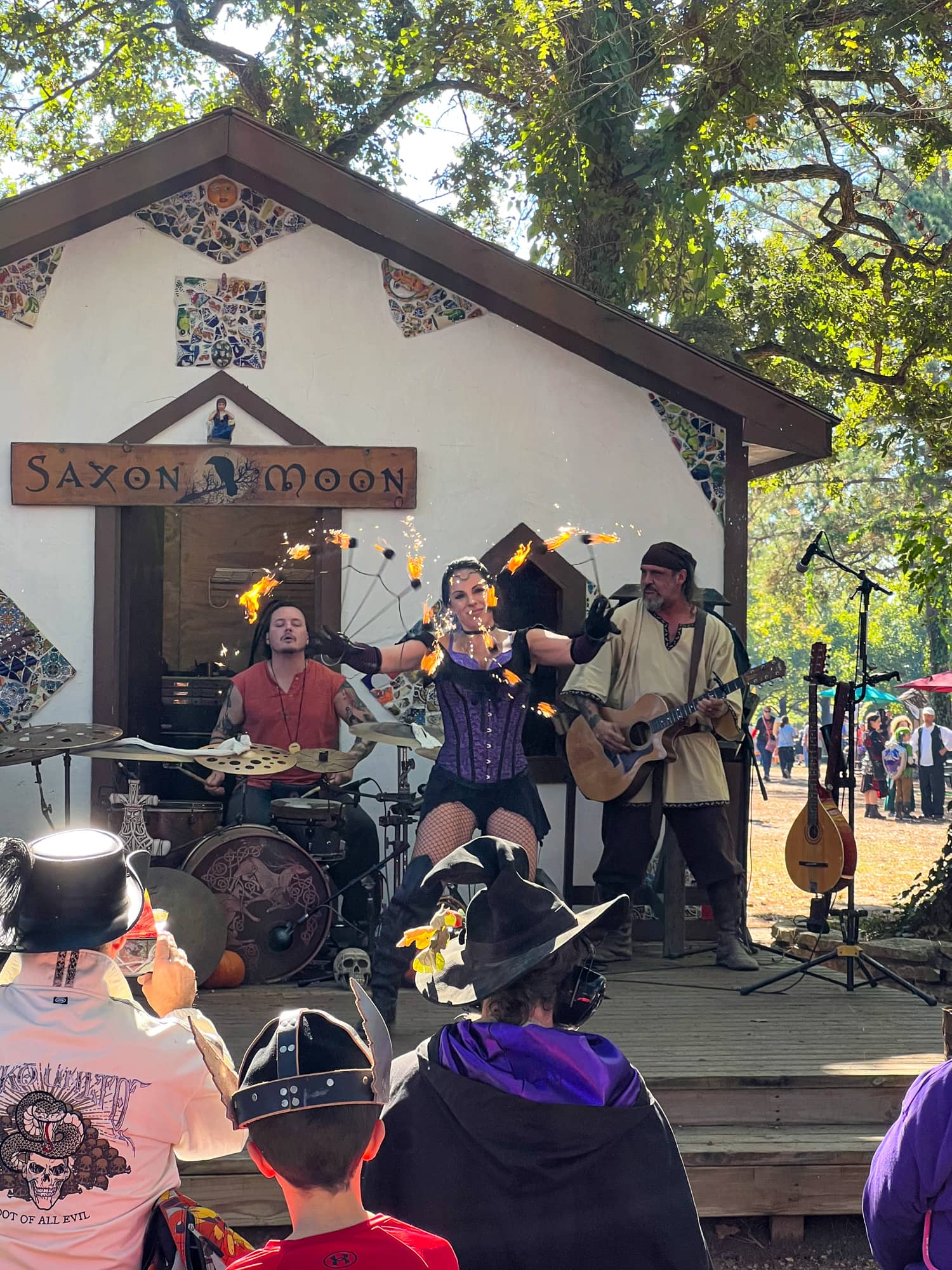 More adult-oriented entertainment includes shows by the Barbarian Bombshells and Dangerous Curves.
Near the Italian village, there's a black castle called the Museum of Cruelty with a guillotine outside its entrance, a precursor of the torture devices one will see inside. Admission is a few dollars.
I've seen Medieval torture equipment during my travels in Europe, so I didn't feel too much of a need to go here.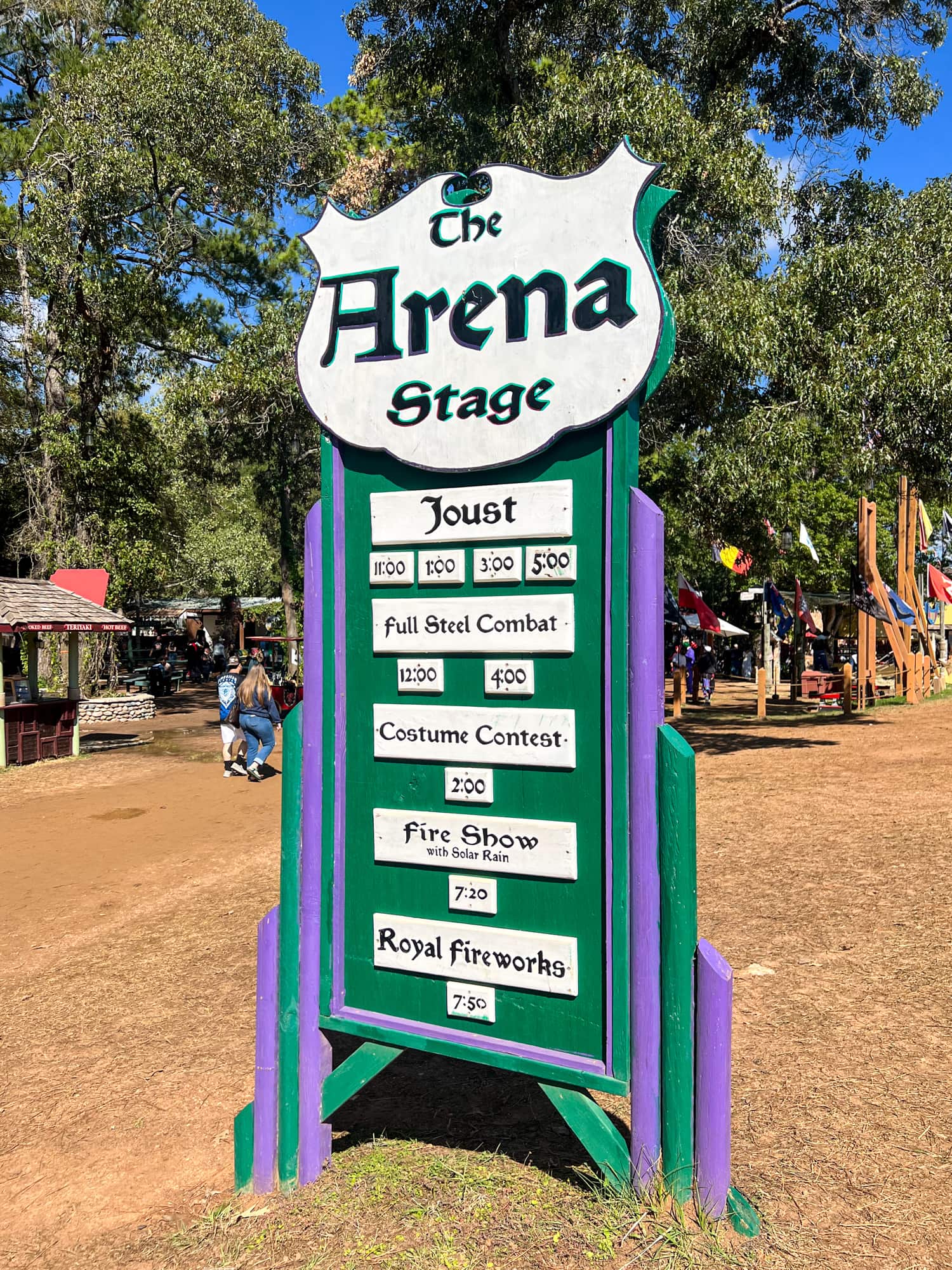 The Arena Stage
Marquee events occur at The Arena Stage, including jousts, full steel combat, a fire show, and nightly fireworks.
We caught two shows. The first was full steel combat, where knights in full body armor engaged in hand-to-hand combat with axes, swords, and maces.
This involved a lot of metal clanking sounds. It was a little hard to see from the back row, so I'd recommend getting as close as possible to the action.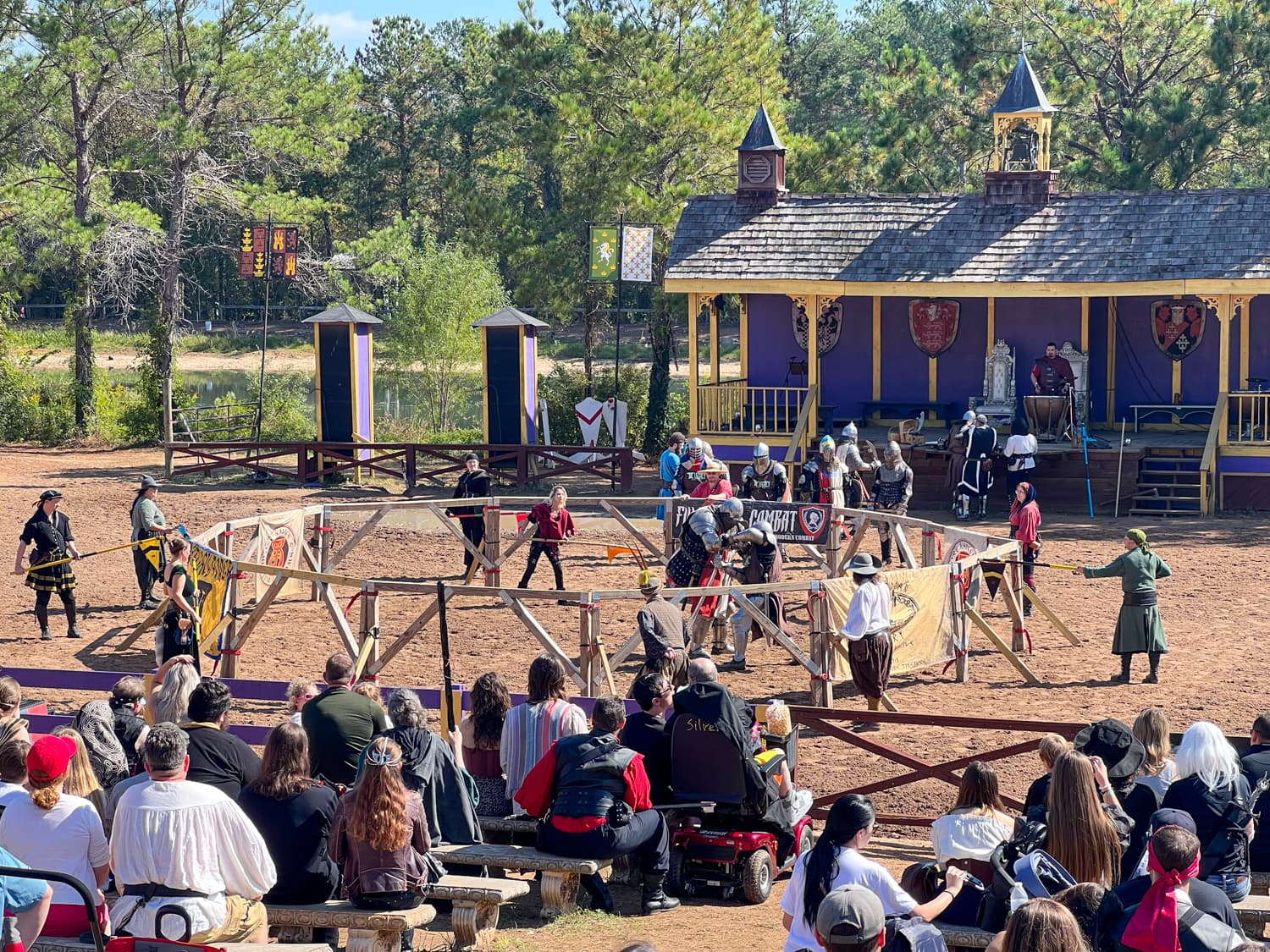 The second show we caught was jousting, an activity I remember watching at a Renaissance festival in New York my parents took me to as a kid.
I don't know if it was because a few hours had passed or it was simply a bigger draw, but the Arena Stage was packed for this one.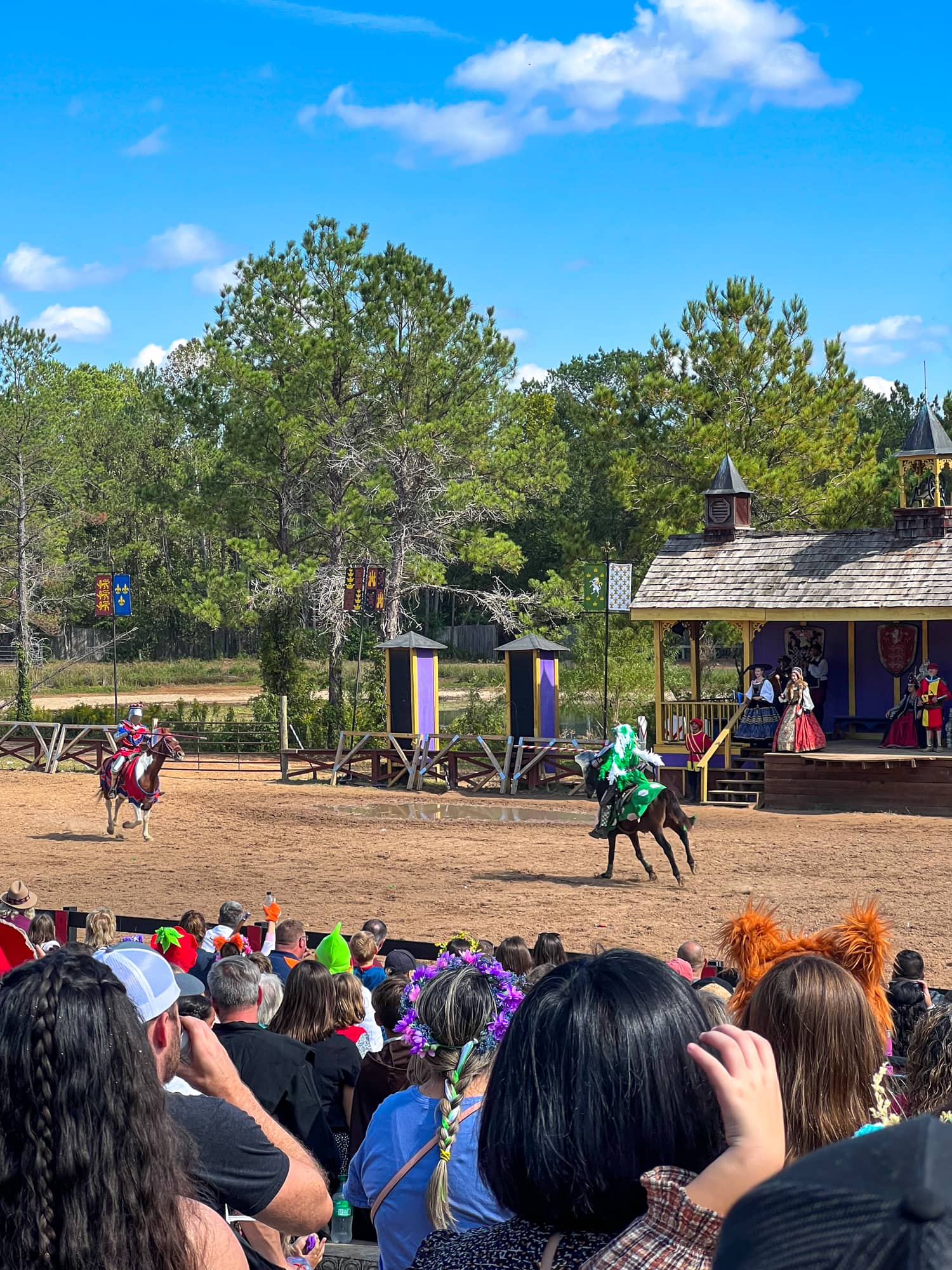 The knights on horseback gallop toward each other with wooden lances aimed at the opponent and a metal shield to protect themselves.
After a few passes, one of the knights typically gets knocked (or falls purposefully) from the horse. This goes on until there's one knight left standing (or should I say sitting on their horse).
It's a realistic re-enactment and my top pick for things to do at the Texas Renaissance Festival.
***
Kel and I spent nearly four hours at Ren Fest, and it could've easily been more.
The people watching is a lot of fun. The fact that it was Halloween weekend only added to the variety of costumes we saw.
Additional themed weekends encourage visitors to dress up. The complete entertainment schedule is on the website.
Here's a sample:
Oct 21 and 22 - Pirate Adventure
Nov 4 and 5 - Heroes and Villains
Nov 24, 25, and 26 - Celtic Christmas
As you can see, there's reason to return week after week, so those season passes can start to look appealing.
______
I received two complimentary tickets to the 2022 Texas Renaissance Festival.