Sushi may not be the first food that comes to mind when you think of Austin; however, the high-quality sushi in the Texas capital may surprise you.
Over the last six years, I've indulged in some of the best sushi in Austin.
The top sushi restaurants are committed to excellence and sourcing fresh, high-quality seafood (often flown in from Japan).
Here, I'll share my shortlist for the best sushi in Austin so you can indulge too, whether going out with friends, on date night, or dining solo.
Austin's Best Sushi Restaurants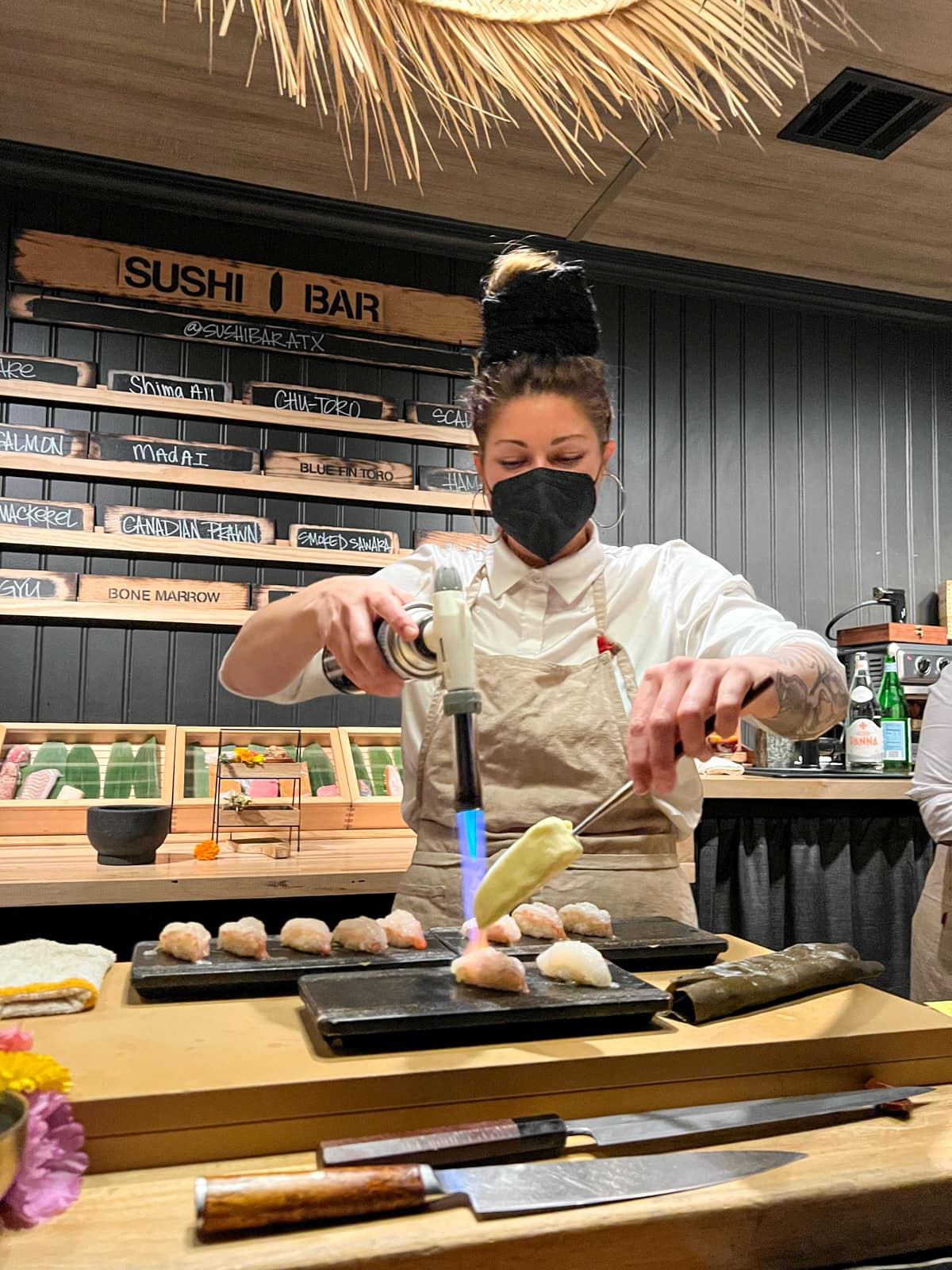 1. Sushi Bar ATX
My first sushi adventure of 2022 took me to Sushi Bar ATX, a 10-seat omakase dinner experience in the back of Bento Picnic in East Austin.
Chef Ambrely Ouimette and her team serve a 17-course meal three times a night, seven days a week.
Incredibly, Ouimette can walk diners through every complicated bite while leaving time to get to know her guests.
The intimate setting, where everyone enjoys the same nigiri simultaneously, naturally leads to open conversation and shared joy.
You never know who you'll be dining with at Sushi Bar ATX. Dave Chappelle ate there in the restaurant's first year (2021), and Tony Hawk dropped by during SXSW in 2022.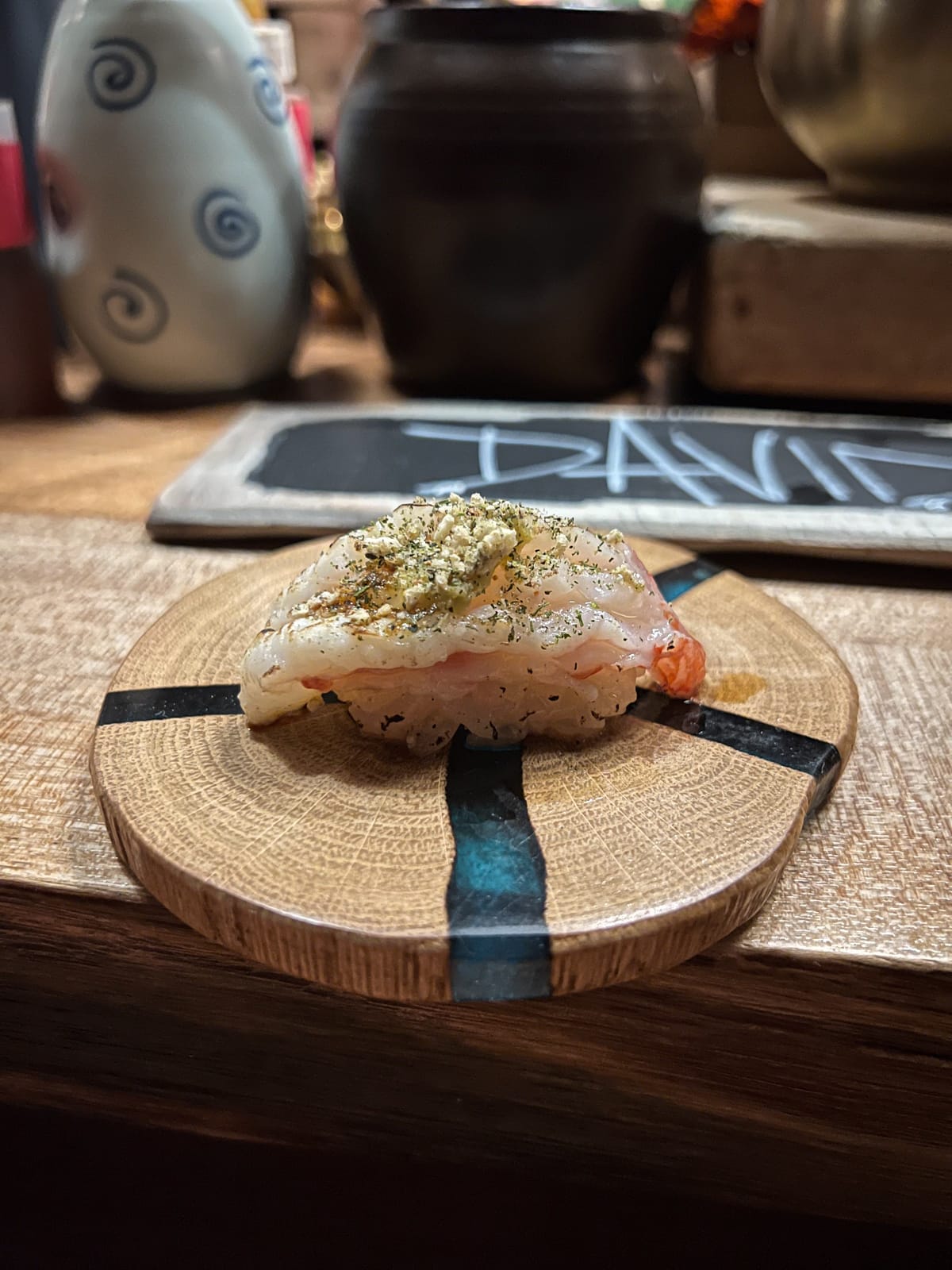 Highlights of my dinner included bluefin tuna, freshwater eel with bone marrow, and A5 wagyu.
If there's extra time available after the seventeenth bite, you'll be given the option to enjoy a few more nigiri for an additional charge.
Reservations for Sushi Bar ATX are available on Tock at noon on the first of each month. The dinner is $145, or $300 if you'd like the beverage pairing.
2600 E Cesar Chavez St, East Austin, exploretock.com/sushibaraustin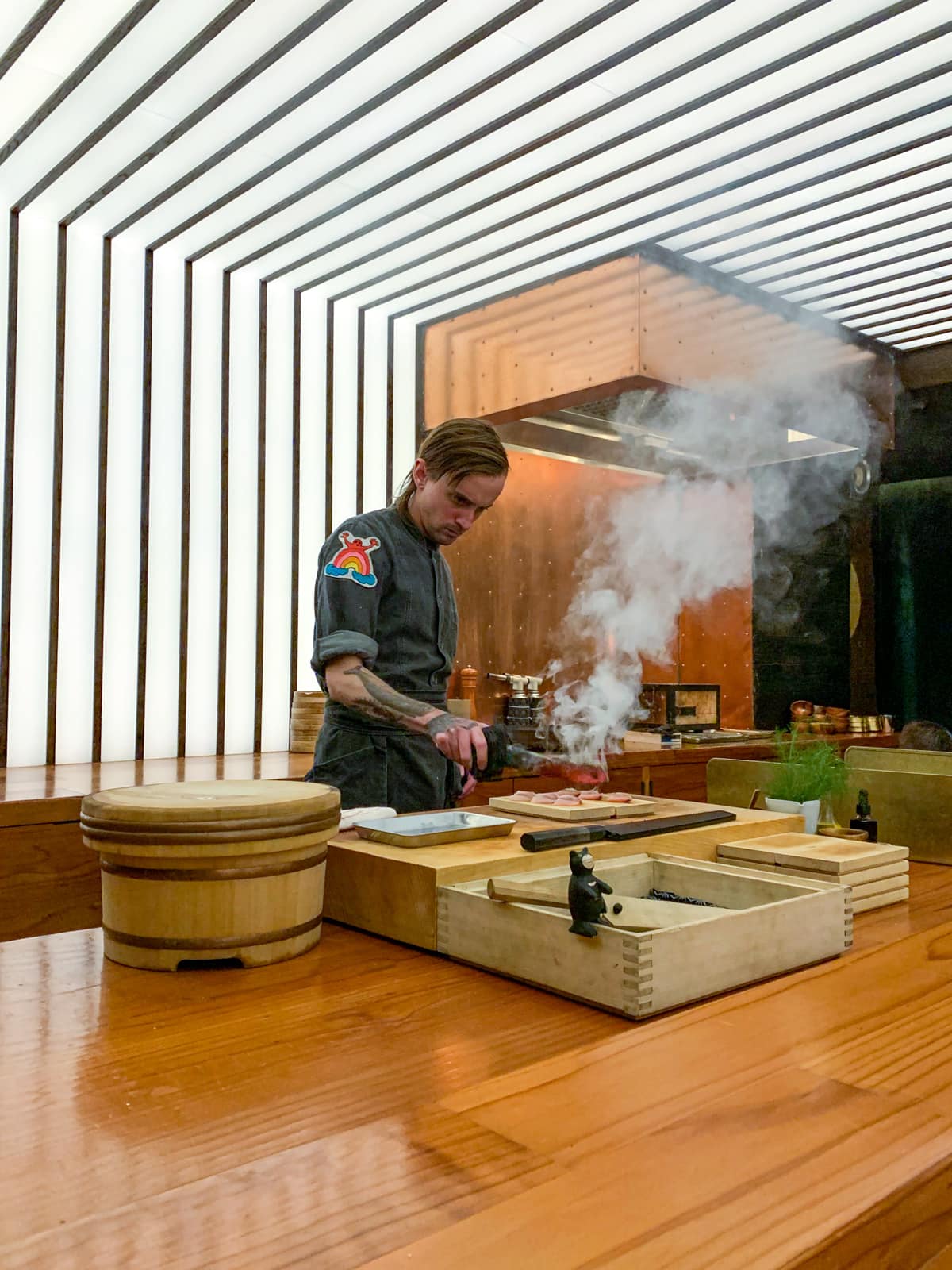 2. Otoko
Hidden in the South Congress Hotel, Otoko specializes in Kyoto-style kaiseki and Tokyo-style sushi.
The kitchen team is led by Japanese chef Yoshi Okai who moved from Kyoto, Japan, to Austin in the United States (by way of Los Angeles).
After working six years as the head chef at Uchi and Uchiko, he took the helm at Otoko in 2015 and never looked back.
Here, his skills gained national attention, and he was named one of Food + Wine Magazine's best new chefs of 2017.
I like Yoshi's fun persona and punk rock attitude, which you can get a feel for on his Instagram account.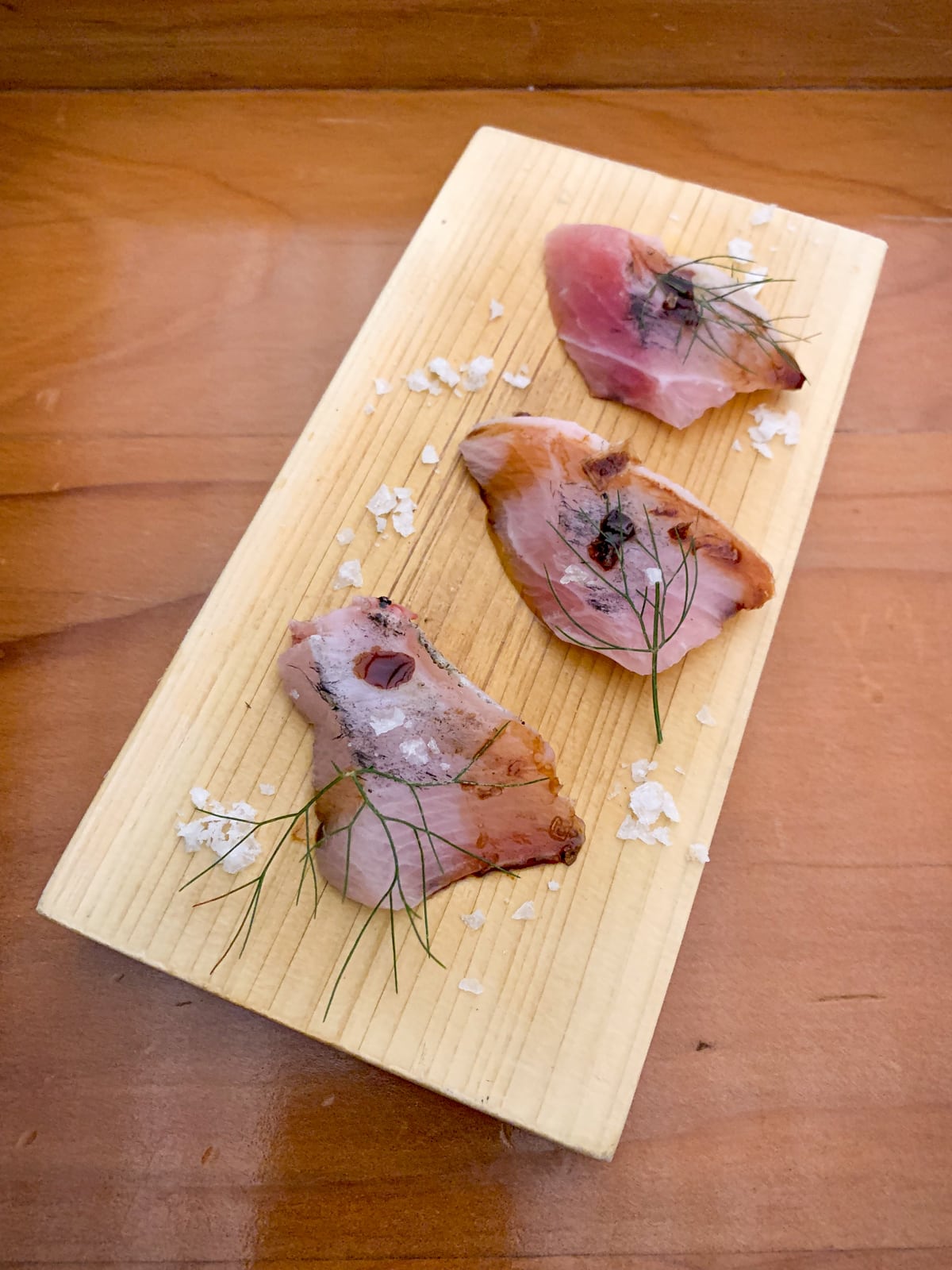 The 12-seat sushi restaurant is larger than Sushi Bar ATX and more brightly lit due to the futuristic interior design.
A kaiseki dinner currently runs $195-$225 and is available Thursday through Saturday. Wednesday nights are Tokyo-style sushi omakase for $250-$275 per person.
Tickets are released on the first of each month on a rolling three-month basis and include a 30-minute reservation before dinner at Watertrade, an adjacent Japanese-style cocktail bar.
1603 S Congress Ave, South Austin, otokoaustin.com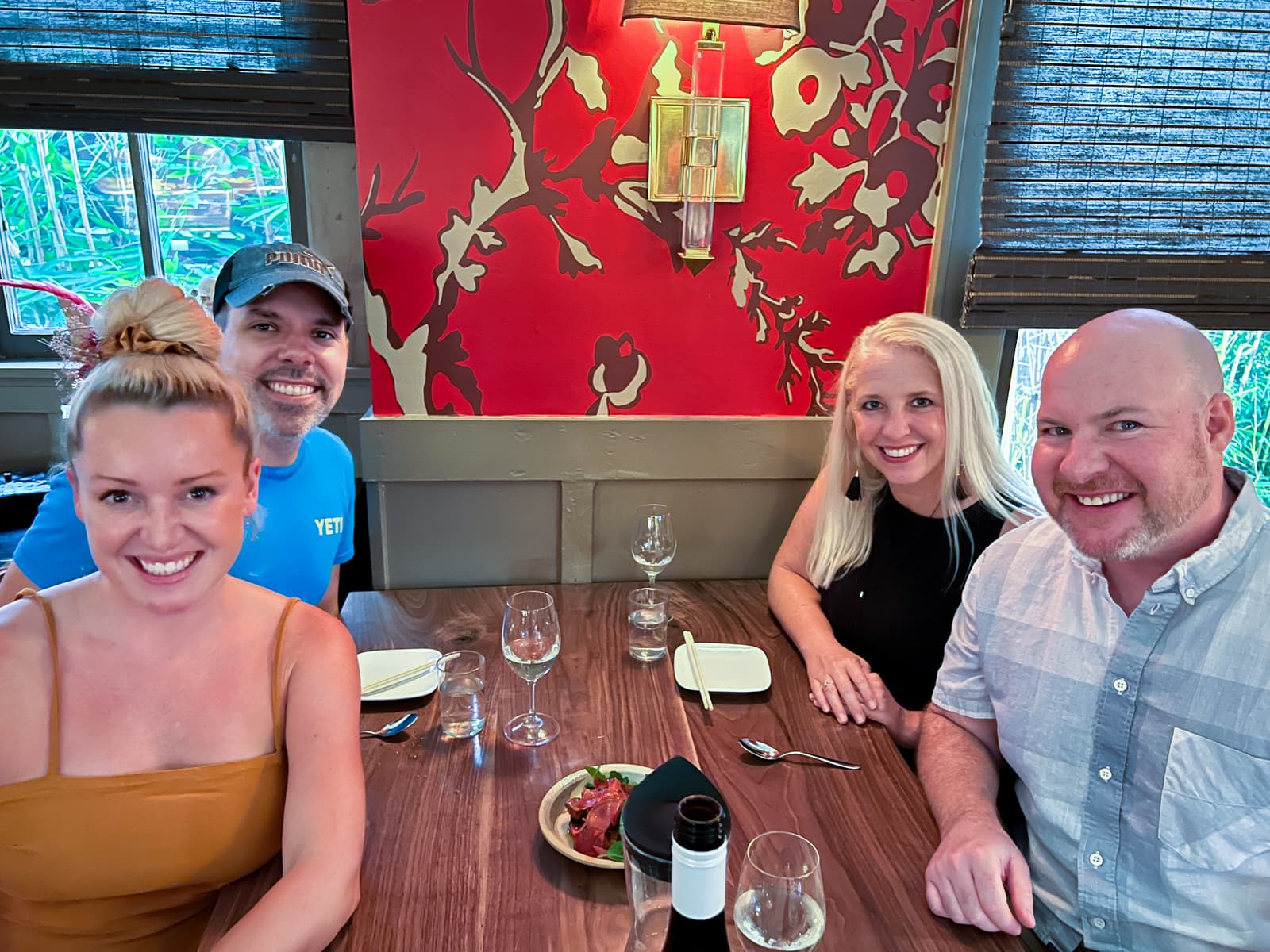 3. Uchi
Uchi is widely regarded as the best sushi restaurant in Austin, and it has nearly 20 years of experience and accolades to back this up.
Chef Tyson Cole began his restaurant career as a dishwasher at a sushi restaurant in downtown Austin while attending college at the University of Texas in the mid-90s.
In 1996, he began a six-year apprenticeship under chef Takehiko Fuse of Musashino Sushi Dokoro, which included trips to Japan and a brief period working in New York City.
He threw himself into learning the Japanese language and culture during this time.
In 2003, he opened Uchi, and by 2005, Food + Wine Magazine named him one of the country's best new chefs. In 2011, he won a James Beard Award for Best Chef: Southwest.
In addition to serving inventive and delicious sushi, Uchi has been an incubator for top talent in Austin.
Yoshi Okai of Otoko, Masazumi Saio of Uroko, and Philip Speer of Comedor are just a few chefs who've worked there before opening their restaurants.
Operating out of a refurbished bungalow in South Austin, Uchi offers diners a small patio and indoor bar, a sushi counter, and a single large indoor dining room.
The place is always busy, as it's popular for celebrating special occasions, so get there early if you're going without a reservation.
The daily happy hour from 4:30 p.m. to 6 p.m. makes it more affordable to try great sushi rolls at Uchi on a budget.
Otherwise, ordering from the a la carte menu can quickly add up. But it's worth it! A six or ten-course omakase is available based on market prices.
801 S Lamar Blvd, South Austin, uchiaustin.com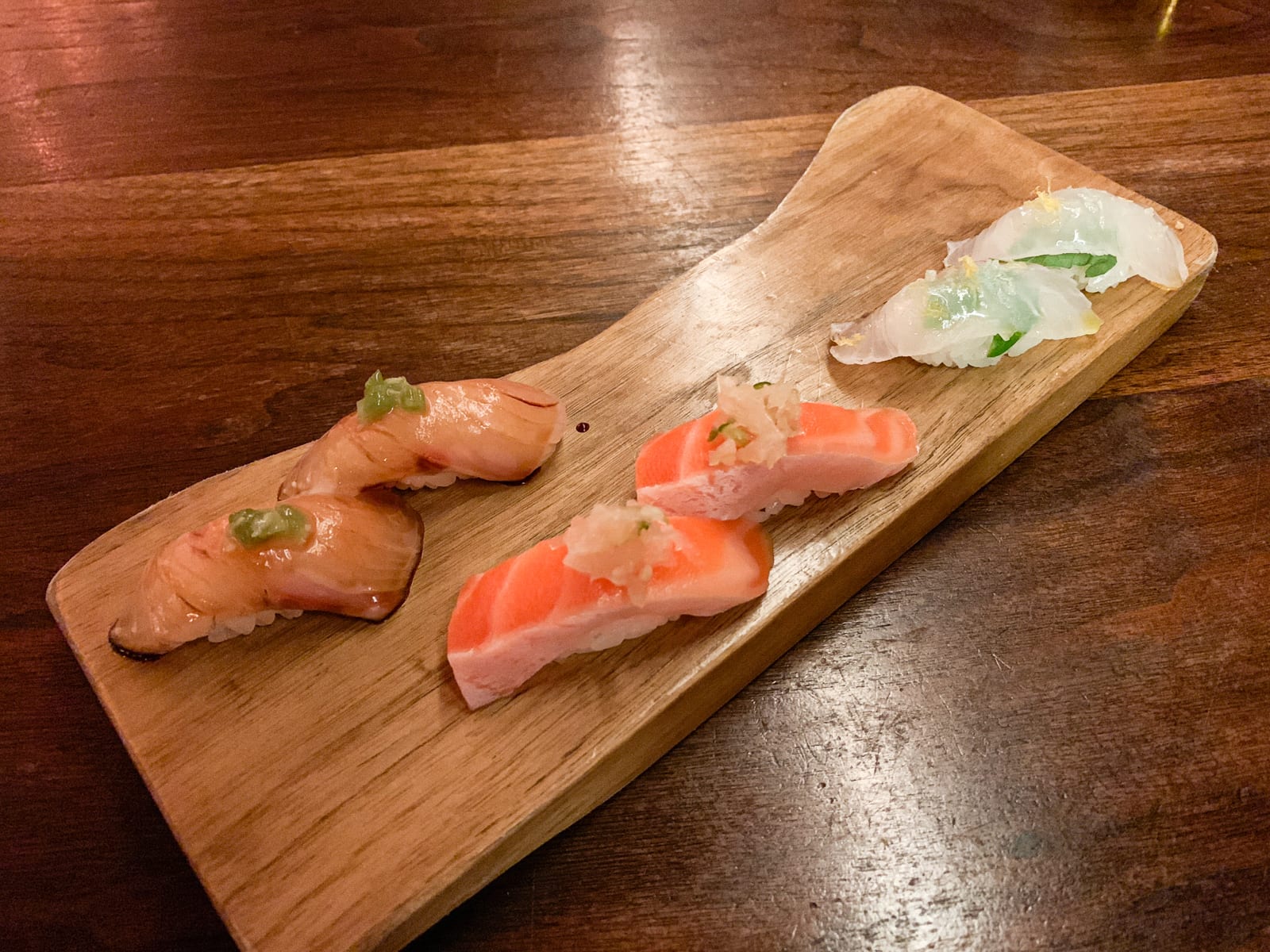 4. Uchiko
In July 2010, chef Cole opened his second restaurant, Uchiko, in Central Austin.
Uchiko's excellent sushi is on par with Uchi, and the restaurant has a more casual feel. It also doesn't feel as noisy as its predecessor.
Uchi's sister restaurant, Uchiko, offers a daily happy hour menu with fresh sushi from 4 p.m. to 6:30 p.m. to help you save money while still getting your raw fish fix.
Looking at it as I write this makes me realize I'm overdue for a visit.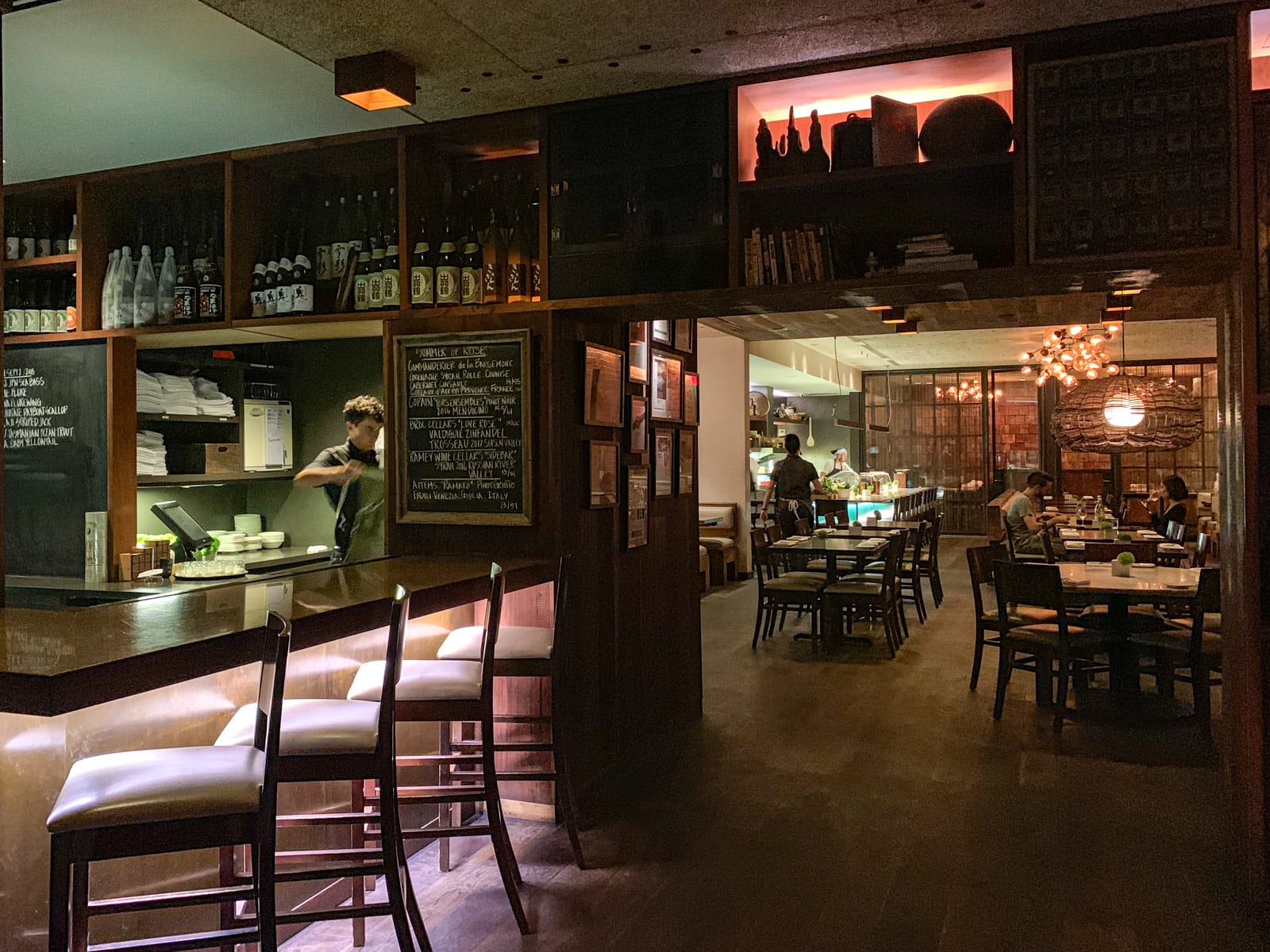 I celebrated a birthday at Uchiko with a friend, and the waiter allowed us to set a budget per person for food, after which he'd cut us off.
I chose $75 and thereby eliminated any need to make decisions. It turned out to be a terrific dining experience.
Uchiko offers two omakase options, a ten-course chef's menu based on what's fresh that day and a five-course menu with their signature dishes.
4200 N Lamar Blvd, North Austin, uchikoaustin.com
Related: Best Restaurants in Austin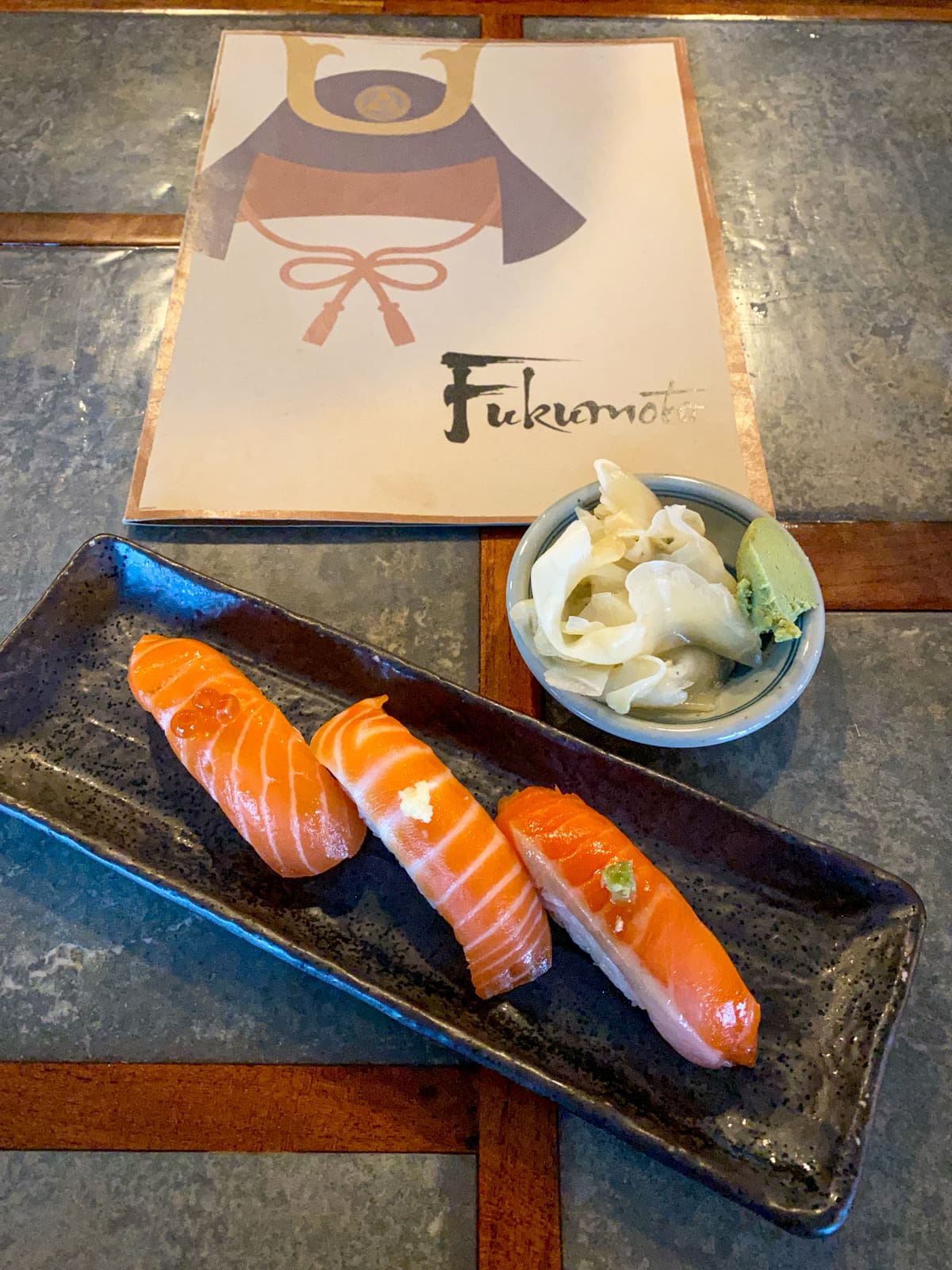 5. Fukumoto
Born in Japan, chef Kazu Fukumoto began his culinary career like Tyson Cole, washing dishes at Musashino Sushi Dokoro.
Starting at the bottom, he worked his way up to head chef, continuing for ten years before returning to Japan to study traditional Japanese cuisine further.
In 2015, chef Fukumoto opened his eponymous restaurant in East Austin, an "izakaya, a Japanese restaurant specializing in yakitori (skewers of meat grilled over Japanese charcoal), sushi/sashimi, and classic Japanese comfort food."
Fukumoto is the most casual restaurant on this list and one of the better options for going out with someone who doesn't like raw fish.
Thanks to the yakitori offerings, they'll have plenty of options. Miso-glazed pork belly, anyone?
514 Medina St, East Austin, fukumotoaustin.com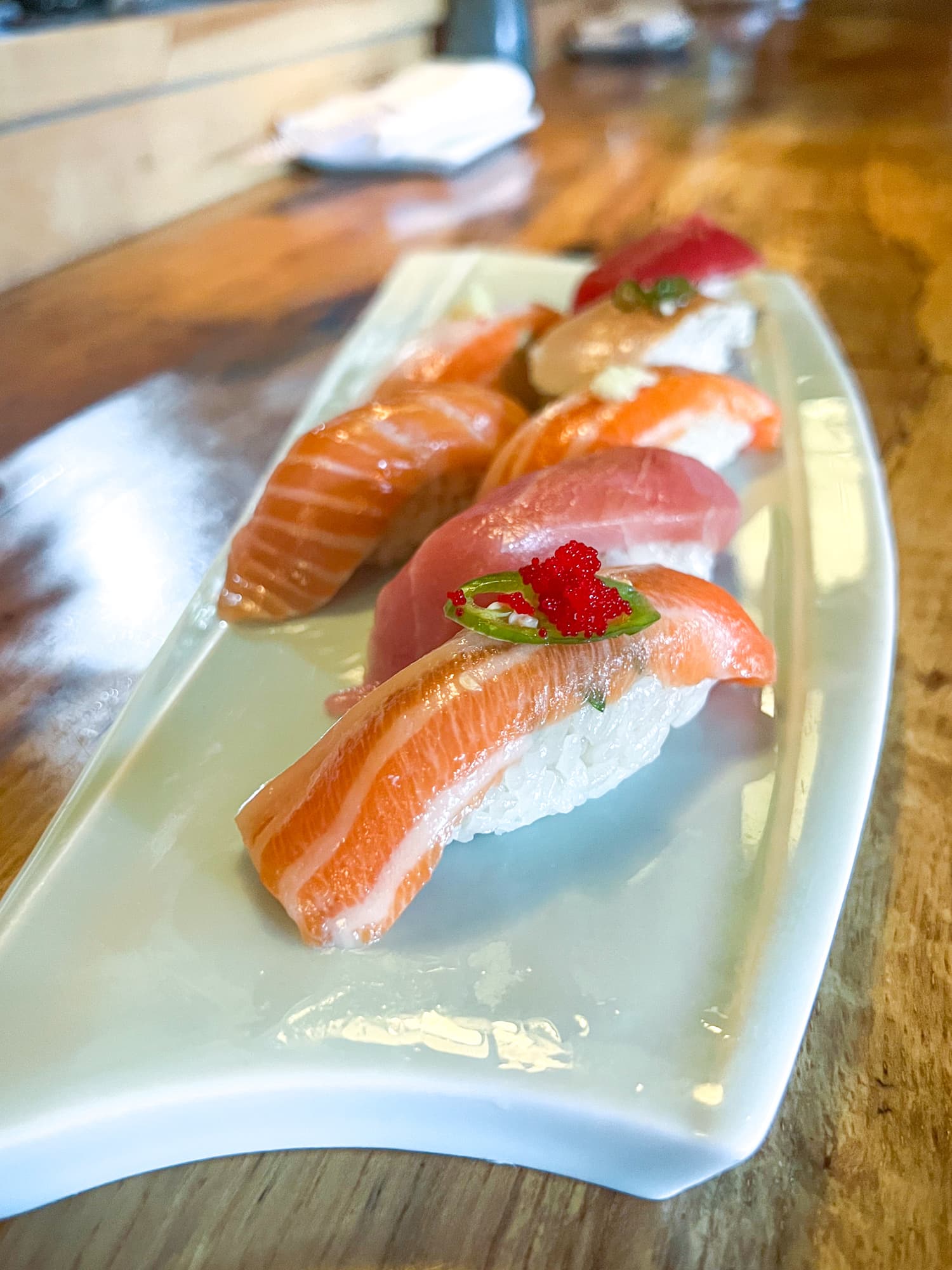 6. Musashino Sushi Dokoro
The chefs at Musashino pride themselves on sourcing fresh fish from around the world to serve their Edomae Zushi — Tokyo-style sushi.
As I've mentioned, under the guidance of chef Takehiko Fuse, Musashino has been a starting point for some of Austin's top talent, including Tyson Cole and Kazu Fukumoto.
The Austin dining scene has benefited from Musashino since the 90s, and it's still serving excellent sushi nightly (Tuesday through Saturday) at its West Campus location.
During a recent visit, I sat at the sushi counter with a view into the kitchen and ordered a glass of Joto sake and a feast a la carte.
Each generous portion of nigiri was expertly cut and presented. The fatty salmon was my favorite, and the salmon diablo was not as spicy as the name suggests.
The A5 seared 100% Japanese wagyu ribeye was an expensive choice I'd pass on next time in favor of more salmon.
2905 San Gabriel St Suite 200, Central Austin, musashinoatx.com
Related: Soba Noodles at Tei-An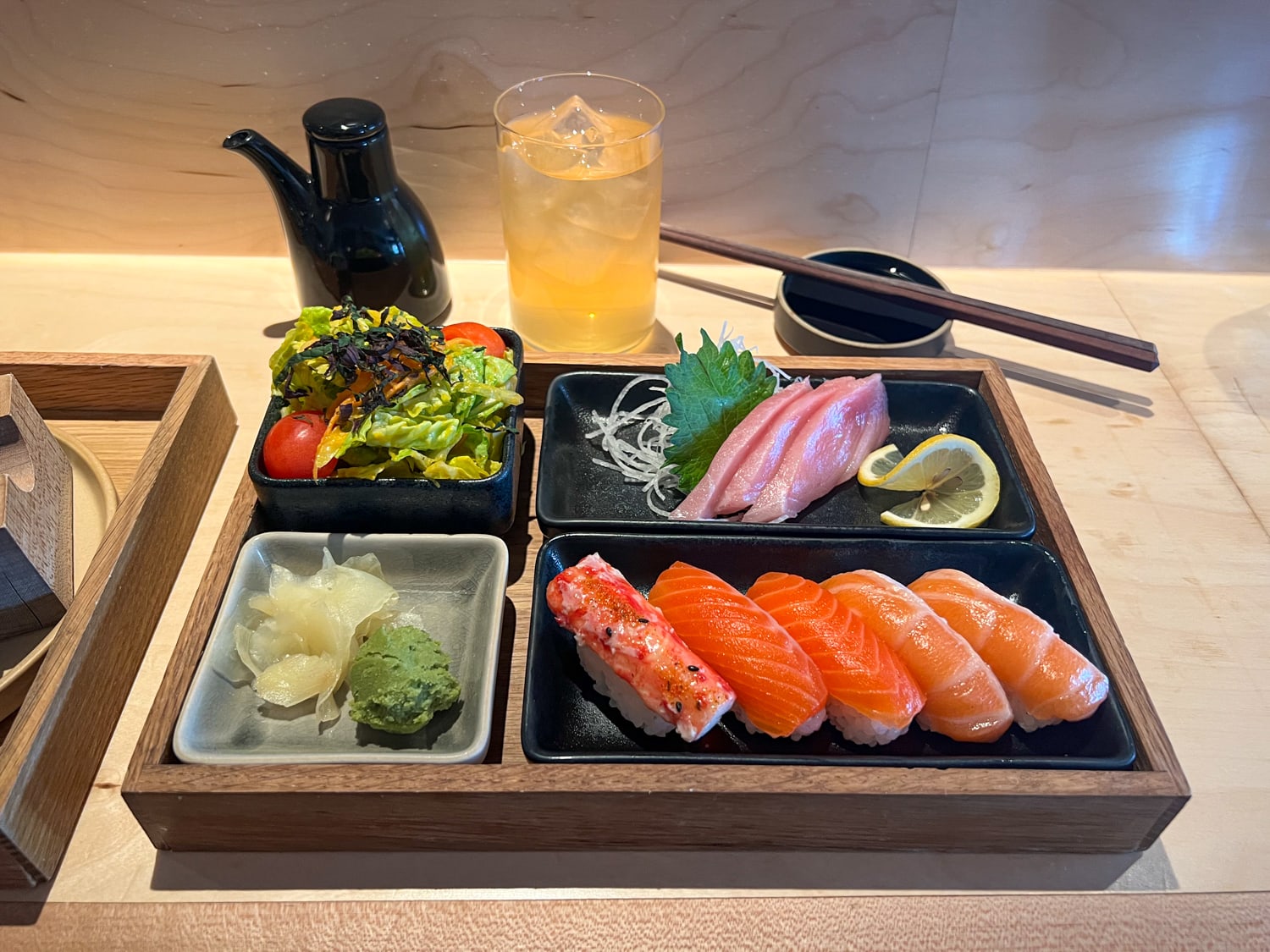 7. Neighborhood Sushi
I've been a fan of MML Hospitality's Austin restaurants since moving to the city, thanks to early experiences at Elizabeth St. Cafe, Jeffrey's, and June's.
While it took me longer than planned to check out the relatively new Neighborhood Sushi restaurant on South Congress, I'm so glad I did.
Led by Mexican-born executive sushi chef Jorge Garcia, Neighborhood Sushi serves a sizeable menu of nigiri, sashimi, traditional rolls, and tempura for lunch and dinner seven days a week.
Warm spiced donuts with miso caramel and black tea cream offered a sweet finale to my first lunch at one of the best sushi spots in Austin.
1716 S Congress Ave, South Austin, neighborhoodsushi.com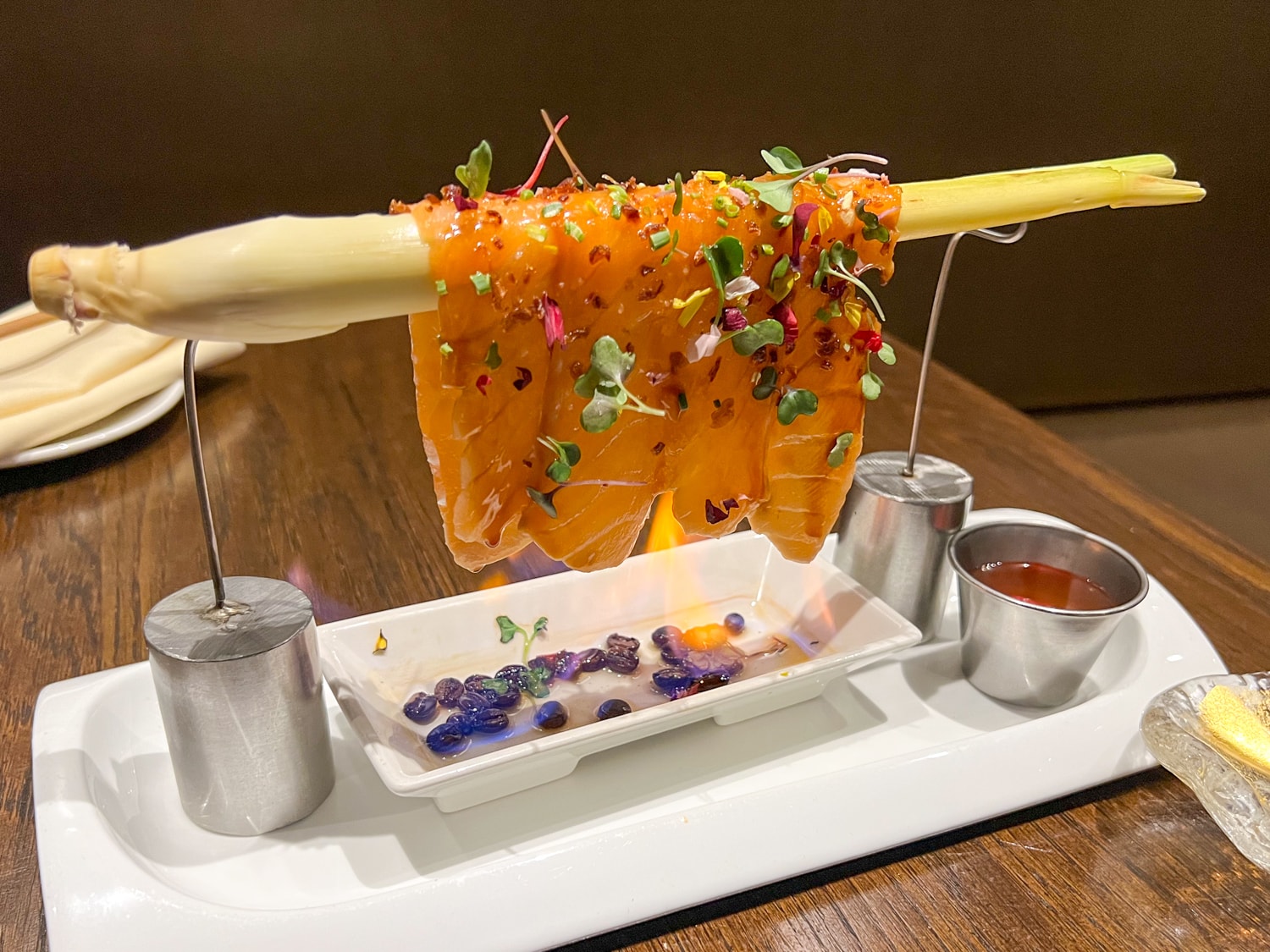 8. Soto
My latest addition to the list is Soto Japanese Restaurant & Sushi Bar, based on my experience at their original Cedar Park location off Research Blvd.
When I proposed to my friend Amy that we get lunch there, she responded that it was one of her favorite spots, a good sign.
She knew the menu well, ordering the Fire Salmon, a Soto specialty for me to see. Long slices of fresh salmon arrived over a live fire, with raspberry chili and eel sauce.
Amy also brought my attention to the white salmon they sometimes offer. Having never seen that on a menu before, I was excited to try it; however, it wasn't available.
I ordered the Kinmedai special instead, with nigiri, truffle honey, tangerine, and jalapeno emulsion. The tuna watermelon in a balsamic reduction with goat cheese also sounded amazing.
Soto incorporates high-end ingredients like A5 Wagyu, foie gras, caviar, and shaved truffle into some of their traditional sushi options, or you can pay extra to add them.
They also pride themselves on their sake and Japanese whiskey offerings. Next time, I'll have to go for happy hour or dinner to partake.
11066 Pecan Park Blvd #402 (in Lakeline Plaza), Cedar Park, sotoaustin.com
1100 S Lamar Blvd Ste 2115 (in Lamar Union Plaza), South Austin
***
There's plenty of talent in the Texas capital, so I'll update this list of the best sushi restaurants in Austin as I try more places.
The following sushi restaurants are next on my list: Komé: Sushi Kitchen and Tsuke Edomae, and a return to Lucky Robot (it's been too long).