Deep in the heart of Ho Chi Minh City's District 1, Anan Saigon offers a fine dining experience showcasing New Vietnamese Cuisine.
Opened in 2017 by Vietnamese-American chef Peter Cuong Franklin, the street food-inspired dishes at Anan Saigon pair fresh ingredients with contemporary culinary techniques.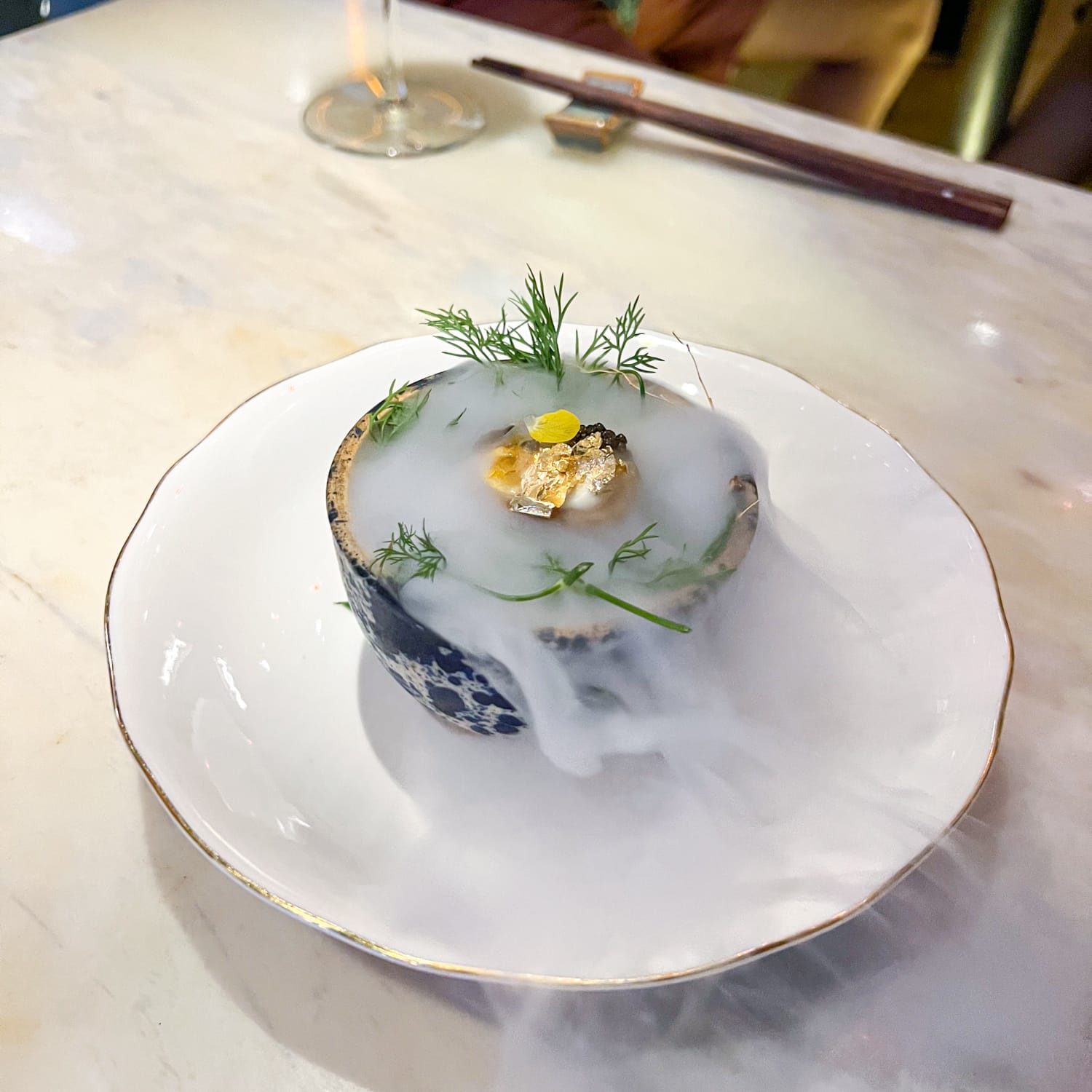 The result was a hit, with Anan Saigon reaching the continent's upper echelons of fine dining when it was voted one of Asia's 50 Best Restaurants in 2021. And it has maintained its position since, ranking #40 in 2023.
As a result, it's also earned the title of Best Restaurant in Vietnam for three years running.
Vietnamese food has long been synonymous with cheap eats, and while I intended to make that the focus of my first trip, I also wanted to experience one modern Vietnamese restaurant. I chose Anan Saigon.
About Peter Cuong Franklin
Chef Peter Cuong Franklin's inspiring life story only adds to his restaurant's allure.
He fled Vietnam in 1975 as a war refugee at 12, leaving behind family, friends, and life as he knew it. For decades, he lost contact with his mother and didn't even know if she was alive.
In the United States, he was adopted by a naval family, excelled in academics, graduated from Yale University, and became a successful investment banker.
While based in Hong Kong, he learned through a friend that his mother was still alive and later reunited with her.
Inspired by her and her food, which he credits as his "true culinary inspiration," he left a lucrative career in finance to train at Le Cordon Bleu and stage at some of the world's best restaurants, including Alinea in Chicago.
Anan Saigon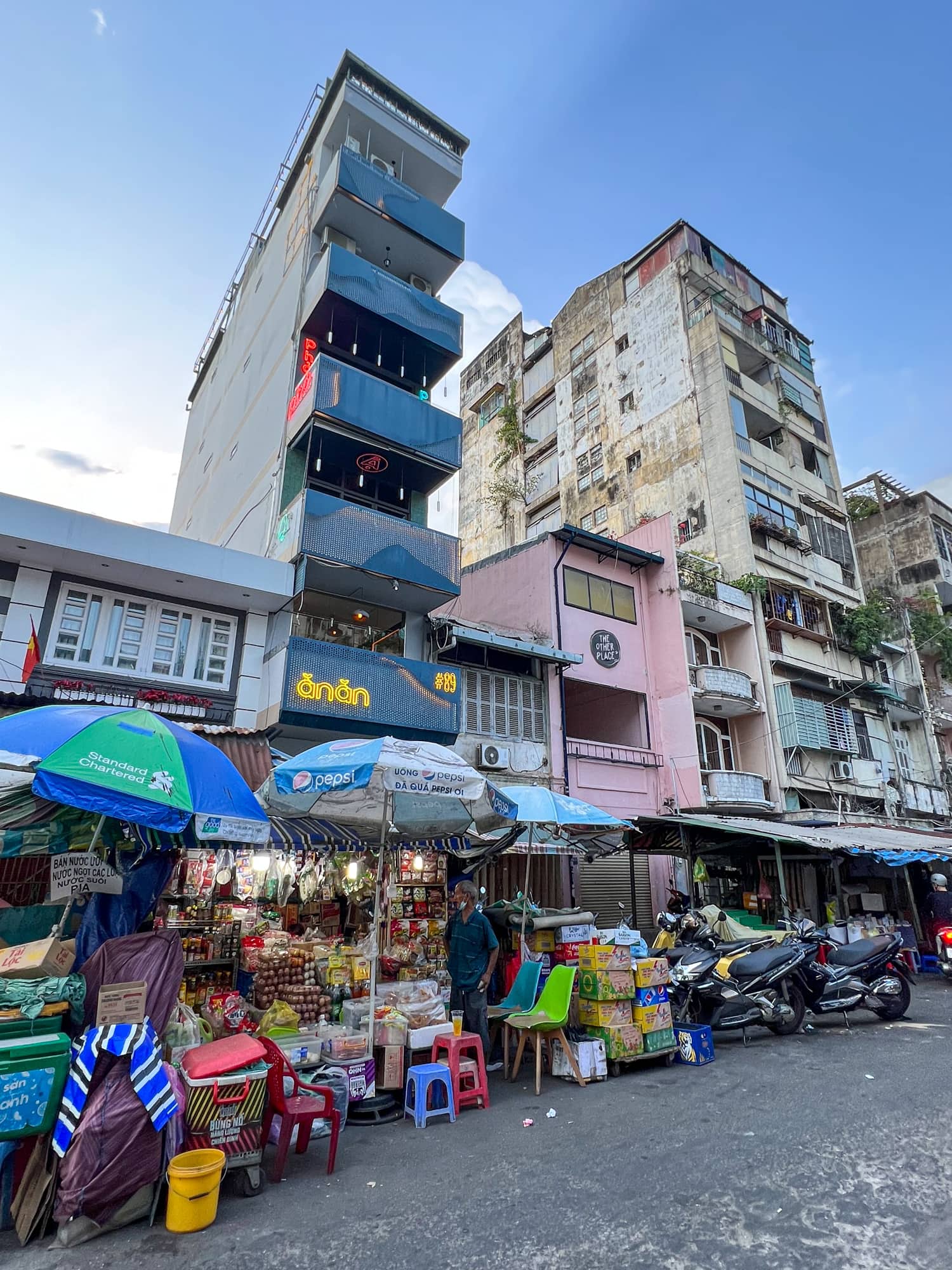 After operating his first restaurant in Hong Kong and gaining some early experience, he felt motivated to return to Vietnam.
In 2017, he opened Anan Saigon in a tube house on the same street as the oldest wet market in Ho Chi Minh City.
[Tube houses in Vietnam are tall thin buildings, often with a cafe, restaurant, or retail space on the ground floor and residences for multiple families on the upper levels. They can be anywhere from two to 12 stories. A wet market in Southeast Asia is where fresh meat, seafood, and produce are sold.]
I appreciated that chef Cuong Franklin embraced his roots and country's traditions when picking a location for his new restaurant.
Interior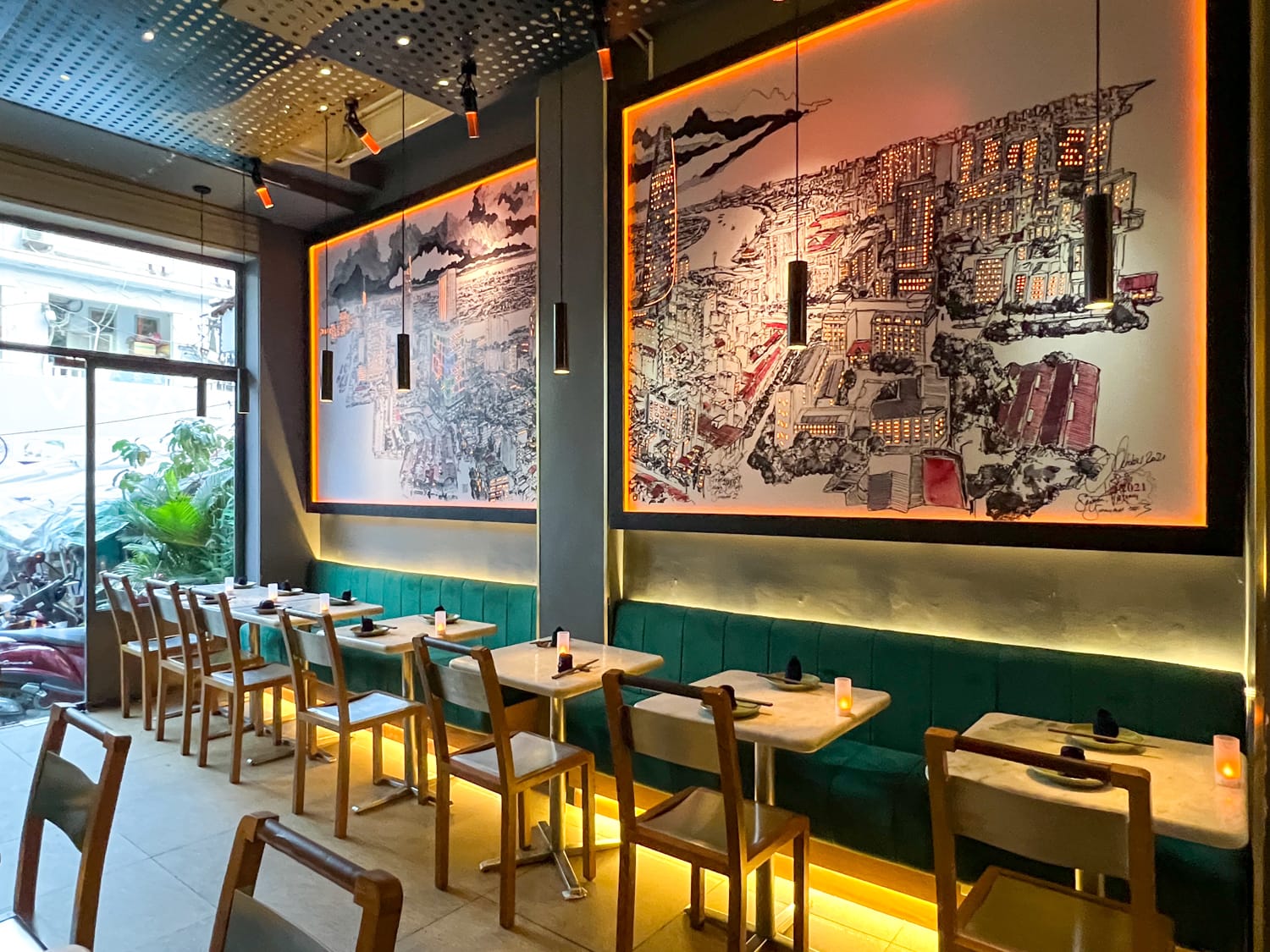 Once you get past the old market stalls and motorbikes in front of Anan Saigon, you're inside the world-class restaurant's ground-floor dining room.
As an American used to larger spaces, especially when it comes to fine dining, I could see the room's tightness and feel it, too.
I chose to sit on the green cushioned seating along the wall to take in the whole room during the meal; however, it didn't offer as much support under my legs as I would've preferred.
I wouldn't have minded as much for an hour-long meal, but I felt cramped after 2.5 hours at the table.
You can see into the open kitchen at the far end of the dining room, and there's a staircase to the restaurant's 2nd floor.
Nhau Nhau Bar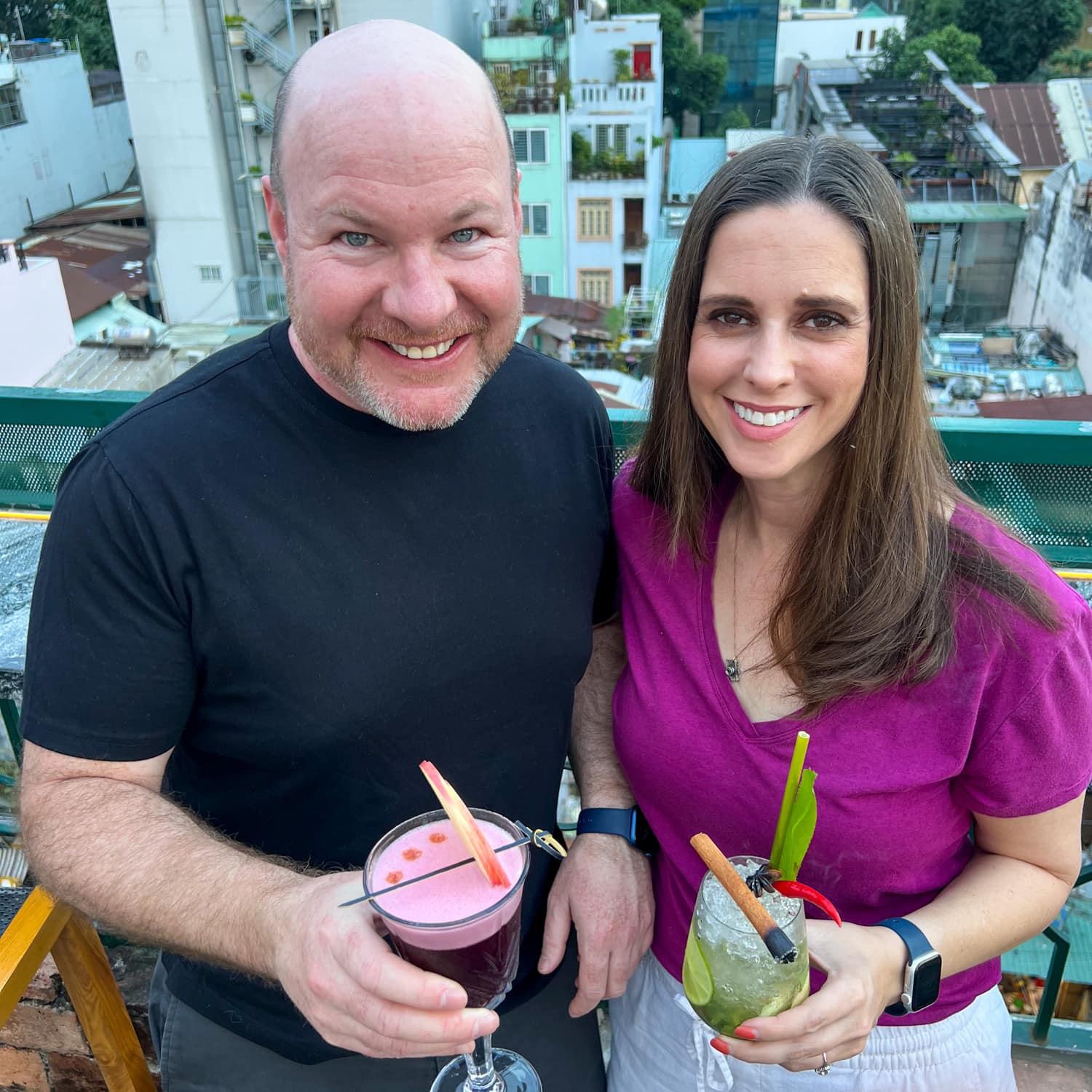 Kel and I arrived at about 5 p.m., so we had time to enjoy a drink at cocktail bar Nhau Nhau on the second floor before our 6 p.m. dinner reservation.
Since the weather was nice, we ordered our mixed drinks from Nhau Nhau's second location on the rooftop. A small elevator makes getting up there more accessible.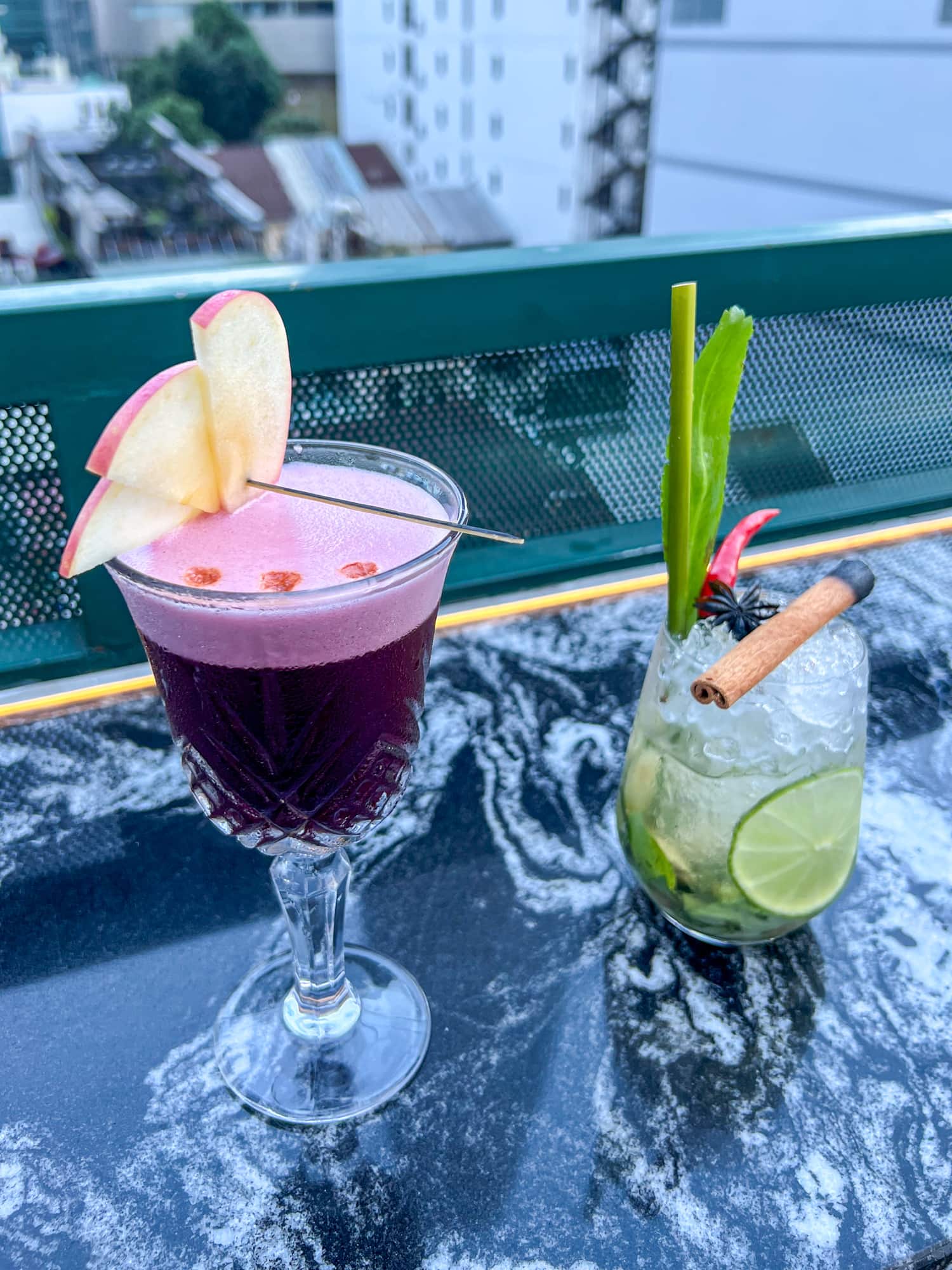 I ordered the Mulberry Clover Club with gin, bitters, and egg white, while Kel went with one of the signature cocktails, a Phojito made from gin, pho herbs, sugar, and lime.
Whiskey lovers might enjoy the Tamarind Whiskey Sour or Cotton Candy Old Fashioned. The cocktails are all 285,000 dongs each (about $12).
We were joined on the rooftop by my friend Troy, whom I first met more than a decade ago while living in Medellin, Colombia.
He happened to arrive in Saigon the day after us and was about to embark on a one-month, self-guided motorbike tour of Vietnam.
Chef's Tasting Menu
After a round of cocktails, we descended to the street-level dining room for dinner.
Anan Saigon offers several set menus to choose from:
12-course Chef's Tasting Menu - 2.4 million VND (about $100)
10-course Saigon Tasting Menu - 1.6 million VND ($68)
A La Carte Menu - 195,000 to 625,000 ($8 to $25) per dish
As requested, we booked the 12-course Chef's Tasting Menu: Homage to a New Vietnam from North to South in advance.
The menu comes with a summary of the dishes and their quality ingredients. And when you open it, there are tasting notes and stories from chef Peter.
It was nice to have a few sentences about each course in English to reference throughout the meal. I wish more restaurants would do this. But I digress.
Let's dive into the country's vibrant food culture through the lens of award-winning chef Peter Cuong Franklin.
1. Amuse Bouche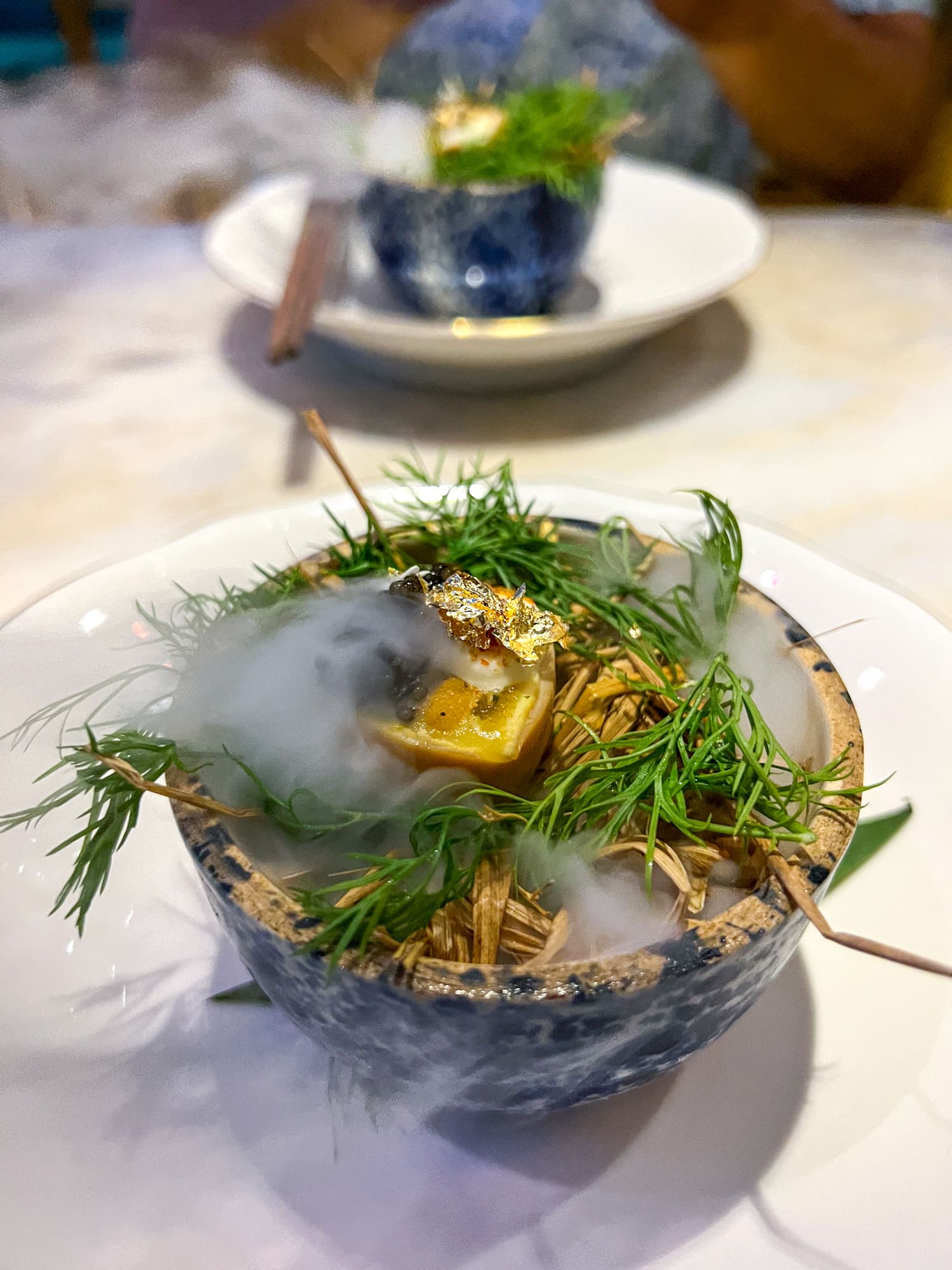 Dinner began with a flourish when a soft-cooked chicken egg was presented with local Oscietre Caviar, edible gold, and dill, an herb the chef notes is typical in dishes from the capital, Hanoi, in North Vietnam.
Even though I devoured this amuse-bouche in a single bite, it was one of my favorite courses.
2. Foie Gras Spring Roll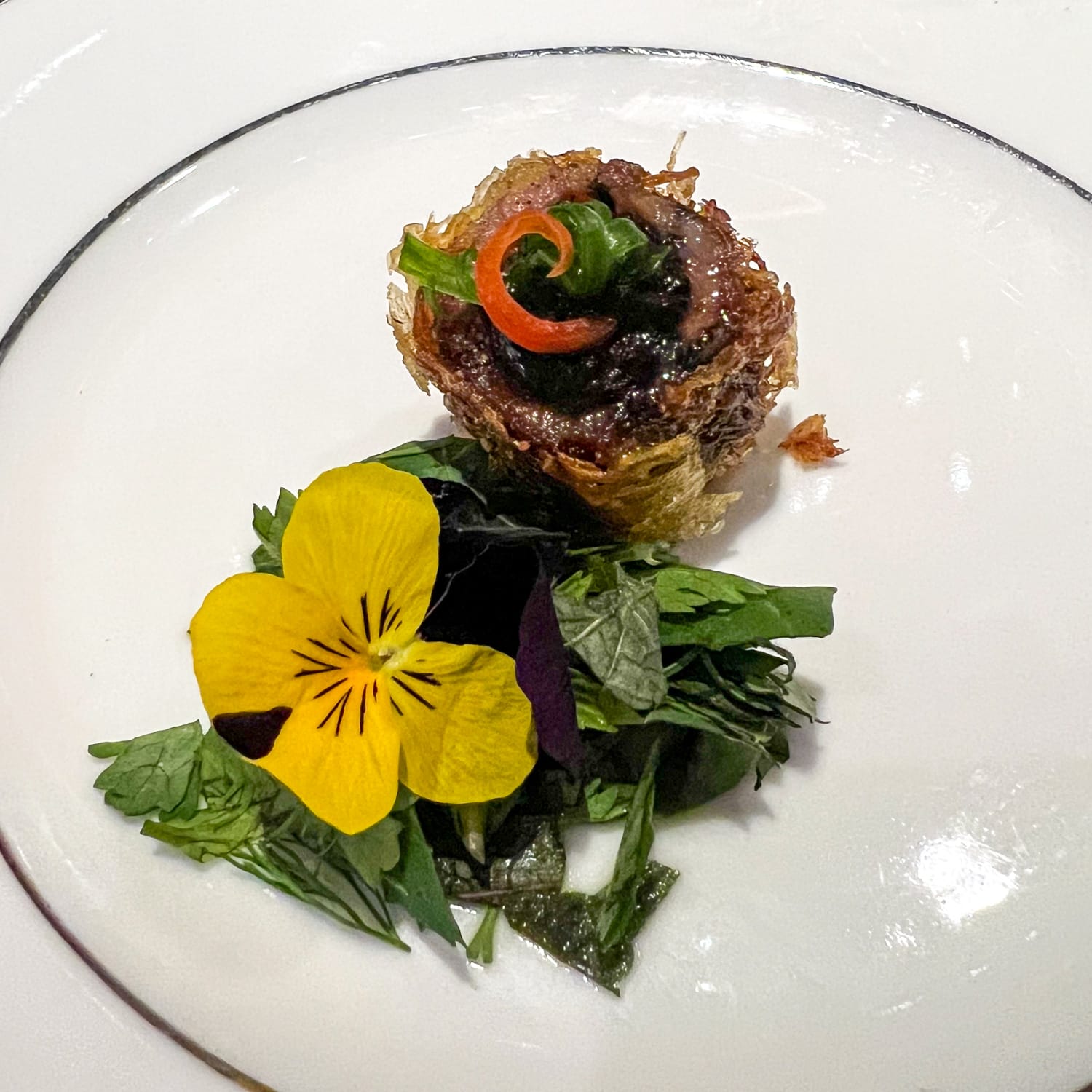 The second course was a French-inspired Vietnamese spring roll filled with pork, foie gras, and black truffles.
As becomes apparent early, the chef isn't afraid to use luxurious ingredients to enhance the flavors of his New Vietnamese Cuisine dishes.
3. Salmon Banh Nhung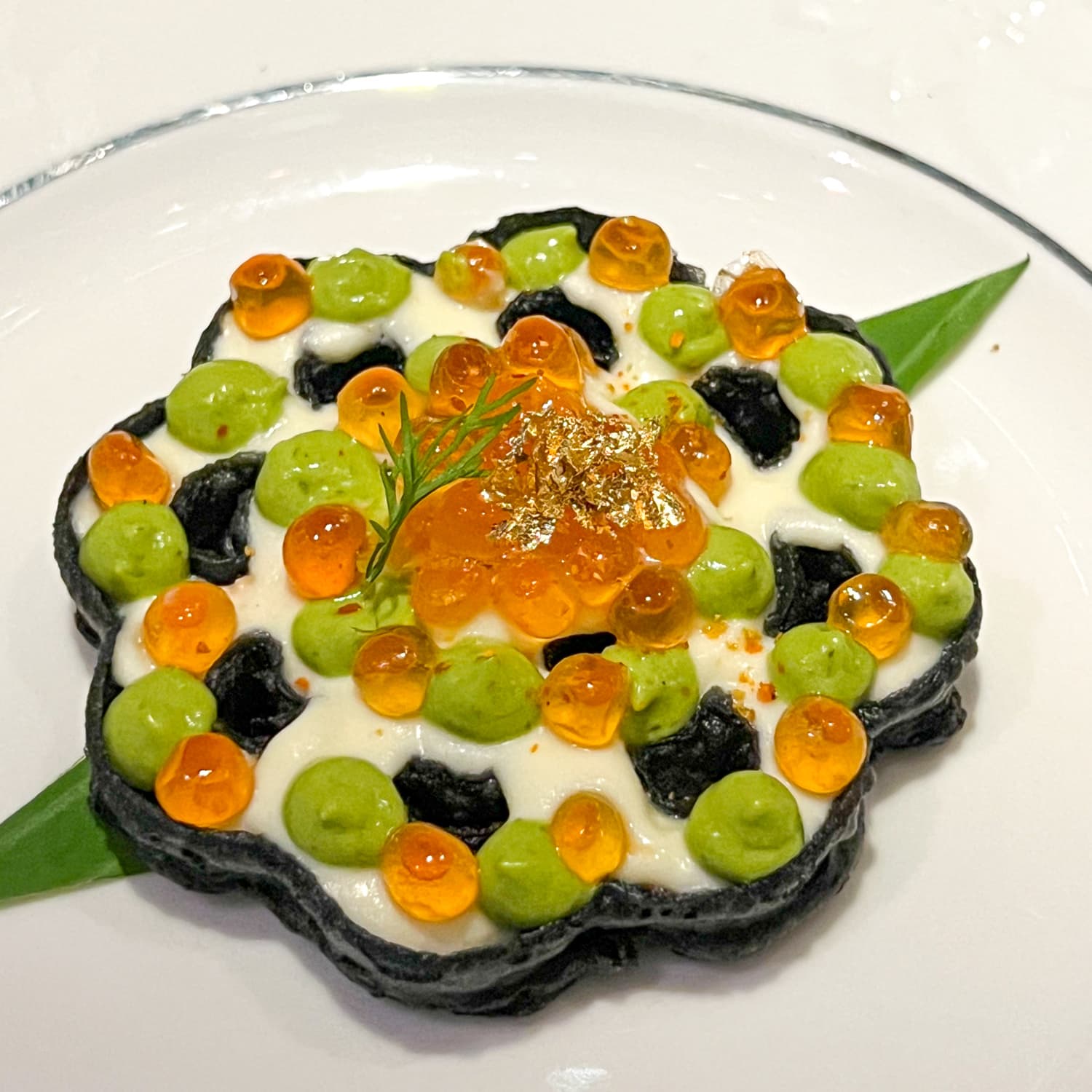 Salmon is the main ingredient in course three, which is inspired by the waffle cakes standard in Vietnamese street stalls.
The pretty presentation is modeled after a traditional French tart. A pastry shell of rice flour and egg is topped with salmon caviar, smoked salmon, creme fraiche, and a cream made from dill. And it's garnished with edible gold leaf for a bit of sparkle.
This was another highlight, and despite my best efforts, the photo above doesn't do justice to this signature dish.
4. River Prawn Banh Xeo Taco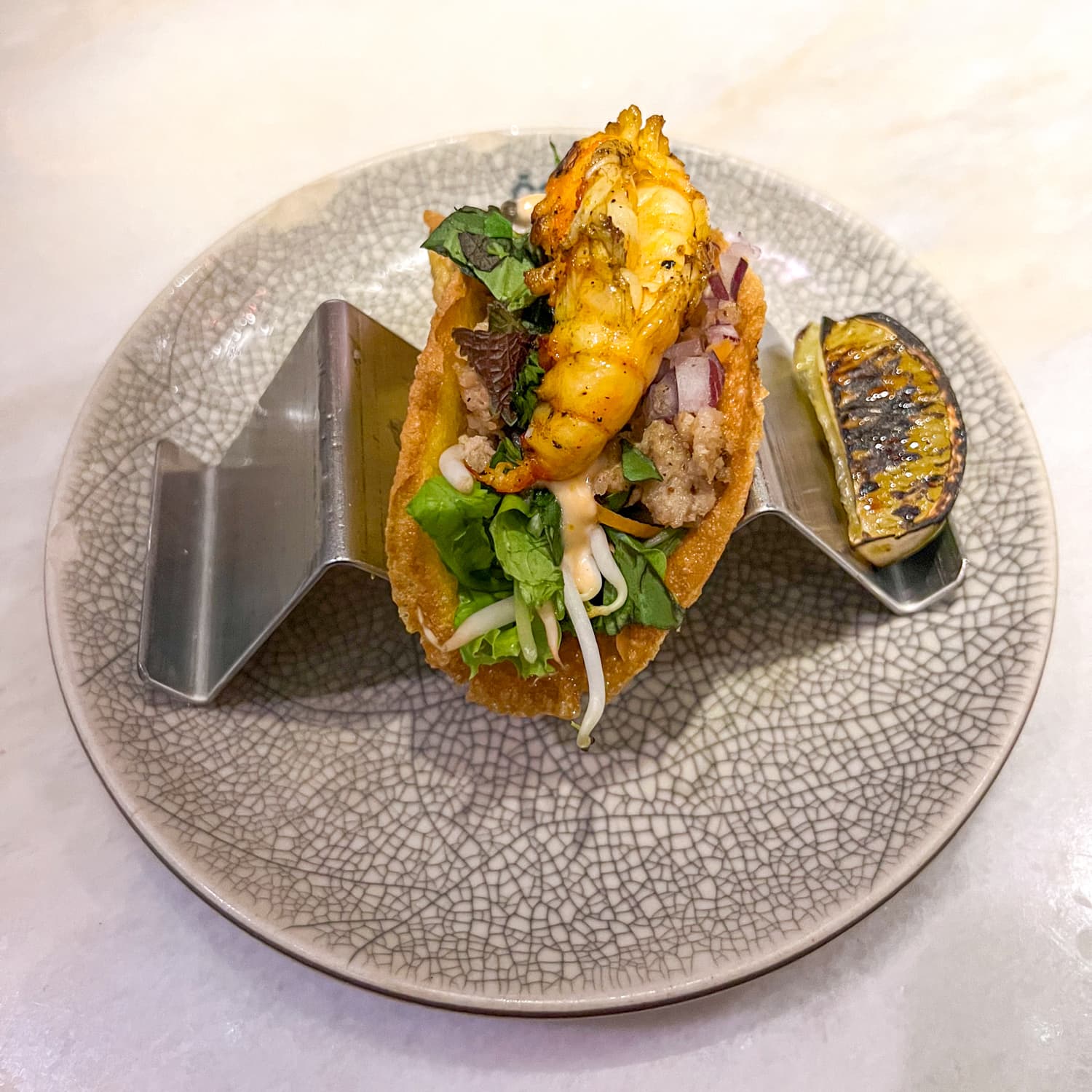 The rice crepes of Central Vietnam inspire the river prawn and pork belly taco with peanut sauce.
Crepes (along with coffee) were introduced to Vietnam during French colonial rule, which lasted more than 60 years from 1887 to 1954.
A wedge of grilled lime is served alongside the crunchy Vietnamese taco.
5. Cha Ca La Vong Style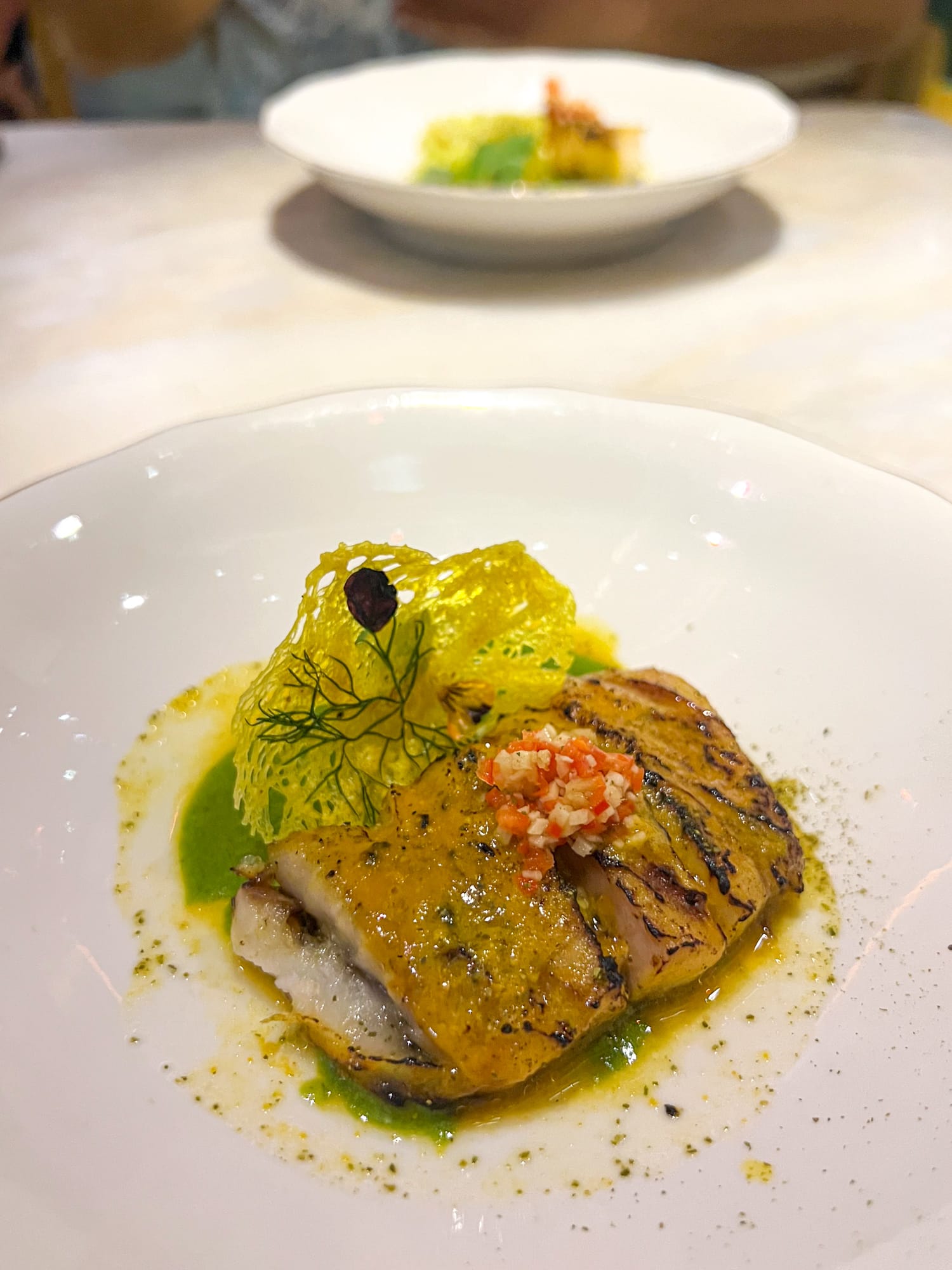 Another Hanoi-inspired course was the Cha Ca La Vong, a fish dish usually made with catfish, turmeric, and dill. Here, it's prepared with Japanese black cod instead.
6. Caviar Chao Congee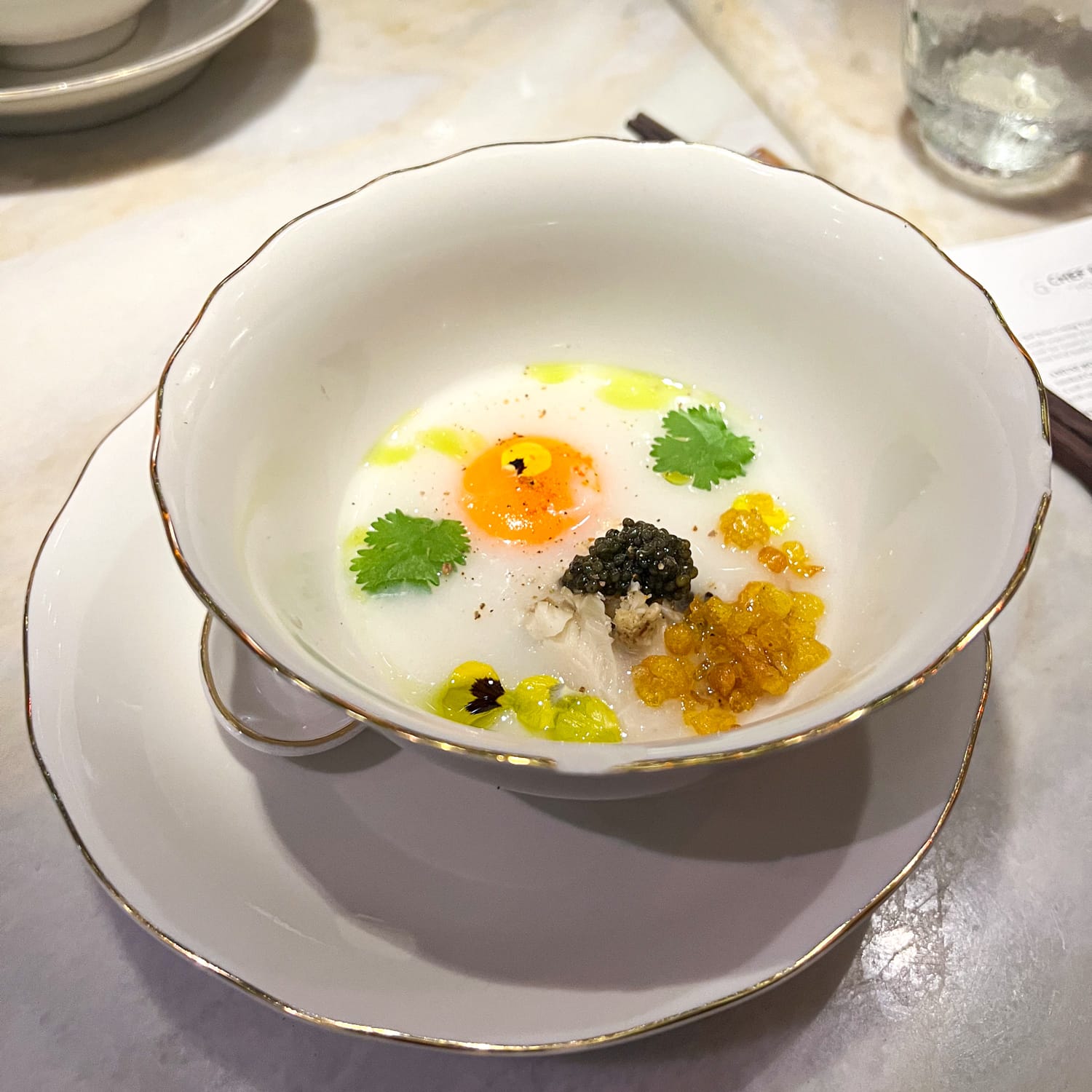 Oscietra caviar makes another appearance in the sixth course, rice congee with cod.
7. Bun Cha Bourdain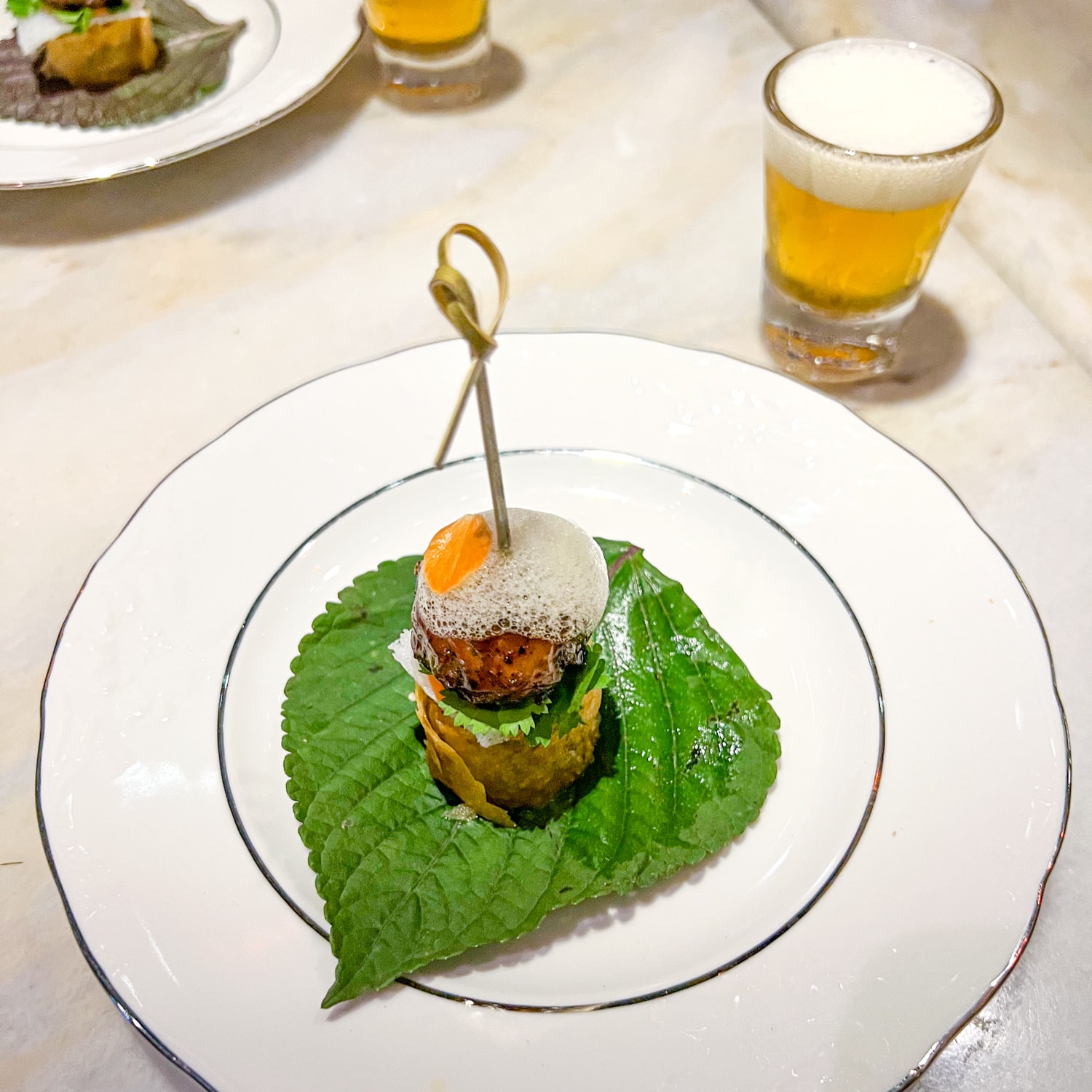 Bun Cha Bourdain plays on the famous North Vietnamese dish, bun cha, made with grilled pork meatballs, vermicelli rice noodles, fresh herbs, and nuoc cham sauce for dipping.
The Anan Saigon version encompasses all these elements in a single flavorful bite, which you can wash down with a shot of beer.
Bun cha was the traditional Vietnamese dish Anthony Bourdain ate with President Barack Obama when they sat down for a meal together at Bun Cha Huong Lien (restaurant) in Hanoi in 2018.
Later in my trip, I had the chance to visit the same restaurant and eat bun cha there; the place was packed, and it was delicious!
Another Vietnamese food I first saw eaten by Anthony Bourdain was a cobra, which he wrote about in his second book, A Cook's Tour (and was shown on his TV series by the same name).
8. Molecular Pho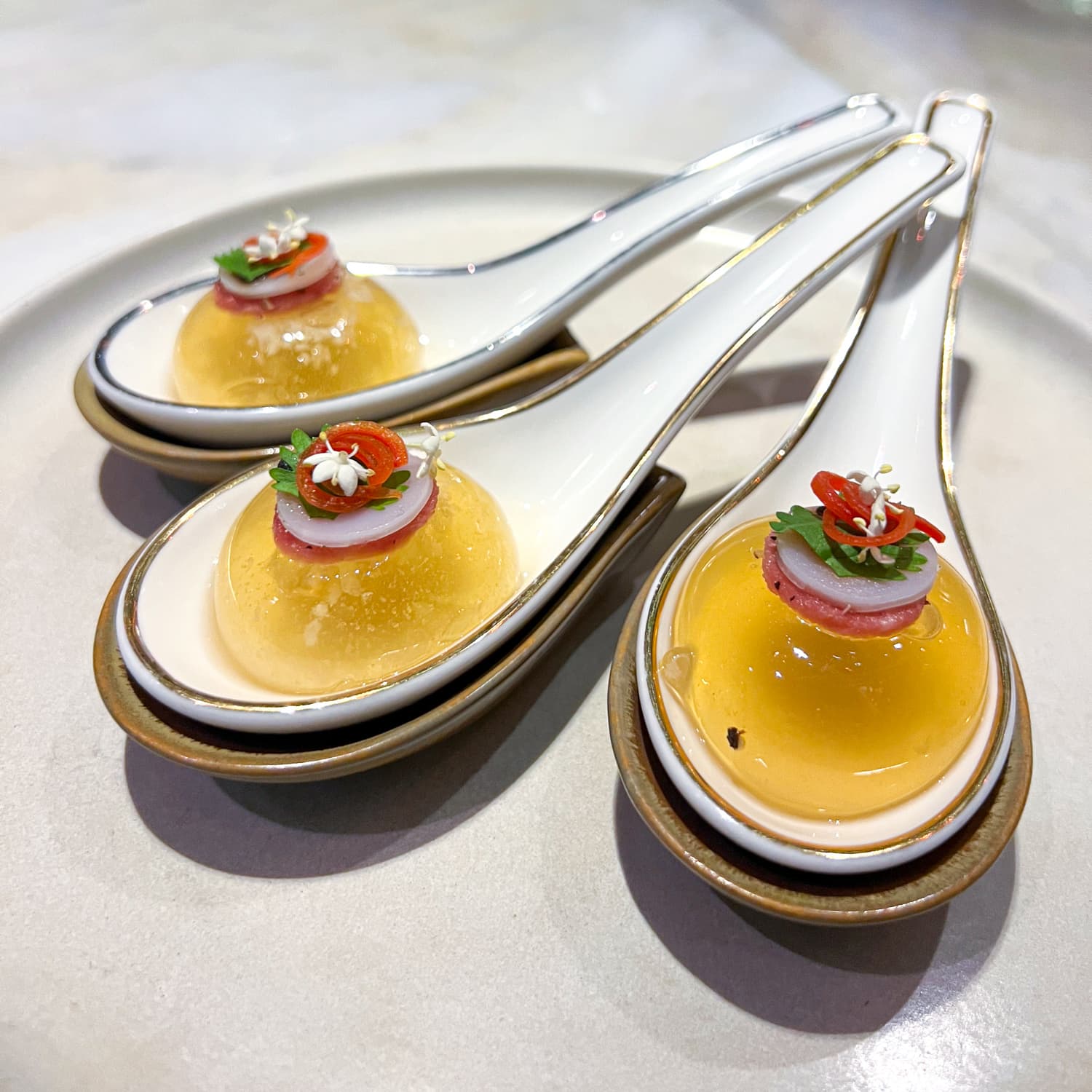 Molecular Pho with black truffle and wagyu beef is another one-bite course paying homage to a traditional Vietnamese dish.
In this case, it's pho, a popular soup made with bone broth, rice noodles, a protein such as thinly-sliced beef, and fresh herbs.
Ferran Adria developed the spherification process used to hold the broth together on the spoon at El Bulli, his famous (shuttered) restaurant on the coast of Costa Brava, Spain.
My first experience with these molecular spheres was at his brother Albert Adria's tapas restaurant, Bodega 1900, in Barcelona.
They offer a fast and fun burst of flavor, and you don't see this technique used too often. For all of these reasons, it was another of my favorite bites.
9. Pot Au Pho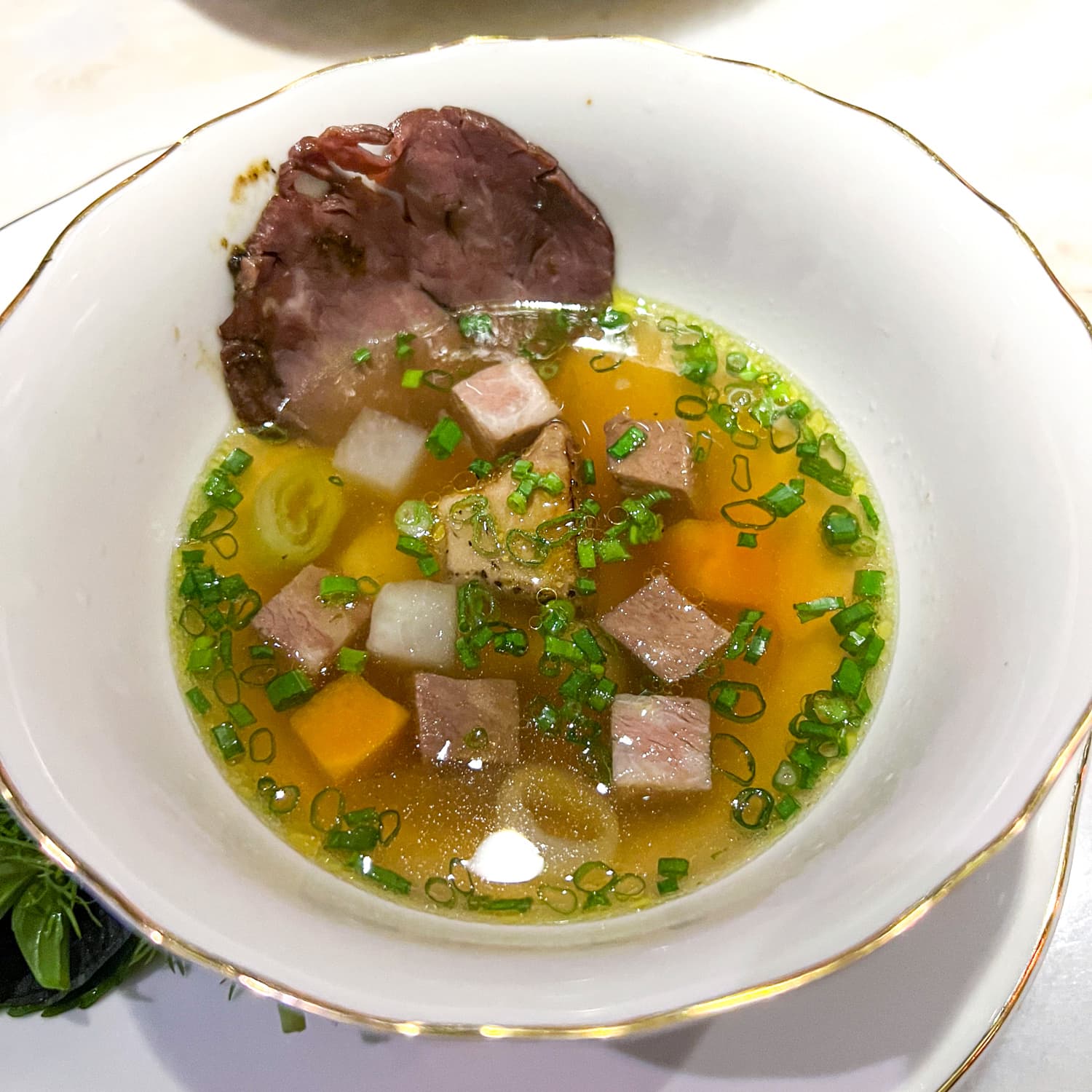 Speaking of pho, the famous Vietnamese soup appeared more pronounced in course nine.
Chef Peter Cuong Franklin's new-style pho is made with consomme broth, wagyu beef, and foie gras. His has round noodles, unlike the traditional version made with long thin noodles.
10. Fish Sauce Ice Cream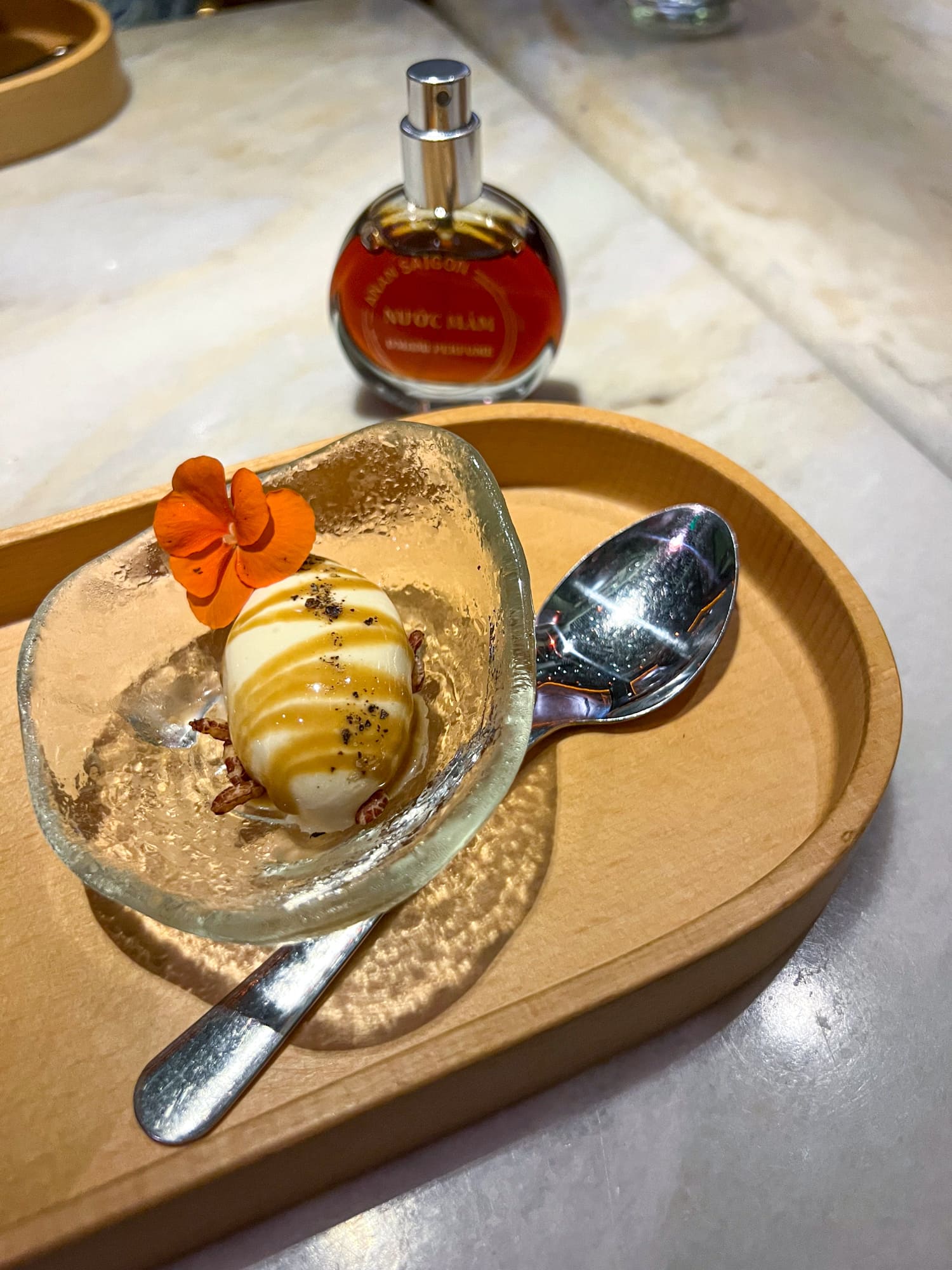 French vanilla ice cream topped with fish sauce caramel and black pepper sounds odd, but it tasted fine.
The spritz of Nuoc Mam Perfume adds a touch of playfulness to the signature dessert.
The chef notes that the dessert "is inspired by salted caramel beurre sale and the Vietnamese thit kho dish, braised pork belly with black pepper."
11. Banh Cam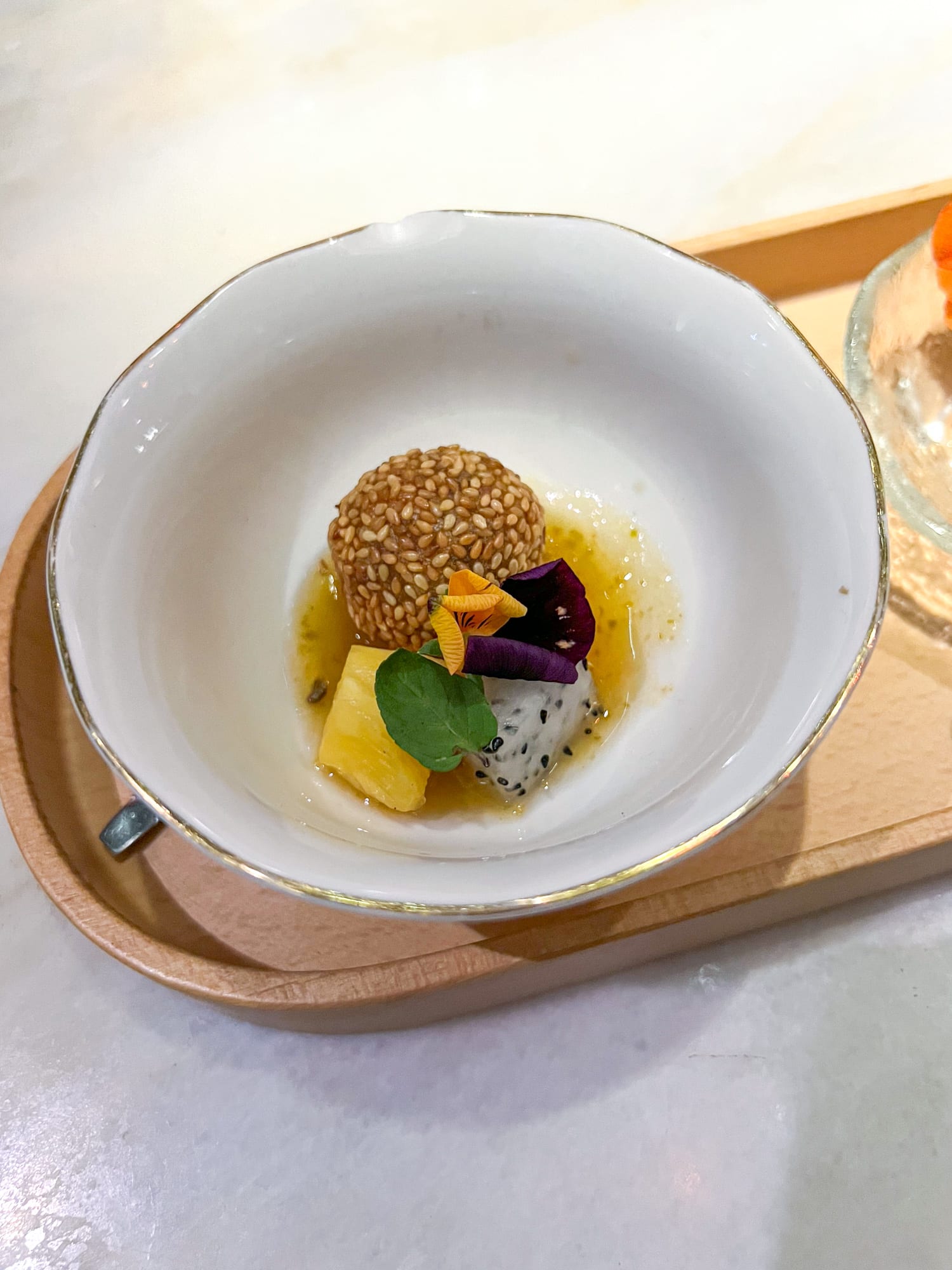 The ice cream was presented with a more traditional Vietnamese dessert, a rice mochi ball.
Anan Saigon's version has Marou single-origin dark chocolate (70% cacao) and ginger calamansi sauce. It was presented with fresh pineapple and dragon fruit.
Kel and I became fans of Marou Chocolate after visiting their flagship Saigon cafe, Maison Marou, on our first night in the city.
Later, in Hanoi, we bought several of their chocolate bars to bring home as souvenirs, and they didn't last long!
12. Petit Fours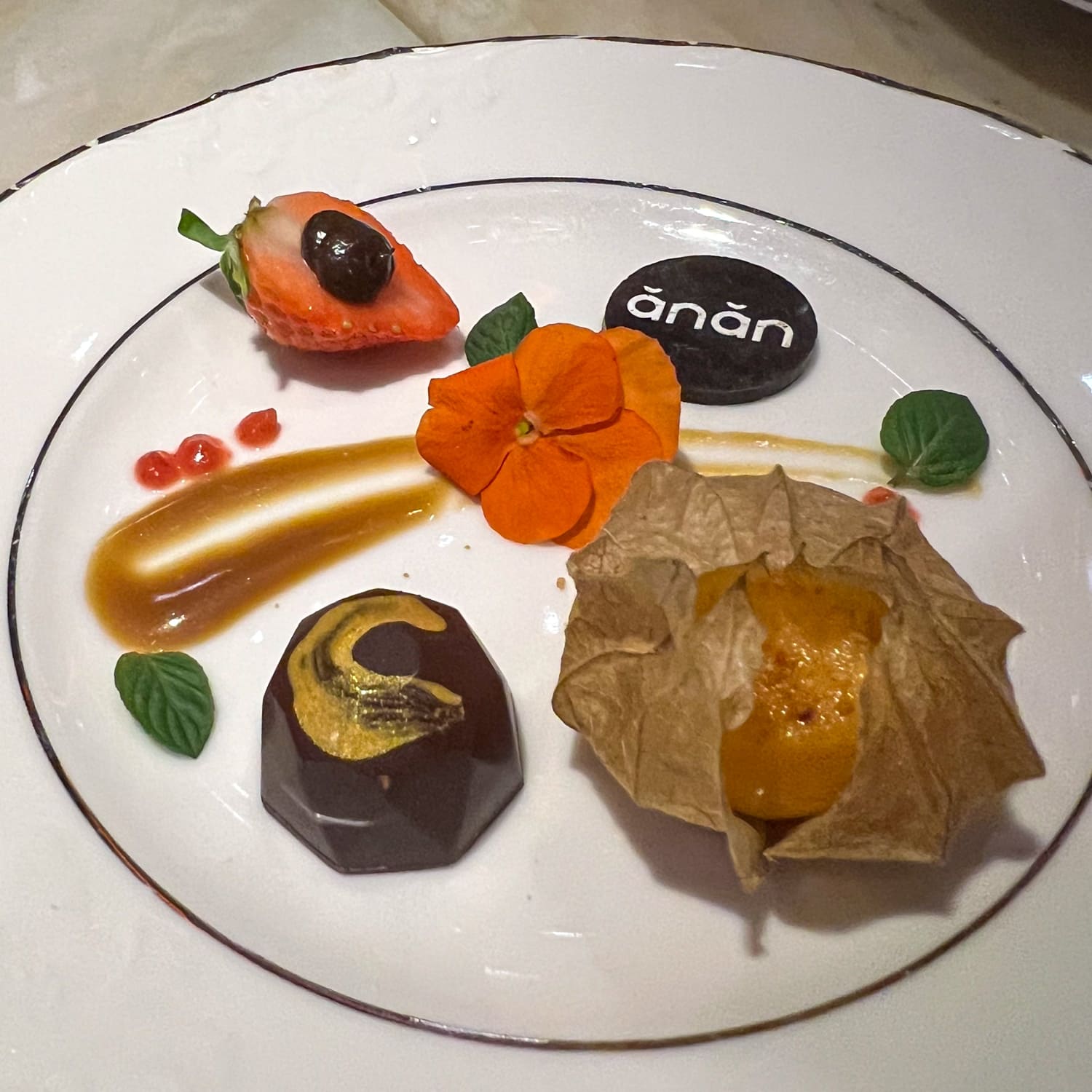 Our dinner at Anan Saigon, the best restaurant in Vietnam, ended with a plate of petit fours.
Marou Chocolate makes another appearance in the form of a chocolate bonbon. And there's strawberry with black garlic cream and lantern fruit as well.
***
Kel, Troy, and I enjoyed drinking and dining at Anan Saigon. The service was friendly, and the dishes were delivered at a consistent pace.
I enjoyed seeing how chef Peter applied French techniques in the kitchen to elevate Vietnamese food to new heights.
And I'm always happy to see when a talented chef finds his way back to his home country, where he can influence the next generation.
While the meal isn't as cheap as the Vietnamese street food and local markets outside, it's a terrific deal for a world-class dinner at roughly $100 per person.
Visit Anan Saigon Restaurant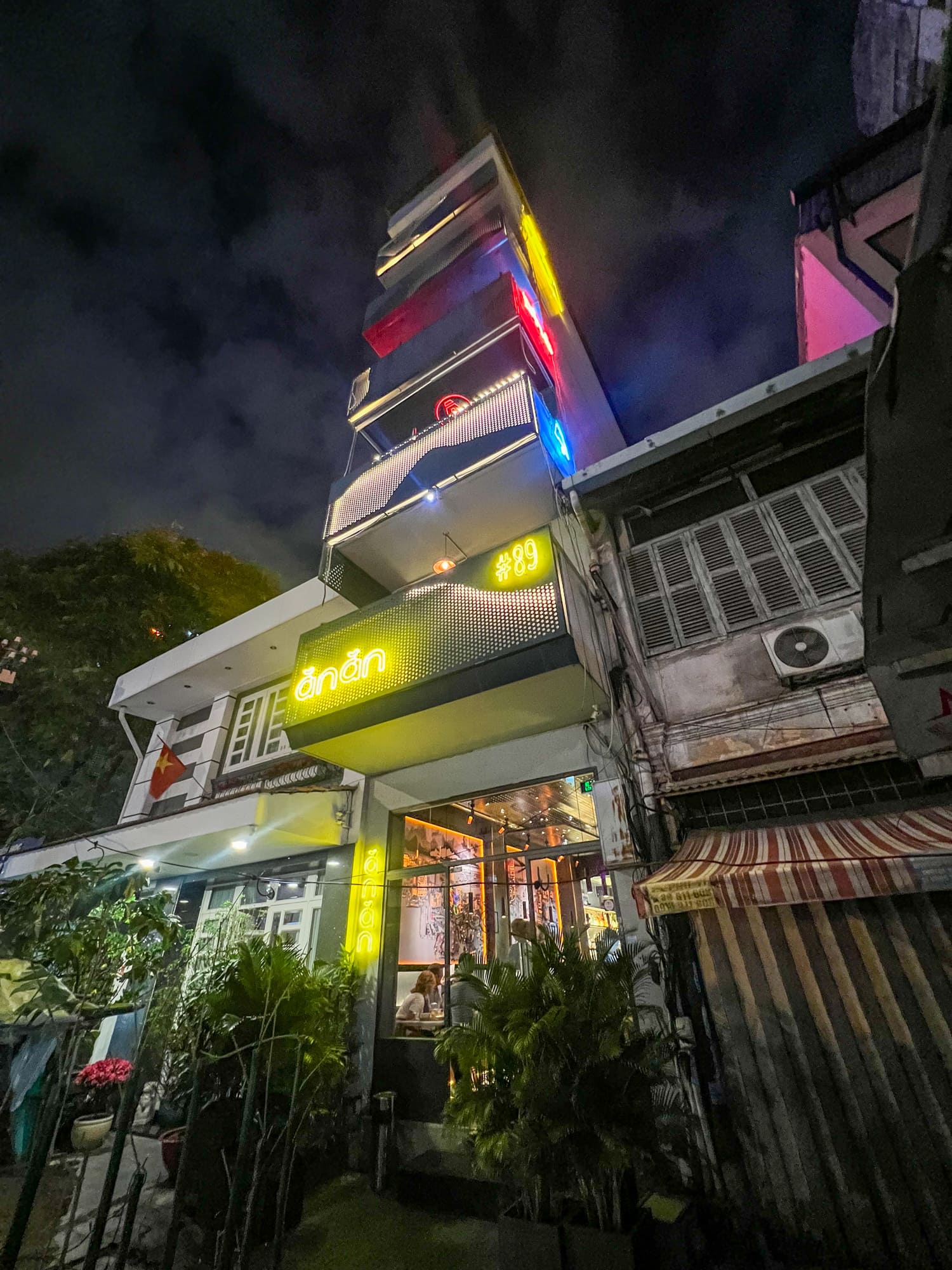 Address: 89 Ton That Dam, Ben Nghe, Quan 1, Thanh Pho Ho Chi Minh, Vietnam
Dress: There's no dress code.
Reservations: Recommended. Via email or Facebook Messenger. Advanced booking is required for the Chef and Saigon tasting menus and the US $100 Pho.
Website: anansaigon.com