The last stop on my month-long trip to Italy was Bologna, the capital of the Emilia-Romagna region. I stayed with friends and went on one a food and Ferrari tour, one of the best day trips of my life.
The food and Ferrari tour available through Viator combines visits to regional food producers with a trip to the Ferrari Museum in Maranello and the chance to drive one of these Italian supercars (for an additional fee).
Throw in an informative guide, a comfortable minivan, and a multi-course lunch, and you've got the recipe for an incredible day.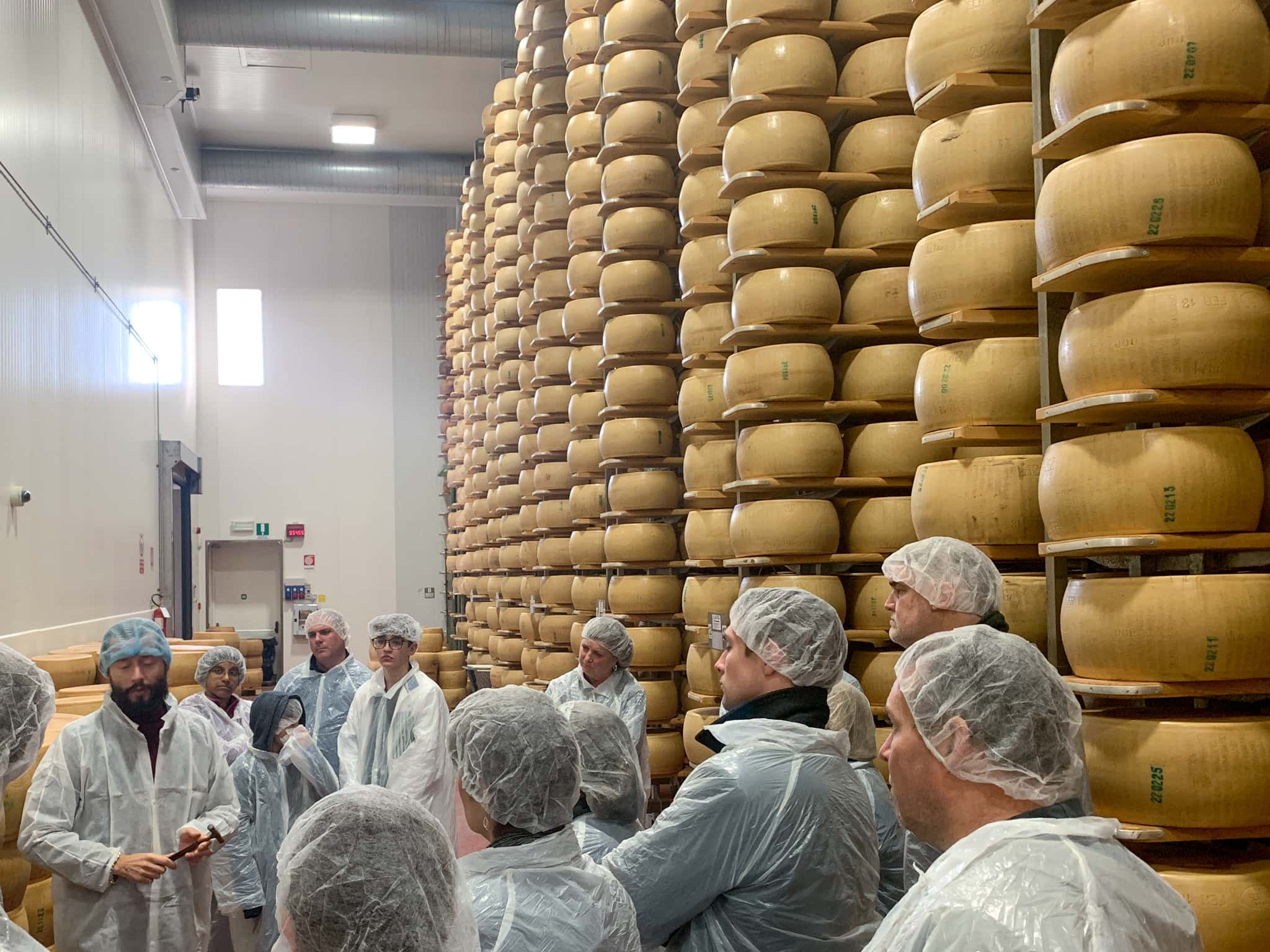 >>> Click here to book this tour
On the morning of my tour, I walked from my friend's apartment to the Apple store in central Bologna and awaited the minivan.
I was picked up at 7:45 am, and once we'd collected everyone else from their hotels, we drove northwest toward our first stop.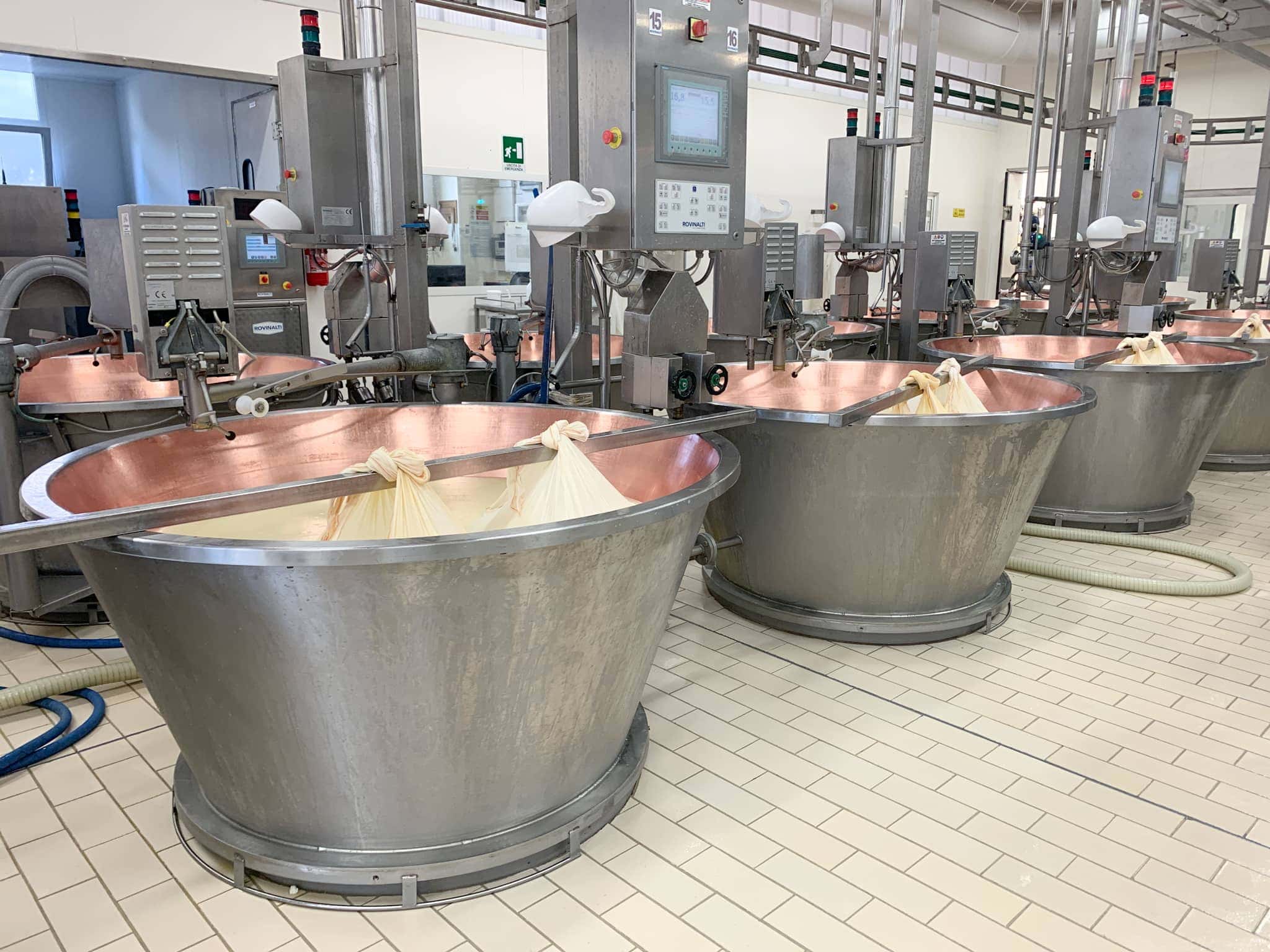 Parmigiano Reggiano Factory
We pulled into the parking lot of the Parmigiano Reggiano factory at about 9:20 am and dutifully suited up in thin plastic jackets and hairnets.
The production of Parmigiano Reggiano dates back 900 years to the work of Benedictine monks, and it's limited to the provinces of Parma, Reggio Emilia, Modena, Mantua, and Bologna.
Our guide walked us through the entire cheesemaking process, starting in a room with large copper vats where milk is turned into cheese.
For every 1,000 liters of milk, the factory produces just two wheels of organic cheese.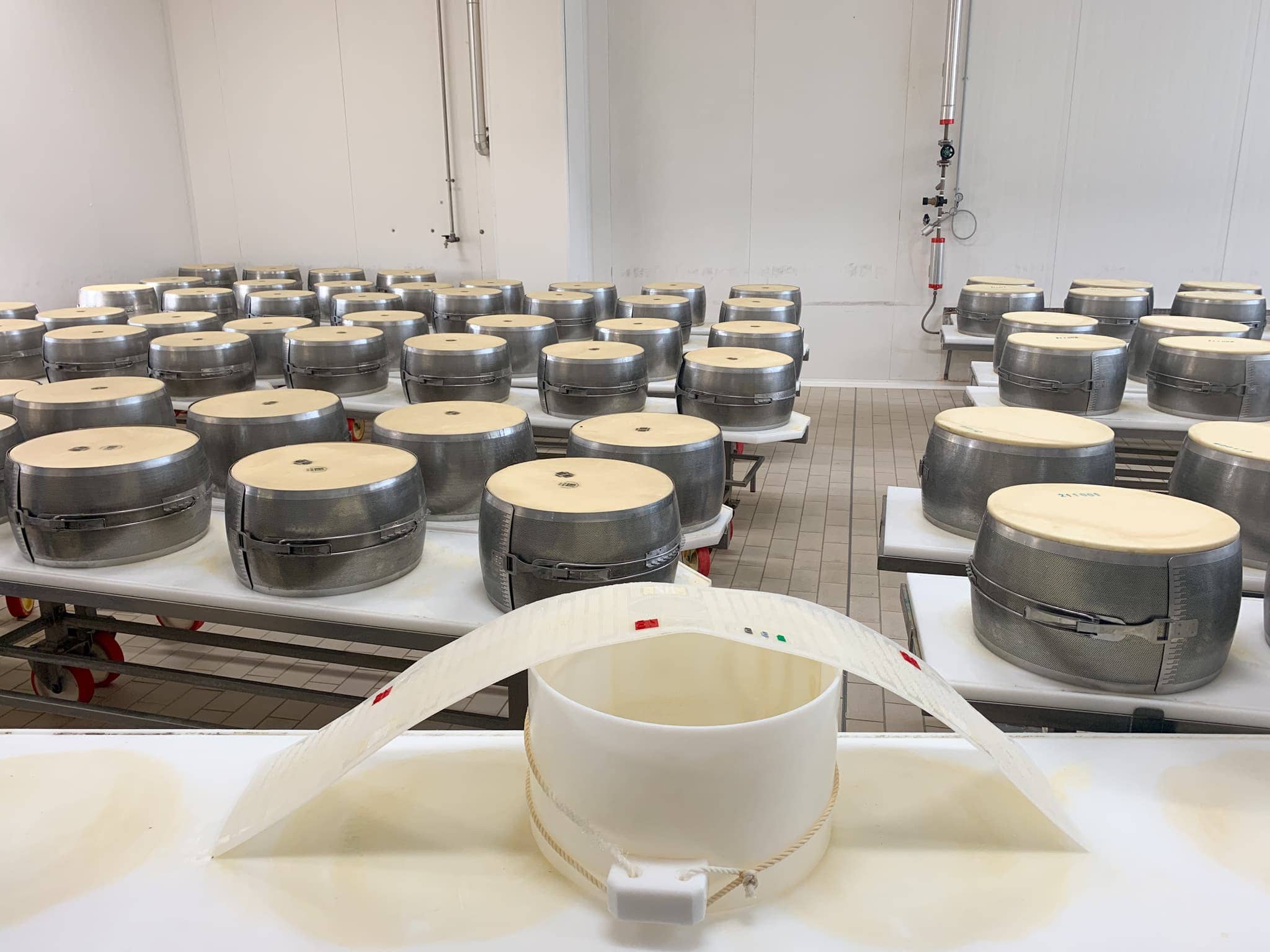 Next, we moved to a room where the cheese was placed in a plastic mold to create the imprint on the outer edges of the wheel, which became the rind.
It's here where information about the origin of the cheese is communicated, including the producer, month and year it was made, and a unique identification number.
The dots also adds texture, which I've always thought looks cool.
The cheese is placed in a metal mold and, a few days later, moved to a saltwater bath, where it rests for up to a month.
The last and longest step is for the wheels of cheese to be moved to an aging room, where they mature for a minimum of 12 months before testing for quality begins.
Our 45-minute tour of the facility ended in a small room where we could taste 24 and 36-month-old Parmigiano Reggiano cheese.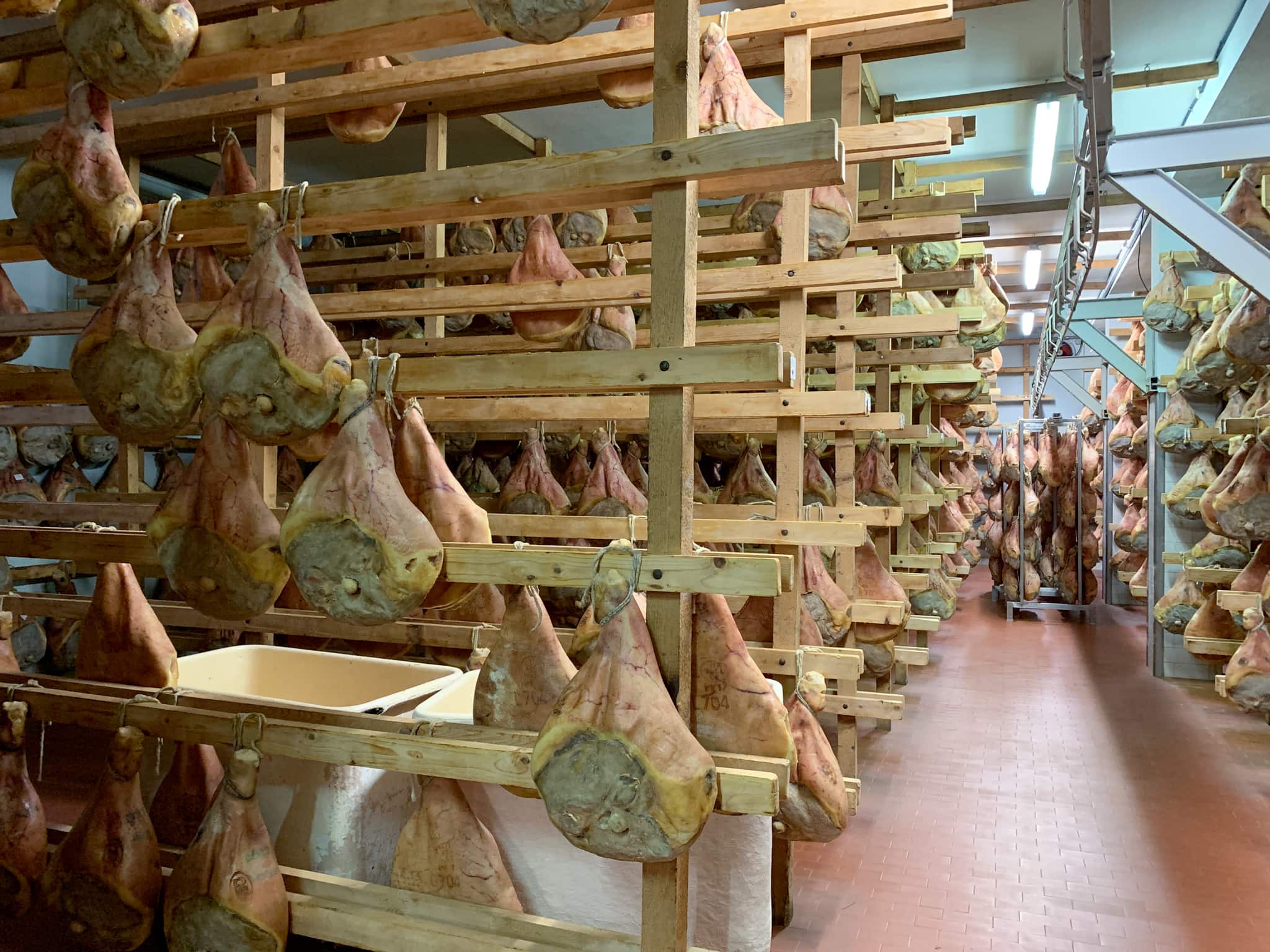 Prosciutto Factory
No more than 30 minutes later, we're walking through aisle upon aisle of aging ham in a prosciutto factory.
Prosciutto is a fatty cut made from the hind leg of the pig.
Once the animal is butchered and the leg cleaned, it's salted and left to sit for about two months.
The salt is then washed off, and the leg is hung up in a cool, dark room where it will mature for up to 18 months.
Like Parmigiano Reggiano, there are strict controls on the production of prosciutto, and the facility we toured adheres to the Consorzio del Prosciutto di Modena.
Once again, our tour ended with a tasting, this time being thinly sliced, melt-in-your-mouth prosciutto.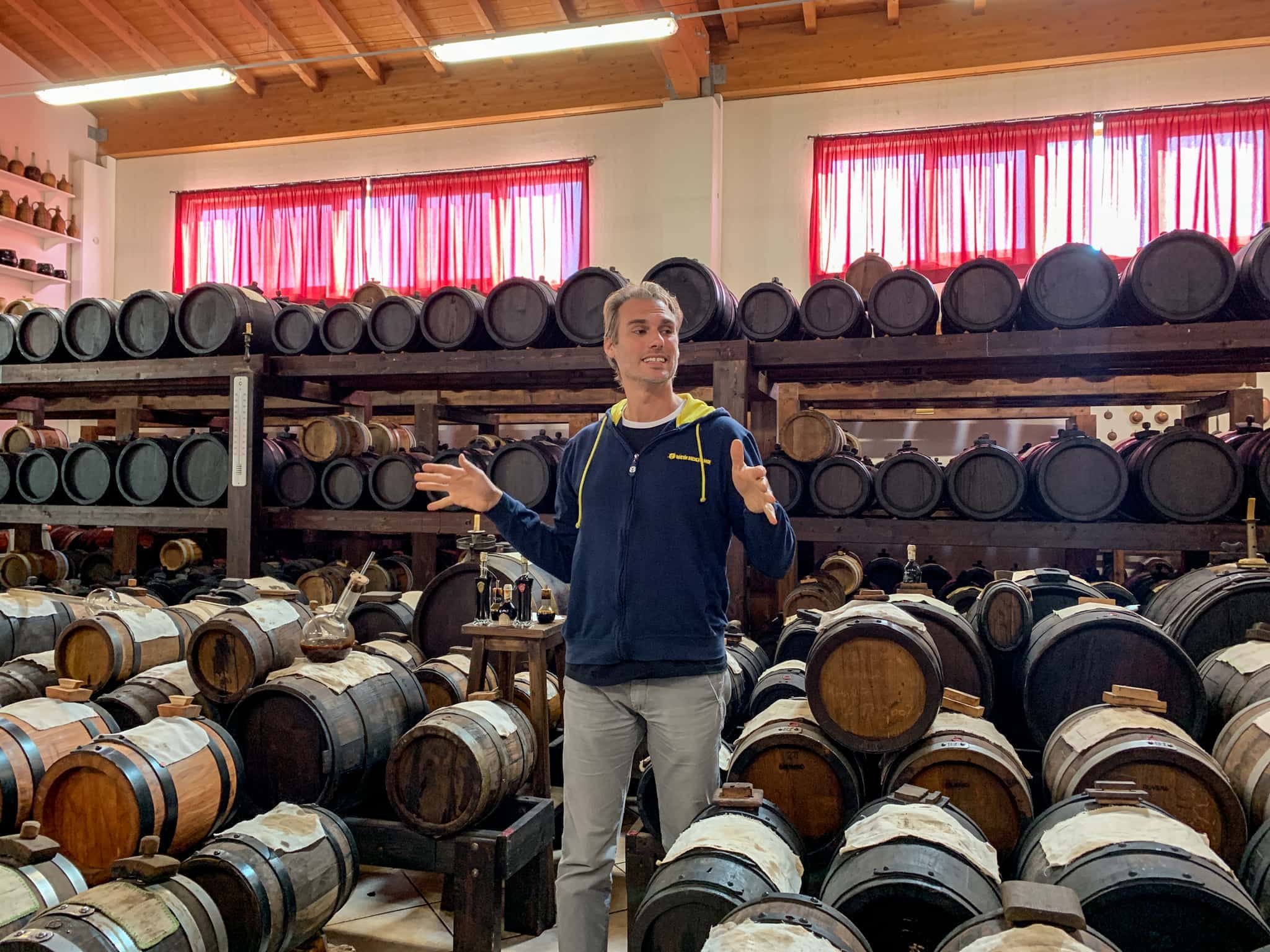 Balsamic Vinegar Producer
Our third and final food stop of the morning was Acetaia Boni, a 4th generation producer making balsamic vinegar from the Trebbiano grape.
The grape juice is fermented in barrels for varying degrees of time.
Initially, it starts in larger barrels, and as time goes by, it's moved through a series of progressively smaller ones.
The longer the balsamic is fermented, the higher the quality and cost.
Acetai Boni sells balsamic aged 15, 30, 70, and 150 years.
A 100 ml bottle of the 150-year-old balsamic will set you back a cool €500 ($568).
Unlike the other two places we visited, Acetai Boni was also a museum featuring lots of pictures and tools of the trade.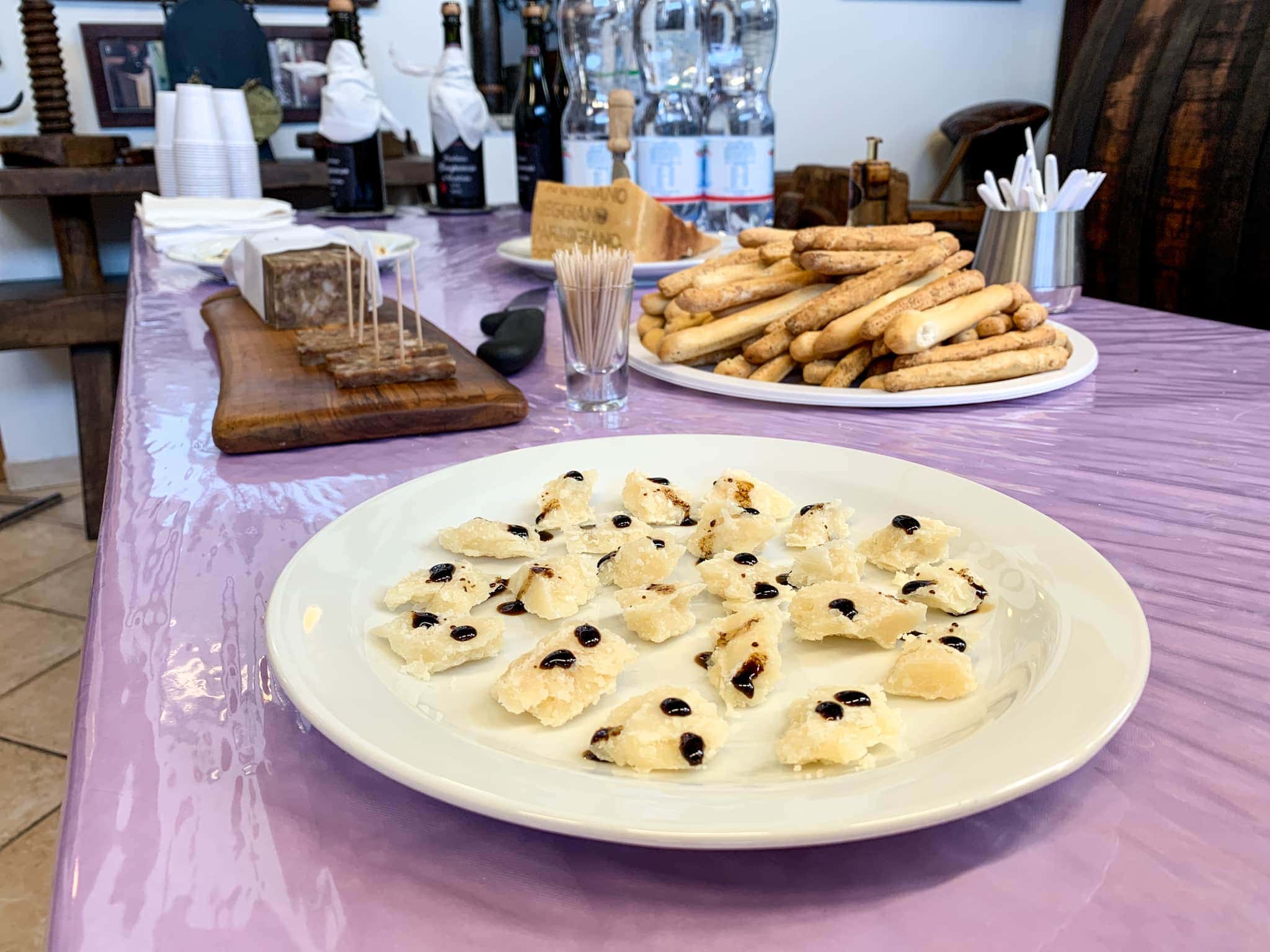 We tasted a drop of thick, black 15-year-old balsamic from a plastic spoon, which was too intense for me to appreciate.
Thankfully, they also had a nice spread of balsamic on Parmigiano Reggiano for us to nibble on and cups of vanilla ice cream with a drizzle on top.
And because this is Italy, we could wash it down with a cup of Lambrusco (sparkling red wine).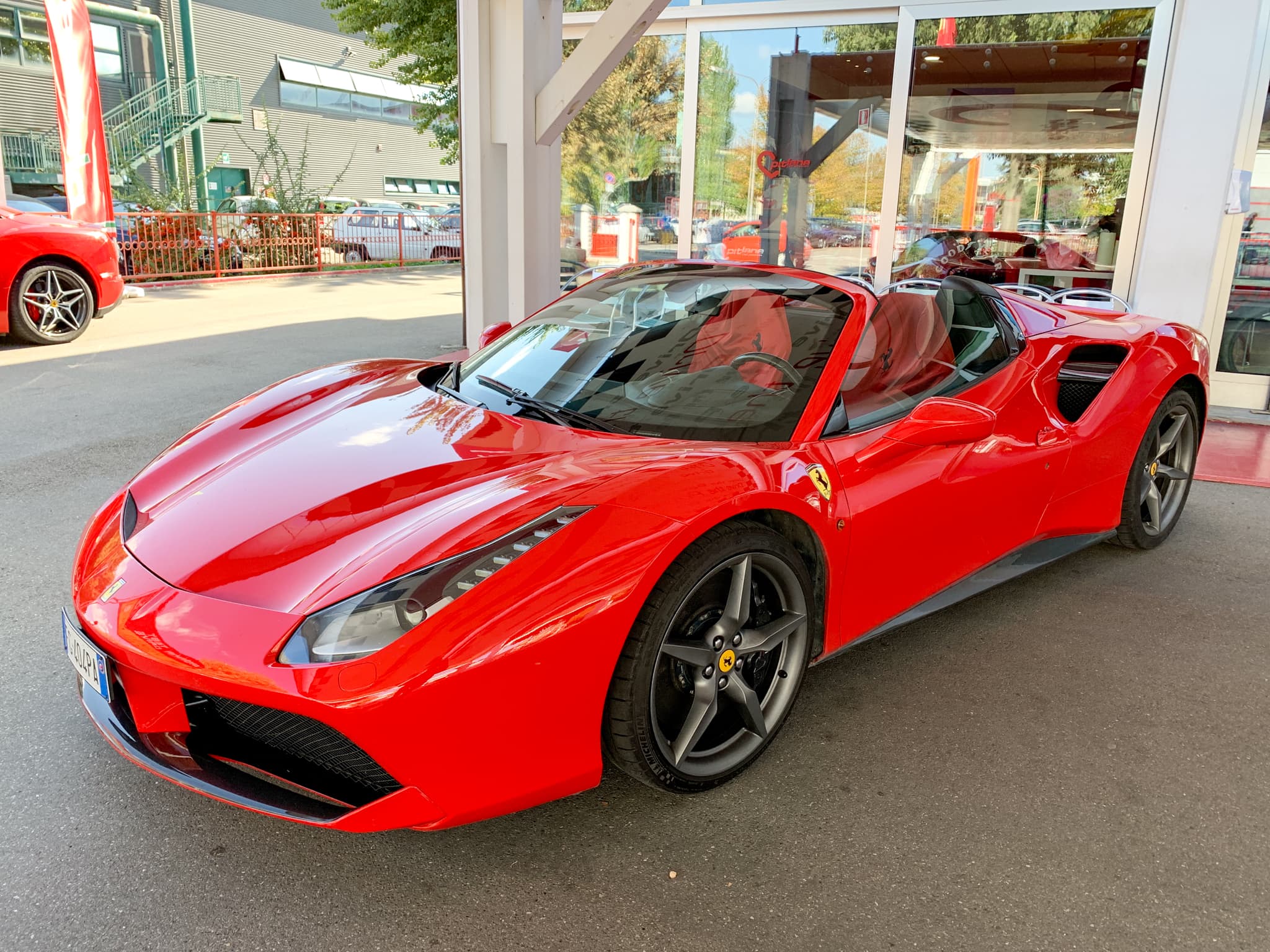 Ferrari Driving Experience
We departed Acetai Boni for Maranello, the city Ferrari calls home. It was time to put the "Ferrari" in our food and Ferrari tour.
A sculpture of the luxury car company's signature prancing horse was visible in a roundabout as we entered town (pop: 17,000).
Our driver took us on a quick loop past the Ferrari buildings and test track before dropping us off at Pit Lane Red Passion.
Exiting the van, we were greeted by a gorgeous display of automotive engineering:
Ferrari California T
Ferrari California T HS
Ferrari 458 Italia
Ferrari 488 Spider
Lamborghini Huaracan
I'd been looking forward to driving a Ferrari in Maranello since I'd started planning my trip to Italy.
I reviewed the rate card and chose a 10-minute drive in the 660-horsepower Ferrari 488 Spider for €150 ($170). Top speed 203 miles per hour (325 km/h).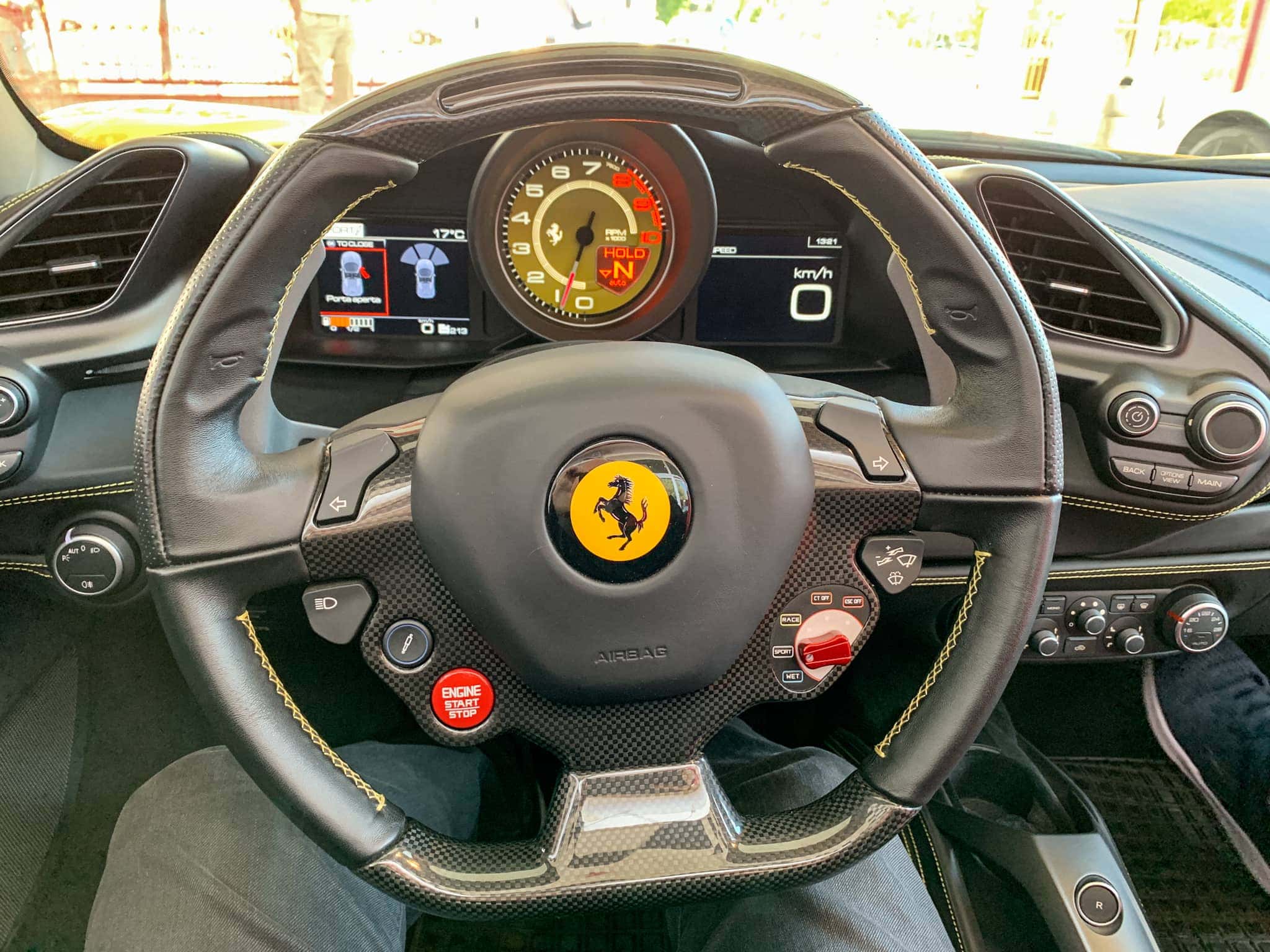 When the car was ready for me, a photographer came out and took some photos, which were available later for purchase.
Then, the driving instructor in the passenger seat gave me a quick rundown of the steering wheel and controls.
However, this wasn't my first time behind the wheel of a Ferrari.
My first Ferrari driving experience was in Monaco and the French Riviera; I was driving a red 489-horsepower Ferrari F430 F1 Spider. A year later, I drove the same model (though not a convertible) on a racetrack in Cancun.
Both were exhilarating, so I was excited to be in Maranello.
On the Road
After a few minutes of instruction, I pulled out of the parking lot in the $280,000 supercar.
The instructor had me start with the car in automatic. I have news for you if you think the only way to drive a Ferrari is a stick shift.
Technology has been outperforming human drivers for a while now, so if you can't drive a stick shift, don't let that stop you from taking a Ferrari for a spin.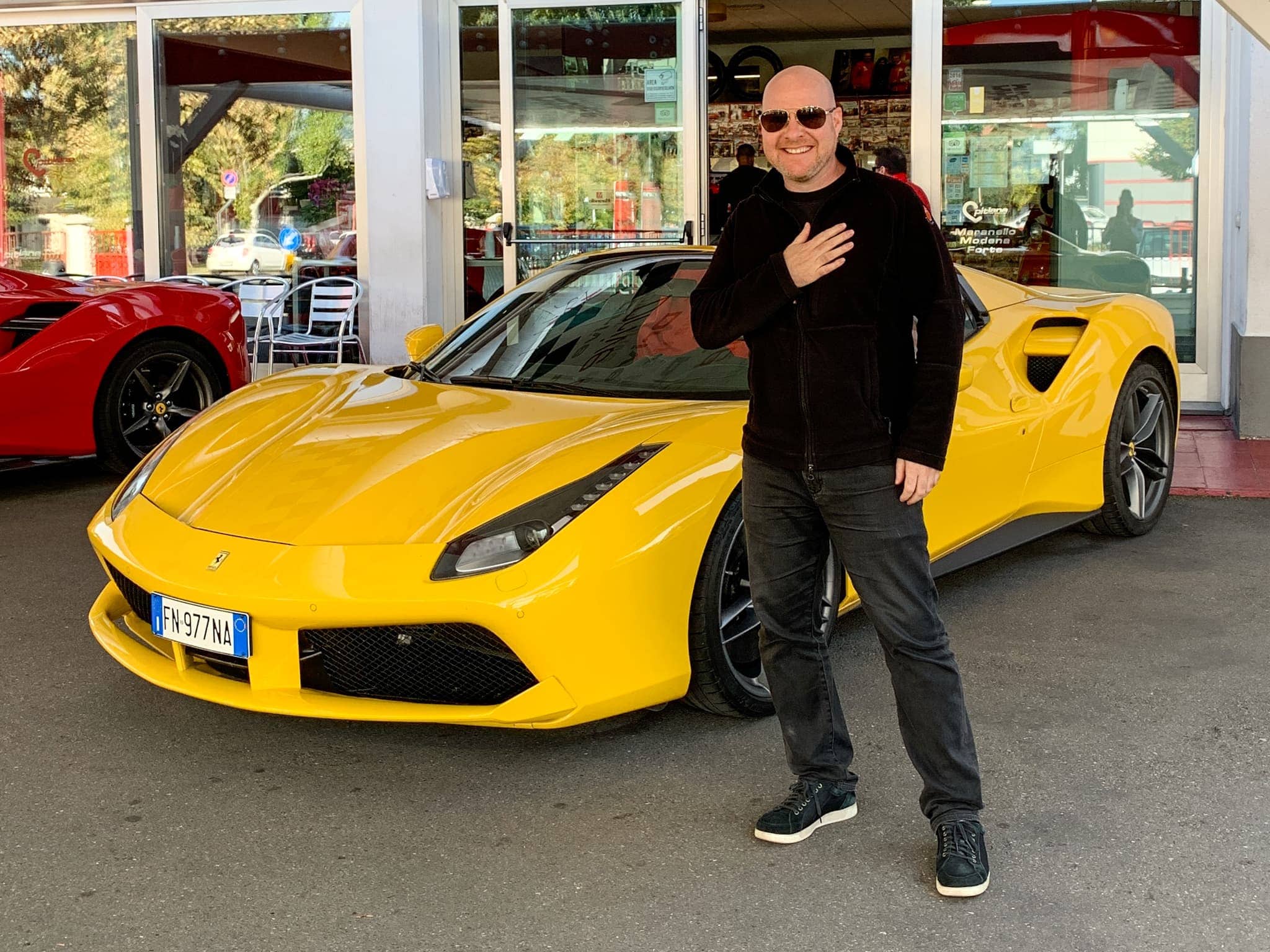 We navigated the streets and pulled onto a highway. I was told to slow down, almost to a stop, and let the traffic in front of us advance.
This created space that allowed me to accelerate and get a feel for Ferrari's power.
The Ferrari 488 accelerates from 0-62 mph (0-100 km/h) in just 3.0 seconds.
I had no idea what my top speed was as I was too focused on the road.
The car was fully insured, but I had no desire to so much as scratch it while behind the wheel.
As I did with previous Ferrari driving experiences, I also used the paddle shifting on the steering wheel.
Since I never learned to drive a stick shift, I was grateful for the instructor sitting next to me when it came to shifting gears up or down (by clicking the left or right paddle).
Before I knew it, my 10-minute drive was over, and I was pulling back into the Pit Lane parking lot.
I was thrilled with the experience. Ten minutes doesn't sound like a lot of time, but it was enough to get a feel for the car.
I bought a 360-video of my driving experience, which you can watch here.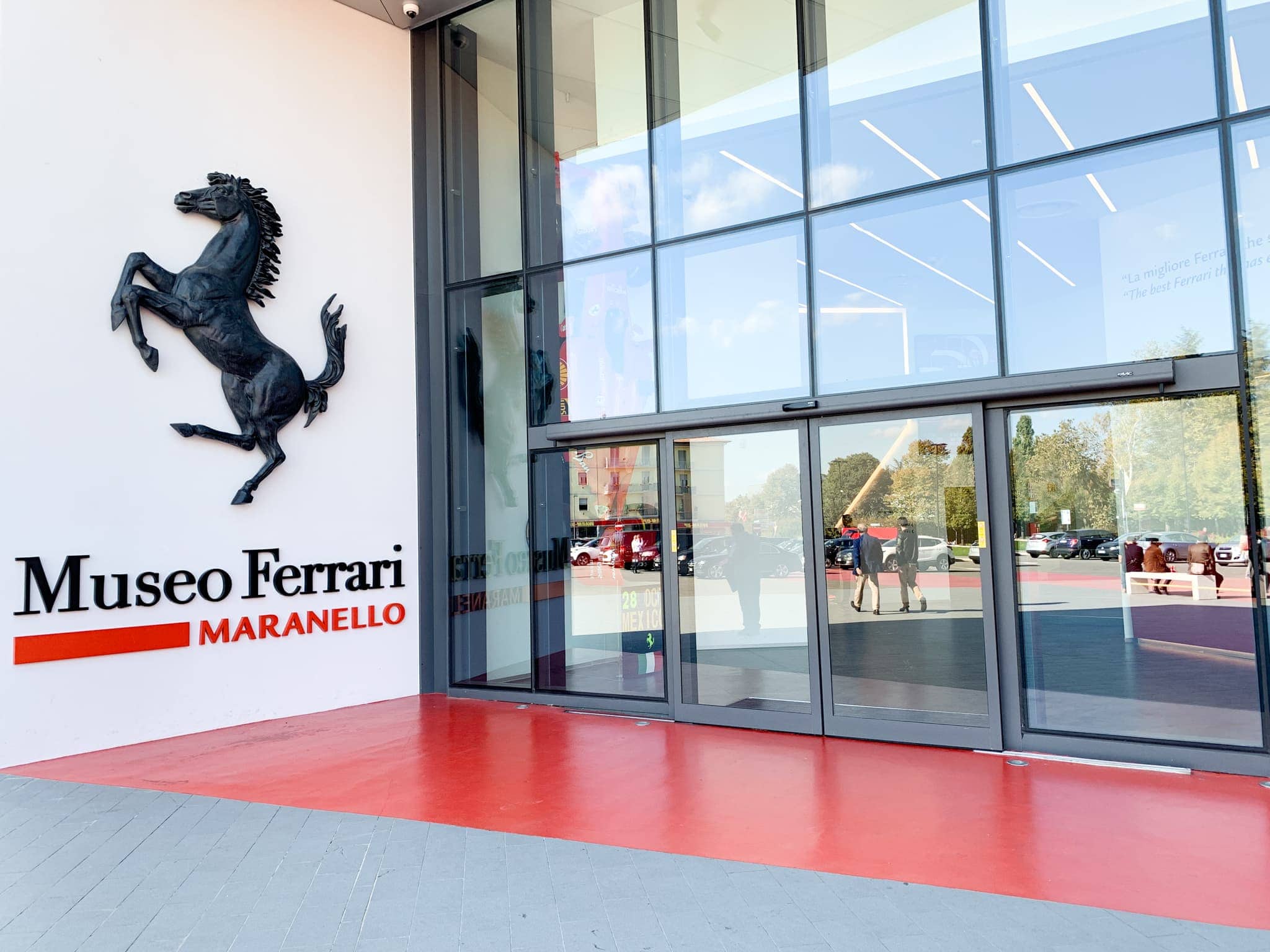 Ferrari Museum in Maranello
After returning from the drive, I had about 20 minutes to walk through the Ferrari Museum a block away.
Admission is included in the tour price, so I didn't want to miss it, but I didn't have time to read the writing on the walls.
However, I thoroughly enjoyed spending more time around these alluring cars, from the earliest models to the latest F1 race car.
Lunch
It was about 2:30 pm when we reached our final stop of the food and Ferrari tour, a local restaurant where we indulged in a multi-course meal, complete with red and white wine.
The first course was prosciutto on fried dough, followed by two stuffed pasta courses, fettuccine, steak and potatoes, and a dessert. And an espresso, because it's Italy.
It was a fitting and relaxing end to an incredible day, and we were back in Bologna by dusk at 5:30 pm.
Recommended: Make the most of your time in Bologna. Click here to book a food and Ferrari tour and experience the best of Emilia-Romagna!