Seafood is the star of the show at Le Bernardin, a New York City restaurant with three Michelin stars and more James Beard Foundation Awards than any other place in town.
French co-owner and chef Eric Ripert first came to my attention during his guest appearances on Anthony Bourdain's TV shows. The two were good friends, and it showed on-screen.
Ripert was recruited by Maguy Le Coze in 1994 after her brother and co-owner, Gilbert Le Coze, passed away unexpectedly.
In the 30 years since then, he's contributed to Le Bernardin's success in countless ways, helping to maintain the four-star review status by The New York Times.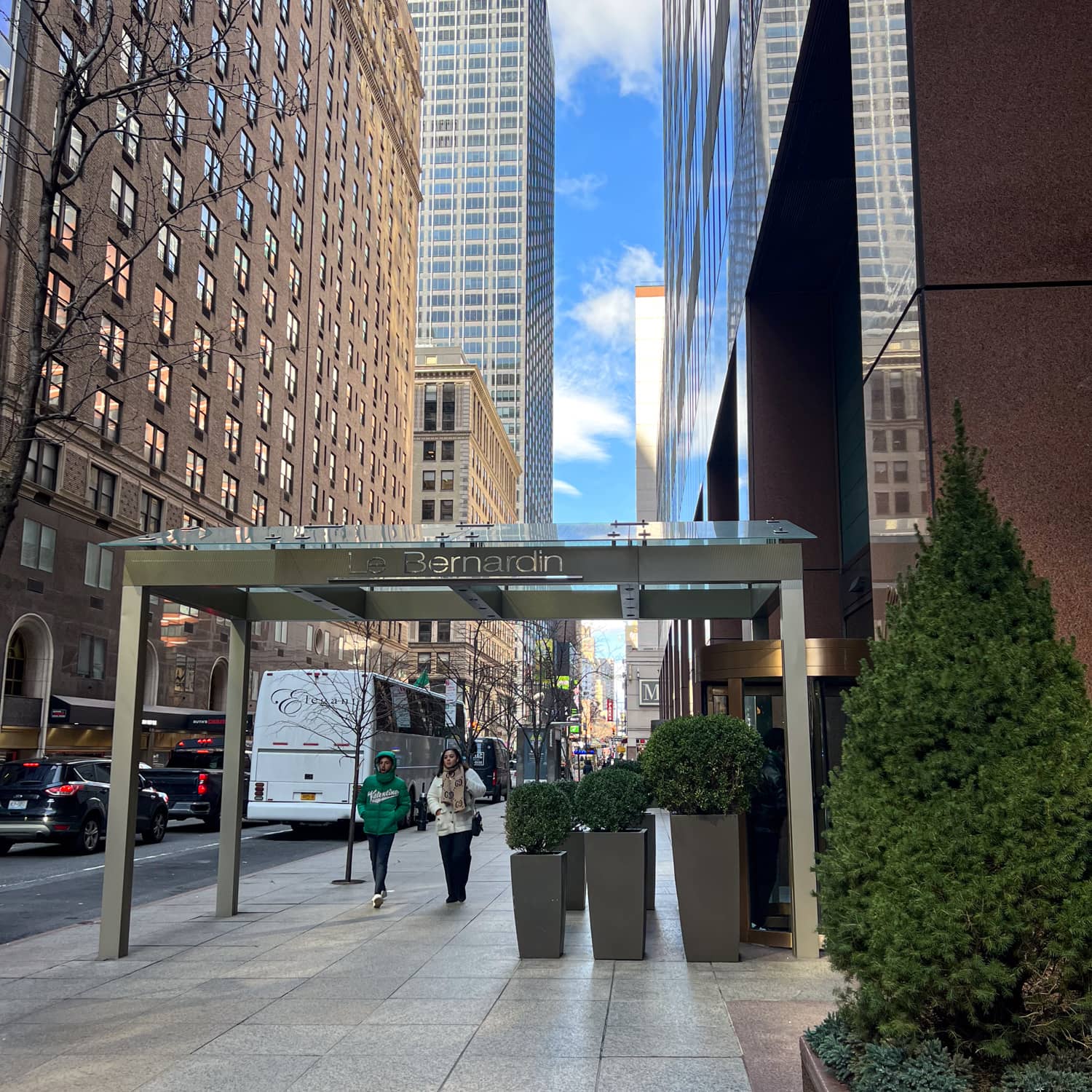 For years, I waited for an opportunity to enjoy fine dining at Le Bernardin. The business casual dress code and high cost always influenced my decision-making.
In 2018 and 2019, my visits to New York City were on the tail end of trips to Tuscany and Scandinavia, respectively.
I headed into 2020 intent on eating at Le Bernardin that spring. Unfortunately, the trip never happened; however, it remained the #1 restaurant in NYC that I wanted to try.
Three years later, with a greater appreciation for living life to the fullest, I made it happen.
Menus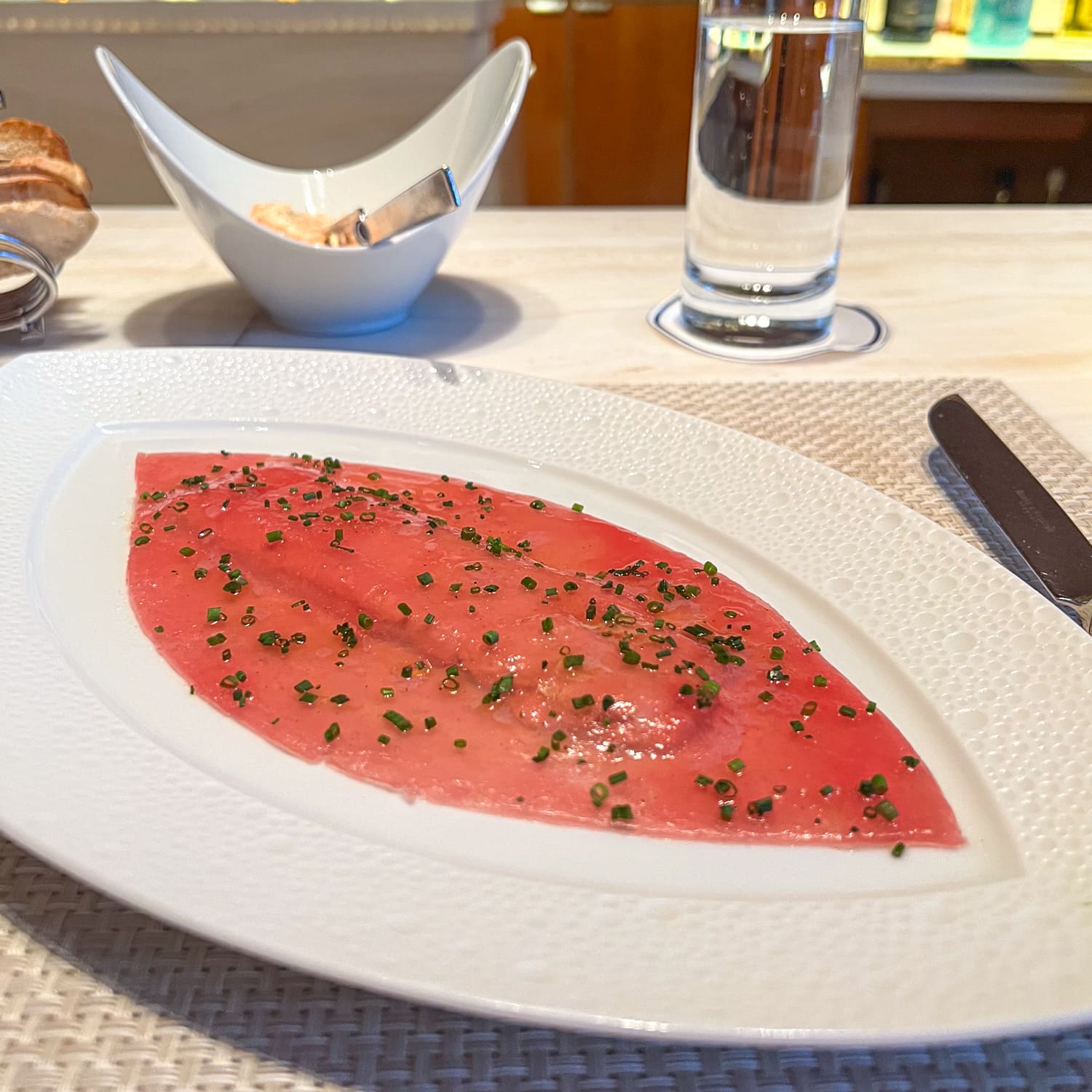 Le Bernardin has multiple menus and two settings in which to enjoy them. The modern dining room offers the most options but requires a reservation.
In September 2011, a redesign of the restaurant by Bentel & Bentel led to the addition of a lounge seated on a first-come, first-serve basis.
As a result, Le Bernardin won the James Beard Award for Best Restaurant Design the following year.
Dining Room
For the whole experience, book a dinner reservation in the dining room for the Chef's Tasting Menu. It's an 8-course meal that costs $298 per person or $468 per person with wine pairing.
An 8-course Vegetarian Tasting Menu is also available for $230 per person or $400 with wine pairing.
The more moderately priced 4-course dinner menu is $198 per person, allowing guests to choose which dishes they want for each course.
A 3-course lunch menu offers the same flexibility for $120 per person.
This particular menu is presented with dishes under the headings "Almost Raw," "Barely Touched," and "Lightly Cooked." A few more dishes are available upon request for an additional charge.
What's important to understand, since it isn't written on the menu and wasn't explained to me at the time, is that the three courses include dessert.
So, if you want to pay $120 for food, only choose two courses from the lunch menu. Otherwise, you'll be charged individually for additional plates.
Lounge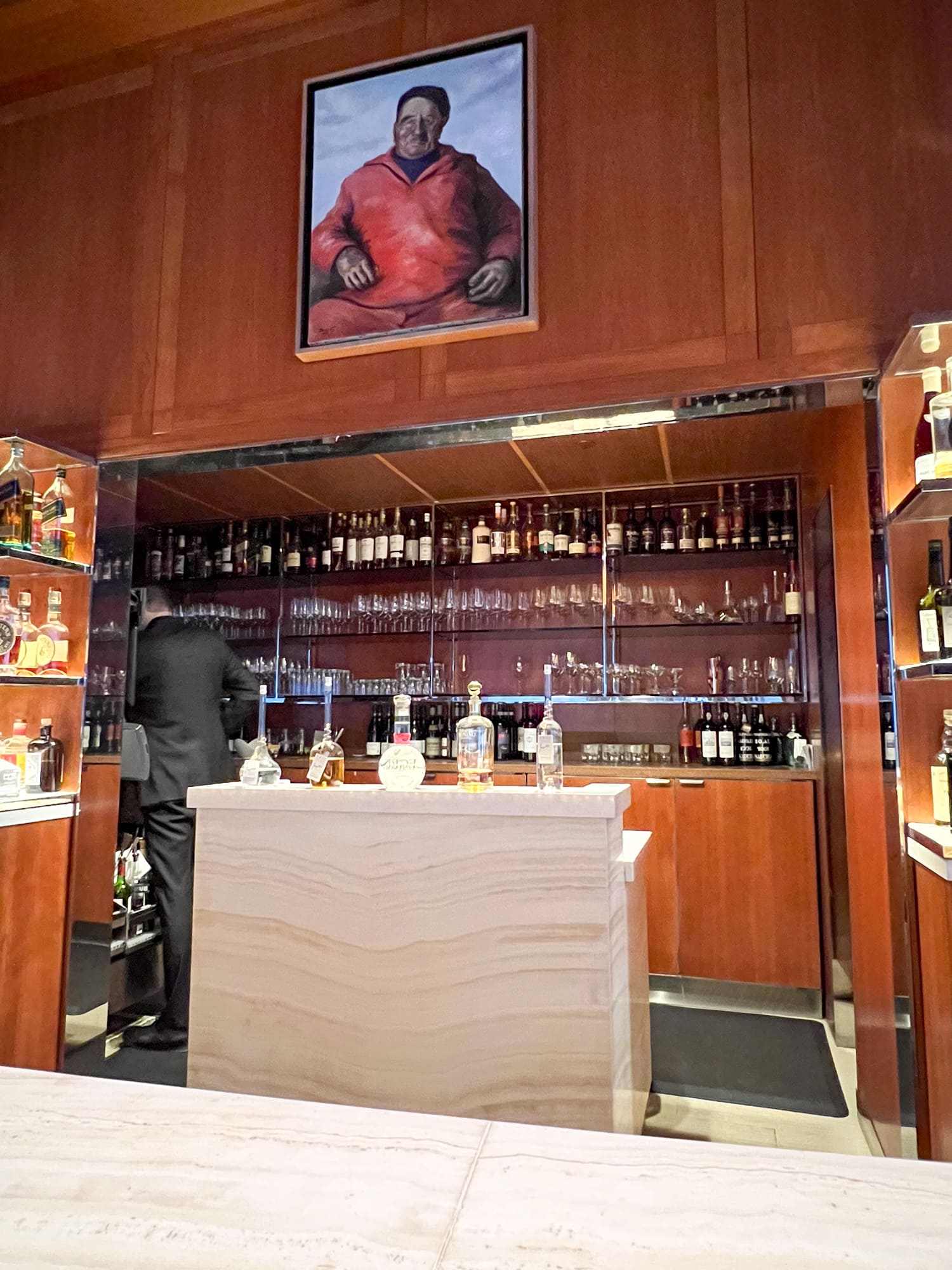 Diners who choose the lounge at Le Bernardin will have their choice of seating at tables or the curved onyx bar with mother-of-pearl tiles.
I chose the bar in the lounge as I couldn't get a dining room table reservation before my trip to New York City.
There's an a-la-carte menu with organic farm-raised caviar, oysters, and a handful of dishes, including the signature yellowfin tuna with foie gras and a warm lobster roll with a black truffle bun.
The same 3-course prix fixe lunch menu for $120 that's available in the dining room was also provided to me.
Finally, a 3-course City Harvest menu for $90 is available exclusively to guests in the lounge. The menu is updated weekly, and $5 is donated to City Harvest for every person who orders it.
City Harvest is a food rescue program that collects 75 million pounds of unused food annually and redistributes it to food pantries, soup kitchens, and New Yorkers in need. Chef Ripert serves as Vice Chairman on the Board of Directors.
Wines by the glass, bottled beers and ciders, and cocktails are also available to lounge guests.
My Experience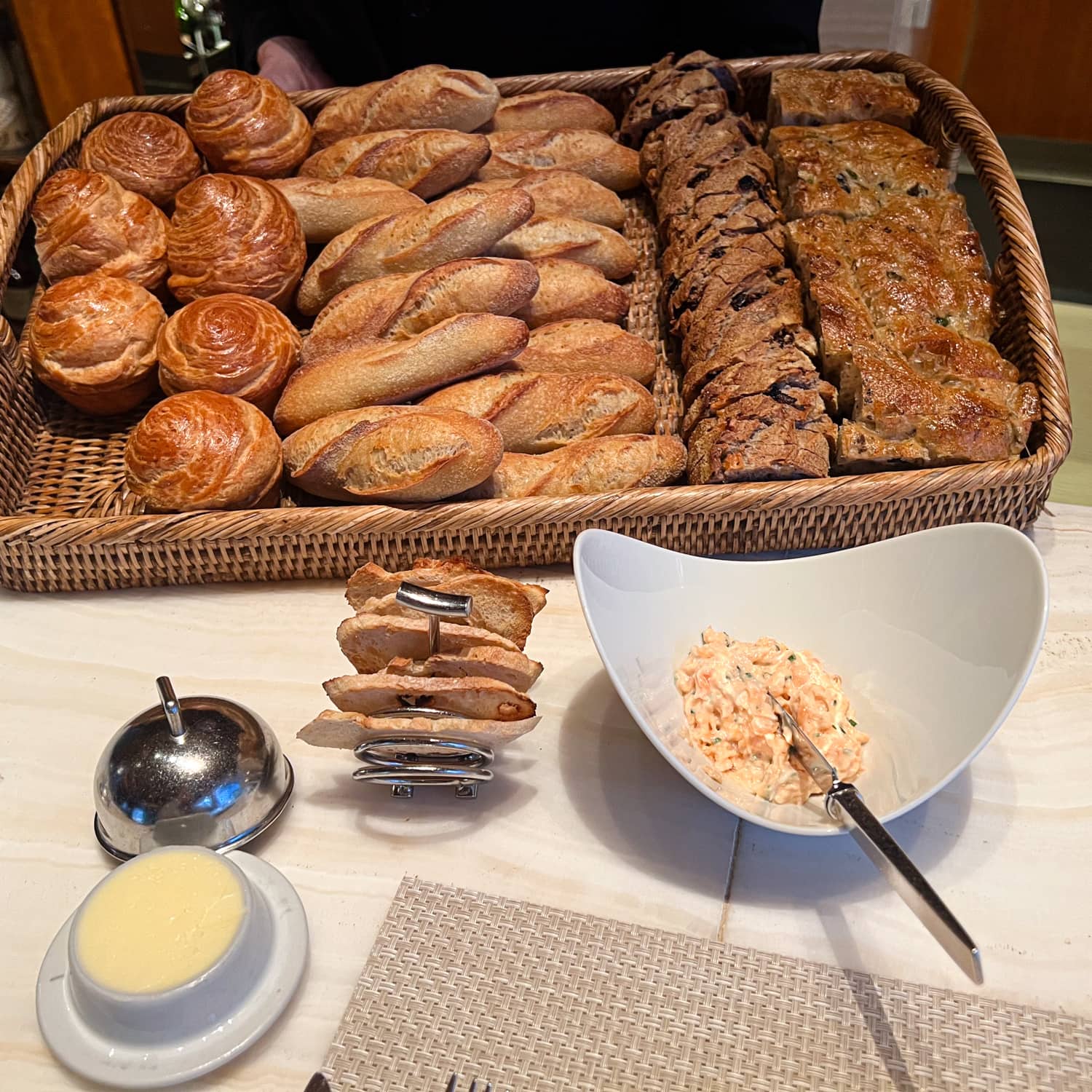 I arrived at Le Bernardin a little before noon on a Wednesday, excited to finally try this world-class restaurant. The World's 50 Best Restaurants list ranked Le Bernardin #44 for 2023.
When my watch struck 12, I entered and was immediately greeted by the host. I requested a seat in the lounge, and I had my pick of the room. After surveying the table seating, I sat at the bar for lunch.
A friendly server greeted me from behind the bar. After reviewing all the menus, I opted for the 3-course prix fixe lunch for $120 and ordered three dishes.
I assumed I could choose one from each category, and dessert would still be included. When the bill arrived later, I learned that's not the way it works.
But for now, let's focus on the tasty food delivered, starting with the Shrimp Rillette with Toast and then the bread service.
On the first pass, I got rosemary and olive focaccia. On the second go-around, I picked out one of the fresh-baked buns.
As I had a couple of NYC's oldest bars on the agenda for that day, I skipped a glass of wine with my seafood lunch at Le Bernardin.
Tuna
My first course was a signature dish from the "Almost Raw" section.
Yellowfin tuna is pounded into thin layers and draped over a toasted baguette with foie gras. It's garnished with fresh chives.
Related: Dining at Eleven Madison Park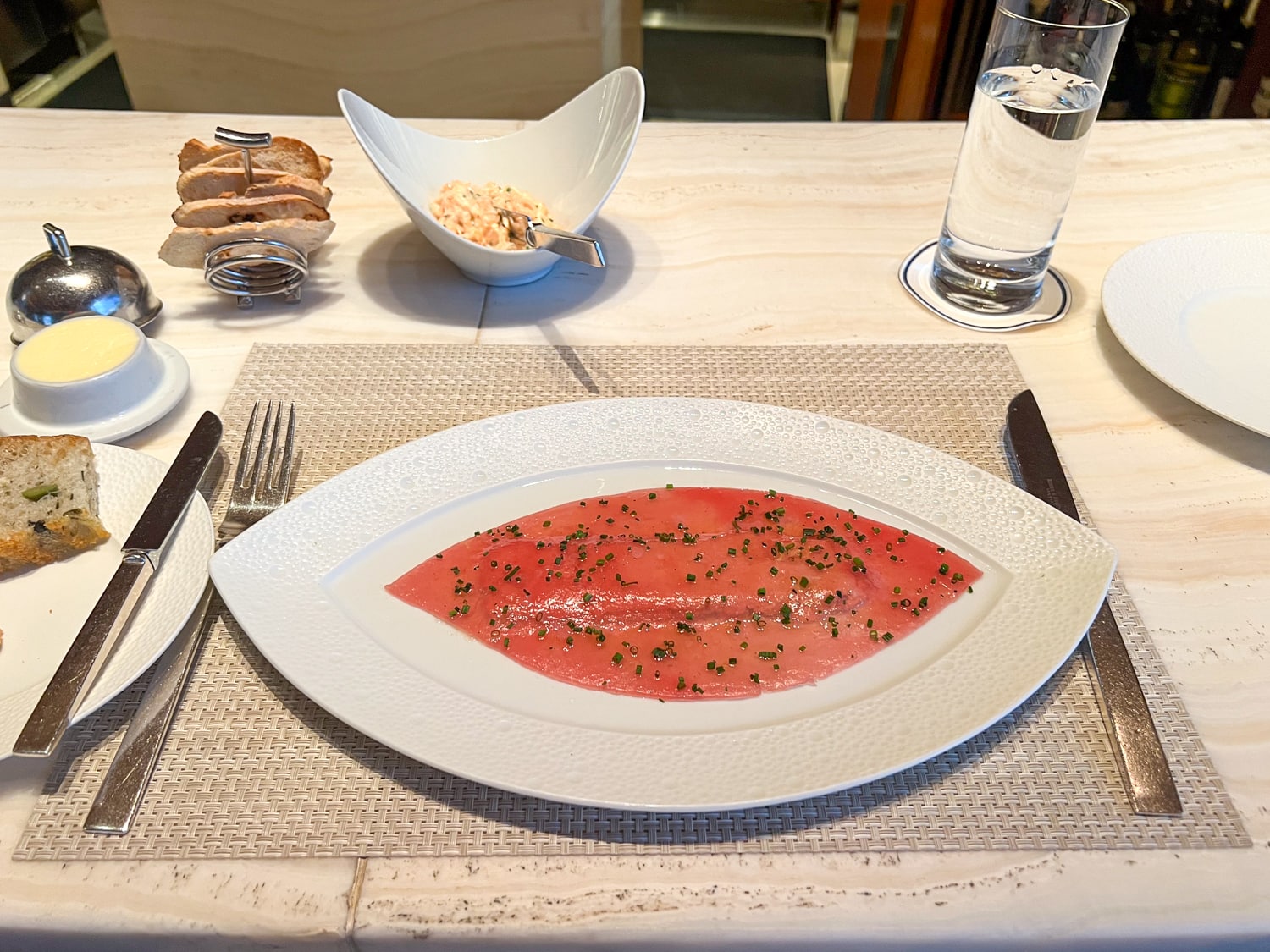 The resulting presentation was lovely. I enjoyed the contrasting textures of the silky-smooth tuna, creamy foie gras, and crunchy baguette as much as the taste.
Chef Ripert demonstrated how this dish is made for CBS Sunday Morning. Watch below.
Lobster
My second course was poached lobster with grape-fennel salad and a verjus sabayon.
I had Maine on my mind when I ordered this dish, as I would soon visit the state best known for lobstering.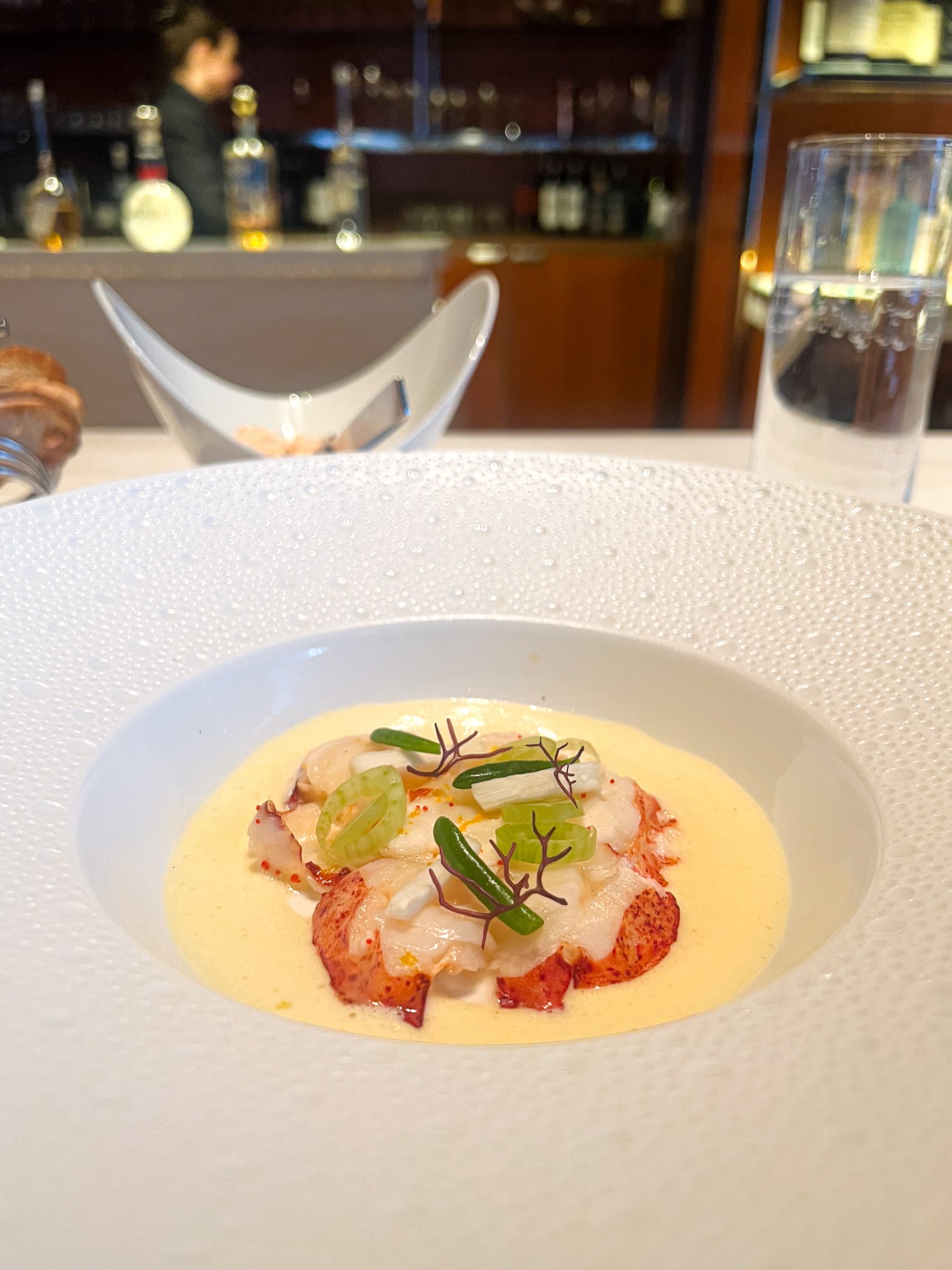 The presentation was once again attractive. The sauce made this dish for me, as lobster meat alone is rather bland. Of the four courses I tried, this was the one I wouldn't have missed.
Black Bass
Next, I received a generous filet of poached black bass with braised cippolini onions, spinach, and shaved turnip. The rich bacon-green peppercorn broth, which helped sell me on the dish, was delicious.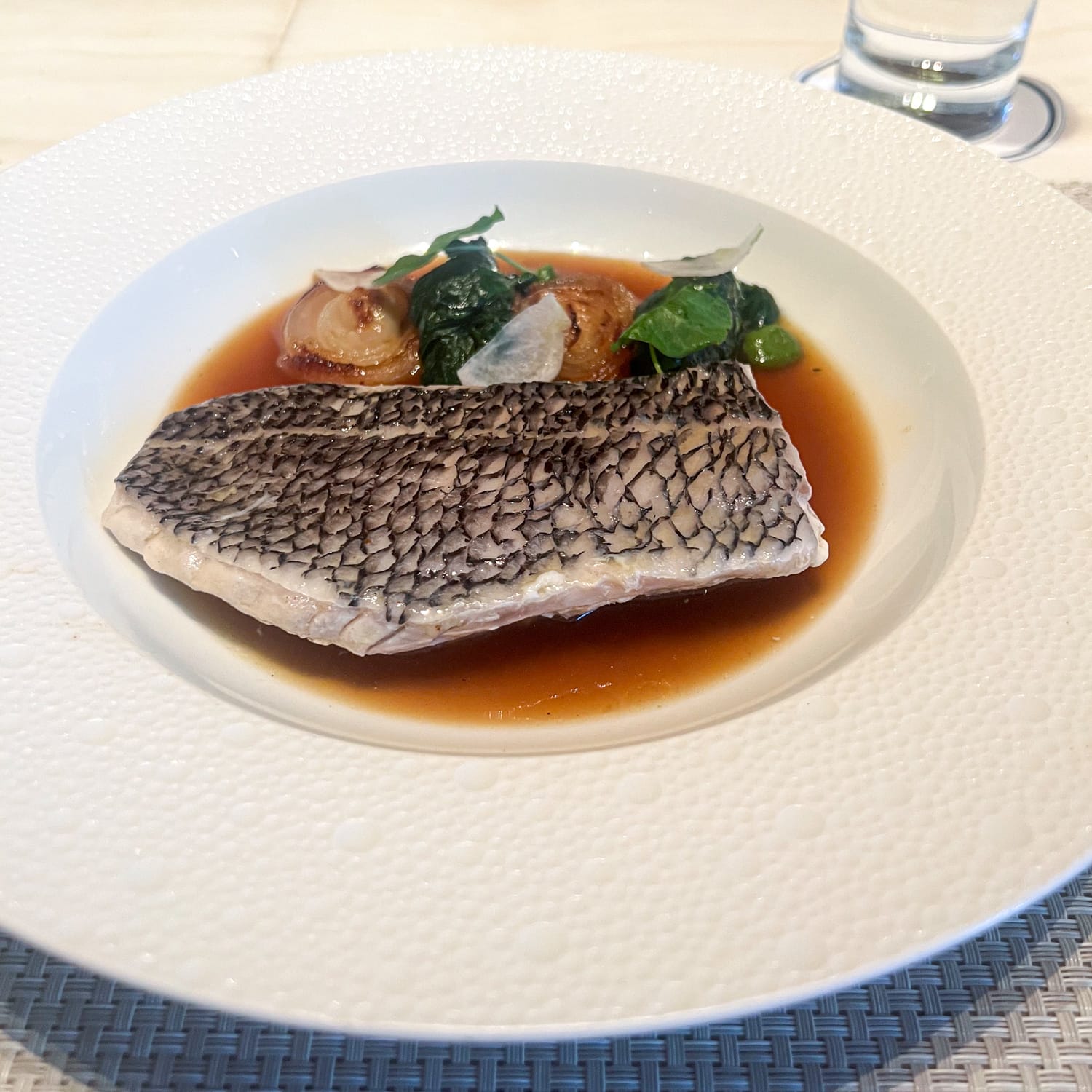 This was my first experience with black bass, and I savored its soft texture. Fish is the focus at Le Bernardin, and this course exemplified that approach.
Peruvian Dark Chocolate
I passed on the City Harvest menu because I wanted to choose my dessert course, a highlight of most meals. And that goes triple for restaurants awarded three stars by the Michelin Guide.
Le Bernardin's dessert menu is the work of Executive Pastry Chef Orlando Soto and features about a half-dozen sweets to consider.
Related: Sezanne's Modern French Cuisine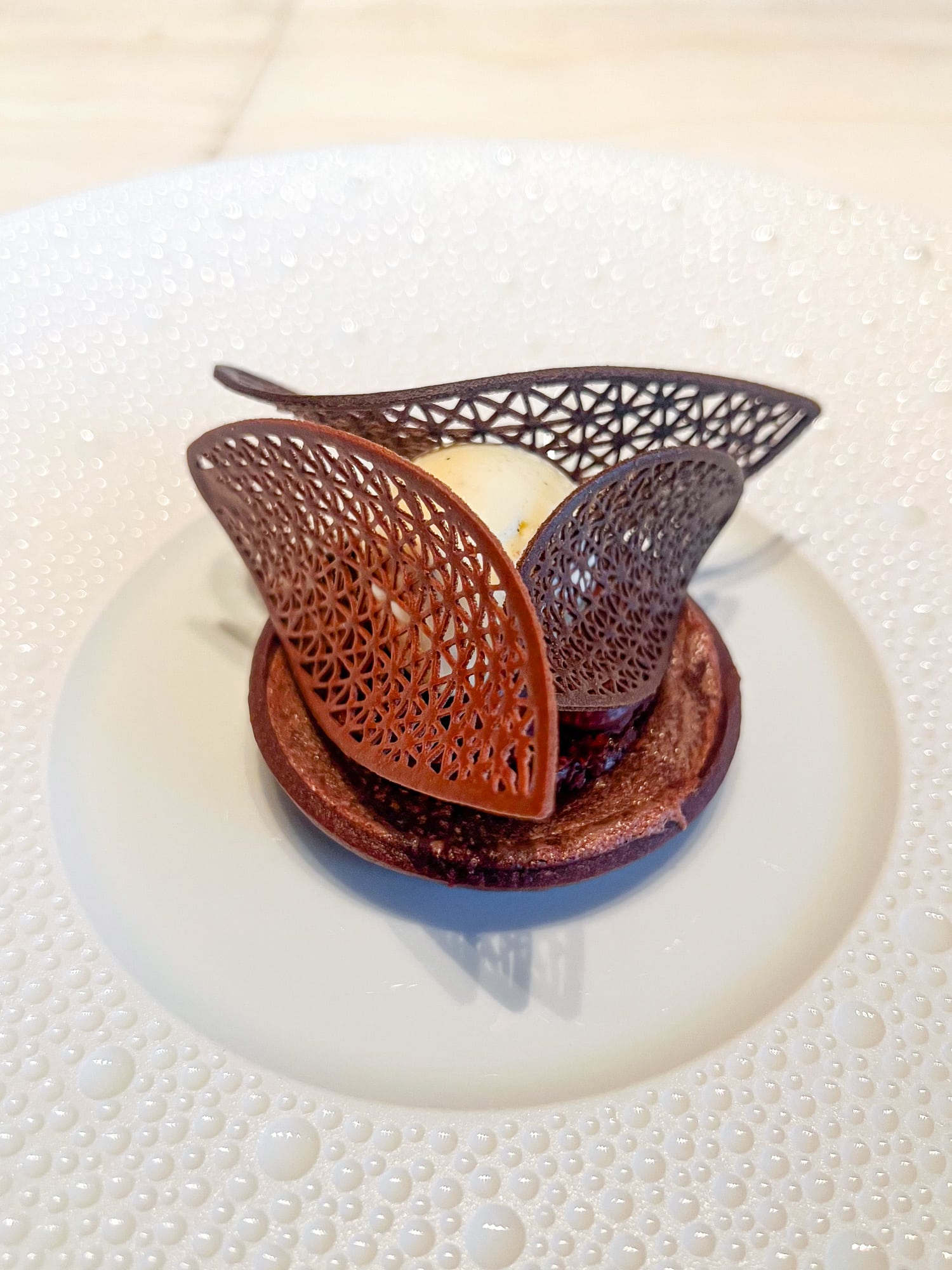 I was delighted by the warm Peruvian chocolate tart with Tahitian vanilla ice cream.
Usually, I'd get a cup of coffee or tea at the end of a fantastic meal; however, I was too excited to get outside and see more of New York City.
The last treat to be delivered was an almond financier with ruby jam that I quickly consumed before asking for the check.
The Bill
When the bill arrived, I was surprised that it was significantly more than I expected. I thought the meal would cost about $160 ($120, plus water, tax, and a 20% tip). Instead, I was looking at $195 before gratuity.
The tuna was $48, as I misunderstood how the menu worked. For $120, you get your choice of two plates from the prix fixe menu plus a dessert (from a separate menu).
My server was kind enough to check and see if anything could be done, but she only returned with an apology.
As the tuna carpaccio was my favorite course, I was glad to have tried it, but it was an expensive misunderstanding as the extra dish affected the amount of tax and tip I was paying, too.
Final Thoughts
Despite the confusion over the menu, I left Le Bernardin happy to have finally given the famed seafood restaurant a try.
Few places of its caliber offer the kind of first-come, first-serve seating you get with the lounge. As such, it's not just for special occasions.
I'd gladly drop in for lunch in the lounge again. Next time, I'd probably choose a table facing the entrance to take in more of the restaurant during my meal.
One day, I'd like to return for the Chef's Tasting Menu in the main dining room.
Since dining at Le Bernardin, I've listened to the audiobook version of Eric Ripert's autobiography, 32 Yolks.
It details his turbulent-at-times family life growing up in France and Andorra and his dedication to working for top chefs like Joel Robuchon. I highly recommend giving it a read or listen.
Visit Le Bernardin in NYC
Address: 155 West 51st Street, New York, NY, United States

Reservations: Required for the dining room; they're open and accepted as of 7 a.m. (Eastern Time) on the first day of each month, excluding Sundays. Reservations can be made online at Resy. The lounge is first come, first serve.

Dress Code: Business casual. Jackets are preferred but not required, and no athletic wear, loungewear, shorts, T-shirts, short sleeves, sneakers, or flip-flops.