The best BBQ in Texas delivers melt-in-your-mouth fatty brisket, beef ribs big enough to feed a family of four, and creative scratch-made sides and desserts.
Discovering Texas BBQ over the last seven years has been one of the great benefits of my move to the Lone Star State.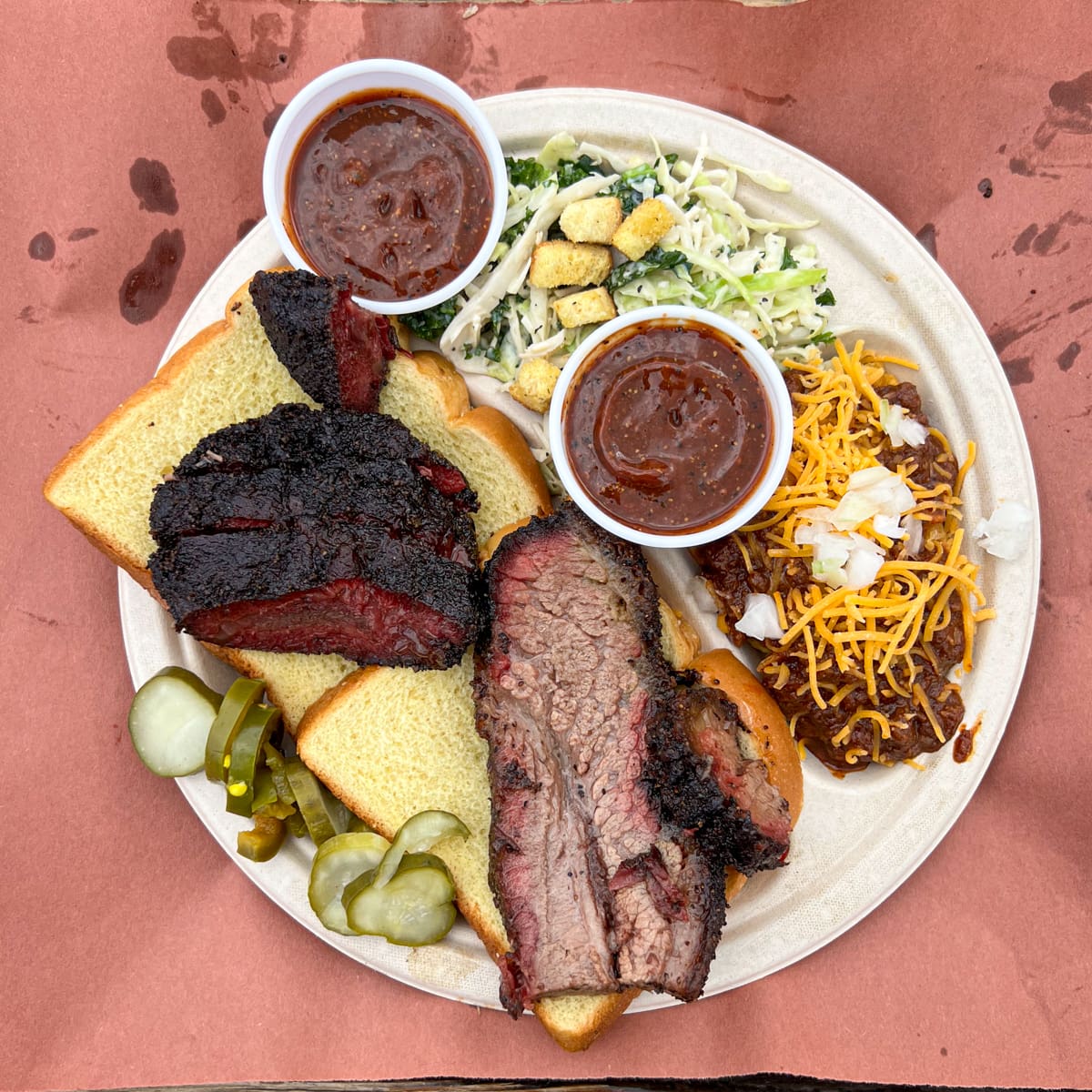 When I chose to live in Austin, I had no idea Central Texas-style BBQ joints offered some of the state's most delicious smoked meats.
Franklin Barbecue had already attracted national acclaim; la Barbecue had long lines at its East Austin food truck. And yet, many of today's best places hadn't even opened their doors.
This list is organized by major metro area and based on my firsthand experience eating at the best barbecue joints in the state of Texas.
Outside of the Austin area, where my time is more limited, I've looked to Texas Monthly, a magazine with a barbecue editor on staff, for guidance.
I recognize there's a lot of Texas I've yet to visit and many excellent BBQ spots worth eating at that won't be on this list.
As I try new spots, I'll add more, though I intend to cap this curated list at roughly 15 of the state's best barbecue restaurants. Let's feast!
Austin
Franklin Barbecue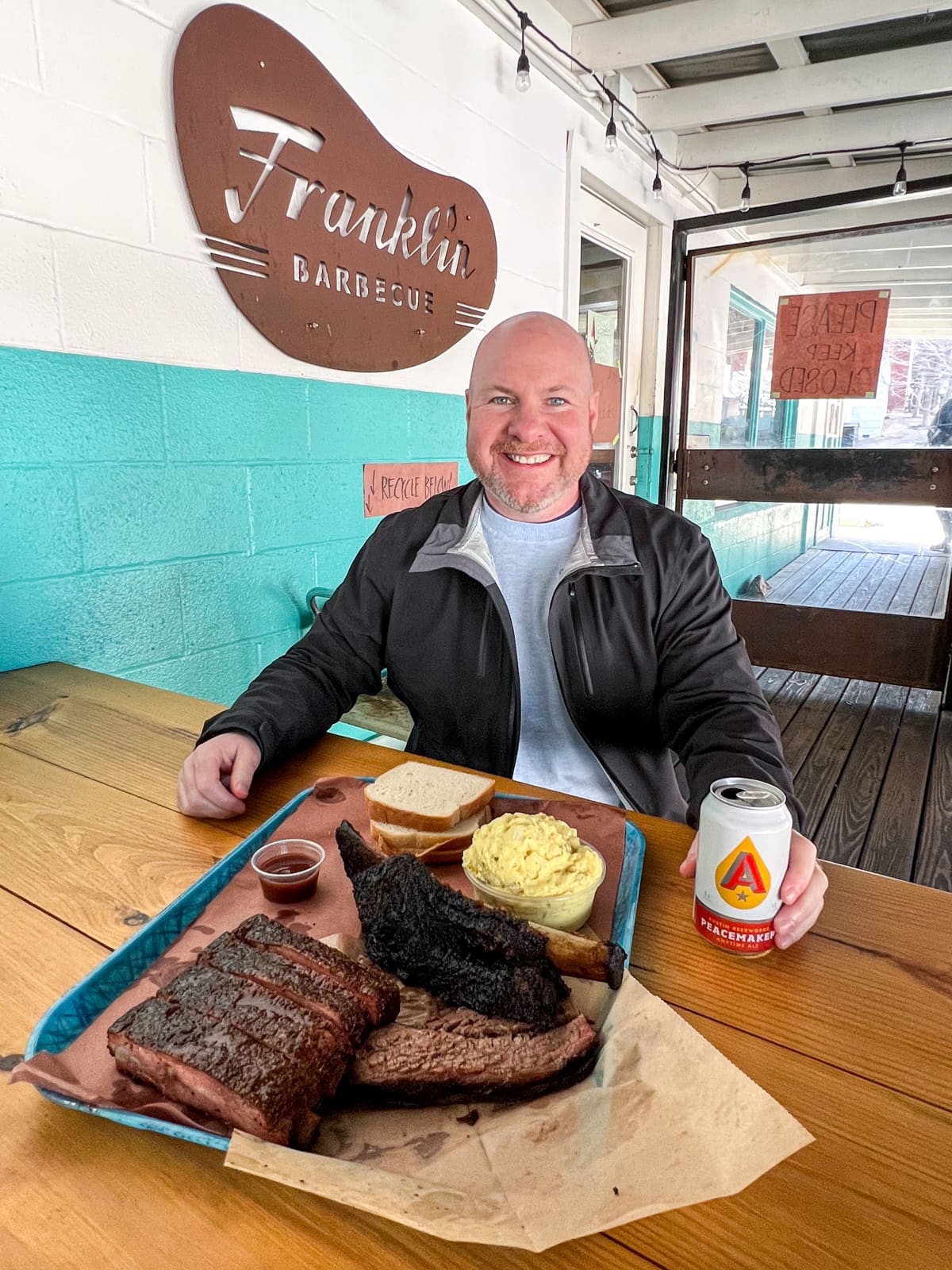 Franklin BBQ lives up to its reputation for producing excellent beef brisket, cooked low and slow over post oak wood.
It's an extraordinary achievement, given pitmaster Aaron Franklin and his team only use salt and pepper for seasoning.
I've come to appreciate that the best brisket doesn't require barbecue sauce. If I'm reaching for dressing, it's too dry or bland, and there's room for improvement.
In 2015, Franklin received the James Beard Award for Best Chef: Southwest, further cementing his reputation on a national level.
Don't let the long lines deter you from trying Austin's most famous barbecue joint. Even Anthony Bourdain had a long wait (President Obama got a pass).
And if you're there on the weekend, get a beef rib; they're out of this world.
900 E 11th St, East Austin, TX, franklinbbq.com
LeRoy and Lewis Barbecue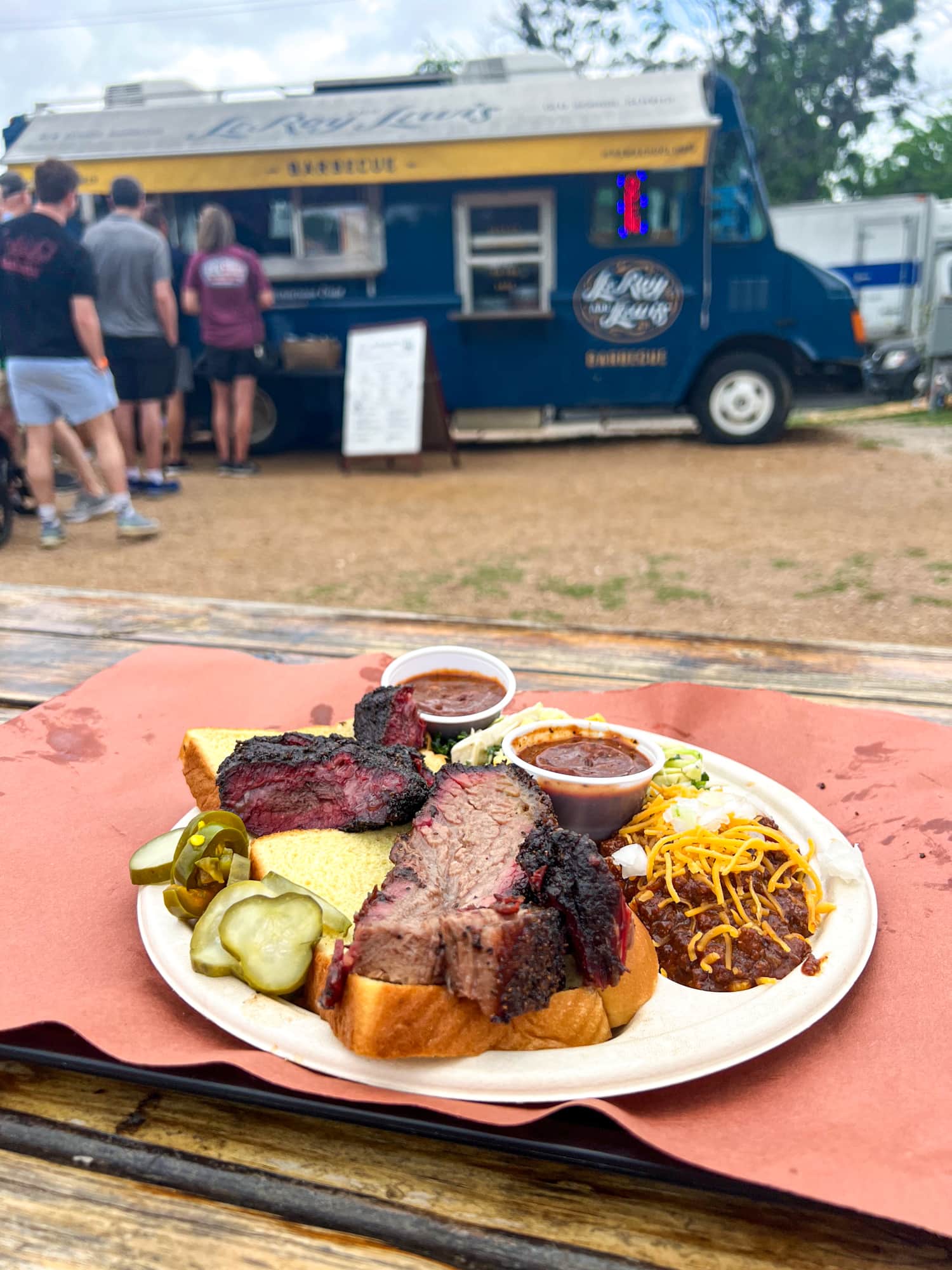 LeRoy and Lewis deliver "new-school barbecue with old-school service" out of a food trailer parked at the edge of Cosmic Coffee's patio in South Austin.
They're known for serving Akaushi brisket from Heartbrand Beef on the weekends and beef cheeks from 44 Farms. Both are fit for a feast.
Another standout option is their brisket burger, which tastes like a barbecue on a bun, and earned a spot on my list of the best burgers in Austin.
121 Pickle Rd, South Austin, TX, leroyandlewisbbq.com
La Barbecue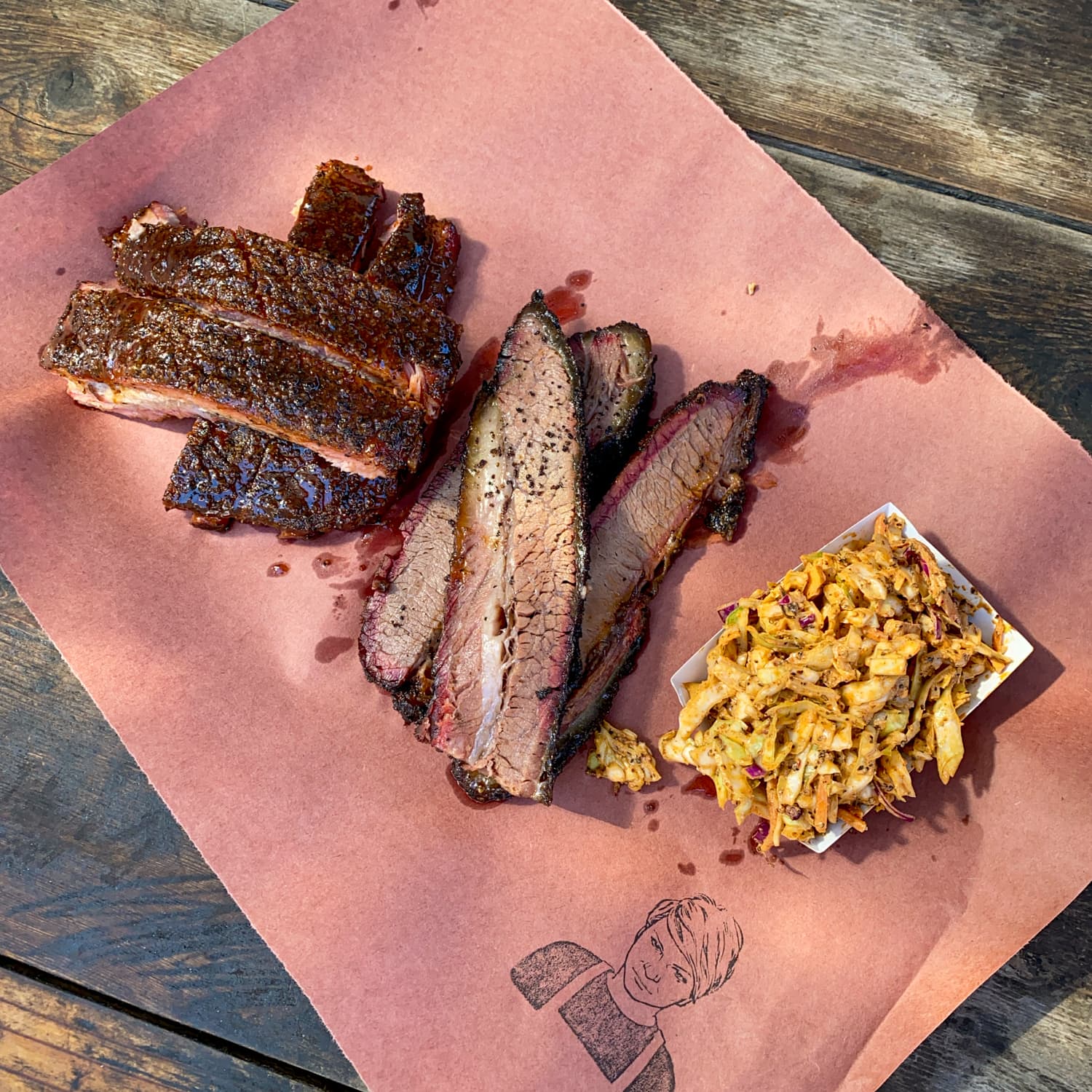 La Barbecue was opened in 2012 by LeAnn Mueller, granddaughter of Louie Mueller (whose barbecue restaurant in Taylor, TX, has operated since 1949).
She hired John Lewis, a pitmaster who previously worked at Franklin Barbecue, and together they went on to create one of Austin's best BBQ restaurants.
My introduction to tender brisket with a peppery crust came from la Barbecue, as the lines at their food truck (circa 2016-17) weren't as long as Franklin's.
La Barbecue later opened a brick-and-mortar restaurant with a dining room and outdoor seating on East Cesar Chavez Street.
Sadly, LeAnn Mueller passed away in June 2023. She is survived by her wife, Alison, who continues to run la Barbecue in LeAnn's honor.
2401 E Cesar Chavez St, East Austin, TX, labarbecue.com
Interstellar BBQ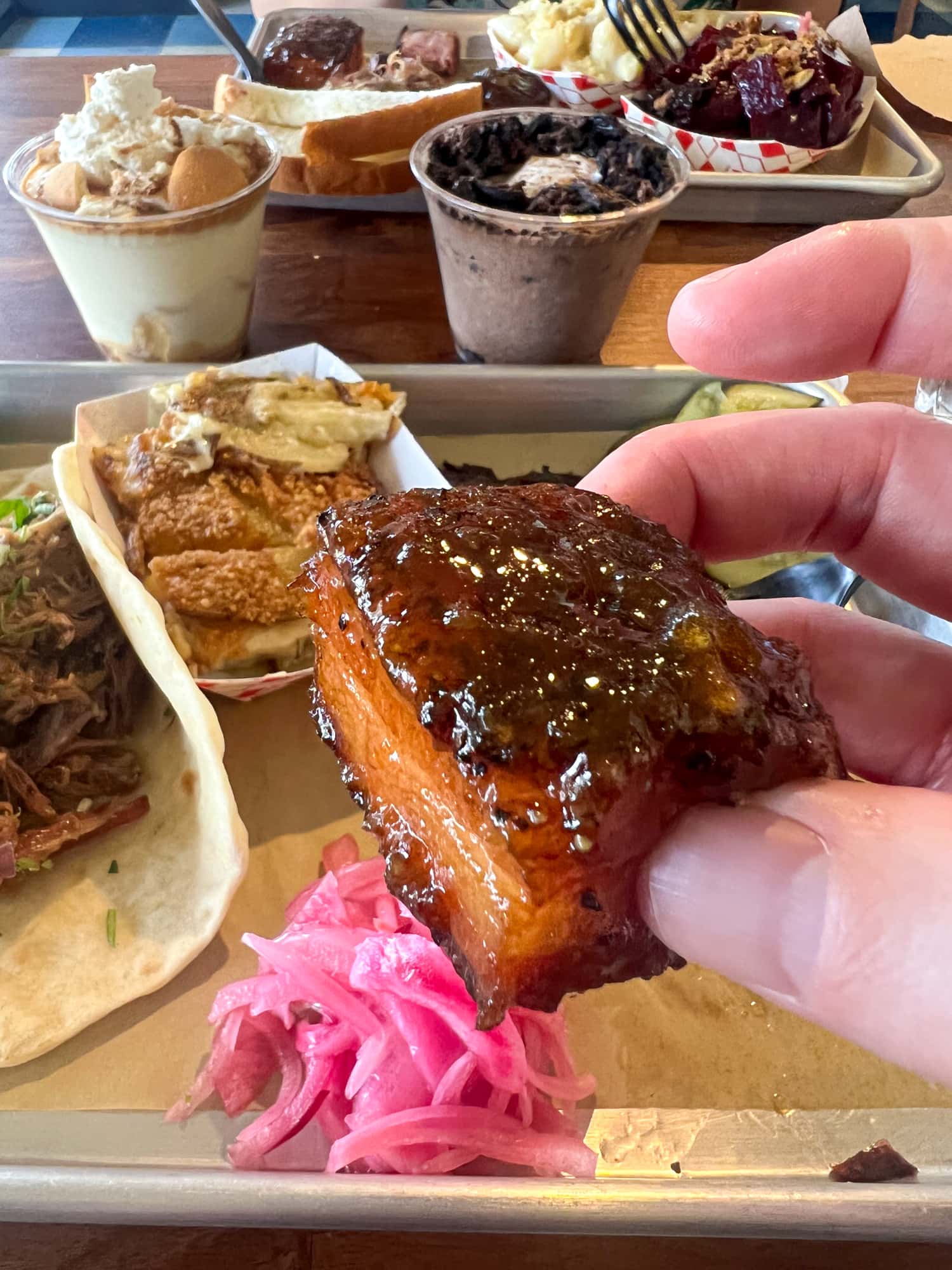 You never know where Texas BBQ joints are going to spring up.
That's my takeaway from seeing pitmaster John Bates open InterStellar BBQ in the space of a former sandwich shop in a North Austin strip mall.
His smokers are stationed on a little median in the parking lot, which provides just enough space to produce some of the state's most delicious BBQ.
A relative newcomer on the scene, Bates made a quick impression and was rewarded with the #2 ranking on Texas Monthly's 2021 edition of the "Top 50 Texas BBQ Joints."
I love their peach tea glazed pork belly and Mexican chocolate rice pudding.
12233 Ranch Rd 620 N suite 105, North Austin, TX, theinterstellarbbq.com
Distant Relatives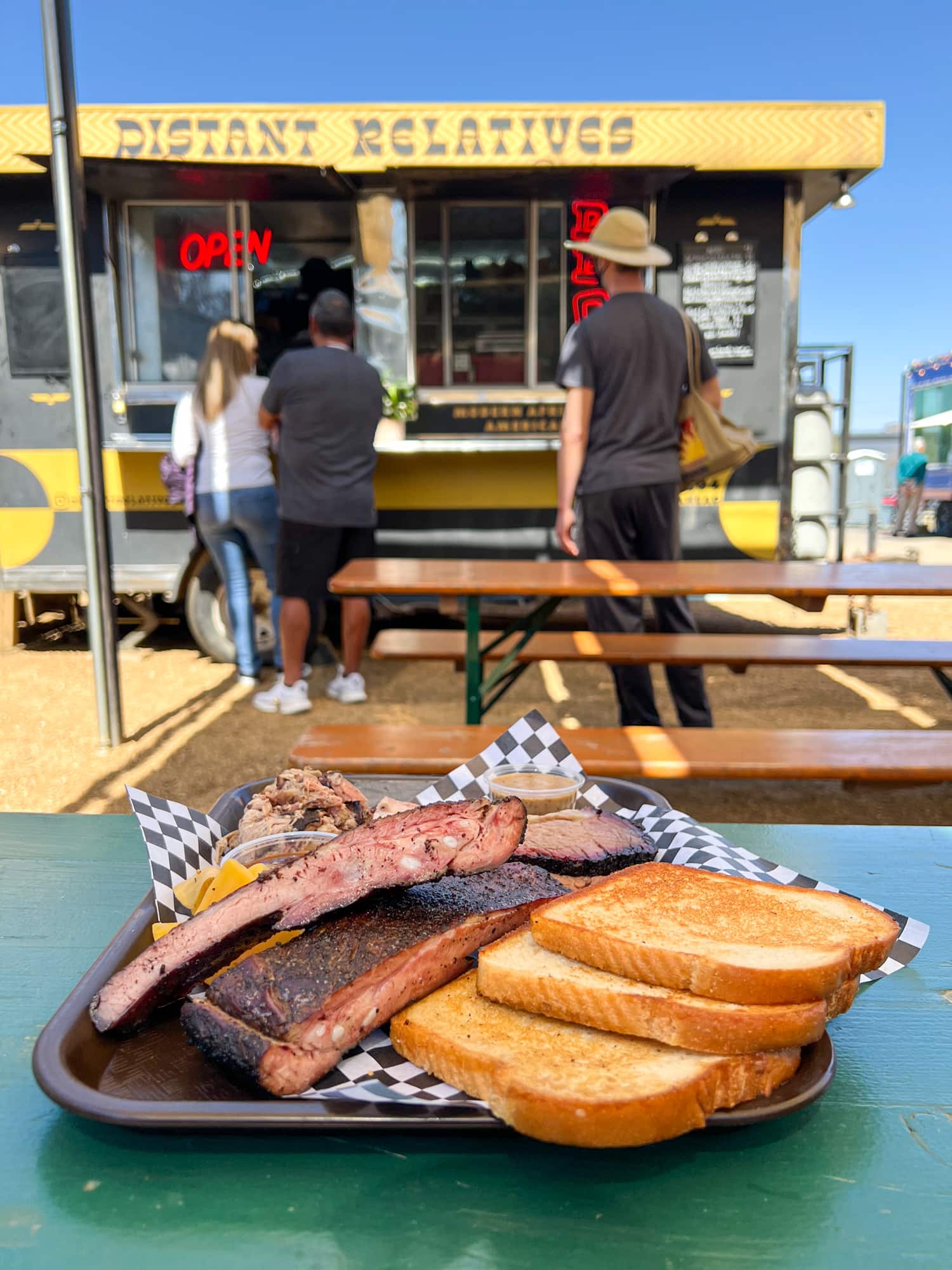 Inspired by the African diaspora in the United States, pitmaster Damien Brockway opened Distant Relatives in August 2020.
Operating out of the parking lot at Meanwhile Brewing in South Austin gave him instant visibility. He's been named a James Beard Award Semifinalist for Best Chef: Texas.
I know I said earlier that great brisket doesn't require barbecue sauce; however, the sauces at Distant Relatives are tasty.
The mustard butter complements the brisket, and the tamarind molasses does the same for the pulled pork.
3901 Promontory Point Dr, South Austin, TX, distatantrelativesatx.com
Valentina's Tex-Mex BBQ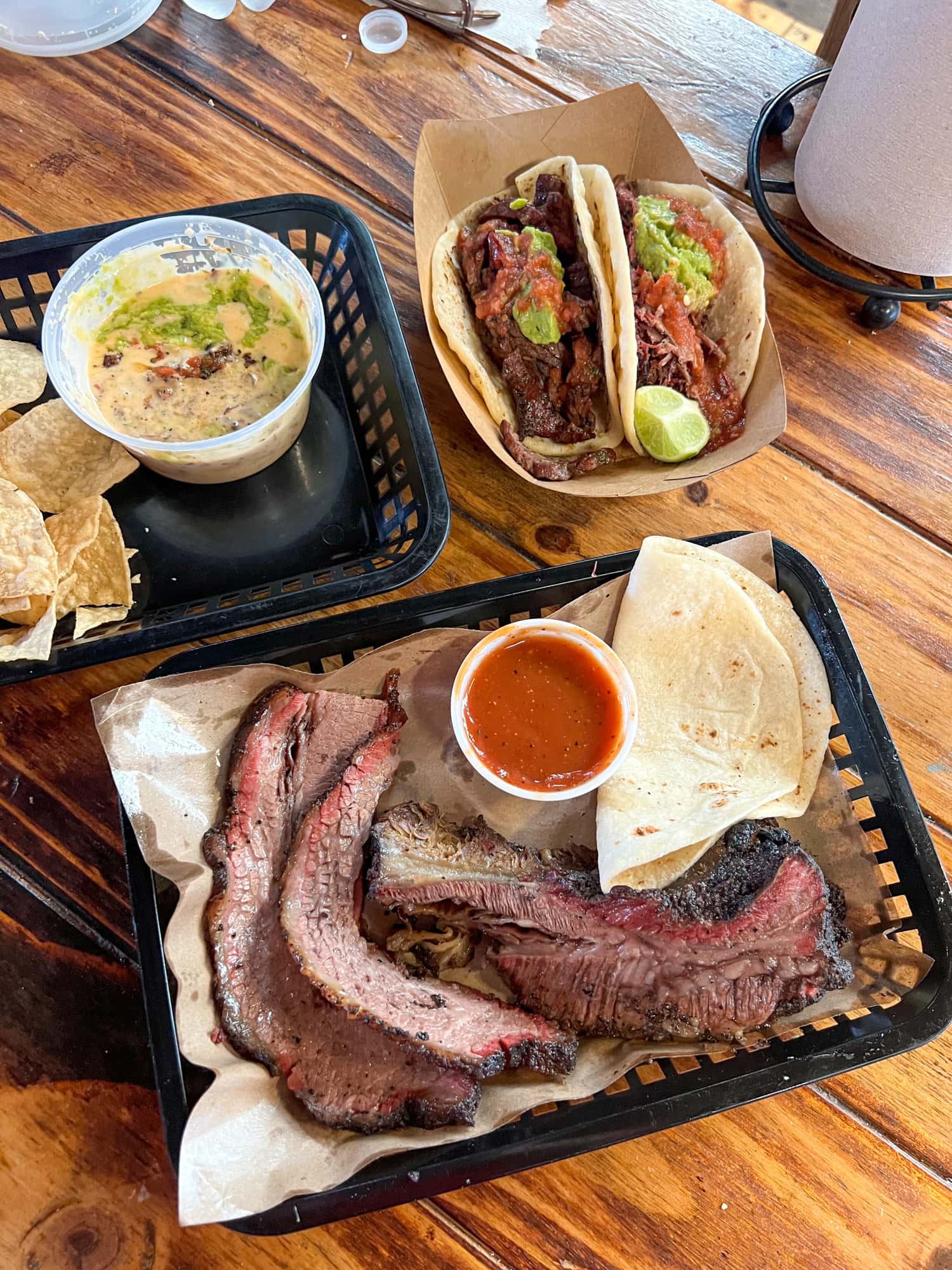 At Valentina's, hungry BBQ fans line up early for breakfast tacos like the Real Deal Holyfield, made of egg, potatoes, refried beans, bacon, and a choice of brisket, pulled pork, or cerveza beef fajita.
Pitmaster Miguel Vidal and his family have made a name for themselves by mixing Tex-Mex with Central Texas barbecue.
You can still buy meats like their slow-cooked brisket, pork ribs, and pulled chicken by the pound, but their unique offering is lots of tacos!
In addition to the breakfast tacos, which they stop selling at 11 a.m. sharp, there are brisket tacos with sea salt lime guacamole, smoked chicken fajitas tacos, and carnitas tacos with caramelized onions.
In 2023, Valentina's moved from their food truck in South Austin to a much larger restaurant in the Buda Mill & Grain Co., just south of Austin city limits.
Pro tip: add the brisket and guacamole to your order of queso and chips.
308 S Main St, Buda, TX, valentinastexmexbbq.com
Note: Stiles Switch BBQ is another great place operating out of a strip mall (the one used in Richard Linklater's "Dazed and Confused").
Dallas-Fort Worth
Goldee's Barbecue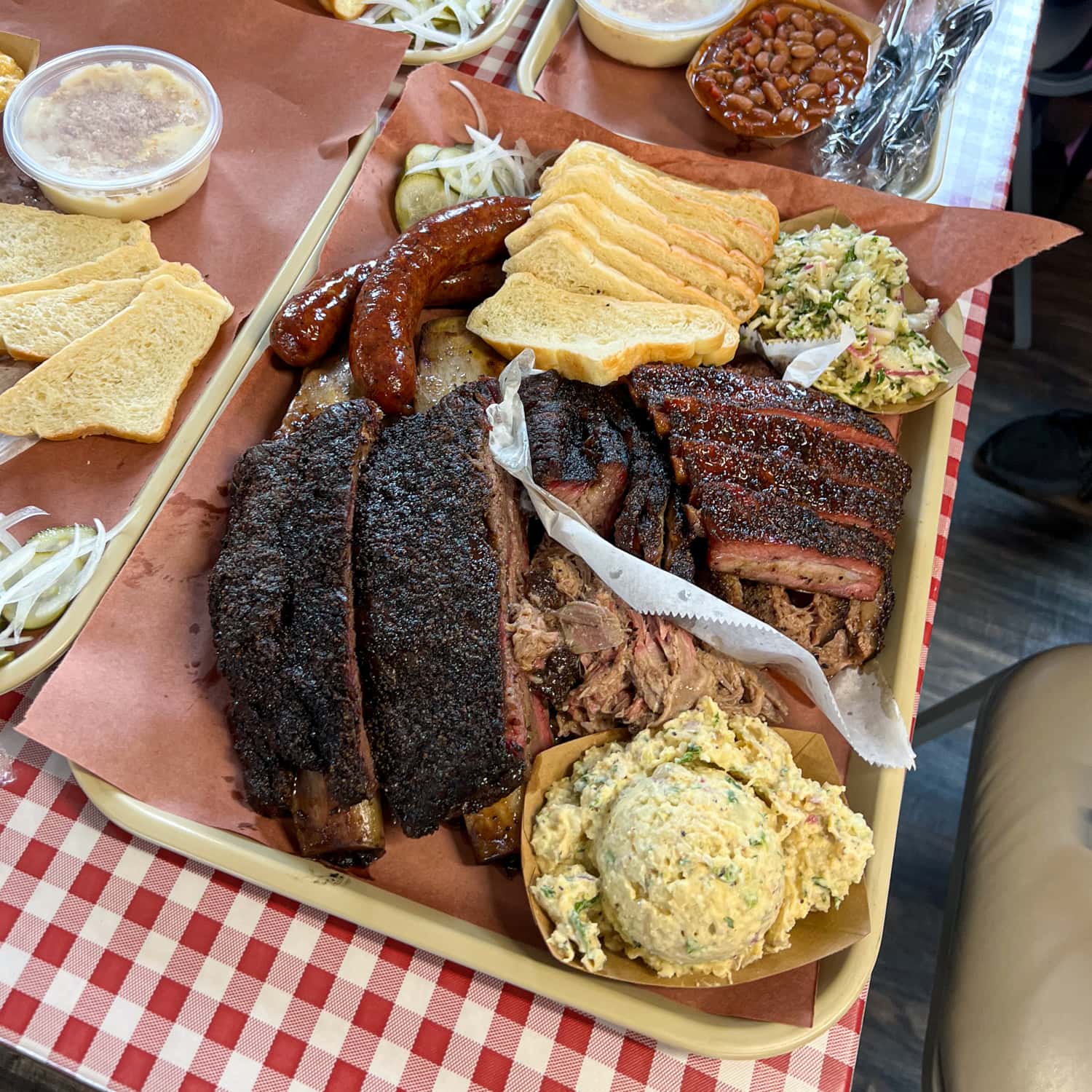 In 2021, Goldee's Barbecue was ranked number one in the state by Texas Monthly magazine, launching the already popular new spot into superstardom.
Goldee's owners (Jalen Heard, Nupohn Inthanousay, Lane Milne, Dylan Taylor, and Jonny White) have known each other since childhood, and all worked at other top-tier BBQ spots before joining forces on their own.
I gave Goldee's three hours of my life waiting in line for their brisket, beef ribs, and homemade sides. They even go so far as to bake their white bread.
The investment was worthwhile, with the brisket and beef ribs on par with what you can expect at Franklin's in Austin.
4645 Dick Price Rd, Fort Worth, TX, goldeesbbq.com
Panther City BBQ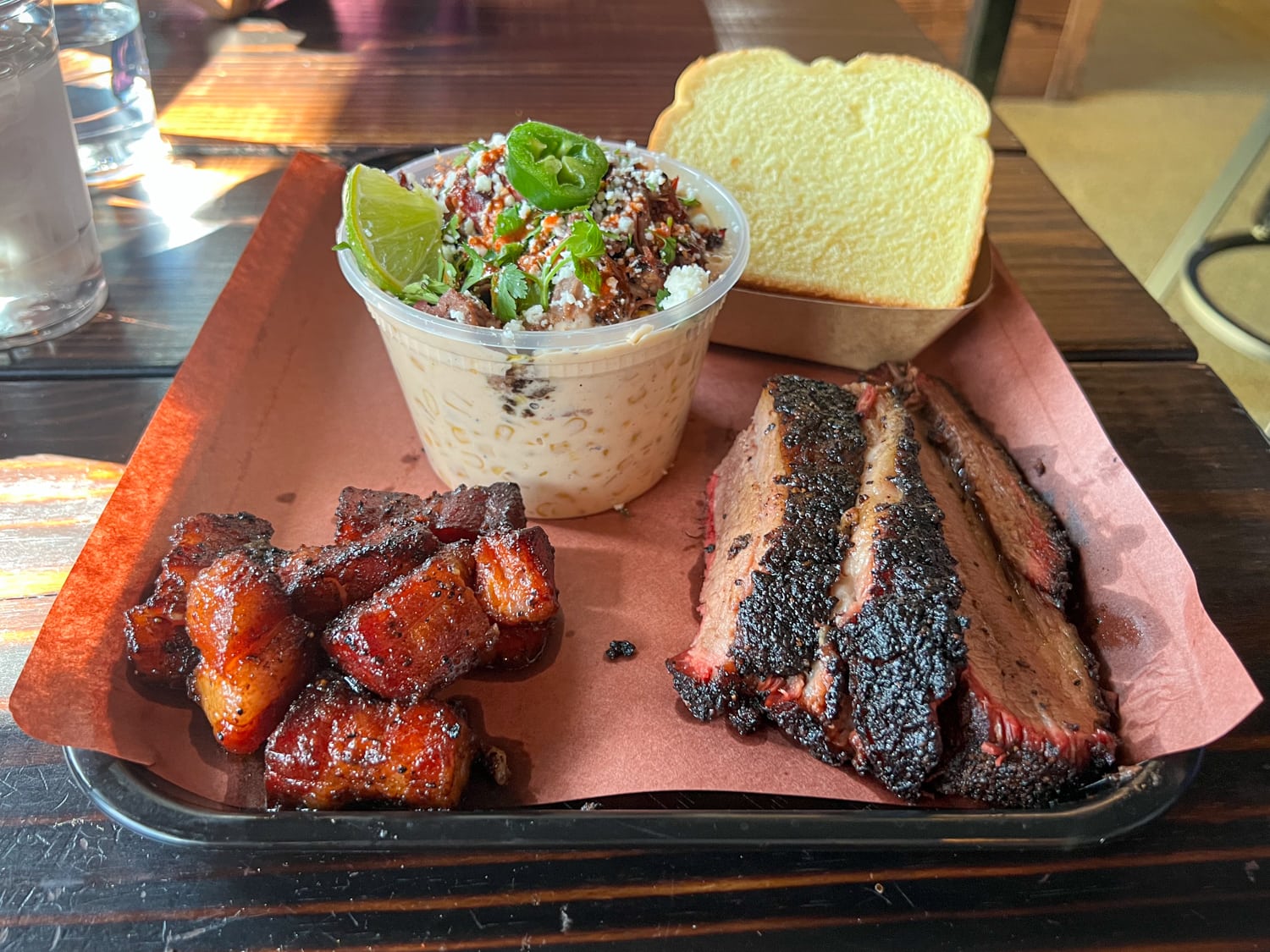 Brisket-topped elote was all I needed to hear to head over to Panther City BBQ during my first time in Fort Worth.
The generous mixture of smoked brisket and street corn (made with cream cheese, Mexican cheese, and cream) was divine.
Panther City's brisket and pork belly burnt ends were also delicious and undoubtedly helped them earn a spot in the top ten of Texas Monthly's best barbecue joints for 2021.
201 E Hattie St, Fort Worth, TX, panthercitybbq.com
Houston
Truth Barbeque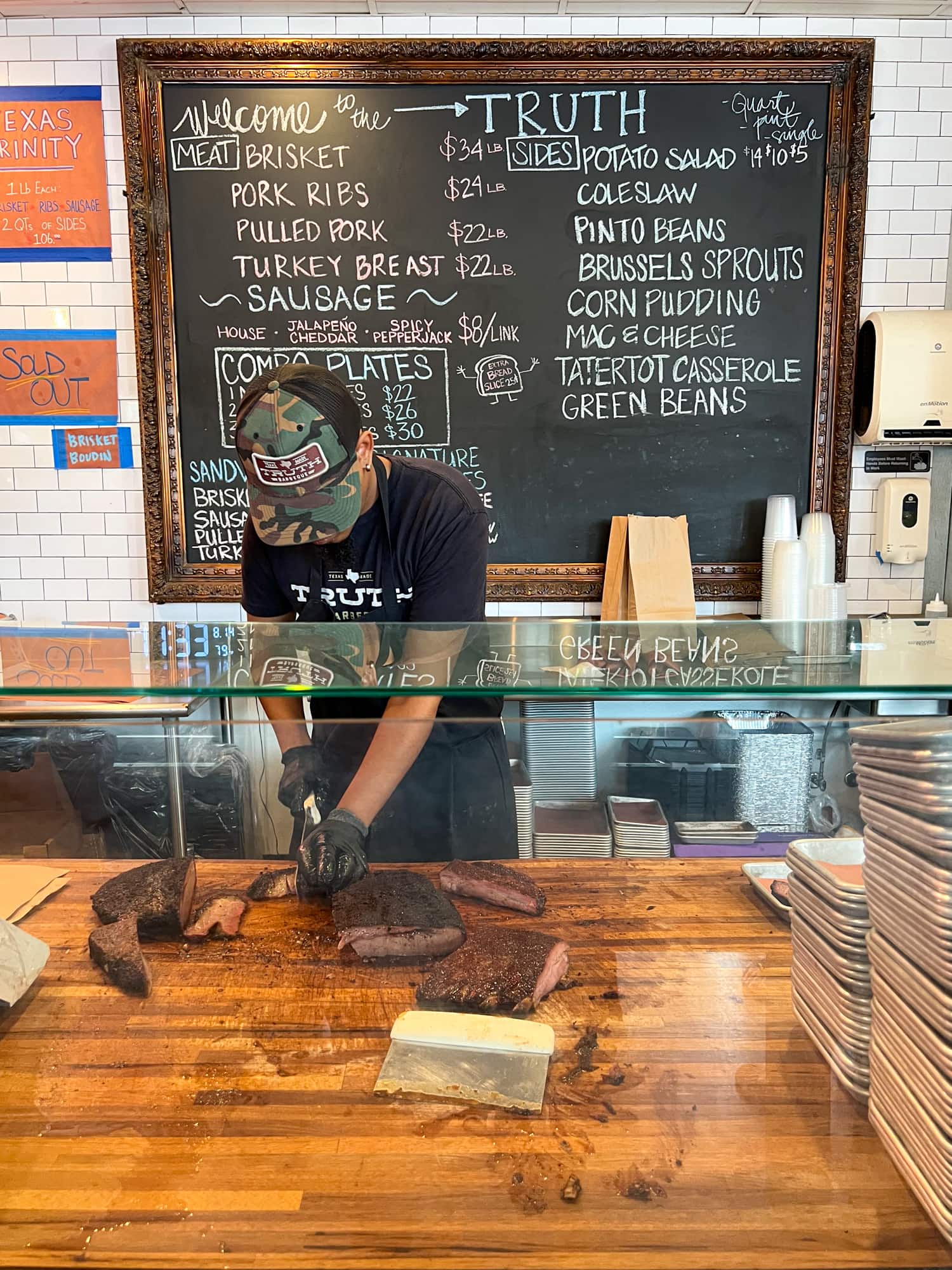 Self-taught pitmaster Leonard Botello IV got his start smoking three briskets a day out of a shack in Brenham, TX, west of Houston.
Seven years later, Texas Monthly awarded his second location of Truth Barbeque in Houston, the #3 rank in the state, behind Goldee's and InterStellar.
There's a line every day when they open. However, it's still a far shorter wait to eat Truth barbecue than Franklin's or Goldee's (Botello's brisket is on par with both).
110 S Heights Blvd, Houston, TX, truthbbq.com
Tejas Chocolate + Barbecue
At Tejas Chocolate + Barbecue, what began as a bean-to-bar craft chocolate business developed into one of the best BBQ restaurants in Texas.
Tejas was tops on my list of Houston BBQ joints to try in 2023, and it lived up to its reputation.
Kel and I shared an enormous beef rib, fatty brisket, beef burnt ends, and sides of cornbread casserole and carrot souffle. There were plenty of tasty BBQ leftovers to take home for lunch the next day.
And that was all before we picked out four giant chocolate truffles, each affording 3-4 delicious bites.
200 N Elm St, Tomball, TX, tejaschocolate.com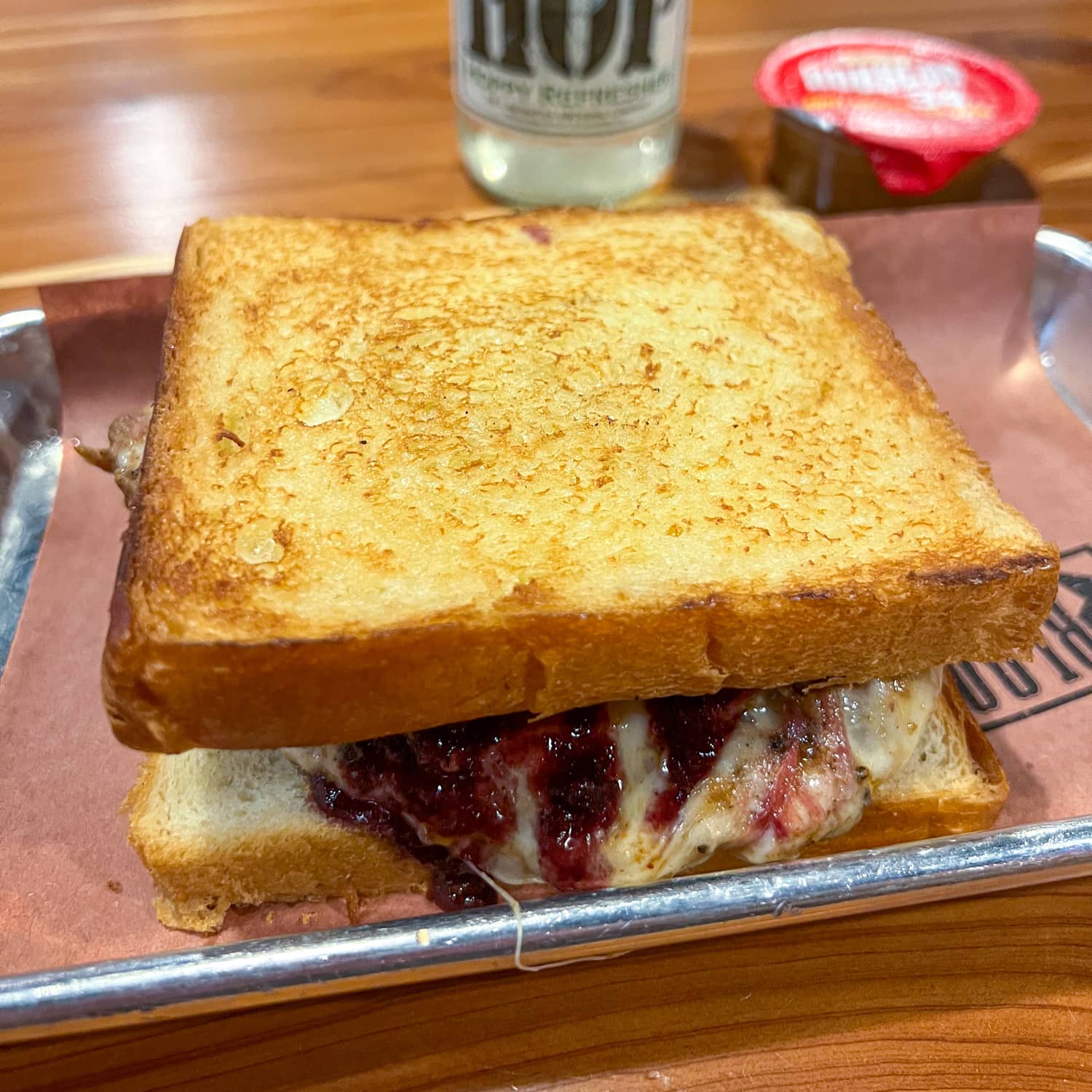 Blood Bros. BBQ
Another South Texas favorite is Blood Bros. BBQ in the Bellaire neighborhood of Houston.
Here, you'll find menu items with Asian influences, such as Gochujang glazed pork ribs and pork belly fried bao buns.
The innovative menu contributed to pitmaster Quy Hoang being named a 2022 James Beard Award semifinalist for Best Chef — Texas.
So far, the best thing I have eaten here has been the Pig Moe sandwich with pulled pork, melted provolone-mozzarella cheese, and blueberry habanero sauce on grilled Hawaiian bread.
It's comfort food full of flavor and a pure pleasure to eat.
5425 Bellaire Blvd, Bellaire, TX, bloodbrosbbq.com
***
We've reached the end, and if you live in Texas or watch Chef's Table on Netflix, you might wonder how this list could be published without the legendary pitmaster Tootsie Tomanetz at Snow's BBQ.
The answer is that I haven't been there yet. But getting up at 5 a.m. on a Saturday and driving one hour east of Austin to stand in line for many more hours is on the agenda for 2023.
As is continuing to try more places in these cities, San Antonio and wherever else I may roam in search of the best BBQ in Texas.