Exploring Peruvian food culture has been a highlight of my travels in South America since I first stepped foot in Peru more than a decade ago.
At the time, I knew nothing of traditional Peruvian cuisine beyond cuy (guinea pig), which I'd tried in Ecuador before crossing into Peru, ceviche, and pisco sour.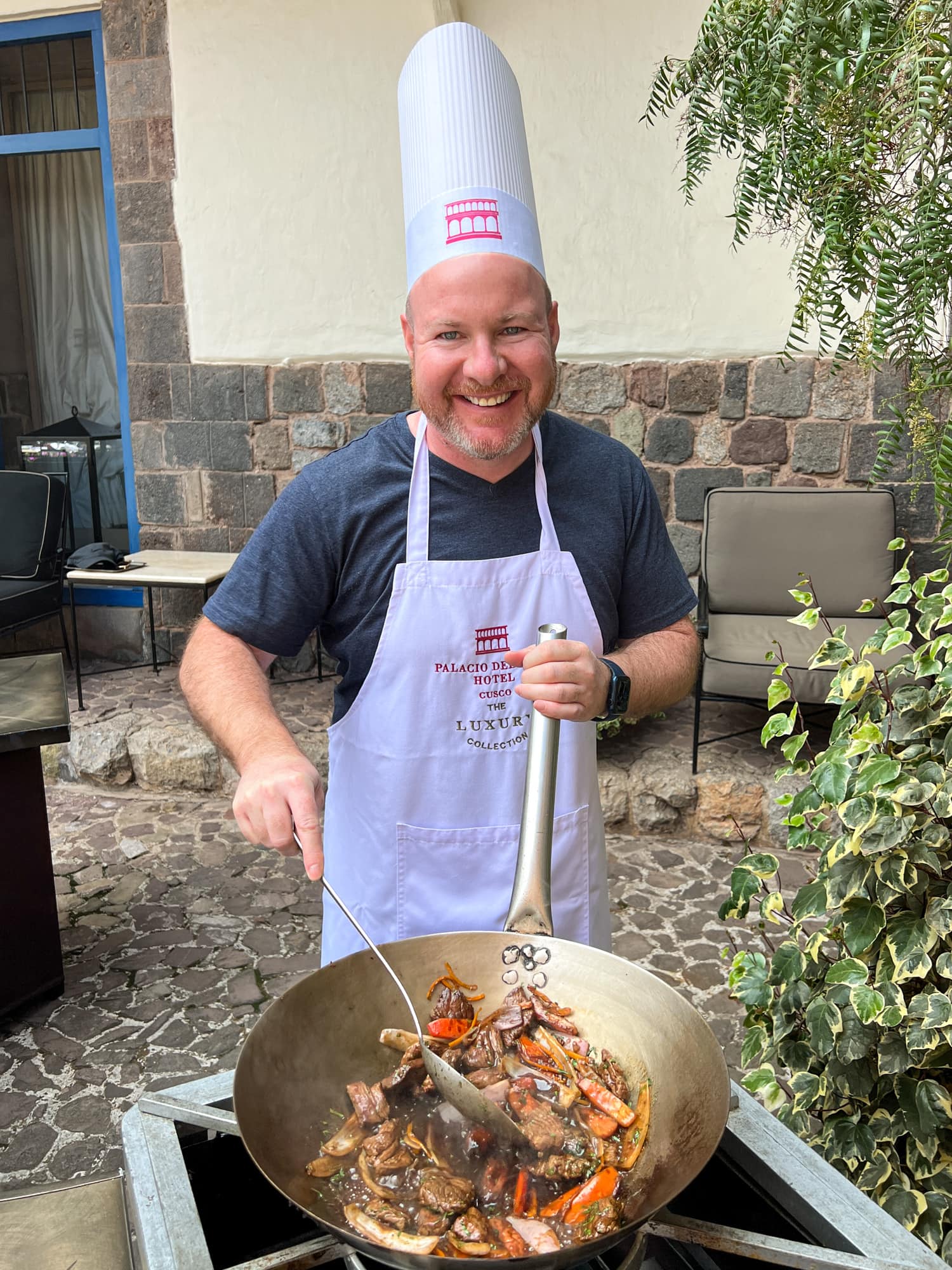 I was more focused on getting to Machu Picchu, taking the scenic route overland from Northern Peru to Huaraz, Trujillo, and Lima, before flying to Cusco and doing the four-day Salkantay Trek.
Along the way, I ate a steady diet of traditional Peruvian dishes, from lomo saltado (beef stir fry) and aji de gallina (creamy chicken stew) to alpaca and causa (cold potato casserole).
Peruvian cuisine has been developing for millennia across three distinct regions, the Pacific Coast, the Highlands (Andes Mountains), and the Amazon jungle, and each has made its contributions.
From street food to Peru's best restaurants, there's a lot to discover and enjoy.
An affinity for traditional Peruvian food has led me back to Peru again and again.
I hope this primer highlighting the most common dishes tempts your taste buds and inspires you to go, too.
And if a trip to Peru isn't in your immediate future, these are the traditional dishes you're most likely to find at a Peruvian restaurant near you.
Typical Peruvian Dishes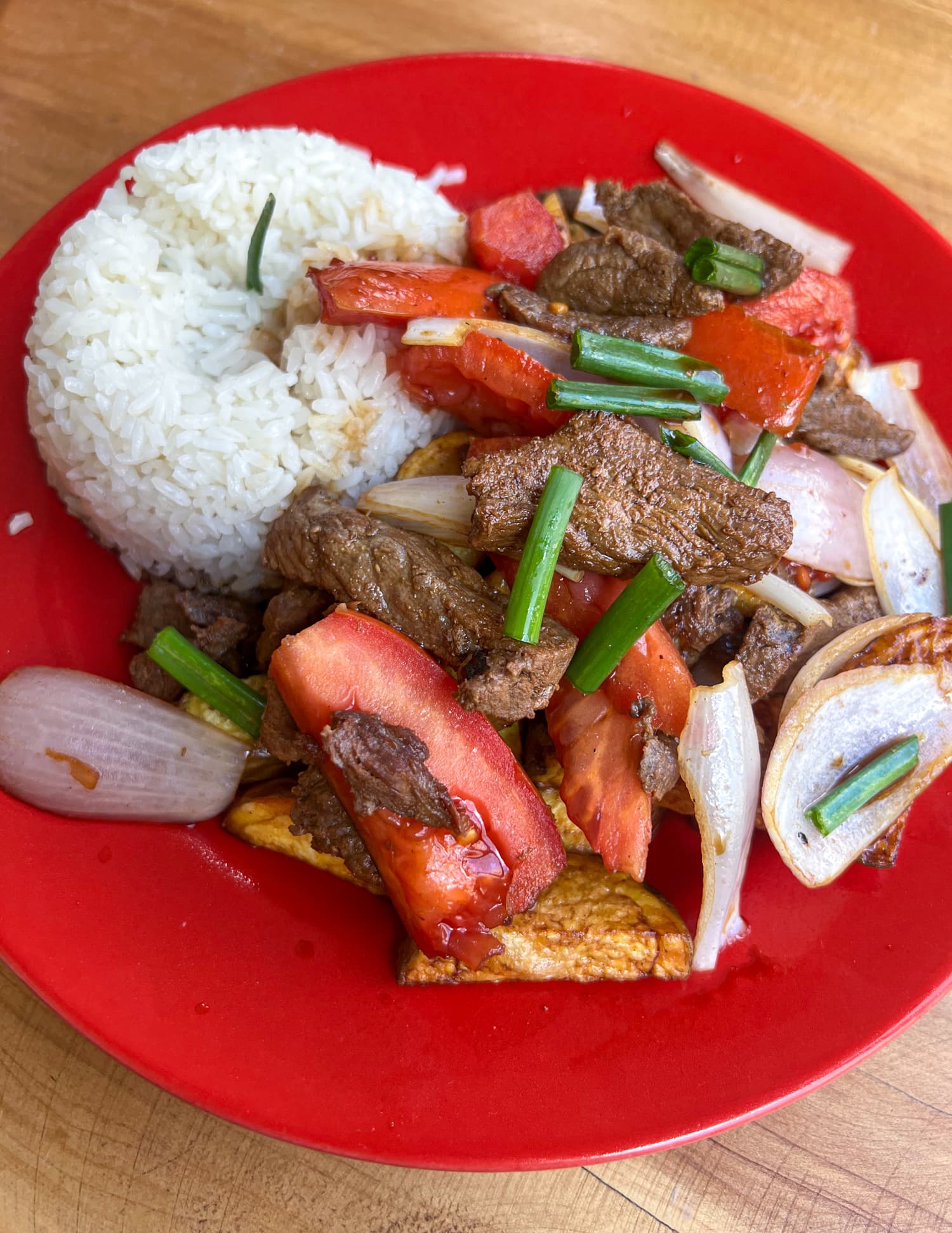 1. Lomo Saltado (Beef Stir Fry)
Let's begin our exploration of Peruvian foods with lomo saltado, a beef stir fry made with strips of sirloin marinated in vinegar, soy sauce, aji amarillo (yellow chili pepper), and spices.
The beef is first cooked in a wok at a high temperature, and then tomatoes and onions are added.
Lomo saltado is typically garnished with scallions and served with French fries and white rice on the side.
This dish resulted from Chinese immigration to Peru in the late 19th and early 20th centuries.
The fusion of Chinese food and Peruvian food resulted in a new cuisine known as chifa, which is quite popular, especially in Lima.
Chifa restaurants abound in the capital city, while lomo saltado is popular enough to find throughout the country.
In 2022, I learned to make lomo saltado for myself during a cooking class at the Palacio del Inka hotel in Cusco.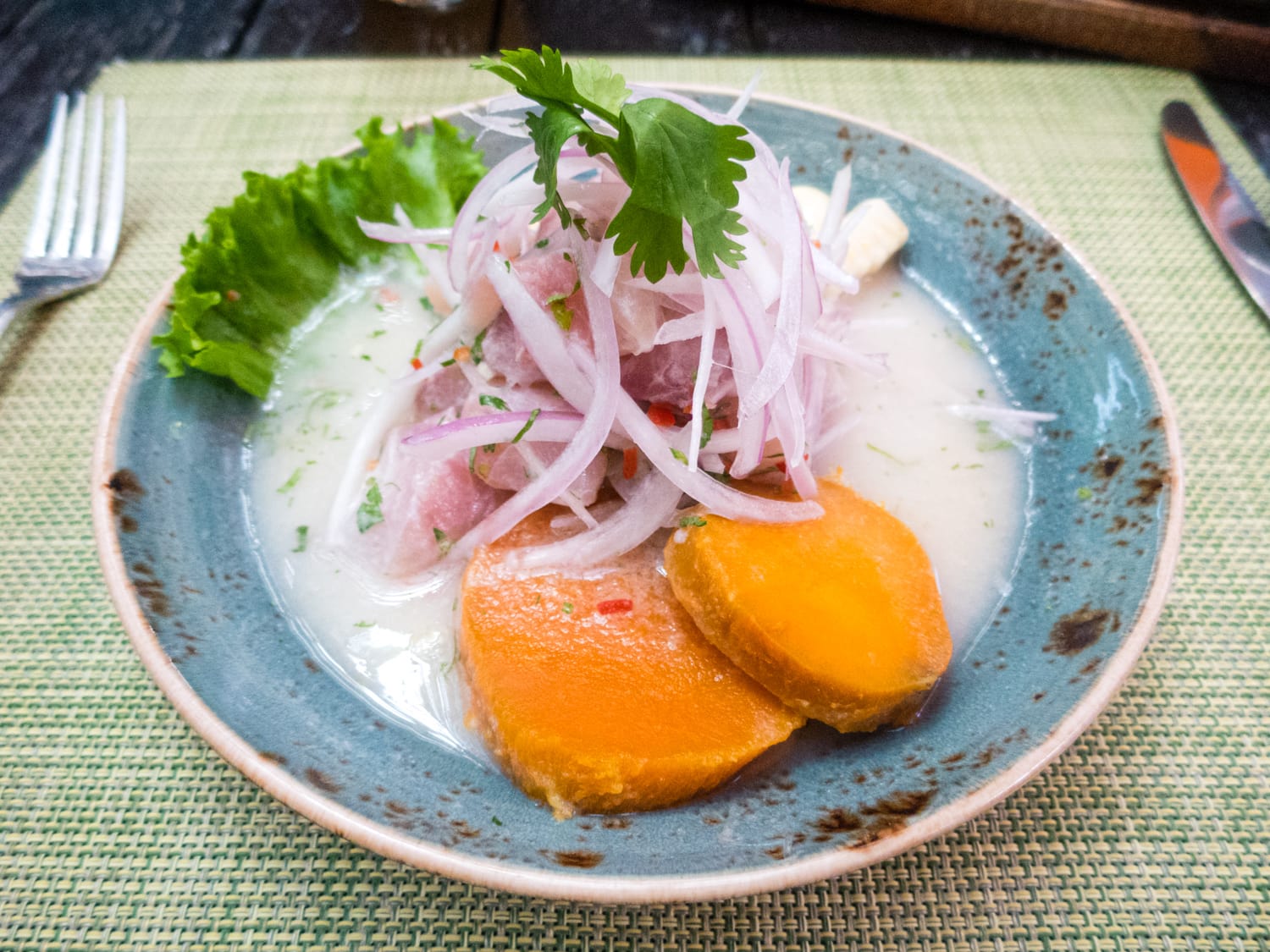 2. Ceviche
Peru's national dish is ceviche, made from cubes of raw white fish (like sea bass, tilapia, or sole), finely chopped aji limo (Peruvian chili peppers), and salt, marinated in fresh-squeezed lime juice until "cooked."
It's served with red onions, thickly-sliced sweet potatoes, Peruvian corn, and cancha (toasted corn nuts). Fancier restaurants garnish with a sprig of cilantro or flowers.
The spicy citrus juice marinade produced from mixing the ingredients is called "leche de tigre" (tiger's milk).
Fans of leche de tigre drink it after eating their ceviche, and more recently, it's been used in cocktails and smoothies.
When I dined at Astrid & Gaston in Lima, one of my courses was a multi-colored ceviche, served with leftover leche de tigre in a shot glass.
In addition to raw fish, Peruvian ceviche can be made with fresh seafood, including shrimp, scallops, and octopus.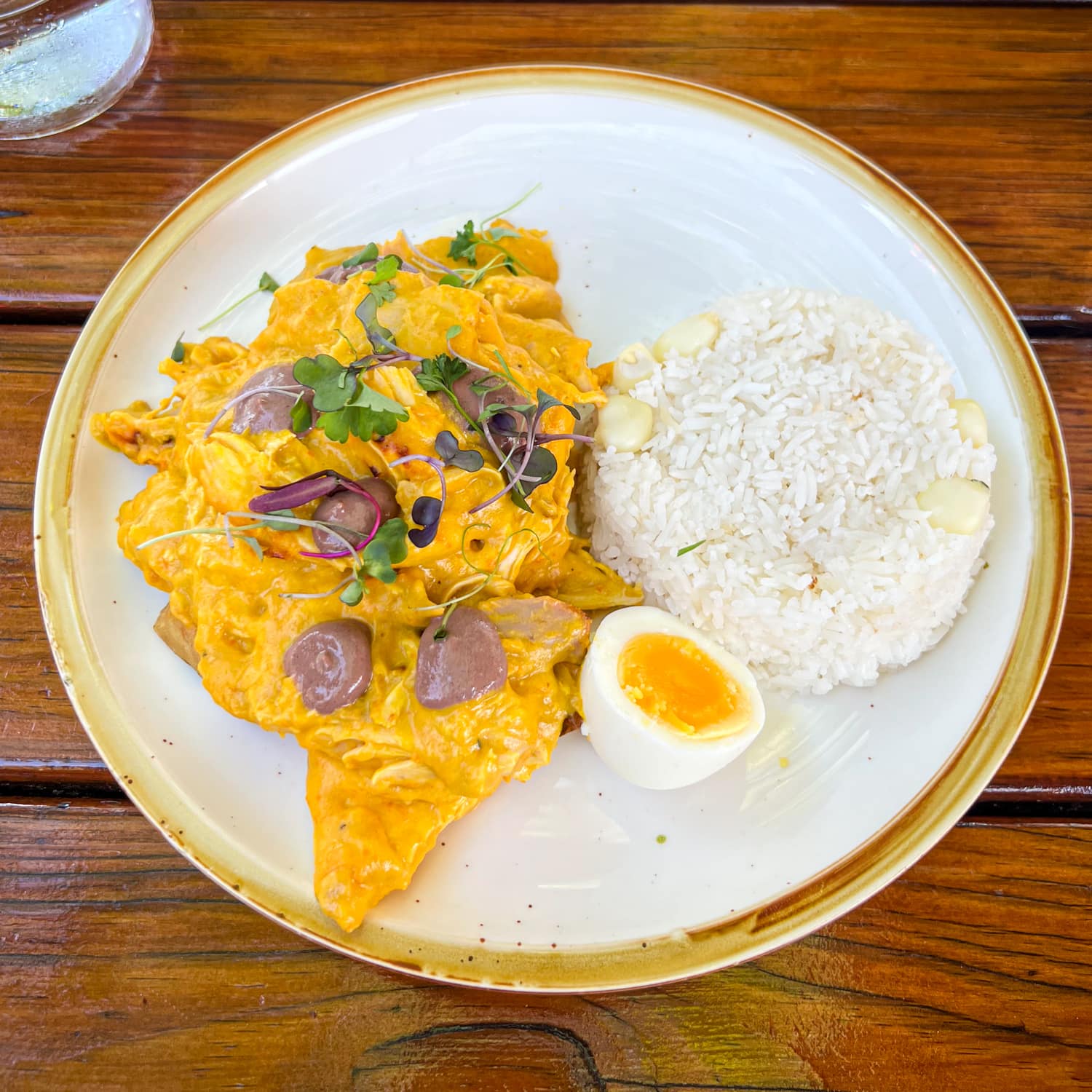 3. Aji de Gallina (Chicken Stew)
Few traditional recipes in Latin America make me drool like aji de gallina ("hen's chili"), a savory Peruvian comfort food I can't get enough of.
The main ingredient, shredded chicken breast, is smothered in a creamy sauce made with onion, garlic, aji amarillo, Parmesan cheese, white bread crumbs, and crushed pecans or walnuts.
There's more than meets the eye, with slices of white potatoes under the tender chicken, and it's served with white rice, a hard-boiled egg, and olives.
If, like me, you're not a fan of olives (okay, I loathe them), they're easy to pluck off before you dig in.
Related: Best Restaurants in Latin America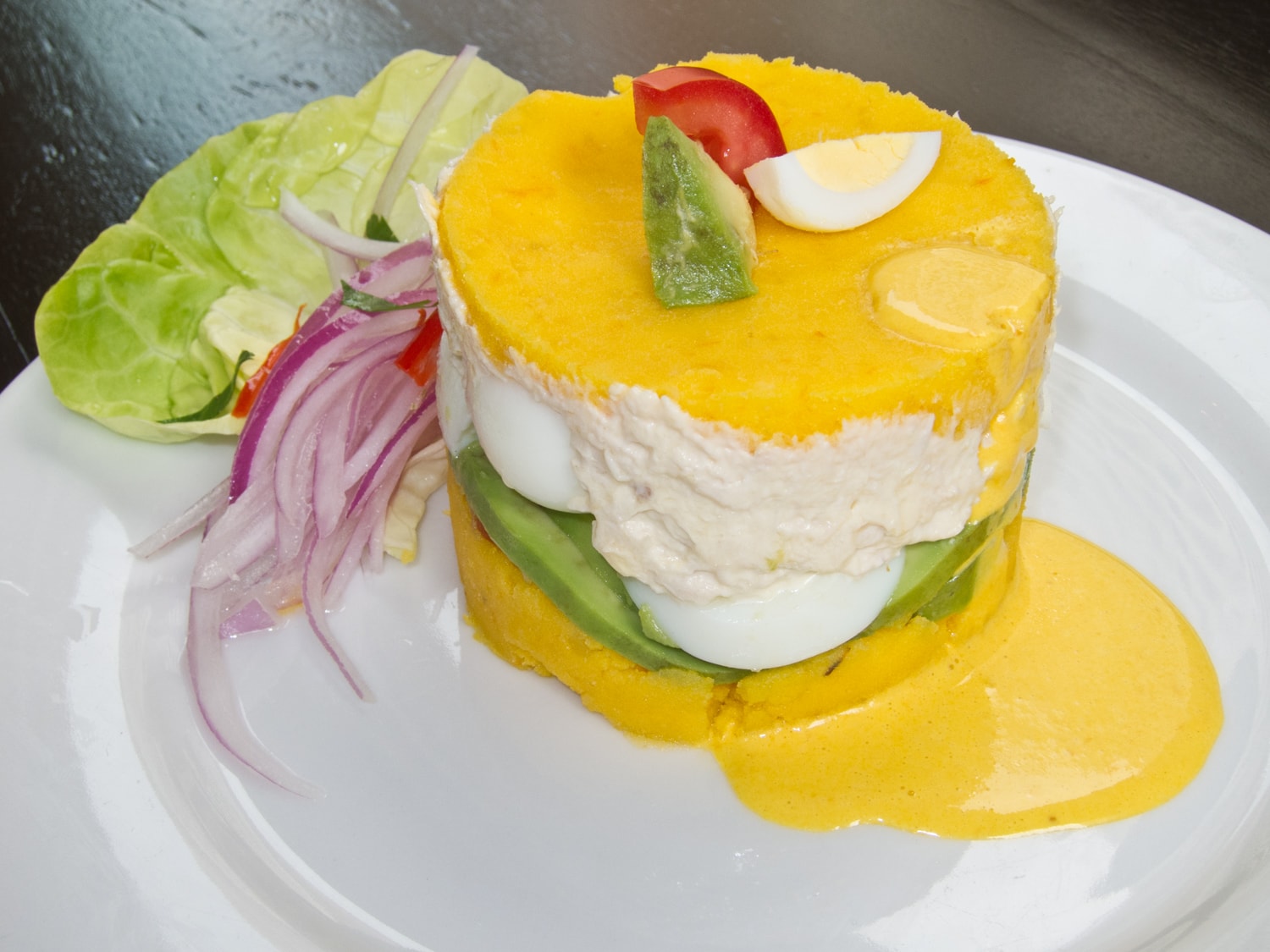 4. Causa (Cold Potato Casserole)
If aji de gallina is my favorite Peruvian food, causa rellena is a close second. This beloved cold dish is generally served as an appetizer.
It features layers of mashed Peruvian yellow potatoes with aji amarillo on the top and bottom and various mayonnaise-based fillings in the middle.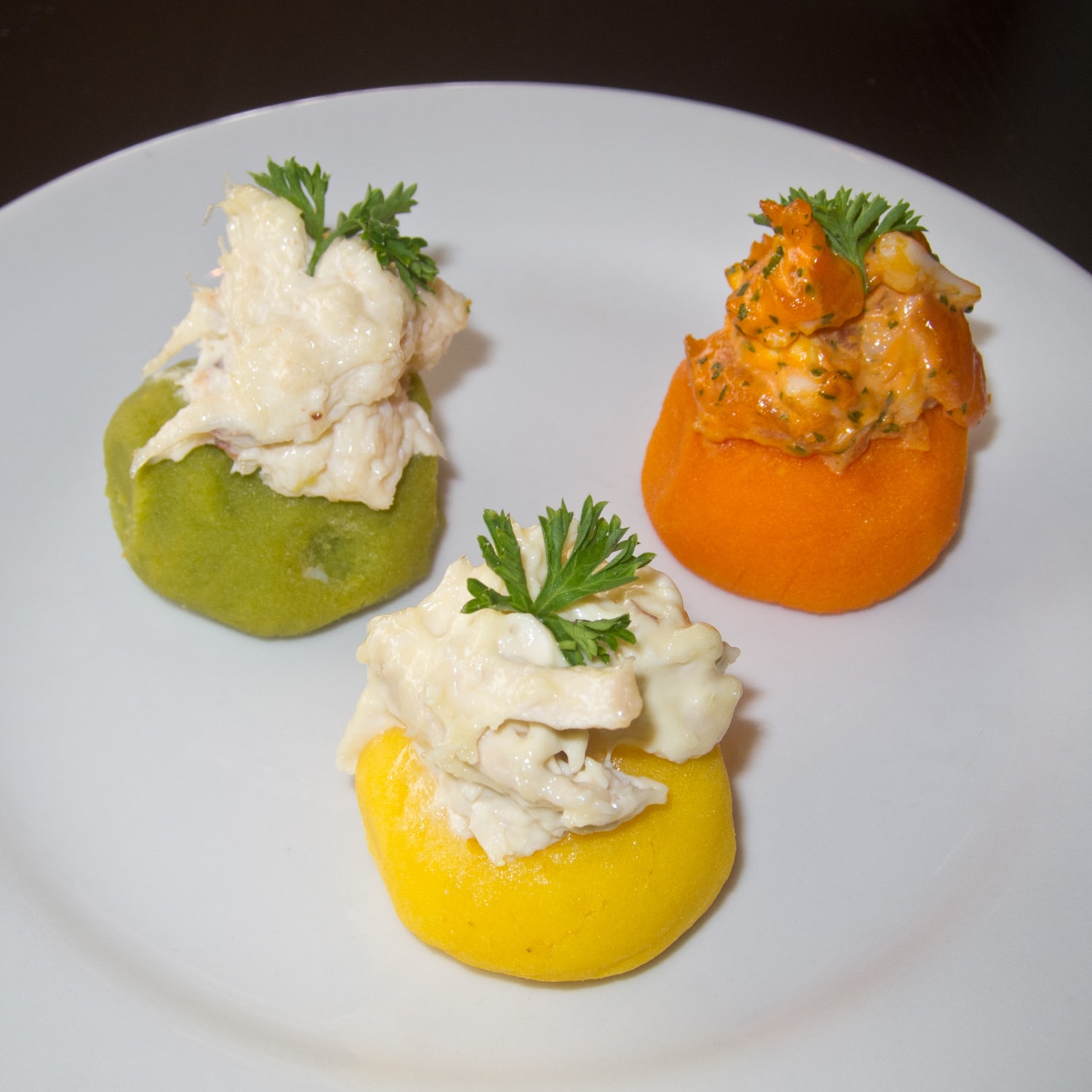 Common ingredients include tuna salad and chicken salad. Crab and prawns are other options, though I haven't seen those as often in Peruvian restaurants.
Avocado and hard-boiled eggs play a role in the filling, adding color and healthy fats.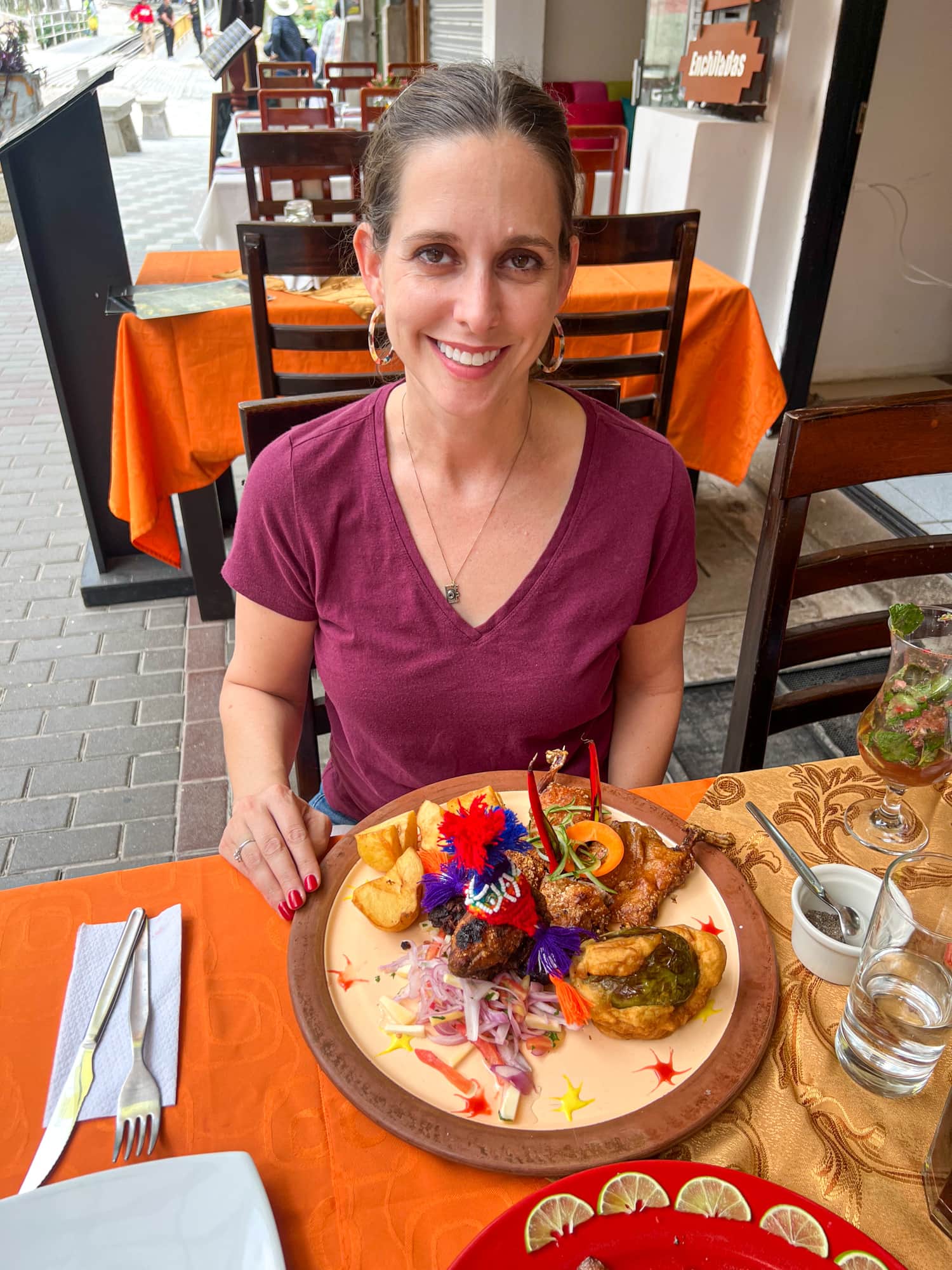 5. Cuy (Guinea Pig)
One of the greatest culinary curiosities for first-time visitors to Peru is cuy or guinea pig.
In the U.S., we're accustomed to guinea pigs as pets. I had a brown and white one named Patches in middle school.
For Ecuadorians and Peruvians, however, cuy is seen more as a source of protein in the Andes and is farmed and eaten accordingly.
As I mentioned, I'd tried cuy in Ecuador (twice) while traveling through Banos and Cuenca.
Given the cost of a whole cuy, Ecuadorians tend to buy and eat them when celebrating special occasions such as birthdays.
The meat, what little there is of it, has a gamey taste, and I also find it greasy, with lots of gristle. The skin is crispy, and you'll get a crunch if you gnaw on a paw.
Cuy is prepared in a variety of ways. My first experience was at a hole-in-the-wall restaurant that roasted guinea pigs in an oven.
When cooked this way, you may see them impaled on long wooden or metal poles, waiting to be consumed by passers-by.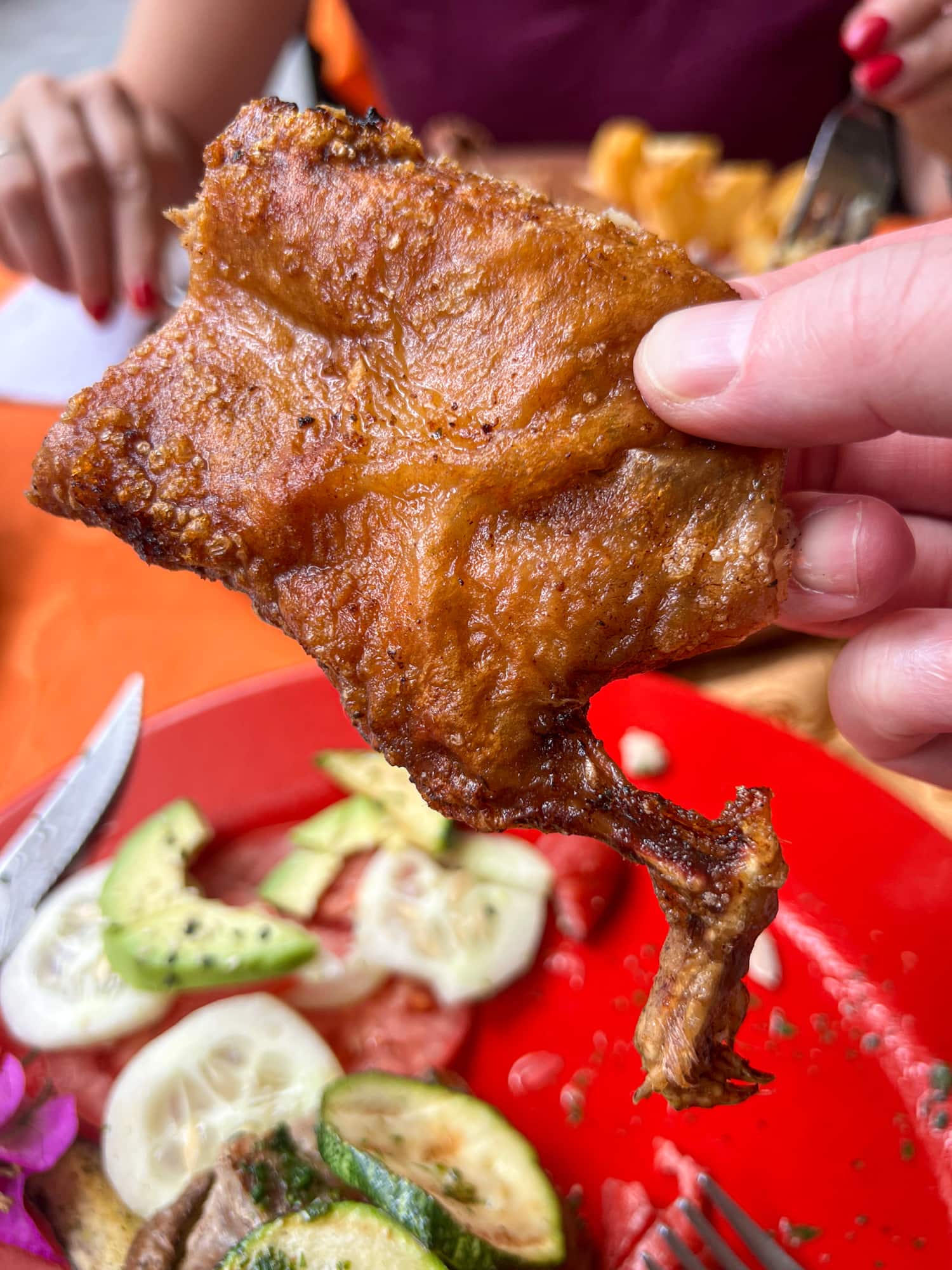 Cuy Chactado
In Aguas Calientes, Peru, where Kel and I had lunch after spending the morning at Machu Picchu and climbing Huayan Picchu, we saw them on many menus.
These pictures were taken at Hot Springs II restaurant, where cuy is served "al horno entero" stuffed with chili peppers and Andean potatoes and baked in the oven.
We chose the "cuy chactado frito entero," which had a whole cuy flattened and deep-fried. Stuffed chili pepper, potatoes, and salad were served on the side.
The Peruvian staff giggled as they delivered our cuy, complete with a little knit cap on its head. We got a kick out of it, too, so much so that we took our little cuy's cap home as a souvenir.
It was Kel's first time eating guinea pig, and she liked it more than me.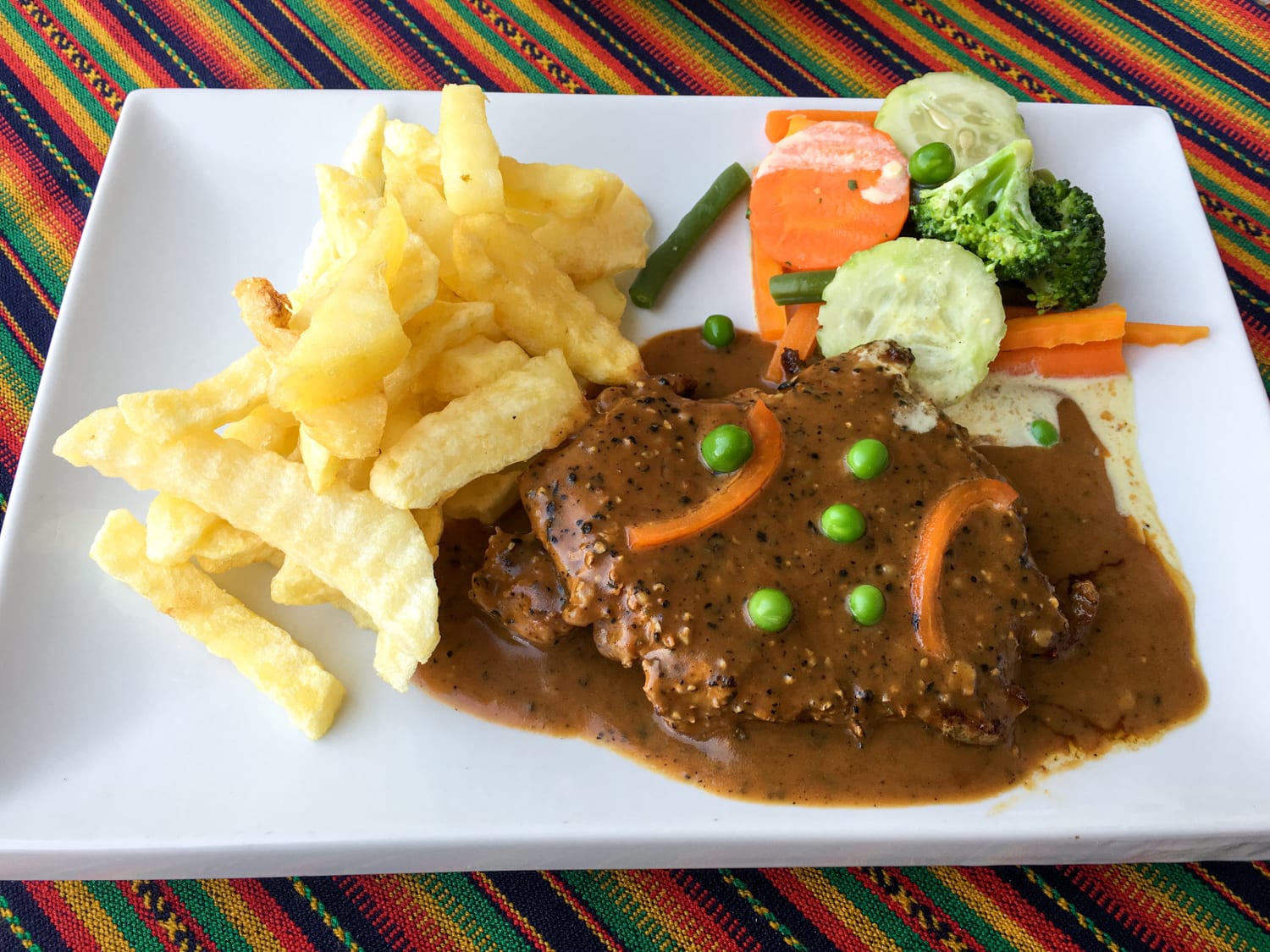 6. Alpaca
Another Peruvian food you may not have come across before traveling to Peru is alpaca. These adorable mammals look similar to llamas but are smaller.
Indigenous people of the Andes, including the Incas, raised alpacas for their soft hair and lean meat.
The fibers are woven into textiles, including blankets, sweaters, hats, and mittens. The highest-quality alpaca goods rival the luxurious feel of cashmere.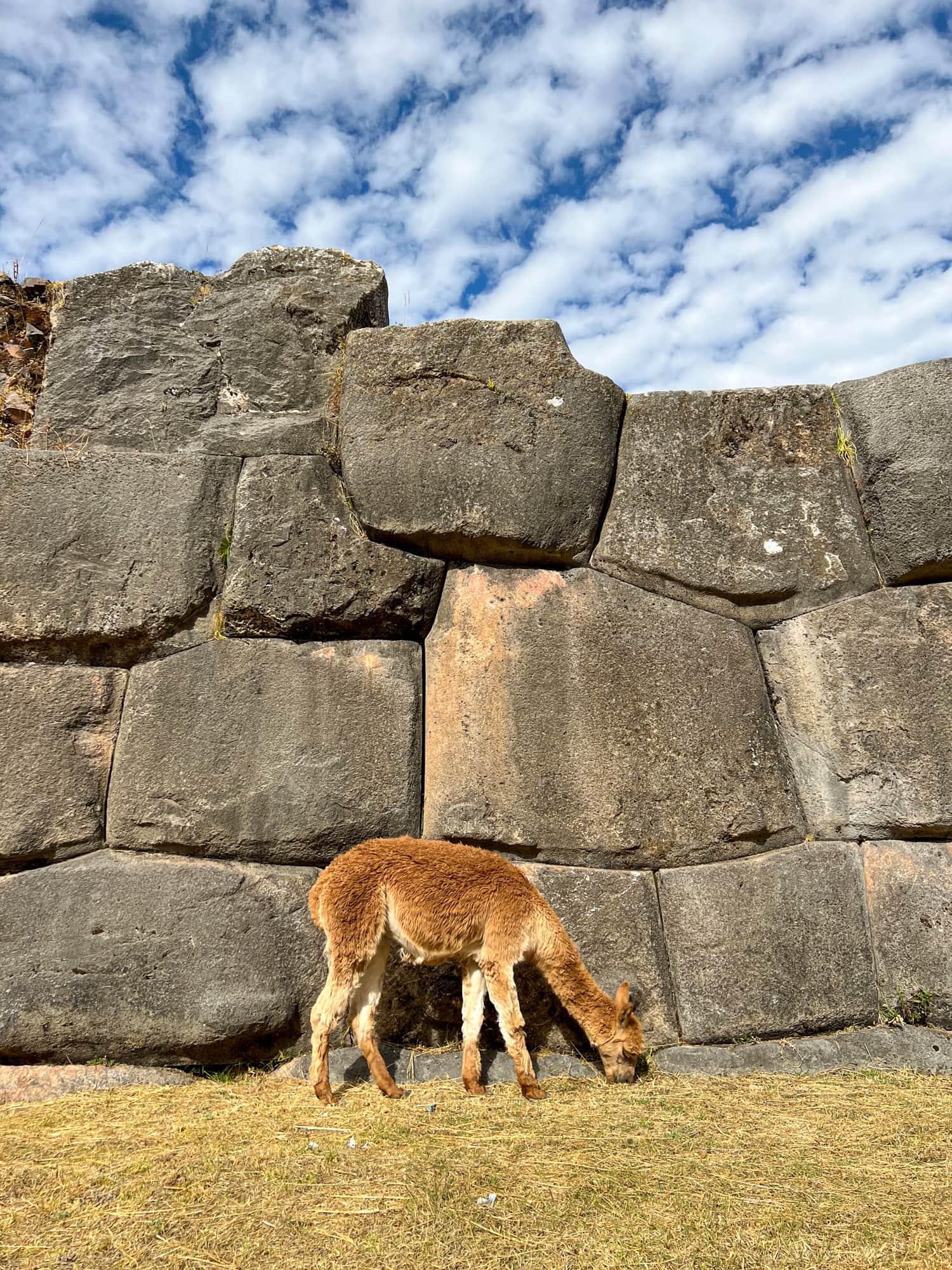 Beyond their soft fibers, alpacas are an excellent source of lean meat. They're naturally low in fat and cholesterol and known for having a slightly sweet taste.
Alpacas live at altitudes of 11,000 to 16,000 feet (3,500 to 5,000) meters above sea level, so alpaca meat is more commonly served in the mountains.
However, given it's popular with tourists, you'll also come across it near the Pacific Ocean in cities like Lima and Arequipa.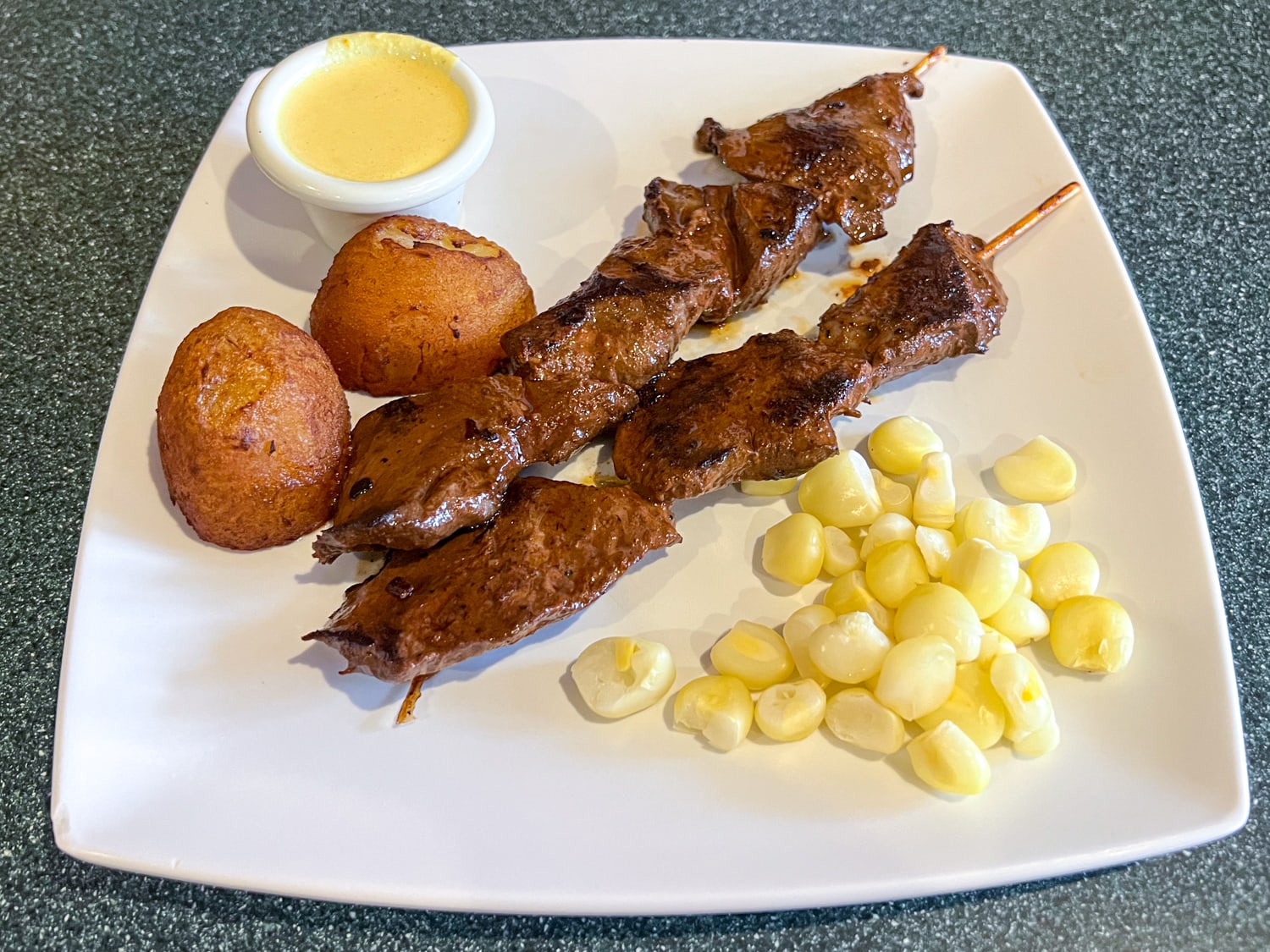 7. Anticuchos de Corazon (Beef Hearts)
The traditional Peruvian meat dish I was most surprised to enjoy is anticuchos de corazon, or beef hearts.
The hearts are prepared as either slender slices or cubes and cooked on skewers over a fire.
Anticuchos are popular street food in Peru, and presenting them to customers on the skewer makes them that much easier to consume.
Had I not known what I ordered beforehand, I would've never guessed I was eating beef heart. They're often served with an aji amarillo dipping sauce.
Before eating beef hearts in Asia, a beach district an hour south of Lima, I'd tried smaller anticuchos de pollo (chicken hearts) on my first visit to Maido.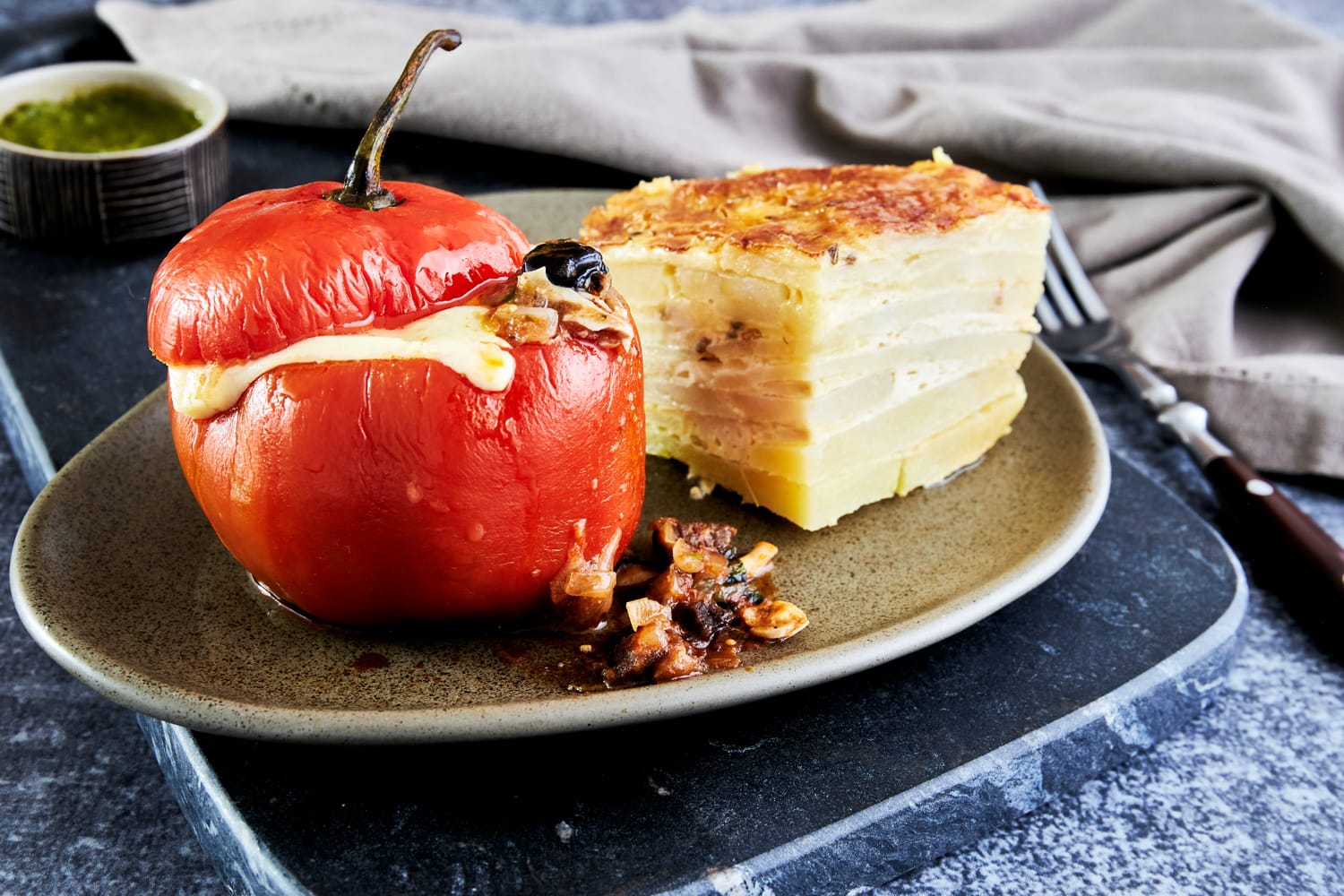 8. Rocoto Relleno (Stuffed Pepper)
Peru's spicy red pepper, the rocoto, serves as the vessel for a savory mix of ground beef topped with melted white cheese.
Hard-boiled eggs and olives may also make their way into this dish, traditionally served with a side of potatoes, such as potatoes au gratin.
Rocoto relleno originated in Arequipa, Peru's second-largest city by population after Lima, and is available throughout the country (and the world).
Located in Southern Peru, Arequipa is surrounded by three volcanos and boasts a historic center recognized as a UNESCO World Heritage Site.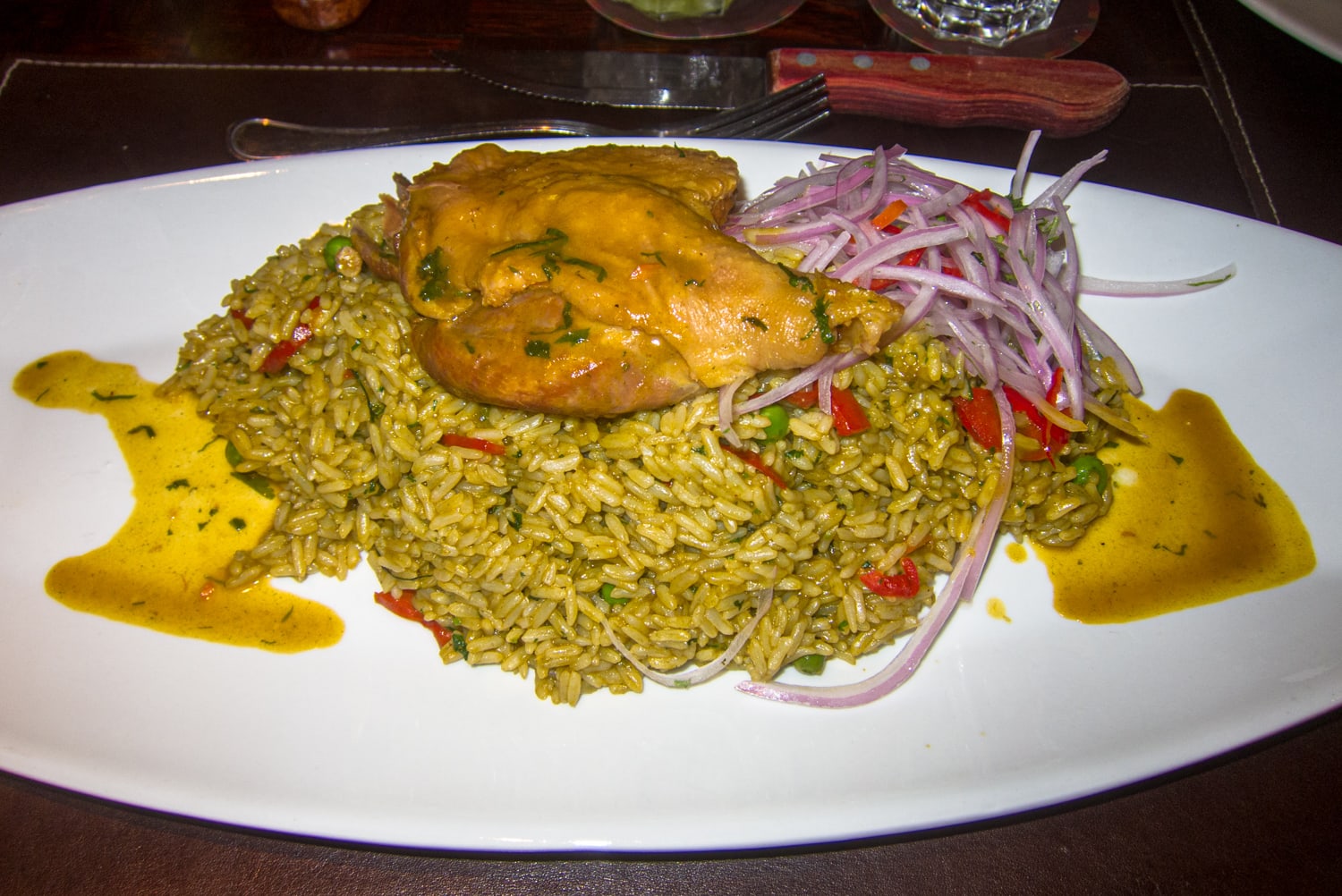 9. Arroz con Pato (Rice with Duck)
The standard arroz con pollo (rice with chicken) dish favored in many Latin American countries is elevated in Peruvian cuisine by using duck instead.
The duck meat is marinated in dark beer to impart additional flavor, while cilantro and peas feature heavily in the rice, giving it a green hue.
Arroz con pato is incredibly well-liked in Chiclayo, a city on the Pan-American Highway in Northern Peru.
My first experience with arroz con pato was at Panchita, a restaurant in Lima by Gaston Acurio, one of the world's best Peruvian chefs.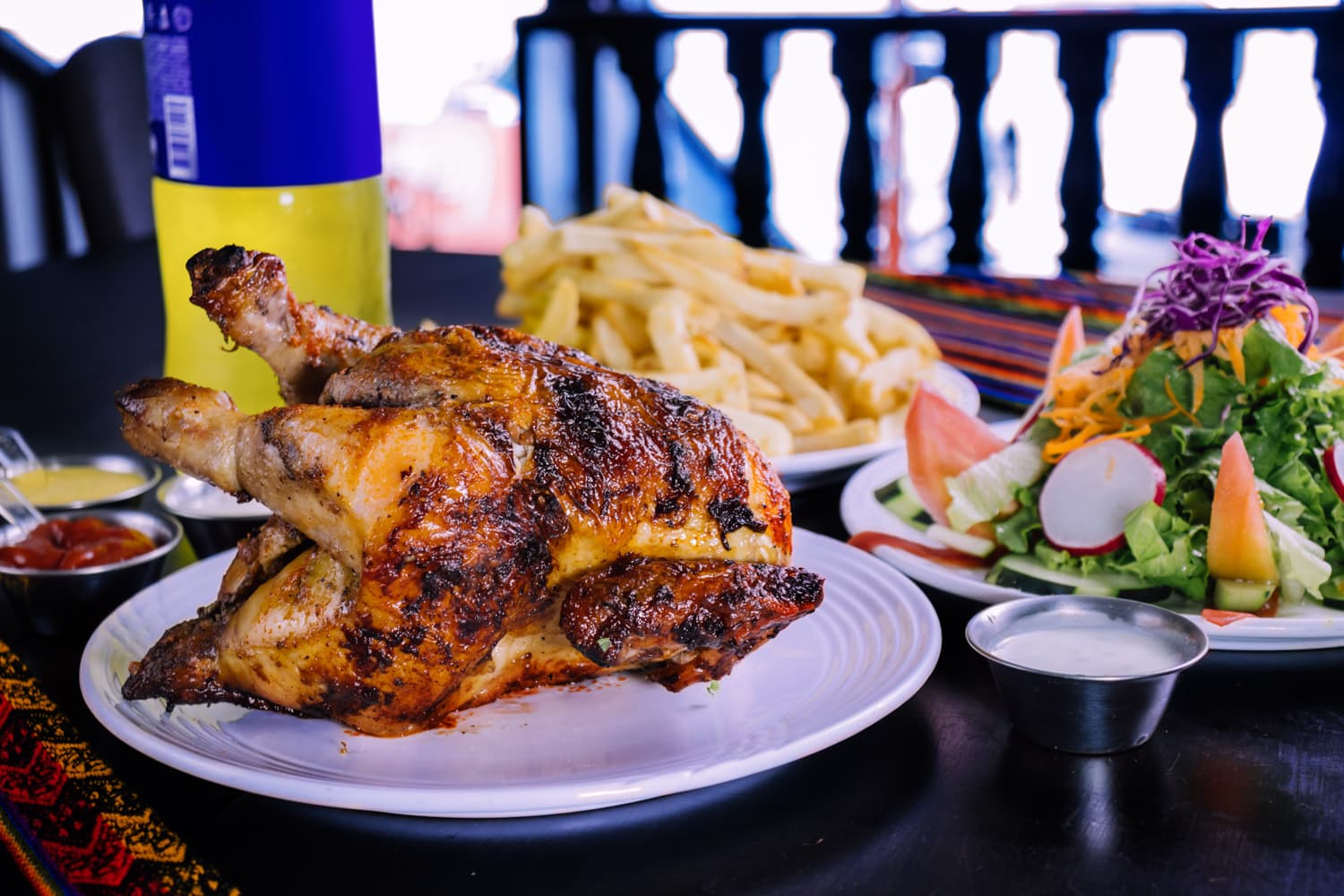 10. Pollo a la Brasa (Rotisserie Chicken)
Pollo a la brasa, Peru's take on rotisserie chicken, is quite possibly the most popular dish in the nation.
Unlike many of the classic dishes in this article that date back a century or longer, pollo a la brasa is relatively new to the dining scene.
Peruvian rotisserie chicken was created by a Swiss immigrant, Roger Schuler, who moved to the country in the 1940s and began breeding chickens on a farm near Lima.
He eventually opened a restaurant offering an affordable, all-you-can-eat chicken meal.
The concept caught on in the 50s, and today, you can travel just about anywhere in Peru and see pollerias, fast-food restaurants specializing in pollo a la brasa.
This tasty oven-roasted chicken is served with French fries, ketchup, and creamy dipping sauces like mayonnaise and aji pepper. You may also receive a side dish with salad.
Cheap plastic gloves may be given to you along with your food. Wearing them makes my hands sweaty; I find they're more trouble than they're worth.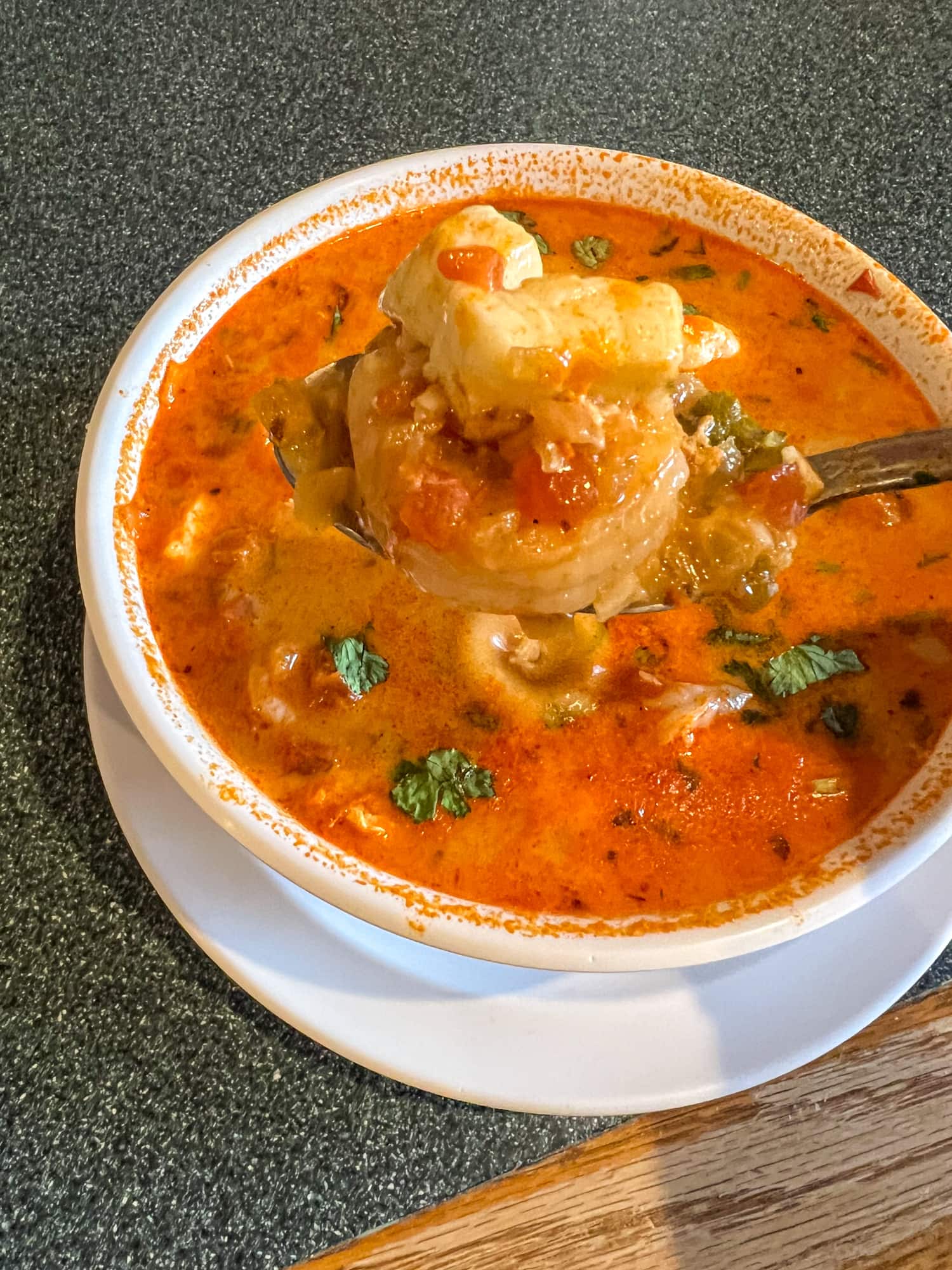 11. Chupe de Camarones (Shrimp Chowder)
Traveling South America has given me a greater appreciation for hearty soups that warm your body and fill your belly.
In Bogota, Colombia, I discovered ajiaco, a potato-based soup with shredded white meat chicken, avocado, corn on the cob, cream, and capers.
Ecuador offers locro, a potato-based soup with cheese and avocado.
In Peru, you'll find chupe de camarones, a rich shrimp chowder that dates back to the Inca empire in the 1500s.
The addition of eggs and milk to the soup, which helped thicken it up, came with the arrival of Spanish settlers in the 1800s.
Like Colombia's ajiaco, a hallmark of chupe de camarones is a small corn on the cob.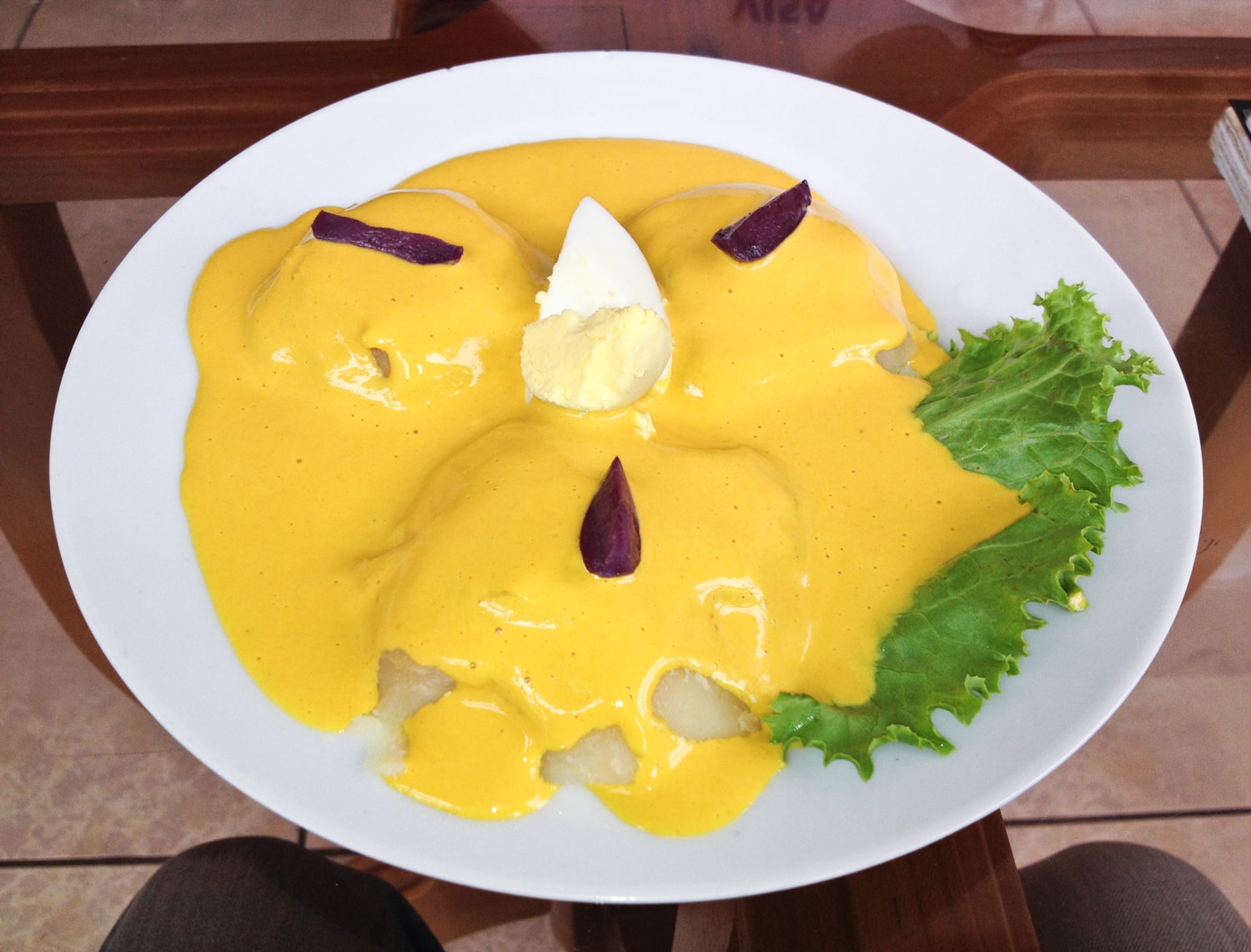 12. Papa a la Huancaina (Potatoes with Cream Sauce)
A vegetarian version of aji de gallina is papa a la huancaina, as it's made with the same slices of potatoes and creamy cheese sauce. The main difference is the absence of chicken.
Papa a la huancaina is served as an appetizer or side dish along with the main course.
Related: Mayta: Modern Peruvian Food in Lima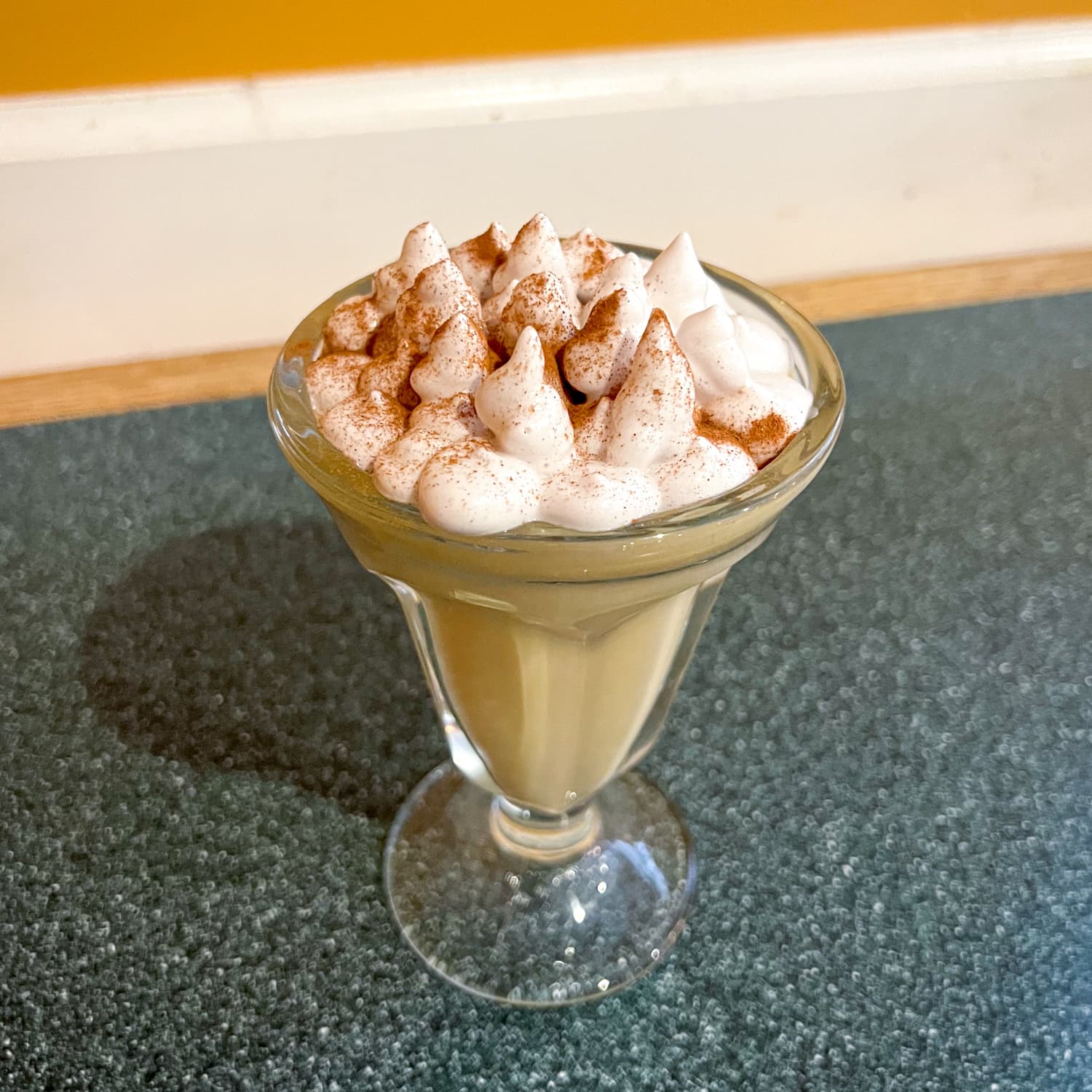 13. Suspiro de Limena (Dessert)
If you've been reading, scrolling, and waiting patiently for Peruvian desserts to appear, you've made it!
To begin, there's suspiro de Limena, which translates in English as "sigh of the lady from Lima."
If that sounds poetic, it's because creator Amparo Ayarza's husband, Jose Galvez Barrenechea, was a poet and named his wife's dessert.
This sweet treat resulted from Spain's culinary influence and presence in Lima during the mid-1800s.
It's based on manjar blanco, a Peruvian version of dulce de leche made by heating evaporated and condensed milk, sugar, and egg yolks until golden.
The pudding is added to individual glasses, topped with port-infused meringue, and sprinkled with ground cinnamon.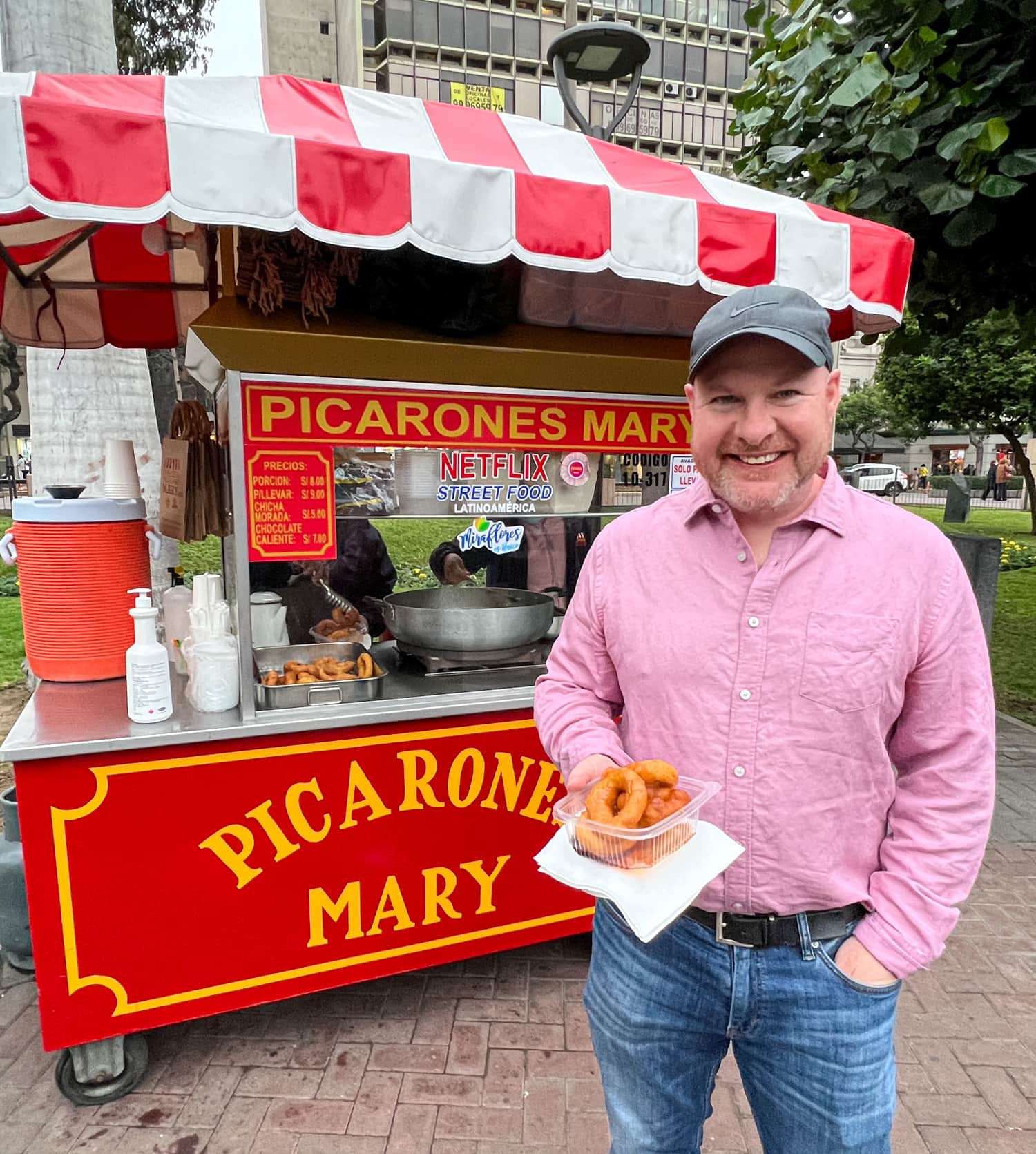 14. Picarones (Peruvian Doughnuts)
Picarones are a deep-fried confection primarily made from squash and sweet potatoes.
The main ingredients are boiled, mashed, and pureed before mixing flour, yeast, and sugar. They're then shaped in circles and deep-fried, similar to doughnuts.
They're served with chancaca, a sweet golden sauce made from raw, unrefined sugar, orange peel, and cinnamon.
Before my 2022 trip to Peru, Kel and I watched the Latin America Street Food series by Netflix, which featured Picarones Mary, whose food cart can be found in Lima's Parque Kennedy.
She also sells popcorn, hot chocolate, and chicha morada, a refreshing drink made from purple corn served cold.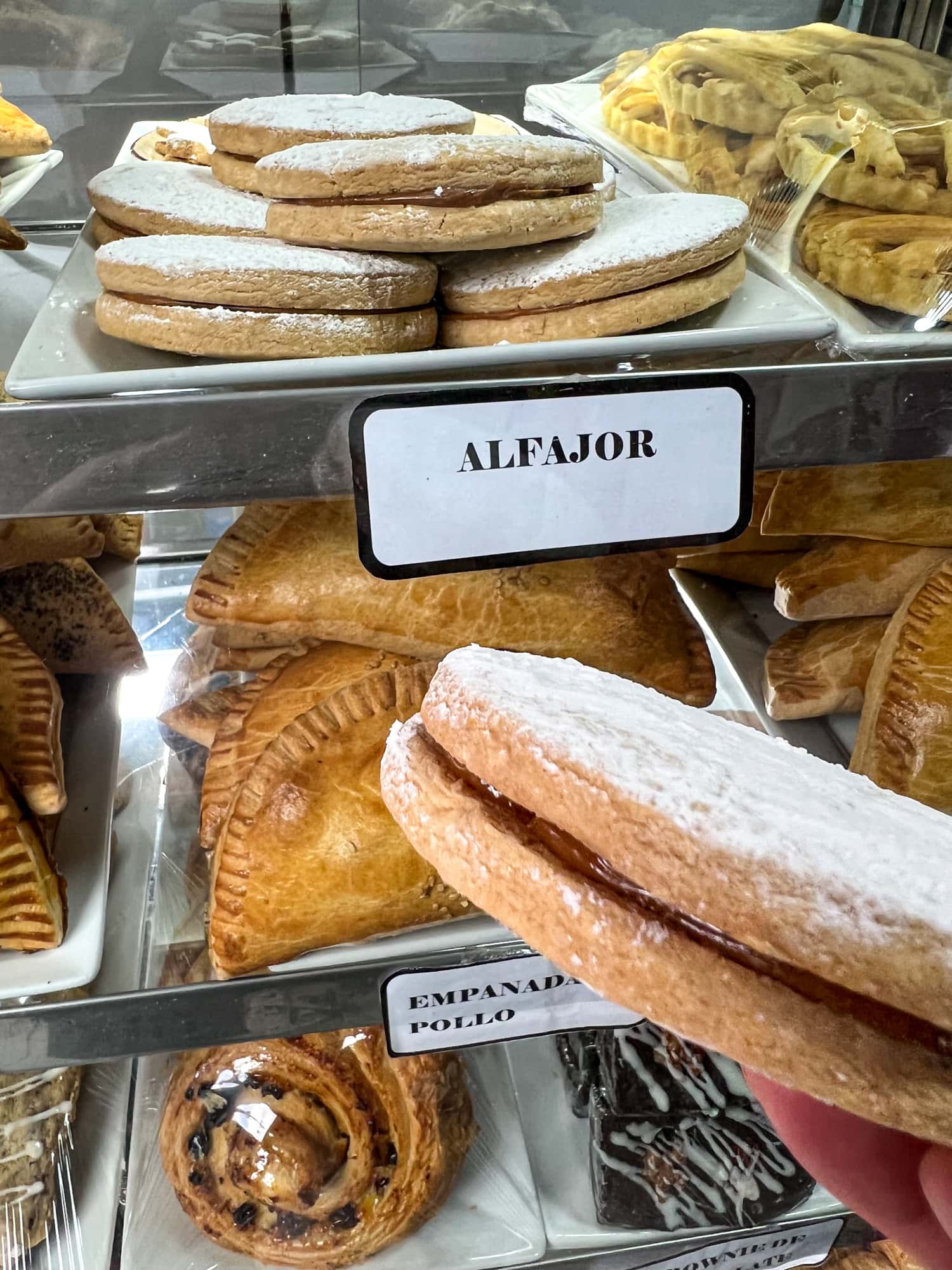 15. Alfajores (Dulce de Leche Cookies)
I'm going to conclude with the delicious dulce de leche cookies known as alfajores.
I first encountered alfajores in Peru; however, I found them far more prevalent in Argentina, where every convenience store stocks them.
My favorite manufactured alfajores are by Havanna, a 70-year-old Argentinian brand. But let's get back to the fresh-baked variety.
At their most basic, alfajores consist of two baked cookies with a filling, most often dulce de leche. They may be topped with powdered sugar, rolled in coconut shavings, or coated in chocolate.
The best alfajores have slightly softer, cake-like cookies. Alfajores that are dry and produce a ton of crumbs make a mess and don't offer the same enjoyable experience.
***
I hope you've learned something new during our foray into traditional Peruvian cooking. I'll be adding more dishes to this list in time.
Whether you're keen to try popular Peruvian foods at local restaurants near you or are heading to South America soon, enjoy the experience!