The best BBQ in Austin turned Central Texas into one of the hottest foodie destinations in the U.S.
Since 2009, a vibrant food truck scene has launched the barbecue careers of Aaron Franklin and LeAnn Mueller, among others.
As they graduated to brick-and-mortar restaurants, new trucks continued to pop up and spread throughout the city and beyond.
Austinites love to support local businesses, and despite the Austin BBQ boom, there are still plenty of opportunities to make a splash.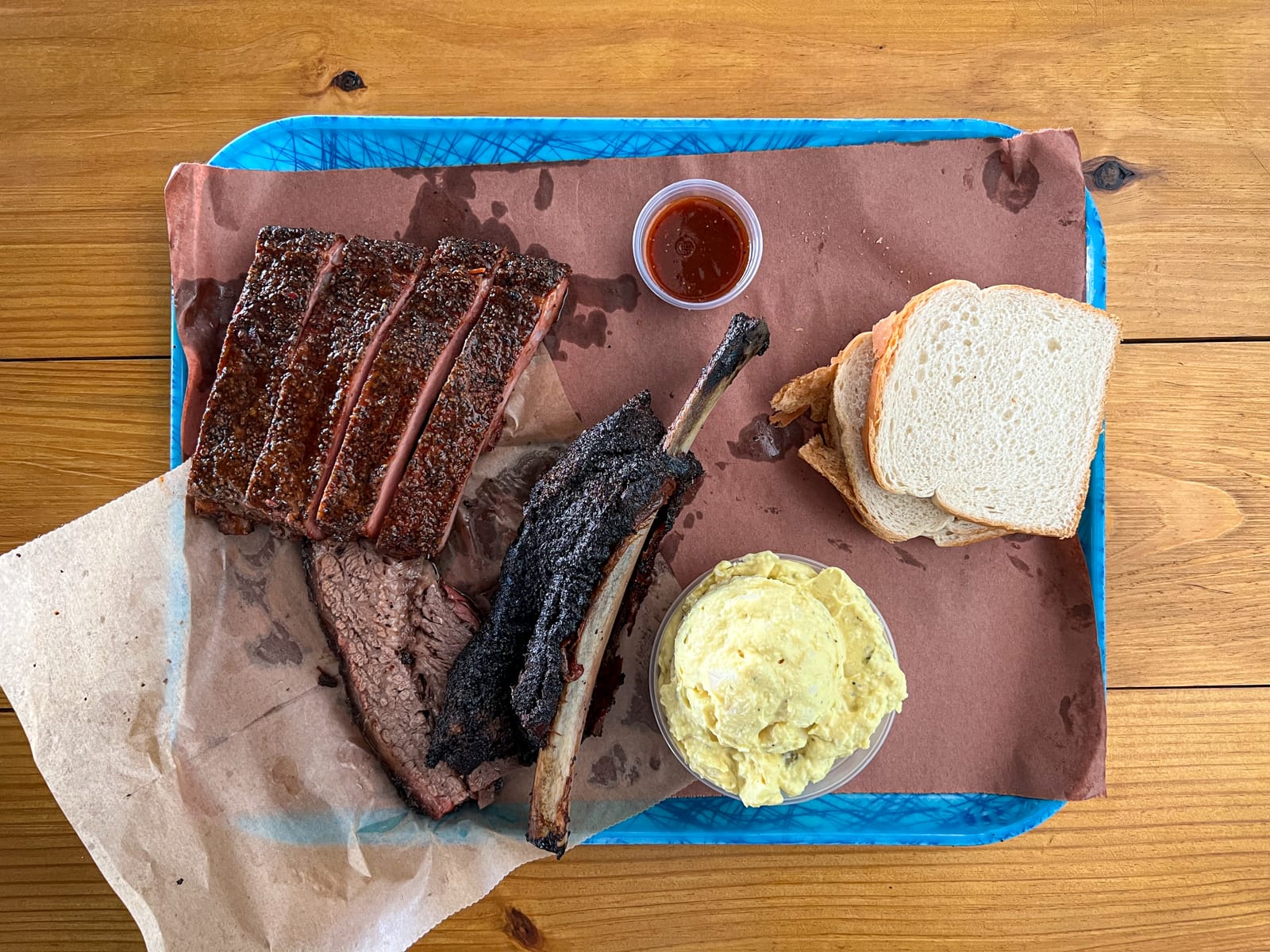 Best Barbecue in Austin
Since moving to Texas six years ago, I've enjoyed exploring the best barbecue in Austin firsthand.
Growing up on the East Coast, I wasn't familiar with brisket, but I became an immediate fan after my first bite.
A brisket is a cut of beef from the breast of the cow, right above its front legs. There's a lot of connective tissue there, so it's best cooked low and slow for at least 12 hours.
Done right, smoky bits of fatty brisket melt in your mouth and make you believe in Central Texas BBQ.
Brisket is ubiquitous in barbecue here, and Texans can be very opinionated about where to find the best. Read on to learn my picks for the best places for BBQ in Austin.
Franklin Barbecue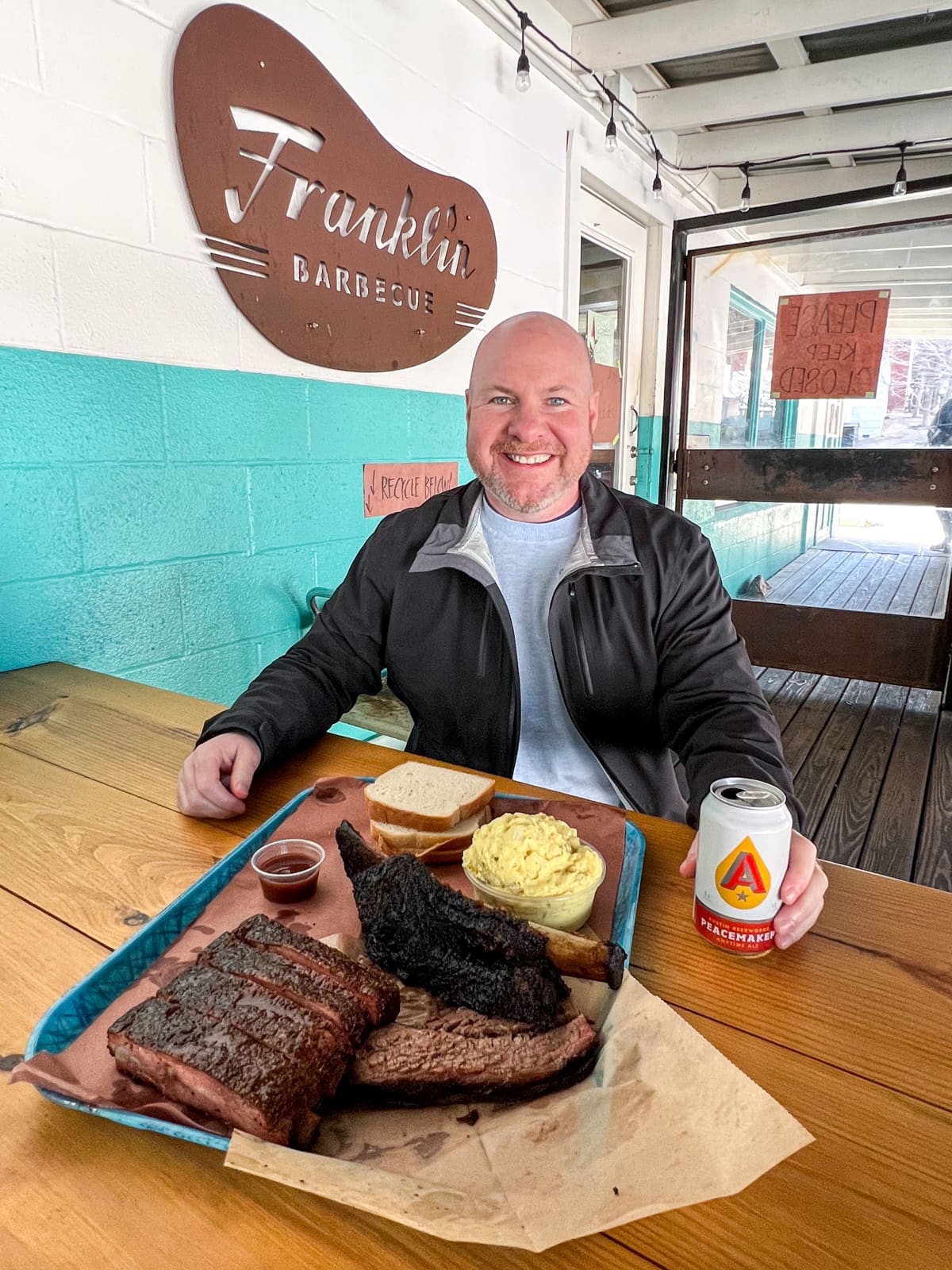 Franklin Barbecue best exemplifies the meteoric rise of BBQ in Austin. In 2009, pitmaster Aaron Franklin took his hobby of cooking barbecue at home to a food truck in East Austin.
Together with his wife, Stacy, they developed an immediate and loyal following, with diners willing to wait in long lines.
It's a testament to his skills that Franklin needs only to use salt and pepper to season his beef brisket.
By 2010, Franklin Barbecue was operating as a standalone restaurant and building a reputation as the best BBQ in Texas.
President Obama, Anthony Bourdain, and countless celebrities have stopped by to try his smoked meats.
In 2015, Franklin's hard work paid off when he received the James Beard Award for Best Chef: Southwest.
A word of warning. The best brisket in the land doesn't come easy or cheap.
One pound of his famous brisket is $34. And when I went on a cold February morning, I arrived at 7:45 a.m. and was still tenth in line; the restaurant opens at 11 a.m.
However hard as it may be to believe, waiting in line is part of the experience. People are friendly, and it helps build anticipation for the meat feast.
Ultimately, the brisket and beef rib was worth the three-hour wait time.
If you're trying to keep costs down, skip the classic sides (potato salad, cole slaw) and dessert—they're average and a missed opportunity to be more creative.
What to Try: brisket, beef rib
900 E 11th St, East Austin, franklinbbq.com
la Barbecue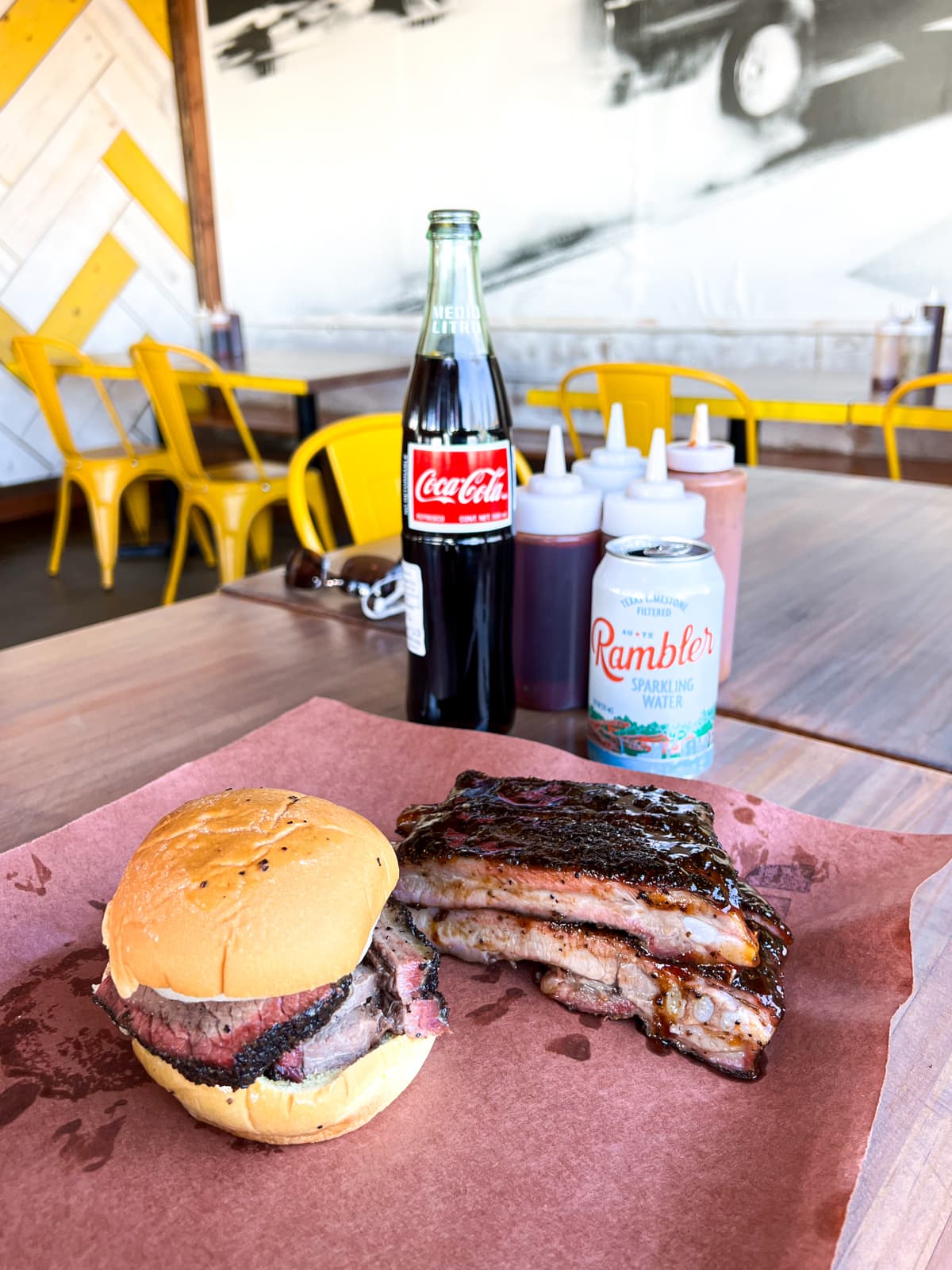 I may have moved to Austin too late to order Franklin's BBQ from a truck; however, that wasn't the case with another beloved brand, la Barbecue.
La Barbecue was founded in 2012 by LeAnn Mueller, granddaughter of Louie Mueller (whose eponymous barbecue restaurant in Taylor, TX, has operated since 1949).
Mueller hired John Lewis, a pitmaster who previously worked at Franklin Barbecue, and the rest is history!
They quickly established la Barbecue as one of the best BBQ spots in Austin, and it's also one of the few that's female-owned.
I fondly remember lining up under big old oak trees on the weekend to get their brisket back when they were a food truck. Free cold beer was available from a keg to keep fans happy in the Texas heat.
Today, they're still a top spot slinging juicy brisket, pork ribs, and more, only now it's from the dining room of a restaurant in East Austin.
What to Try: brisket, pork ribs
2401 E Cesar Chavez St, East Austin, labarbecue.com
Distant Relatives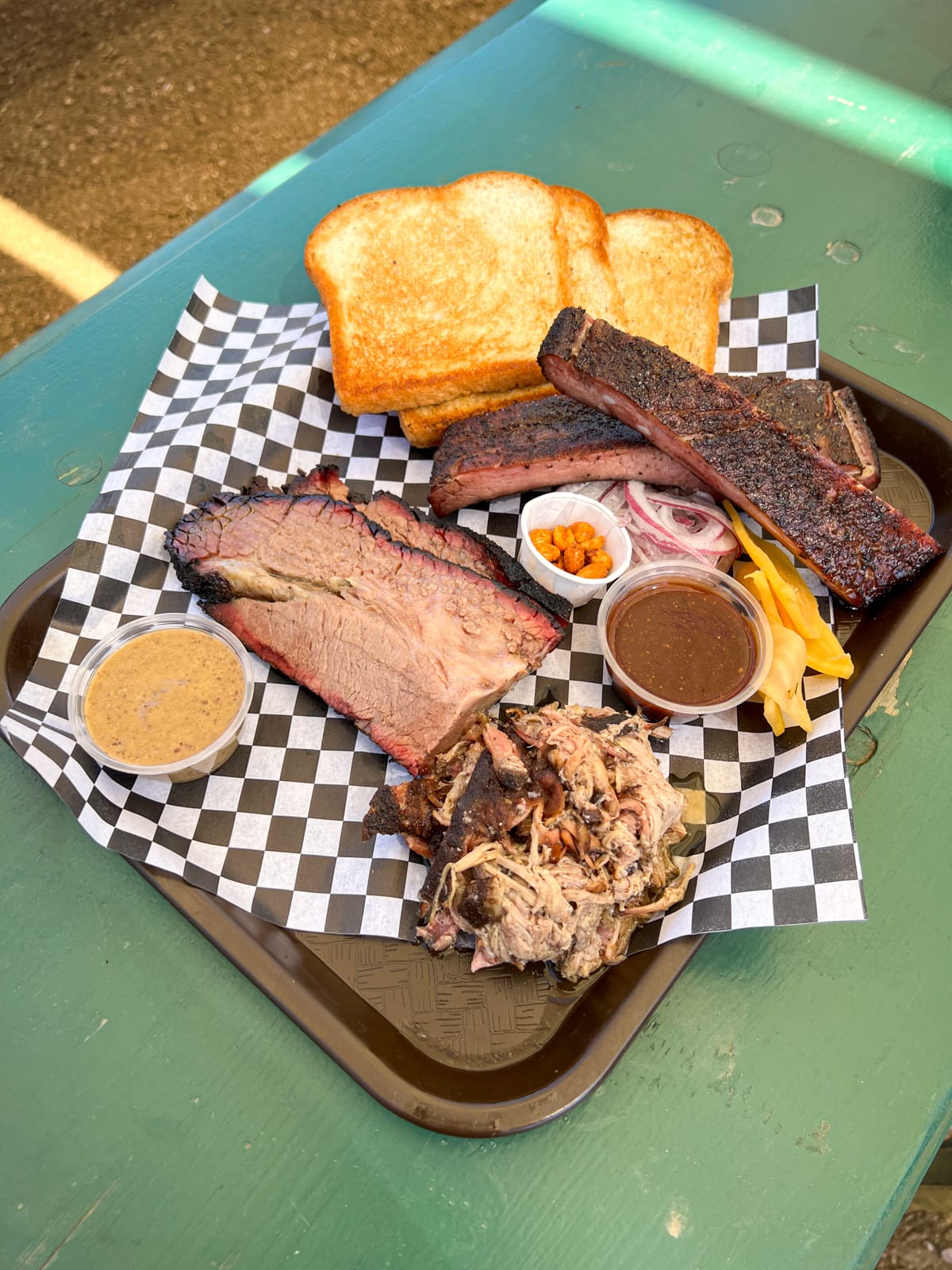 The three C's on Distant Relatives' website are "cookery, community, and culture," which speak to their values as a small business.
Inspired by the African diaspora in the U.S., owner and pitmaster Damien Brockway opened Distant Relatives on August 28, 2020.
Less than two years later, chef Brockway was recognized nationally as a James Beard Award Semifinalist for Best Chef: Texas.
Brockway runs his food truck and smokers from the parking lot at Meanwhile Brewing in South Austin. An expansive beer garden with a stage for live music offers seating and access to craft beer.
On a recent visit, I ordered brisket with smoked mustard butter, pulled pork with tamarind molasses BBQ sauce, and a few pork spare ribs with a spicy dry rub.
The meats were all fantastic, but the sauces set Distant Relatives apart.
The mustard butter complemented the brisket, and the tamarind molasses sauce had a tangy kick that elevated the pulled pork.
My order was served with toasted white bread and a sample of their spicy smoked peanuts and pickled golden beets.
What to Try: brisket and pulled pork, all the sauces
3901 Promontory Point Dr, South Austin, distatantrelativesatx.com
Related: 20 Best Savory Bites of 2020
InterStellar BBQ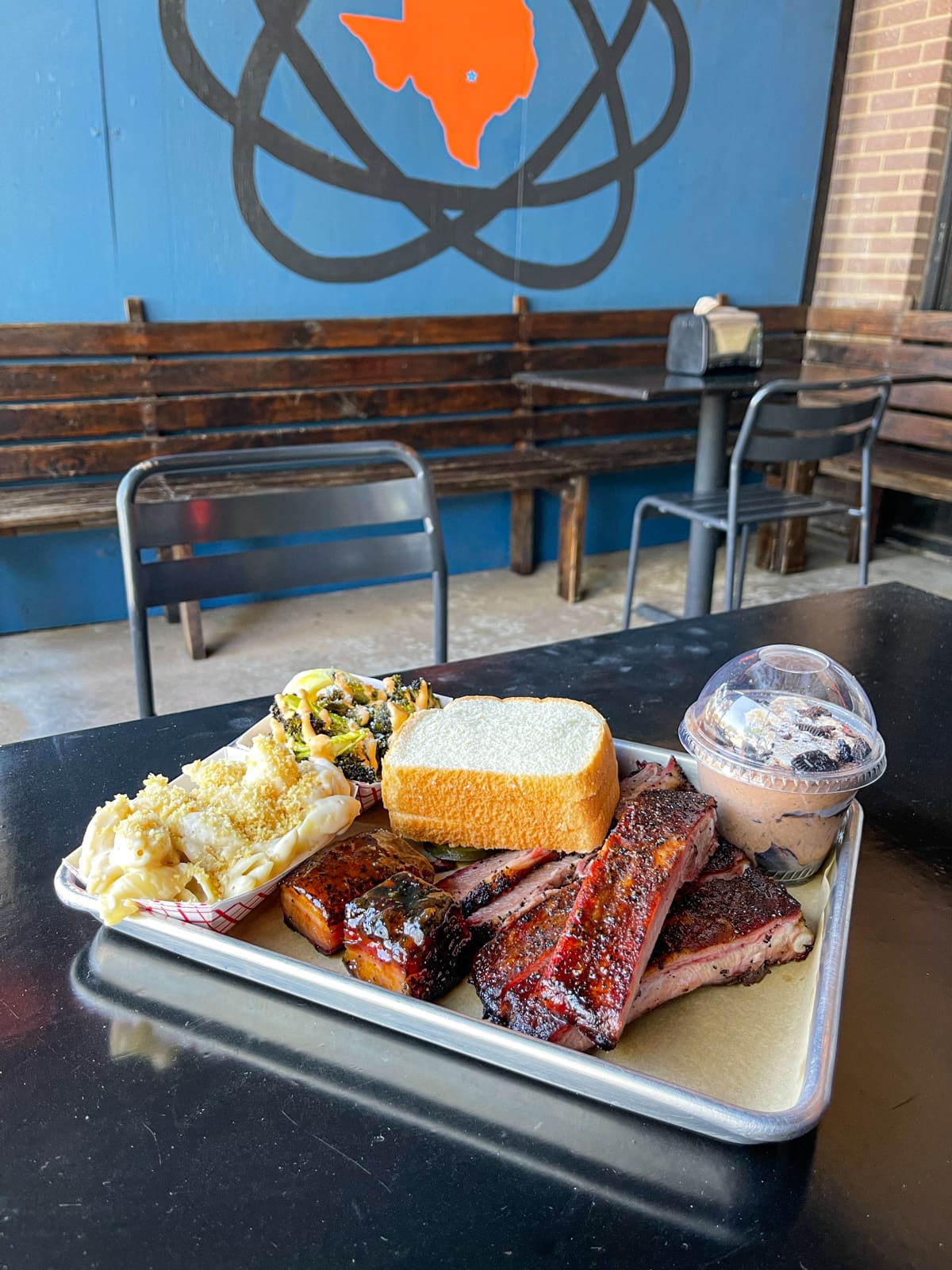 Owner and pitmaster John Bates opened InterStellar BBQ in 2019 after working in the restaurant industry for 30 years.
Before InterStellar, he owned the Noble Sandwich Co. shop, which previously occupied the same space in a strip mall.
His restaurant is at the northernmost tip of Austin city limits, just south of Cedar Park. You know you're in the right place when you see the two smokers in the parking lot.
Last fall, my girlfriend Kel and I stopped by to sample the goods and returned fans of the peach tea glazed pork belly.
I was also happy to see some creative sides and desserts, including mac and gouda and a Mexican chocolate rice pudding with crumbled Oreo cookies.
Not long after our visit, Texas Monthly published its 2021 list of the Top 50 Texas BBQ Joints. InterStellar was ranked #2 in their definitive guide.
What to Try: St. Louis pork ribs, pork belly, Mexican chocolate rice pudding
12233 Ranch Rd 620 N suite 105, North Austin, theinterstellarbbq.com
Related: Best Restaurants in Austin
Terry Black's Barbecue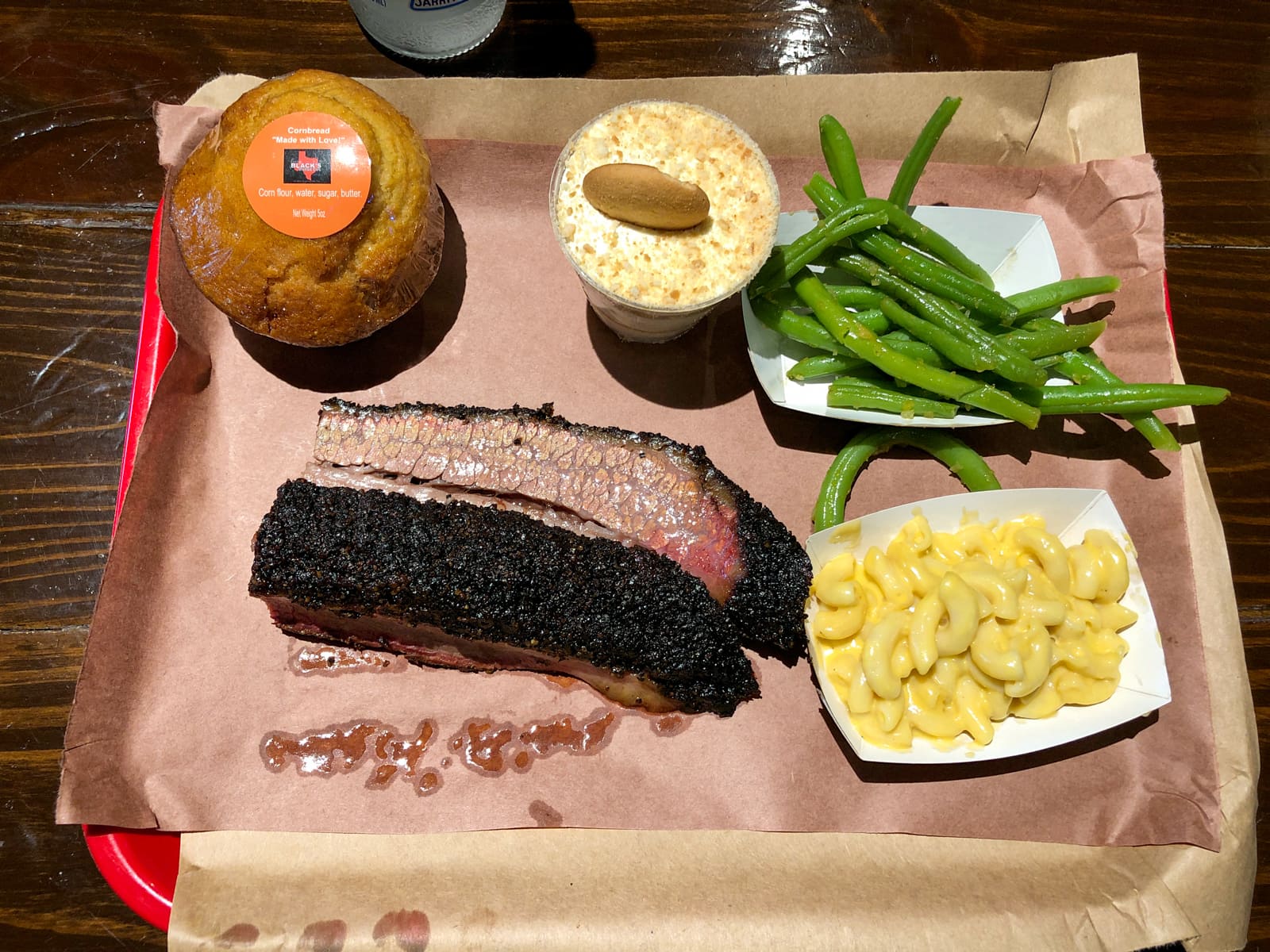 Terry Black's Barbecue may have been my first Austin BBQ experience, and it's remained a favorite ever since.
The Black family began in the barbecue business in Lockhart, TX, in 1932. Lockhart is about 30 minutes south of Austin.
In 2014, Terry Black's twin sons, Michael and Mark, brought their family's barbecue to Barton Springs Road, within walking distance from downtown Austin.
Terry Black's BBQ was already a hit when I arrived, which wasn't hard to understand after taking my first bite of brisket. I didn't know beef could taste this good!
Beyond the brisket, there are many reasons I love this spot:
Centrally located and convenient, within walking distance of downtown.
Cafeteria-style service.
Extensive selection of sides and desserts.
It's spacious—even when it's busy, I've always been able to find a picnic table.
The line has never been too long (30 minutes max).
What to Try: brisket, beef rib
1003 Barton Springs Rd, South Austin, terryblacksbbq.com
Leroy And Lewis Barbecue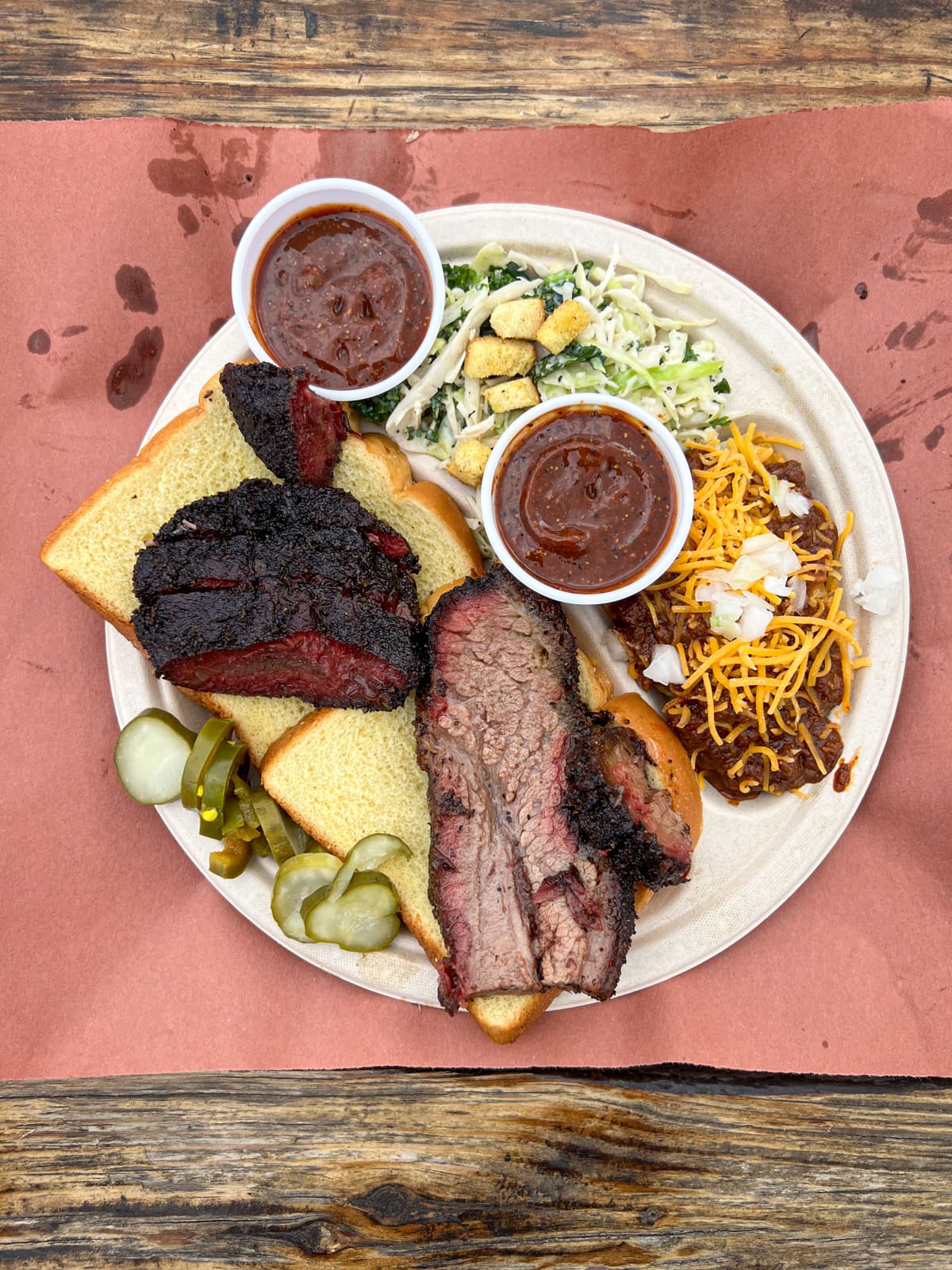 "Wow, the brisket is so buttery," I texted my friend Nick. The first piece had melted in my mouth; Evan LeRoy's brisket is on par with Franklin's.
I ordered the two-meat plate with two sides for $21 (plus $2 extra for Akaushi brisket from Heartbrand Beef, only available on Saturdays and Sundays).
My other meat choice was the beef cheeks from 44 Farms, an offering unique to Leroy and Lewis, which bills itself as a new-school barbecue with old-school service.
All plates are served with pickles, beet BBQ sauce, mustard BBQ sauce, and potato bread. Neither the brisket nor beef cheeks needed barbecue sauce; they were incredible.
Leroy And Lewis Barbecue serves their delicious BBQ from a blue food trailer parked in the Cosmic Coffee patio/garden, which has expanded significantly over the last few years. It's the only place you can eat a Texas barbecue lunch next to a waterfall.
What to Try: beef cheeks, L and L brisket burger
121 Pickle Rd, South Austin (parked at Cosmic Coffee), leroyandlewisbbq.com
Valentina's Tex Mex BBQ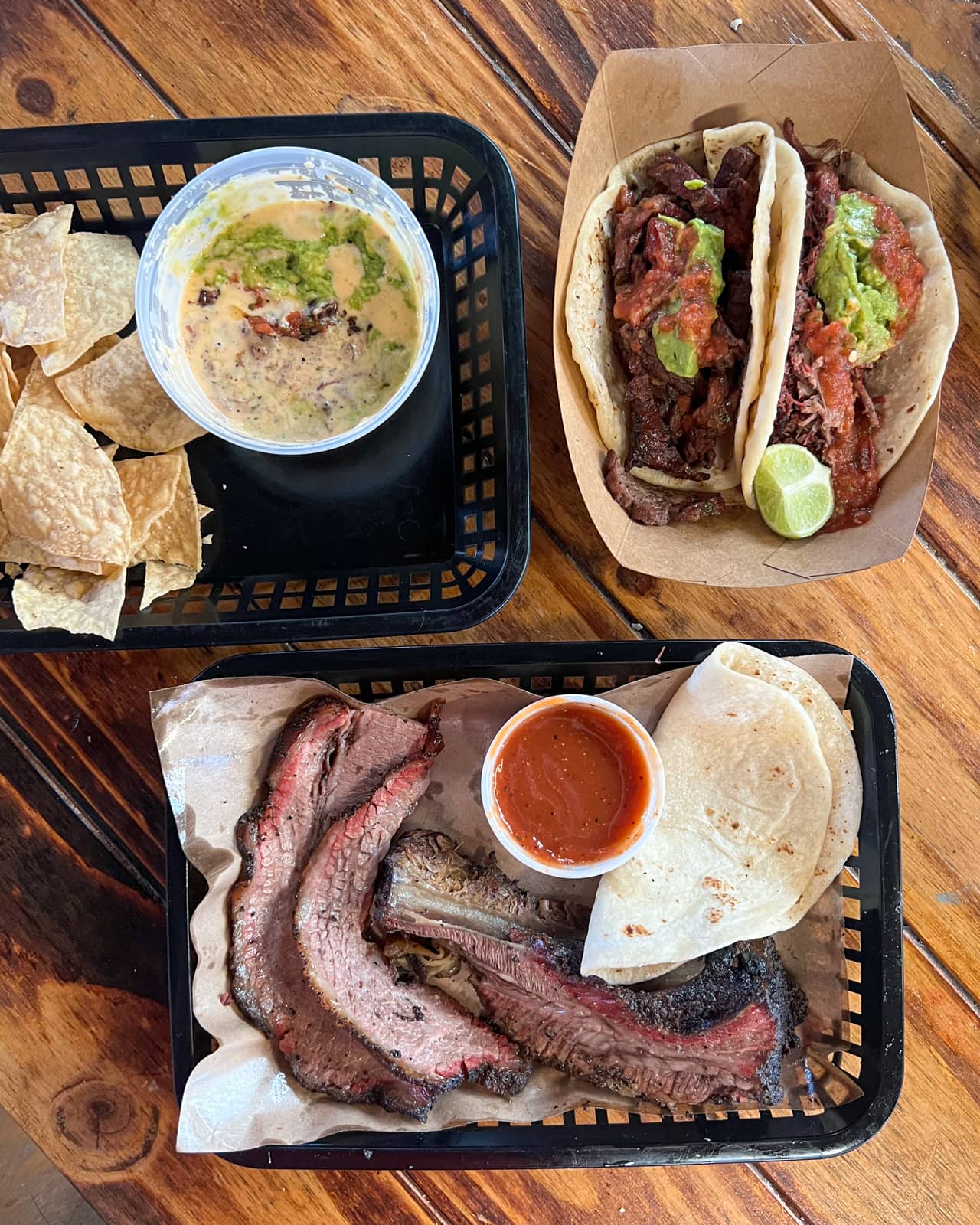 At Valentina's Tex Mex BBQ, pitmaster Miguel Vidal and his family have made a name for themselves by melding Tex Mex and Central Texas barbecue.
Kel and I dropped by at noon on a Saturday to sample it all.
It was about a 30-minute wait in line to order and another 10 minutes to receive the meat and tacos. But we did walk away from the BBQ truck with our queso and chips with brisket and guacamole to hold us over.
I went to town when the brisket, beef rib, and tacos arrived. The brisket was top-notch, and my first bite of the beef rib was reminiscent of the same at Franklin's.
The brisket taco taught me I don't like guacamole and tomato salsa on my brisket.
We'd missed the 11 a.m. cutoff for breakfast tacos, so I'd like to return and try their famous Real Deal Holyfield with fried egg, potatoes, refried beans, bacon, salsa, and smoked brisket another day.
In 2023, Valentina's moved from their food truck in South Austin to a larger space in the Buda Mill & Grain Co., just south of Austin city limits.
What to Try: brisket, beef ribs
308 S Main St, Buda, TX, valentinastexmexbbq.com
Stiles Switch BBQ and Brew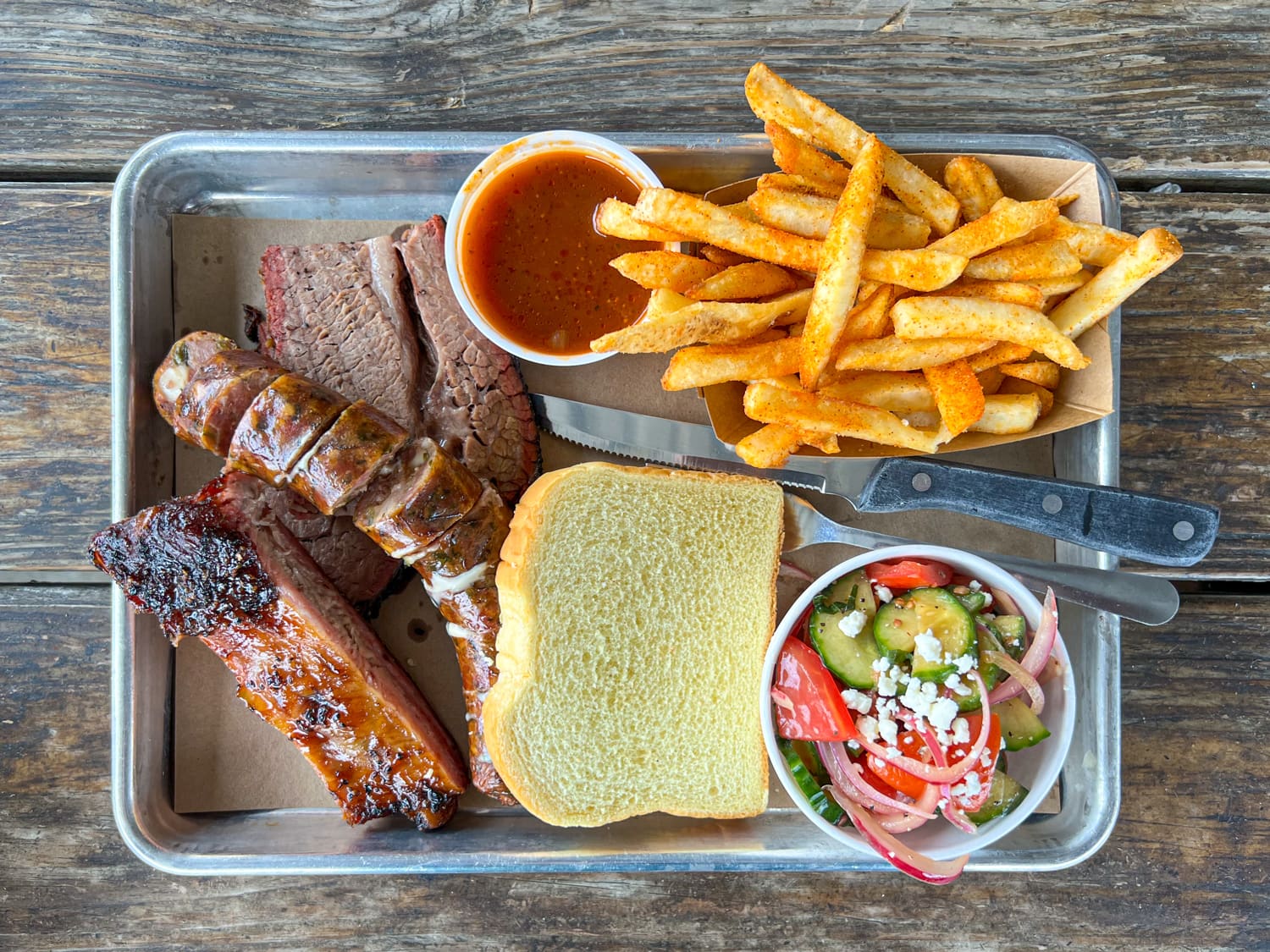 If you'd like your smoked meat with a side of nostalgia and a Texas craft beer, head for Stiles Switch BBQ at the Violet Crown Shopping Center in Central Austin.
In the mid-90s, Richard Linklater filmed a soon-to-be-famous Matthew McConaughey in the pool hall scenes of "Dazed and Confused" here.
Getting back to the food, pitmaster Lance Kirkpatrick and his crew deliver a tasty brisket, as I was reminded of on a recent visit.
He's also cultivated a friendly vibe. At the counter, I was debating another meat. Play it safe with a pork rib, or try the staff's recommendation of jalapeno cheddar sausage?
Seeing my struggle, the guys offered me a free sausage link, which I appreciated. While I enjoyed the flavor, I'm still not a fan of the natural casings, which can be tough to chew.
Stiles Switch also has an excellent selection of desserts, including peach cobbler, tres leches cake (big enough to share), and chocolate Oreo pudding.
What to Try: brisket, pork ribs, desserts
6610 N Lamar Blvd, Austin, TX, stilesswitchbbq.com
KG BBQ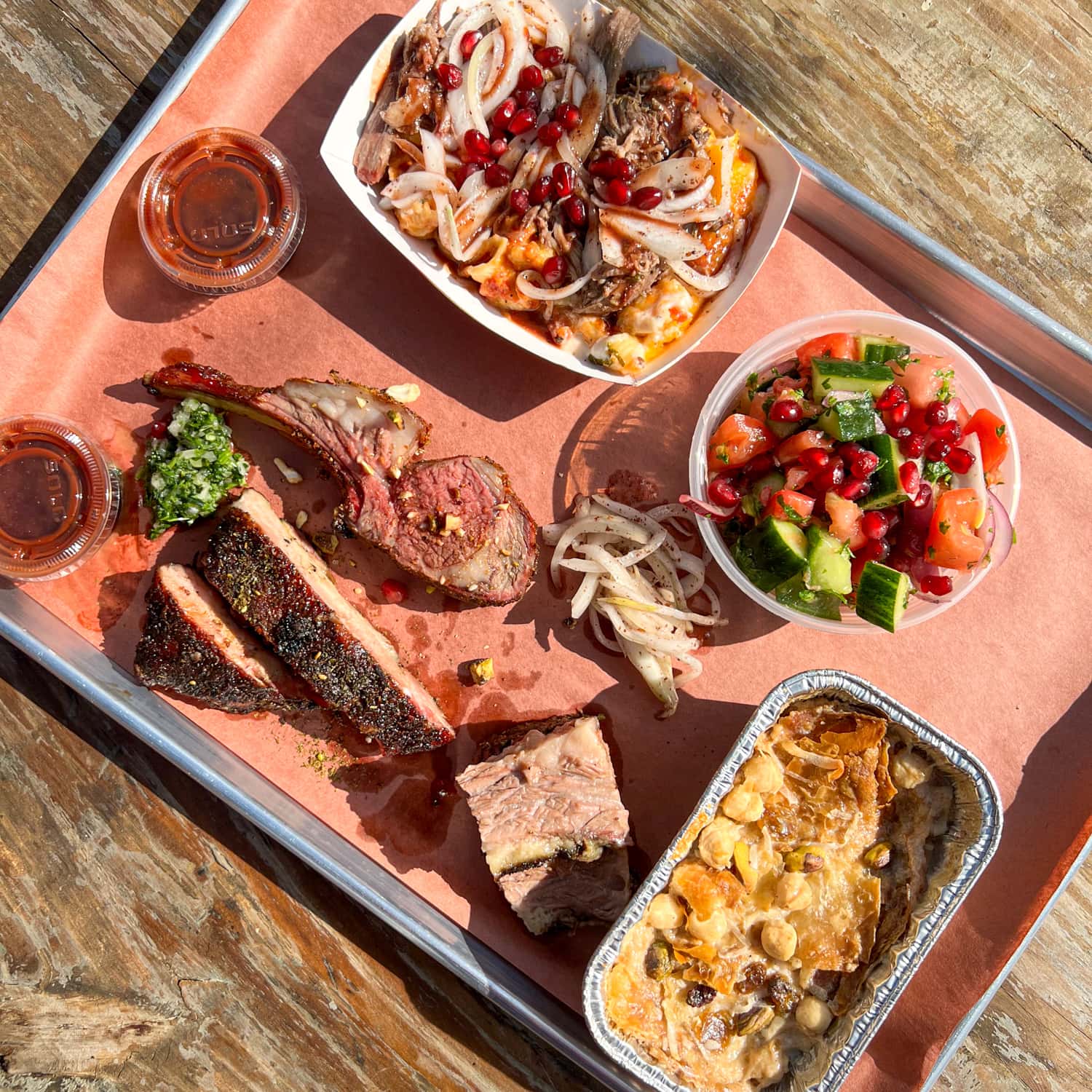 One of the most innovative new barbecue spots to open in the Austin area in 2022, and the Lone Star State as a whole, is KG BBQ, a food truck operating adjacent to Oddwood Brewing on the capital city's east side.
Here, you'll find Egyptian pitmaster Kareem El-Ghayesh serving Texas barbecue influenced by the flavors of his home country.
KG learned to cook brisket and other meats from some of Austin's top pitmasters, including Aaron Franklin, Bill Kerlin (who permanently closed his food truck in 2022), and Miguel Vidal of Valentina's.
I went all out my first time, ordering brisket, pomegranate-glazed pork ribs, a smoked lamb chop with mint chimichurri, Baladi salad, Cowboy Mac n cheese (with lamb instead of the usual brisket), and an Egyptian bread pudding with iced ahwa (coffee).
My favorite items were the pork ribs and lamb chops, which you rarely see at Texas BBQ spots.
The Egyptian Cowboy Mac n cheese topped with lamb, sumac onions, and pomegranate BBQ sauce was also fantastic.
The Baladi salad with tomato, cucumber, red onion, and pomegranate seeds was the most vibrant, colorful salad I've seen with TX BBQ.
The brisket, on the other hand, felt like it could still use some work. Maybe I was there on an off day, but it wasn't at the same level as other places on this list.
What to Try: pork ribs, lamb chops, mac 'n cheese, pistachio rice pudding
3108 Manor Rd, East Austin, TX, kgbbq.com
Micklethwait Craft Meats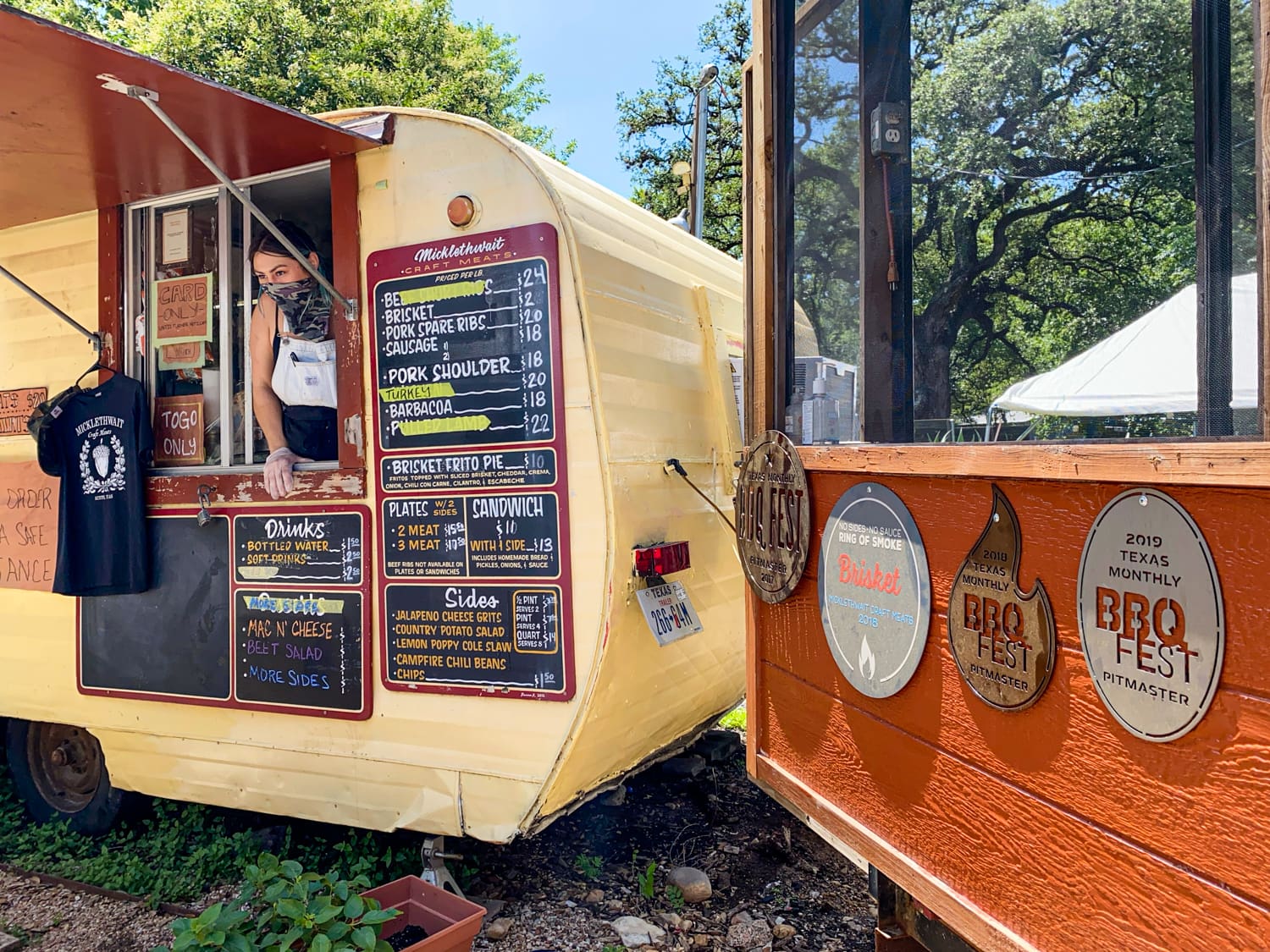 Tom Micklethwait traded his baking career for smoking meats in 2012 when he began serving traditional Texas barbecue from a restored vintage trailer in East Austin.
Five years later, in 2017, Texas Monthly recognized Micklethwait Craft Meats as one of Texas' ten best barbecue joints.
Three years later, I finally got over there to pick up brisket, a sausage link, and his "made-from-scratch sides," including jalapeno cheddar grits and lemon poppy slaw for lunch.
I unwrapped the tender brisket back home and thoroughly enjoyed his hard work. The grits and cole slaw were better than average; you could tell he put some thought into them.
What to Try: brisket, sides
1309 Rosewood Ave, East Austin, TX, craftmeatsaustin.com
Brotherton's Black Iron Barbecue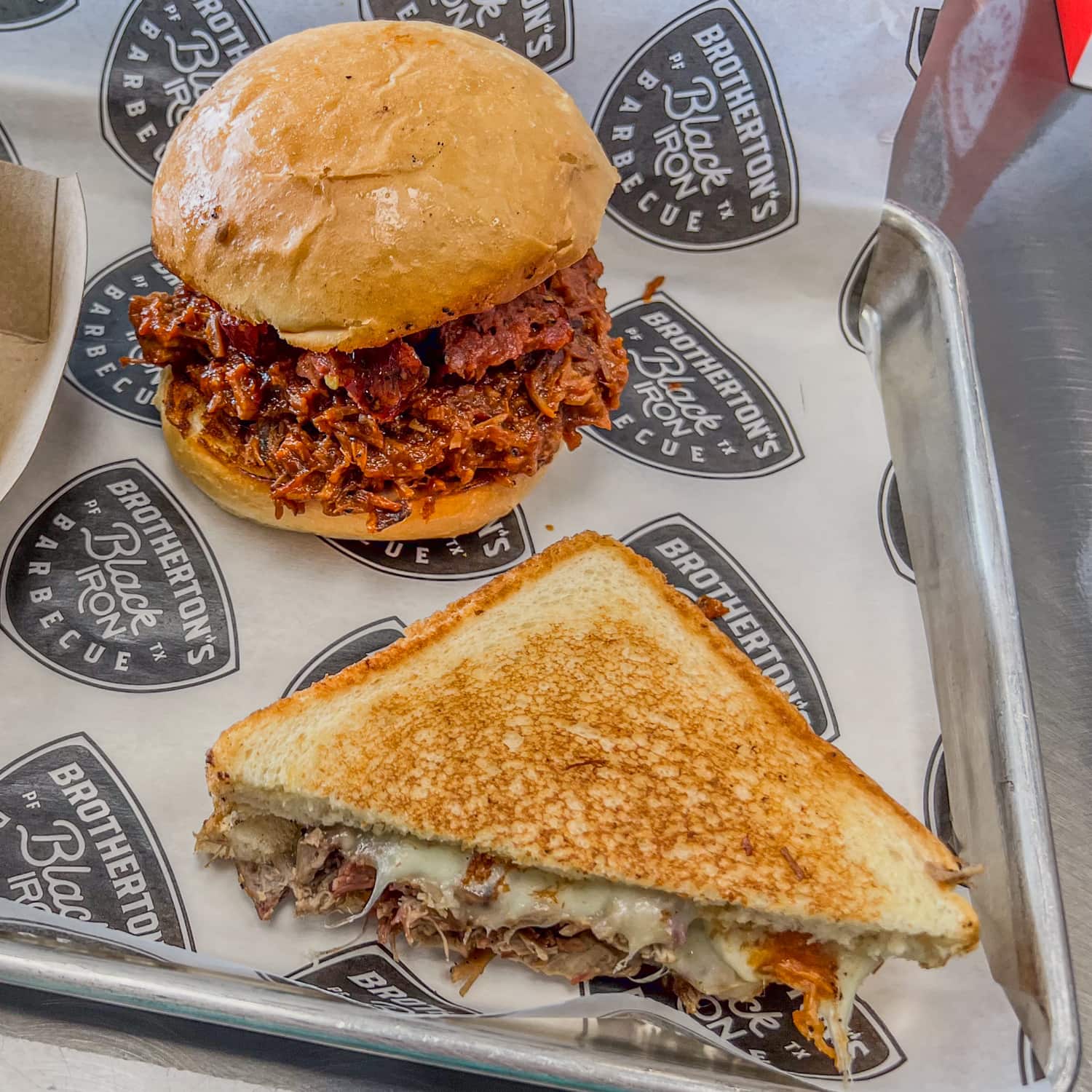 A few blocks north of Austin's city limits is a BBQ place known for its smoked meat sandwiches.
Pitmaster John Brotherton has been on a mission for more than ten years to find success in the Central Texas barbecue scene. After his first restaurant, Curly's, closed in 2014, he returned stronger with Brotherton's Black Iron Barbecue in 2017.
His second attempt landed him on the Texas Monthly Top 50 list in 2021, leading to increased popularity and exposure (at events like BBQ Fest).
I dropped into Brotherton's in late 2023 to try it, opting for the grilled cheese with brisket, Monterey jack, and provolone cheese on Texas toast. There was a generous amount of meat, though I wondered if it was lean, as it wasn't as rich as I expected.
Kel, who grew up with sauced brisket, chose the Mel-Man, made with chopped brisket and spicy sausage on a brioche bun.
Next time, I'll try their signature Pflugerville Philly with brisket, queso, onions, and peppers, as well as some sliced brisket by the pound.
Brotherton's also offers breakfast items, including a brisket omelet, Briscuits and Gravy (biscuits, gravy, biscuit, hash browns, and two eggs), and chicken fried steak and eggs.
Don't sleep on the cobbler, either. The giant, warm portion of strawberry cobbler we received was one of the better renditions we've experienced.
15608 Spring Hill Ln Ste 105, Pflugerville, TX, pflugervillebarbecue.com
Honorable Mention
The following BBQ spots in Austin are worth a visit; however, I didn't feel they were on par with the best barbecue restaurants already mentioned.
Brown's Bar-B-Que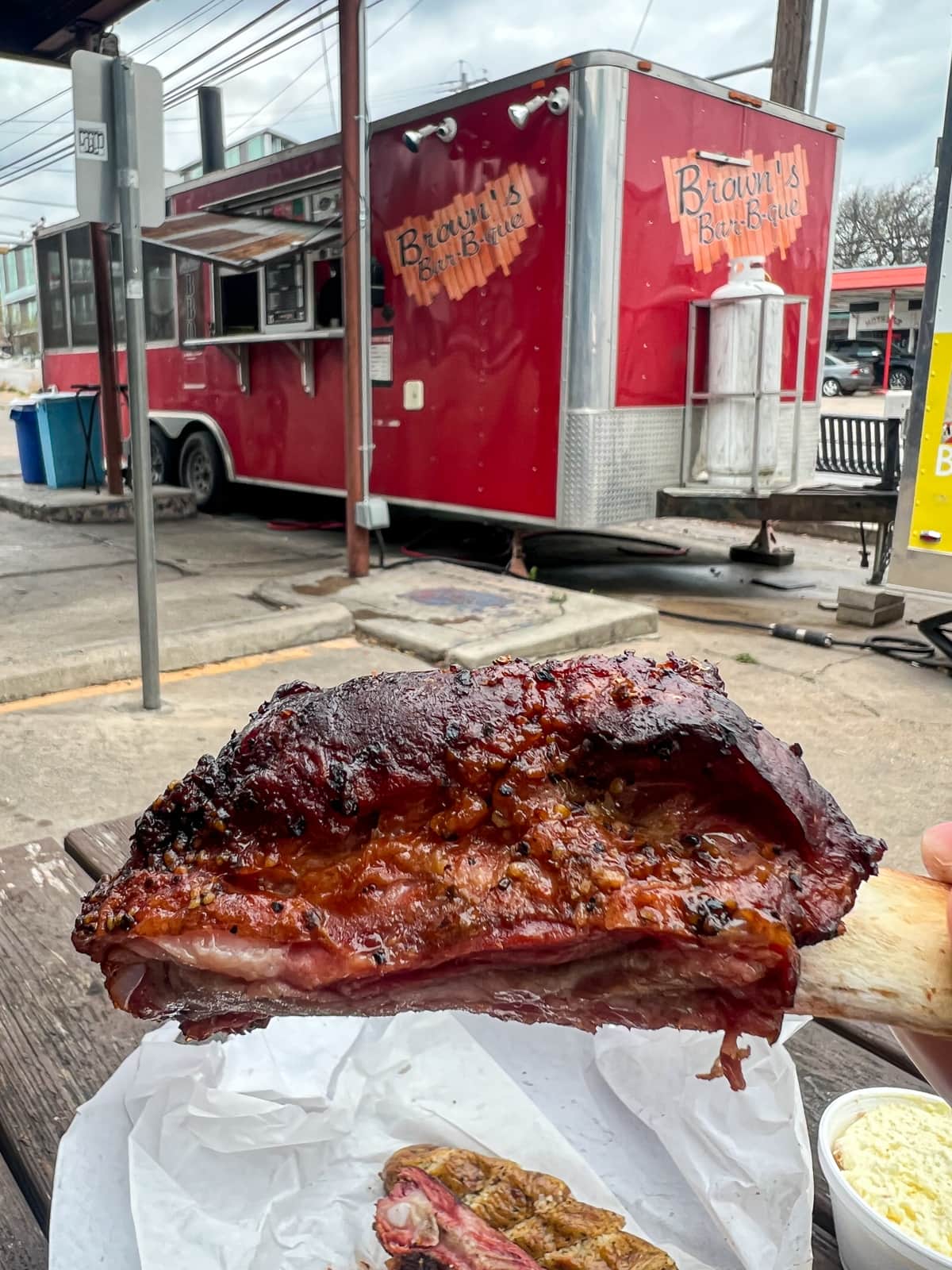 A reader on Facebook suggested I check out Brown's BBQ, so I made the trip on a Tuesday.
Arriving at 11:15 a.m. under overcast skies and gusty winds, I was able to walk right up to the food truck's window and place my order:
Small brisket sandwich (hold the onions, jalapenos, and pickles)
Two pork spare ribs
Half a boudin link (chicken and rice)
Macaroni and cheese
Nana (banana) pudding
Additional Brown's BBQ menu options include turkey, beef ribs, sausage, pulled pork, and chicken. All meats are also available as a small or large sandwich or wrap.
The brisket sandwich was about average for Central Austin. The meat had a nice blackened crust, but my bites weren't the spiritual experience of la Barbecue.
On the other hand, the pork spare ribs were different; the flavorful meat slipped off the bone as I took my second bite. The chicken and rice boudin links are also unique to Brown's — a bit spicy with a nice texture.
Between the banana pudding and Dutch oven peach cobbler, I chose the former on advice from the woman working there. Made with fresh bananas, it was terrific.
The only downside to Daniel Brown's red BBQ truck is the location in front of Corner Bar on South Lamar Boulevard. The busy thoroughfare makes for a noisy environment; consider ordering to-go.
1901 S Lamar Blvd, South Austin, Brown's Bar-B-Que
What to Try: spare ribs, boudin links, and banana pudding
Related: Goldee's BBQ in Fort Worth
Sam's BBQ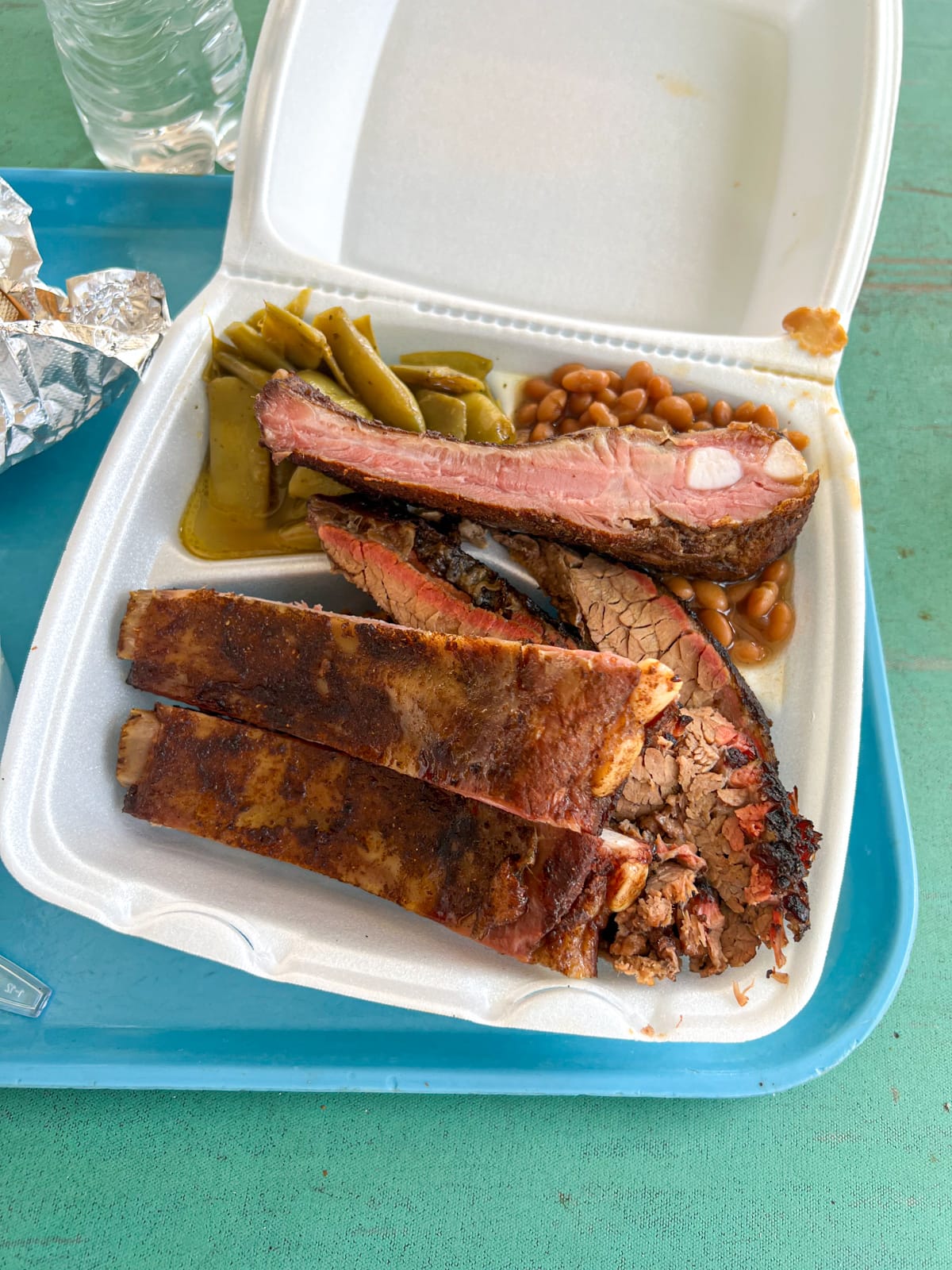 Only one barbecue joint proclaims, "You don't need no teeth to eat my beef," that's Sam's BBQ in East Austin.
Sam's BBQ has served smoked meats to the local community since the 1950s. Enter Sam's on a sunny day and step back in time.
The light is dim, and the walls are papered with old photos of friends, family, and customers. Images of Martin Luther King, Jr. are prominent outside and inside.
Stevie Ray Vaughn used to dine here; his autographed photos were lost in a devastating 1992 fire. Sam's was rebuilt, and 30 years later, it's still cooking.
The special with two types of meat and two sides is just $15, making it a steal.
I preferred the pork ribs to the brisket, which doesn't compare to the level produced at other spots on this list. They're also known for mutton, a unique offering in Austin.
What to Try: pork rib, mutton (lamb ribs)
2000 E 12th St, East Austin, samsbarbque.com
Wrapping Up
As you can see, Austin's best BBQ joints run the gamut from multi-generational family businesses to upstart food trucks.
There's much more to the Austin barbecue scene than these BBQ restaurants, so take this list with a grain of salt. It should, however, serve as a solid introduction to the exceptional Texas BBQ on offer in the city of Austin.