As I transitioned from living in Colombia to the United States again, I took a two-month trip to Oaxaca to spend time with friends. Oaxaca food, running the gamut from tacos and grasshoppers to moles and more, was a big part of the attraction.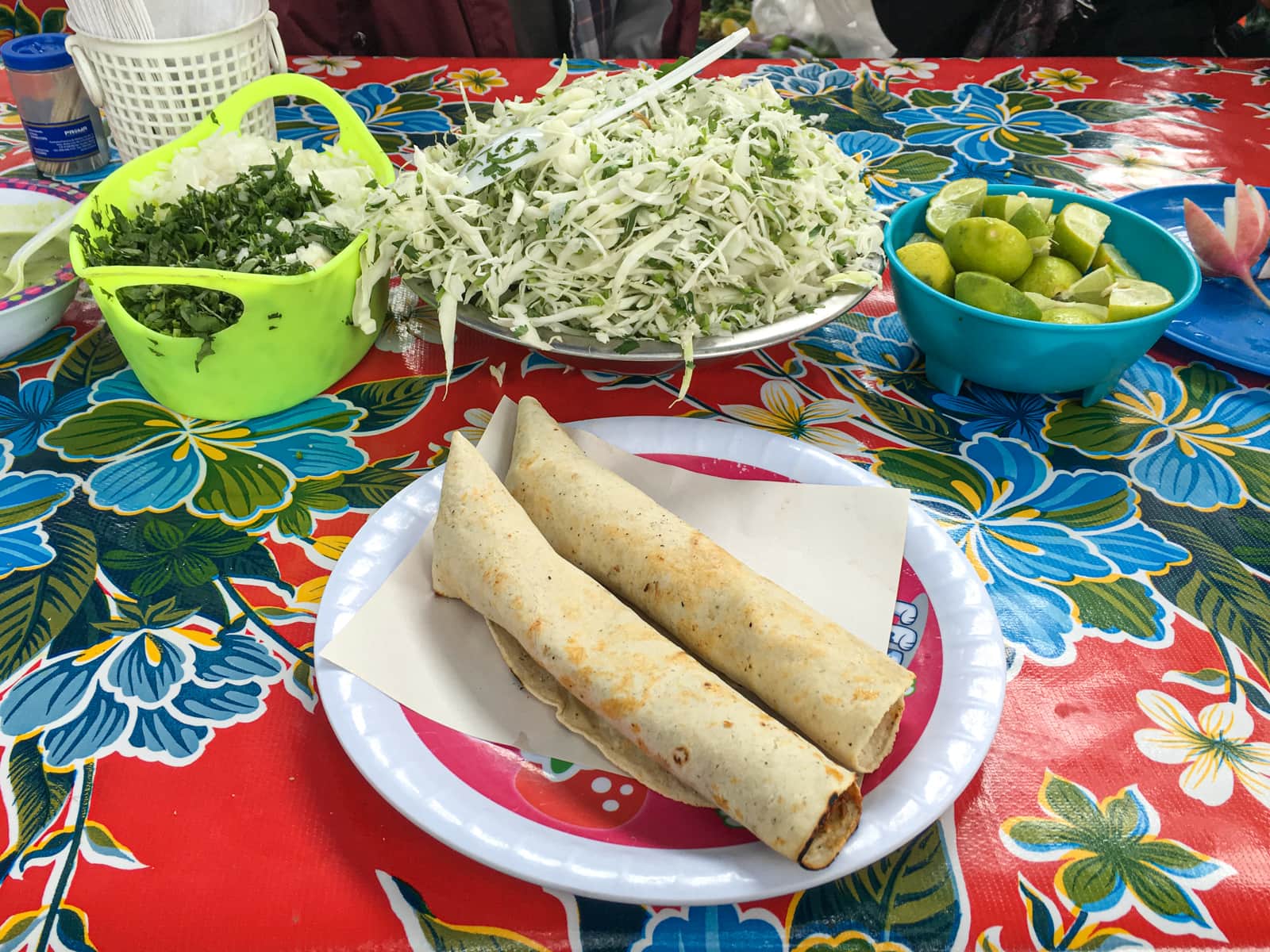 I'd visited Oaxaca three years earlier as part of a big swing through Mexico, from Puerto Vallarta on the Pacific coast to Playa del Carmen on the Gulf coast.
However, two nights was not nearly enough for this historic, food-filled city. If that trip was the appetizer, returning for several relaxing months was the entree.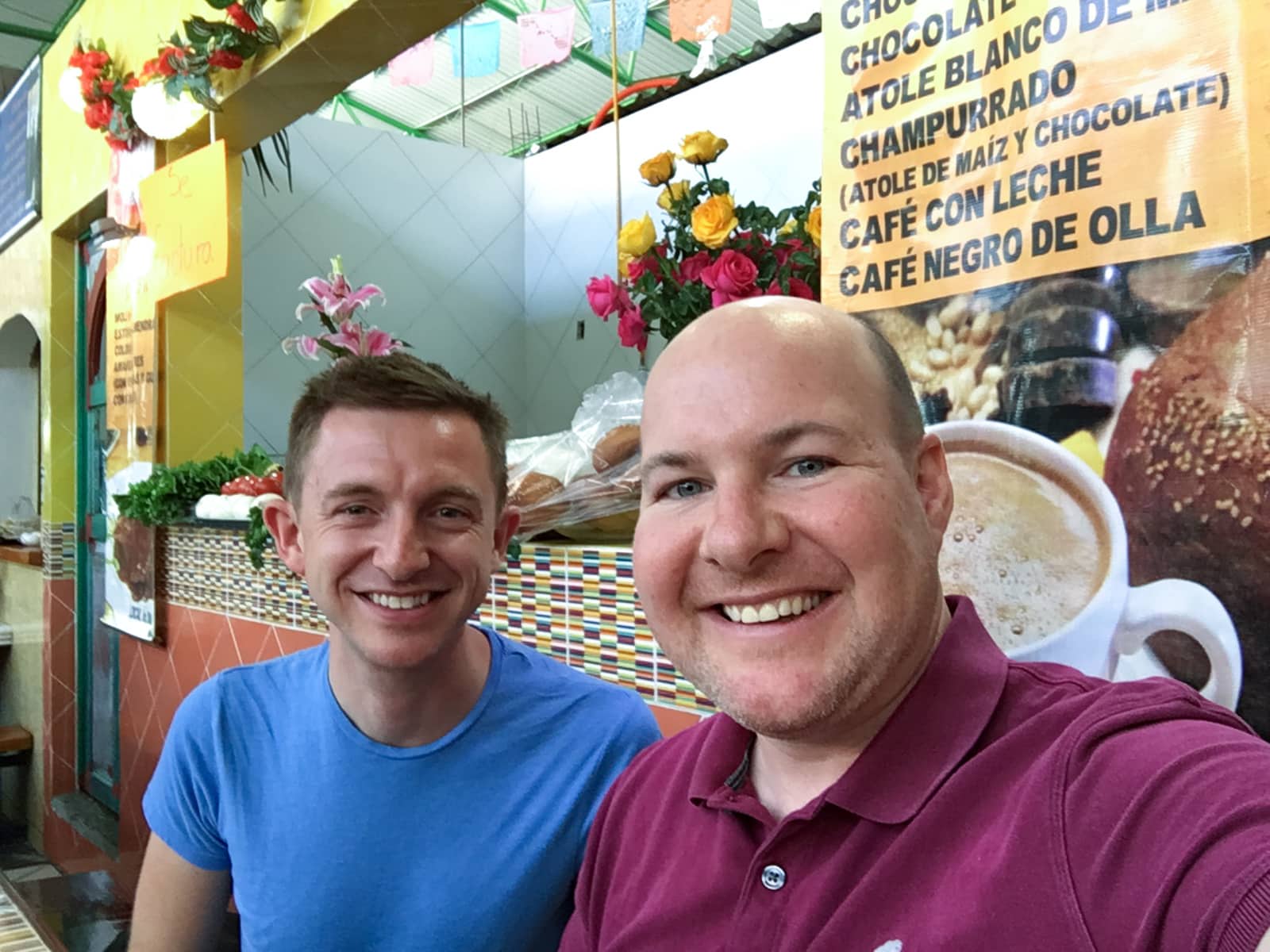 Once I'd settled into a spacious two-bedroom Airbnb near the Zocalo (town square), where I was later joined by my friend Brock, it was time to explore everything Oaxaca had to offer.
While I didn't set out to write a story on Oaxacan street food at the time, I do have a handful of food photos that illustrate some of what you'll encounter around town.
Let's start with Oaxacan cheese quesadillas.
Street Food in Oaxaca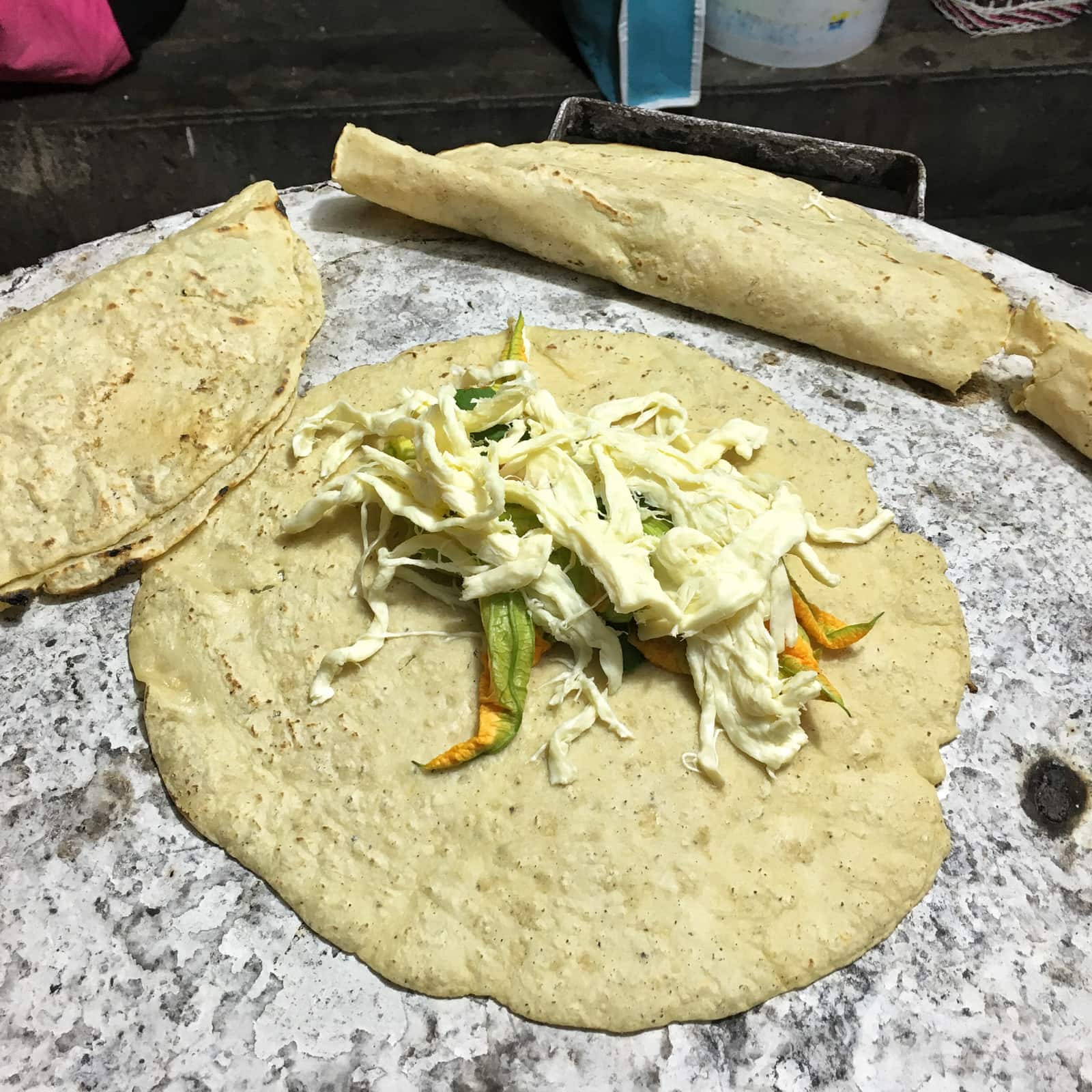 Quesadillas
I have a special place in my stomach for Oaxacan cheese, a semi-hard cow milk cheese that originated in the region. Think of it as Mexican string cheese.
My friend Jodi was fond of eating in the streets and markets, whereas I gravitated toward fine dining in Oaxaca.
Spending time with her balanced my experience.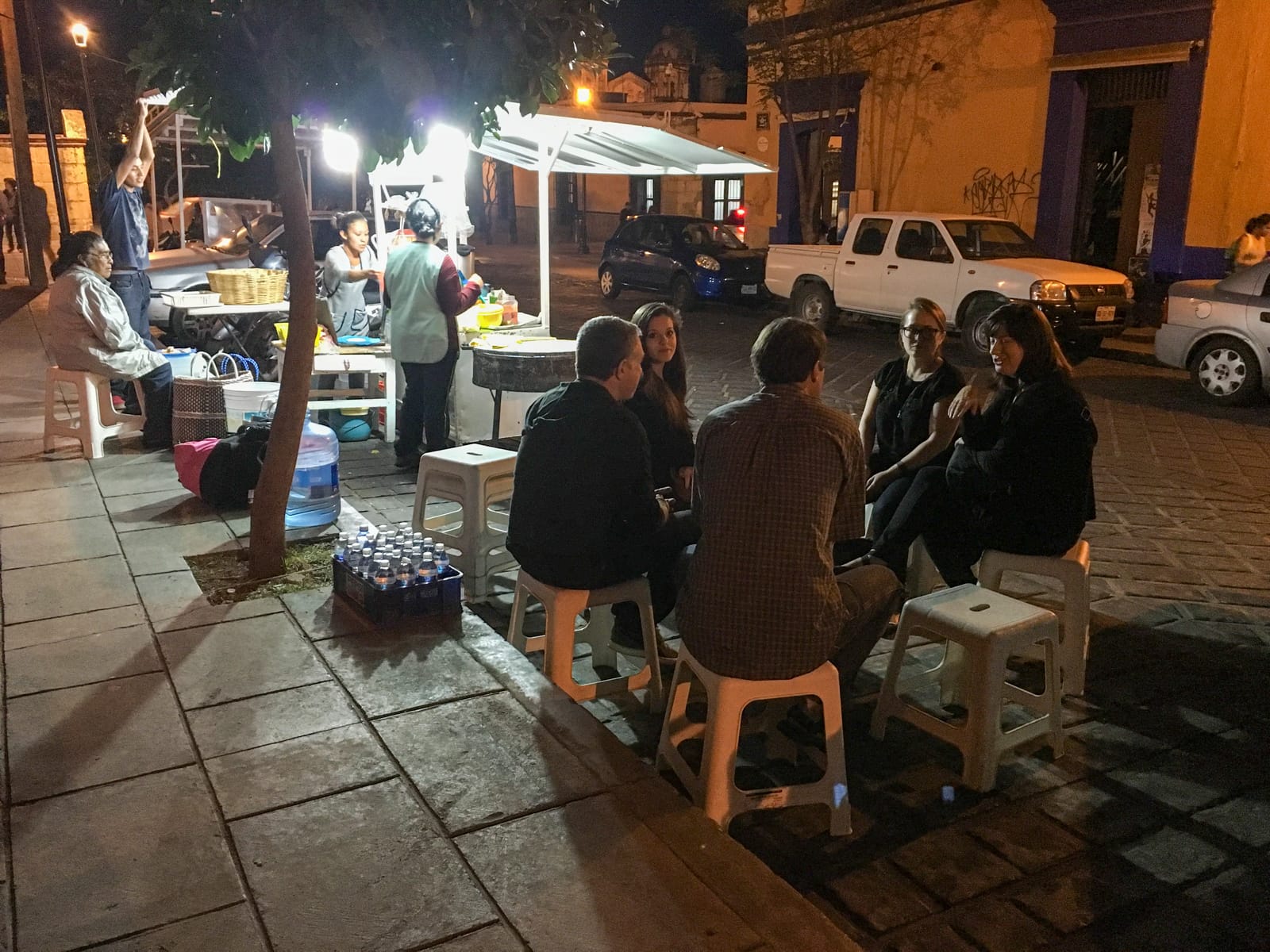 We often got together with friends for dinner at one particular quesadilla cart in the historic city center (pictured above).
I routinely ordered the squash blossom quesadilla with Oaxacan cheese.
I preferred to let the cheese be the star of the show, though chicken and meat are common in Oaxacan food like quesadillas.
Sitting on those little plastic stools, chatting and waiting for the cheese to melt and meld with the fresh tortilla was a peaceful way to end any day.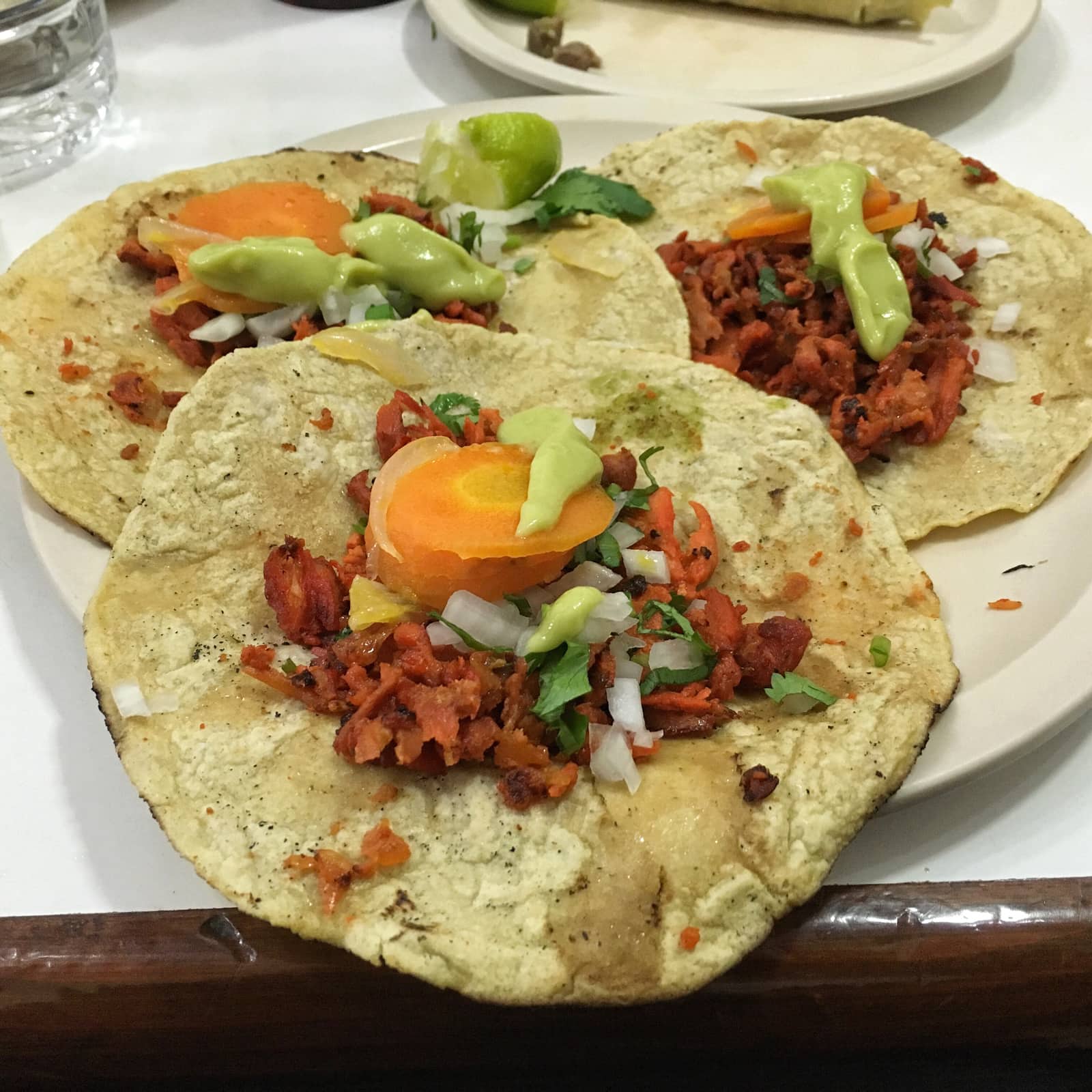 Tacos
It should go without saying that tacos are a typical Oaxaca food. We are in Mexico, after all.
When I think of a proper Mexican taco, it's what you see pictured above, with small soft tortillas holding a few spoonfuls of meat (pork, in this case), onions, cilantro, and sauce, garnished with a lime wedge.
Due to their diminutive nature and inexpensive cost, it's wise to order three or more at a time.
In Austin, TX, where I now live, tacos are beloved, yet some of the best chains to come out of this city (Torchy's and Tacodeli) don't remind me much of the tacos I get in Mexico.
And that's okay. It's akin to Tex-Mex, a fusion of cultures and flavor preferences.
Jodi wrote an entertaining article, The Cow Head Taco Philosopher King of Oaxaca, about one local vendor.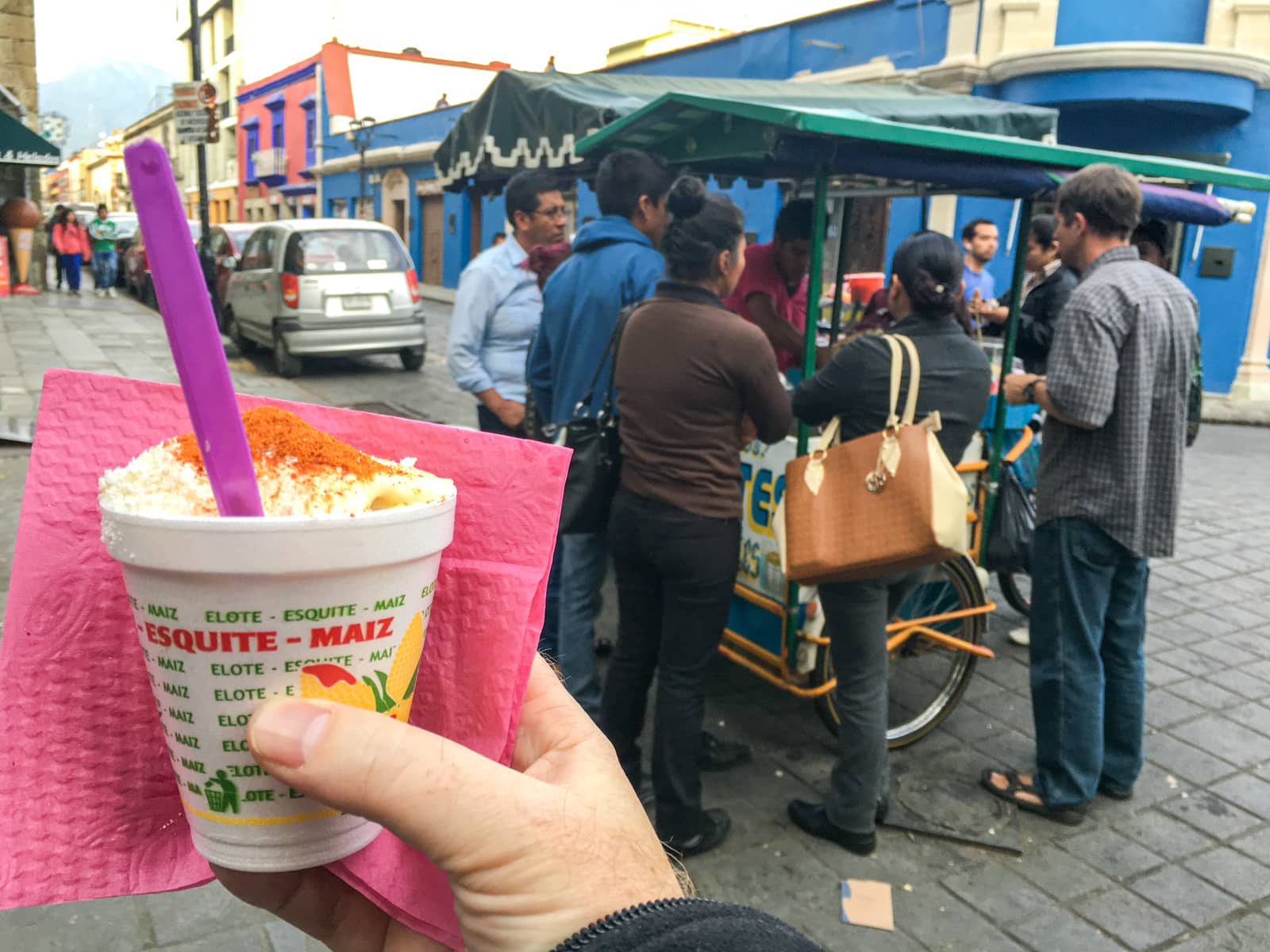 Elote
Elote is Mexican street corn, which is either sold on the cob or off in a cup (as pictured above).
The corn on the cob is grilled over an open flame and then covered in chili powder, salt, butter, cotija cheese, lime juice, and mayonnaise.
It sounds like a lot, I know, but it's quite delicious. Healthy? Not so much. But as an occasional treat, it's fun.
I prefer to eat it out of a cup to minimize making a mess.
Related: Best Restaurants in Mexico City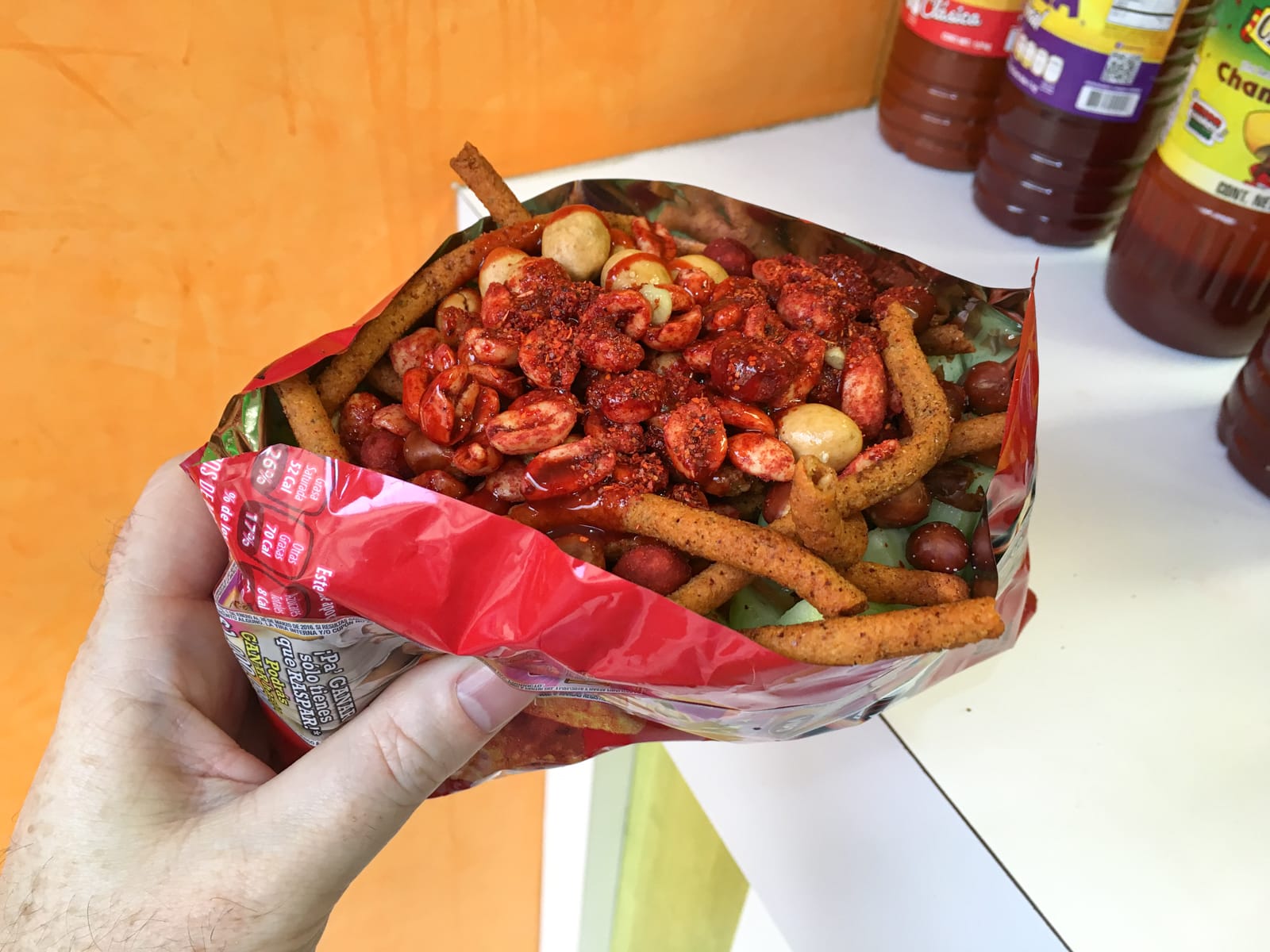 Dorilocos
I encountered Dorilocos at a small shop and was reminded of the US version, Frito Pie, which as it turns out, was likely brought over from Mexico.
The concept behind this walking taco is that you slice open a bag of Doritos or Fritos and add toppings.
In this example, my Dorilocos were topped with jicama, carrot, lime, peanuts, sauces, and chili powder. Food in Oaxaca can be odd and fascinating!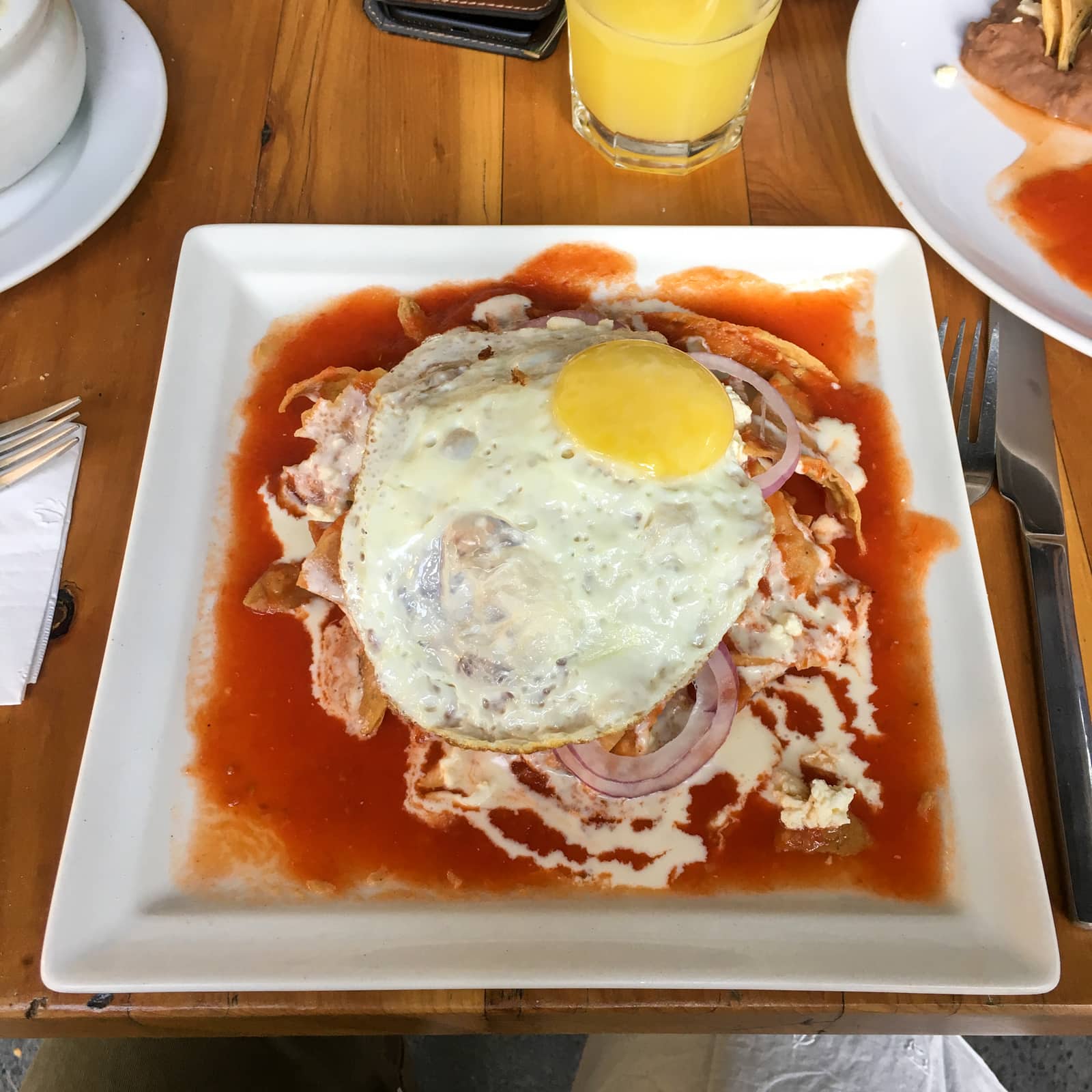 Dorilocos is like a portable, junk food version of chilaquiles, a Mexican breakfast dish made with fried corn tortilla chips smothered in a green or red salsa and topped with white cheese and crema (a white sauce).
A fried egg, onions, and shredded chicken are also common toppings.
Oaxacan Markets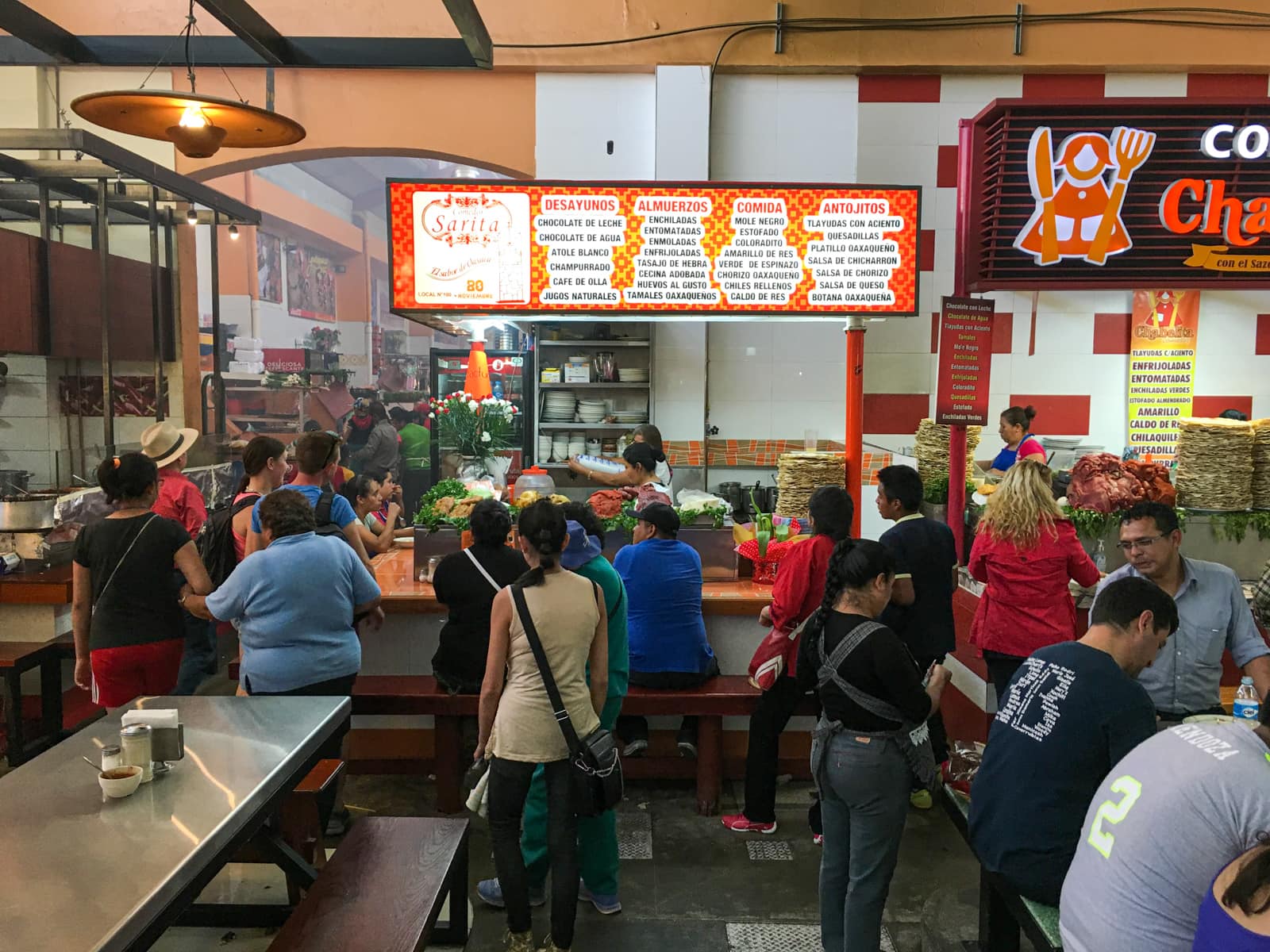 Two blocks south of the Zocalo in Oaxaca's old town are two of the city's biggest markets, Mercado Benito Juarez and Mercado 20 de Noviembre.
It was in the latter that I regularly met with friends for lunch at Sarita, one of the many food stalls serving local delicacies.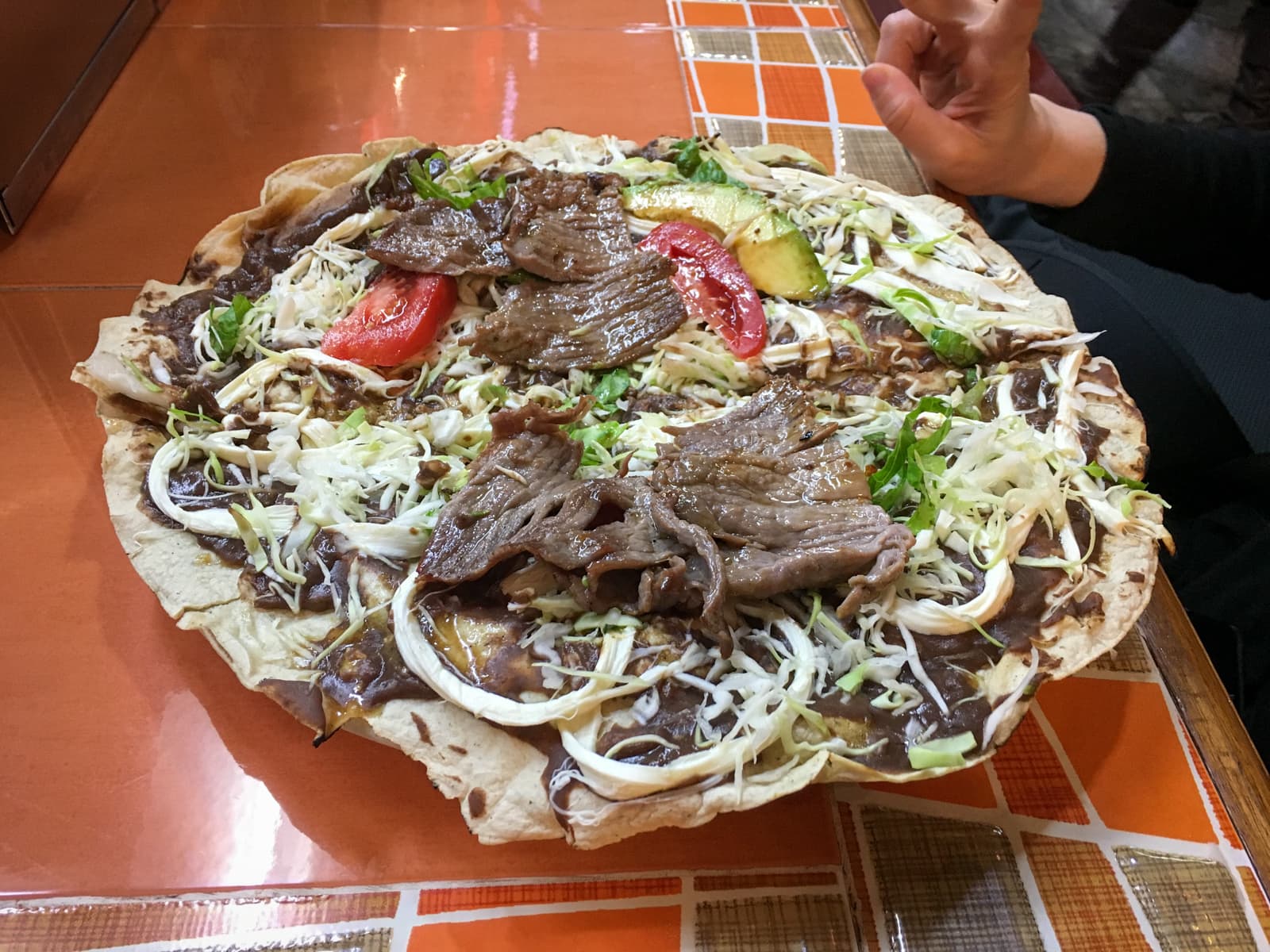 Tlayuda
Specifically, Jodi introduced me to the tlayuda, which looks like a Mexican take on pizza.
As you can see above, a large, thin, crispy tortilla is topped with refried beans, lard, lettuce or cabbage, tomatoes, avocado, Oaxacan cheese, and optionally, meat (in this case beef, I believe).
Unlike an Italian pizza, there's no obvious or easy way to eat these things. Just dig in and accept you'll make a mess as you chomp your way through it.
Some Oaxaca food vendors serve them folded over, akin to a quesadilla, but I've only tried the open-faced variety.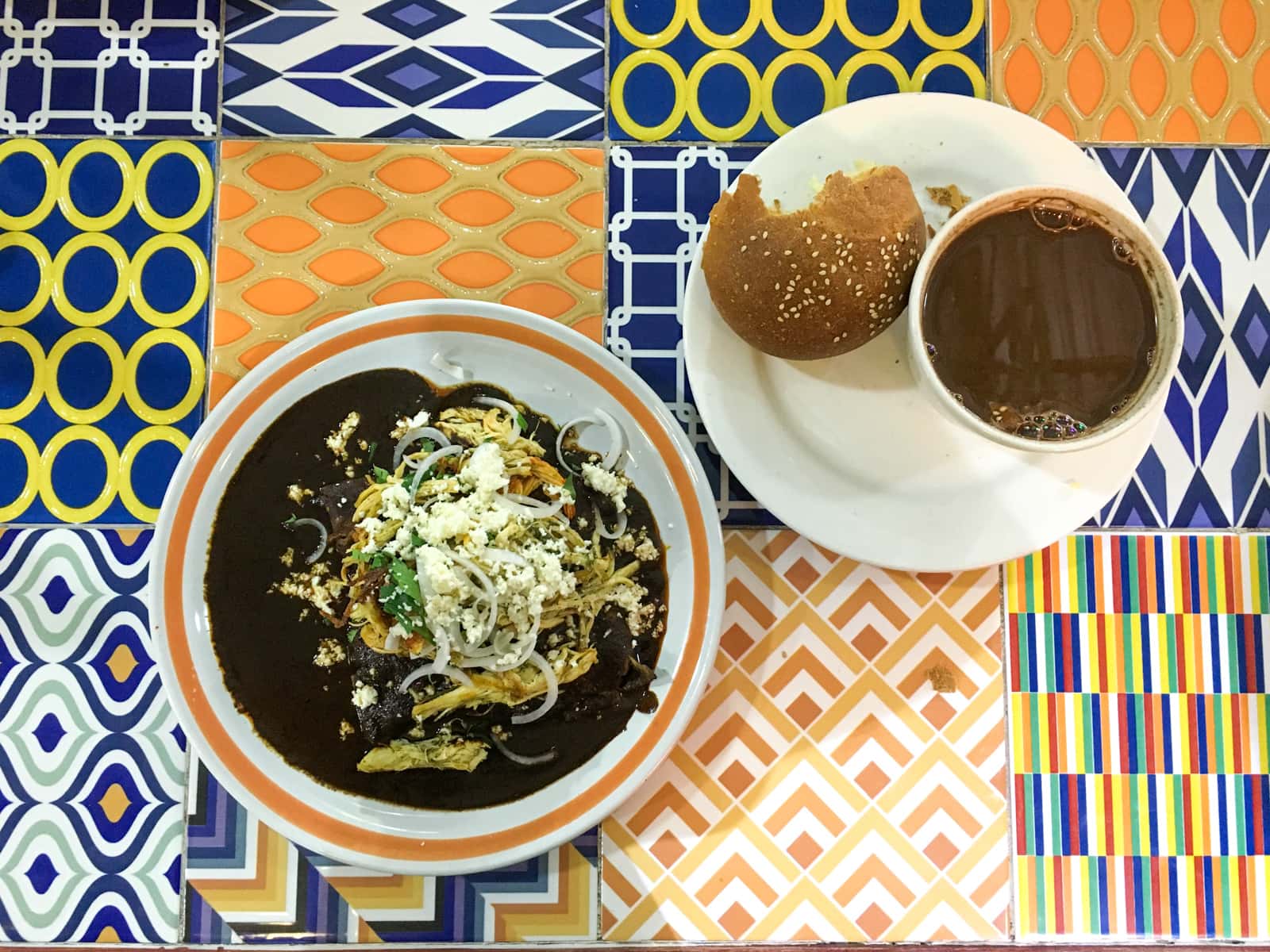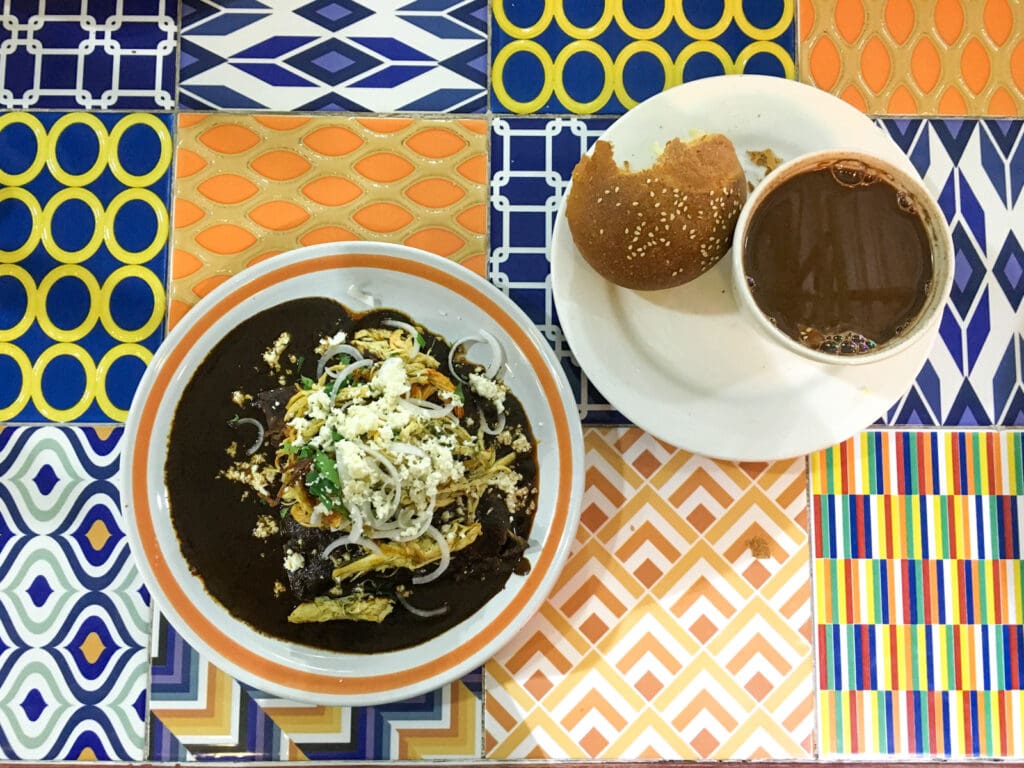 Mole
When I came to Oaxaca, mole sauce was on my mind, as the city is known as "the land of seven moles."
Of the seven, mole negro ("black mole") is the most complex. It's made with chocolate, chili peppers, onions, and spices.
It's also the one you're most likely to encounter in a Mexican restaurant outside of Mexico.
I ate my fair share of mole negro in Oaxaca but also gave some of the other options a try, including colorado (red), amarillo (yellow), verde (green), and almendrado (almond).
Oaxacan Hot Chocolate
Hot chocolate with bread is a combo I first encountered in Bogotá, Colombia, and I've been a fan ever since.
Made with Oaxacan chocolate and water, it's thinner and less sweet than the instant hot chocolates made with milk that I grew up with in the US.
Related: Pujol Restaurant in Mexico City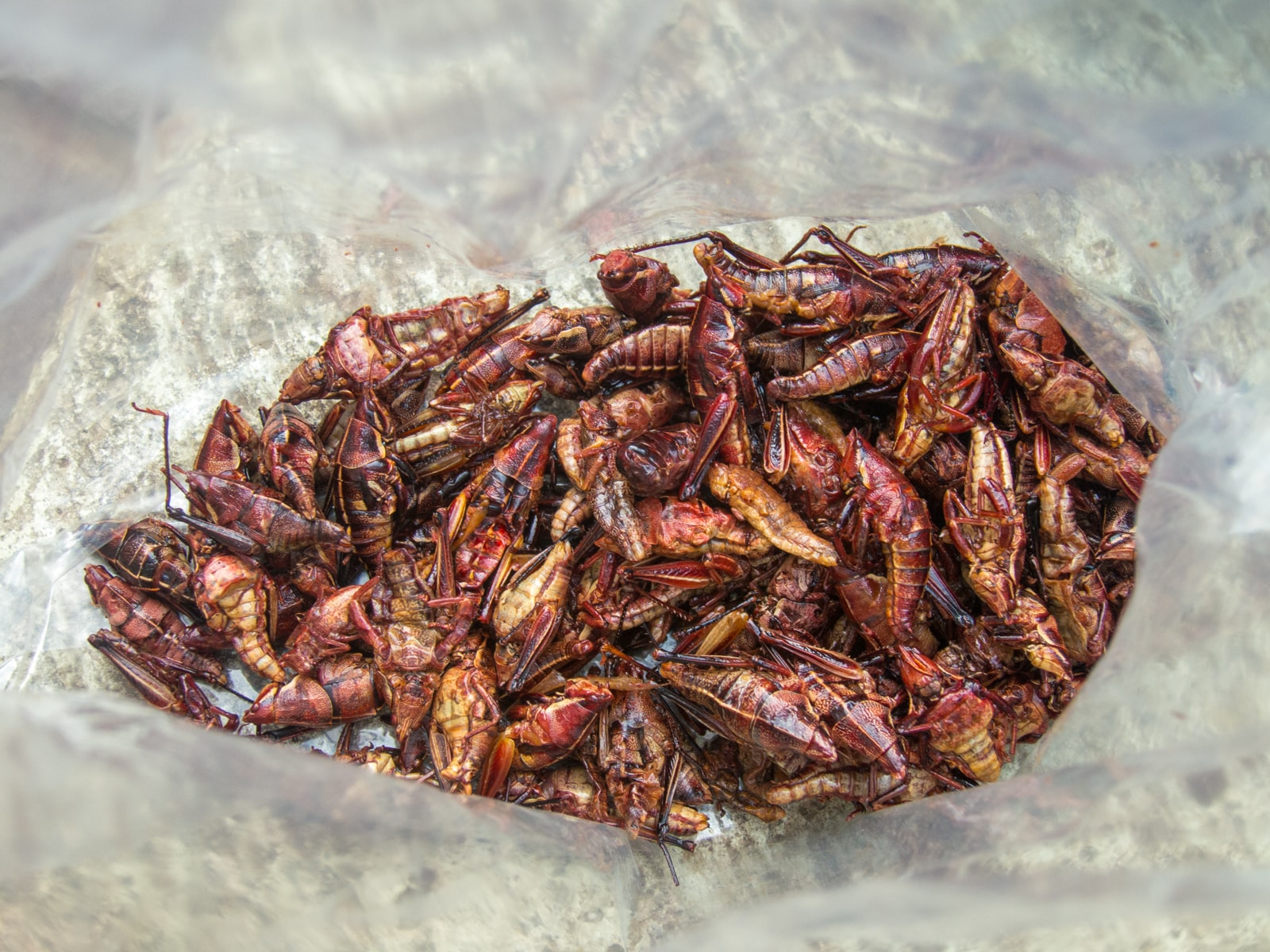 Chapulines
We're going to end on a crunchy note. Chapulines (grasshoppers) are a cheap Oaxaca snack food high in protein.
It's hard to miss the mile-high piles of them on display along the periphery of the market.
On my first visit to Oaxaca, I took it upon myself to try these crispy critters, which are dusted with various chili powders to jazz them up.
I paid for a small sandwich bag's worth and walked back to the Zocalo to pop a few in public.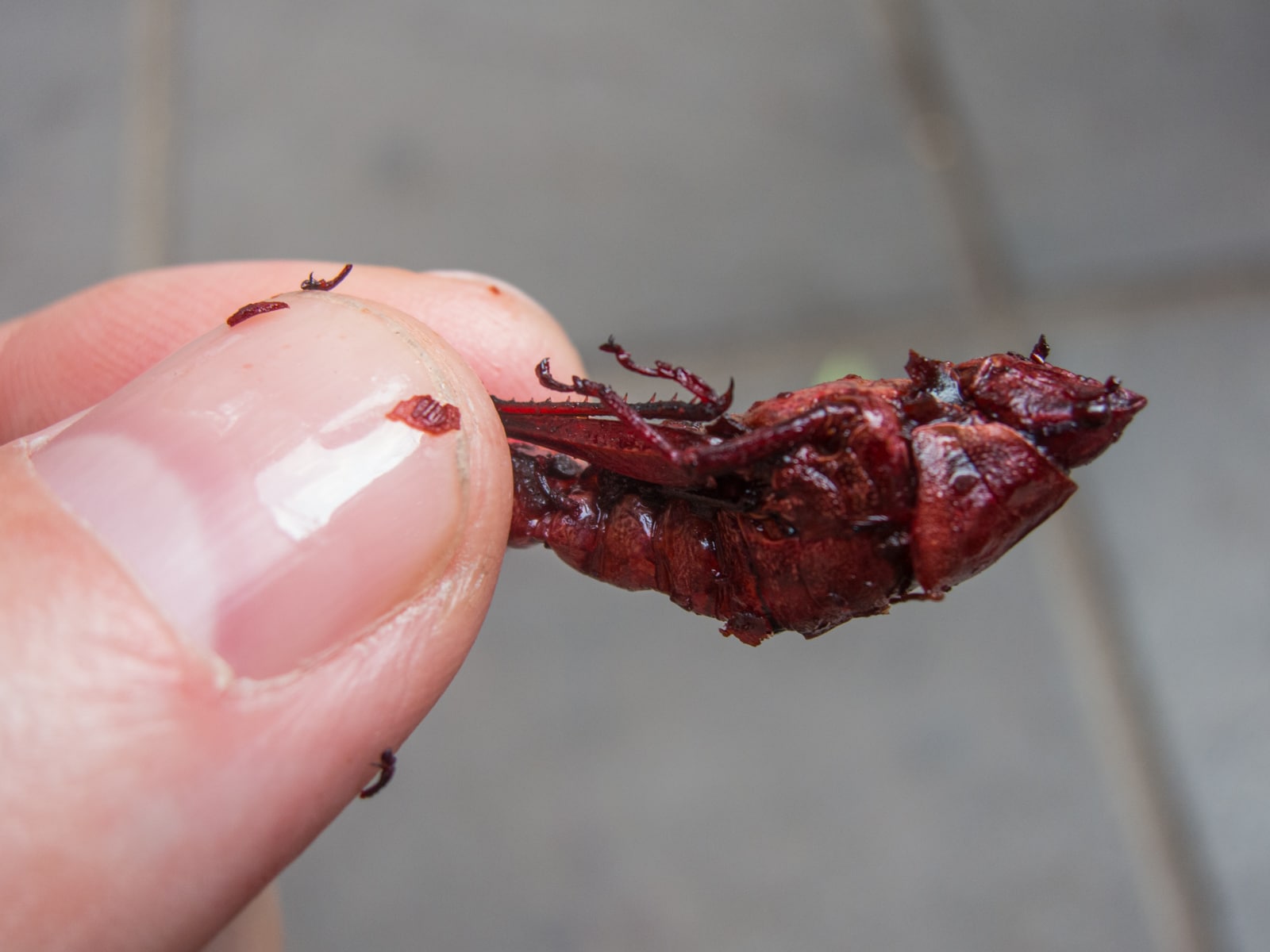 Their texture is similar to popcorn but obviously not as soft and buttery. I wasn't a fan and tried to give away the remainder to passers-by, to no avail.
I'd tried grasshoppers previously in Battambang, Cambodia, however, those had peanuts stuffed in their abdomens which made them more palatable.
In the years since I moved to Austin, grasshopper-based protein bars have gained traction.
These insects have lept from Latin American markets into the awareness of health-food fans in the US. Coming soon to a Whole Foods near you!
***
When it comes to Oaxacan food, you can eat well in the streets and markets for very little money.
The rich and varied foods in this central Mexican state are one of the many reasons Oaxaca City has become a favorite amongst tourists and expats alike.
Did you enjoy this story? Join me on Instagram and Facebook to share thoughts, ask questions, or keep up with my latest adventures.