I felt many things while staring down at the monumental slice of Kimo's Original Hula Pie at Duke's Waikiki.
Shock and awe at the towering portion, a mountain of macadamia nut ice cream on a chocolate cookie crust, topped with hot chocolate fudge, whipped cream, and macadamia nuts.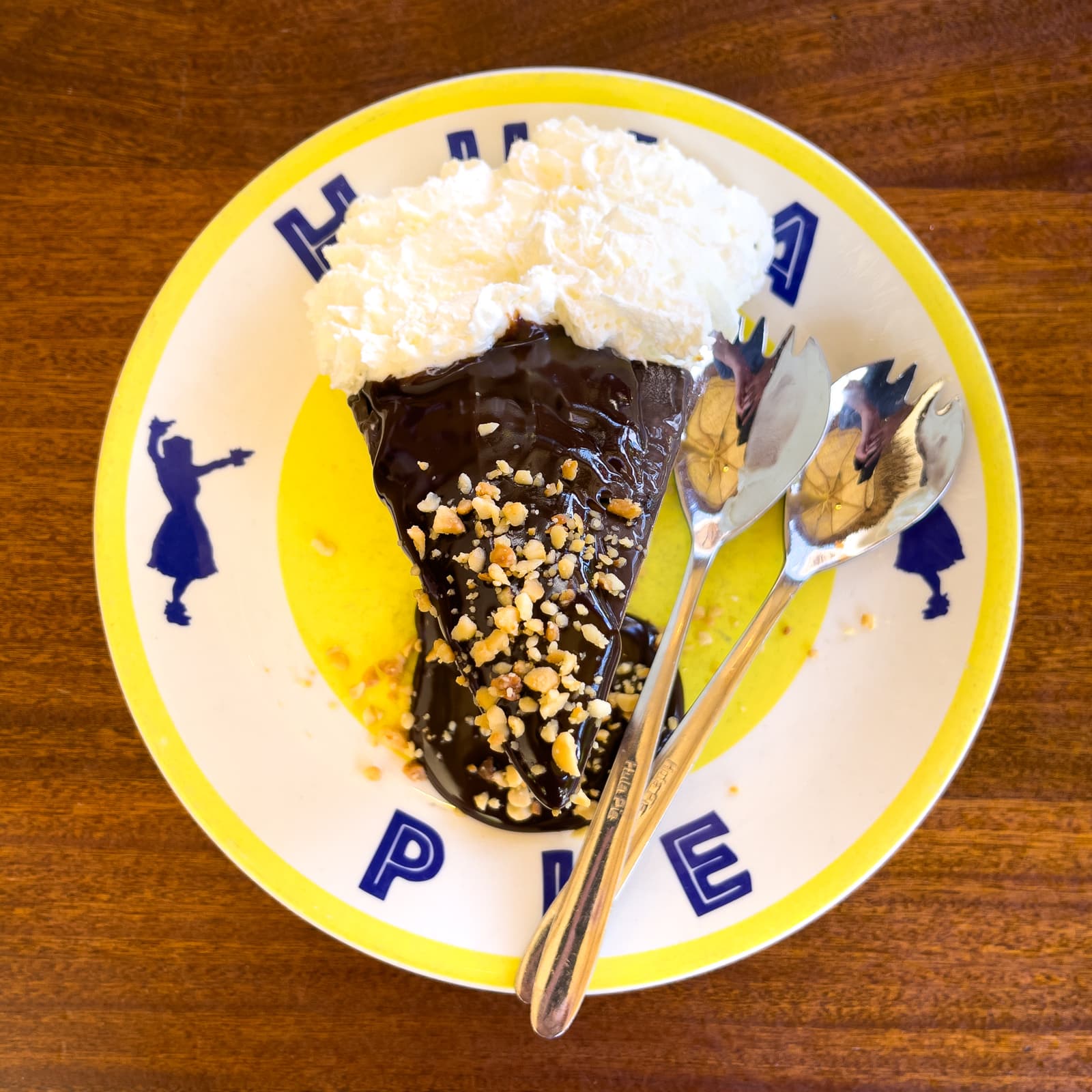 Appreciation for my friend Laura (and her mom), who'd implored me to try it after learning I was heading to Honolulu.
And, of course, excited to dig in with my girlfriend, Kel, whose idea it was to visit Oahu in the first place.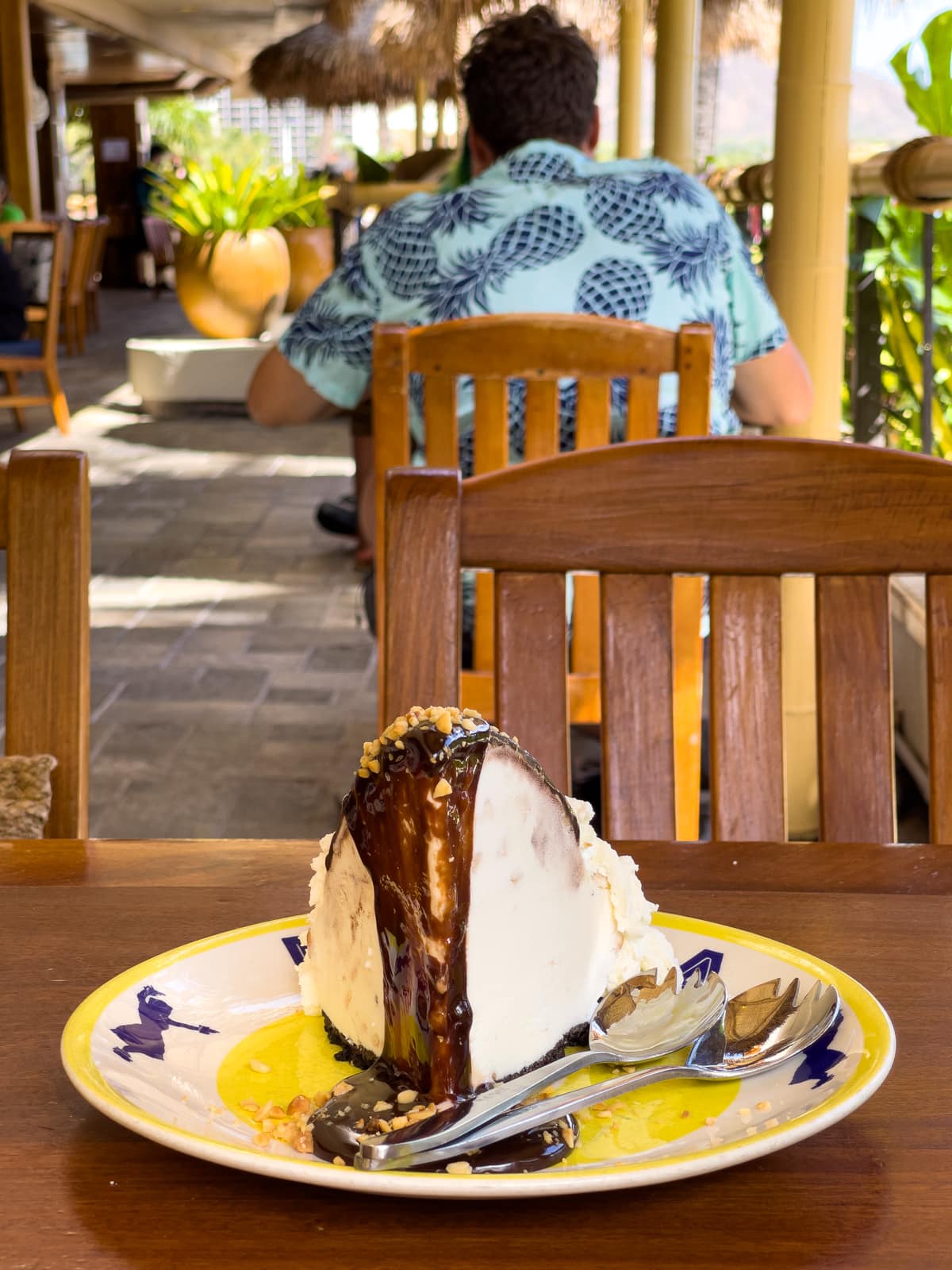 Duke's
Zoom out from the ice cream pie, and we're in paradise.
The patio at Duke's Waikiki is mostly shaded, adjacent to a lush pool area full of people and plants soaking up the Hawaiian sun.
Our seats offer a sliver of an ocean view in the distance. Just enough to remind us of where we were swimming an hour earlier.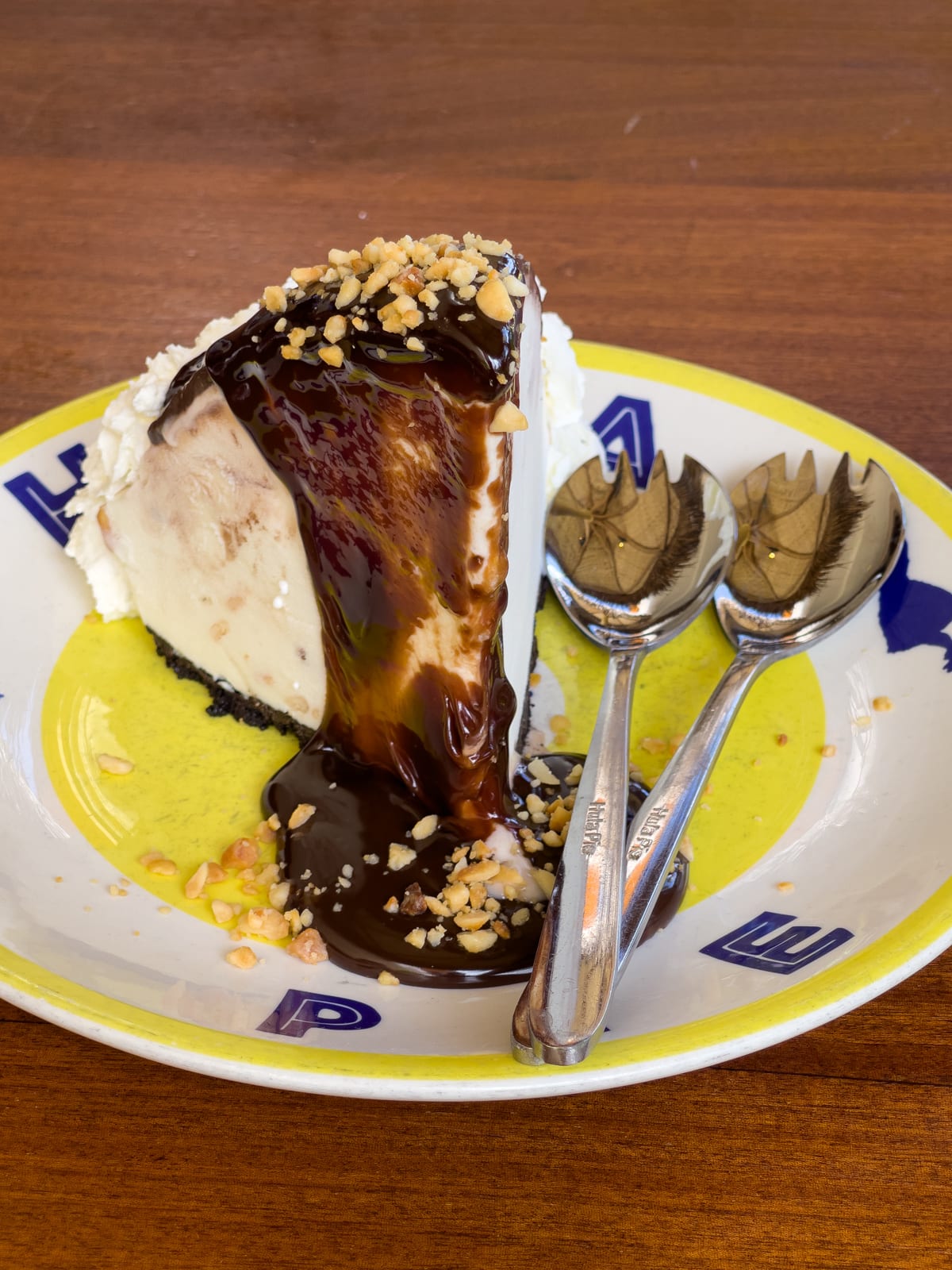 The History
The famous Hula Pie was created at Kimo's on Maui, a restaurant opened in 1977 by best friends Rob Thibaut and Sandy Saxten.
The family-owned T S Restaurant Group has expanded in the four decades and now includes 12 restaurants in Hawaii and California.
And it was in Southern California, during a trip to San Diego, I first experienced one of their restaurants--the beachside Jake's del Mar.
Hula Pie is listed first on the dessert menu there, as it is at all their restaurants; however, I wasn't aware of it.
Instead, I'd ordered the chocolate peanut butter torte with bruleed banana, which was excellent. But let's get back to the Hula Pie in Honolulu.
Related: Hawaiian Doughnuts at Leonard's Bakery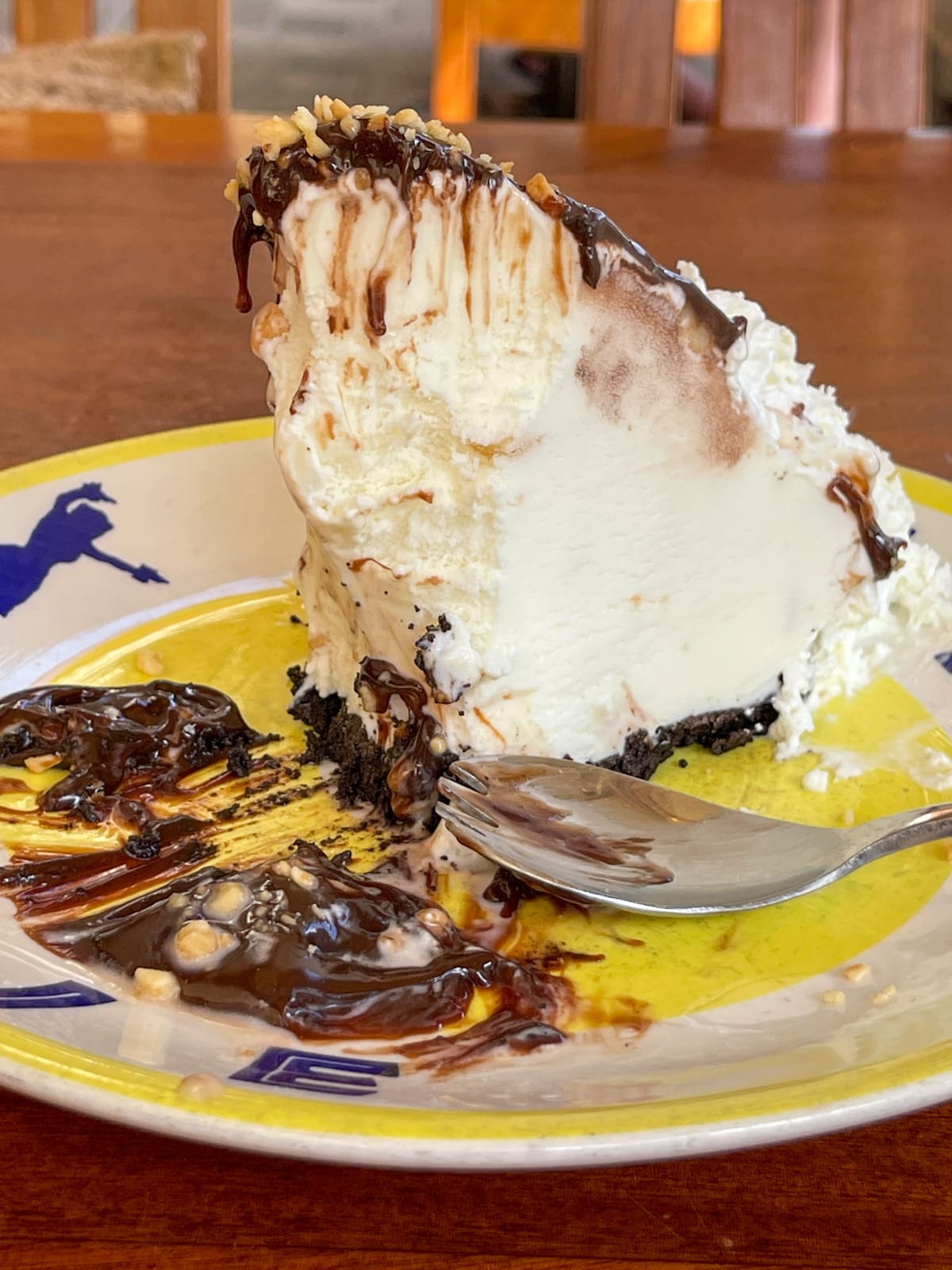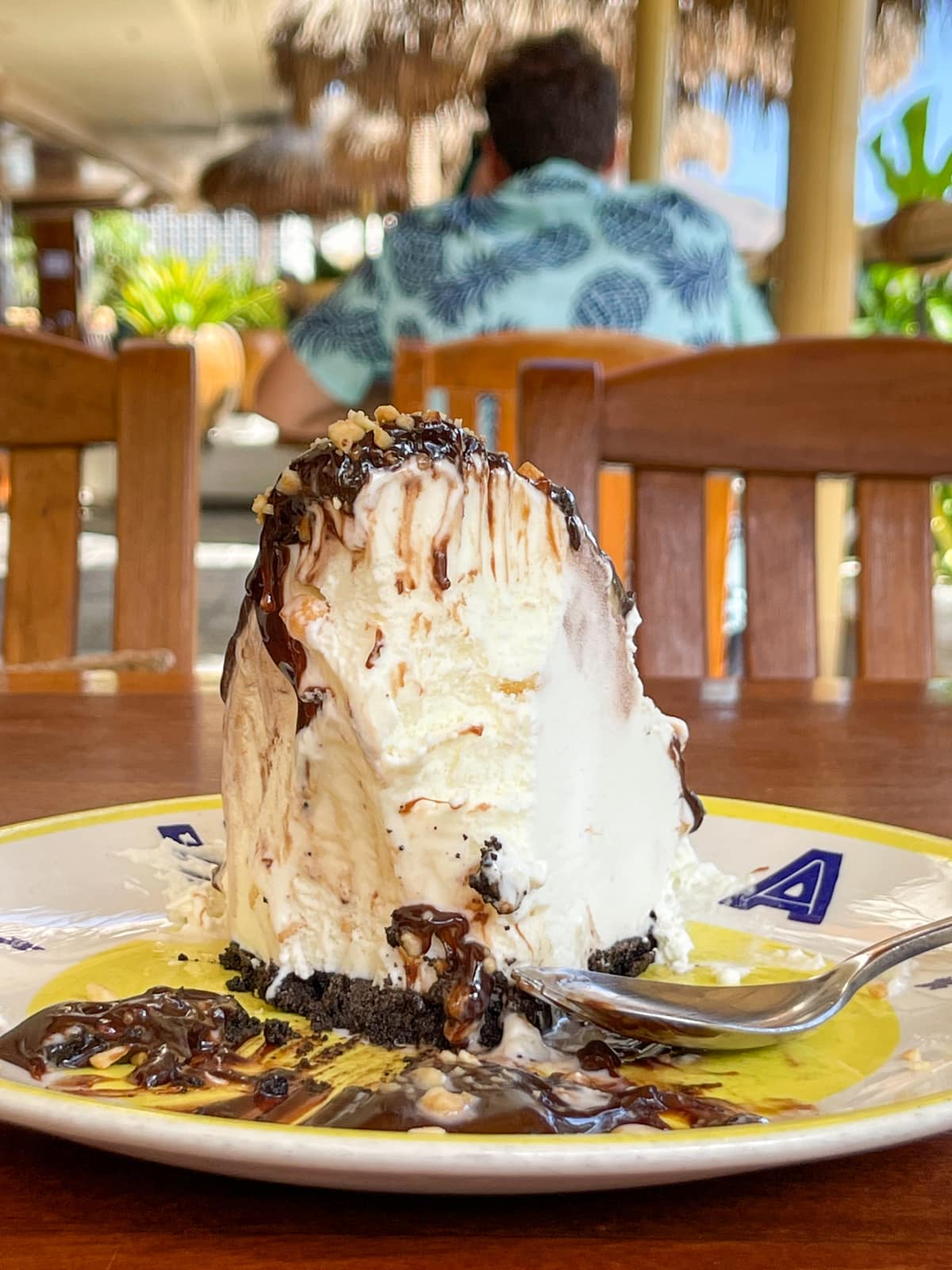 Eating Hula Pie
Once I'd surveyed the terrain, I picked up my metal spork and began to attack.
Hula Pie is always presented with the point of the pie facing down at the "i" in "Pie." Two hula dancers help frame it on the custom plates.
Bite after bite; it seemed an impossible task to finish our dessert.
When the waitress stopped by, I commented on the pie's size. She said some folks who dine at Duke's Waikiki order individual servings.
Bless them, for it'd be too much for me. Even with two people, it was a lot. A single huge slice of Hula Pie could easily be shared by a family of four.
Then again, who wants to play it safe on vacation?.
Amazingly, Kel and I did finish our slice of Hawaiian heaven, though dinner would be light that night.
PS: If you prefer your pie in milkshake form, they've got that.
And gluten-free readers, don't despair! There's the Pono Pie made with Hawaiian breadfruit that's sugar, gluten, and dairy-free.
Related: M by Jeremy Shigekane, One of the Best Restaurants in Oahu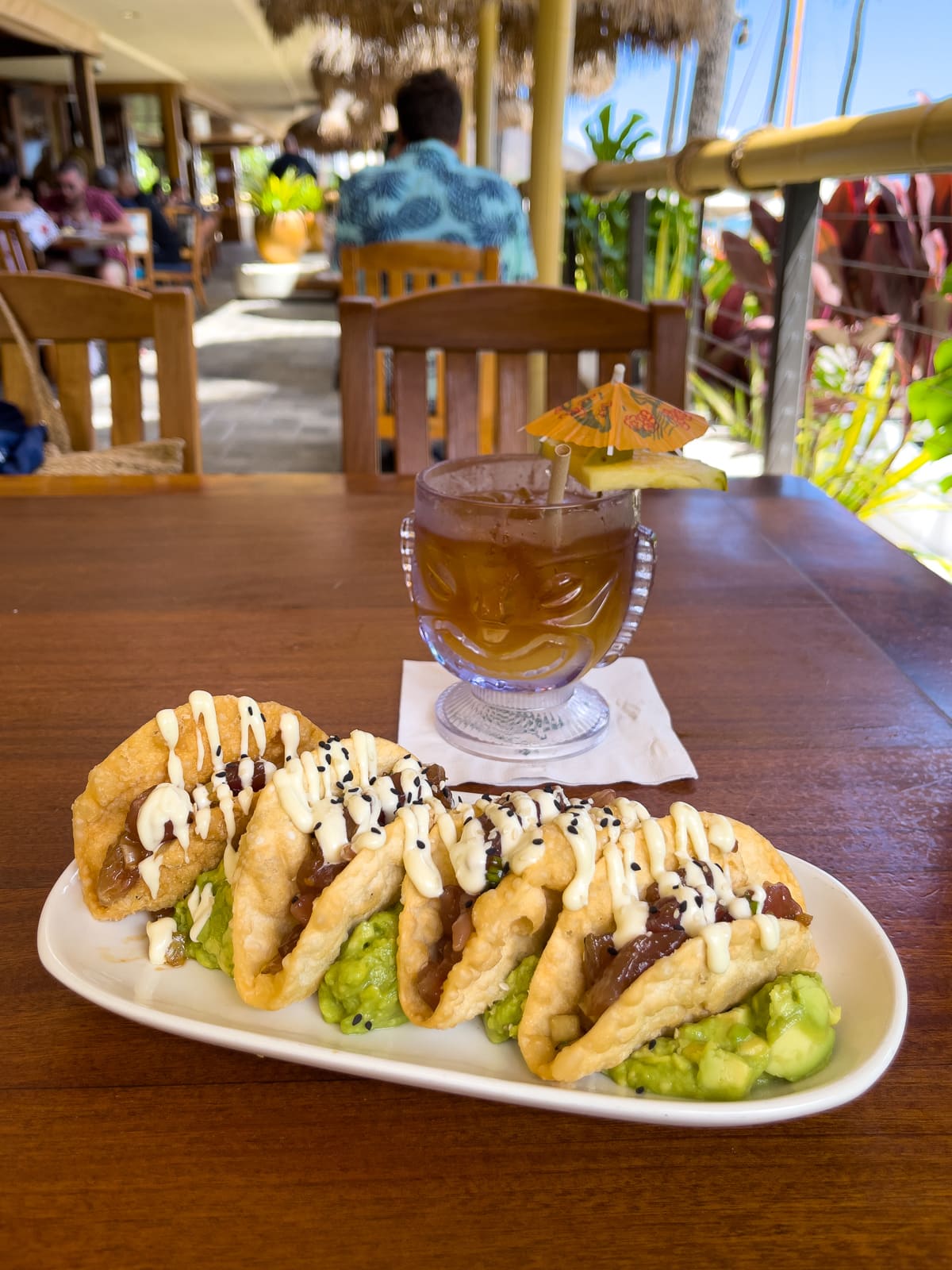 Menu
Before I wrap up, though, I must share more of my luscious lunch.
Pre-pie, I'd ordered the poke tacos with fresh raw ahi, served on a generous bed of fresh guacamole with a drizzle of wasabi aioli.
The menu also features seasonal and sustainably sourced Hawaiian fish, prime rib, Huli Huli Chicken, and mango BBQ pork ribs. Good luck going hungry here!
I chose the vintage '44 mai tai with Koloa rums (from the island of Kauai) and fresh lime and pineapple juices for a tiki drink.
The coconut mojito and mango cocktail slushie also sounded refreshing.
Related: Best Speakeasies in San Diego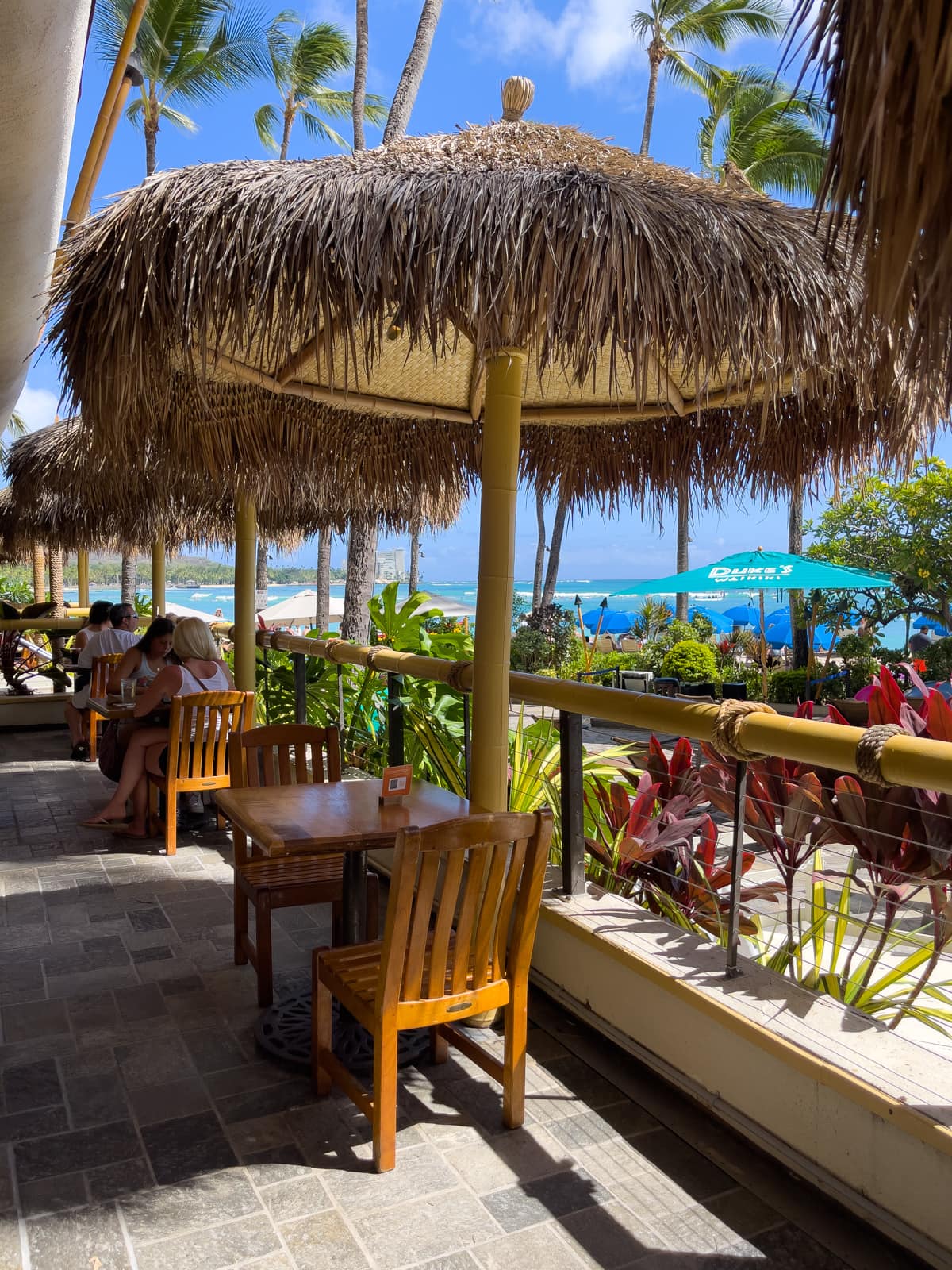 What more can I say? We went to Duke's Waikiki for the legendary Hula Pie and had a terrific all-around experience.
Ambiance, location, service, food. This place has it all, plus the aloha spirit, and I wouldn't hesitate to go back, whether at their Waikiki location or any other.
Duke's Waikiki, 2335 Kalakaua Ave #116, Honolulu, HI, dukeswaikiki.com