Exploring traditional Vietnamese food, from the streets of Saigon in the south to the northern capital of Hanoi, was a highlight of my time in Vietnam.
Whether it's the fresh herbs, the complex broths, or the excellent balance of flavors, Vietnamese cuisine is a masterclass in creating harmony on a plate.
I was intimidated before we touched down in Saigon (also known as Ho Chi Minh City).
Unlike Thai or Indian food, I had little experience with authentic Vietnamese food before arriving in its country of origin.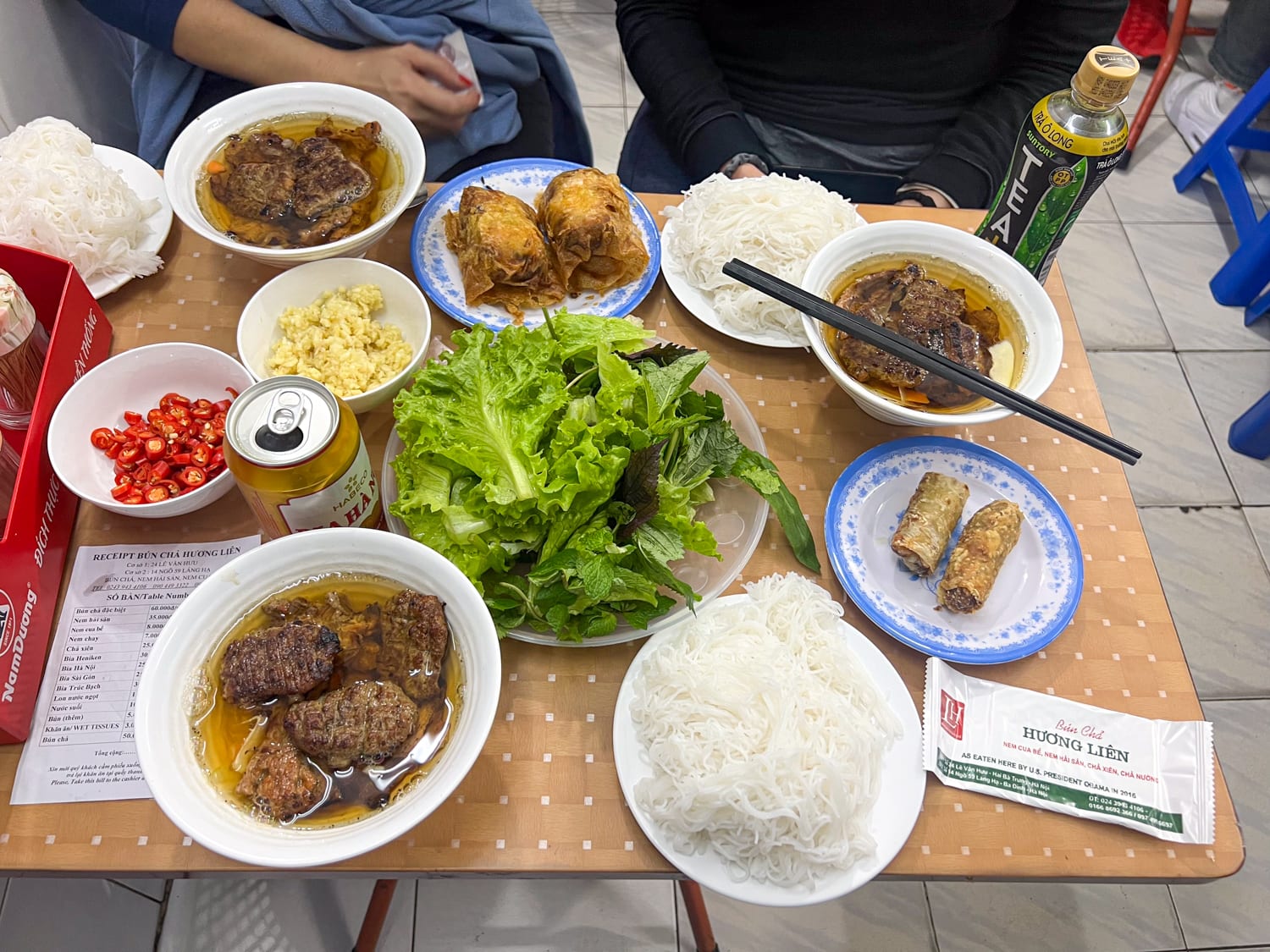 Sure, I'd tried pho and banh mi, the two most popular traditional Vietnamese dishes in the United States, but that's where my knowledge ended.
Arriving in Saigon changed that, and quickly. Our first activity was a three-hour walking street food tour.
And, there was the typical food served at a Vietnamese wedding, my reason for making the trans-Pacific journey.
A motorbike food tour in Central Vietnam, a cruise in Halong Bay, and time in Hanoi provided added opportunities to expand my palate.
Most importantly, I returned to Texas with a newfound appreciation for Vietnamese food and a desire to continue learning about it in local restaurants.
In this article, we'll explore the traditional Vietnamese dishes that define this incredible cuisine, offering a roadmap to the flavors, ingredients, and techniques that make Vietnam's food unforgettable. So grab your chopsticks, and let's dig in!
Typical Vietnamese Dishes
1. Pho (Rice Noodle Soup)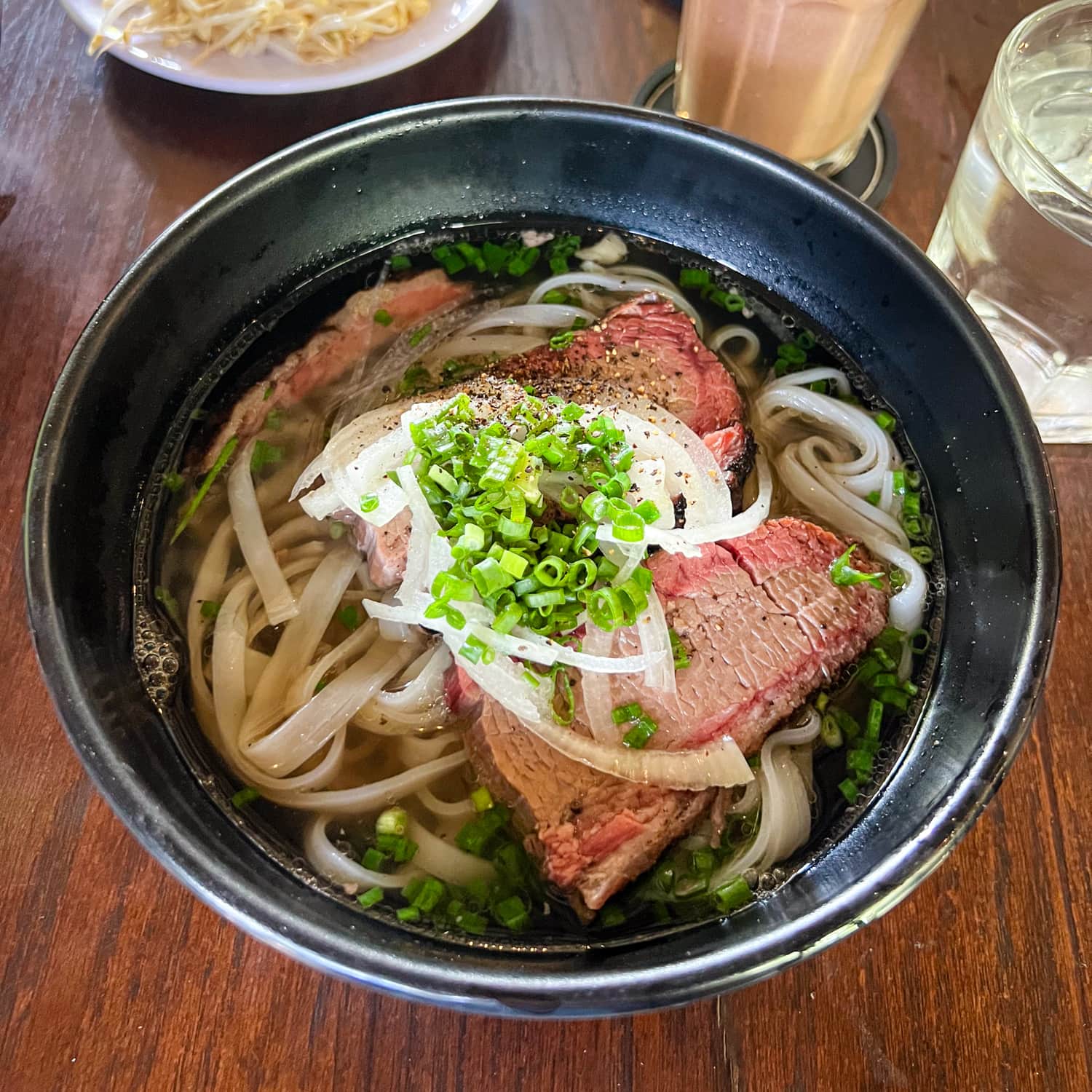 Pho is the quintessential Vietnamese dish, a comforting noodle soup synonymous with the country's culinary identity.
Originating in Northern Vietnam, pho has transcended regional boundaries to become a national favorite (and thus the national dish).
Pho consists of an aromatic broth, rice noodles, and meat—usually beef or chicken.
The broth is often simmered for hours with spices like star anise, cloves, cinnamon sticks, charred onions, and ginger. This creates a liquid that's both savory and slightly sweet.
Rice noodles in pho are typically flat and thin, soaking up the broth's flavors without becoming mushy. The meat is often thinly sliced and cooked quickly, sometimes in the hot broth. Chopped green onions are a typical garnish.
A plate of fresh herbs, bean sprouts, lime wedges, and chilies usually accompanies the bowl, allowing diners to customize their experience.
Pho embodies the Vietnamese culinary philosophy of balancing flavors and textures, making it a must-try dish.
My most memorable pho in Vietnam reflected my friend's love for Texas BBQ. He took us to Roast & Smoke Thao Dien in District 2 of Saigon, where we enjoyed bowls of smoked beef brisket pho.
2. Banh Mi (Sandwich)
Banh mi blends French influence with local flavors. At its most basic, it's a sandwich featuring a French baguette with a crispy exterior and soft interior.
What sets it apart are the fillings: a medley of Vietnamese ingredients like pate, cold cuts, pickled vegetables, fresh herbs, and sometimes grilled meats or tofu.
The pate and baguette result from the French colonial era, while the vibrant fillings are distinctly Vietnamese.
Pickled vegetables, usually carrot and daikon radish, add a tangy crunch that balances the meat's and pate's richness. Fresh cilantro and slices of chili provide bursts of flavor and heat.
The cooking techniques are straightforward but focus on maximizing flavor—meats are often marinated and grilled, while the vegetables are pickled to retain their crunch.
While banh mi is ubiquitous in Saigon, I wanted to make a mini adventure out of getting my first in Vietnam.
Kel and I made a pilgrimage to Banh mi Bay Ho, one of the street vendors featured in the Vietnam episode of Netflix's Street Food series.
I unwrapped the small pork sandwich and began eating it right away.
3. Goi Cuon (Spring Rolls)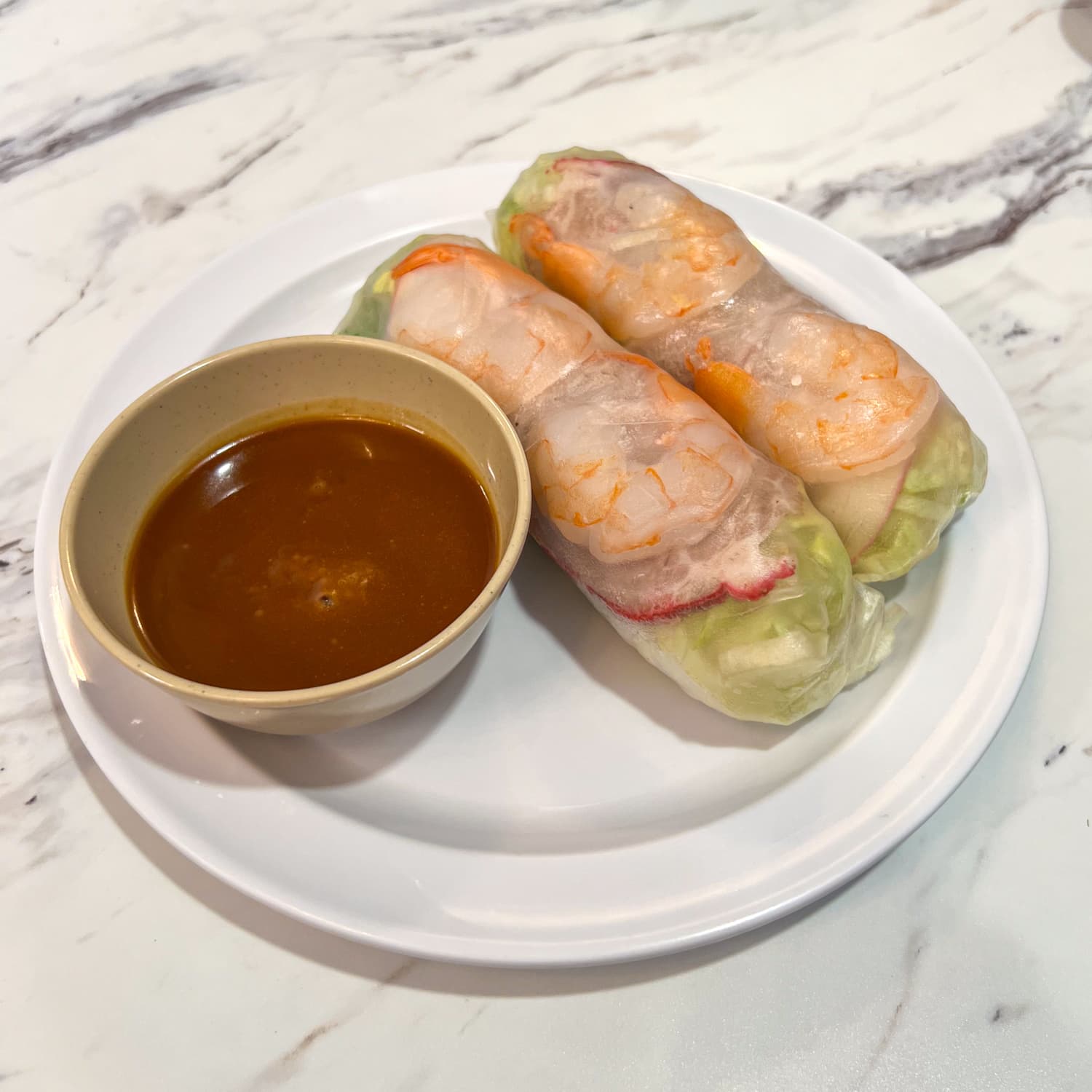 Goi Cuon, commonly known as Vietnamese spring rolls or fresh spring rolls, are a staple appetizer that epitomizes the freshness and simplicity of Vietnamese food.
Unlike fried spring rolls, goi cuon is wrapped in translucent rice paper and often filled with fresh herbs, rice vermicelli, shrimp, and pork.
The rice paper is briefly soaked in water to make it pliable, a technique that requires a bit of finesse to prevent tearing.
The filling often includes mint, basil, and lettuce, which add freshness, while the shrimp and pork offer a savory bite.
Rice vermicelli noodles provide substance, making the rolls both light and satisfying.
Goi cuon are typically served cold, making them a popular dish for warm weather or as a refreshing start to a meal.
They're often accompanied by a dipping sauce made from hoisin sauce, peanuts, and sometimes a touch of chili.
I tried making spring rolls with rice paper during my food tour in Da Nang, and it certainly takes practice to make them look nice!
4. Bun Cha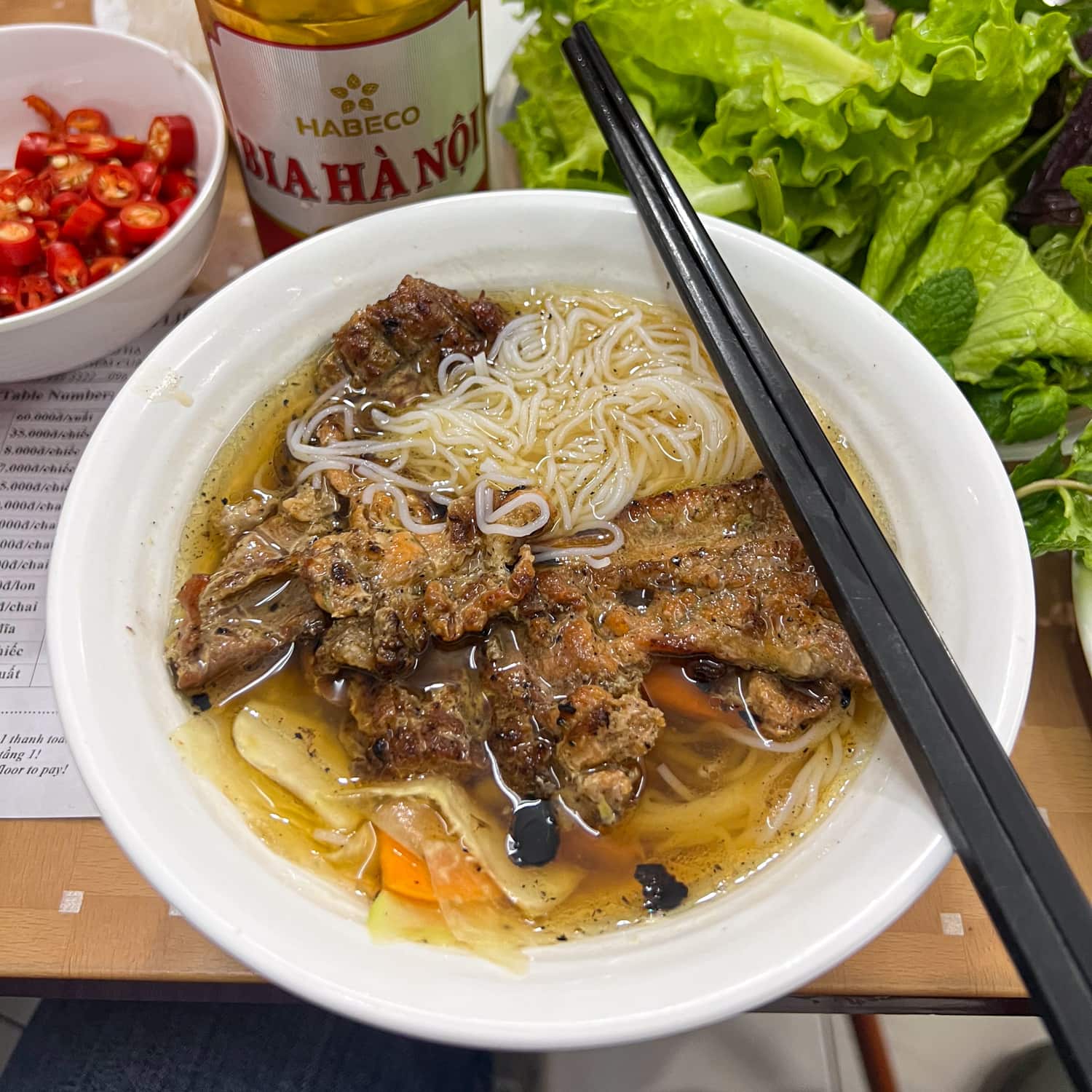 Bun cha is a beloved Vietnamese food that originated in Hanoi. This grilled pork and noodle dish is a prime example of the balance and complexity that characterizes Vietnamese cuisine.
The "bun" refers to rice vermicelli noodles, while "cha" denotes the grilled pork, which is usually prepared in two styles: thinly sliced pork belly and ground pork patties.
Both are marinated in fish sauce, sugar, and spices before being grilled to smoky perfection.
The grilled pork is served in a diluted fish sauce-based dipping liquid, sweetened and flavored with garlic and chilies.
Fresh herbs, lettuce, and pickled vegetables accompany the dish, allowing diners to customize their experience.
Bun Cha Huong Lien
For the definitive bun cha experience, I went to lunch with Kel and a friend at Bun Cha Huong Lien, just south of Hanoi's French Quarter.
This is the family-owned Vietnamese street food restaurant made famous by Anthony Bourdain when he sat down to a $6 dinner with President Barack Obama for his show "Parts Unknown" in 2016.
It was the middle of the lunch rush when we dropped by, and Barack Obama's picture was everywhere. Not to mention, the table used by the former President was encased in glass to preserve it.
Once seated at a table barely big enough for three adults, we consulted the menu taped to the wall.
See also: Popular Types of Vietnamese Coffee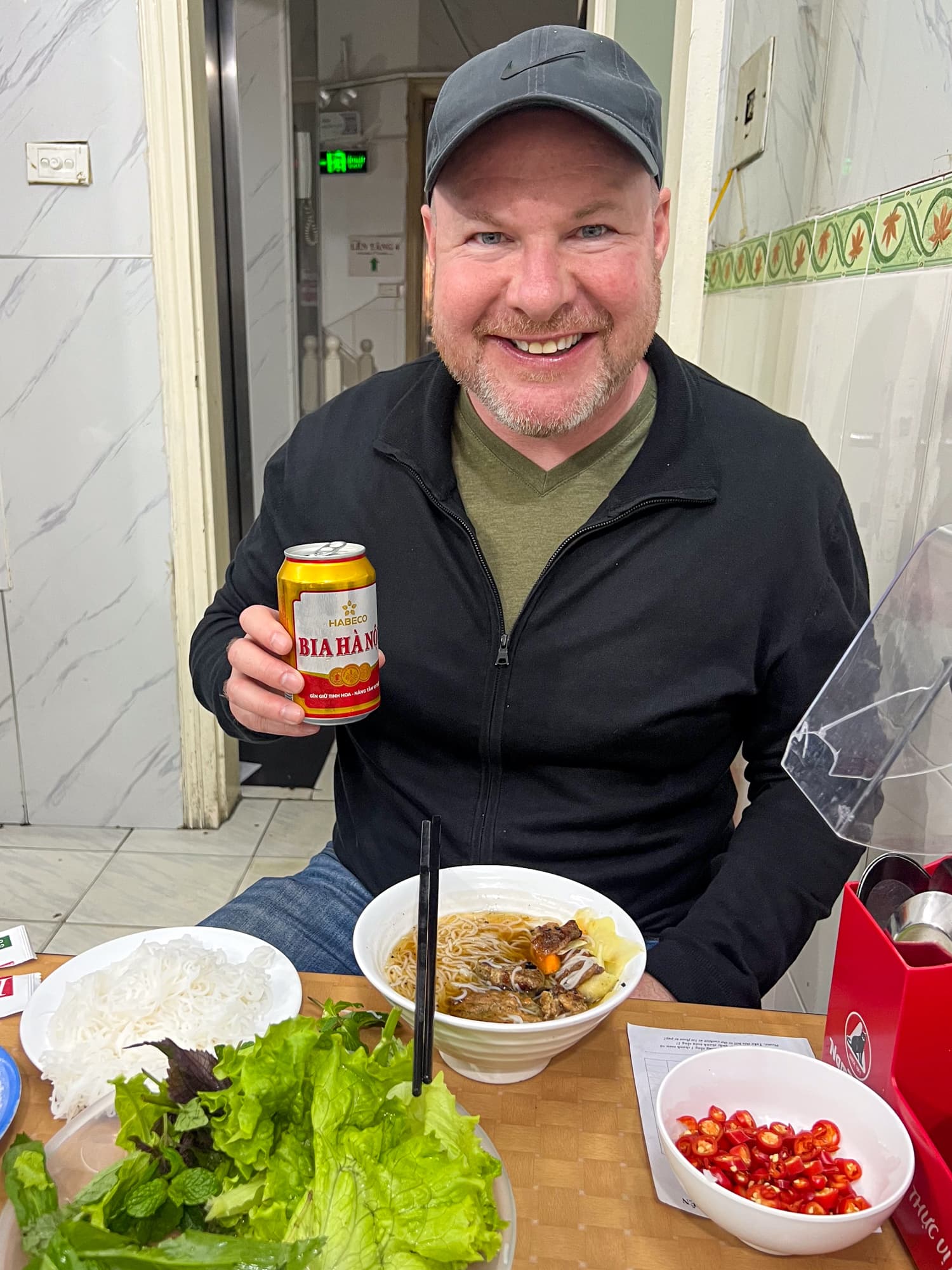 I ordered the "Combo Obama," which included one bun cha, a fried seafood roll (prawn, crab, pork, and vegetable), and a Hanoi beer for 120,000 dong (about $5).
Our table was filled with three servings of bun cha, bowls of red chilis, and chopped garlic. I didn't find the need to add either; the rich broth and tender meat were terrific.
As a result of my first experience, bun cha is one of my favorite Vietnamese meals.
5. Banh Xeo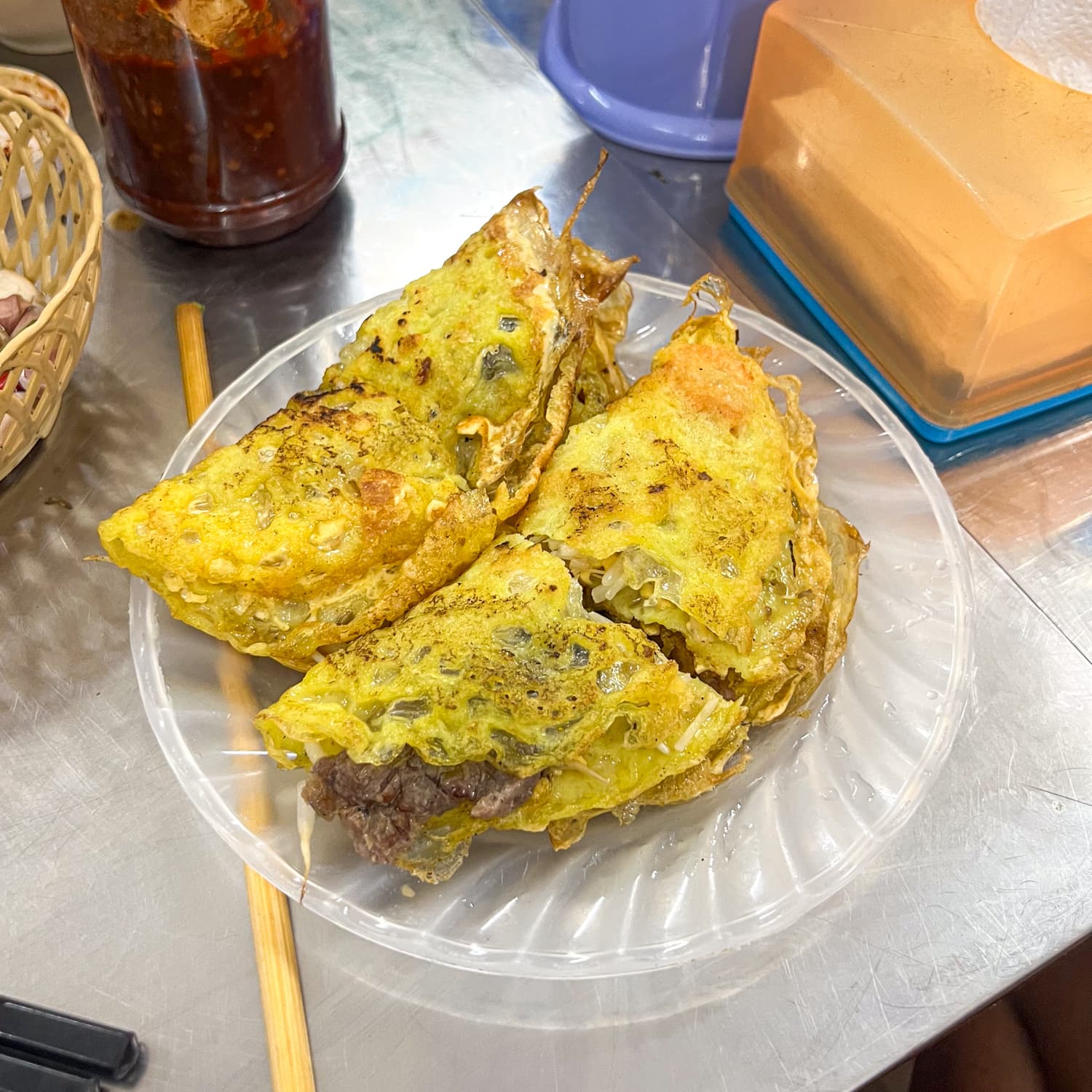 Banh Xeo is a vibrant dish from Southern Vietnam, though you'll find regional variations throughout the country.
The name "banh xeo" literally translates to "sizzling pancake," aptly describing the rice batter's sound when it hits the hot skillet.
This dish features a crispy, golden rice flour pancake tinted yellow with turmeric powder and filled with pork, shrimp, and bean sprouts.
It's often served with fresh herbs, lettuce for wrapping, and a tangy dipping sauce, making it a hands-on, interactive meal deeply rooted in Vietnamese food culture.
My first encounter with banh xeo came on the Saigon street food tour I took soon after arriving in the country, and I've been a fan since.
6. Mi Quang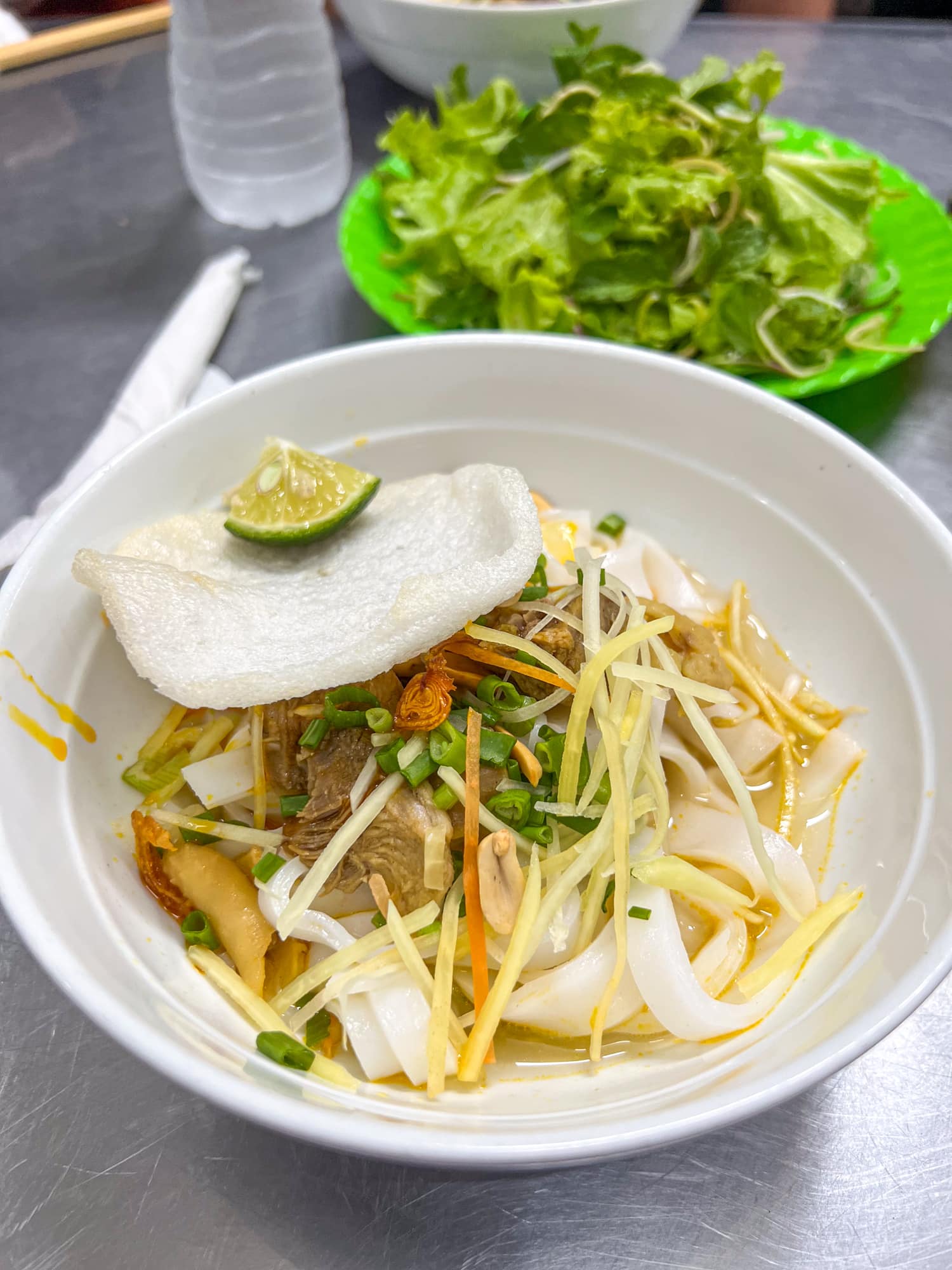 Mi Quang is a noodle dish from the Quang Nam province in Central Vietnam.
Unlike other Vietnamese noodle soups that feature a generous amount of broth, Mi Quang is known for its minimal use of liquid, making the flavors more concentrated and bold.
The dish typically features wide, flat rice noodles. Common ingredients include shrimp, chicken, pork, and sometimes all three, along with various fresh herbs and vegetables like lettuce, basil, and peanuts for garnish.
Toppings like toasted sesame rice crackers or fried shallots are sometimes added for extra texture.
Some recipes use soy sauce to season the meat or the broth, adding an extra layer of umami.
Mi Quang was one of the traditional Vietnamese dishes we tried on a street food tour of Da Nang on the coast of Central Vietnam.
I liked the emphasis on the noodles and meat more than the broth.
7. Canh Chua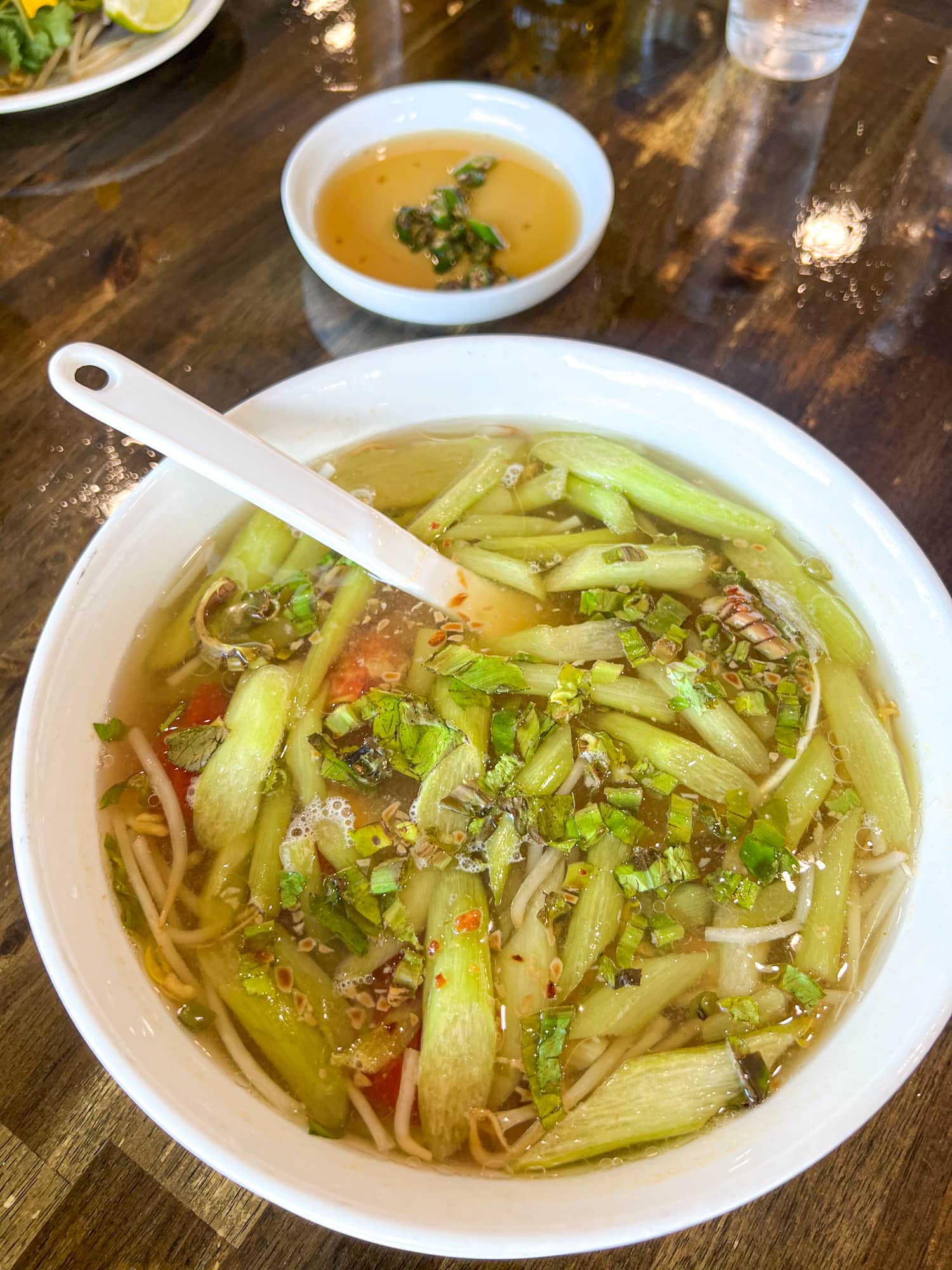 Canh chua, often called Vietnamese sour soup, is a flavorful dish from the Mekong Delta in Southern Vietnam.
This tangy, sweet, and spicy soup showcases abundant produce and seafood in the region.
Common ingredients include fish or shrimp, tamarind pulp, pineapple, tomatoes, and a variety of local herbs and fresh vegetables like okra and elephant ear stems. It's often garnished with fried garlic and fresh cilantro or Thai basil.
The key to canh chua's distinct flavor is the tamarind pulp, which lends the soup its signature sourness.
The cooking technique involves simmering the tamarind and other ingredients to create a balanced broth that hits all the taste profiles: sour, sweet, salty, and spicy. The fish or shrimp is added last to ensure it remains tender.
Canh chua is a comforting dish reflecting Vietnamese cuisine's resourcefulness and regional diversity.
Kel and I tried canh chua with shrimp at Sunflower, one of the best Vietnamese restaurants in Austin, and we both enjoyed it.
This Vietnamese soup was my first exposure to elephant ear stems, and I relished how their sponginess soaked up the soup's flavor while offering a satisfying crunch.
8. Bo La Lot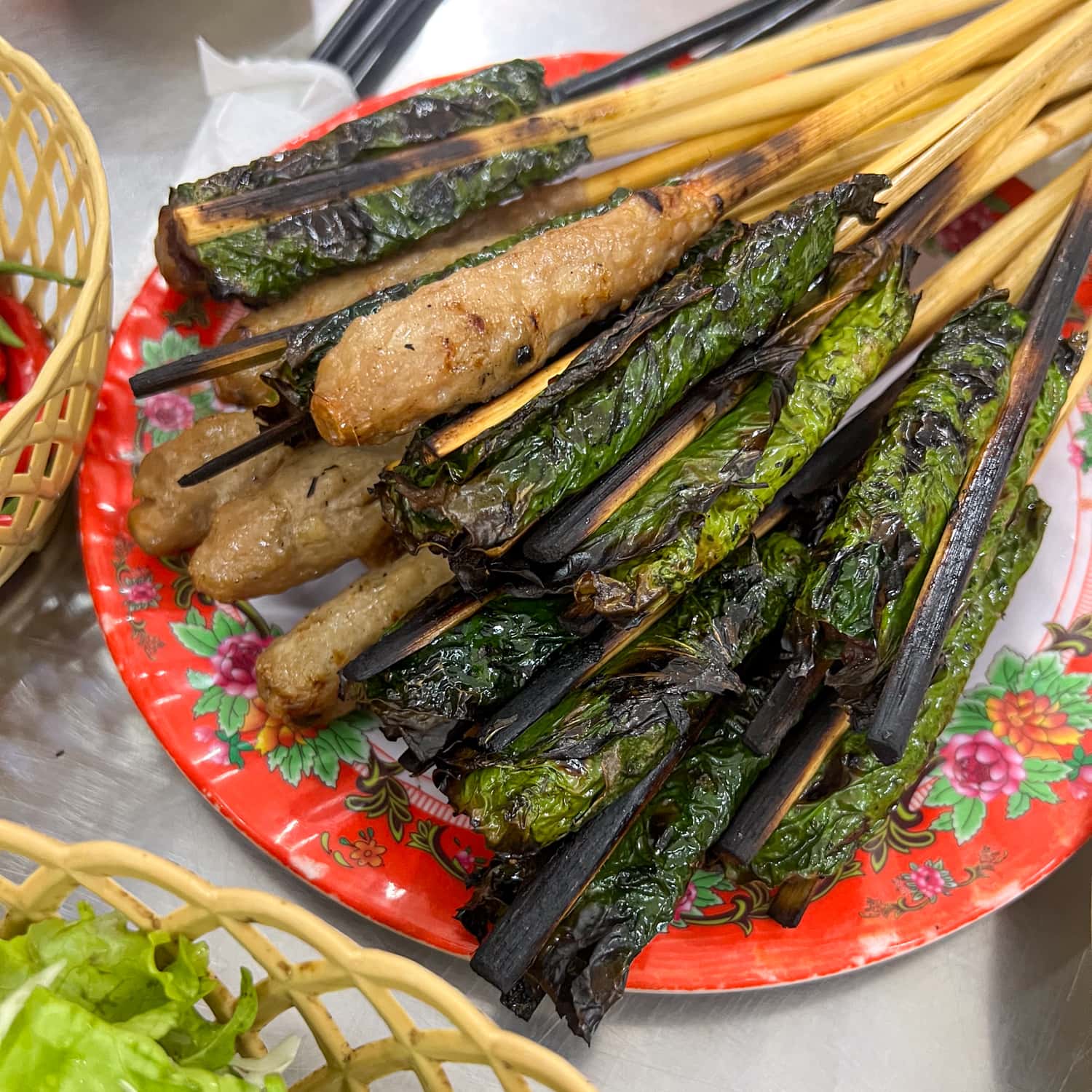 Bo la lot is a popular Southern Vietnamese dish featuring minced beef wrapped in betel leaves and then grilled.
The beef is usually seasoned with garlic, shallots, lemongrass, and fish sauce, providing a savory and aromatic base. The slightly peppery betel leaves add a unique herbal note to the dish.
Bo la lot can be enjoyed in various ways—either as a standalone snack, as part of a rice dish, or even wrapped in rice paper with other fresh ingredients to make a spring roll.
I tried bo la lot straight off the skewer and wrapped it in rice paper as a spring roll during my street food tour in Saigon.
9. Bun Bo Hue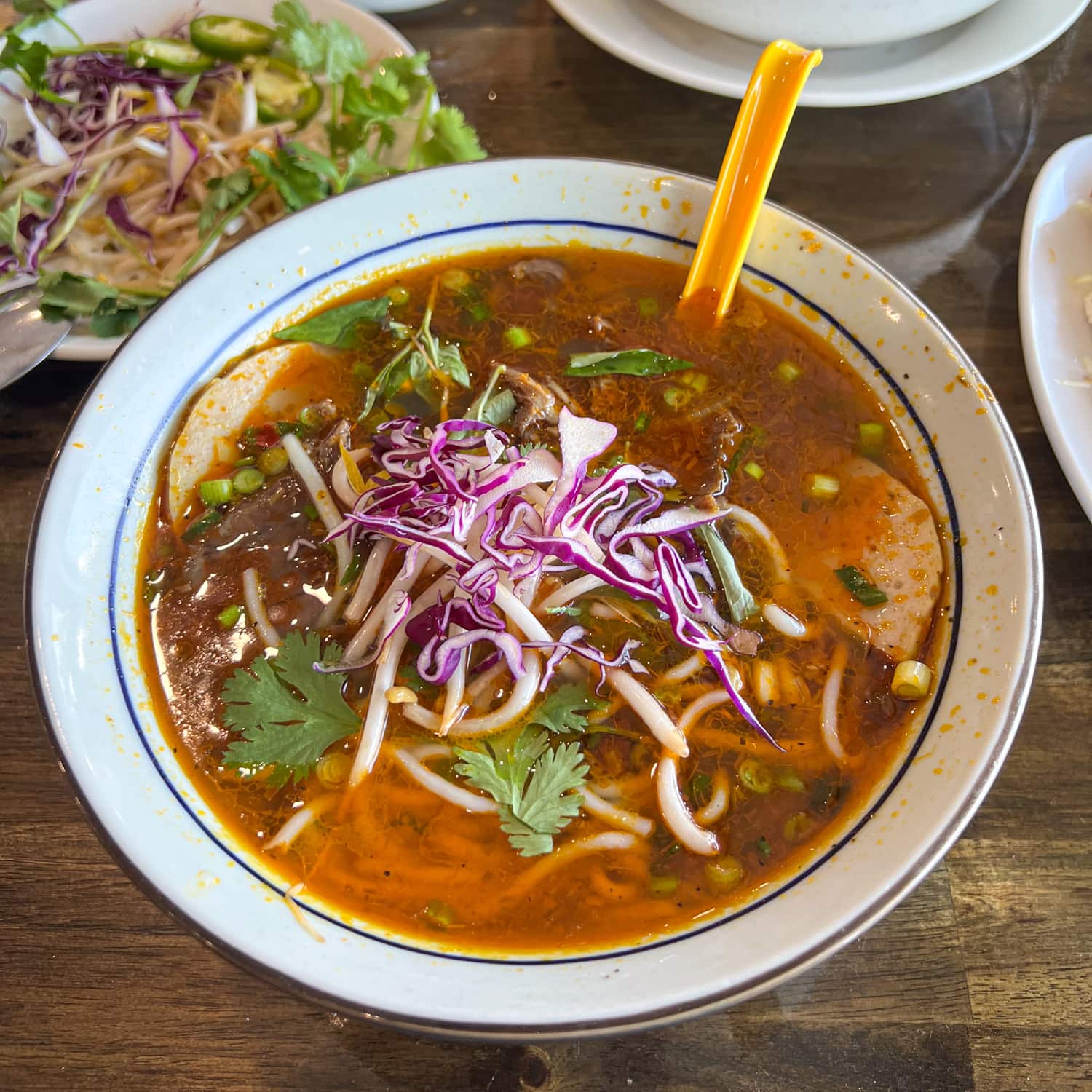 Bun bo Hue, a spicy beef noodle soup, hails from the ancient city of Hue in Central Vietnam.
Unlike pho, which is more delicate, bun bo Hue packs a punch with its robust broth, flavored with lemongrass and an array of spices like annatto seeds, which give the soup its signature red hue.
Common ingredients include different cuts of beef, often brisket and oxtail, and sometimes pork knuckle or blood cubes for added richness.
The dish is typically served with cylindrical rice noodles with a chewy texture.
While Kel and I didn't have time to try bun bo Hue in Vietnam, it was on the menu at Sunflower in Austin, so we got it at the same time as canh chua.
10. Chao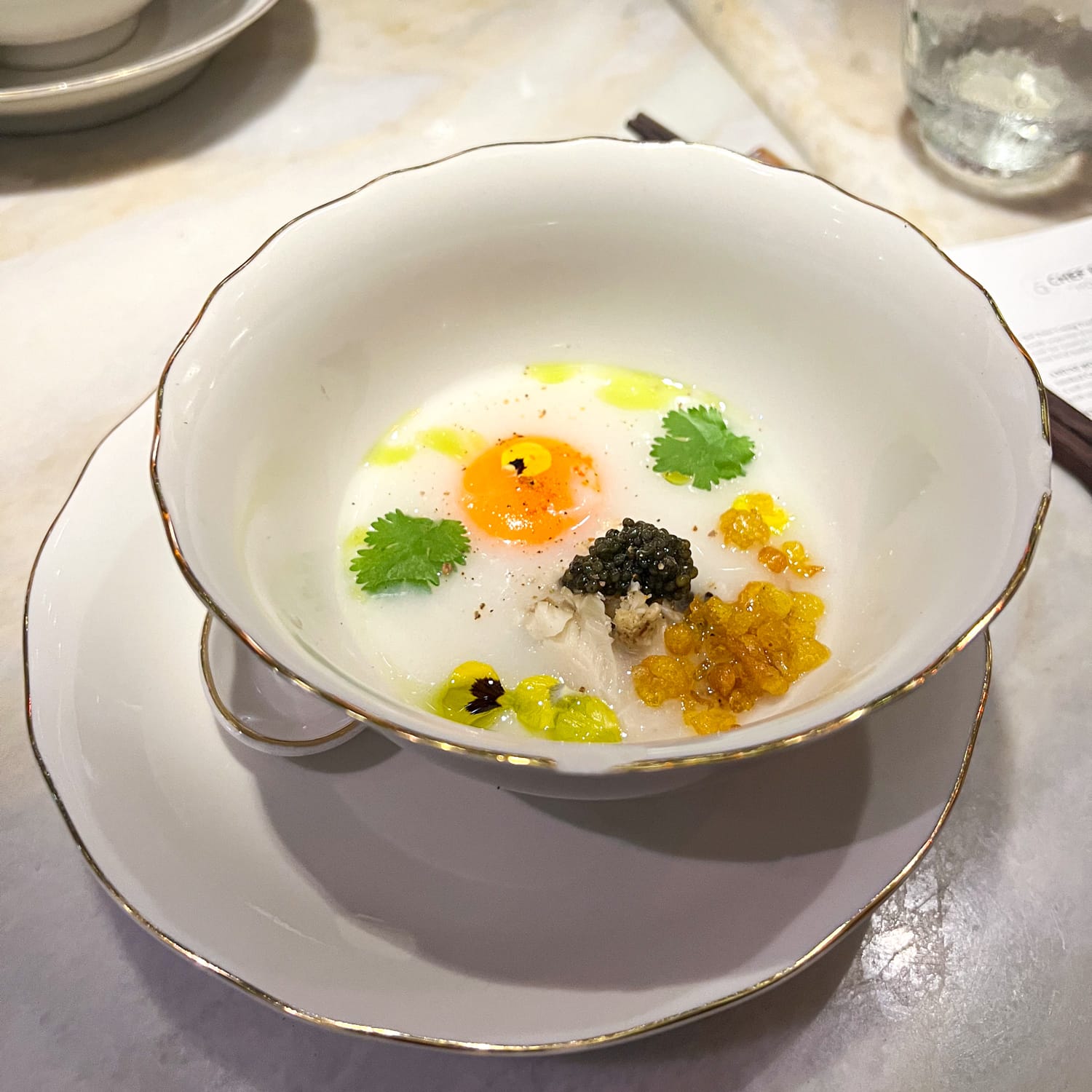 Chao, or Vietnamese rice porridge, is a versatile and comforting dish enjoyed across Vietnam.
It's often considered a go-to remedy for illness but is also a staple in everyday dining.
The dish is made by simmering rice in water or broth until it breaks down into a soft, creamy texture.
Common ingredients include chicken, fish, pork, and seasonings like ginger and fish sauce. Some variations feature century eggs or vegetables like mushrooms and bamboo shoots.
The essential cooking technique is the slow simmering of rice, allowing it to fully absorb the broth's flavors and other ingredients. This results in a dish that's both nourishing and easily digestible.
I had a fancy variation of chao during my dinner at Anan Saigon, the best restaurant in Vietnam. Chef Peter Cuong Franklin served it with cod and caviar.
11. Goi Ga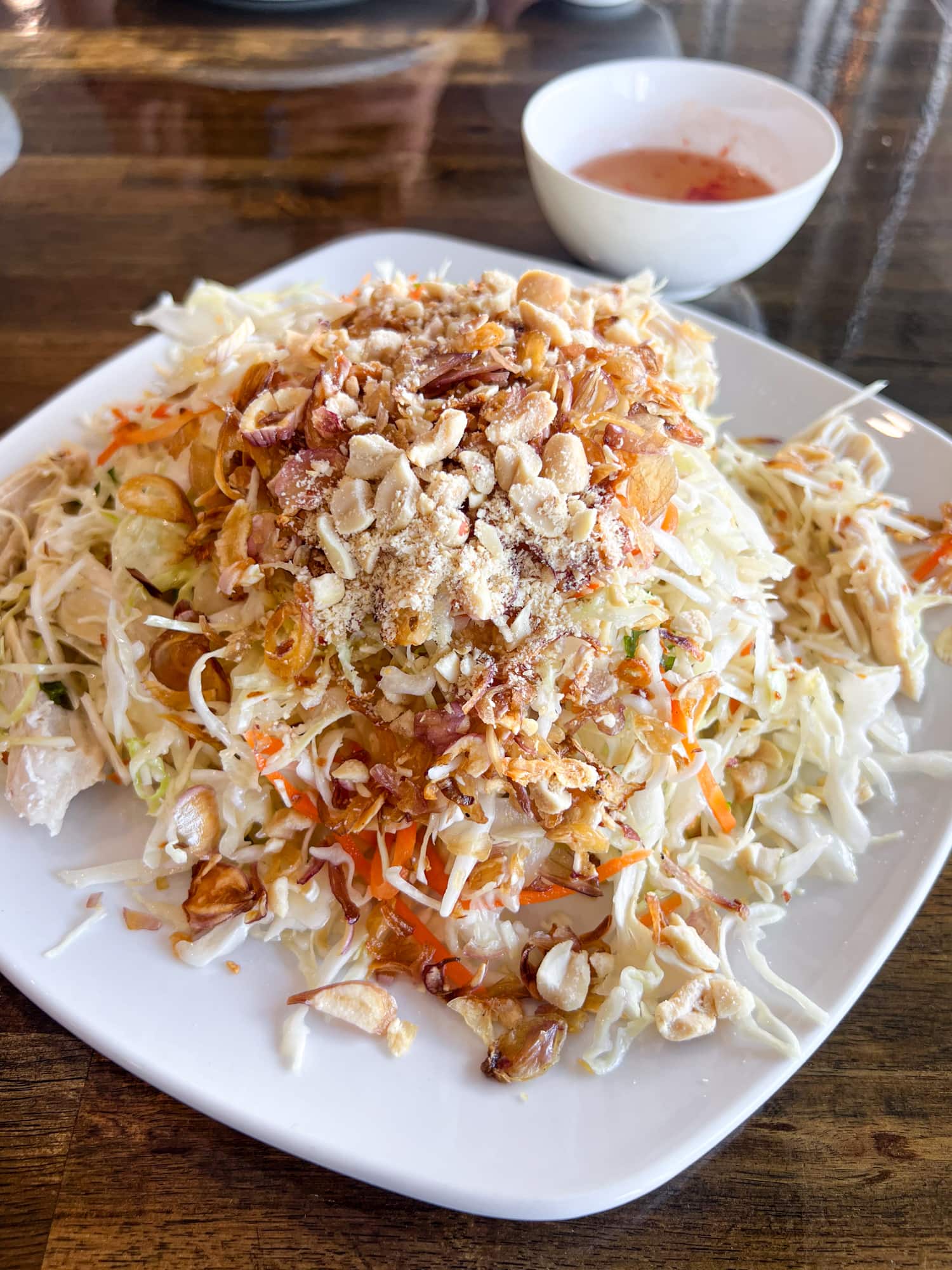 Originating from the northern regions of Vietnam, goi ga, or Vietnamese chicken salad, is a popular food often enjoyed during festivals and family gatherings.
Common ingredients include shredded chicken, thinly sliced cabbage, and an array of fresh herbs like mint and cilantro. The salad is usually dressed with a tangy mixture of lime juice, fish sauce, and sugar.
The noteworthy cooking technique here is the preparation of the chicken, which is often poached to retain its tenderness and then shredded.
Depending on how much is served, it can be eaten as an appetizer or your main course.
12. Bun Thit Nuong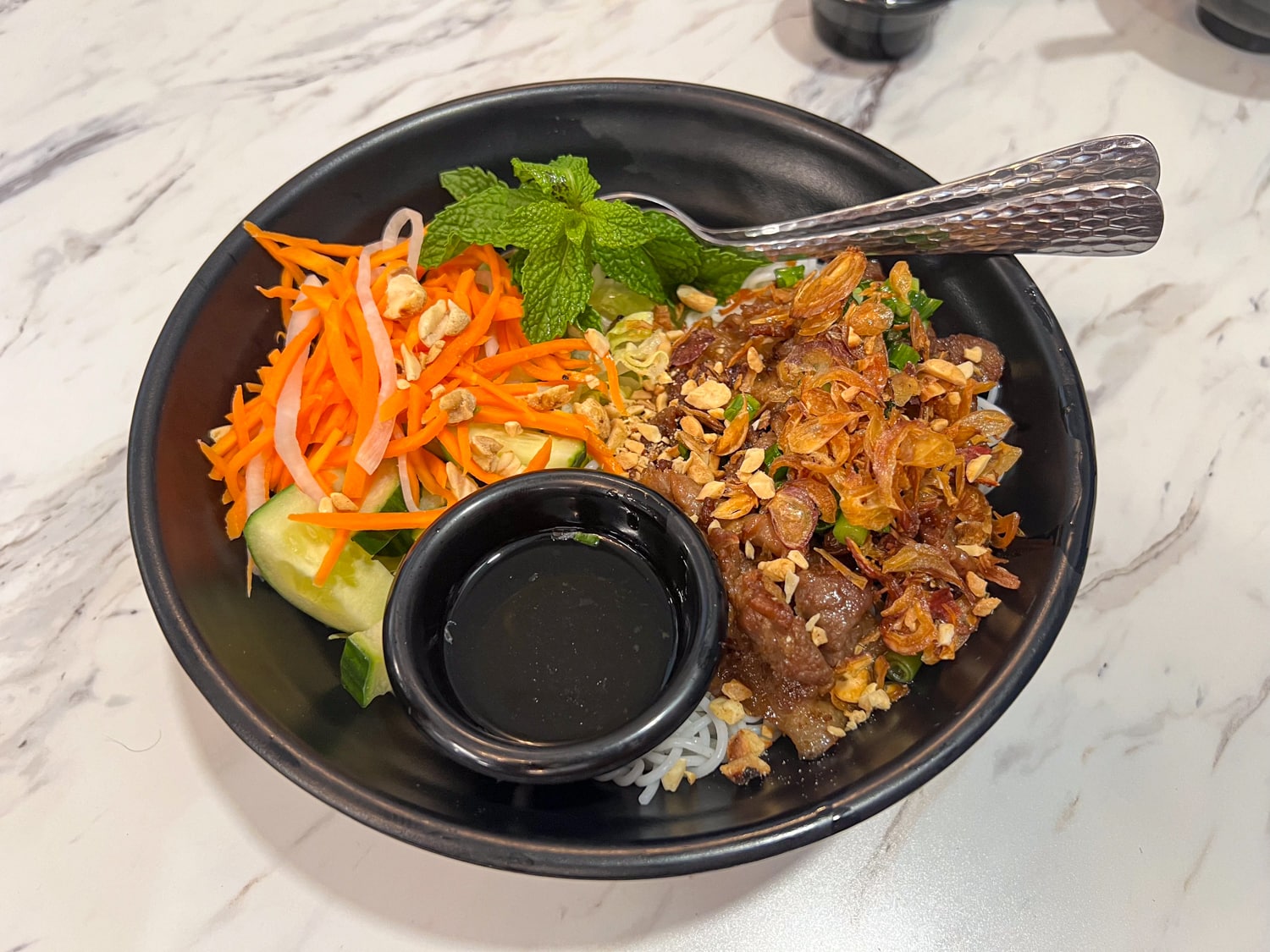 Bun thit nuong comes from Southern Vietnam and is a delightful combination of grilled pork, rice vermicelli noodles, and fresh herbs.
The pork is usually marinated in a blend of lemongrass, garlic, and fish sauce before being grilled.
It's then served over a bed of rice vermicelli and garnished with peanuts, fresh mint, green onions, and fried shallots.
The dish often comes with nuoc cham, a tangy fish sauce-based dipping sauce popular in Vietnam.
13. Bo Luc Lac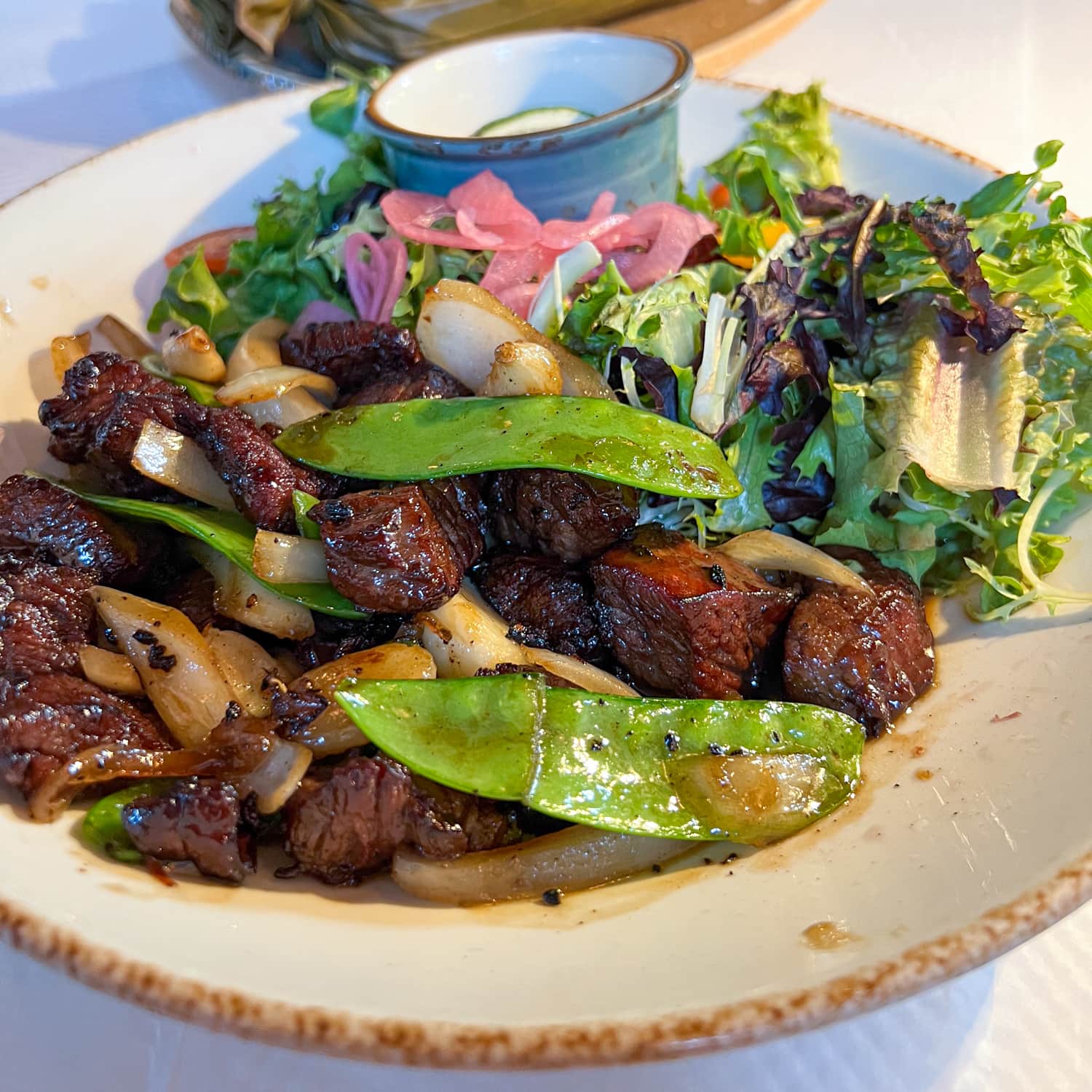 Bo Luc Lac translates to "beef that has been shaken," which makes sense since the beef cubes are tossed quickly in a hot pan or wok.
The beef is usually marinated in soy sauce, garlic, and other seasonings, making it tender and flavorful. Once it hits the pan, the high heat gives it a slightly crispy exterior while keeping the inside juicy.
It's often served over a bed of fresh vegetables like tomatoes, cucumbers, and lettuce, and sometimes it comes with rice or even a side of tangy vinaigrette for dipping. Lime and pepper dipping sauce is another popular accompaniment.
My first experience with bo luc lac came at Le Colonial, an upscale Vietnamese restaurant in Houston, where filet mignon was used.
14. Cha Ca La Vong
Cha ca la vong is a celebrated fish dish from Hanoi in Northern Vietnam.
It features fish fillets, commonly catfish, marinated in a turmeric-based sauce, often including shrimp paste, ginger, and chili peppers.
It's then grilled and served in a sizzling pan. Cha ca la vong is typically served with vermicelli rice noodles and a heap of dill and spring onions.
While Vietnamese people eat many dishes in this article on the streets, cha ca la vong is more typical of restaurant dining.
15. Cao Lau
Cao Lau is a distinctive noodle dish from Hoi An, an ancient town and UNESCO World Heritage Site in Central Vietnam.
The dish features chewy noodles traditionally made using water from local wells, giving them a unique texture.
Common ingredients include slices of pork, fresh herbs, and crispy rice crackers for garnish. The pork is often marinated and then grilled or roasted, adding a smoky flavor.
Cao Lau's minimal use of broth sets it apart, making it more of a noodle bowl than a soup.
16. Com Tam
Com Tam, also known as broken rice, is a staple dish from Southern Vietnam. It features fractured rice grains that are often considered "broken" during the milling process.
The rice is served with various accompaniments, most commonly grilled pork, but also seafood, fried eggs, and pickled vegetables.
The pork is usually marinated in a mixture of lemongrass, garlic, and fish sauce before being grilled. The dish often comes with a side of nuoc cham.
Com tam embodies the Vietnamese culinary ethos of resourcefulness and balance, transforming what was once considered "waste" rice into a beloved, flavorful dish.
Wrapping Up
Exploring the culinary landscape of Vietnam was a journey of discovery, from the bustling streets of Saigon to the lakeside vibes of Hanoi.
Vietnamese food is a delightful mixture of flavors and textures, each recipe a testament to the country's rich cultural history.
Whether it's the comforting embrace of pho, the crunch of banh mi, or the layers of flavor in a bowl of bun cha, the food tells a story of tradition, innovation, and the sheer joy of eating.
As I returned to Texas, my palate was enriched, and my culinary horizons broadened. I couldn't help but feel grateful for the unforgettable flavors that now feel like friends.
Until my next adventure in Southeast Asia, I'll explore traditional Vietnamese cuisine through local restaurants.
The United States is home to more than half of the Vietnamese diaspora, and Houston has one of the country's largest communities. Here's to the universal language of good food!