If you're hunting for the best BBQ in Houston, you've come to the right place.
The largest city in Texas is more than just a hub for space exploration and oil—it's a barbecue lover's paradise.
From melt-in-your-mouth brisket to beef ribs that'll make you swoon, Houston's BBQ joints are a carnivore's dream come true.
Whether you're a local or just passing through, don't miss the chance to dig into some of the best BBQ the Lone Star State has to offer.
So grab a napkin (or ten) because we're about to dive into Houston's BBQ scene, and it's gonna get messy—in the best way possible!
Best Barbecue in Houston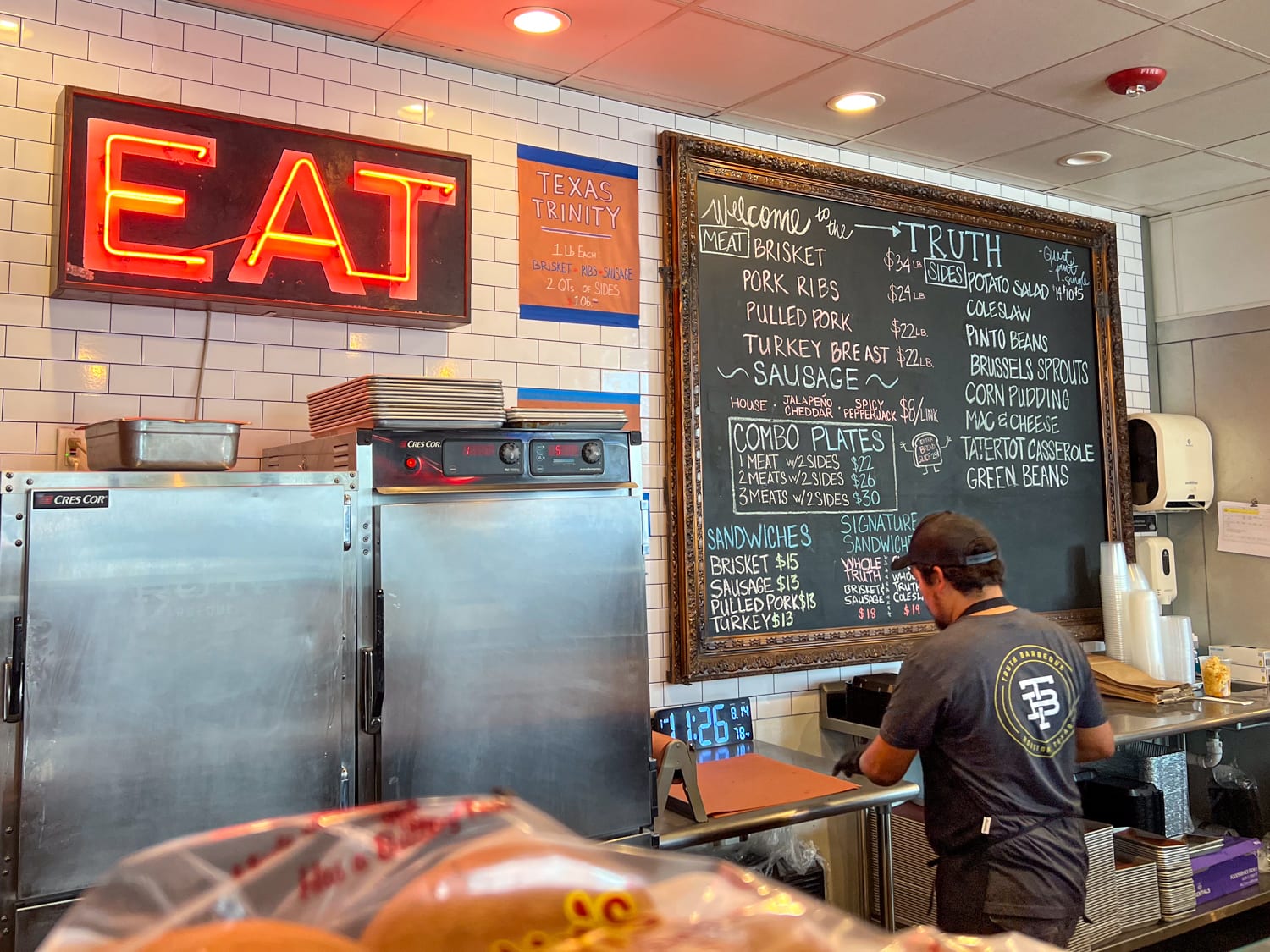 Truth Barbeque
Let's begin with Truth BBQ, a Houston spot that's been making waves in the Texas barbecue scene.
Owner and pitmaster Leonard Botello IV started small, selling just three briskets daily from a roadside shack in Brenham in 2015.
Fast forward to today, and he's got a bustling joint in Houston Heights that's ranked #3 in the state by Texas Monthly.
Walking into Truth BBQ, you're greeted by a pit room filled with big black smokers and an intoxicating aroma.
The menu is a meat lover's fantasy: brisket that rivals Austin's finest, mouthwatering pork ribs, and housemade spicy sausage in flavors like jalapeño cheddar and pepperjack.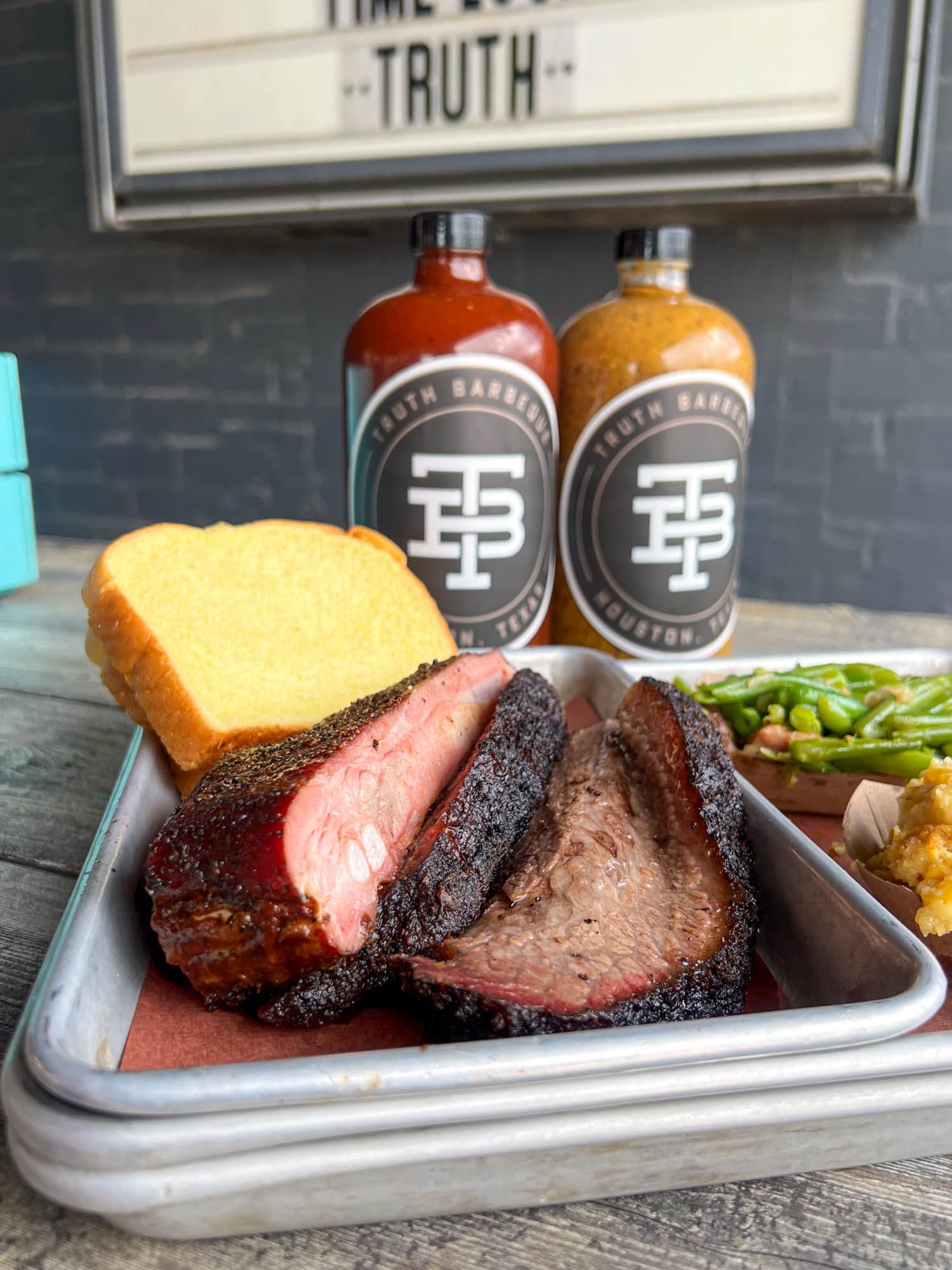 And let's not forget the sides—corn pudding and green beans were our picks, and they did not disappoint. Additional options include potato salad, Brussels sprouts, and a tater tot casserole.
Desserts include classics like banana pudding and, more uniquely, Texas-size slices of homemade 3-layer cakes.
Botello's mom, Janel, and head baker, Laquita Wilkins, bake the cakes from Botello family recipes. They're available for takeout so that you can skip the long lines.
What sets Truth BBQ apart? It's summed up on a sign on their wall: wood, smoke, time, and love.
Truth BBQ proves Houston can hold its own in the Texas BBQ game.
110 S Heights Blvd, Houston, TX, truthbbq.com
Tejas Chocolate + Barbecue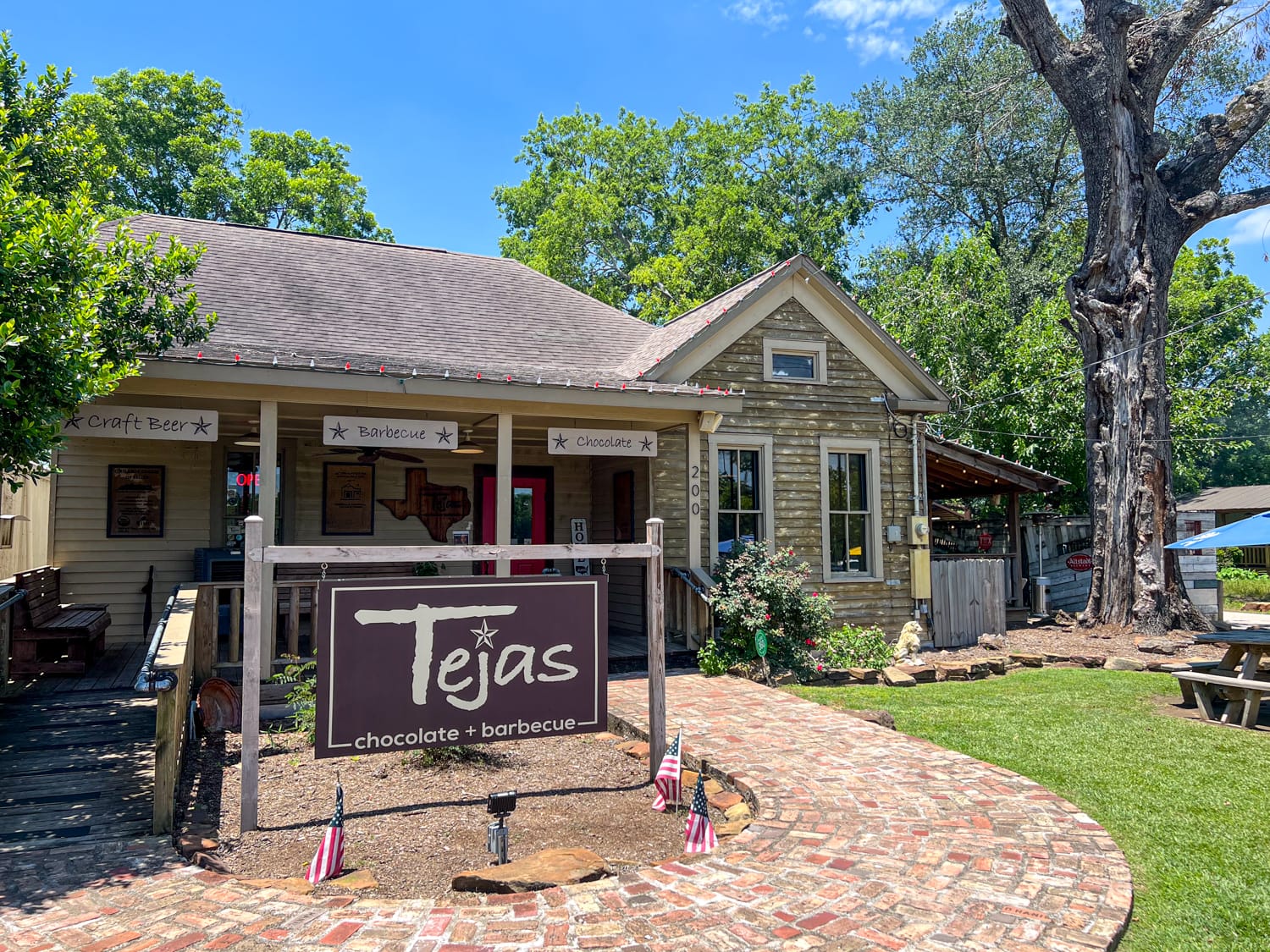 Yeah, you read that right—chocolate and barbecue under one roof!
Located in Tomball, north of Houston, this BBQ spot has become a destination for meat and chocolate lovers.
What started as a small-batch chocolate-making venture has become one of Texas's most talked-about BBQ joints.
When you walk in, you'll first notice the aroma of smoked meat mingling with the sweet scent of cocoa.
On the barbecue side, their brisket is a must-try, smoked to perfection with a flavorful bark that'll have you return for more.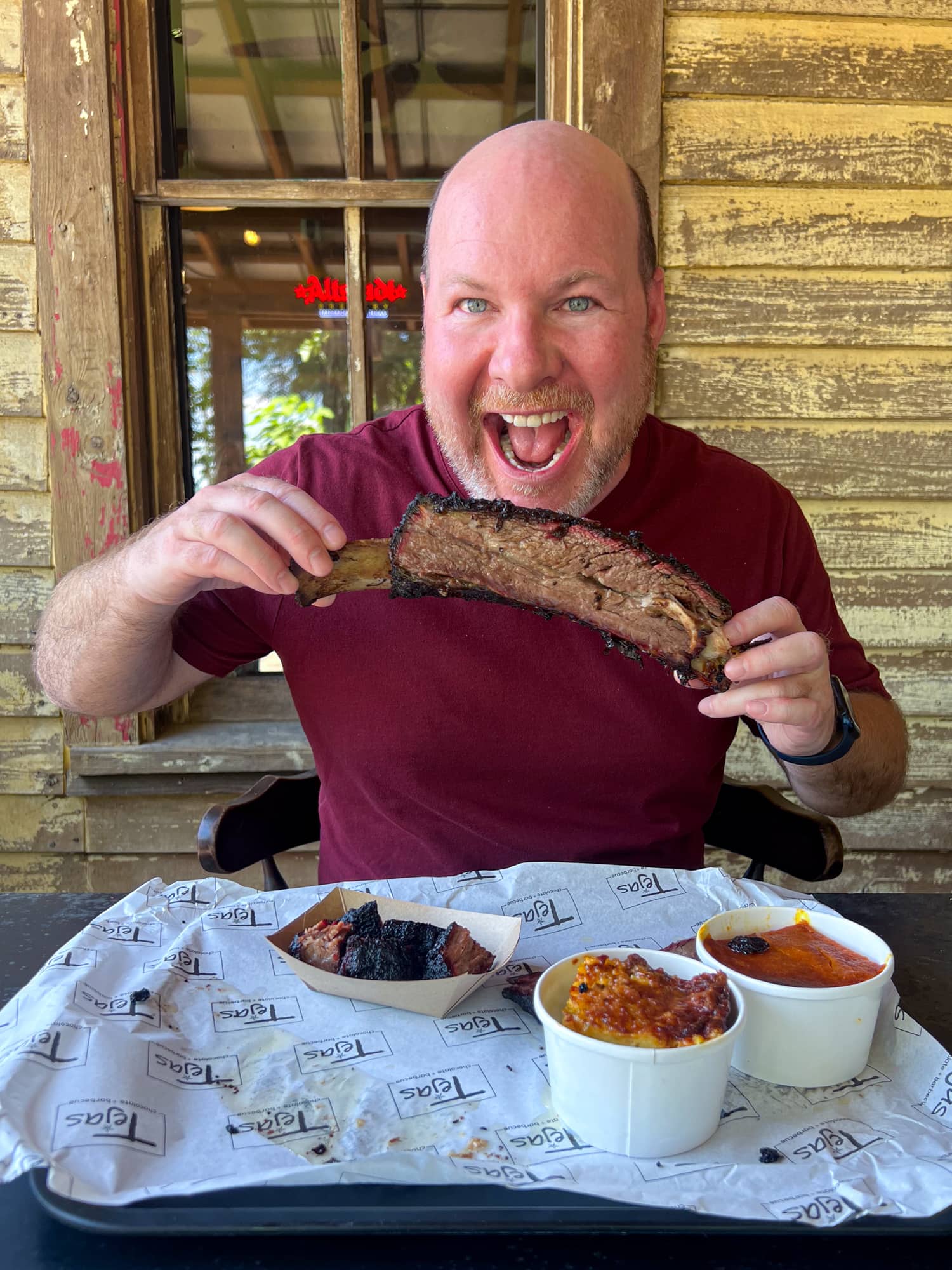 There's pork belly, which you can order on its own or atop one of their stacked baked potatoes. Other savory sides include bacon cole slaw and carrot souffle.
And don't even get me started on their dinosaur-sized beef ribs.
But save room for dessert because their handcrafted chocolates are equally divine.
Whether a giant truffle or a chocolate bar, you'll taste the passion and craftsmanship in every bite.
Tejas Chocolate + Barbecue is a one-of-a-kind experience that proves sometimes, unlikely pairings make the most memorable meals.
200 N Elm St, Tomball, TX, tejaschocolate.com
Blood Bros. BBQ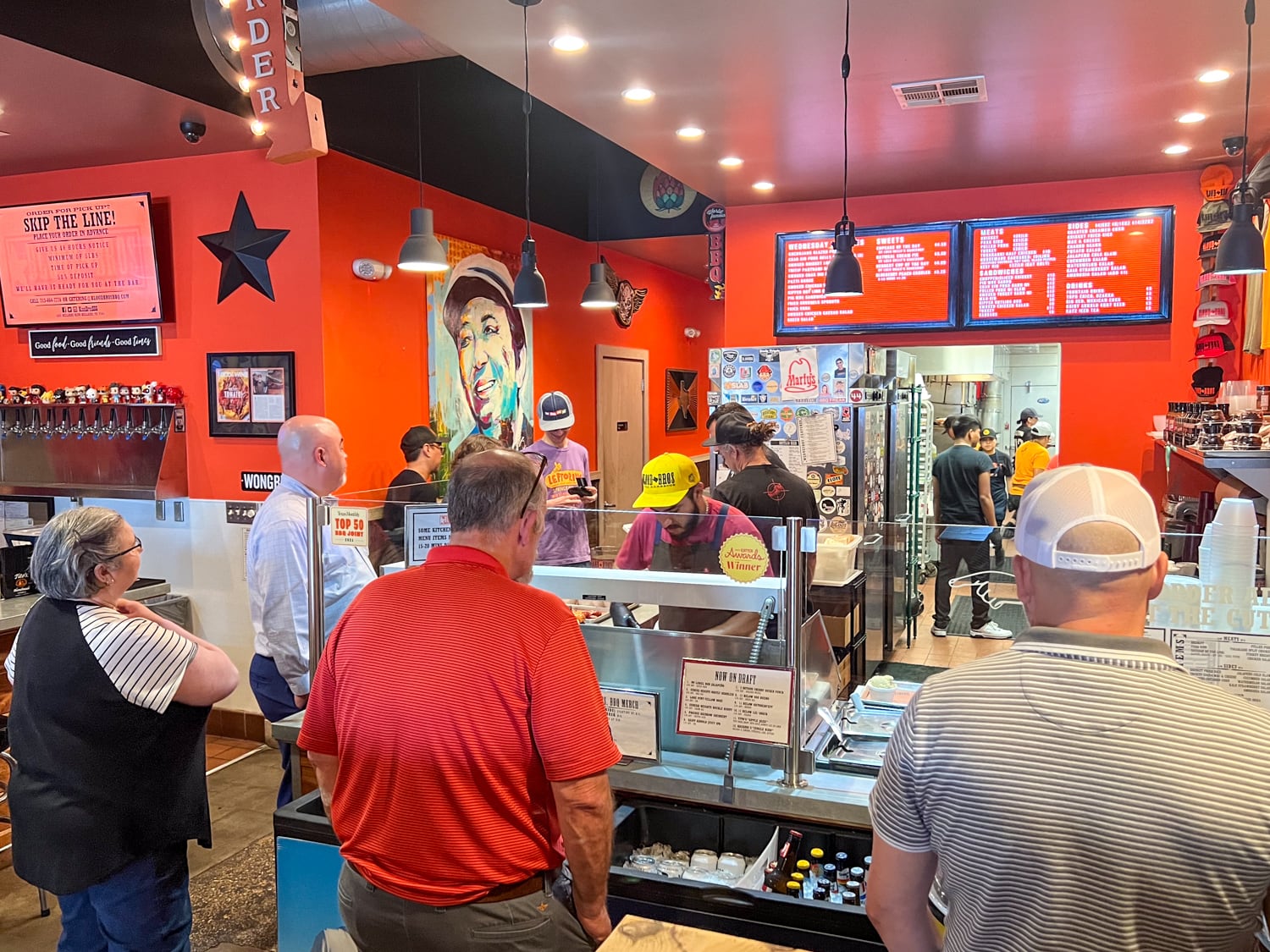 Next, let's chat about one of the best barbecue joints in Houston that's breaking all the traditional molds: Blood Bros. BBQ.
This isn't your granddaddy's barbecue joint; it's a fusion of flavors that celebrates the city's diverse culture.
Founded by three childhood friends, Blood Bros. offers a unique twist on classic Central Texas BBQ, incorporating Asian and Cajun influences into their menu.
You'll find options beyond the usual brisket and ribs when you enter this laid-back Bellaire neighborhood spot.
Think smoked turkey banh mi and Gochujang glazed pork ribs—flavors you won't typically find in a Texas BBQ joint.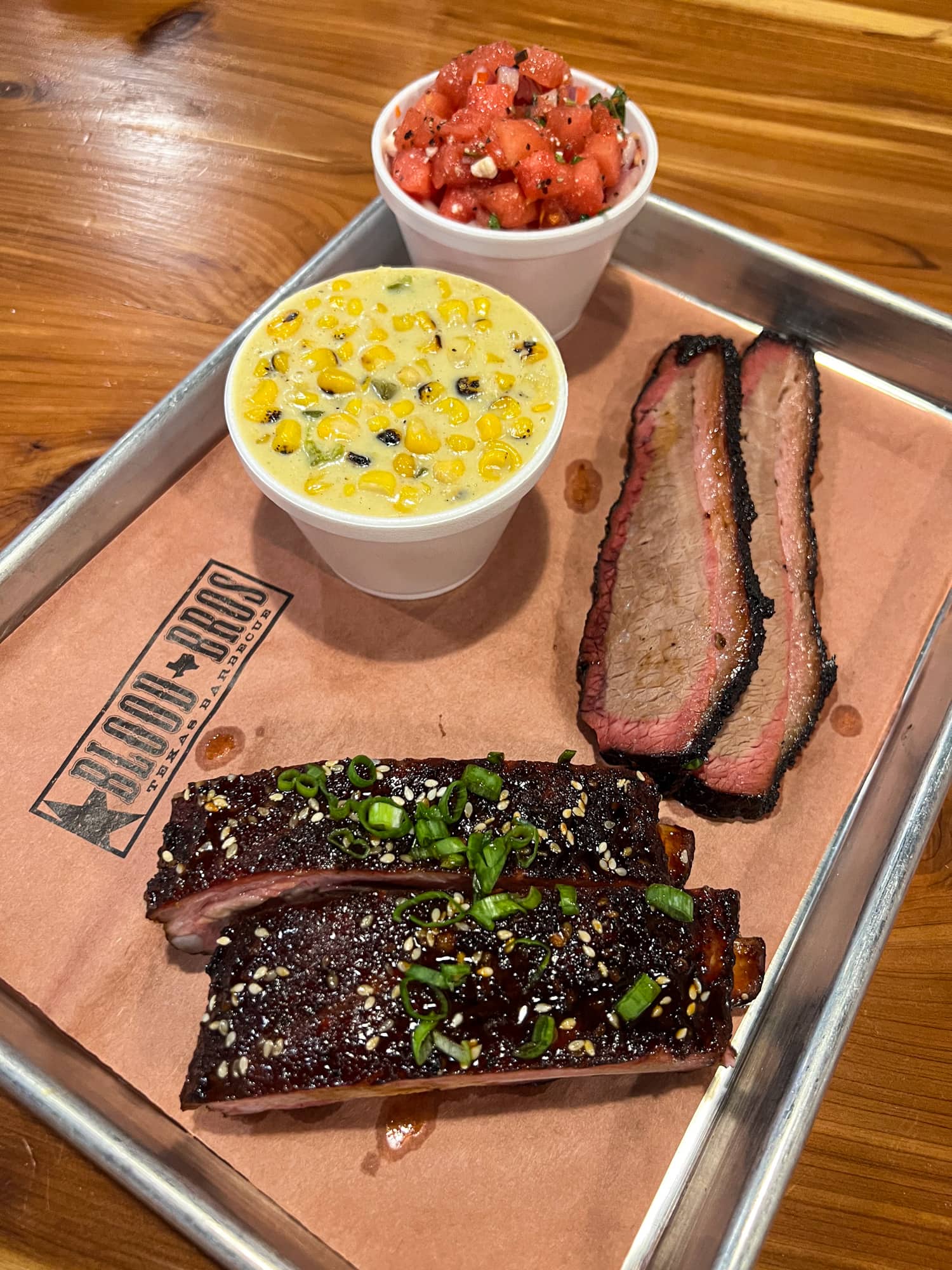 Purists can still order the Texas trinity (tender brisket, pork ribs, and housemade sausages) should they choose, but I enjoy their non-traditional menu items more.
Desserts include an oatmeal cream pie, cupcake of the day, and blueberry peach cobbler.
What makes Blood Bros. one of the best Houston barbecue joints is their willingness to experiment while respecting the Texas barbecue tradition.
It's a culinary adventure that pays homage to Houston's melting pot of cultures, making it a must-visit for anyone looking to expand their BBQ horizons.
5425 Bellaire Blvd, Bellaire, TX, bloodbrosbbq.com
Feges BBQ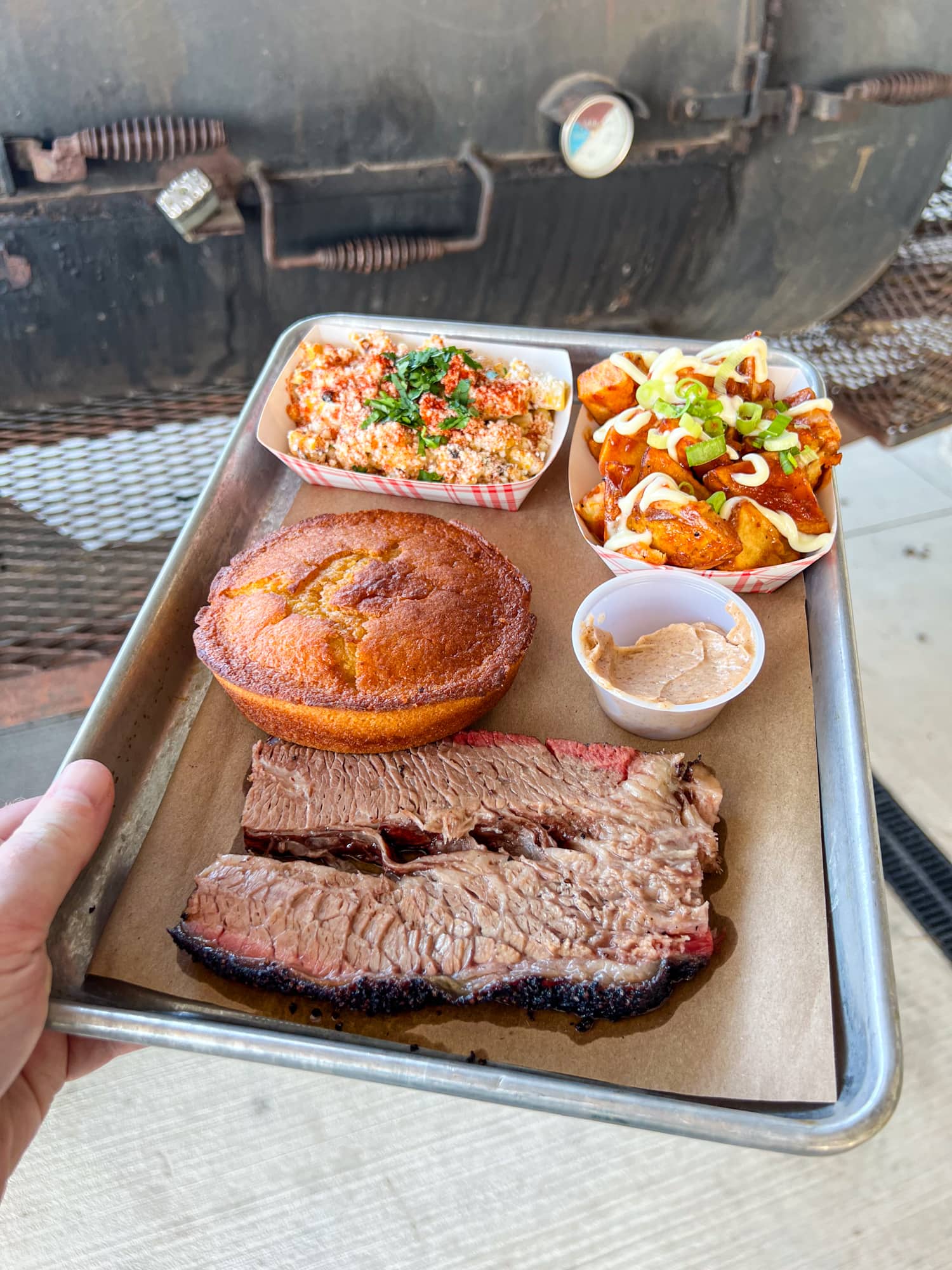 Co-owners Patrick Feges and Erin Smith bring a unique flair to traditional barbecue, combining Patrick's passion for smoked meats with Erin's fine dining background (including Per Se in NYC).
The beef brisket is a showstopper, with a smoky bark and tender meat that practically melts in your mouth.
And then there are the sides and desserts, which help set Feges BBQ apart.
Kel and I ordered the elote corn salad, hogfat cornbread with cinnamon butter, and Money Cat potatoes.
We ended our first dinner at Feges with a slice of Erin's dreamy banana and caramel cream pie.
Feges BBQ got its start in the Greenway Plaza food court. However, we chose to dine at their second location in Spring Branch, as it's a proper restaurant with a more extensive menu and more space.
Spring Branch: 8217 Long Point Rd, Houston, TX, fegesbbq.com
Greenway Plaza: 3 E Greenway Plaza Suite C210, Houston, TX
CorkScrew BBQ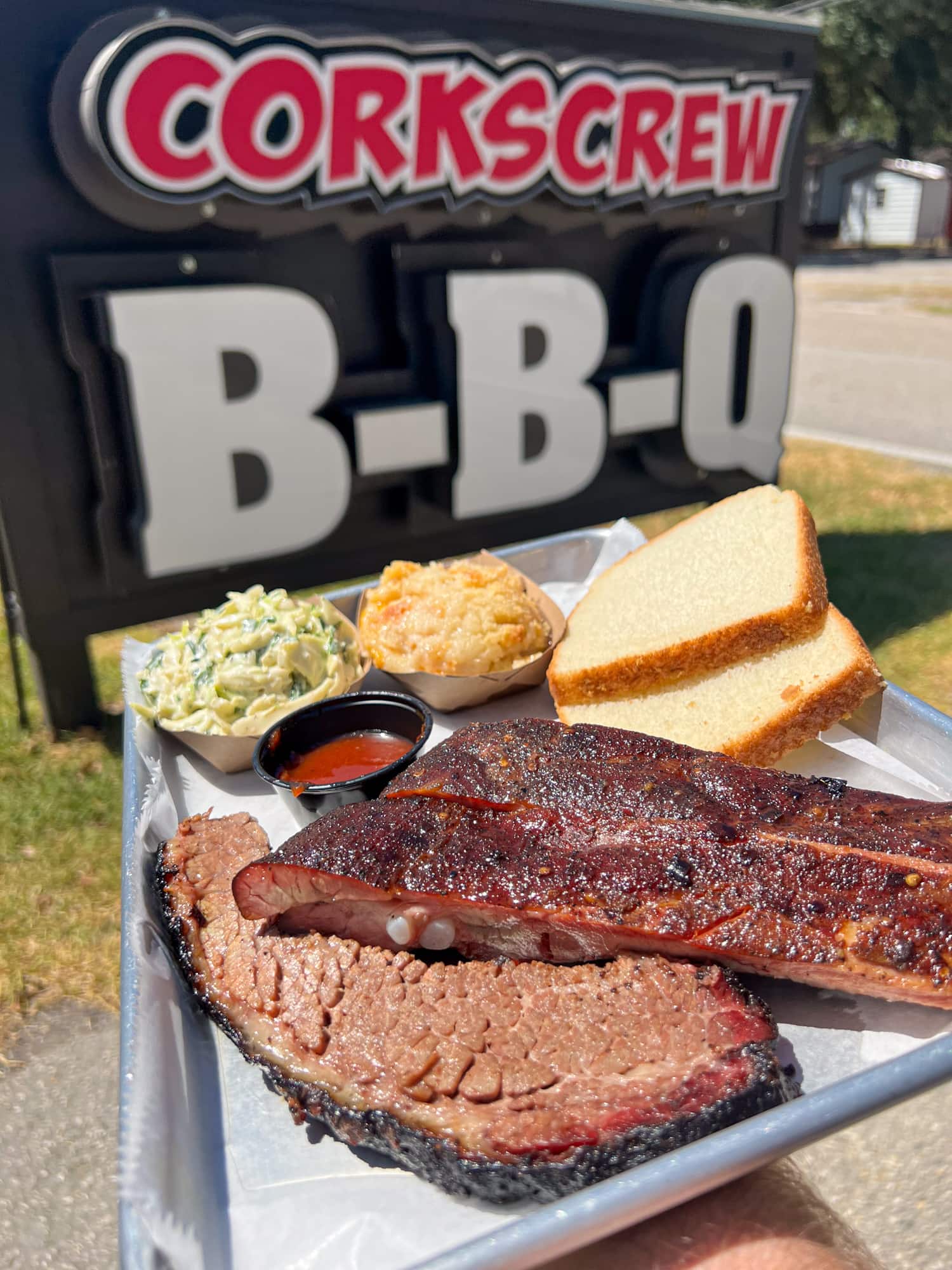 Let's again venture north of Houston to Spring, Texas, where CorkScrew BBQ has held court for years.
Founded by husband-and-wife duo Will and Nichole Buckman, Corkscrew offers a relaxed, family-friendly atmosphere that's all about the meat.
The brisket is the star of the show, smoked for hours until it reaches that perfect balance of tenderness and flavor.
But don't overlook their other offerings, like the succulent pulled pork and tasty turkey.
What sets CorkScrew apart, though, is their commitment to quality. They sell out regularly—and for good reason.
So, if you're planning a visit, get there early and prepare to be wowed. CorkScrew BBQ is a must-visit for anyone serious about Texas barbecue.
26608 Keith St, Spring, TX, corkscreworders.com
Wrapping Up
Alright, BBQ lovers, we've taken you on a smoky journey through some of Houston's best barbecue joints.
From the traditional mastery at Truth BBQ to the sweet and savory combo at Tejas Chocolate + Barbecue, and from the cultural fusion at Blood Bros. BBQ to the culinary finesse at Feges BBQ, Houston's got something for every palate.
Each spot brings its unique flair to the picnic table, proving that Houston is a heavyweight in the Texas BBQ scene.
Whether you're into classic brisket, experimental flavors or want a darn good rib, H-Town has you covered.
So, the next time you find yourself in the greater Houston area, hit up one or all of these BBQ spots.
Remember to get there early, come hungry, and always save room for dessert. Happy feasting, y'all!
***
In case you've already visited all of these spots and are hungry for more, here's a short list of the barbecue restaurants I intend to try next:
Gatlin's BBQ - Recommended to me by a reader, this is a family-owned Southern BBQ restaurant "where love is the secret ingredient."
Pinkerton's Barbecue - This restaurant made Texas Monthly's list of the best BBQs in the state for its San Antonio location, but the Houston one is the original.
Burns Original BBQ - In business since 1973, this great barbecue joint was featured in a 2016 episode of Anthony Bourdain's Parts Unknown.