You'd be hard-pressed to find a better city for foodies in Mexico than Oaxaca (pronounced wah-HAH-kah), which is known for mole, mezcal, and chocolate. The best restaurants in Oaxaca showcase these regional delights with elegance.
My first foray into Oaxacan cuisine came during a two-week tour of Mexico.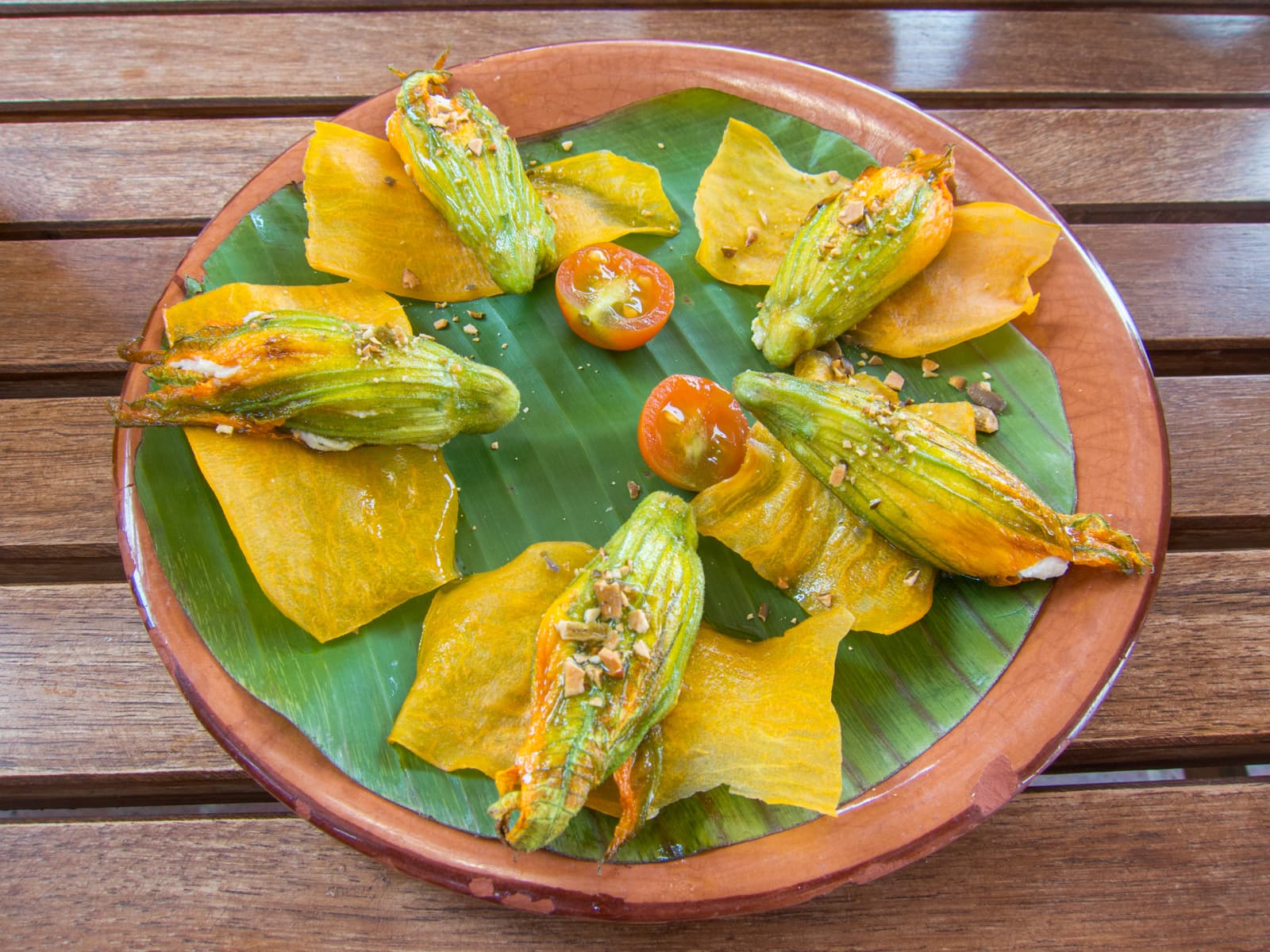 As time was short, I prioritized meals at the first two Oaxaca restaurants on this list, Casa Oaxaca and Catedral.
Three years later, I returned for a two-month stay with a group of friends and bloggers. The search for the best food in the city of Oaxaca continued.
During my second visit, I gained a greater appreciation for street food and markets. However, we'll look at the best places for fine dining here.
Oaxaca's Best Fine Dining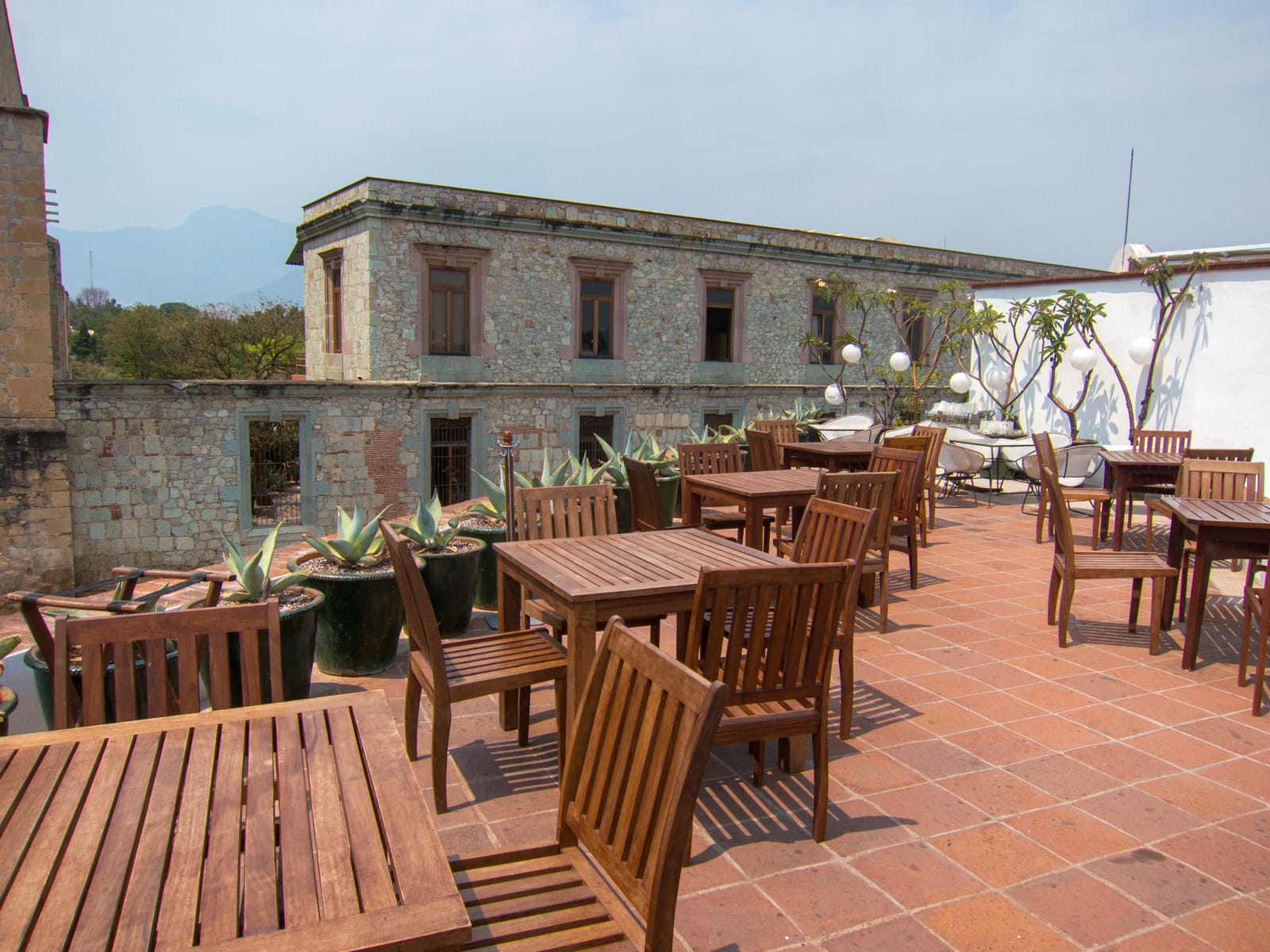 Casa Oaxaca El Restaurante
Arriving just as it opened, I had the spacious rooftop of Casa Oaxaca ("Oaxaca house") to myself.
The restaurant, which ranked #38 on the inaugural list of Latin America's Best Restaurants in 2013, faces the southeast facade of Templo de Santo Domingo de Guzman, a grand Catholic church in the heart of the historic city center.
Taking a seat under a shaded area on the second floor, I ordered a three-course meal from the kitchen of chef Alejandro Ruiz.
The culinary adventure began with salsa prepared table-side and ricotta-stuffed squash blossoms with honey and epazote (an aromatic herb).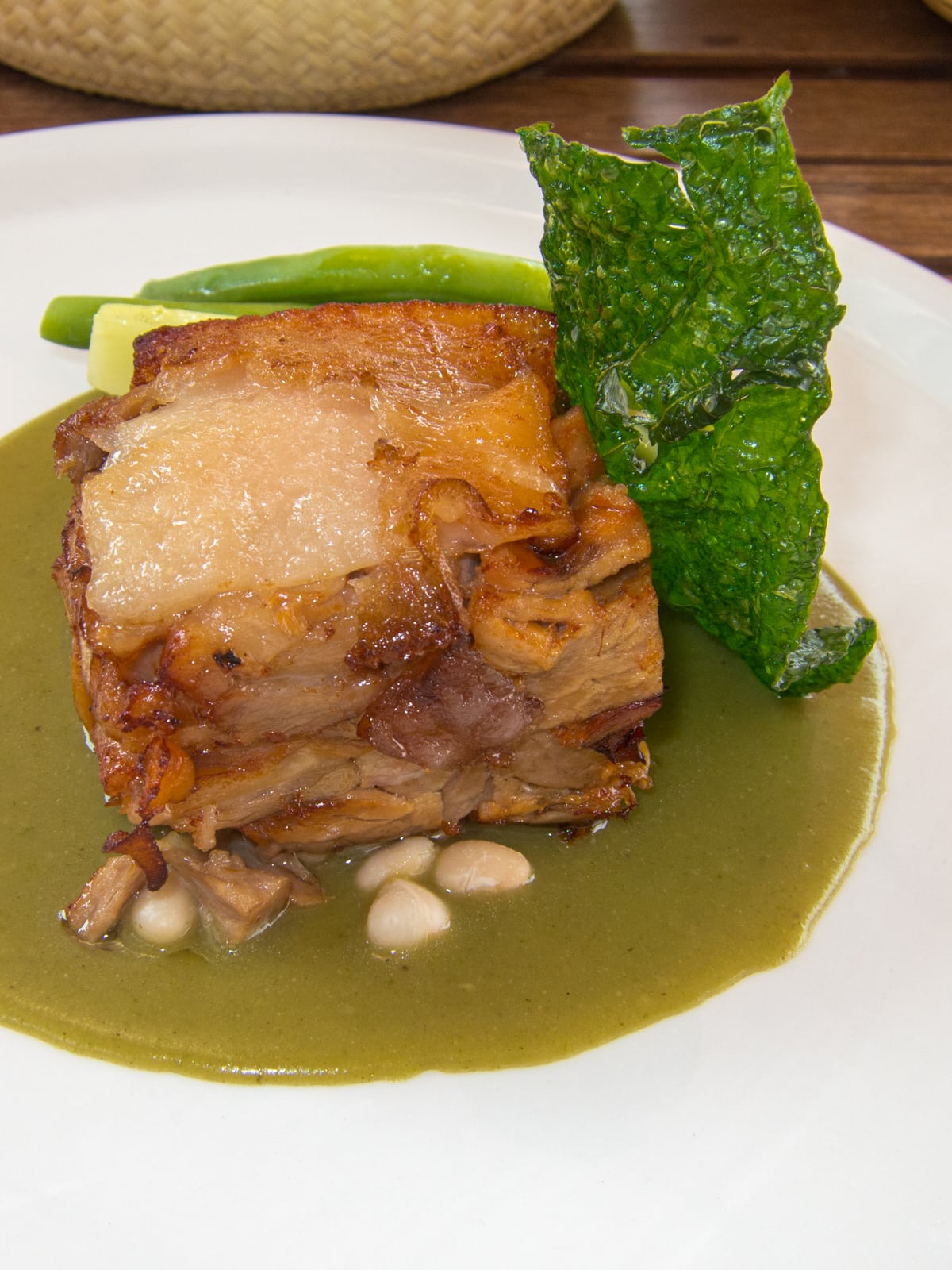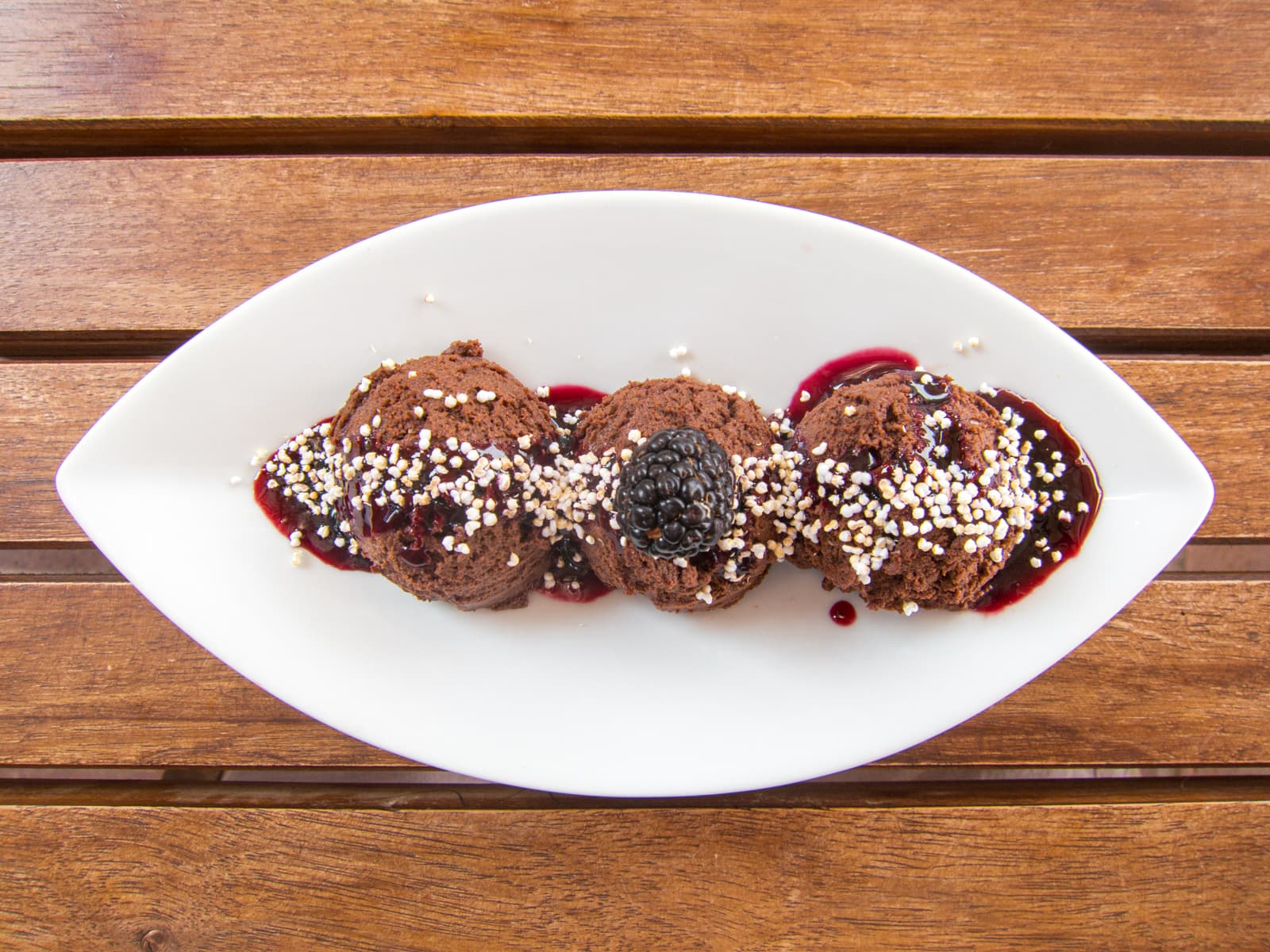 For the main course, I chose the green mole with suckling pig and fresh vegetables from the restaurant's farm. Tender and oh-so-filling, it was heavenly.
Dessert was a generous portion of velvety Oaxacan chocolate mousse with hibiscus and agave worm salt garnished with a blackberry.
The entire meal at this great place was incredible, setting a high bar for all that would follow.
Besides moles and other meat-based dishes, Casa Oaxaca's menu also offers seafood and vegetarian options.
Casa Oaxaca is open seven days a week for lunch and dinner.
Related: Best Restaurants in Latin America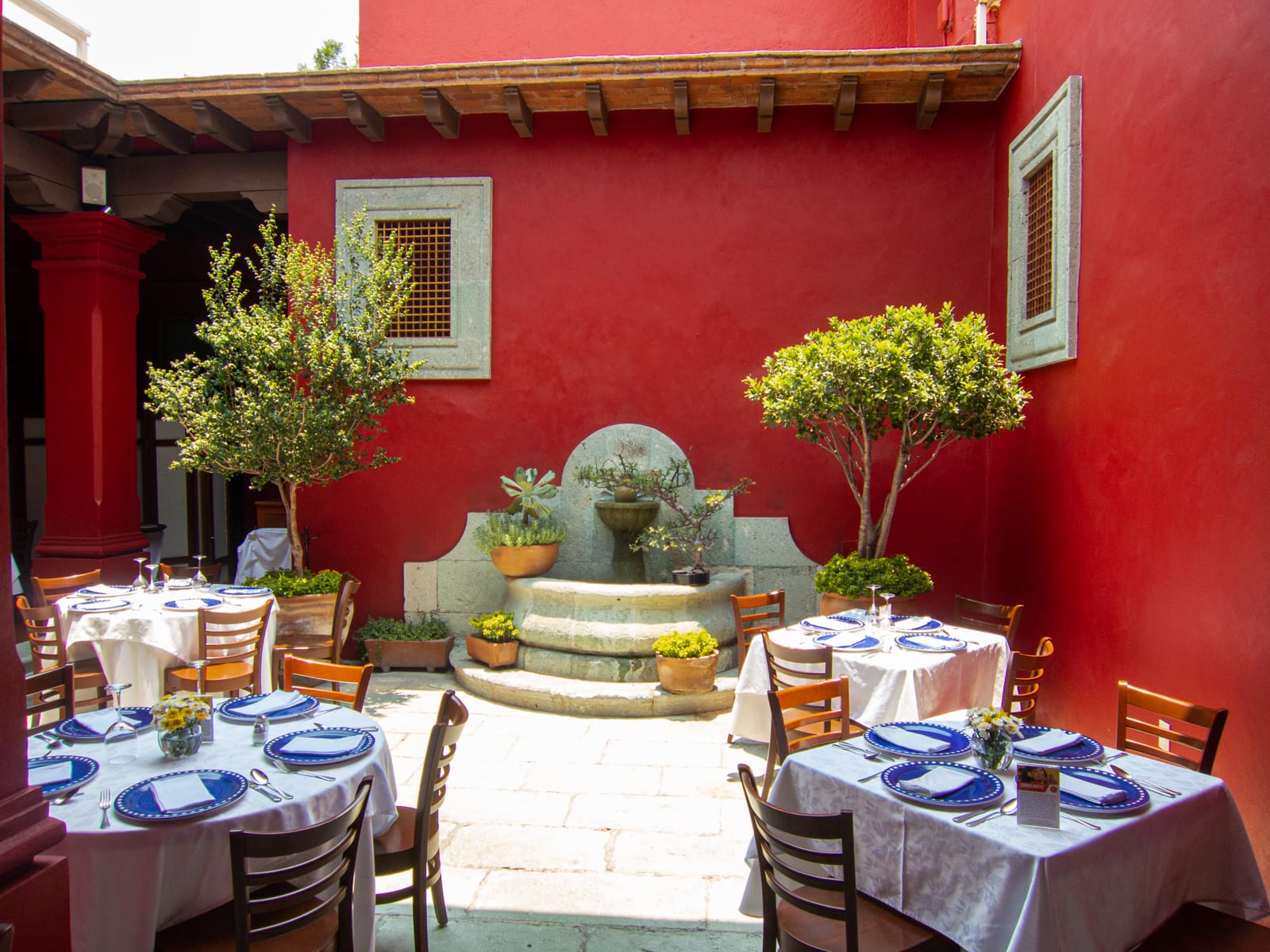 Restaurante Catedral
Founded in 1977, Restaurante Catedral is named after Oaxaca's nearby 16th-century Metropolitan Cathedral.
Their historic building on the main road through the old town is full of color and charm, like the plant-filled, sunlit courtyard (pictured above) where I enjoyed lunch.
I couldn't resist ordering the dish that inspired my excitement for Oaxaca, mole negro ("black mole") smothering white chicken breast, served with white rice, plantains, and refried beans.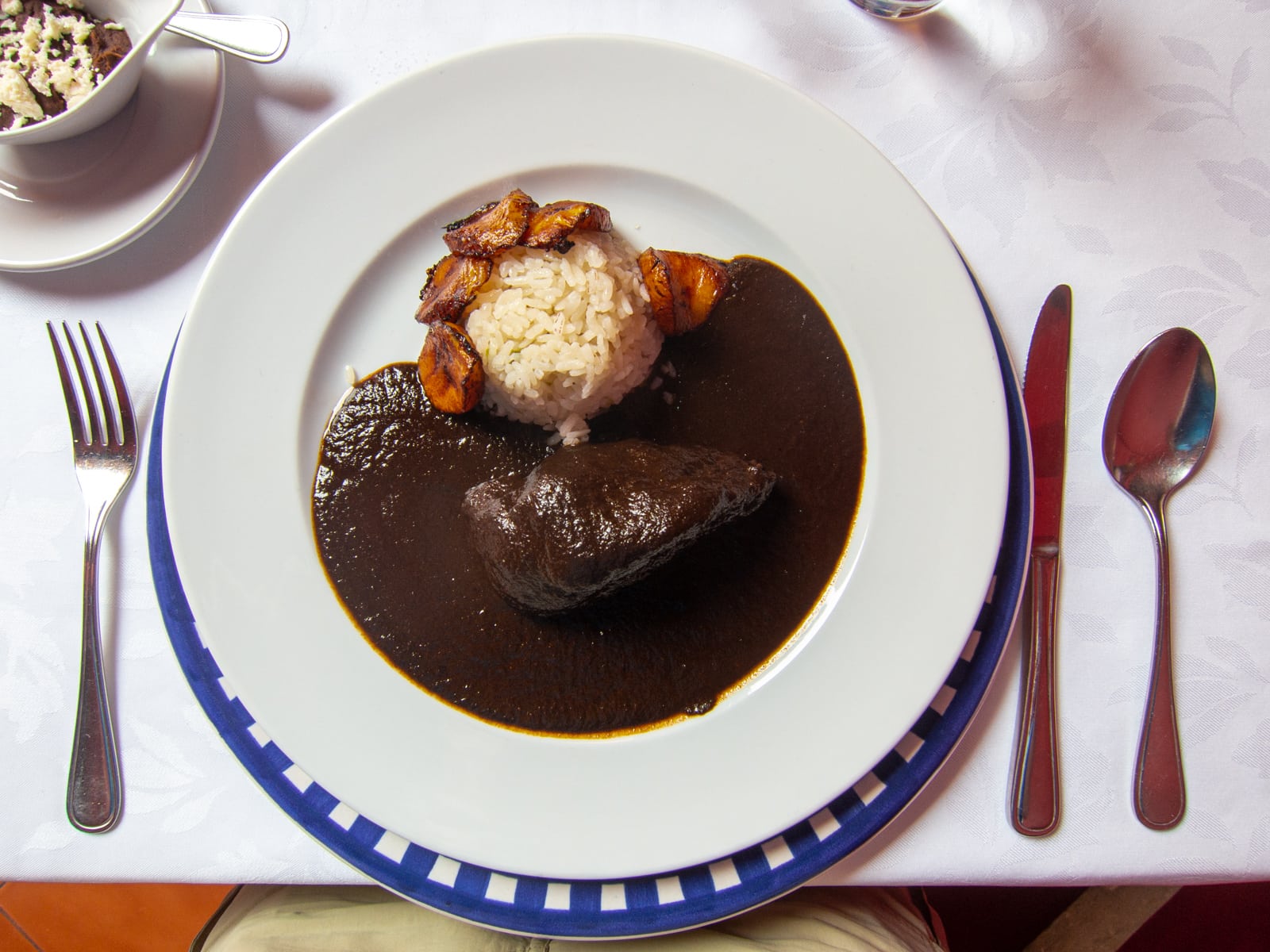 Their rendition (pictured above) is the best mole negro I've ever had. My prior experiences with the dish were limited to Mexican restaurants in the United States.
Not surprisingly, it's the top mole recommendation on the menu. Other options include yellow mole with beef, green mole with pork, and mole with braised short rib.
If you're looking for flavorful moles in a refined atmosphere, head for Catedral, one of the best restaurants in Oaxaca.
Catedral's menu also offers vegetarian-friendly options, including soups, salads, pasta, and seafood.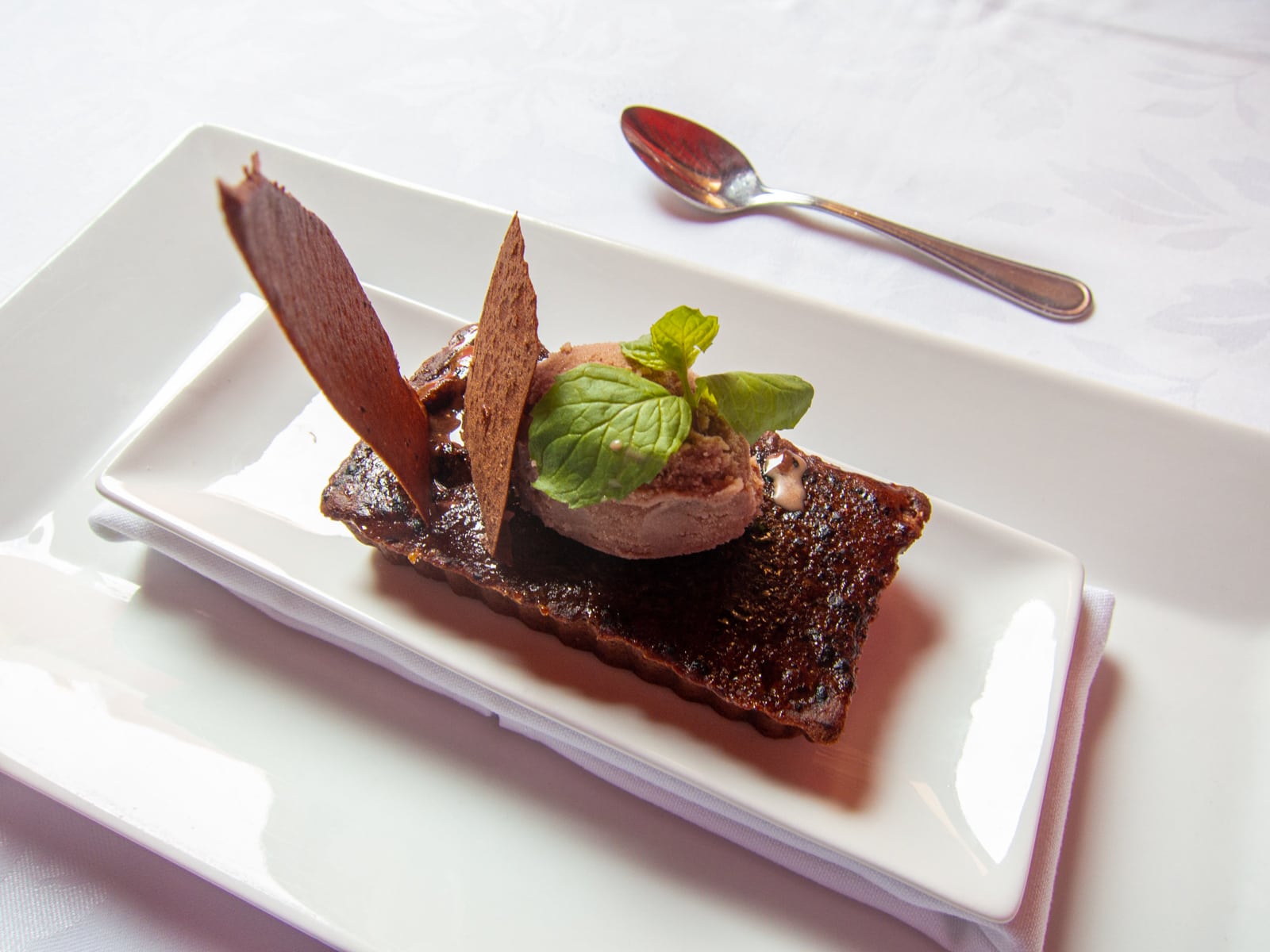 Catedral's dessert menu can't be missed, either. I devoured their signature chocolate pastry with chilhuacle chili and chocolate ice cream.
Other desserts incorporating local ingredients include a Oaxacan cheese pastry with hibiscus flower jelly, pinole (pine nut) cookie, and Tejate foam with mamey sorbet.
Tejate is a pre-Hispanic, non-alcoholic beverage made from corn and cacao. Mamey is a tropical fruit.
Catedral is open for breakfast, lunch, and dinner seven days a week.
Related: Pujol in Mexico City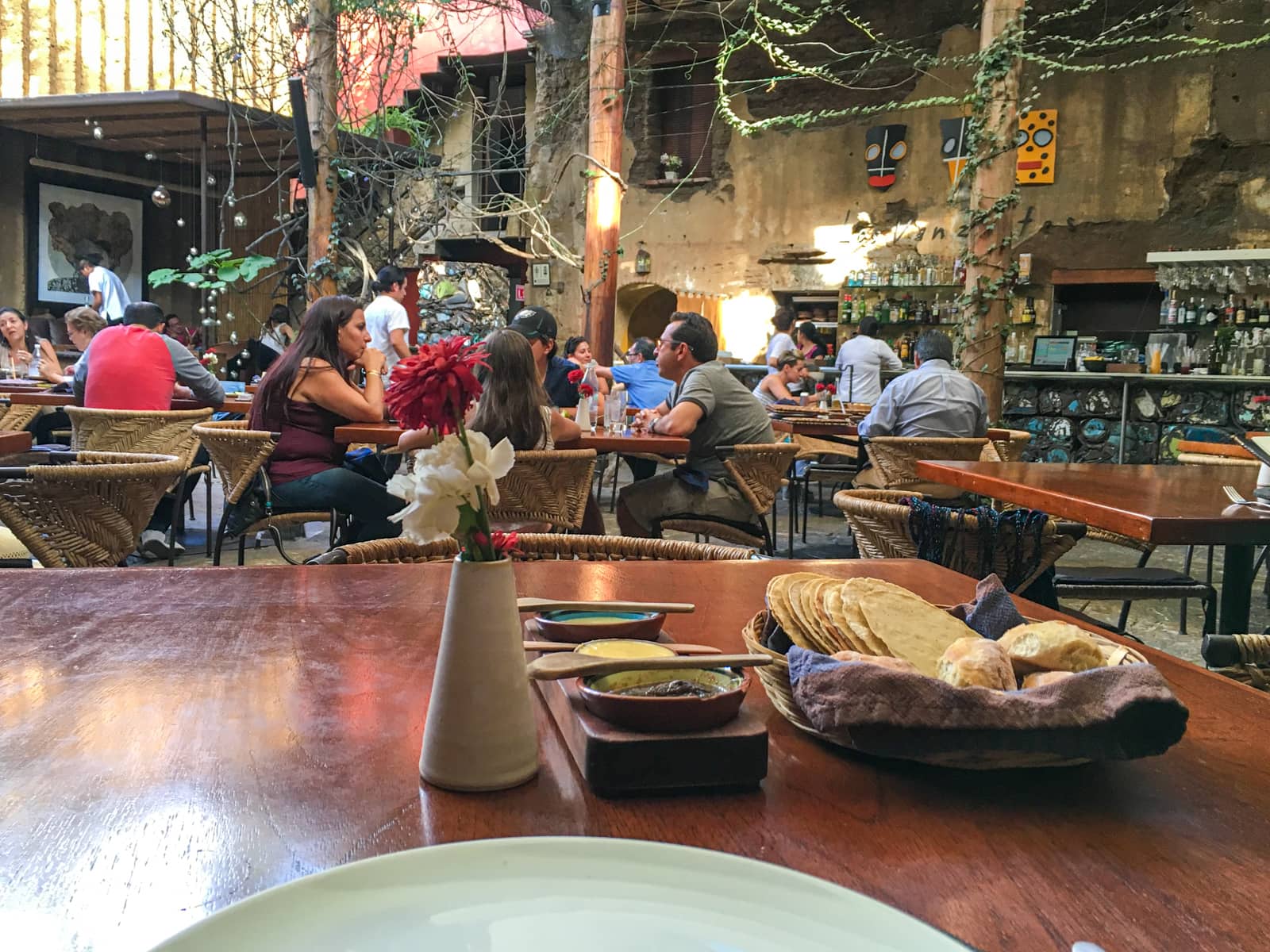 Los Danzantes
A block west of Casa Oaxaca, just off the plaza in front of Santo Domingo church is Los Danzantes ("The Dancers").
At Los Danzantes, the dining room is an open-air, vine-filled interior courtyard. You'll feel secluded in the middle of the city, whether you're there for lunch or a romantic dinner.
The restaurant embraces sustainable practices. Ingredients are sourced from local providers around the state of Oaxaca (of which Oaxaca City is the capital).
In March 2018, they stopped using Coca-Cola products in favor of Zegacola, a Oaxacan artisanal drink. And your drinks will arrive without straws.
Meatless Mondays introduce diners to alternative protein sources at this popular spot.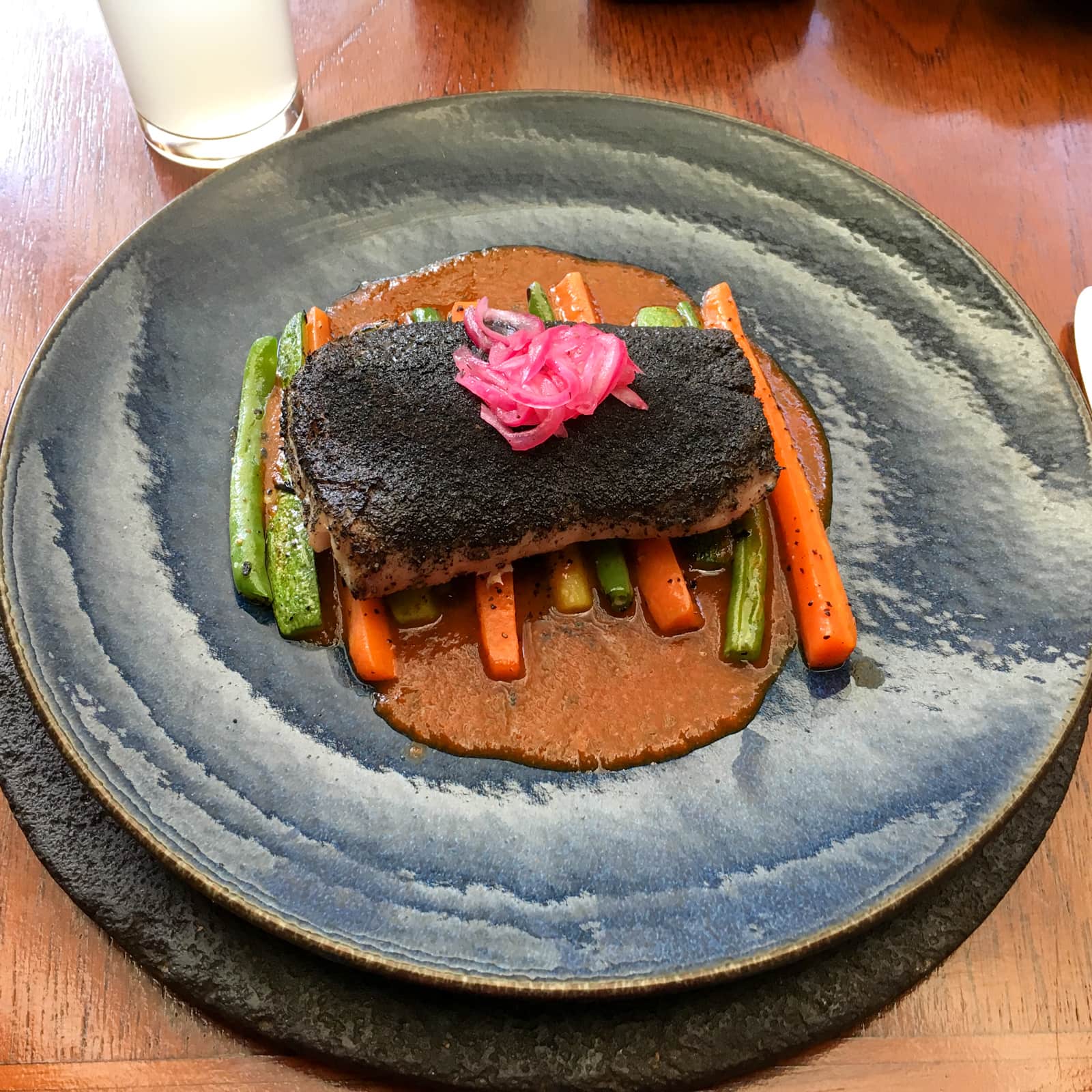 I dined at Los Danzantes several times during my two-month stay. On my first visit, I had the fish filet from Puerto Angel with chichilo ash crust, yellow mole, and vegetables.
Other delectable examples of Mexican cuisine include shrimp tlayuda, chicken with red mole, and candied pork ribs.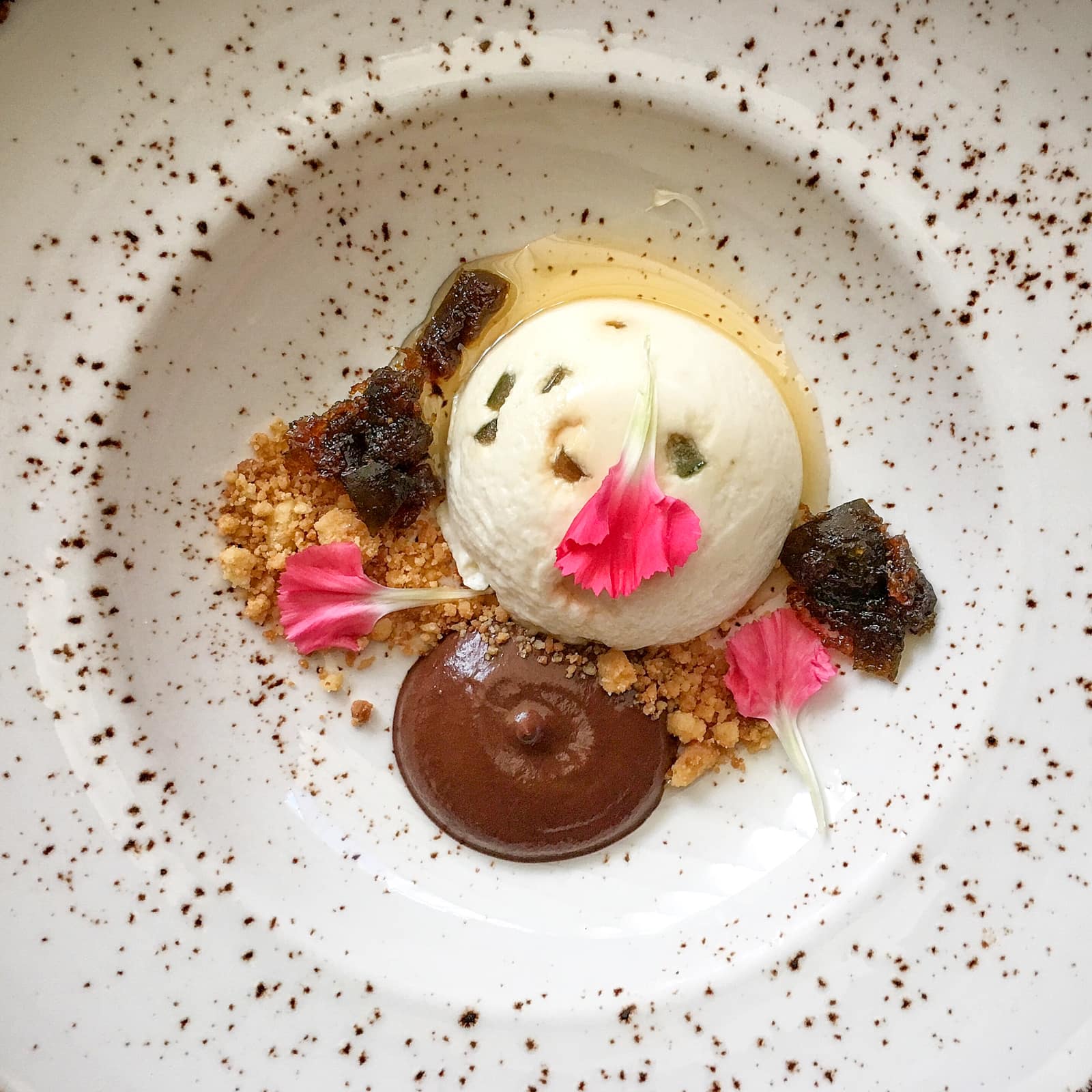 My dessert was a fantastic goat cheese flan with figs, honey, and chocolate.
Additional unique offerings include a turnover pastry with quince, cream cheese, red wine sauce, and a financier (almond cake) with pink pepper ice cream.
A commitment to sustainable practices, high-quality ingredients, and creative dishes are why I believe Los Danzantes is one of the best restaurants in Oaxaca.
Los Danzantes is open daily for lunch and dinner. Reservations are recommended.
Note: They've got a second location in Coyoacán, a municipality in Mexico City.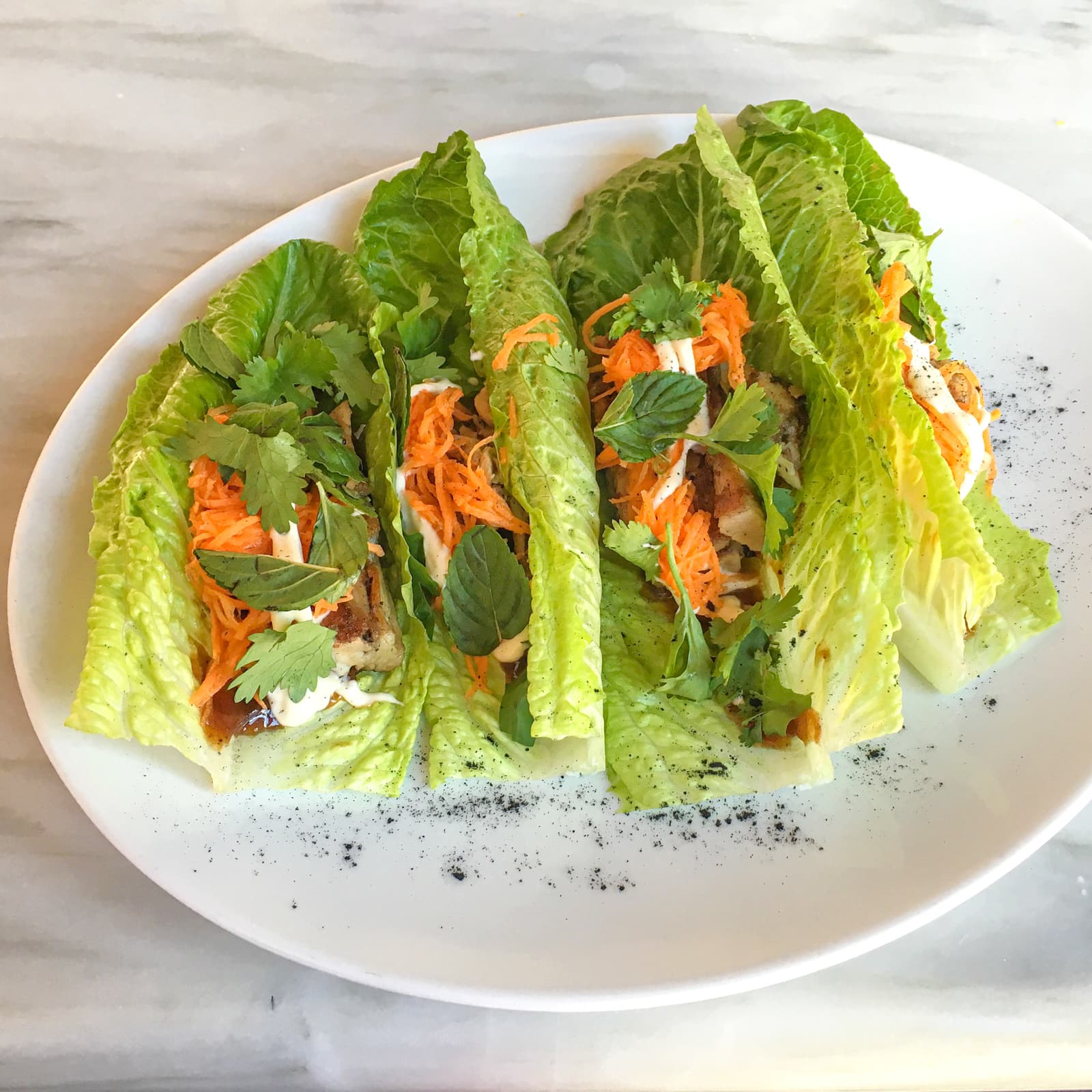 Restaurante Origen
Four blocks south of Los Danzantes and a half-block east of the Zocalo (town square) is Restaurante Origen.
Opened in 2011 by Rodolfo Castellanos, winner of Top Chef Mexico's first season, Origen makes full use of indigenous ingredients in its contemporary dishes.
I opted for something different than corn tortillas — lettuce tacos with duck.
At the time, it seemed novel. However, since moving to Austin and cooking at home more, I've used lettuce in this manner many times.
See also: Central - Exploring Ecosystems in Peru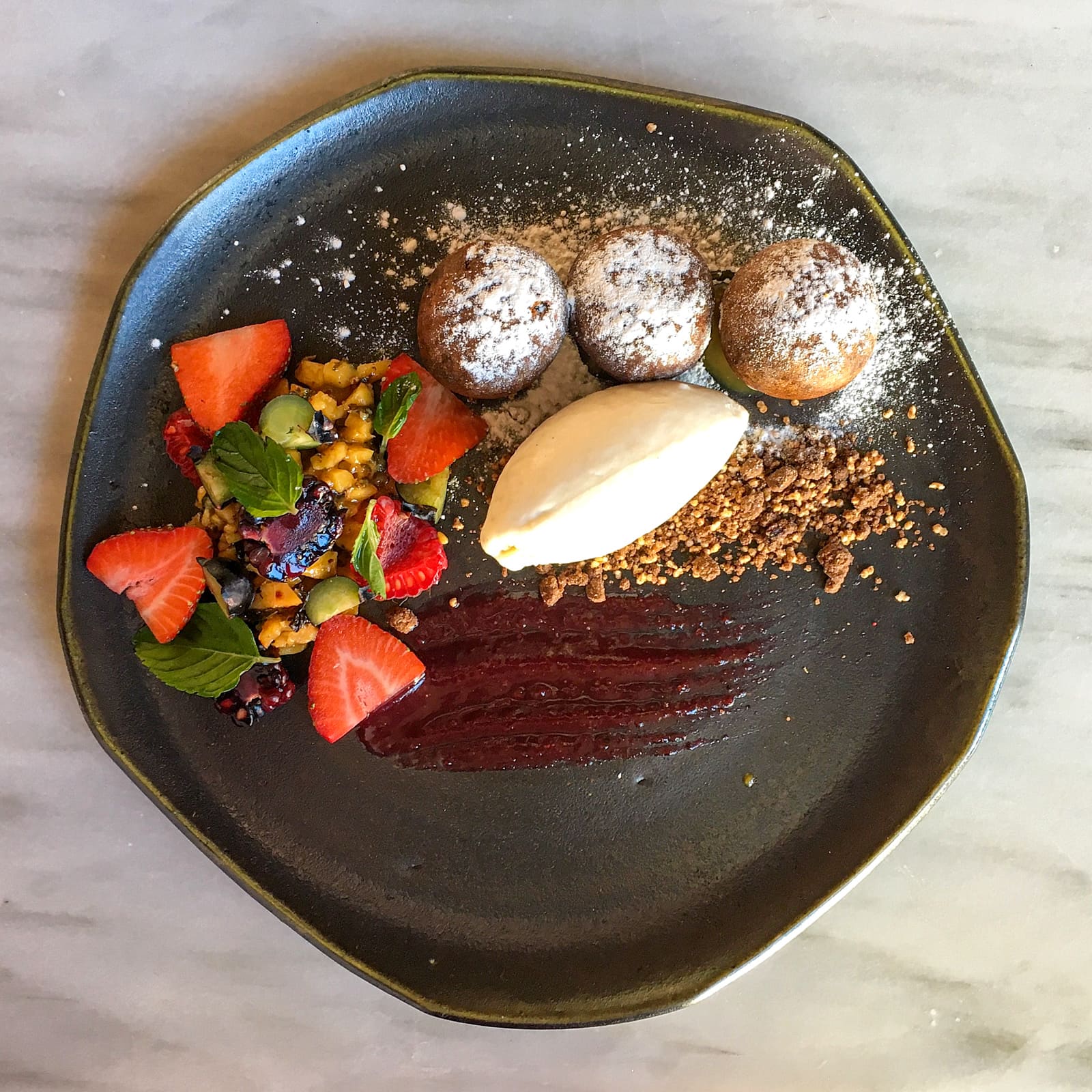 On the other hand, my dessert choice was a feast for the eyes. Three chocolate truffles with fresh fruit and ice cream were plated with precision.
On the menu today, there are many new and appealing Mexican foods, including:
Guacamole with grasshoppers and agave worms
Duck enchiladas with mole sauce
Poblano pepper risotto with shrimp
Beef tongue with chichilo mole sauce
Origin also offers a six-course tasting menu for 1,1000 Mexican pesos ($55). Pairings are an additional 450 pesos ($22).
Groups of 8-10 people can book the Chef's Table experience, where chef Castellanos will cook for you.
***
As you can see, the best restaurants in Oaxaca, Mexico, showcase local ingredients and a rich culinary tradition in modern recipes.
The fine dining restaurants in the city have a lot to offer, and are a great value if you're traveling on the dollar, euro, or British pound