How long would you wait in line for a bite of the world's best barbecue? At Franklin BBQ in Austin, Texas, diners answer that question every Tuesday through Sunday, and the answers might surprise you.
It's not uncommon for BBQ fans, some of whom have traveled from across the country, to wait in line a long time (three to four hours) to get a taste of Aaron Franklin's brisket.
Even Anthony Bourdain had to wait in line for an hour and a half to get his hands on Franklin BBQ, as featured in the Austin episode of No Reservations (Season 8).
"It is the best. It is the finest brisket I've ever had. I can't imagine anyone could surpass this. It's unearthly in its moistness, in its perfect balance."

- Anthony Bourdain to HuffPostTV
So yeah, Franklin Barbecue in East Austin is notorious for long lunch lines, and unless you're President Obama, you'll have to suck it up and endure the wait.
Intimidated by the time commitment and sure that it couldn't be that much better than the other excellent BBQ in Austin, I put off my first visit to Franklin's for six years. Finally, I made a go of it with my girlfriend, Kel.
Is Franklin BBQ worth the hype? Continue reading for our experience and whether I'd do it again.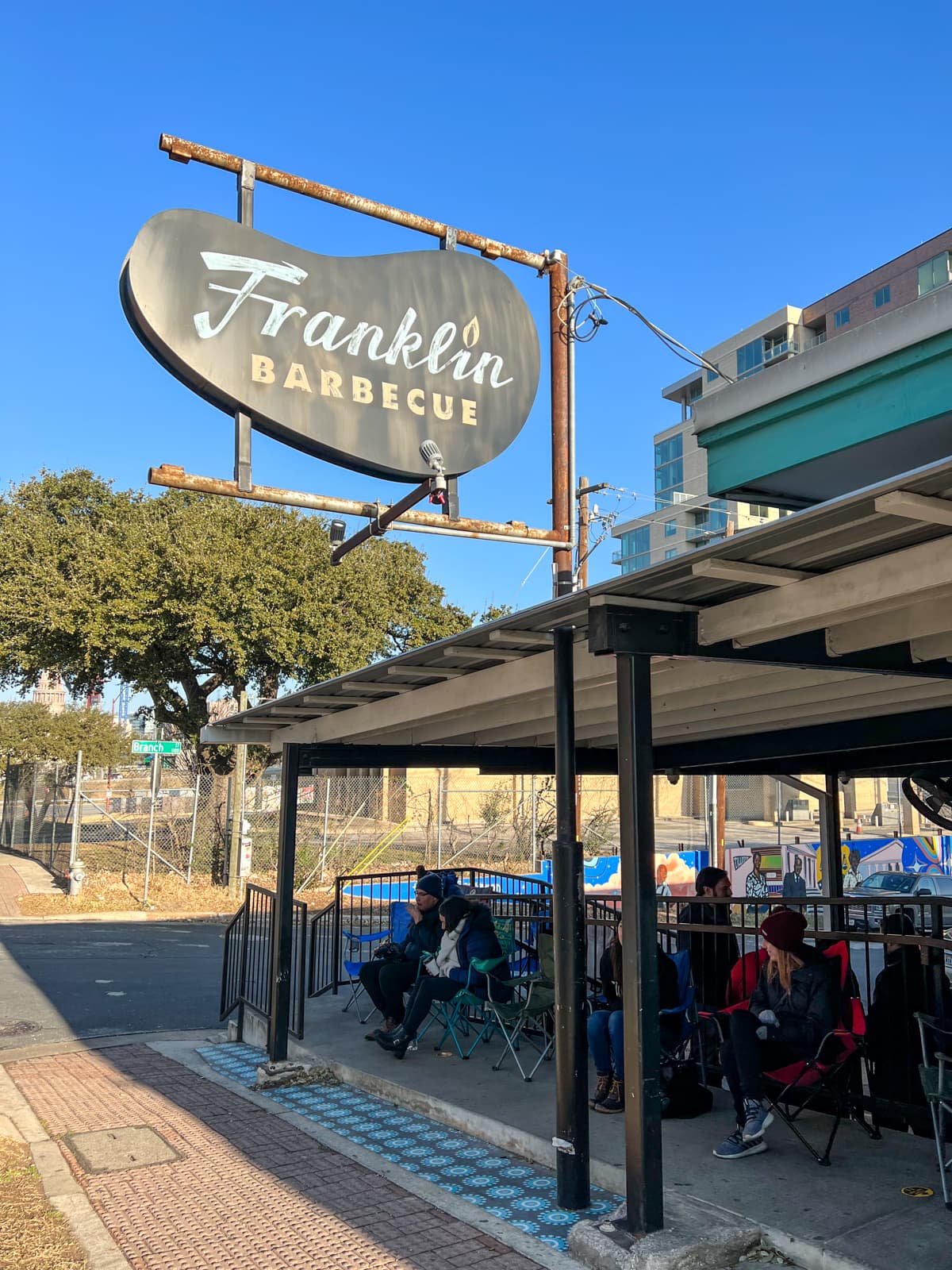 Line Strategy
Before you can get your paws on Aaron Franklin's juicy beef brisket, you must plan. I'm referring specifically to dining at the only restaurant location.
BBQ fans and food bloggers from around the United States travel to Austin for Central Texas-style barbecue, not to mention the locals who've been aware of Franklin's food since 2009.
That was when he opened a small barbecue trailer with his wife, Stacy, just off Interstate 35.
By 2011, they were featured on the front page of The Dallas Morning News as they graduated from a food truck to a barbecue restaurant.
And in 2015, he won the James Beard Foundation Award for Best Chef: Southwest.
Wait times are typically shorter on weekdays, especially if the weather is cold or wet; however, you'll see people waiting in line no matter the conditions.
Lines are longer on weekends, especially when significant events are happening in Austin, like South by Southwest (SXSW) and the Austin City Limits (ACL) music festival.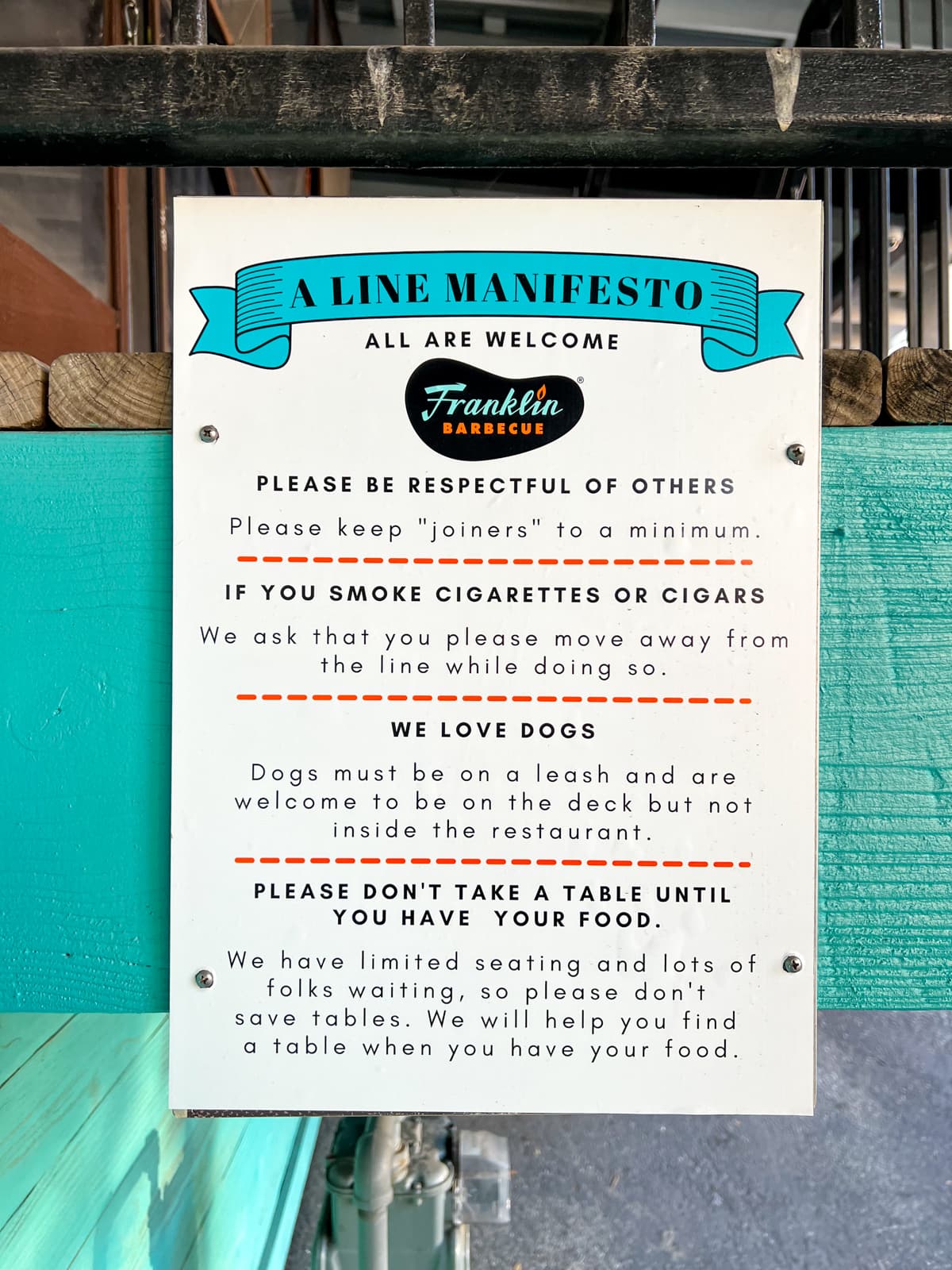 Given work schedules and travel plans, Kel and I had an ever-narrowing window to get to Franklin's before spring, which I hypothesized would help with the wait time.
We woke up early on the last Sunday morning in February and walked over to Franklin Barbecue. Yes, I live close to a world-famous BBQ, which indicates my disdain for long lines.
We arrived at 7:45 a.m. and were ninth and tenth in line. The person at the front of the line had arrived at 6:30 a.m. before the sun was even up. It was 37 F (2.8 C).
I'd read other blog posts with long lists of tips about preparing for such a long wait and what to bring, but they only contributed to my procrastination.
Reading them made getting lunch at Franklin BBQ seem like a big ordeal. Yes, it takes time to eat at one of the best barbecue joints in Texas.
No, it doesn't require bringing anything more than your wallet and patience (and warm clothes in the case of cold weather).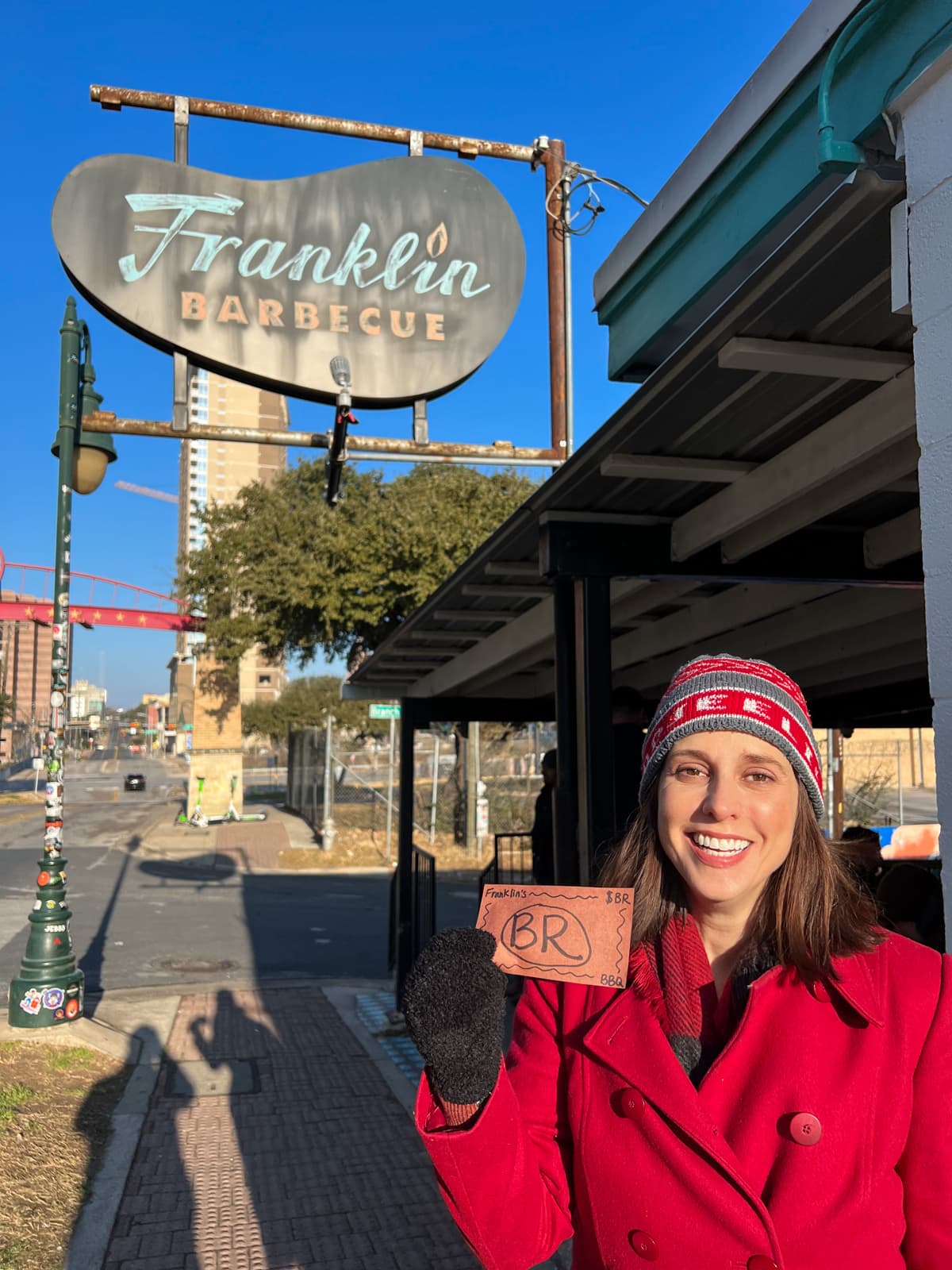 The Line is Part of the Experience
For several years, Franklin Barbecue has made pre-orders available, allowing customers who order a minimum of five pounds of meat online to skip the line.
That's great if you've got a big family or party to provide for, but I wanted the whole experience of waiting in line (is it that bad?) and dining in the restaurant.
Thankfully, I'd heard Franklin's makes lawn chairs available to early arrivals, and sure enough, there were about two dozen chairs under the staircase outside.
Kel and I each set up a collapsible chair; they acted more as placeholders, as I was more comfortable standing and moving around, given the cold temperature.
After taking photos, I was content to just while away the time; however, Kel's curiosity led her to start conversations with everyone around us.
The friendly couple I spoke with the most owned a restaurant near the Mexico border in Laredo.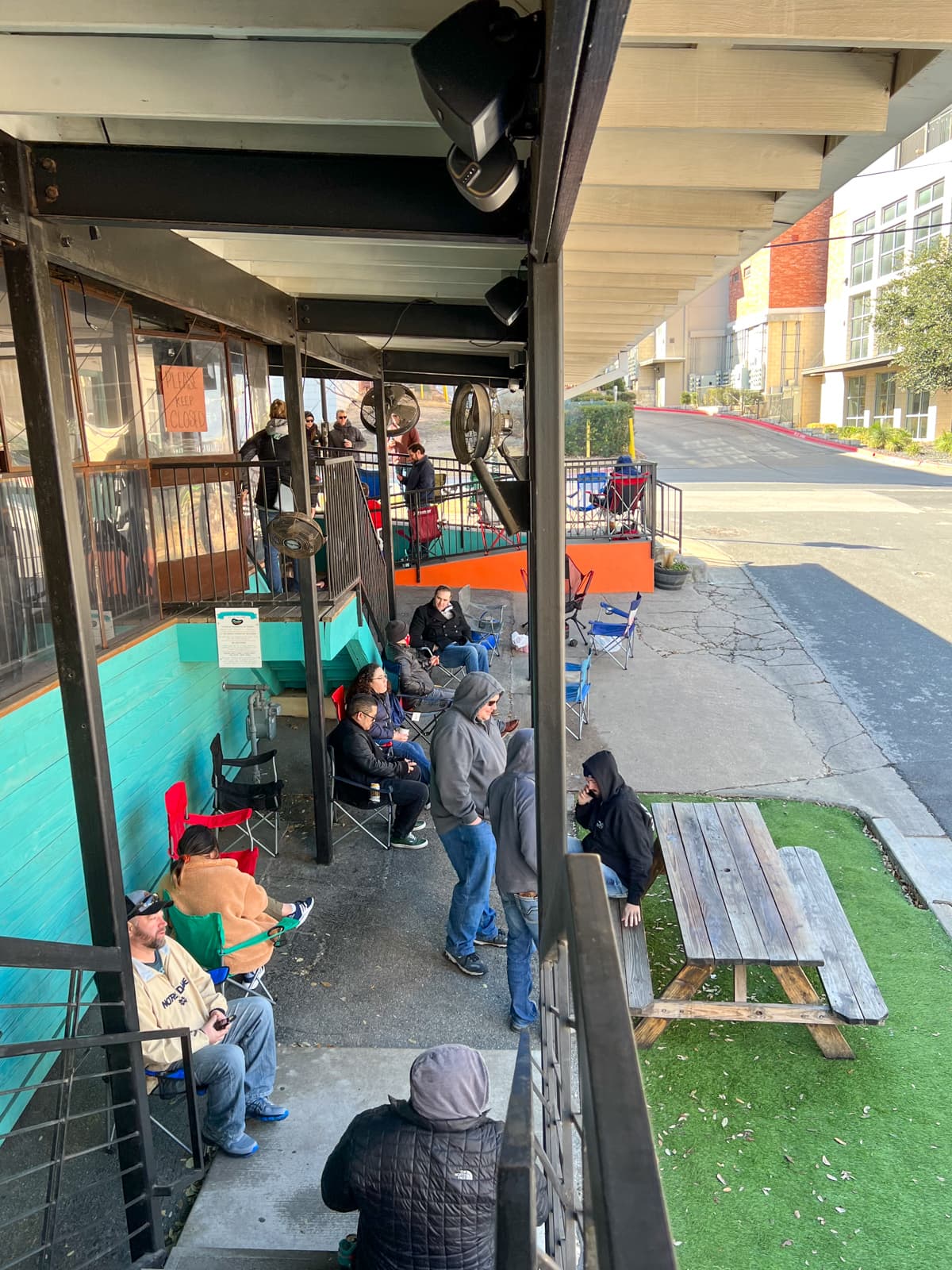 Around 8:15 a.m., a woman working at Franklin BBQ made her way through the line, asking what kinds of foods each person planned to order.
She mentioned the beef ribs are only available on weekends for dine-in customers, and they had a limited supply. We committed to one and received a coupon to redeem at the counter.
A few minutes before 9 a.m., she came out again and said they were opening the restaurant so we could use the restrooms (instead of the portable toilets in the parking lot) and check out the merchandise.
Most importantly, she said we were welcome to hang out on their heated porch.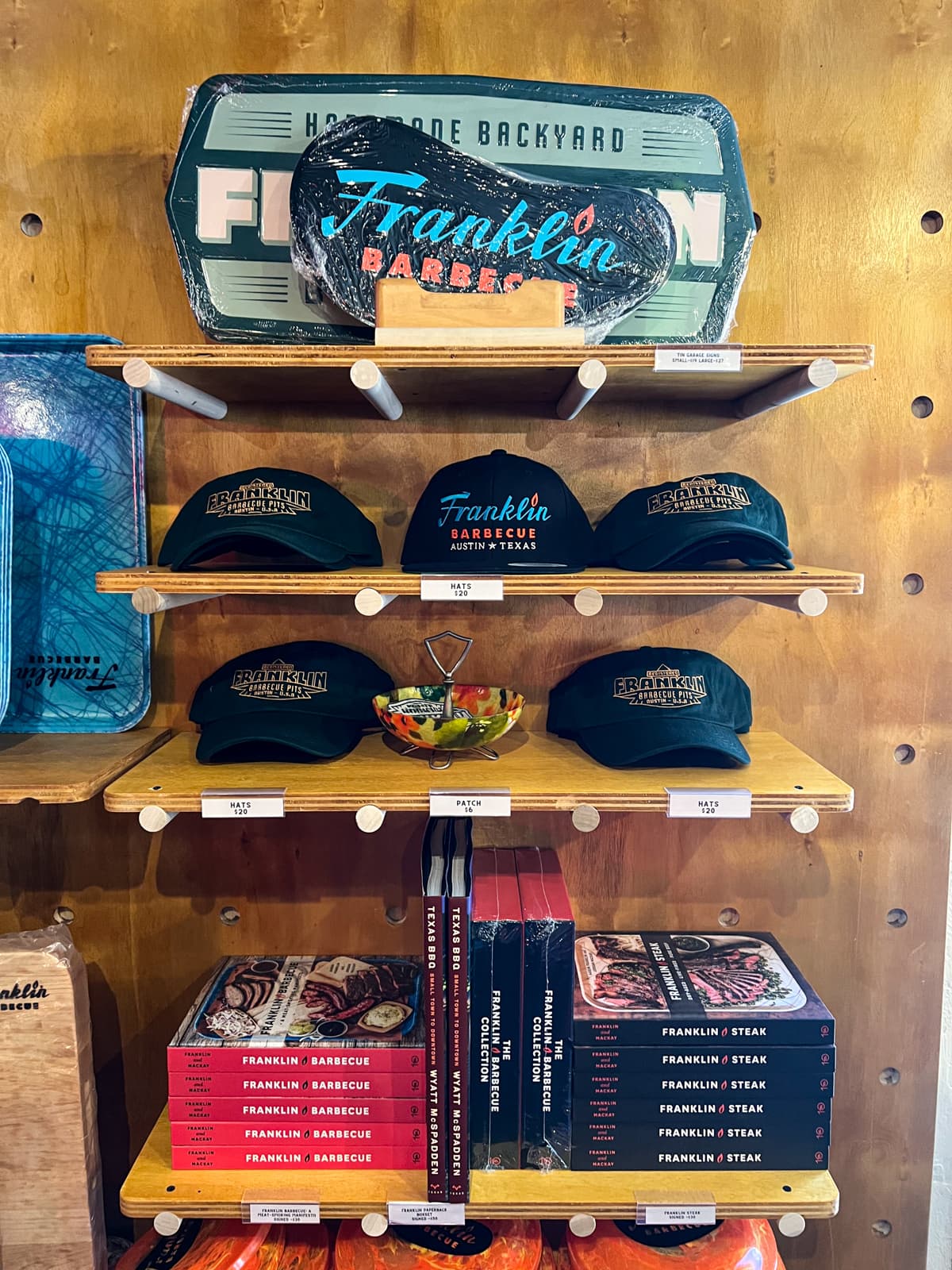 Franklin BBQ Merchandise
I don't know if they allow guests inside before 11 a.m. when it's warmer out, but it's a terrific idea to help sell merchandise, of which there's plenty.
Aaron Franklin's hardcover books, Franklin Barbecue and Franklin Steak are available. There are lots of t-shirts, hats, and hoodies. And then the cooking stuff.
Post oak charcoal briquets, cutting boards, knives, and even the blue branded cafeteria trays used at the restaurant.
There's also an $895 teal and coal grill on display. All of this and more are also available to buy online.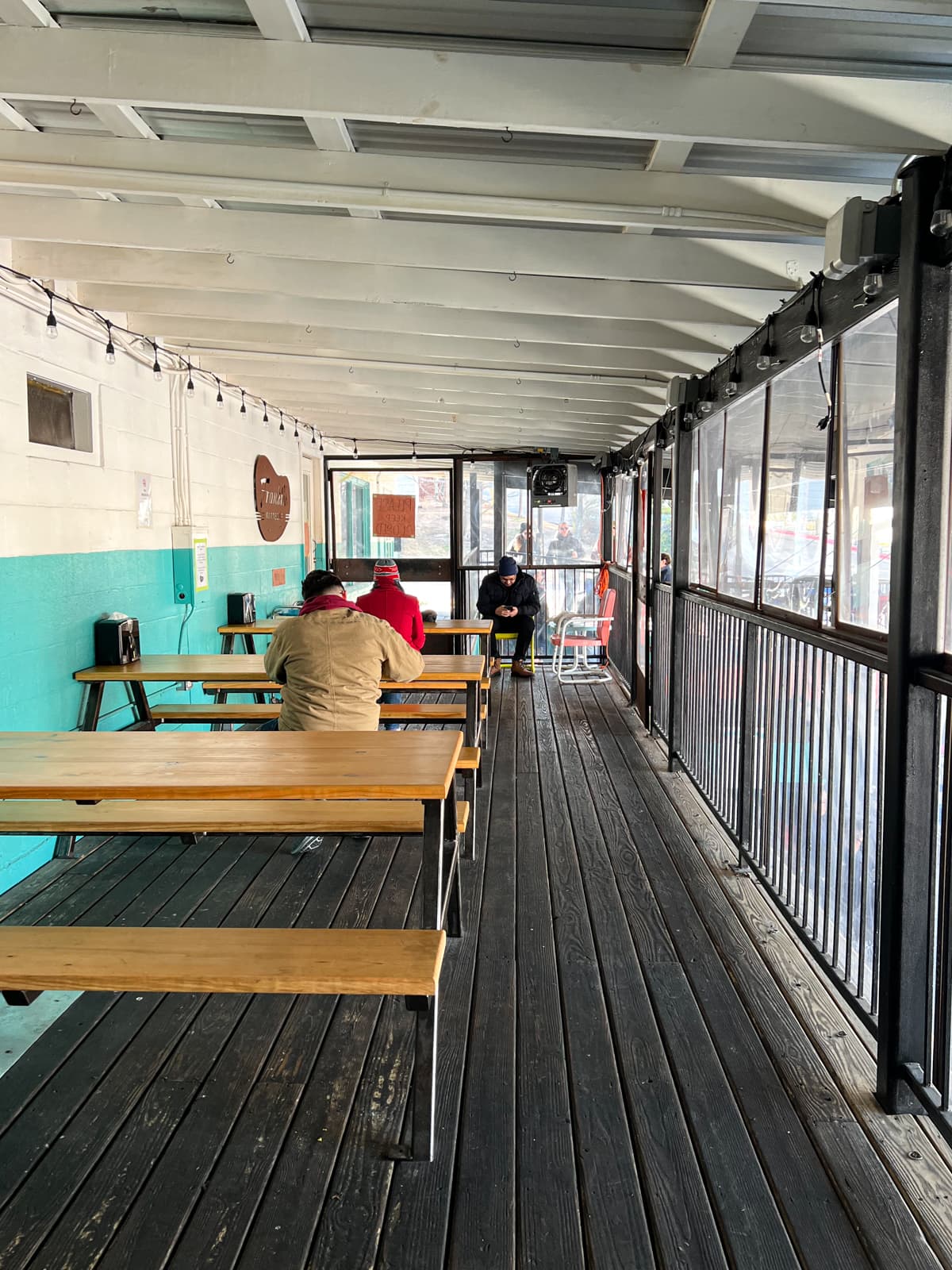 After checking out the merchandise, Kel and I camped on the heated porch, where she read, and I played around with my iPhone.
At 10:45 a.m., I noticed the back of the line extended to the parking lot.
I didn't know how long it'd take to order brisket if you got in line right before the restaurant opened. However, I did know I was guaranteed a giant beef rib!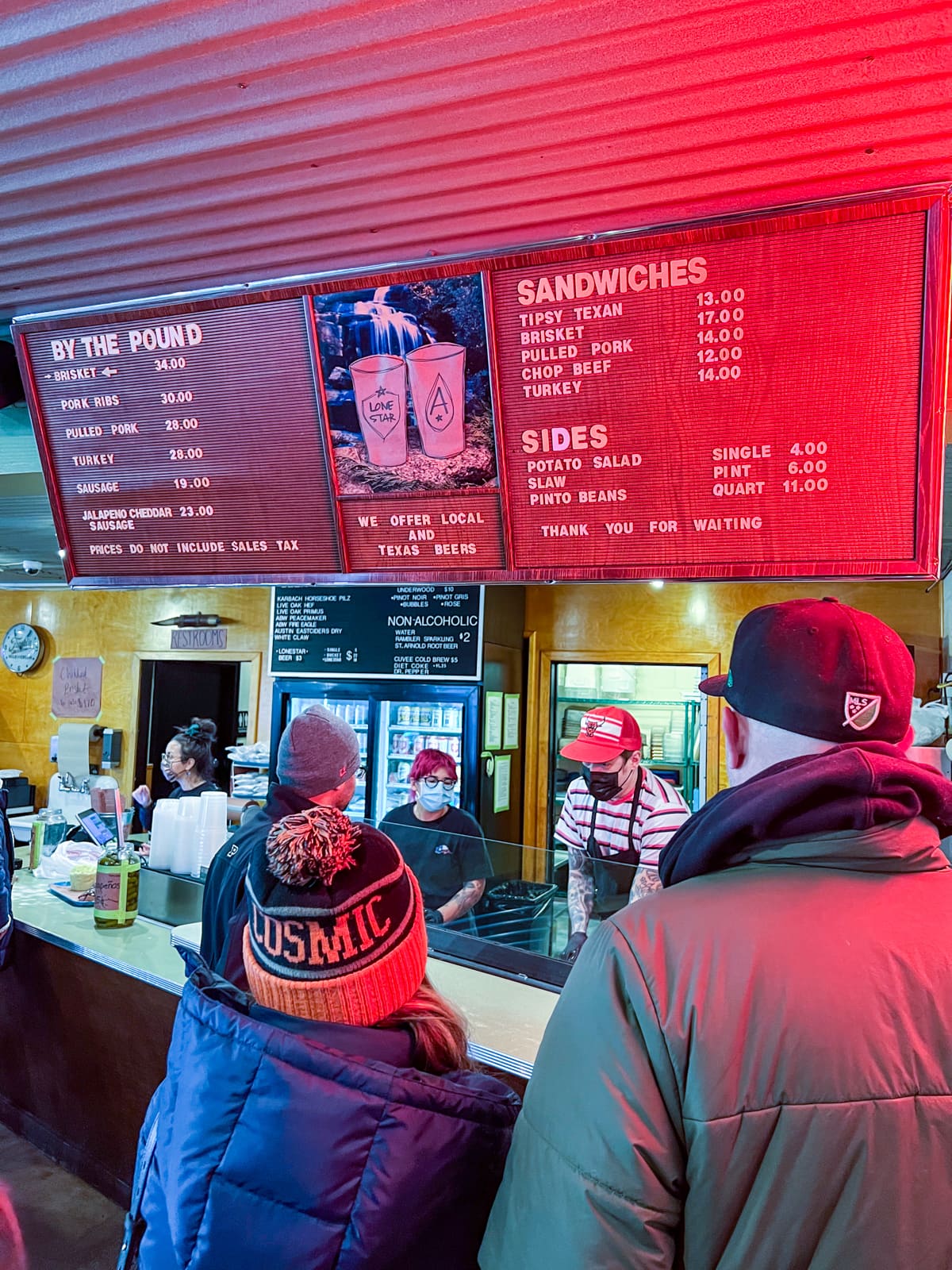 Ordering at the Restaurant
As the minutes ticked down to the opening of Franklin Barbecue, there was a palpable sense of excitement in line.
People now knew some of those around them, and even if they didn't, we were all about to eat well, so why wouldn't you be in a good mood?
Those of us with collapsible chairs returned them and held steady in line.
At 11 a.m., the door to the dining room swung open, and we moved inside. At this point, we were warm and minutes away from finger-licking Franklin BBQ in Austin.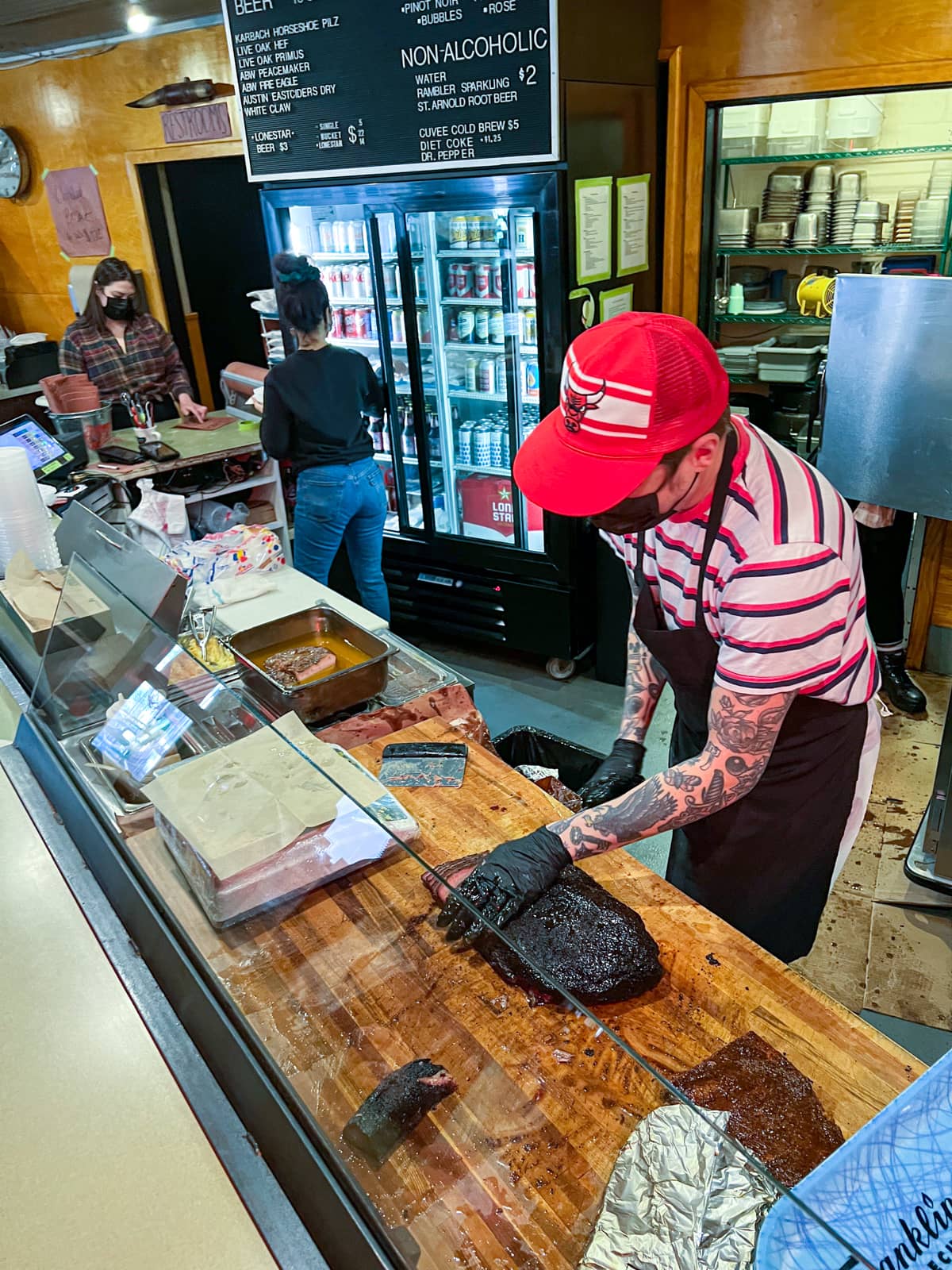 How much does Franklin Barbecue cost?
The menu and prices are written on a few squares of butcher paper taped to the wall, so you can begin to make decisions before you reach the counter.
Smoked meat is listed per pound; all prices are subject to change. Here's what we saw:
$34 brisket
$30 pork ribs
$28 pulled pork or turkey
$23 jalapeño cheddar sausage
$19 regular sausage
The beef rib wasn't listed, but it was about $35.
Sandwiches include:
$17 brisket
$13 Tipsy Texan
$14 pulled pork or turkey
$12 chopped beef
And then there were the sides and desserts:
$11 pinto beans
$6 cole slaw
$4 potato salad
$8 mini-pies (provided by local suppliers)
Related: Best Restaurants in Austin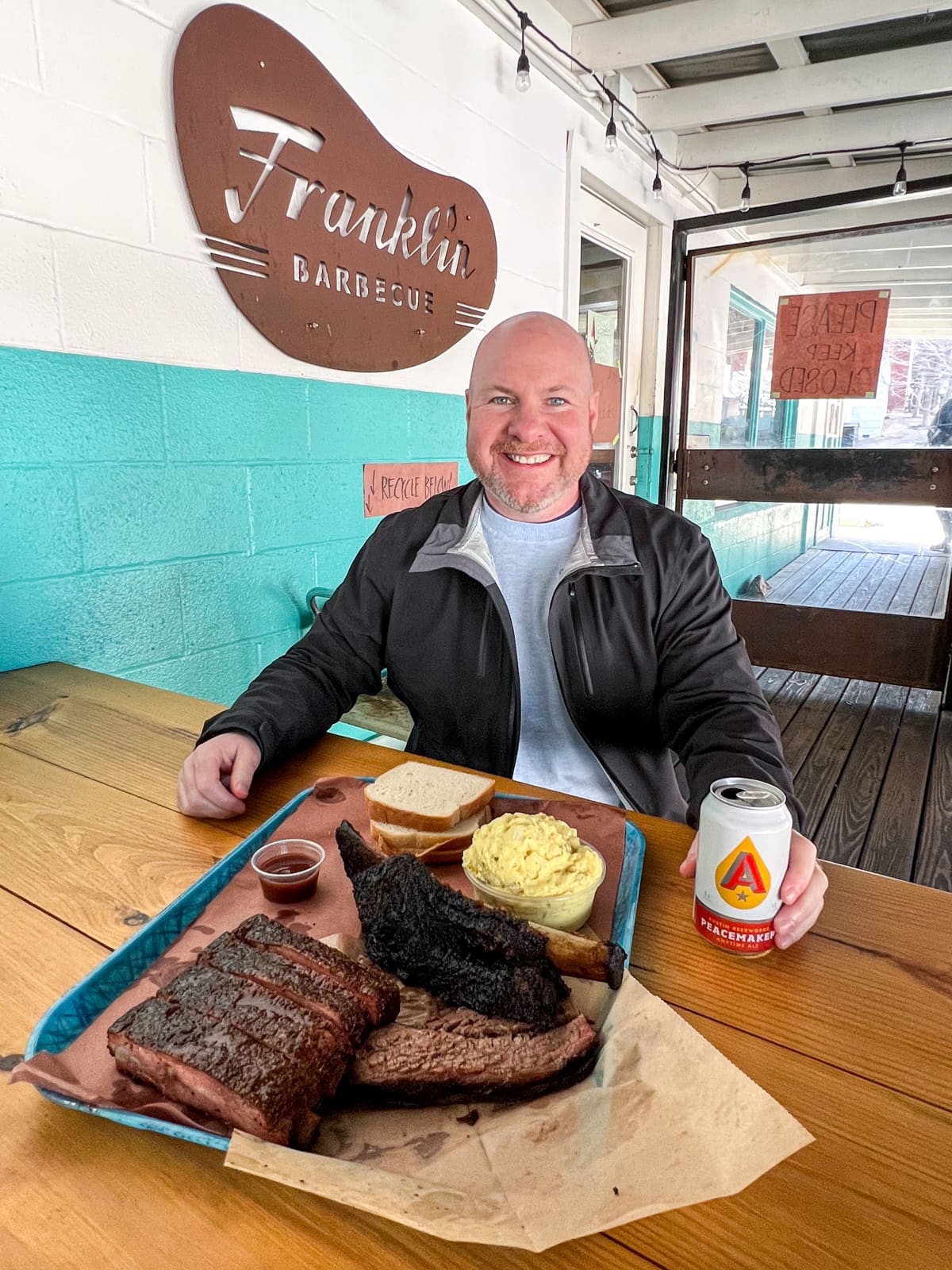 I learned not to over-order at Austin's best barbecue joints.
Kel and I got a ¼ pound of brisket, four pork ribs, one beef rib, potato salad, banana bourbon pie, and a local beer and cider.
Altogether, the cost of our lunch for two at Franklin BBQ came out to $132, including tax and a 20% tip. It was enough to feed us two full meals, which helped with the sticker shock.
Seating
Once we'd taken a few quick photos on the porch where the lighting was better, we returned to the dining room and snagged a few seats by the window.
Another benefit of arriving early at the restaurant is improved odds of getting the table you want.
There's only enough seating for a few dozen people inside, after which you'd have to head to the porch for picnic tables. There are a few tables at street level, too.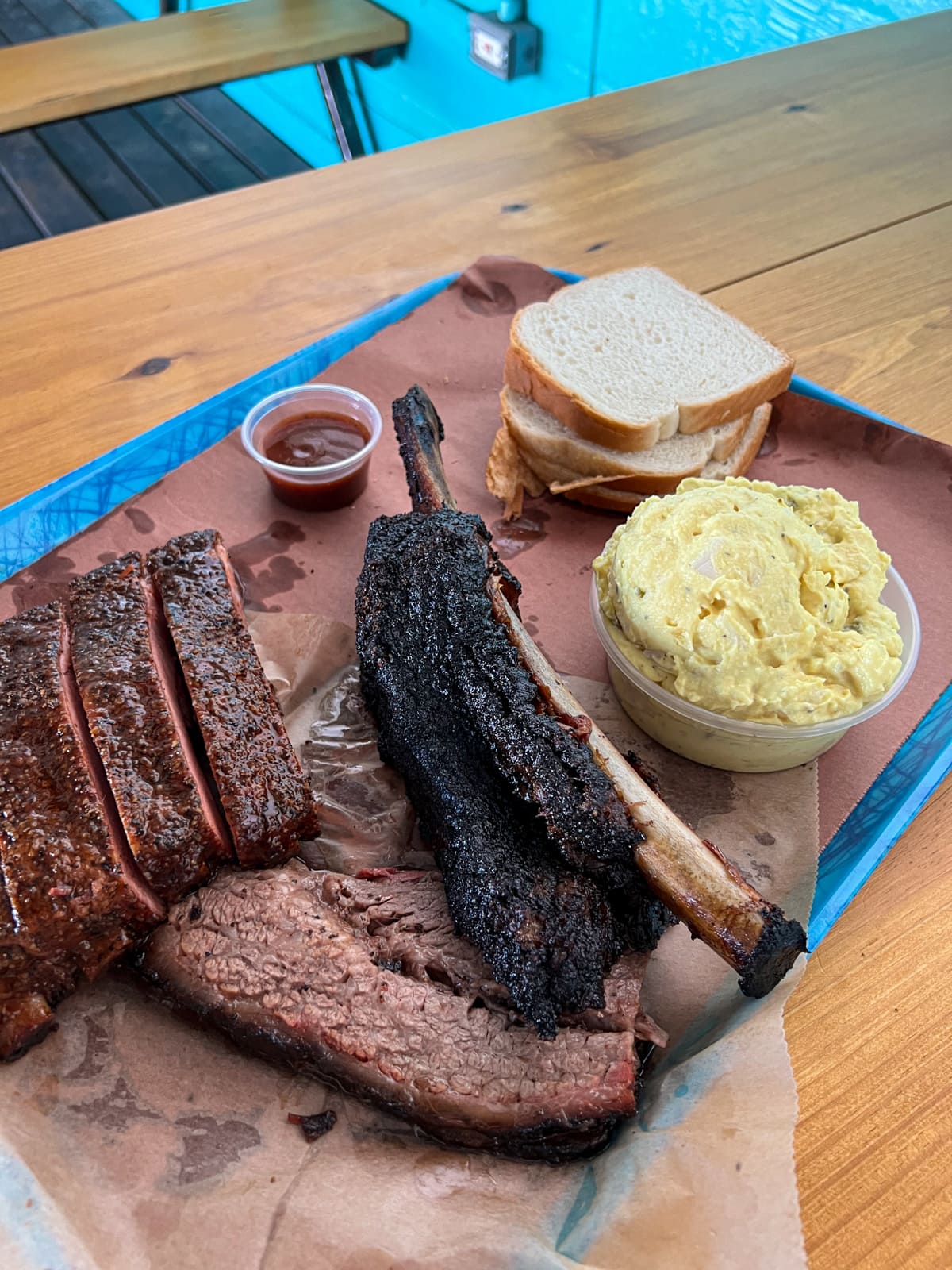 Franklin BBQ Brisket
Aaron Franklin has won all the awards for cooking his brisket low and slow over post oak wood, using only salt and pepper for seasoning the beef.
But how good is Franklin's brisket? In a rush to finally answer this question, I began slicing pieces of brisket.
The first few bites of the freshly smoked brisket were glorious. In an instant, I knew why this guy was inducted into the American Royal Barbecue Hall of Fame in 2020.
Bourdain was right. Obama knew what he was doing. And now, I, too, was a Franklin fan. It was some of the best brisket I've eaten since moving to Texas.
Related: Goldee's BBQ in Fort Worth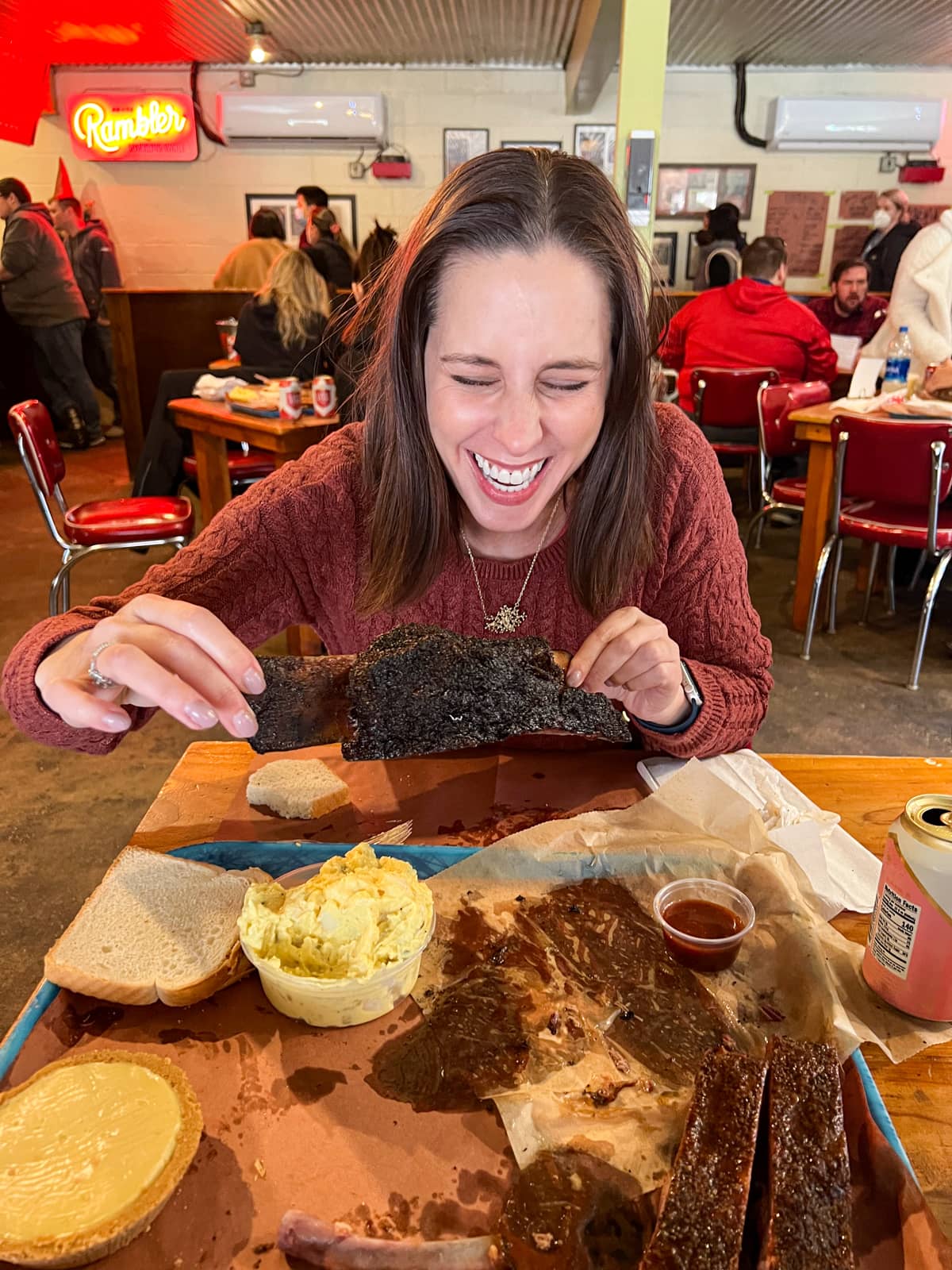 Beef Rib
Once the brisket was gone, we turned to the giant beef rib before us. I sliced into the charred crust and took my first bite, which melted in my mouth.
It was as if I were eating bone marrow, and then I realized it was pure fat. I kept moving along the rib to reach the meat, which tasted equally incredible.
Kel and I could tell there was too much meat on the rib to finish in one sitting, so we saved it for lunch the following day.
Pork Ribs
I began gnawing on a pork rib, which has become my usual order, along with brisket, wherever I go in Central Texas.
Franklin's pork ribs were on par with others I've had at places like La Barbecue at InterStellar.
Sides and Dessert
The potato salad was average, which felt like a missed opportunity.
Everyone goes to Franklin Barbecue for the brisket and other meats, but I couldn't help but feel slightly disappointed.
Many other top barbecue spots in Austin try to jazz up their sides or offer unique recipes you won't find elsewhere. Franklin is so famous; I guess it doesn't matter to most diners.
I was more excited about the pies than the sides, especially when I saw banana bourbon #1 on the menu.
They're made by Austin's Cake and Spoon, which I hadn't encountered before. Unfortunately, it tasted rather bland.
I probably wouldn't have minded as much had it not been $8, but I expected a more decadent pie at that price.
The current menu also features pecan pie, key lime pie, and Ruby's dang pie. That last one is a coconut and pineapple pie from an Austin BBQ place that closed after 30 years.
Related: Truth BBQ in Houston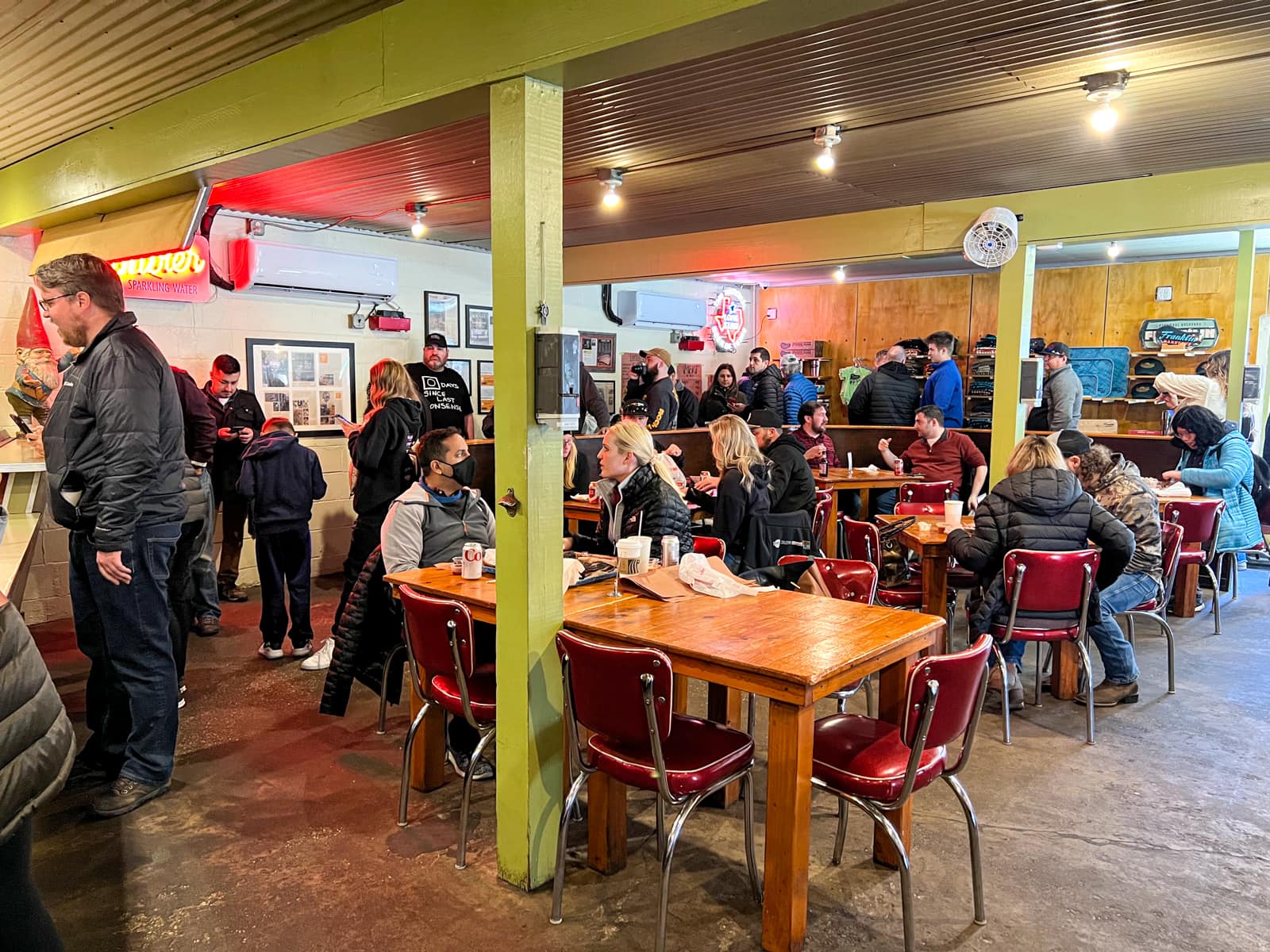 Final Thoughts
In conclusion, my experience at Franklin Barbecue was a fun foodie adventure close to home. The waiting in line isn't a big deal, and I don't recommend you do what I did and make it one.
Just show up as early as possible and think about the delicious food you'll soon enjoy. Chat with others around you while you wait, bring a book, or listen to podcasts with some earphones.
If you're unfamiliar with the best BBQ in Austin, the prices are typical; the line, thankfully, is not.