What a year! I'm happy to have reached its end and am ready to turn the page, but not before sharing my best dishes of 2021.
I spent the early winter months at home. However, I began venturing out more once I got vaccinated in the spring.
I began dating a wonderful woman (hi Kel) and traveled quite a bit with her. Hawaii, West Texas, and The Bahamas were all in the cards.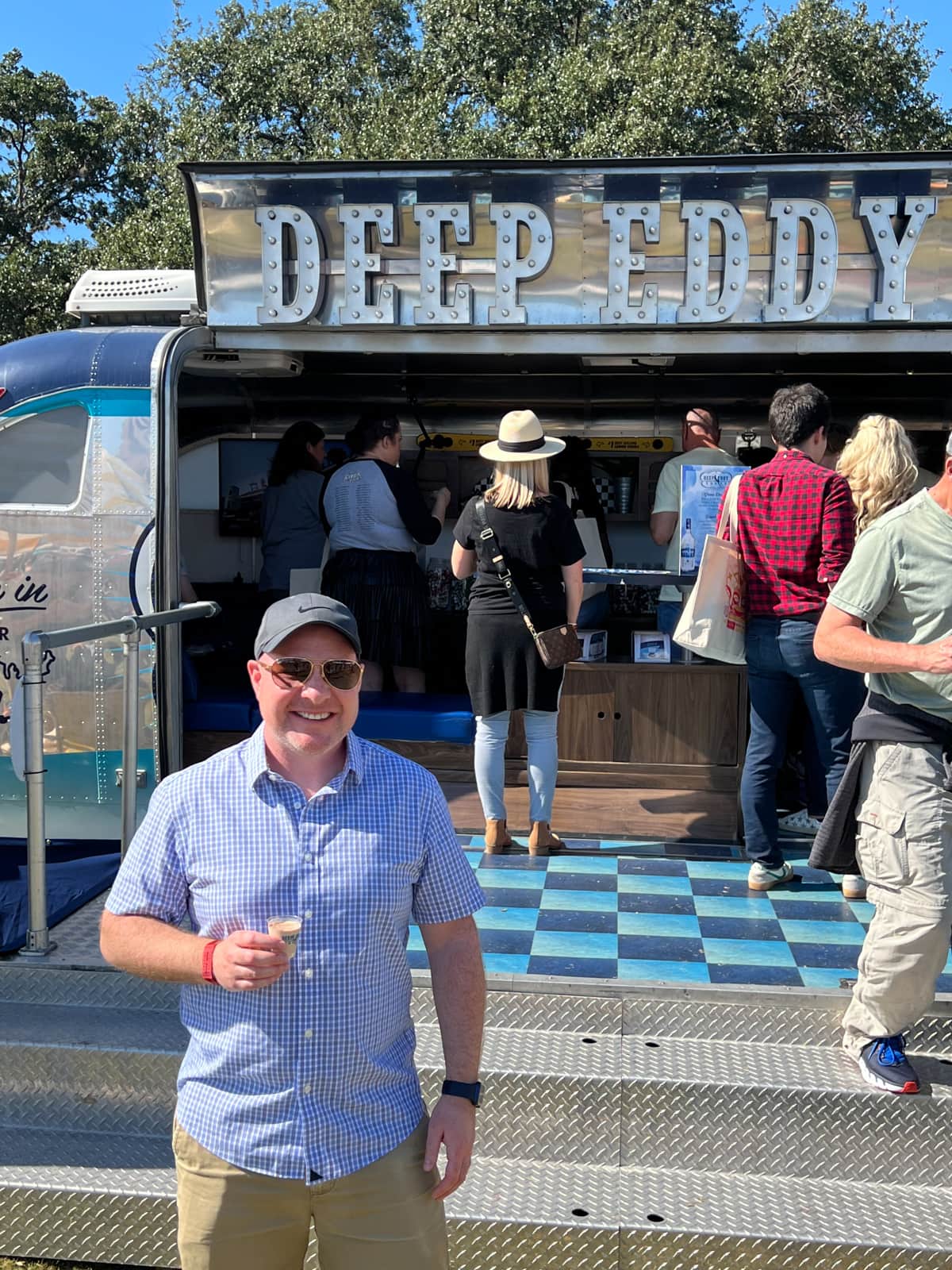 On a sad note, I lost my mom over the summer, which led to deep grief I'd never felt before.
Traveling helped, as did making my mom's recipes for Hershey's chocolate bar pie at Thanksgiving and chocolate rum balls at Christmas.
I ate the rum balls so fast I didn't even stop to take pictures.
They brought back many childhood memories (mostly of me sneaking rum balls from the kitchen).
The Austin Food + Wine Festival returned in November, and I once again spent the weekend sampling bites and drinks from local restaurants and purveyors.
My favorite drink was frozen hot chocolate with Deep Eddy vodka, Cosmic Coffee espresso, dairy horchata, and cocoa mole spices.
Let's start with my best bites in Austin, and then I'll share what got me excited beyond city limits.
Best Dishes in Austin, TX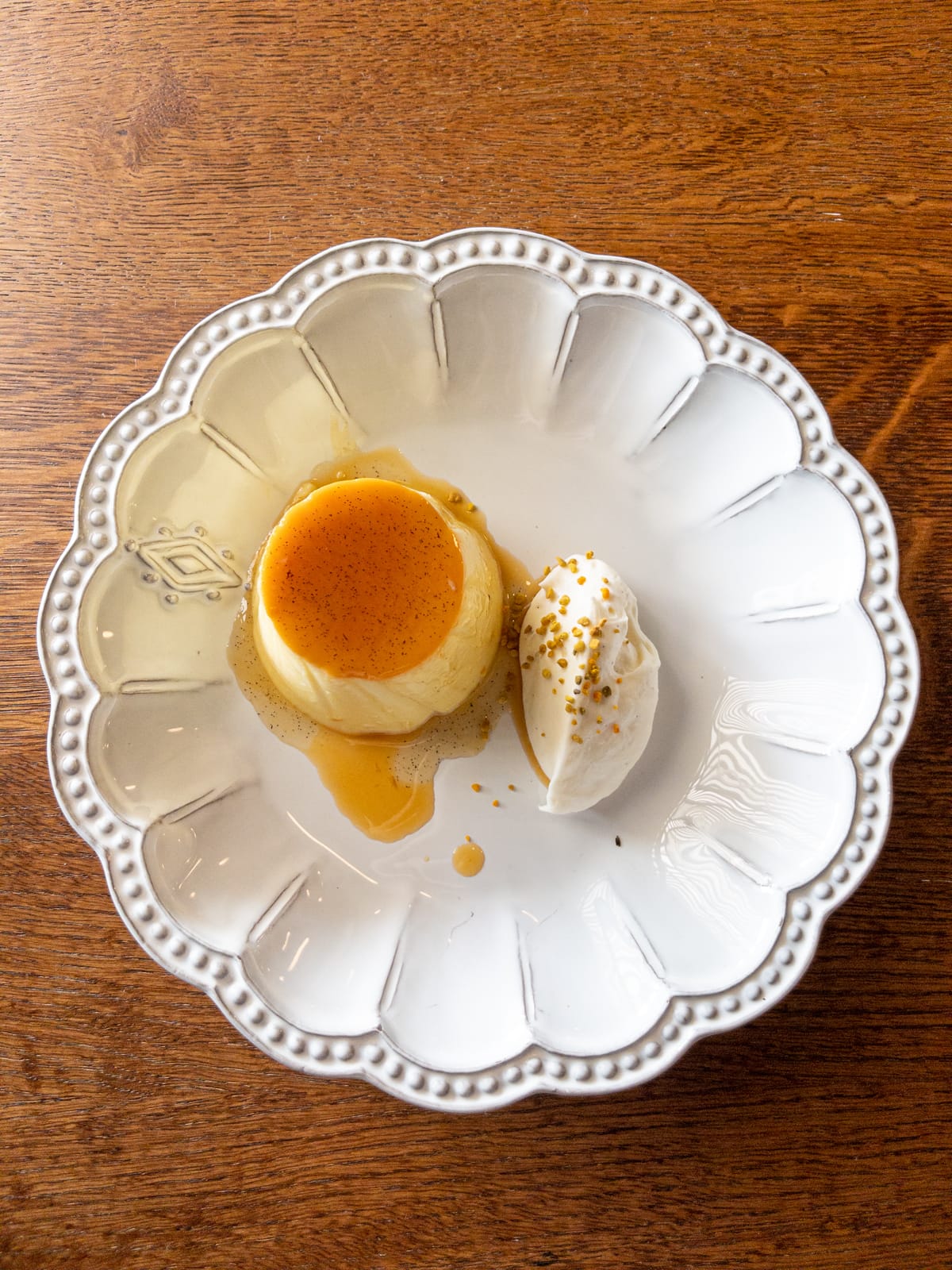 Lutie's Garden Restaurant
In early spring, Lutie's Garden Restaurant at the luxurious Commodore Perry Estate opened to non-guests of the hotel.
It was my first fine dining experience since dinner at Hestia a year earlier, so I was excited.
My Texas beef with bone marrow was excellent. And because I couldn't decide which dessert to order, I got two.
The Kouign Amann ice cream was getting great reviews, so that was one. But, I consider the wax creme caramel with burnt honey one of my best dishes in 2021.
It was a pleasant surprise, as I'm not usually impressed by flan-type desserts.
The experience led me to add Lutie's to my list of best restaurants in Austin.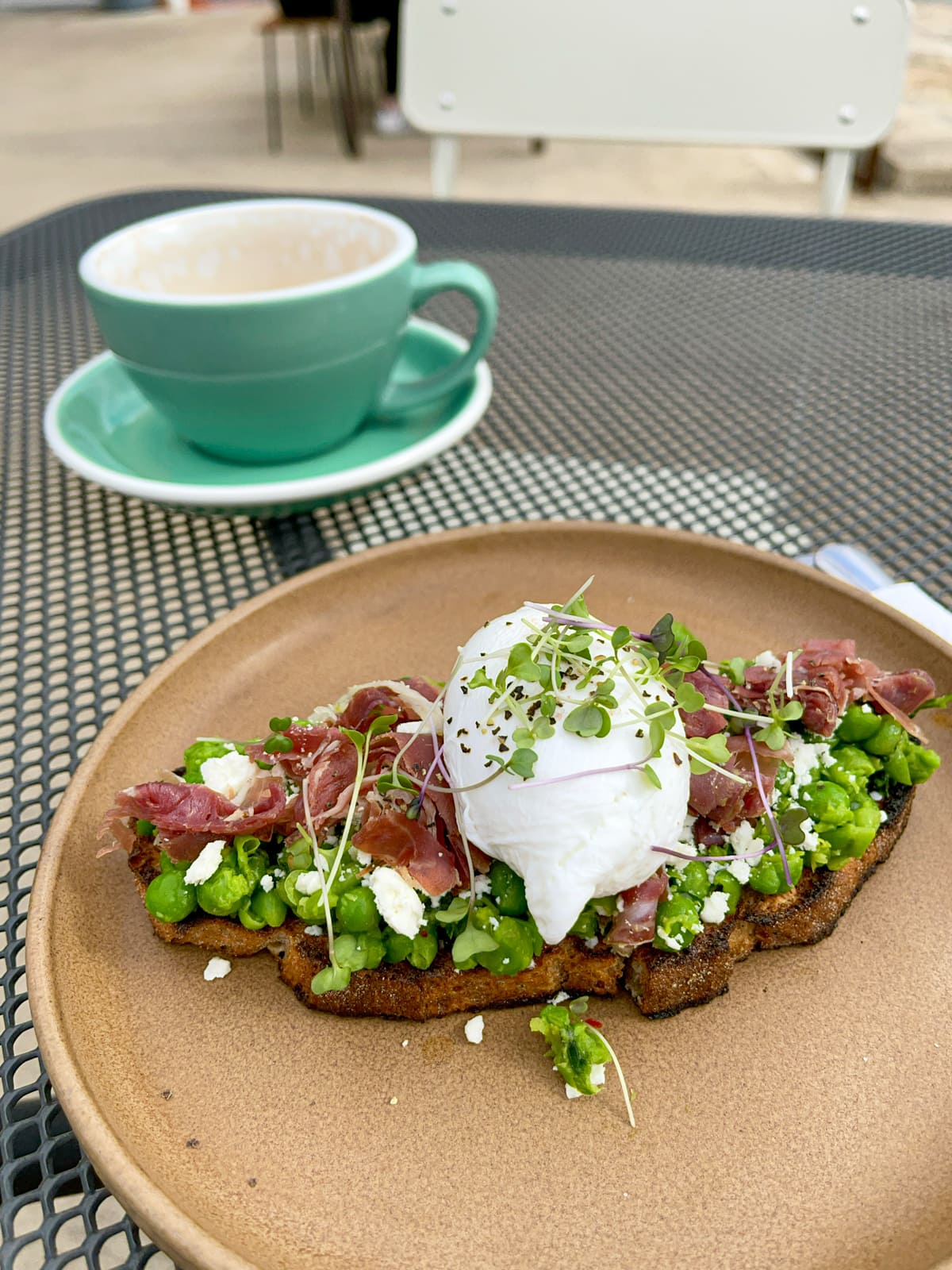 Civil Goat Coffee
Civil Goat Coffee is one of my favorite Austin cafes; however, the original location is 30 minutes west of downtown, so I don't get there often.
When I learned a second location opened on Guadalupe Street in Central Austin, I checked it out.
Already a fan of their avocado toast, I tried the green eggs and ham with avocado oil, smashed peas, feta cheese, prosciutto, microgreens, and a poached egg.
The presentation was beautiful, and it tasted delicious, too.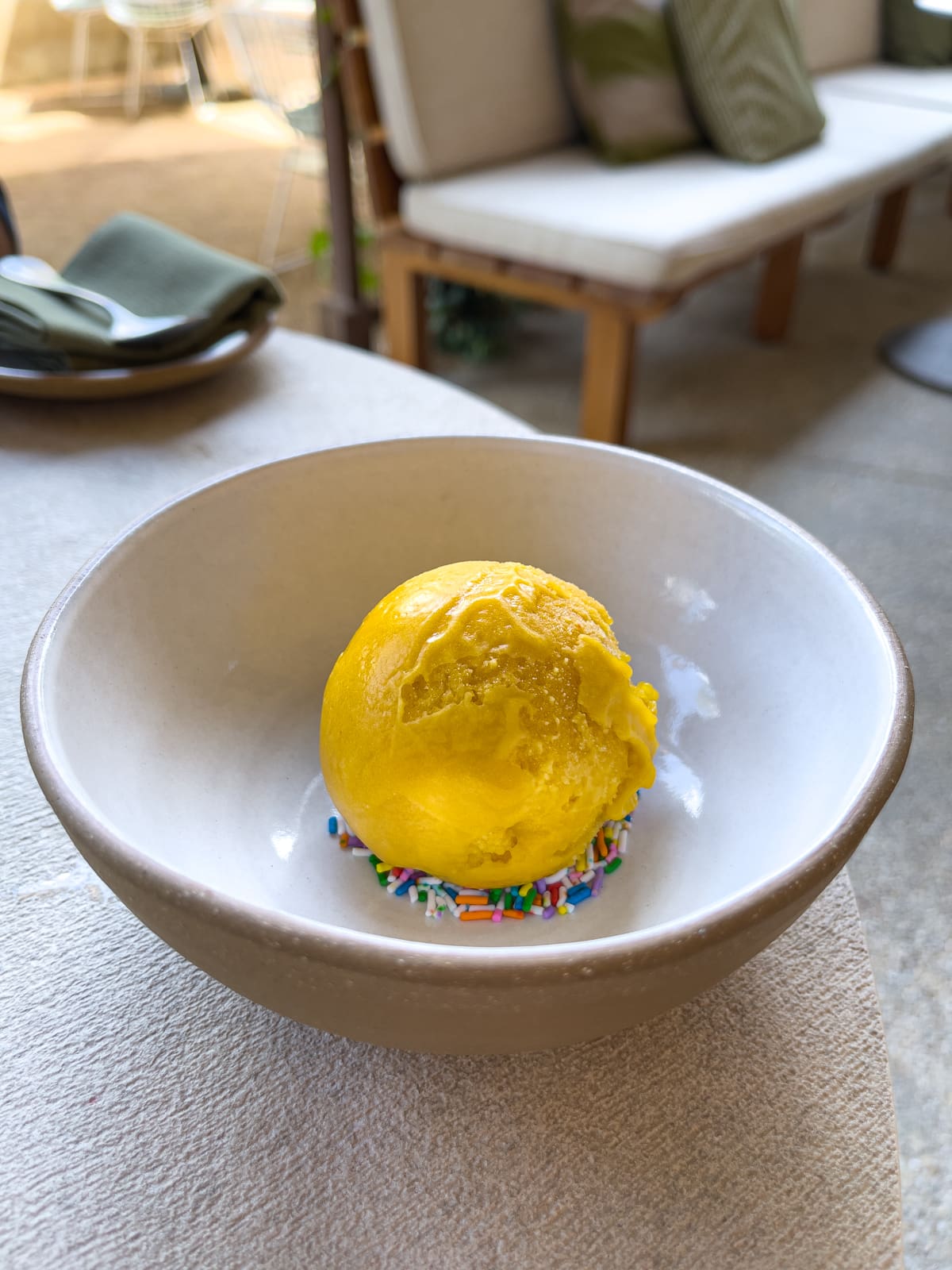 Summer House on Music Lane
Thanks to Instagram, I grew curious about Summer House at the Hotel Magdalena in South Austin.
I went for lunch twice in 2021, the first time solo and the second time with my friend Troy who I first met in Medellin, Colombia, 11 years ago.
Each visit was a delightful experience dining on their patio. On the second trip, I ordered the mango chile sorbet for dessert.
The sorbet has a rich golden color and a spicy kick - a refreshing choice if you're trying to cool down from the Texas heat.
See also: Cayena Beach Villa in Colombia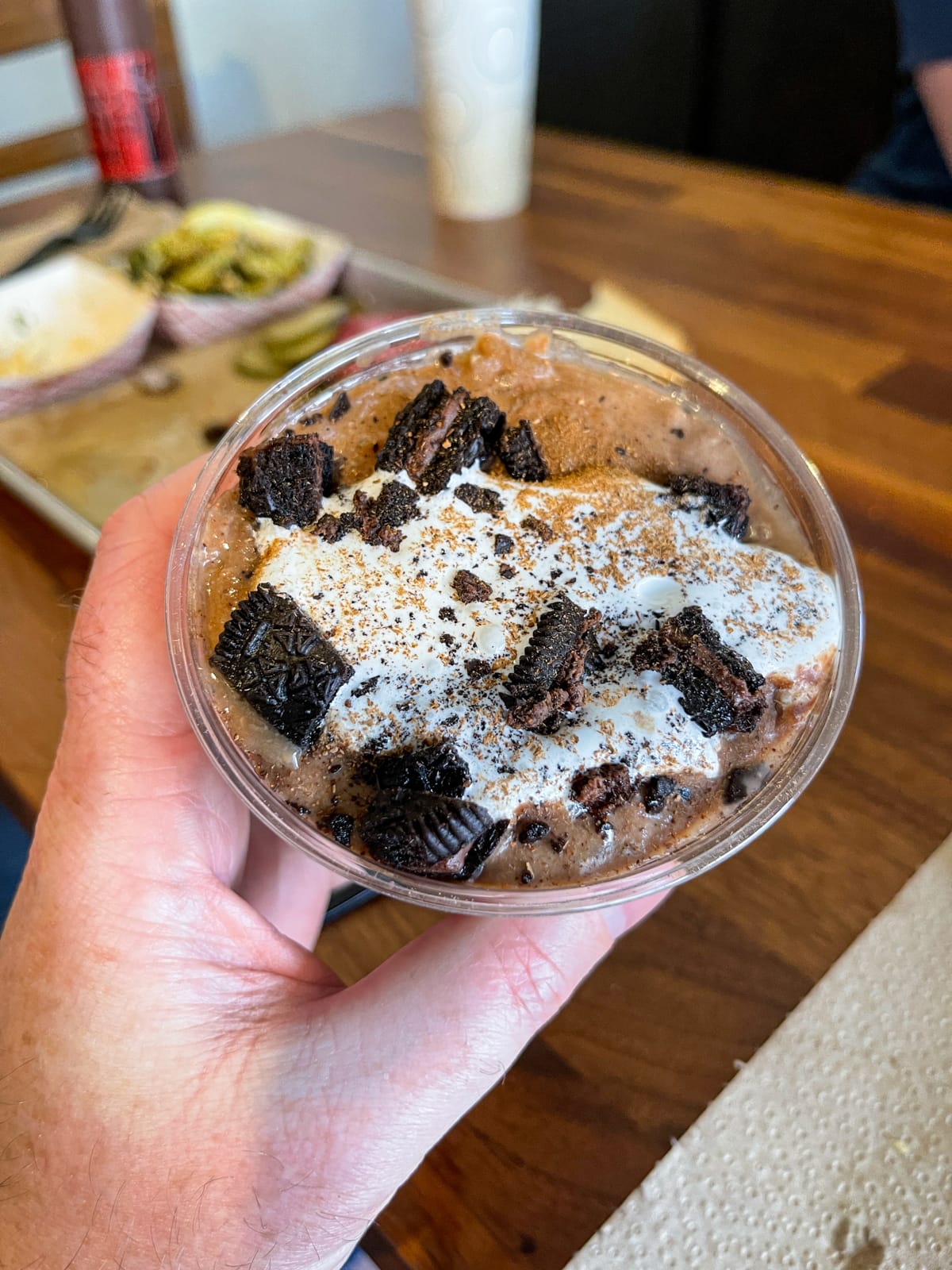 InterStellar BBQ
My exploration of Central Texas barbecue continued in 2021, yet one of my favorite dishes wasn't a brisket or pork rib.
I was more enamored with the Mexican chocolate rice pudding at InterStellar BBQ in North Austin, ranked #2 on Texas Monthly's annual list of the top 50 best BBQ joints (November issue).
Usually, I'm not a fan of rice pudding, but this had chocolate and chopped Oreo cookies.
It was a next-level dessert, juxtaposing creamy rice pudding and crunchy cookies served in a plain plastic cup. I can't stop thinking about it.
Related: Best BBQ in Austin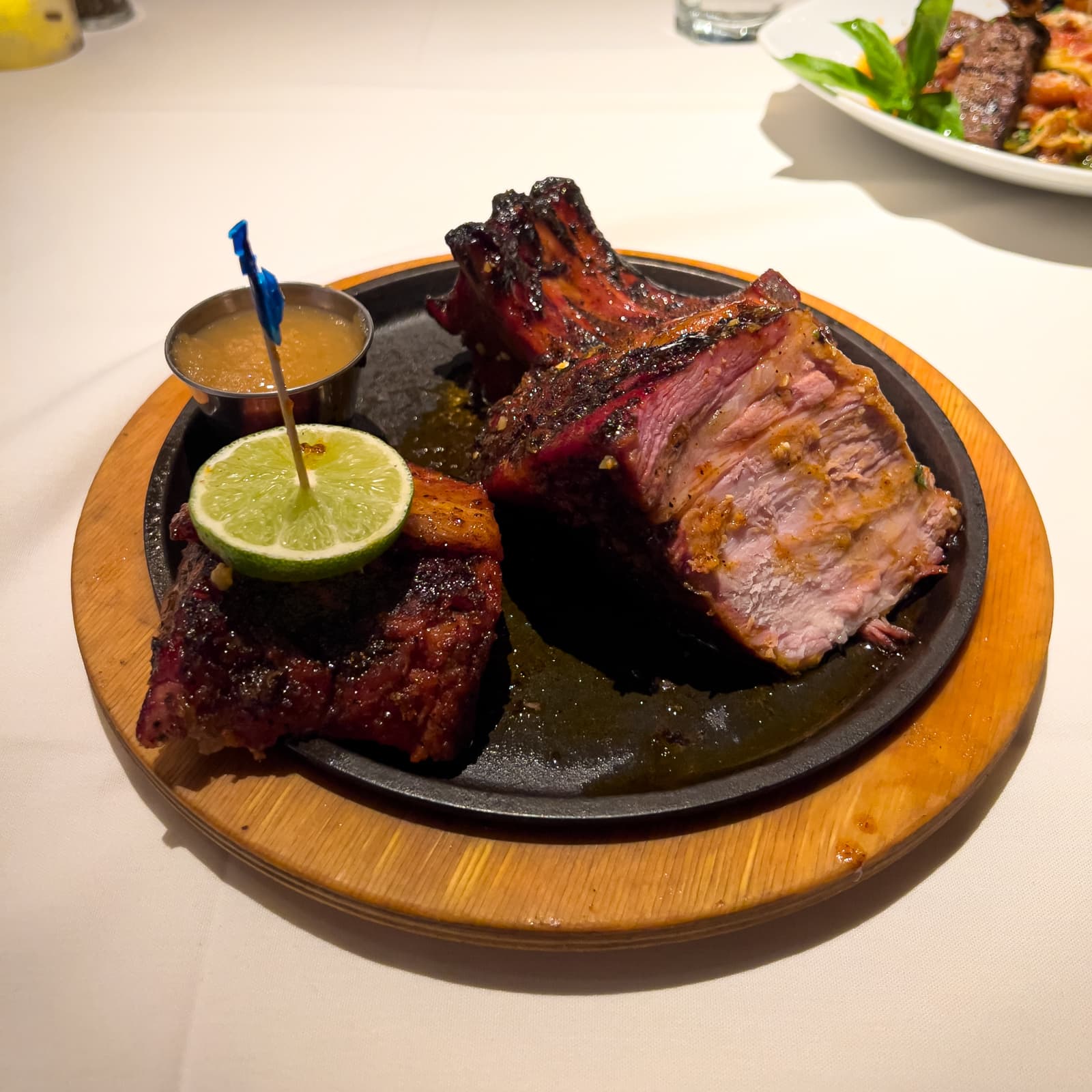 Perry's Steakhouse & Grille
Another of my birthday dinners was courtesy of Kel, who took me to Perry's Steakhouse & Grille at the Domain NORTHSIDE.
I'd previously experienced their famous pork chop in downtown Austin and was hungry for more.
Carved tableside, it's a sight to behold. And this pork chop will feed you for days.
I took half of it home and got another two meals from it.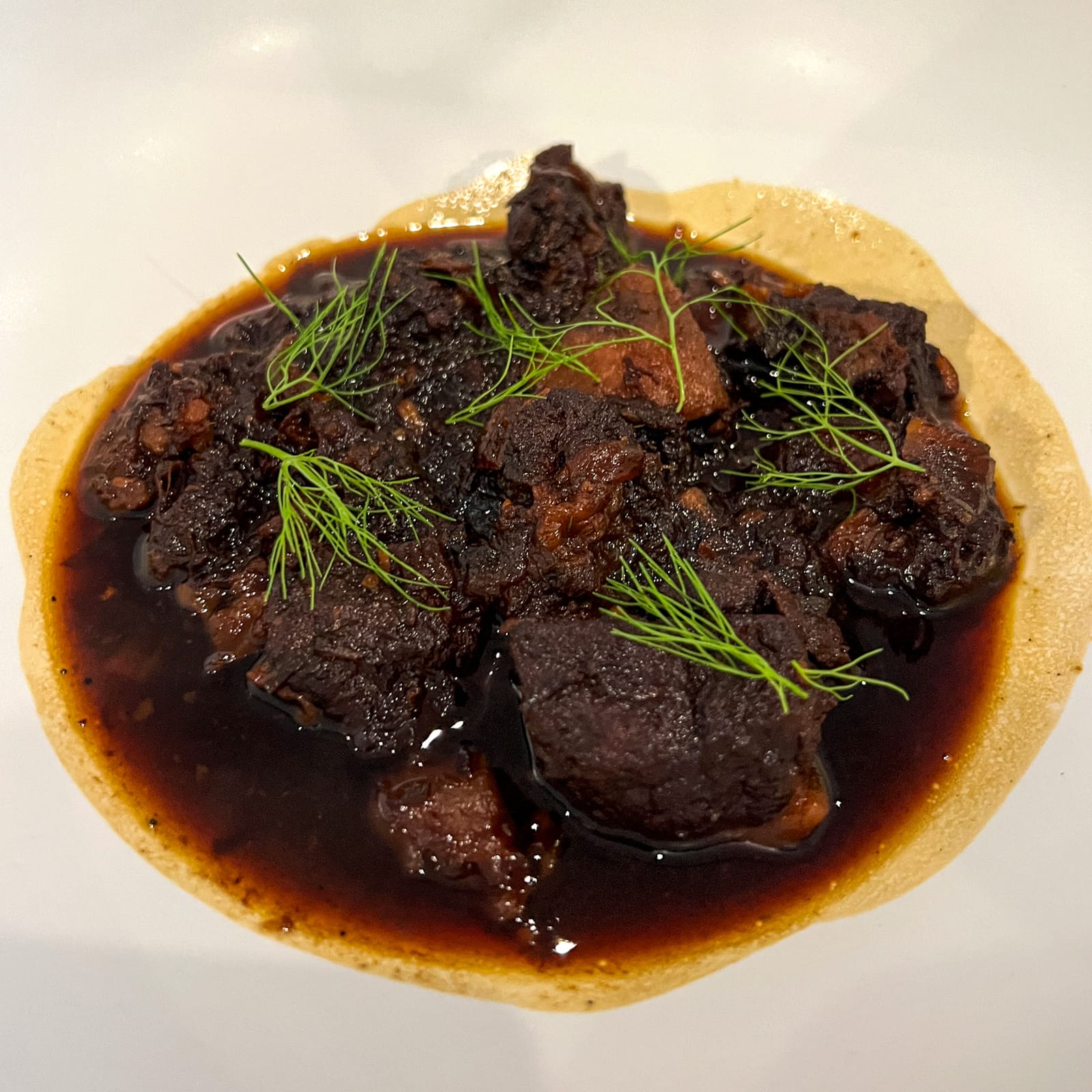 Canje
One of the most exciting Austin restaurant openings was Canje on East 6th Street.
The Caribbean restaurant reflects the culinary traditions of Guyana-born chef Tavel Bristol-Joseph.
I lucked out, got a dinner reservation on opening night (Oct 5, 2021), and invited my friend Nick to join me.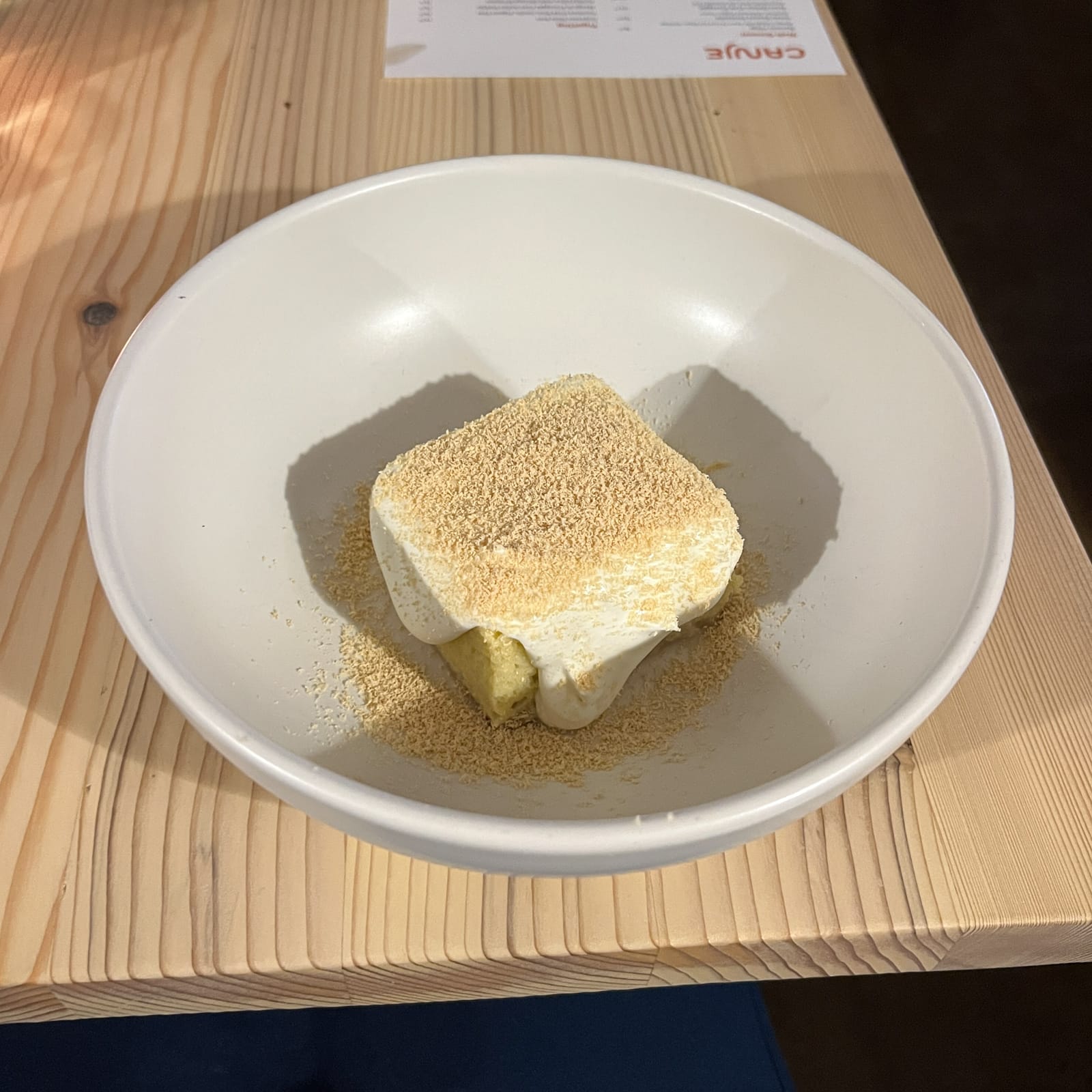 We feasted on plantain chips with pork fat mayo ketchup, wild boar pepper pot, Guyanese-style roti, spicy jerk chicken, and a fantastic tres leches cake.
Having eaten at most of his other restaurants, including Emmer & Rye, Hestia, and Henbit, I wasn't surprised by the excellent menu, service, and atmosphere.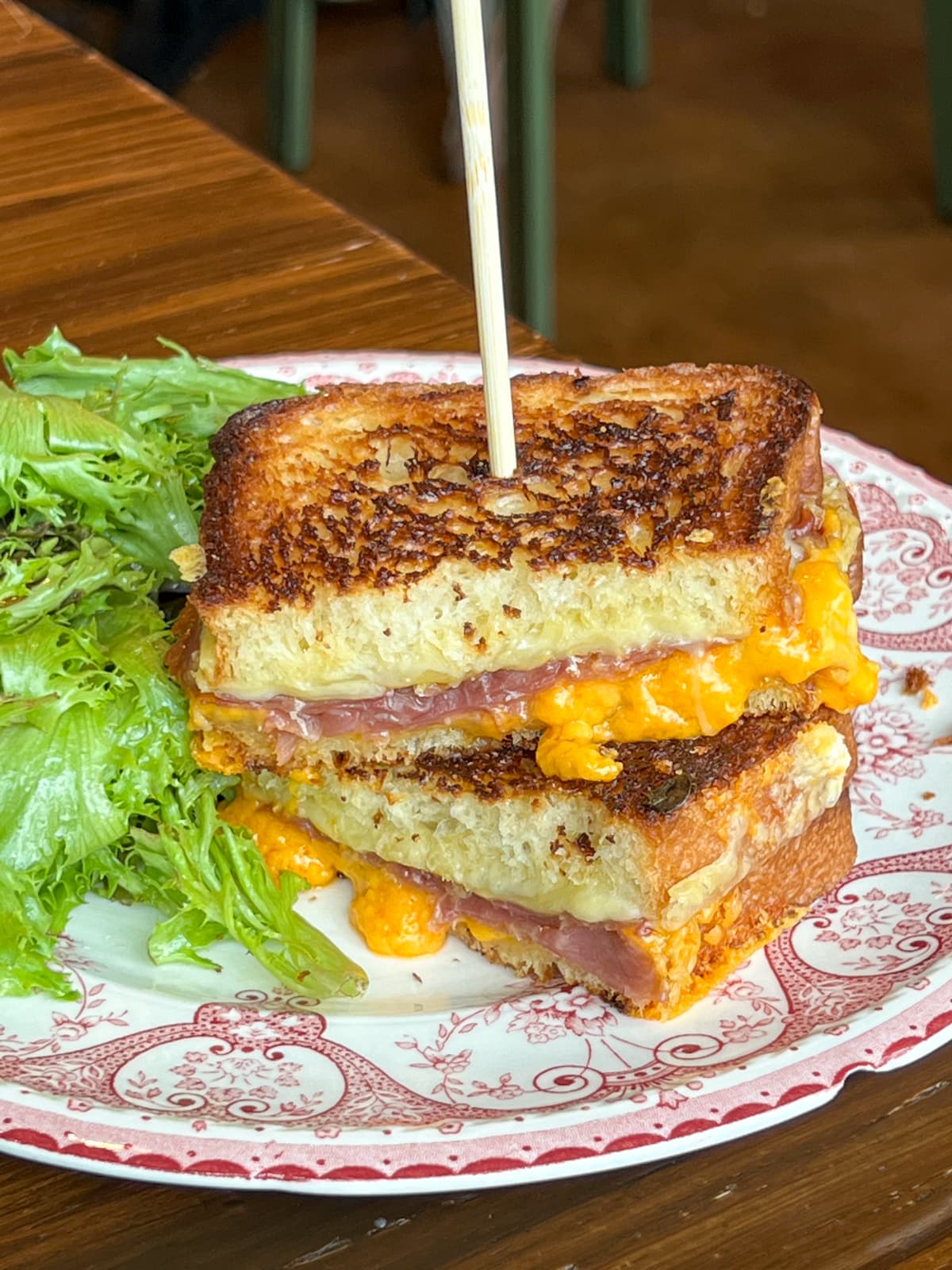 SPREAD & CO.
I have my friend Laura to thank for introducing me to SPREAD & CO., "Austin's first grazing board company turned cheese-centric cafe."
While the regular menu offers several sandwich options with cheese, I went with a four-cheese grilled ham and cheese special.
This was everything you wanted in a grilled cheese served in their cute cafe at Jefferson Square.
After lunch, Laura and I walked around the nearby sculpture garden at The Contemporary Austin - Laguna Gloria. For art lovers, I highly recommend it.
SPREAD & CO. has a second, smaller location there.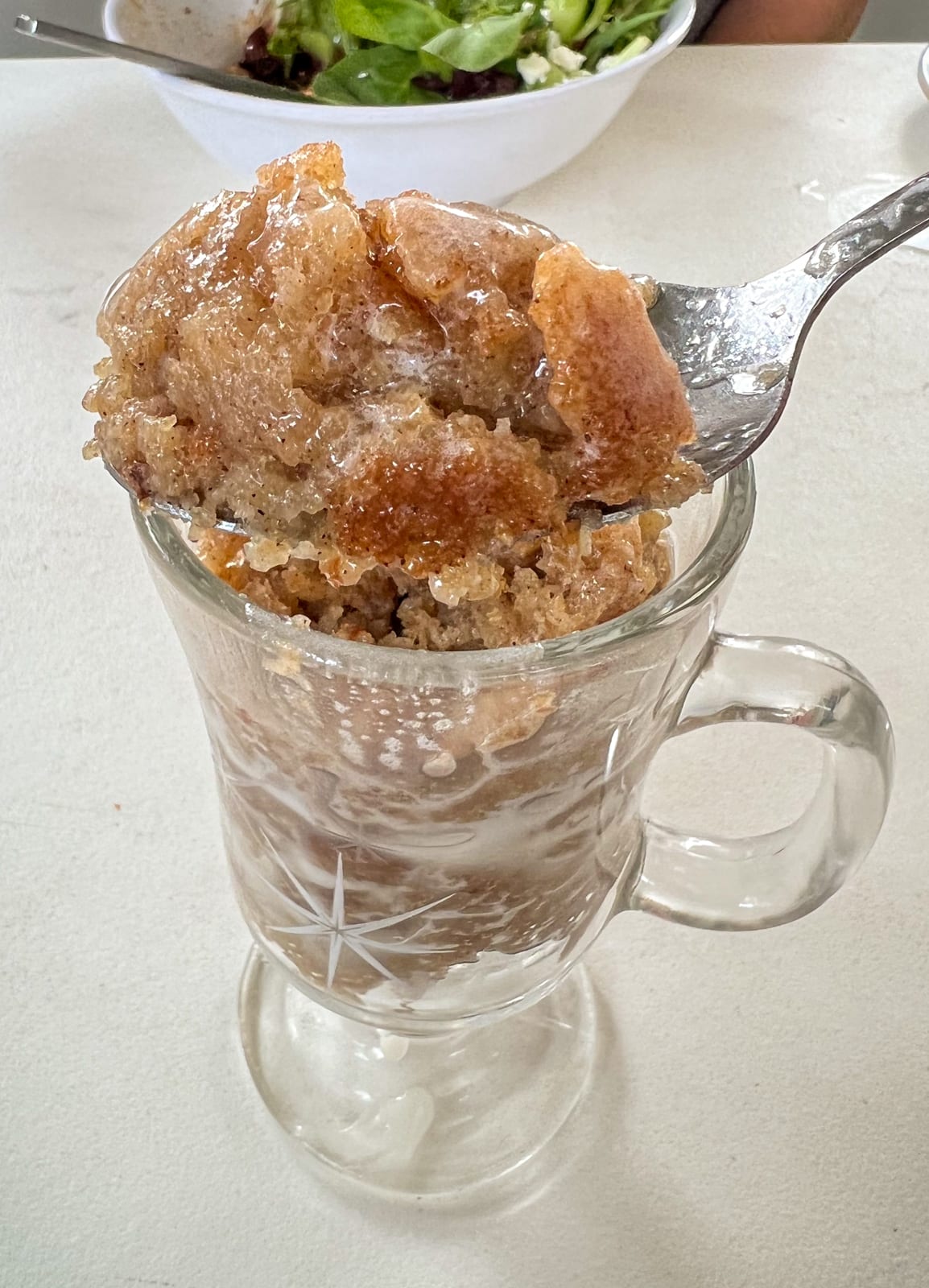 Sawyer & Co
I'd wanted to try Sawyer & Co, a New Orleans-style diner in East Austin, for ages.
If I liked it, the diner might hold me over between trips to the Big Easy.
It was a Friday, so I ordered the blue plate special, a jambalaya with chicken and andouille sausage.
The jambalaya was fine, but the bread pudding with a bourbon sauce left me wanting more.
See also: Best Restaurants in New Orleans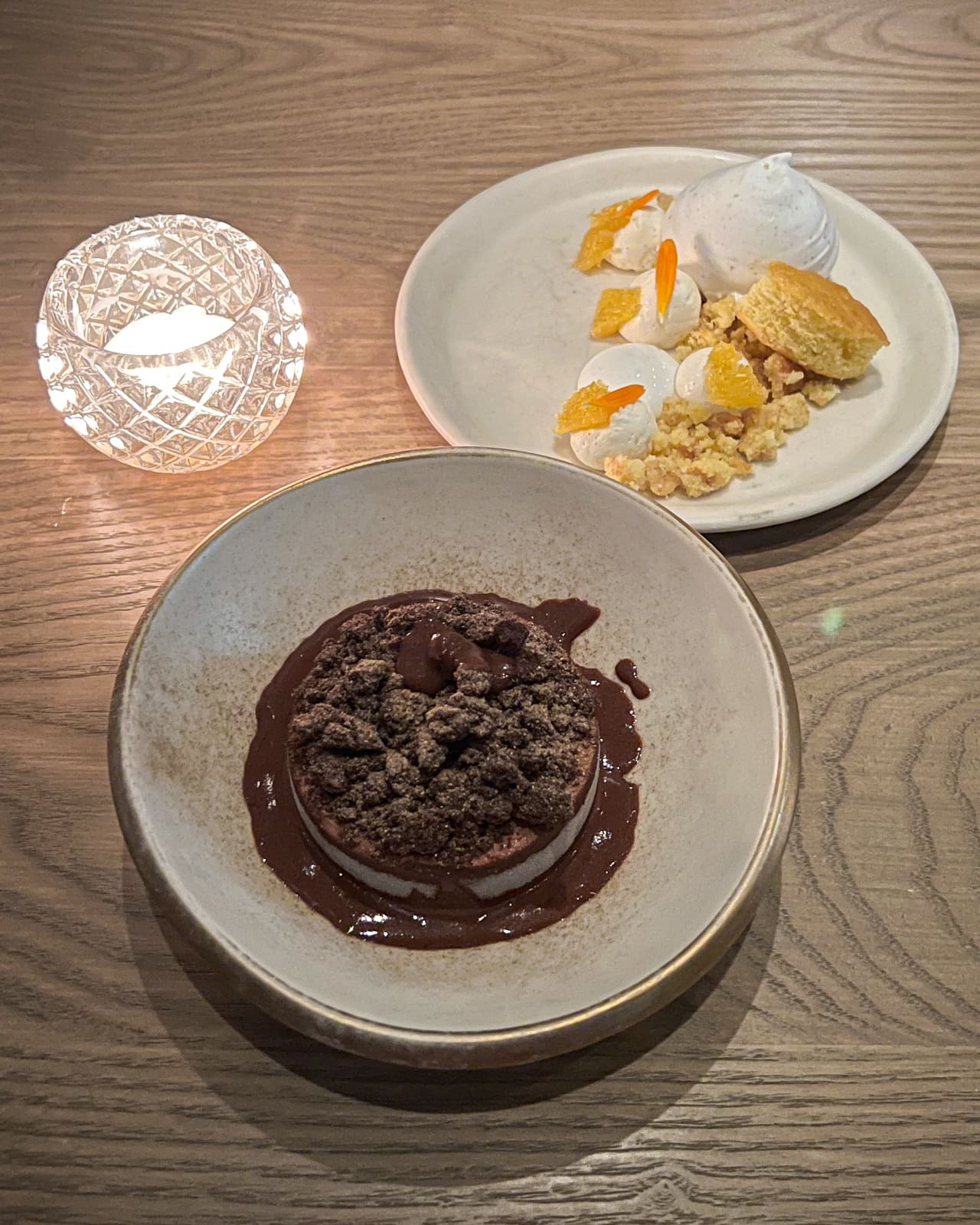 Olamaie
In late 2021, Olamaie was excited to welcome diners back, and I was more than ready to return. Before heading to Florida for Christmas, I took Kel out for a holiday dinner.
I ordered the frozen chocolate mousse with salted chocolate crumble and porcini powder for dessert.
Kel chose the dreamsicle meringue with orange chiffon cake, coriander, vanilla chantilly, and orange sherbert. I liked her choice more; I often do.
Best Dishes in Marfa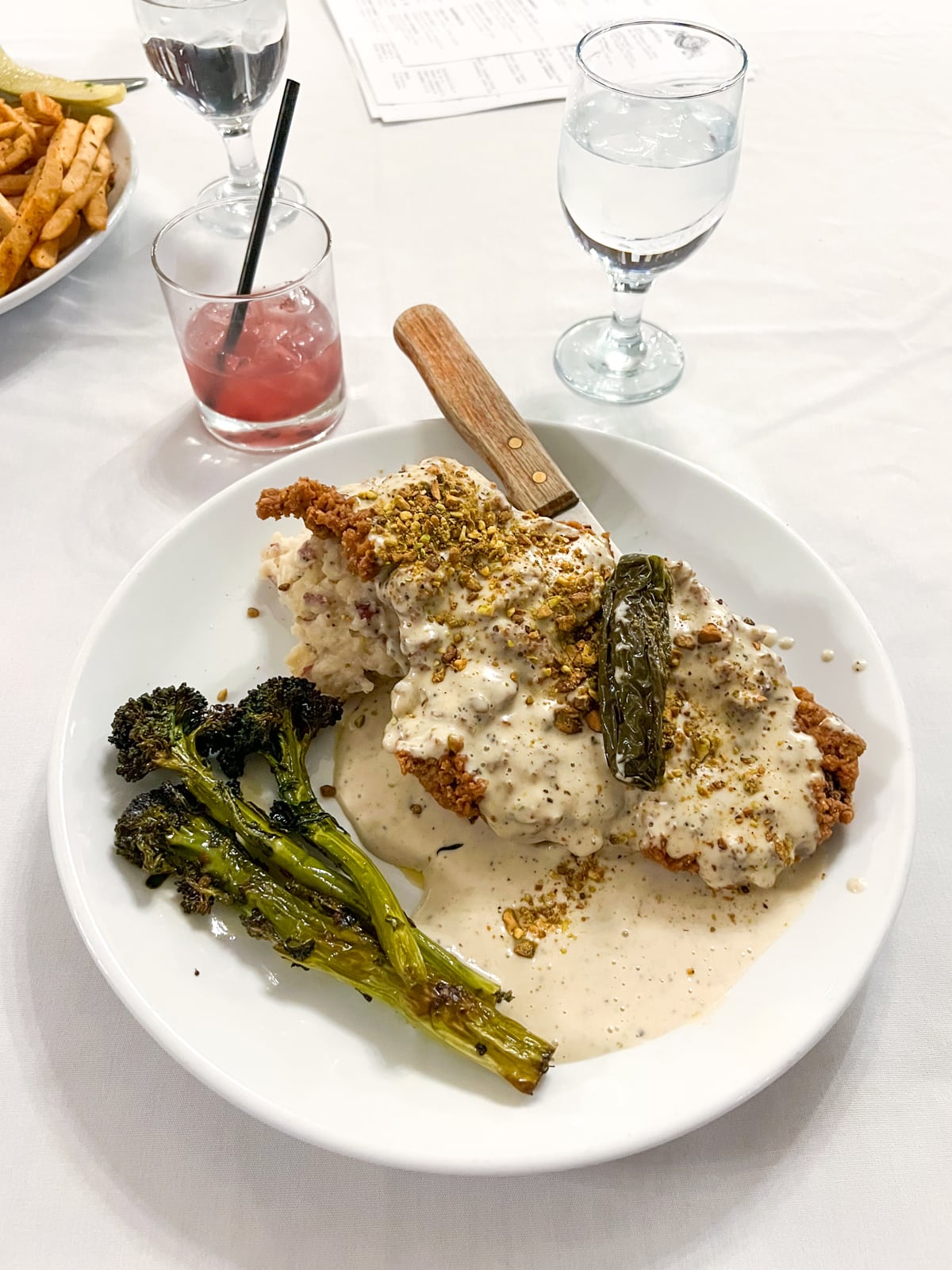 Jett's Grill
In October, our West Texas road trip took us from Austin to the dusty desert town of Marfa (population: 1,800).
Jett's Grill is the hottest reservation in town, as the historic Hotel Paisano hosted Elizabeth Taylor, James Dean, and Rock Hudson while they were shooting the movie Giant in 1955.
Kel couldn't believe I'd never eaten chicken fried steak before, so I chose Jett's Grill as the spot to give it a go.
The pistachio chicken fried steak arrived smothered in gravy and topped with green pepper.
I began to slice it up and instantly liked this classic Southern dish.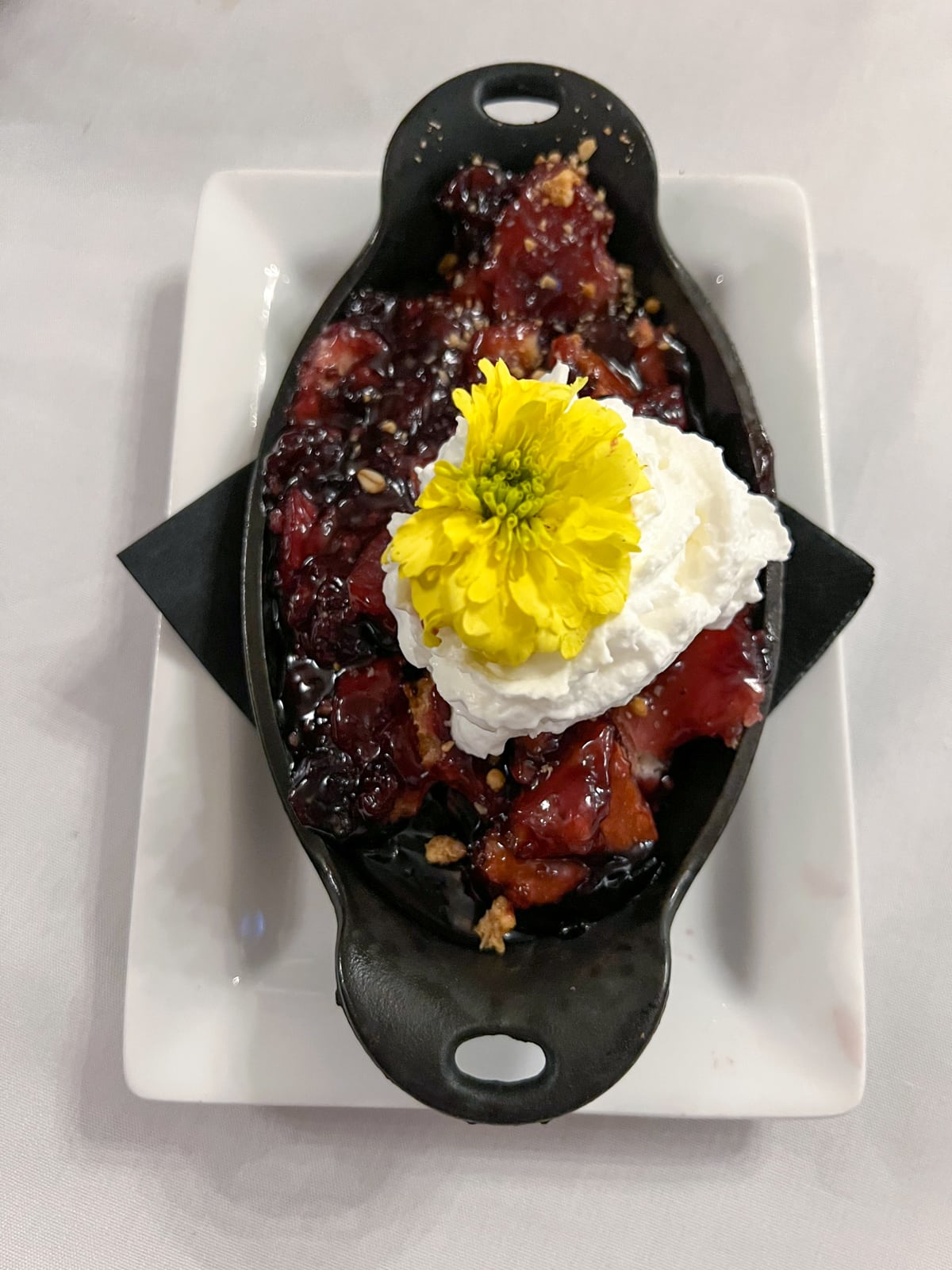 For dessert, we shared a massive portion of rich blackberry cobbler.
I'd seen it offered at barbecue places over the years, but these are perhaps the one type of restaurant where I rarely have room for dessert!
Kel sold me on cobbler during our road trip. I'll have to eat a little less brisket in the future.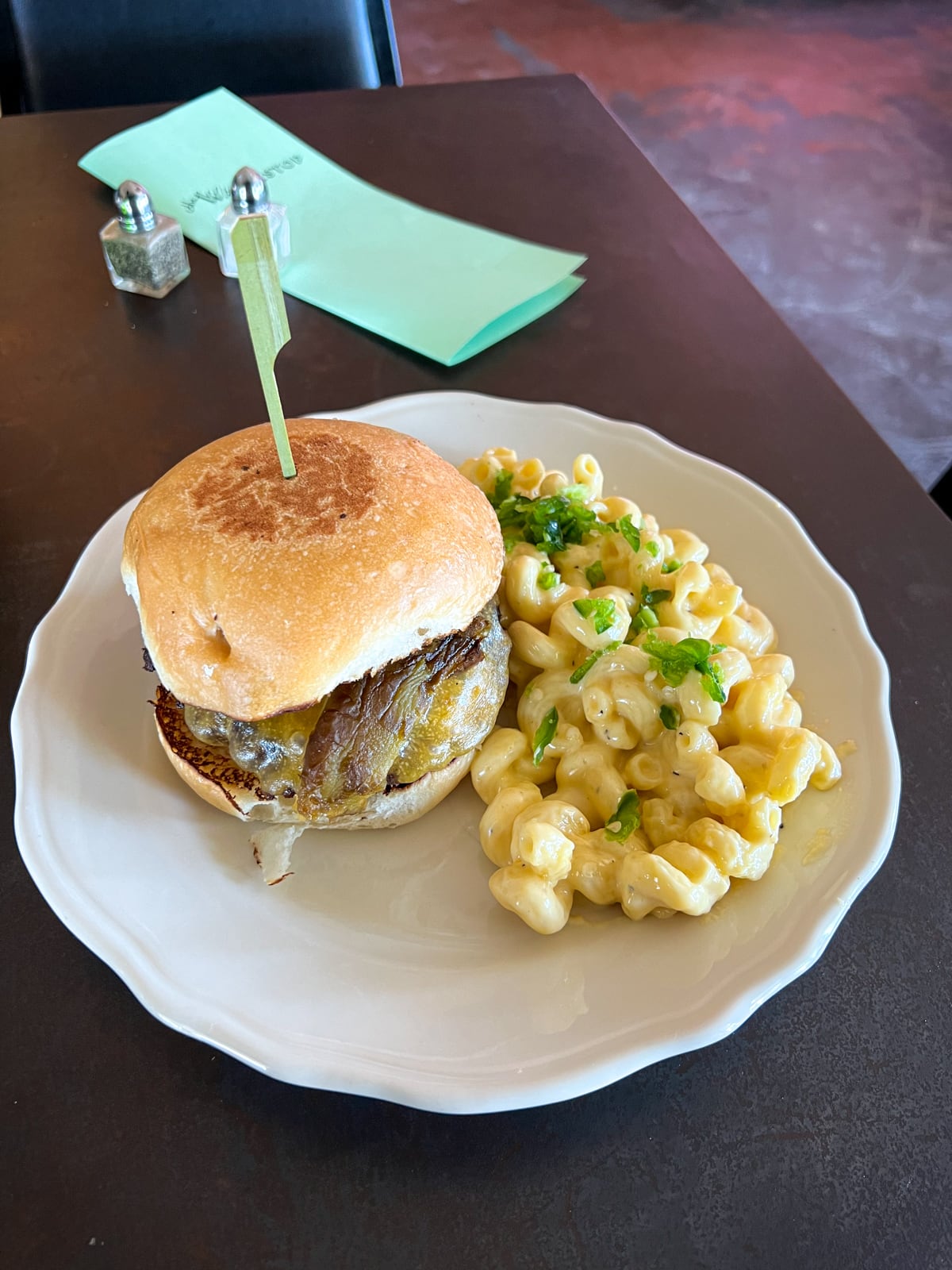 The Water Stop
Marfa is a small town, and restaurant options are limited, especially early in the week when fewer tourists are around.
Thankfully, we could get lunch at The Water Stop on our last day before driving to Terlingua and Big Bend National Park.
I ordered the green chile cheeseburger with sharp cheddar, roasted Anaheim peppers, and mayo. The side of jalapeño mac and cheese was a given.
This lunch combo was a bit insane ahead of a road trip, so I only ate half and took the rest for another day.
Terlingua has fewer restaurants than Marfa, so that decision served me well.
Best Dishes in Tampa Area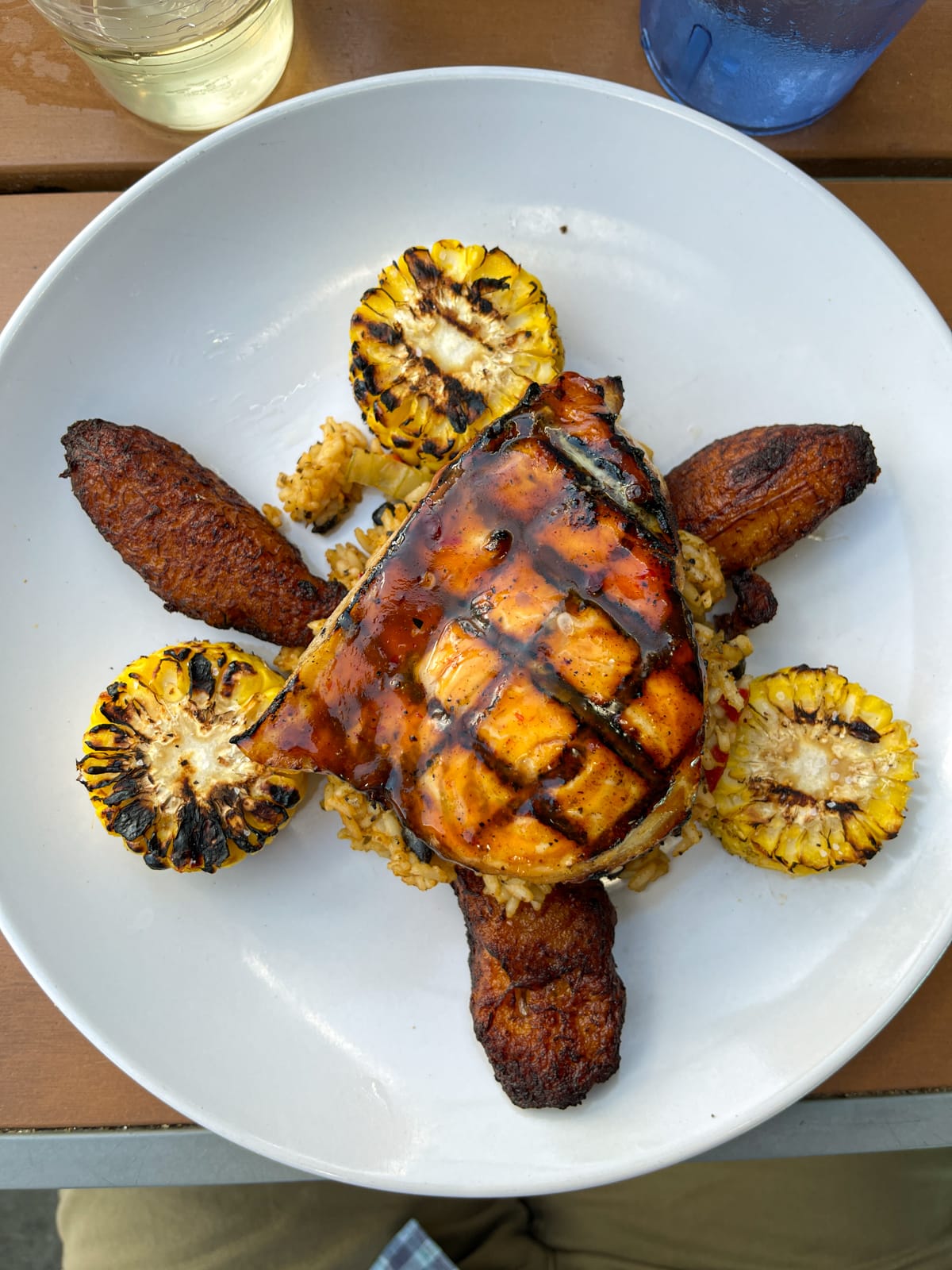 Sunset Grill and Beach Bar
Two weeks after my second vaccination shot, I flew to Tampa to visit my parents.
Our first lunch was at the Sunset Grill and Beach Bar, where we'd dined several times before. It was one of the few outdoor restaurants we'd eat at when I visited.
And I was thrilled to be there when my parents ate out at their first restaurant in over a year.
I ordered the mango habanero-glazed grilled swordfish with corn and plantains, nicely plated and perfectly cooked.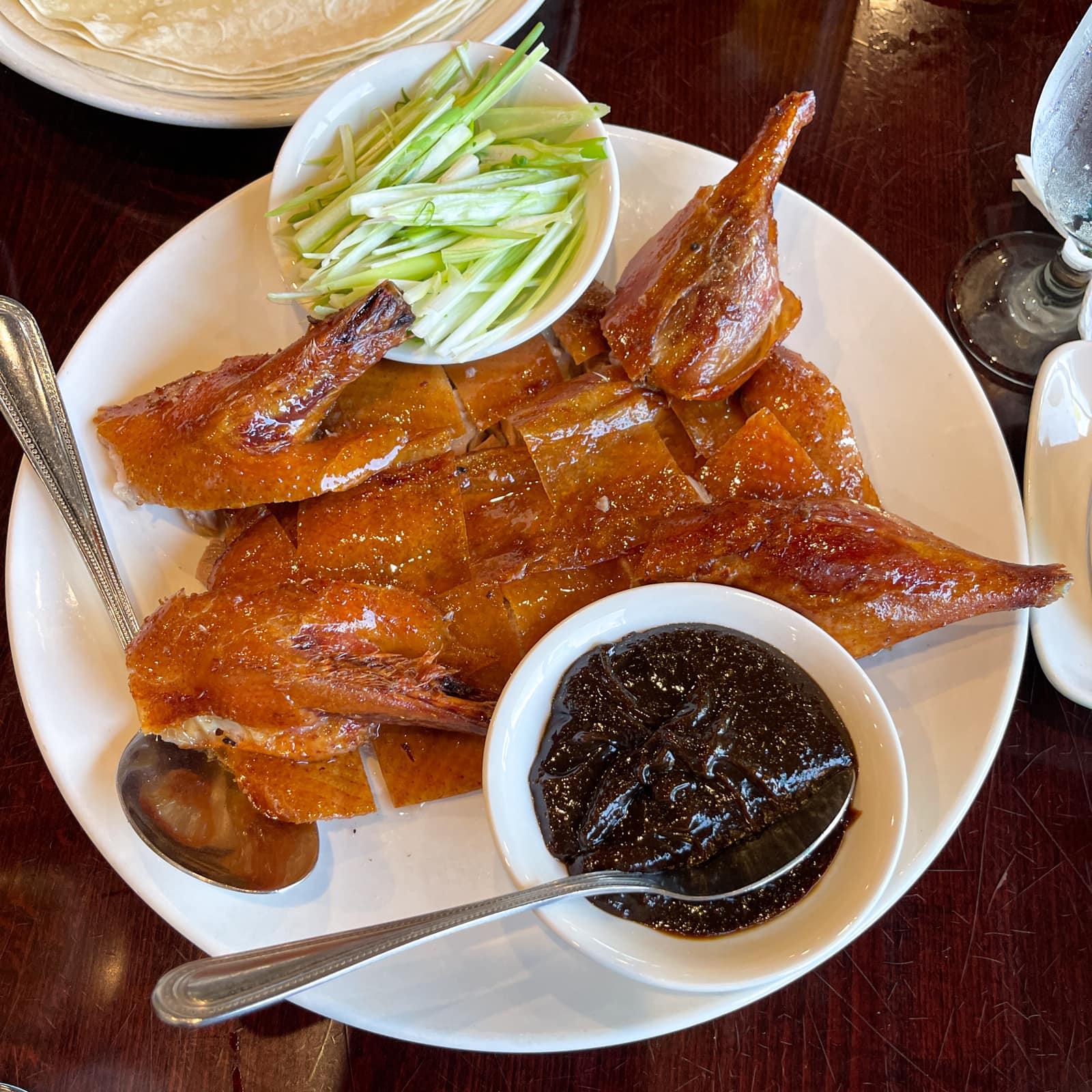 Yummy House China Bistro
My parents celebrated their 49th wedding anniversary with a Peking duck dinner at Yummy House China Bistro in Tampa.
They'd taken my brother and me once, so this was Round 2 for me.
The service was slow, as there was some confusion with our order, but the duck arrived in time, and we took turns piling the meat and crispy skin into flour tortillas.
The beach restaurant lunch and duck dinner are especially memorable for me as they're the last restaurant meals I ate with my mom before she died.
She loved good food, whether cooking it herself or eating out.
I like to think her spirit lives on through me and the experiences I share on Feastio.
Best Dishes in San Francisco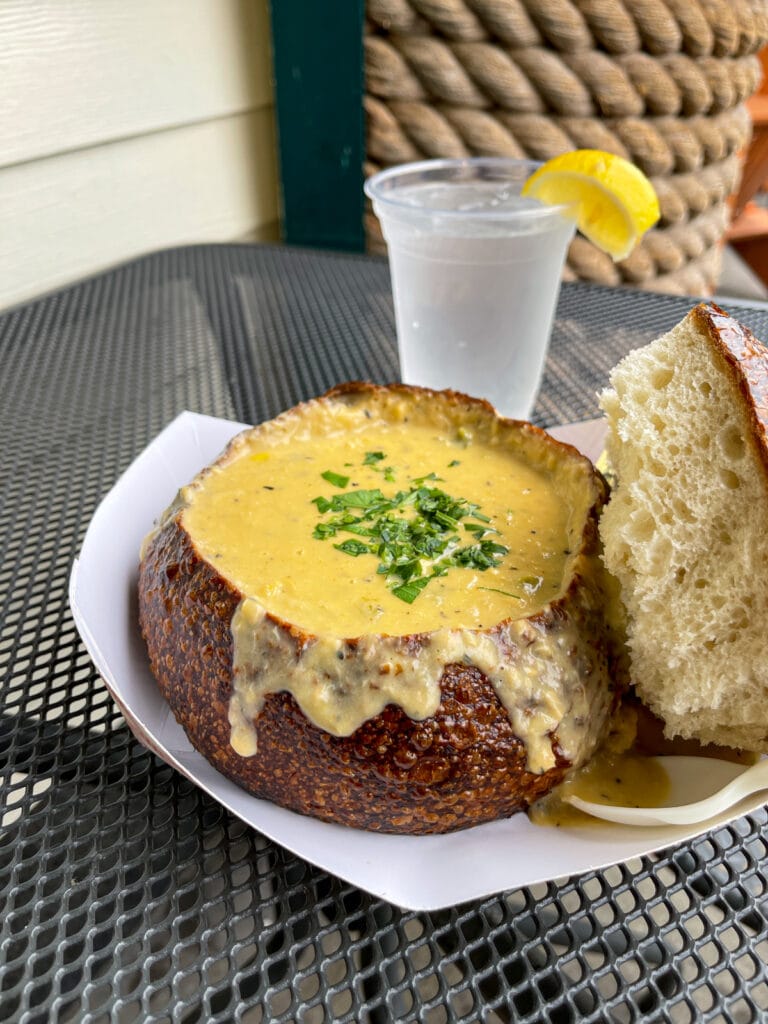 The Chowder Hut Grill
My first trip to San Francisco in twenty years was a blast. When I got to Fisherman's Wharf, I wasn't picky about where I tried crab chowder in a sourdough bowl.
The Chowder Hut Grill is as touristy a spot as you'll find, and I didn't mind one bit. It was cold, and I was hungry for fresh seafood.
See also: Best Bakeries in San Francisco
Best Dishes in Oahu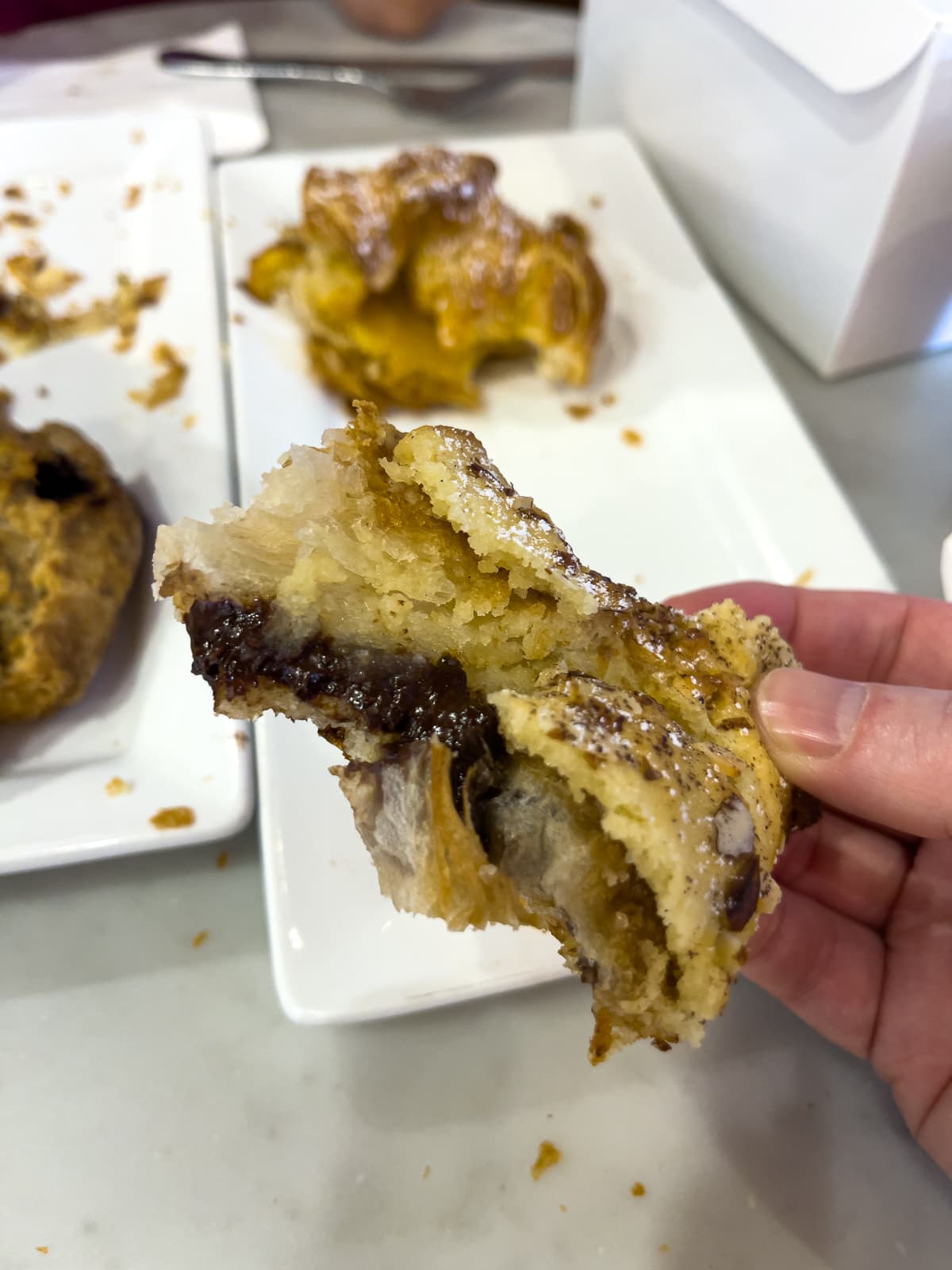 B. Patisserie @ Kona Coffee Purveyors
For all the bakeries in San Francisco I tried (five), I still managed to miss the James Beard Award-winning B.Patisserie.
Luckily, their fantastic pastries are available at Kona Coffee Purveyors in Waikiki Beach, Honolulu.
During a weeklong stay, Kel and I went three times. The Chocolate almond banana croissant was insanely good; it was my favorite pastry.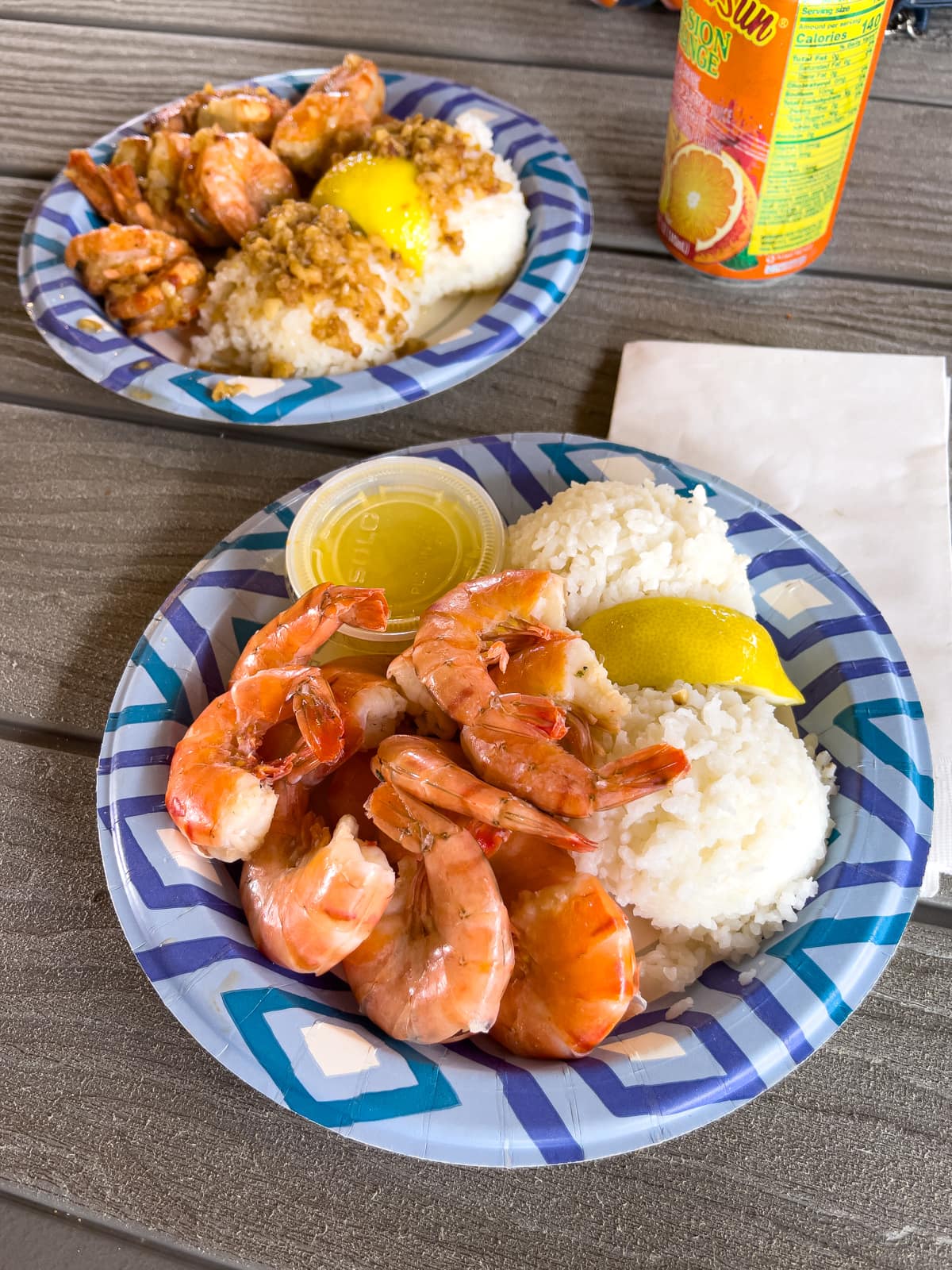 Giovanni's Shrimp Truck
During a one-day scenic drive around Oahu, Kel and I stopped at Giovanni's, one of the original shrimp trucks on the North Shore.
Nowadays, there are plenty to choose from, but Giovanni's is still so famous there's usually a line of at least a dozen people waiting to order.
It's not often I buy a plate of shrimp, but it was a fun experience here.
Kel ordered their signature shrimp scampi while I went basic with lemon and butter. Both were fresh and tasty.
See also: Best Places to Eat in Oahu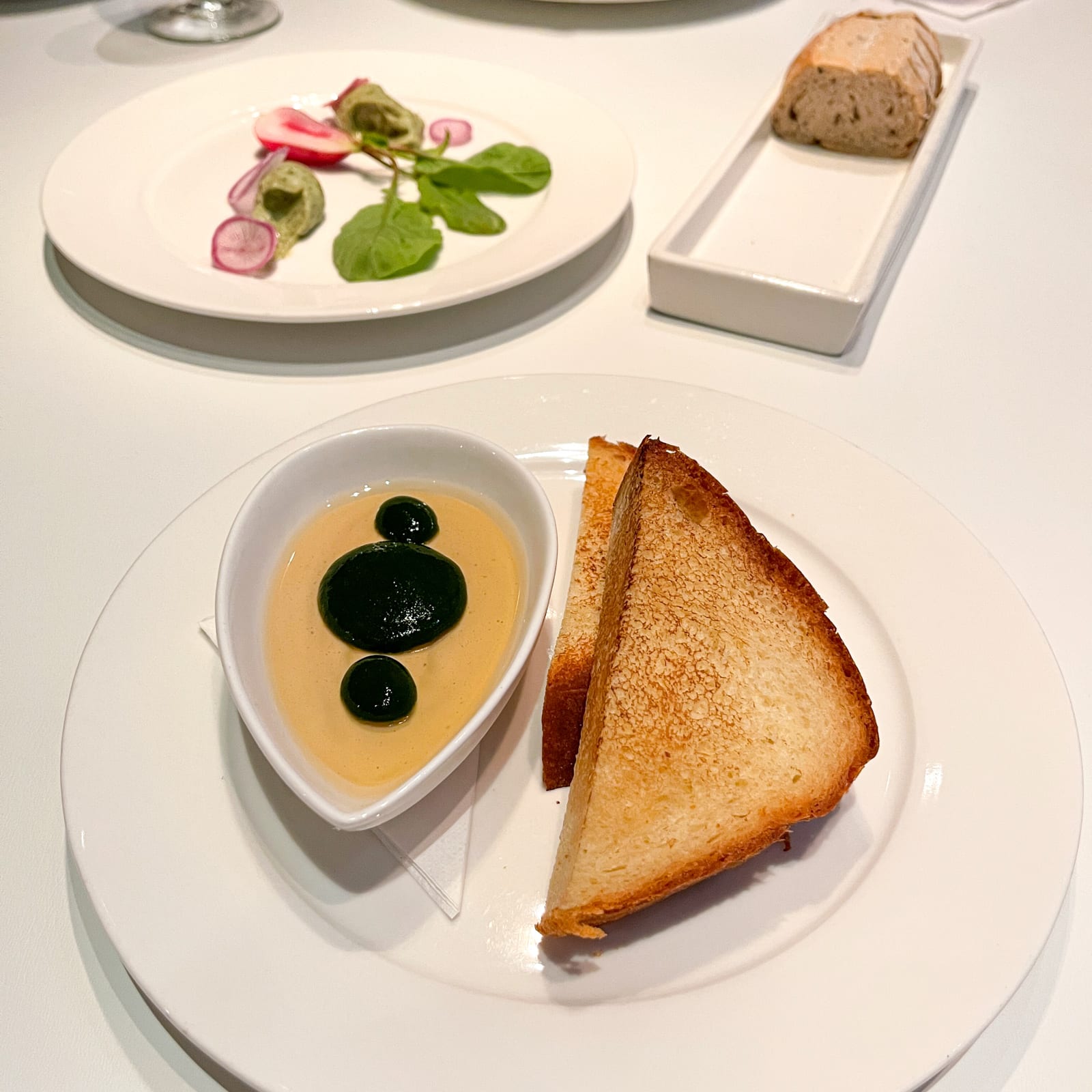 M by Jeremy Shigekane
For a fine dining experience in Honolulu, I picked M by Jeremy Shigekane, which we thoroughly enjoyed.
The highlight of my meal was the foie gras mousse with sweet bread.
The smooth texture of the mousse was terrific, as was the lightly toasted bread accompanying it.
Best Bites in The Bahamas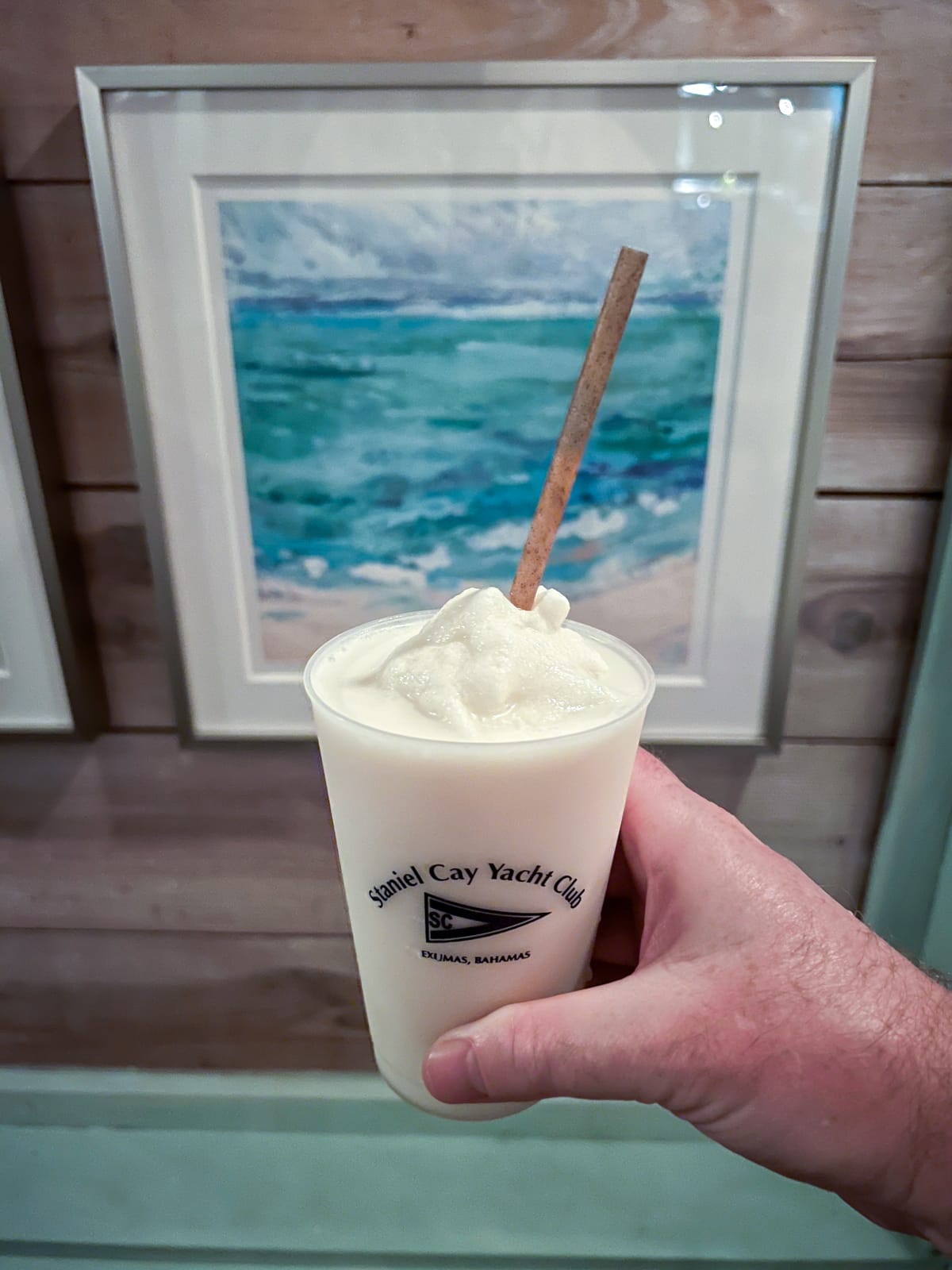 Staniel Cay Yacht Club
My only international travel of the year was to Staniel Cay in The Bahamas.
This five-day Caribbean trip was work-related for my adventure travel blog.
There were only two restaurants on the tiny cay, so Kel and I ended up eating most of our meals at The Staniel Cay Yacht Club.
Their frozen drinks, including the pina colada, were addictive.
I tried almost everything on their cocktail menu and would gladly return for more.
***
It's been one of my adult life's more tumultuous and consequential years. Thankfully, there were many opportunities to eat well with friends and family.
For more, check out my favorite pastries from 2020 and my best dishes from 2019, including several Michelin-star European restaurants. You can also read about my best dishes in 2022.