New Orleans is one of the world's great food cities. The best restaurants in New Orleans include family-owned institutions and newer restaurants by award-winning chefs.
I was introduced to the New Orleans restaurant scene firsthand during a family trip.
My parents took my brother and me to their favorite restaurants, several of which are inarguably the best places to eat in New Orleans.
Since then, I returned to the Big Easy twice for work.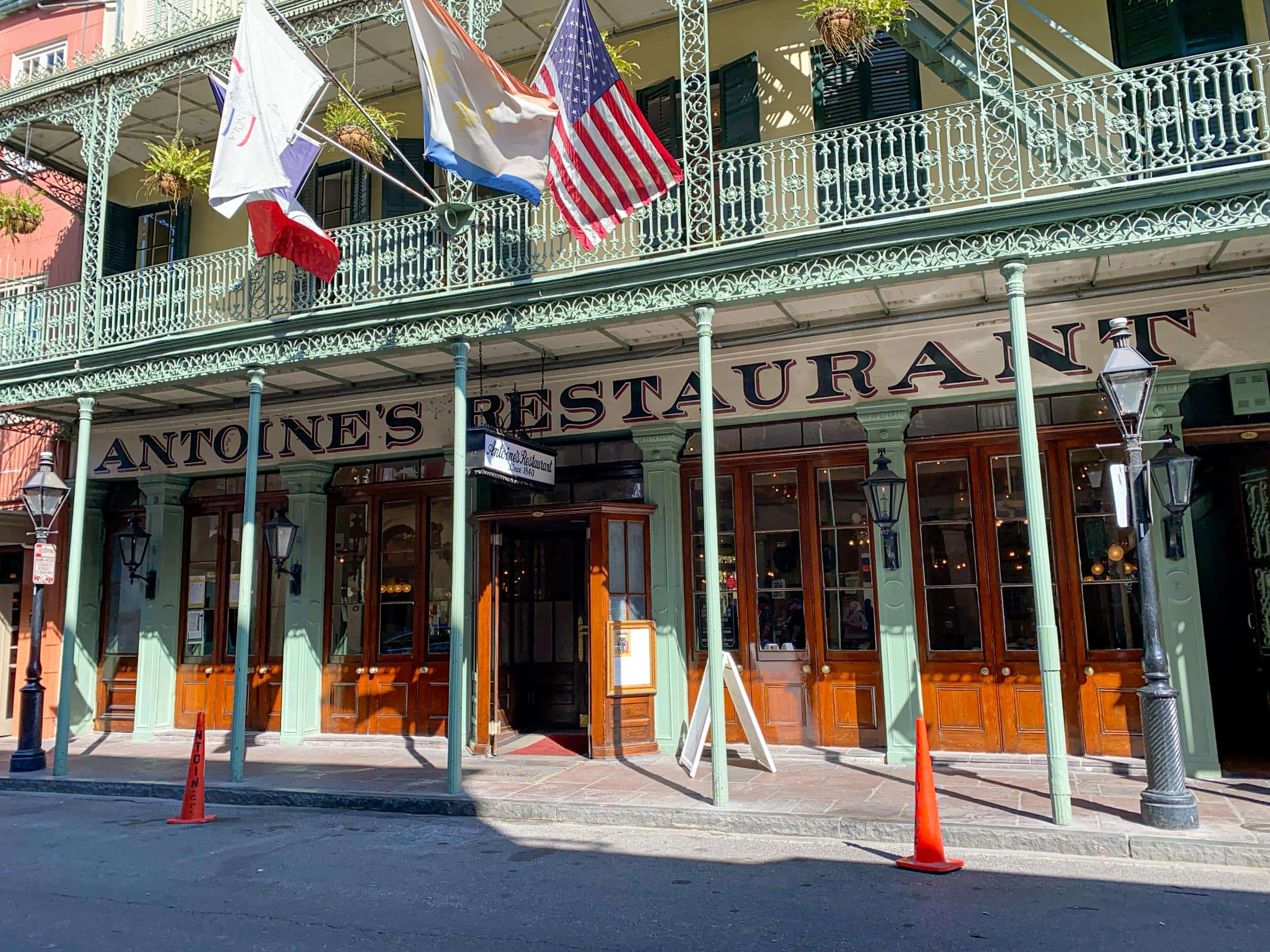 I learned about the history of cocktails, went on a food tour in the French Quarter, and hit the jazz clubs every night.
Each subsequent trip has given me a greater appreciation for this culturally rich city.
Below is my curated list of the best restaurants in New Orleans, which I'll update as I continue exploring the city.
Best Historic Restaurants
New Orleans was founded in 1718 and recently celebrated its 300th anniversary. Few big cities in the United States are as old or can claim as long a history.
Dining at a century-old restaurant is a rare experience in the US. Thankfully, there are a handful of such spots in NOLA that have survived.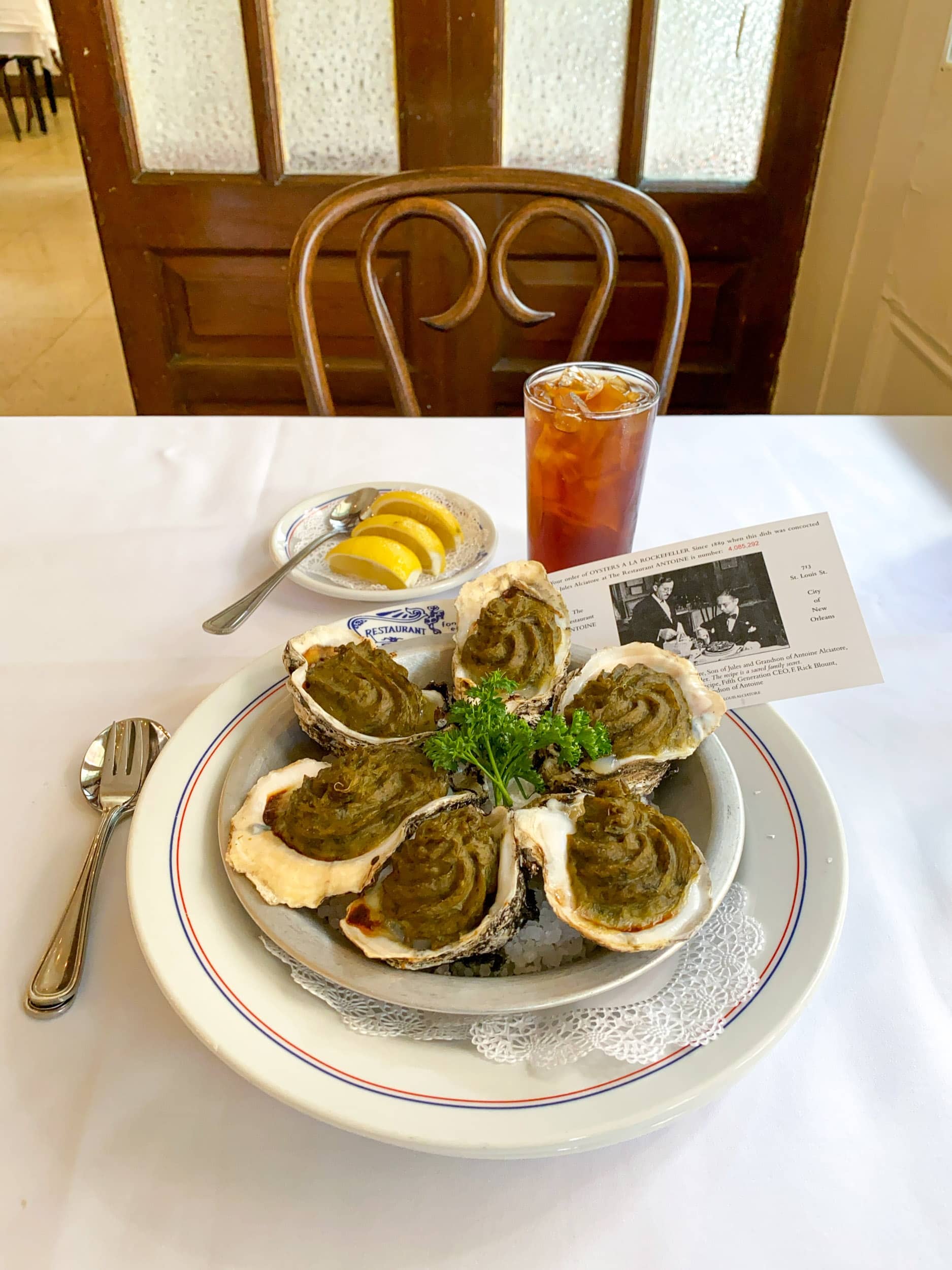 Antoine's Restaurant
Established in 1840, Antoine's is the oldest restaurant in New Orleans and the oldest family-owned restaurant in the country.
The French-Creole restaurant is named after its founder, Antoine Alciatore, an immigrant from France.
Antoine's son, Jules, is credited with developing the recipe for Oysters Rockefeller, one of the restaurant's signature dishes.
Oysters served on a half-shell are topped with a creamy green sauce of herbs and baked or broiled. The exact recipe remains a family secret.
Every order of Oysters Rockefeller has been counted, and diners today are presented with a postcard featuring the exact number of their order.
I was number 4,085,292 to be served and shared the privilege with former US presidents, including Franklin D. Roosevelt, who dined there in 1937.
The rest of my memorable meal included Pompano Pontchartrain (a grilled filet of fish topped with crabmeat and a white wine butter sauce) and cherries jubilee (cherries flambeed tableside and served over vanilla ice cream).
After your feast, I highly recommend taking a walk through the dozen private dining rooms, many of which are dedicated to Mardi Gras krewes.
Reservations: recommended
Dress code: business casual, with collared shirts required for men and jackets preferred.
713 Saint Louis Street, French Quarter, antoines.com
See also: Best Cocktail Bars in New Orleans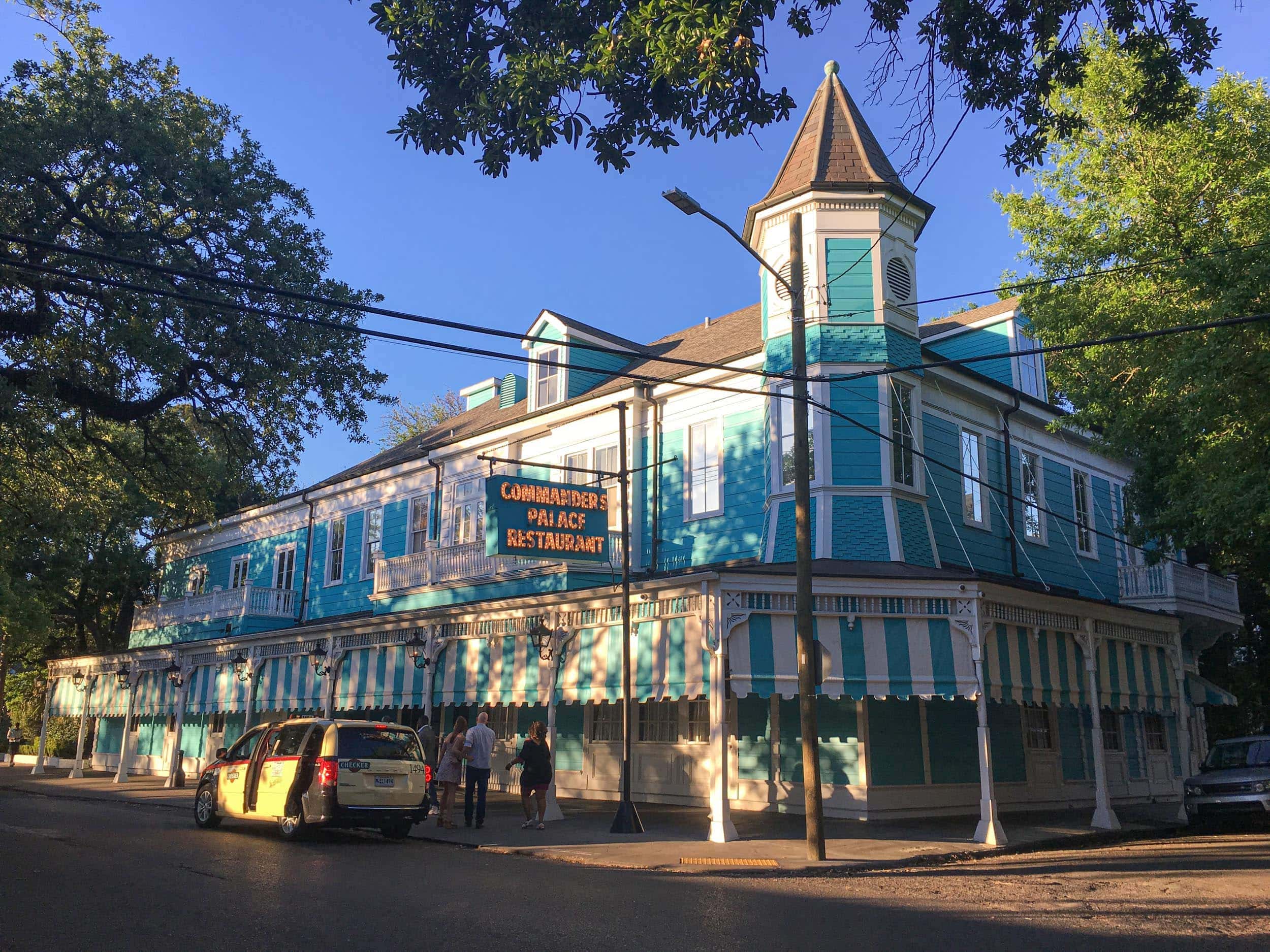 Commander's Palace
In 1893, Emile Commander opened a saloon at the corner of Washington Avenue and Coliseum Street in the heart of the Garden District.
Within a few years, he turned it into a fine dining restaurant, and it quickly grew in popularity.
In 1969, the Brennan family purchased, renovated, and expanded Commander's Palace.
This Haute Creole restaurant has won seven James Beard Awards, been frequently cited as the best restaurant in New Orleans, and has been home to many top chefs, including Emeril Lagasse.
Dinner at Commander's Palace with my family was a memorable occasion.
I ordered a lavender and lemongrass vodka Collins, the veal tenderloin and bone marrow, and a slice of decadent cheesecake for dessert.
After your meal, take a few minutes to walk through the many dining rooms that make up Commander's Palace.
Reservations: recommended
Dress code: business attire, with collared shirts and closed-toed shoes required for men; jackets preferred. No shorts, flip-flops, t-shirts, sweatshirts, or sweat pants; jeans are discouraged.
1403 Washington Avenue, Garden District, commanderspalace.com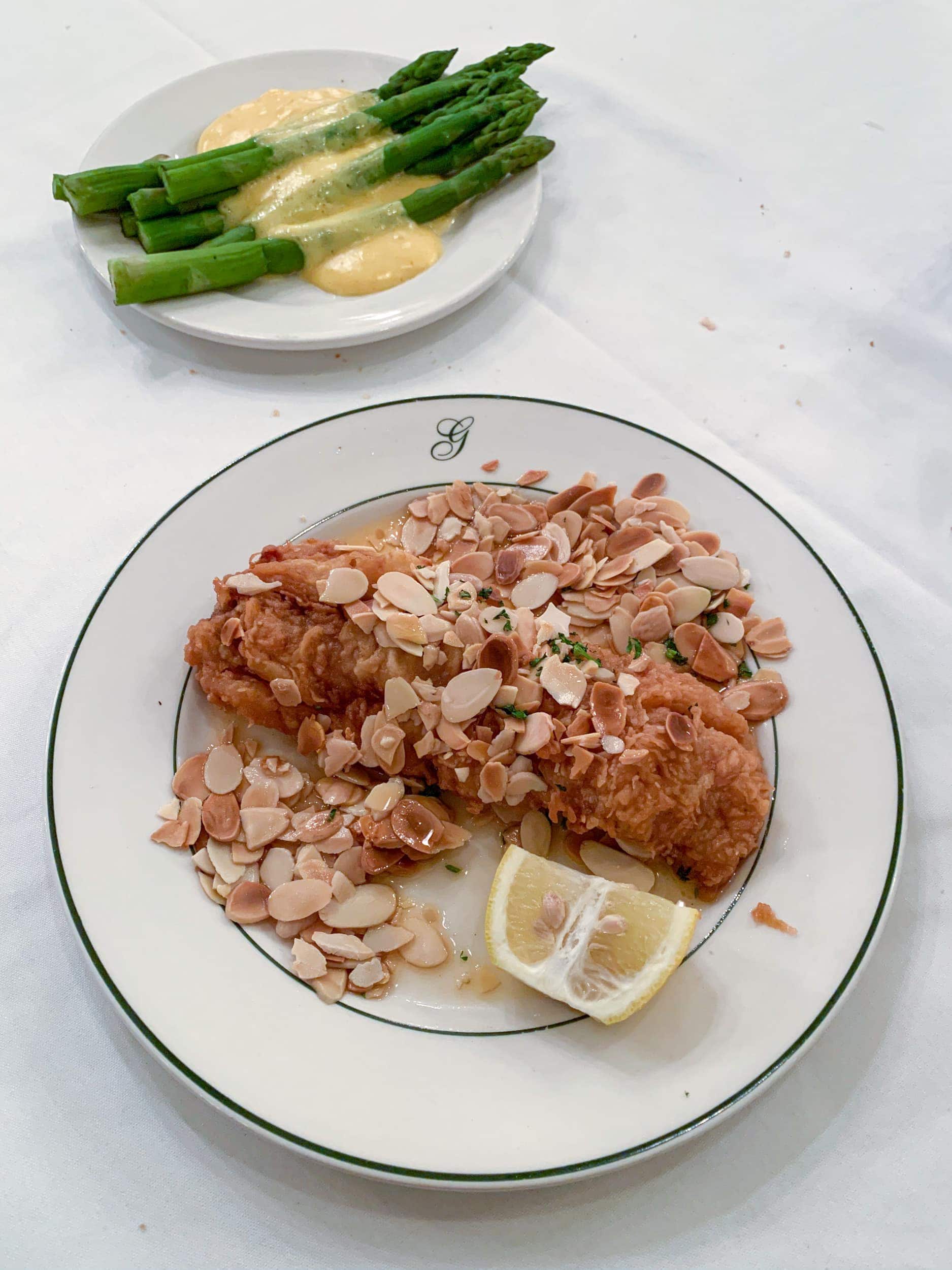 Galatoire's Restaurant
Galatoire's is another of the French Quarter's grand, family-owned restaurants, sharing much in common with Antoine's.
It was opened on Bourbon Street in 1905 by Jean Galatoire, a French immigrant, and focuses on French-Creole cuisine.
The main dining room is at street level and features a high ceiling with fans, mirrors along the walls, and numerous coat hooks that hang above them.
On the night I went for dinner, I got lucky and was seated at a corner table in the back of the main dining room. It offered a commanding view of the space.
I ordered crab Maison (jumbo lump crab with green onions, capers, and creole mustard aioli) and the signature trout meuniere amandine with a side of giant asparagus.
The black bottom pecan pie with whiskey caramel sauce was a fitting end to the meal.
Service at Galatoire's was excellent, and despite being on Bourbon Street, it feels like its own little world. I wouldn't hesitate to return to this top New Orleans restaurant.
Reservations: the main dining room is first come, first serve; reservations are accepted for the second-floor dining rooms.
Dress code: business casual, with collared shirts for men and jackets required after 5 pm; they have a selection of men's jackets to loan should you arrive without one.
209 Bourbon Street, French Quarter, galatoires.com
See also: The World's Best Restaurants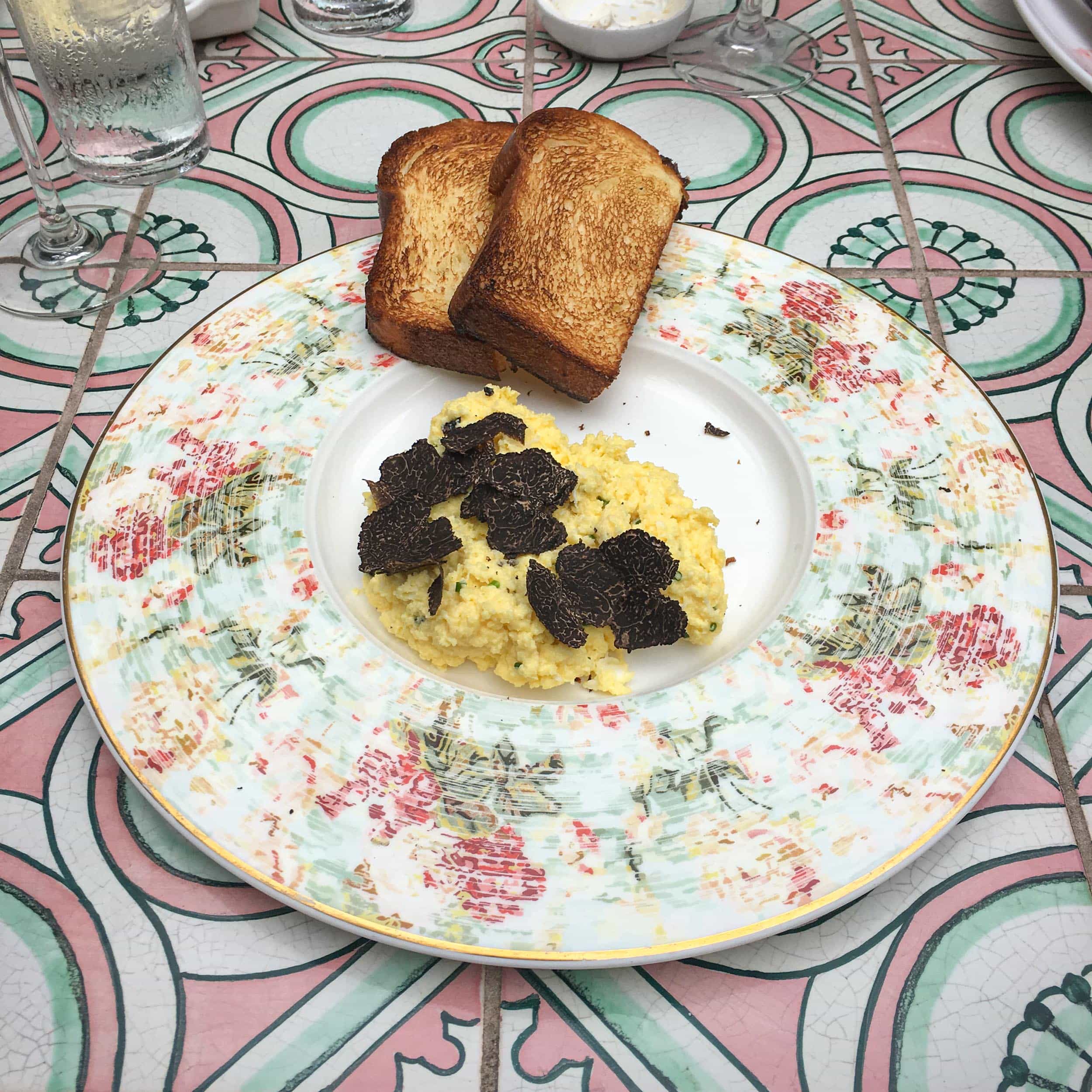 Brennan's
Brennan's was opened in 1946 by Owen Brennan, an Irish-American, and has come to be known for its elegant breakfasts.
The restaurant is housed in an 18th-century mansion, the former location of the first bank in Louisiana, and later residence of Paul Morphy, a celebrated chess champion.
According to the website, their "innovative Creole menu borrows influences from French and Spanish ancestry with modern updates and distinct seasonal offerings."
I went to breakfast at Brennan's on their patio during my first trip to New Orleans.
I ordered a creamy Caribbean milk punch and the black truffle soft-scrambled eggs with toasted brioche (prepared tableside).
For dessert, we shared Banana's Foster (also prepared tableside), which was invented at Vieux Carré, Owen Brennan's precursor to Brennan's.
Reservations: recommended
Dress code: "dressy casual attire" is suggested. No tank tops, cut-offs, or athletic shorts.
417 Royal Street, French Quarter, brennansneworleans.com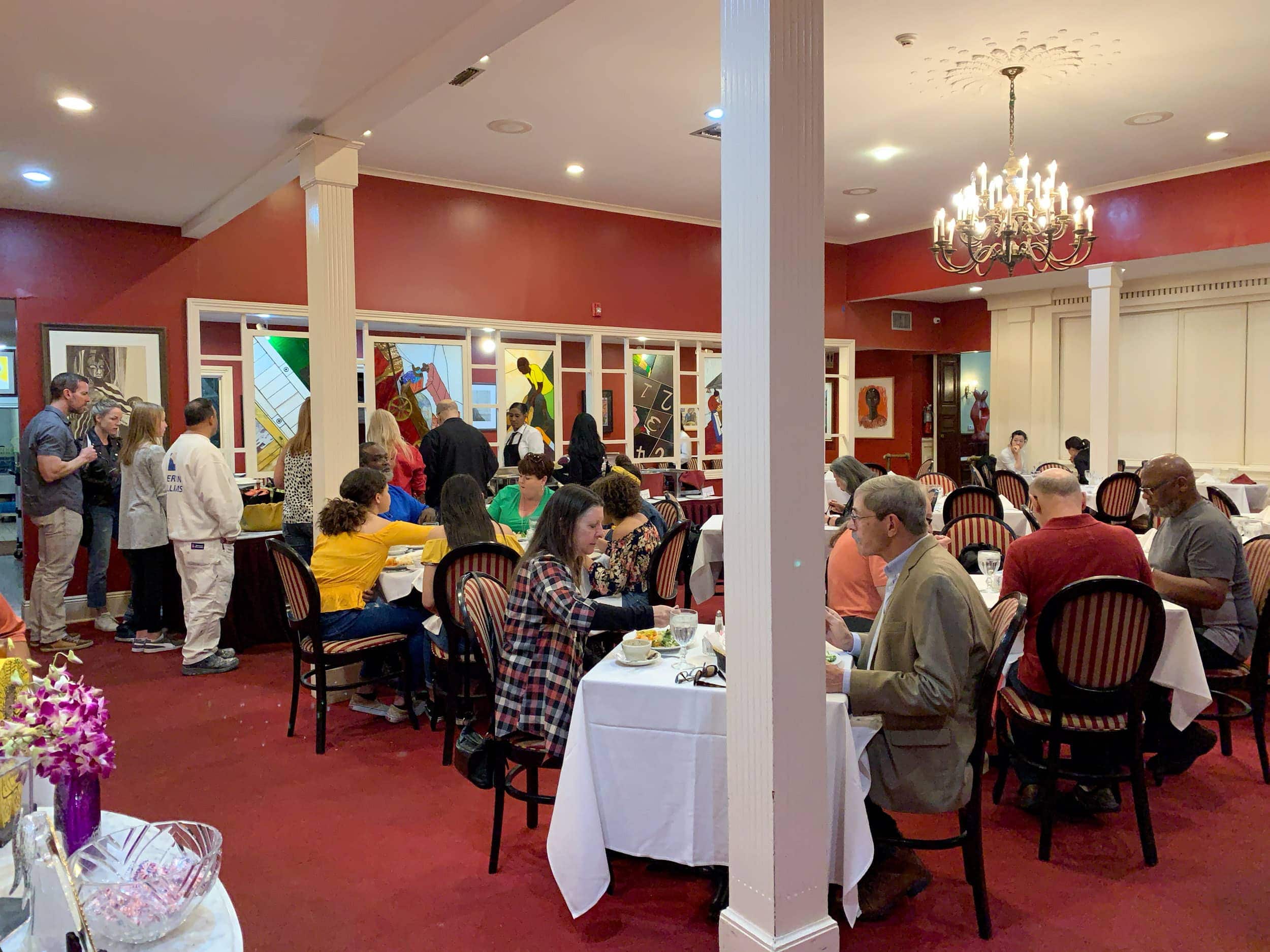 Dooky Chase's Restaurant
The history of Dooky Chase's Restaurant combines Creole cooking, civil rights history, African American art, and all that jazz.
Originally a corner shop selling lotto tickets and po'boys in 1939, the marriage of the founders' son, jazz trumpeter Dooky Jr. to Leah Chase would pave the way for a restaurant with an enduring legacy.
Chef Leah Chase led the restaurant for 70 years, serving prominent African American lawyers, including Thurgood Marshall (the first African American to join the Supreme Court), Martin Luther King, Jr., and later, President Barack Obama and First Lady Michelle Obama.
A thoughtful "thank you" letter on White House letterhead from the Obamas is on proud display.
Along the way, Leah Chase became known as the Queen of Creole Cuisine, winning numerous accolades, including a James Beard Lifetime Achievement Award in 2016.
Chef Leah Chase still worked in the kitchen until her final months. She passed away on June 1, 2019, at the age of 96.
Her legacy is a restaurant serving traditional Creole food, including red beans and rice, gumbo, and Shrimp Clemenceau. The fried chicken is a customer favorite.
I enjoyed Dooky Chase's for the history, atmosphere, and value as much as the food. Go here to experience one of the best Cajun restaurants in New Orleans.
The lunch buffet from 11 am to 3 pm, Tuesday through Friday, brings in diners from all walks of life. Dinner is available Fridays from 5 pm to 9 pm.
Reservations: recommended
Dress code: casual
2301 Orleans Avenue, Treme, dookychaserestaurants.com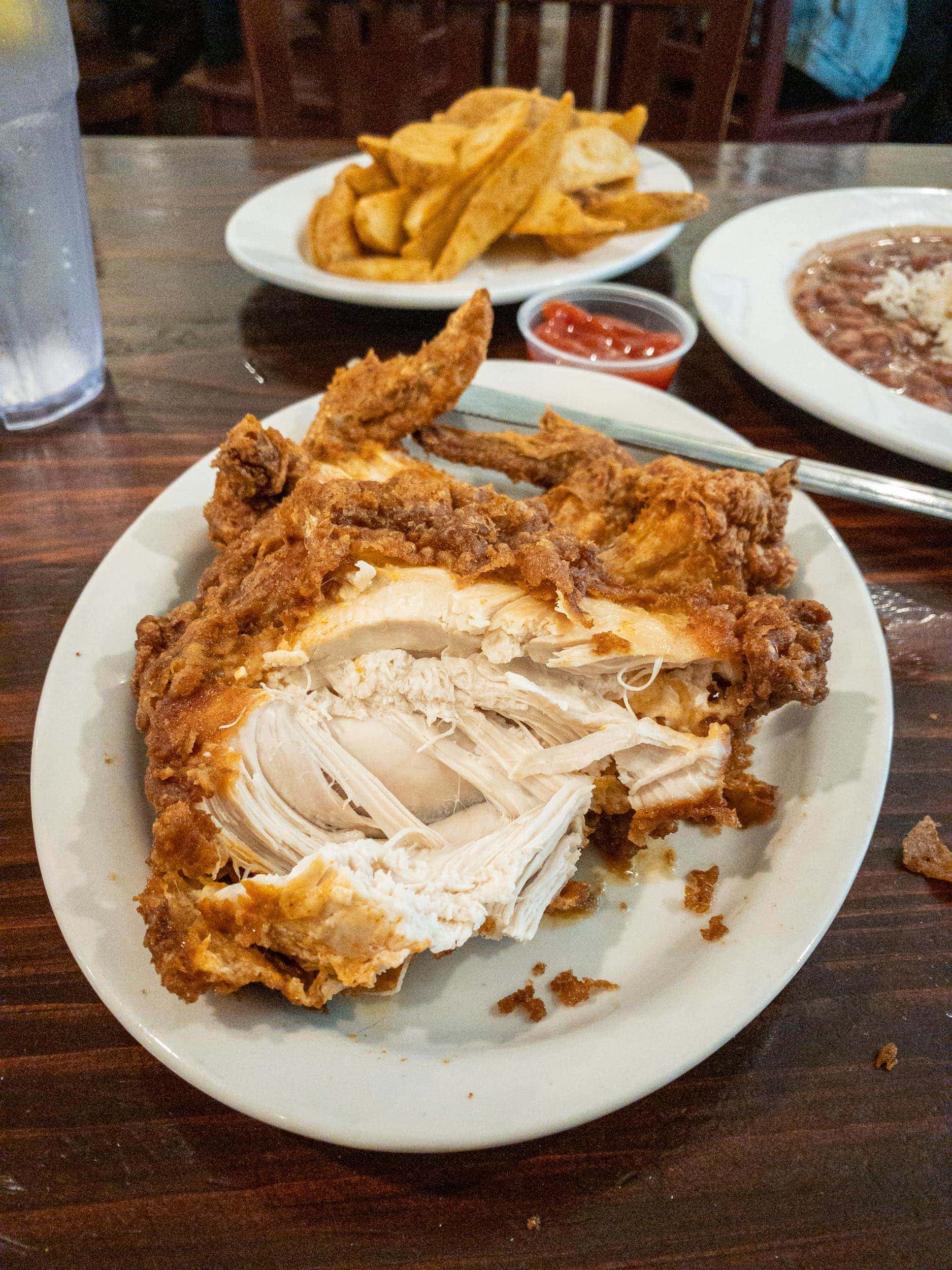 Willie Mae's Scotch House
A block north of Dooky Chase's Restaurant is Willie Mae's Scotch House, which opened in 1957.
It's been recognized at the national level by The Food Network and Travel Channel for serving "America's best fried chicken."
And in 2005, at the age of 89, Ms. Willie Mae Seaton won a James Beard Award for "America's Classic Restaurant for the Southern Region."
Willie Mae passed away in 2015 at the age of 99. Since then, the restaurant has been managed by her great-granddaughter Kerry Seaton Stewart.
I'm not a big consumer of fried chicken, but I also never knew it could be this good.
I ordered the three-piece fried chicken, and the massive breast piece alone was enough to fill me up.
I also had the red beans and rice (traditionally eaten on Mondays), French fries, and a biscuit.
Reservations: not needed, but go when they open to avoid waiting for a table; they fill up fast.
Dress: casual
2401 St. Anne Street, Treme, williemaesnola.com
See also: Best Restaurants in Austin
Best Modern Restaurants
New Orleans has long attracted top chefs and talent, whether they grew up in Louisiana or came from other parts of the country.
What follows are my picks for the best modern restaurants in New Orleans.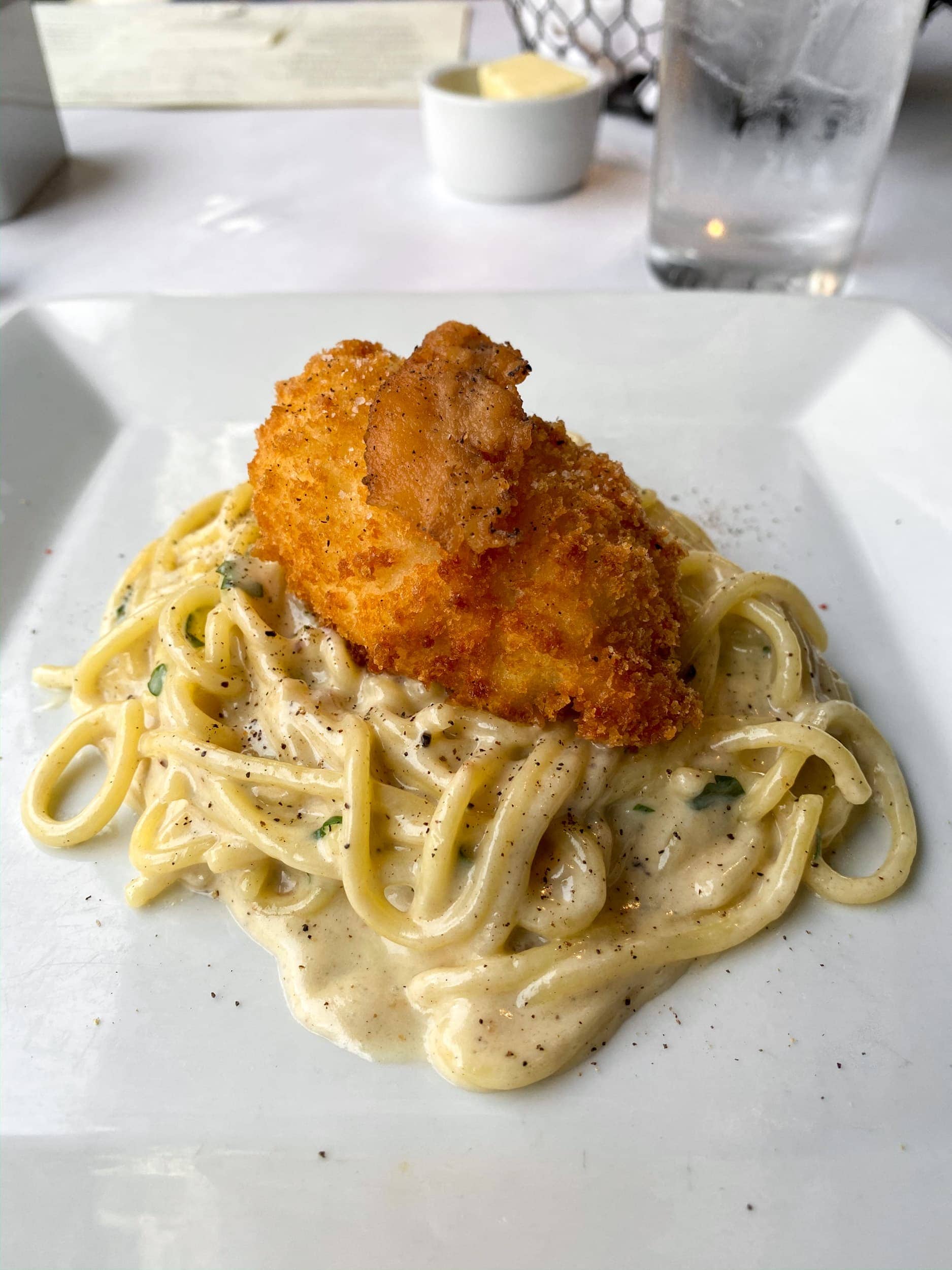 Herbsaint Bar and Restaurant
Celebrating its 20th anniversary in 2020, Herbsaint is the flagship restaurant in chef Donald Link's culinary empire.
Herbsaint's food menu reflects southern, French, and Italian influences, such as the housemade spaghetti with guanciale (an Italian cured meat made of pork cheek), and fried-poached farm egg.
More substantial dishes include duck leg confit with dirty rice, a crispy goat with lentils, and lamb and mushroom lasagna.
The dessert menu is full of delectable options, too, including an excellent chocolate mousse.
Reservations: recommended, space is held for walk-ins too.
Dress: casual
701 St. Charles Avenue, Central Business District, herbsaint.com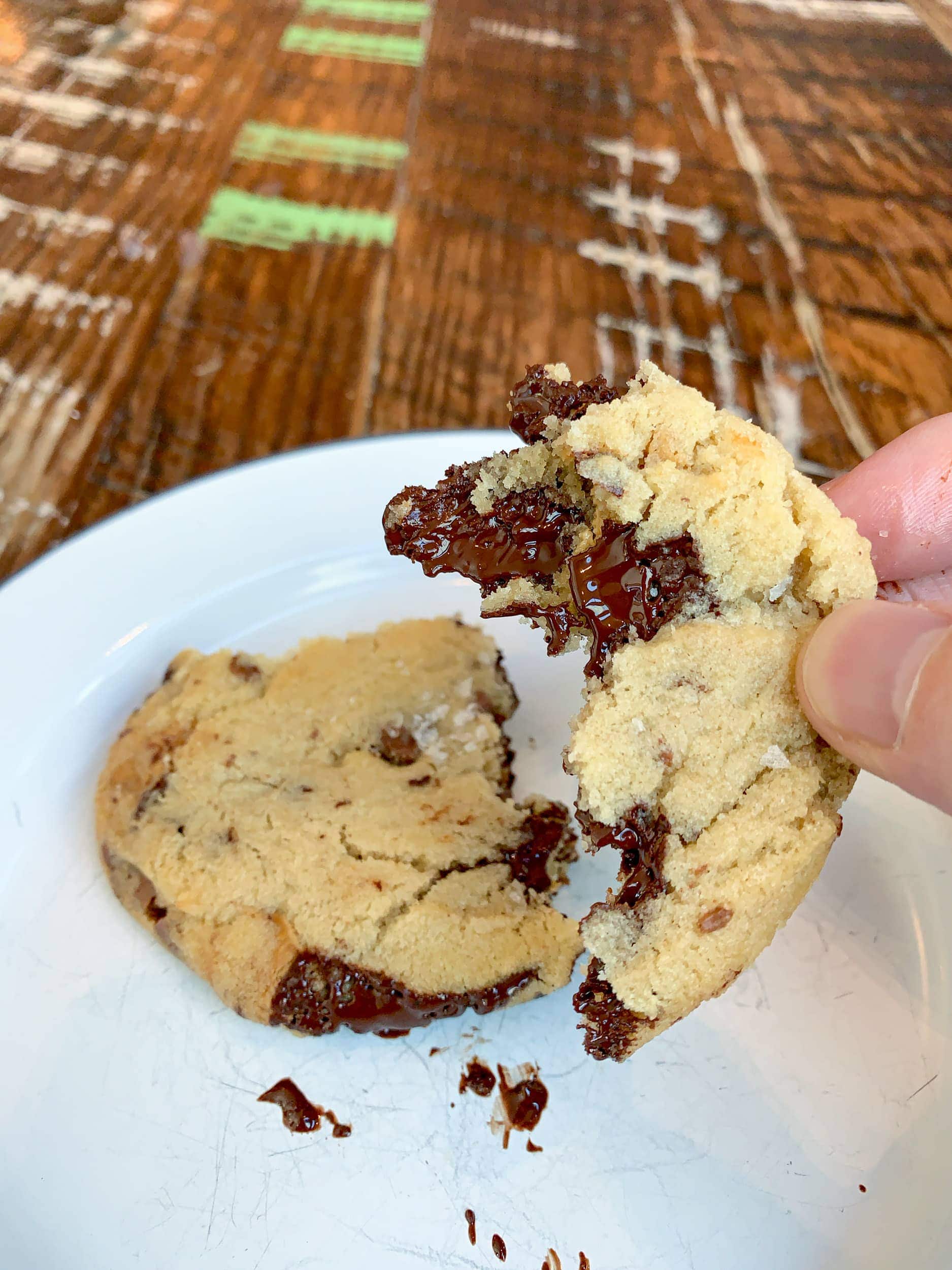 Willa Jean
Opened in 2015 by South Carolina-born chef Kelly Fields, Willa Jean offers a bright, airy space to enjoy breakfast, brunch, lunch, or dinner.
The pastry counter alone is worth a visit. In 2019, Fields won the James Beard Award for Outstanding Pastry Chef.
Willa Jean was my first stop on my second trip to New Orleans. The savory BBQ shrimp on sourdough with burrata was incredible.
For dessert, I went with one of Fields' enticing chocolate chip cookies with sea salt.
She spent two years perfecting the recipe, which includes three types of Valrhona chocolate.
Pair your cookie with a glass of vanilla milk or a cup of the Willa Jean coffee blend by Intelligentsia.
611 O'Keefe Avenue, Central Business District, willajean.com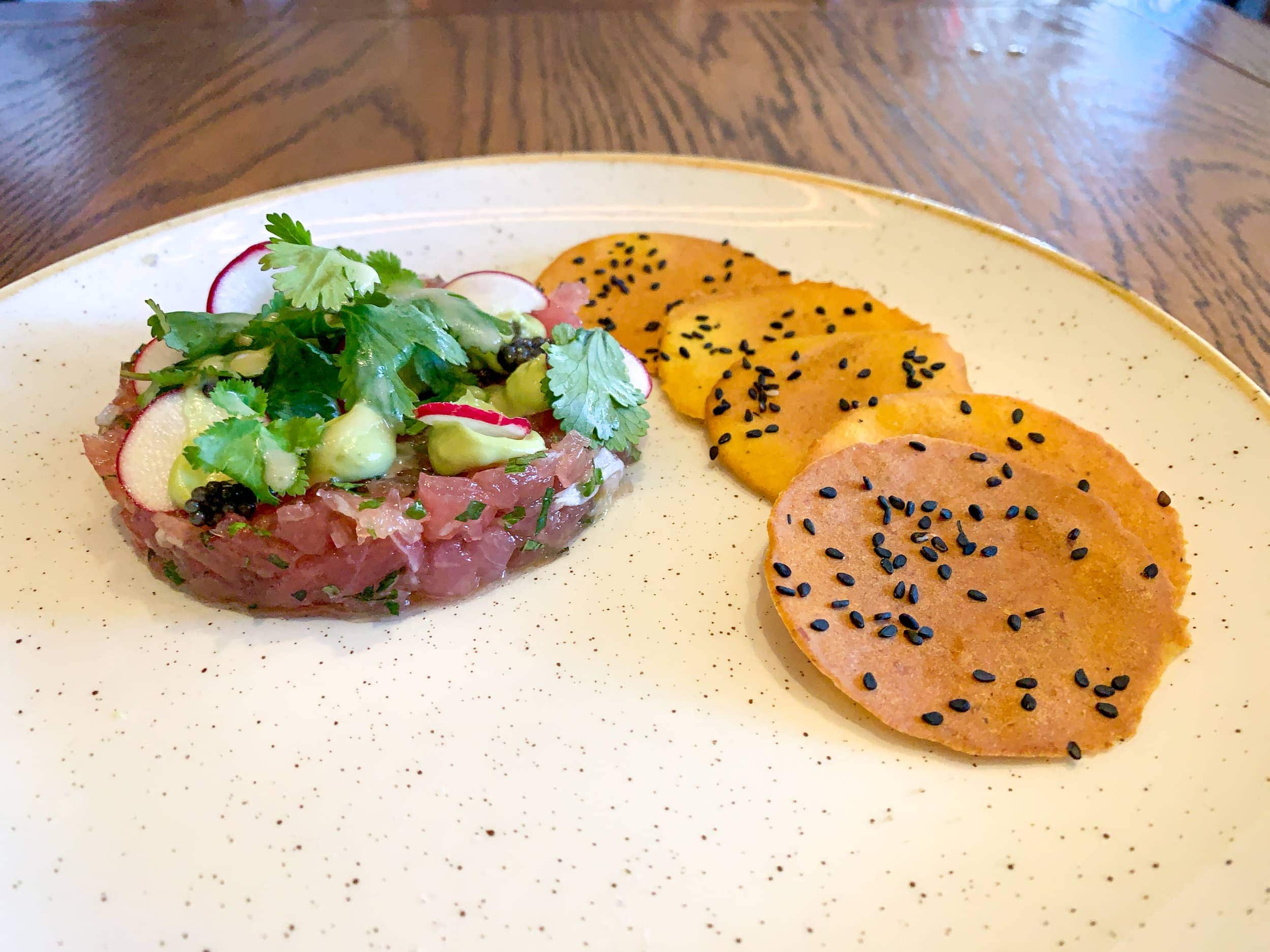 Compère Lapin
Exposed brick, black girders, and mosaic tile floors present an industrial yet welcoming atmosphere at Compère Lapin on the ground floor of the Old No. 77 Hotel & Chandlery.
Since 2015, St. Lucia-born chef Nina Compton has been cooking up contemporary Caribbean dishes, including conch croquettes, crispy snapper collars with fermented chilis, jerk chicken, and curried goat.
The soursop semifreddo with coconut dessert is a light, refreshing end to any meal.
In 2018, Nina Compton won a James Beard Award for Best Chef: South.
She competed in Season 11 of Top Chef and came in second, but was voted the fan-favorite.
Reservations: recommended, but not necessary
Dress: casual
535 Tchoupitoulas St, Central Business District, instagram.com/comperelapin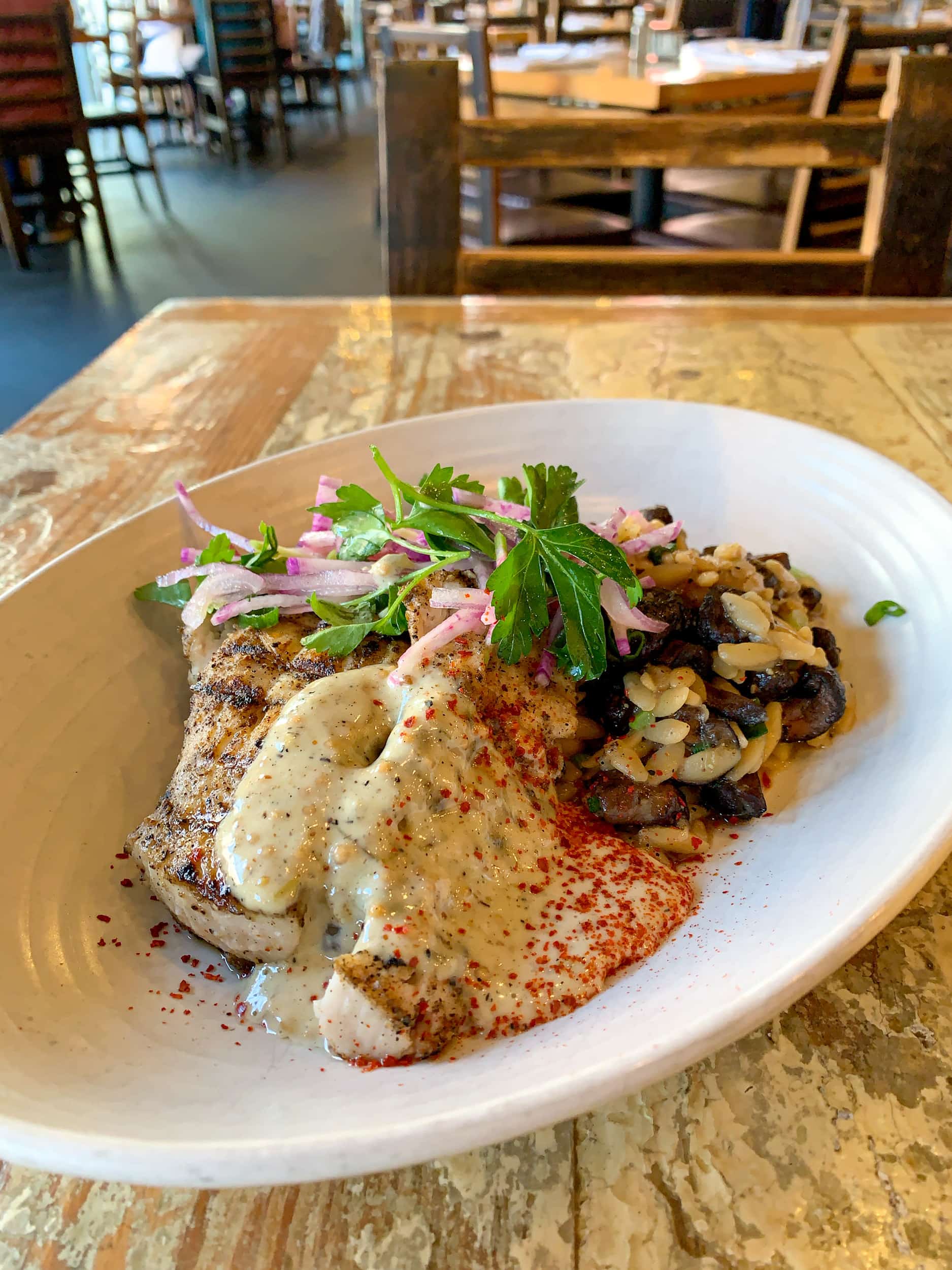 Pêche Seafood Grill
Donald Link's second appearance on this list is for Pêche, one of the best seafood restaurants in New Orleans.
Here, they're focused on sustainably sourced seafood.
At Pêche, a raw bar serves oysters, gulf shrimp, salmon ceviche, and steak tartare.
The menu includes snacks like crawfish croquettes and hushpuppies, small plates of catfish and lamb skewers.
And there are heavier dishes like grilled tuna, hanger steak, and Louisiana shrimp roll.
Willing to share? Try the 22-ounce ribeye or whole grilled fish.
On my visit, I ordered the daily special -- grilled Mahi with orzo and mushrooms, and key lime pie with buttermilk Chantilly for dessert.
800 Magazine Street, Central Business District, pecherestaurant.com
***
As I mentioned at the top, this list of the best restaurants in New Orleans is a work in progress.
I had plans to return in spring 2020, but those had to be postponed. Here are three of the places I'll go to on my next visit.
La Petite Grocery - housed in a building dating back over 100 years, this bistro's chef/co-owner, Justin Deviller, won a James Beard Award for Best Chef: South in 2016.
Cochon - Donald Link's restaurant focusing on traditional cajun southern cooking.
Bacchanal Fine Wine & Spirits - a wine and cheese shop with a big patio, and an even bigger reputation for a good time!
Did you enjoy this story? Join me on Instagram and Facebook to share thoughts, ask questions, or keep up with my latest adventures.
_____
This story is based on multiple trips to New Orleans, including visits in partnership with New Orleans & Company, The Quisby, and HI New Orleans. All meals paid for by me, except those on the family trip, which were covered by my parents. Thanks, mom and dad!