New Orleans is one of the world's great food cities. The best restaurants in New Orleans include family-owned institutions and newer restaurants by award-winning chefs.
I was introduced to the New Orleans restaurant scene during a family trip.
My parents took my brother and me to their favorite restaurants, several of which are inarguably the best places to eat in New Orleans. I've returned to the Big Easy numerous times since.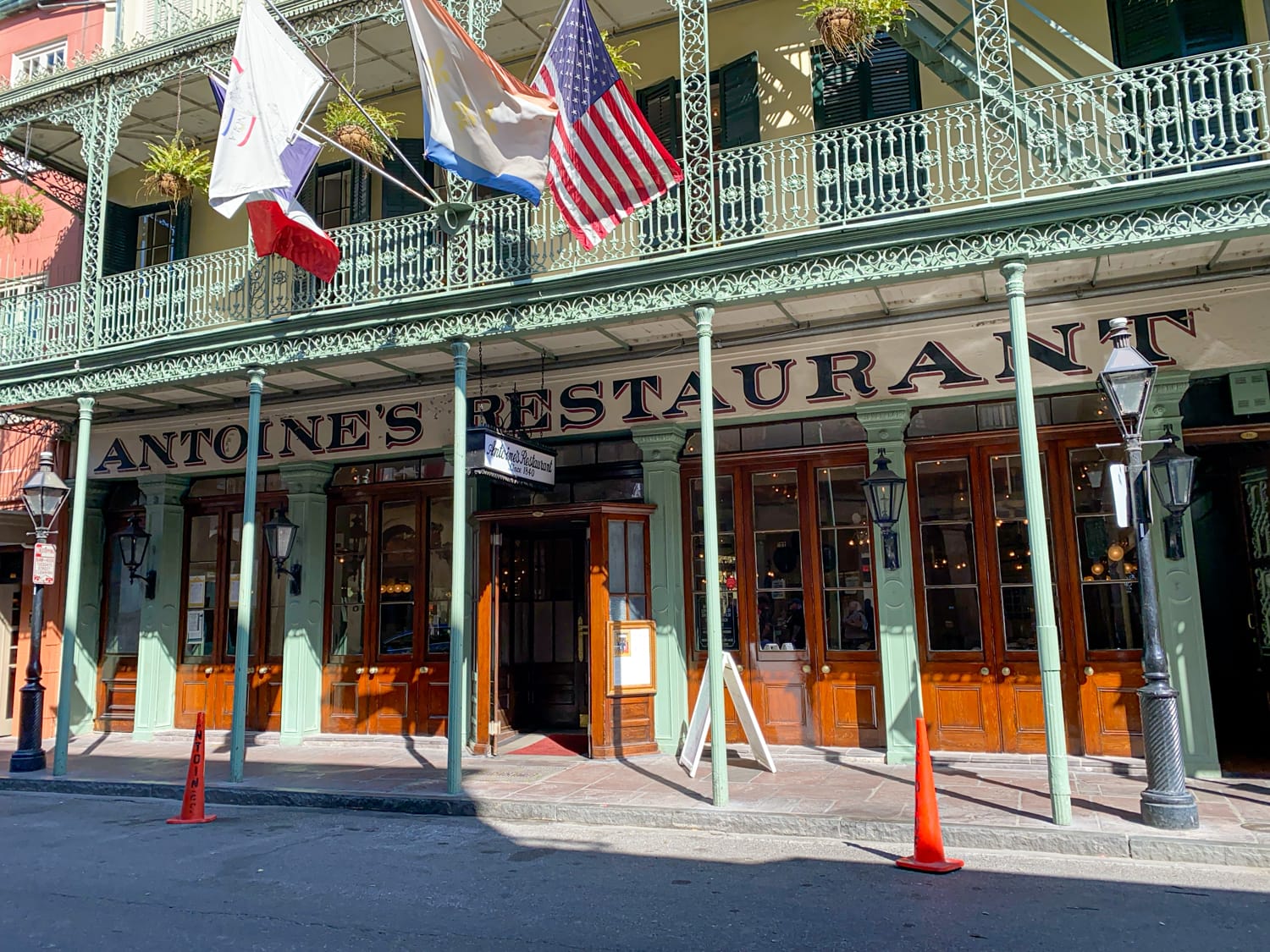 I learned about the history of cocktails, went on a food tour in the French Quarter, and hit the jazz clubs nightly.
Every subsequent trip has given me a greater appreciation for this culturally diverse city.
Below is my curated list of the best restaurants in New Orleans, which I'll continue to update with each new visit.
Best Historic Restaurants in New Orleans
New Orleans was founded in 1718 and recently celebrated its 300th anniversary. Few big cities in the United States are as old or can claim as long a history.
Dining at a century-old restaurant is a rare experience in the U.S. Thankfully, a handful of such New Orleans restaurants have survived.
1. Antoine's Restaurant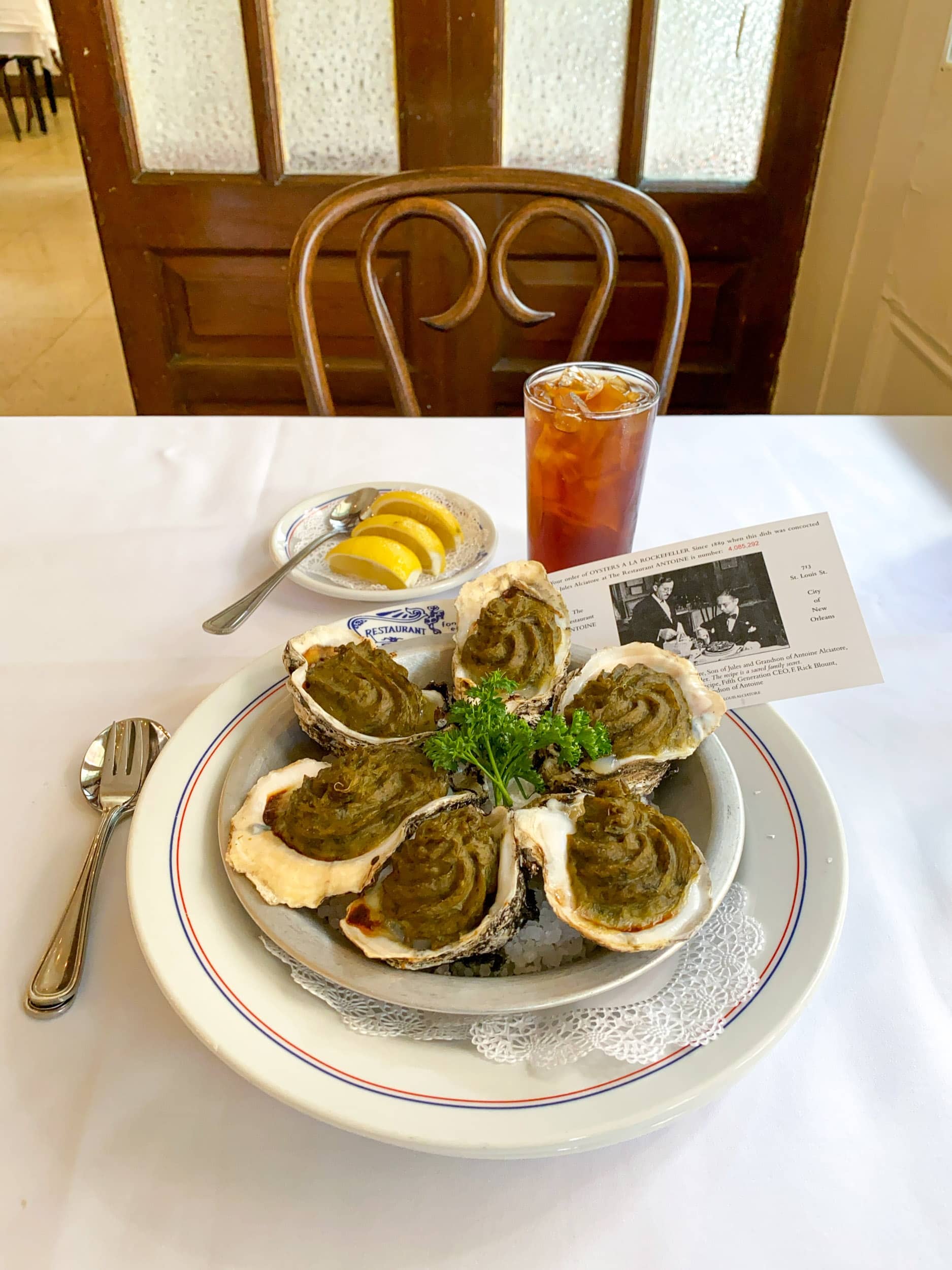 Established in 1840, Antoine's is the oldest restaurant in New Orleans and the oldest family-owned restaurant in the country.
The French-Creole restaurant is named after its founder, Antoine Alciatore, an immigrant from France.
Antoine's son, Jules, is credited with developing the recipe for Oysters Rockefeller, one of the restaurant's iconic dishes.
Oysters served on a half-shell are topped with a creamy green sauce of herbs and baked or broiled. The exact recipe remains a family secret.
Every order of Oysters Rockefeller has been counted, and diners today are presented with a postcard featuring the exact number of their order.
I was number 4,085,292 to be served and shared the privilege with former presidents, including Franklin D. Roosevelt, who dined there in 1937.
The rest of my memorable meal included Pompano Pontchartrain (a grilled filet of fish topped with crabmeat and a white wine butter sauce) and cherries jubilee (cherries flambeed tableside and served over vanilla ice cream).
After your feast, I recommend walking through the dozen private dining rooms; many are dedicated to Mardi Gras krewes.
One-hundred and eighty-two years after it opened, Antoine's remains one of New Orleans's best restaurants.
Reservations: Recommended
Dress code: Business casual, with collared shirts required for men and jackets preferred.
713 Saint Louis Street, French Quarter, antoines.com
Related: Best Cocktail Bars in New Orleans
2. Commander's Palace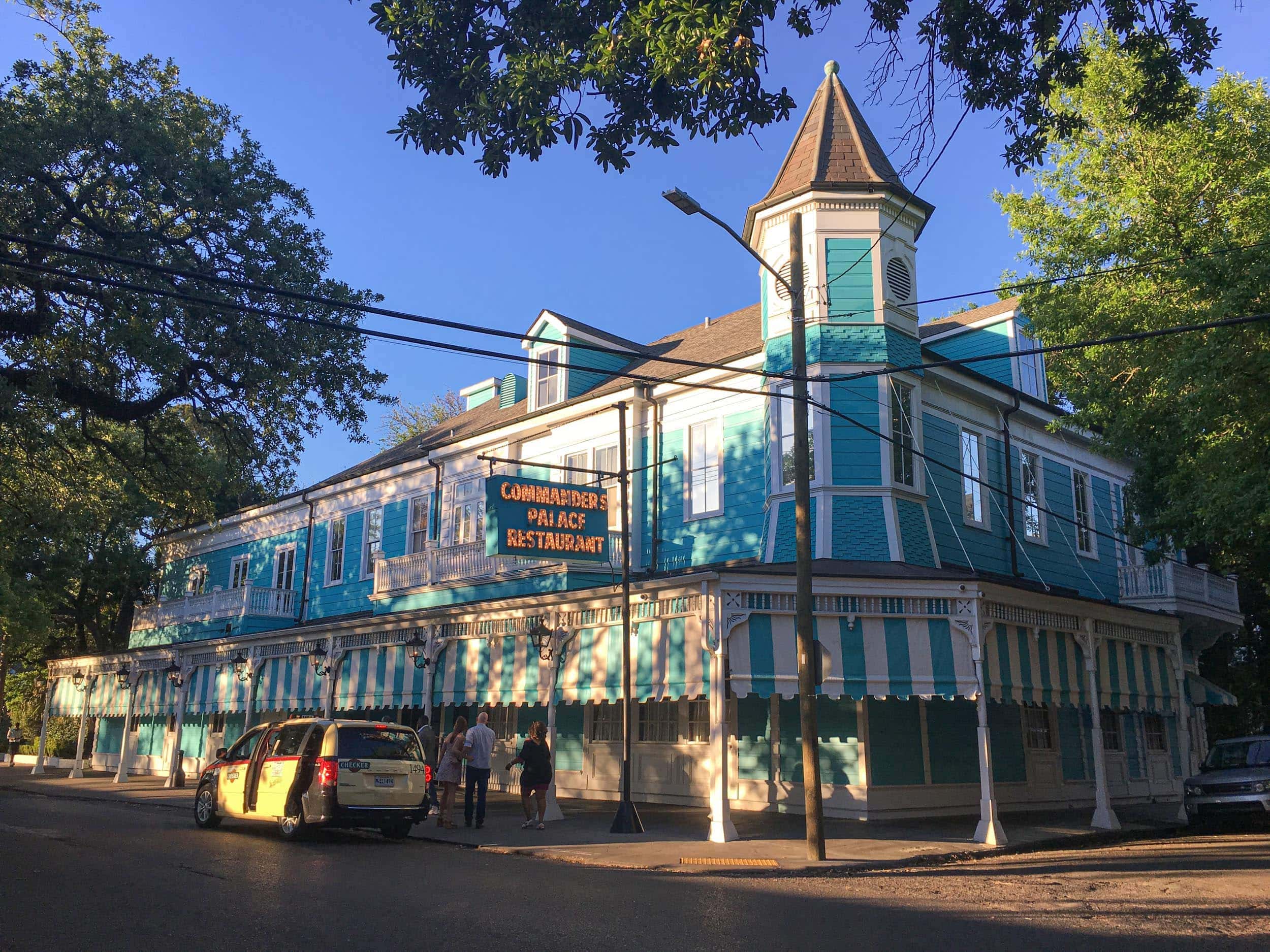 In 1893, Emile Commander opened a saloon at the corner of Washington Avenue and Coliseum Street in the heart of the Garden District.
He turned it into a fine dining restaurant within a few years, and it quickly grew in popularity. In 1969, the Brennan family purchased, renovated, and expanded Commander's Palace.
This Haute Creole restaurant has won seven James Beard Awards, has been frequently cited as the best restaurant in New Orleans, and has been home to many top chefs, including Emeril Lagasse.
By all accounts, Commander's Palace is a special occasion restaurant, and dinner with my family was certainly memorable.
Signature menu options include Commander's turtle soup finished tableside with sherry and Creole bread pudding souffle.
I ordered a lavender and lemongrass vodka Collins, the veal tenderloin and bone marrow, and a slice of decadent cheesecake for dessert.
After your meal, take a few minutes to walk through the dining rooms that make up Commander's Palace.
Reservations: Recommended
Dress code: Business attire, with collared shirts and closed-toed shoes, required for men; jackets preferred. No shorts, flip-flops, t-shirts, sweatshirts, or sweatpants; jeans are discouraged.
1403 Washington Avenue, Garden District, commanderspalace.com
3. Galatoire's Restaurant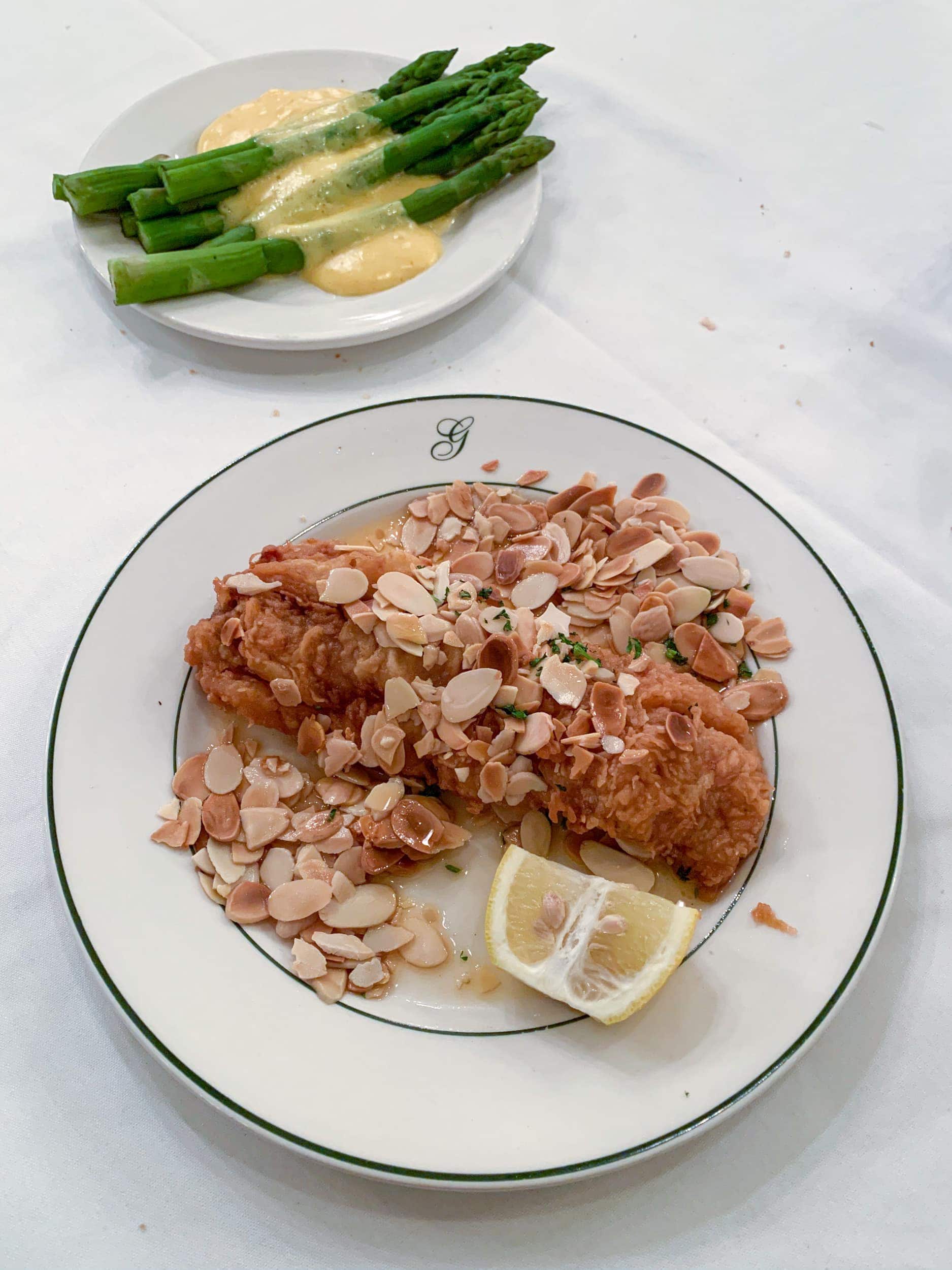 Galatoire's is another of the French Quarter's grand, family-owned restaurants, sharing much in common with Antoine's.
It was opened on Bourbon Street in 1905 by Jean Galatoire, a French immigrant, and focuses on French-Creole cuisine.
The main dining room is at street level and features a high ceiling with fans, mirrors along the walls, and numerous coat hooks above them.
On the night I went for dinner, I got lucky and was seated at a corner table in the back of the main dining room, with a commanding view.
I ordered crab Maison (jumbo lump crab with green onions, capers, and Creole mustard aioli) and the signature trout meuniere amandine with a side of giant asparagus.
The decadent black bottom pecan pie with whiskey caramel sauce was a fitting end to the meal.
Service at Galatoire's was excellent, and despite being on Bourbon Street, this fine dining restaurant feels like its own little world.
I wouldn't hesitate to return to what I consider one of the best New Orleans restaurants.
Reservations: The main dining room is first come, first serve; reservations are accepted for the second-floor dining rooms.
Dress code: Business casual, with collared shirts for men and jackets required after 5 p.m. They have a selection of men's jackets to loan should you arrive without one.
209 Bourbon Street, French Quarter, galatoires.com
Related: World's Best Restaurants
4. Arnaud's Restaurant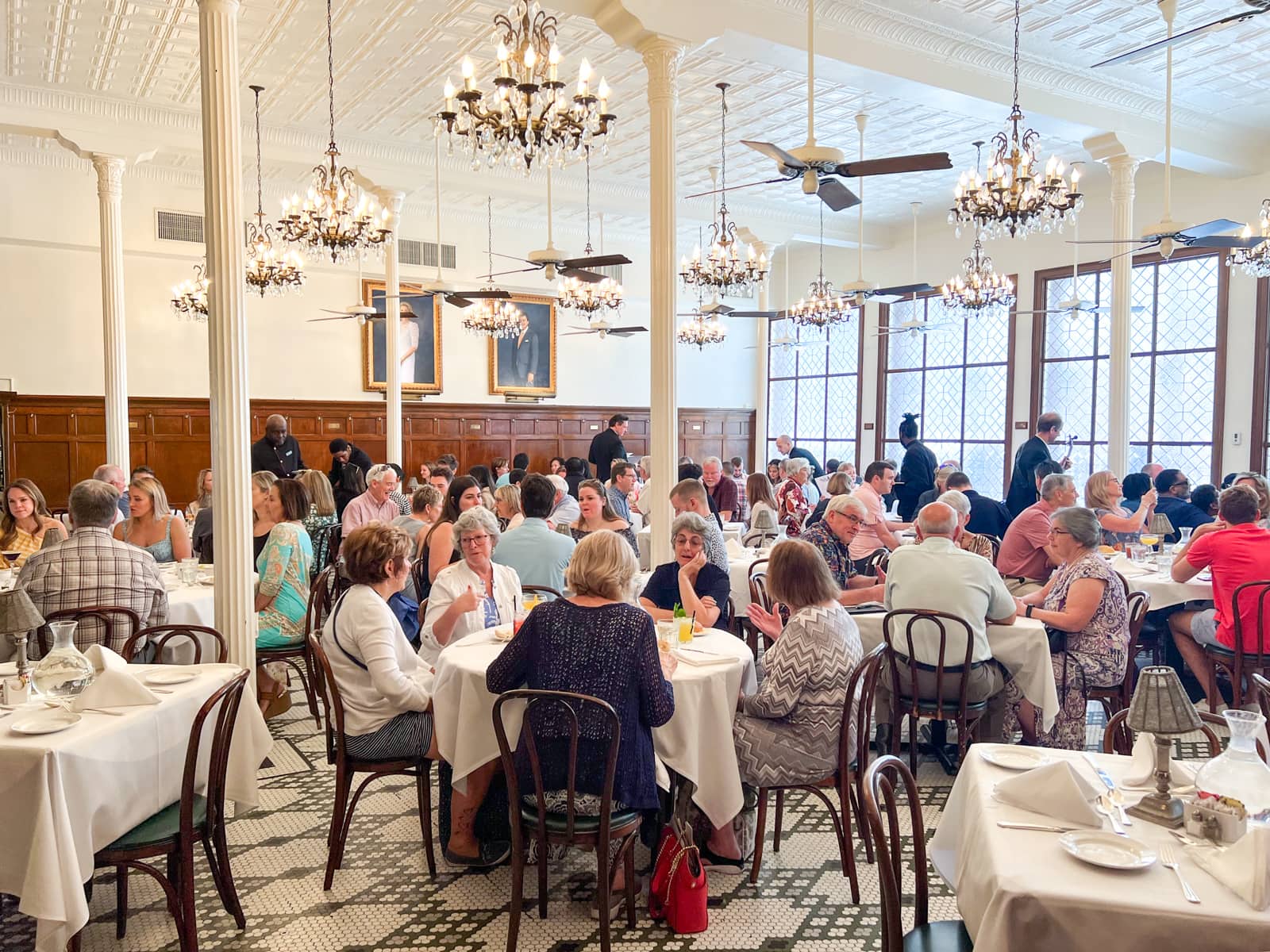 Arnaud Cazenave, a French wine salesman, opened his eponymous Creole restaurant in the French Quarter in 1918. Along with Antoine's and Galatoire's, it's a can't-miss spot for good times.
On my latest trip to New Orleans for the Final Four with my girlfriend Kel, I booked us a table for Arnaud's Sunday jazz brunch in their Main Dining Room.
We arrived at 10 a.m. and were promptly shown to a table in the corner of their beautiful turn-of-the-century dining room, with crystal chandeliers, columns, and Italian mosaic floors.
Sunday brunch at Arnaud's includes a budget-friendly three-course prix-fixe menu you can enjoy while listening to live music (Dixieland Jazz).
I ordered a traditional Creole breakfast starter with cream cheese, fresh berries, and granola, while Kel got the Shrimp Arnaud with Remoulade sauce.
The entrees include plenty of egg dishes; I went with eggs piperade, similar to eggs in purgatory. Kel got the savory crabmeat cheesecake, which we quickly agreed was the better choice.
We ordered the banana's foster, flambeed tableside, and served over French vanilla ice cream for dessert. Other options included crepes Suzette for two (flambeed tableside), strawberries in Port Wine Sauce, and bread pudding.
Museum and Bar
After eating, head to the restaurant's Germaine Cazenave Wells Mardi Gras Museum on the second floor, a free exhibit with Mardi Gras costumes and vintage photos.
Arnaud's award-winning French 75 Bar is accessible from within the restaurant and the street. Stop by at happy hour for a cocktail at the vintage bar dating back to the late 1800s.
Reservations: Recommended, though if you arrive when they open, you might be able to get a table in the lounge or sit at the bar; both are first-come, first-serve.
Dress code: Business casual. Collared shirts are required for men, and no t-shirts, athletic shorts, or flip-flops are allowed.
813 Bienville St, French Quarter, arnaudsrestaurant.com
5. Brennan's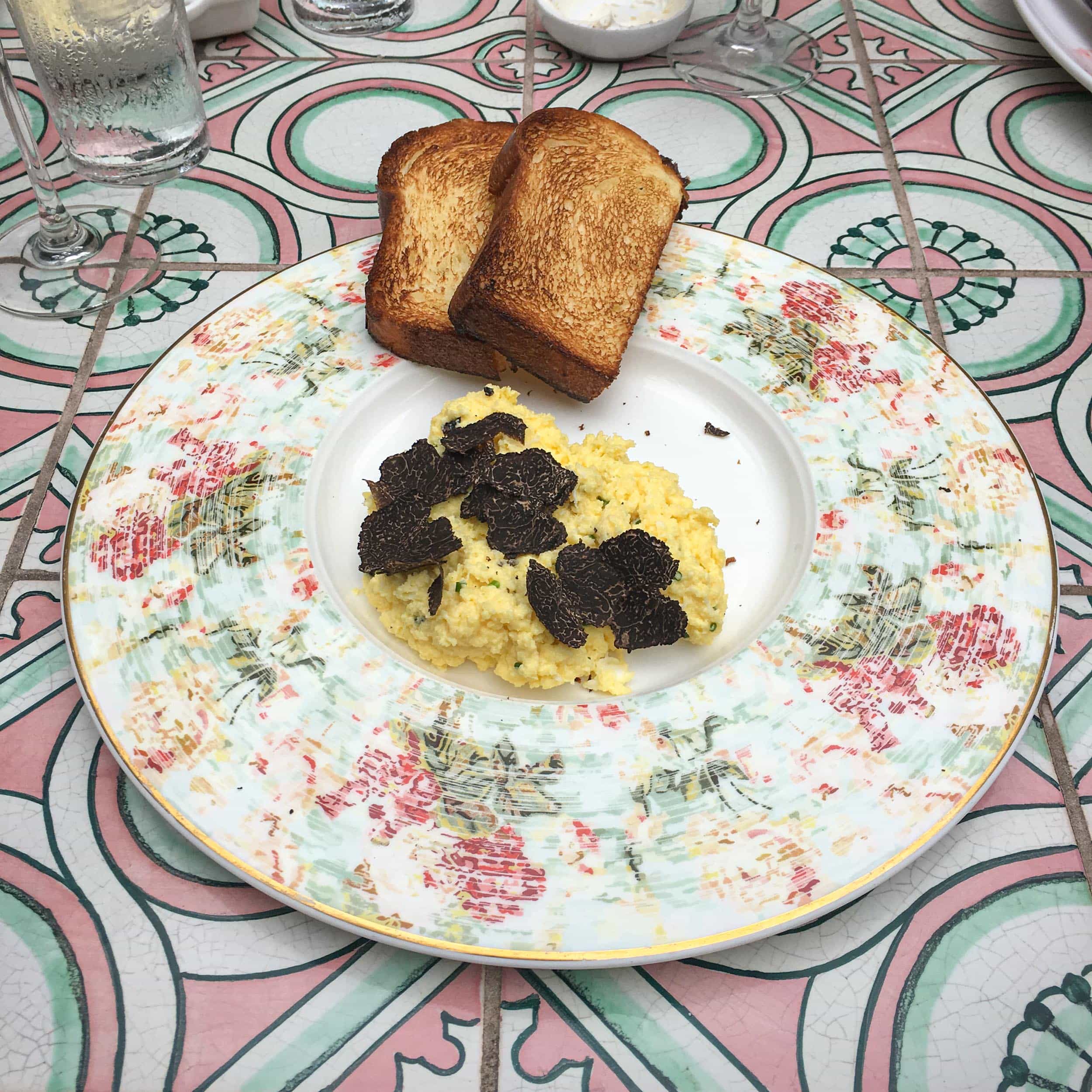 Brennan's restaurant was opened in 1946 by Owen Brennan, an Irish-American, and has come to be known for its elegant breakfasts.
The famous restaurant is housed in an 18th-century mansion, the former location of the first bank in Louisiana and later the residence of Paul Morphy, a celebrated chess champion.
According to the website, their "innovative Creole menu borrows influences from French and Spanish ancestry with modern updates and distinct seasonal offerings."
During my first trip to New Orleans, I ate breakfast at Brennan's on their patio and got the Caribbean milk punch and black truffle soft-scrambled eggs with toasted brioche (prepared tableside).
For dessert, we shared Banana's Foster (also prepared tableside), invented at Vieux Carré, Owen Brennan's precursor to Brennan's.
Don't miss a chance to eat at Brennan's, one of the top restaurants in New Orleans.
Reservations: Recommended, though if you arrive when they open, you might be able to get a table in the lounge or sit at the bar; both are first-come, first-serve.
Dress code: "Dressy casual attire" is suggested. No tank tops, cut-offs, or athletic shorts.
417 Royal Street, French Quarter, brennansneworleans.com
6. Dooky Chase's Restaurant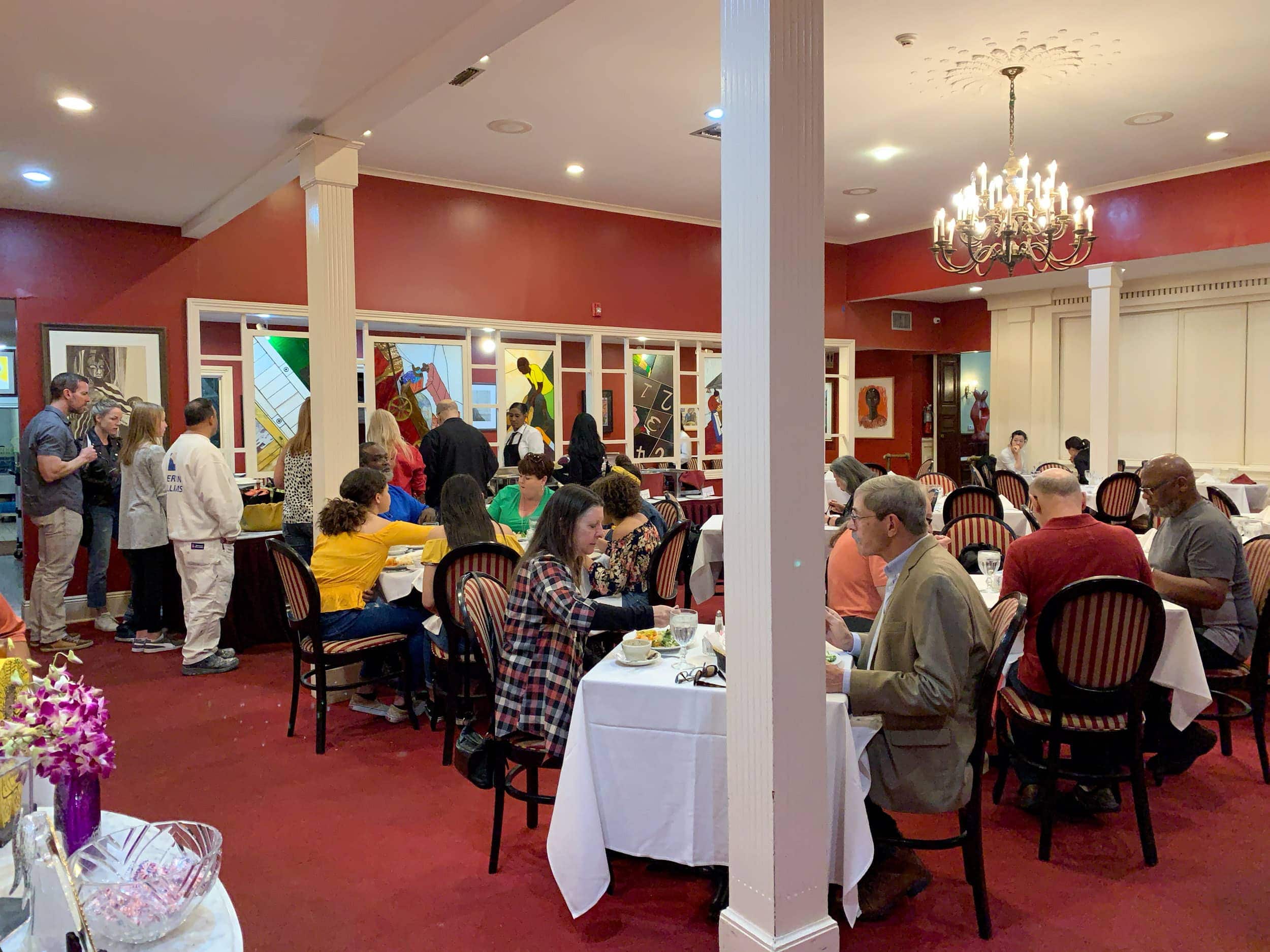 The history of Dooky Chase's Restaurant combines Creole cooking, the civil rights movement, African American art, and all that jazz.
Initially a corner shop selling lotto tickets and po' boys in 1939, the marriage of the founder's son, jazz trumpeter Dooky Jr., to Leah Chase would pave the way for a restaurant with an enduring legacy.
Despite being briefly knocked out of business by Hurricane Katrina, Chef Leah Chase led the restaurant for 70 years.
She served prominent African American lawyers, including Thurgood Marshall (the first African American on the Supreme Court), Martin Luther King, Jr., President Barack Obama, and First Lady Michelle Obama.
Along the way, Leah Chase became the Queen of Creole Cuisine, winning numerous accolades, including a James Beard Lifetime Achievement Award in 2016.
Chef Leah Chase still worked in the kitchen until her final months. She passed away on June 1, 2019, at 96.
Her legacy is a restaurant serving traditional Creole food, including red beans and rice, gumbo, and Shrimp Clemenceau. Fried chicken is a customer favorite.
I enjoyed Dooky Chase's history, atmosphere, and value as much as the food. Go here to experience one of the best Cajun restaurants in New Orleans.
The lunch buffet from 11 a.m. to 3 p.m., Tuesday through Friday, brings in diners from all walks of life. You can also order a la carte, including oysters, shrimp, and crab po'boys. Dinner is available Fridays from 5 p.m. to 9 p.m.
Reservations: Recommended
Dress code: Casual
2301 Orleans Avenue, Treme, dookychaserestaurants.com
7. Willie Mae's Scotch House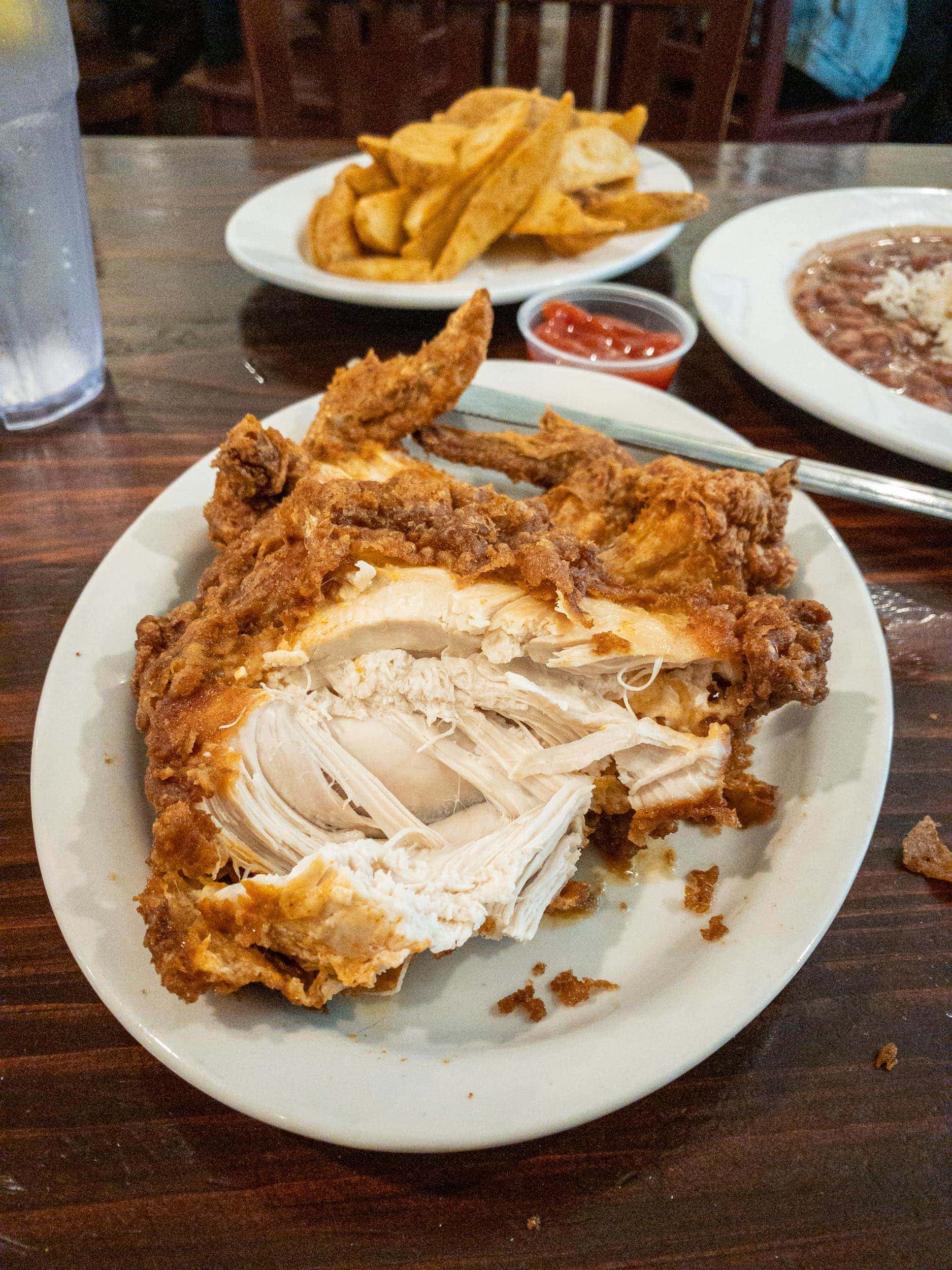 Willie Mae's Scotch House is a block north of Dooky Chase's Restaurant.
Sixty-five years after it opened, Willie Mae's remains one of the best places to eat in New Orleans.
It's been recognized nationally by The Food Network and Travel Channel for serving "America's best fried chicken."
In 2005, at 89, Ms. Willie Mae Seaton won a James Beard Award for "America's Classic Restaurant for the Southern Region."
Willie Mae passed away in 2015 at the age of 99. Since then, the restaurant has been managed by her great-granddaughter Kerry Seaton Stewart.
I'm not a big consumer of fried chicken, but I also never knew it could be this good.
I ordered the three-piece fried chicken, and the massive breast piece alone filled me up.
I also had red beans and rice (traditionally eaten on Mondays), French fries, and a biscuit.
Reservations: Not needed, but go when they open to avoid waiting for a table; they fill up fast.
Dress: Casual
2401 St. Anne Street, Treme, williemaesnola.com
See also: Best Restaurants in Austin
Best Modern Restaurants in New Orleans
New Orleans has long attracted top chefs and talent, whether they grew up in Louisiana or came from other parts of the country.
What follows are my picks for the best modern restaurants in New Orleans.
8. Herbsaint Bar and Restaurant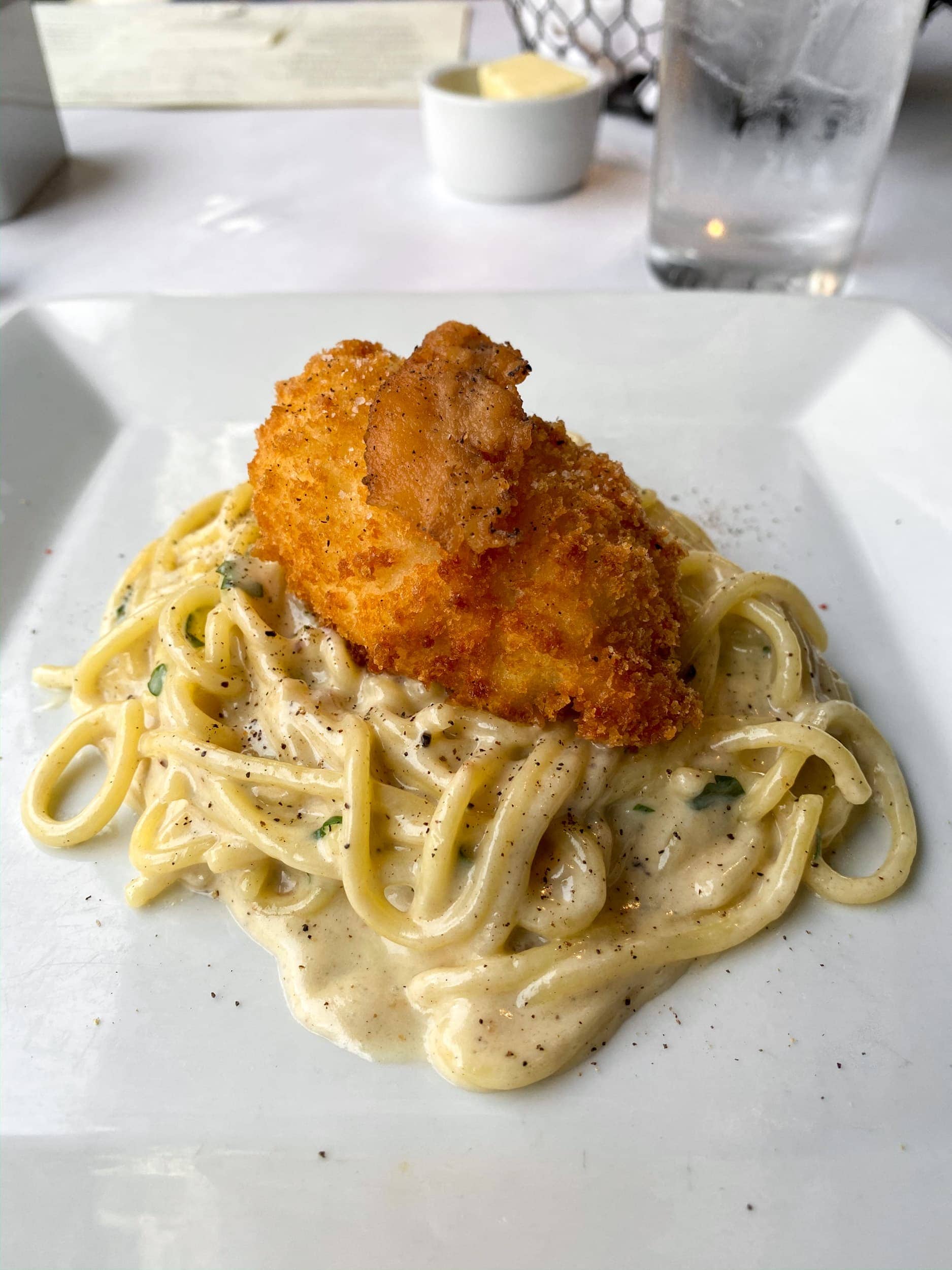 Celebrating its 20th anniversary in 2020, Herbsaint is the flagship restaurant in chef Donald Link's culinary empire.
Located at the northern edge of the Warehouse District, Herbsaint's food menu reflects southern, French, and Italian influences, such as homemade spaghetti with guanciale (an Italian cured meat made of pork cheek) and fried-poached farm egg.
More substantial dishes include duck leg confit with dirty rice, a crispy goat with lentils, and lamb and mushroom lasagna.
The dessert menu has delectable options, including an excellent chocolate mousse.
Check out Herbsaint, one of the top New Orleans restaurants, for a taste of why Donald Link is so well-regarded.
Reservations: Recommended. Space is held for walk-ins, too.
Dress: Casual
701 St. Charles Avenue, Central Business District, herbsaint.com
9. Willa Jean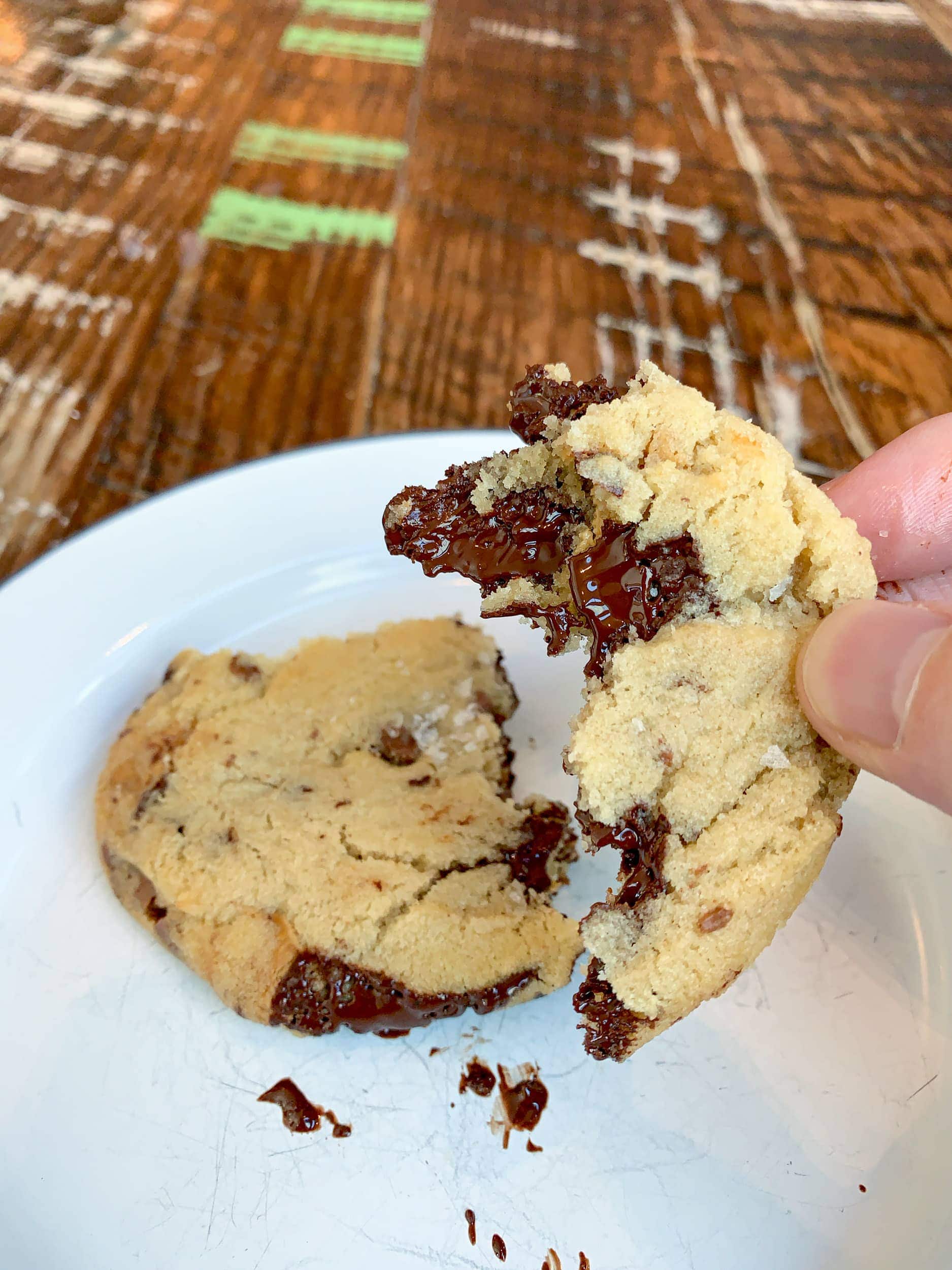 Opened in 2015 by South Carolina-born chef Kelly Fields, Willa Jean offers a bright, airy space to enjoy breakfast, brunch, lunch, or dinner.
The pastry counter alone is worth a visit. In 2019, Fields won the James Beard Award for Outstanding Pastry Chef.
Willa Jean was my first stop on my second trip to New Orleans. The savory BBQ shrimp on sourdough with burrata was incredible.
I went with one of Fields' enticing chocolate chip cookies with sea salt for dessert. She spent two years perfecting the recipe, which includes three types of Valrhona chocolate.
Pair your cookie with a glass of vanilla milk or a cup of the Willa Jean coffee blend by Intelligentsia.
Reservations: They don't take reservations.
Dress: Casual
611 O'Keefe Avenue, Central Business District, willajean.com
10. Compere Lapin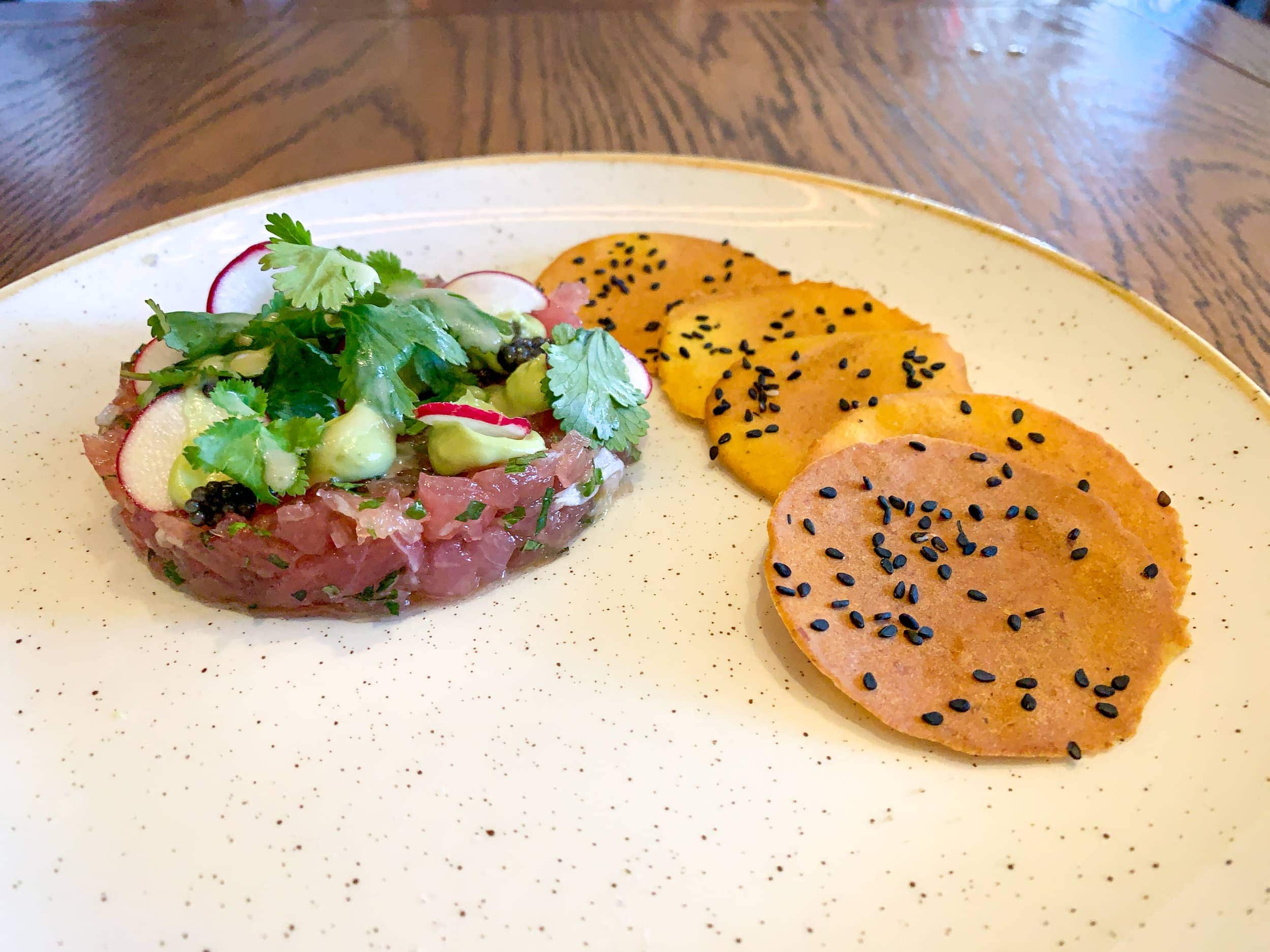 Exposed brick, black girders, and mosaic tile floors present an industrial yet welcoming atmosphere at Compere Lapin on the ground floor of the Old No. 77 Hotel & Chandlery.
Since 2015, St. Lucia-born chef Nina Compton has been cooking contemporary Caribbean dishes, including conch croquettes, crispy snapper collars with fermented chilis, jerk chicken, and curried goat.
The soursop semifreddo with coconut dessert is a light, refreshing end to any meal.
In 2018, Nina Compton won a James Beard Award for Best Chef: South. She competed in Season 11 of Top Chef and came in second but was voted the fan favorite.
Reservations: Recommended but not necessary
Dress: Casual
535 Tchoupitoulas St, Central Business District, instagram.com/comperelapin
11. Peche Seafood Grill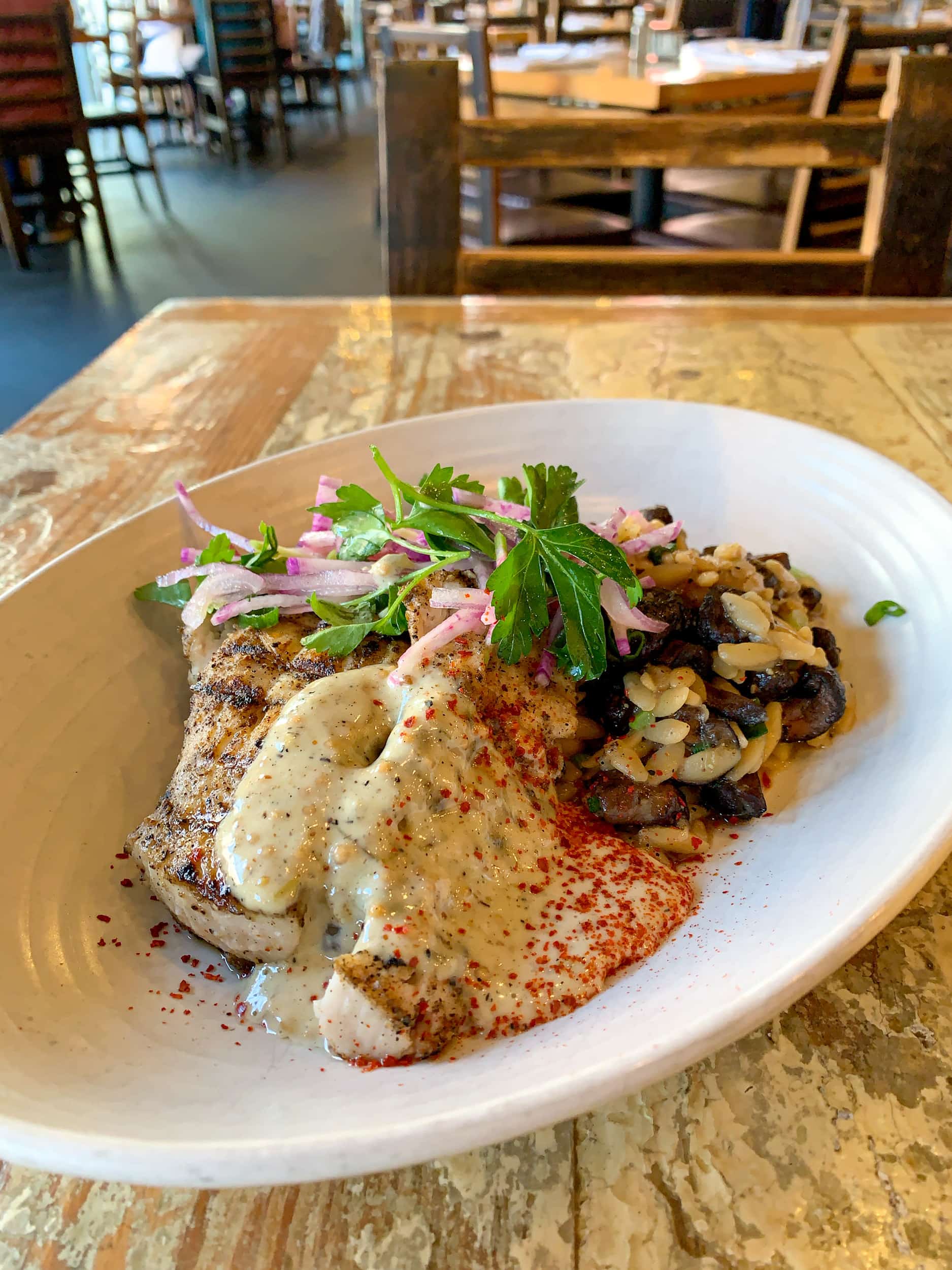 Donald Link's second appearance on this list is for Peche, one of the best seafood restaurants in New Orleans.
Here, executive chef Ryan Prewitt focuses on sustainably sourced seafood.
At Peche, a raw bar serves oysters, gulf shrimp, salmon ceviche, and steak tartare.
The menu includes snacks like crawfish croquettes and hushpuppies, small plates of catfish, and lamb skewers. Heavier dishes include grilled tuna, hanger steak, and Louisiana shrimp roll.
Willing to share? Try the 22-ounce ribeye or whole grilled fish.
On my visit, I ordered the daily special -- grilled Mahi with orzo and mushrooms and key lime pie with buttermilk Chantilly for dessert.
Reservations: Limited reservations are available via Resy. Otherwise, it's primarily walk-ins.
Dress: Casual
800 Magazine Street, Central Business District, pecherestaurant.com
12. La Petite Grocery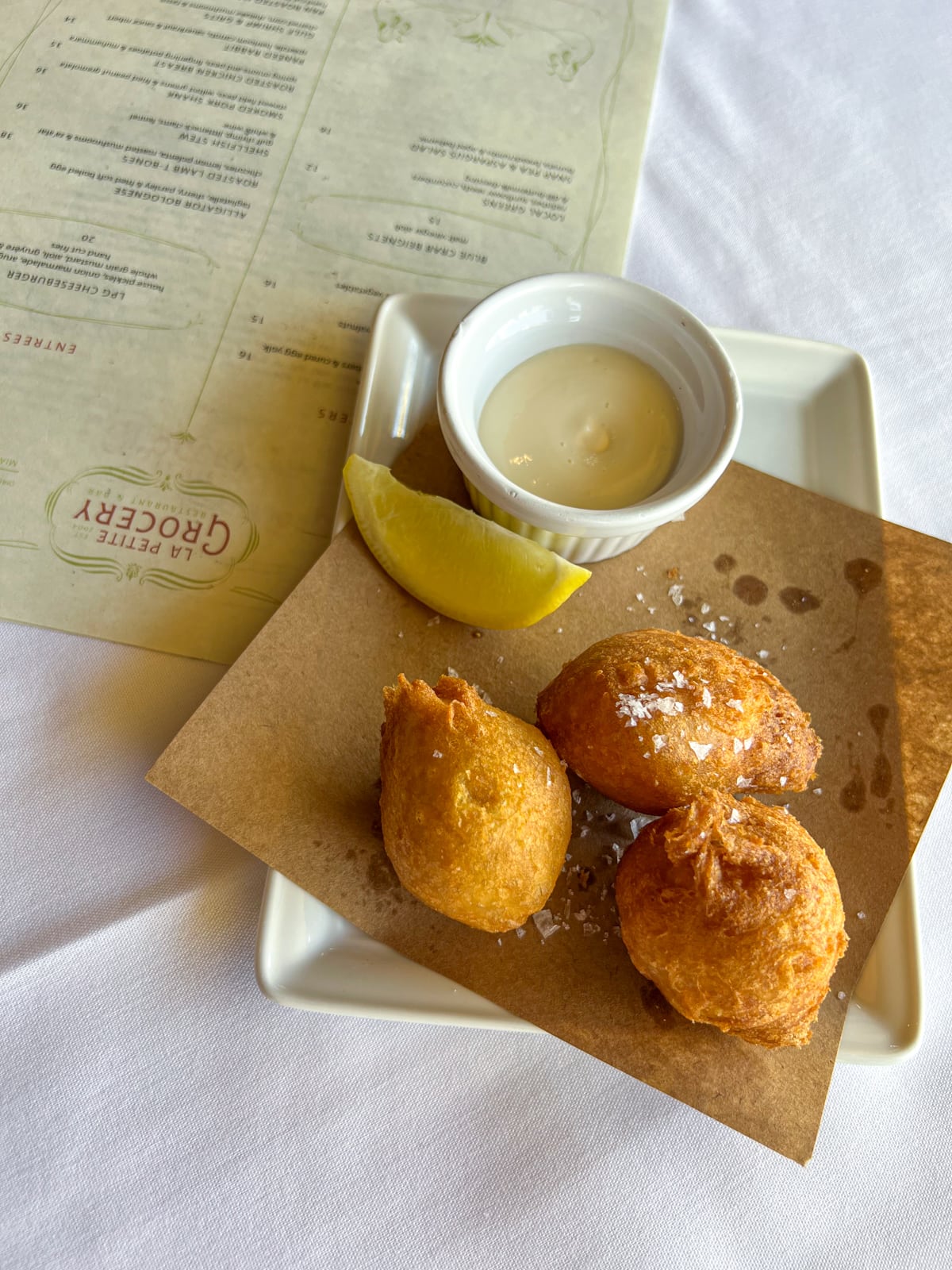 In a building dating back over 100 years, La Petite Grocery's chef/co-owner, Justin Devillier, won a James Beard Award for Best Chef: South in 2016.
As the lunch and dinner menus are similar, I opted for lunch on a Thursday, and Kel joined me. We were seated at a small table next to the front windows.
The signature blue crab beignets were a must—their light, crisp crust gives way to a soft, warm crab filling. Squeeze fresh lemon juice on them or dip them in malt vinegar aioli for added flavor.
I chose alligator bolognese with tagliatelle, sherry, and a fried soft-boiled egg reminiscent of the one I got at Herbsaint.
Roasted lamb T-bones, smoked pork shank, paneed rabbit with spaetzle, and Gulf shrimp and grits were a few more entrees available.
Our lunch ended on a sweet note, with a fantastic chocolate chess pie with smoked pecans and the Ponchatoula strawberry tart.
I had high expectations for La Petite Grocery, and it delivered, on all accounts, becoming one of my new favorite places in New Orleans.
Reservations: Recommended
Dress: Casual
4238 Magazine St, Central City/Garden District, lapetitegrocery.com
13. MaMou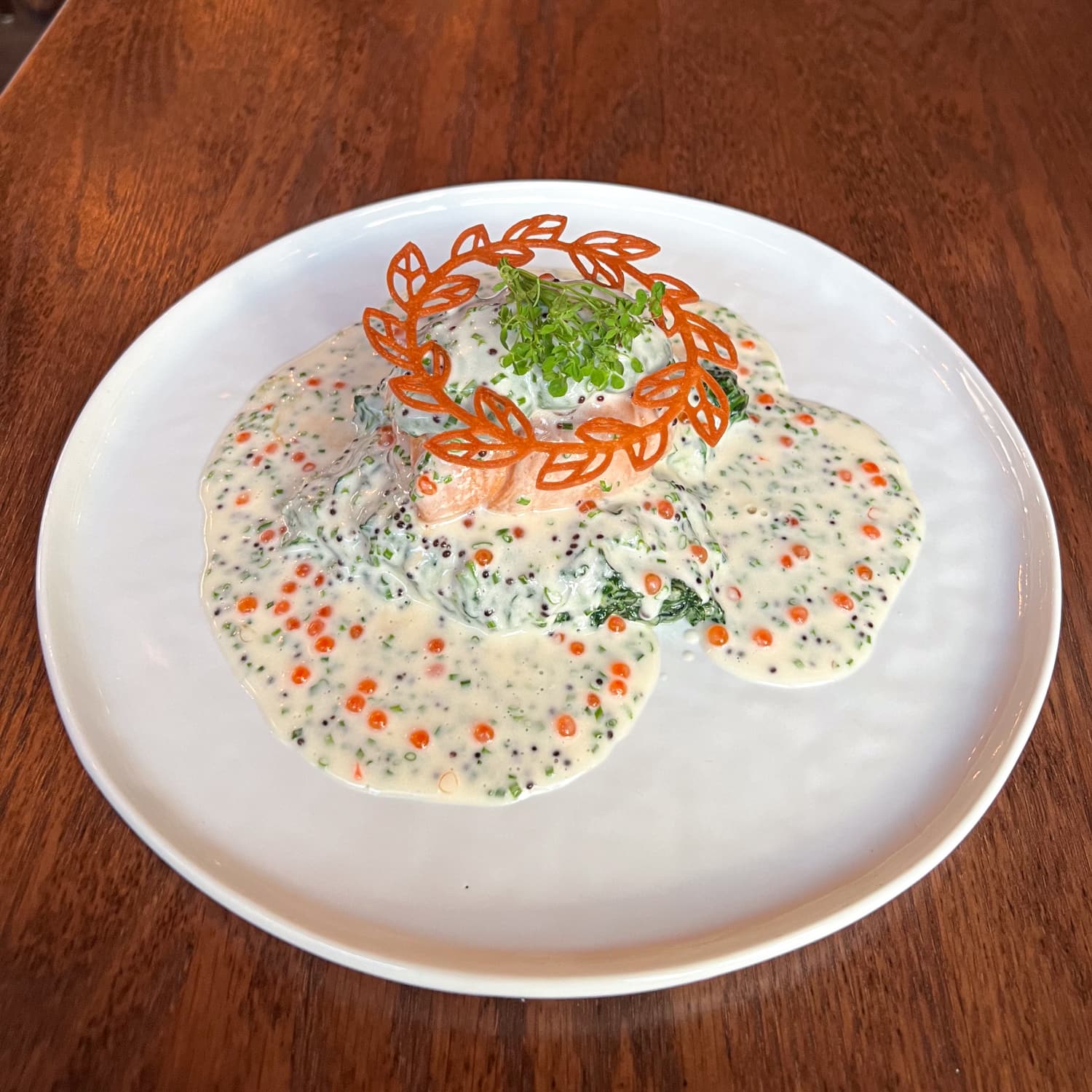 MaMou burst onto the New Orleans dining scene in 2022 and has earned a reputation for creative French dishes that are technically precise.
The French Quarter brasserie results from a partnership between Louisiana native and chef Tom Branighan and sommelier Molly Wismeier.
Named after chef Branighan's great-grandmother, MaMou offers guests a single, attractive Parisian-inspired dining room with a bar.
Whether it was the French music playing or my excitement to be back in the Big Easy for the first time in more than a year, I went all in on dinner.
The culinary experience began with a spicy La Vie en Rouge cocktail (reposado tequila, beet juice, lime, ginger, agave, egg white) and piping hot pretzel bread with smoked butter.
The braised celery hearts with smoked beef tongue, a customer favorite, were wonderful. If only all celery tasted so good.
Poisson a la Florentine was made with flounder and served in a lovely caviar beurre blanc sauce.
For dessert, Baba au Rhum flambeed tableside with apricot plum liquor and topped with a hearty dollop of pistachio cream.
Reservations: Recommended
Dress: Casual
942 N Rampart St, French Quarter, mamounola.com
14. Lilette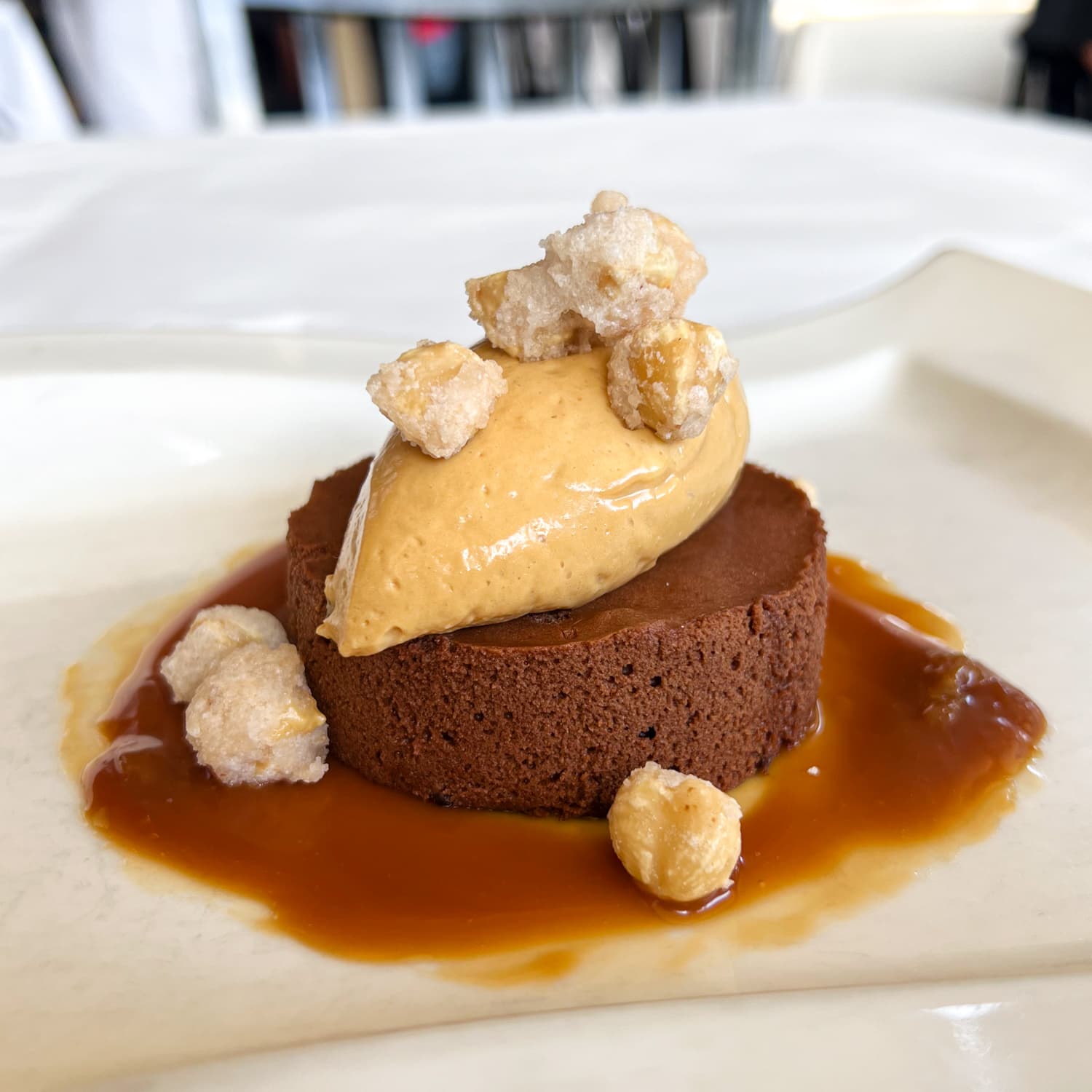 For fine French cuisine on Magazine Street, head to Lilette, which has served the community since 2001.
Chef-owner John Harris is a four-time James Beard Award Finalist for Best Chef — South.
The historic space Harris chose for his restaurant dates back to the late 1800s when it originally served as a corner drugstore. Burgundy walls, tile floors, and a pressed-tin ceiling are among the notable features.
Seasonal offerings are written on chalkboards hanging from the walls to be considered in addition to the standard menu fare.
On my visit for lunch, I savored a fresh melon salad, followed by the braised lamb shoulder with gnocchi. Dessert was a fabulous chocolate hazelnut mousse with caramel cream and fleur de sal.
Reservations: Recommended (it was packed with locals when we went on a Friday afternoon.)
Dress: Casual
3637 Magazine St, Garden District, liletterestaurant.com
15. The Elysian Bar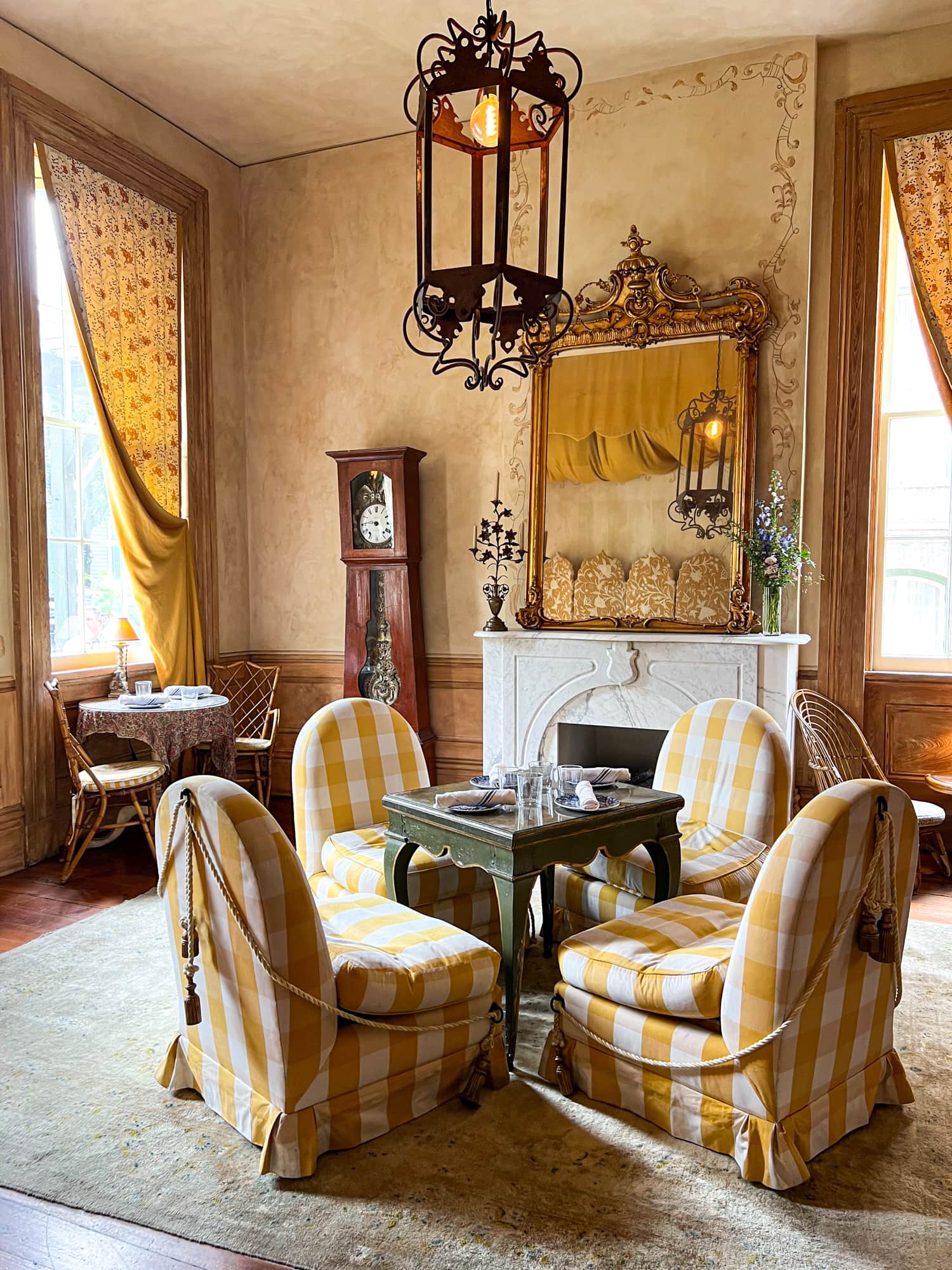 The Elysian Bar is a restaurant, bar, and cafe in the Hotel Peter and Paul in the Marigny neighborhood east of the French Quarter.
The boutique hotel was named one of the world's best by Travel and Leisure when it opened in a former school building that was fully renovated.
The hotel's restaurant occupies what was once the church rectory, and the 150-year-old adjacent church now serves as an event space.
We have the team behind award-winning Bacchanal Fine Wine & Spirits to thank for the redevelopment of this historic block.
Excited to experience one of Bon Appetit's best new restaurants (2019) on my latest trip to New Orleans, I reserved a table for brunch in Parlor 1.
Both parlor rooms feature Italian fireplaces and antique European furniture.
The highlights were the Pink Panther gin cocktail, roasted gulf shrimp with Calabrian chili butter, and rosemary chocolate tart.
Additional brunch dishes include chicken liver toast, a French rolled omelet with smoked salmon, eggs in purgatory, and grilled pompano.
Reservations: It is recommended to be seated in the space you prefer, but not necessary.
Dress: Casual
2317 Burgundy St, Hotel Peter and Paul, Marigny, theelysianbar.com
16. Maypop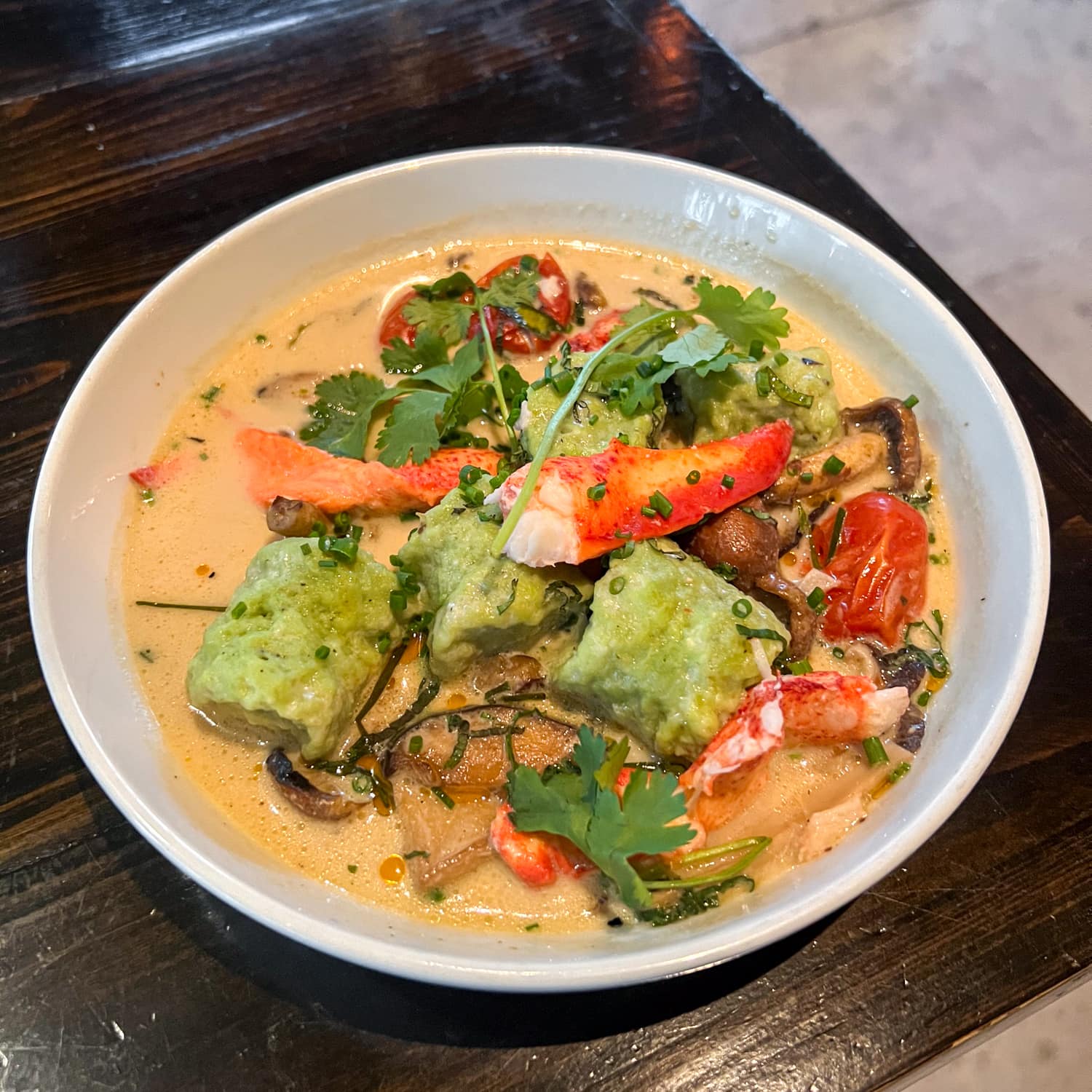 "Southeast Asia by way of Southeast Louisiana," says the Instagram profile for Maypop, a fusion restaurant with an industrial chic design in downtown New Orleans.
Executive chef and partner Michael Gulotta is serving up some surprising dishes at this great spot, such as roasted bone marrow with short rib sup tulang curry and coconut yogurt, served with a side of fresh roti bread.
The bone marrow preparation was novel. However, it was the lobster tom kha soup with scallion malfatti dumplings that I enjoyed more.
Malfatti are Italian dumplings made with ricotta, spinach, and flour, and they are perfect for soaking up the flavors of the soup.
For dessert, I tried the fried cereal milk custard with lemongrass ice cream, a solid finish to a meal unlike any I've had in the Crescent City.
Reservations: Not necessary
Dress: Casual
611 O'Keefe Ave, Central Business District, maypopnola.com
17. Toup's Meatery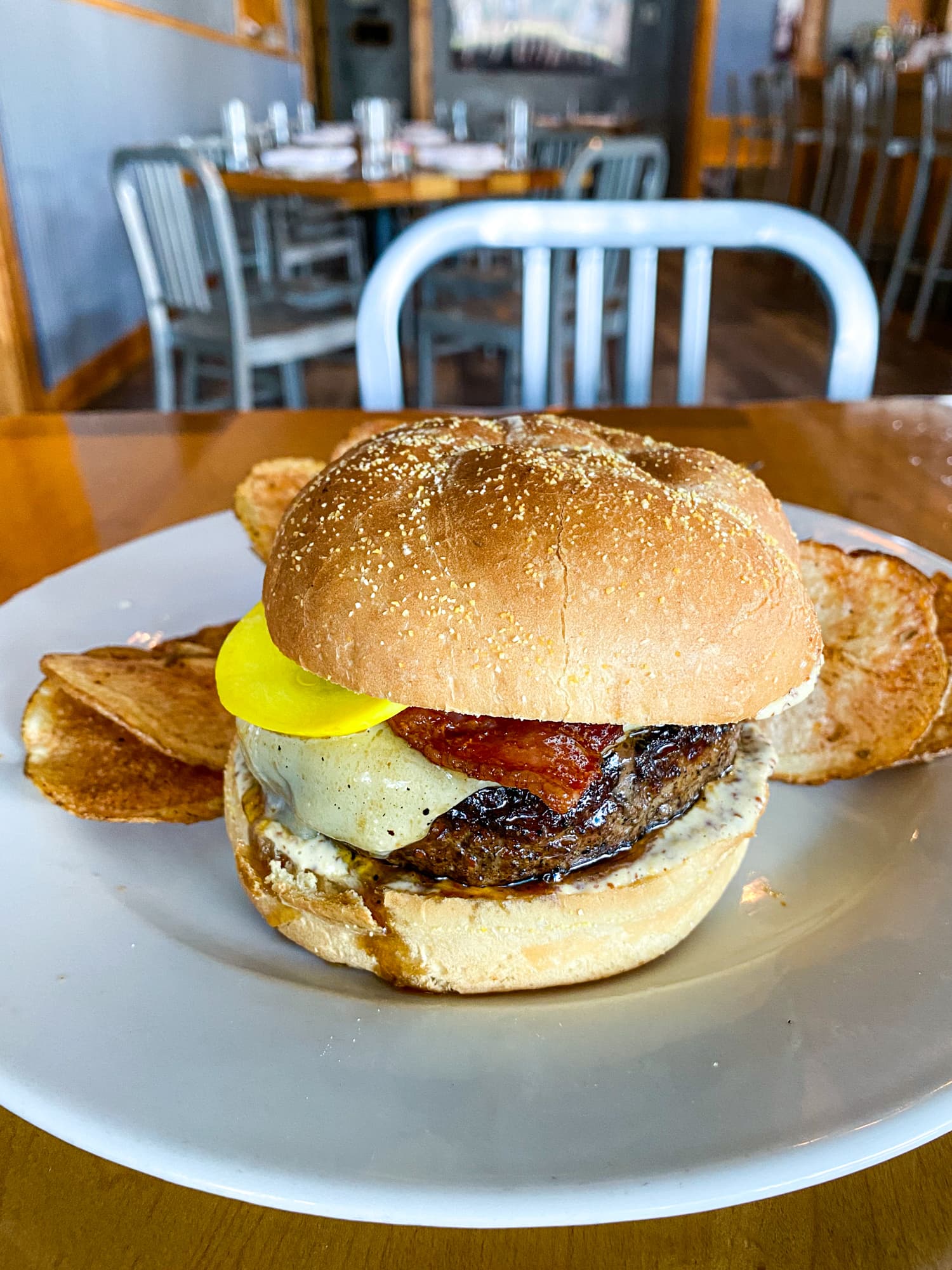 Inspired by 300 years of family tradition, chef Isaac Toups serves contemporary Cajun cuisine at a restaurant he began in 2012 with his wife, Amanda.
If you're a carnivore, this is a great place to enjoy brunch, lunch, or dinner in New Orleans. Chef Toups is a three-time James Beard Award semifinalist.
On my visit, I took advantage of the Chef's Lunch, which included three boudin balls, Toup's wagyu beef burger with bacon and cheddar cheese, a side of potato chips, and a beer for $23.
Intriguing larger plates include lamb neck with fall squash risotto, double-cut pork chops with cane syrup gastrique, and a mustard-crusted rack of elk.
If you're looking for new dining experiences in New Orleans, try Toup's Meatery.
Reservations: Not necessary
Dress: Casual
845 N Carrollton Ave, New Orleans, toupsmeatery.com
18. Bywater American Bistro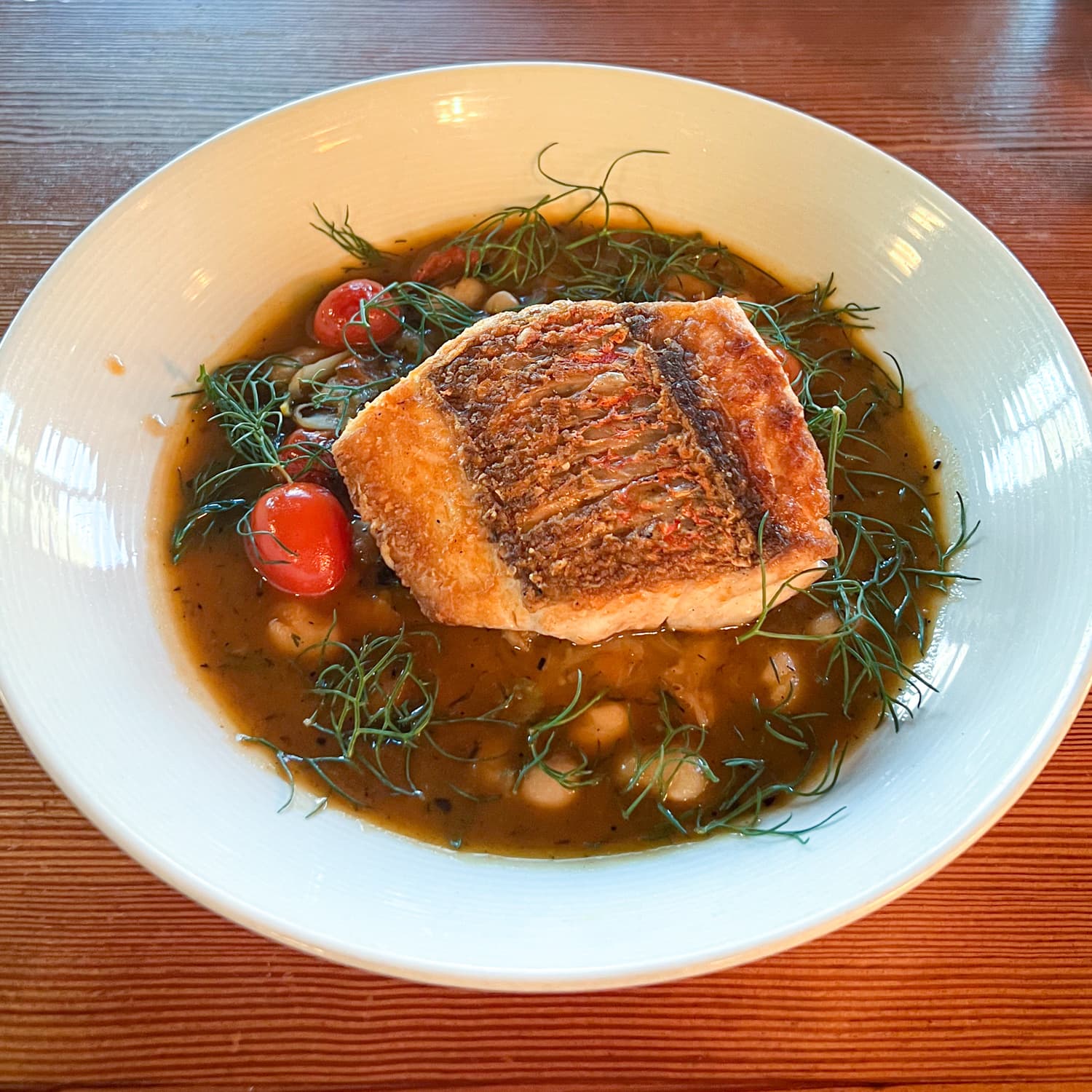 If you've already tried Compere Lapin, check out Bywater American Bistro, chef Nina Compton's take on an "American neighborhood" restaurant.
Bywater American Bistro takes its name from the Bywater neighborhood where it was established, about one walkable mile east of The French Quarter.
The rustic interior features exposed brick walls, wooden support beams, tall ceilings, and an open kitchen.
A one-page dinner menu is seasonal, ingredient-driven, inspired by local farmers, and modestly priced for the good food offered.
I began with the ricotta and tete de Moine tart with hazelnut honey and arugula salad before eating a delicious pan-roasted Gulf fish with white beans and confit cherry tomatoes.
Kel enjoyed her pork belly with Brussels sprouts, and we shared a coconut tres leches cake served in a coffee cup for dessert.
Reservations: Recommended for your preferred seating (High-Top v but not necessary.
Dress: Casual
2900 Chartres St, New Orleans, bywateramericanbistro.com
19. Lengua Madre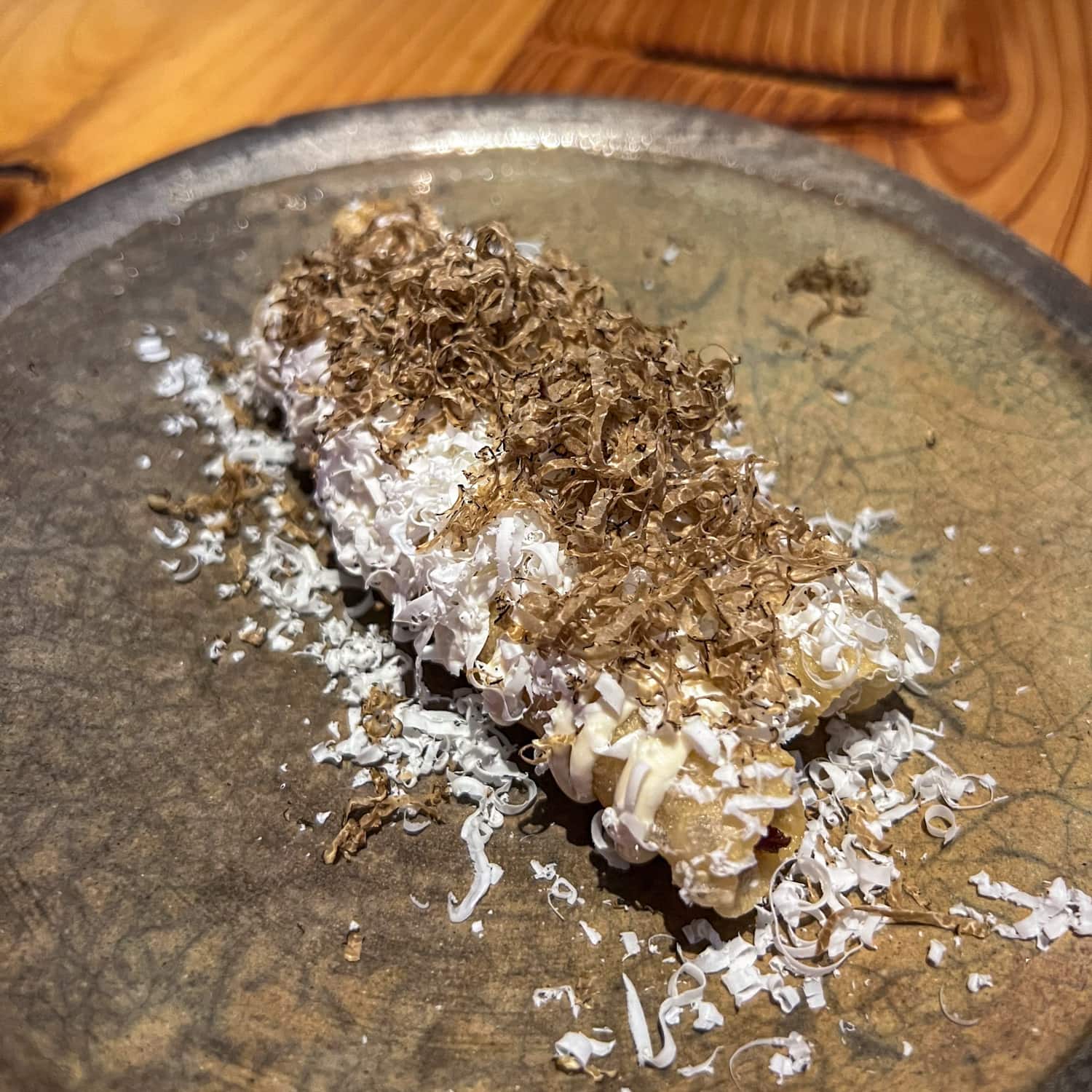 Mexican food may not be the first, second, or even third cuisine that comes to mind when you think of New Orleans, but if you know where to look, there are excellent experiences.
Nestled in the Lower Garden District, Lengua Madre serves a five-course modern Mexican tasting menu for $85. The seasonal menu is updated every five to six weeks with new offerings.
During my visit with Kel in the fall of 2023, we enjoyed:
Aguachile with pumpkin and ora king salmon
Pozole verde with crab
Flautas with sweet potato and shaved Burgundy truffle (my favorite course)
Hangar steak with tomatillo and nixtamalized tortillas
Bayou Cora cake with corn flan
The atmosphere is intimate, and the decor is minimalist. It felt a little cold due to the nature of the space chosen for the restaurant. However, I loved hearing Latin music during our meal. And if I were dining solo, I'd have sat at the counter with a view into the open kitchen.
Reservations: Recommended
Dress code: Casual
1245 Constance St, Lower Garden District, lenguamadrenola.com
Wrapping Up
As I mentioned at the top, this list of the best restaurants in New Orleans is a work in progress.
The best thing about the Cresent City is the depth of culinary talent; there are plenty of restaurants to try the local cuisine.
Here are the restaurants I'd like to try next:
Bayona - Award-winning Chef Susan Spicer serves Louisiana fare in a 200-year-old cottage in the French Quarter.
Saint-Germain - Seasonal 10-course tasting menu for $135. Reservations are required. James Beard Award Finalists for Best Chef South in 2022.
Mosquito Supper Club - Sustainable Louisiana seafood prix fixe and tasting menus from $135 to $150. Pre-paid reservations are required, and they're non-refundable.
In addition, here are some reader recommendations from Feastio's Facebook page:
GW Fins - Seafood in the French Quarter for more than 20 years.
Irene's - Italian restaurant in the French Quarter.
_____
This story is based on multiple trips to New Orleans since 2017, including visits with New Orleans & Company, The Quisby, and HI New Orleans. I paid for all meals except those on the family trip. Thanks, Mom and Dad!