The best places to eat in Tampa Bay range from casual dining at outdoor food markets to more than a dozen Michelin-recommended restaurants.
I've visited Tampa annually for over a decade to see my parents, who retired to the region.
During that time, they introduced me to many new places to eat, including some of Tampa's best restaurants, like Bern's.
But it wasn't until recently that I had the opportunity to get to know downtown Tampa and nearby Ybor City more intimately, thanks to a stay in collaboration with Visit Tampa Bay.
Since Tampa's waterfront is part of its appeal, I've split my list of the best places to eat into two sections.
The first group is restaurants away from the water, while the second has water views.
Top Restaurants
Columbia Restaurant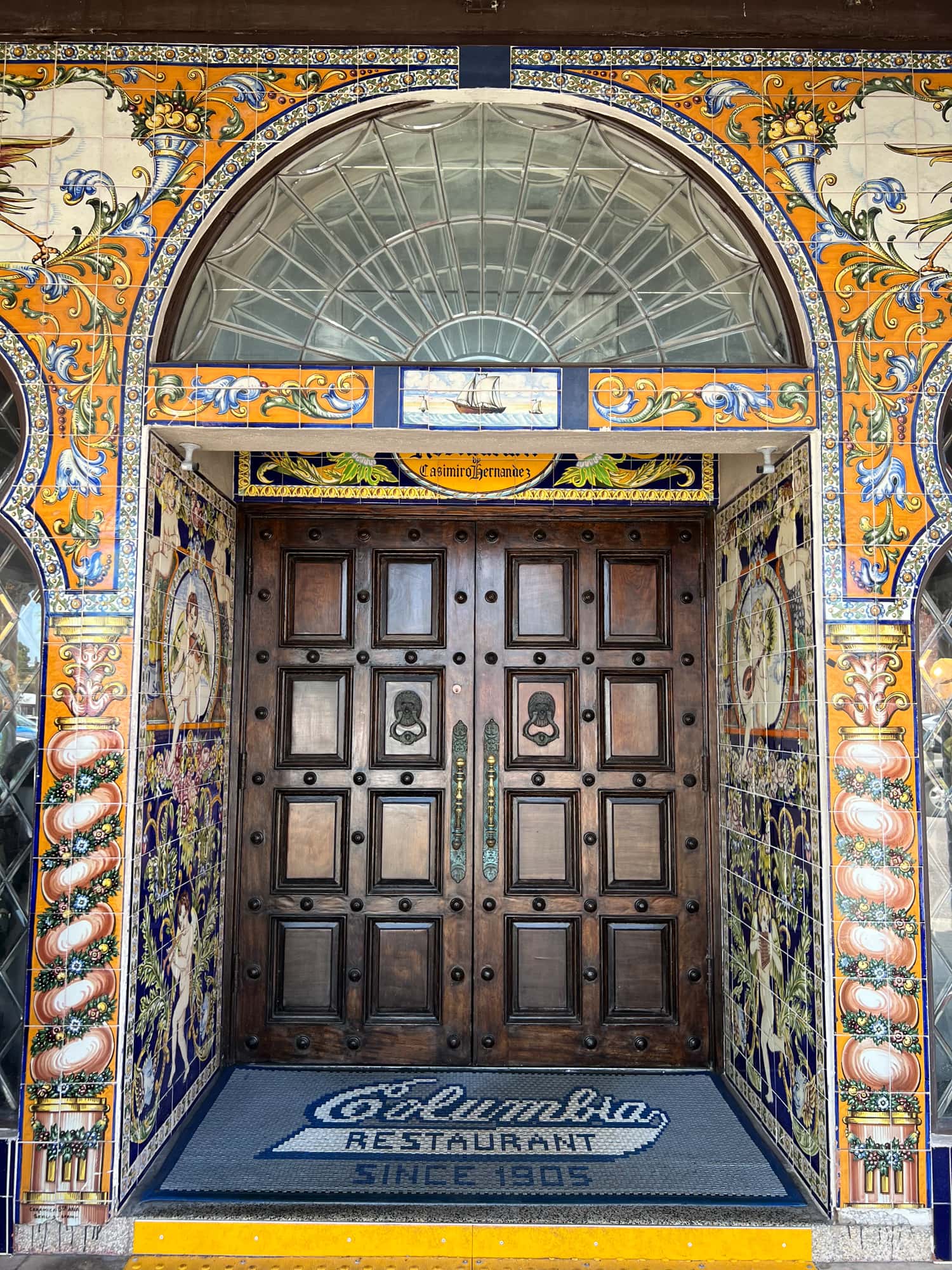 If there's a place to eat synonymous with Tampa, it's the fifth-generation, family-owned Columbia Restaurant, which opened in 1905, making it Florida's oldest restaurant.
The Spanish-Cuban restaurant, which has weathered Prohibition, The Great Depression, pandemics, and hurricanes, was built by a Cuban immigrant, Casimiro Hernandez, Sr., who arrived in Tampa with his family in 1902.
The location is historic Ybor City, a Latin district east of downtown Tampa and connected by the free TECO Line Streetcar. In the early 20th century, Ybor City was the cigar manufacturing capital of the world.
The Columbia, which began as a saloon before transitioning to a cafe and later a restaurant (in 1918, due to Prohibition), was known for its coffee and Cuban sandwiches.
Over the years, the restaurant has grown to fill one square block and features 16 dining rooms, making it the world's largest Spanish restaurant.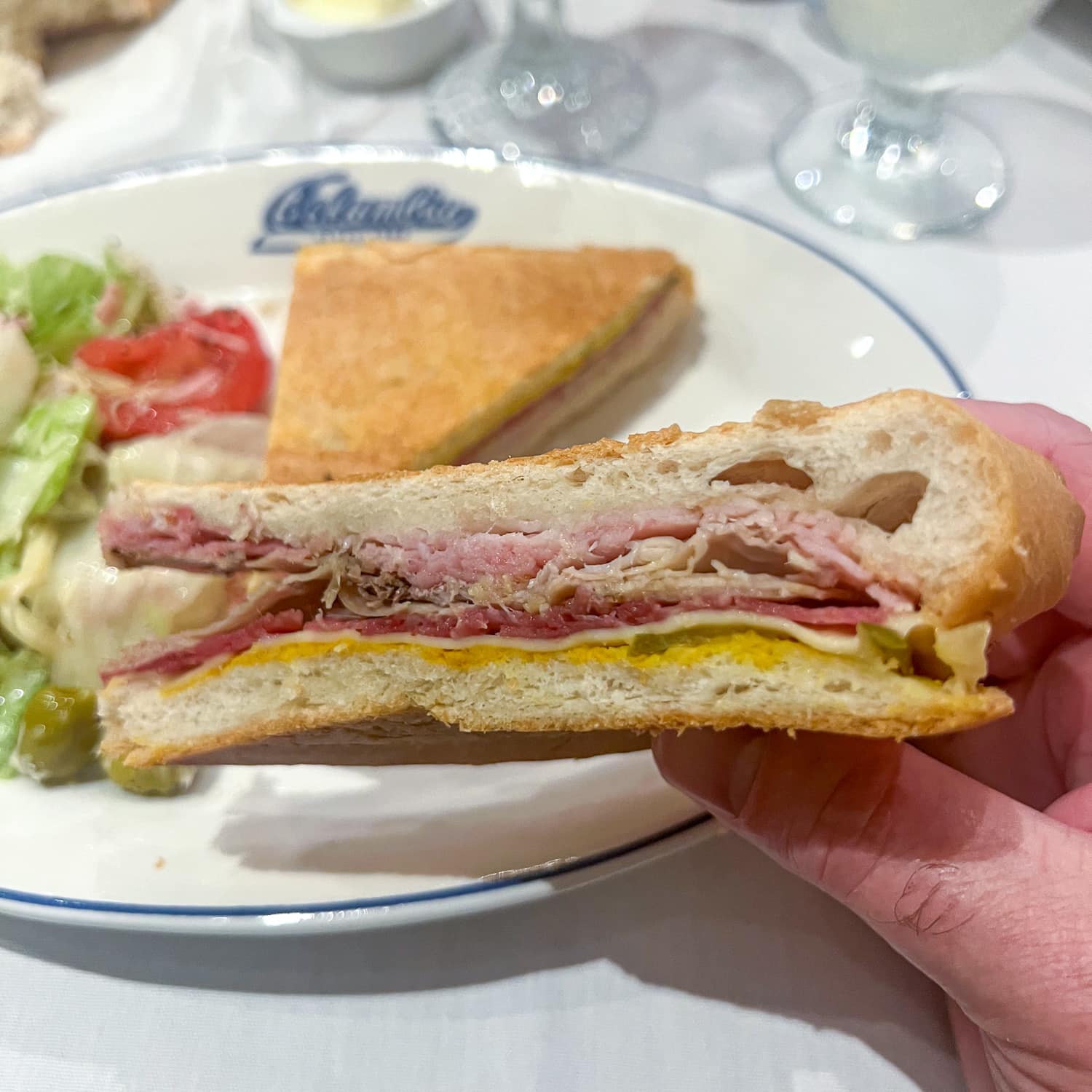 Menu
Despite the passage of time, many of the original family recipes remain on Columbia's menu today.
There's Spanish bean soup with smoked ham and chorizo and Cuban black bean soup.
Columbia's Original "1905" Salad is made with iceberg lettuce, baked ham, Swiss cheese, tomatoes, olives, and Romano cheese and tossed tableside.
The Original Cuban Sandwich was my order, made with ham, salami, pork, Swiss cheese, pickles, and mustard pressed between two pieces of fresh Cuban bread supplied by nearby La Segunda Central Bakery.
Roast pork, Ropa Vieja, fresh seafood like Patagonian salmon, and Spanish paella are a few of the many entrees available, and all are served with fresh-baked Cuban bread and butter.
A family recipe for flan dating back to 1935, Key lime pie, and white chocolate pudding are highlights from the dessert menu.
Plus, if you make a dinner reservation at certain times, Monday through Saturday, you can enjoy a Flamenco show for an additional $8 per person.
The Columbia restaurant now operates in seven locations, including the original in Ybor City, Tampa International Airport, Clearwater, Sarasota, and Orlando.
2117 E 7th Avenue, Tampa, FL, columbiarestaurant.com
Casa Santo Stefano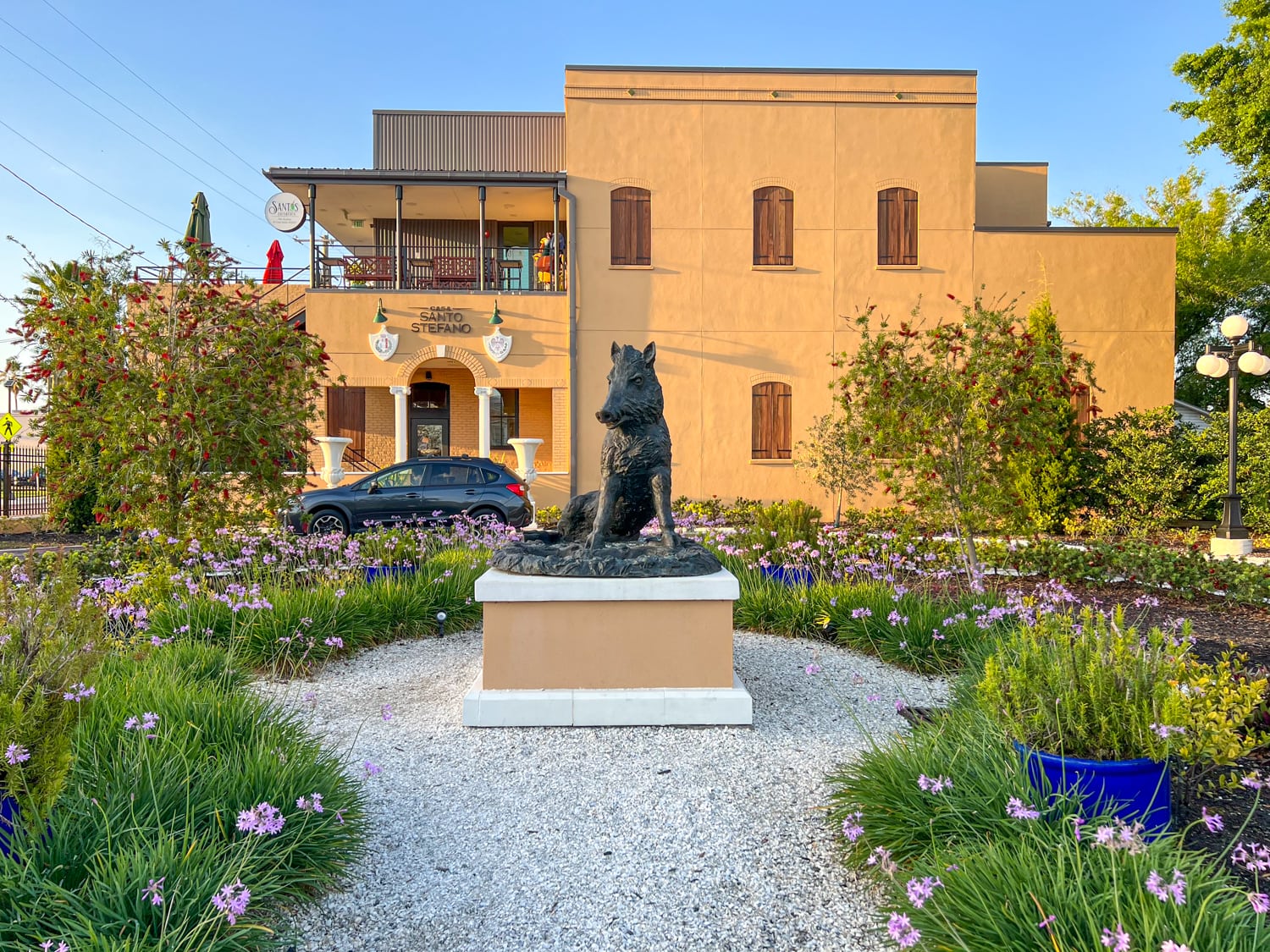 You don't have to go far from Columbia Restaurant to experience a whole new cuisine brought to you by the same family.
Casa Santo Stefano is an Italian restaurant across the street, featuring a beautiful open kitchen and walls of vintage photos depicting Sicilian immigrants to Tampa Bay.
Many of those immigrants came from Santo Stefano Quisquina, a small town in Sicily about 37 miles south of Palermo.
Attention to detail makes the difference here, as much of what you see has been imported from Sicily, including the colorful tabletops and backsplashes.
Even the building itself, originally used to manufacture pasta, has ties.
The Ferlita Macaroni Co. was founded by an immigrant from Santo Stefano Quisquina who arrived in New York City in 1905 (and on my birthday).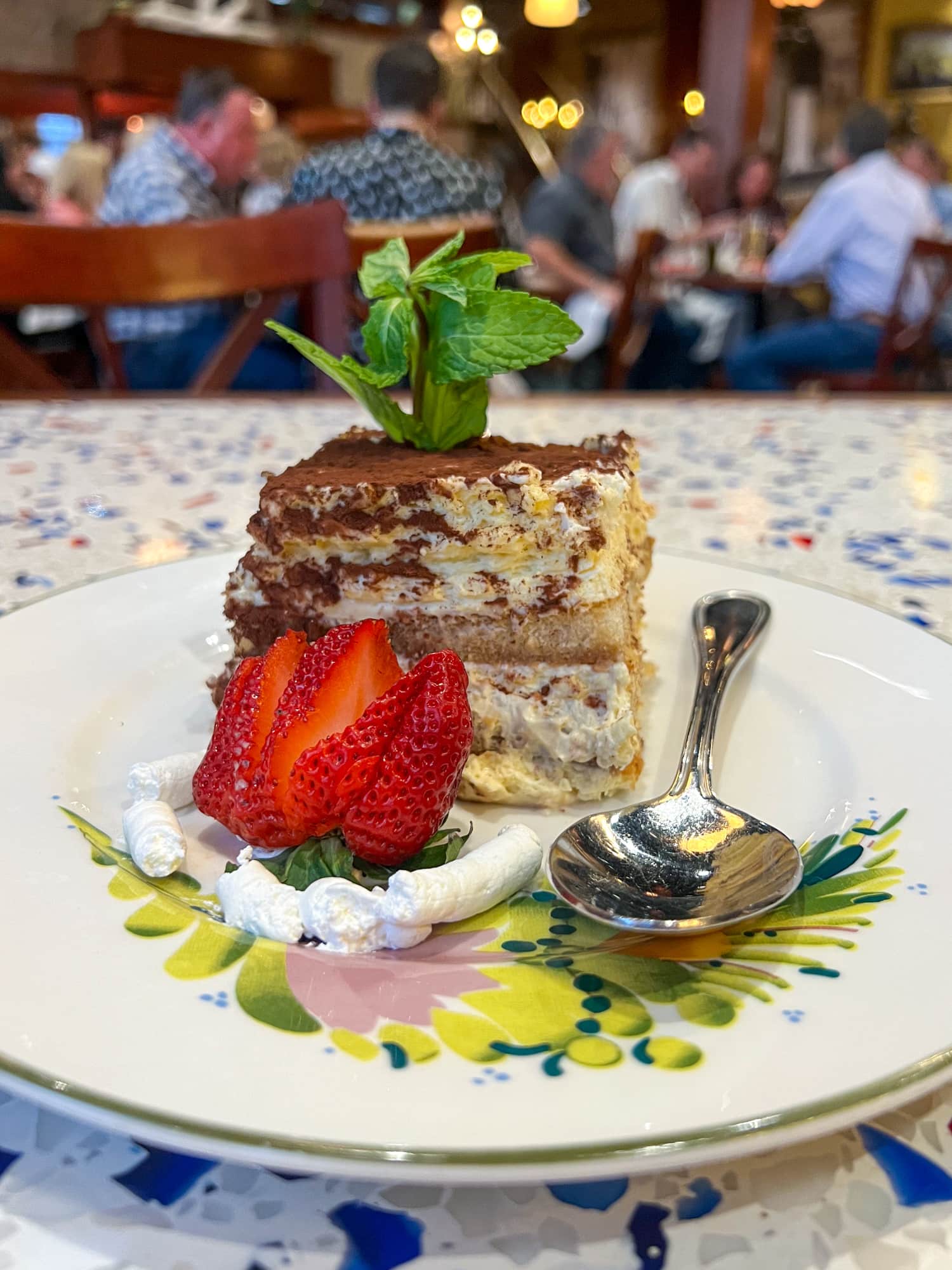 Menu
The menu items at Casa Santo Stefano, one of the best Italian restaurants in Tampa, include many old favorites that make eating here a pleasure.
There's lasagna with garlic ricotta, mozzarella, and Pecorino Romana cheese, layered with Italian sausage and Bolognese meat. That's what I got, and I enjoyed it immensely.
Spaghetti with meatballs made from a blend of beef, pork, and veal is another classic. Or the linguine with Maine lobster simmered in white wine and grape tomato sauce.
Carnivores can choose from chicken, pork chops, veal chops, filet mignon, and seafood dishes. And let's not forget the house-made Italian desserts made with fresh ingredients.
I tried several because I couldn't decide:
Tiramisu with rum and mascarpone cream
Dark chocolate and pistachio gelato
House-made cannolis with Sicilian ricotta and chocolate chips, candied citrus, and pistachios
All of the above were fantastic, and I have no regrets about my moment of gluttony. Casa Santo Stefano is one of my new favorite restaurants in Tampa.
1607 N 22nd St, Tampa, FL, casasantostefano.com
Bern's Steak House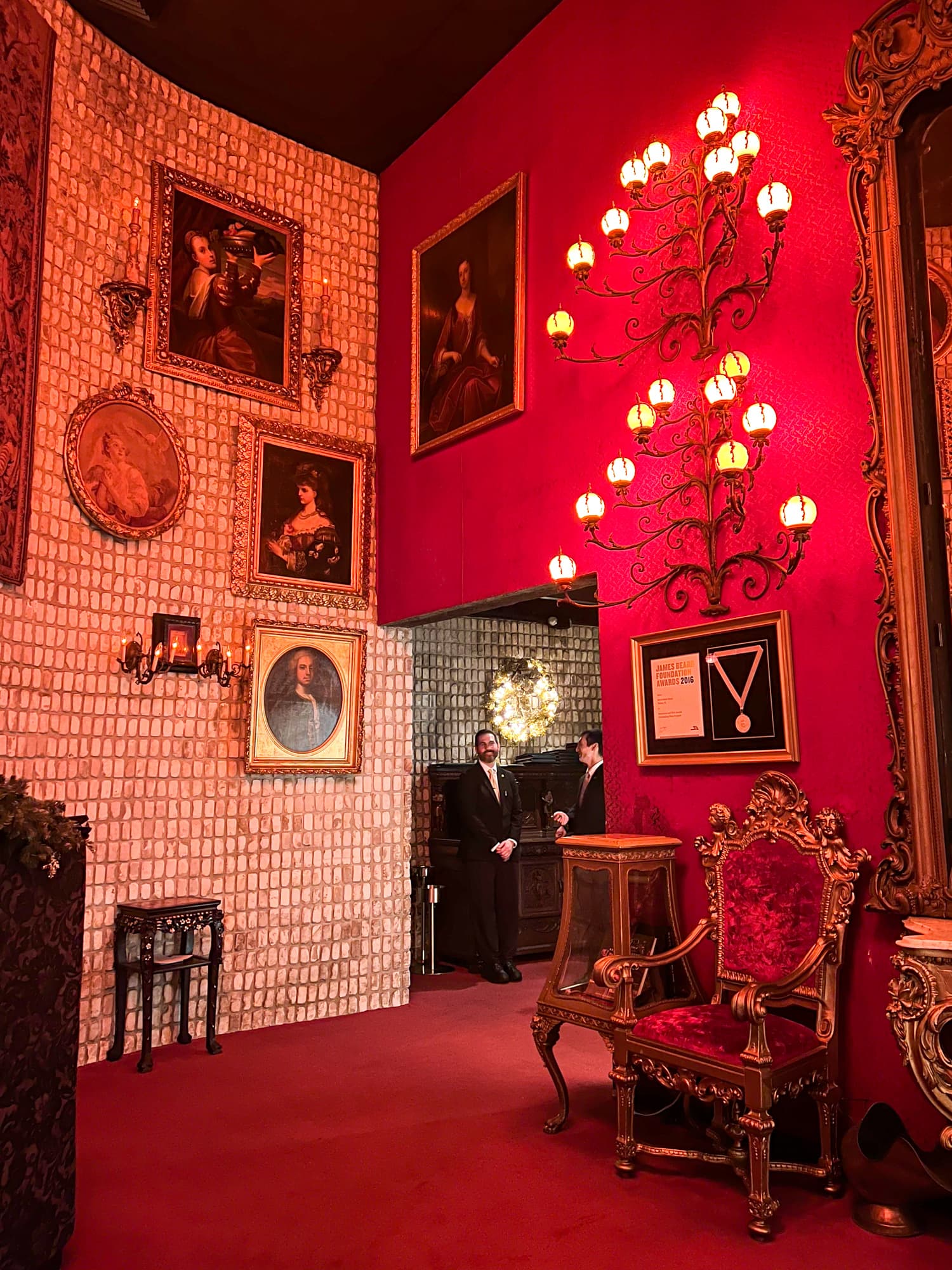 Bern's Steak House in South Tampa was the fine dining restaurant my parents were most excited to show me after they retired.
A little less than half the age of Columbia Restaurant, it's no less of an institution in the city and has been called one of the best steakhouses in the country by Travel + Leisure and The Robb Report.
Bern's is named after Bern Laxer, an advertising guy who left New York City with his wife, Gert, to visit family in Tampa in the early 1950s and never left.
Instead, the Laxers entered the restaurant business, starting small in 1956 and building their reputation based on high-quality steaks, farm-fresh vegetables, professional service, and an award-winning wine list.
Menu
Everything in the restaurant feels over the top, from the decor to the caviar selection and specialty steaks, which include an A5 Japanese wagyu strip steak, a 32-ounce cowboy ribeye, and a 100-day dry-aged Delmonico.
All the steak entrees include French onion soup, house salad, baked potato, onion rings, and the vegetable of the evening. It's a terrific value compared to many steakhouses, which charge extra for everything.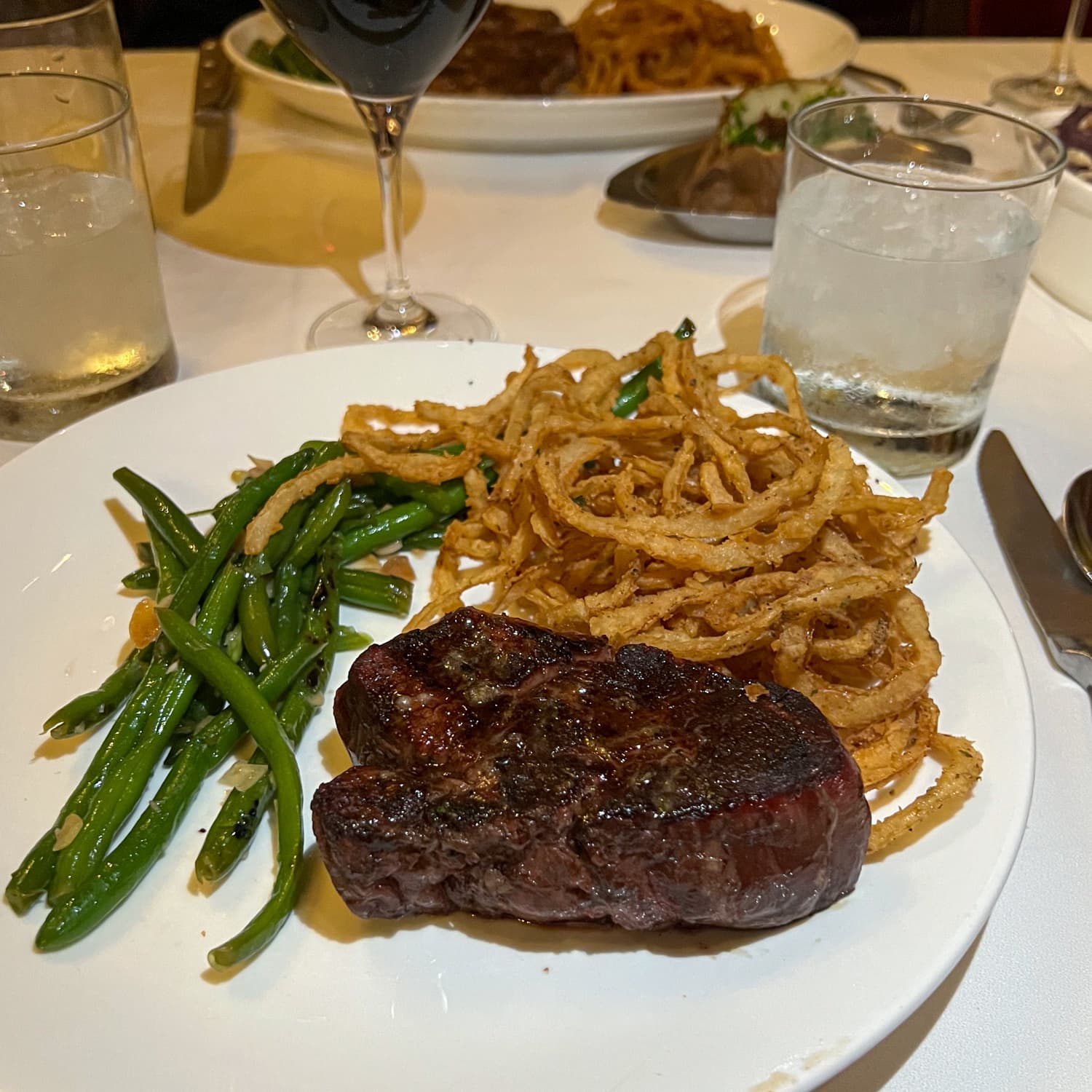 Bern's Steak House also has one of the world's largest wine collections, totaling more than 600,000 bottles and 6,800 labels.
About 100,000 bottles are stored in the on-site wine cellar, of which tours are sometimes given. The remaining half-a-million wine bottles are stored off-site in a temperature-controlled warehouse.
In 2016, Bern's won a James Beard Award for Outstanding Wine Program. If ever there was a place to enjoy a glass of wine, it's here.
But wait, there's more. Inspired by a visit with Harry Waugh, director of the French wine estate Chateau Latour, the Laxers opened the Harry Waugh Dessert Room in 1986, an entirely separate space for serving dessert.
Each of the 48 private tables is enclosed in repurposed wine casks made of California redwoods. An extensive dessert menu is sure to please. Bern's is the first place I tried baked Alaska, flambeed tableside.
Bern's received a recommendation when the Michelin Guide launched in Florida in 2022. This family-owned restaurant is a great spot to celebrate special occasions.
1208 S Howard Ave, Tampa, FL, bernssteakhouse.com
Oxford Exchange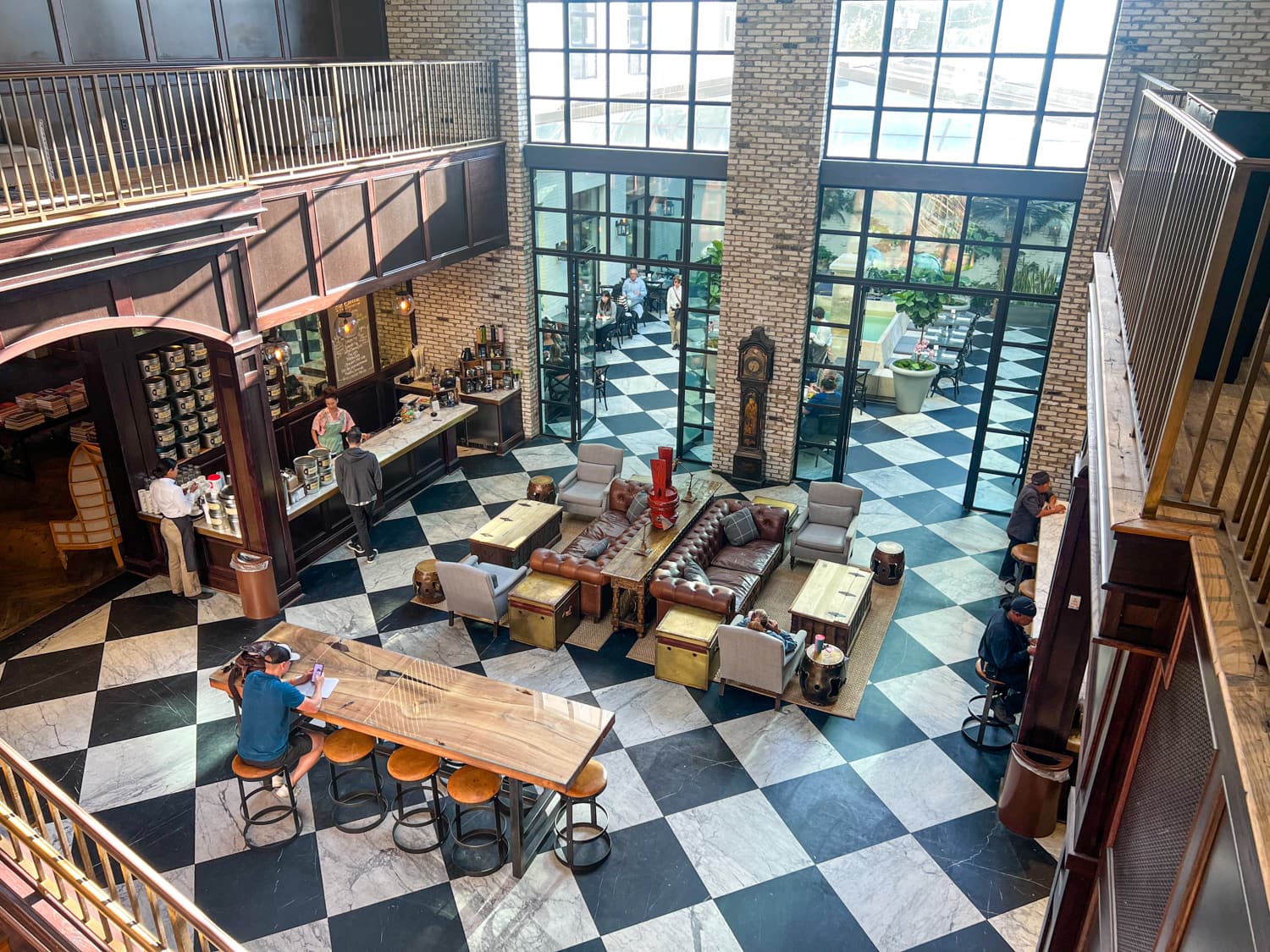 One of the best Tampa restaurants for Sunday brunch is the Oxford Exchange in Hyde Park, just west of downtown and across the Hillsborough River.
The restaurant offers two seating areas, a stylish interior dining room with art on the walls and an open kitchen, and a Conservatory full of plants and sunlight thanks to a retractable glass ceiling.
Oxford Exchange serves breakfast and lunch during the week and brunch on the weekends.
On my most recent visit, I enjoyed a stack of blueberry buttermilk pancakes with orange mascarpone cream, warm maple syrup, and toasted walnuts.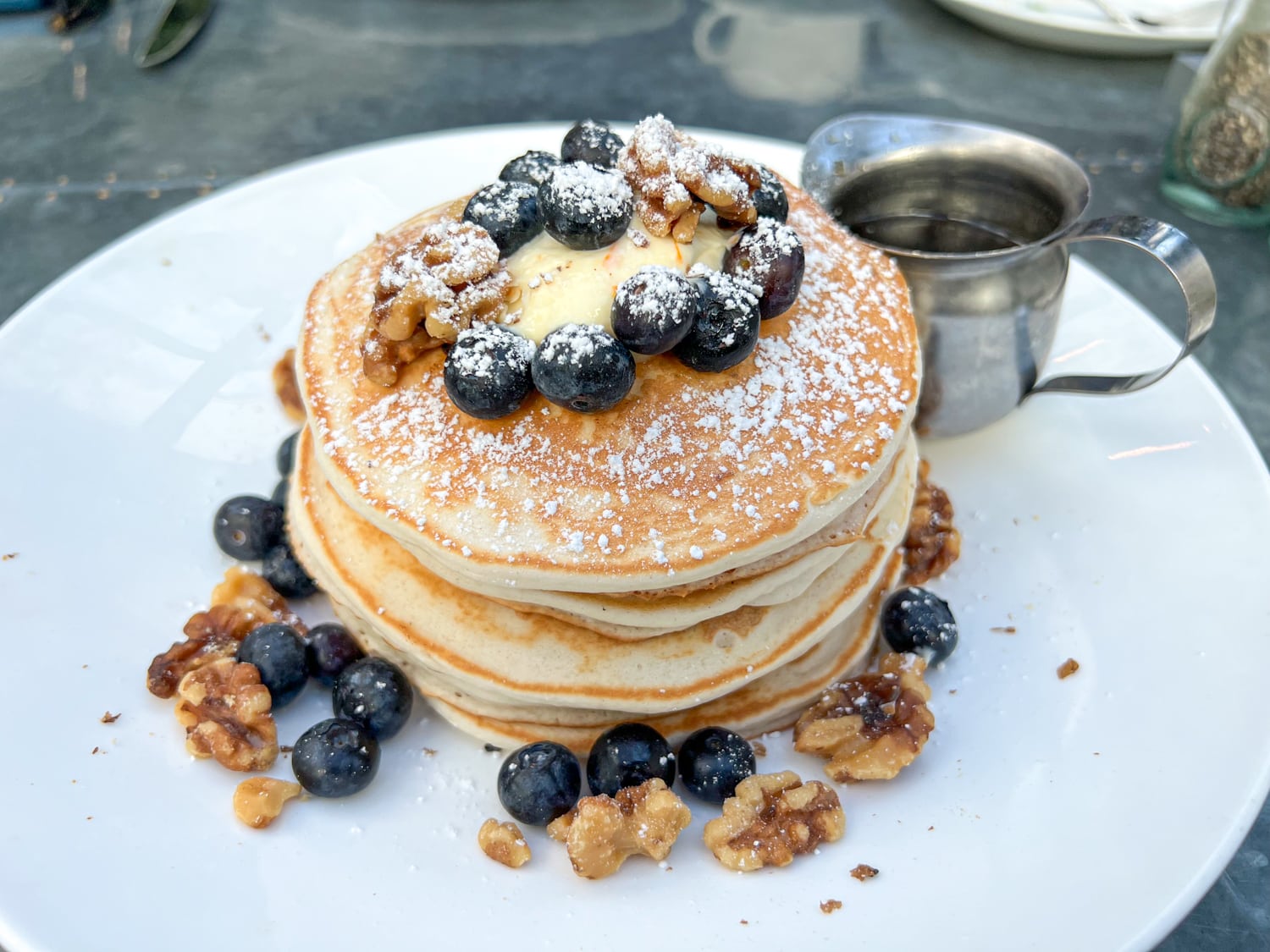 Some other breakfast options are eggs Benedict with braised short ribs, French toast with cinnamon swirl sourdough, and breakfast tacos.
Small plates include avocado toast, deviled eggs, and Amur Kaluga Caviar. A selection of fresh salads and sandwiches, including a burger and fried chicken, are also on the brunch menu.
In addition to delicious coffees and teas from the adjacent cafe, you can order Champagne or a craft cocktail to enjoy with your meal.
420 W Kennedy Blvd, Tampa, FL, oxfordexchange.com
Yummy House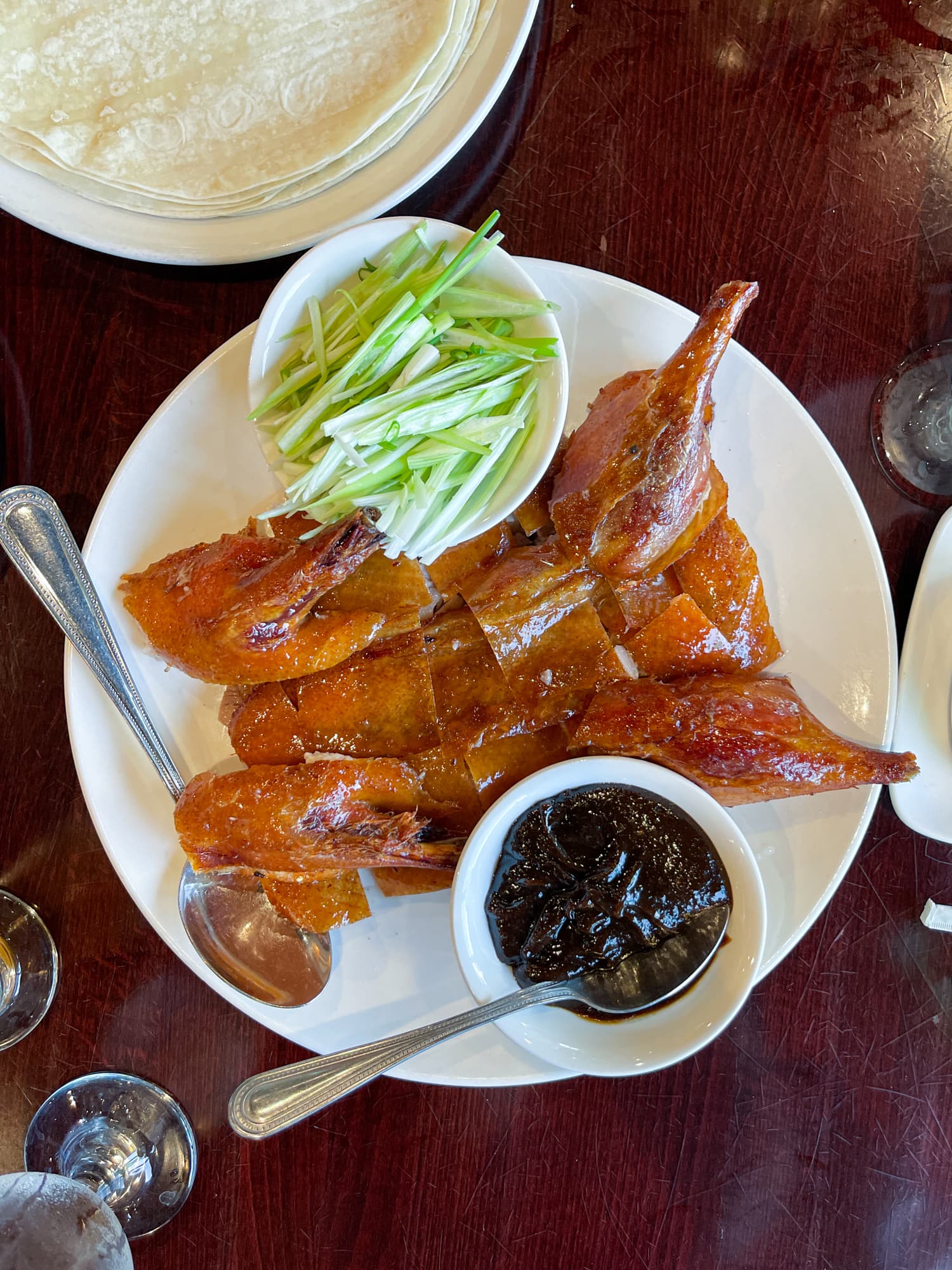 Another Michelin-recommended place to eat in Tampa is Yummy House China Bistro.
This casual Chinese restaurant offers traditional Peking duck, which I had on both occasions my parents took me there, the most recent of which was on their 49th anniversary.
The Peking-style roast duck is served with green onions, Hoisin sauce, and pancakes.
It, along with Hong Kong-style duck, is listed under the appetizers, but we've found it sufficient to feed three to four people as an entree when you get some pot stickers and egg rolls.
The impressive menu offers a variety of chicken, beef, pork, seafood, and noodle entrees, and there are clay pot and sizzling plate dishes if you want to kick it up a notch.
The dim sum lunch is popular from 11:30 a.m. to 2:30 p.m. daily.
2620 E Hillsborough Ave, Tampa, FL, yummyhouseflorida.com
Where To Eat on the Water
Ulele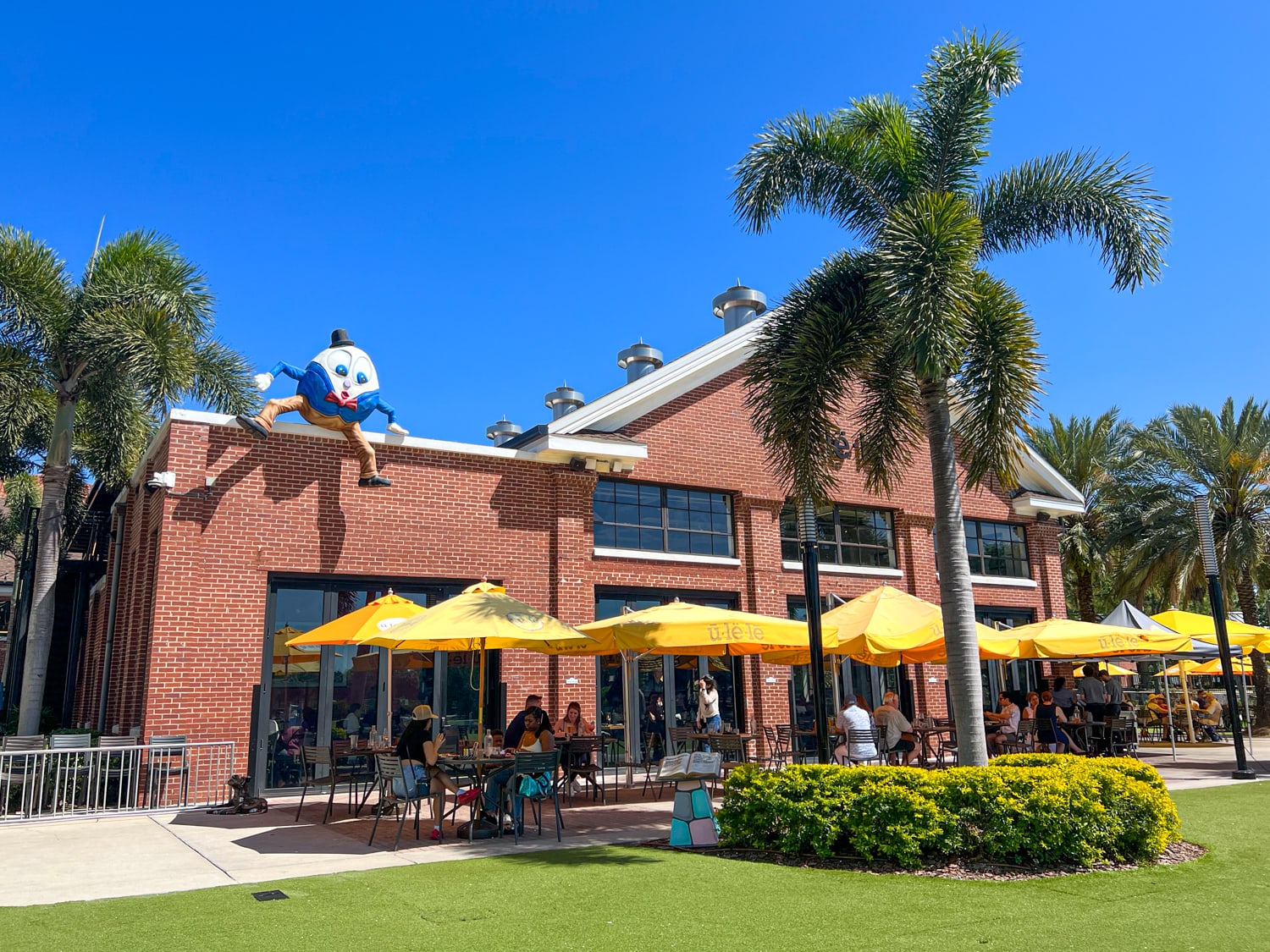 One of the best places to eat by the water in Tampa is Ulele (pronounced You-lay-lee), a Florida and Native American-inspired restaurant with whimsy.
Ulele, which takes its name after a young princess, is located in Tampa Heights, a revitalized district along the Hillsborough River connected to downtown via the Riverwalk (a 2.6-mile pedestrian trail).
The Michelin-recommended restaurant opened in the former Tampa Heights Water Works building in 2014 and serves craft beer made on-site at the Ulele Spring Brewery.
Chili-marinated alligator tail, alligator hush puppies, and chili made with alligator, wild boar, venison, duck, and ground beef let you know they take their Florida inspiration seriously!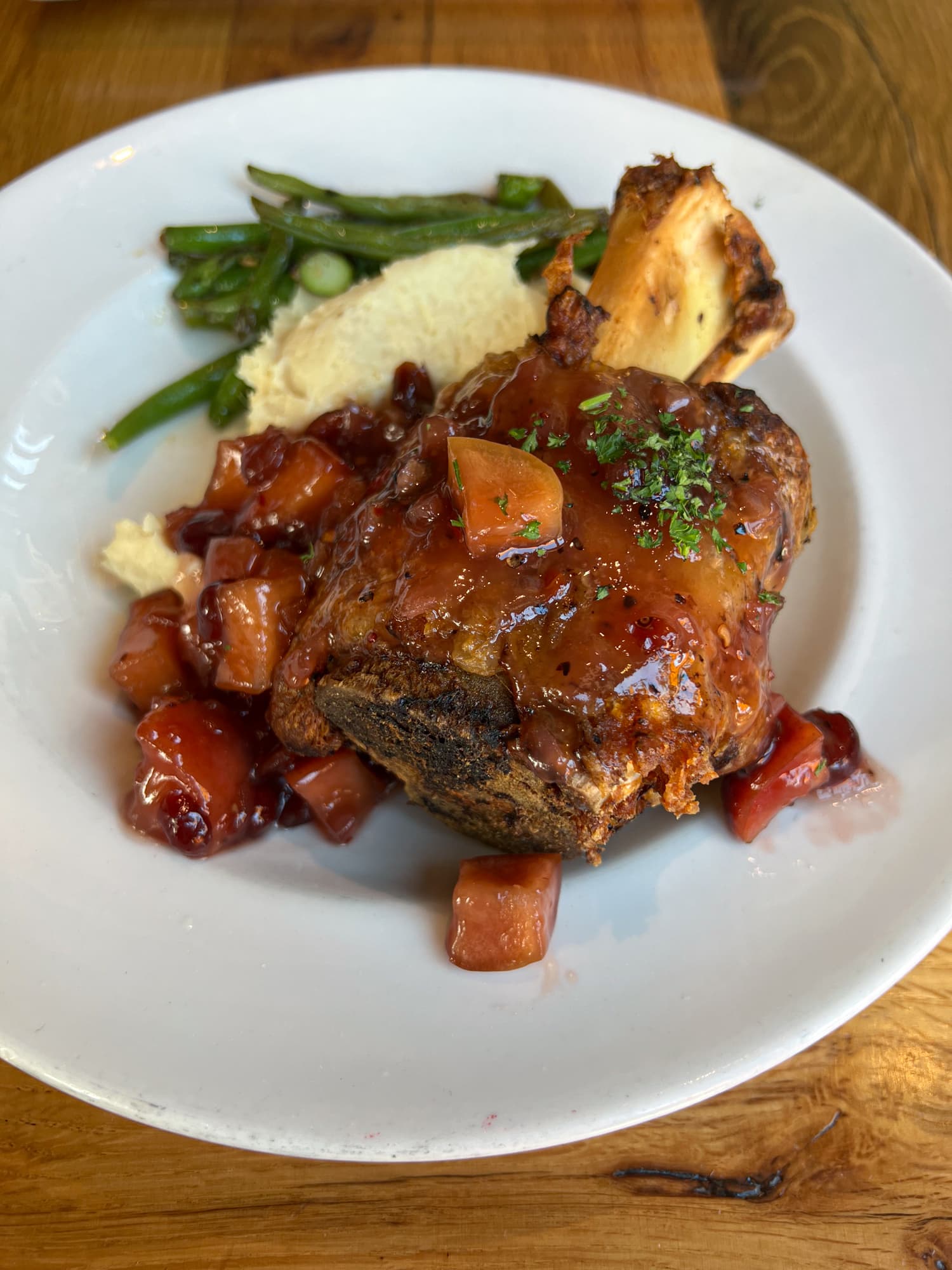 Lighter fare includes Gulf Coast oysters, salads, and sandwiches (including a Gulf grouper sandwich and shrimp po'boy).
Heartier entrees include the one-pound Compart Family Duroc pork shank with firecracker apple-cranberry-raisin chutney I ordered (it was delicious).
Seafood is sourced from local waters and the Gulf of Mexico as much as possible to help make dishes such as Gouda Grouper (grouper fillet, smoked Gouda ale bechamel) and Florida Pompano "Pallardy" (pompano, beurre blanc sauce, and crawfish tail meat).
There are a handful of vegetarian options and delicious desserts like a Pineapple Upside-Down Bread Pudding and Key lime pie.
Aside from the historical digs and scenic surroundings, Ulele is the perfect place for a family outing as it features a collection of refurbished Disney characters rescued from ZooTampa.
1810 N Highland Ave, Tampa, FL, instagram.com/uleletampa
Armature Works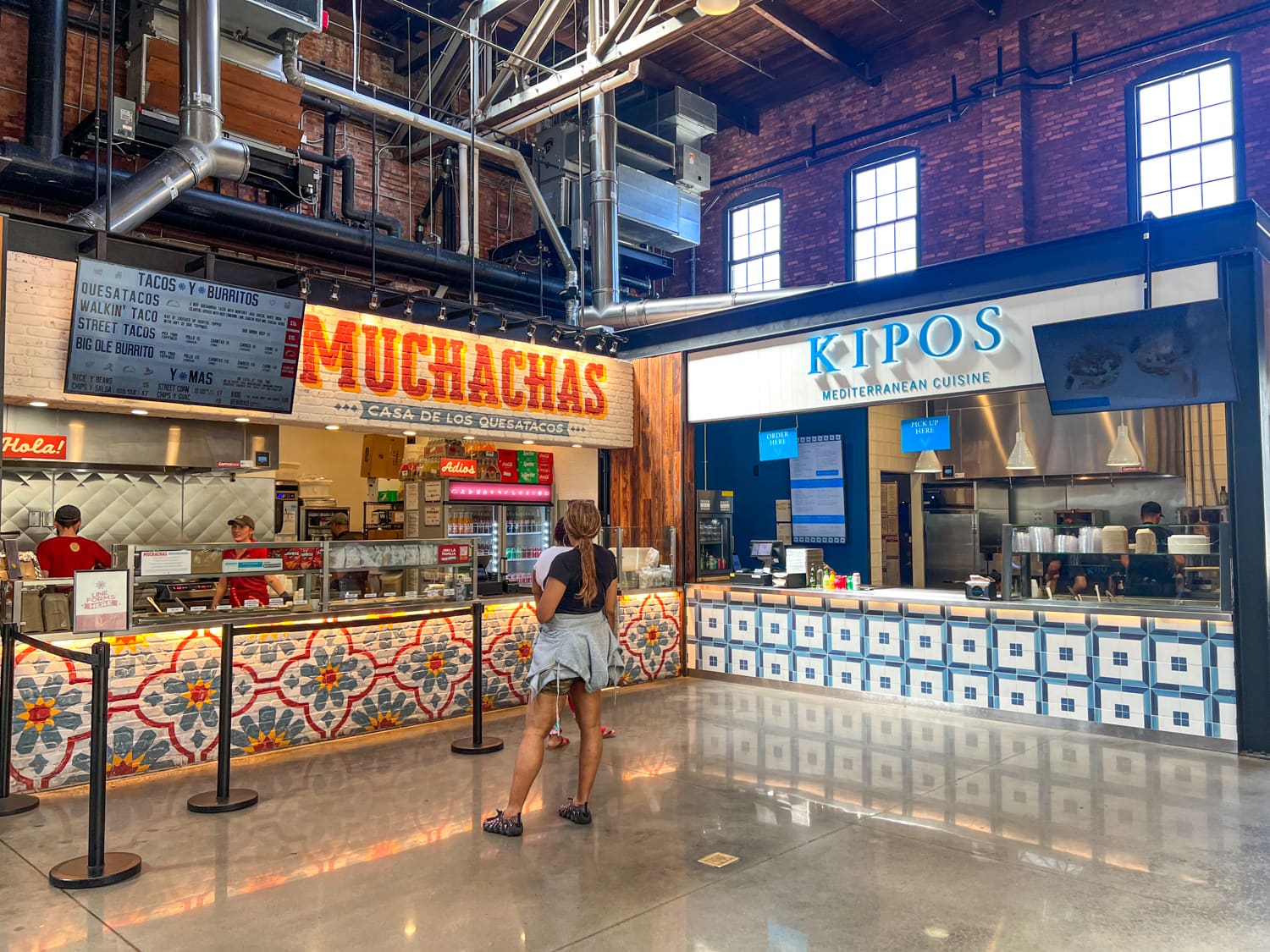 Around the corner from Ulele is Armature Works, a mixed-use riverfront warehouse that includes the Heights Public Market.
This cavernous industrial space that used to house Tampa's streetcars has been repurposed as a food court, and the results are fantastic.
Cool off with Astro Craft Ice Cream or warm up with wood-fired pizza at Ava. Asian food, BBQ, and Cuban food are a few more options to tantalize your taste buds.
Buddy Brew Coffee, a favorite local coffee roaster, has a presence, and Cru Cellars offers a wine bar if you're seeking an adult beverage.
Armature Works is also home to two 2022 Michelin-recommended restaurants, Steelbach and Oak & Ola.
Whether you walk, run, or kayak there, I highly encourage you to visit this new addition to the Tampa food scene.
1910 N Ola Ave, Tampa, FL, armatureworks.com
Anchor & Brine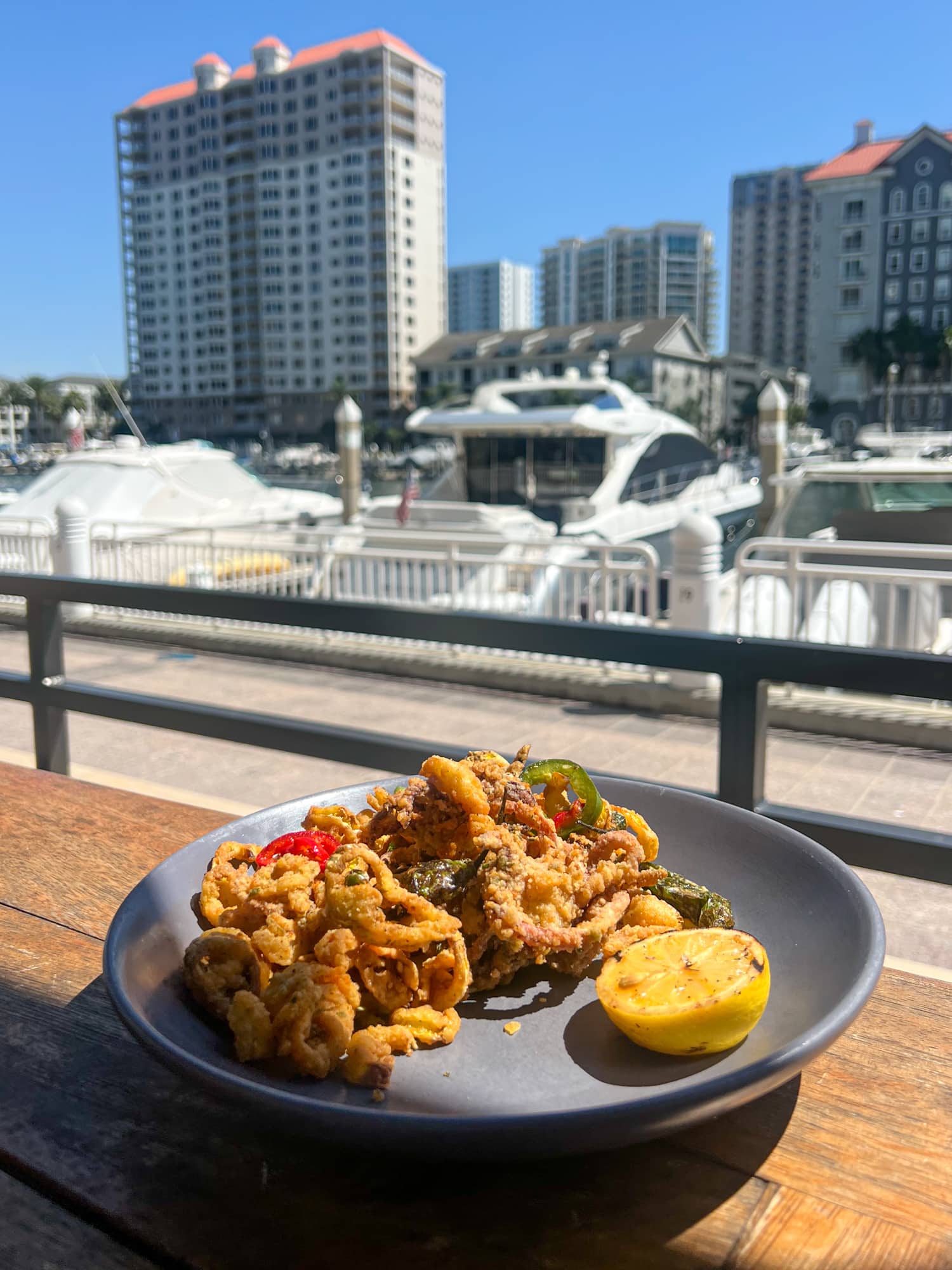 One of the best Tampa Bay restaurants for people-watching is Anchor & Brine, on the ground floor of Tampa Marriott Water Street.
This casual restaurant's outdoor terrace faces the Riverwalk, making it the perfect place to sit back and relax on a sunny day.
Beyond the Riverwalk are the yachts parked along Garrison Channel, between the mainland and Harbour Island.
As you might guess, the menu is seafood-focused. East Coast oysters, shrimp ceviche, and seafood towers are available for starters.
Small plates include charred octopus, fried calamari, and sauteed mussels.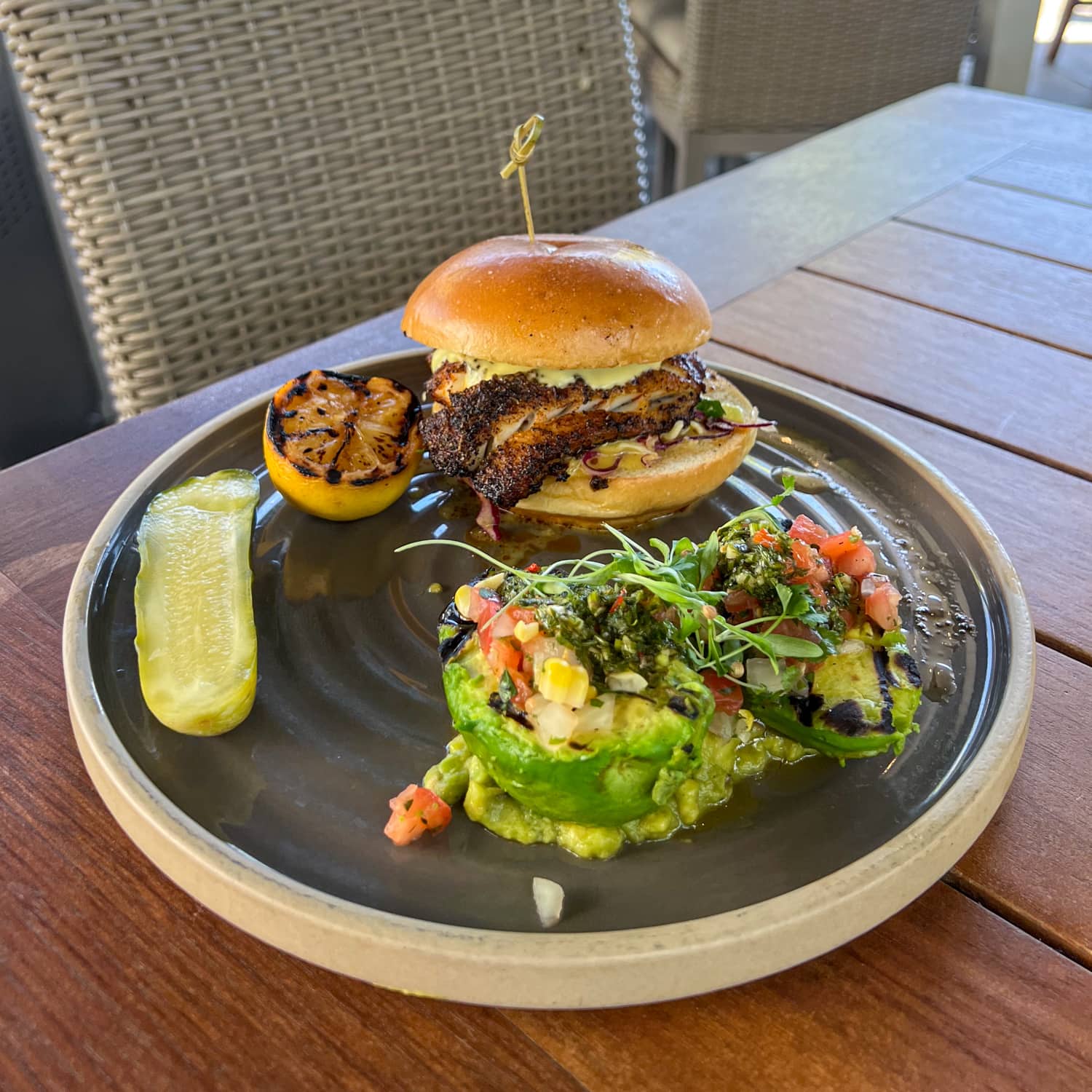 I followed the waiter's recommendation, ordering the grouper sandwich with jalapeno aioli and cilantro slaw on a brioche bun.
The grilled avocado with corn pico de gallo and chimichurri offered a colorful accompaniment.
The full-service bar offers sustainable wine on tap, by the glass, or by the bottle, and craft cocktails such as the praline old fashioned with Four Roses Bourbon.
505 Water St, Tampa, FL, anchorandbrine.com
Watervue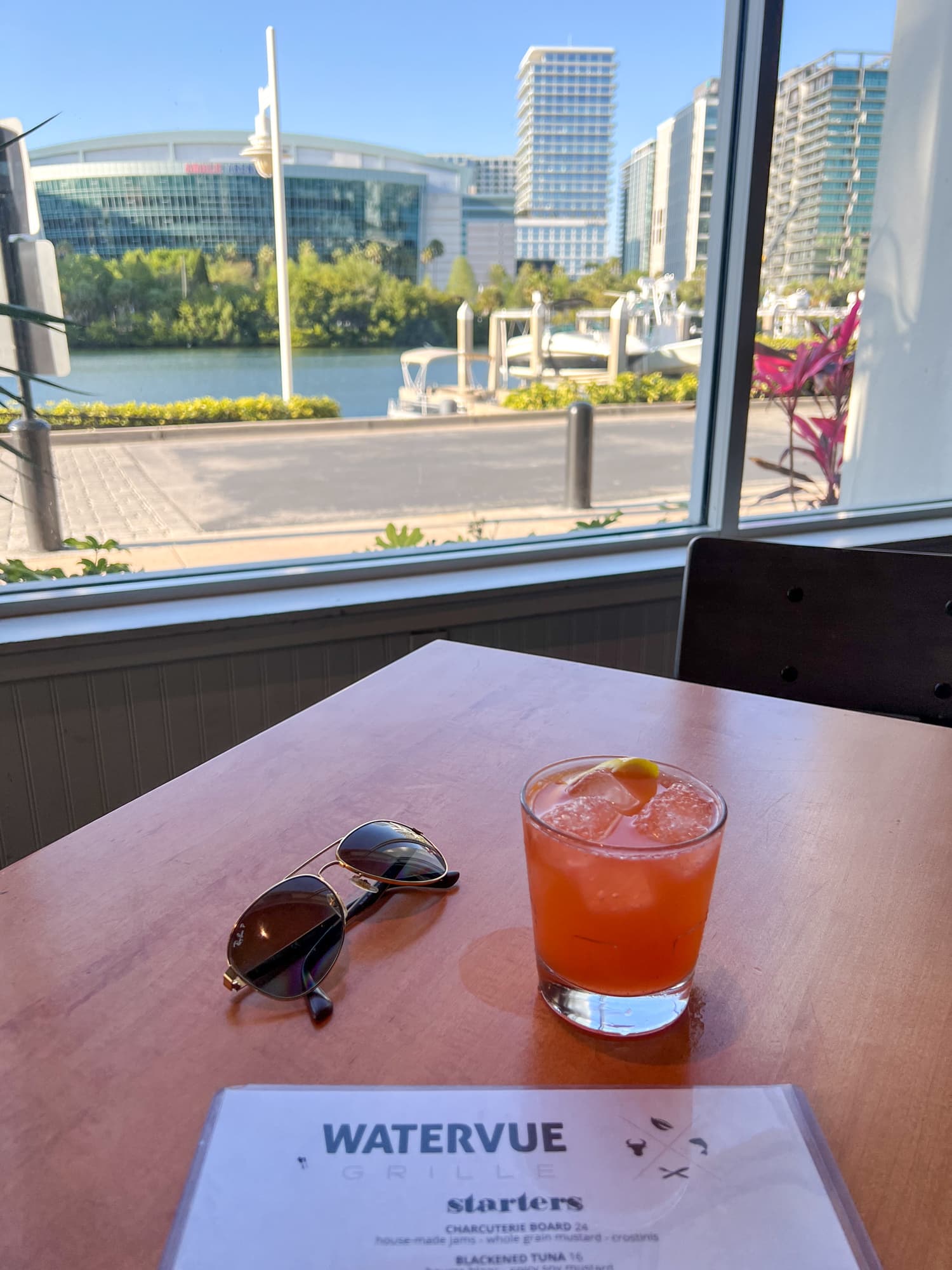 On the other side of Garrison Channel, at the north end of Harbour Island, is the aptly-named Watervue Grille.
This restaurant is directly opposite Amalie Arena, home to the 3x Stanely Cup champion Tampa Bay Lightning.
Given its location amid residential buildings, a little bit away from tourist areas, the Watervue Grille attracts a mainly local crowd.
It felt that way when I stopped in for dinner, as friends were getting drinks together and sharing food during happy hour.
For my part, I ordered the draft Watervue G&T made with Hayman's Royal Dock Gin, Jack Rudy Elderflower Tonic, and Pink Flamingo Shrub. It was a refreshing cocktail to wind down the day.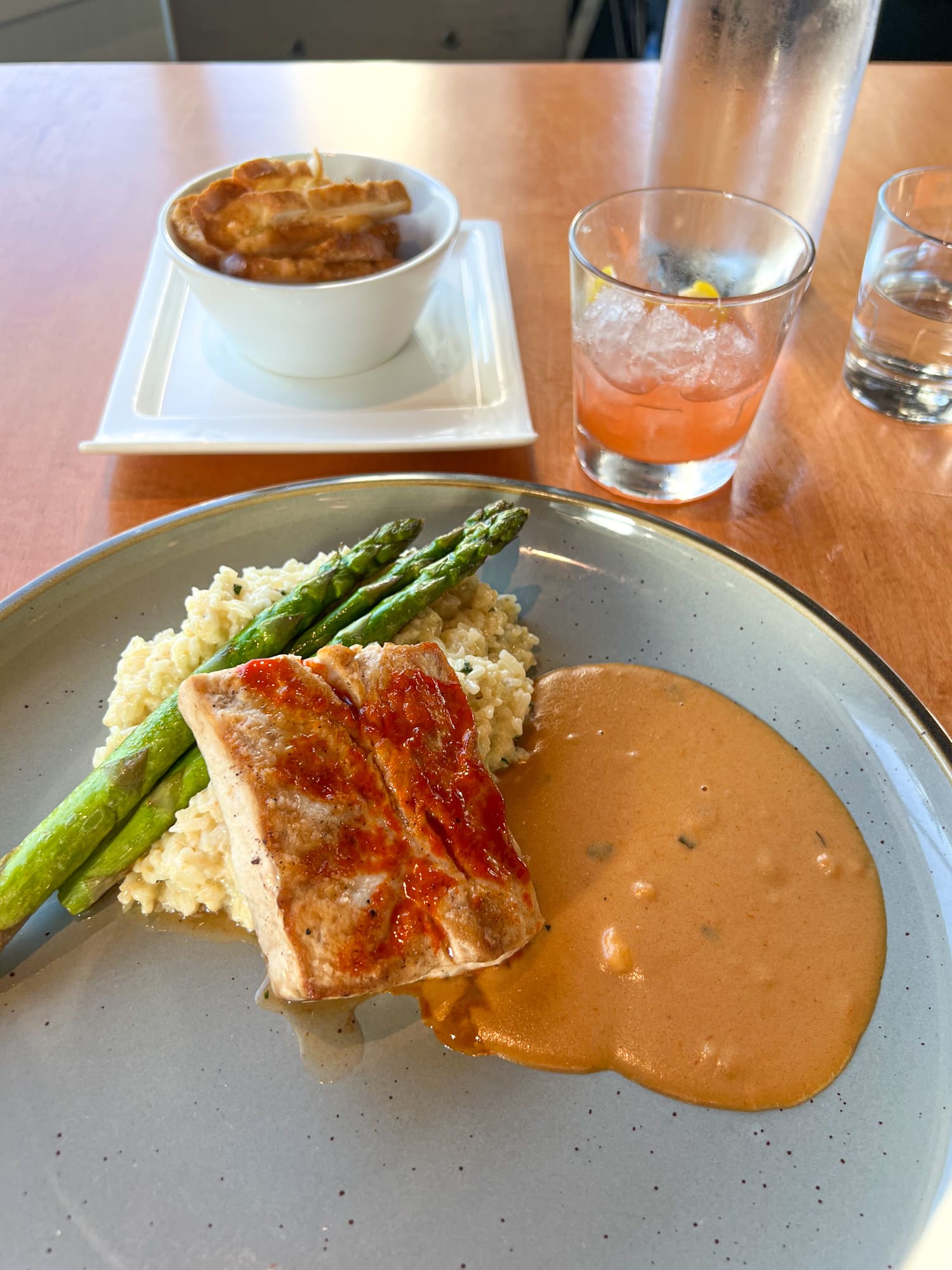 I got the beef carpaccio with saffron aioli, and red chili rubbed mahi mahi with lobster brandy cream, asparagus, and creamy jasmine rice for dinner.
Both were wonderful, though it was more food than I realized.
Spiced salmon, whole-fried snapper, and pan-seared scallops are other dinner entrees. Not into seafood? There's a lamb shank for you!
700 Harbour Post Dr, Tampa, FL, watervuegrille.com
Sparkman Wharf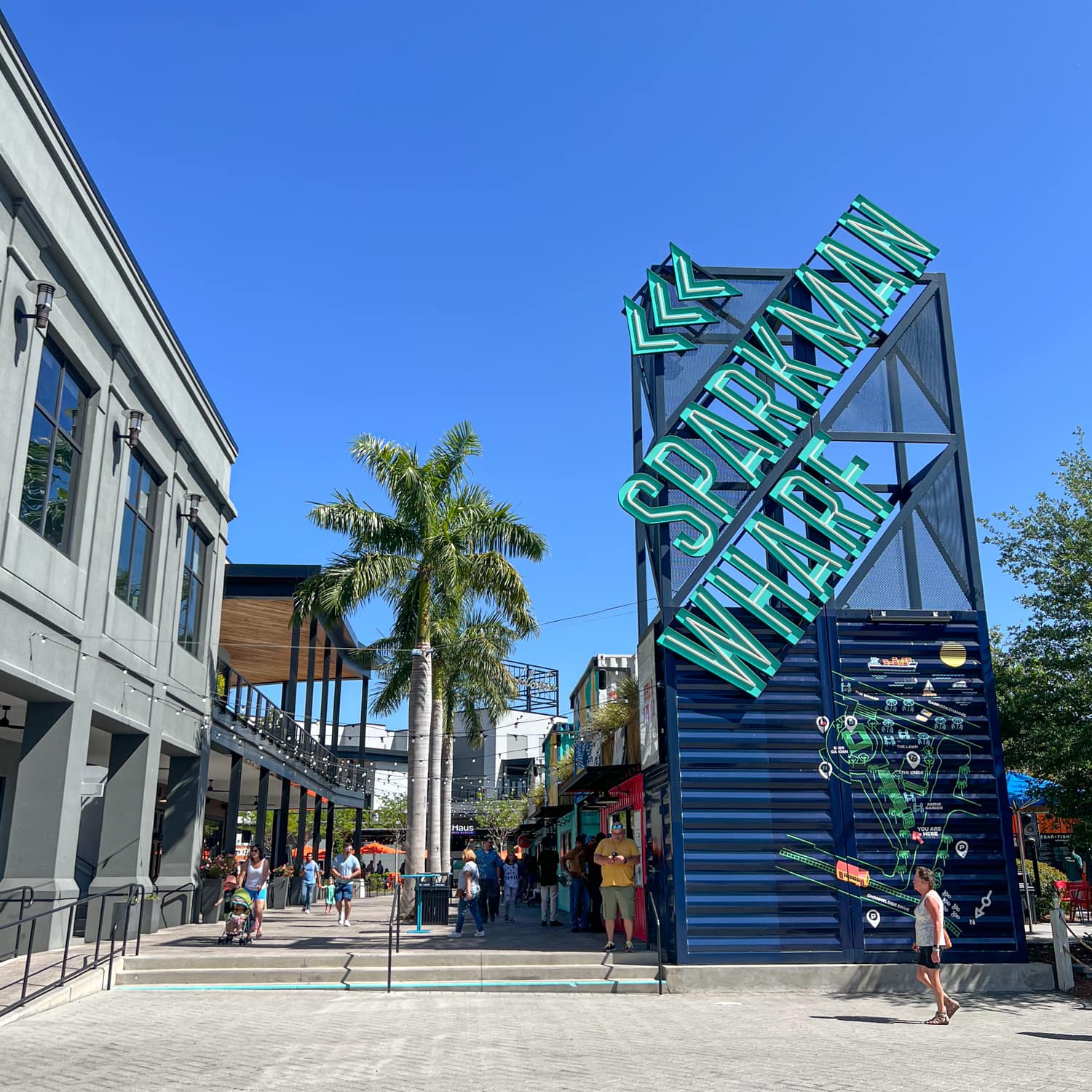 Sparkman Wharf is another new waterfront development in the city of Tampa, offering a variety of food providers, many operating out of repurposed shipping containers.
The colorful complex is in Channelside, a downtown neighborhood bordered by the Tampa Port and Garrison Channel to the east and south.
Various cuisines include Asian street food at Dang Dude, Mexican tacos from Gallito Taqueria, and fresh fruit bowls at Fit Bowl Co.
Tip: Looking for a place to stay in Tampa? Check out my profile of The CURRENT Hotel, Autograph Collection.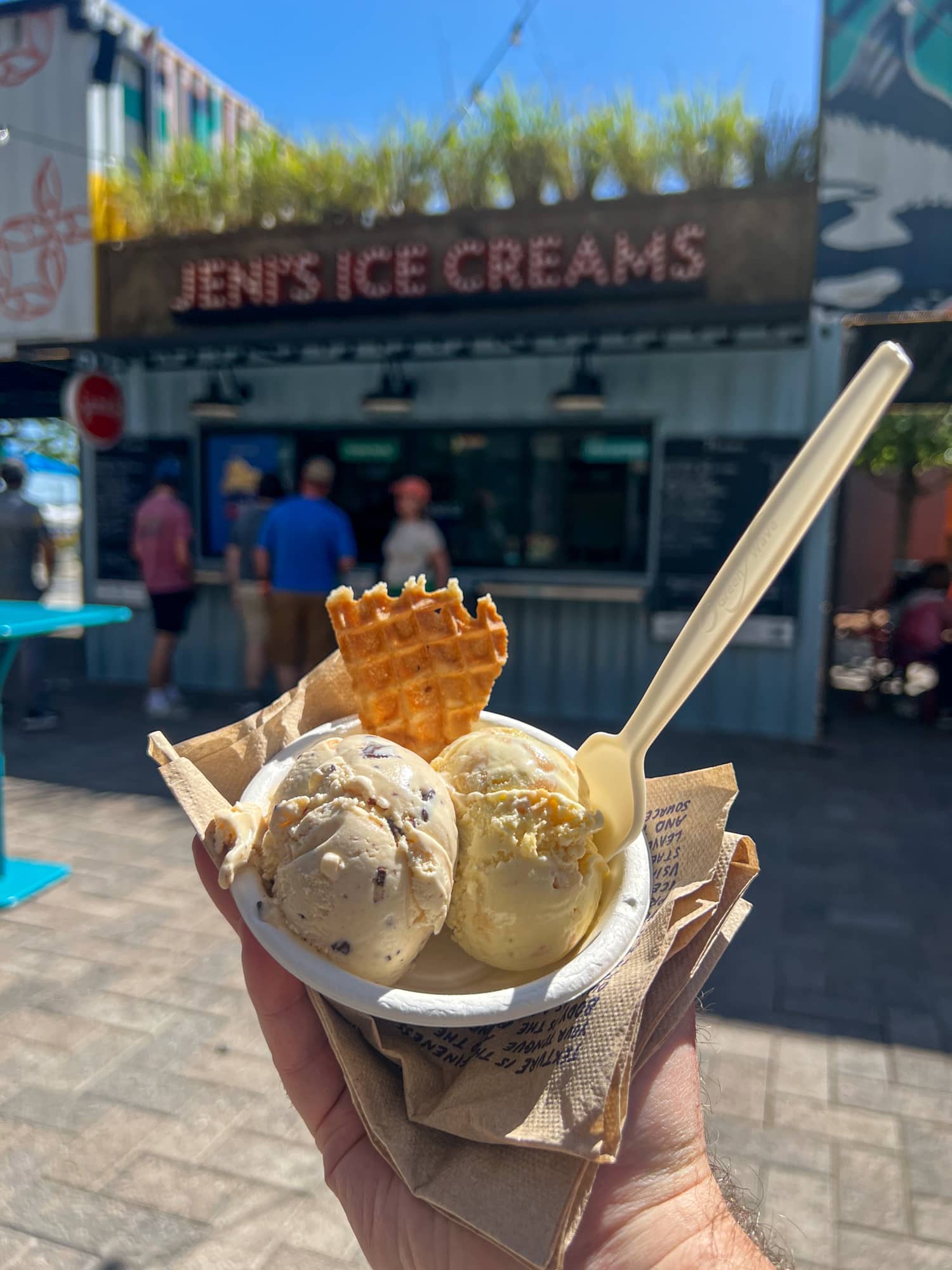 I was excited to see Ohio-based Jeni's Splendid Ice Cream in a container. I didn't hesitate to order two scoops: salted peanut butter with chocolate flecks and Biscuits with the Boss (a Ted Lasso reference).
While exploring Sparkman Wharf, I also came across Shortwave Coffee, which has a beautiful white interior with matching roasting equipment.
They offer unique specialty lattes, like the luscious cardamom latte I ordered hot, strawberry basil, and vanilla sage.
And suppose cafes and containers aren't your speed. In that case, there are several sit-down restaurants, including JOTORO Kitchen & Tequila Bar, Battery (bourbon bar, steaks, seafood), and Splitsville Southern + Social (sports bar and bowling alley).
615 Channelside Dr, Tampa, FL, sparkmanwharf.com
Thai Temple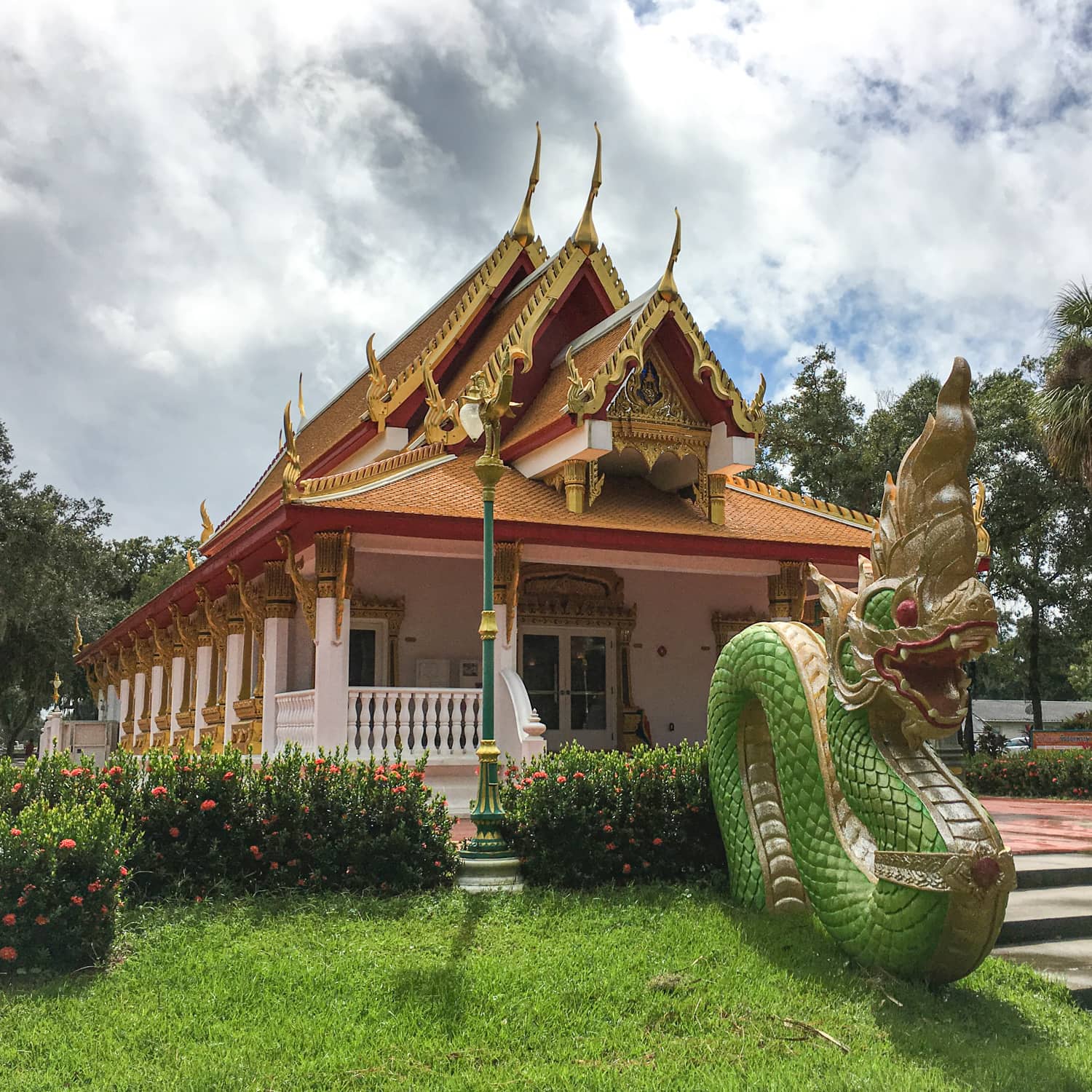 One bucolic waterfront place to eat you probably won't find on other lists is Wat Mongkolratanaram, a Thai Buddhist temple in East Tampa.
This Tampa area temple was built on the southern banks of a channel running into McKay Bay.
And their popular Sunday Market is an opportunity to come out and enjoy freshly-made pad Thai, beef/pork/vegetable soup, shrimp rolls, and crab Rangoon in a peaceful setting.
Related: Seattle's Pike Place Market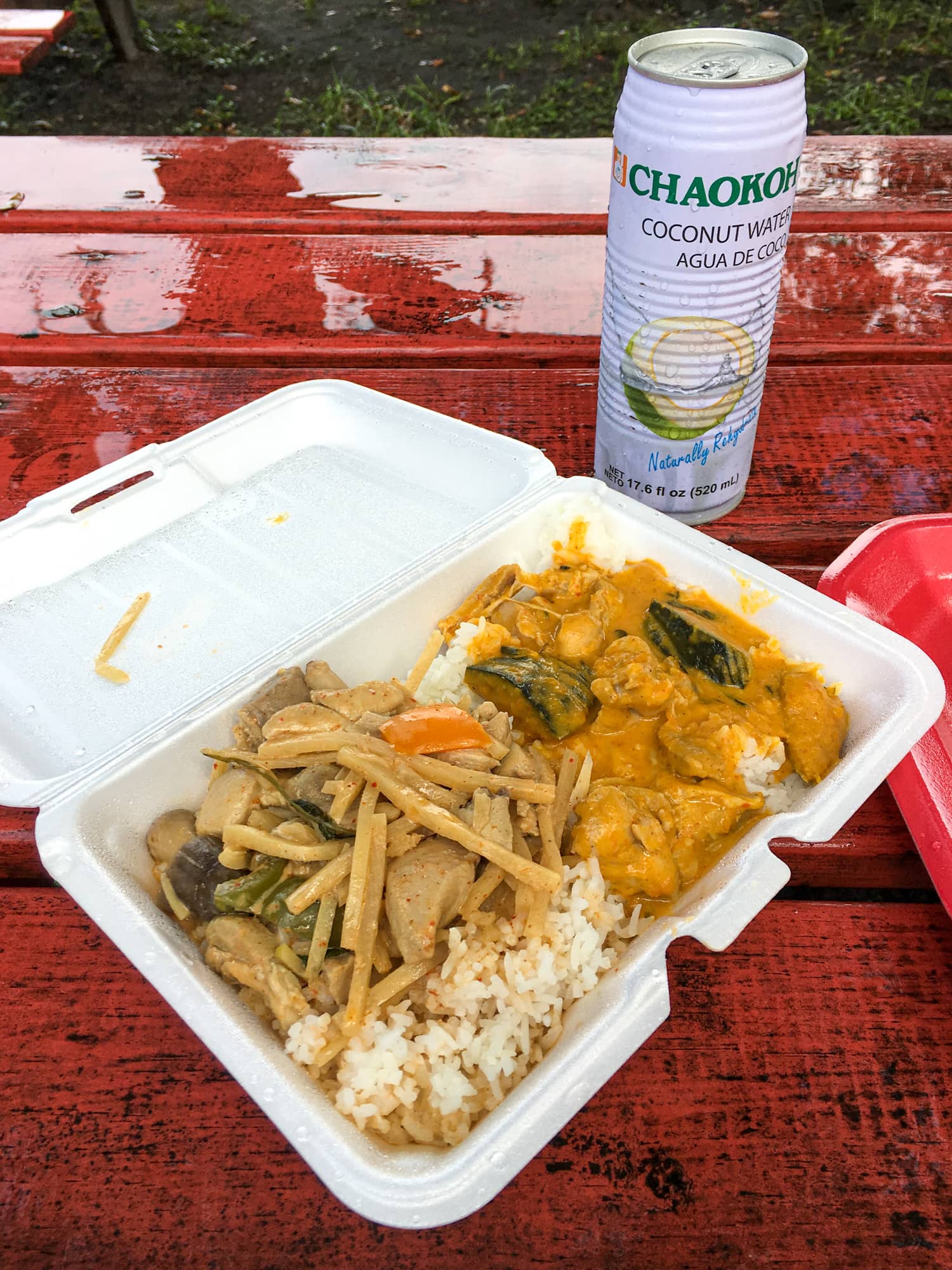 You pay for whatever you want first and can then take it to the picnic tables by the water to feast.
Wat Mongkolratanaram is a little out of the way if you're more focused on places to eat downtown Tampa; however, I think the serene setting on the grounds of an active Buddhist temple alone makes it worth the trip.
5306 Palm River Rd, Tampa, FL, wattampainenglish.com
_____
This story is based on many personal trips to Tampa and a press trip hosted by Visit Tampa Bay.