The gorgeous weather combined with tasty local food, wine, and spirits made my first Austin Food and Wine Festival one to remember.
The 7th annual spring event kicked off at 11 am on a Saturday in late April at Auditorium Shores, a park on the south side of Ladybird Lake offering scenic views of Austin's growing skyline.
I donned the bracelet mailed to me weeks earlier after I bought my weekend ticket, and arrived around noon, thankful to see no line.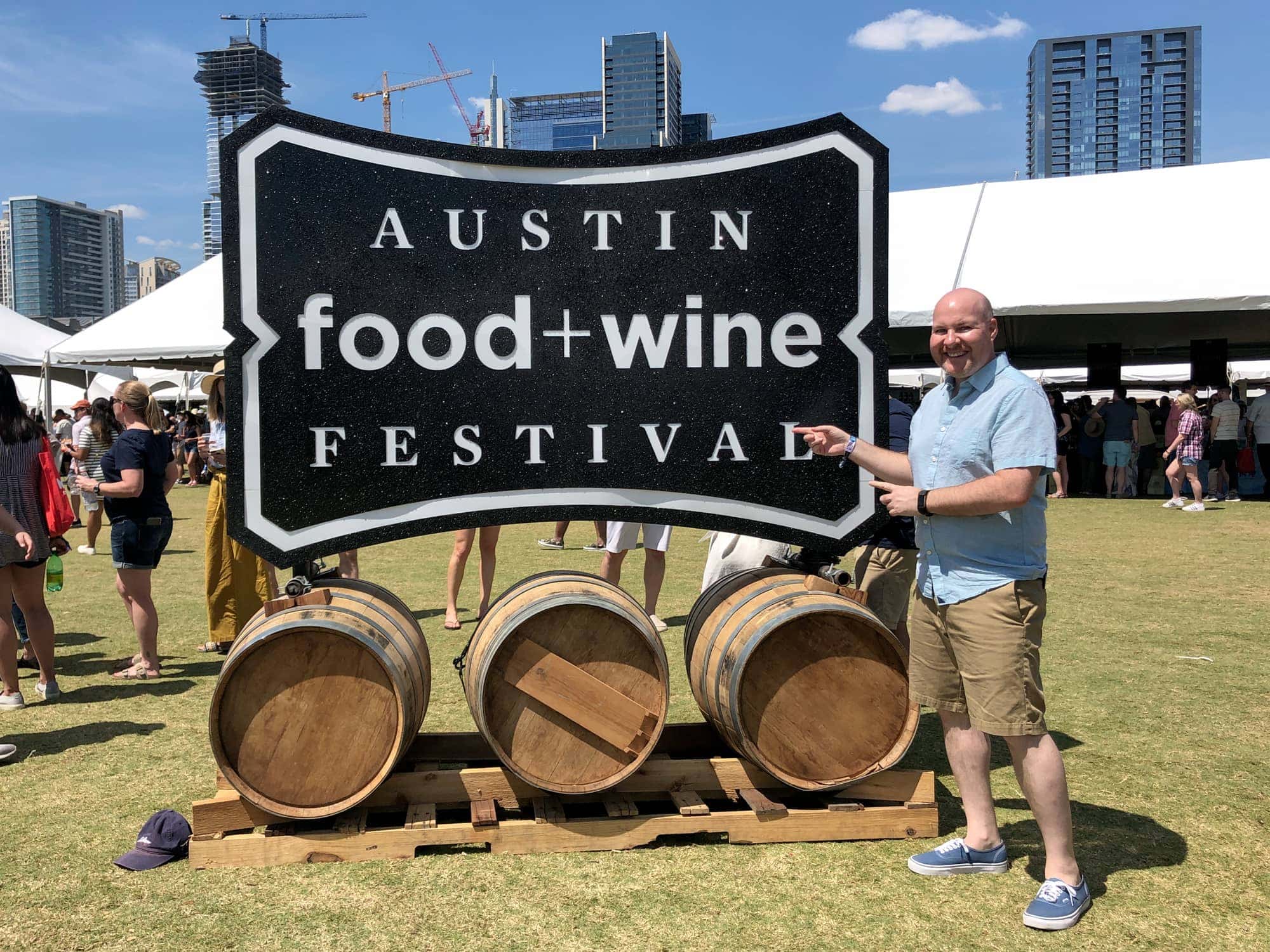 Once inside, I began to get my bearings. The Fire Pit (barbecue area) was near the entrance on the south side of the park.
The middle of the park was occupied by four long rows of tents.
This area, known as the Grand Taste, featured 20 local restaurants and an assortment of artisanal food, wine, and liquor vendors.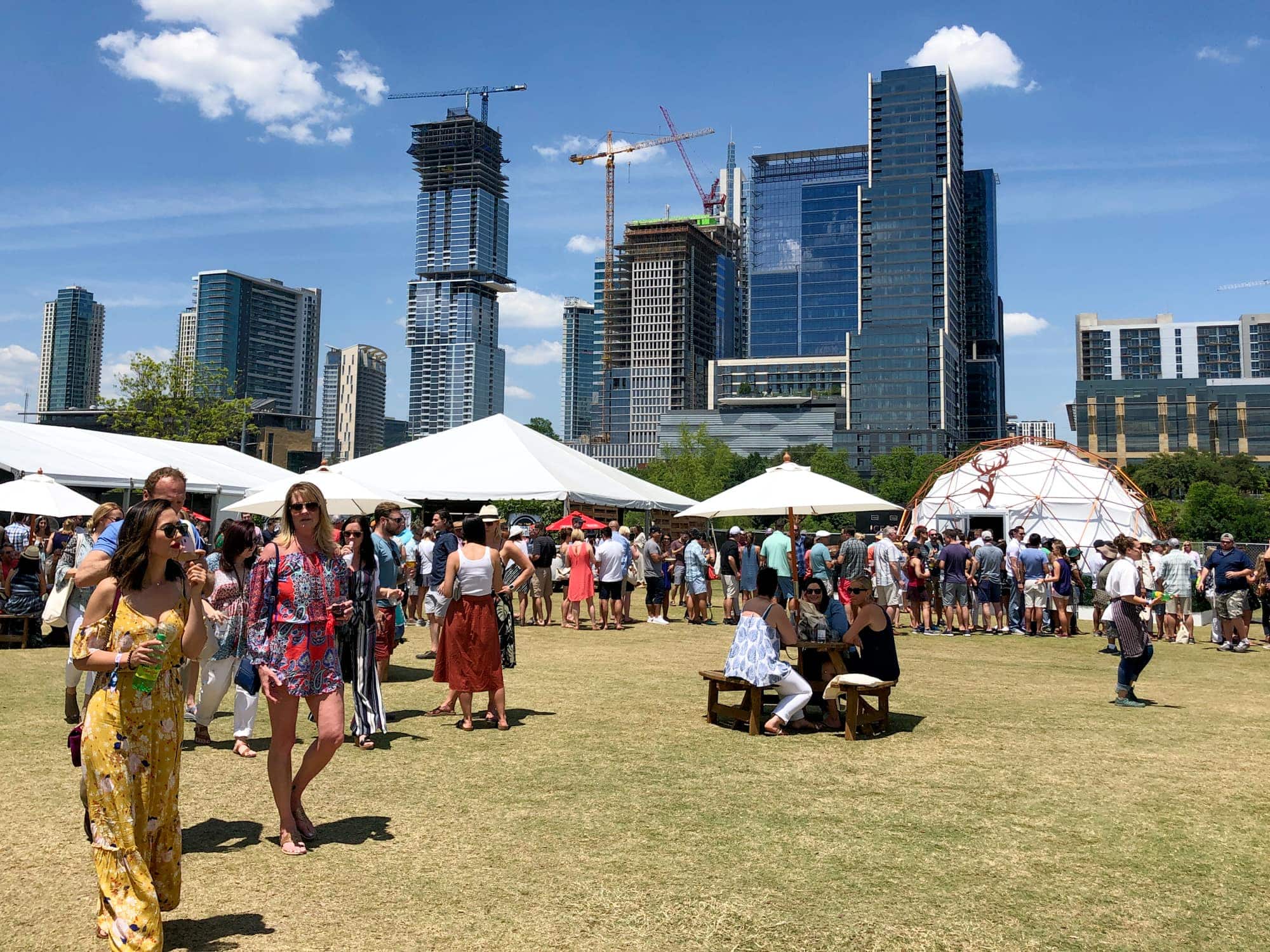 Around the park's perimeter were smaller tents, bars, booths, and even a yellow and silver cement mixer-style truck custom-built for Monkey Shoulder Whiskey.
The north end, closest to the lake, included several large tents for cooking demos and food and wine talks.
I soon connected with my friend Laura, who was with a friend from New York City who flew in for the festival.
Together, the three of us began bouncing from restaurant to restaurant, with plenty of drink stops in between.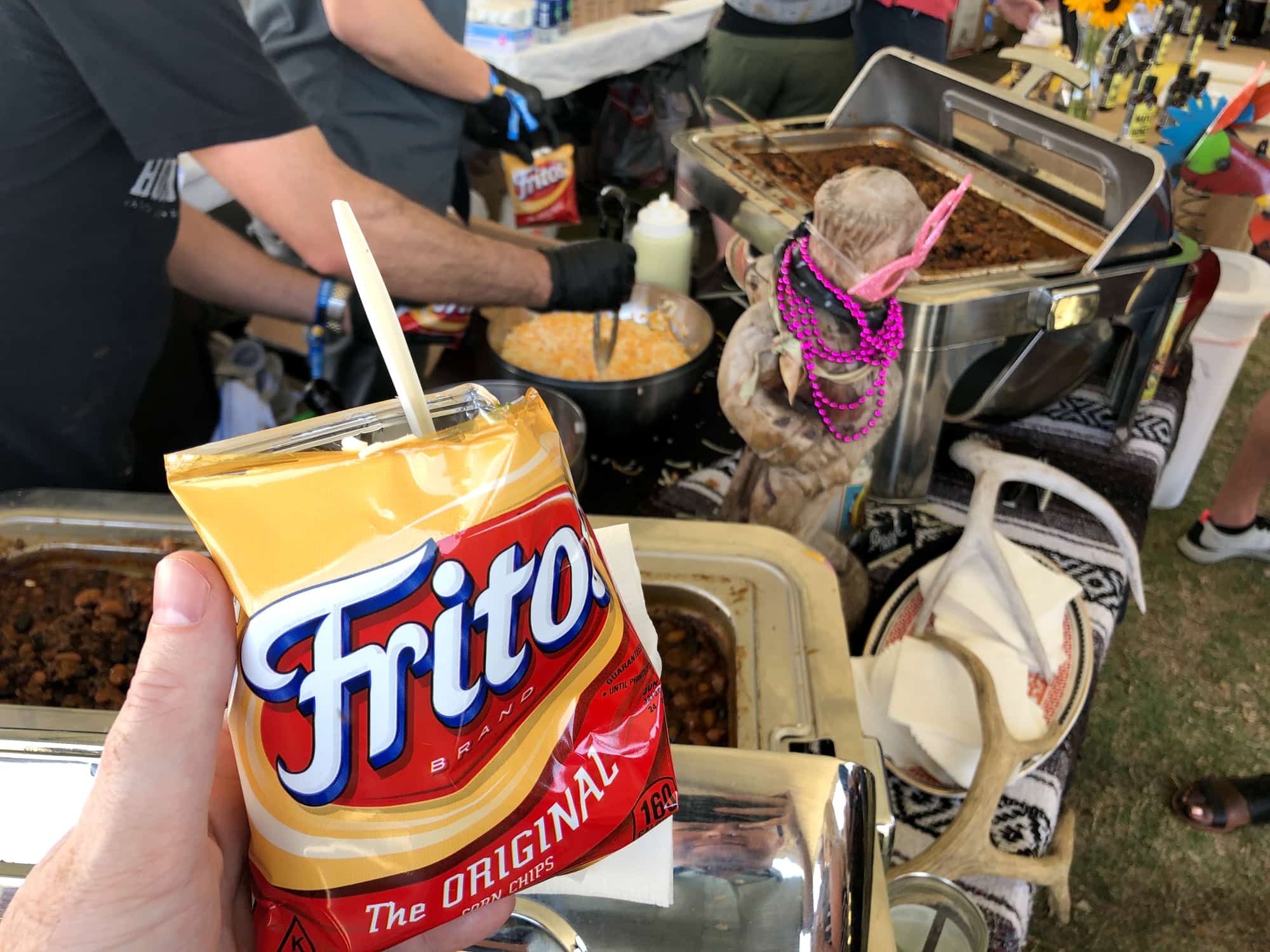 A few noteworthy food samples from Day 1 included:
Ceviche Verde Tostada with redfish, bay scallop, tequila, tomatillo, cucumber, and green olive by Grizzelda's, a Tex-Mex restaurant in East Austin I've meant to get to since it opened last year
Roasted Sweet Potato with toasted chile honey, turmeric butter, goat cheese, and pecans by Boiler Nine, a bar and grill that opened last year near the Seaholm Power Plant downtown
Frito Pie with chili, cheese, and corn chips
Maker's Mark Donuts by Voodoo Doughnut
Pig's tongue (a first for me!)
There were more, but it was hard to keep us as there were often lines of hungry people waiting for the best samples.
Thankfully, those lines were never more than five minutes, and almost everyone had a cocktail or glass of wine in their hand.
The overall vibe was upbeat, fun, and friendly.
See also: Best Restaurants in Austin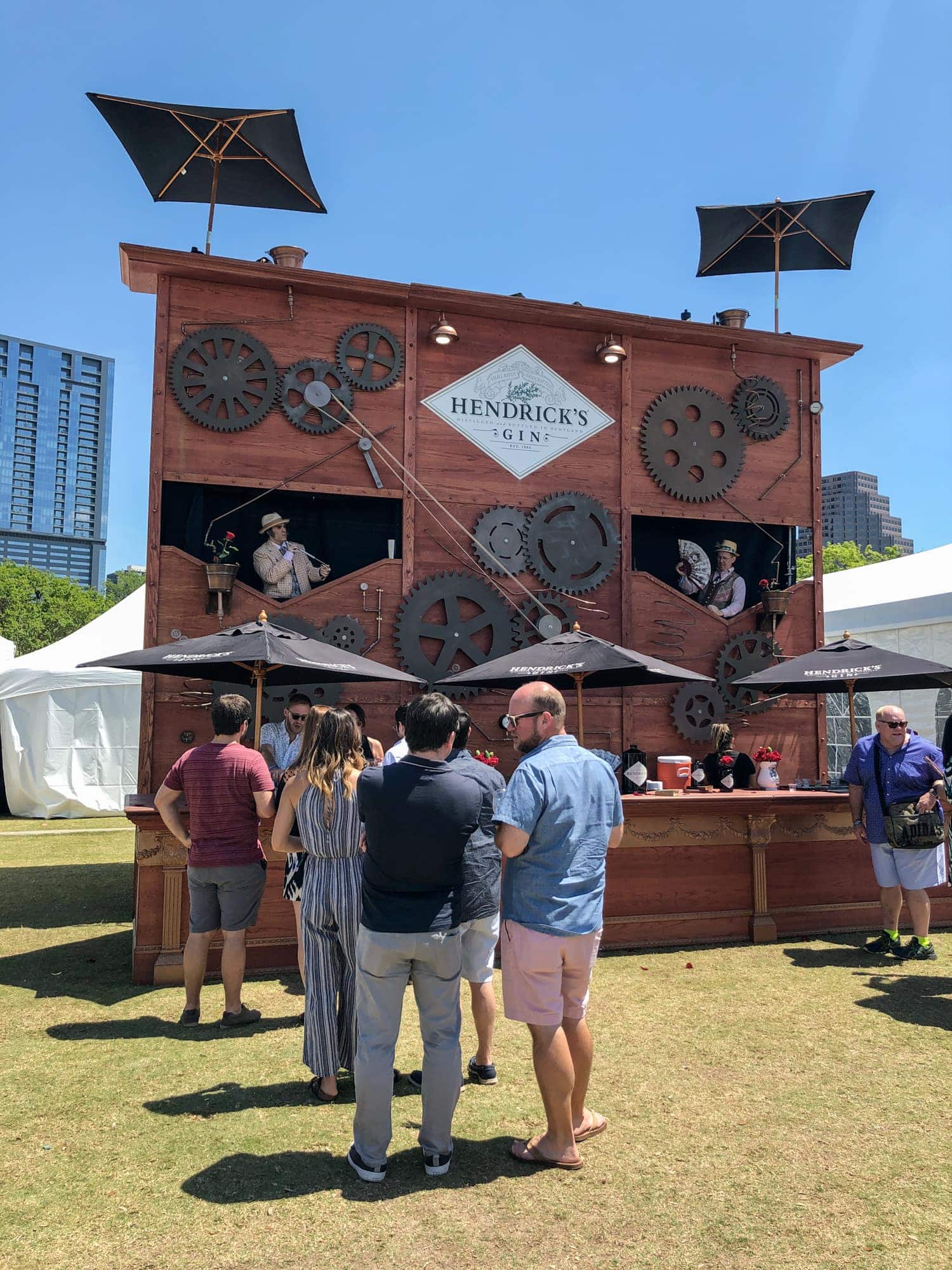 My favorite vendor display was Hendrick's Gin, which included several actors in period costumes.
The temps were only in the mid-80s, but the sun was intense; they must've been baking!
In addition to a tasting a few wines, I enjoyed:
Hendrick's and Tonic, one of my favorite cocktails -- flavorful and refreshing
Guinness Blonde (I tasted a white Guinness beer, Breo, in Ireland 20 years ago and I still prefer the original)
Glen Fiddich Lemonade -- their tent was air-conditioned, and thus a favorite place to escape the heat and hang out for a while
Throughout the day, there were chef demos and talks being given. However, we didn't attend any of them, not even for the shade.
There were too many foods to taste and people to watch for me to sit still for 45 minutes.
By 4 pm, we were being ushered out of the park as the first day wound down, so I took the opportunity to enjoy the weather a little longer by walking home.
Related: Shiner Brewery Tour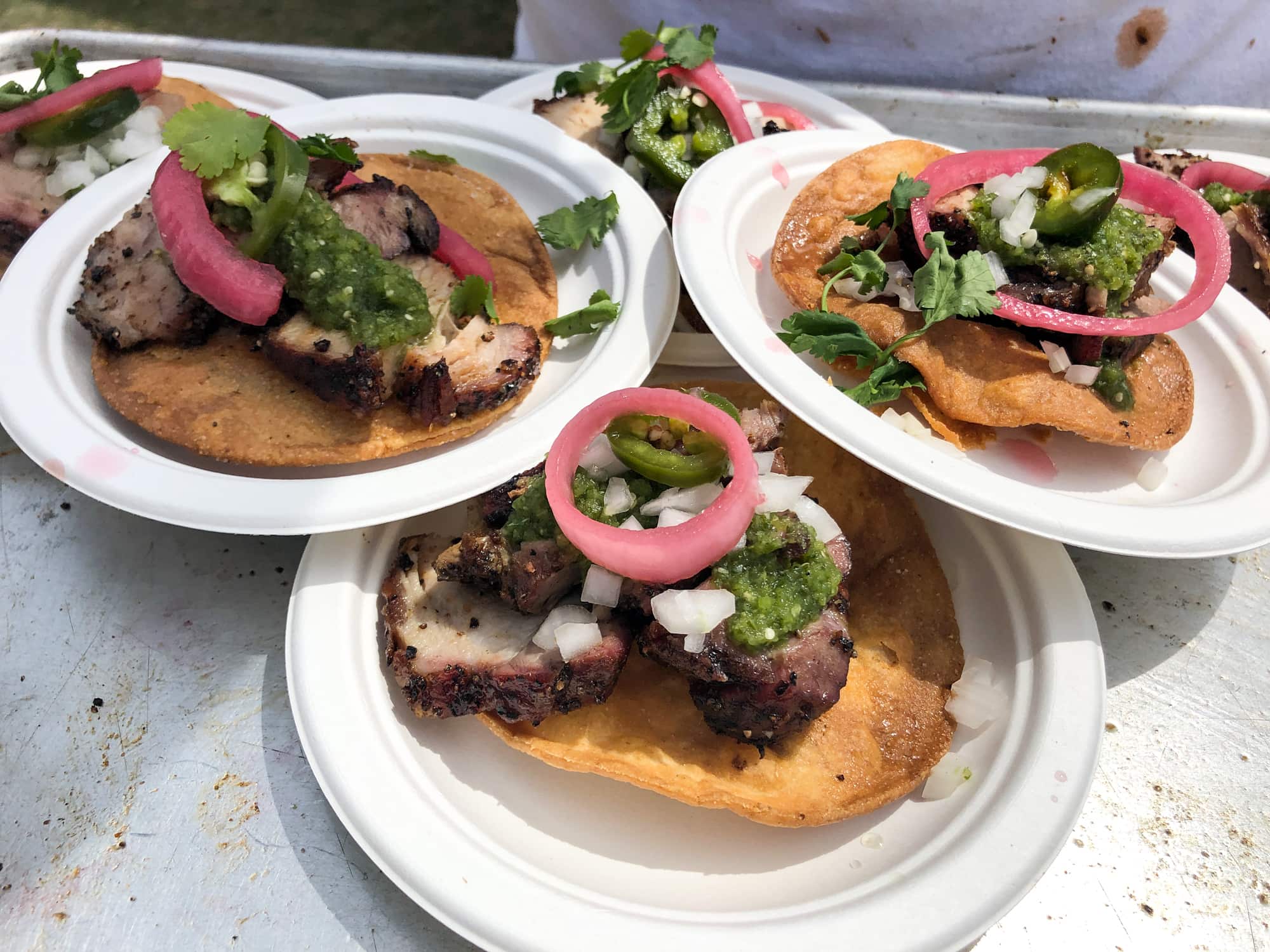 Day 2 at the Food and Wine Festival
I felt like a seasoned pro returning the following day around noon for another round of all-you-can-eat food and drink.
This time I made it a solo mission to do a complete run-through of all the restaurants in the Grande Taste before reuniting with my friend.
It was a more efficient approach, and it was easier for me to relax and take my time talking to individual vendors along the way.
For starters, at the Suglarlands Distilling Co's table, I sipped a rosemary and peach moonshine margarita while learning that "moonshine" is an actual type of liquor, not just a term for alcohol created in one's backyard (as I always thought having grown up watching the Dukes of Hazzard).
My next cocktail was a CITRAdelle Cooler with Citadelle Gin de France, grapefruit juice, Pierre Ferrand Dry Curacao, and a twist of lemon.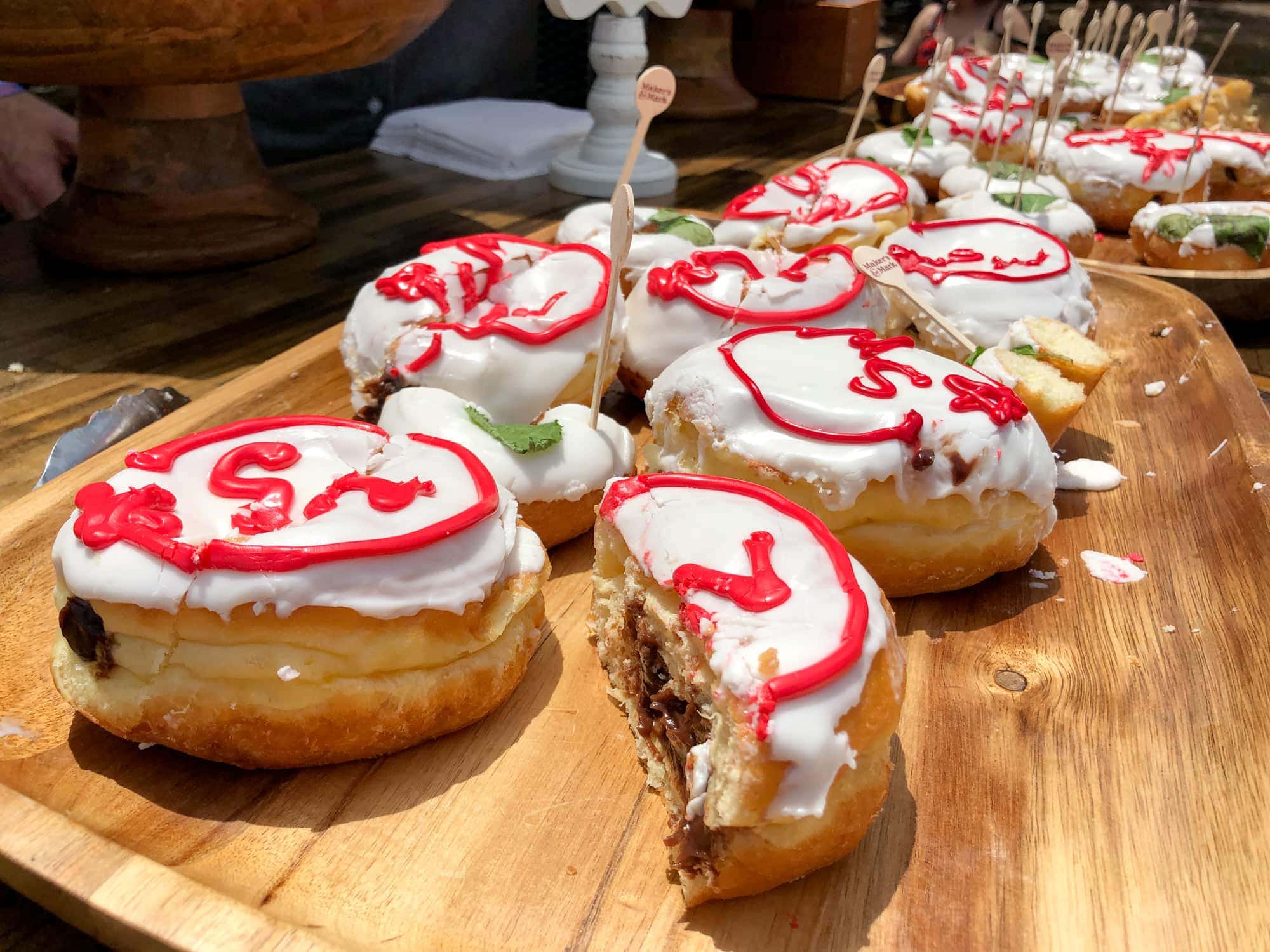 Notable food samples included:
Pork Belly Gazpacho from Barlatas Tapas Bar
Wild Pig Dry Cured Salumi Ragu from Apis Restaurant & Aviary, located in the Texas Hill Country west of Austin
Grits on Sourdough from Skull & Cakebones Craft Bakery + Cafe (best name ever, based in Dripping Springs, TX)
Mint Julep Cake Doughnut by Voodoo Doughnuts
The doughnut's white frosting, chocolate filling, and mint flavor lit up my taste buds.
It's one of the best foods I tasted all weekend.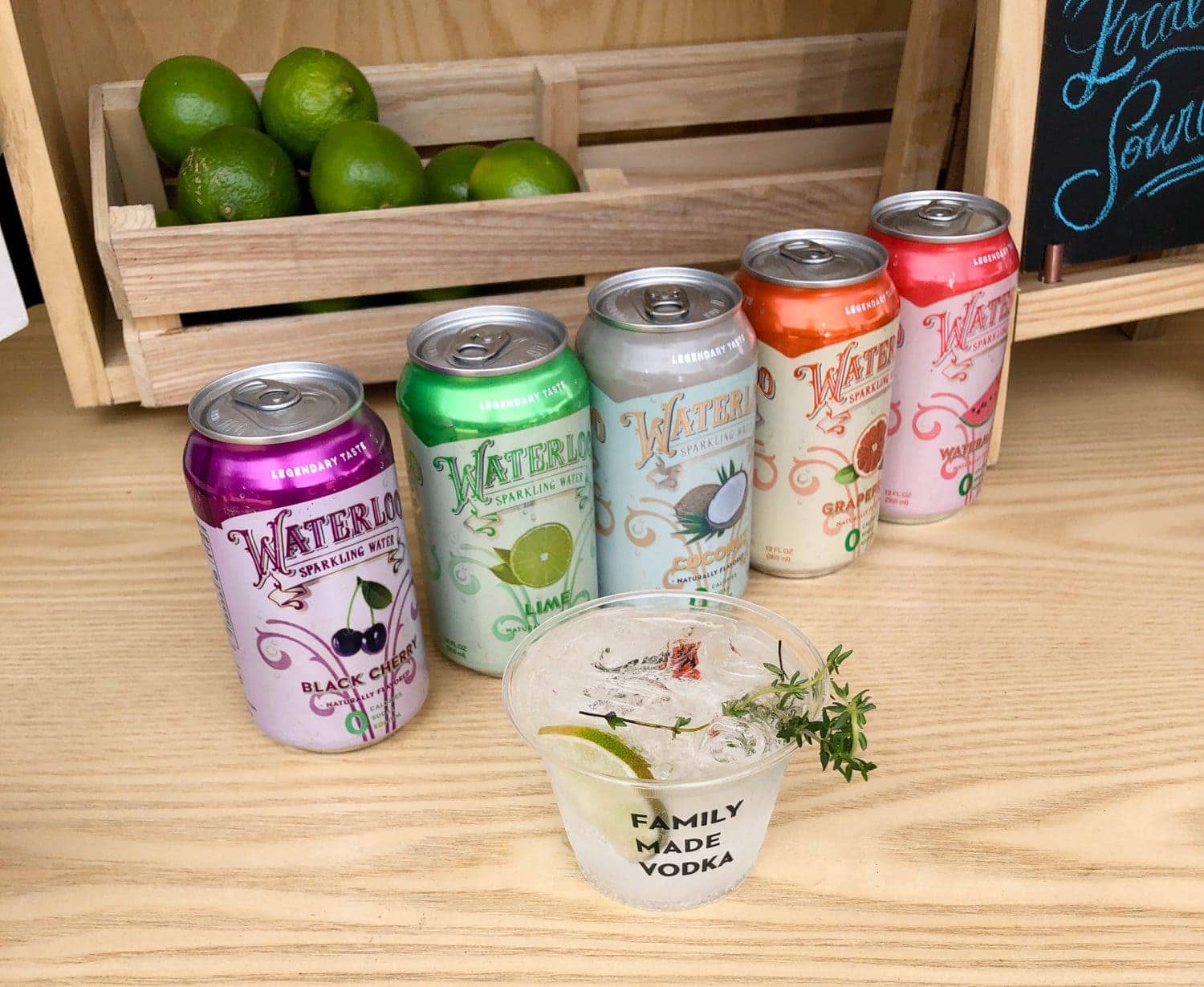 Then it was back to cocktails when I stopped by Ketel One, one of my favorite vodkas.
They were mixing up drinks using Waterloo, a new brand of flavored sparkling water in Austin.
Options included:
black cherry
lime
coconut
grapefruit
watermelon
At that moment, I went with my standard, lime, though I'd like to give them all a try over the summer.
See also: Best Speakeasies in Austin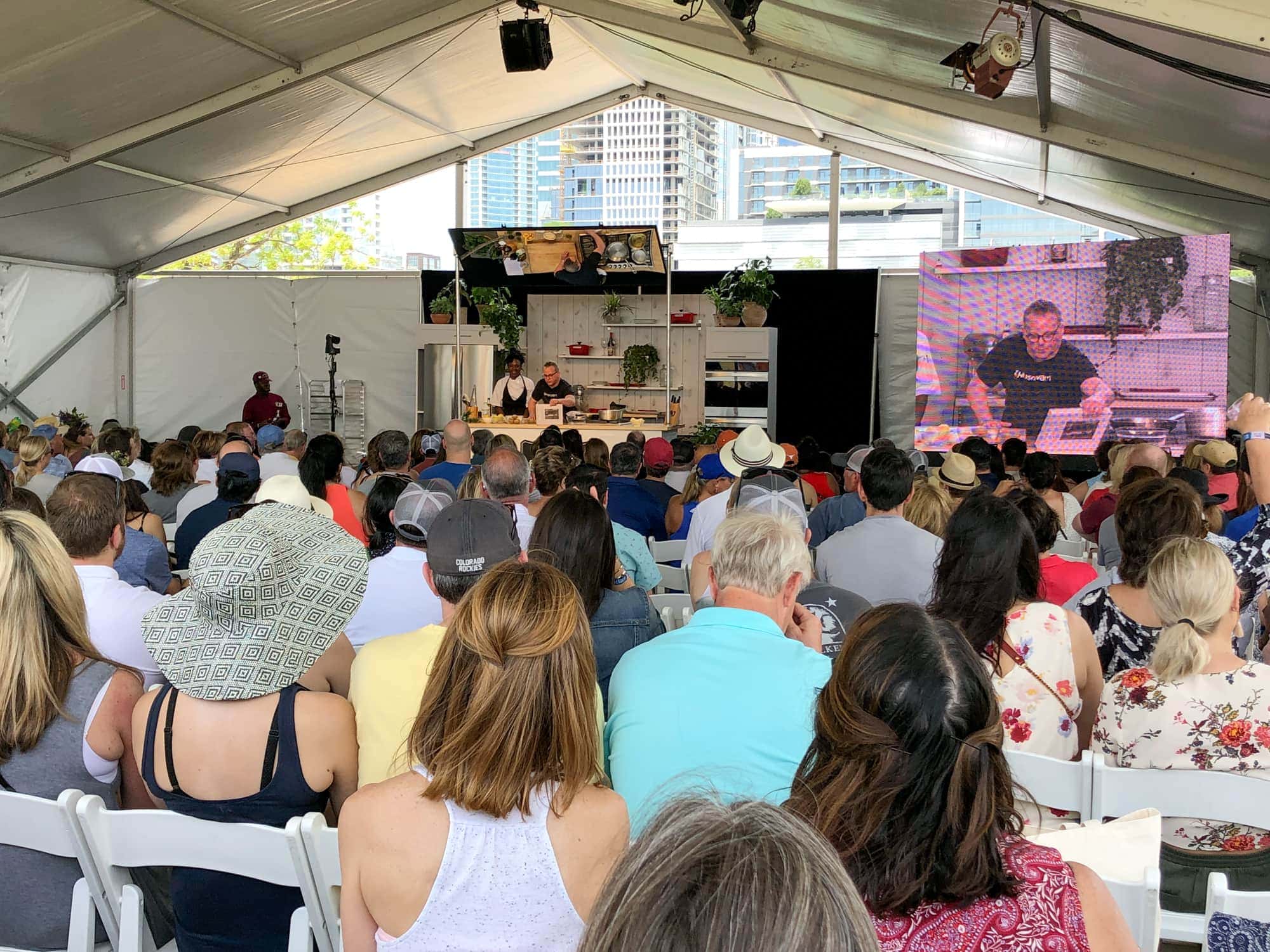 I briefly watched a cooking demo, though it didn't hold my attention for more than ten minutes, and then wandered into the adjacent HEB tent where I nibbled on a little bowl of pasta and a small slice of avocado toast.
Two hours had passed since I first arrived, and it was time to get in the line forming for my friend Lee Abbamonte to speak about food and travel at 2:15 pm.
Lee is the youngest American to have visited every country in the world and the North and South Poles.
He's got more than a few fun stories to keep audiences entertained.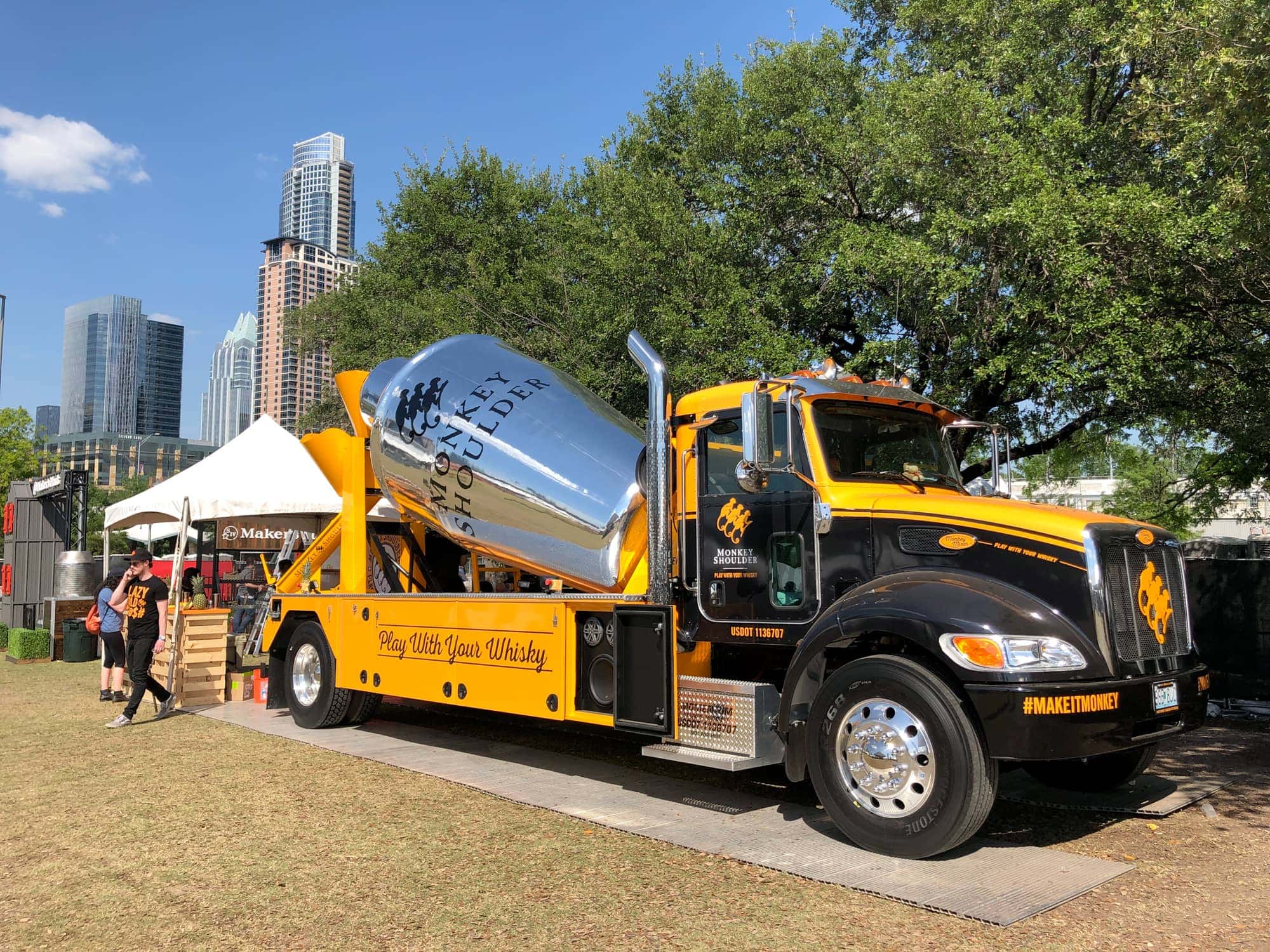 The ladies in line in front of me had grabbed Monkey Pina Coladas from the nearby stand, and they looked so good I couldn't resist getting one either.
Made with Monkey Shoulder Whiskey, Coco Lopez, pineapple juice, lime juice, angostura bitters, salt, and pineapple, it didn't last long.
After hearing Lee speak and take questions for 45 minutes, I backtracked to the Fire Pit for beef tostadas with chimichurri sauce and onions, before reuniting with Laura and her friend.
It was 3:30 pm, and a DJ drew a jubilant crowd of people who weren't yet ready to leave. The scene looked like what I imagine of the Hamptons during summer.
At the time, Laura and I noted vendors were already cleaning their tables and packing up to leave, meaning an end to the free-flowing wine and drink samples.
We thought it was supposed to go on until 4 pm, however, as I type this and look back at the schedule, the Grand Taste ended at 3 pm, an hour earlier than on the first day.
We both felt it hurt the vibe to see that happening.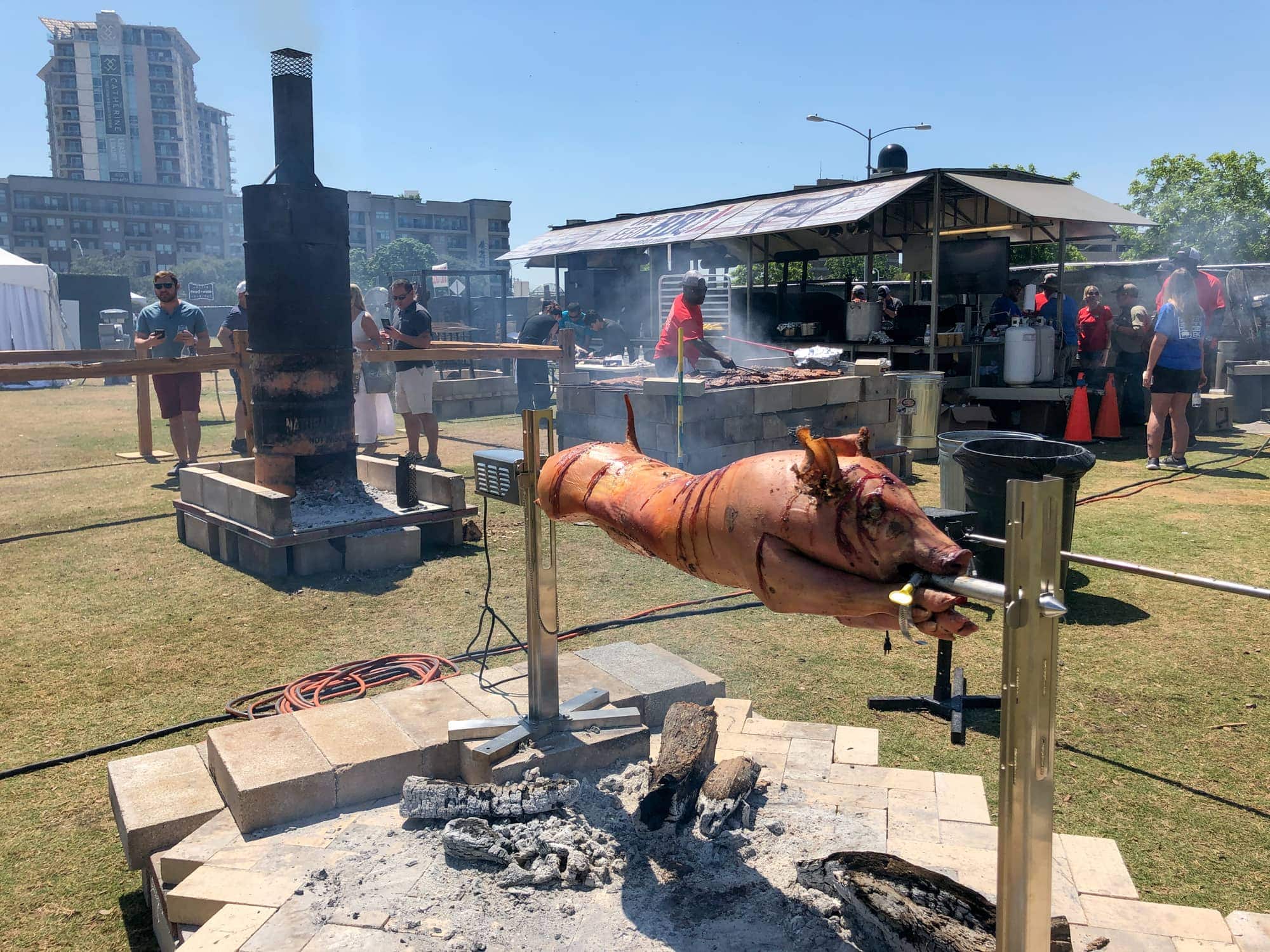 It was on the show Top Chef that I first heard about the annual Food and Wine Classic in Aspen, Colorado.
The scenes of chefs cooking up tasty samples in a beautiful outdoor setting stuck with me, and I wanted that experience too, minus the $1,700 price tag.
So when tickets went on sale for the 2018 Austin Food and Wine Festival earlier this year, I bought a Weekender ticket for $250.
The cost was higher than I've ever paid for a food event or tour, so it still felt like a stretch, but it turned out to be an excellent way to spend the weekend and well worth the cost.
Additional options included an All-in ticket for $625 that tacked on dinner events for Friday and Saturday nights, and Feast Under the Stars, a Thursday night 5-course dinner for $250 served outdoors by chefs from the festival.