A fantastic burger is the quintessential American comfort food. The best burgers in Austin, Texas, reflect various approaches toward this hallmark of backyard barbecues.
Austin's butcher shops and neighborhood restaurants offer some of the highest quality beef burgers you'll find anywhere.
Premium ingredients like wagyu and brisket and special sauces are all involved.
And then there are the food trucks, diners, and fast casual spots, all valued parts of the burger landscape in my hometown. This article doesn't cover fast food chains.
Regarding my personal preferences, 99% of the time, I order a standard cheeseburger, cooked medium. I'm not a pickle person, so I don't ask for them, but I pay attention to the French fries.
Are you getting hungry? Good! Let's celebrate the best burgers in Austin.
Austin's Best Burgers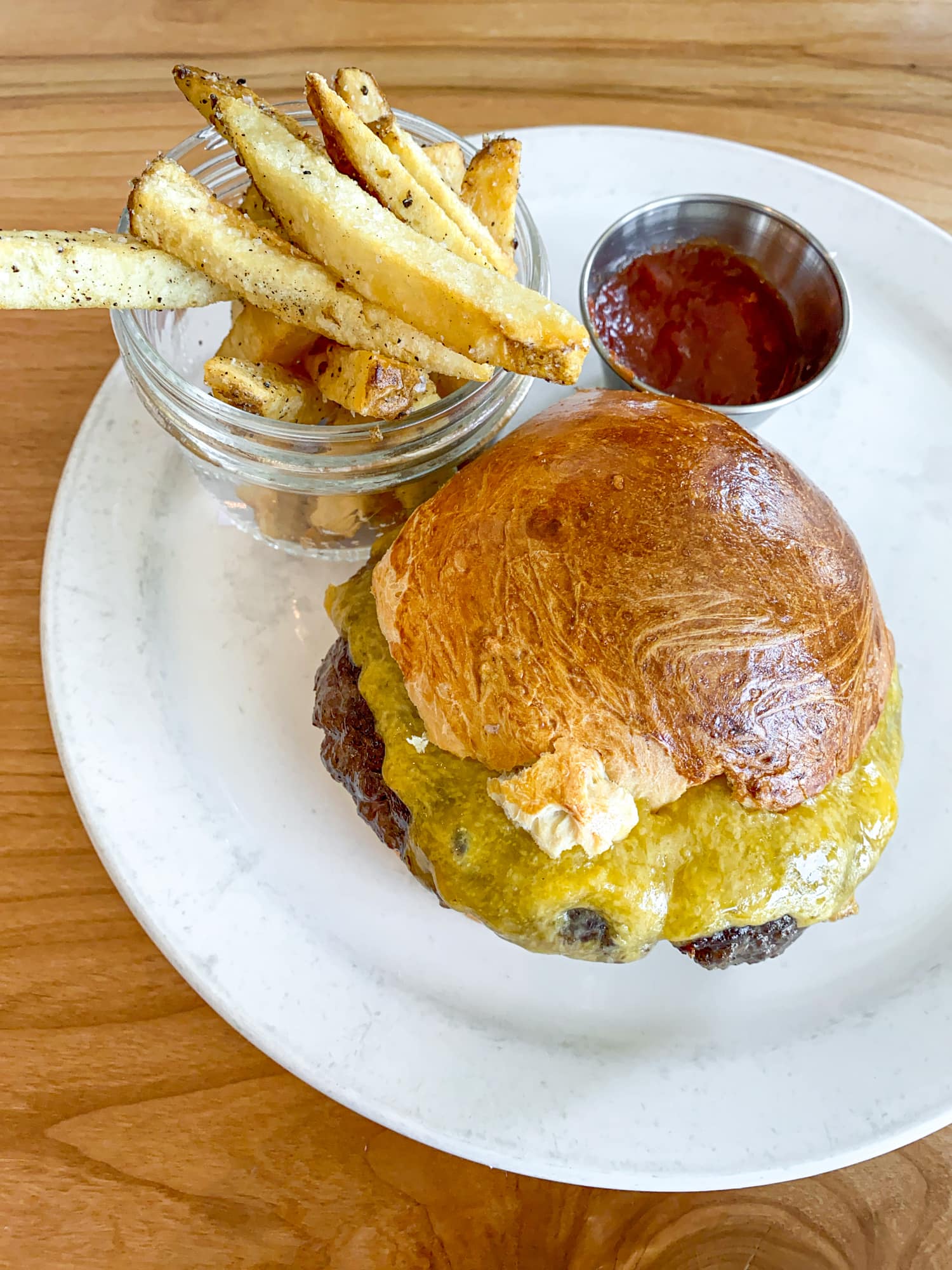 1. Salt & Time
When making delicious burgers, it pays to run a butcher shop. Salt & Time in East Austin source their meats from Texas ranchers with ethical business and environmental practices.
The Butcher's Burger is a half-pound beef patty made with the day's steak trimmings and topped with mayo and sour pickles on a brioche bun.
Austin's best burger is served with thick-cut beef-fat French fries and ketchup or a green salad. I highly recommend the fries; they're perfectly salted and seriously addictive.
A bite of beef nirvana will set you back $16. Add $1.50 if you want cheddar, $2 for a fried egg, and $3 for bacon. The Butcher's Burger is available on all Salt & Time's menus: lunch, brunch, and dinner.
1912 E 7th St A, East Austin, TX, saltandtime.com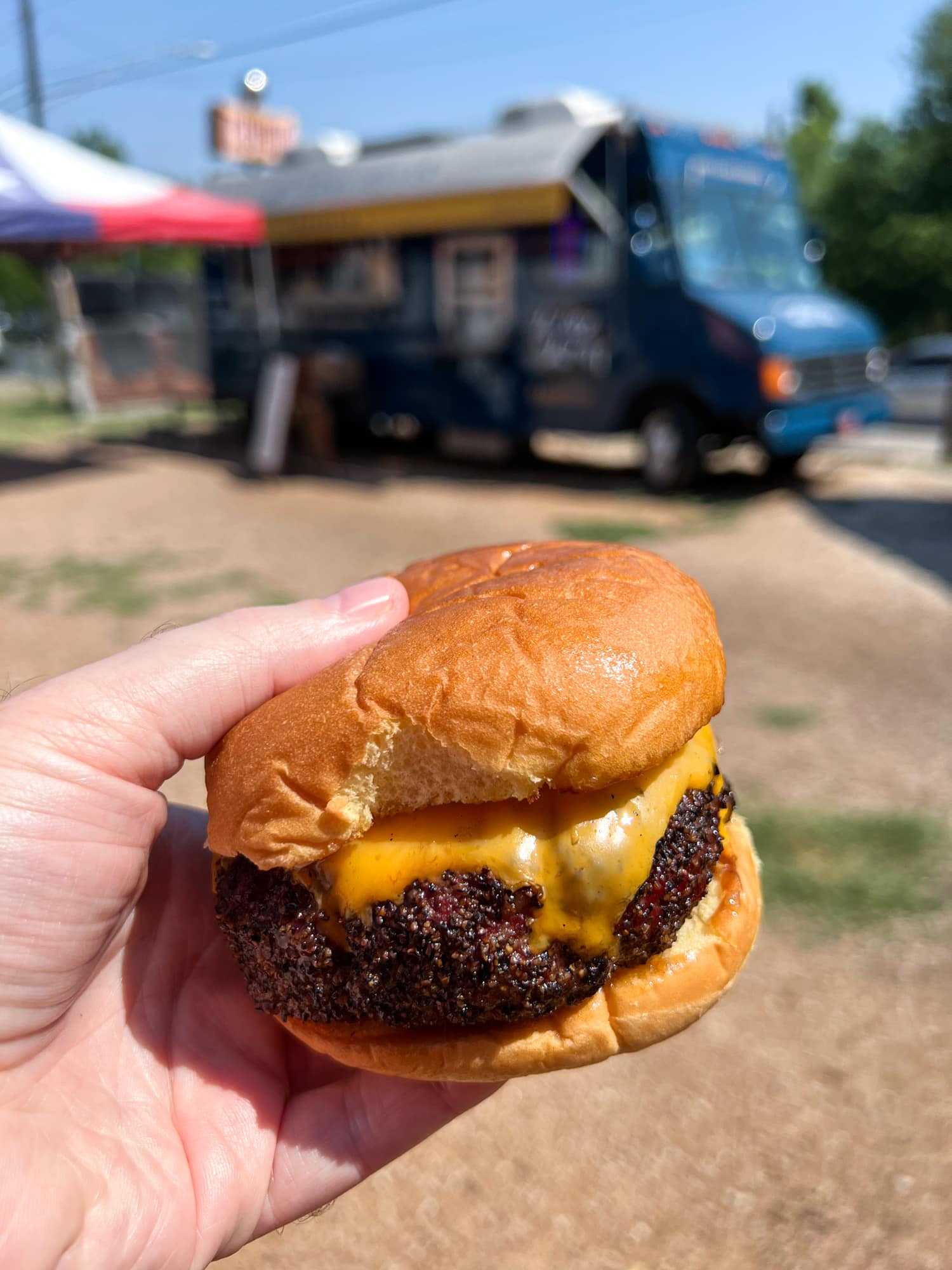 2. Leroy and Lewis Barbecue
The half-pound L and L Burger at Leroy and Lewis Barbecue is the perfect burger for Austin's BBQ lovers.
They mix 50% Akaushi brisket with 50% ground beef (supplied by HeartBrand Beef) and top it with cheese, grilled onions, pickles, and burger sauce.
The result is a next-level burger that tastes like a barbecue on a bun. It's yours for $14.
Sides are extra, but you may not need them. Some options include kale caesar salad, refried beans, and Texas Red Chili Frito Pie.
Pro Tip: Go on a weekday or when they open at 11 a.m. on the weekends to beat the lines and ensure quick service.
121 Pickle Rd, South Austin (parked at Cosmic Coffee), leroyandlewisbbq.com
Related: Best Restaurants in Waco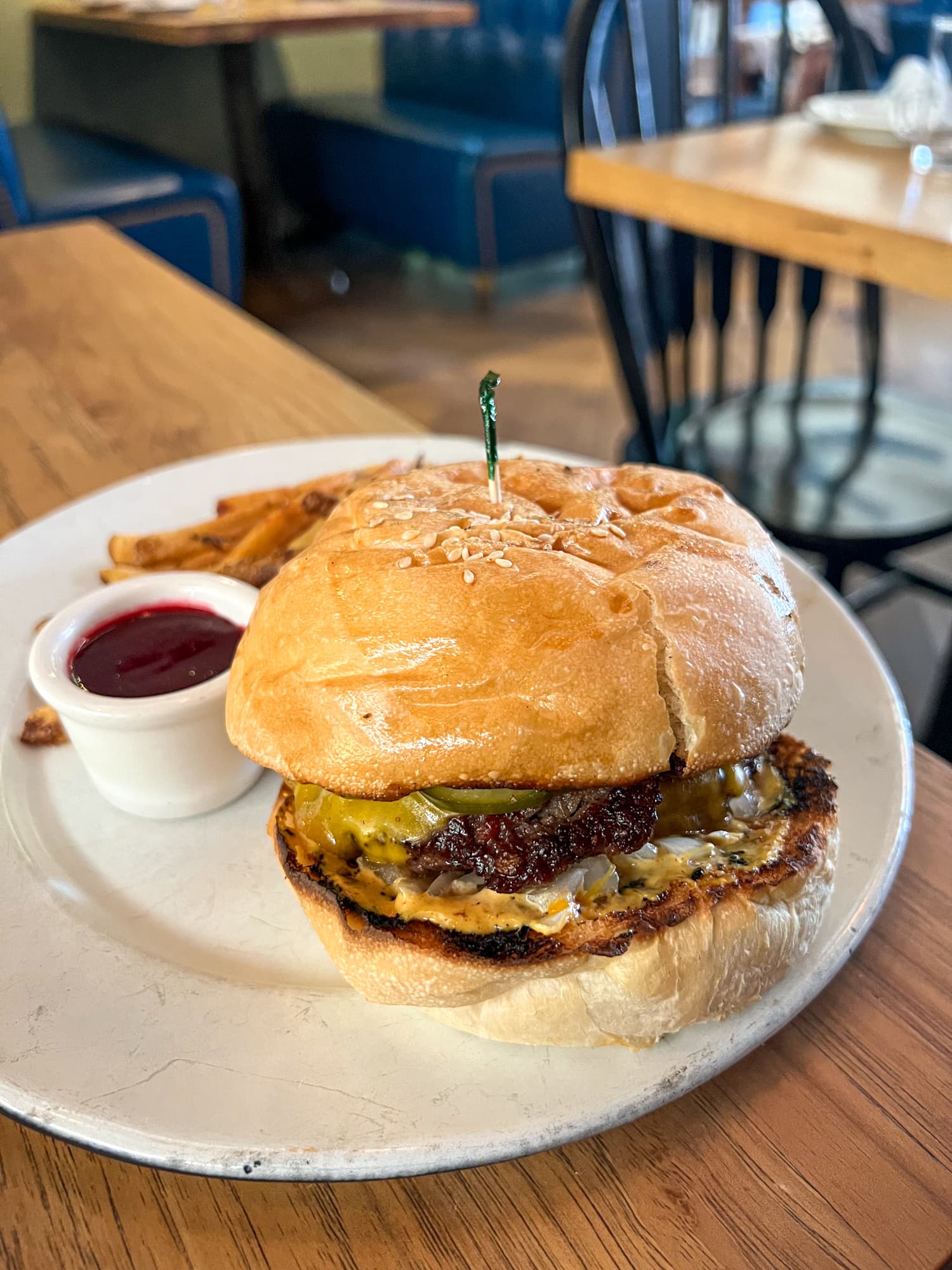 3. Dai Due
Dai Due is another East Austin butcher shop and restaurant serving outstanding burgers. It was named one of America's Best New Restaurants in 2015 by bon appetit.
Owner Jesse Griffiths has committed to sourcing the freshest seasonal ingredients from local providers, most of which are within 200 miles of the Texas capital.
The dry-aged wagyu double cheeseburger is a must for any burger fan. It's topped with Stryk cheddar cheese, sauce especial, dill pickles, and onions and served on a sesame cemita bun.
The menu notes burger patties are ground up with Dai Due bacon. Perhaps that explains the saltiness, which I found a little overwhelming.
Dai Due's cheeseburger comes with French fries and beet ketchup. I like the color of beet sauces, but not the taste; I prefer ketchup or mayo.
2406 Manor Rd, East Austin, TX, daidue.com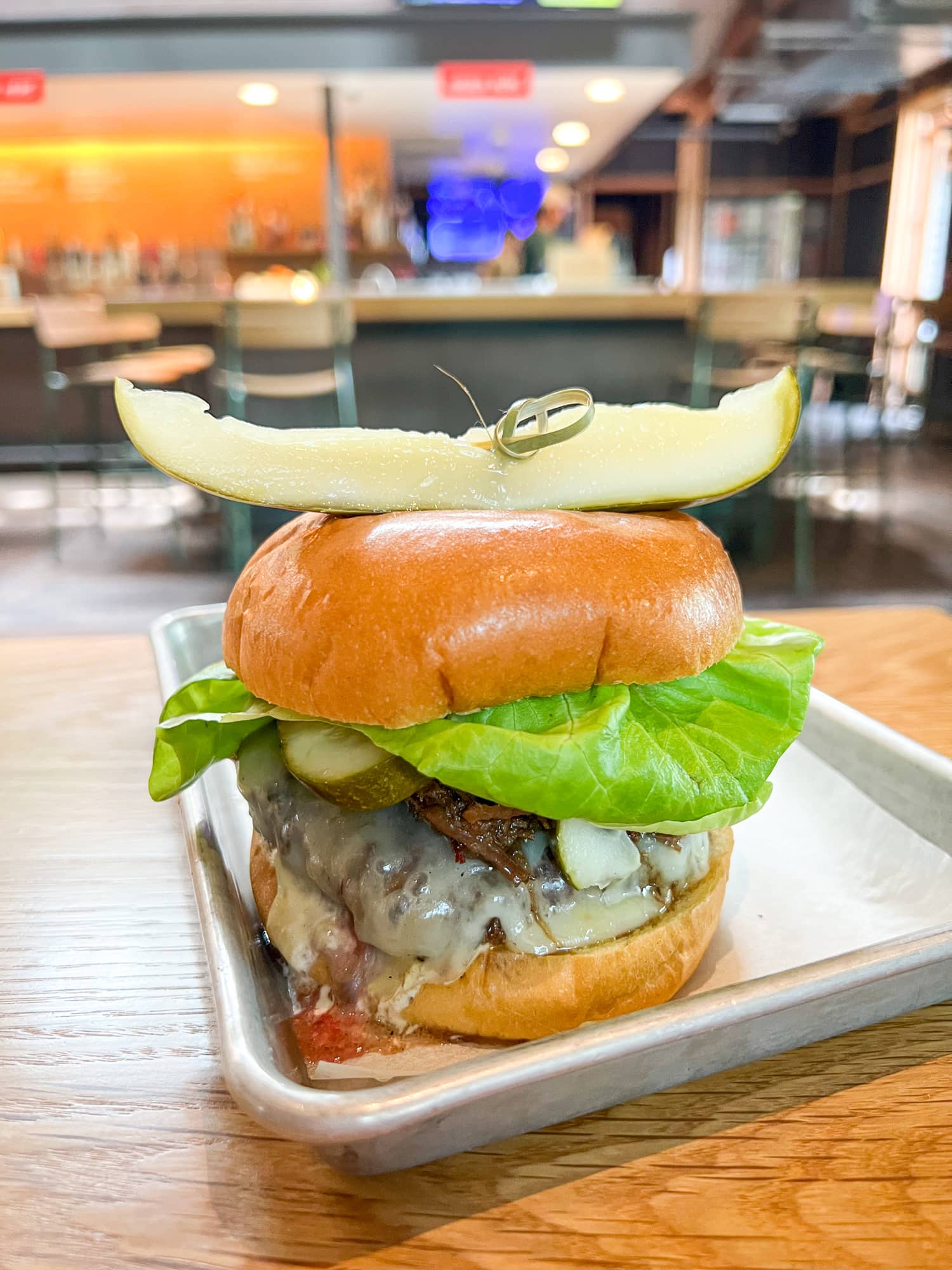 4. Loro
In 2018, two of Austin's top chefs, Tyson Cole and Aaron Franklin, partnered to launch Loro, an Asian smokehouse and bar on South Lamar Boulevard.
On my first few visits, I was enamored with the Thai-inspired oak smoked beef brisket sandwich with papaya salad and peanuts.
More recently, I've become a fan of the mouthwatering Loro cheeseburger topped with red onion-brisket jam, muenster cheese, lettuce, and chili aioli.
The brisket jam is mainly brisket, with a bit of red onion jam to dress it up.
This great burger is available daily, from 11 a.m. to 5 p.m, for $14. Loro's success in Austin led this culinary duo to open additional restaurants in Houston and Dallas.
2115 S Lamar Blvd, South Austin, TX, loroaustin.com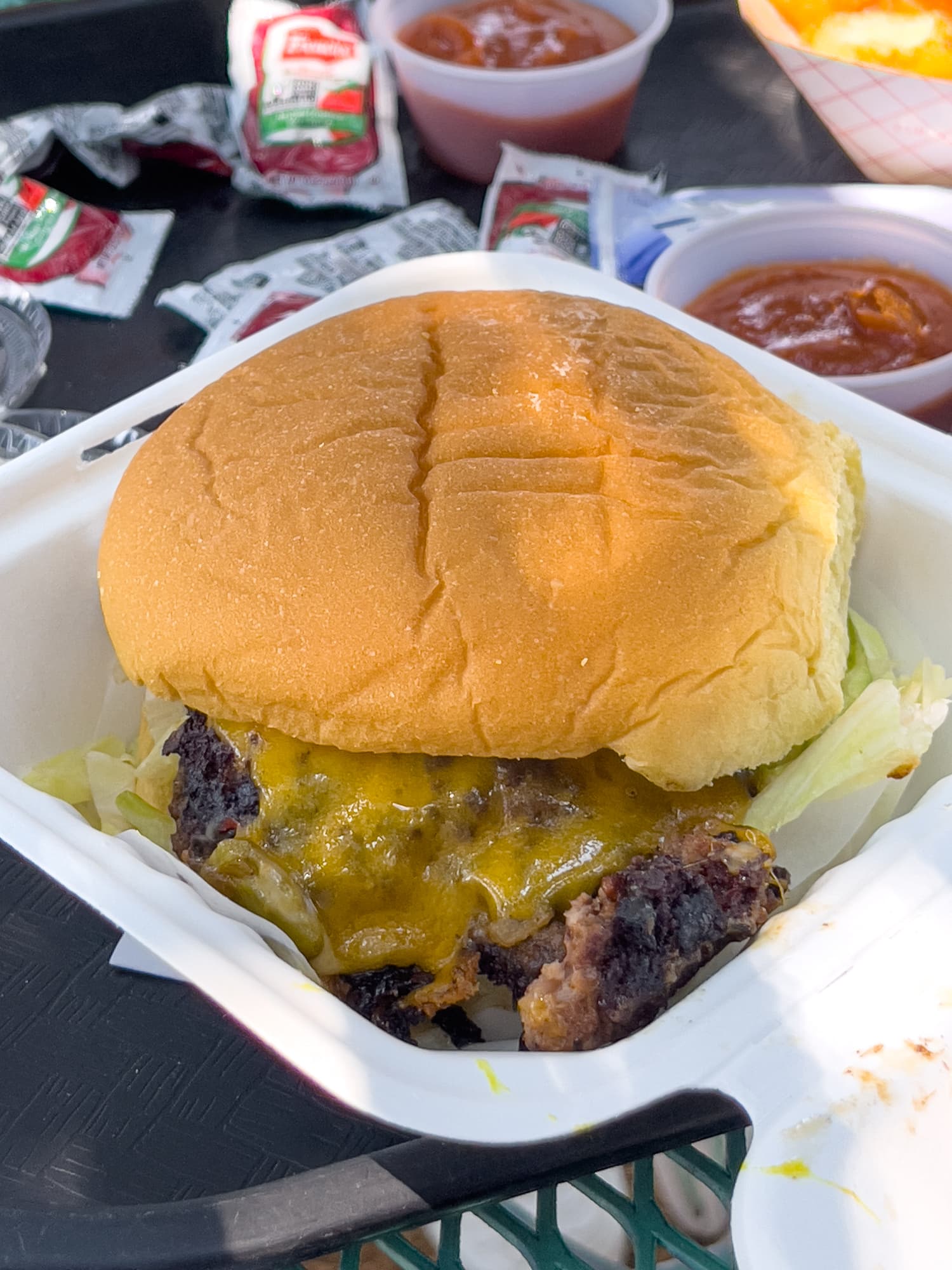 5. Jewboy Burgers
I'd been seeing Jewboy Burgers all over Instagram and finally went to in 2021.
It's safe to say they're the only burger joint in Austin offering potato latkes, something my Mom used to make for me.
I got the signature Jewboy, one-third of a pound of freshly ground beef smashed over onions on a flat top grill. It's flipped once, topped with two slices of cheese, and steamed to completion.
The Jewboy is served on a Martin's Potato Roll with chopped lettuce, pickles, and mustard. Not a bad deal for $9.
Other clever burger offerings include the Sloppy Jose with bacon and chile con queso, the Yenta with a potato latke, and the Goyim with grilled pastrami and Swiss.
Potato latkes, tater tots, white cheddar queso, and fries are available as sides.
5111 Airport Blvd, Central Austin, TX, jewboyburgers.com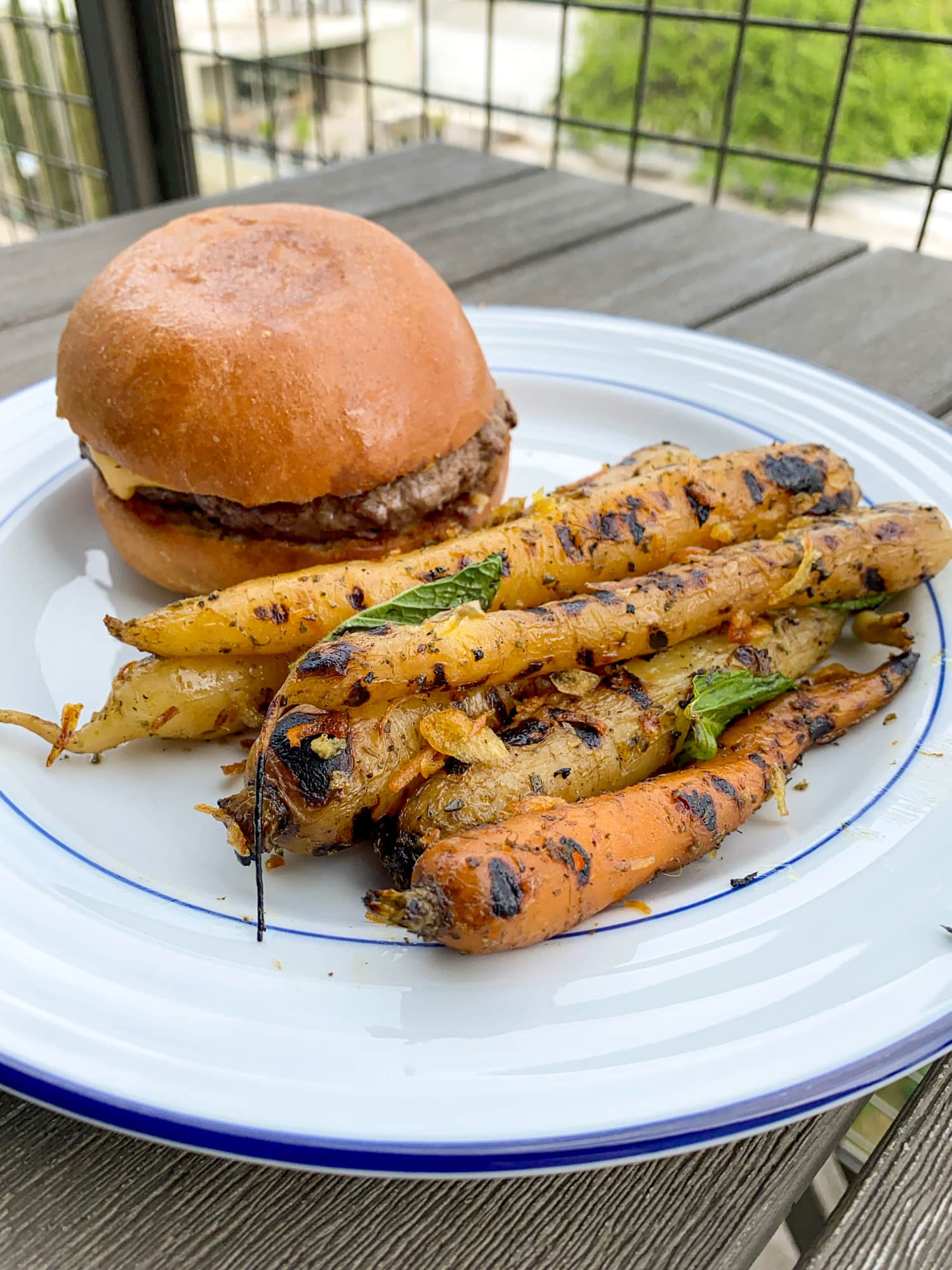 6. Launderette
Launderette is one of the best restaurants in Austin, whether for lunch, brunch, or dinner, and they do an excellent burger at all times of the day.
The Plancha burger is served with American cheese, special sauce, and pickles on a challah bun. For $17, it's pricey, considering the sides are extra, but it has a distinct flavor profile I've come to crave.
As you can see in the photo above, I tried to be healthy during the brief time they were doing home delivery, ordering roasted carrots instead of fries.
2115 Holly St, East Austin, TX, launderetteaustin.com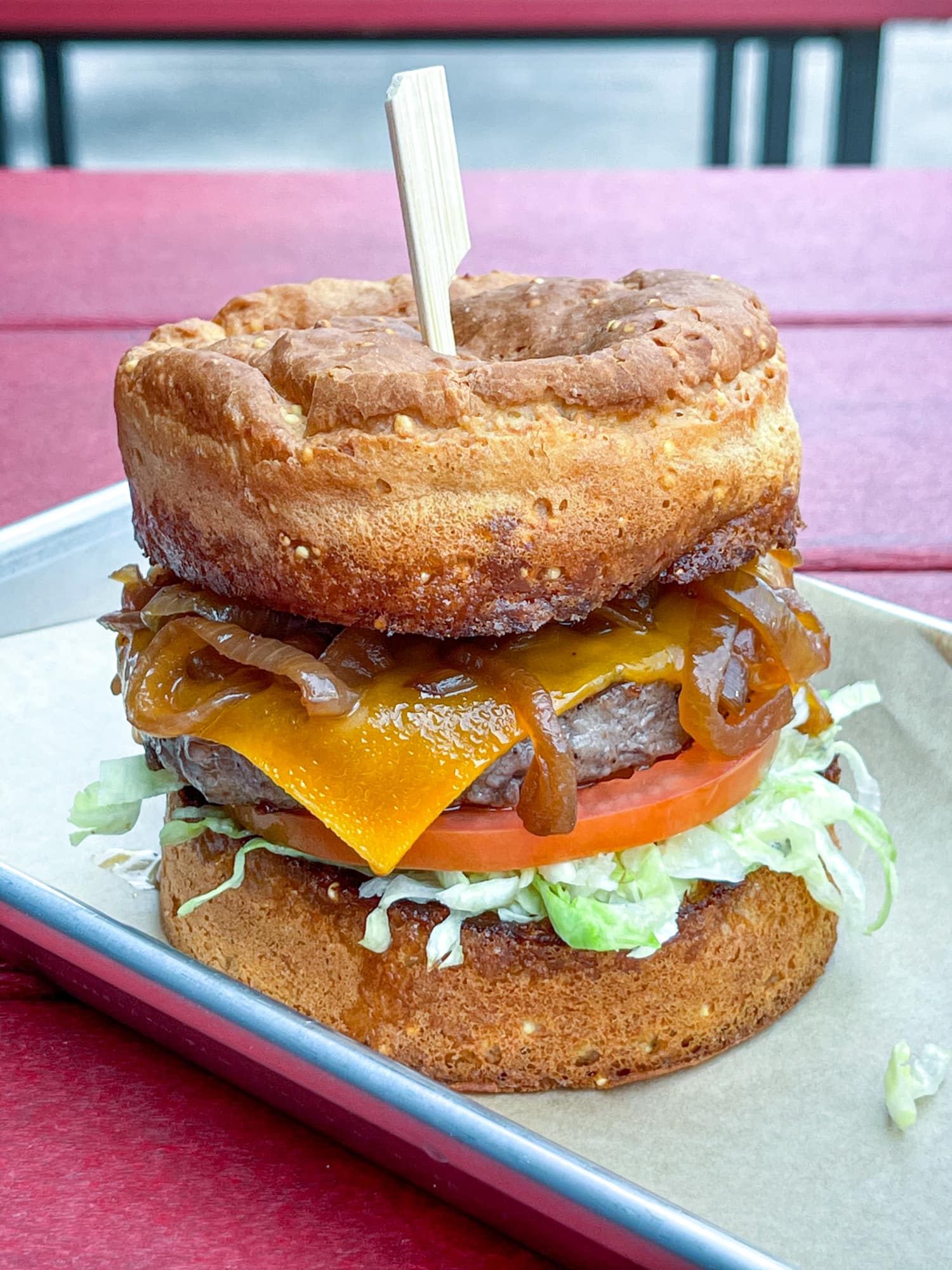 7. Hopdoddy Burger Bar
My first experience with Hopdoddy was soon after moving to Austin in 2016, when I waited 30 minutes in line to get a cheeseburger, fries, and thick milkshake at their South Congres Avenue location.
Everything was excellent, though I learned I could do their burger and fries or shake, but not all of the above in one sitting.
Since then, Hopdoddy has expanded quite a bit, with five locations in Austin, 25 more around Texas, and outposts in Arizona, California, Colorado, and Tennessee.
Burger options include:
Buffalo Bill with free-range bison, blue cheese, and steakhouse bacon.
Bacon Jam Double with white & yellow American cheeses and house-made tomato bacon jam.
Primetime with 8-ounce HD Signature prime blend beef patty topped with fondue cheese, caramelized onions, arugula, tomato, truffle aioli & HD1 steak sauces.
They also have chicken burgers, plant-based veggie burgers, and a sushi-grade ahi-tuna burger. And you can get your preferred burger on a bed of salad.
After some experimentation, I still come back to the classic beef burger with Tillamook cheddar cheese, lettuce, tomato, onion & Doddy Mayo for $8.25 total.
Multiple locations in Austin, TX, hopdoddy.com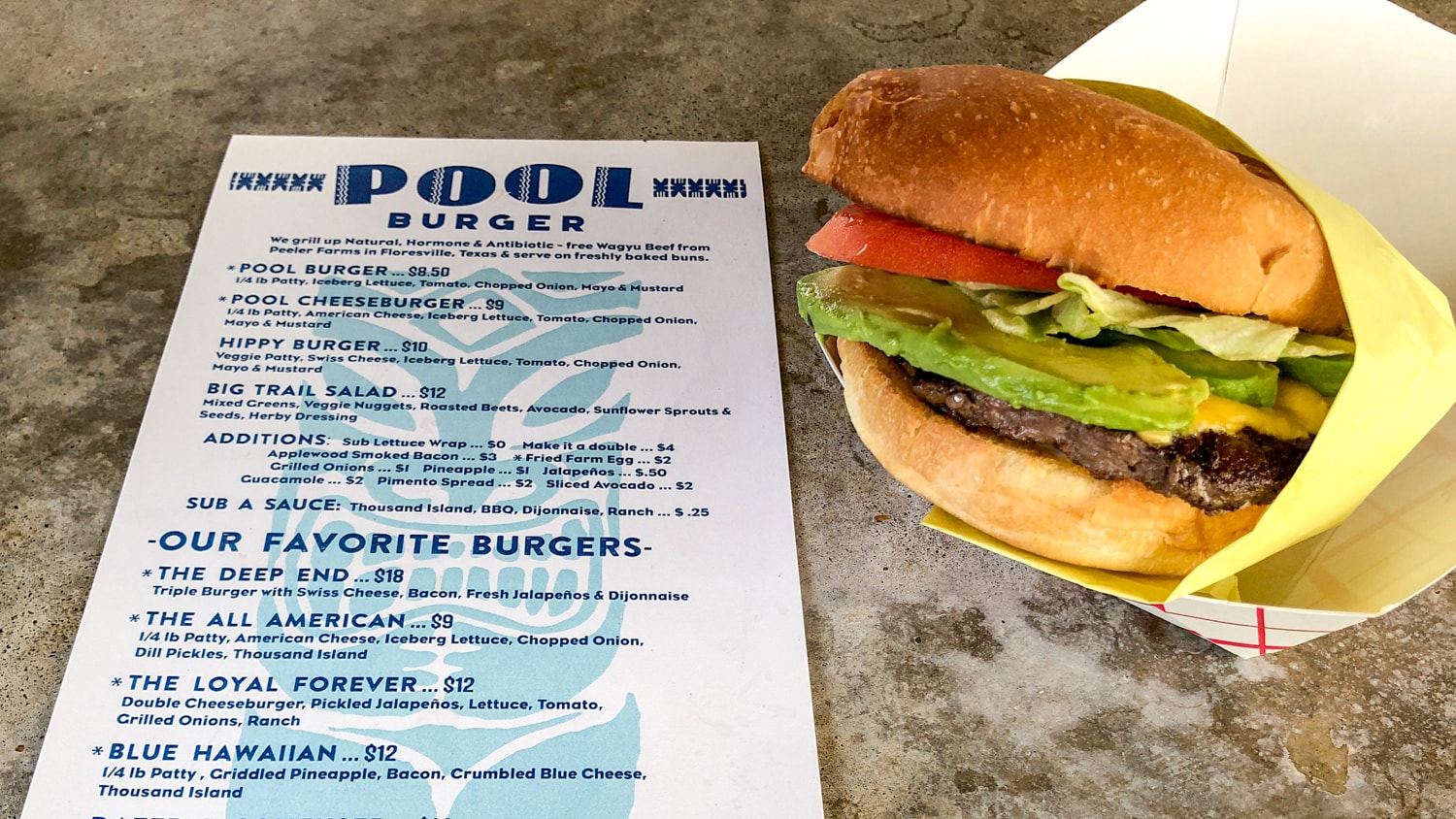 8. Pool Burger
In a nod to Austin's food truck culture, which has birthed such standout restaurants as Odd Duck and La Barbecue, I'm highlighting Pool Burger.
Natural, hormone and antibiotic-free wagyu beef patties are served more than a half-dozen different ways from an Airstream trailer one block north of Deep Eddy Pool.
They also serve veggie burgers, a fried egg BLT, and loco moco ("crazy burger" in Hawaiian).
Diners can enjoy tiki drinks with their meal on a small shaded patio. Happy hour is from 3 to 5 p.m., Monday to Friday.
I got the quarter-pound Pool Cheeseburger with avocado for $12.50. Next time, I'd make it a double.
2315 Lake Austin Blvd, Austin, TX, poolburger.com
***
The search for the best burgers in Austin is ongoing, and I'll be beefing up this list with more delicious options in the coming weeks.