One of the Texas capital's first restaurant openings in 2023 was AKB Hotel Bar at Archer Hotel Austin in the Domain NORTHSIDE.
Since it opened, AKB has served post-oak-smoked street corn, wood-fired pizzas, and craft cocktails in a Texas-inspired space.
Now that I live in North Austin, I've become more invested in dining options at the Domain. When an invitation to try AKB's new menu landed in my inbox, it piqued my curiosity, and I made plans.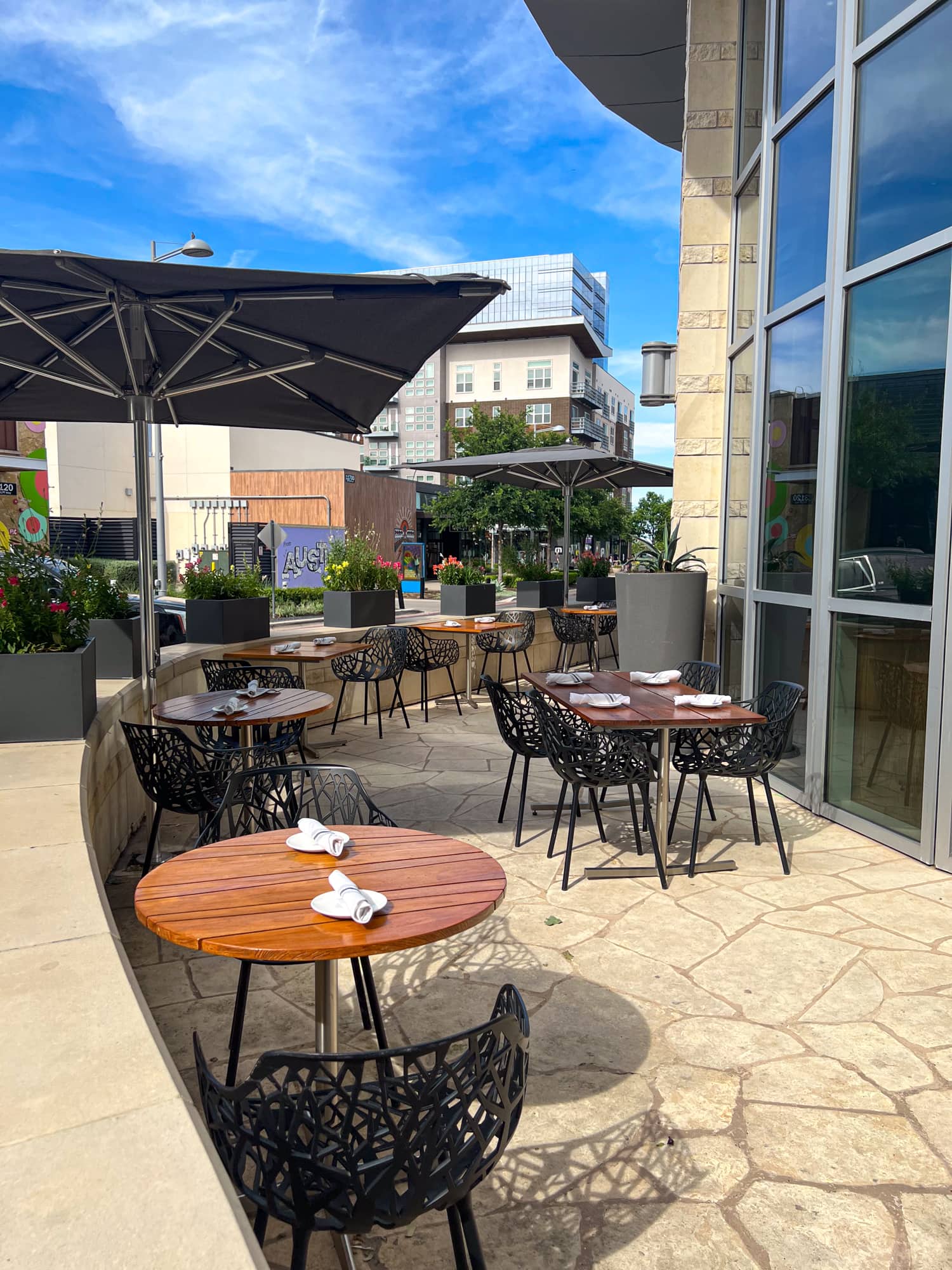 Late on a Monday afternoon in May, I drove to the Domain with Kel for drinks and dinner.
The AKB Hotel Bar is on the ground floor of Archer Austin, across the street from Nordstrom. Outdoor tables on its wraparound patio offer diners the option of fresh air and people-watching.
Dining Room
I, however, was excited to see the spacious interior, which Second Bar + Kitchen previously used before Archer introduced its restaurant.
The atrium allows tons of natural light, some of which is absorbed by the tall trees in planters that help break up the space.
Two giant stars are suspended from the glass roof, and another is incorporated into the floor at the center of the room.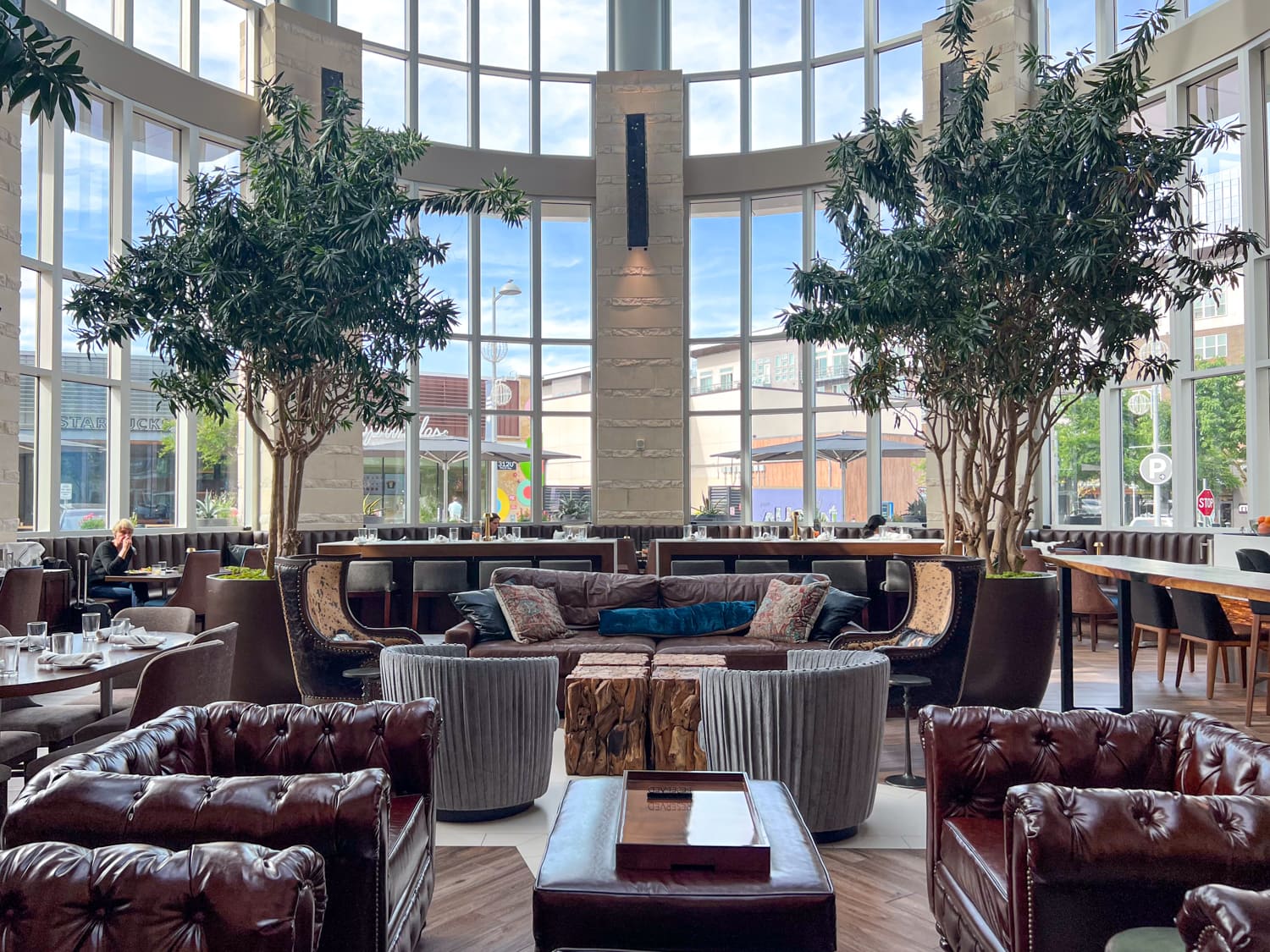 Several seating areas are available, including a lounge-like space with leather chairs and a sofa, a bar, communal high-top tables, and tables beneath all the windows.
Whether you're stopping by AKB Austin for a happy hour drink and appetizers or a full-fledged meal like ours, there's a place for you.
An eye-catching art installation by Show Goat Mural Works can be seen to the bar's right. It pays homage to sunsets in Austin, known as "violet crowns" for their sometimes purple hues.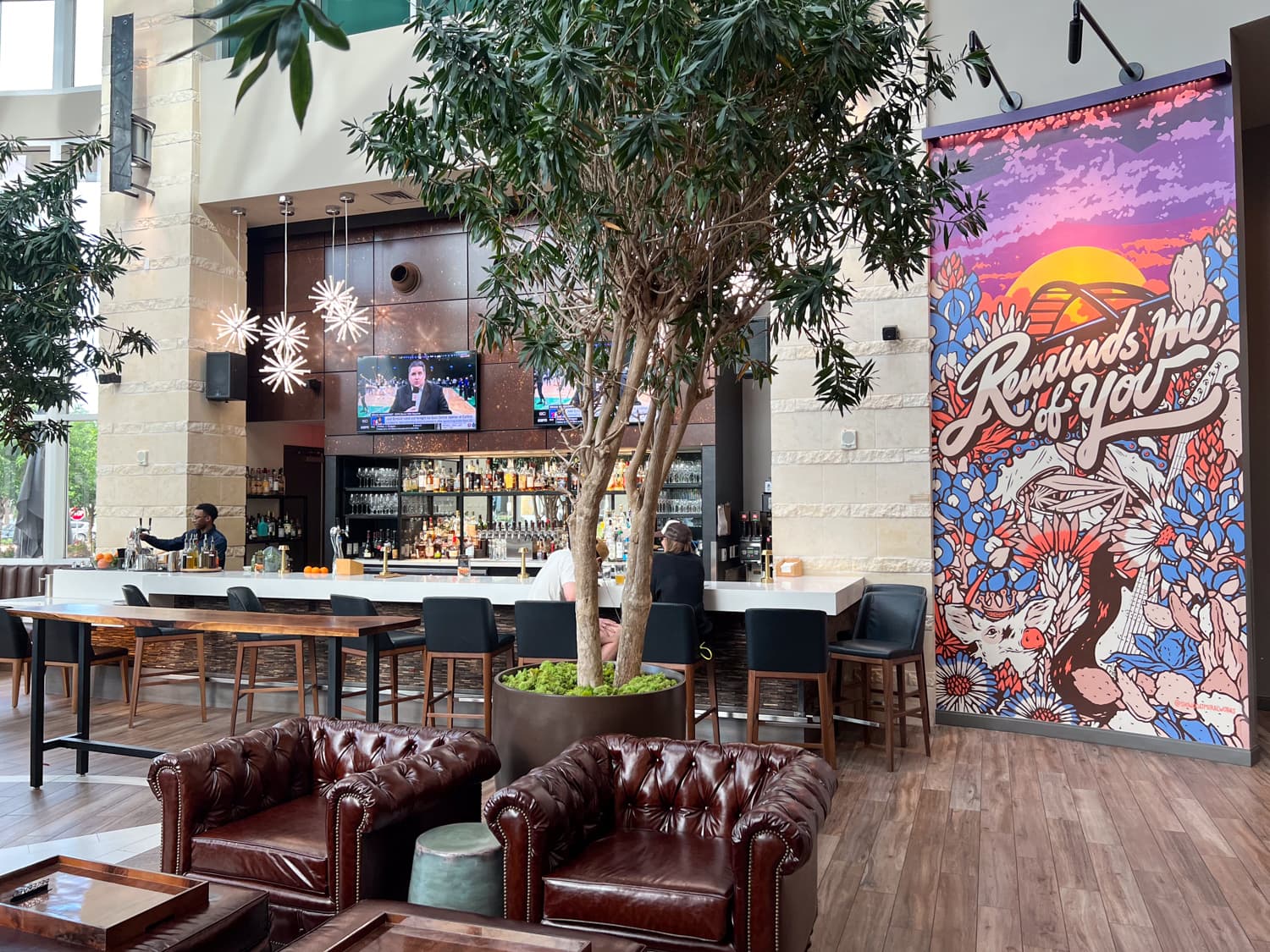 Drinks
My first drink of the night, Violet Sky, was also inspired by Austin's sunsets.
House-infused butterfly blue gin is mixed with Aperol, sparkling water, citrus syrup, and lemon to create a colorful cocktail.
Kel ordered the Catalina Breeze, a refreshing mixed drink with house-infused herbal vodka, limoncello, and pink grapefruit sparkling water.
I enjoyed them both but would be more inclined to order the lighter Catalina Breeze next time.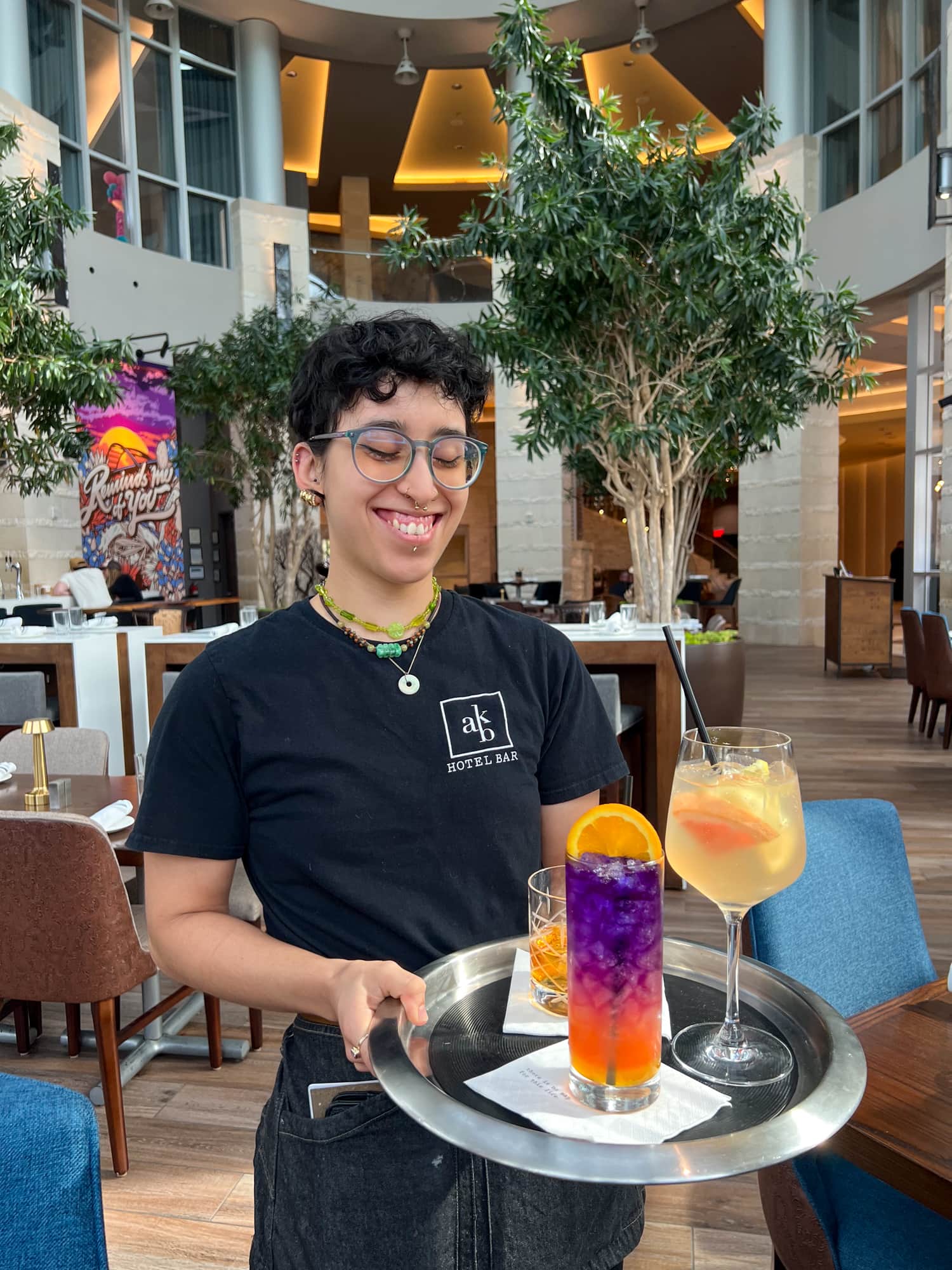 The Just in Thyme with Dos Hombres Mezcal, blackberry-thyme syrup, and lemon also sounded appealing.
An "As You Were" Old Fashioned is made with house-infused brown butter rye whiskey and can be enhanced with bacon for a few extra dollars.
I was happy to see three zero-proof cocktails offered. Mid-way through dinner, I ordered La Lolita with raspberry ginger shrub, grapefruit soda, agave, cinnamon, lemon, mint, and salt.
Texas beers are available on draft or by the bottle, while the wine list goes global. There's Chardonnay from Sonoma County, Pinot Noir from Willamette Valley, Malbec from Mendoza, and Champagne from France.
Dinner Menu
Ecuadorian-born executive chef Kendal Duque leads AKB Austin's culinary team.
His lengthy resume includes conceiving and opening Sepia, a Michelin-star restaurant in Chicago, and recognition as a 2x James Beard Award semifinalist for the Great Lakes Region.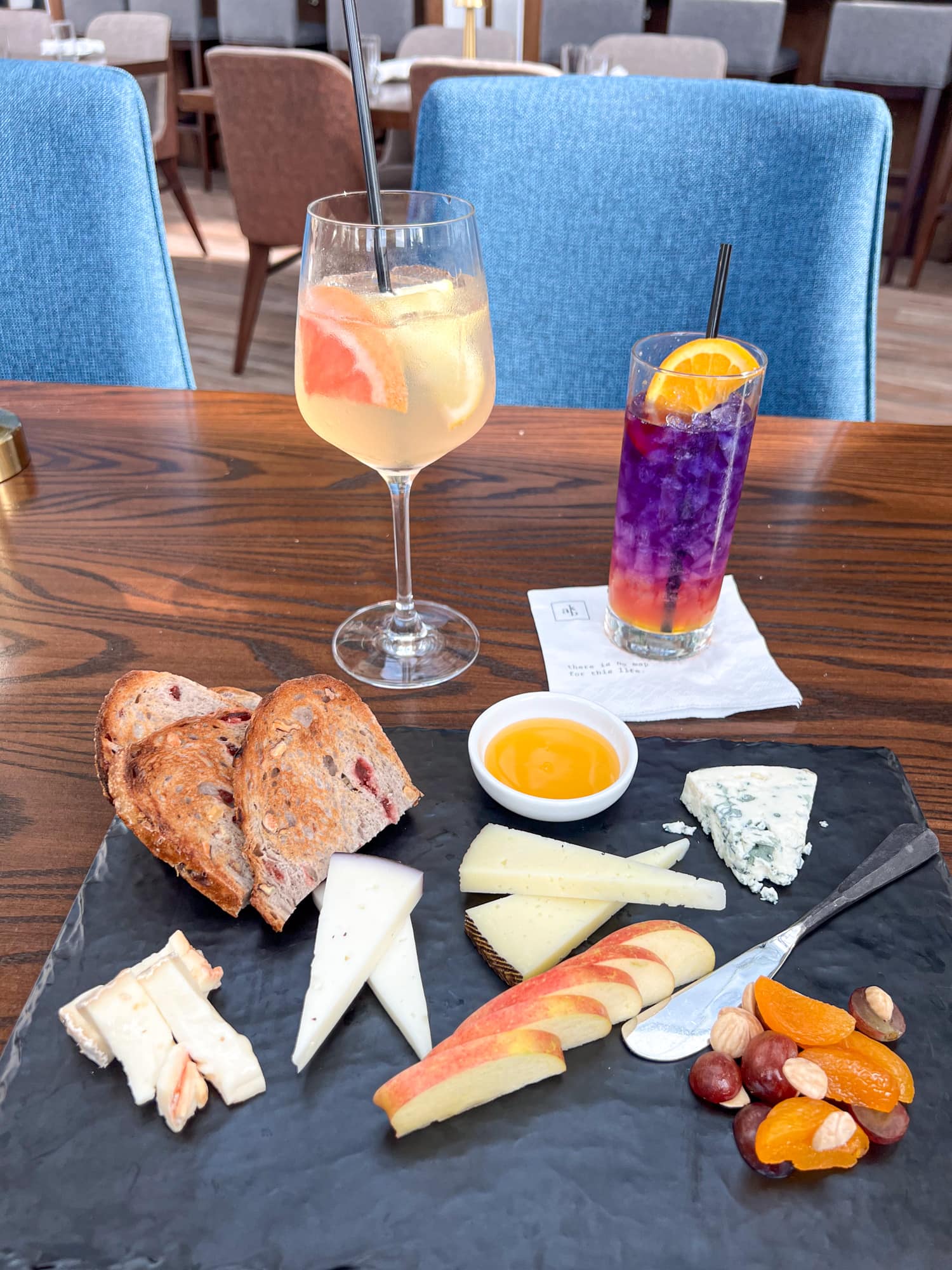 Before opening the AKB Hotel bar at Archer Austin, he was executive chef at the South Congress Hotel.
Duque is joined in the kitchen by chef de cuisine Mario Medina, whose resume includes Austin favorites like Parkside Restaurant and Le Politique.
Our feast began with an artisanal cheese board featuring four kinds of cheese from Antonelli's: brie, drunken goat cheese, taleggio, and blue cheese.
Cranberry-walnut sourdough, apples, apricots, Marcona almonds, and local honey accompanied them. We were off to a good start.
Shareable Plates
Next was the "street corn," with paprika, presented tableside with a waft of post-oak smoke.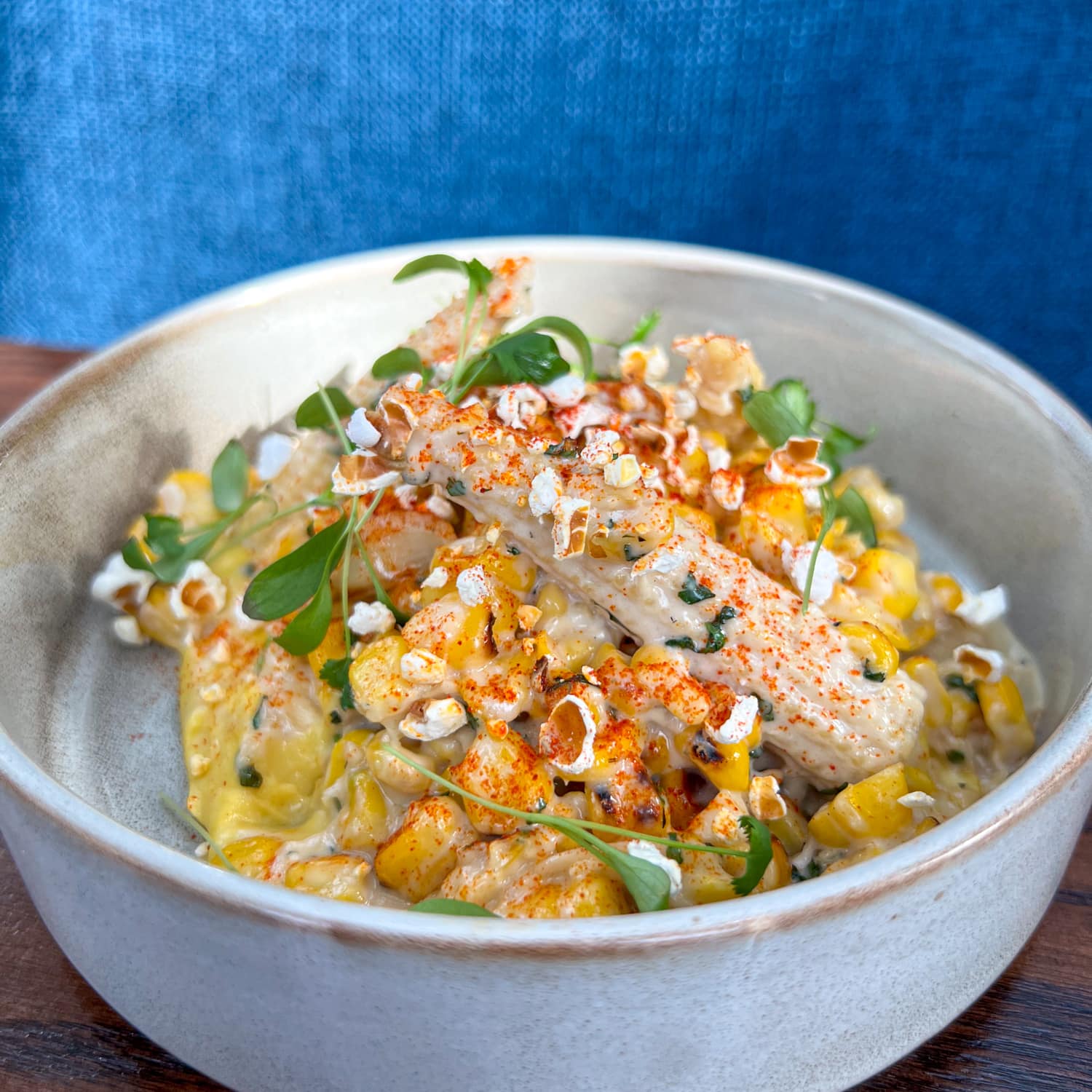 I liked that there was a puree of corn at the bottom, which added creaminess. Kel is a street corn lover and gave a sign of approval.
We also tried the pork riblets with cherry and hoisin glaze and cured cucumbers.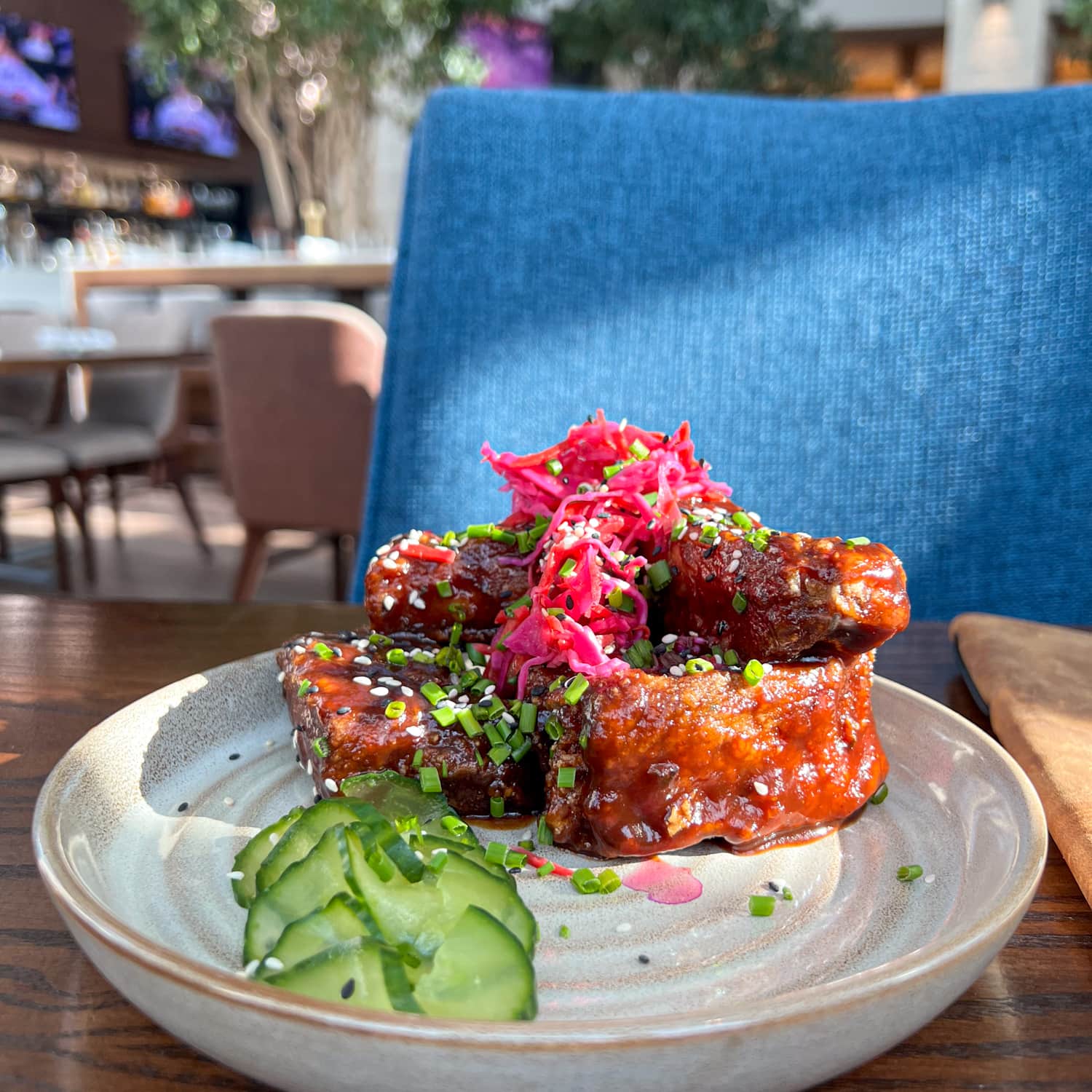 The bone marrow with herb salad and marinated shallots was served with toasted baguettes. It was a sizeable portion meant for sharing among more than two people.
We scooped out one bone's rich, gelatinous marrow to eat there and took the other home for another day (along with portions of many other dishes).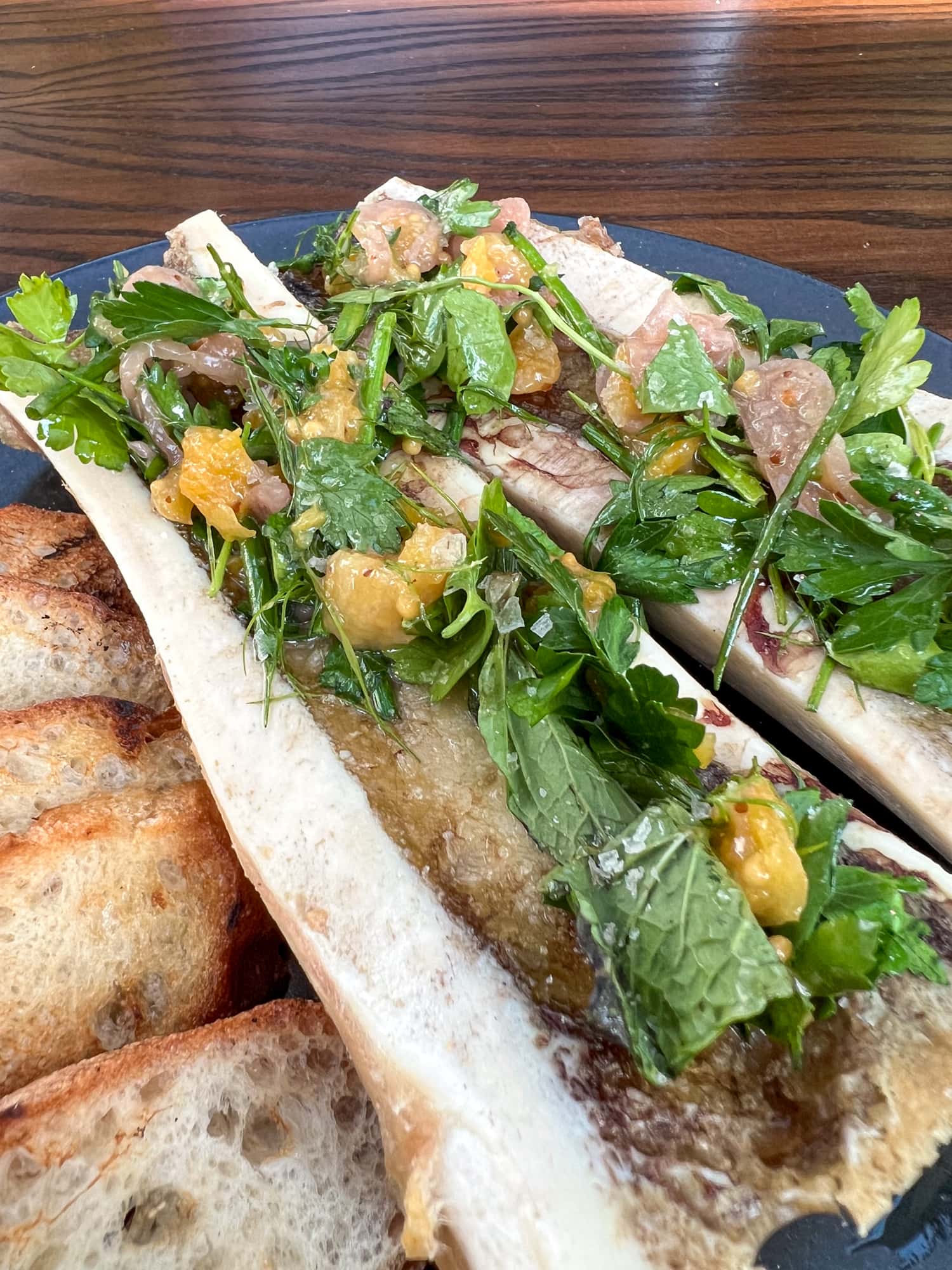 The bone marrow is no longer on the AKB dinner menu; however, I didn't want to miss the chance to share it here.
Some of the other shareable plates that are still available include truffle fries, crispy Brussels sprouts, roasted cauliflower, and bulgogi beef skewers.
Pizza
Dinner became a pizza party with the arrival of a wild mushroom pie with taleggio cheese, caramelized onion, roasted garlic, thyme, and truffle oil.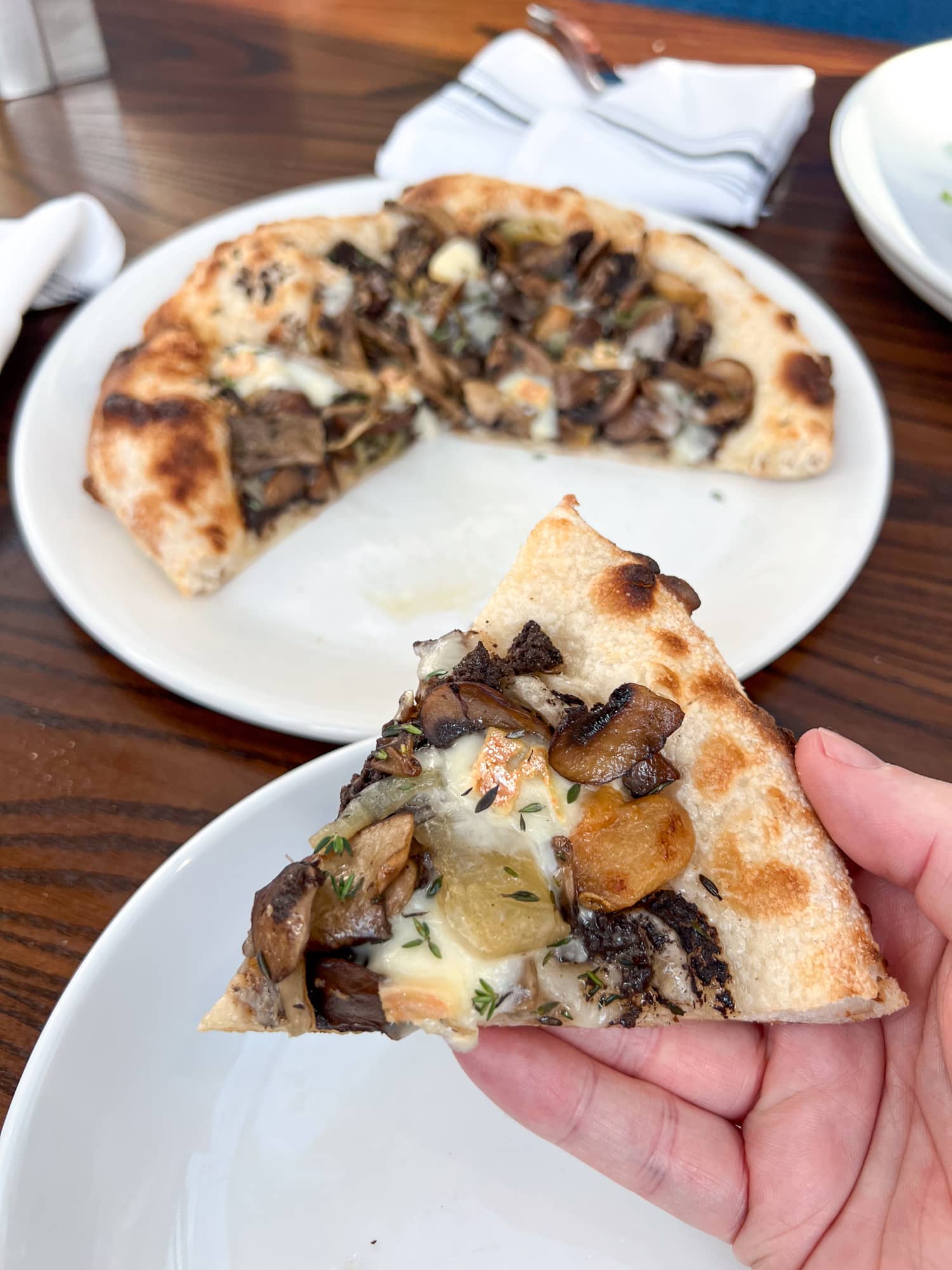 I usually prefer mushrooms in small doses; however, this pizza sounded too delicious to pass up. And it was. Kel and I were both impressed with the Neapolitan-inspired crust.
Additional brick oven pizza options include:
Margherita with fresh mozzarella and basil, and date and prosciutto.
Date and prosciutto with bleu cheese, fresh mozzarella, Parmigiano-Reggiano, arugula, and balsamic reduction (this sounds a little like my favorite Via 313 pizza, the Cadillac).
Pepperoni with mozzarella and tomato sauce.
Texas chorizo and sausage with feta, fresh mozzarella, jalapeño, cilantro, and spicy local honey.
Next time, I'd want to try the date and prosciutto. And I'm sure they'll mix it with different flavor combinations over time.
Entrees
Our favorite savory course at AKB Austin was the 10-ounce N.Y. strip steak with cipollini onions, fingerling potatoes, chipotle-garlic compound butter, and red wine demi-glace.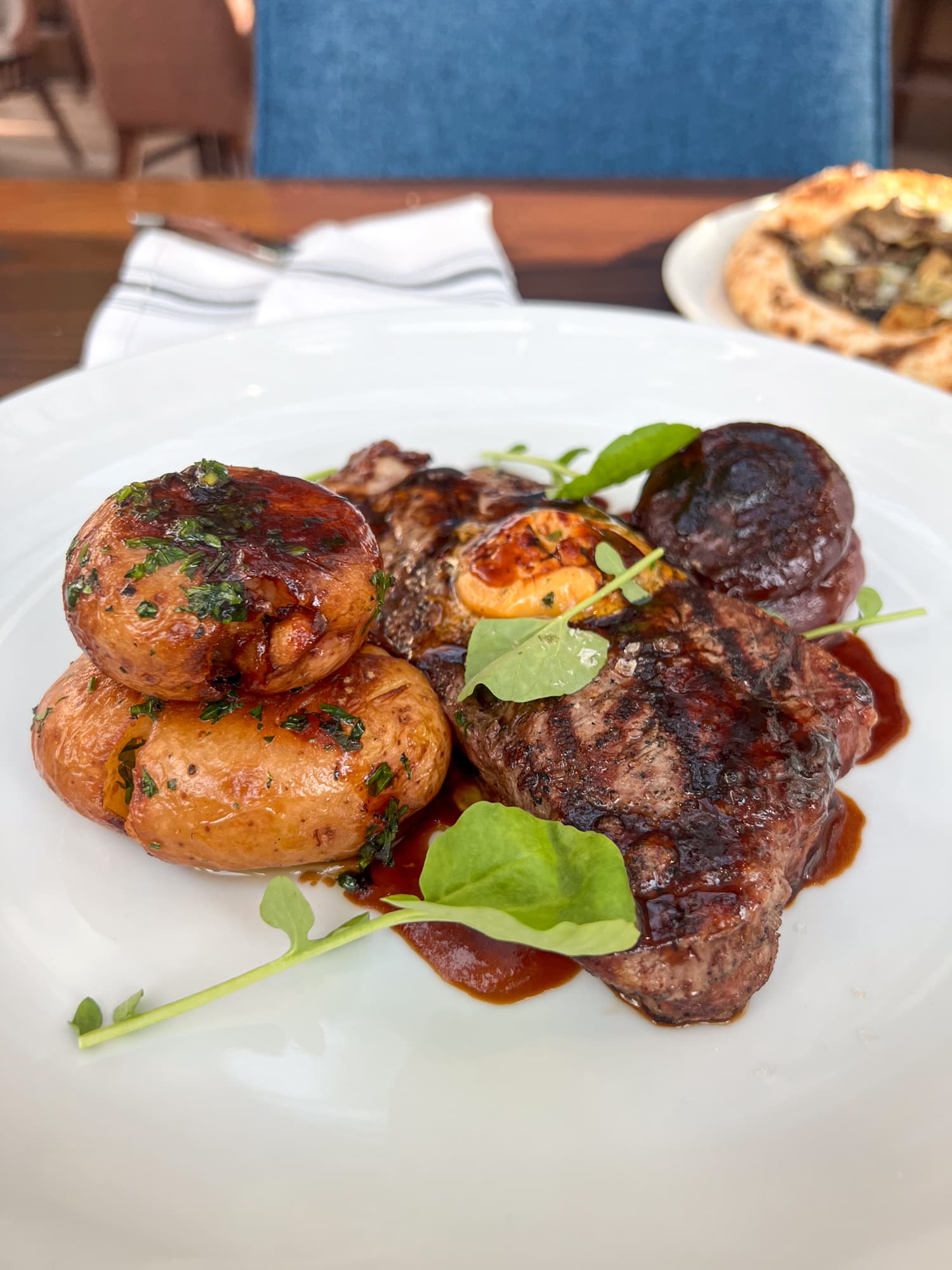 The dish was well-executed and downright delicious. The steak was cooked medium rare and was oh-so-tender, and I also appreciated the presentation.
Additional main courses include red curry tofu, branzino, sea scallops, and the AKB cheeseburger with cheddar, slow-cooked onion, and AKB sauce on a pretzel bun.
Dessert
We were pretty darn full at this point, but the show must go on, especially when it includes dessert.
First, a salted caramel bourbon shake with vanilla ice cream and Garrison Brothers Bourbon.
Kel and I visited the Garrison Brothers Distillery in the Texas Hill Country last year during one of our trips to Fredericksburg.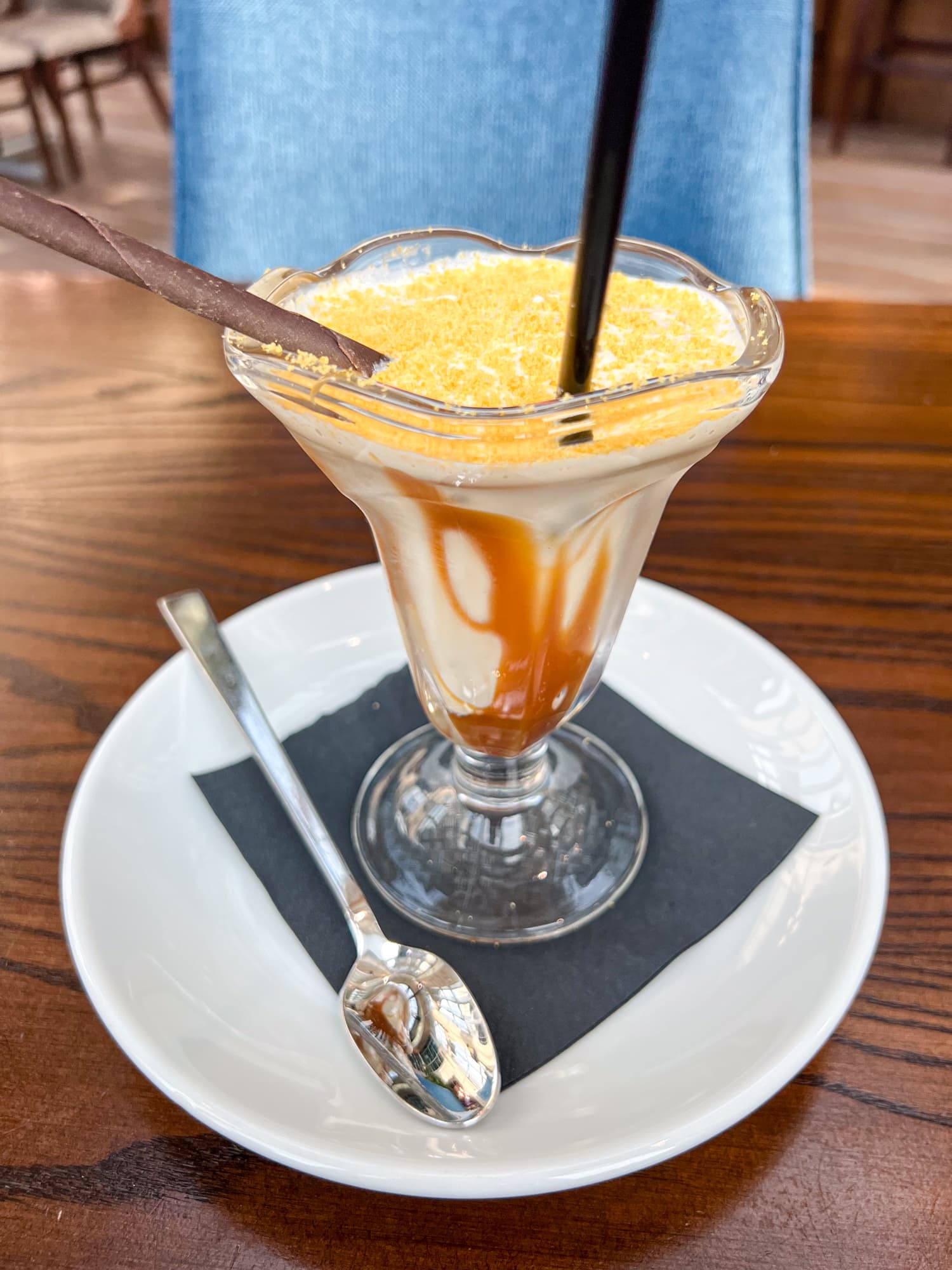 It worked well in this boozy milkshake, which I had no trouble finishing.
The other dessert we tried was a little fancier. The "PB+J" consists of a chocolate crémeux, raspberry couli, peanuts, candied baguette, and scoop of vanilla ice cream.
Once again, I gave points for the presentation, as I liked the structure. Removing the baguette was a fun opportunity to reveal what was underneath.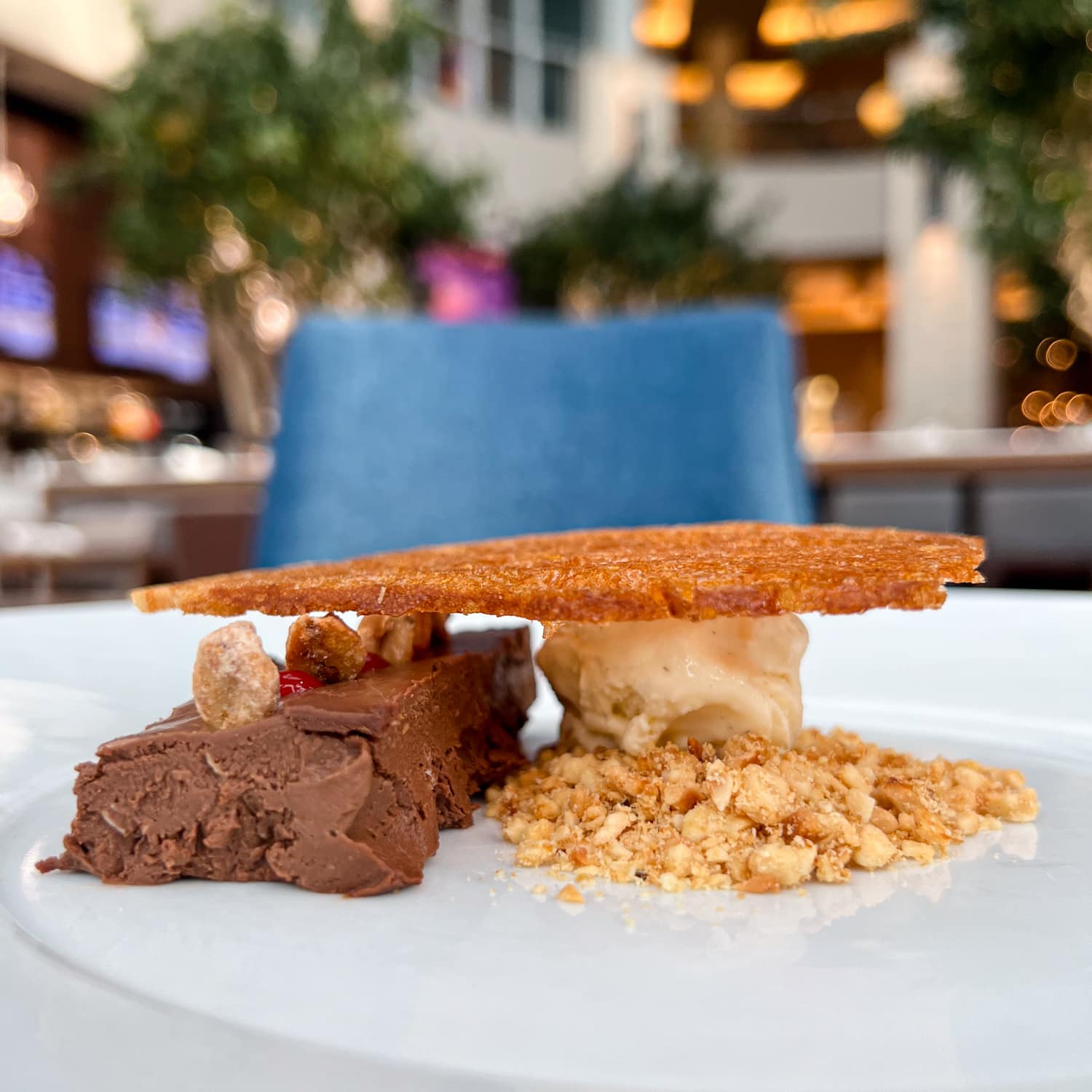 Although by my photo above, you can tell that I also had no problem scrunching down in my seat to take a closer look.
Creme brulee and cream cheese mousse cake are also on the dessert menu as I write this.
A hotel bar and restaurant aren't the first places I'd think to go for dinner at the Domain, but AKB at Archer Austin delivers a high-quality experience in a one-of-a-kind dining room.
Breakfast, brunch, and lunch are also available, with all the menus listed on the AKB Hotel Bar website.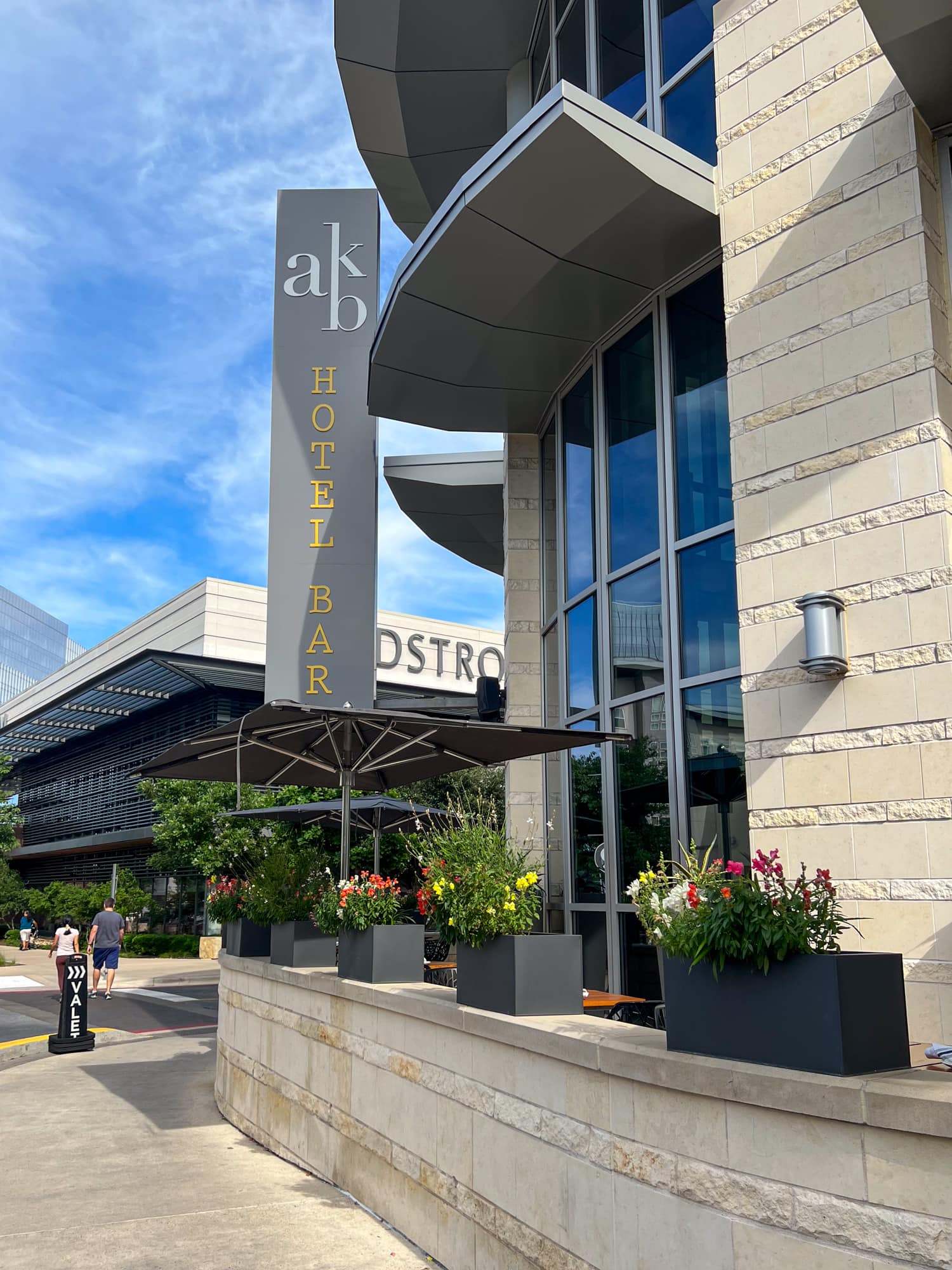 Visit AKB Austin
Address: Archer, 3121 Palm Way #101, Austin, TX
Dress Code: Casual
Reservations: Available via Resy for up to six people. Contact the restaurant for groups of seven or more.
Website: akbhotelbar.com
______
We received a complimentary meal at AKB to share our experience on Feastio.