The best places to eat in Oahu reflect Hawaii's diverse population. From Portuguese donuts at Leonard's to fresh shrimp on the North Shore, there's a lot for foodies to discover here.
Hawaiian food has evolved for over 800 years. The Polynesians, who were the first to settle the Hawaiian islands, got the ball rolling with their traditional cuisine.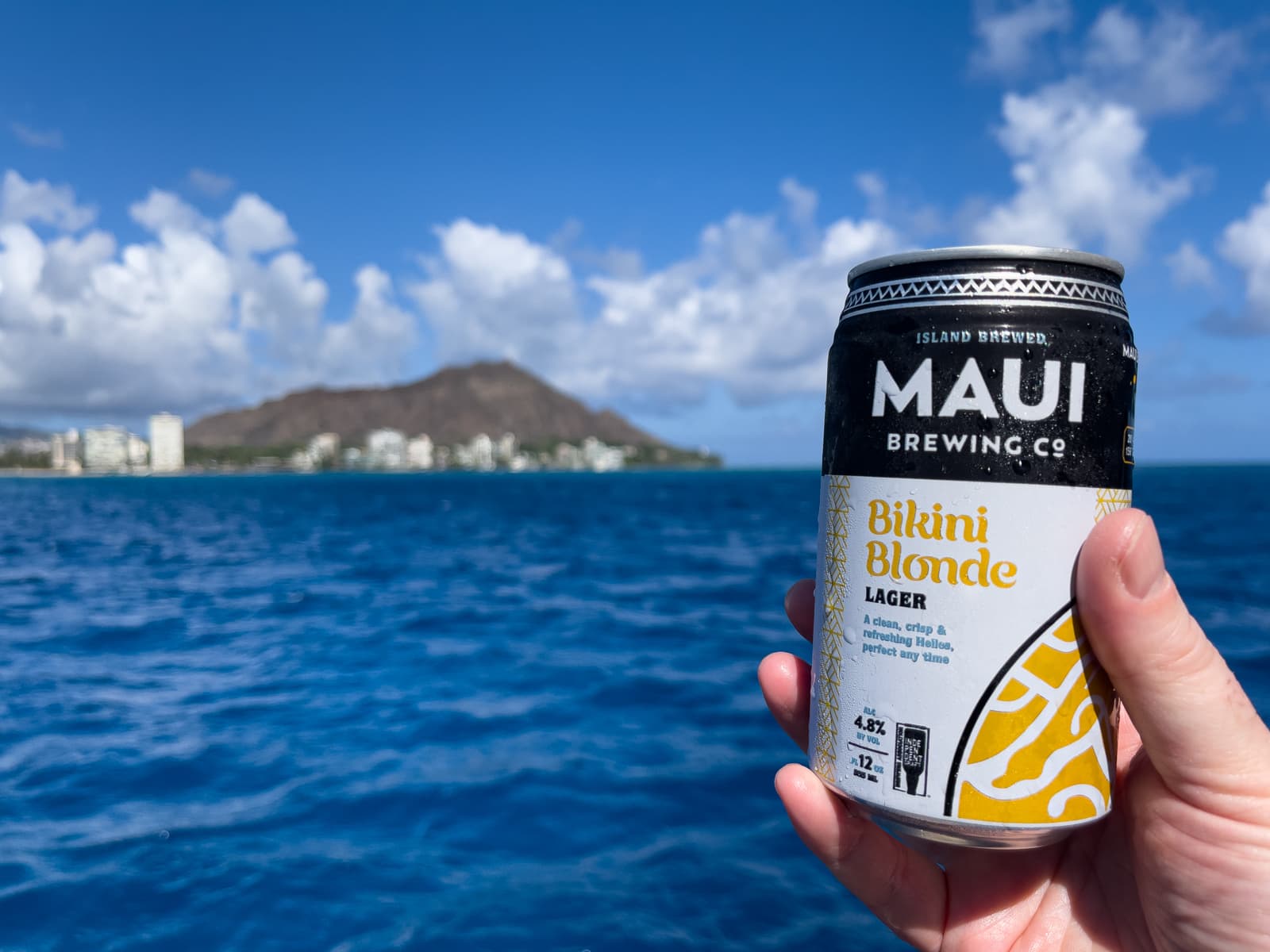 In the late 18th century, the Europeans and Americans arrived, followed by Asian immigrants from Japan, China, Korea, and the Philippines in the 19th and early 20th centuries.
Today, you can follow your curiosity and go in any direction. For me and my girlfriend, Kel, that direction was oh-so-sweet.
What follows is my list of the best places to eat in Oahu. It's intended to get you started on your journey of discovery.
Where to Go in Honolulu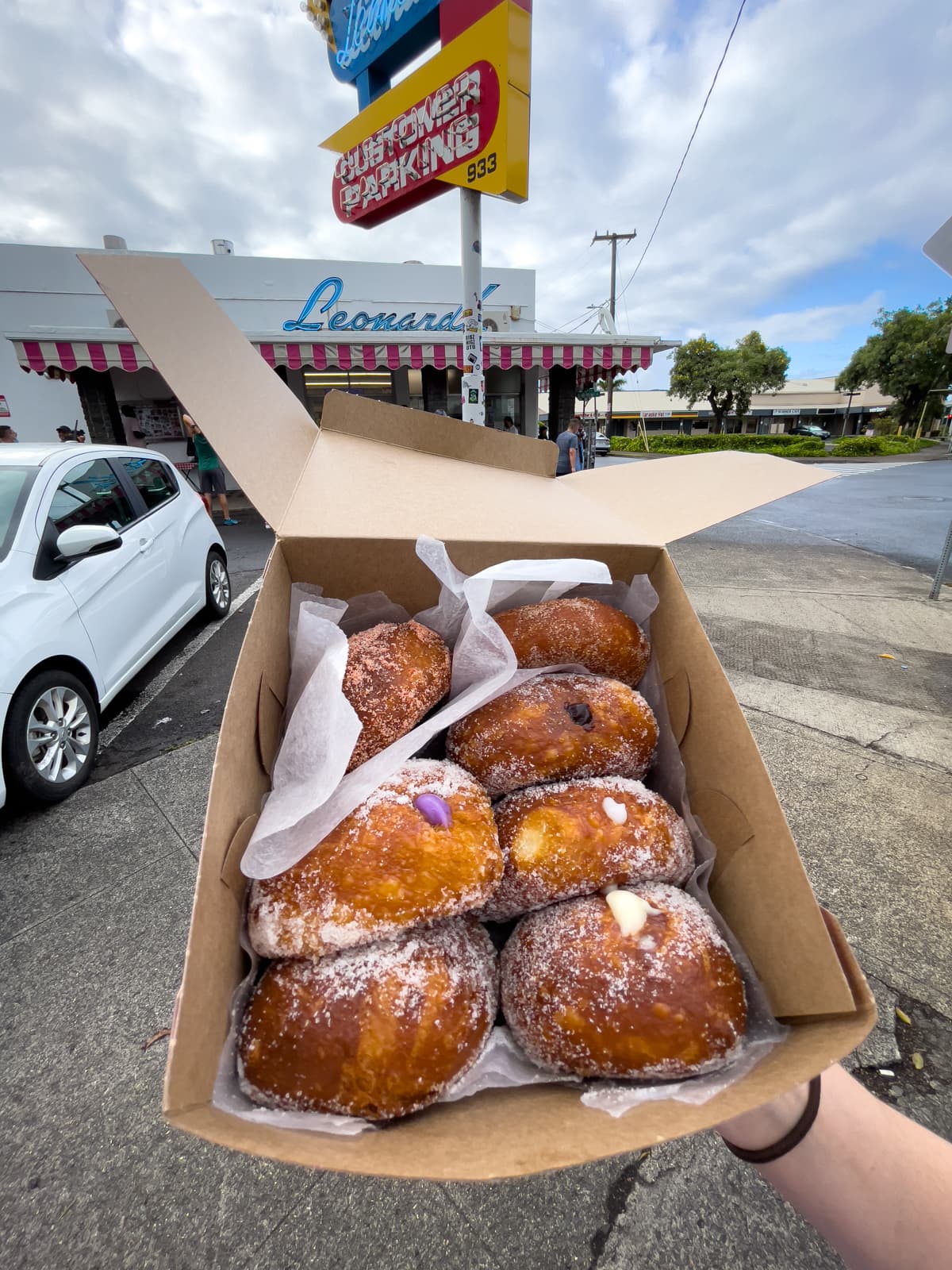 Leonard's Bakery
Our trip to Oahu began where all good trips begin -- in an early-morning line at a local bakery.
We weren't alone. Leonard's Bakery is a Honolulu institution, having opened its doors in 1952.
Their specialty is malasadas or Portuguese doughnuts. Although this is Hawaii, so they're also known as Hawaiian doughnuts.
The main ingredients are yeast, flour, eggs, milk, butter, sugar, and salt. They're deep-fried in oil and topped with sugar. What's not to love?
To improve upon the original, Leonard's made filled malasadas, or malasada puffs as they call them.
The dobash malasada with a chocolate filling was my favorite. Additional flavors include custard, coconut, macadamia nut, and guava.
Leonard's Bakery, 933 Kapahulu Avenue, Honolulu, HI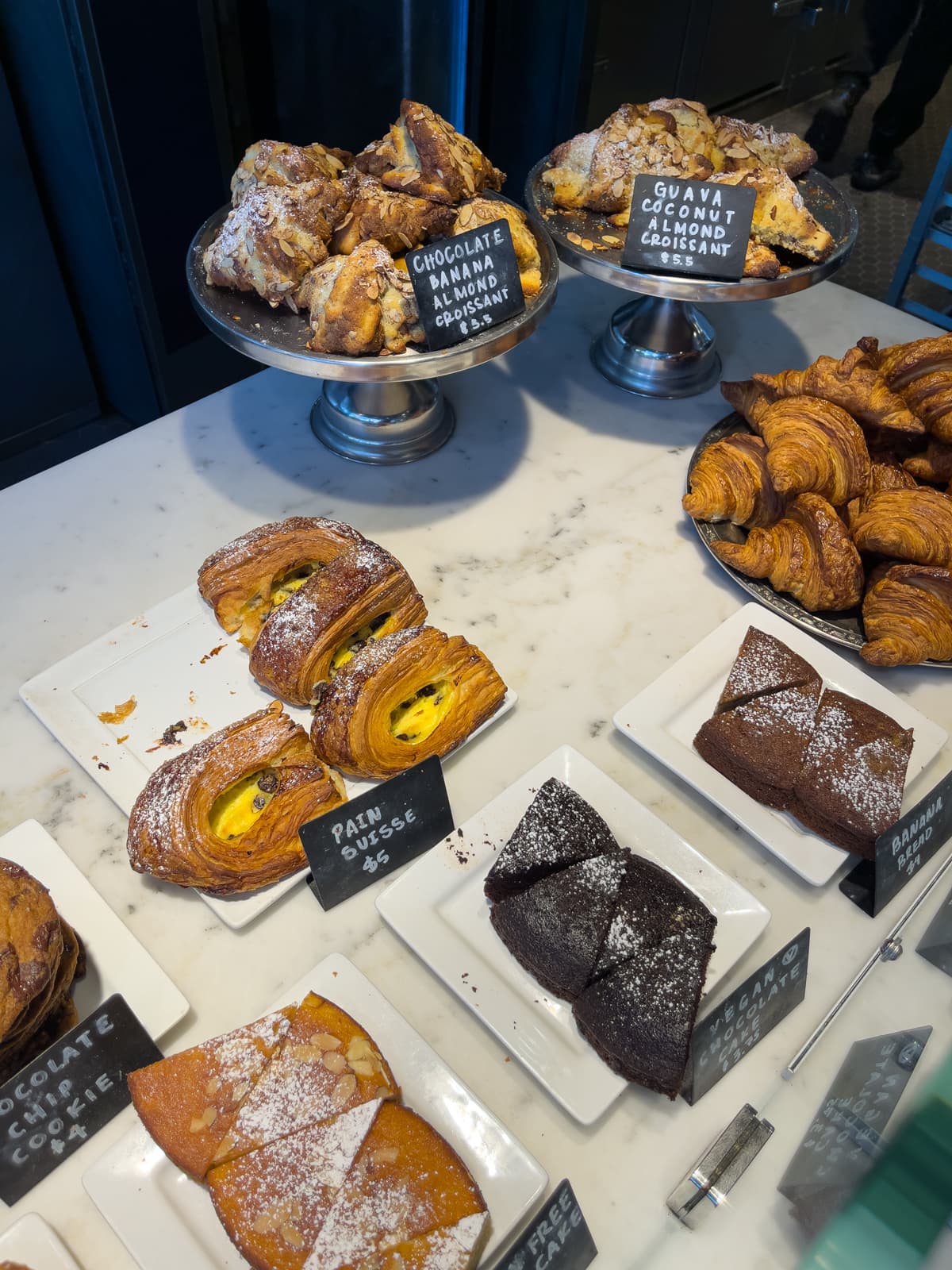 b.patisserie @ Kona Coffee Purveyors
Every morning, there's a line out the door at Kona Coffee Purveyors in Waikiki Beach, and it's not just for the local island coffee.
They also stock freshly-made pastries from b.patisserie, a James Beard Award-winning bakery in San Francisco.
It just so happened Kona Coffee was across the street from our hotel; we went to this great place three times during our week on the island.
The chocolate banana almond croissant was my favorite—pure indulgence.
And the Pain Suisse, a croissant filled with pastry cream cheese and chocolate chips, cemented for me why this is one of the best places to eat in Oahu.
Kona Coffee Purveyors, Kuhio Avenue Mall Entrance - International Marketplace, 2330 Kalakaua Ave #160, Honolulu, HI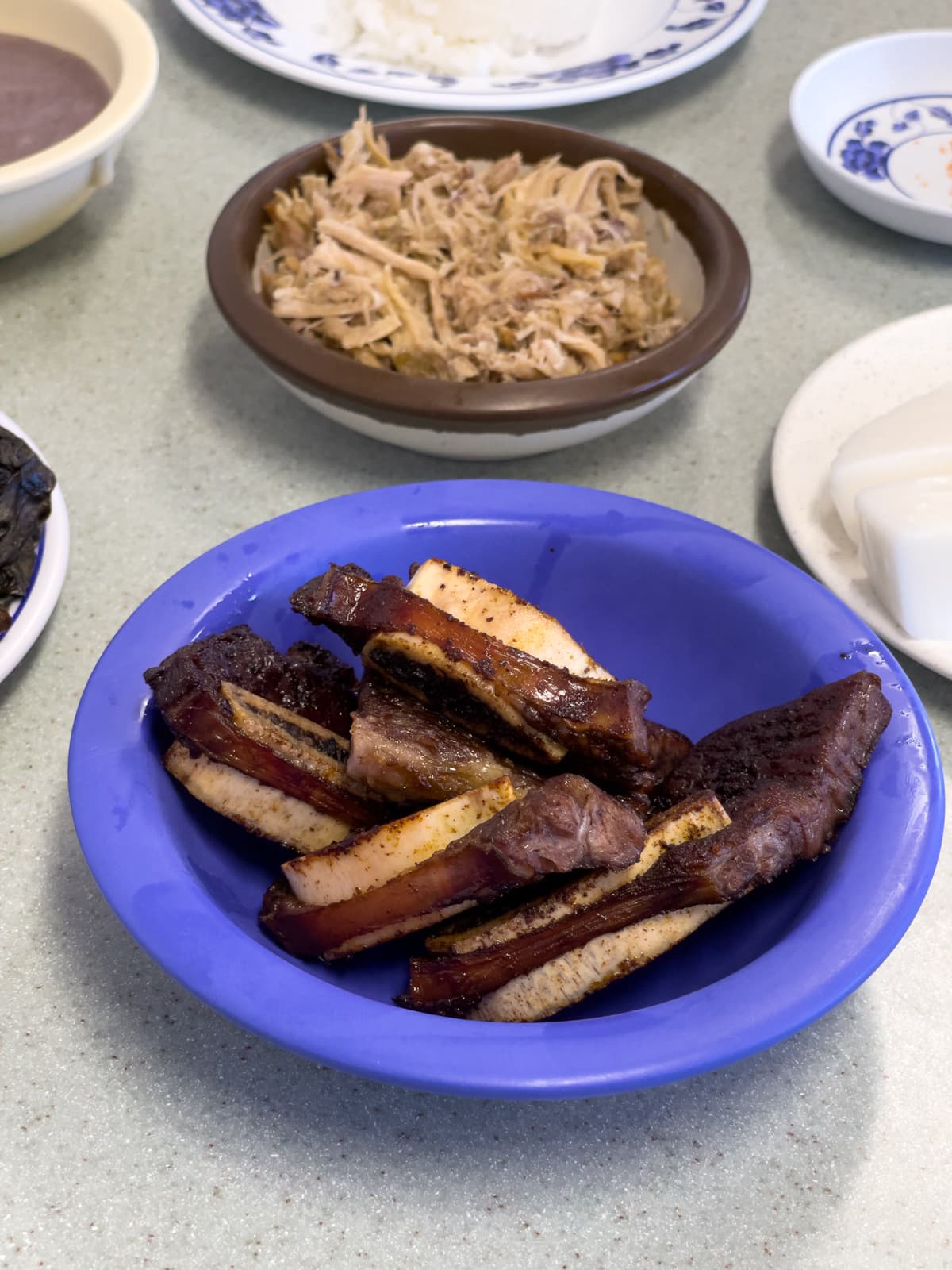 Helena's Hawaiian Food
Head to Helena's Hawaiian Food in downtown Honolulu for a traditional Hawaiian feast at one of Oahu's best restaurants.
This humble eatery, popular with locals and tourists alike, was opened in 1946 by Helen Chock.
She cooked typical Hawaiian dishes there for decades, passing away in 2007 at 89.
Her dedication to serving others reminds me of Leah Chase in New Orleans. Both women won James Beard Awards for their work.
Today's menu features classic Hawaiian fare, with most dishes under $8 each.
Our $30 lunch for two included:
Short ribs Pipikaula-style
Kalua pig
Laulau (pork and fish wrapped and cooked in taro leaves)
Poi (a staple pudding-like dish made from cooked taro root)
White rice
Coconut water
The short ribs may be their signature dish, but I enjoyed the Kalua pig the most.
It was my first time trying laulau; I was not too fond of the taste of the taro leaves, so I avoided them in favor of the meaty filling.
The poi was new to me and must be an acquired taste because I wouldn't say I liked its sourness.
Seventy-five years after it opened, The New York Times included Helena's Hawaiian Food in its exciting restaurants for 2021.
Helena's Hawaiian Food, 1240 N School St, Honolulu, HI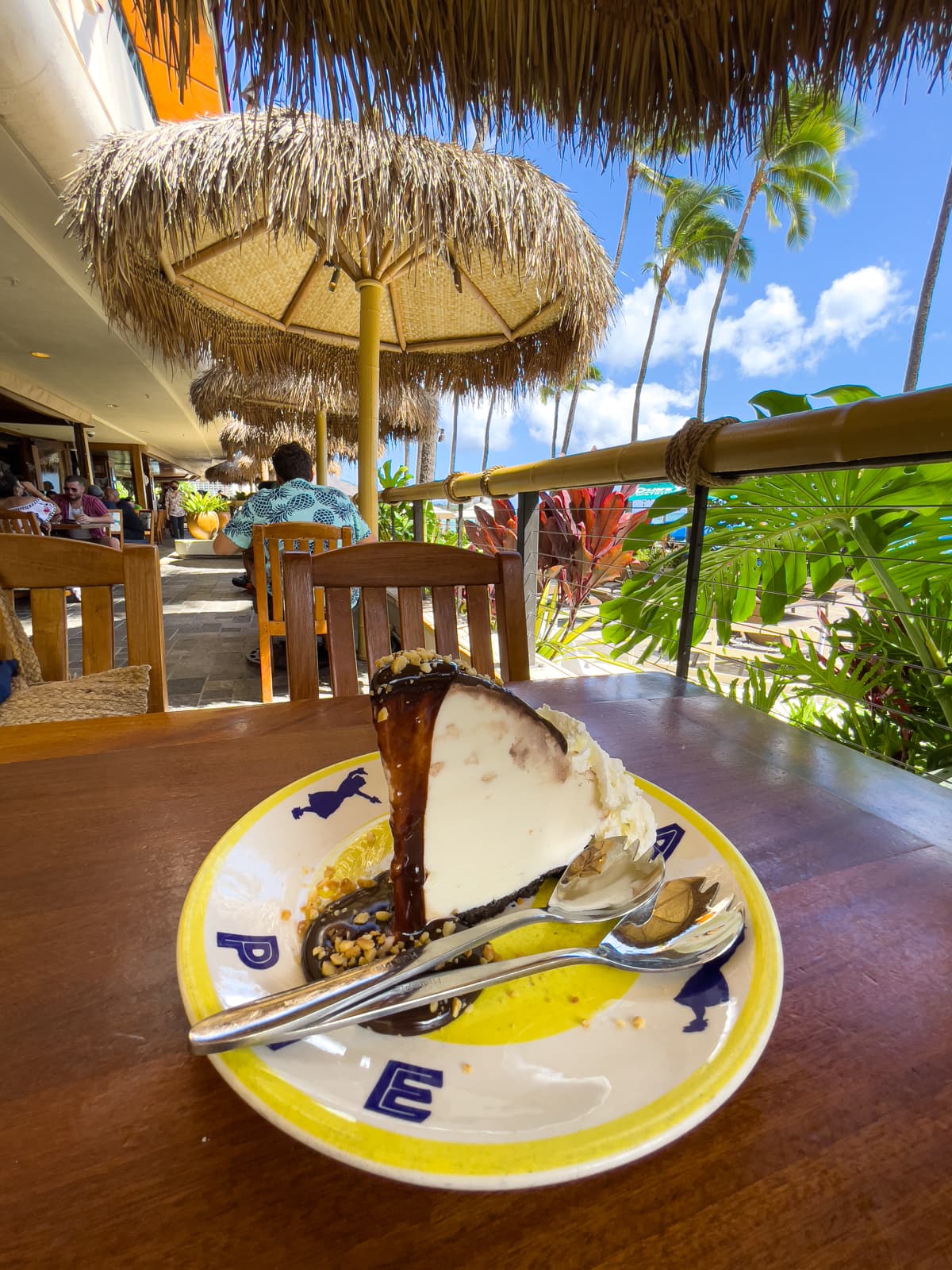 Duke's Waikiki
Duke's Waikiki by the beach serves colossal slices of Hula Pie, their signature dessert.
Should you book a table at Duke's to try this pie? Yes, yes, you should.
A mountain of macadamia nut ice cream is covered with hot chocolate fudge and fresh-crushed nuts.
There's some whipped cream, but otherwise, nothing light about this pie.
Served on custom plates with women hula dancing makes it all the more worthy of a place on your Instagram feed.
I recommend a table on the patio of this Oahu restaurant to enjoy the lush foliage surrounding the pool and catch a glimpse of the Pacific Ocean.
Duke's Waikiki, 2335 Kalakaua Ave #116, Honolulu, HI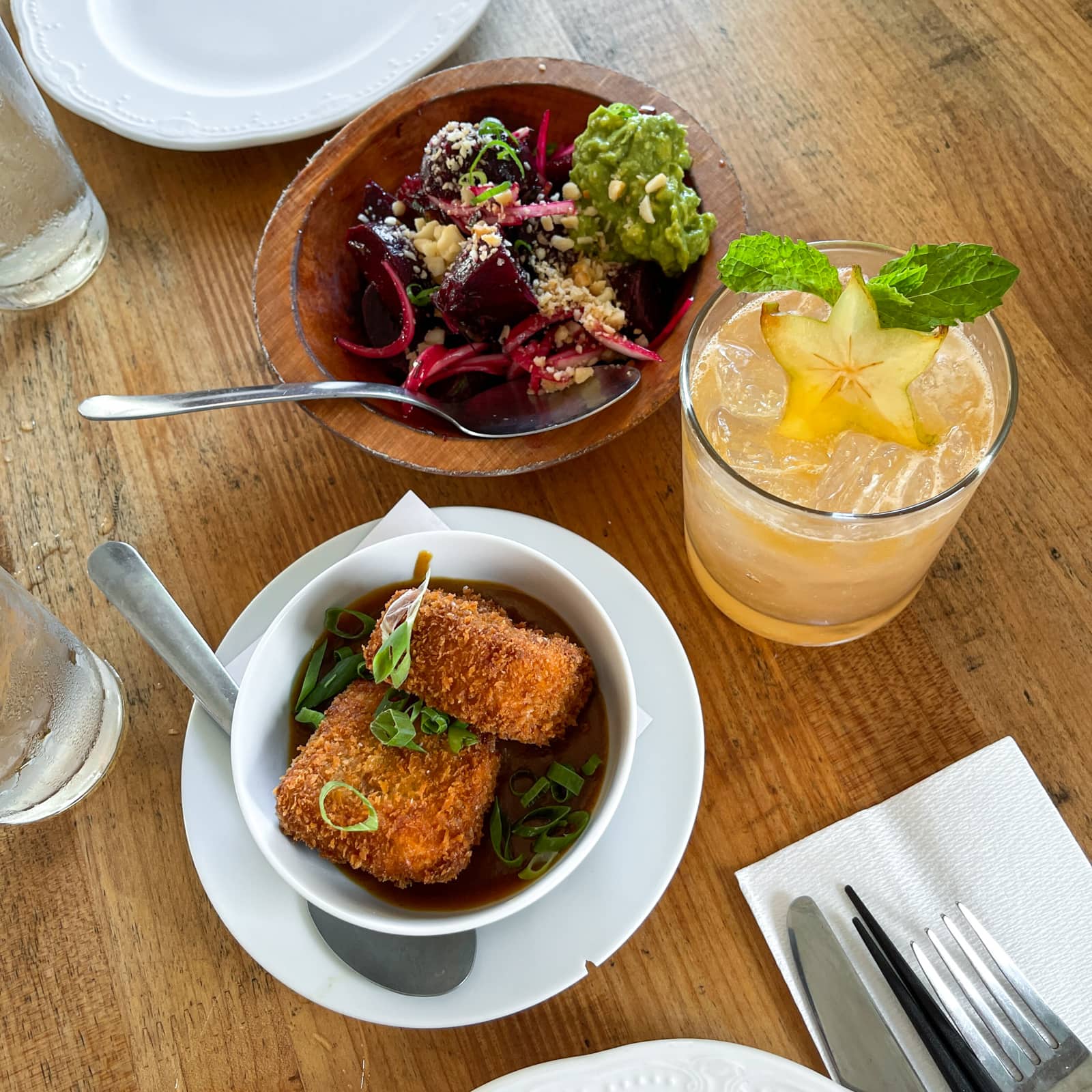 Mud Hen Water
What's in a name? In the case of Mud Hen Water, a literal translation of the avenue on which it was opened ("Waialae" means "water mud hen") and an endangered Hawaiian bird.
In 2017, not long after Oahu native and restauranteur, Ed Kenney opened Mud Hen Water, it was mentioned as one of Eater's essential restaurants in America.
Here, you'll find a mashup of shareable plates reflecting Hawaiian cuisine's diverse influences.
I can vouch for the chicken long rice croquettes on a bed of Japanese curry and beet poke with avocado, pickled limu, and smoked macadamia nuts.
I tried lau lau again, this time with Molokai venison and pork and a side of sour poi vinaigrette. But it's just not for me.
Dinner concluded on a positive note. We were delighted by the gluten-free chocolate-kiawe bean brownie with black sesame gelato and mac nut toffee.
Kiawe is a species of mesquite tree introduced to the Hawaiian islands in 1828.
Mud Hen Water, 3452 Waialae Ave, Honolulu, HI
Related: Hawaiian-French Fusion at M by Jeremy Shigekane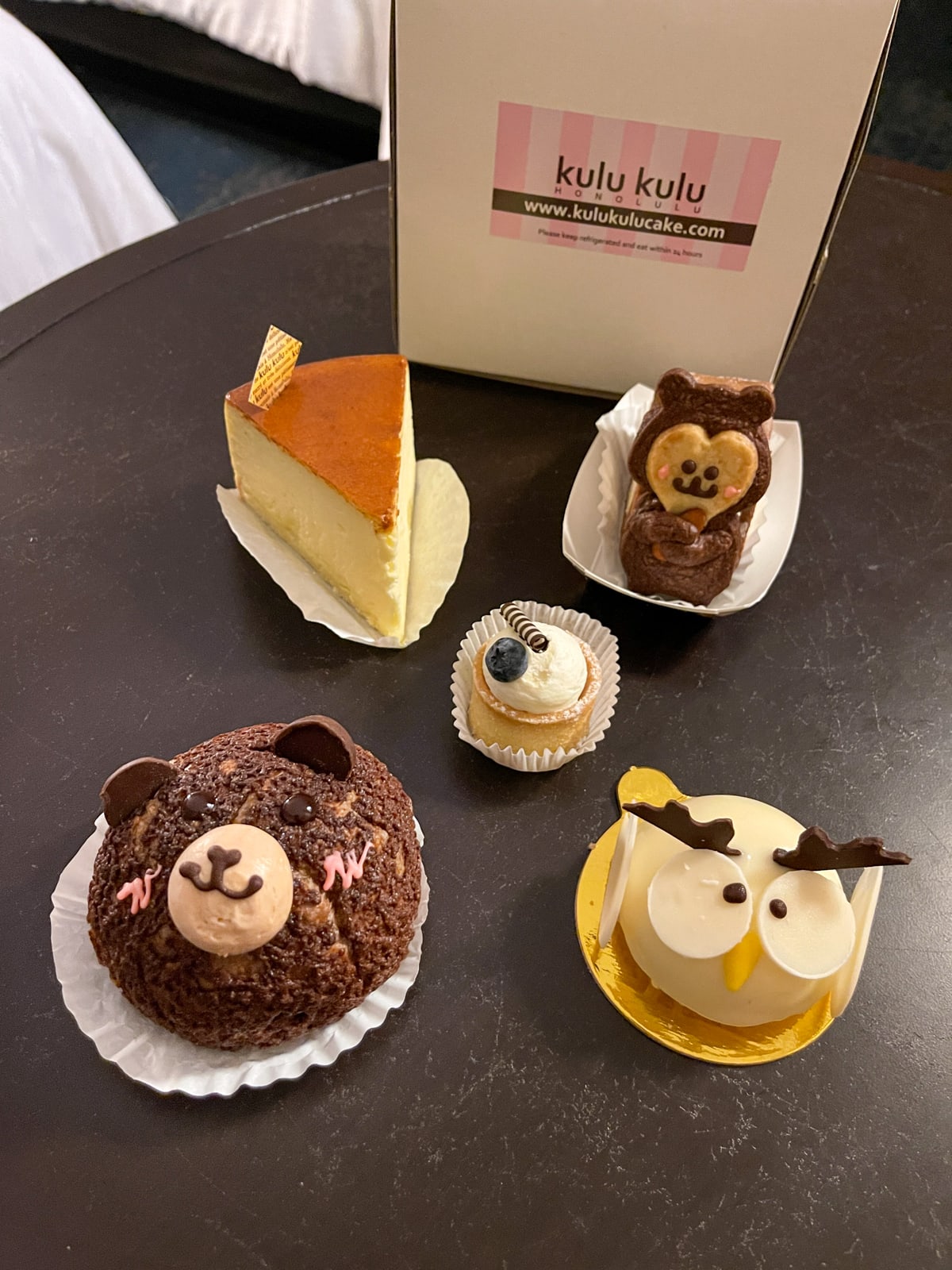 Kulu Kulu Honolulu
Speaking of desserts, I want to throw in one more sweet spot in Honolulu before we head to the North Shore.
Kel and I were walking through the Royal Hawaiian Center, a modern indoor/outdoor mall in Waikiki, when I spotted Kulu Kulu, a Japanese cake shop.
It's been ten years since my all-too-brief trip to Japan; however, one thing I haven't forgotten is how creative the Japanese get with their cakes.
Kulu Kulu is cute overload; we each picked a few pastries to bring back to the hotel.
I thought of my friend Jodi's affinity for owls when I ordered the white owl with white chocolate mousse cake and orange cream filling.
Much to my liking, the bear puffs were filled with chocolate custard cream, while the Japanese-style soufflé cheesecake left me wanting more.
When it comes to cheesecake, I prefer Basque or New York Style.
Signature pastries include the strawberry roll cake and diamond puff.
Kulu Kulu, Royal Hawaiian Center - 2nd floor B1b, Kalakaua Ave, Honolulu, HI
The North Shore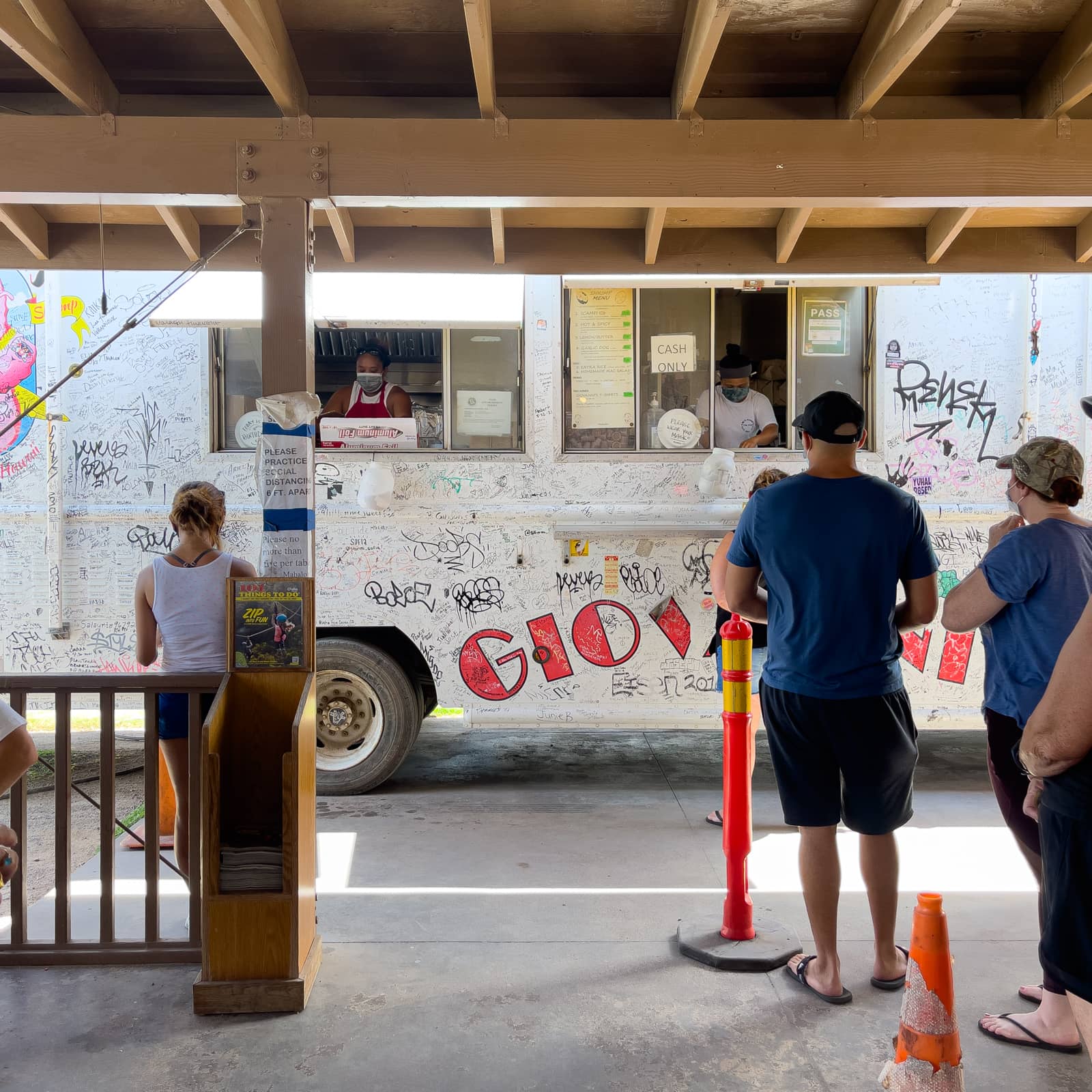 Giovanni's Shrimp Truck
I first became aware of the shrimp trucks on Oahu when food blogger Mark Wiens wrote about them for my adventure travel blog years ago.
On the day Kel and I rented a car and drove around the island, I suggested we get lunch at Giovanni's shrimp truck, which opened in 1993 and is the oldest.
Mark had warned that there was a long line during the lunch rush.
There's probably a long line all the time, judging by what we saw at other popular spots like Leonard's and Helena's.
Patience comes in handy when going to the best places to eat in Oahu.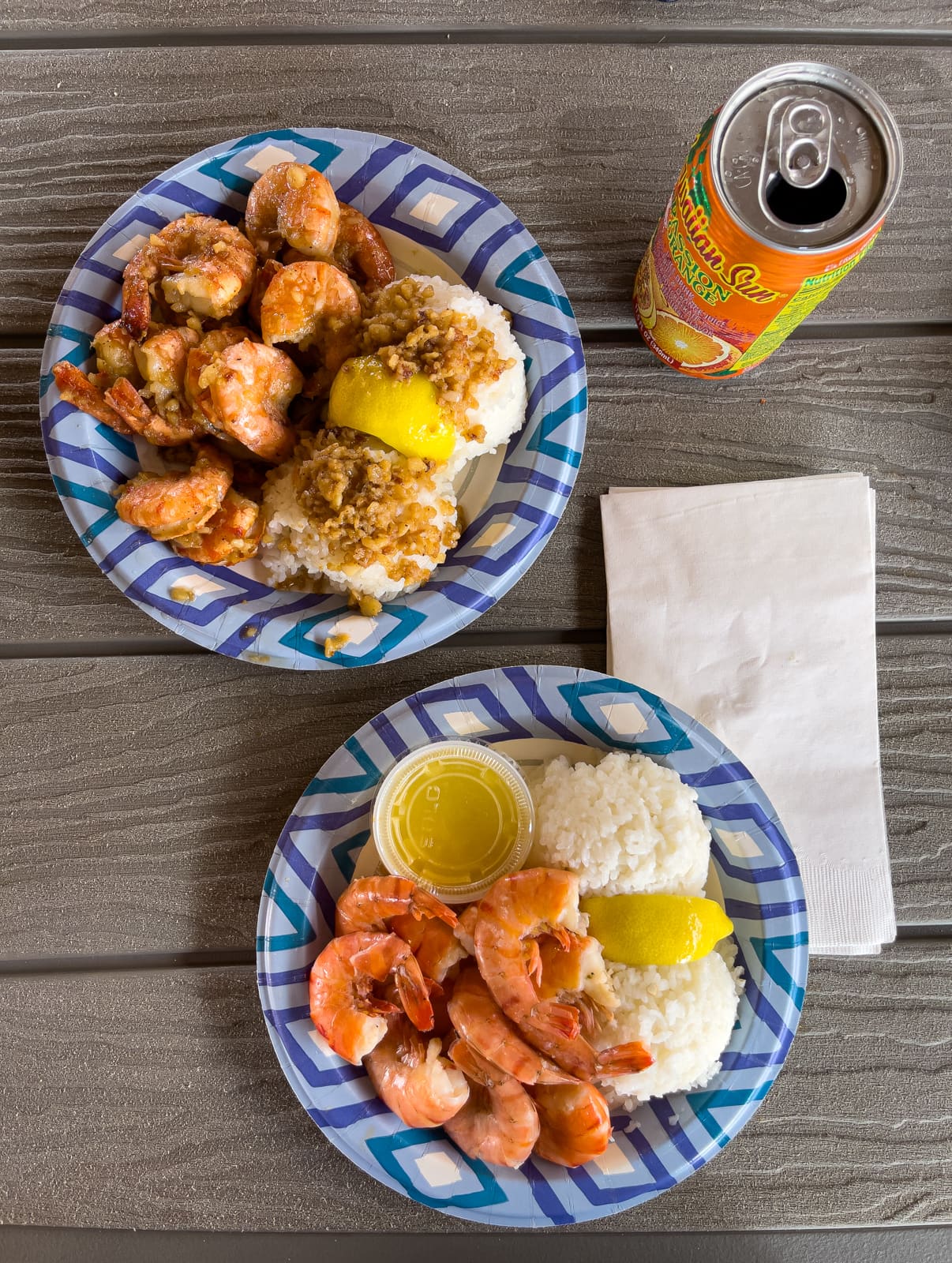 Kel ordered the signature shrimp scampi (garlic shrimp), while I went basic with lemon and butter. Both were served with two scoops of white rice.
I immediately began stripping the shells from the shrimp, dipping them in the butter, and devouring them. I made quick work of a dozen.
The third option is a hot and spicy shrimp plate. They all cost the same, $15.
Other shrimp trucks dot the North Shore; which one offers the best food remains up for debate.
Giovanni's
56-505 Kamehameha Highway, Kahuku, HI
66-472 Kamehameha Highway, Haleiwa, HI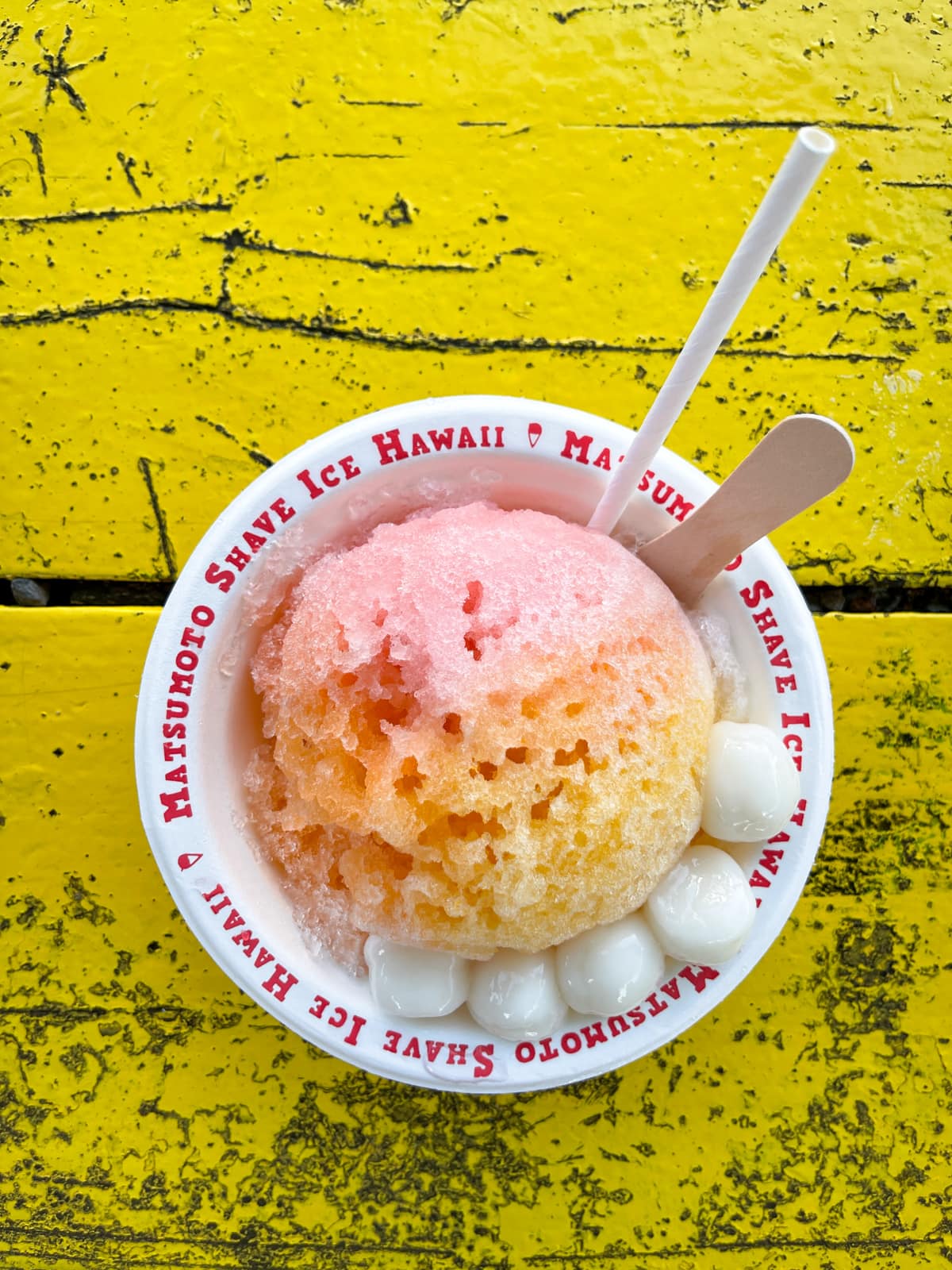 Matsumoto Shave Ice
Following a late-afternoon swim under Waimea Falls, our penultimate stop on the drive around Oahu was Matsumoto Shave Ice.
A Hawaiian-born couple of Japanese ancestry opened Matsumoto. They've been serving shave ice since 1951.
I'd read President Obama was a fan, often enjoying it while vacationing with his family there.
We had to wait in line, of course. We'd joined a few minutes before they cut it off; the wait was about 15 minutes.
Ordering is straightforward.
Pick your size (small or large).
Choose your extras (condensed milk, mochi, ice cream, and Azuki beans).
Choose your flavors (up to three out of 36), or order one of four combos.
The flavors on the menu are color-coded, so you can keep aesthetics in mind when ordering.
Lastly, follow your shave ice as it's being made. The ice machine is neat; it grinds up the ice and shoots it out like snow. Then the syrups are generously poured on top.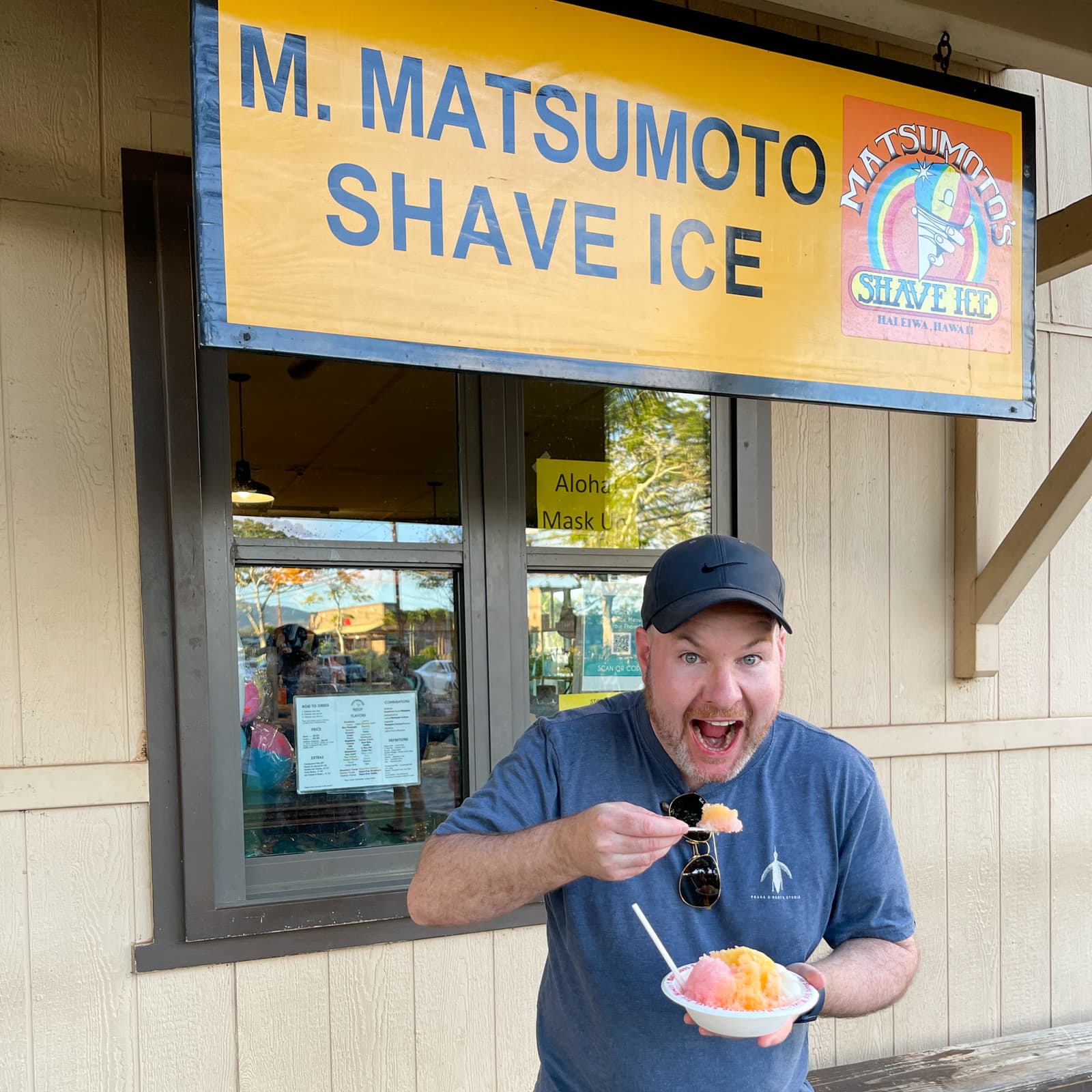 I got the tropical combo with lilikoi (passion fruit), guava, and papaya to make things simple. These syrups weren't the most colorful, but I liked the flavors.
I'm a huge fan of mochi ice cream, so I got mochi on the side, but it was bland. I wouldn't order it again.
Like the shrimp trucks, there are plenty of shave ice shops on Oahu. Another of Obama's favorite places is Island Snow on the eastern shore.
Matsumoto Shave Ice, 66-111 Kamehameha Highway #605, Haleiwa, HI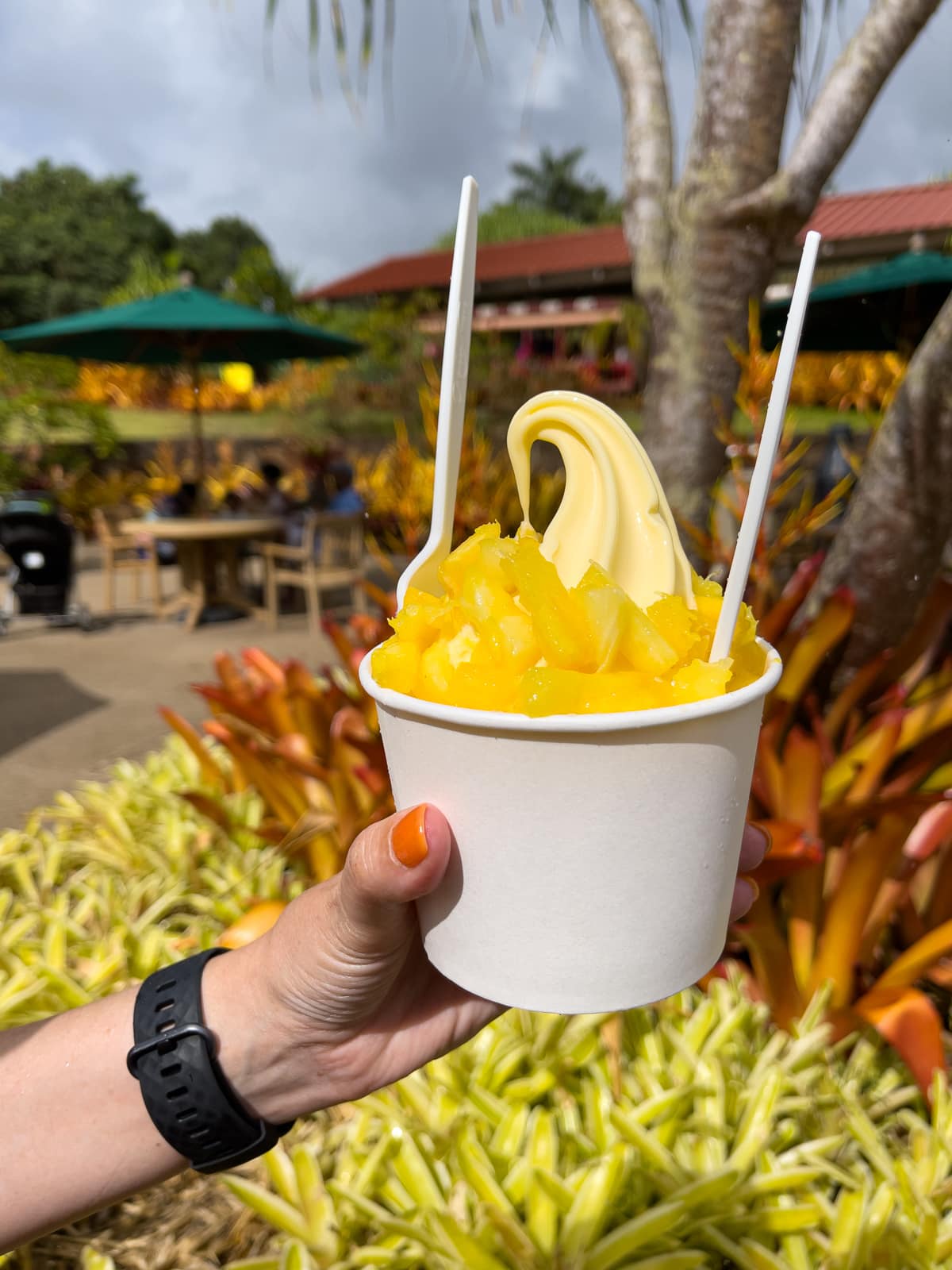 Dole Plantation
When I was 13, my family took a two-week vacation to Hawaii, including the island of Oahu.
I specifically remember visiting the Dole Plantation and seeing inside the factory where big machines removed pineapple cores in preparation for canning.
We sampled fresh pineapple, and it would become the bar by which I'd judge all other pineapples.
Well, a lot has changed in the last 30 years. The Dole Plantation has moved beyond basic tours and developed a whole park to celebrate the pineapple.
A soft-serve Dole Whip dessert is what we were after, and this sweet treat is worth waiting in line for. A regular cone or cup costs $6.95, and a cup with fresh fruit costs $7.95.
The dessert shop is inside the gift shop, which we had to wait in line to enter. There's a lovely patio for savoring your treat and a garden with pineapples growing.
***
As much as we experienced in a week, I feel like we barely scratched the surface of what Oahu has to offer.
I hope this list of the best places to eat in Oahu helps you prioritize where to go on your vacation.