I began encountering some of the best coffee shops in Austin the first week I arrived in April 2016.
My e-commerce conference (so cliche, I know) was held at the W Hotel across the street from Halcyon.
Halcyon reminded me of some of the grungier cafes I used to hang out in when I was younger.
It became my go-to spot when I rented an apartment a few blocks away.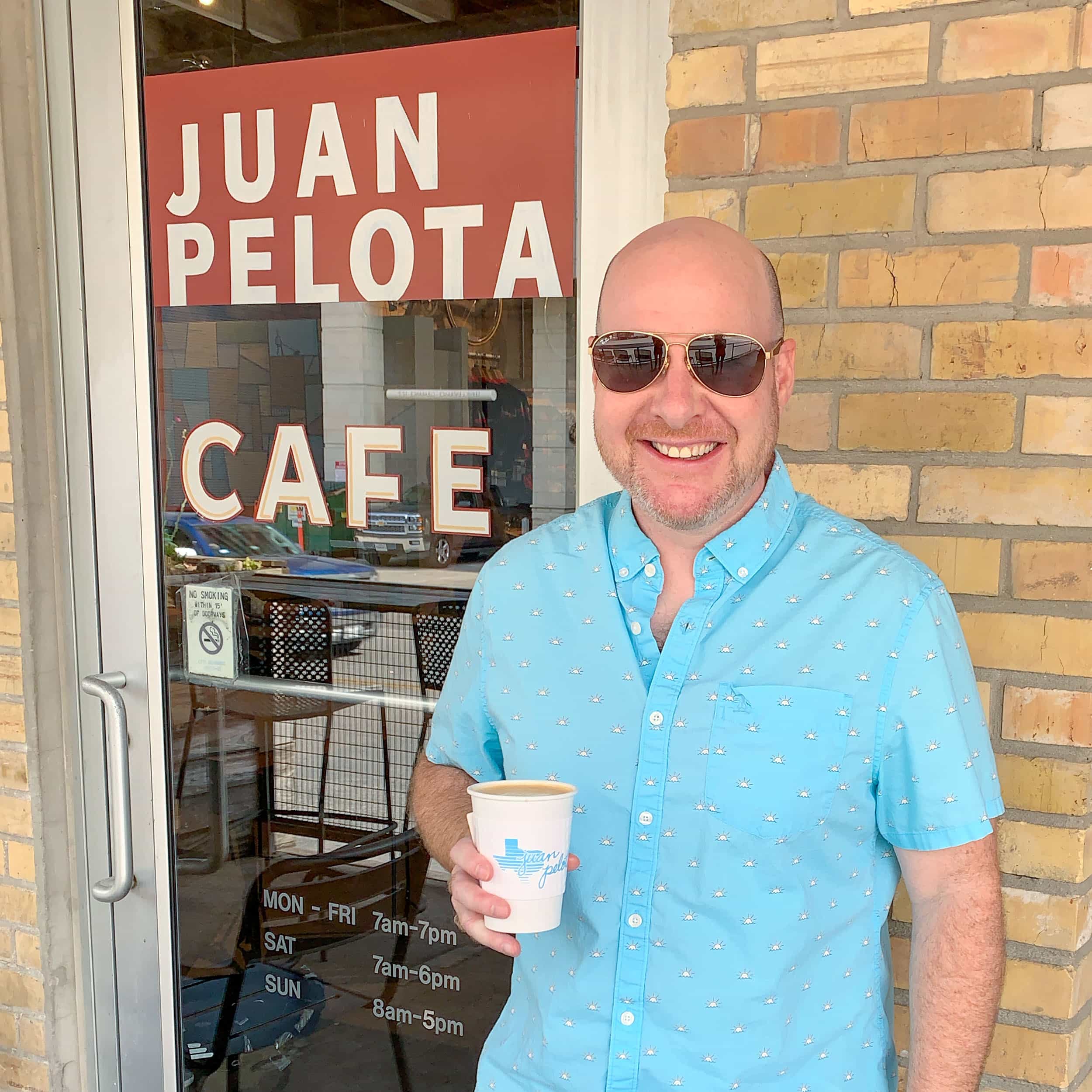 Since then, I've continued to explore Austin's cafe scene with as much an eye toward the location, design, accessibility of electric outlets, and food offerings as the coffee quality.
I'm a social coffee drinker and enjoy going to coffee shops for the experience as a whole, whether working alone, co-working or catching up with friends.
I leave the tasting notes to professionals.
With all that in mind, I've put together a list of what I consider the best coffee shops in Austin, organized by neighborhood.
Where to Drink Coffee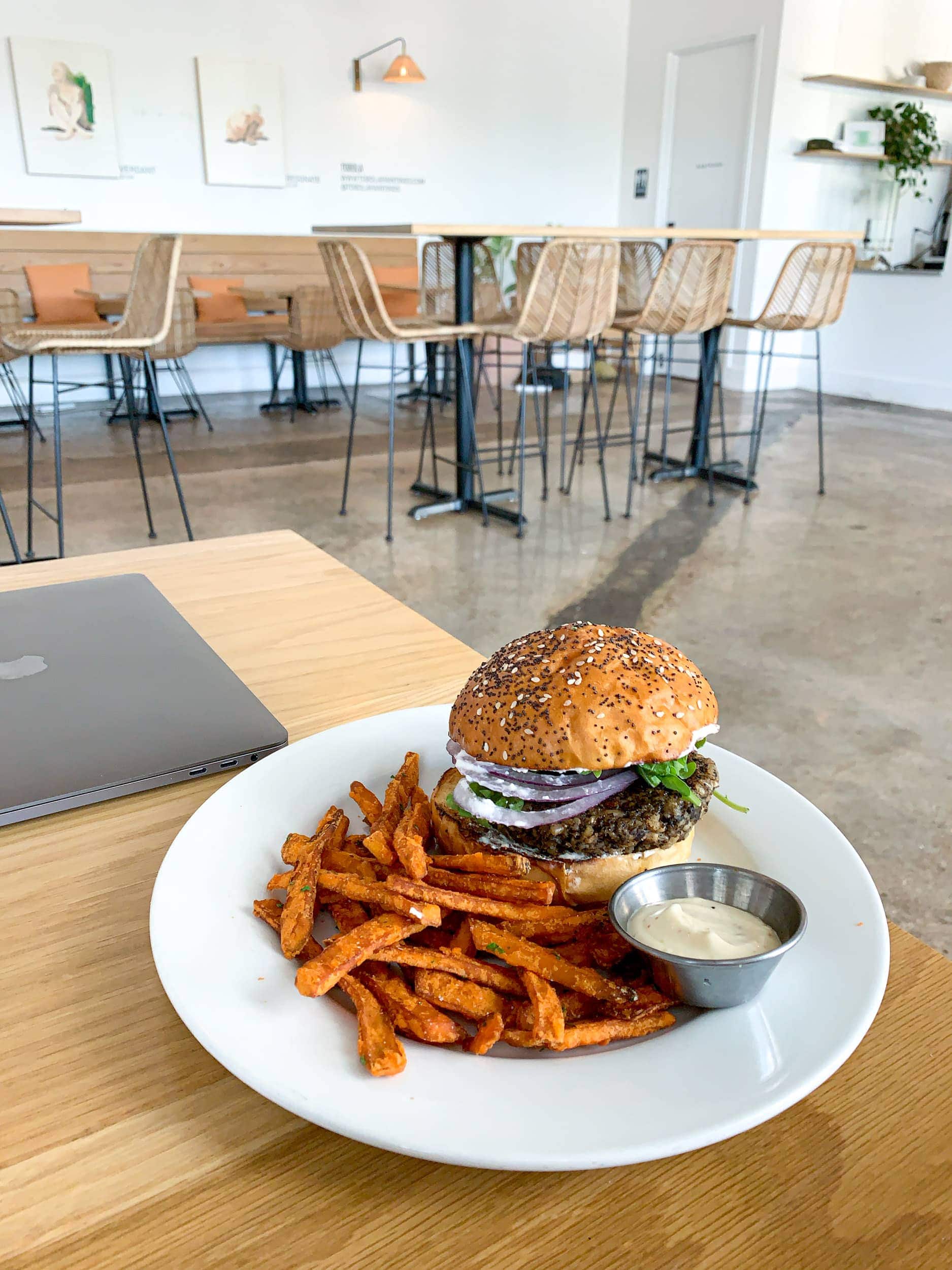 Overall Favorite
Hank's
I have my friend Amanda to thank for introducing me to Hank's when we began co-working together.
The minute I arrived, I was enamored with the humongous patio and minimalist aesthetic.
The pastries are delicious (hello brown butter chocolate chip cookie with sea salt), the lunch menu is a good value, and the service is friendly.
Oh, and there's coffee, of course. My first cup was the mint cold brew. Oat and almond milk is available for an extra 75 cents.
Inside, there's music, but it's not so loud as to be distracting.
Power strips make it easy to stay plugged in, and the Wi-Fi has been sufficient for work purposes.
In the spring and fall months, you'll find me working from one of the round tables in the shade.
And they have a drive-through if you're on the go.
5811 Berkman Dr, Austin, hanksaustin.com
See also: Where to Find the Best Brunch in Austin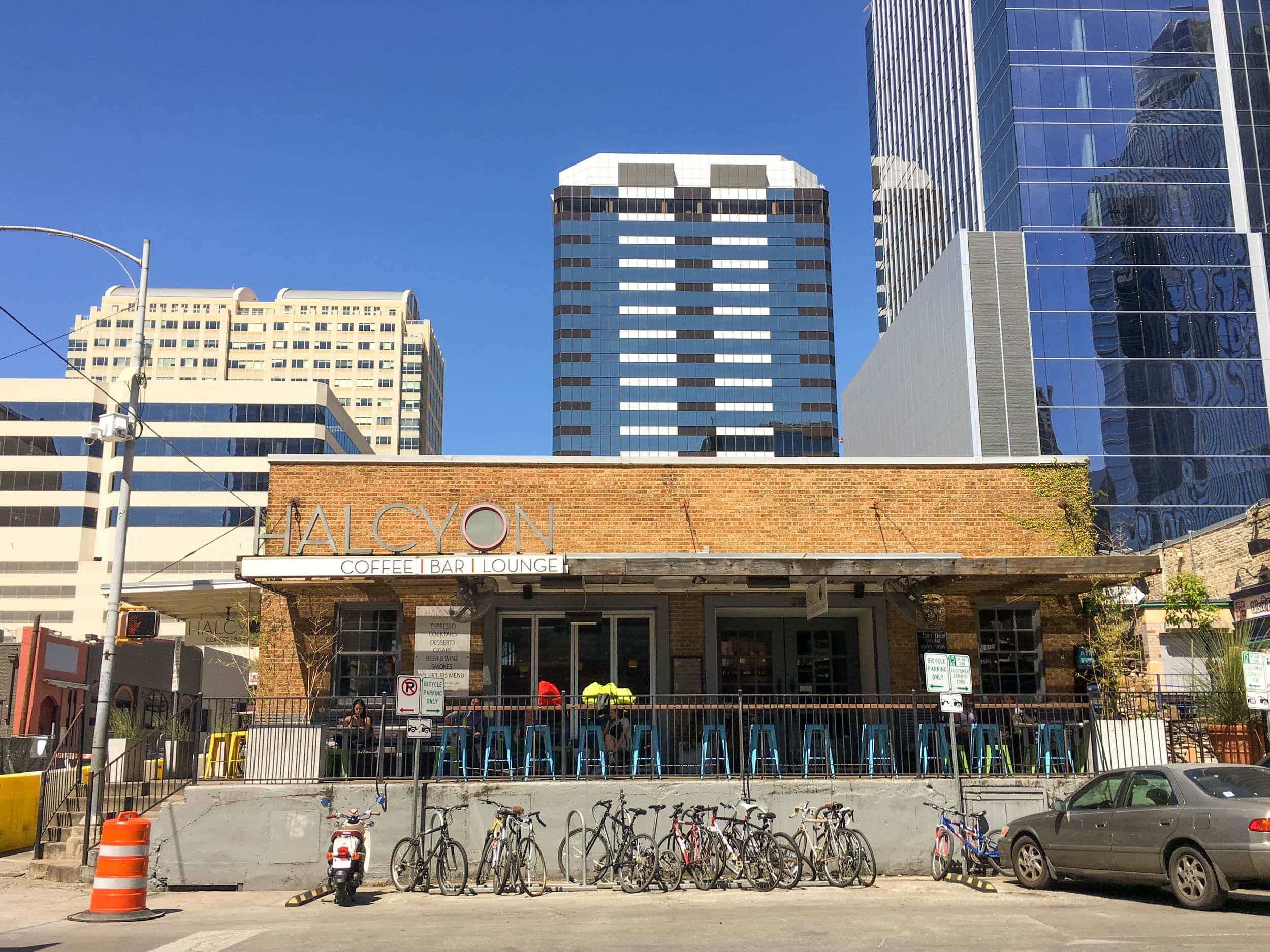 Downtown Austin
As downtown Austin continues to grow, so to do the number of cafes in the city center.
Halcyon
Halcyon is a sentimental favorite, as I mentioned at the top.
Centrally located, it's one of the last remaining vestiges of Austin's old city center.
As shiny glass office towers and hotels continue to go up around it, I'm holding out hope that Halcyon can hang on to its original location.
During the day, Halcyon attracts a young, casual crowd.
The inside is a little dark, and the music can be too loud for me to concentrate on work, but it's an otherwise fun spot.
While they no longer offer the avocado toast with smoked salmon I liked, they still have enough to choose from for a quick bite. Their Smores dessert is popular.
Halcyon transitions to a bar and lounge in the evening, with weekly live jazz nights and trivia.
Halcyon opened a second, more modern, and kid-friendly cafe in the Mueller neighborhood, which I'll cover further down.
218 W 4th St, Austin, halcyoncoffeebar.com
See also: Best Speakeasies in Austin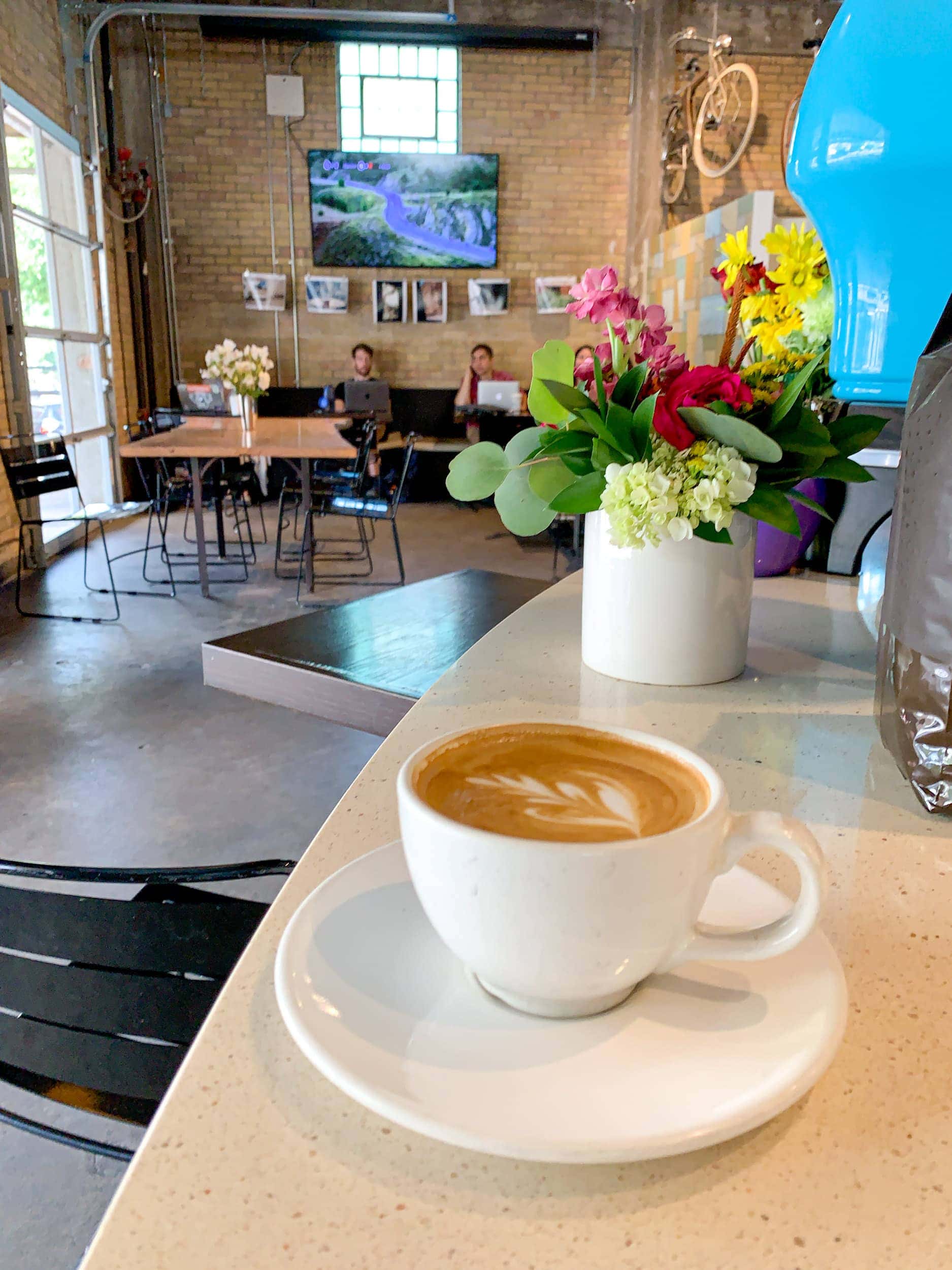 Juan Pelota
It was only after moving to Austin that I learned Lance Armstrong is one of a handful of celebs making his home here.
I'm still not sure where I stand on him after his fall from grace. However, there's no denying the popularity of his downtown bike shop, Mellow Johnnys.
When my friend Alicia offered to introduce me to Juan Pelota (which translates as "one ball," referring to Armstrong's battle with testicular cancer), I went with an open mind.
The cafe is small but pleasant. The location within a bike shop adds some visual interest to getting a coffee here.
We spent a few hours working. I enjoyed a nicely prepared cappuccino and the Brown Cow smoothie with banana, peanut butter, chocolate, and milk.
I was also happy to see Juan Pelota features pastries from Lady Quackenbush's Cakery, one of my favorite pastry shops.
400 Nueces St, Austin, austin.mellowjohnnys.com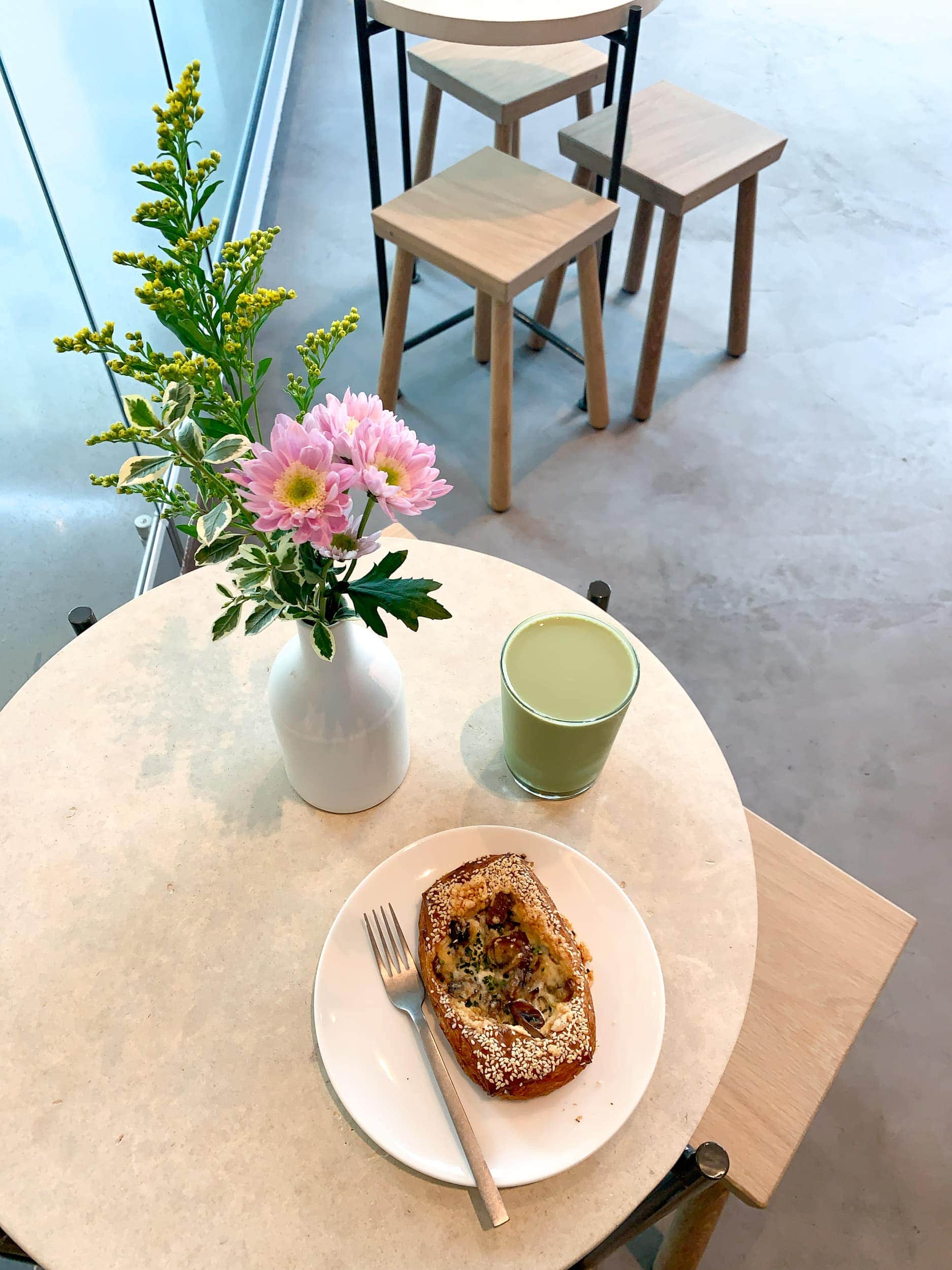 Intelligentsia
Opened in August 2019, Intelligentsia is one of the newer arrivals to Austin's downtown cafe scene.
My only previous experience with Intelligtentisa coffee was when my friend Adam took me to their coffee bar at the High Line Hotel in NYC.
This small, ultra-minimalist cafe is on the ground floor of the new Facebook building.
A glass facade allows plenty of natural light, and a tall ceiling leaves lots of room for their colorful tile backdrop to shine.
Intelligentsia has multiple offerings on tap, including a nitro cold brew, nitro latte, and nitro matcha latte ($6.75).
After tasting them all, I ordered the nitro matcha latte and a mushroom goat cheese pastry.
Easy Tiger and Odd Duck provide pastries.
This cafe is best suited for a drink on the go or a quick snack, not a long work session, nor a comfortable coffee date.
607 W 3rd St, Austin, intelligentsiacoffee.com
See also: The Best Restaurants in Austin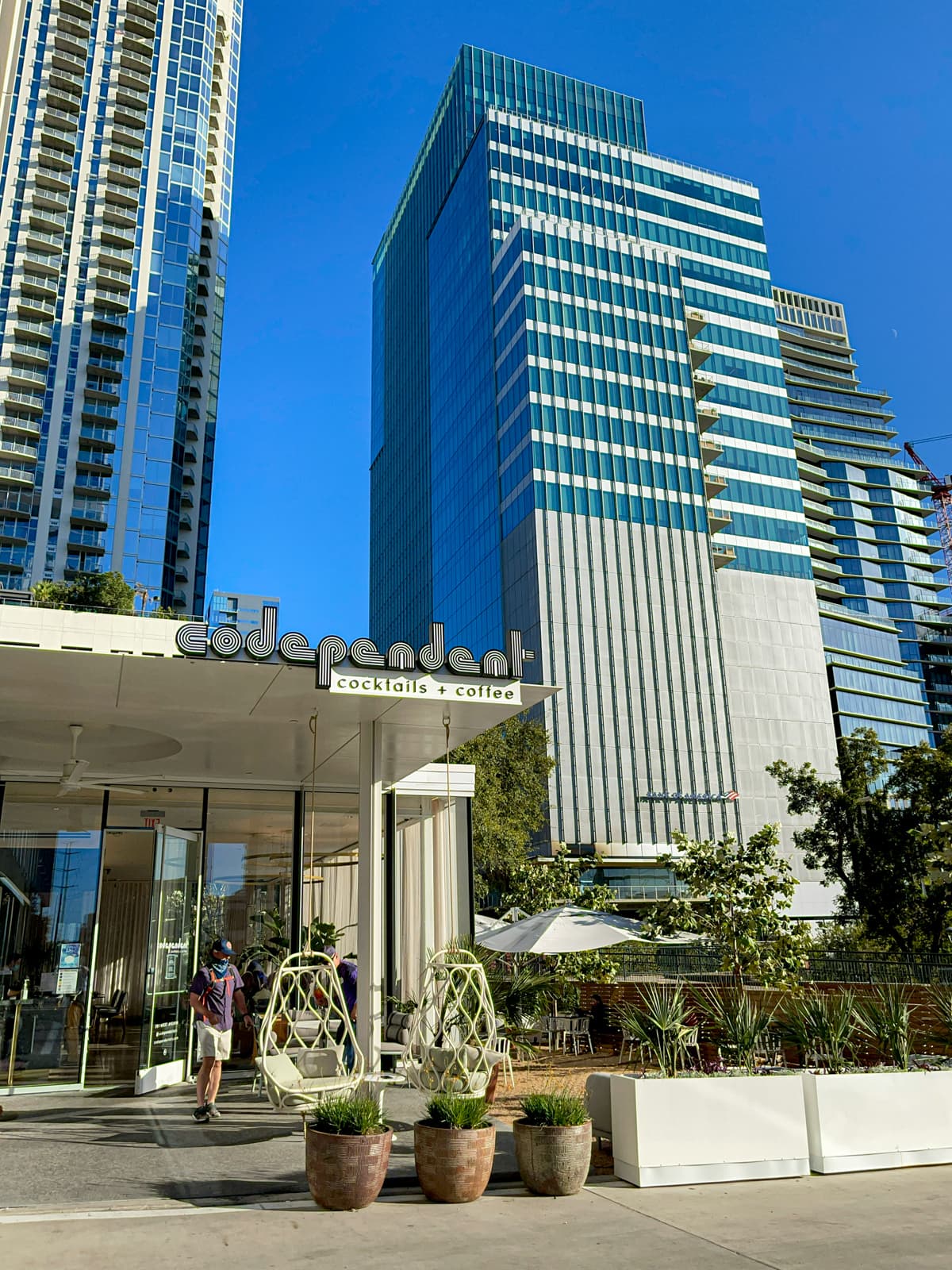 Codependent Cocktails + Coffee
Codependent is a chic, Italian-inspired lounge one block west of Intelligentsia on the ground floor of the Independent condo tower.
The arrival of this cozy bar and cafe in 2020 offers downtown residents and visitors a more comfortable space to relax with friends over coffee or a date during aperitivo.
A screen-free policy after 6 pm encourages guests to connect with those in front of them instead of their phones and laptops. Sundays are screen-free the entire day.
301 West Ave, Suite 110, Austin, codependentatx.com
Related: Italian Coffee Culture in Milan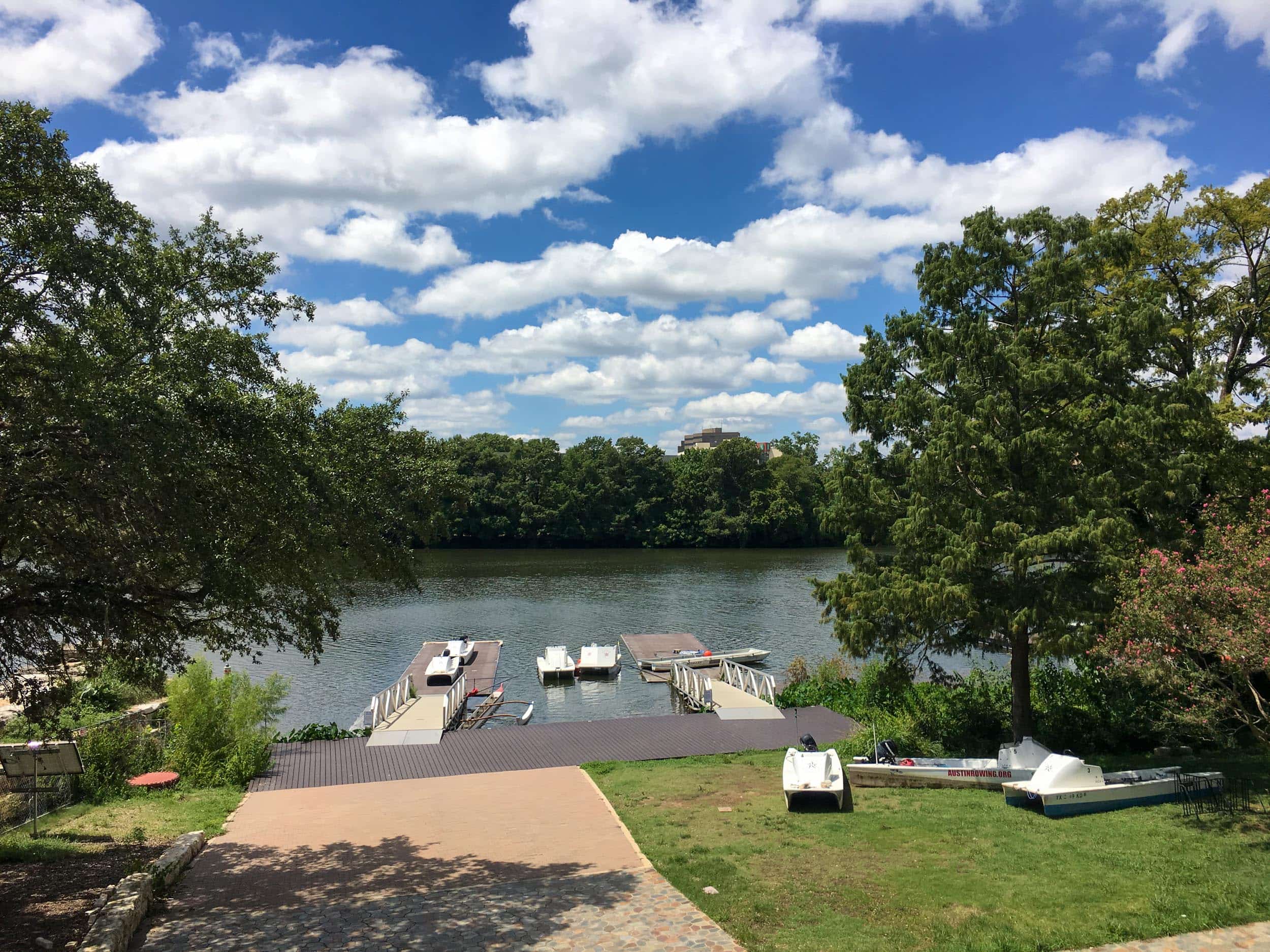 Alta's Cafe
For a gorgeous view of Ladybird Lake while you sip your iced latte, head to Alta's Cafe.
Alta's is located on the Hike and Bike Trail near The Four Seasons.
Usually, when I stop in here after going for a long walk, it's to get a smoothie.
My favorite is Milkin' the Cacao with almond milk, banana, almond butter, raw cacao, and raw honey ($7.50).
They also offer plenty of food options, including breakfast tacos, avocado toast, a turkey and pesto sandwich, and an Antonelli's cheese and charcuterie plate.
Given the views, it's also a popular happy hour spot. They serve wine and beer, too.
74 Trinity St, Austin, altascafe.com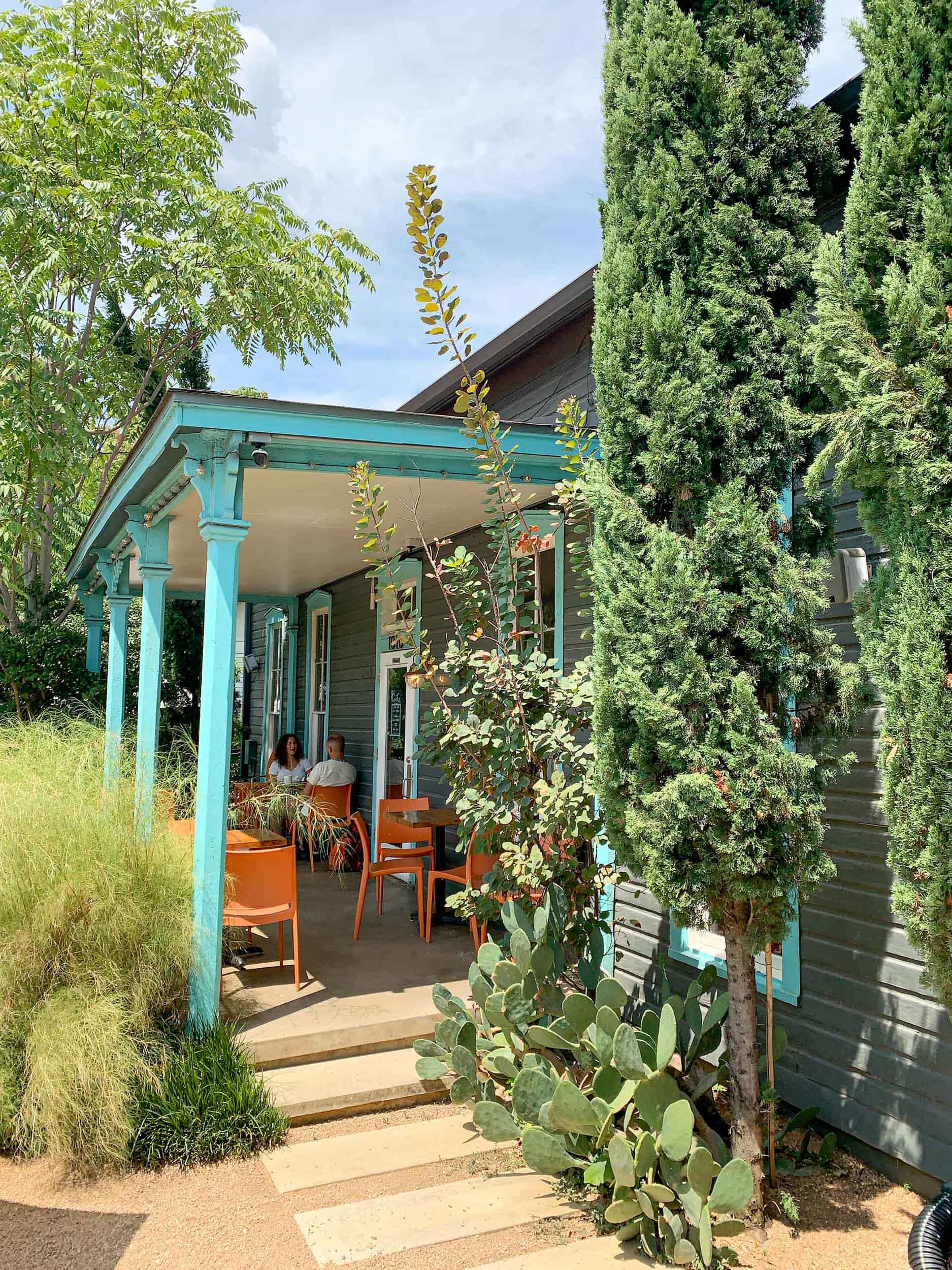 East Austin
I haven't counted, but East Austin feels like it has the highest density of cafes in the city.
Here, I'm referring to any cafe east of the I-35 highway, regardless of whether it's north or south of the Colorado River.
Cenote
Cenote was one of the first cafes I visited in East Austin as it was in this area that I was renting an Airbnb when I first came to town.
I love that the owners created a cafe in a historic building that dates back to 1887.
In 2011, they were recognized for their hard work with the Heritage Society of Austin's "Merit Award for Adaptive Use."
I usually sit inside. However, they also have tons of outdoor seating on their patio, which wraps around the building.
In addition to coffee and house-made chai tea, they offer Texas craft beers, wine, and a full breakfast/lunch/dinner menu.
Be sure and try Paper Route Bakery while you're there. This small-batch bakery opened next to Cenote in 2016 and makes one of the best chocolate chip cookies I've ever eaten.
1010 E Cesar Chavez St, Austin, cenoteaustin.com
See also: Fika: Traditional Swedish Coffee Break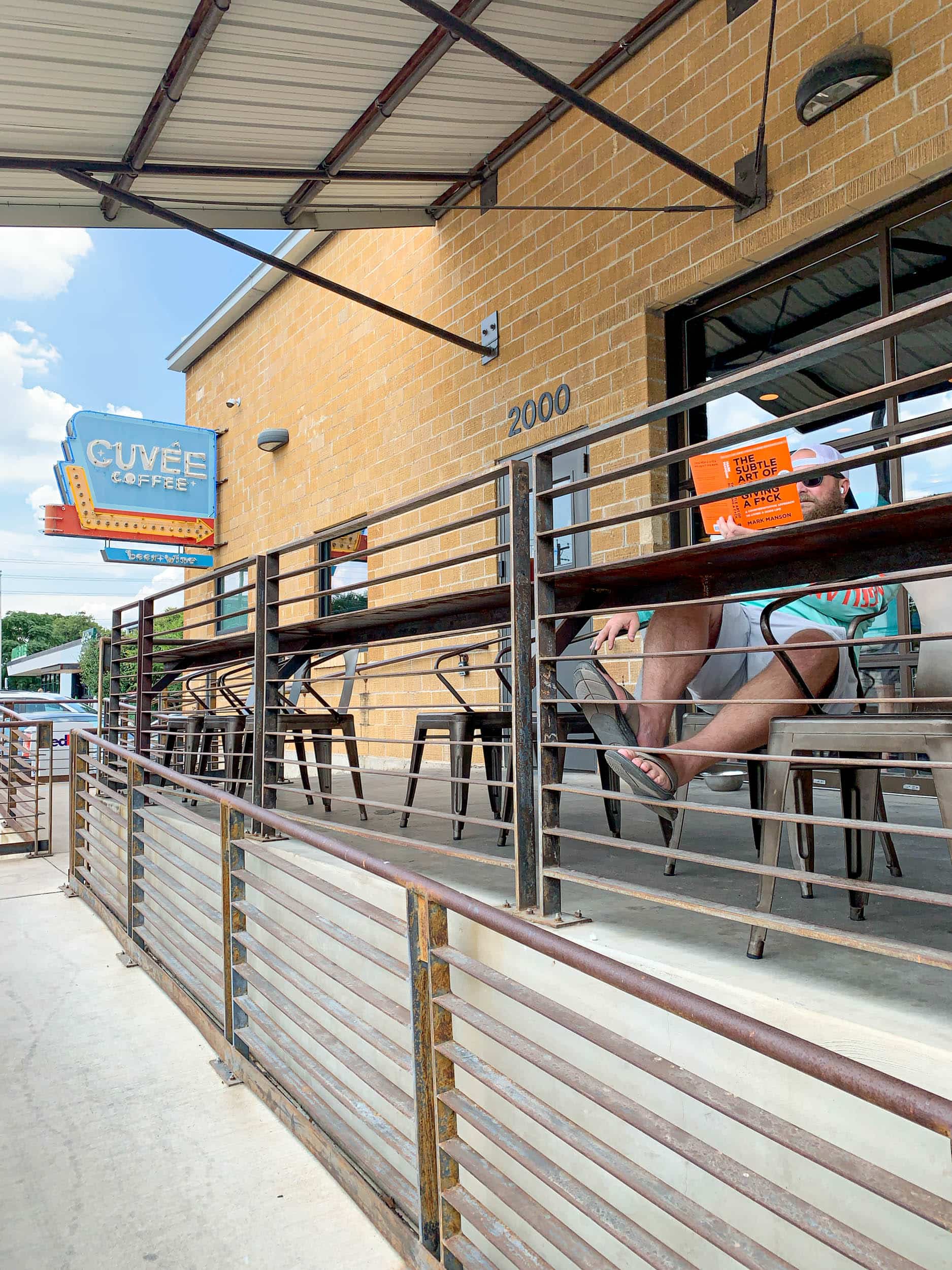 Cuvee Coffee Bar
My first experience with nitro cold brew on tap came courtesy of Cuvee Coffee Bar in East Austin. I've been fond of the brand ever since.
My Airbnb host took me there, and I was an instant fan of the experience, perhaps because it reminded me of Guinness.
The coffee shop itself is a bit too dark and bare for me to hang out in for long periods.
This is why I'm glad they led the way in creating Nitro Cold Brews in a can. They're seriously addictive.
The first three products were nitro black coffee, hemp oil, and horchata (all of which are non-dairy). Additional flavors, including vanilla, were released in early 2020.
2000 E 6th St, Austin, cuveecoffee.com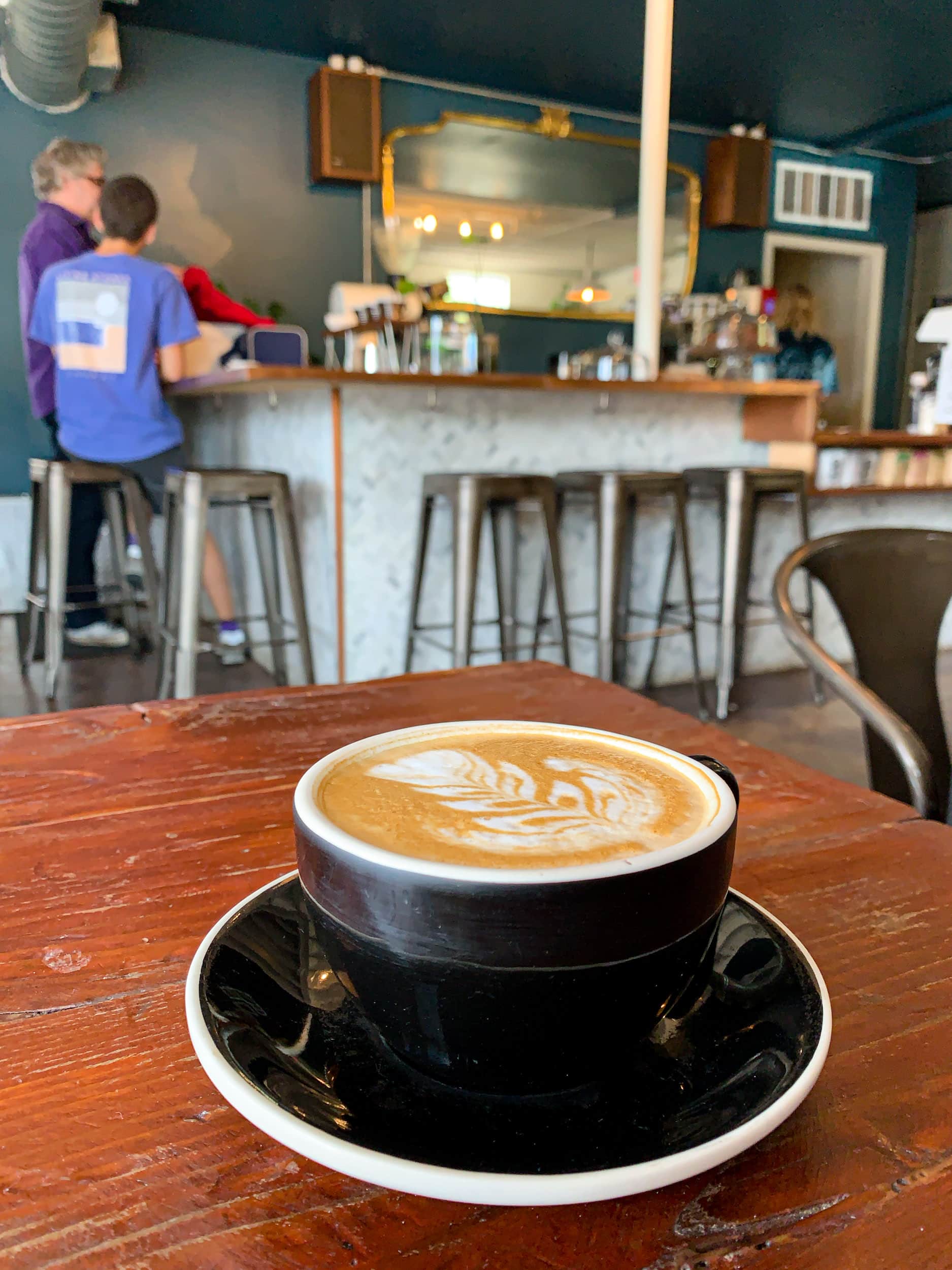 Figure 8 Coffee Purveyors
Figure 8 has been around for a few years, but I only caught wind of it recently.
In writing this article, I stopped by for a cappuccino and liked the interior decor, at least in the main room.
A second room offers benches made of reclaimed wood but looked otherwise bare. Outdoor seating is also available.
Figure 8 offers a standard variety of coffee made using a beautiful white Italian espresso machine.
1111 Chicon St, Austin, figure8coffeepurveyors.com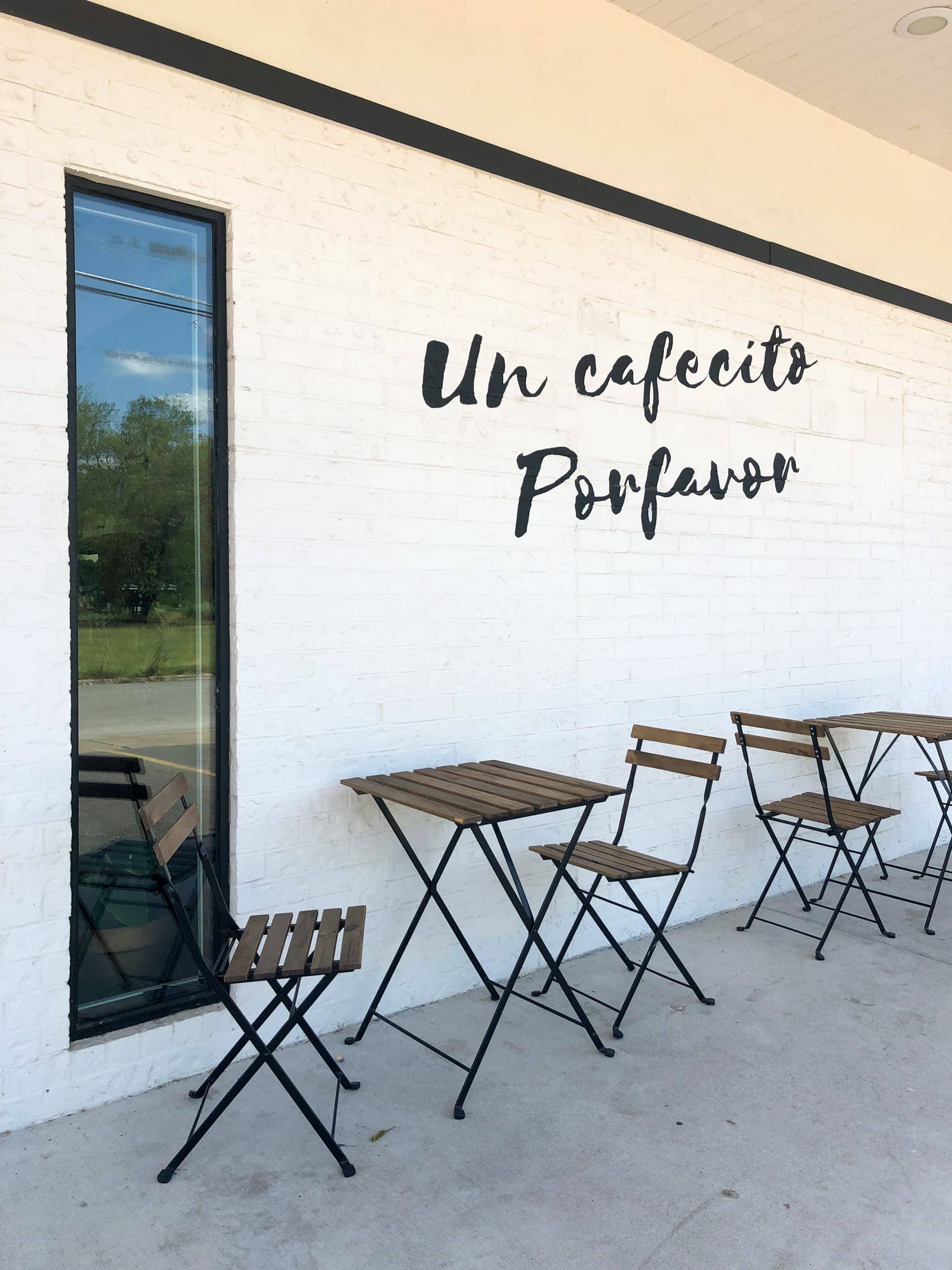 Cafe Nena'i
Opened in February 2017 by mother-daughter duo Elena Sanguinetti and Gladys Benitez, Cafe Nena'i brings a Latin touch to Austin's coffee scene.
Since moving to the city, I've kept one eye open for businesses that remind me of my years living and traveling in South America.
Cafe Nena'i fits the bill. Elena was born in Paraguay; Nena'i was her nickname as a child.
Savory pastries include empanadas, Venezuelan arepas, and Paraguayan cheese bread.
On the sweet side, there's Argentinian alfajors (love these), medialunas (little croissants), arroz con leche (rice milk with cinnamon), and more.
Cuban espresso drinks are served, as well as a cocido con leche, an infusion of Yerba Mate with milk. Mate is a popular tea drink in Argentina and Uruguay.
1700 Montopolis Dr, Austin, cafenenai.com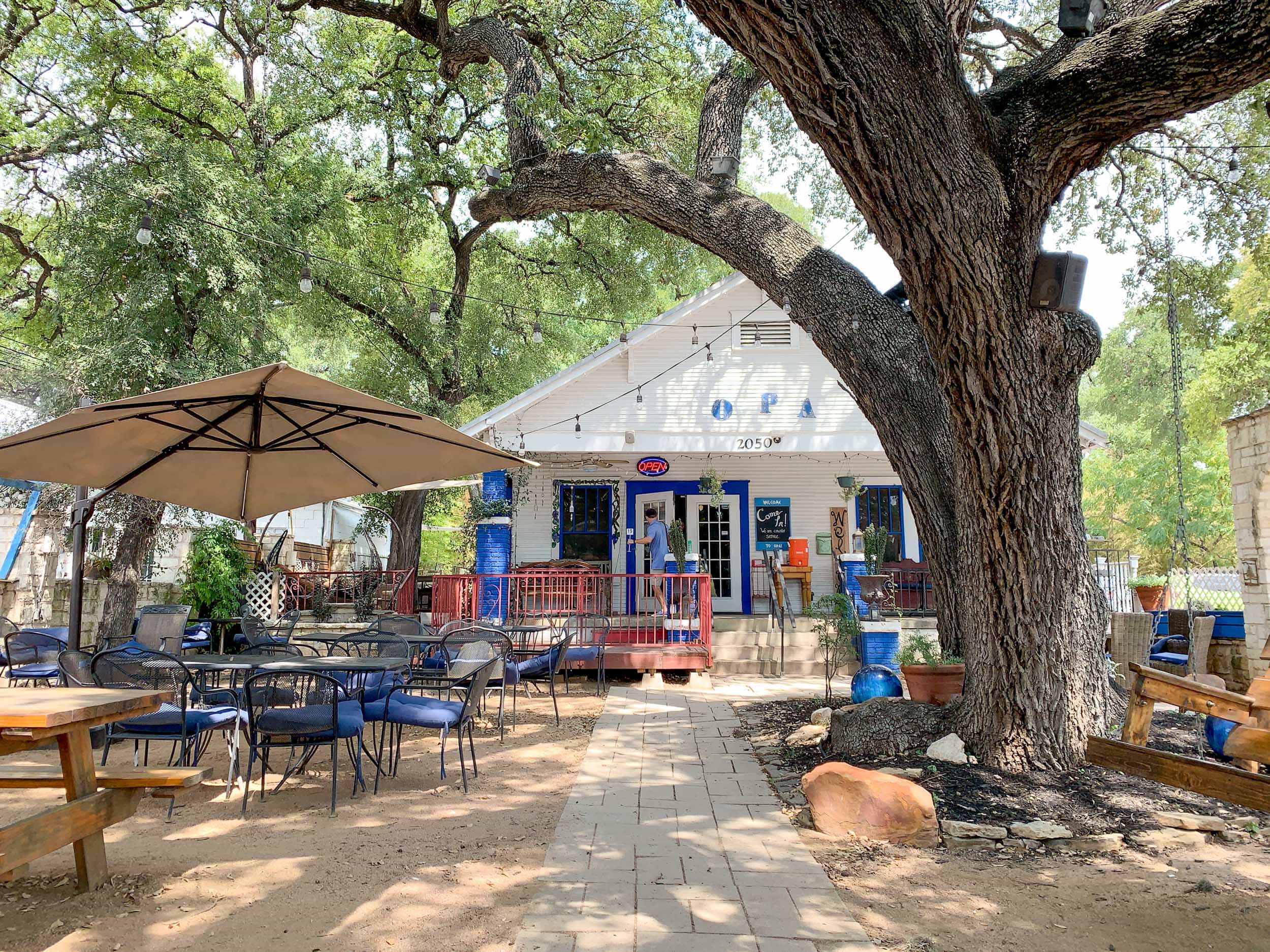 South Austin
Opa Coffee and Wine Bar
The Greek-inspired, family-owned Opa Coffee and Wine Bar is one of my favorite coffee shops in South Austin.
The large patio is well-shaded by trees, making it an option even in Austin's hot summers.
The inside is what you'd expect of an old wooden house-turned cafe and wine bar. It's comfortable, but I'd rather be outside under the giant oak tree.
The coffee menu includes all the usual favorites, plus Greek coffee as a specialty of the house.
The food menu features some pastries for breakfast and hummus, baked feta, Greek salad, gyros (my favorite), falafels, moussaka, and more.
2050 S Lamar Blvd, Austin, opacoffeeandwinebar.com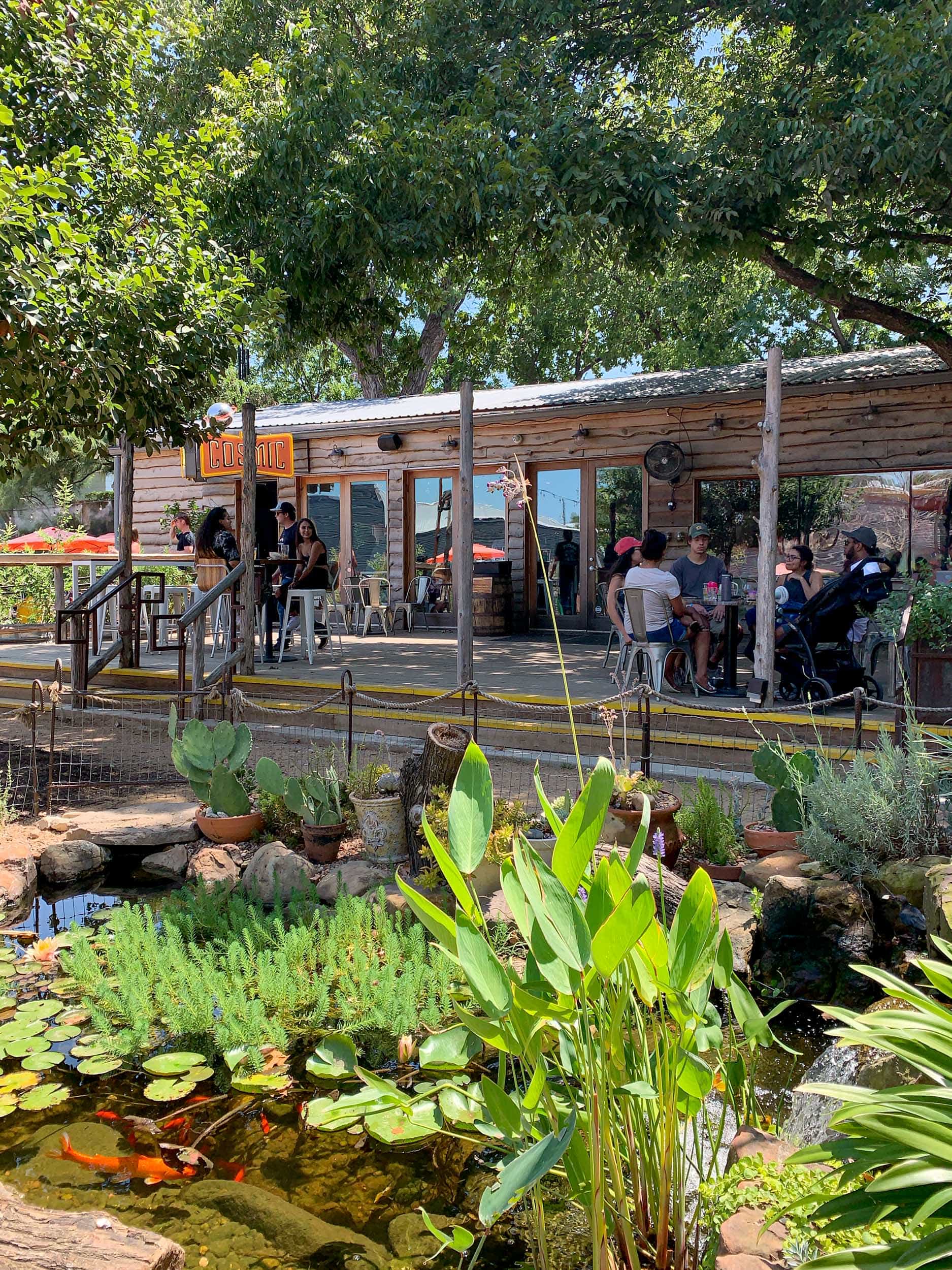 Cosmic Coffee and Beer Garden
I visited Cosmic Coffee and Beer Garden as part of my research for this article. It's one of my new favorites in all of Austin.
First off, they have a waterfall and koi pond in the middle of their outdoor patio. How cool is that!?
Second, their menu is incredible. They've got the usual coffee options and offer almond, soy, oat, or coconut milk for an extra 50 cents.
They offer season drinks, like a fall pumpkin latte with cold brew coffee, oat milk, fall spices, and maple syrup ($5).
Boozy coffees include the classic Irish Coffee, a Rum Thai Iced Coffee, and several more.
Without getting too off track, they also offer four cocktails on tap and a cocktail test flight that lets you sample four drinks for $19.
For something sweet, try the campfire s'mores brownie. You're welcome!
Need something heartier? Check out the LeRoy and Lewis BBQ food truck on-site.
121 Pickle Rd, Austin, cosmiccoffeebeer.com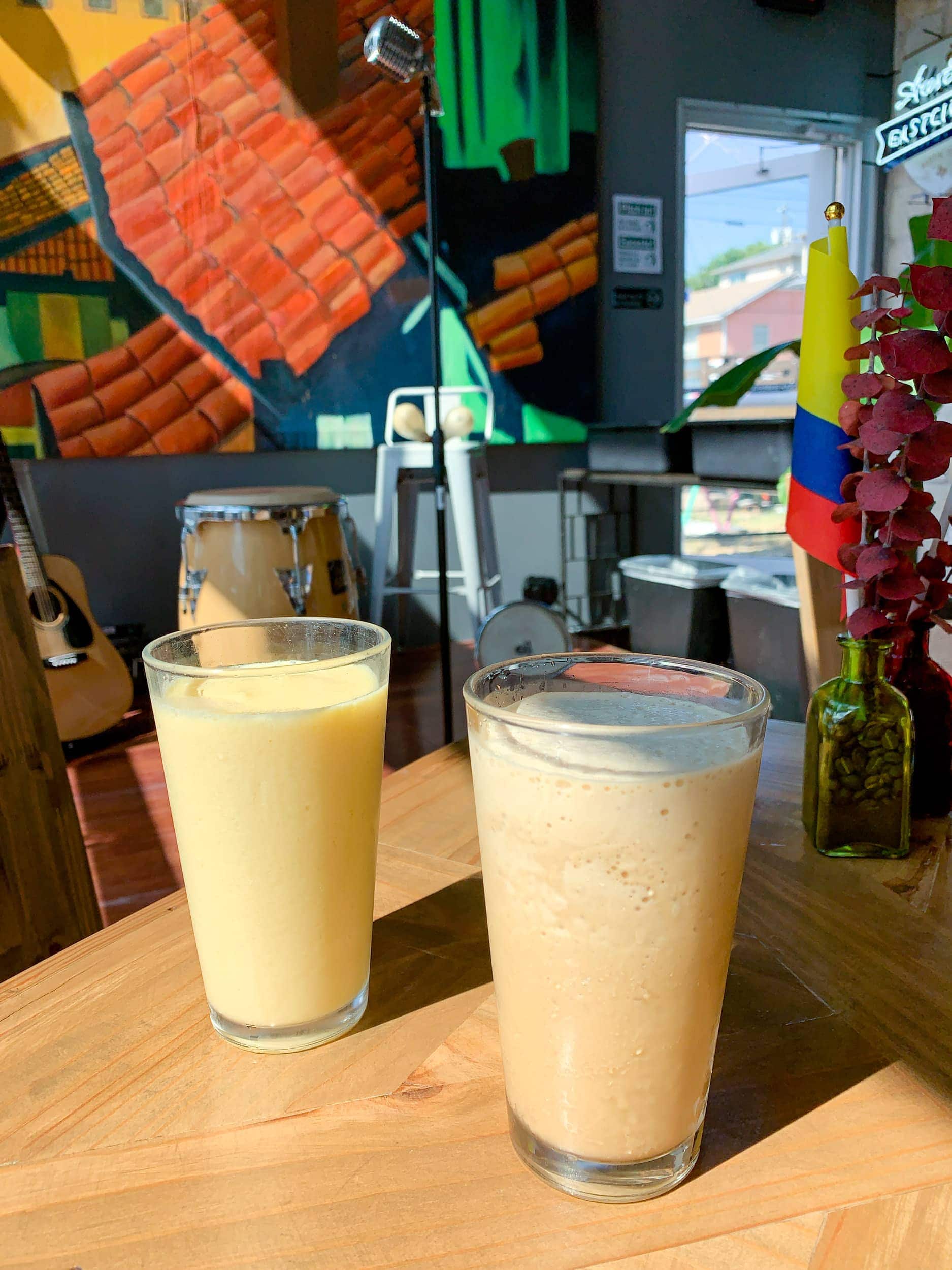 Plaza Colombian Coffee
A few blocks south of Cosmic on South Congress Street is Plaza Colombian Coffee.
I love Colombia. It feels like my second home after basing myself there for so many years.
Moving to Austin has been fantastic in many ways, but I still miss Colombian culture, including the food and drinks.
So when I learned about Plaza Colombian Coffee, I invited my friend Jenn to join me.
Walking up to the cafe, you pass a small old jeep, like the ones still used today in the countryside.
The cafe is in a standalone building, meaning there's plenty of space.
They roast 100% Colombian coffee and offer a variety of traditional sweets and savory foods.
Getting together for food, drinks, music, and salsa dancing is a big part of Colombian culture.
To create that community, Plaza Colombian Coffee hosts live music on Fridays, Saturdays, and Sundays.
3842 S Congress Ave, Austin, plazacolombiancoffee.com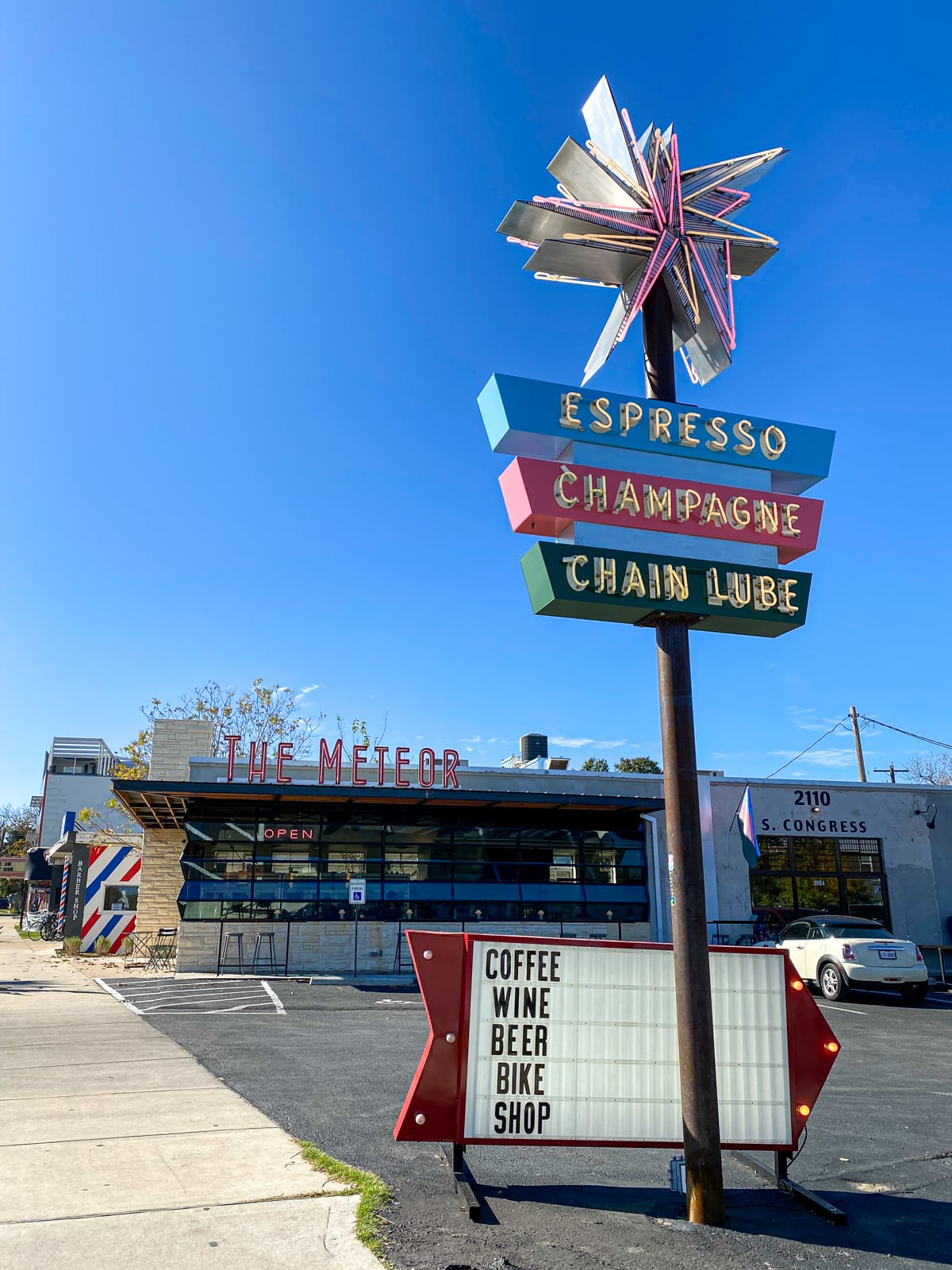 The Meteor
The neon sign advertising "Espresso, Champagne, and Chain Lube" says it all. Or at least captures your curiosity if you're driving down South Congress.
Equal parts cafe, wine shop, and bike shop, The Meteor offers a welcoming space for everyone.
Housed in a renovated mid-century building, The Meteor is the result of a partnership between two cycling enthusiasts -- Doug Zell, founder of Intelligentsia Coffee, and Chris St. Peter, a former lawyer.
On the menu, coffee, pastries, Roman-style pizza, and natural wines. And for cyclists, you've got access to another bike shop and community in the city.
2110 S Congress Ave, Austin, espressochampagnechainlube.com
Radio Coffee & Beer
A few minutes' drive west of Cosmic Coffee and Plaza Colombian is Radio Coffee & Beer.
Opened in 2014, this popular south Austin cafe serves its own coffee and offers guests a large outdoor patio with three food trucks:
Veracruz (tacos)
Dee Dee (northeastern Thai)
Da' Boot Poboys (cajun and creole)
4204 Menchaca Rd, Austin, radiocoffeeandbeer.com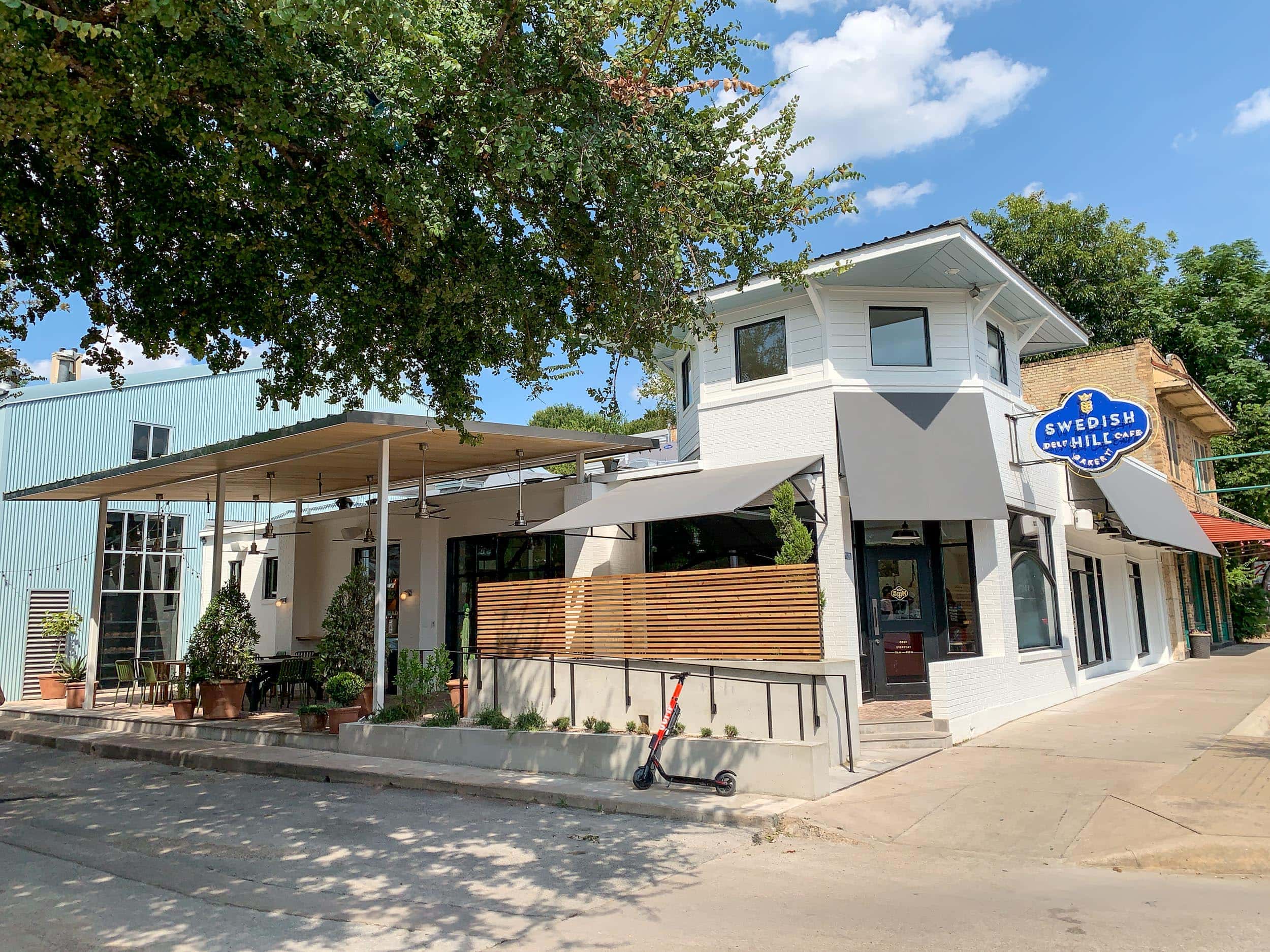 West Austin
Swedish Hill
Swedish Hill is a bakery, deli, and cafe in the same location as its predecessor, the family-owned Sweetish Hill.
The bright, modern space was designed by McGuire Moorman Hospitality, a group responsible for some of the most stylish eateries in town, including June's, Josephine House, and Elizabeth St. Cafe.
The standard coffee options are available. Fronk's nut milk is an additional $2.
The tea selection comes from The Steeping Room, my favorite tea spot, which I highlight in this list's north/central Austin section.
Fresh juices, mocktails, and a variety of beer, cider, and wine are also available.
As it's a bakery, too, you'll also find some of the best pastries, bagels, and bread in the city.
Signature sandwiches are served as of 11 AM, or you can make your own. And the deli case is full of fish, meats, and caviar if you're feeling fancy.
1120 W 6th St, Austin, swedishhillaustin.com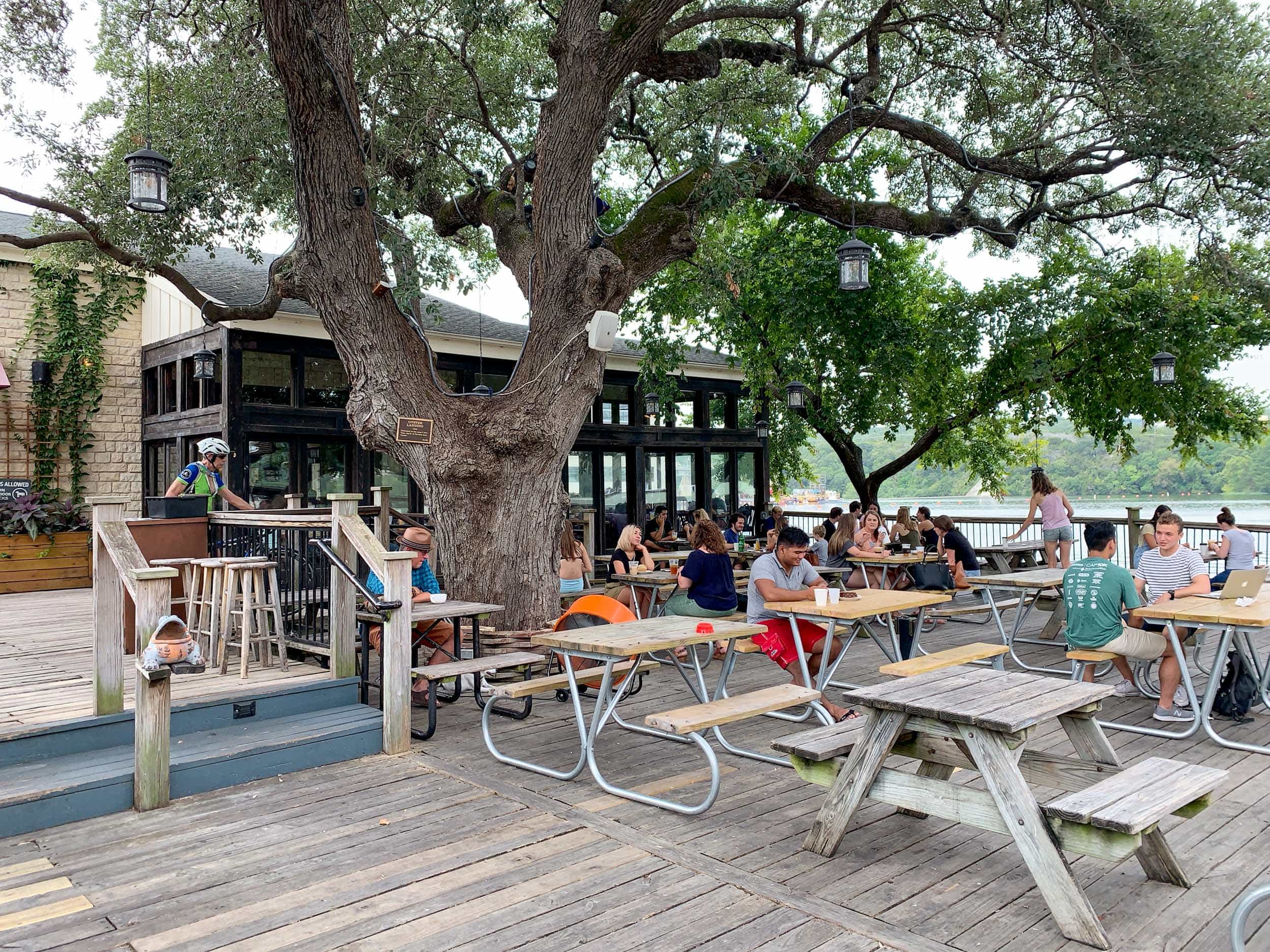 Mozart's Coffee Roasters
If you want a breath of fresh air, head to Mozart's Coffee Roasters.
An Austin original dating back to 1993, Mozart's is located on the banks of the Colorado River at the western edge of the Tarrytown neighborhood.
It's known for its ample outdoor seating, which includes a multi-level wooden deck, on-site coffee roasting, and bottomless cups of hot coffee and cold brew.
Plus, it's got a full bakery pumping out lots of sweet and savory pastries for you to enjoy.
Every December, Mozart's strings up one million LED Christmas lights over the deck, and play holiday music. It's a scene that attracts visitors from across the city.
3825 Lake Austin Blvd, Austin, mozartscoffee.com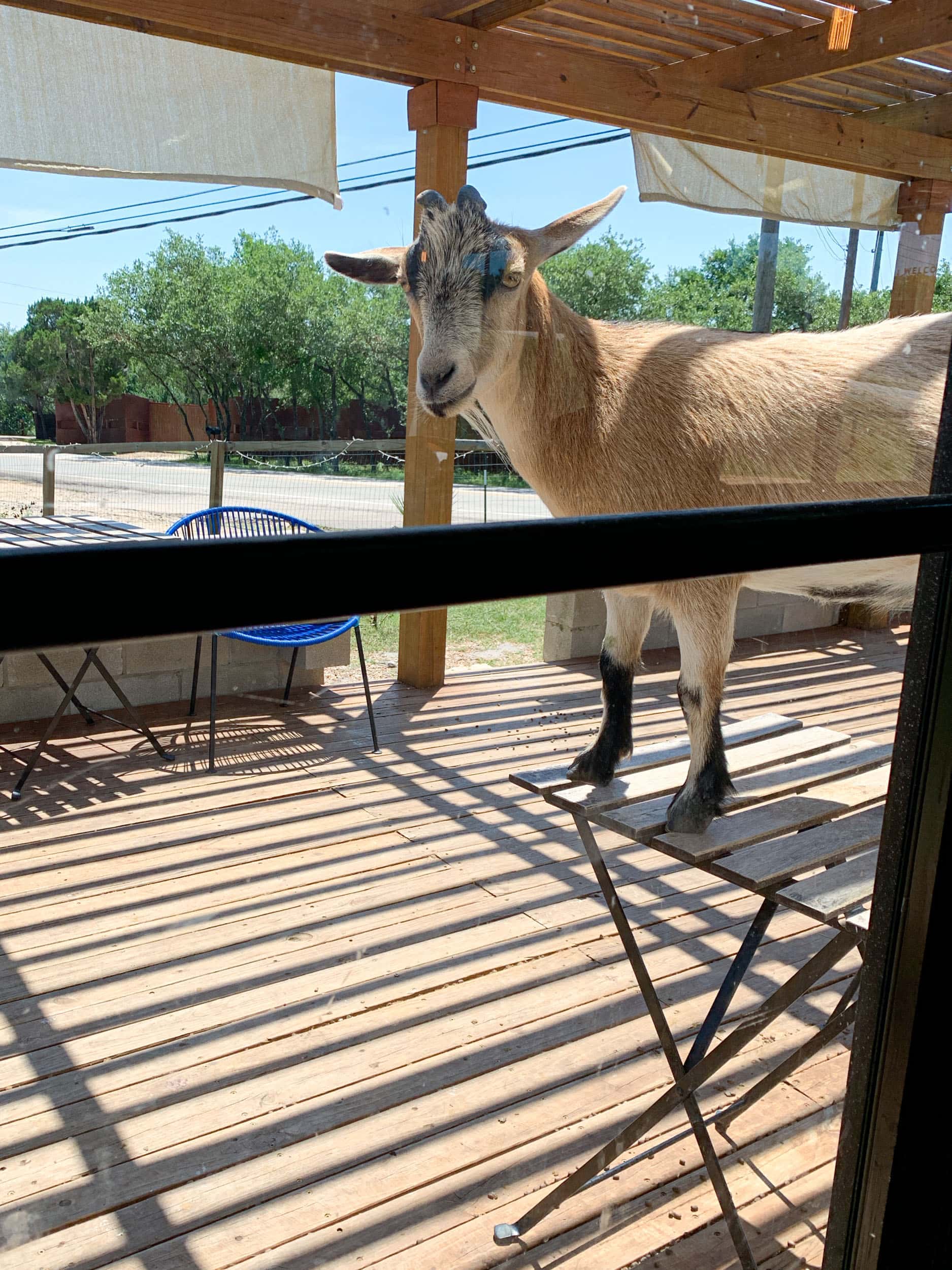 Civil Goat Coffee Co.
I learned about Civil Goat Coffee Co. from Instagram and was excited to see it in person.
The original coffee shop is located 30 minutes by car west of downtown Austin.
Butters is the resident pygmy goat, and due to health codes, he's only allowed to hang out on the outdoor deck.
Soon after I ordered a cappuccino and avocado toast, Butters showed up. This was around noon.
The website suggests you're most likely to see him between 10 AM to 3 PM.
He's a headstrong goat, as in he'll happily push his hard head into your shins for as long as you'll let him.
In addition to petting Butters, I also watched him eat, poop, and push one of the staff across the deck. He's a hoot!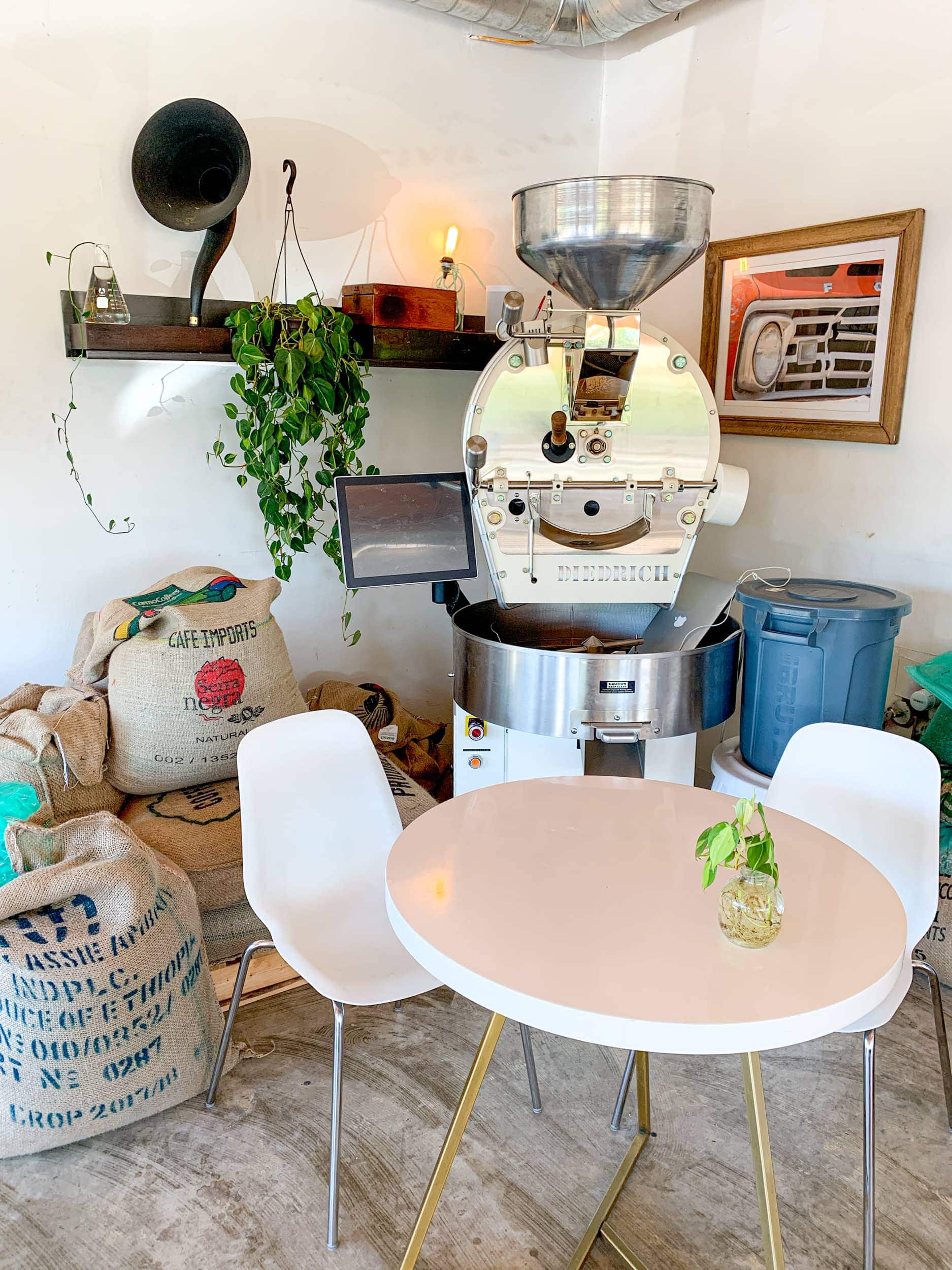 When I had my fill, I went back into the cafe and ate one of their chocolate doughnuts before heading home.
The interior of the cafe is small but comfortable and full of natural light.
Several people were working on laptops while the first time I visited. I later co-worked there myself.
In 2020, Civil Goat Coffee Co. made the smart decision to open a second, more accessible coffee shop in downtown Austin.
I visited the new space, which features an indoor coffee bar and a small outdoor patio.
Unlike the Cuernavaca location, the downtown cafe lacks roasting equipment, and Butters does not make appearances.
Original Shop & Roastery: 704 Cuernavaca Dr. N, Austin, www.civilgoat.com
Downtown: 3423 Guadalupe St, Austin
Related: Hawaiian Doughnuts: Malasadas at Leonard's Bakery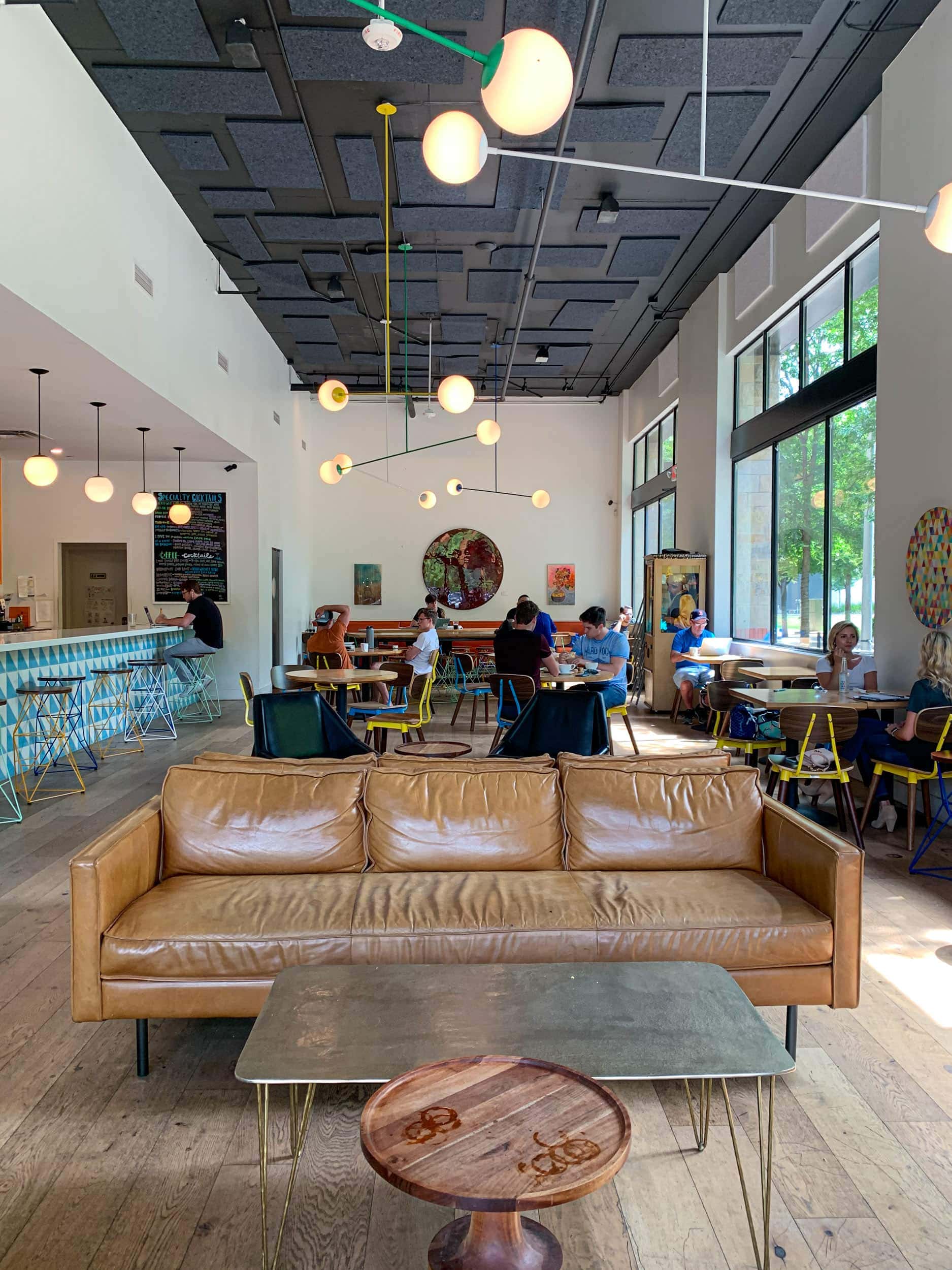 Central/North Austin
Halcyon Mueller
Halcyon Mueller is another of my favorite coffee shops for co-working.
Opened in the Mueller neighborhood northeast of downtown, it features high ceilings, geometrically designed stool, and plenty of natural light.
There's a long counter, lots of electric outlets, good Wi-Fi, and music that's not too loud.
Oh, and coffee, of course. They also offer fresh fruit smoothies and a more extensive food menu than the original downtown location.
Halcyon Mueller is a block away from Lady Quackenbush's Cakery (1900 Simond Ave, Suite 300), where you'll find some of the city's best cupcakes.
1905 Aldrich St, Suite 110, Austin, halcyoncoffeebar.com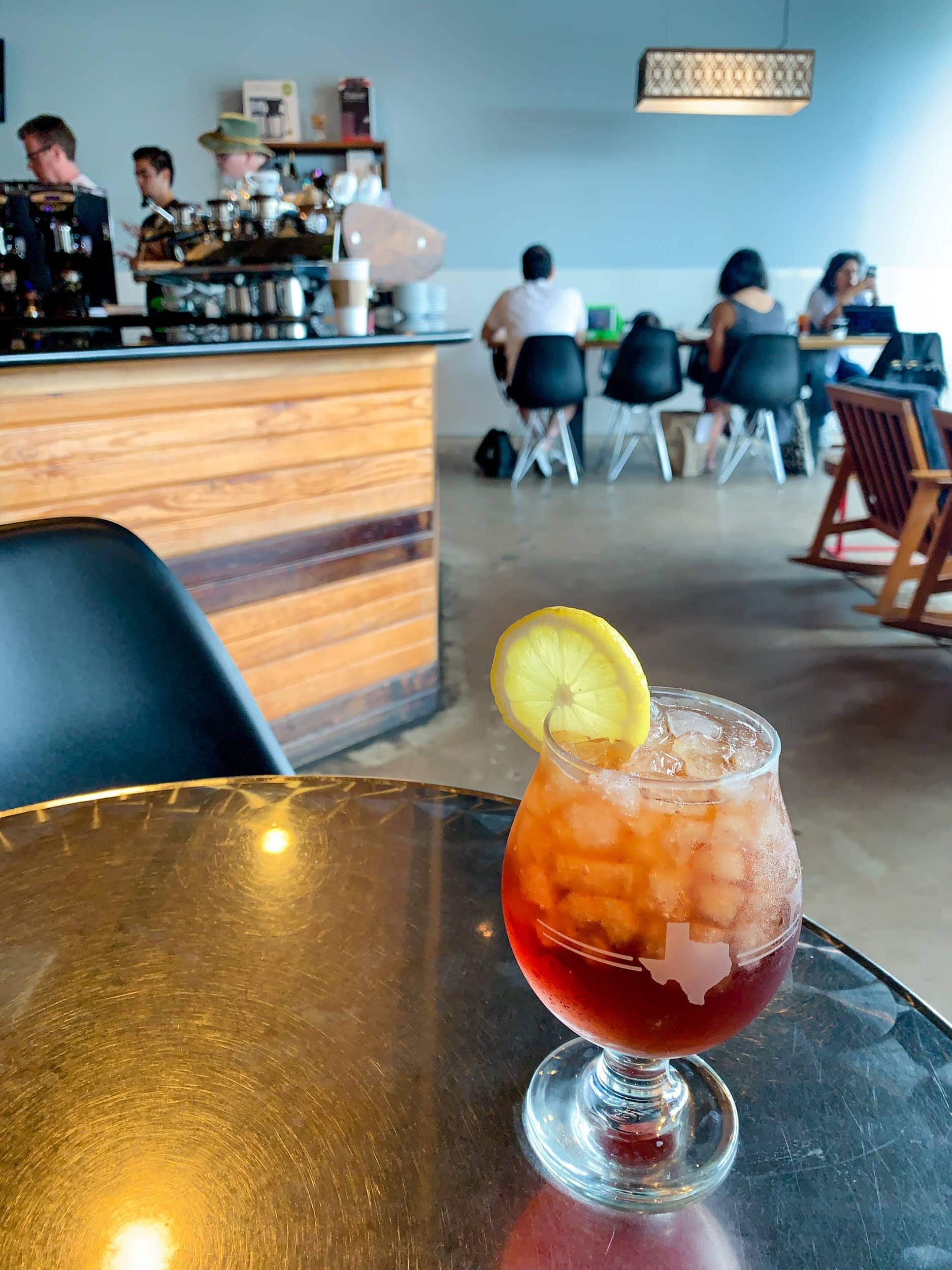 Houndstooth Coffee
My initial experiences with Houndstooth were through their downtown cafe at 401 Congress Ave in the Frost Tower as I was living nearby.
It's a small, bare cafe, better suited for a quick coffee or coffee-to-go than a place to hang out.
So, I branched out and visited the North Lamar location in the same building as Uchiko, one of my favorite sushi restaurants, and Tacodeli.
A block south is Austin's Lamborghini dealership.
This location's cafe is relatively small, too, however, it's brightly lit, and the seating is more comfortable.
I was pleasantly surprised by the Arnold Pommer - cold brew coffee with pomegranate and lemon juice, and honey syrup (pictured above).
4200 N Lamar Blvd #120, Austin, houndstoothcoffee.com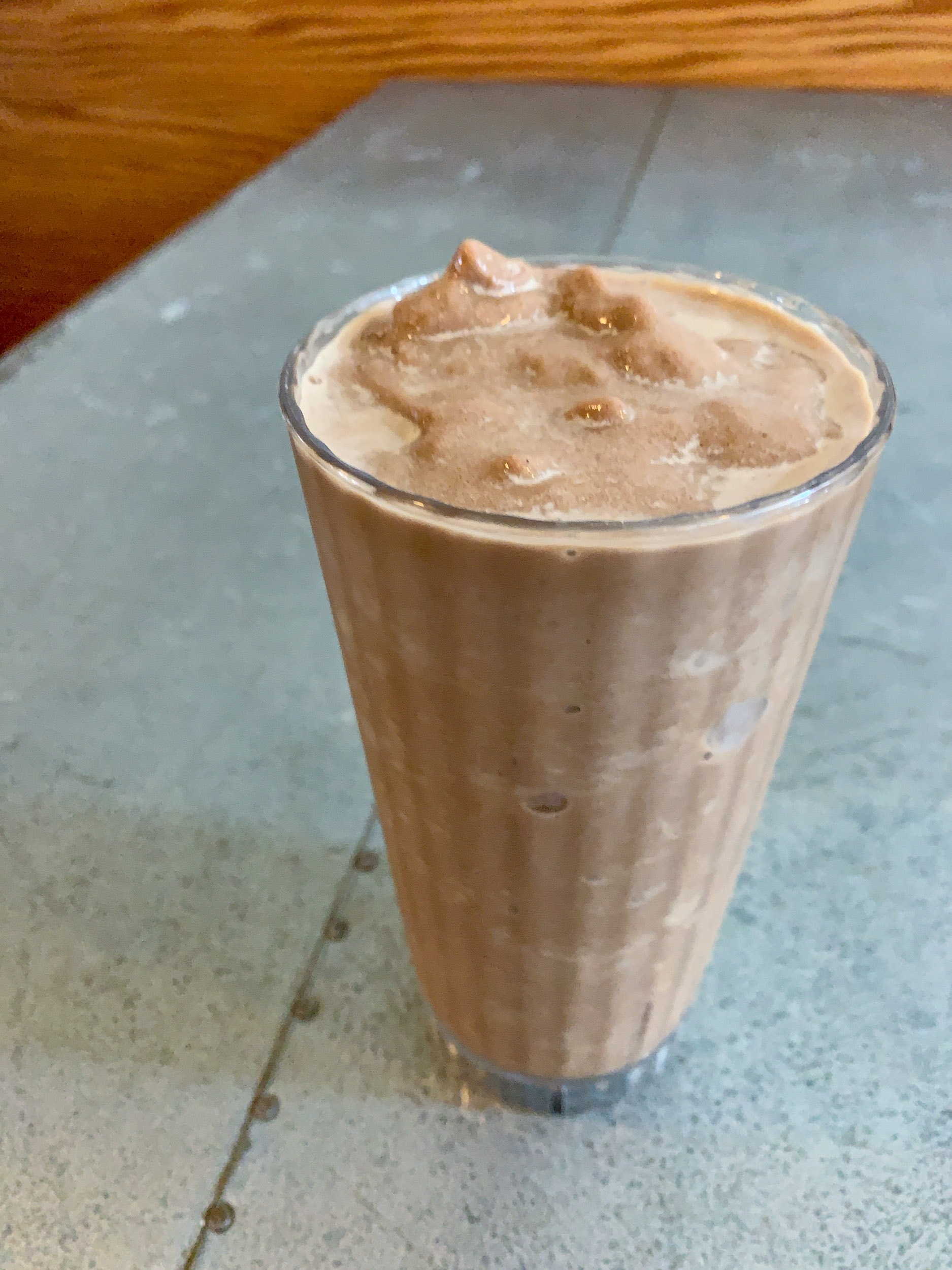 The Steeping Room
A block and a half north of Houndstooth is The Steeping Room, a tea shop, cafe, and restaurant.
I include it on this list as an alternative to coffee, though they serve that too.
I've had lunch here several times, and it's always buzzing. It's a casual, comfortable vibe with friendly service and plenty of well-sourced tea.
I drank more tea than coffee in my twenties and still have a soft spot for green tea, chai, and Nepali milk tea.
4400 N Lamar Blvd, Austin, thesteepingroom.com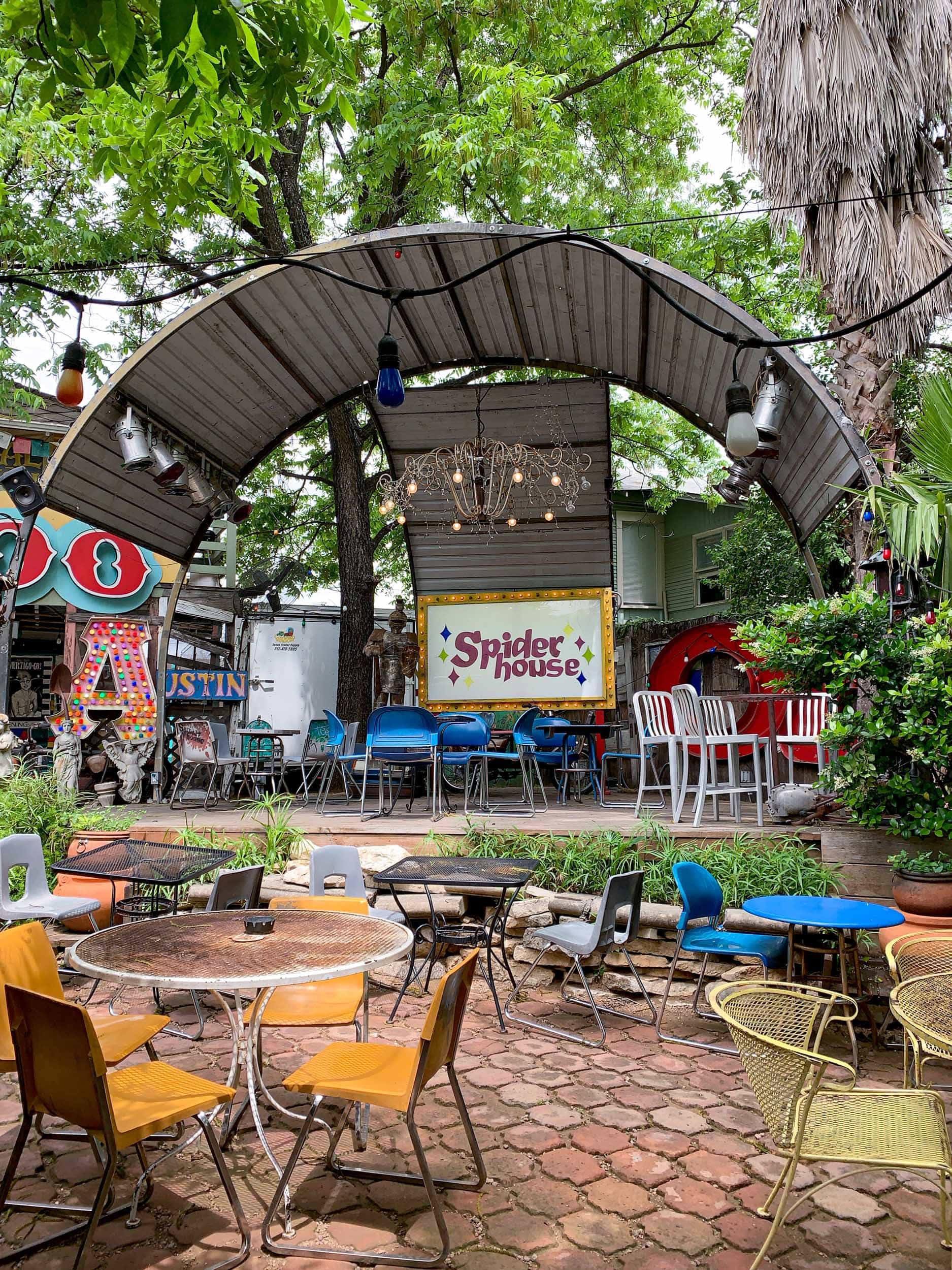 Spider House Cafe and Ballroom
Last but not least, there's Spider House. This eclectic cafe, bar, and event space opened in 1995 and attracts a loyal following.
There's comfy seating inside, but I always choose the big patio with its mismatched tables and chairs, random art, and stage for special events.
I've only been here during the day, but I'm sure it's even cooler at night, given all the Christmas lights they have strung up.
And in true Austin fashion, there's a tattoo shop on the premise, should the urge to get inked strike you.
A bottomless cup of dark roast coffee is available, as is tea, horchata, and a full bar. Several food trucks rotate their presence throughout the week.
2908 Fruth St, Austin, spiderhouseatx.com
***
And there you have it, my recommendations for the best coffee shops in Austin, Texas.
I'll be updating this list annually to reflect what's new on the scene.
Did you enjoy this story? Join me on Instagram and Facebook to share thoughts, ask questions, or keep up with my latest adventures.