For a small desert town in West Texas (population: 1,800), restaurants in Marfa offer visitors quite a few delicious opportunities.
There's the historic hotel and restaurant that hosted the Hollywood talent from an award-winning movie in 1955, a cute cafe with a serious sourdough bread program, and burritos worthy of a visit by Anthony Bourdain.
I knew nothing of Marfa before moving to Austin, and after that, only that there was an art installation (Prada Marfa) visited by Beyonce.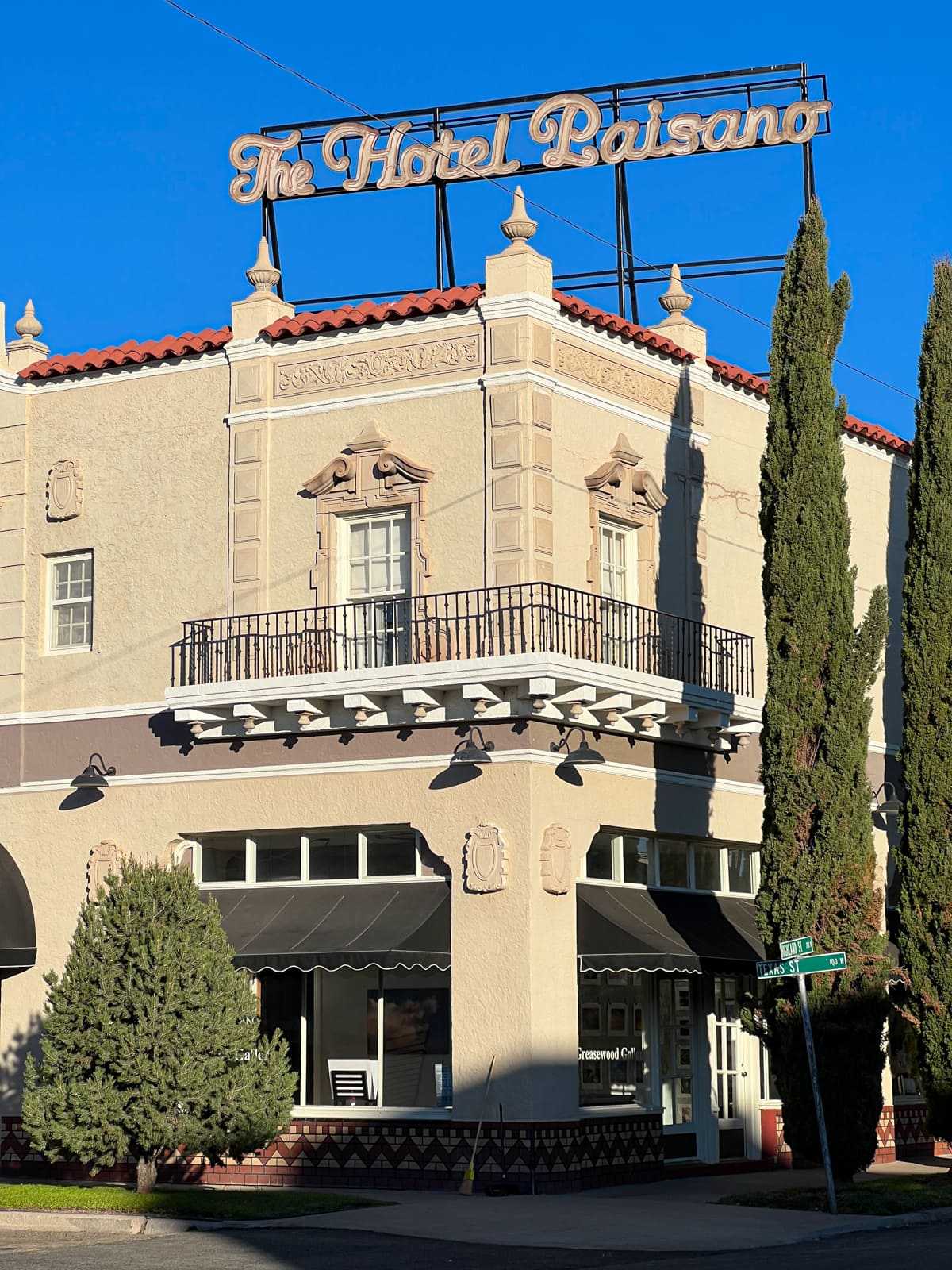 When my girlfriend Kel, and I, planned a West Texas road trip, we gave ourselves two nights in Marfa and three nights in Big Bend National Park.
It's a minimum 6.5-hour drive southwest of Austin to reach Marfa, so we wanted to make the most of it. Big Bend, incidentally, is an hour and a half southeast of Marfa.
Visiting Early in the Week
A word to the wise, Marfa is mainly a weekend destination. We didn't know this when we booked our Airbnb, but it didn't become a problem.
Concerns about being unable to eat out on a Monday or Tuesday night in Marfa were unfounded.
We eat well at some of the best restaurants in town, open seven days a week.
And even if they weren't open, a handful of grocery stores and bodegas offer local and artisanal products.
That said, you'll have more options if you visit later in the week (Thursday to Sunday).
Make reservations for the fine dining spots as more people will be there. I'll note these below. Now, let's dig into some good food.
Best Marfa Restaurants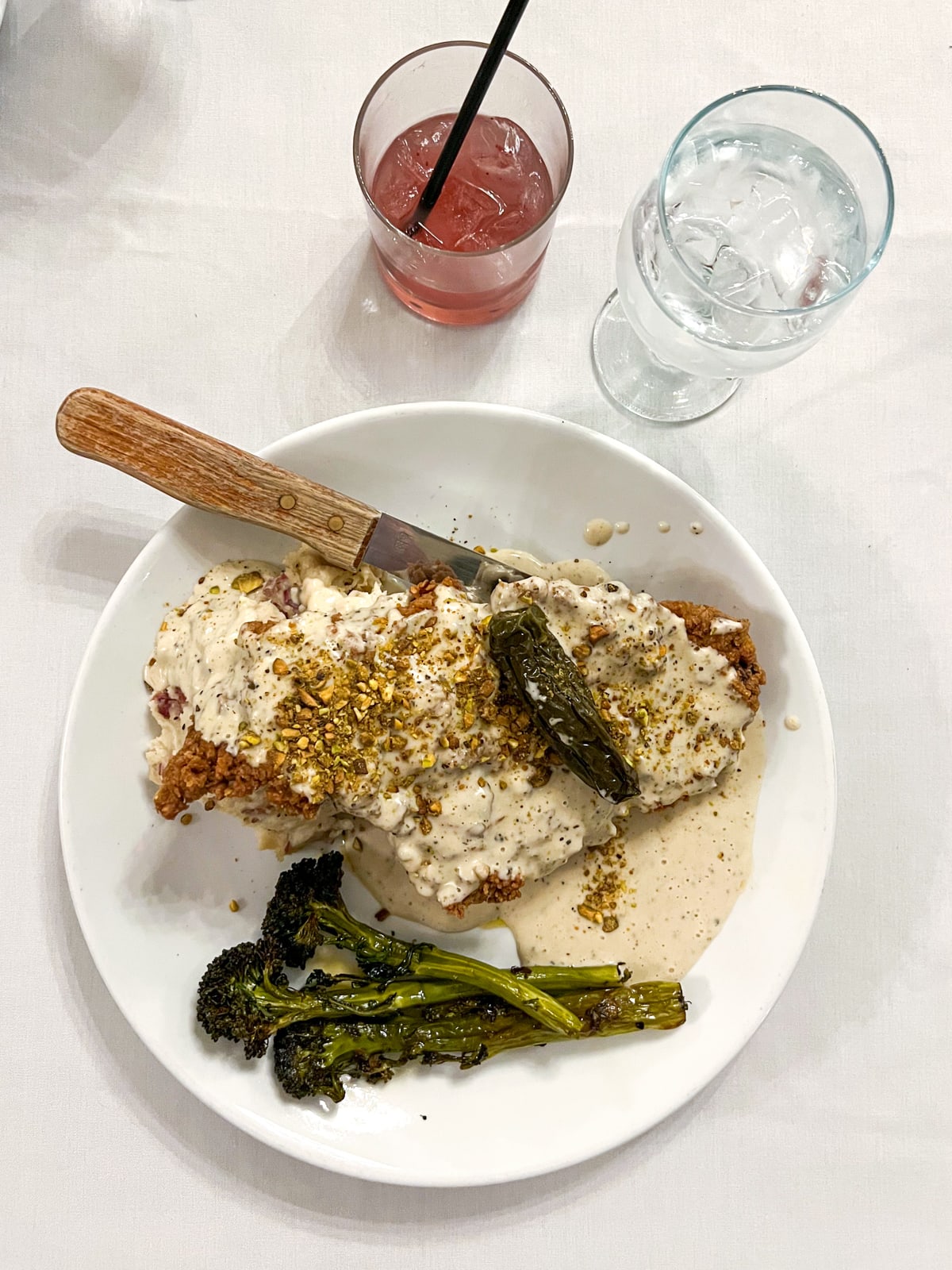 Jett's Grill
In 1955, Elizabeth Taylor, James Dean, and Rock Hudson came to Marfa to shoot Giant, an epic three-hour Western drama based on a novel.
Dean would die in a car crash before the film was released; however, it earned him his second Academy Award nomination for Best Actor.
While much of the filming occurred outside of town, the cast stayed at The Hotel Paisano, a beautiful building a block south of the Presidio County Courthouse.
Memorabilia and old photos line the lobby walls and Jett's Grill, one of the most sought-after restaurants in Marfa.
We could not get a table on our first night, so we made a reservation for the second.
Following an afternoon spent at the McDonald Observatory and Prada Marfa, we went to dinner at Jett's.
The meal began with a round of cocktails, a classic margarita for me, and a purple Midnight Pepino with Bacardi Rum for Kel.
I ordered my first chicken fried steak, made with sirloin and topped with jalapeño gravy; it was served with mashed potatoes and vegetables.
I wasn't sure I'd like it, but it was fantastic. The spiciness from the peppers kicked it up a notch, but the heat wasn't overpowering.
Kel enjoyed their 12-ounce locally-raised beef burger and gladly took the broccoli off my hands.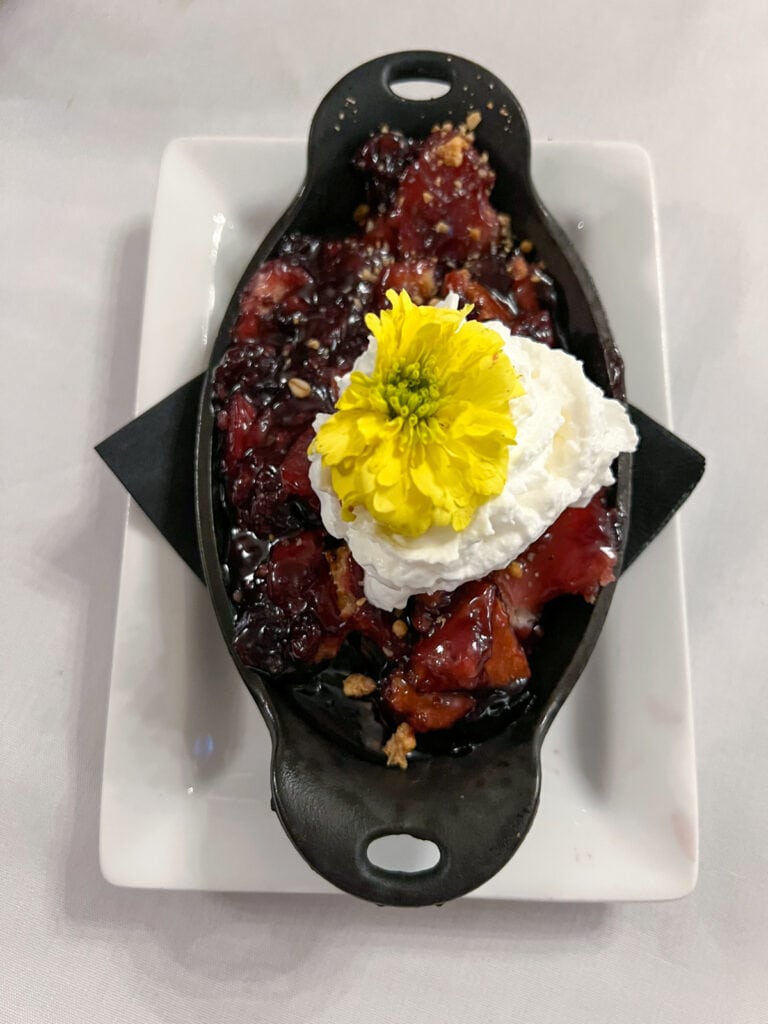 Thanks to Kel, I became a fan of blackberry cobbler on this trip.
On the drive to Marfa, I first tried it at a BBQ restaurant, and then Jett's fresh, warm cobbler blew us away.
Yes, it would've been even better with a scoop of cold vanilla ice cream; however, we were already pretty full.
We also tried the lemon pie, made from a historic recipe, but it didn't WOW us like the cobbler.
Do you need a reservation for Jett's?
Regardless of when you plan to visit Marfa, make a reservation for Jett's.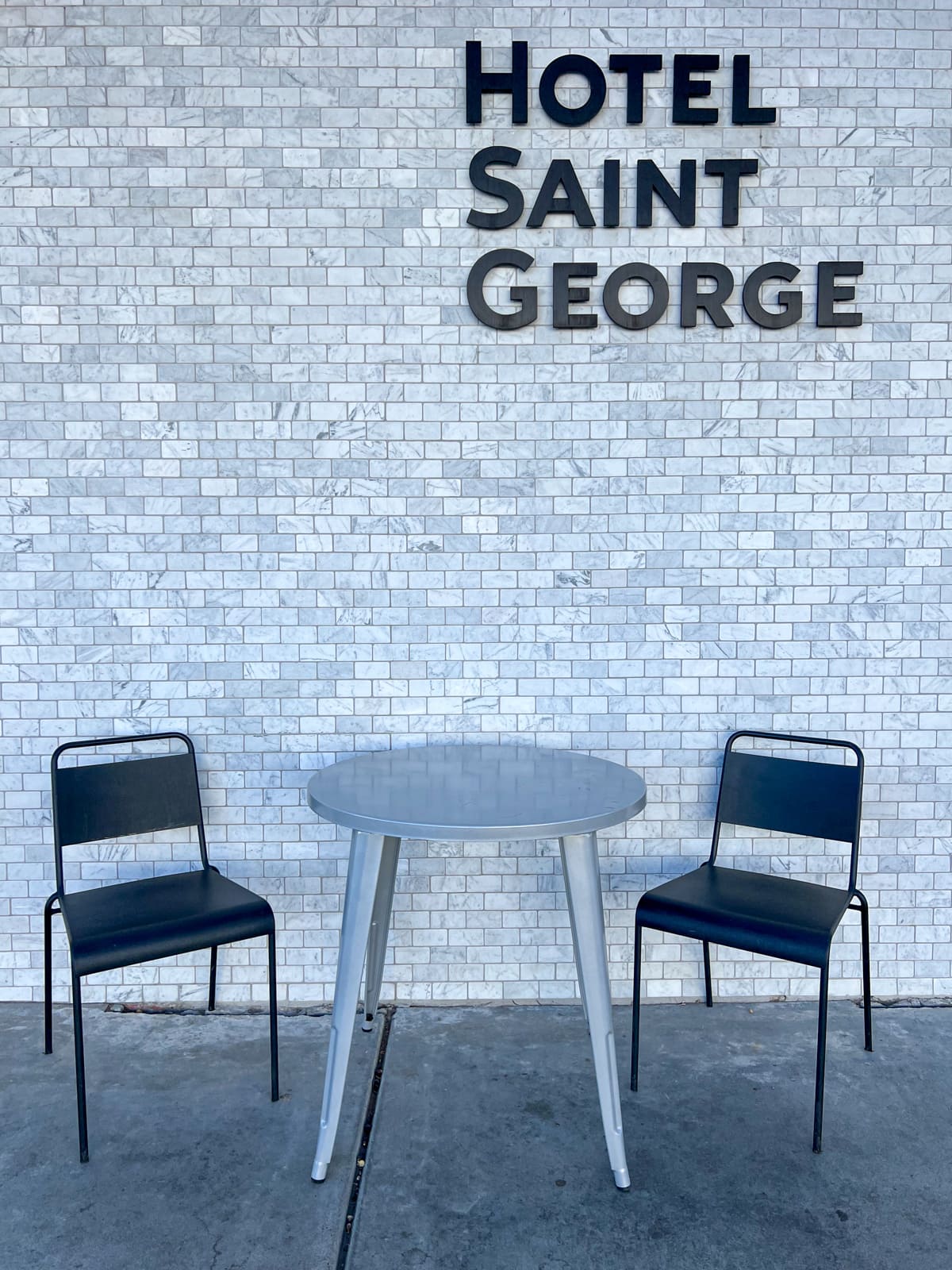 LaVenture
Since we couldn't dine at Jett's our first night, I led us to LaVenture at Saint George Hotel.
This luxury hotel, two blocks south of The Hotel Paisano, is the new kid on the block.
The interior design and menu items are more contemporary than what you'll find at Jett's.
I got a Chihuahuan Sunset with prickly pear, orange, lime, and agave syrup to drink. It's available alcohol-free and with tequila or mezcal.
There's a little something for everyone on the food menu, from fried Texas quail breast to el pastor street tacos with housemade corn tortillas and hanger steak.
If you're in the mood for pizza, a giant black wood fire oven is at your service in the middle of their open kitchen.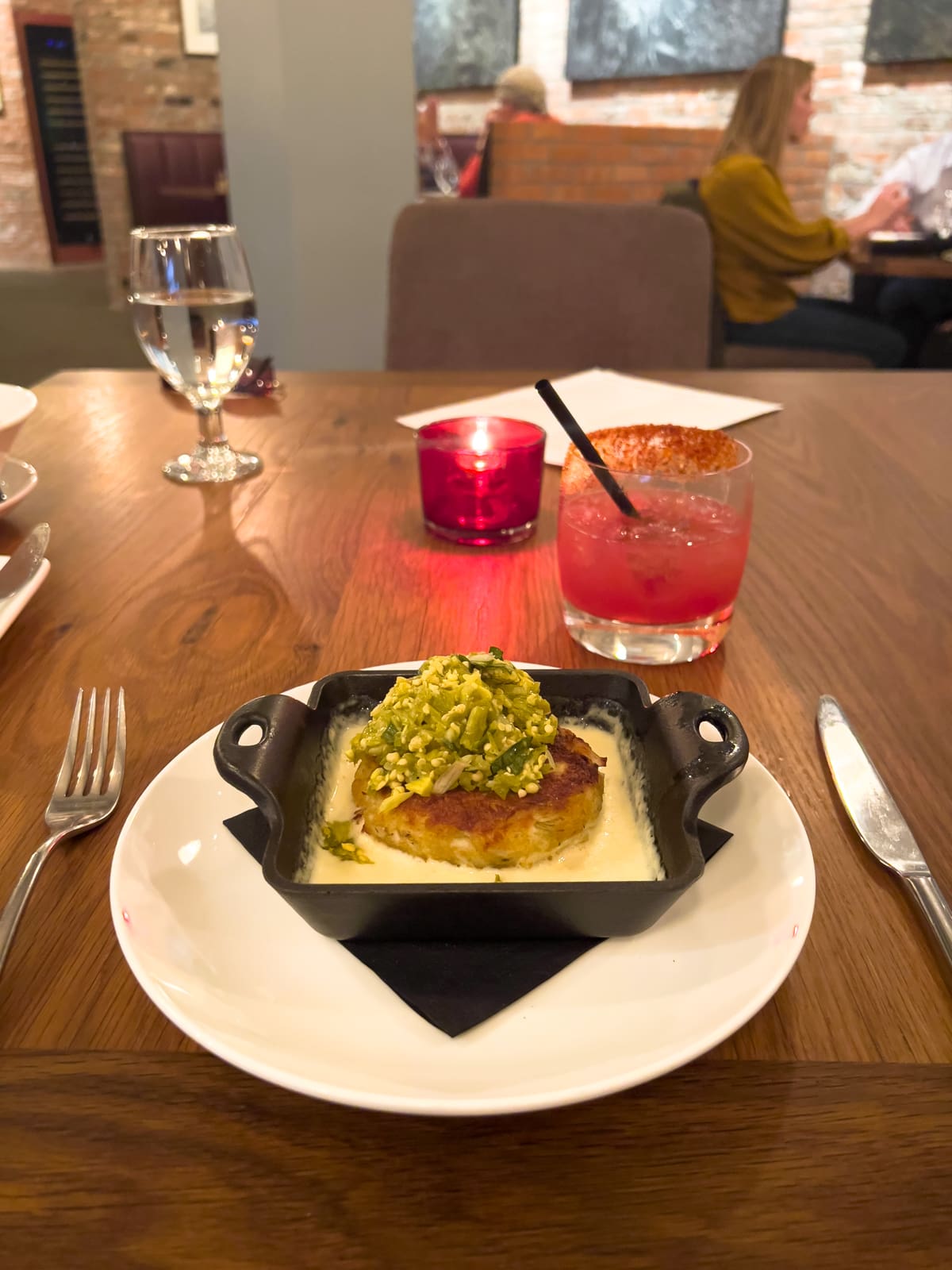 I opted for the baked crab cake with sherry cream and pickled okra relish; fresh seafood is flown in regularly.
The crab cake was surprisingly good, thanks to the cream sauce. It's not large, but it was rich enough to satisfy my hunger.
Kel enjoyed her red chile tortilla soup with avocado and cotija cheese.
Meat lovers might opt for the 12-ounce New York prime strip with broccolini and mashed potatoes or the 6-ounce prime tenderloin with asparagus and duck fat potato galette.
For dessert, I got the tiramisu-inspired tres leches cake. It felt like an odd combo and didn't work well, but you know me, I ate it anyway!
Do you need a reservation for LaVenture?
Like Jett's, it's wise to make a reservation for dinner at LaVenture, which is also open seven days a week.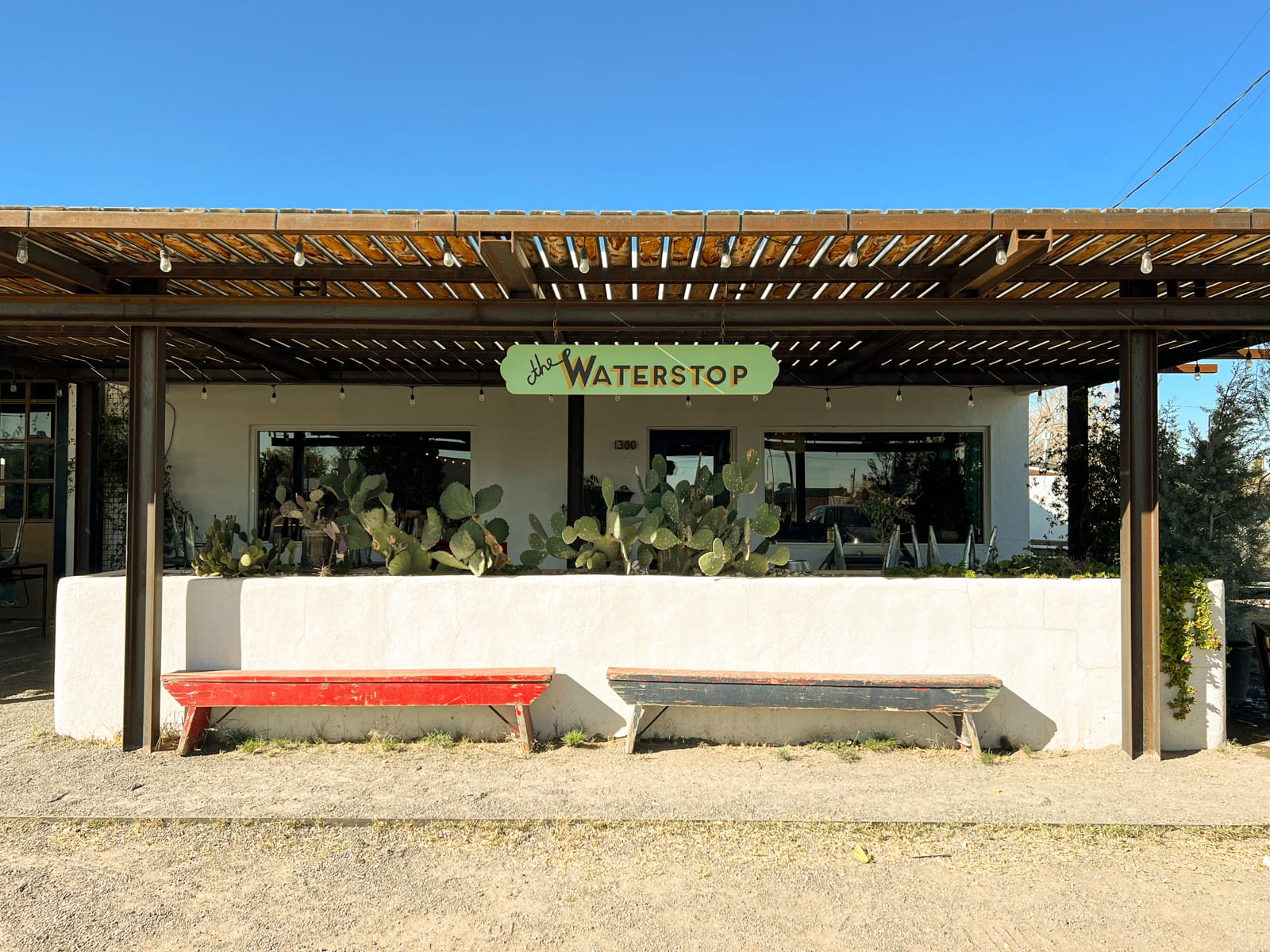 the Water Stop
Marfa is a small town with just one blinking red stoplight at the main intersection between Route 90 (W. San Antonio St.) and South Highland Ave.
Therefore, we'd driven past the Water Stop, a casual restaurant on Route 90, several times before we could get in for our last lunch before leaving for Big Bend.
They're open seven days a week; however, they close between lunch and dinner, so you have to watch the time of day.
The cactus-lined patio is well-shaded, but we chose to sit inside where there were more people.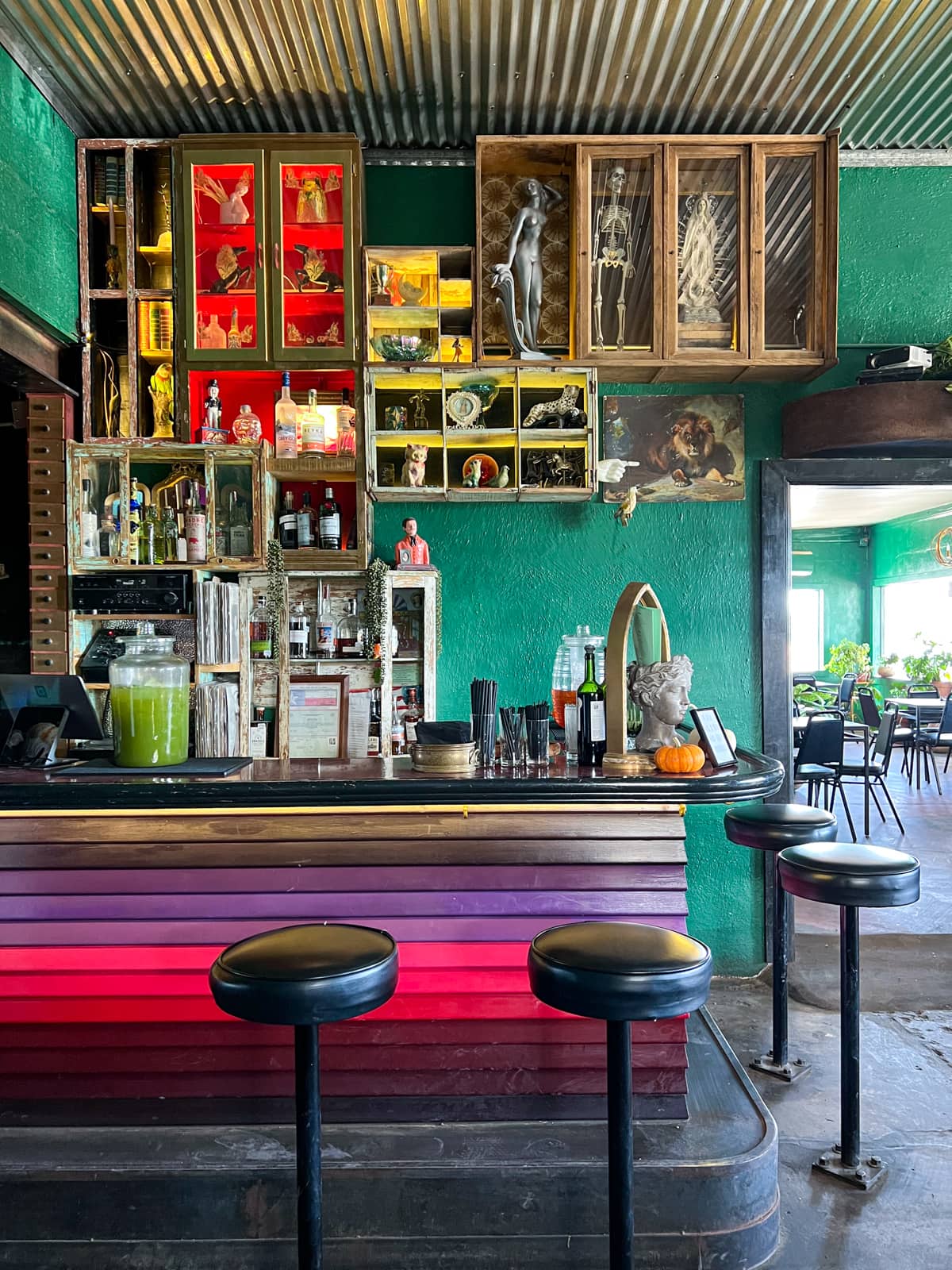 The larger room with concrete floors features bright pink walls around a walk-in fridge and an antique Coca-Cola machine which was neat to see.
The smaller room with the bar was painted green and nicely decorated with tiny skeletons and knick-knacks on shelves.
Had the two small booths by windows not already been taken, it would've been my preferred place to eat.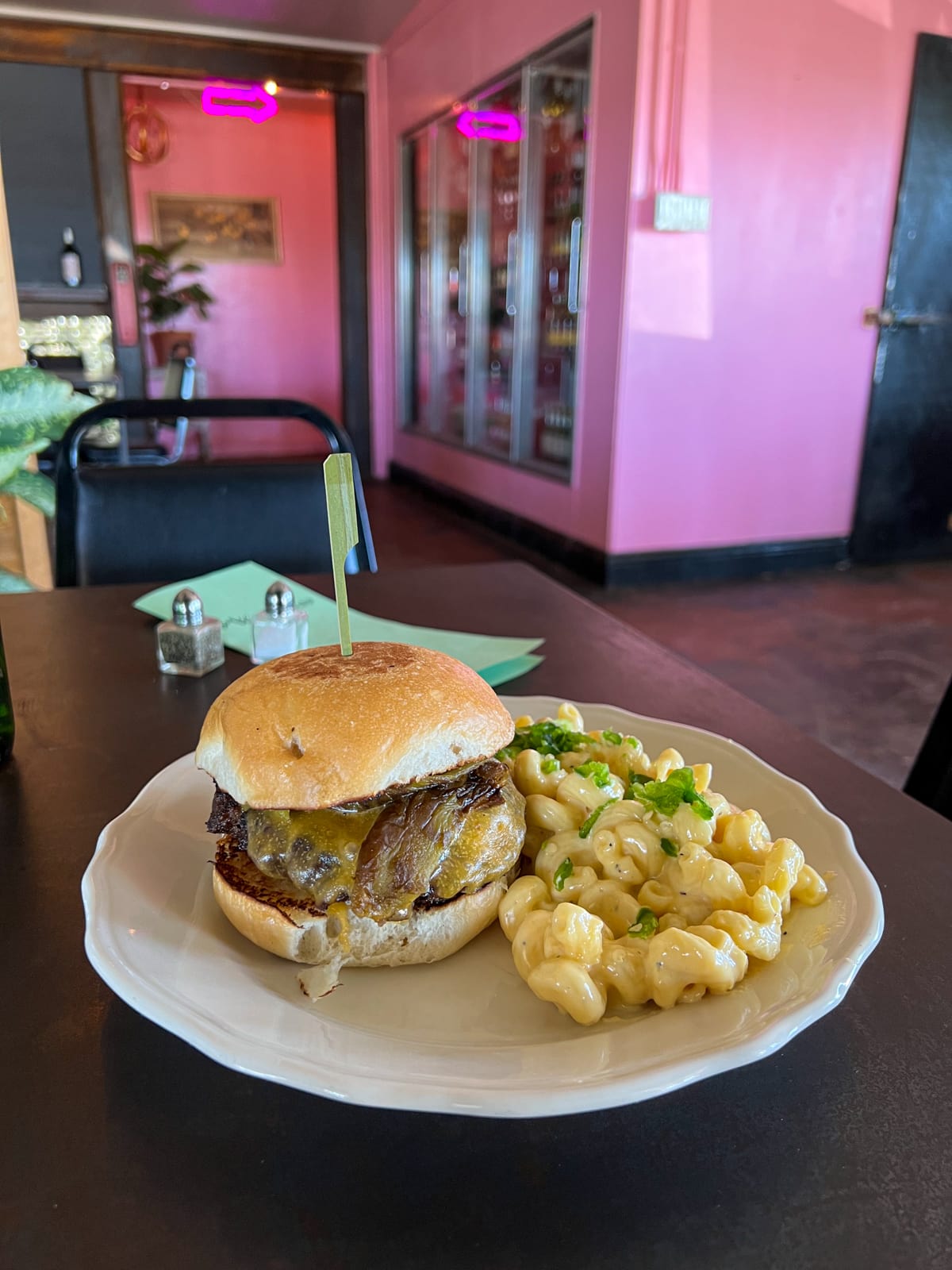 At this restaurant in Marfa, I ordered the green chile cheeseburger with sharp cheddar, roasted Anaheim peppers, and mayo. I got a side of jalapeño mac and cheese for good measure.
Both were fantastic and so filling. I took half in a to-go container to eat another day at our Airbnb outside Big Bend National Park.
A fried chicken and spicy fried chicken sandwich are also available.
Kel got the migas scramble. Another brunch option is biscuits and gravy.
The Water Stop has also begun serving sushi every Wednesday, flown in fresh overnight from Hawaii.
Do you need a reservation for the Water Stop? Brunch and dinner are first come, first serve. Reservations can be made for parties of eight or more.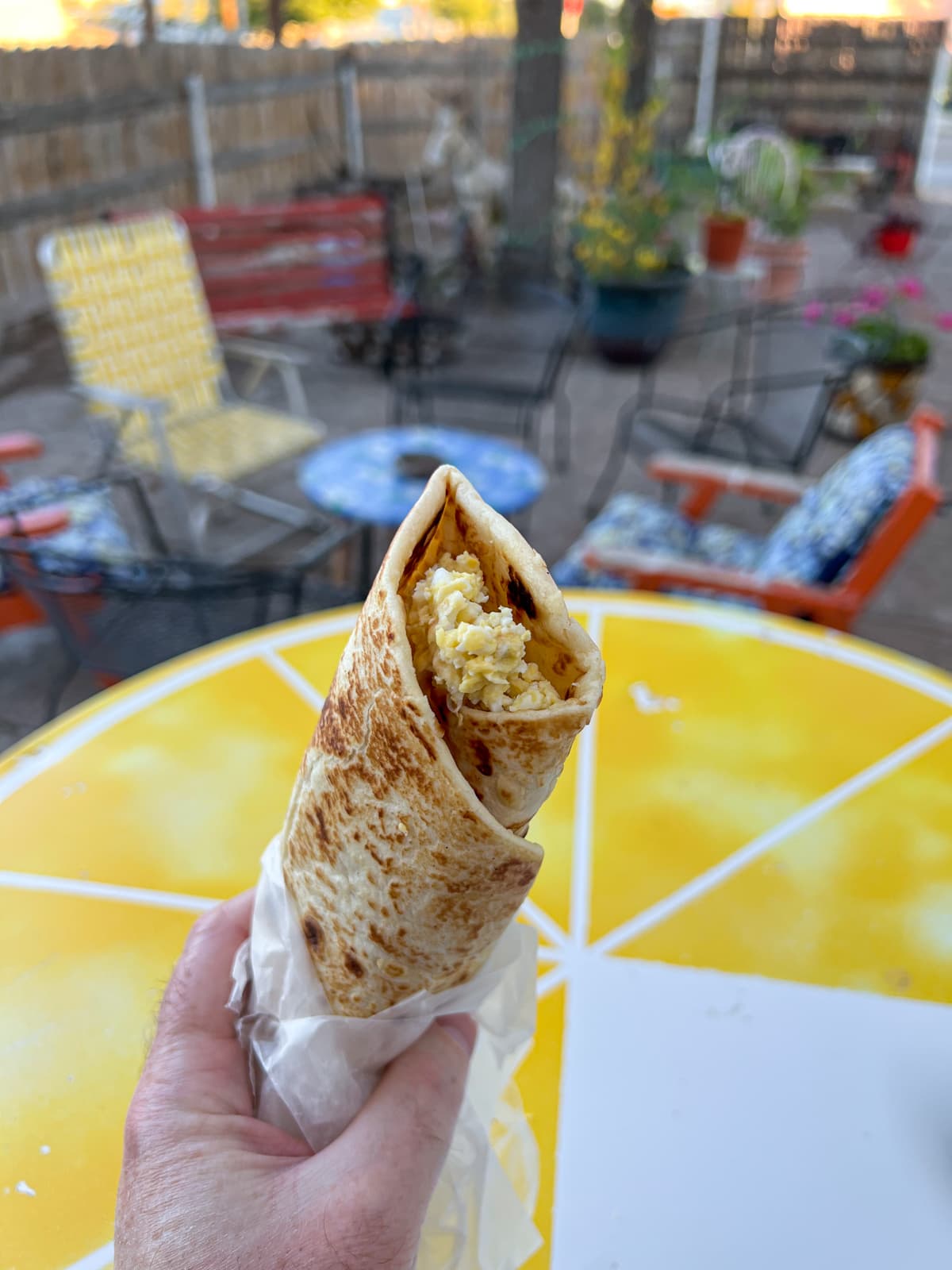 Marfa Burrito
A right of passage for visitors to Marfa is a stop at Marfa Burrito (515 S Highland Ave).
This humble Mexican restaurant is open from 6 a.m. to 2 p.m., Monday through Saturday.
As you walk up to the entrance, you'll see the fence has been signed by some of the thousands of diners to devour one of Ramona Tejada's freshly-made burritos.
Inside, framed photos of Ramona with Matthew McConaughey, Kevin Bacon, and Anthony Bourdain hang on the wall.
Ramona, known as the Burrito Queen of Marfa, makes her burritos from scratch in her kitchen every day, with the help of several other women.
There are a few seats inside, but I'd suggest eating on the colorful patio unless it's cold. As for the menu, it's straightforward.
Options include:
Egg and chorizo, potato, or cheese
Bean and cheese
Asado
Carne
Primo
The first four choices are $7 apiece, with the rest between $8 to $10. As I wanted to visit other places the morning we went, I got a simple egg and cheese burrito.
I didn't expect to finish it; I just wanted a taste. But once I got going, I couldn't stop. I would've left happy if all she gave me were the tortilla!
If you're dropping by Marfa Burritos Thursday through Saturday, follow it with a walk through The Chinati Foundation, Donald Judd's nearby contemporary art exhibit.
Cool Cafes
There aren't a lot of restaurants in Marfa. After all, they only have about 1,800 full-time residents, so I included some of the cute cafes we enjoyed.
As you'd expect, the cafes are all first-come, first-serve.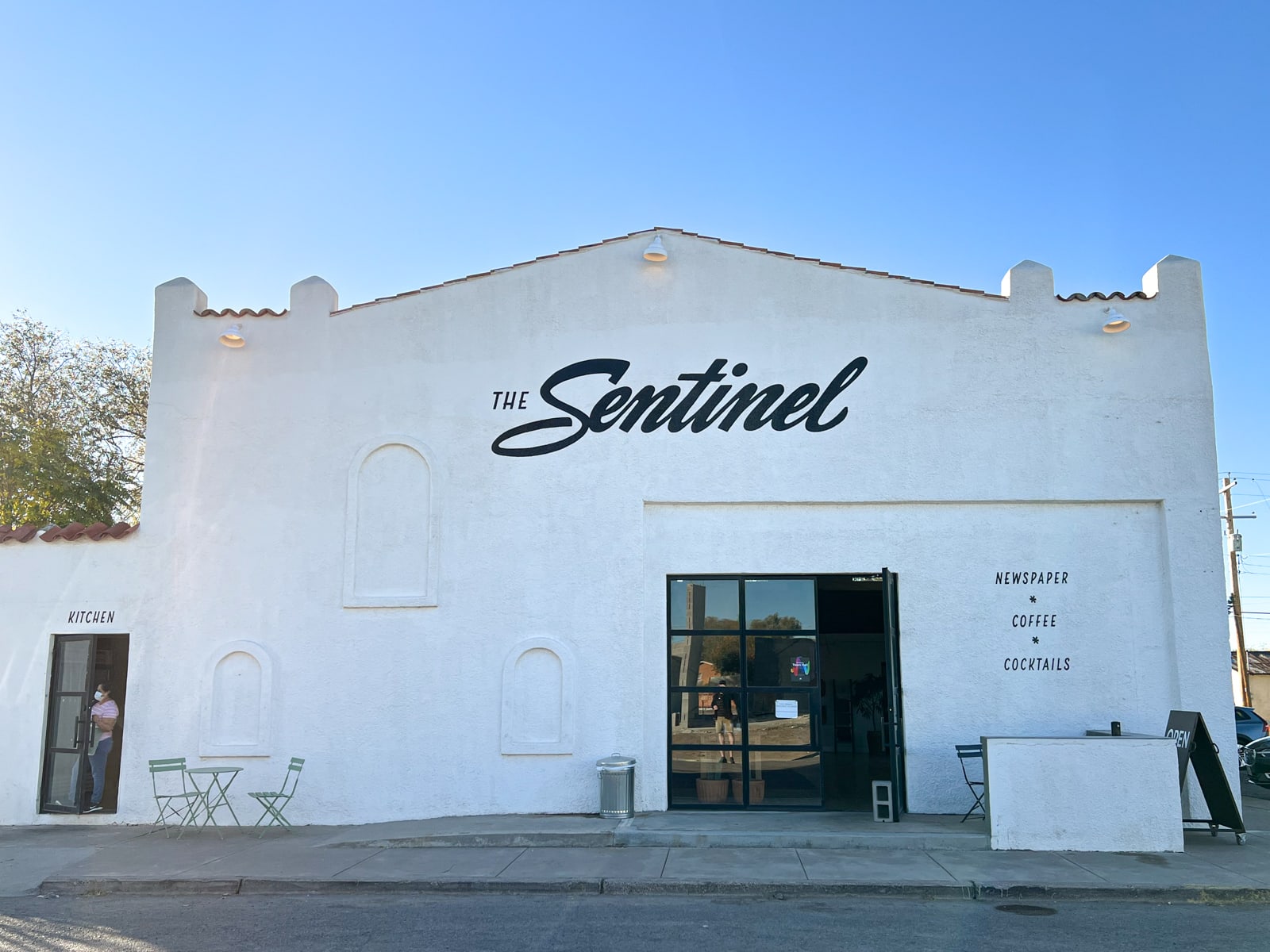 The Sentinel
Stop by The Sentinel to see inside this beautifully renovated building.
Behind the white facade is a spacious artisan gift shop, where they've left some of the original adobe mud brick exposed, a look I love.
Once you've taken in the interior decor, grab a drink at the counter and perhaps a newspaper to support local journalism.
The Sentinel takes its name from The Big Bend Sentinel, a weekly newspaper that costs $1 per issue.
The Big Bend newspaper and the Presidio International paper are also based here.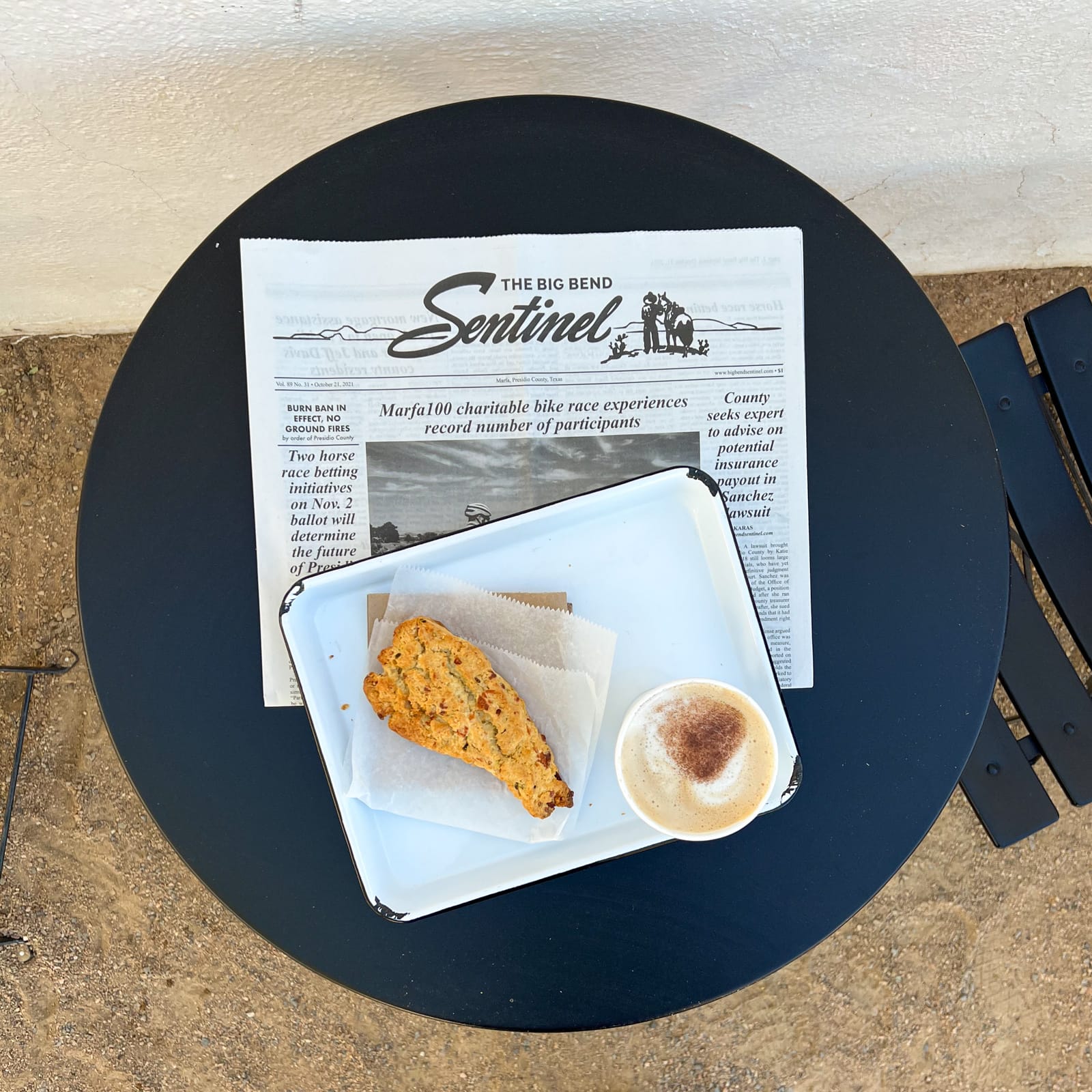 I ordered a Spanish latte with sweetened condensed milk and cinnamon and a bacon scone.
They've got Topo Chico and Mexican Coke (made with natural sugar).
If you're in the mood for something more robust, they've got cocktails, including a mezcal old fashioned, margarita, and Aperol Spritz.
There's ample indoor seating; however, the blue sky and desert sun beckoned me to sit outside on the patio.
The Sentinel is open seven days a week, from 7:30 a.m. to 3 p.m.
Related: Best Cafes in Austin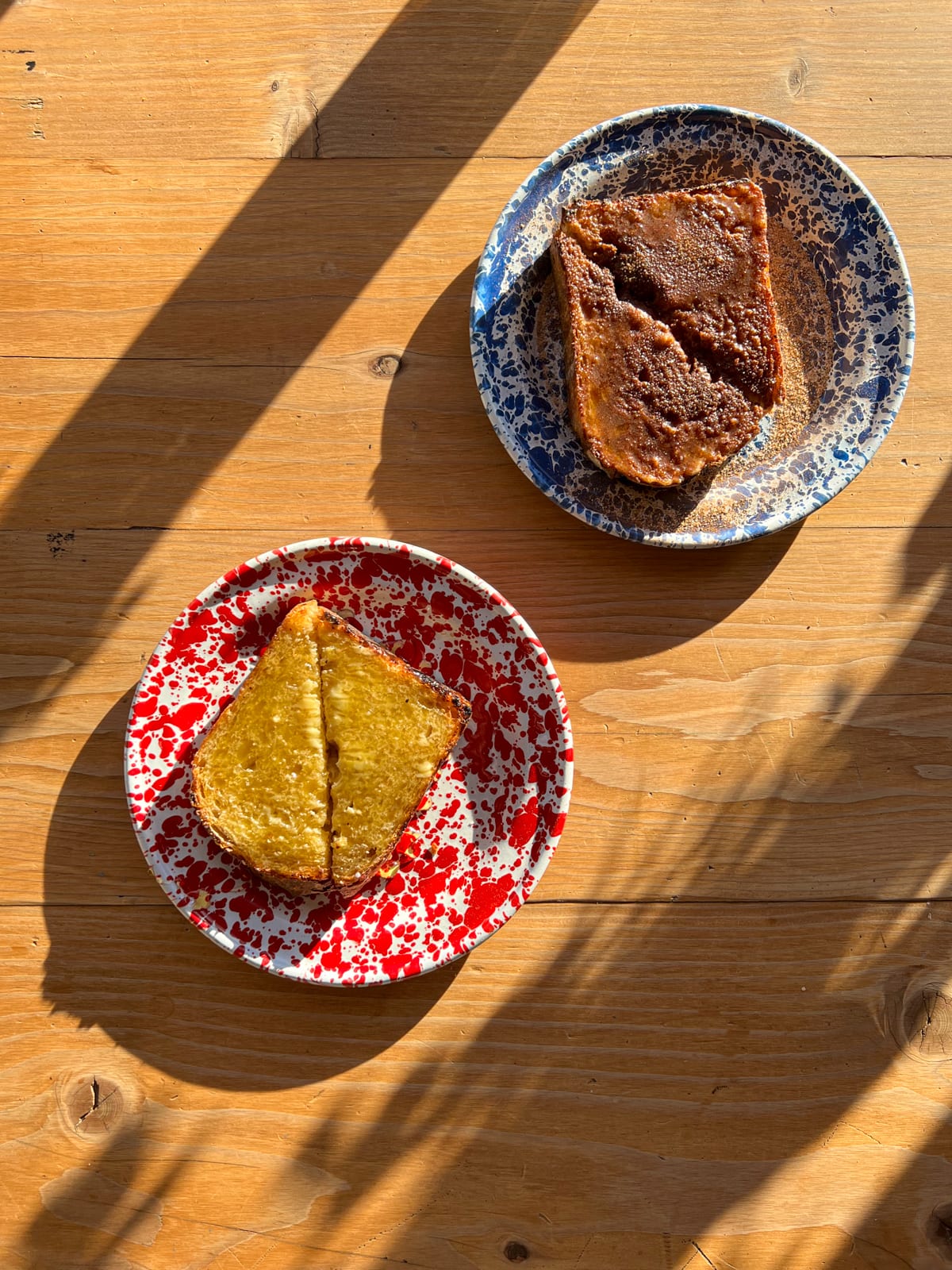 Do Your Thing Coffee
The adorable Do Your Thing Coffee is a few blocks west of The Sentinel.
Open for five years, Do Your Thing Coffee offers homemade sourdough toasts with various toppings.
I had difficulty choosing because all the options looked terrific; I eventually settled on the simple honey + butter option (as seen on the red plate below). Kel ordered the cinnamon and sugar toast.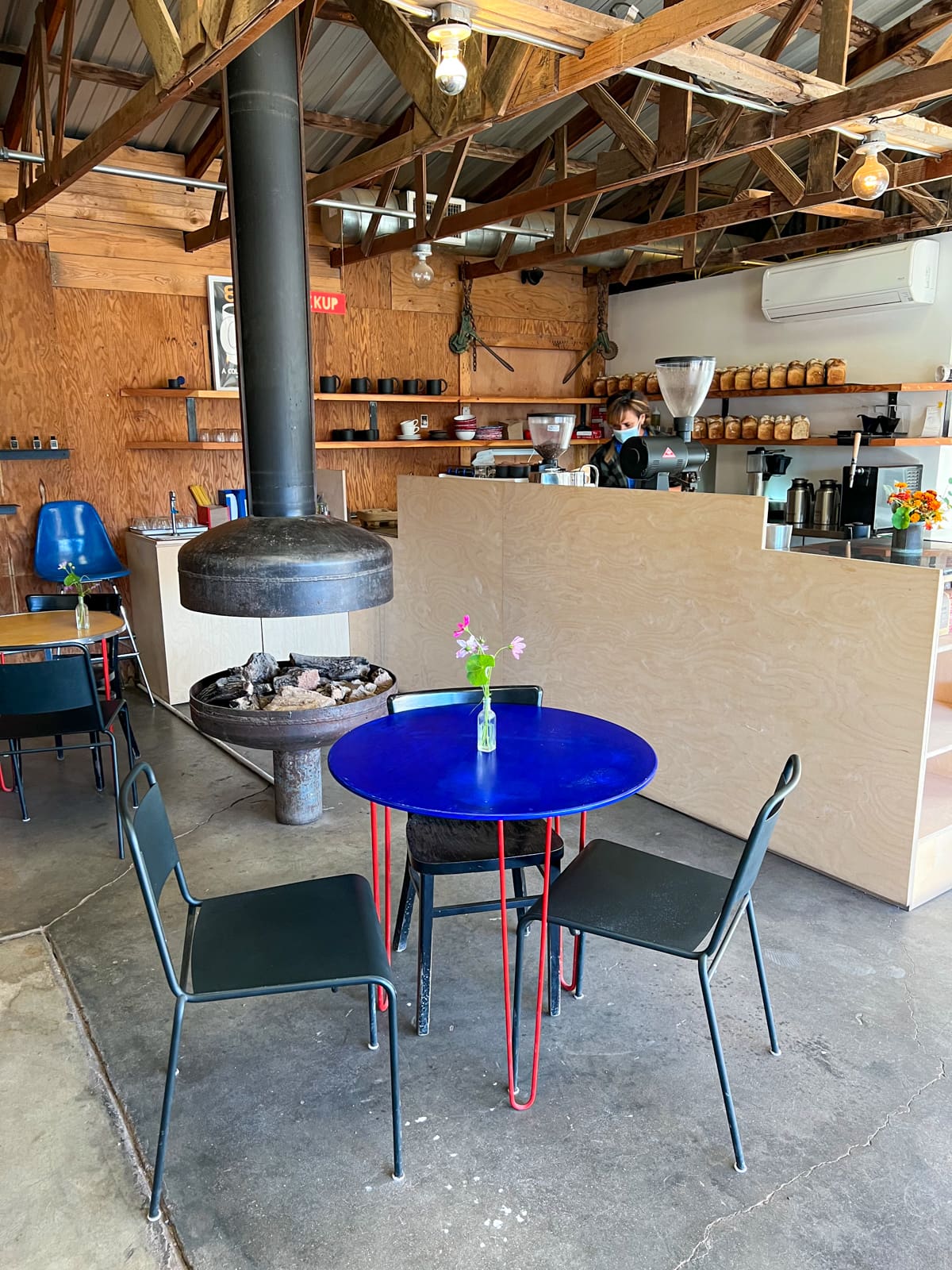 Choosing one of the drink specials at this coffee shop wasn't easier. The horchata latte, honey spice latte, and Oaxacan coffee all sounded divine.
I went with a Mayan Mocha made with Guittard drinking chocolate, ancho chile, cinnamon, vanilla, milk, and espresso.
I would've gone back, repeatedly, to try them all if we had the time.
Related: Italian Coffee Culture in Milan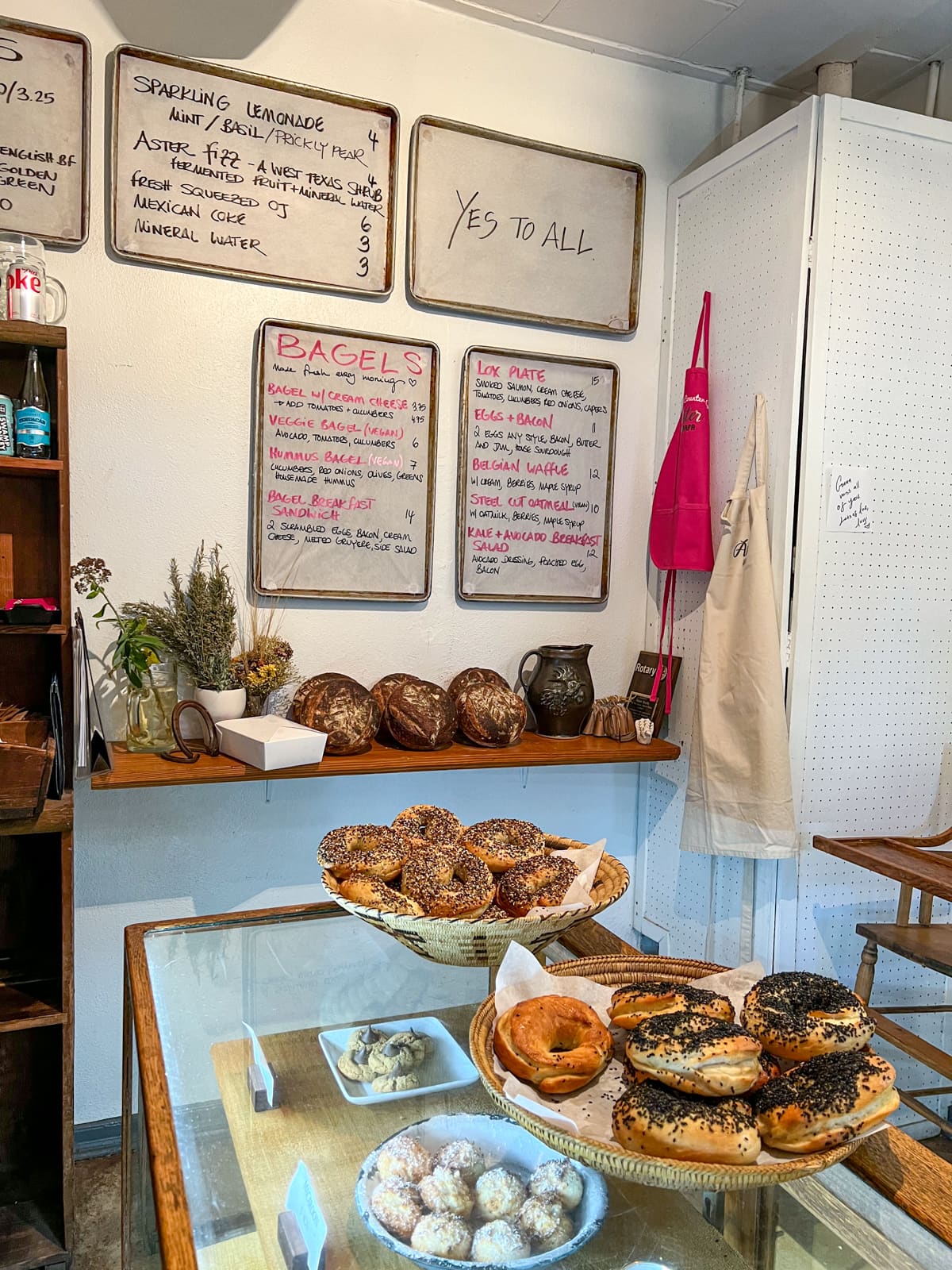 Aster Marfa
Aster Marfa was the third cafe we visited on our final morning in Marfa.
Already sufficiently caffeinated and fed from the previous places, I just got a peanut butter kiss cookie and a macaroon, along with an Aster Fizz to drink.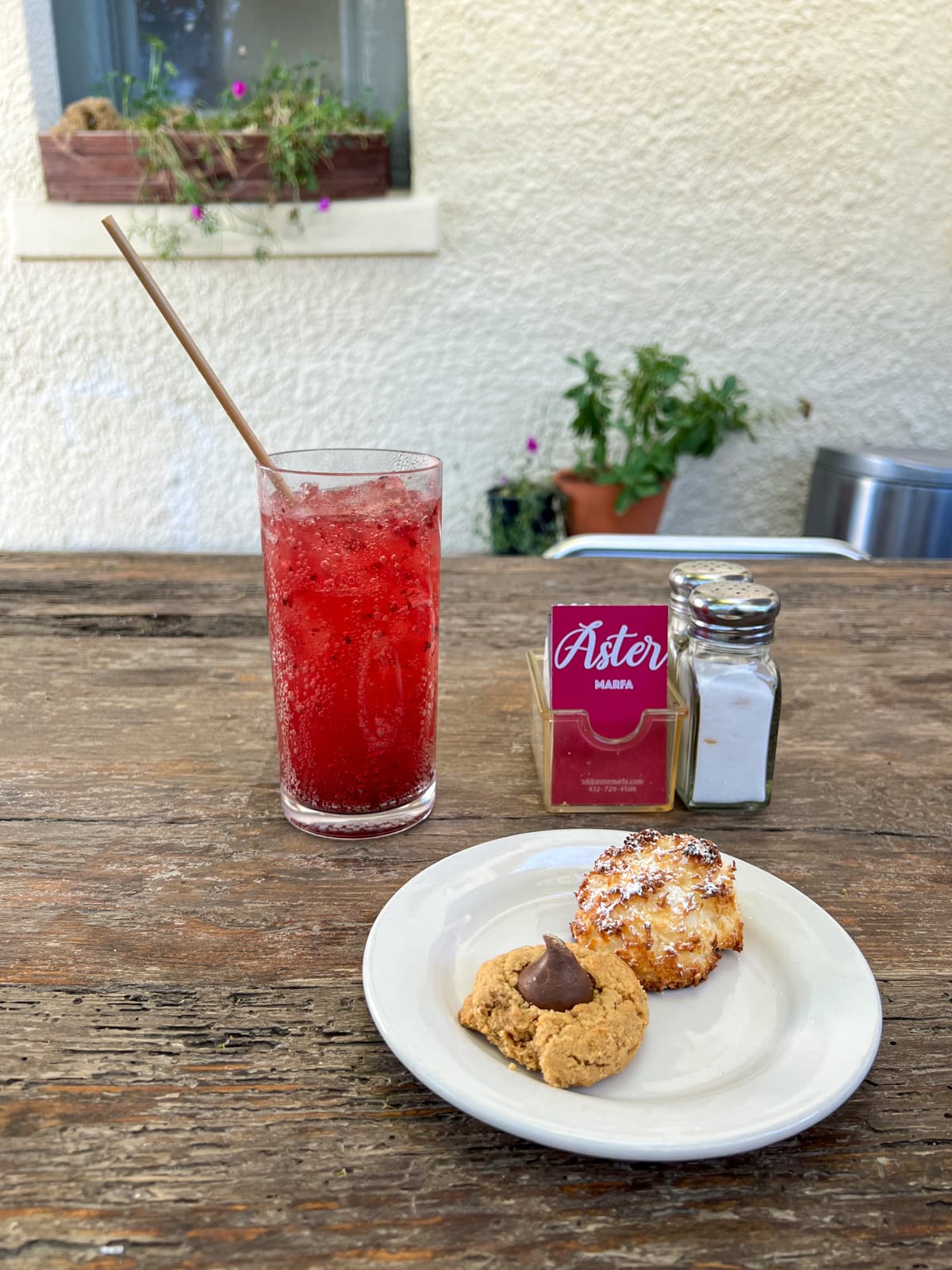 The Aster Fizz is made with a West Texas shrug, fermented fruit, and sparkling water.
The cookies were both soft and sweet. The peanut butter kiss cookies remind me of my mom's holiday baking. As she passed away recently, I'm reminded of her often.
While there's nothing fancy about these Hershey's kiss cookies, I'll be baking up a batch myself this holiday season in her memory.
***
Believe it or not, there were a bunch more places on my list that we didn't make it to as they aren't open early in the week.
Here are some of the Marfa restaurants I'd like to visit if we return to West Texas.
Restaurant Cochineal - This is another fine dining restaurant and the only one I know of in Marfa that offers a seasonal prix fixe menu (five courses, $80 per person).
Cochineal is sometimes open Tuesday and Wednesday evenings for tapas (though it wasn't when we were there) and regular dinner Friday and Saturday nights. Reservations recommended.
Food Shark - Beyonce helped launch this food truck (that's a bus) to fame when she shared a photo of her getting food there on her West Texas road trip. It's only open Saturdays and Sundays from 12 to 3 p.m.