My self-guided tour of the best bakeries in San Francisco began on an overcast and chilly summer morning.
I'd only given myself a weekend in the San Francisco Bay Area (en route to Honolulu), and it didn't feel like nearly enough time once I was there.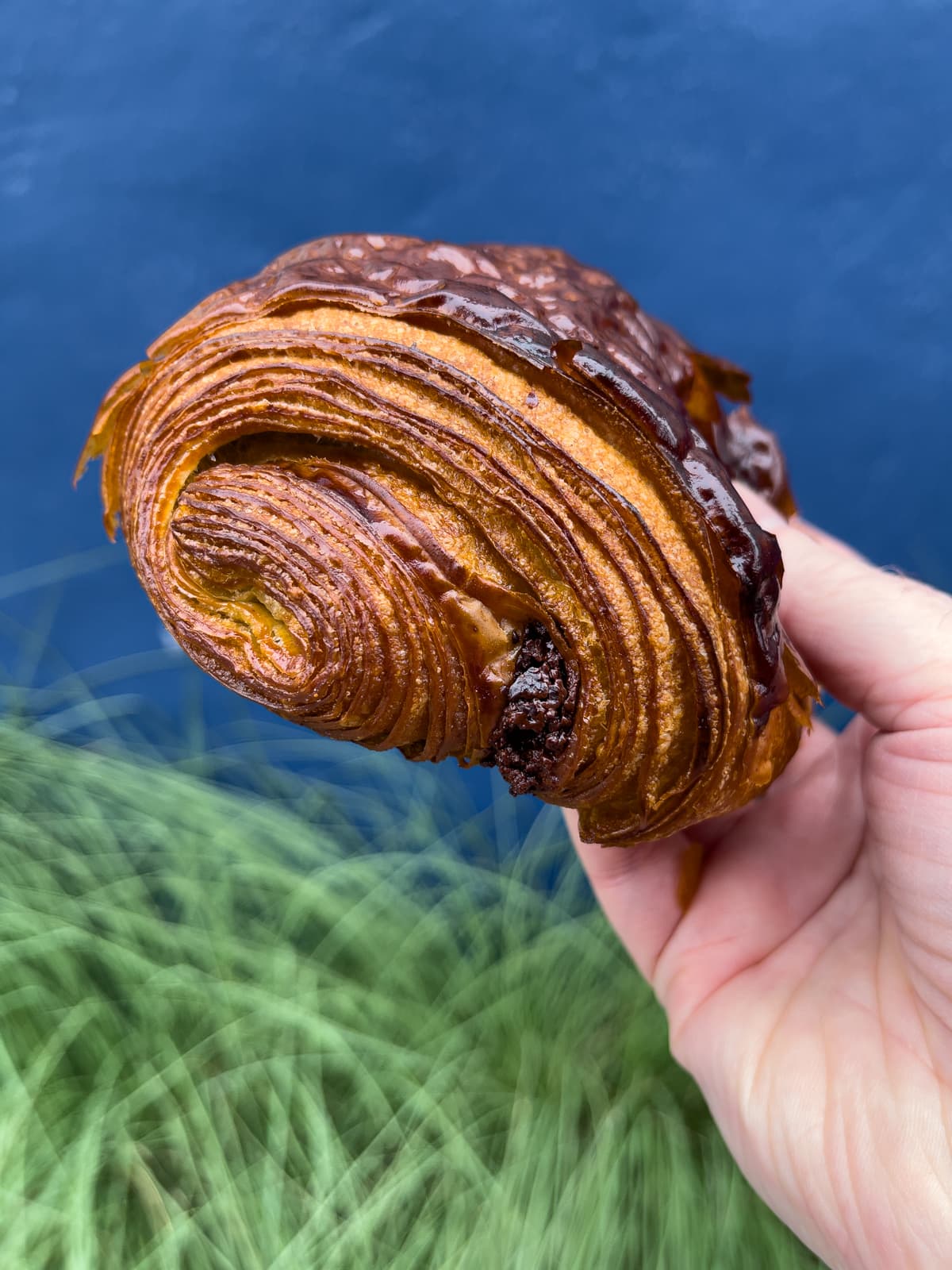 Wondering how best to take advantage of the jetlag waking me up at 5 a.m., I decided to visit as many incredible bakeries as possible on my second and final day.
This is no small task in a city with a reputation for excellent pastries.
I hope my indulgent mission for sweet treats at San Francisco's best bakeries serves you well, whether as an armchair eater or planning a trip.
Where to Eat Pastries in SF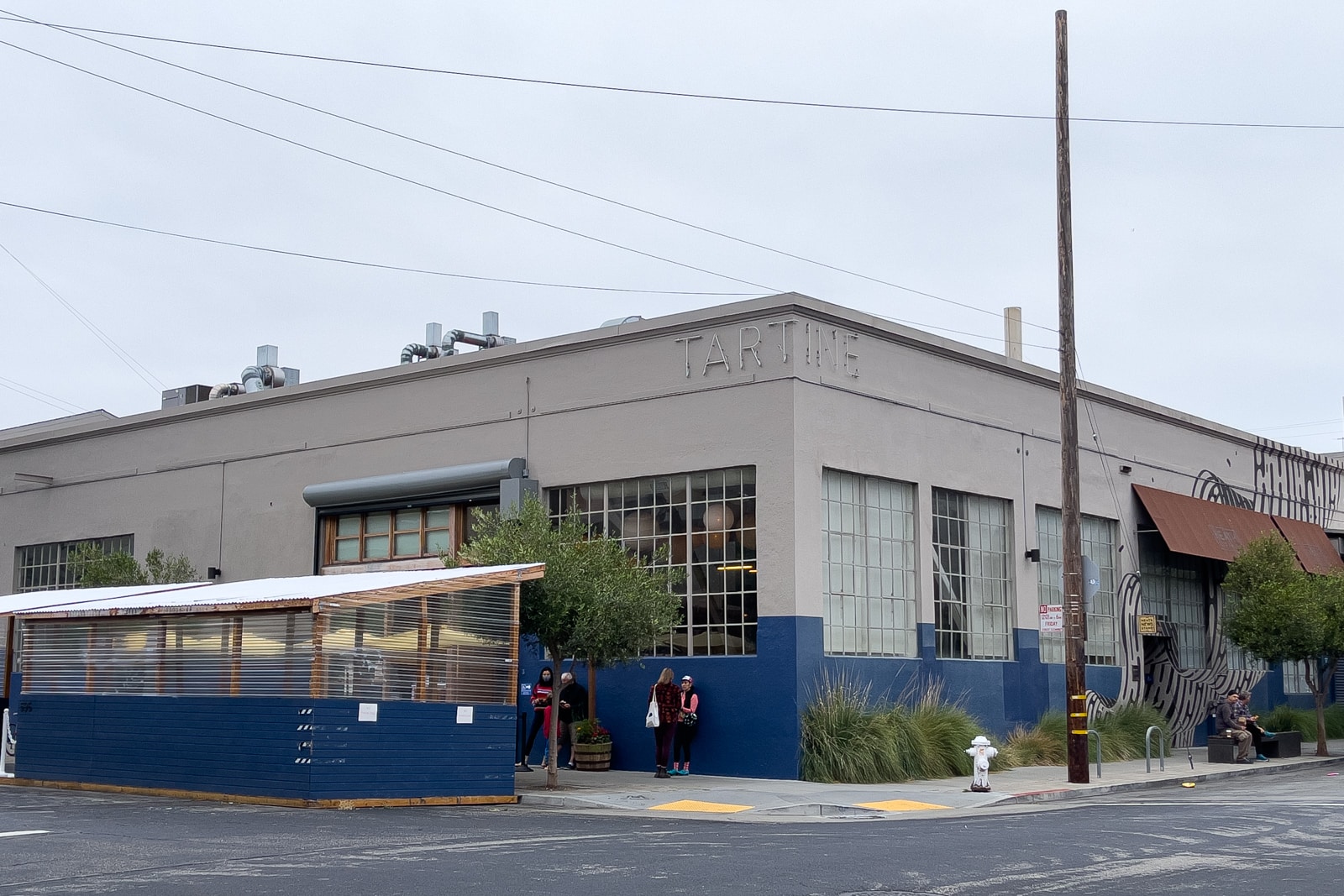 Tartine Manufactory
I began my Sunday adventure with morning pastries at the renowned Tartine Manufactory in the Mission District.
This 5,000-square-foot space dedicated to breadmaking, pastries, and ice cream occupies the same building as the Heath Ceramics factory.
It opened in 2016 following the runaway success of nearby Tartine Bakery (600 Guerrero St), a joint venture by Chad Robertson (breadmaker) and his wife, Elisabeth Prueitt (pastry chef).
Unfortunately, they were only offering limited outdoor seating due to the pandemic.
I, however, got lucky at my first stop as I arrived soon after they opened and managed a table for breakfast sans reservation.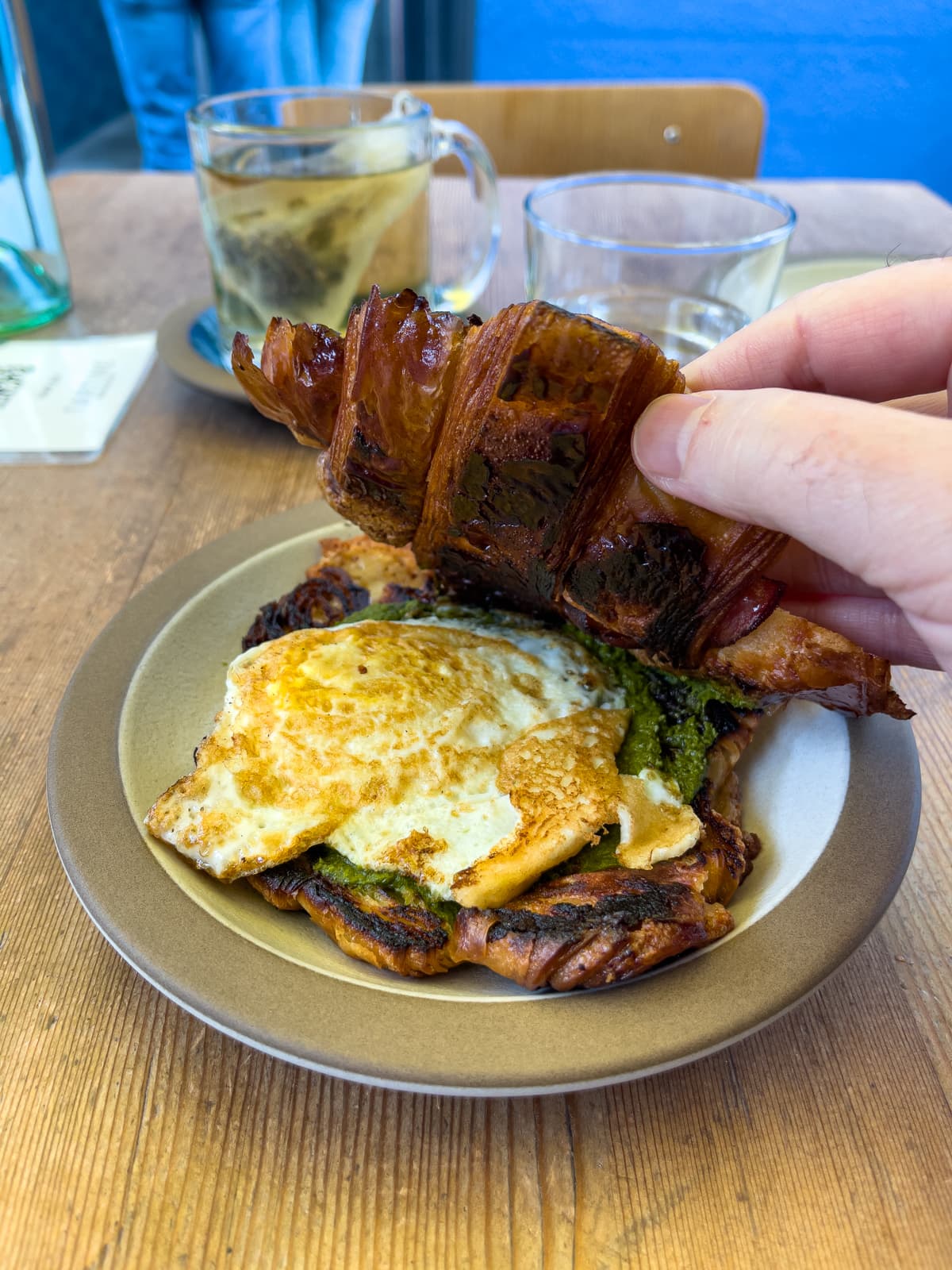 To warm up, I ordered the ham and cheese croissant with fried egg, mission verde, and jalapeño, along with a green tea.
This was one decadent breakfast sandwich. The croissant's flaky crust crumbled as I took bite after delicious bite, the pepper giving it a subtle spicy kick.
For something sweet, I ordered a pain au chocolat with Valrhona chocolate.
After a six-block walk west to Dolores Park, I devoured the pastry, where I could enjoy it with views of the San Francisco skyline. It was one of the better chocolate croissants I've eaten.
Before leaving Tartine Manufactory, I got a quick look at the interior on the way to the restroom.
A counter in the cafe is open for to-go orders, including their famous loaves of sourdough bread.
The bakery serves coffee and pastries until late afternoon, 5 p.m.
595 Alabama St, San Francisco, tartinebakery.com
Related: Best Bars in San Francisco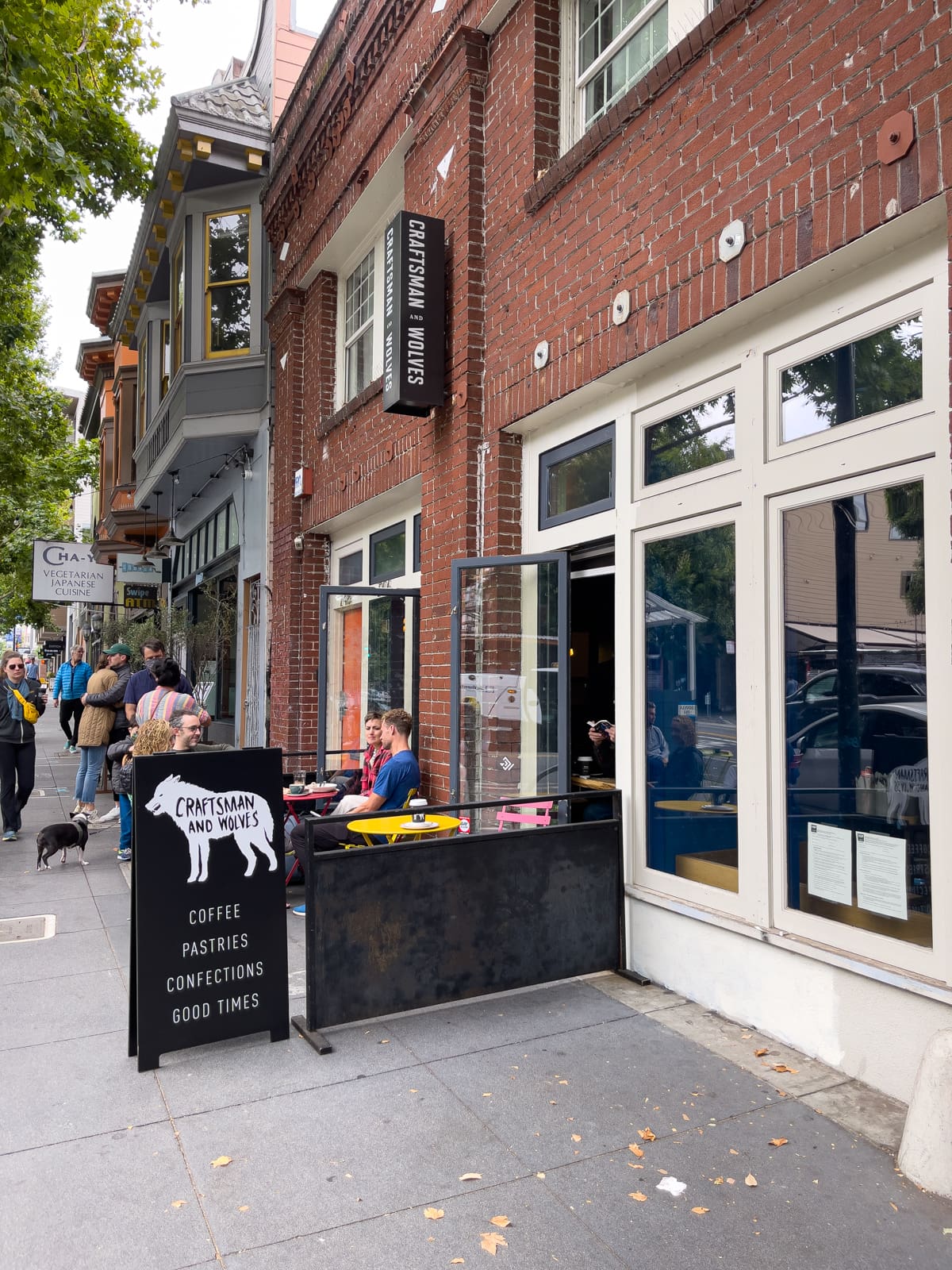 Craftsman and Wolves
After dusting the pastry flakes off my pants in Dolores Park, I backtracked two blocks east (past the original Tartine Bakery, known for its long lines) to check out Craftsman and Wolves.
It was already 10:30 a.m., and this modern pâtisserie, bakery, and cafe had its share of customers filing through the doors.
Inside, the pastry counter greeted me with many tempting choices, including roasted banana bread with coconut and a croissant pudding with rhubarb, vanilla custard, and citrus zest.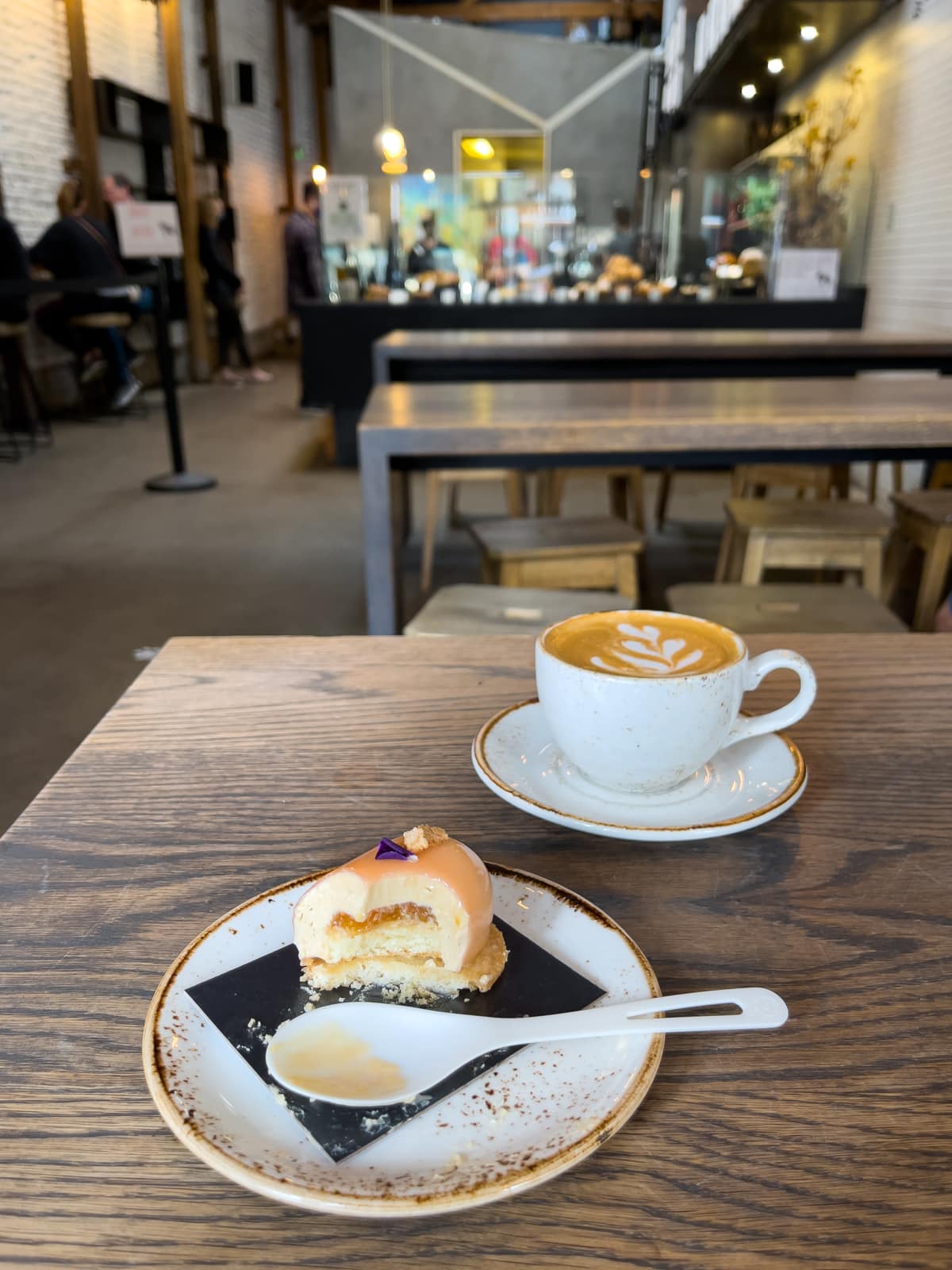 The Rebel Within is a signature treat by baker William Werner. A soft-cooked egg ensconced in an asiago, sausage, and green onion cake.
Unaware of this at the time, I ordered a pill-shaped pastry made of peach oolong mousse, peach confiture, vanilla sponge, and shortbread.
I was happy to be sitting inside this great place with my delicate dessert and warm cappuccino and didn't mind the communal seating.
746 Valencia St, San Francisco, craftsman-wolves.com
Related: Leonard's Bakery in Honolulu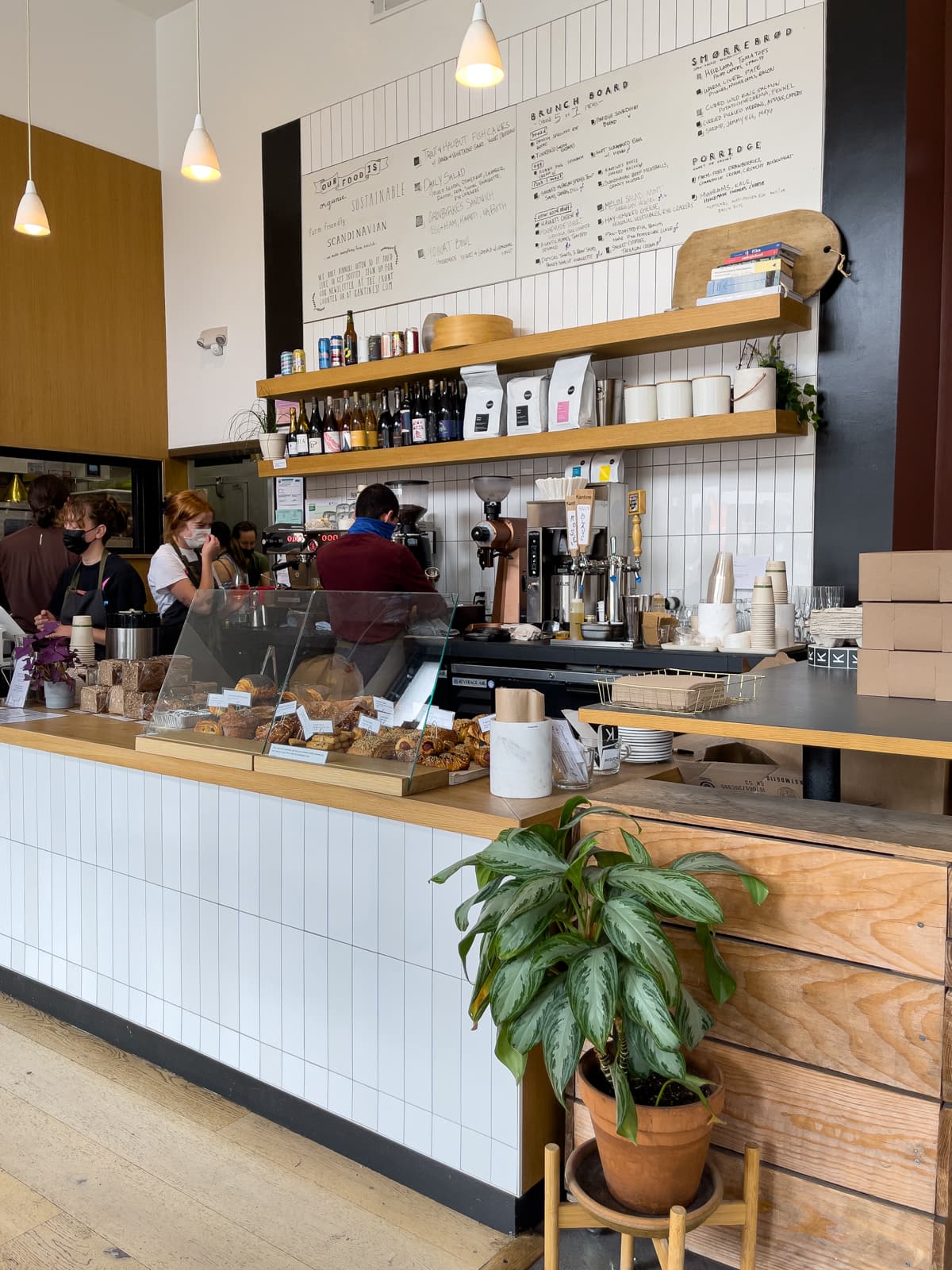 Kantine
A six-block walk north of Craftsman and Wolves brings you to Kantine, a Scandinavian-inspired bakery, and cafe well-suited for a fika.
Chef Nichole Accettola opened Kantine after she spent ten years in Copenhagen.
Readers may recall my international trip to Sweden and Denmark, where I gained an affinity for the morning bun and hygge.
I walked up to Kantine a little after 11 a.m. and joined the short queue to order inside. The counter was smaller than the other places I'd been to, but they had what I wanted.
Cardamom buns! There were cinnamon rolls too, which are a favorite of the Swedes, but cardamom won me over on that last trip across the Atlantic.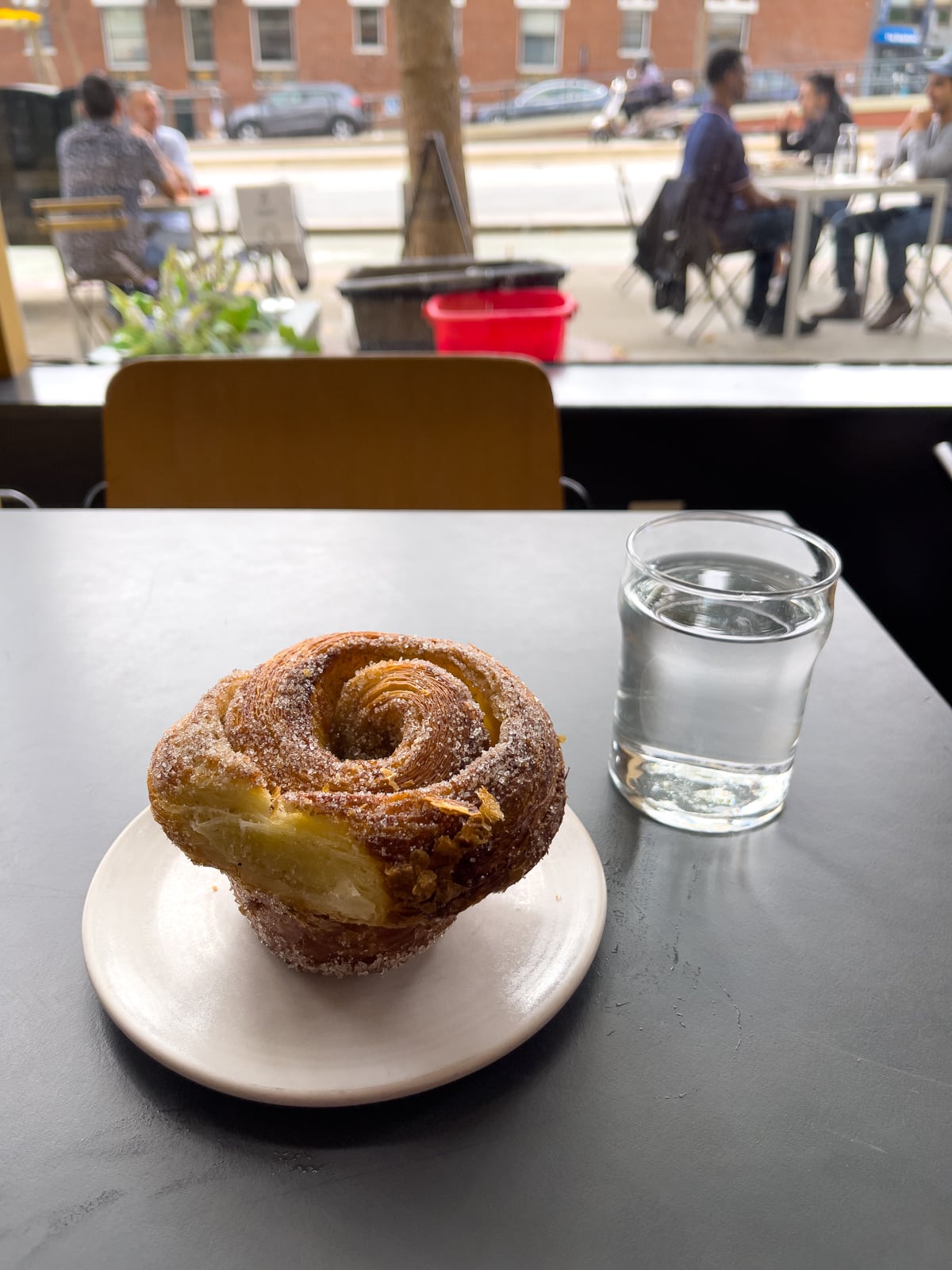 Kantine was my third bakery in San Francisco that morning, and it was starting to show.
I only took a few buttery bites before placing the remainder of the bun in a brown paper bag and hightailing it back to The Clift Royal Sonesta Hotel for a break.
The line to order had already grown longer by the time I left.
The cardamom morning bun kept well overnight and served as a quick snack before I left for the airport to go home.
Kantine also offers three-grain porridge, smørrebrød (a traditional Danish open-faced sandwich), and a build-your-own brunch option starting at $16.
1906 Market St, San Francisco, kantinesf.com
Related: 5 Best Bakeries in Copenhagen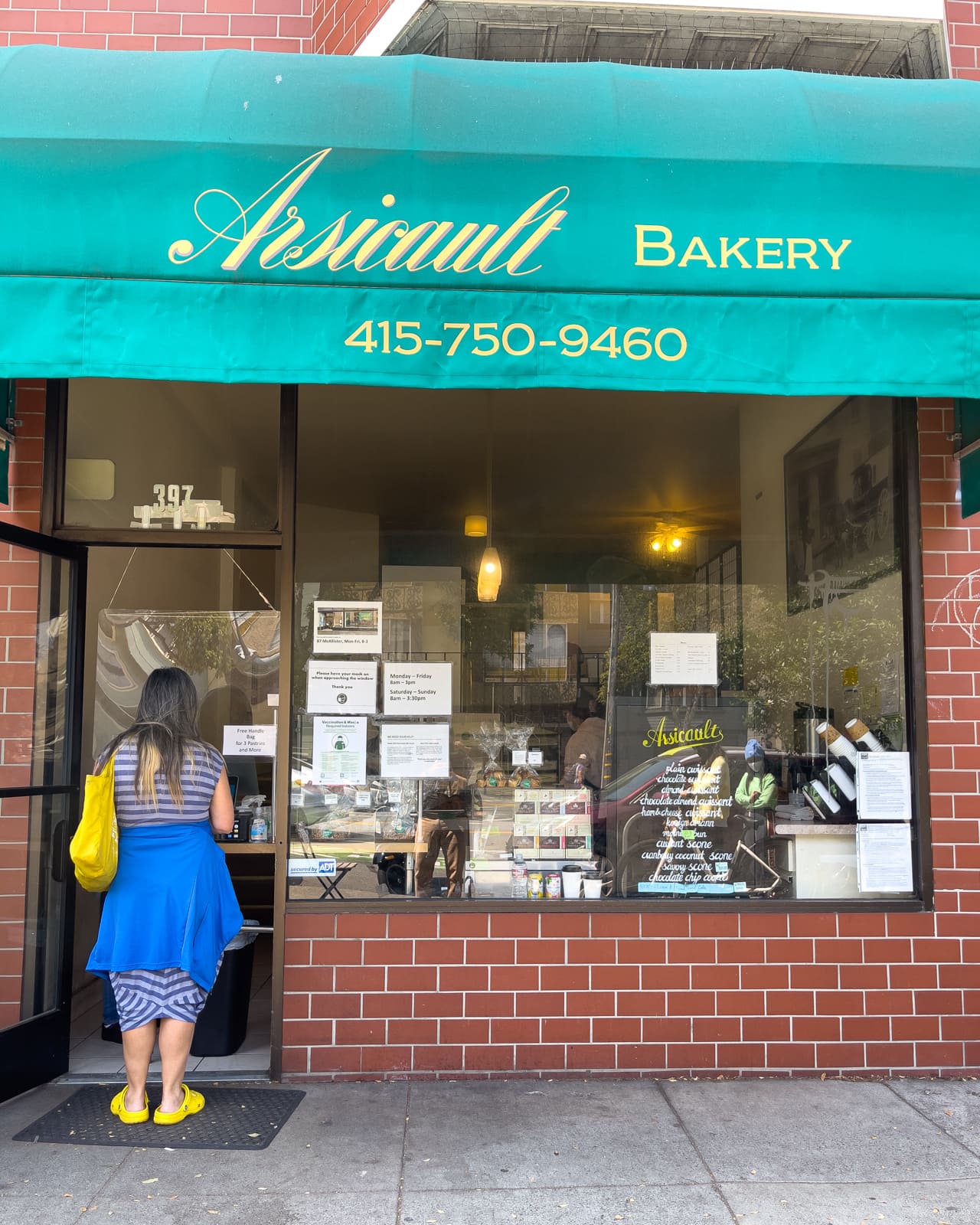 Arsicault Bakery
During my hotel break, the sun came out, and I headed over to The Golden Gate Bridge to take pictures and burn off some calories.
A few hours later, I ordered a Lyft from Presidio of San Francisco (a large park by the bridge) south to Arsicault Bakery, a local favorite and the best bakery for croissants.
Arsicault was named Bakery of the Year by Bon Appétit on the strength of their plain croissant alone.
I've eaten a lot of croissants in my life, so I had to go. It was now 1:45 p.m.; there was still a 20-person line outside this unassuming little bakery.
Thankfully, it moved quickly, and I soon possessed their acclaimed pastry.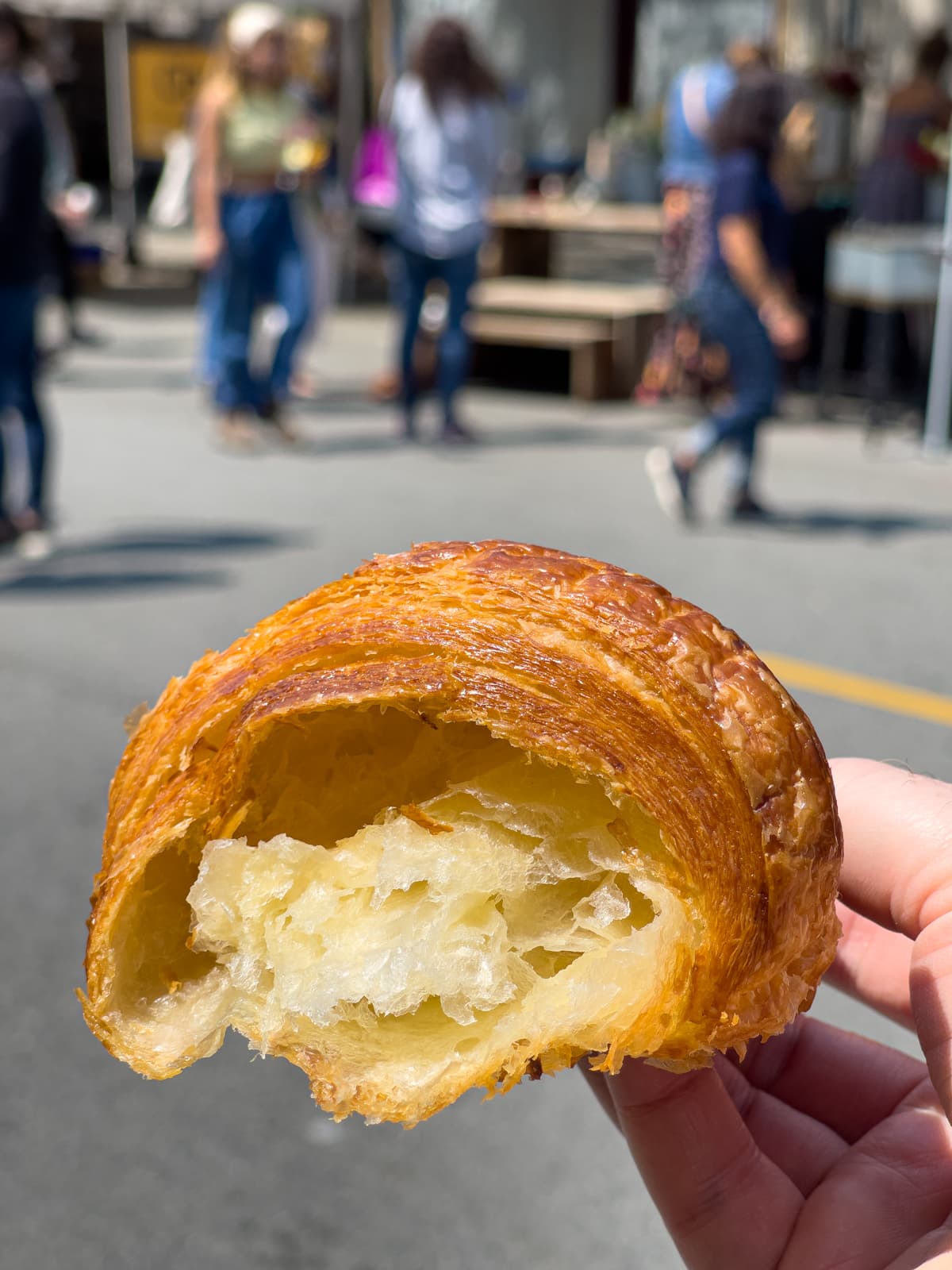 Around the corner on Clement Street, the weekly Farmer's Market was wrapping up.
Walking down the sunlit street, I tore into the croissant, dough flakes flying everywhere. Inside, it was oh-so-buttery.
It's the kind of croissant you eat and realize 99% of the rest you ever ate were tough, chewy, dry, or just disappointing by comparison.
Arsicault offers a variety of flavors:
Chocolate croissants
Almond croissants
Chocolate almond croissants
Ham and cheese croissants
There's also kouign amann, scones, and a classic chocolate chip cookie.
397 Arguello Blvd, San Francisco, arsicault-bakery.com
Related: Pasjoli, A Michelin-Star French Bistro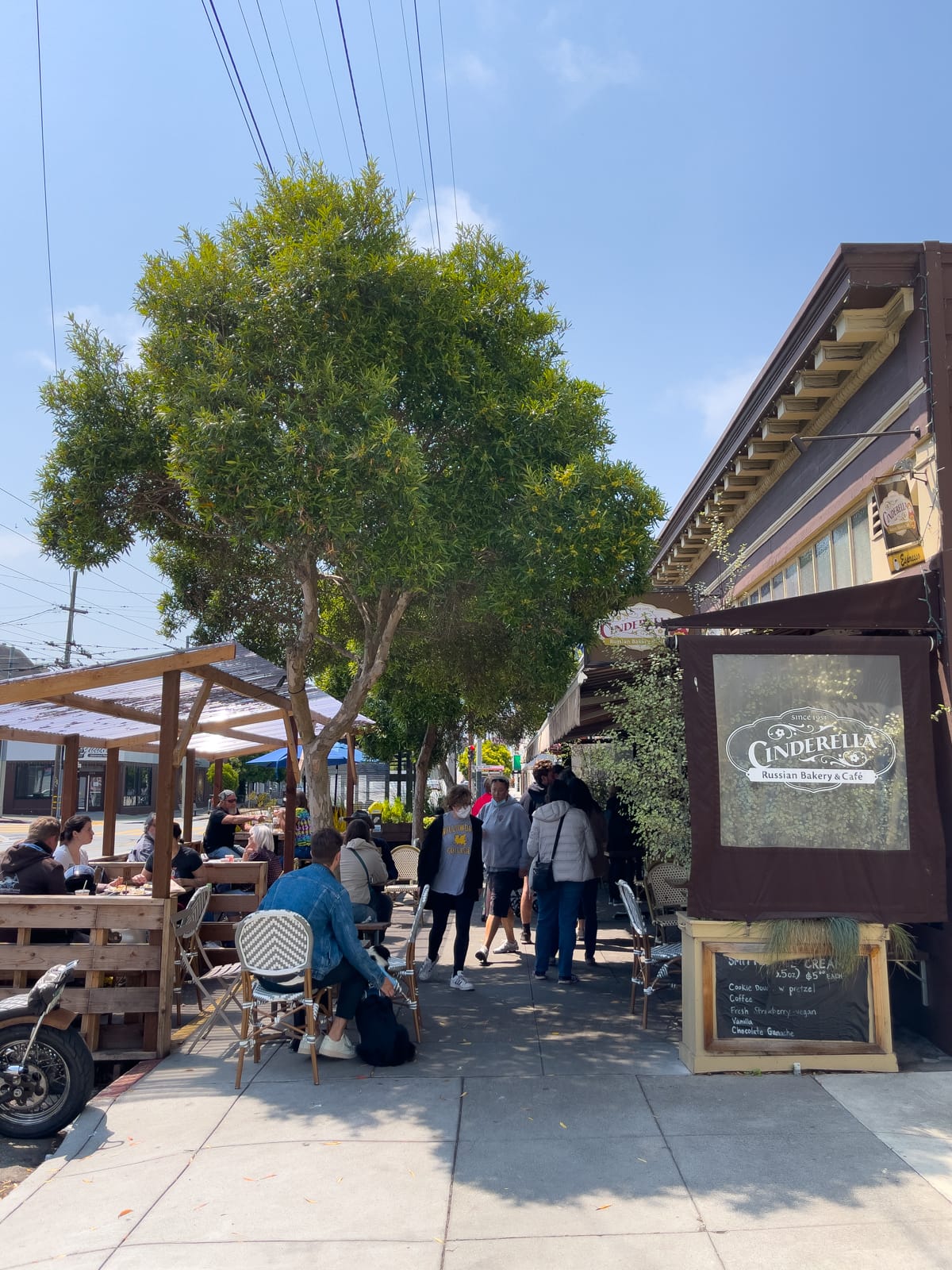 Cinderella Russian Bakery & Cafe
A seven-block walk southwest of Arsicault (and two blocks north of Golden Gate Park) is the Cinderella Russian Bakery & Cafe.
My mom's family immigrated to New York from Russia around the turn of the 20th century, though I know little about that side of my family.
So, when Cinderella turned up in my research of the best bakeries in San Francisco, I felt a calling to check it out.
Not surprisingly, there was a line for this historic cafe that opened its doors in 1953. It moved quickly, though, as half the people were ordering food to go.
Once inside the small bakery, I was overwhelmed by the options in the display cases. There were breakfasts, bagels, borsch soup, chicken a la Kyiv, and dozens of pastries.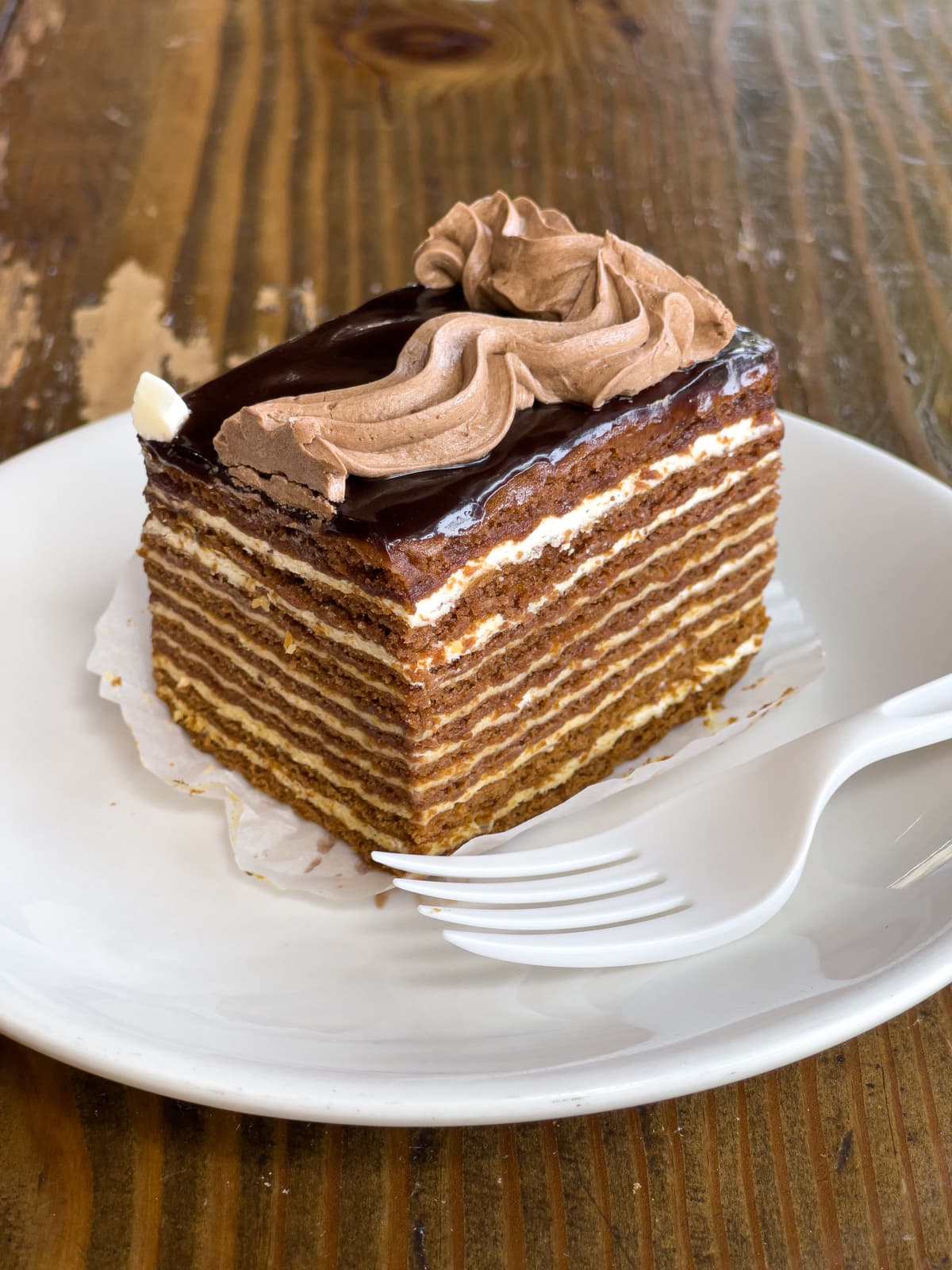 I was tempted to order the Vatrushka sweet cheese tart or perhaps the bird's milk cake but settled on the sour cream cake with a honey sponge, which I was assured was the most traditional Russian pastry available.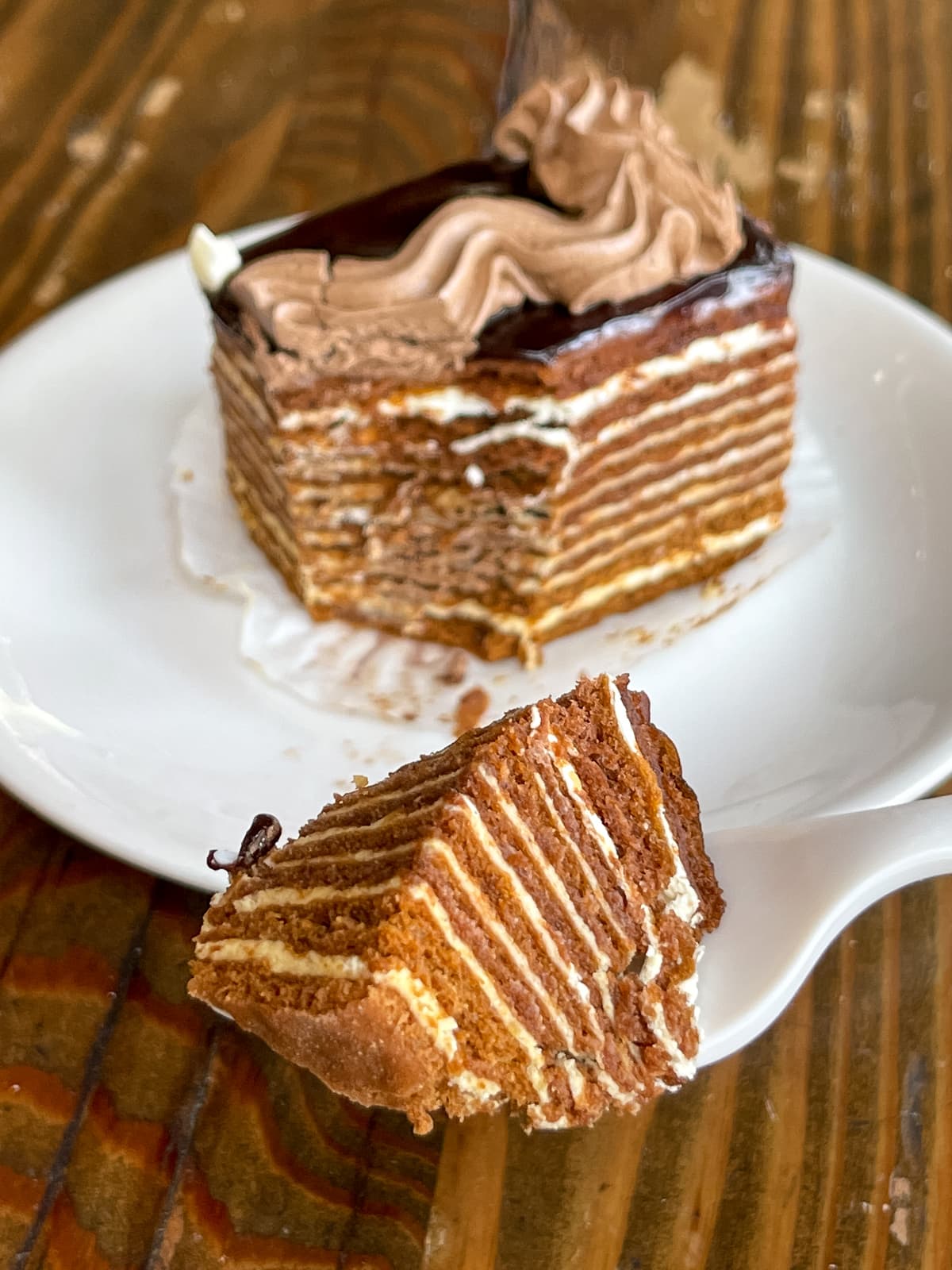 With my prize in hand, I took a small table outside. A quick photography session ensued as I carefully captured a dozen layers of cake and cream.
Then, I plunged the plastic fork down one corner and watched as the Russian honey cake bent like a contortionist to avoid being split apart.
Ultimately, it gave way, and the luxurious layer cake soon disappeared. If you have a sweet tooth and curiosity about Russian baked goods, head to Cinderella Bakery.
436 Balboa St, San Francisco, cinderellabakery.com
See also: Find a Speakeasy in San Diego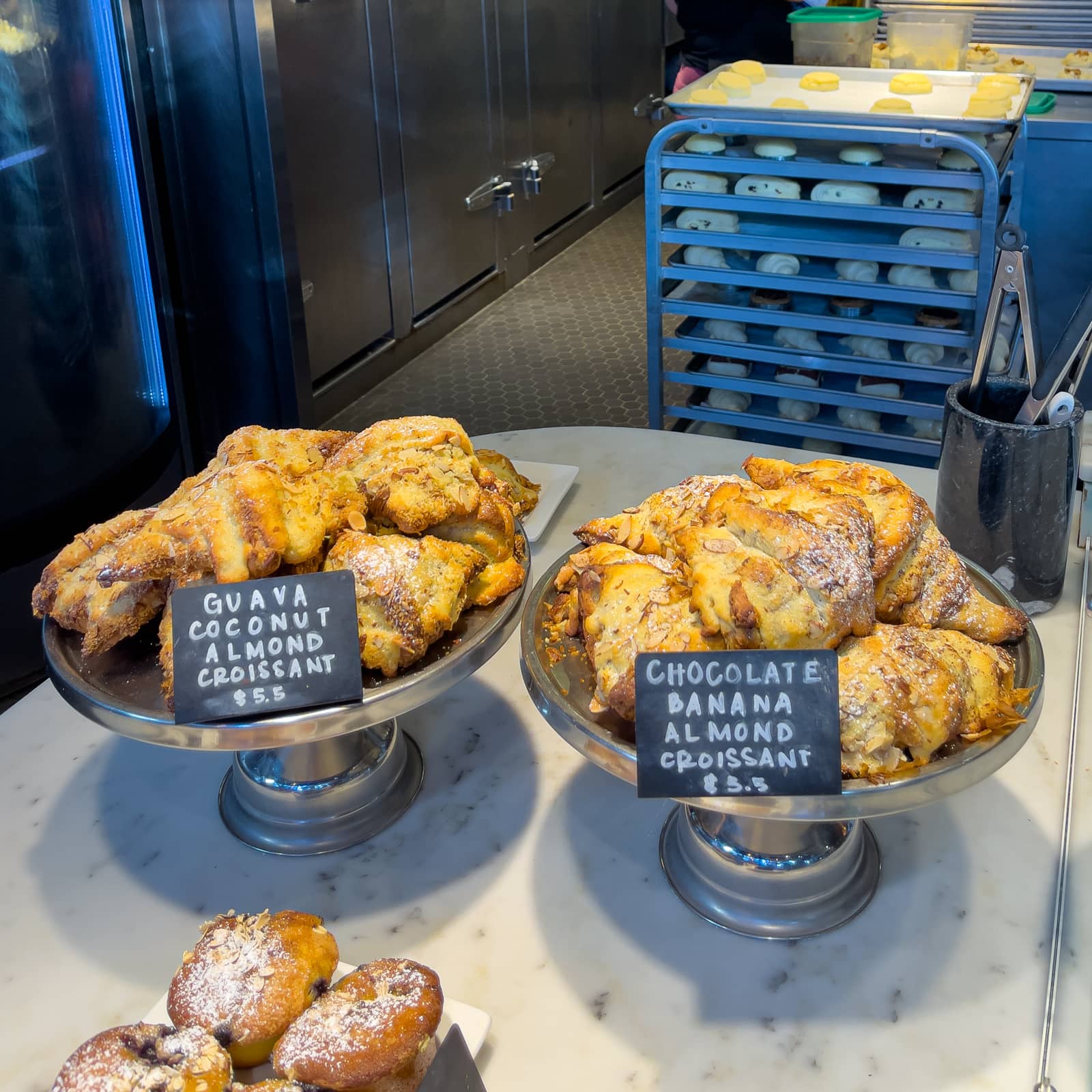 b. Patissiere
My bakery crawl in San Francisco ended at Cinderella, leaving many unique places to try the next time I'm in town.
I thought the French bakery, b Patisserie, would be one of them. Pastry chef and owners Belinda Leong and Michel Suas won the James Beard Award for Outstanding Baker in 2018.
However, I was surprised and delighted to learn their breakfast pastries are available at Kona Coffee Purveyors in the heart of Waikiki, Honolulu.
Not only that, Kona was just across the street from my Hilton hotel there. There was a line out the cafe door every morning, but waiting in it was worthwhile to try their creations.
I went three times in one week. My favorite pastries were the insanely good chocolate banana almond croissants.
I also enjoyed a mango, coconut, lychee pastry, a pan Suisse with cream cheese and chocolate chips, and a chocolate passion fruit cremeux. Vive la France!
2821 California St, San Francisco, bpatisserie.com
Kuhio Avenue Mall Entrance - International Marketplace, 2330 Kalakaua Ave #160, Honolulu, HI