There's little to say about 2020 that hasn't already been said. The global pandemic left me and billions of others in lockdown by late March.
Amidst the angst and anxiety, there were bright spots. Silver linings. I looked for them as best I could. And often found them in baked goods.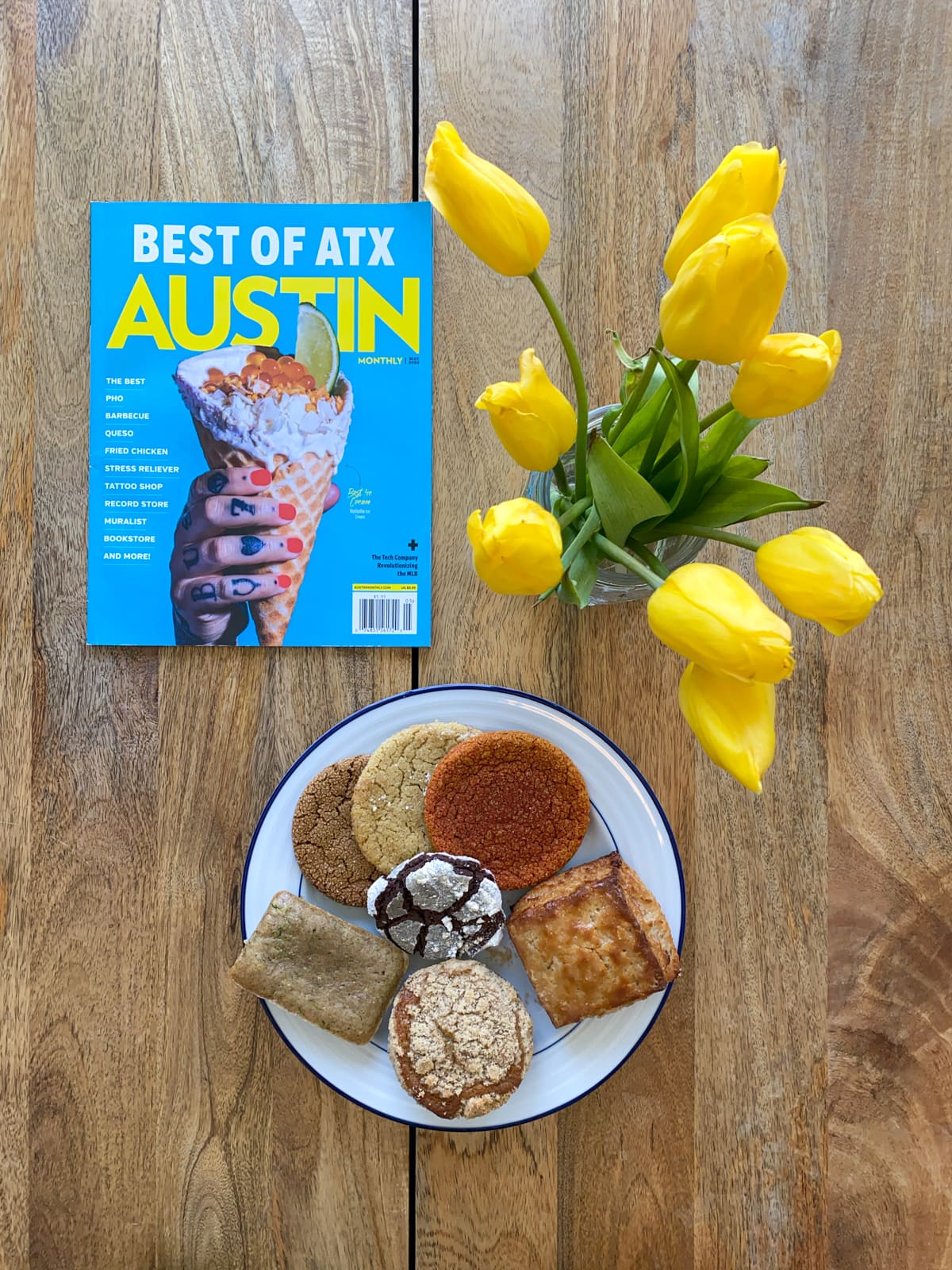 Of course, restaurants, bakeries, bars, and all food services were hard hit.
Many talented people lost their jobs as business owners had to shut down and make tough decisions about re-opening.
I knew from the start I couldn't save the restaurant industry in Austin, and I couldn't even save a single place of business. My own ability to earn money was hard-hit.
I don't recommend being a travel blogger during a once-in-a-century global pandemic!
Nevertheless, I looked for those silver linings. For example, some pastry chefs who lost employment began baking from home and launching businesses.
Instead of saving the industry, I tried to help a handful of individuals and restaurants I liked. That's why you'll see a lot of pastries from Launderette on this list.
Here's a look at the year in pastries in Austin, Texas.
January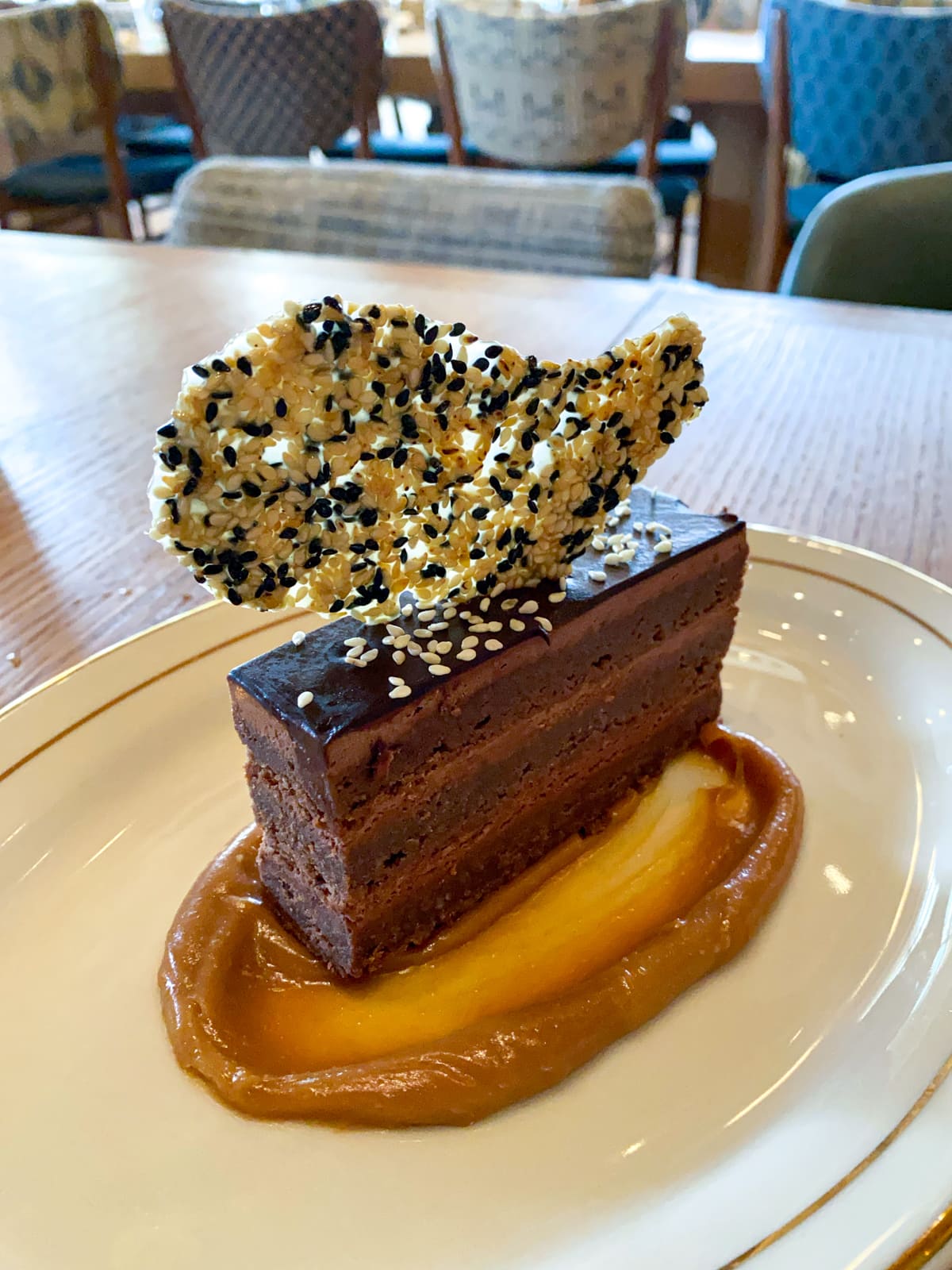 The Peacock
Is it me, or does January feel like 20 lifetimes ago? Nearly a year ago, I invited my friend Alicia for lunch at the stylish new Mediterranean restaurant, The Peacock, at the Proper Hotel in downtown Austin.
I ordered the spicy lamb kefta as a main, and if memory serves me, we shared this dark chocolate torte with sesame brittle and tahini caramel (which is still on the menu).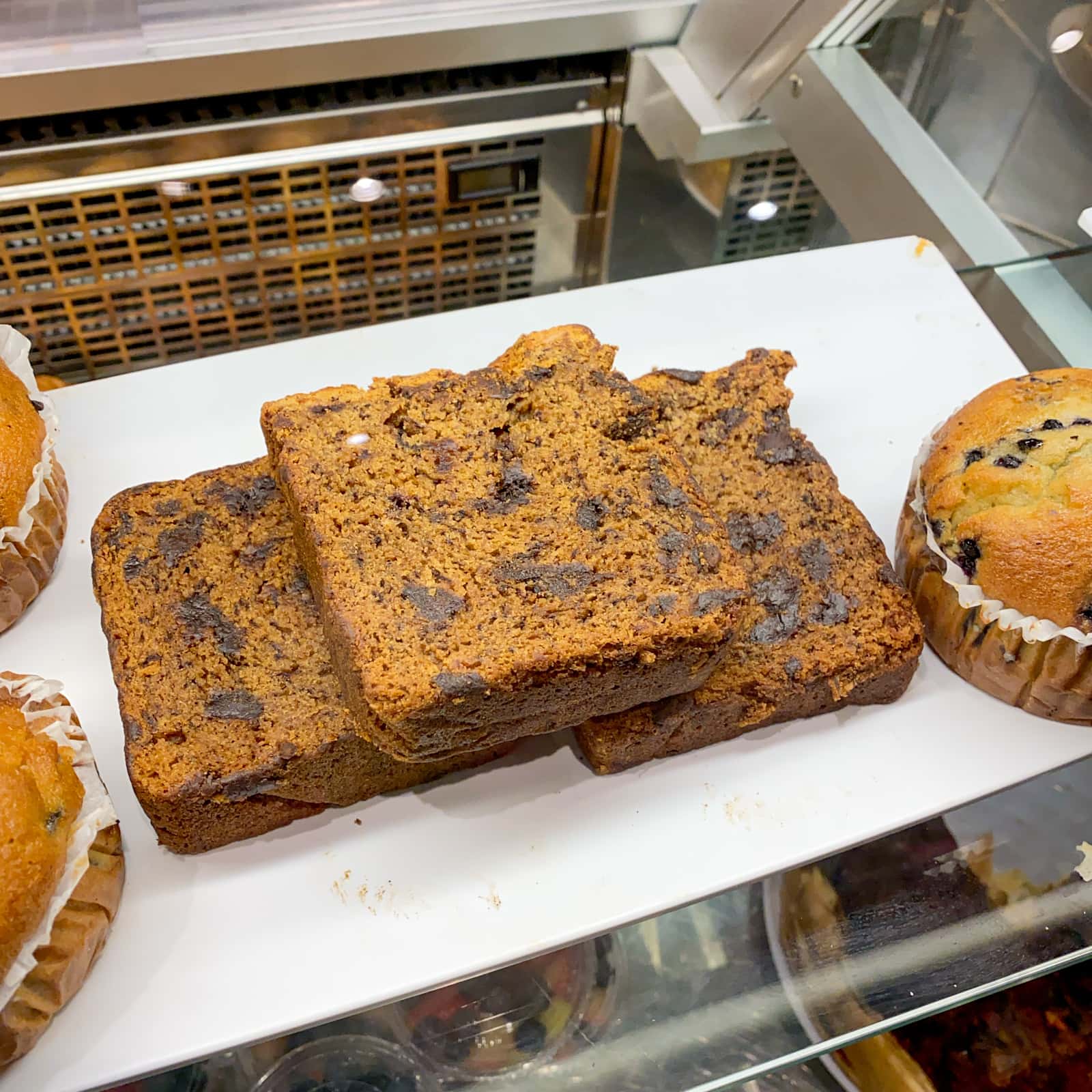 Lavazza
Following the Women's March to the Texas Capitol Building, we walked south on Congress Avenue when I suggested stopping in Lavazza cafe for a drink.
Inside, I spotted this banana mocha espresso bread in the display case and could not resist.
It was dense but oh-so-good, and it left a lasting impression. Unfortunately, this downtown location has since closed permanently due to the pandemic.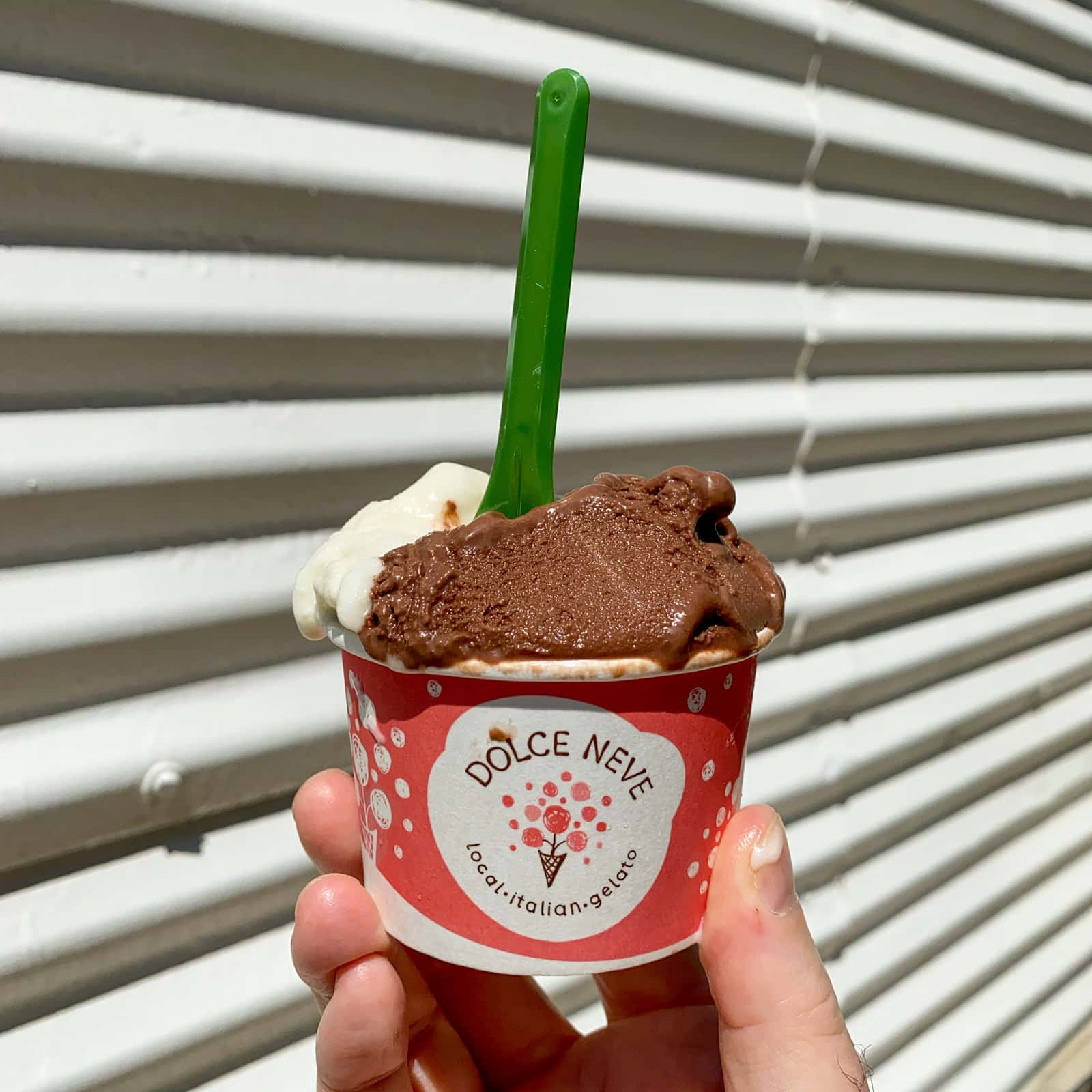 Dolce Neve Gelato
January saw Dolce Neve Gelato, an Italian-owned gelateria, open its second location in the Saltillo neighborhood of East Austin.
I'd never been to their original gelateria in South Austin, so I was excited to try the new one. It didn't disappoint, and I've since become a regular.
Exciting and complex flavor combinations, plus natural, organic ingredients and love, go into their gelato.
My favorite flavors include the chocolate with Maldon Sea Salt, stracciatella, and matcha.
Related: Best Gelato in Bologna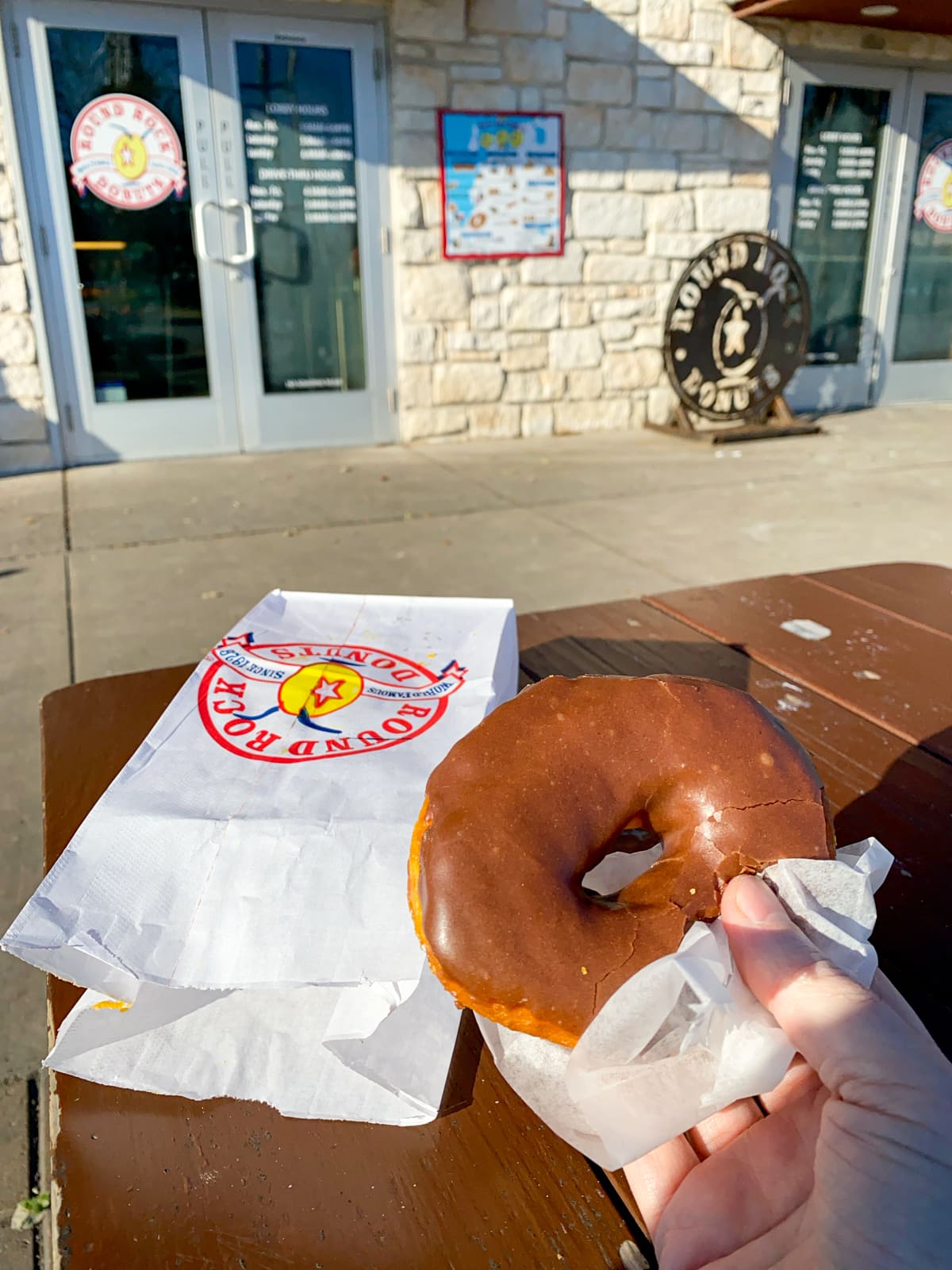 Round Rock Donuts
I don't have a car, so on the rare occasion I have a reason to be up north in Round Rock, I drop by the historic Round Rock Donuts.
Founded in 1926, they've been making handmade donuts for nearly 100 years!
I ordered one fresh plain glazed donut and one chocolate-glazed donut. There's no room to sit inside.
However, a few picnic tables are available out front, and there's a drive-thru.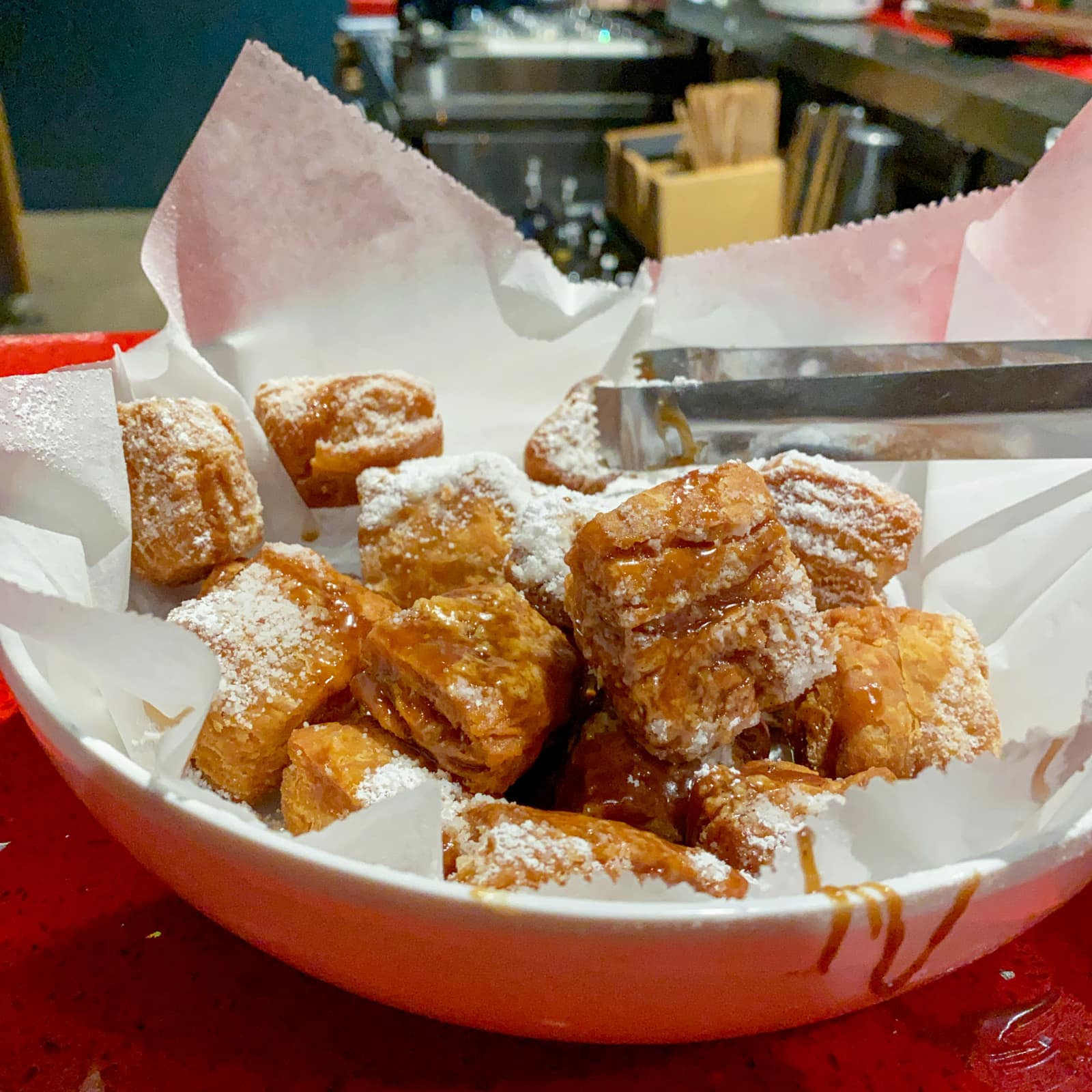 Sixth and Waller
I joined the Austin Food Bloggers Alliance in 2019 and quickly came to love the monthly meetups hosted by restaurants around town.
They're an excellent way to meet and get to know fellow food bloggers in Austin. I also love watching other food photographers at work.
Sixth and Waller hosted our January meetup at the East Austin Hotel.
We sampled the main menu on the ground floor before moving up to the bar on the second floor for dessert and cocktails.
The Buttermilk biscuit beignets reminded me of New Orleans.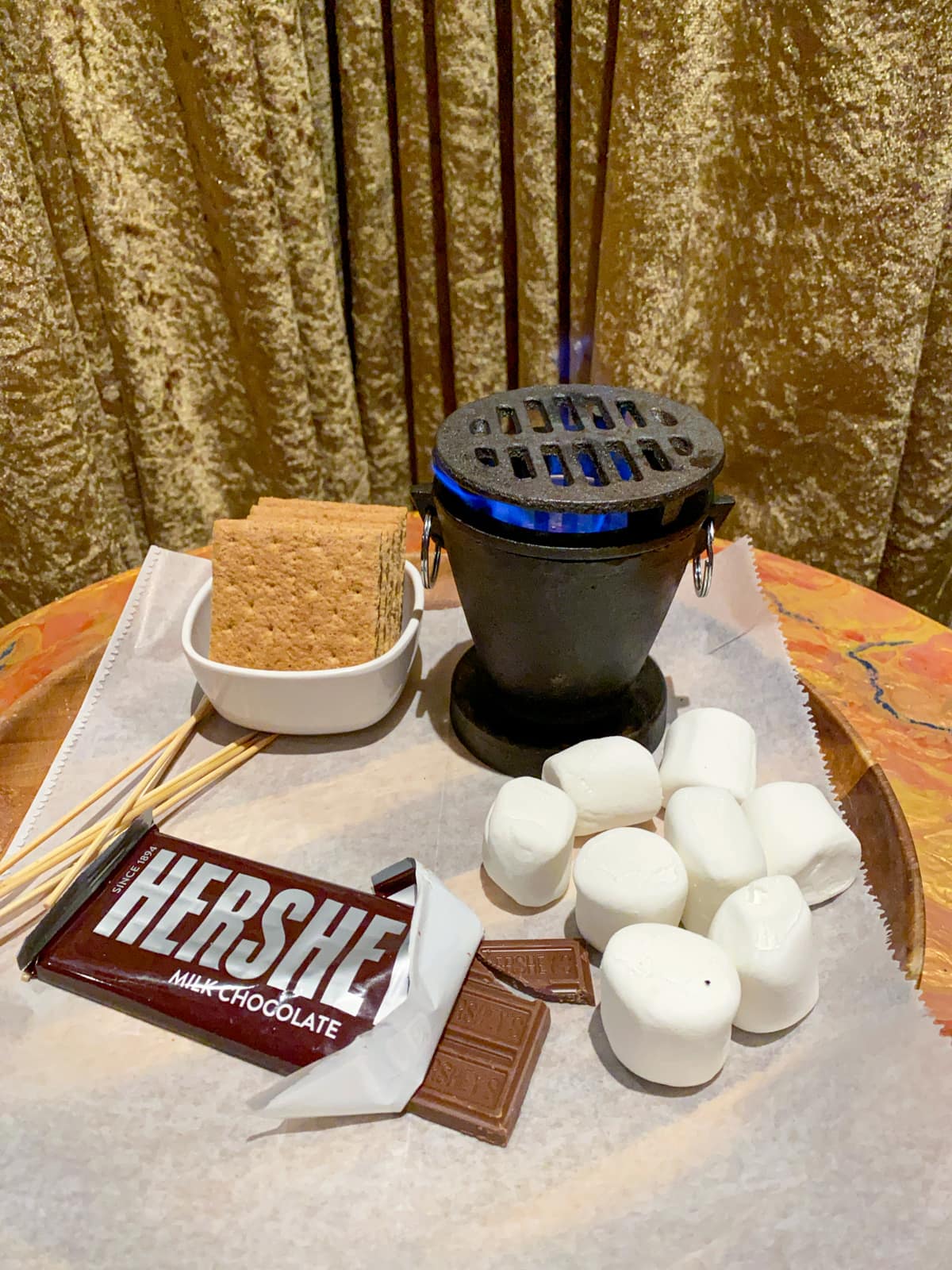 And they've got these cute s'mores kits, which you can enjoy at your table or the bar.
I was worried I might accidentally light the curtains on fire, but it was safe. You can always sit at the bar or an outdoor table if you're accident-prone.
February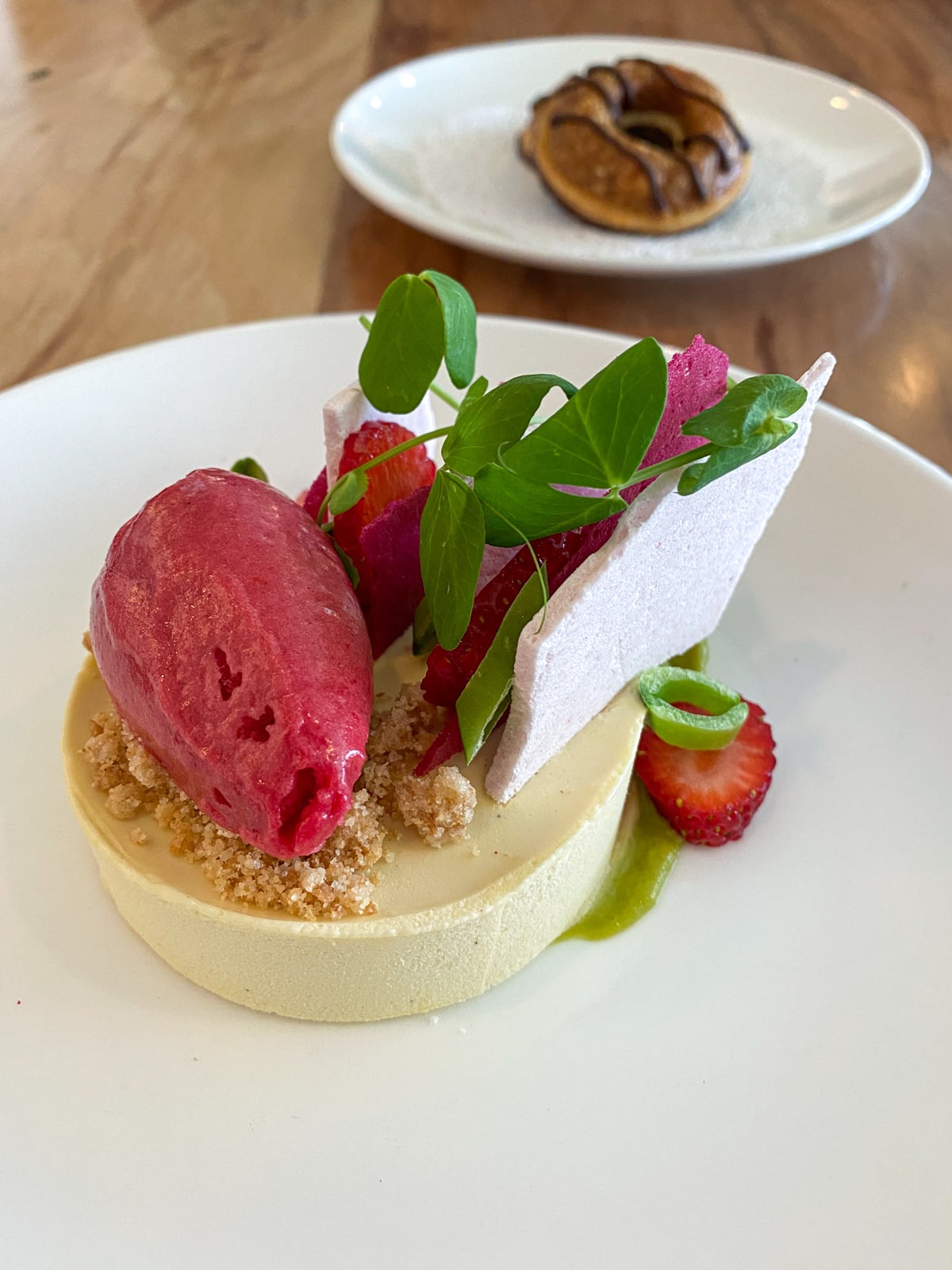 Launderette
The normalcy continued in February. I introduced my friend Sara to Launderette, one of my favorite restaurants in Austin.
The desserts are consistently fantastic, like this jasmine white chocolate semifreddo.
Related: Best Brunches in Austin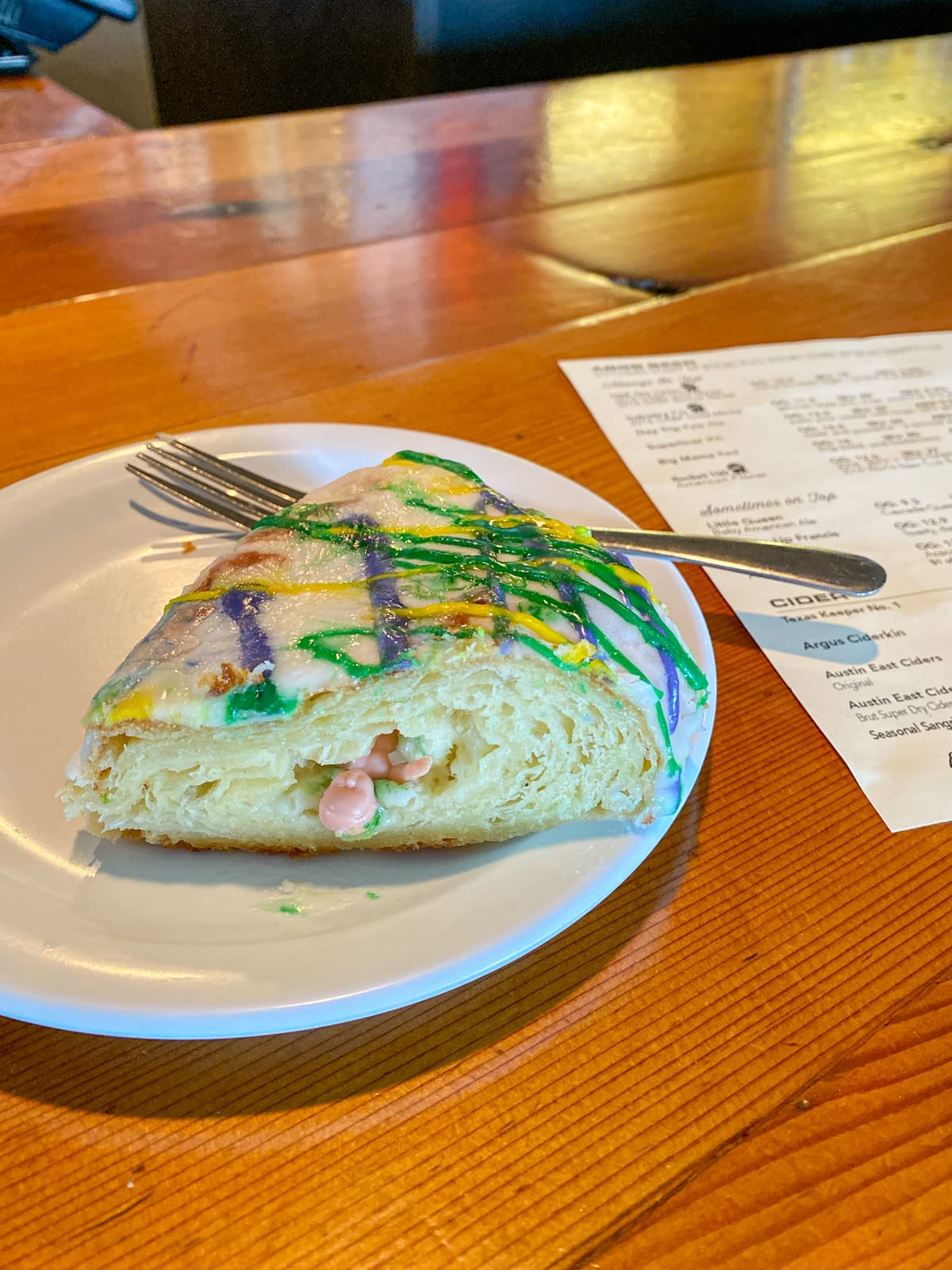 ABGB (The Austin Beer Garden Brewing Company)
Speaking of normalcy, February was also Mardi Gras month, and while I didn't have plans to be in the Big Easy to celebrate, I could at least try king cake for the first time.
Technically, I got my first slice at Easy Tiger bakery, but it was my second at ABGB, where it included a tiny plastic baby, signaling I'm to host a party next year.
ABGB's celebration included a dog parade, which only lasted a few minutes but was fun to see. I just missed catching my first dog wedding between two pugs in love.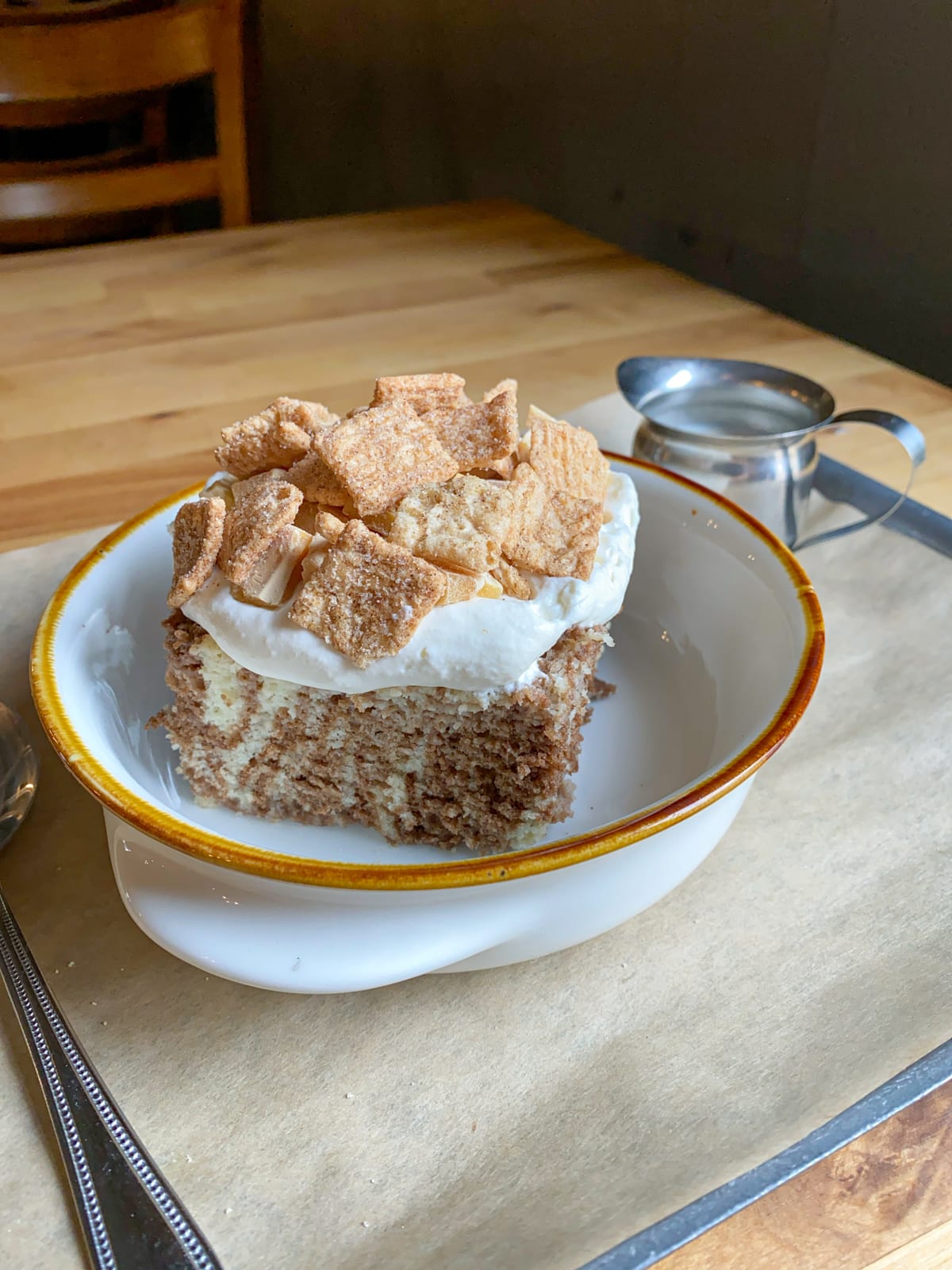 In February, my friend Amy, a talented food blogger and photographer invited me as her guest to a hosted lunch at Reunion 19, a new taco restaurant in East Austin.
We photographed and sampled the menu, including this tastiest tres leches cake with marbled chiffon cake soaked in three types of milk and topped with whipped cream and cereal.
I liked that the milk was served on the side so we could control how much to add. And to my surprise, I enjoyed the crunch cereal.
The bartender was learning the cocktail menu on my way out, so I also got to sample the drinks. This place has it all -- excellent tacos, desserts, and beverages!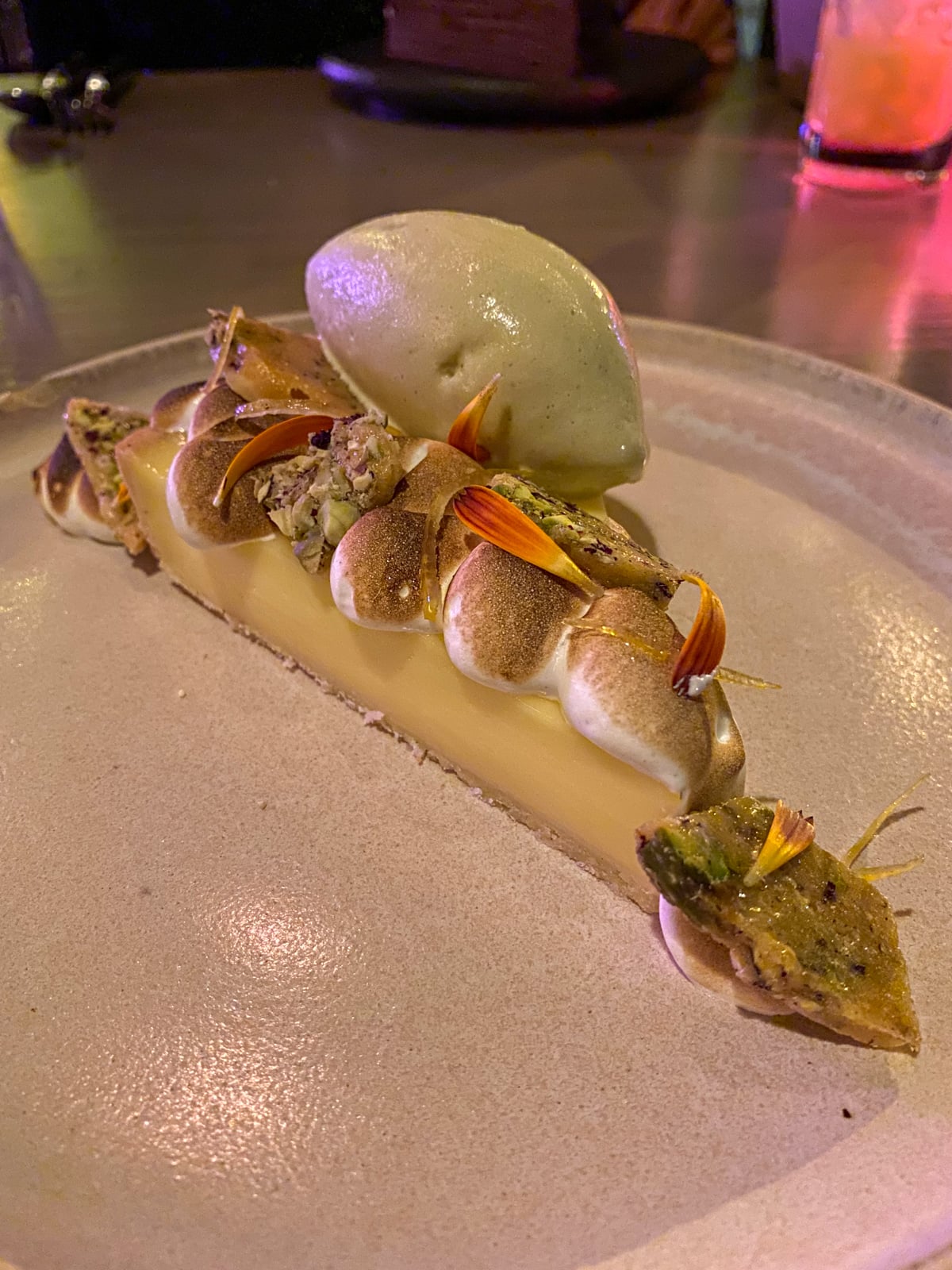 Vixen's Wedding
Opened in 2019 by the chef-owners behind Lenoir in South Austin, Vixen's Wedding in East Austin focuses on Goa, India, and Portugal's flavors.
Dinner at Vixen's Wedding with my friend Aurea was a highlight of February, thanks to the creative desserts from pastry chef Sarah Listrom.
We ordered two desserts, a Meyer lemon tart with cardamom crust and pistachio ice cream (above) and a chocolate dosa cake with passion fruit frozen yogurt (below).
Related: Milk Bar - Christina Tosi's Nostalgia for Dessert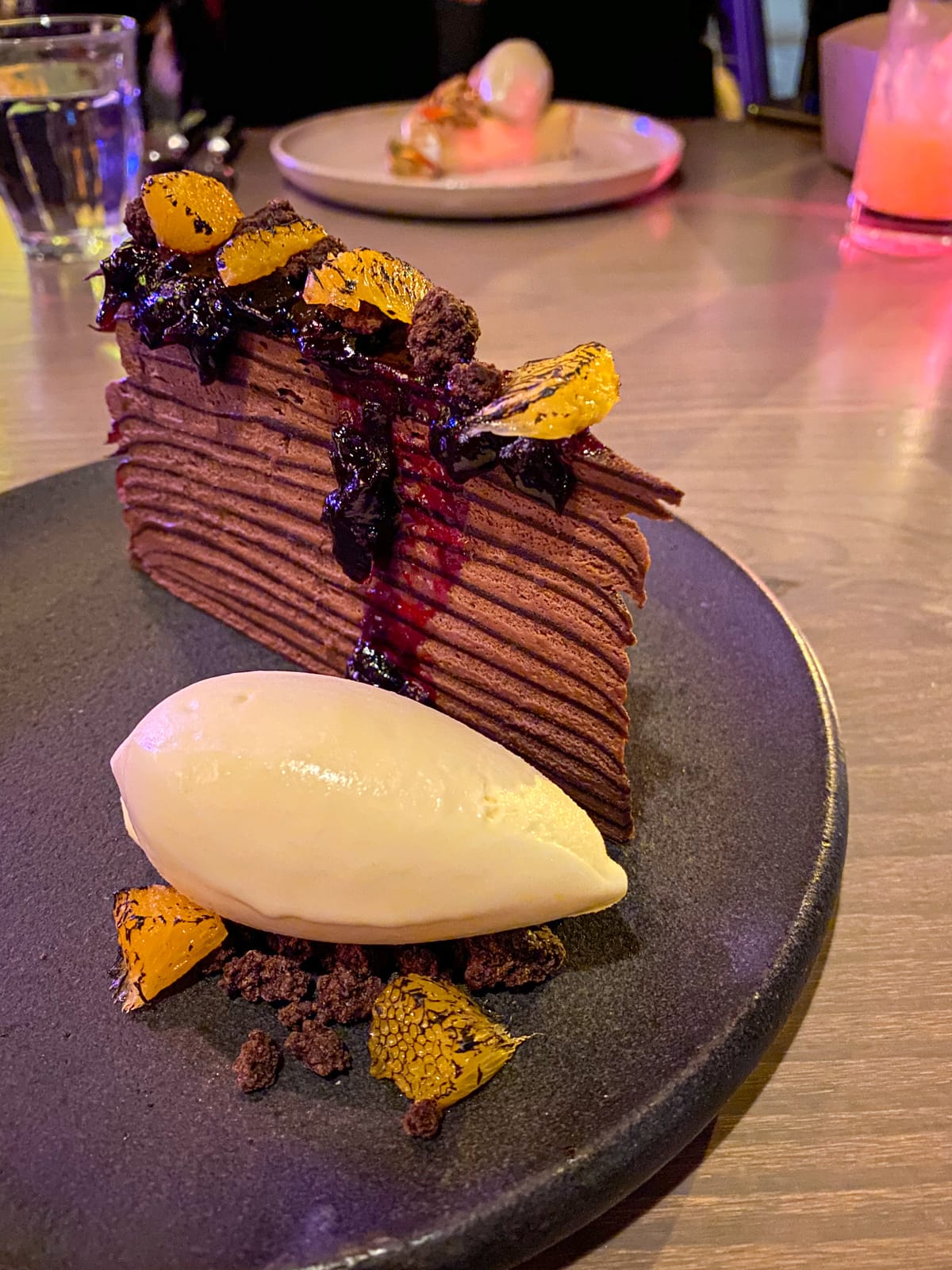 I spent seven weeks traveling in India in 2008, though I never made it as far south as Goa.
While Sarah is no longer with Vixen's Wedding, you'll see more of her creations below as I've continued to follow her baking endeavors.
March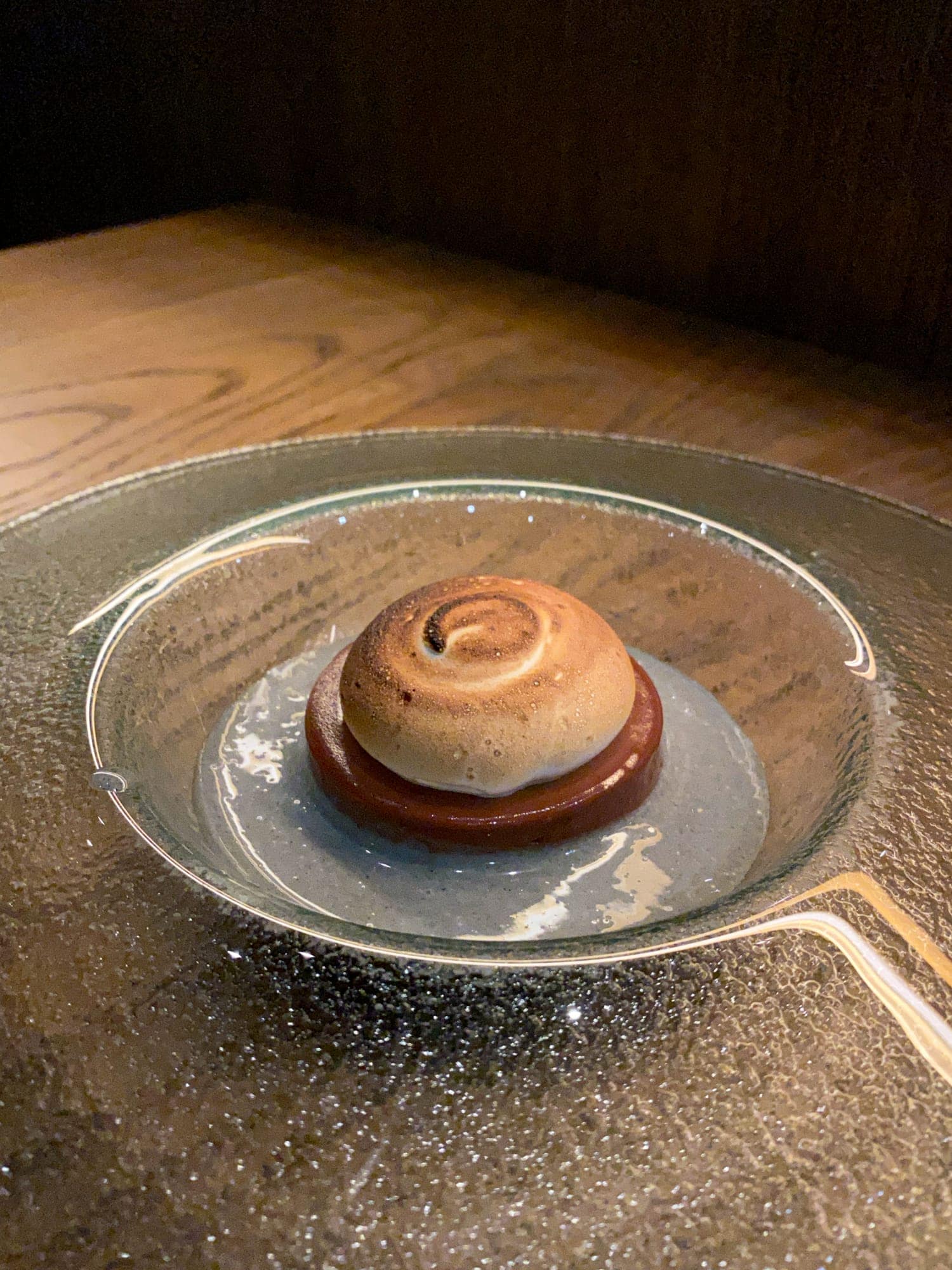 Hestia
My overall best meal was at Hestia, a live-fire cooking experience from executive chef Kevin Fink and pastry chef Tavel Bristol-Joseph of Emmer & Rye.
Hestia opened in December 2019, so they only had about three months of regular service before Austin's lockdown began in late March.
Thankfully, I had gotten in for dinner with my friend Nick before the craziness began so that we could enjoy the whole experience sans masks.
We ordered many plates from the menu, including two desserts.
First, there were the s'mores -- chocolate mousse topped with toasted meringue on a graham cracker base amidst a grey sea of koji and ash cream.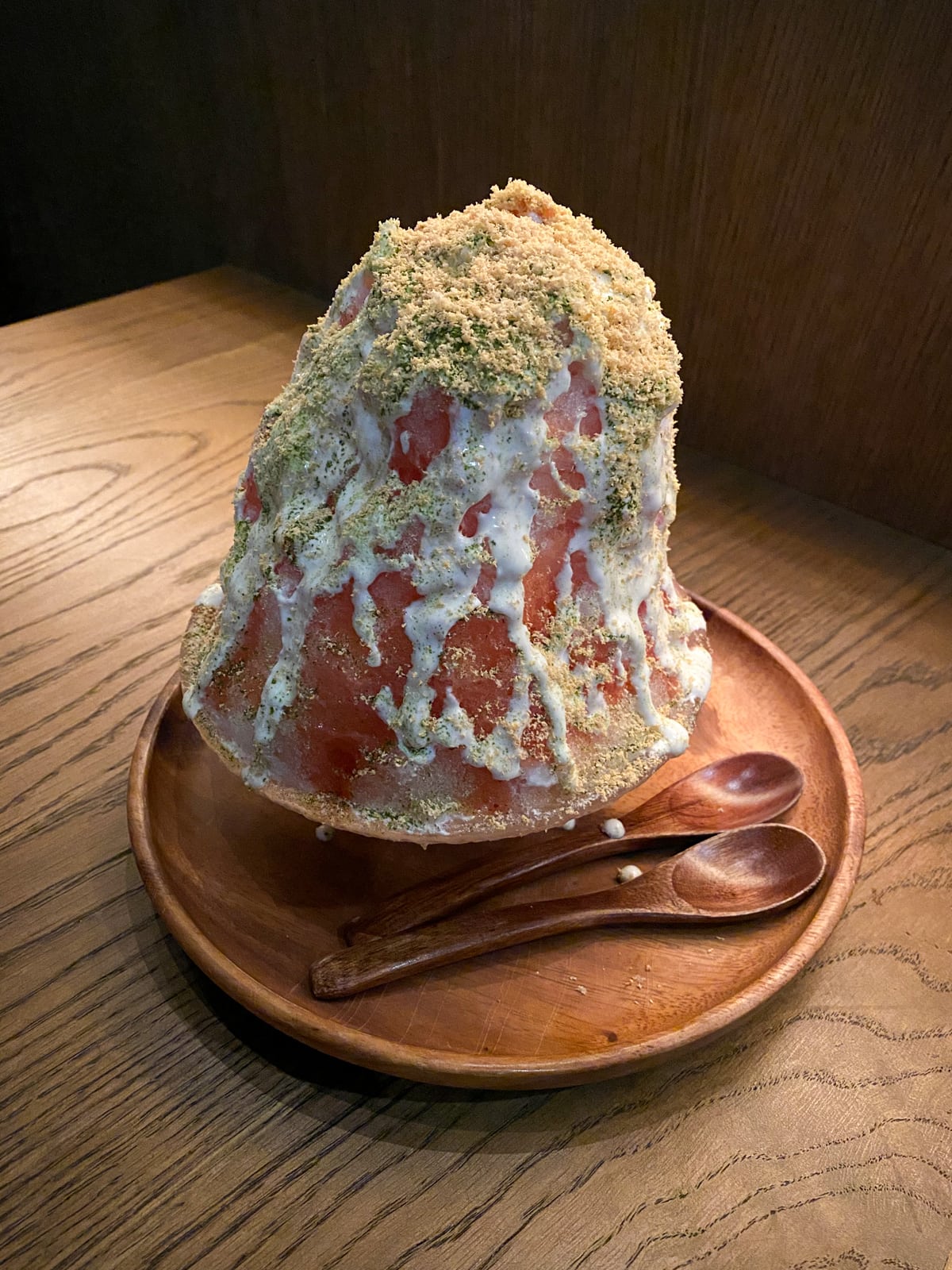 And finally, there was a mountain of kakigori, chef Bristol-Joseph's take on a traditional Japanese shaved ice.
It was flavored with coconut cream, strawberry and tamarind syrup, white chocolate, and matcha powder. Inside, there was a core of honey ice cream. Have mercy!
Related: Austin's Best Restaurants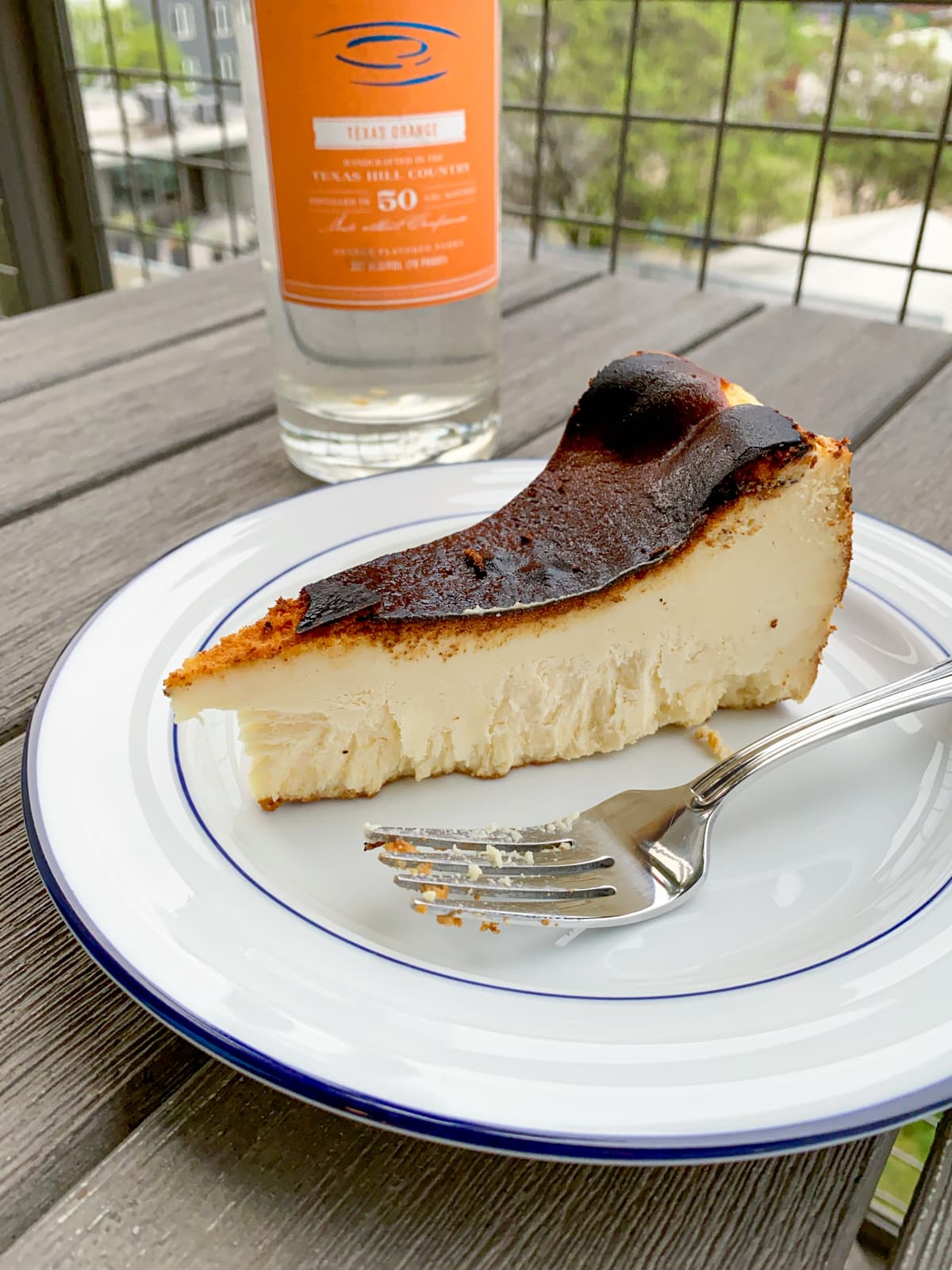 Henbit
With Austin in lockdown toward the end of March, I began looking to delivery options for sweet relief from pandemic stress.
It was a pleasant surprise to discover Basque cheesecake in Austin after becoming enamored with it in Copenhagen last fall. Chef Bristol-Joseph strikes again (via Henbit)!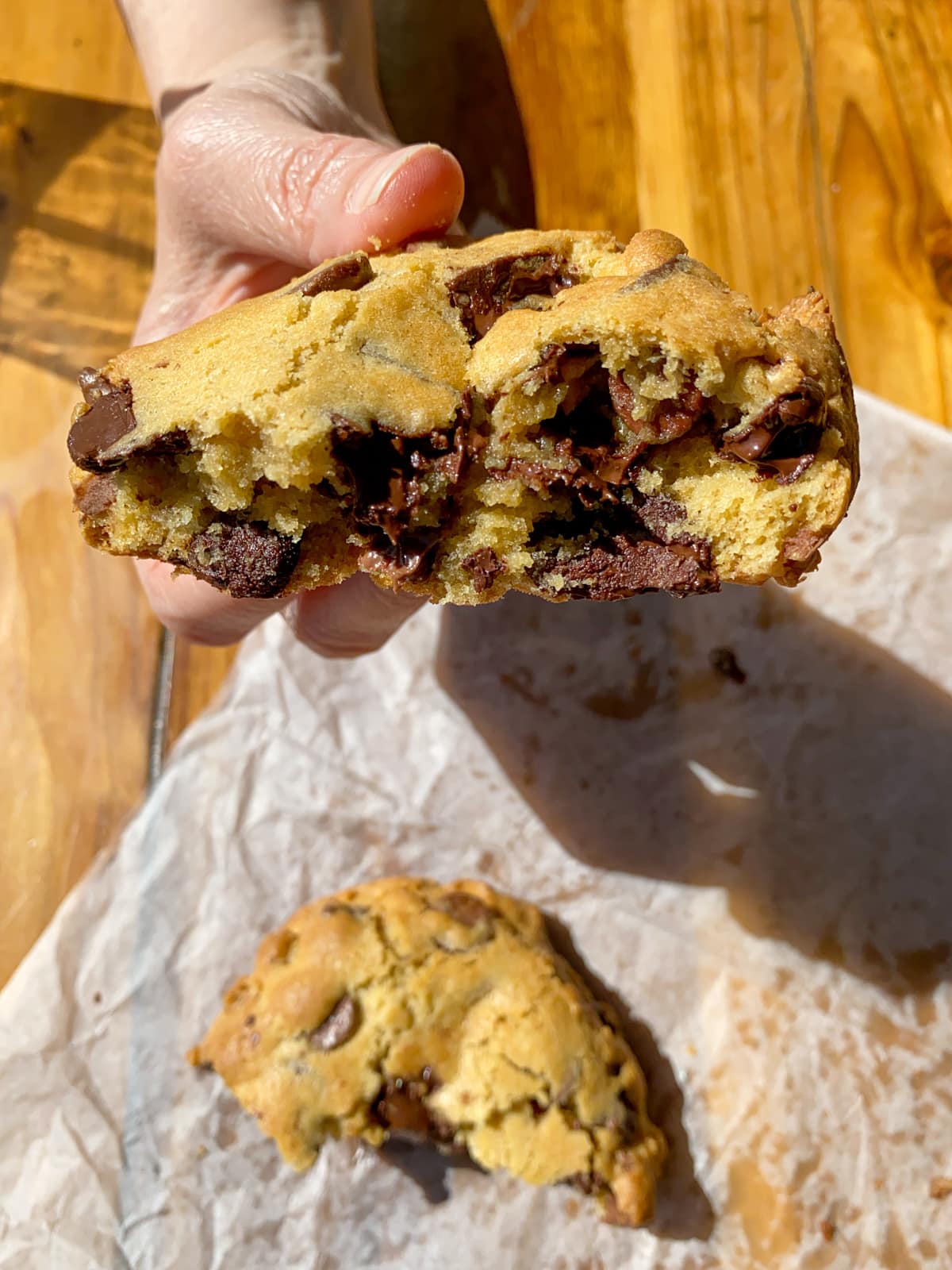 Paper Route Bakery
For the best chocolate chip cookies in Austin, if not the world, head to Paper Route Bakery, operating out of Cenote cafe in East Austin.
These gigantic, soft-baked cookies are overflowing with rich melted chocolate. I had my friend Laura hold one in the photo above for a sense of scale.
Related: Best Cafes in Austin
April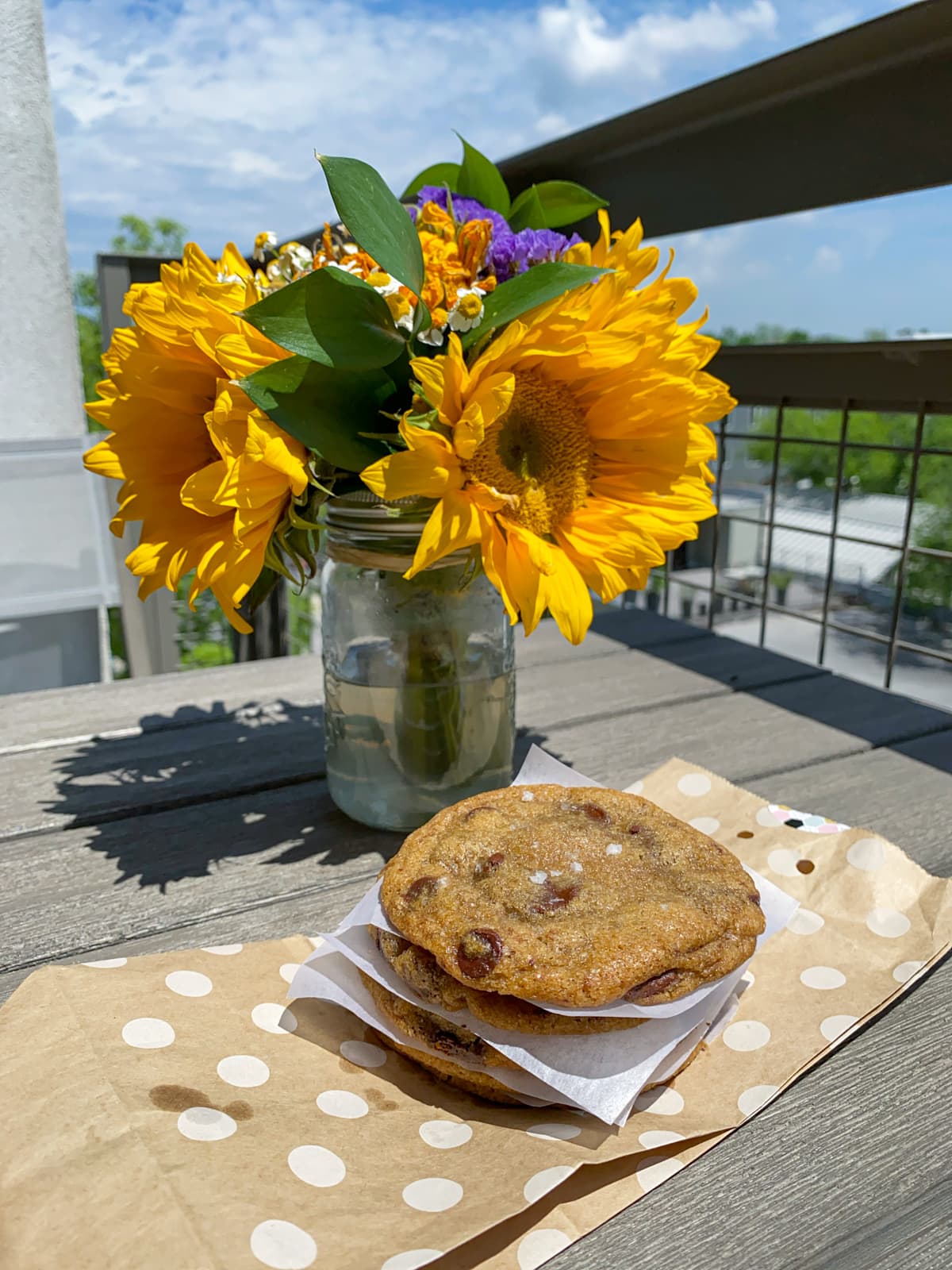 Laura Sawicki
Pastry chef Laura Sawicki is a four-time James Beard Award semifinalist for Outstanding Pastry Chef.
When her restaurant, Launderette, closed during the lockdown, she offered homemade salted chocolate chip cookies.
They're insanely good and still available on the Launderette menu.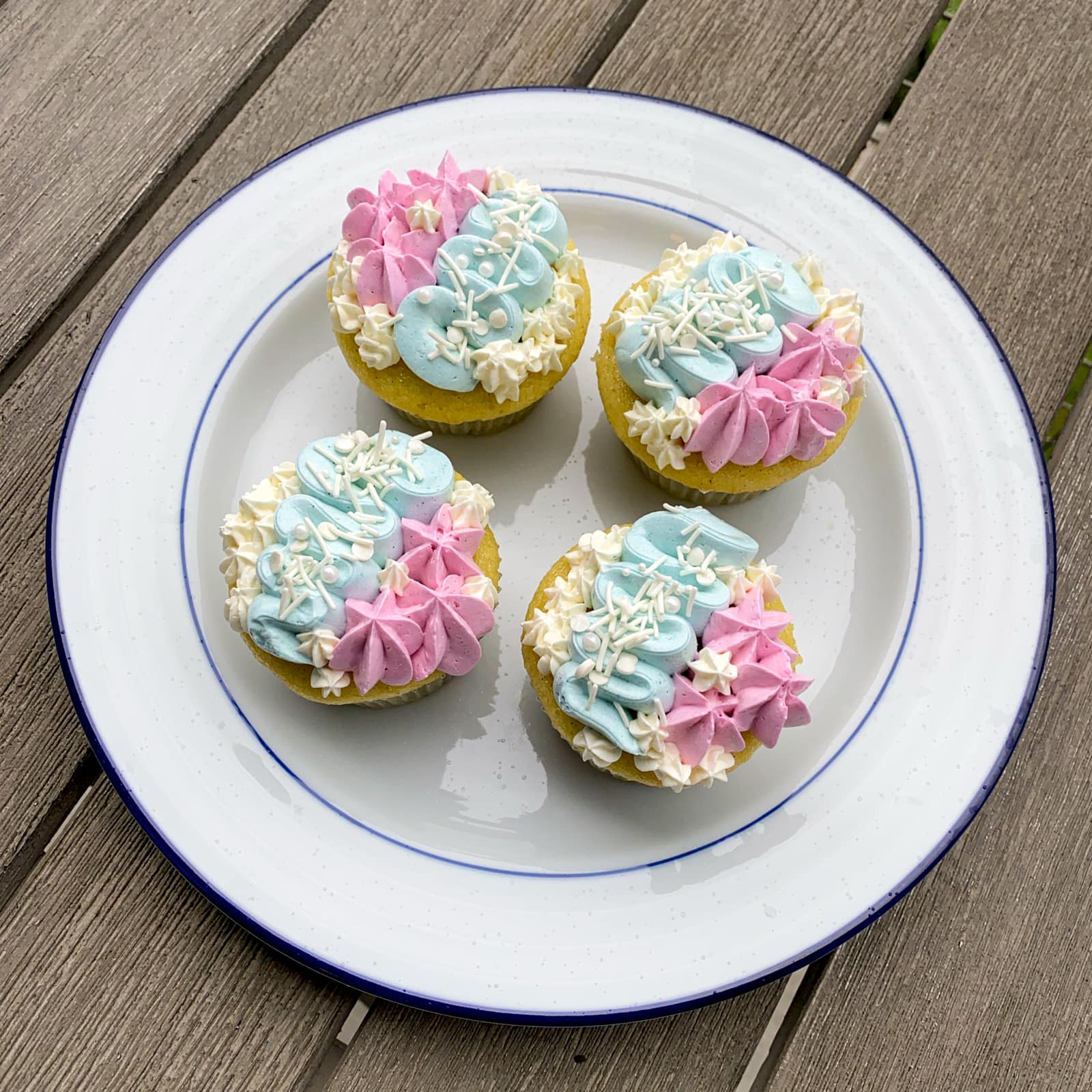 Jules Stoddart
There was more to April than homemade cookies. There were cupcakes, too!
These vanilla cupcakes were baked by Jules Stoddart, executive pastry chef at Olamaie (my 2019 pick for the best restaurant in Austin).
In addition to the sweets, I'd also ordered a half dozen of her venison and bacon sausage kolaches.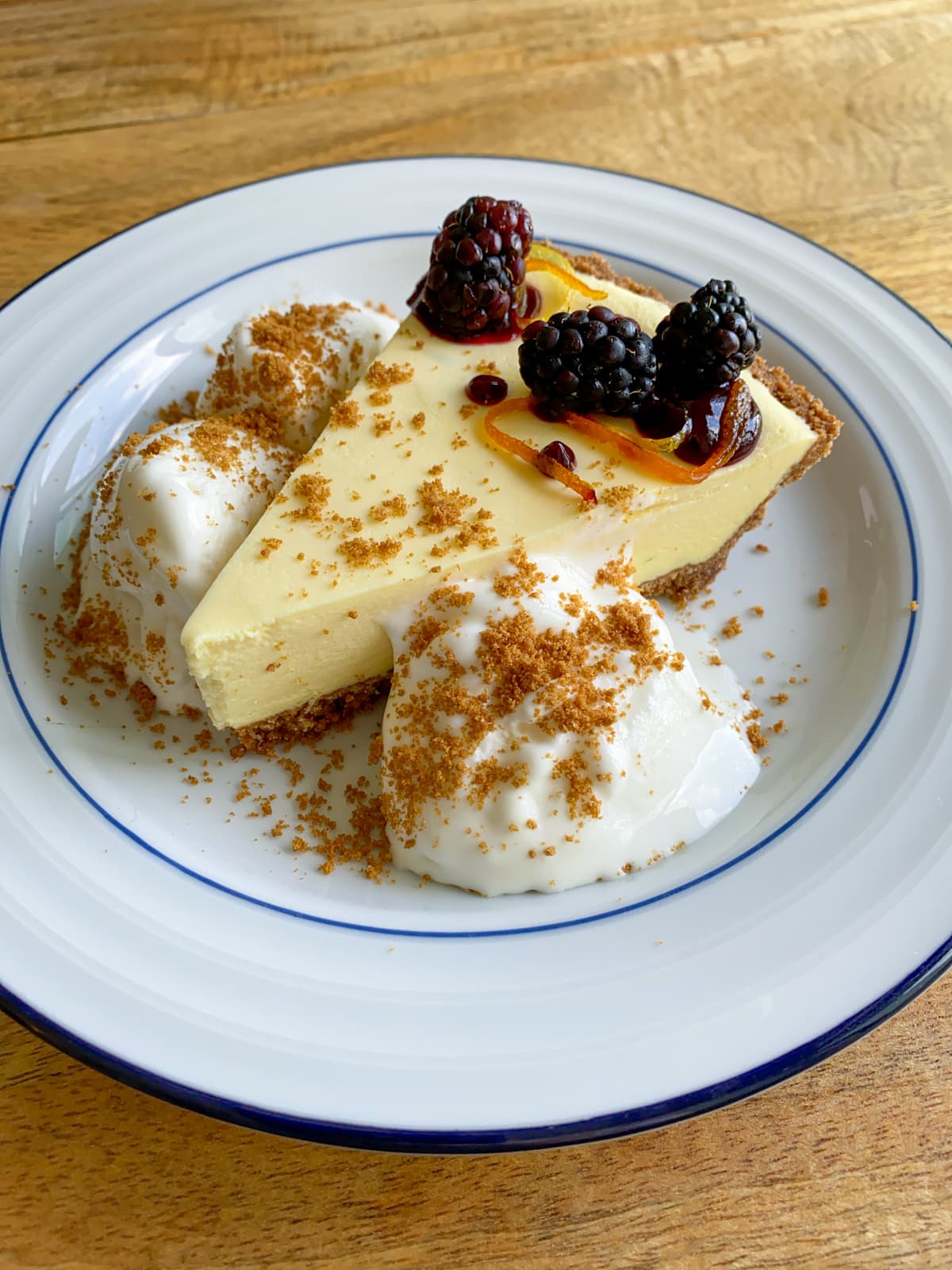 Launderette
When Launderette re-opened for curbside pick-up and delivery (via Tock), I ordered one of their tasty cheeseburgers with a side order of grilled carrots.
Dessert was a key lime icebox pie with blackberries, hibiscus, and sour cream ice cream. I had fun plating myself!
May to June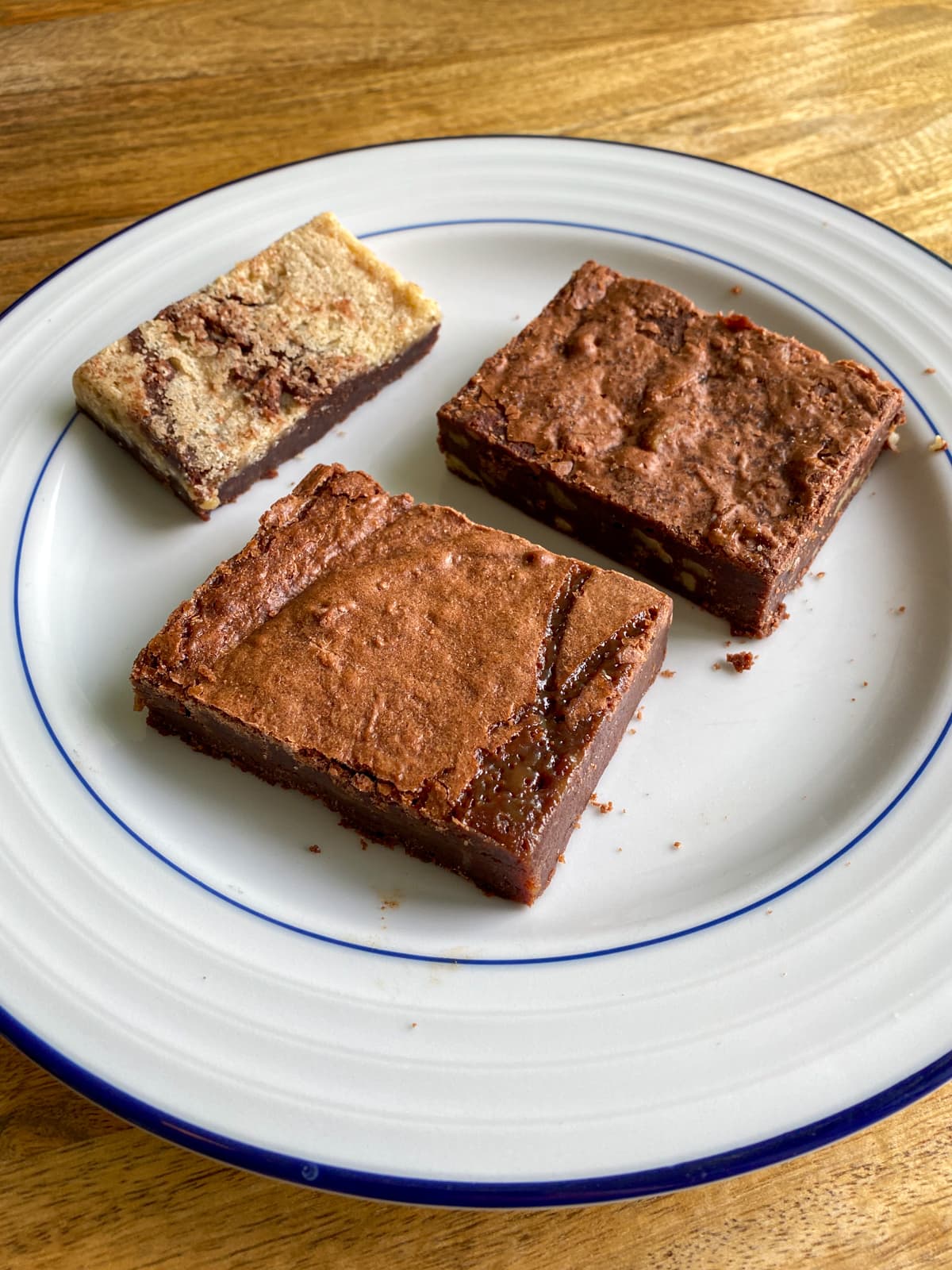 SRSLY Chocolate
I participated in an Austin Food & Wine Alliance fundraiser in May that brought SRSLY Chocolate brownies to my doorstep.
I was familiar with the brand from their chocolate bars, and these three brownies were as good as I'd expected. SRSLY Chocolate is from Taylor, Texas.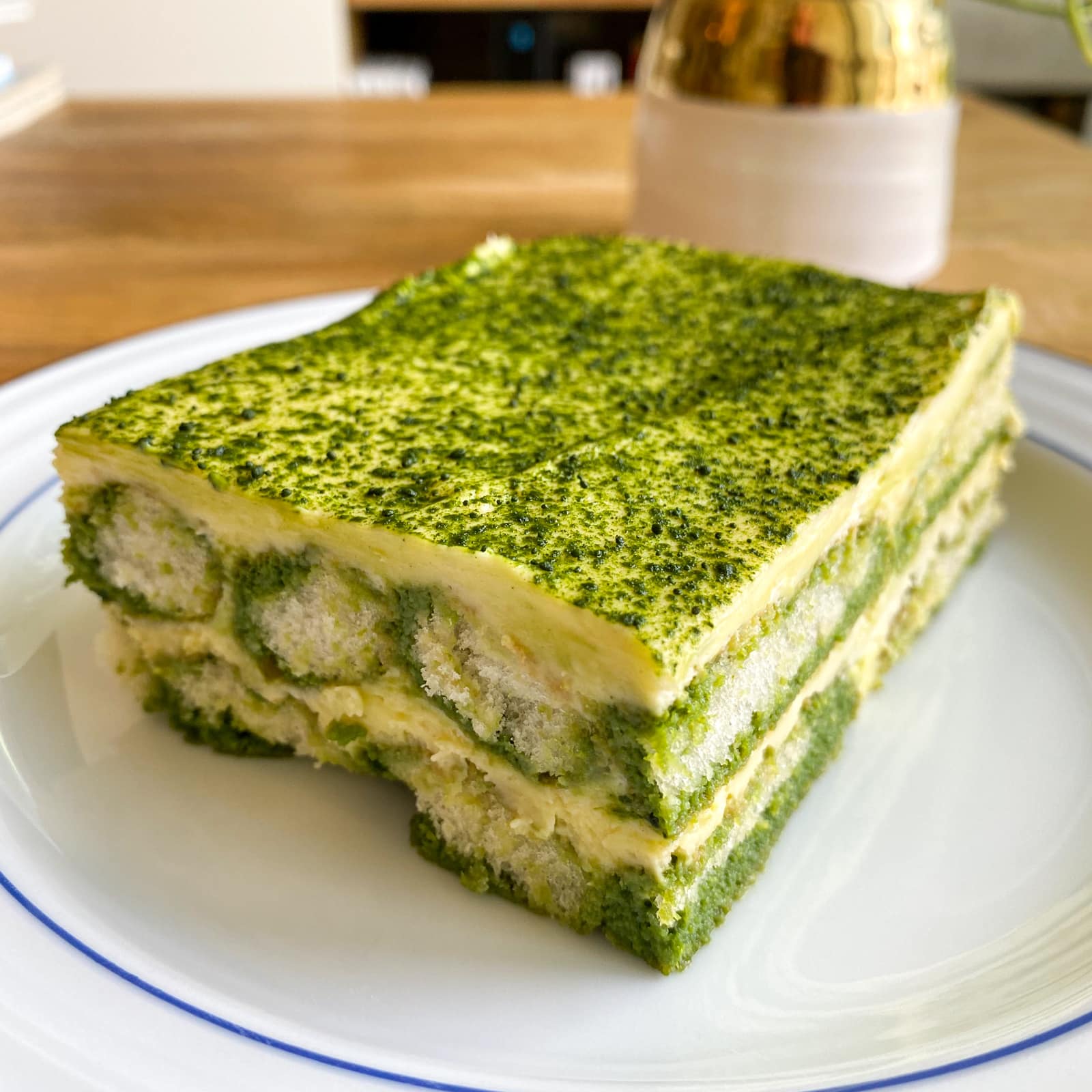 Fukumoto Sushi & Yakitori
I began dining at Fukumoto every week at the start of the year. It's easy to sit solo at the sushi bar when friends aren't available (or I'm just impatient).
When they re-opened for curbside pick-up, I ordered sushi a few times. This matcha tiramisu was a fun twist on an Italian classic.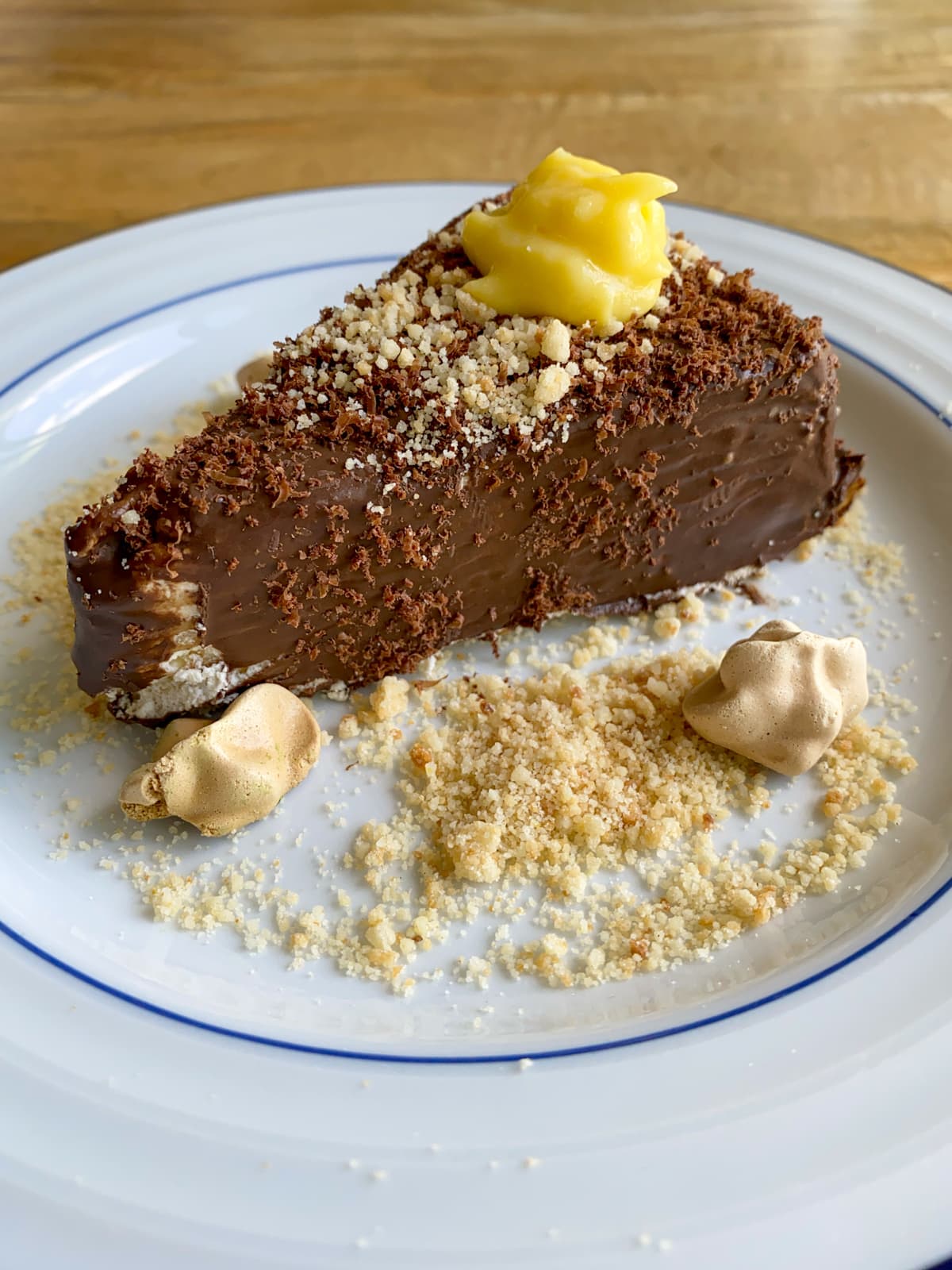 Unlike the matcha tiramisu, I'd had Fukumoto's excellent chocolate mille crepe.
July to August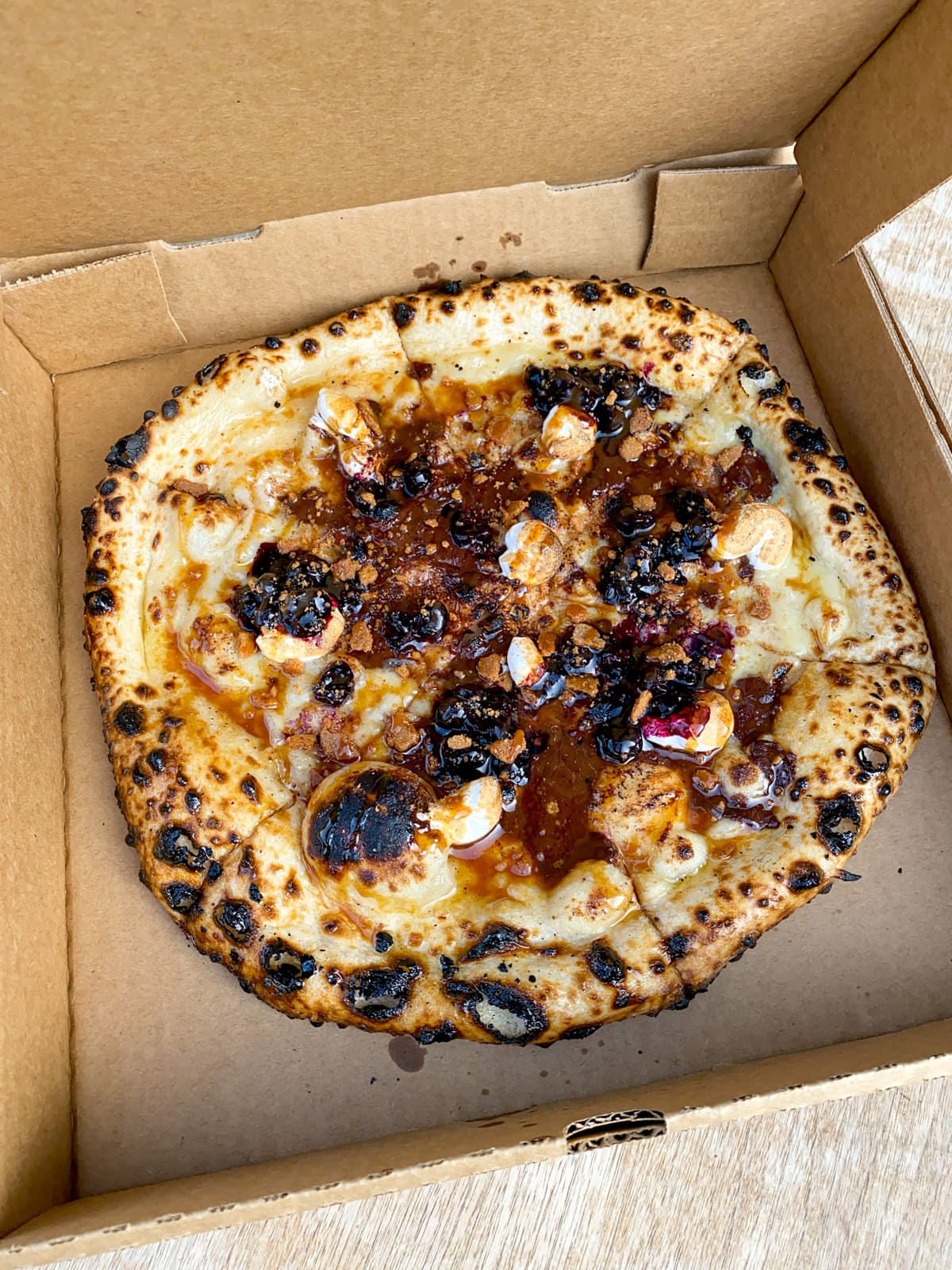 Bufalina + Tavel Bristol-Joseph
Summer was in full swing when Bufalina partnered with chef Tavel Bristol-Joseph on this sweet Neapolitan pizza.
Banana pastry cream, toasted meringue, chocolate chips, graham crackers, and blueberry cinnamon conspired to create a pizza I'll never forget.
I don't know how it all worked so well together, but it did. Bravo chef!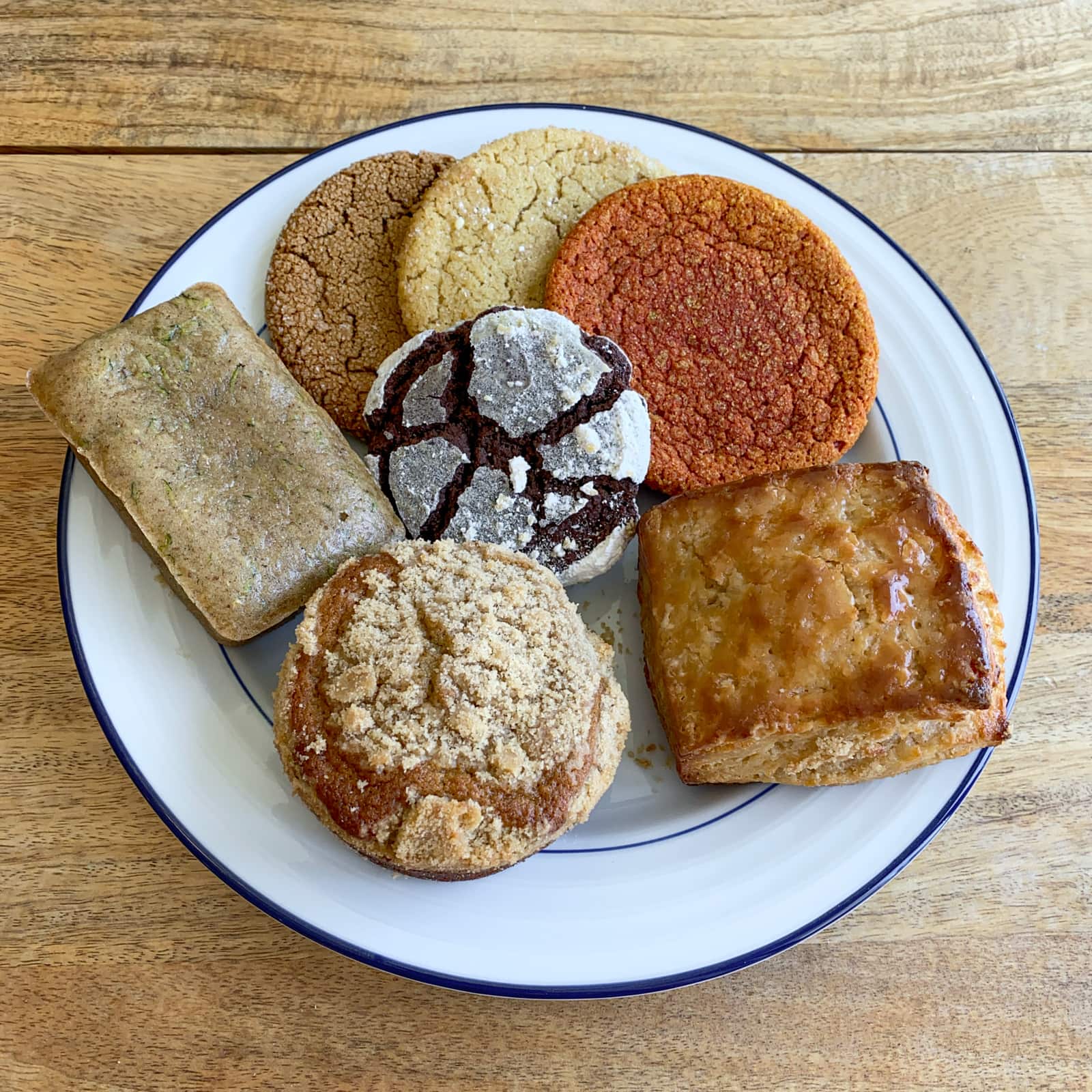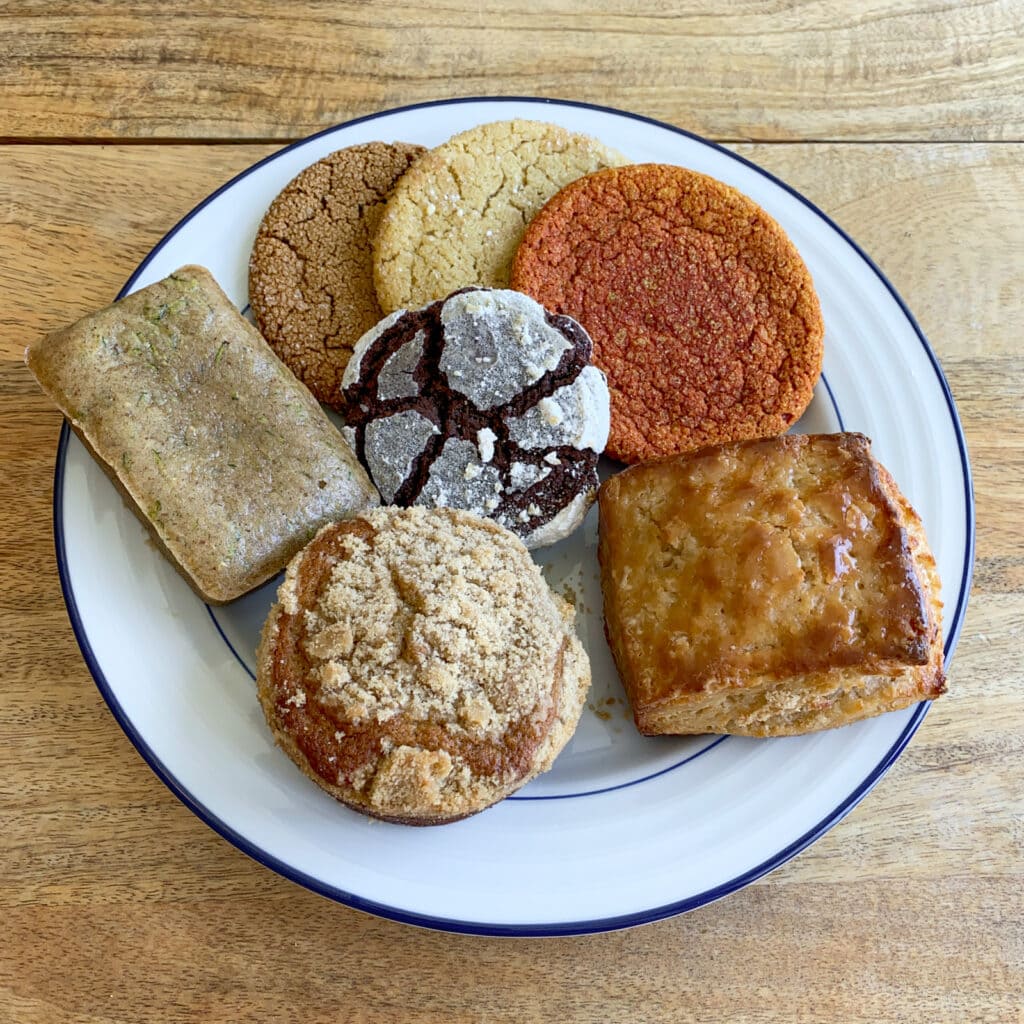 Sarah Listrom
Sarah Listrom, the pastry chef I became a fan of after my dinner at Vixen's Wedding, was working from home by summer.
When she offered a box of pastries, I didn't hesitate to order:
Whiskey Old Fashioned cookie
Turmeric coconut cookie
Ginger molasses cookie
Mexican hot chocolate cookie
Banana bread
Zucchini bread
Buttermilk honey biscuit
Sarah's incredible creations make another appearance on my list further down.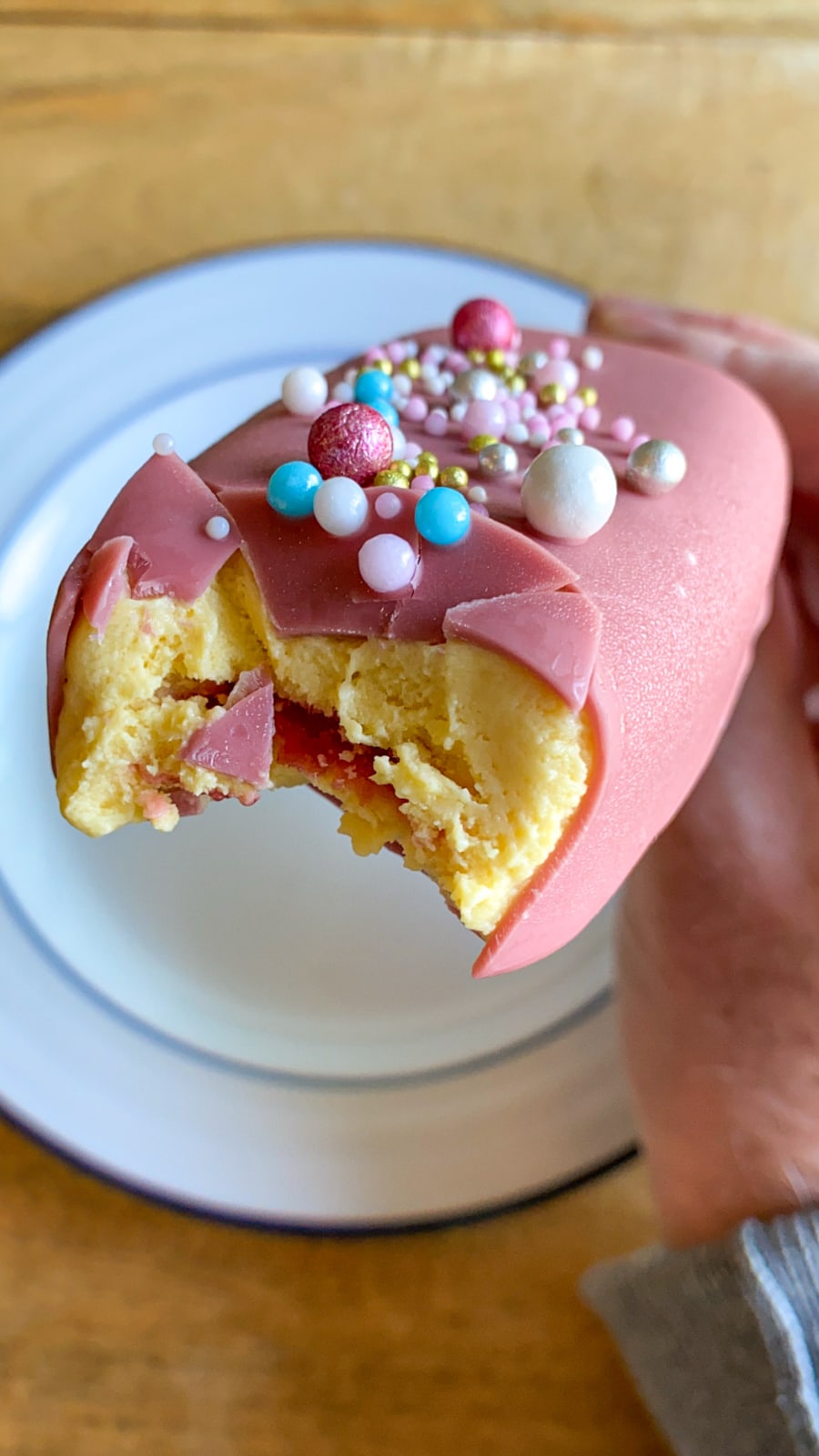 Launderette
Once again, the creativity at Launderette is on full display with this delivery-friendly passion fruit icebox pop with a red berry swirl and ruby chocolate magic shell.
September to October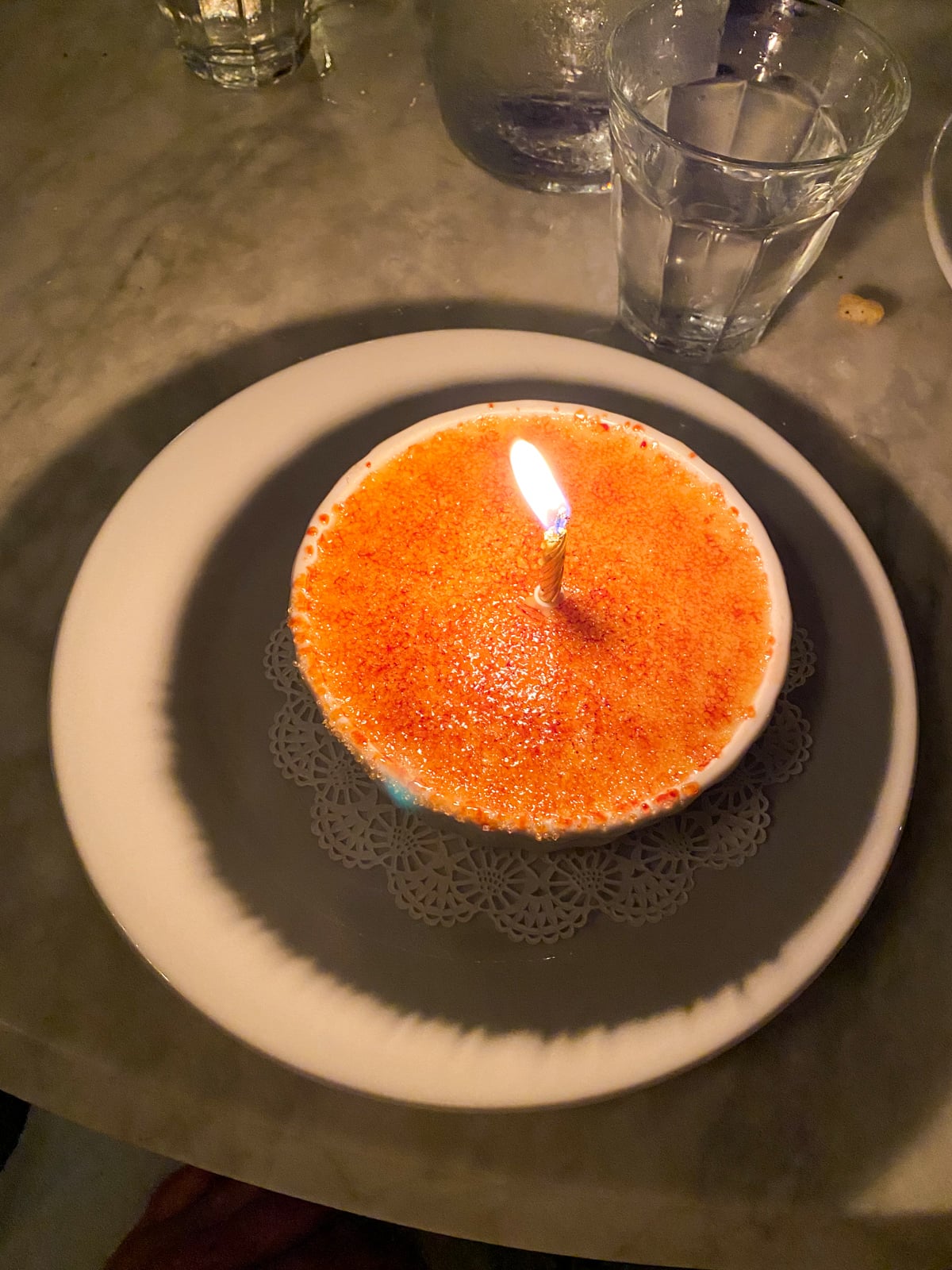 Justine's Brasserie
On September 25th, I invited a handful of close friends, including Nick, Matt, Sara, and her fiancee Christian to join me for dinner al fresco at Justine's Brasserie in East Austin.
I'd wanted to try this French restaurant for a few years, and it didn't disappoint. We devoured a cheese plate, and I ordered steak frites for my main.
We tried all three desserts, including the creme brûlée, which arrived with a birthday candle. It felt good to get out and enjoy a meal with friends again.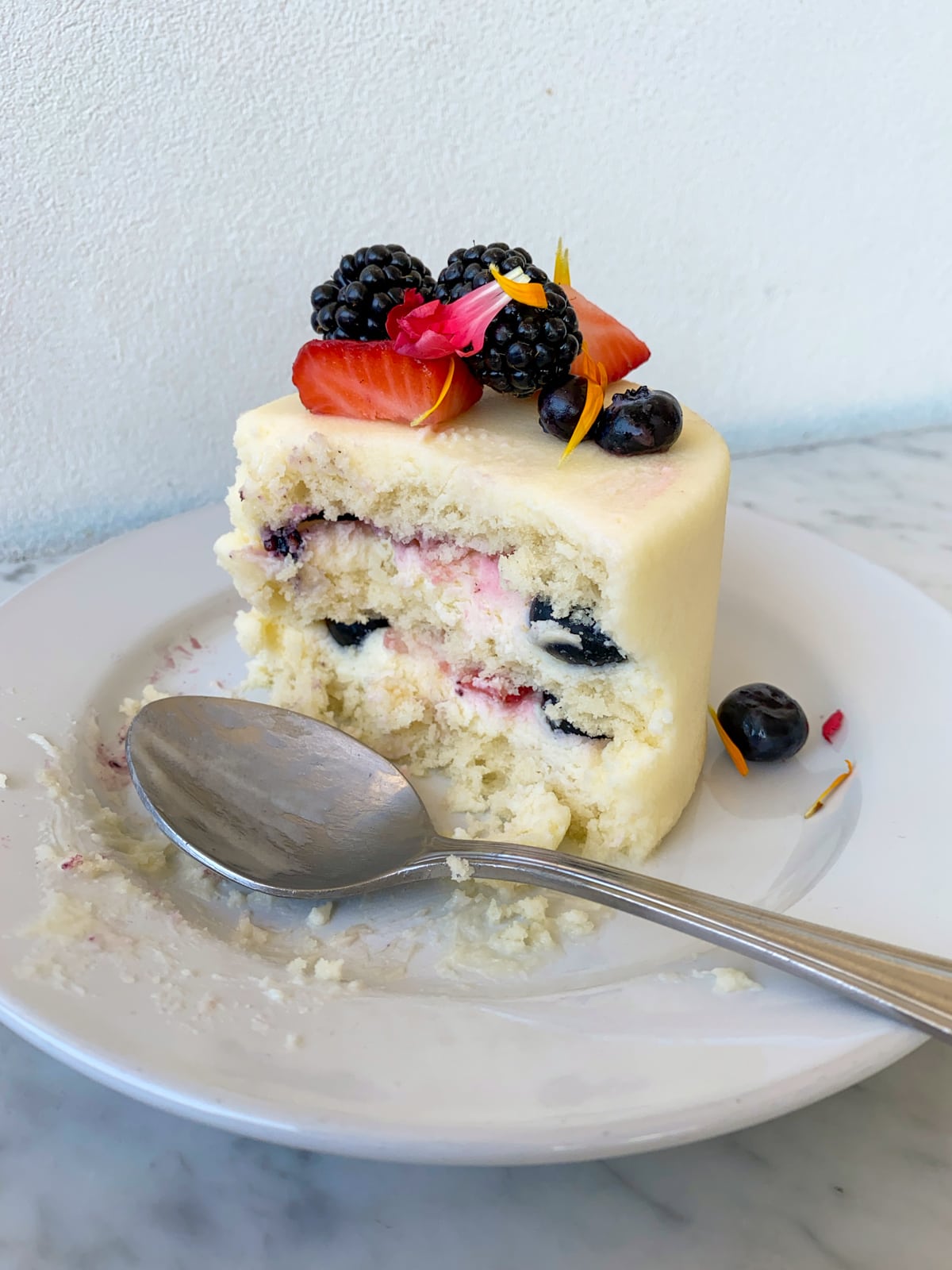 Hank's
In October, I invited my friend Laura to a long, relaxing midweek lunch at Hank's, one of my favorite cafes, patios, and restaurants in Austin.
I tried their signature Chantilly cake for the first time, and it was love at first bite. This multi-layered cake with fresh berries is a must for any cake fan.
It looks made for weddings, so it wasn't surprising to hear that they're available on Hank's catering menu.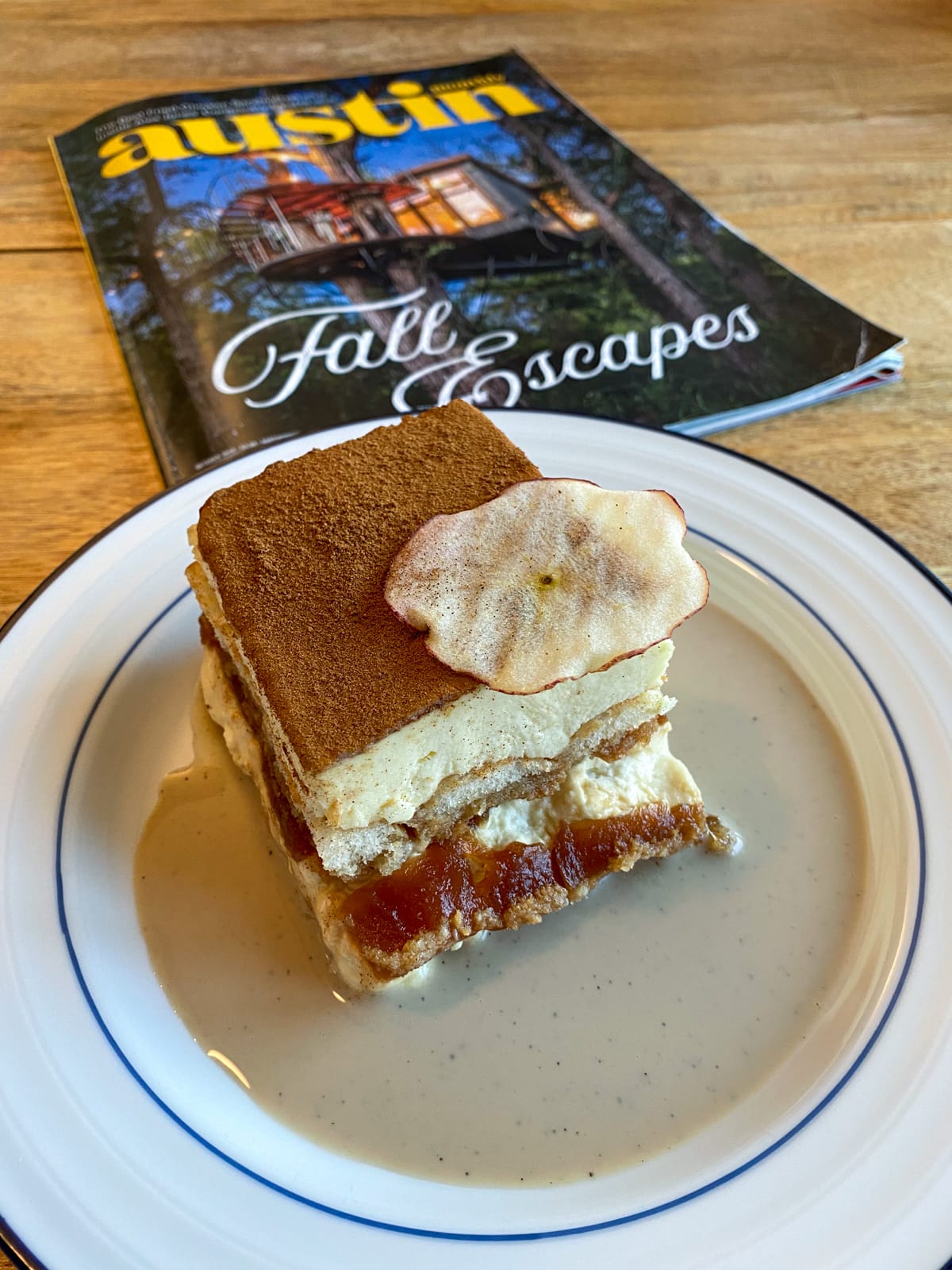 Launderette
Again? Yes, again! When Launderette came out with an autumn-inspired hot toddy tiramisu with apple confit, bourbon, black tea, and fromage blanc, I had to have it.
It's as delicious as it looks; however, I would prefer the original version if I had to choose.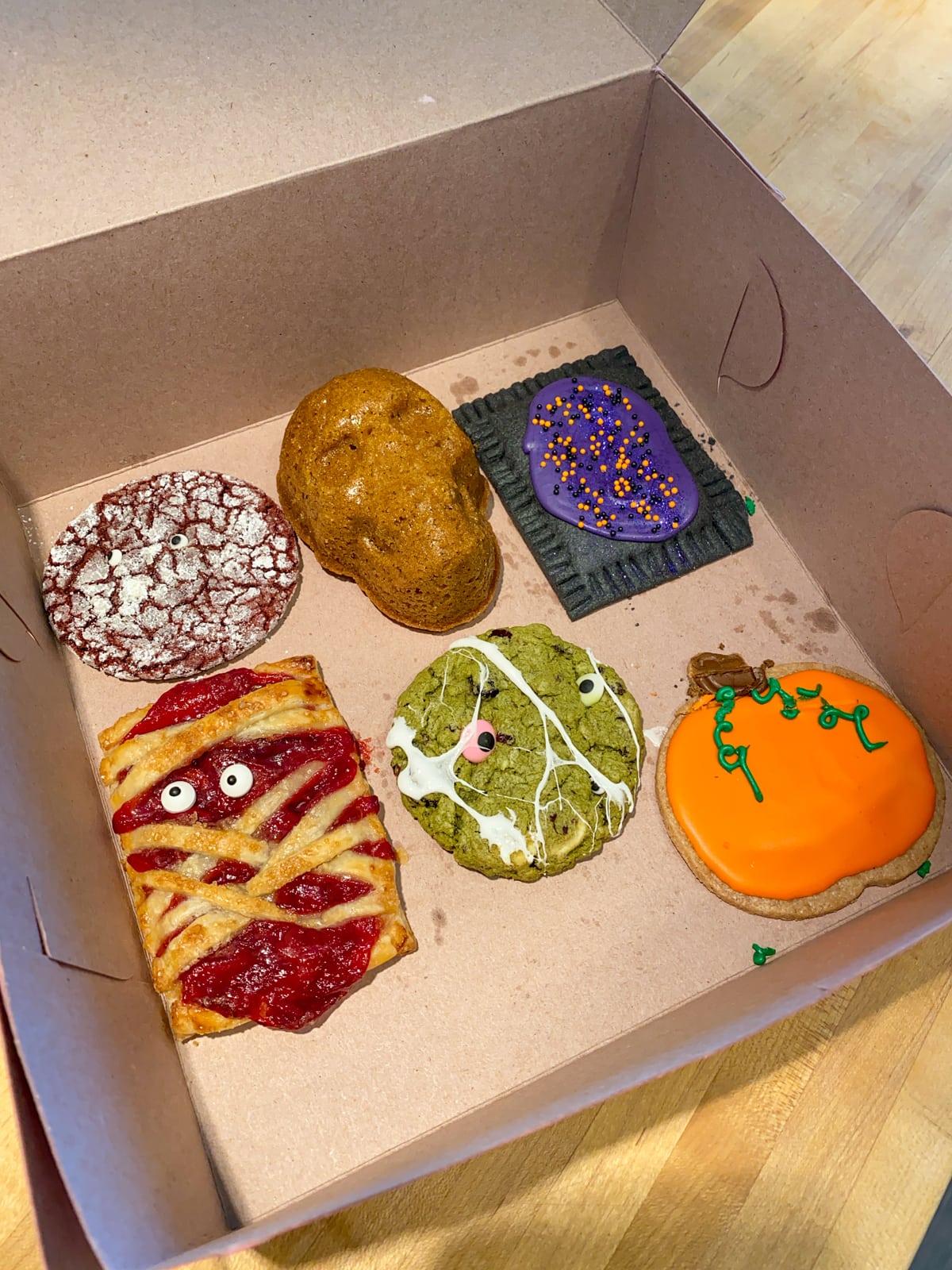 Sarah Listrom
Pastry chef Sarah Listrom struck again with creative Halloween cookies and cakes.
Black fig pop tart (my favorite item in the box)
Mummy hand pie with cherry (love the eyes)
Red velvet crinkle cookie
Pumpkin spice sugar cookie
Monster cookie with matcha, oats, and cranberry
Pumpkin skull cake (reminds me of a signature dessert at Geranium in Copenhagen)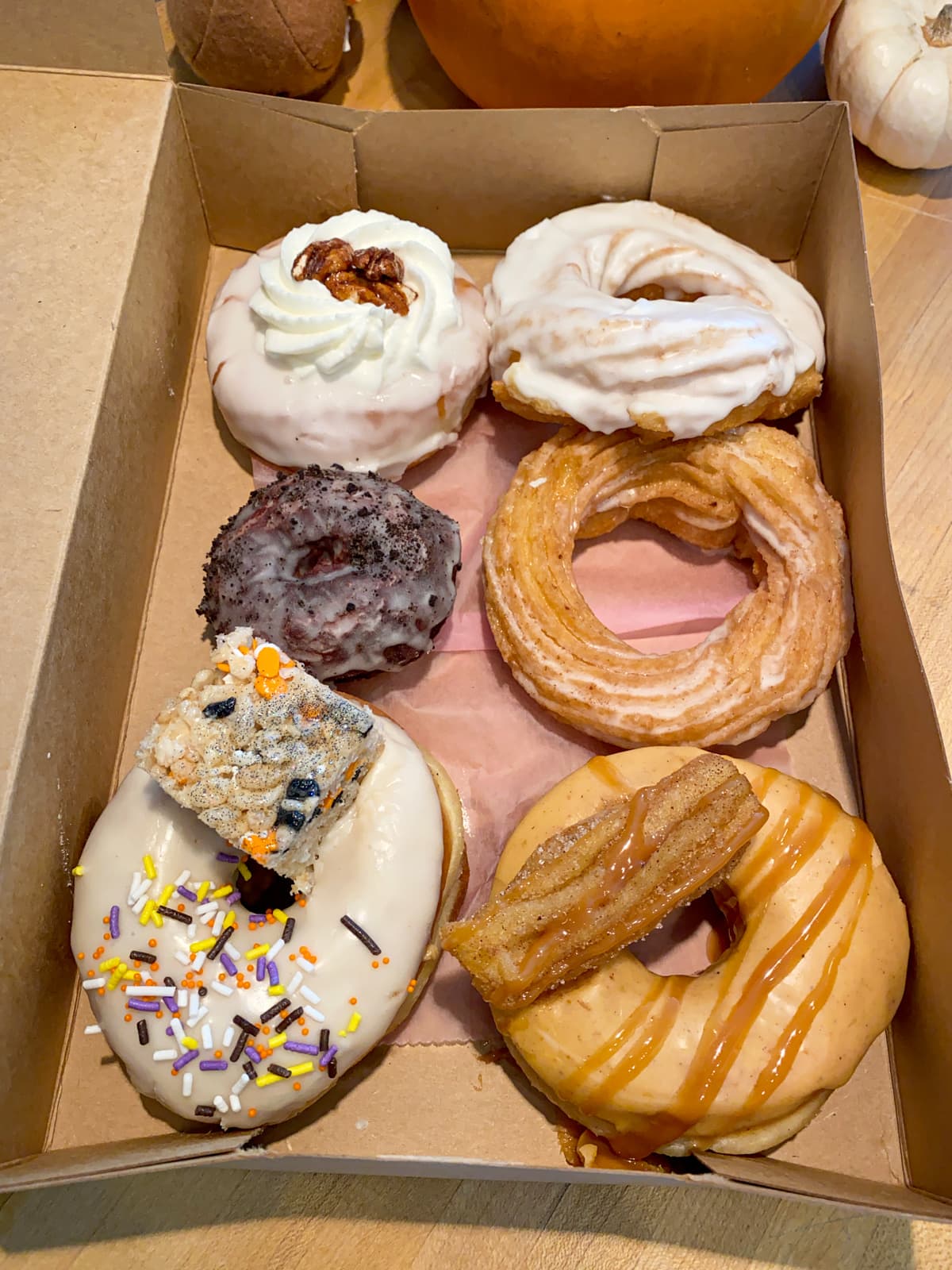 Lola's Donuts
When I saw the Latina-owned and operated Lola's Donuts pop up on Instagram, it immediately got my attention.
Their half-dozen donut boxes would sell out in minutes. Once I got my act together, I got an order to split with a friend.
Peanut butter Krispie brioche (my favorite in the box)
Boozy pecan pie-filled brioche (second favorite)
Pumpkin churro brioche
Horchata cruller
Brown butter sea salt cruller
Red velvet Oreo cake
I usually keep donut consumption to a minimum, but these were worth the calories.
November to December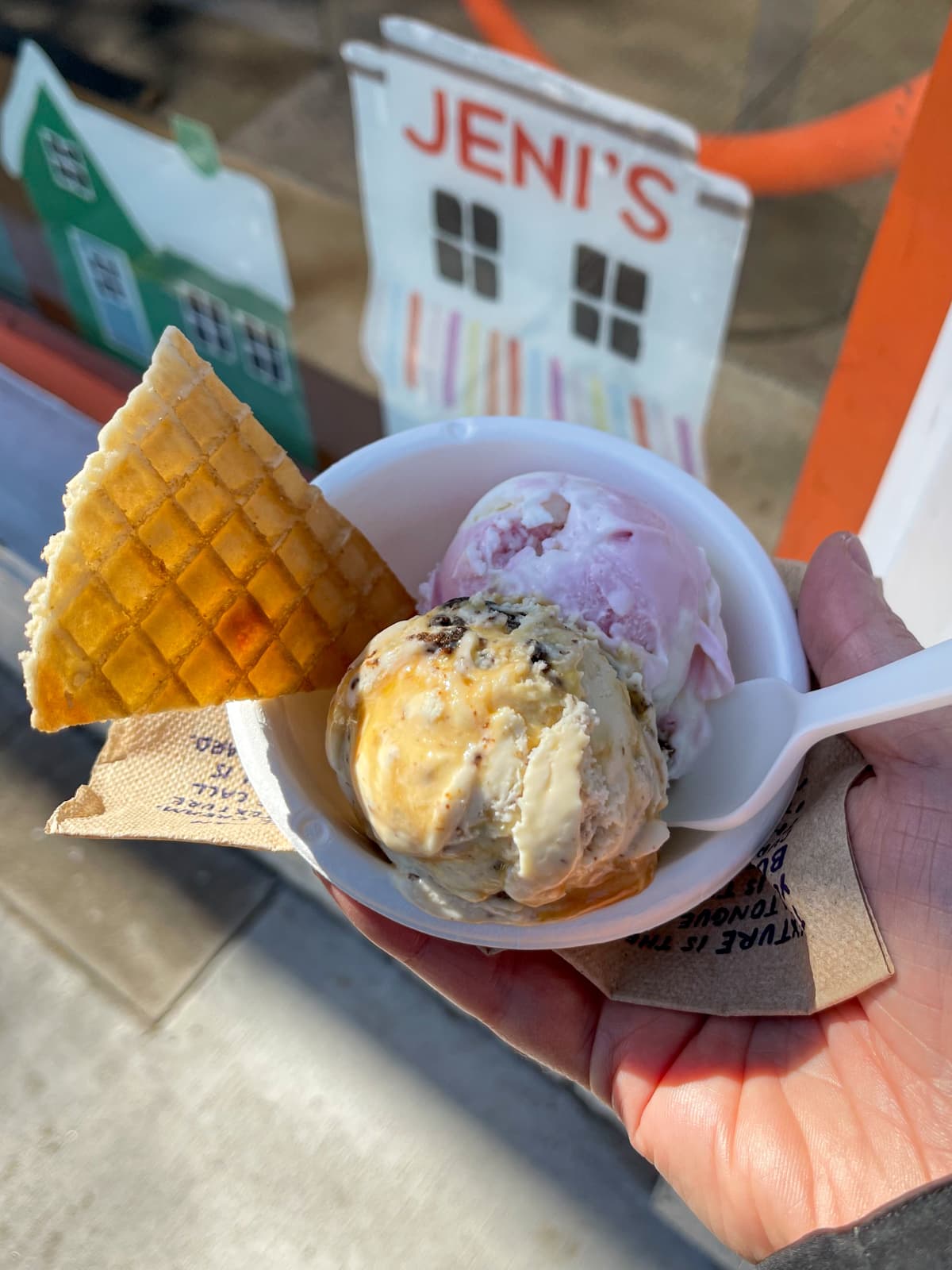 Jeni's Splendid Ice Creams
I became a fan of Jeni's Ice Creams upon moving back to the US in 2016 and discovering them at downtown Austin's Royal Blue Grocery stores.
They opened their flagship Austin scoop shop on South Congress earlier in the year.
It took me months to finally get over there, with the pandemic and all, but I tried three yummy flavors.
In November, I returned and had the cognac with gingerbread and white chocolate peppermint, two of their seasonal winter flavors.
I continue to buy the occasional pint, too. The smoky Campfire Chocolate is my latest fave.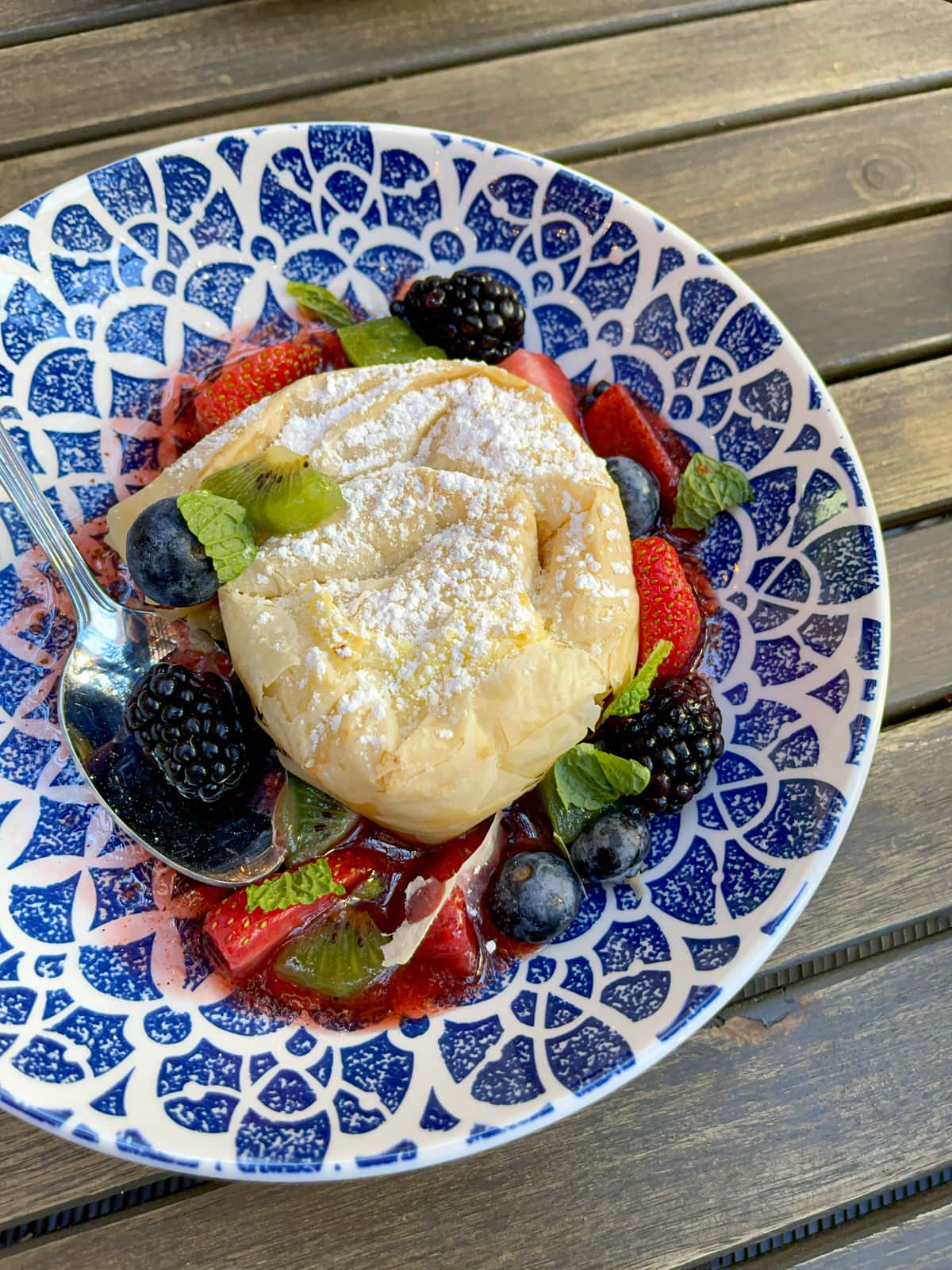 Aba
Last but not least, we arrive at Aba, a Chicago-based Mediterranean restaurant that opened in South Austin a few months ago.
I've already dined on their spacious, tree-covered patio twice. It's one of the hottest spots in town and will continue to do well once winter gives way to spring.
You can count on desserts like this bougatsa with phyllo dough, custard, and fresh berries to satisfy your sweet tooth.
***
For more from the year in Austin, TX, check out My 20 Best Savory Bites.