The best restaurants in Austin have gained national attention for everything from tacos and brisket to southern food and sushi.

Since moving to Austin, Texas, I've spent a lot of time dining solo, with friends, and on dates.

My list of Austin's best restaurants is based on personal experience, and because I haven't been everywhere (yet), it's subject to change.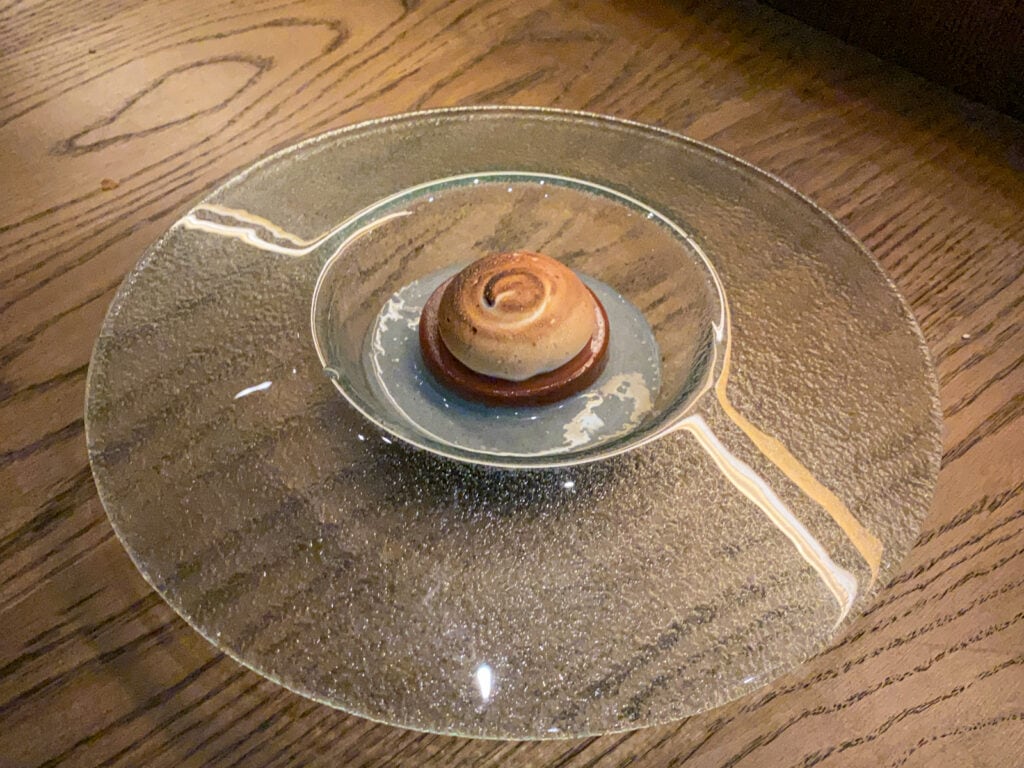 Here are some of the factors I consider when choosing the best places for this list:
Food quality, creativity, and presentation
Interior design and ambiance
Service
Value
Location
And as anyone following Feastio on Instagram knows, I have a sweet tooth. So, I pay special attention to dessert menus.
Given that these are some of Austin's best restaurants, I recommend making reservations for any place that takes them. Otherwise, arrive early.
Austin's Best Restaurants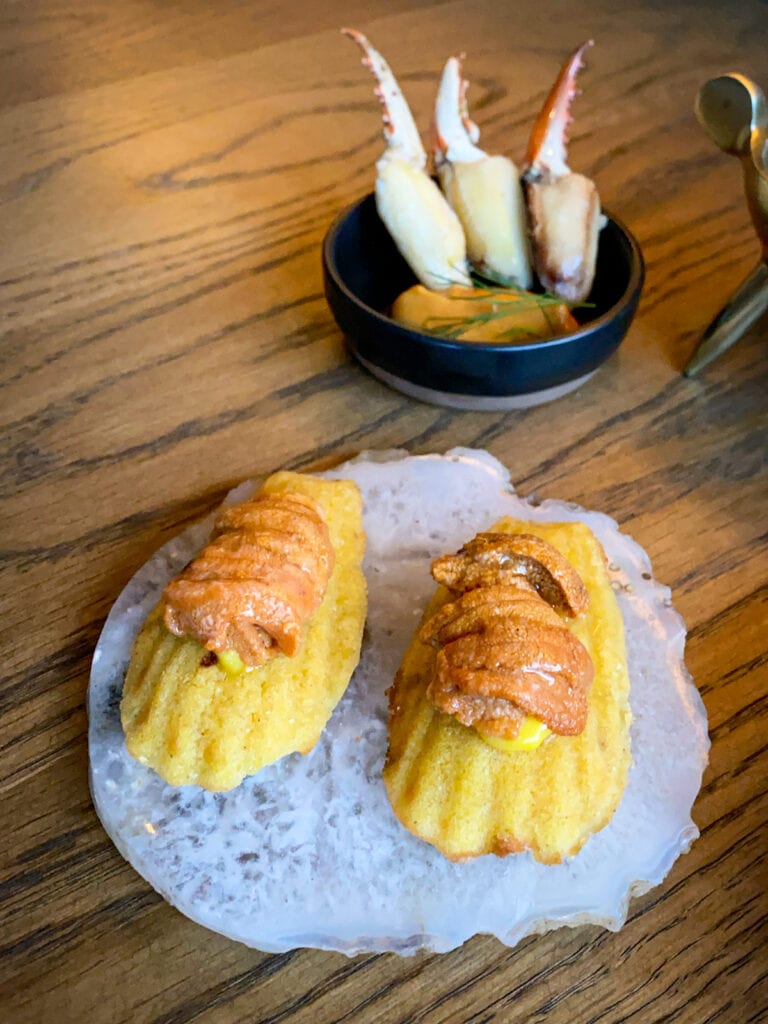 1. Hestia
Hestia opened in downtown Austin in December 2019, and thankfully, I could get in for a superb dinner by March of the following year.

This is the fifth restaurant by executive chef Kevin Fink (a 2020 James Beard Foundation Award finalist) and business partner, pastry chef Tavel Bristol-Joseph (one of Food & Wine Magazine's best new chefs of 2020).

At Hestia, taking orders and bringing dishes is a job servers share with the chefs.
This concept was delightful, offering us opportunities to interact with those in the kitchen, where a custom-built 20-foot hearth is used for cooking.
Highlights from my meal included:
Uni and cornbread (pictured above)
Parker House rolls with formagina butter (the best rolls you'll ever eat!)
King crab with kelp butter
S'mores-inspired chocolate mousse
Kakigori, a Japanese-style shaved ice
To take full advantage of Hestia's bounty, served on small plates, try to go with at least one other person.
Hestia was my pick for the best restaurant in Austin for 2019-2020, and I'm happy to see it's still going strong.
Open nightly for dinner, Tuesday through Sunday.

607 W 3rd Street, Downtown, hestiaaustin.com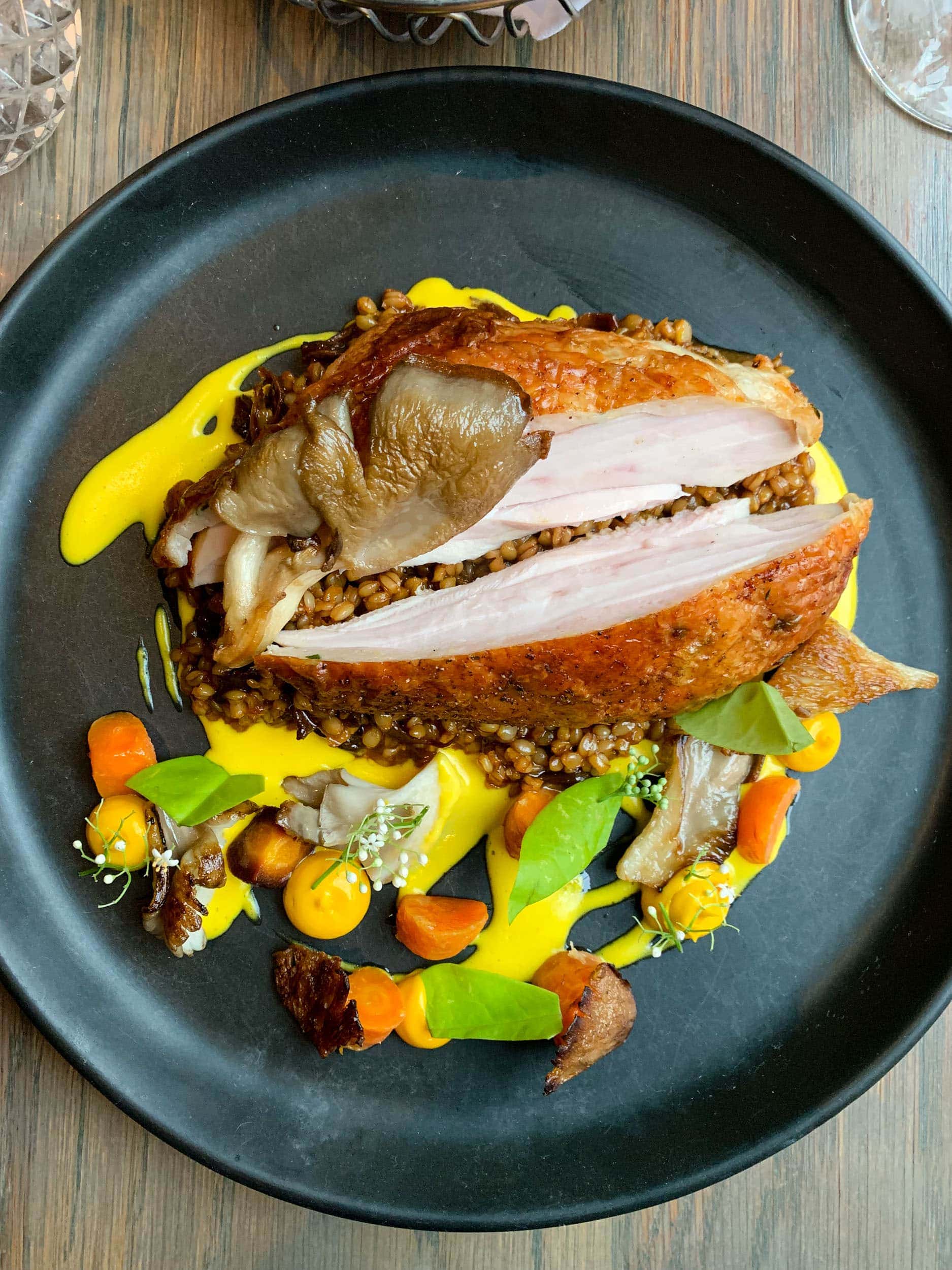 2. Olamaie
Nominated for Best Chef in the Southwest (2018) by the James Beard Foundation, Chef Michael Fojtasek delivers a tour de force of modern southern cuisine at Olamaie.

The restaurant is housed in a charming white bungalow. The interior is intimate without being too dark — essential given how beautifully the dishes are presented.

My first visit included three incredible courses:
Sweet potato pone with Harbison brie, Benton's bacon, and kil't chicories
Dewberry Hills Farm chicken with oyster mushroom, carrot, farro, and bay laurel (pictured)
Vanilla cake with Cocoa Barry dark chocolate, candied fennel, and vanilla ice cream
The seasonal menu utilizes products from local farmers, so what's here today may be gone tomorrow.
Olamaie is known for its homemade biscuits, so order some of them.
Based on their popularity, Fojtasek launched Little Ola's Biscuits, a neighborhood shop serving biscuit sandwiches.
To provide fair wages, healthcare benefits, and paid time off for its staff, Olamaie recently instituted a 20% "Employee Wellness Charge" on customer bills. Additional tipping is optional.
Open nightly for dinner, seven days a week.

1610 San Antonio Street, Downtown, olamaieaustin.com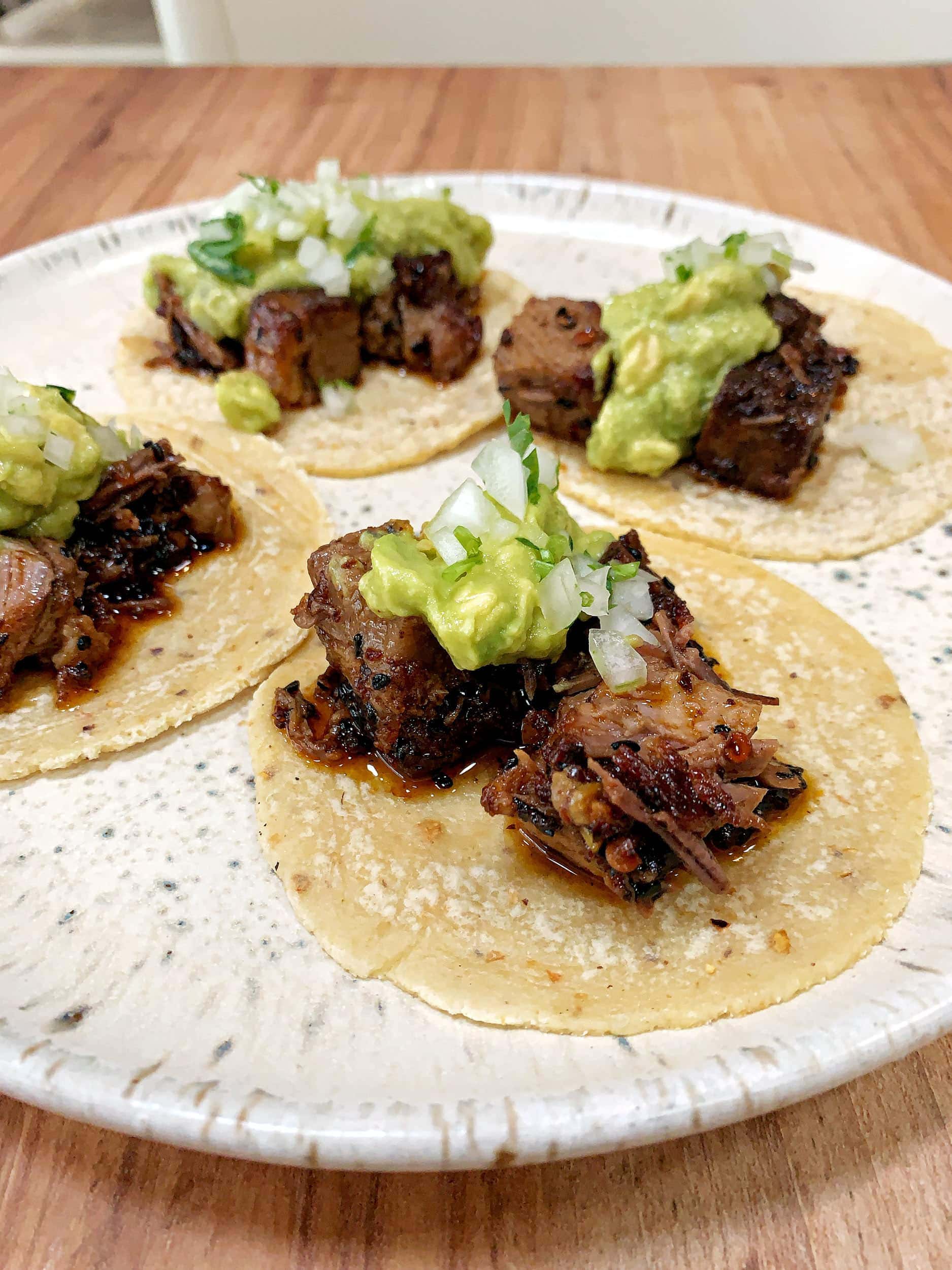 3. Suerte
Food & Wine named Suerte in East Austin one of the country's best new restaurants for 2019.

Excellent brisket tacos with black magic oil and avocado salsa cruda make the case. These are the best tacos in Austin.

Four brisket tacos and a Nada Paloma (Cimmaron Blanco tequila, Union mezcal, citrus soda, grapefruit) would've sufficed.
Still, I also ordered the duck breast with mole negro and fennel masa dumplings.

The tres leches dessert with Texas peach, masa streusel, and burnt vanilla mousse finished my wonderful first meal here.

Suerte is led by Mexican chef Fermin Nunez, whose resume includes La Condesa, Laundrette, and Uchiko.

Dinner nightly, brunch Saturdays and Sundays.

1800 E 6th St, East Austin, suerteatx.com
Related: Best Sushi in Austin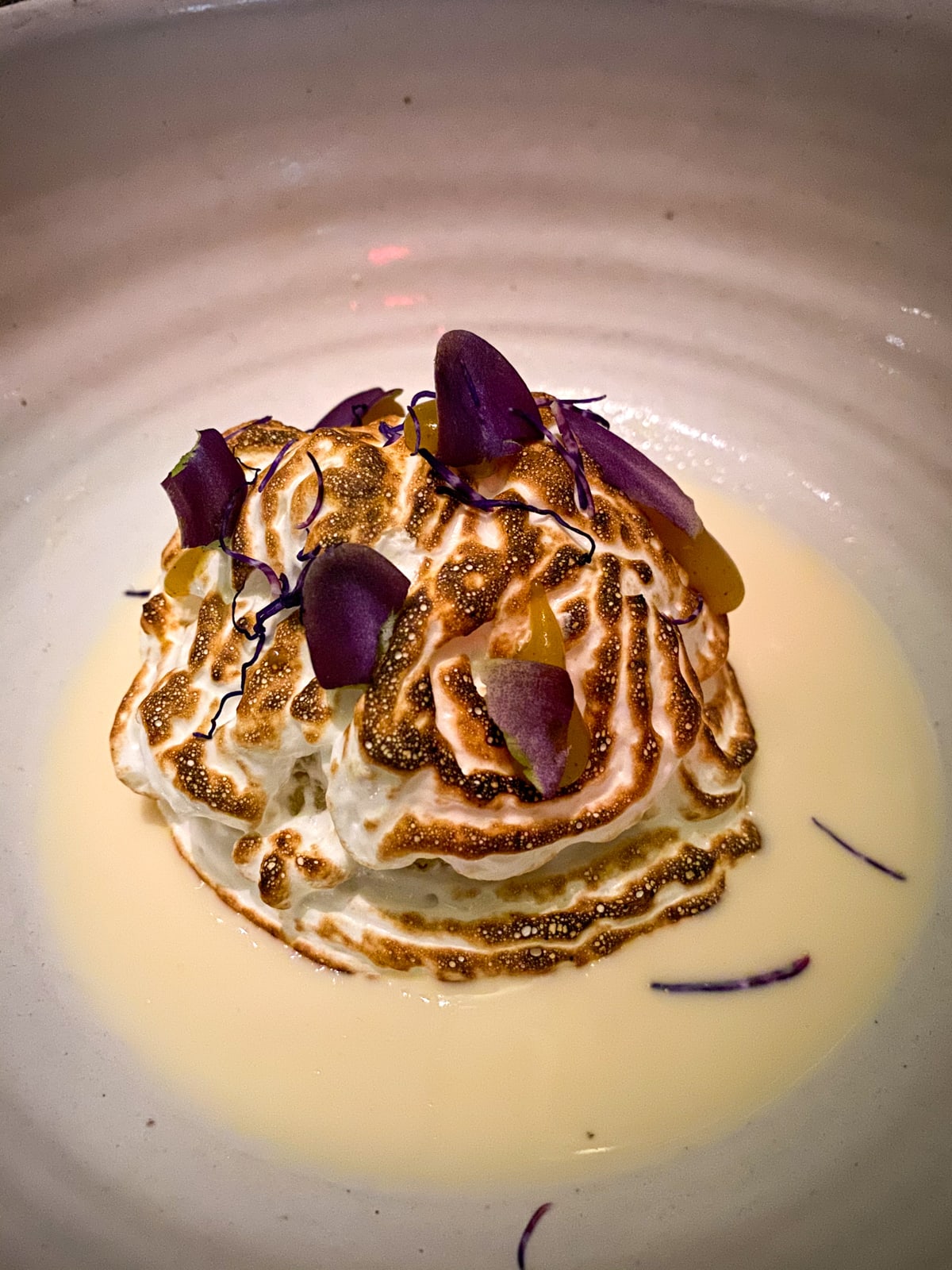 4. Comedor
Led by chef and co-owner Philip Speer, Comedor made an immediate splash in the Austin dining scene when it opened to rave reviews in 2019.

In the heart of the Texas capital, this modern Mexican restaurant features an all-black brick, glass, and steel exterior as if designed to evade detection.

An inner courtyard offers a break from the business of the city streets. Bring friends so you can sample as many plates as your wallet allows.
The bone marrow tacos are a signature dish and are best shared, given their size.

We also tried the pig head quesadilla, tuna, octopus, and shrimp tostada, and surprisingly outstanding chicken liver mousse with a churro, beets, and peach.

Given Speer's four James Beard Foundation Award nominations for Outstanding Pastry Chef during his tenure at Uchi, it's no surprise the dessert game here is strong.

I enjoyed devouring tres leches with Tejate ice cream, burnt meringue, and corn milk (pictured above). Plus, chamomile mousse with guava sorbet, mezcal, and ants.
Dinner is served nightly, seven days a week, and there's a happy hour Monday through Thursday.
501 Colorado Street, Downtown, comedortx.com
5. Franklin Barbecue
Franklin Barbecue is one of the best restaurants in Austin and the undisputed king of barbecue in Central Texas.
What began as a hobby of backyard barbecuing led Aaron Franklin to open a small BBQ trailer in 2009 just off Interstate 95 in East Austin.
His brisket sold out daily, and by 2011, he'd moved operations into a restaurant to accommodate the demand for his smoked meats.
Anthony Bourdain featured Franklin BBQ in his 2012 Austin episode of No Reservations, and two years later, President Obama dined there.
Franklin received a James Beard Award for Best Chef: Southwest in 2015.
Aaron's wife, Stacy, co-owns the restaurant and works on the operations side of the business.
Franklin's is notorious for its long lines, with hungry patrons often lining up as early as 4 a.m. for a restaurant that doesn't open until 11 a.m.
Bring a folding chair and something to entertain you, as it can be a long wait for the city's best barbecue.
Once you've got your BBQ, grab a table inside, on the covered porch, or outdoor patio.
They are open for lunch from Tuesday to Sunday, from 11 a.m. until they sell out (usually 2 p.m. to 3 p.m., although the brisket can sell out before other items).
900 E 11th St, East Austin, franklinbbq.com
Related: Best BBQ in Austin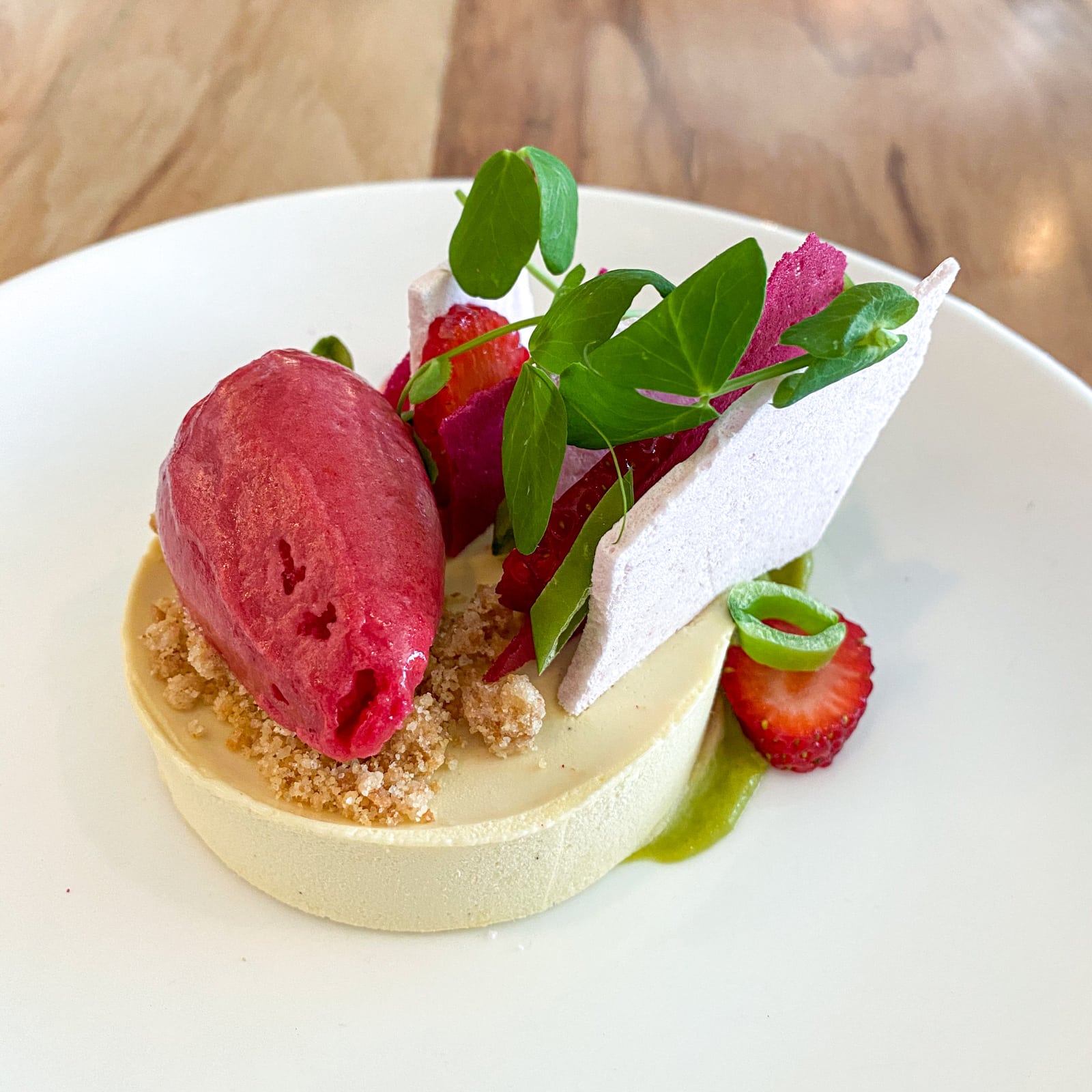 6. Launderette
Initially, Launderette won me over with their delicious buttermilk pancakes with blueberry compote and creme fraiche.
That same year, they were nominated for Best New Restaurant by the James Beard Foundation and recognized by Food and Wine as one of the best new restaurants in the United States.
The accolades have continued, with Laura Sawicki becoming a James Beard Foundation Award semifinalist for Outstanding Pastry Chef in 2018.
The restaurant, named after the laundromat that once occupied the space, has a bright, airy interior. It's attractive; however, I typically prefer to sit outside.
Typical of the meals I ordered was this 3-course dinner:
Deviled eggs with black truffle, crispy pancetta, and baby celery
Pan-seared salmon with farro
Mint white chocolate semifreddo with dark chocolate magic shell and fleur de sel
The food is consistently impressive, and the desserts will light up your eyes. Launderette offers one of the best brunches in Austin.

Dinner nightly, seven days a week. Lunch on Fridays, brunch on Saturdays and Sundays. Plus, happy hour specials are available Monday through Friday.
2115 Holly Street, East Austin, launderetteaustin.com
See also: Best Brunches in Austin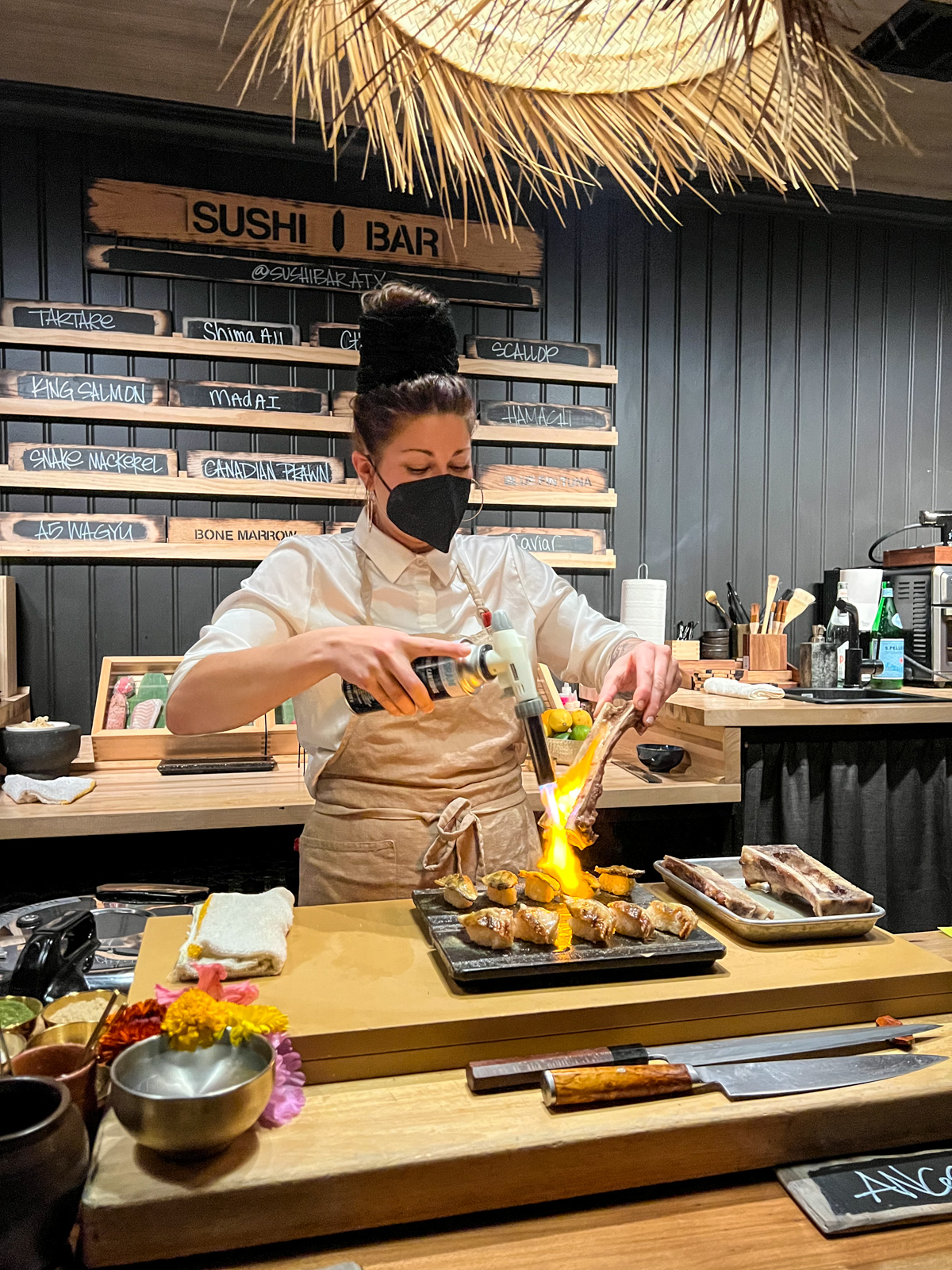 7. Sushi Bar ATX
What began in 2021 as a temporary pop-up in the back of Bento Picnic became one of Austin's hottest dining experiences by year's end.
Led by charismatic chef Ambrely Ouimette, Sushi Bar ATX offers diners a 17-course omakase dinner in an intimate yet communal space.
There are just ten diners per seating, ensuring everyone is close to the action. Chef Ambrely works with two sushi chefs, one stationed on each side of her.
I was mesmerized by the precision with which each bite of nigiri was prepared. Highlights included bluefin tuna, bone marrow melted over freshwater eel, and caviar with fresh wasabi.
Reservations for Sushi Bar ATX are available on Tock at noon on the first of each month. The food-only option is $145 and requires a $25 deposit.
You're in for a treat if you can lock in a seat.
2600 E Cesar Chavez St, East Austin, sushibaratx.com
Related: Austin's Best Sushi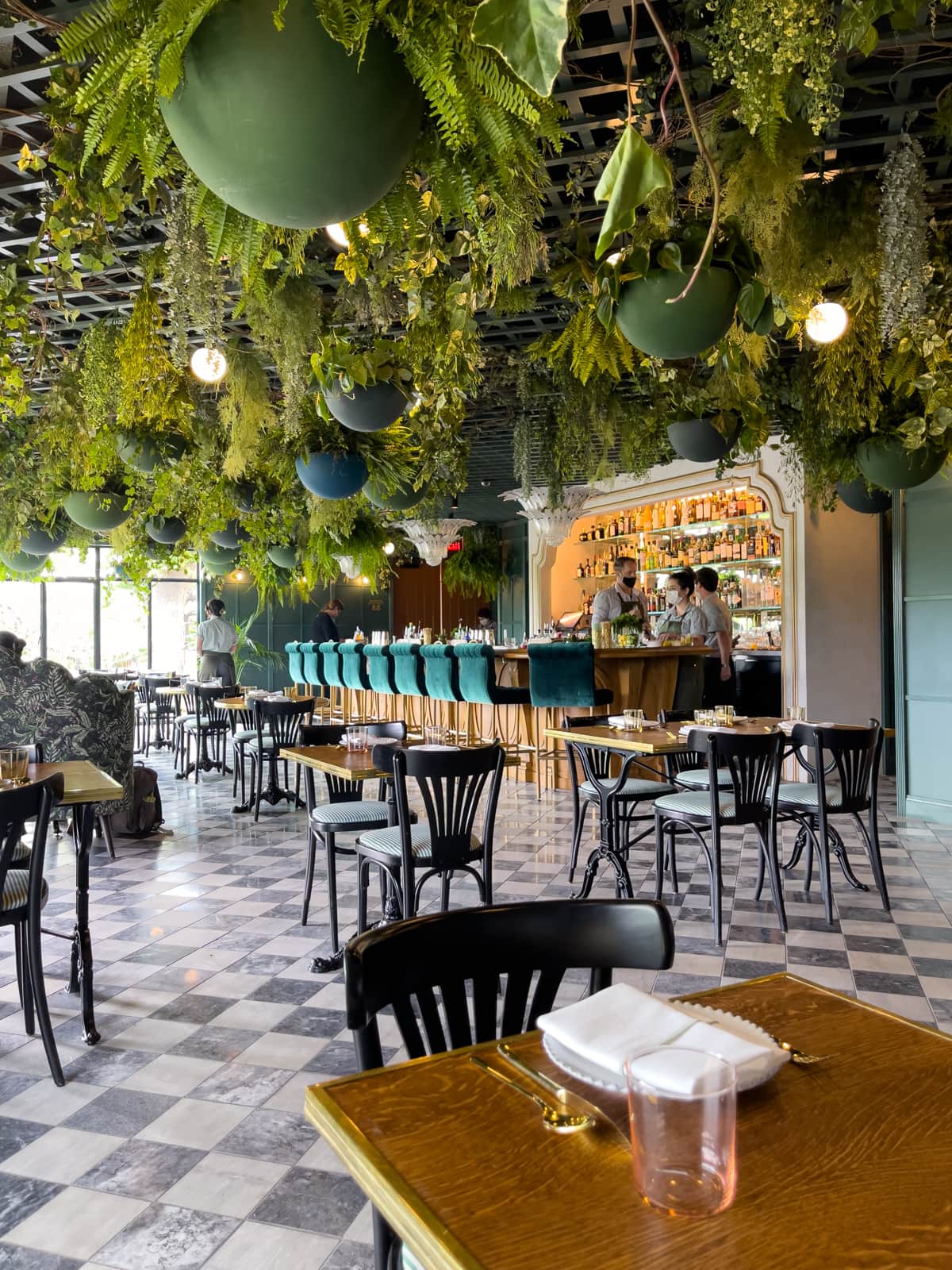 8. Lutie's Garden Restaurant
In April 2021, Lutie's opened to the public at the historic Commodore Perry Estate, a new luxury hotel in the Hancock neighborhood of Central Austin.

Chefs Bradley Nicholson and Susana Querejazu, who worked together at Barley Swine and Odd Duck, accepted the invitation to run the restaurant.

There was one restaurant opening I had my eye on that year, and it was Lutie's. My spring lunch did not disappoint.
The interior of the dining room evokes a garden atmosphere with a ceiling full of hanging plants. And the European vibes extend to the patio, which overlooks an actual garden.

I began with a refreshing Botanist gin cocktail and veggie spring roll with cucumber dip before moving on to Texas beef with bone marrow and sweet potatoes.

I couldn't decide on dessert, so I ordered Kouign Amann ice cream with caramel and wax creme caramel with burnt honey. The latter was my fave of the two.
Given Lutie's lush atmosphere, it's perfect for special occasions such as birthdays and anniversaries.

Open from 5 p.m. to 10 p.m., Wednesday to Sunday.

4100 Red River Street, East Austin, luties.com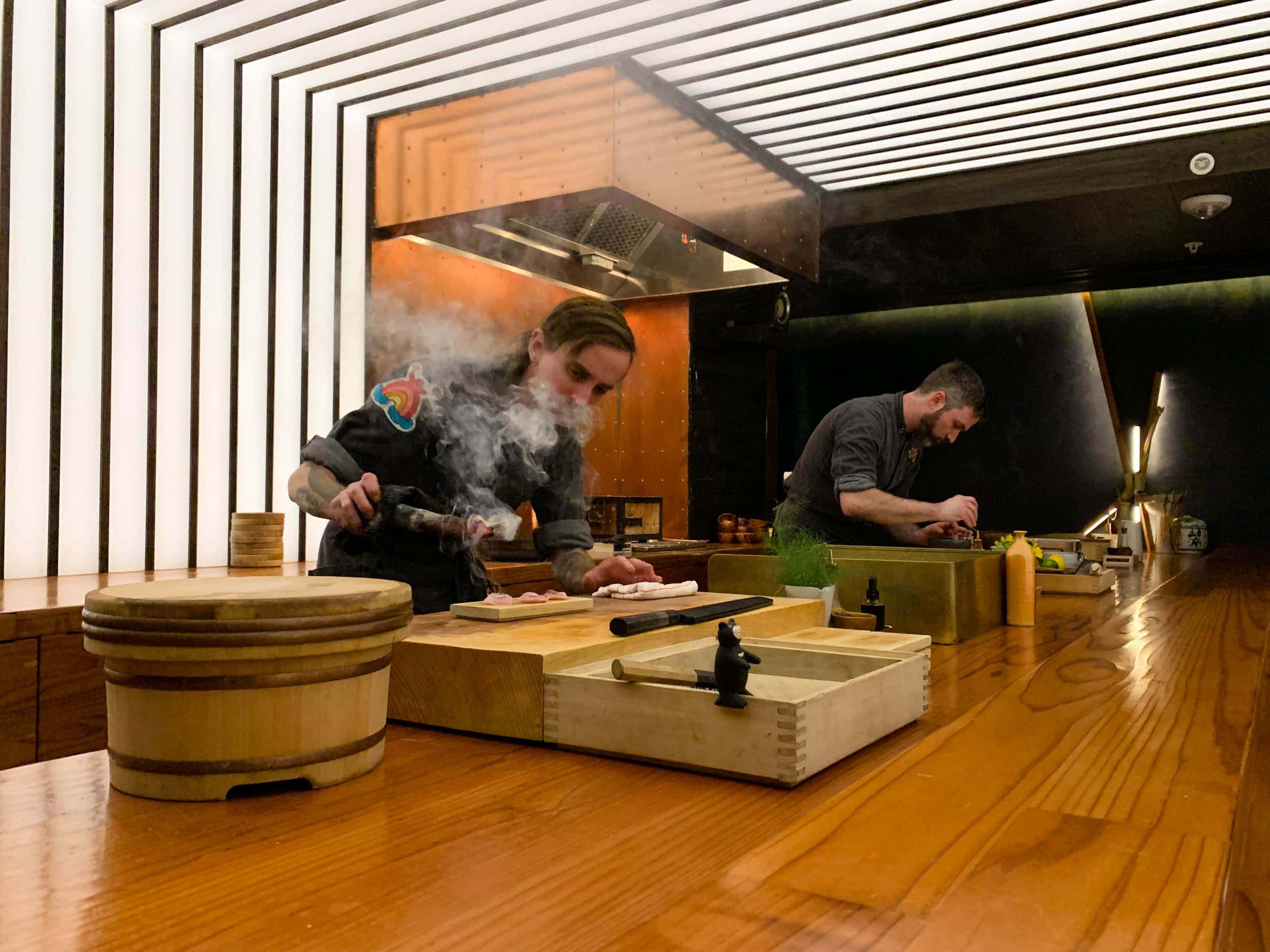 9. Otoko
Otoko is an exclusive 12-seat Japanese restaurant hidden above the courtyard at The South Congress Hotel.
Led by Chef Yoshi Okai from Kyoto, the restaurant specializes in a multi-course Kyoto-style kaiseki omakase dinner menu from Thursday through Saturday.
The price for this culinary journey is a hefty $195-$225, not including drinks, tax, and tips, which is as expensive as food gets in Austin.
Wednesday nights are dedicated to Tokyo-style sushi omakase dinners for $250-$275 per person.
For those willing to spend the money, you'll be treated to one of the city's most intimate and sophisticated dining experiences.
I managed to get a reservation on a night when they offered an a la carte menu.
I enjoyed:
Hokkaido uni
Black cod
Ocean trout (prepared in two different ways)
Pumpkin tempura
Hamachi (being prepped in the photo above)
Mochurro sando (a saikyo miso ice cream sandwich)
The meal costs $110 (including tax and tip), plus a $25 deposit to book a seat.
Tickets to Otoko are released on the first of each month on a rolling three-month basis and include a 30-minute reservation before dinner at Watertrade, an adjacent craft cocktail bar.
Dinner only, Wednesday through Saturday.
1603 S Congress Ave, South Austin, otokoaustin.com
See also: Best Speakeasies in Austin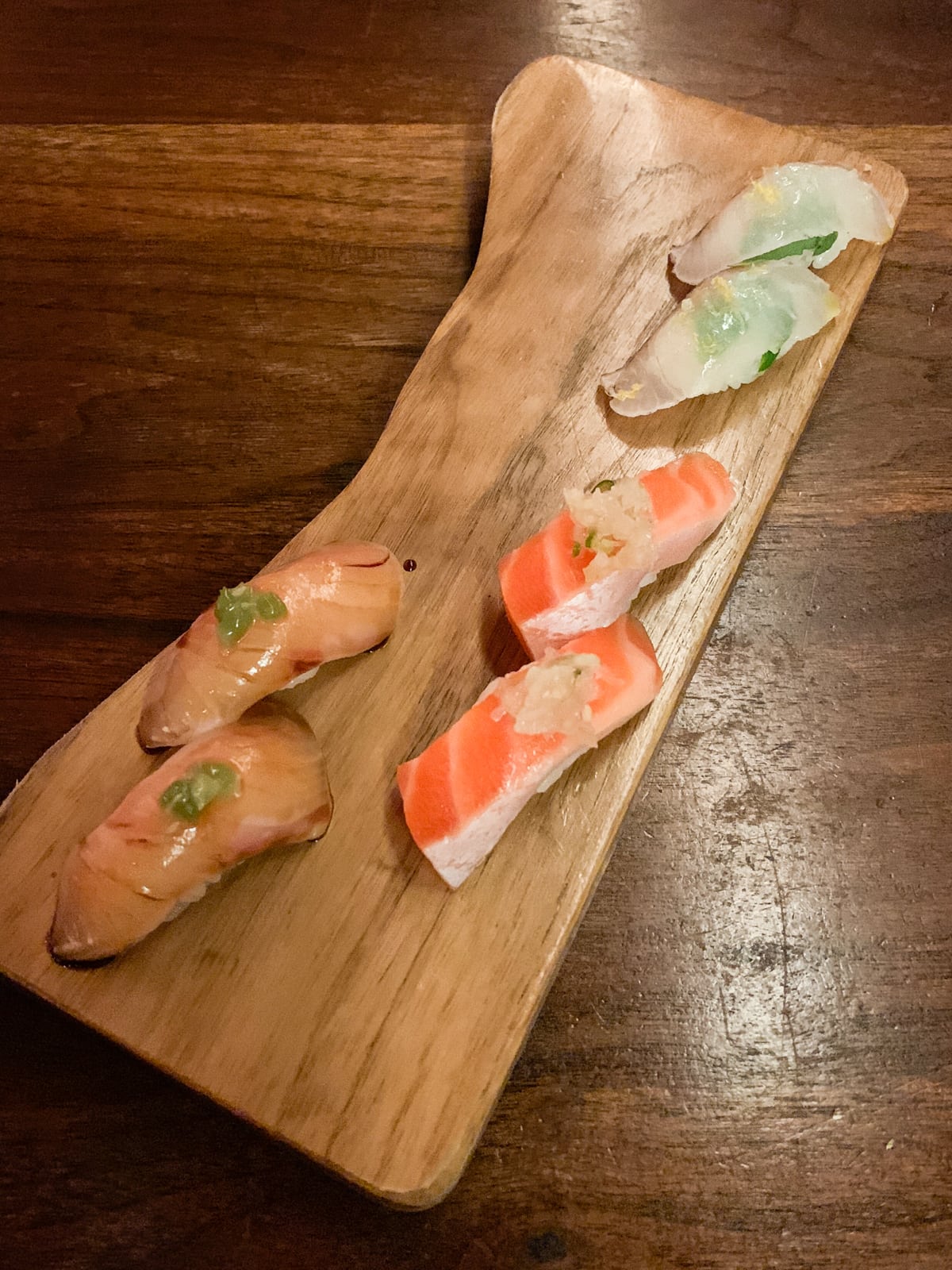 10. Uchi / Uchiko
Uchi is widely regarded as one of the best restaurants in Austin, and its name is synonymous with world-class sushi.
Chef Tyson Cole opened his flagship restaurant in 2003 and soon attracted national attention for his creative dishes.
In 2011, he was recognized with a James Beard Foundation Award for Best Chef: Southwest and was a semifinalist for Outstanding Chef in 2016.
I've dined at Uchi three times, the first being a happy hour with friends, and I went back a second time and sampled a more significant portion of the menu.
Most recently, I celebrated my 45th birthday there with friends.
I enjoyed the food every time. However, the lighting can be dark in places, so it can be hard to appreciate the dishes fully. In my experience, Uchi is usually packed and, therefore, noisy.
For these reasons, I've become a fan of Uchi's sister restaurant, Uchiko, which Cole opened in 2010.
It's more relaxed and understated while offering fresh and inventive sushi.
Both restaurants fly their ingredients daily from Japan and are committed to sustainability.
Happy hours are offered at both restaurants, from 4 p.m. to 6:30 p.m., and are a popular way for diners to enjoy sushi on a budget. Dinner is served seven days a week.
Uchi - 801 S Lamar Blvd, South Austin, uchiaustin.com

Uchiko - 4200 N Lamar Blvd, North Austin, uchikoaustin.com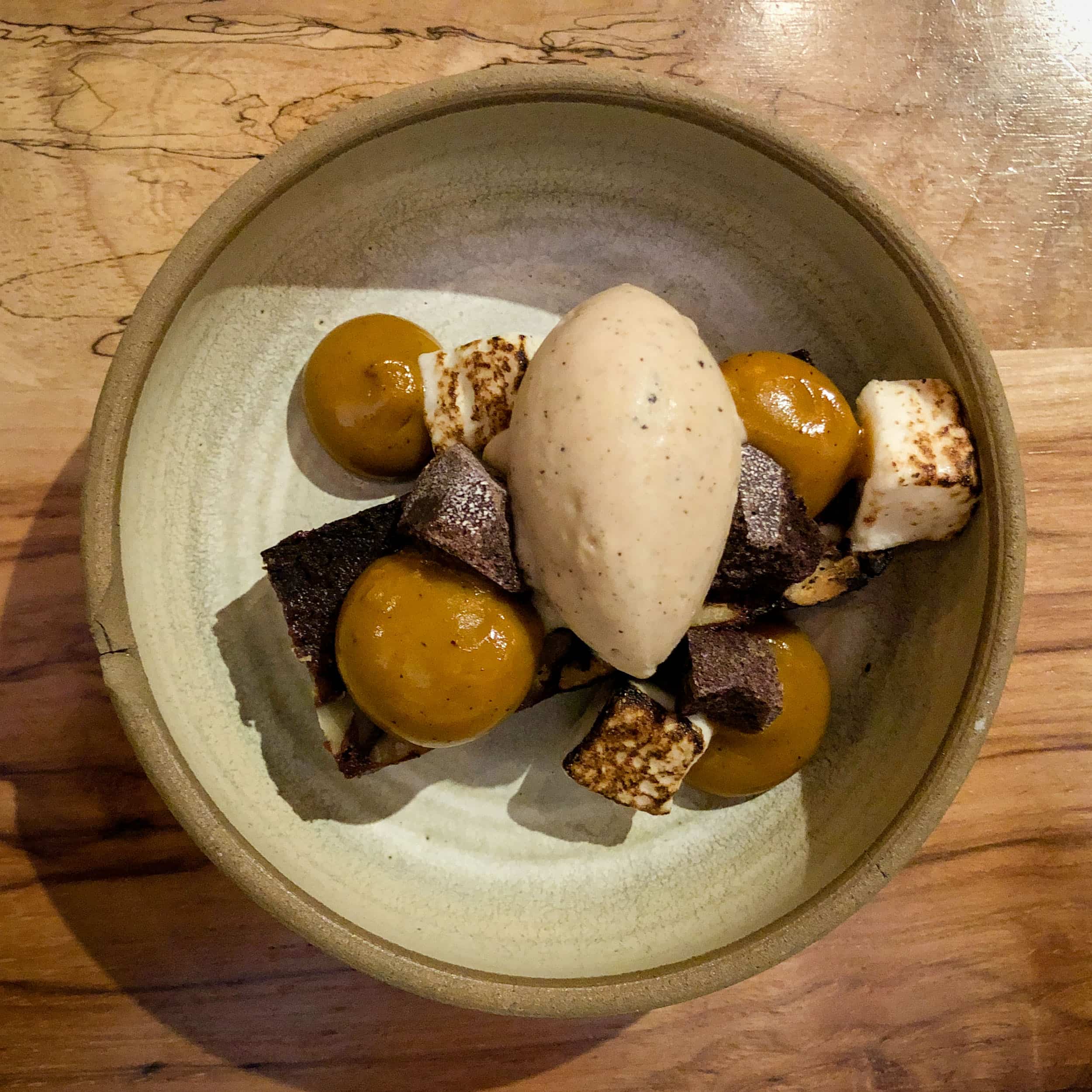 11. Barley Swine
In December 2009, Bryce Gilmore and his brother opened Odd Duck -- a food truck focused on locally sourced ingredients.
The truck was a success, so they opened a brick-and-mortar location a few blocks from Uchi in South Austin.
Gilmore's second act was Barley Swine, which "features a seasonal menu that is always changing based on the availability of ingredients and the aspirations of the kitchen."
For $105, you can try the 11-course Chef's Tasting menu. Beverage pairing is available for an additional $55.
Bryce Gilmore is a six-time James Beard Foundation Award nominee for Best Chef: Southwest.
Dinner only, starting at 5 p.m., Thursday through Sunday.
6555 Burnet Road #400, North Austin, barleyswine.com
See also: Best Coffee Shops in Austin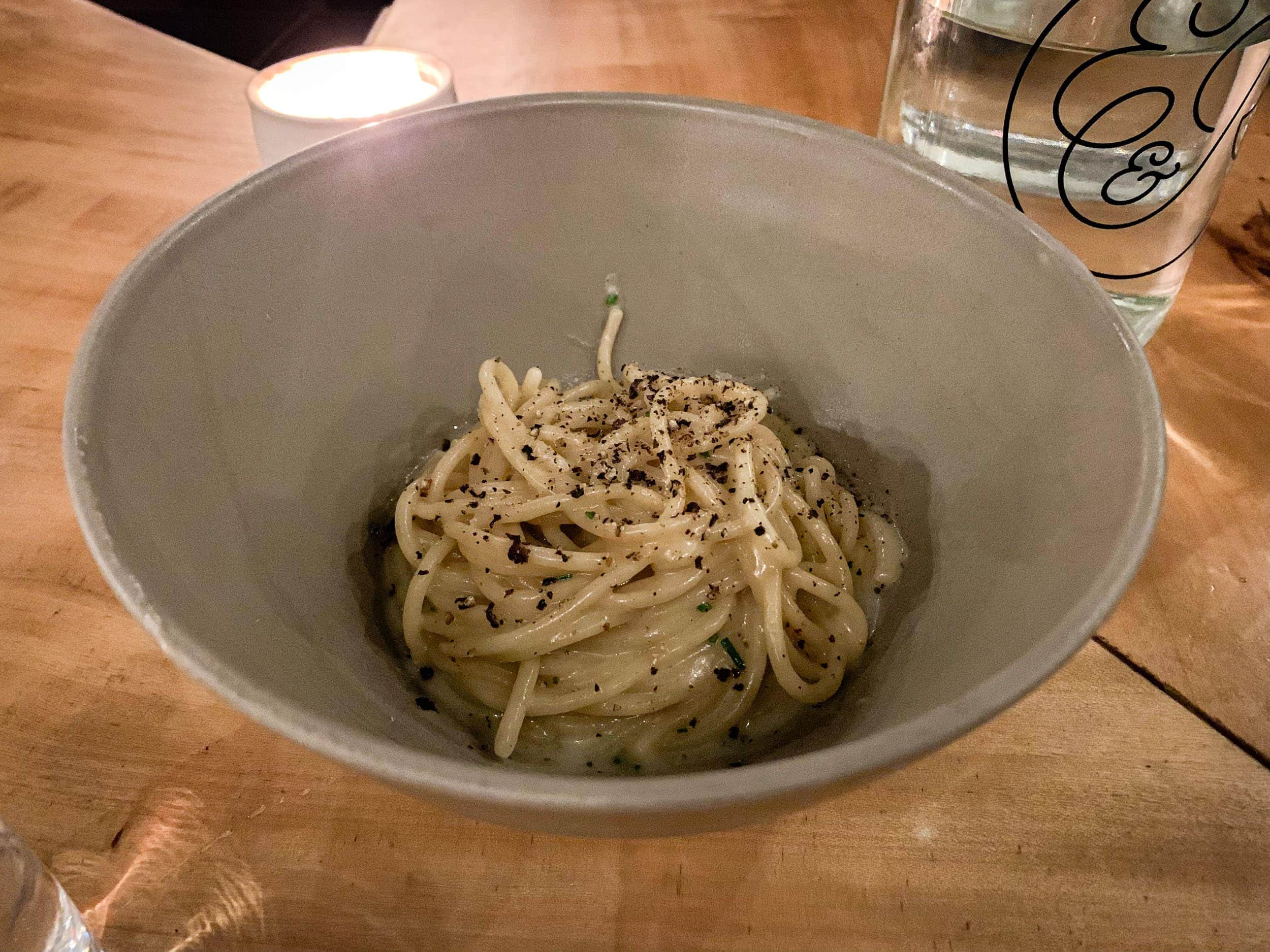 12. Emmer & Rye
Named one of America's best new restaurants in 2016 by Bon Appetit, Emmer & Rye is a farm-to-table restaurant that changes its menu daily.
Diners can order a la carte from the menu or pick from a dim sum cart that makes the rounds during service. Attention to detail sets Chef Kevin Fink's restaurant apart.
Emmer & Rye mill their grains for pasta, bread, and desserts and have an in-house fermentation program.
Dinner only, Tuesday through Sunday.
51 Rainey St #110, Downtown, emmerandrye.com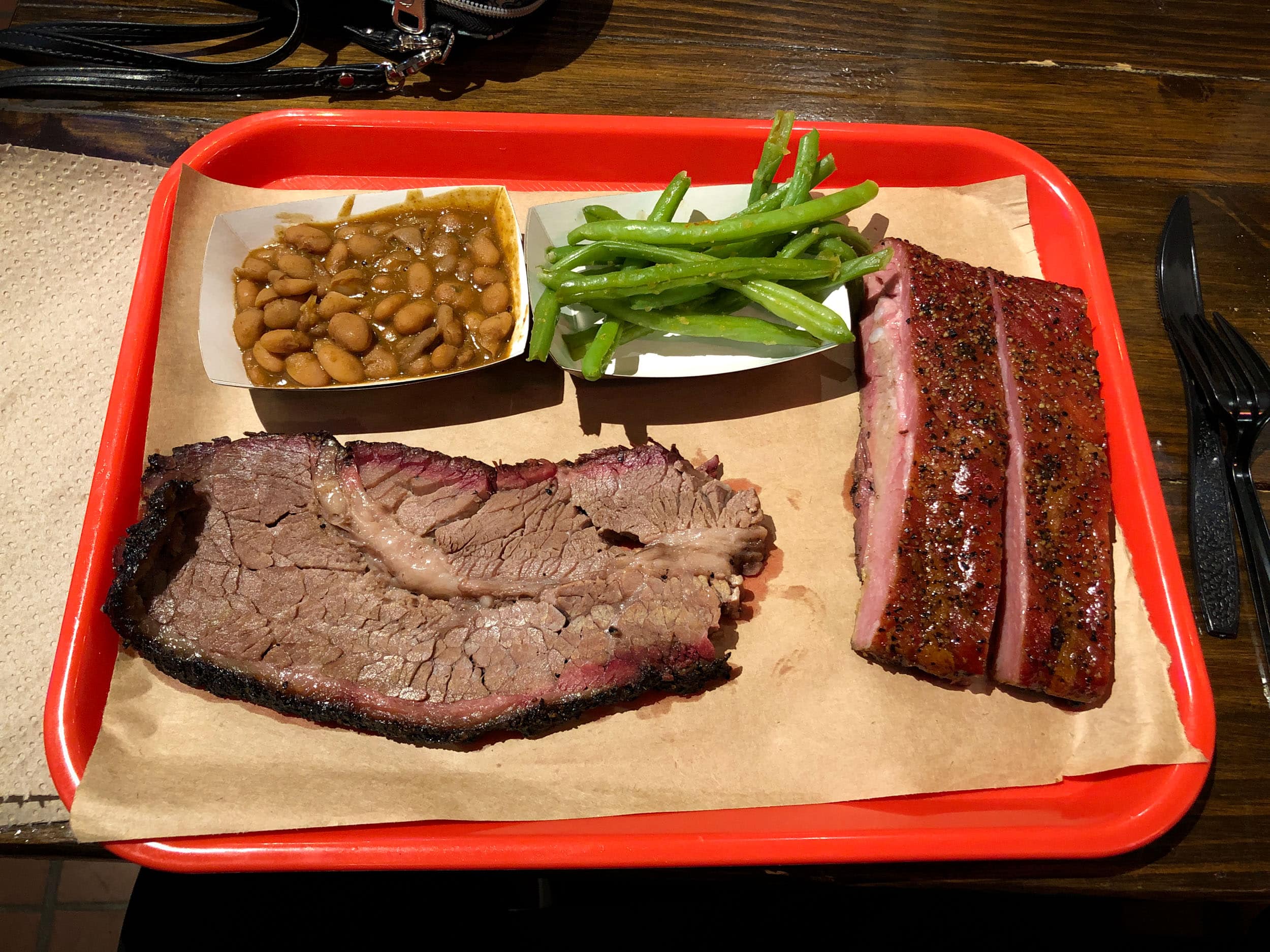 13. Terry Black's Barbecue
Terry Black's Barbecue was opened in 2014 by twin brothers Michael and Mark Black from Lockhart, Texas.
The brothers are 4th-generation pitmasters carrying on the family tradition begun by Terry Black in 1932.
The melt-in-your-mouth fatty brisket will make you a believer in Texas BBQ. I can't resist their pork ribs, and the beef ribs are massive.
The restaurant is set up cafeteria-style. You pay for meat by the pound, so load up on a little of everything; you won't regret it.
Open for lunch and dinner, seven days a week.
1003 Barton Springs Road, South Austin, terryblacksbbq.com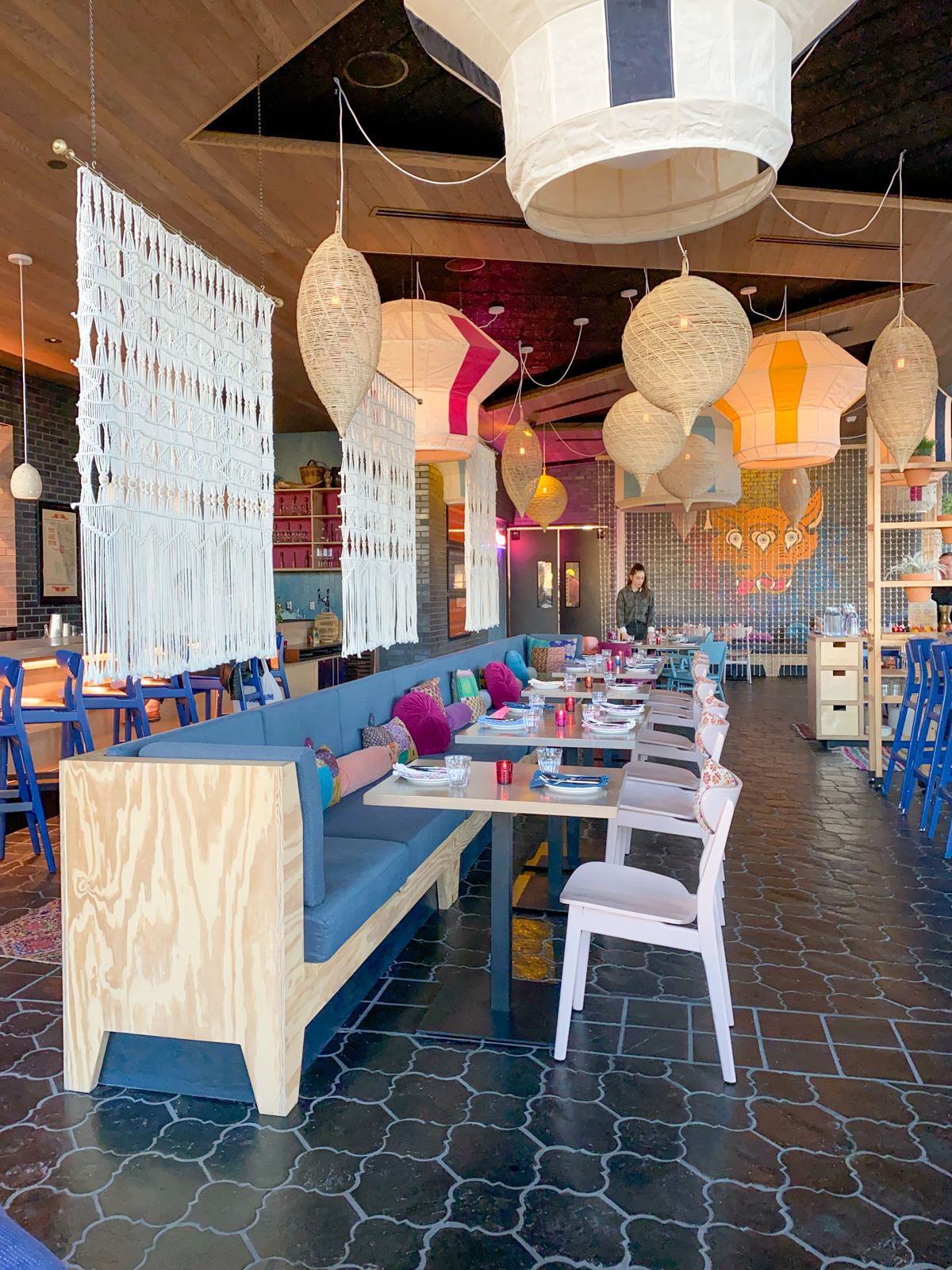 14. Vixen's Wedding
Led by Managing Chef/Partner Todd Duplechan of Lenoir restaurant, Vixen's Wedding offers Austin diners a taste of Goa, India, and Portugal.
I had a terrific dinner with a friend in early 2020 when you could order a la carte.
Highlights included gulf prawns with chorizo and tamarind curry, blue crab, and pork ribs vindaloo.
The Meyer lemon tart and chocolate dosa cake were two of the most creative desserts I've had in Austin.
Today, Vixen's Wedding offers a prix fixe menu of shareable plates for $75 per person.
A sample menu is available on their website, though it often changes based on what ingredients are in season.
Open for dinner Thursday through Sunday, from 5 p.m. to 9 p.m.
1813 A E 6th St, East Austin, vixensweddingatx.com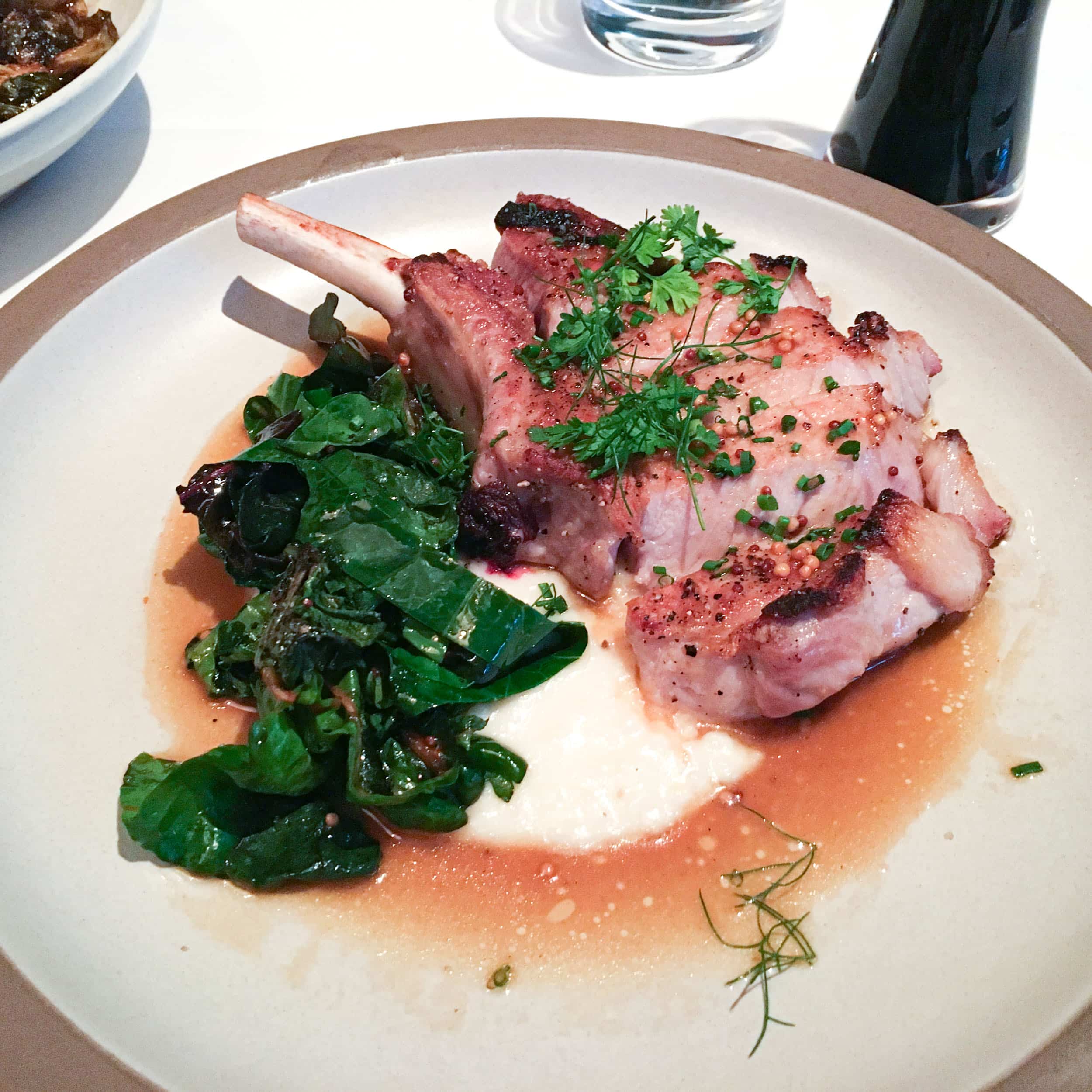 15. Jeffrey's
If you're in the mood for a luxurious fine dining experience, look no further than Jeffrey's in the Clarksville neighborhood west of Downtown.
Standard menu options include caviar, Hudson Valley foie gras with roasted plums, and shellfish risotto.
Jeffrey's is known for its dry-aged prime beef, grilled over locally sourced live oak and finished in a 1,200-degree broiler.
They've got you covered, from a 6-ounce filet mignon to a 42-ounce porterhouse steak.
I've only eaten here once, at the invitation of a friend, and I had one fantastic pork chop.
The dessert menu typically features chocolate and praline souffle, raspberry mille-feuille, and baked Alaska.
Happy hour is offered daily from 4:30 p.m. to 5:30 p.m. and all night on Mondays. Dinner is served from 4:30 p.m. to 11 p.m. daily.
1204 W Lynn St, Clarksville, jeffreysofaustin.com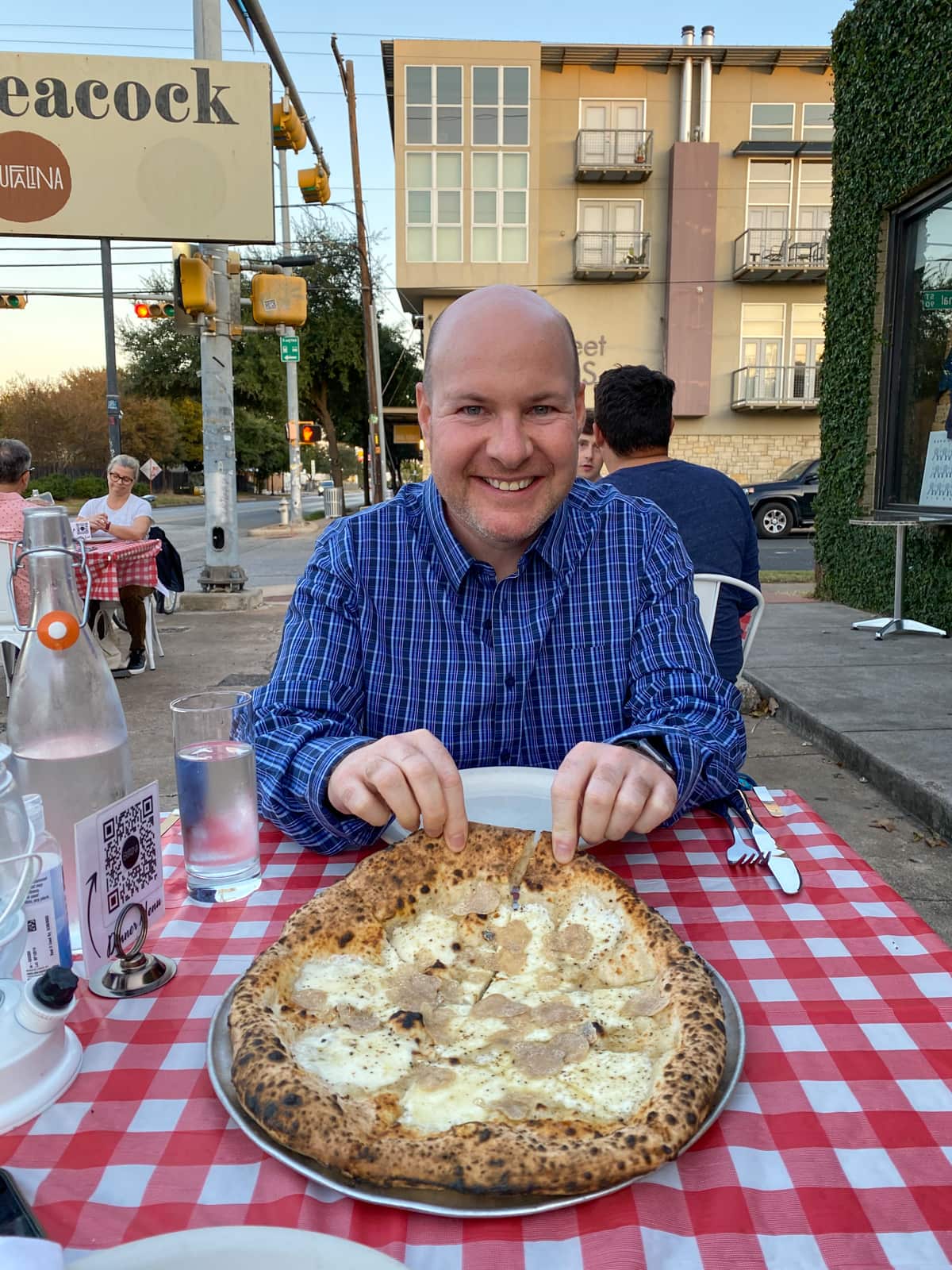 16. Bufalina
Pizza is a treat, so I go somewhere special when craving it.
Bufalina's Neopolitan pizzas fit the bill. They use high-quality artisanal ingredients and come up with some fascinating pizza recipes.
Before closing their East Cesar Chavez Street location, I dined al fresco on a cacio e pepe and white truffle pizza.
And when chef Tavel Bristol-Joseph (of Hestia) collaborated with Bufalina, I was immediately sold.
Together, they made a pizza with banana pastry cream, toasted meringue, chocolate chips, graham crackers, and blueberry cinnamon.
It was the weirdest pizza combo I'd ever tried, yet somehow it worked!
Open for happy hour, dinner seven days a week, and lunch on Saturdays and Sundays.
6555 Burnet Rd #100, bufalinapizza.com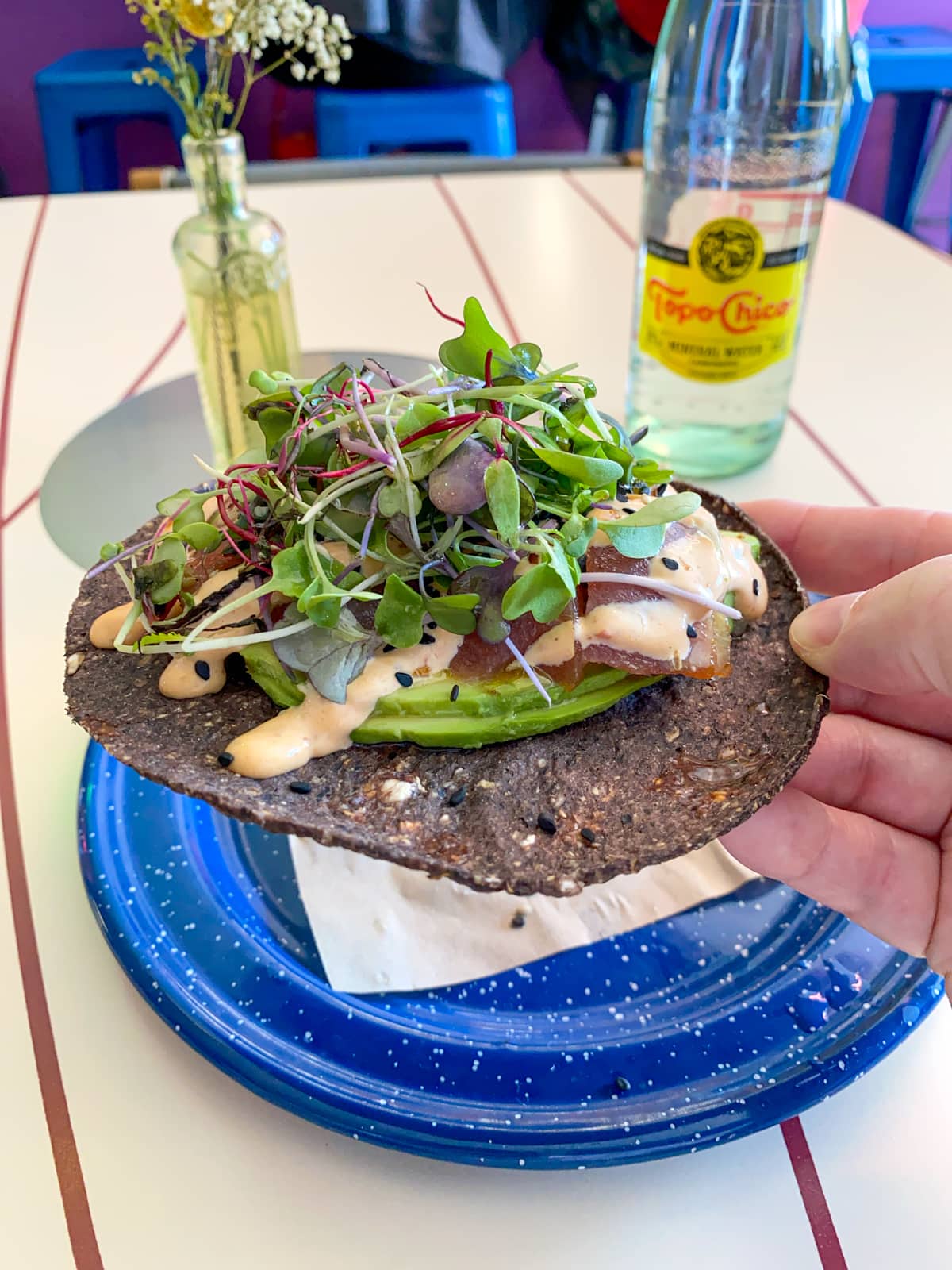 17. Nixta Taqueria
Nixta Taqueria in East Austin has carved out a niche in a city known for tacos. Each taco and tostada starts with a six-inch crunchy corn tortilla.
The migas taco includes duck fat refried beans, and chorizo, while the breakfast tacos use Tillamook cheddar cheese and a lacto-fermented hot sauce.
I'm a fan of the tuna tostada with yellowfin cured in citrus and soy and served with avocado, chipotle aioli, and microgreens — perfect on a hot summer day.
Vegetarians are taken care of here; beet and butternut squash tostadas and a cauliflower taco are on the menu, too.
The cost is higher than your typical chain or street tacos, but they're worth it for the craftsmanship and support of fair wages.
Since opening in 2019, Nixta Taqueria has expanded its outdoor seating to include a covered backyard patio and bar serving craft cocktails.
In 2022, chef Edgar Rico won the James Beard Award for Emerging Chef.
Whether you want to catch up with friends or enjoy a date night, Nixta Taqueria will serve you well.
Open for lunch and dinner Tuesday through Saturday, and lunch only on Sundays.
2512 E 12th St, East Austin, nixtataqueria.com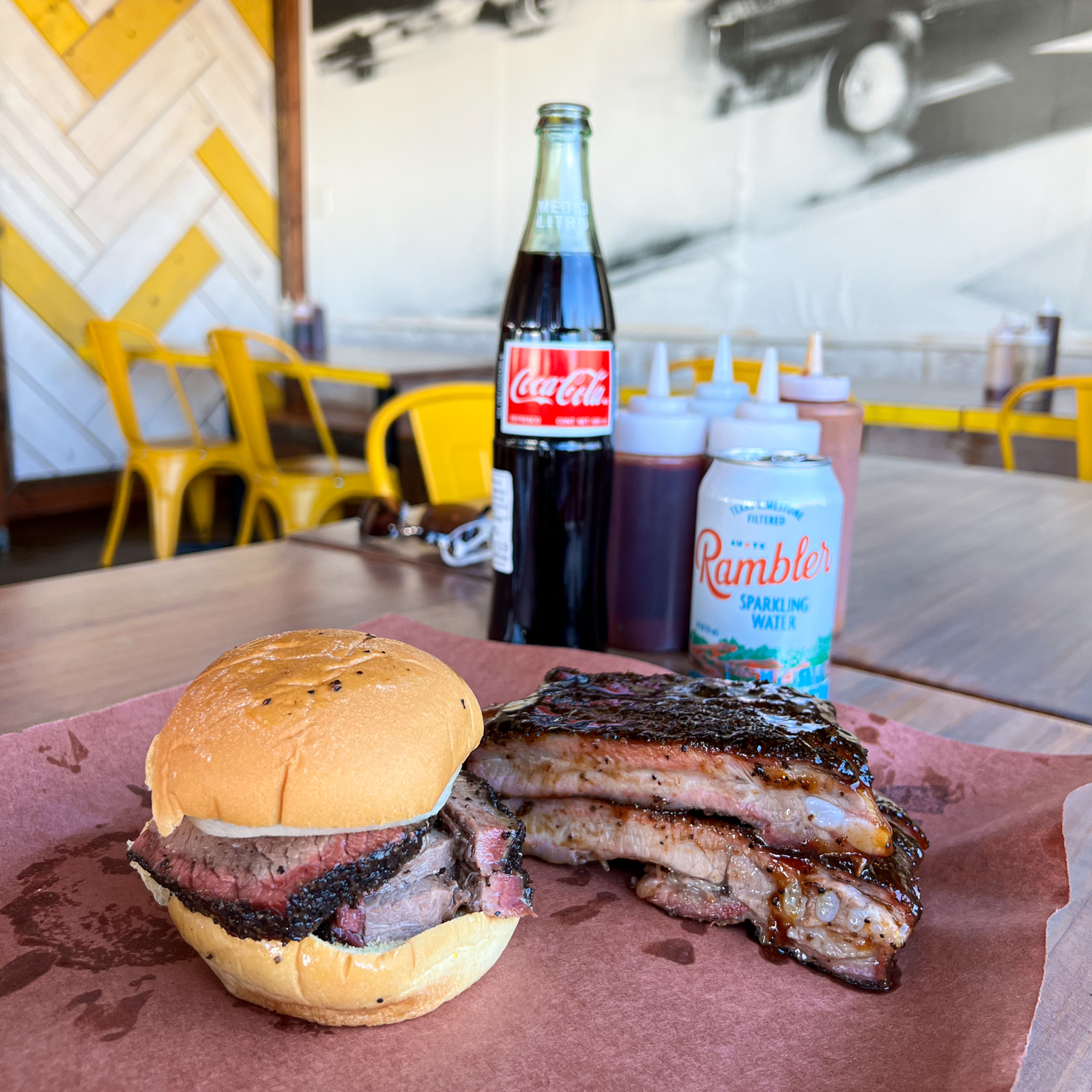 18. La Barbecue
I was introduced to La Barbecue when owner LeAnn Mueller still served fatty brisket from a food trailer.
The line could grow so long that they'd provide a free beer keg to keep BBQ fans happy as they waited to order in the Texas heat.
La Barbecue's popularity allowed Mueller to transition to a brick-and-mortar restaurant on East Cesar Chavez Street.
There, they continue to offer some of the best briskets in Austin. The pork ribs are also favorites, with the meat sliding right off the bone.
The restaurant offers indoor seating and outdoor on a covered, wrap-around patio.
Serving barbecue from 11 a.m. to 6 p.m., Wednesday through Sunday.
2401 E Cesar Chavez St, East Austin, labarbecue.com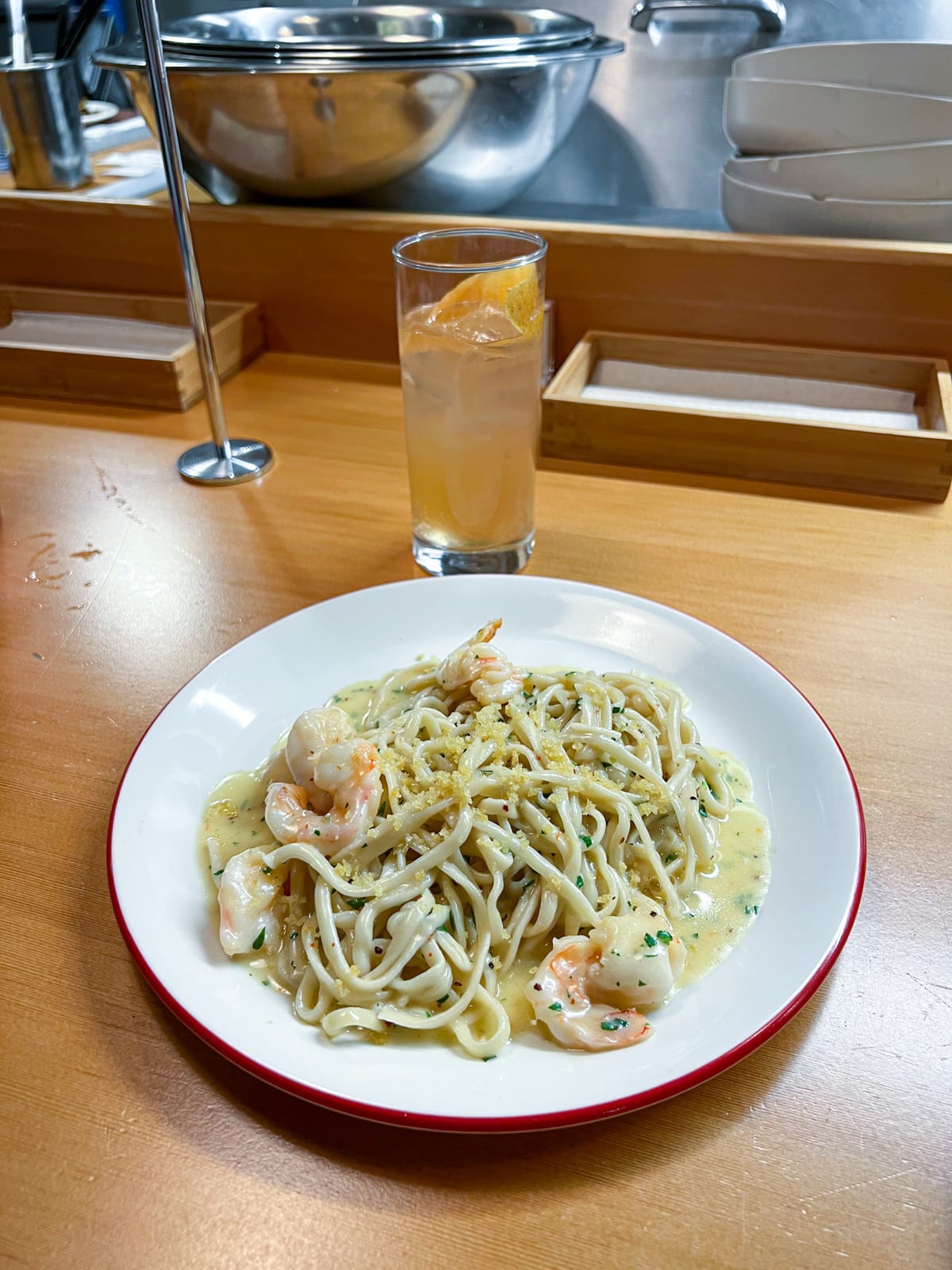 19. Birdie's
Birdie's on the East side of Austin is one of the hottest new restaurants to open recently.
The neighborhood restaurant is run by Tracy and Arjav, who met in 2015 at Danny Meyer's Untitled at the Whitney Museum of American Art in NYC.
Guests are seated as they arrive; they don't take reservations.
Place your order once you reach the front of the line (and there's often a line). The food menu is pretty small, reflecting their tiny kitchen.
On the other hand, the wine list is long, emphasizing natural wines.
Kel and I dropped by at 5:10 p.m. on a Friday and still had a 40-minute wait to order.
After ordering, we sat at the counter overlooking the kitchen and enjoyed the energy of the place, including music from Sinatra to 80s hits.
It was an Italian-American menu, and everything from the garlic bread to meatballs, shrimp scampi, and chocolate brownie with butterscotch were terrific.
Birdie's is open for dinner only, from 4:30 p.m. to 9 p.m. Tuesday through Thursday and 4:30 p.m. to 9:30 p.m. Fridays and Saturdays.
2944 E 12th St Unit A, East Austin, birdiesaustin.com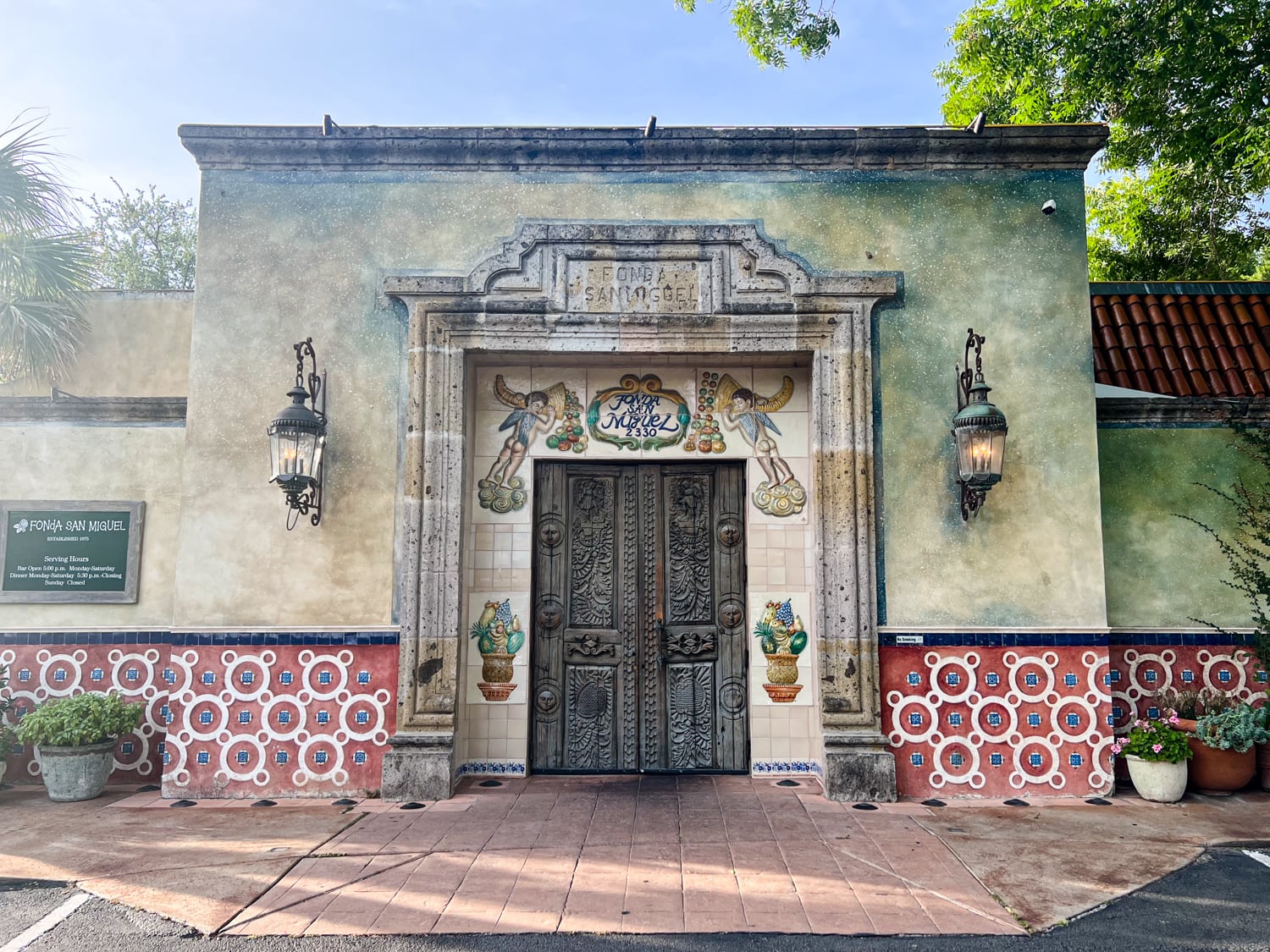 20. Fonda San Miguel
Pulling up to the entrance of Fonda San Miguel for the first time reminded me of walking through the historic centers of Central Mexican cities like Puebla and Oaxaca.
Enter the enormous carved wooden doors, and you're instantly transported south of the border. Natural light and plants fill a colorful atrium, which also seats diners.
The authentic decor extends to the interior dining rooms. Mexican art hangs on painted walls, as it has since Fonda San Miguel opened in 1975.
The dinner menu is a feast for the eyes. Kel and I shared the Angels on Horseback, three shrimp with white cheese and jalapeno wrapped in bacon.
For the main course, I indulged in one of my favorites, chicken with mole (poblano, in this case).
We ended with the tres leches cake, beautifully presented with a scoop of mango sorbet.
That it took me until 2022 to dine at Fonda San Miguel, despite numerous trips to Mexico since moving to Austin, is my loss.
2330 W N Loop Blvd, Austin, TX, fondasanmiguel.com
21. Diner Bar
I first learned about Johno Morisano and chef Mashama Bailey and their acclaimed restaurant, The Grey, from a story on CBS Sunday Morning.
In historic downtown Savannah, Georgia, they renovated an old Greyhound bus station and began serving Port City Southern food to rave reviews.
In 2019, Bailey won the James Beard Award for Best Chef: Southeast, followed by another in 2022 for Outstanding Chef.
This past spring, the talented duo opened two neighboring restaurants on the ground floor of the (also new) Thomspon Hotel — the casual counter service Grey Market Austin and the fancier Diner Bar. The Chef de Cuisine for both is Kristine Kittrell.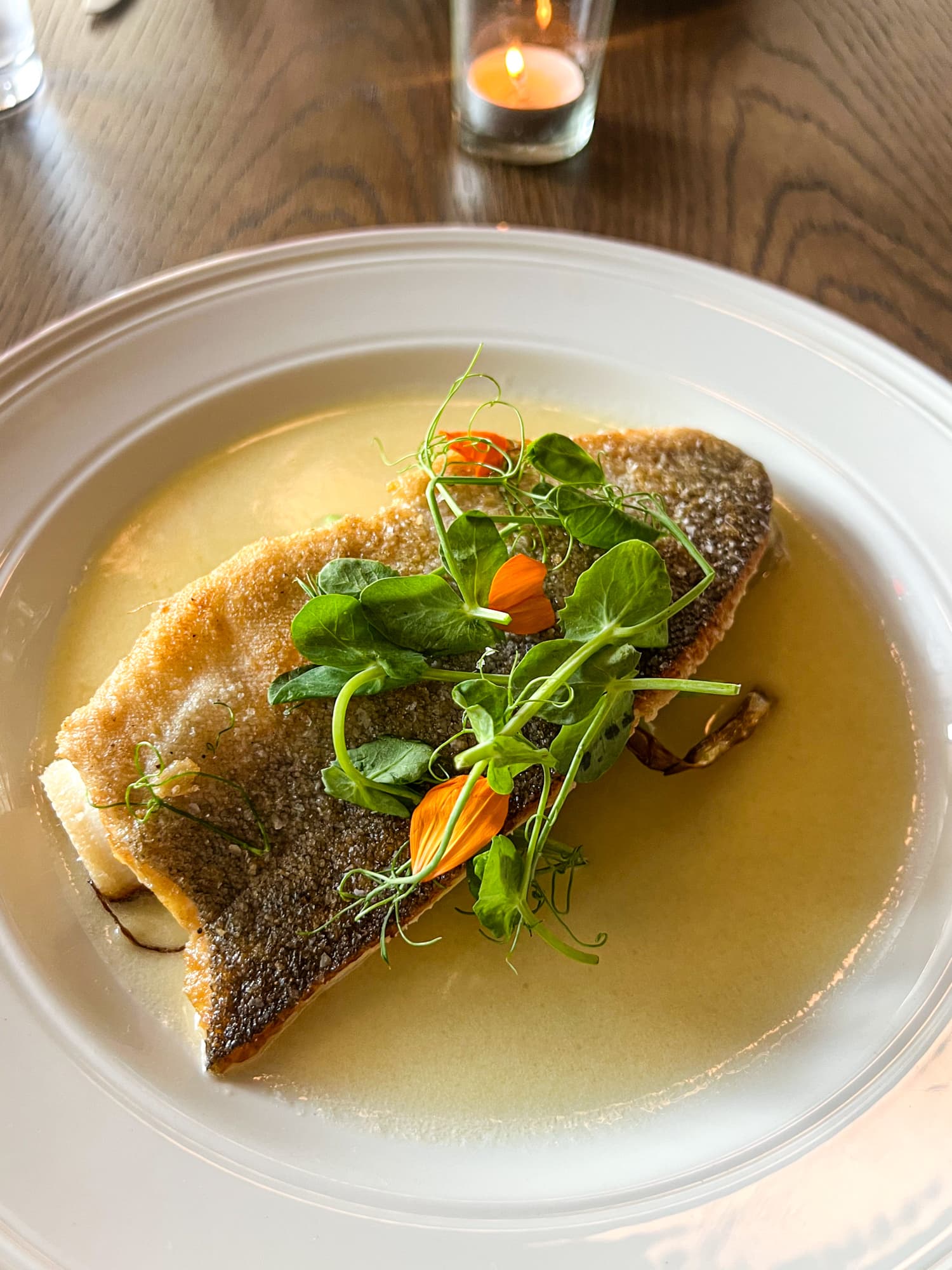 The Diner Bar was my choice for a Saturday date night with Kel. The seasonal menus rely on local farms and purveyors to provide the best ingredients for appetizers like peach and tomato salad and foie gras and grits.
I ordered a rich pan-seared trout in brown butter with braised leeks and pea vine and tasted Kel's ricotta gnudi with roasted squash and corn butter. Both were winners. Dessert was a tasty chocolate peanut butter cake with ice cream.
Saturday and Sunday brunch are now available from 10 a.m. to 2 p.m., giving diners another reason to try it.
500 San Jacinto Blvd, Austin, TX, thedinerbar-austin.com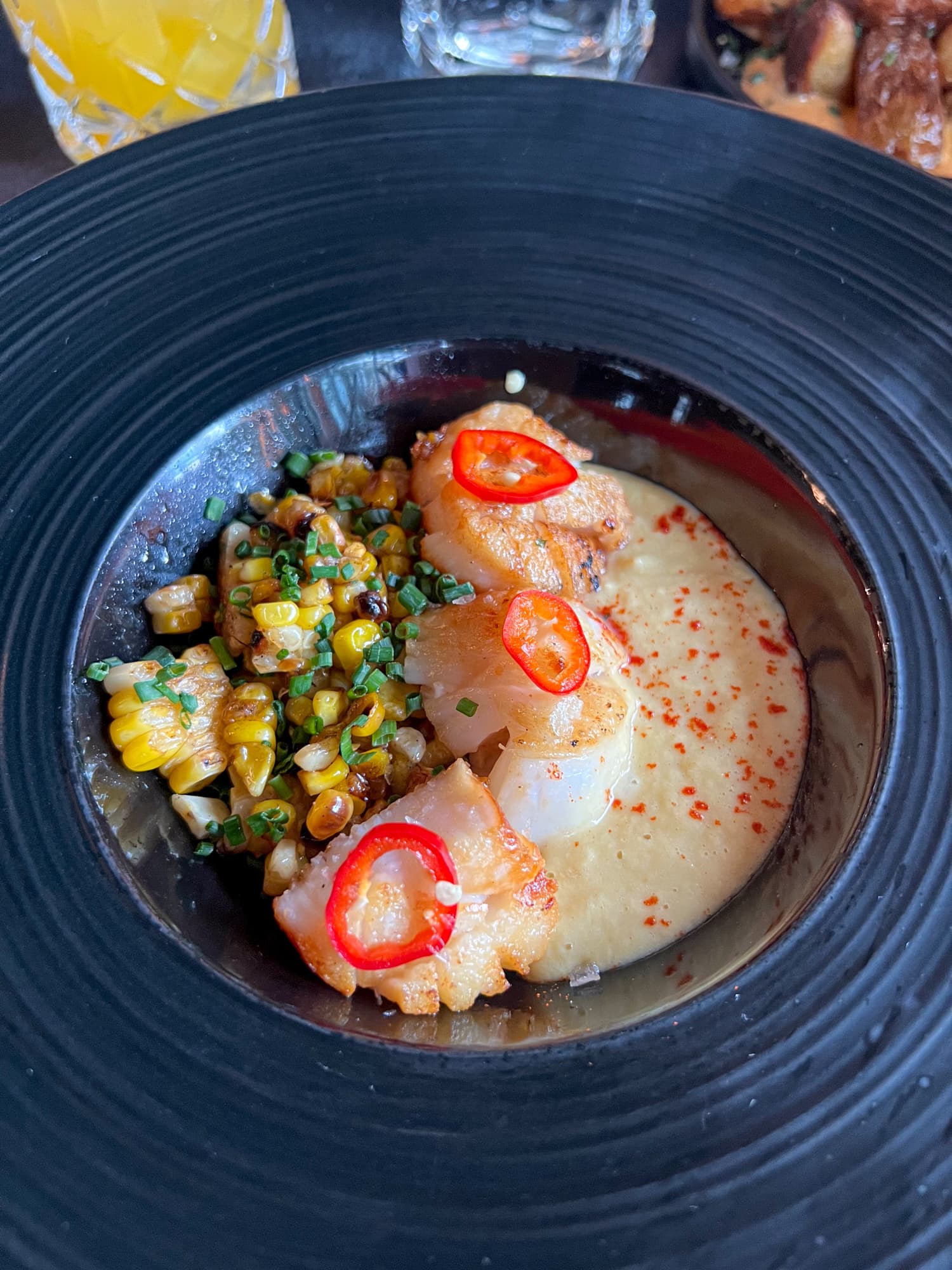 22. Ember Kitchen
One of the best Austin restaurants to open in 2023 is Ember Kitchen. Fans of Latin American food and live fire cooking have a swanky new place to dine out.
Maria Mercedes Grubb, a James Beard Award-nominated Puerto Rican chef, consulted on the multi-level restaurant.
Ember Kitchen is in the same industrial space as Boiler Nine, where I once enjoyed dinner. Ever since it closed, I'd been waiting to see who took it over.
And the food, well, it's deserving of your attention. An imported Josper oven is used for cooking ingredients over charcoal and wood in most dishes.
The whole experience was memorable, from my seat at the chef's counter overlooking the kitchen to the complimentary welcome drink with tequila and mezcal. My passionfruit margarita was both beautifully presented and tasty.
The Morita shrimp appetizer with Ember flatbread was a spicy start to the meal. I'd return for the house flatbread alone. Scallops with corn mousse and Josper roasted corn and pickled fresno melted in my mouth.
Even the locally-produced caramel rosemary sorbet by LuvFats was fantastic.
The salsa and bachata on the sound system were music to my ears and a reminder of my years living in Medellin, Colombia.
The Subterra Agave Bar in the basement is a great place to grab a pre or post-dinner cocktail.
800 W Cesar Chavez St, Ste PP110, Austin, TX, emberatx.com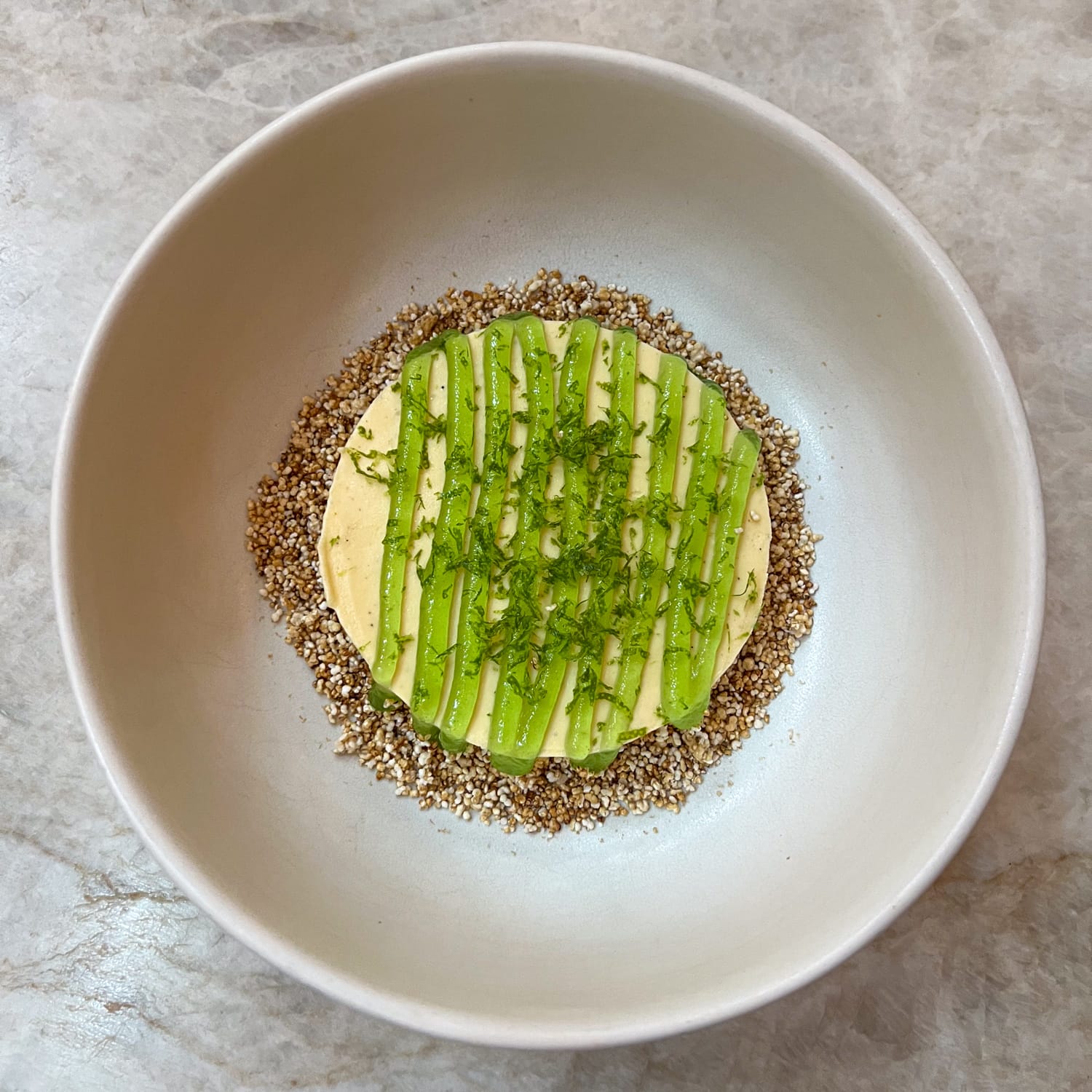 23. Este
Walking into Este in East Austin at 6 p.m. on a Wednesday, I was greeted by a lively dinner scene. Skylights and light walls create a bright space. And a wavy yellow and white tile wall behind the full bar evokes the ocean.
The popular restaurant is Mexican chef Fermin Nunez's sophomore effort after achieving national acclaim with Suerte.
Here you'll find coastal Mexican cuisine. Think oysters, shrimp aguachile, ceviche, and tuna tiradito.
I ordered the bluefin tuna tiradito with avocado as my starter and ate every bite of what seemed like a generous portion.
For my entree, I kept it casual with the masa battered swordfish tacos with shredded cabbage and a habanero-piquin hot sauce.
My first meal at Este finished strong with the semifreddo, made of frozen Oaxacan crema, lime, and puffed amaranth. It tasted like Mexico's version of a key lime pie and was large enough to share.
2113 Manor Rd, Austin, TX, esteatx.com
***
I'm capping this year's list of best restaurants in Austin at these stellar places. And I'm confident a meal at any one of these amazing restaurants is an excellent choice.

I'll update this list annually and write much more about the Austin restaurant scene. Check back regularly!