Move over Texas barbeque. Hestia's live fire cooking is heating up in downtown Austin.
Hestia, named after the Greek goddess of the hearth (or fireplace), marries the primal experience of cooking over fire with the precision of fine dining.
Add to that a new take on service with chefs working the front of the house -- taking orders and delivering dishes, and you've got a recipe for one of the best restaurants in Austin.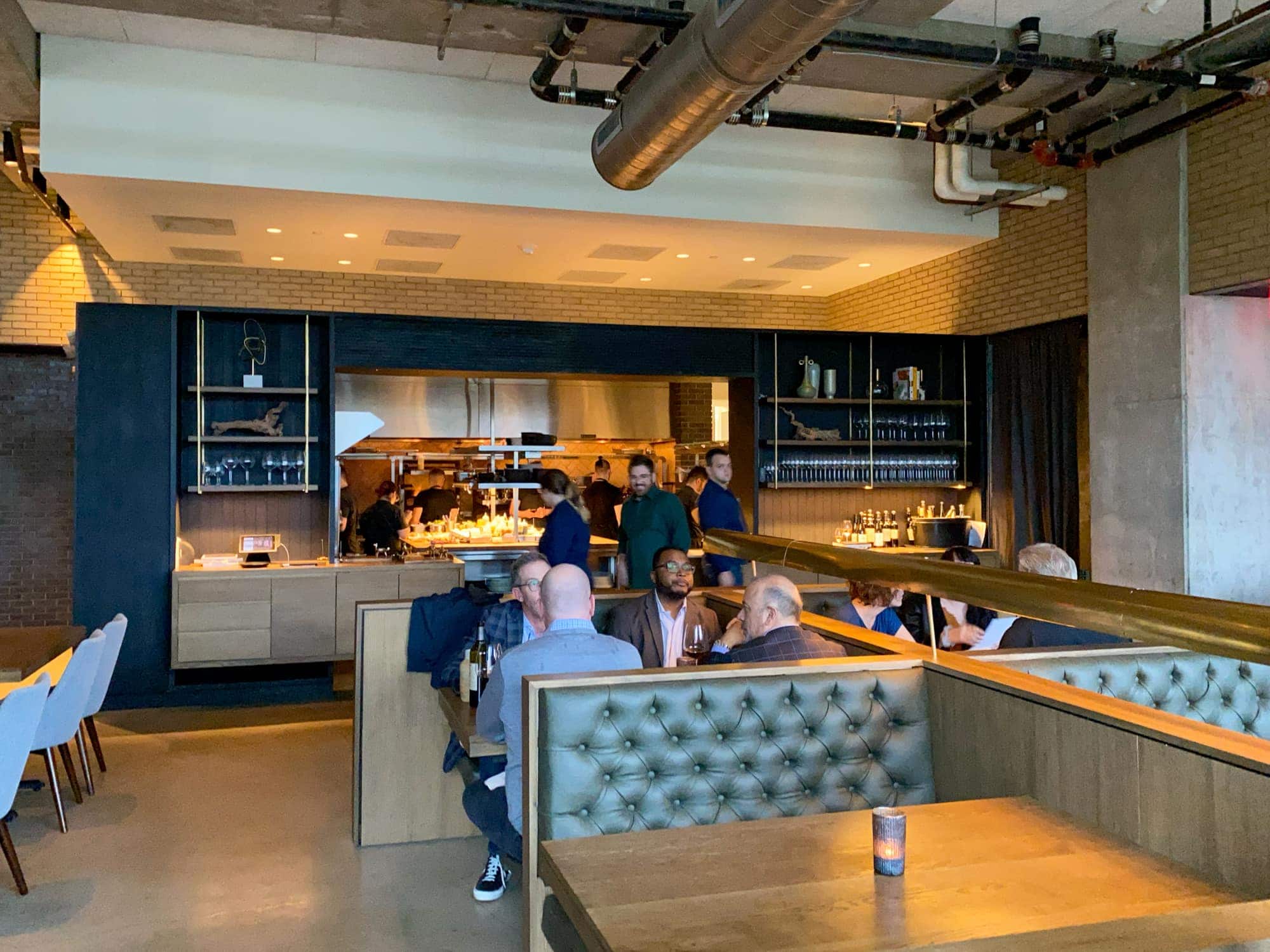 Opened December 7, 2019, on the ground floor of a new skyscraper, Hestia is the fifth restaurant by executive chef Kevin Fink (a 2020 James Beard Award Finalist) and business partner, pastry chef Tavel Bristol-Joseph (one of Food and Wine's best new chefs of 2020).
The duo first impressed Austinites in 2015 with Emmer & Rye, and Hestia draws on much of the same ethos:
strong relationships with local Texas farmers and purveyors
reliance on fresh, seasonal ingredients
fermentation program
full use of animals (snout to tail)
I invited my friend Nick to join me for a no-holds-barred dinner in early March.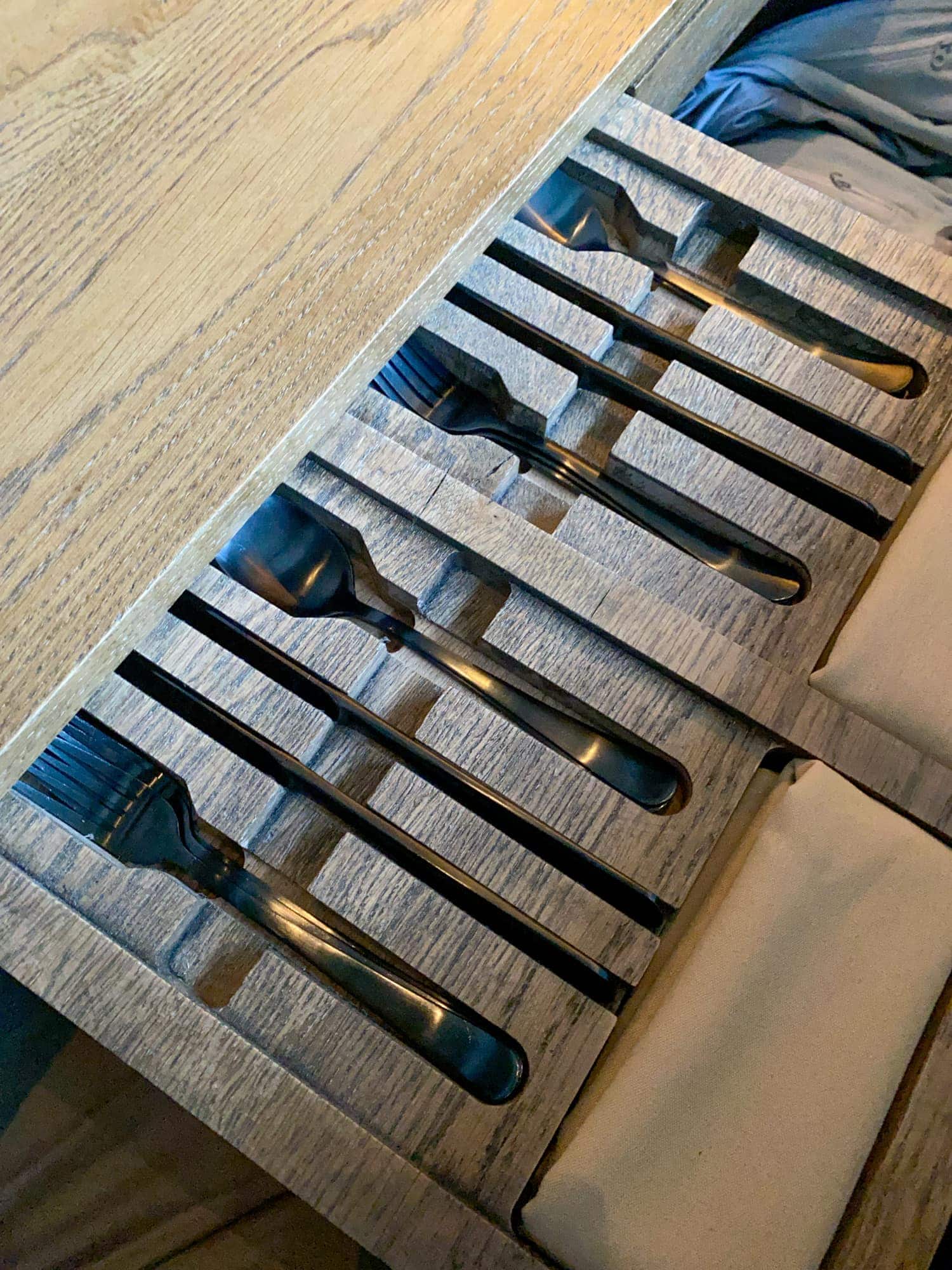 Entering the doors to Hestia, one sees its sister restaurant, the Basque-style tapas bar Kalimotxo to the right, which opened a few weeks earlier.
Hestia's open kitchen is the focal point in the main dining room. It's built around a custom 20-foot hearth upon which everything is cooked.
On the opposite side are floor-to-ceiling windows, allowing plenty of natural light to fill the room (and reduce energy use).
Wine bottles line the wall separating Hestia from Kalimotxo's bar, providing an attractive barrier.
As at Emmer & Rye, the concrete floors and exposed ductwork create a modern, industrial feel.
We were seated in one of the central booths, and I took the side facing the kitchen, with the windows behind me.
Hidden drawers held our cutlery and napkins, a design element I first experienced at Relae in Copenhagen.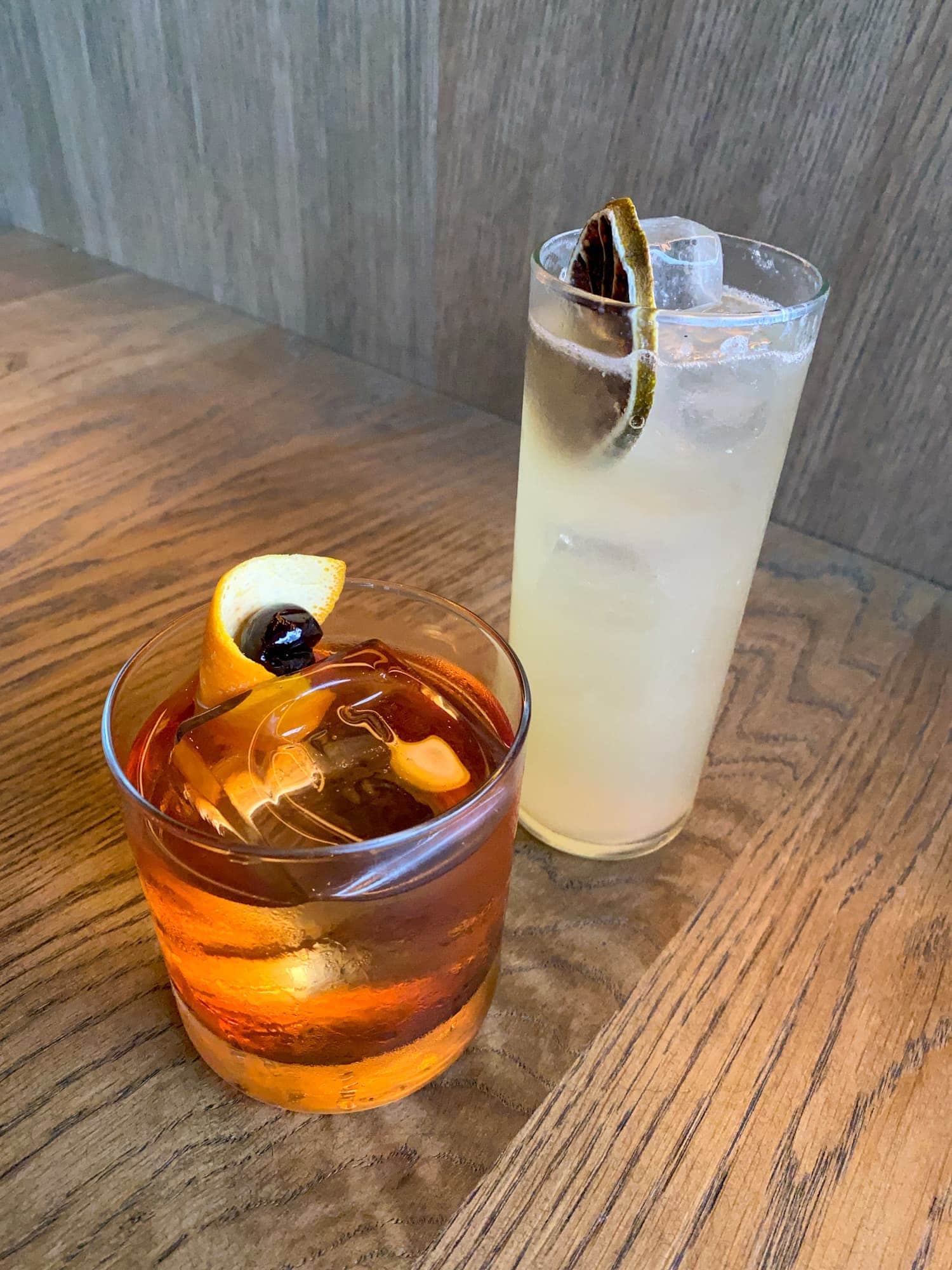 Becca, our server greeted us; however, at Hestia, the role of taking orders and bringing dishes is shared with the chefs.
I loved the opportunity to engage directly with one of the chefs, though I have no idea the logistics involved in making it work.
At Geranium, a three-star Michelin restaurant, this approach was a highlight of my dining experience and showed an impressive degree of teamwork and coordination.
Whether it was Becca or the chef assigned to our table who took the drink order, I can't recall.
Nick got a beautiful-looking Old Fashioned with a solid block of H-branded ice, while I went with zero-proof lemongrass, lime, and Topo Chico. The burnt lime was a nice touch.
The menu has four sections:
Snacks for $3 to $12
Crudos for $16
Small plates for $12 to $25
Entrees for $25 to $55
There's a separate dessert menu with items priced from $10 to $16. The approach feels very much like a choose-your-own tasting adventure.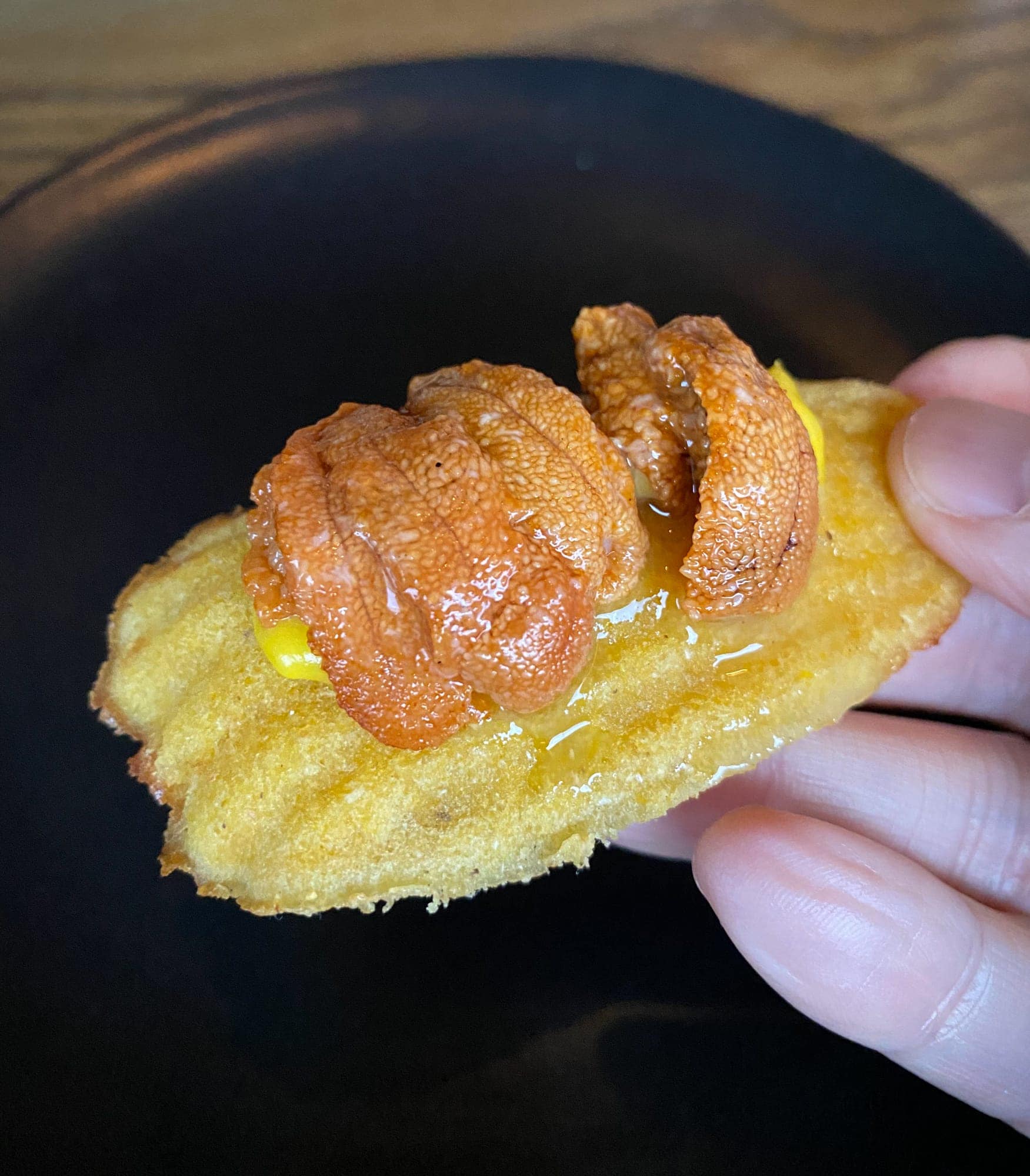 Snacks
We ordered five snacks, and my favorite was the uni and cornbread, a heavenly combination. It's one piece per serving, and we ordered two.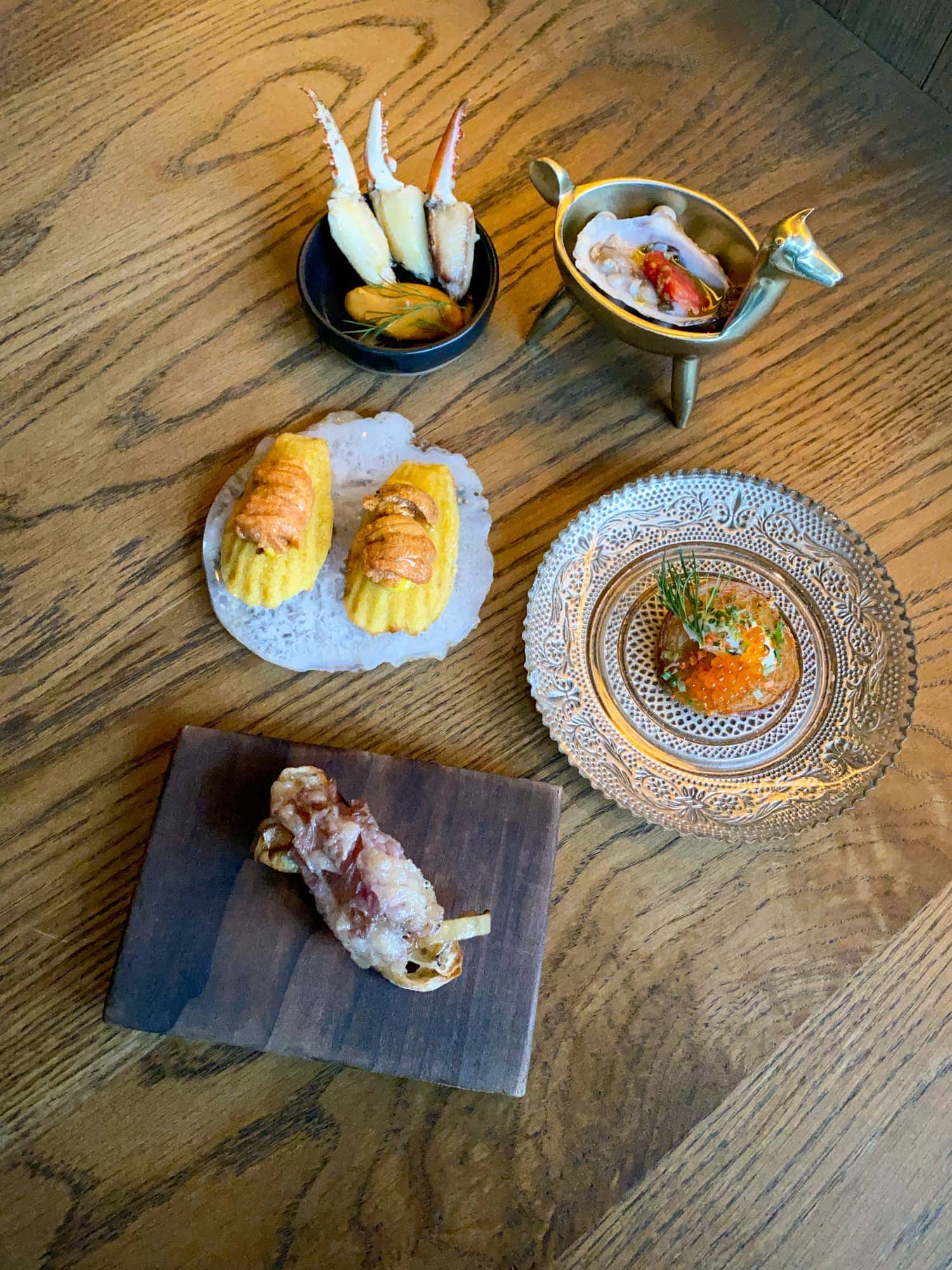 I also tried the blue crab claw with sotol dip, crispy potato with cultured cream, smoked trout roe, and the wagyu lardo toast with beef belly lardo (fat) on sourdough.
Nick ordered the oyster with smoked tomato, presented in a cute mental animal bowl.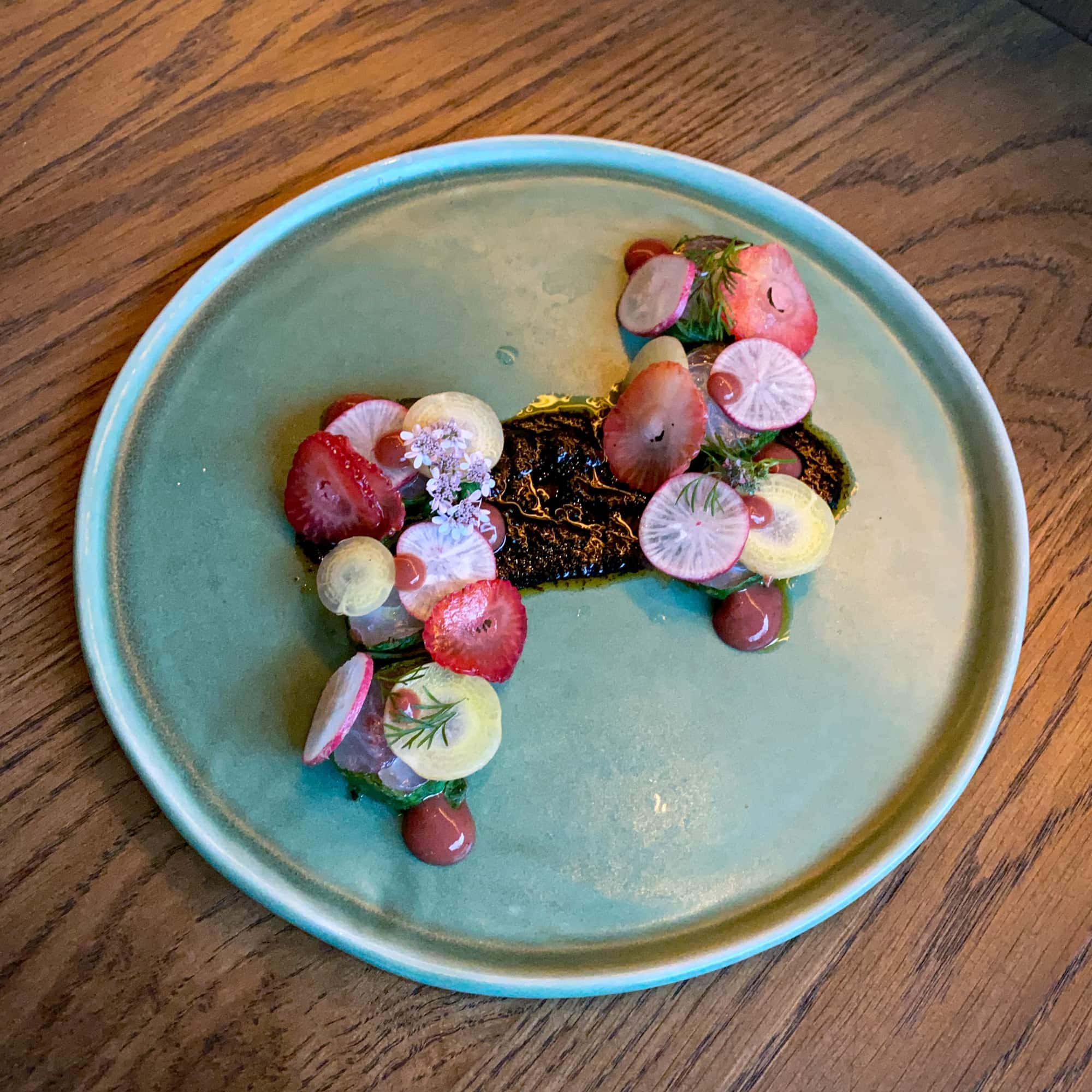 Crudos
Next, we shared the snapper crudo with recado negro, a sauce made with "jalapeños smoked on the hearth as well as garlic, beets, and orange zest," according to this review in Texas Monthly.
Pompano and mackerel were the other crudo options that night.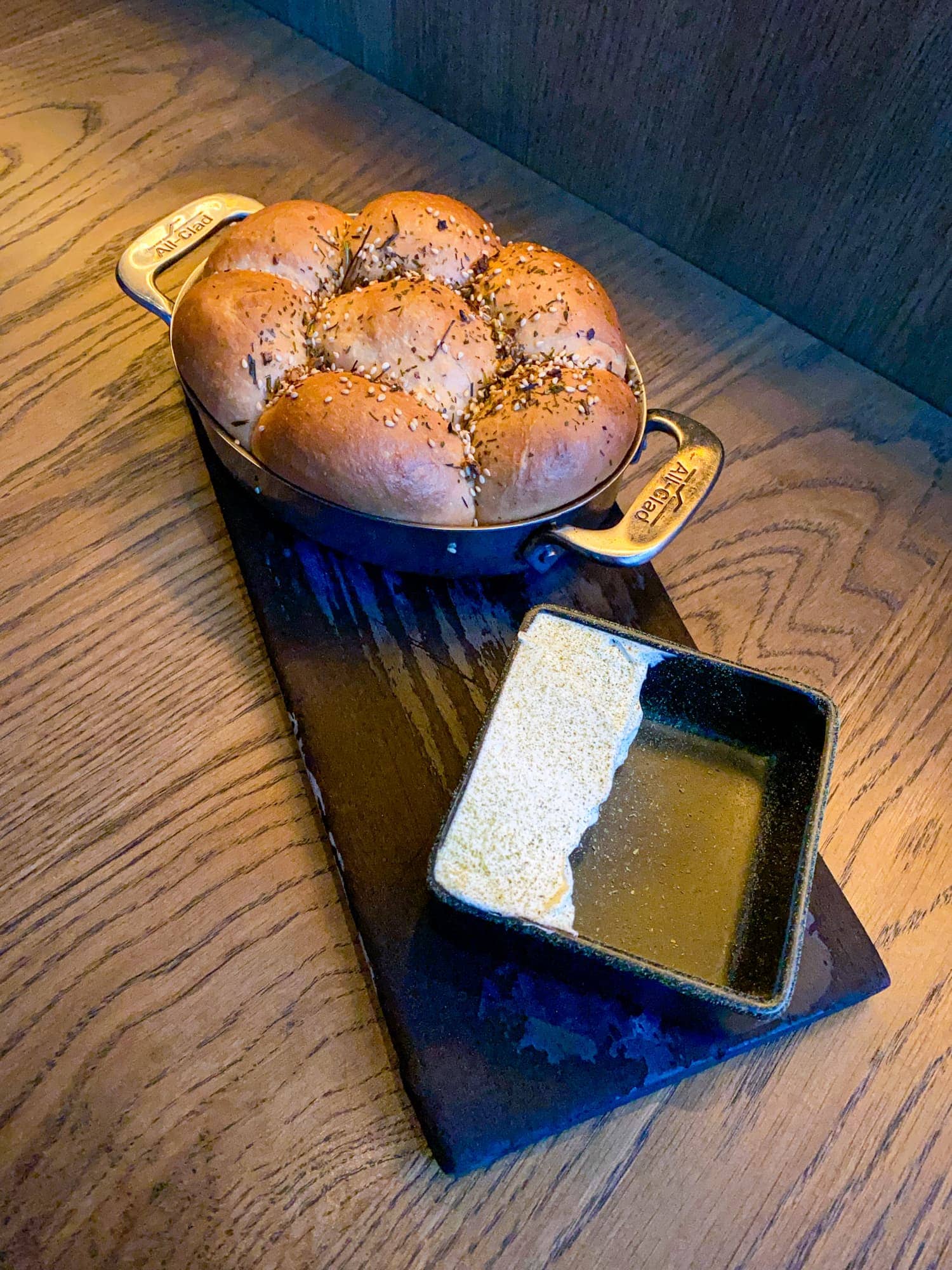 Small Plates
The Parker House rolls are another highlight of the menu. If you think two guys aren't going to finish seven rolls during dinner, think again.
These rolls, paired with formagina butter with benne seed and onion ash, are to die for.
Plus, it wins points for presentation, with the fresh-baked rolls in All-Clad cookware and the use of negative space in the butter dish.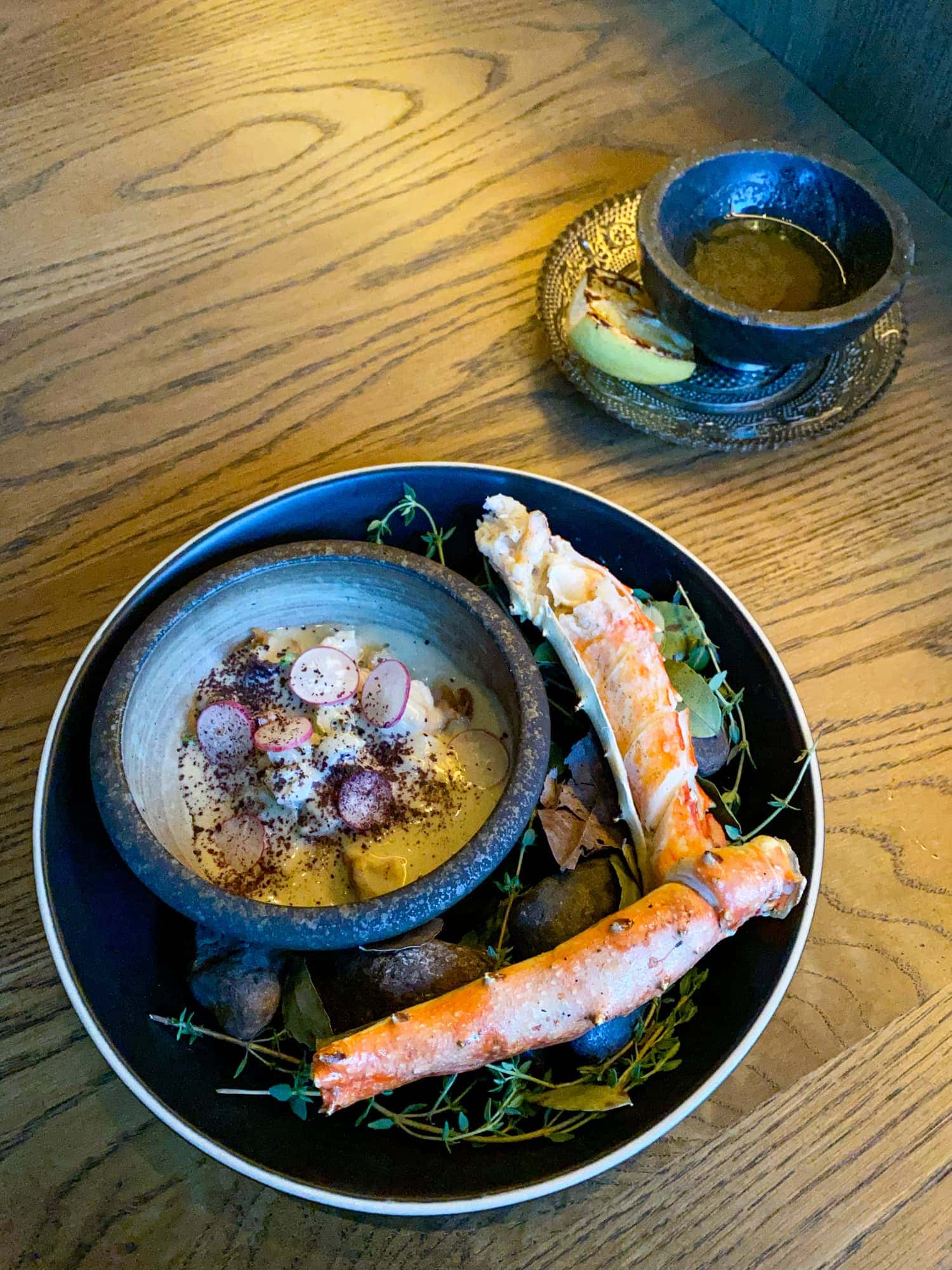 The Alaskan king crab with roasted kelp butter, sourdough, bok choy, and celery was recommended by the chef taking care of us.
At $25, it was double the cost of most other small plates, but it was worth the added expense.
Additional small plates included winter greens (salad), spaghetti squash, and broccoli for those who prioritize their veggies.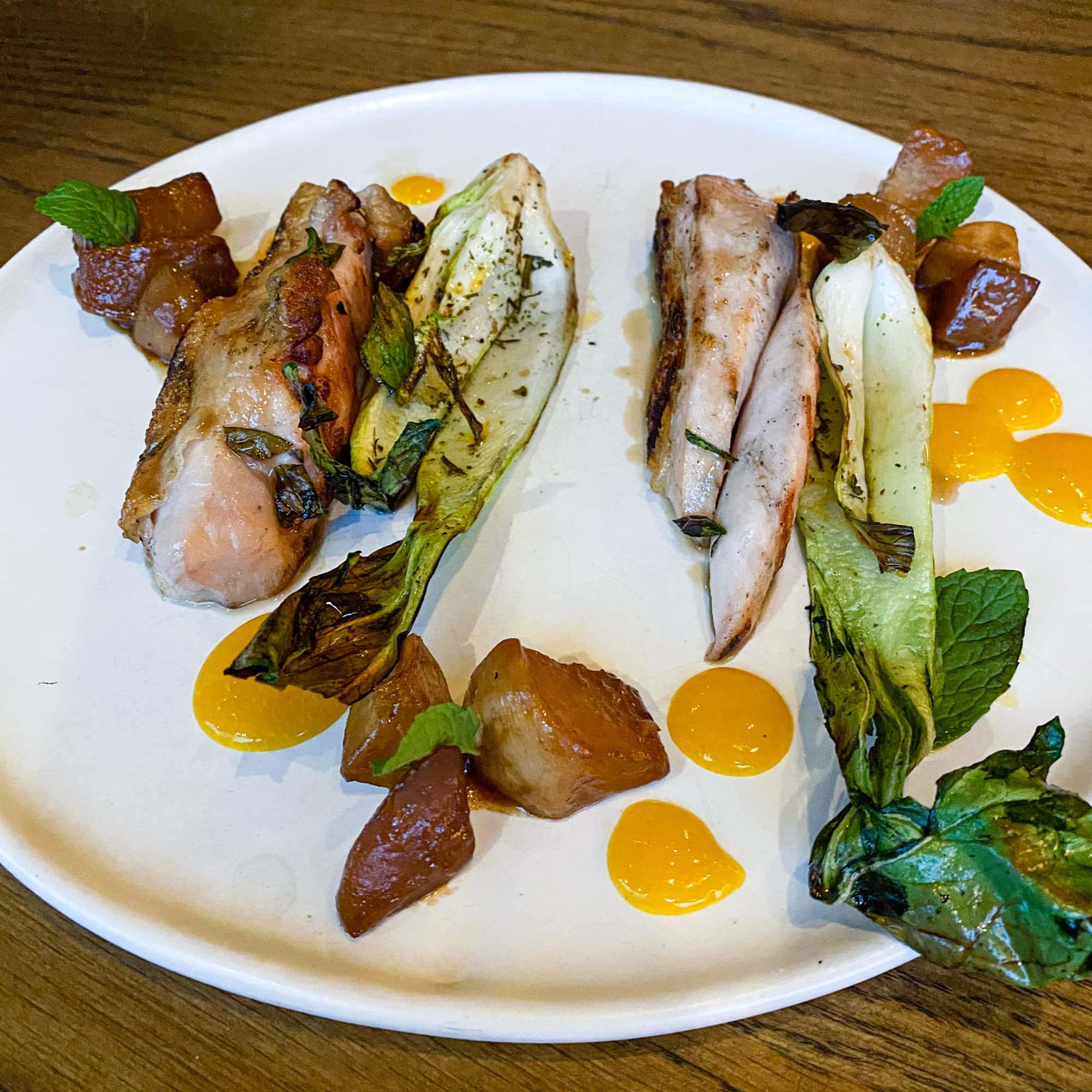 Entrees
I ordered the Red Ranger chicken with prickly ash glaze, bok choy, and kohlrabi (a type of German turnip).
The chicken was tender, and nicely plated. But, it fell short of my favorite chicken dish of the past year at Olamaie.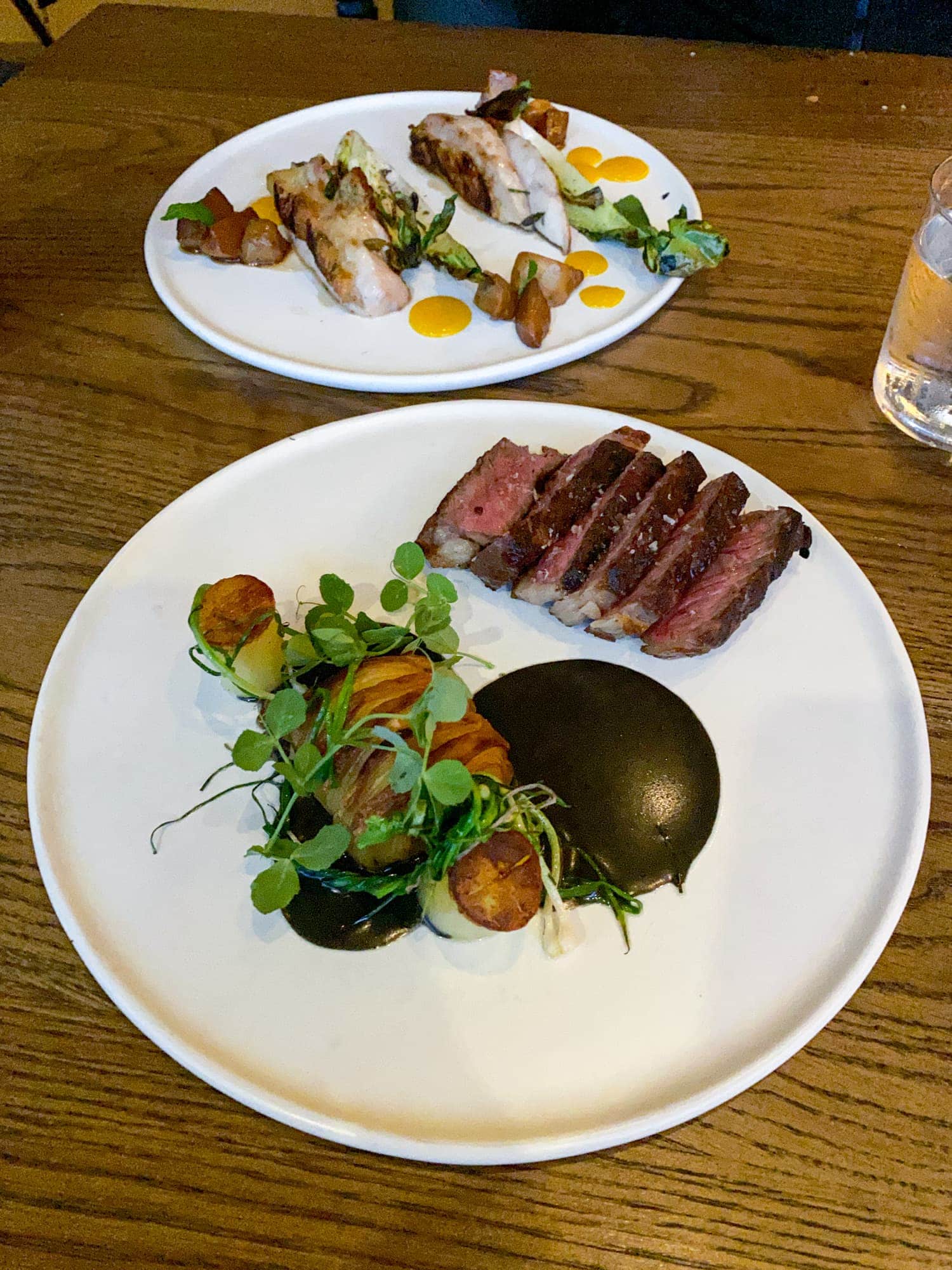 Nick had ordered the 42-day dry-aged Wagyu NY strip steak with smoked potato, wood ash butter, and wild onion.
We both agreed his entree was the more flavorful and better one.
Halibut, Berkshire pork belly, and lion's mane mushroom were some other entrees.
See also: Born & Raised Steakhouse: A Taste of Japanese Wagyu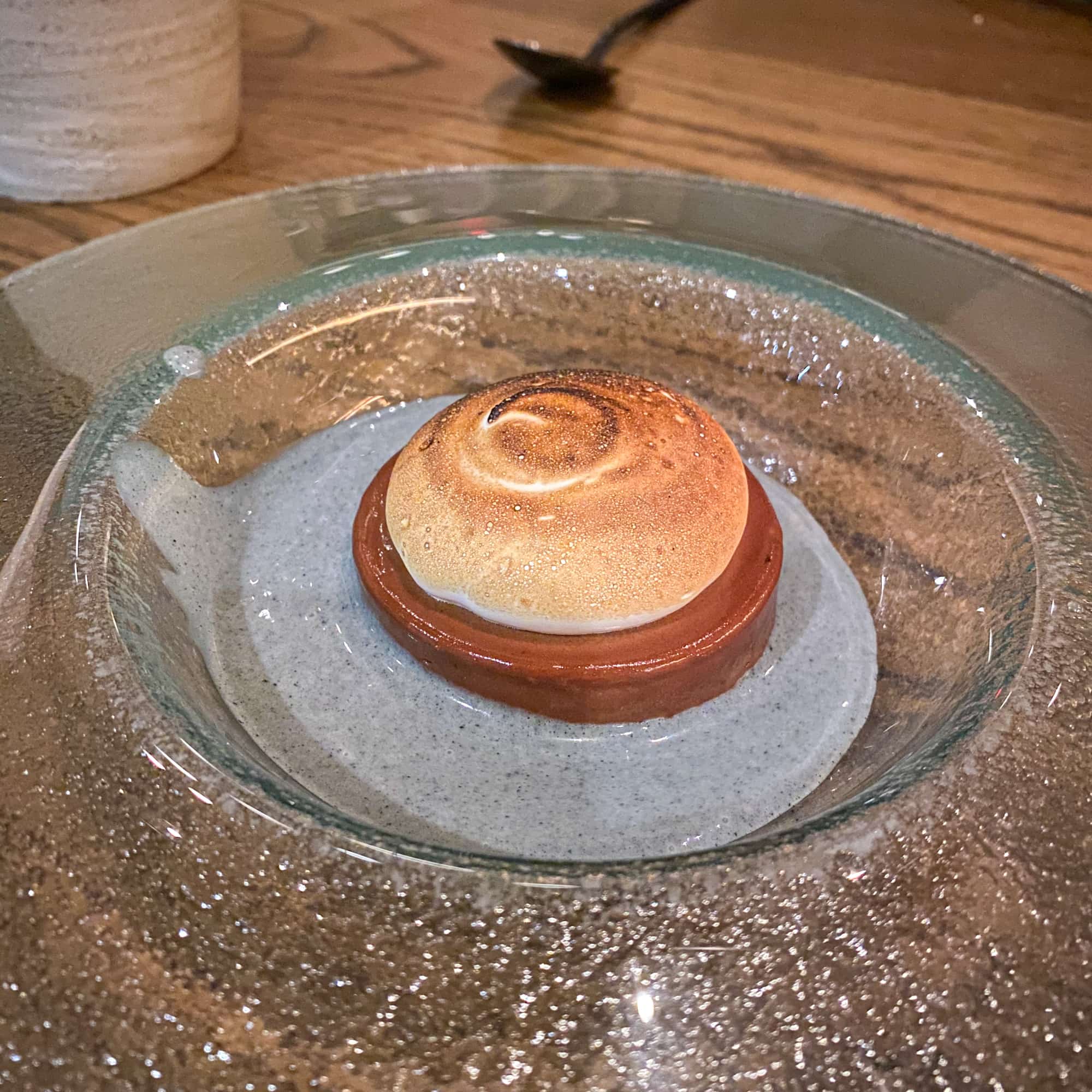 Desserts
I became a fan of pastry chef Tavel Bristol-Joseph at Emmer & Rye and later Henbit, thanks to his monster cookies. That appreciation was cemented at Hestia.
Few sweets evoke fire like s'mores, reminding me of summer camp and roasting marshmallows over an open fire in the woods.
Here, the s'mores concept is heightened with chocolate mousse topped with toasted meringue on a graham cracker base amidst a grey sea of koji and ash cream.
Koji is a type of Japanese mold used as a seasoning. The ash cream and toasted meringue connect the dessert to live fire.
See also: Harry Sasson's Live Fire Cooking in Bogotá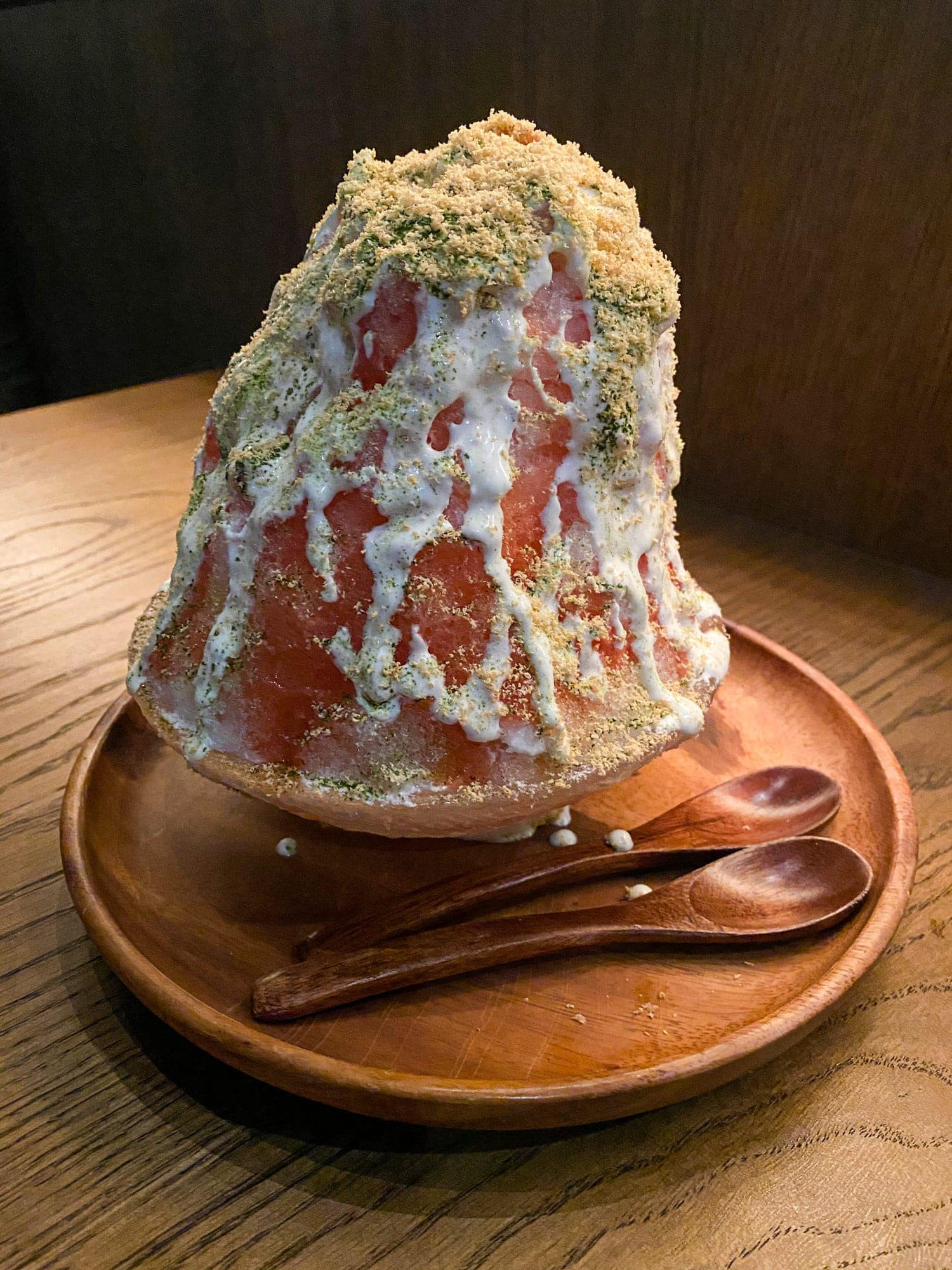 But wait, there's one more (humongous) dessert you must get to know.
Kakigori is traditional Japanese shave ice dating back one thousand years to the Heian period.
It's clear chef Bristol-Joseph was taken by this warm-weather treat during his time in Japan.
Our kakigori was flavored with coconut cream, strawberry and tamarind syrup, white chocolate, and a dusting of matcha powder. Deep inside is a core of honey ice cream.
My friend and I got to work, scooping spoonfuls of shaved ice from the mound and slowly burrowing our way inside. The structure held up well as we attacked from all angles.
We gave up before finishing, as it's large enough to feed four. It was a light, playful end to an incredible, Michelin star-worthy meal.
As a result of this dinner, Hestia is one of my new favorite restaurants in Austin. I can't wait to go back.
Plan Your Visit
Website: hestiaaustin.com
Address: 607 West 3rd St, Austin, TX 78701
Dress: Casual
Reservations: Recommended