When I saw the gorgeous pool at Cayena Beach Villa on my friend Brad's Instagram account, I knew I had to go. The sparkling water and blue tiles beckoned.
But the gorgeous pool surrounded by lush tropical plants and coconut palms is just the beginning.
This boutique luxury villa was built on Costeño Beach just east of Tayrona National Park (Parque Tayrona), a national park on Colombia's Caribbean coast.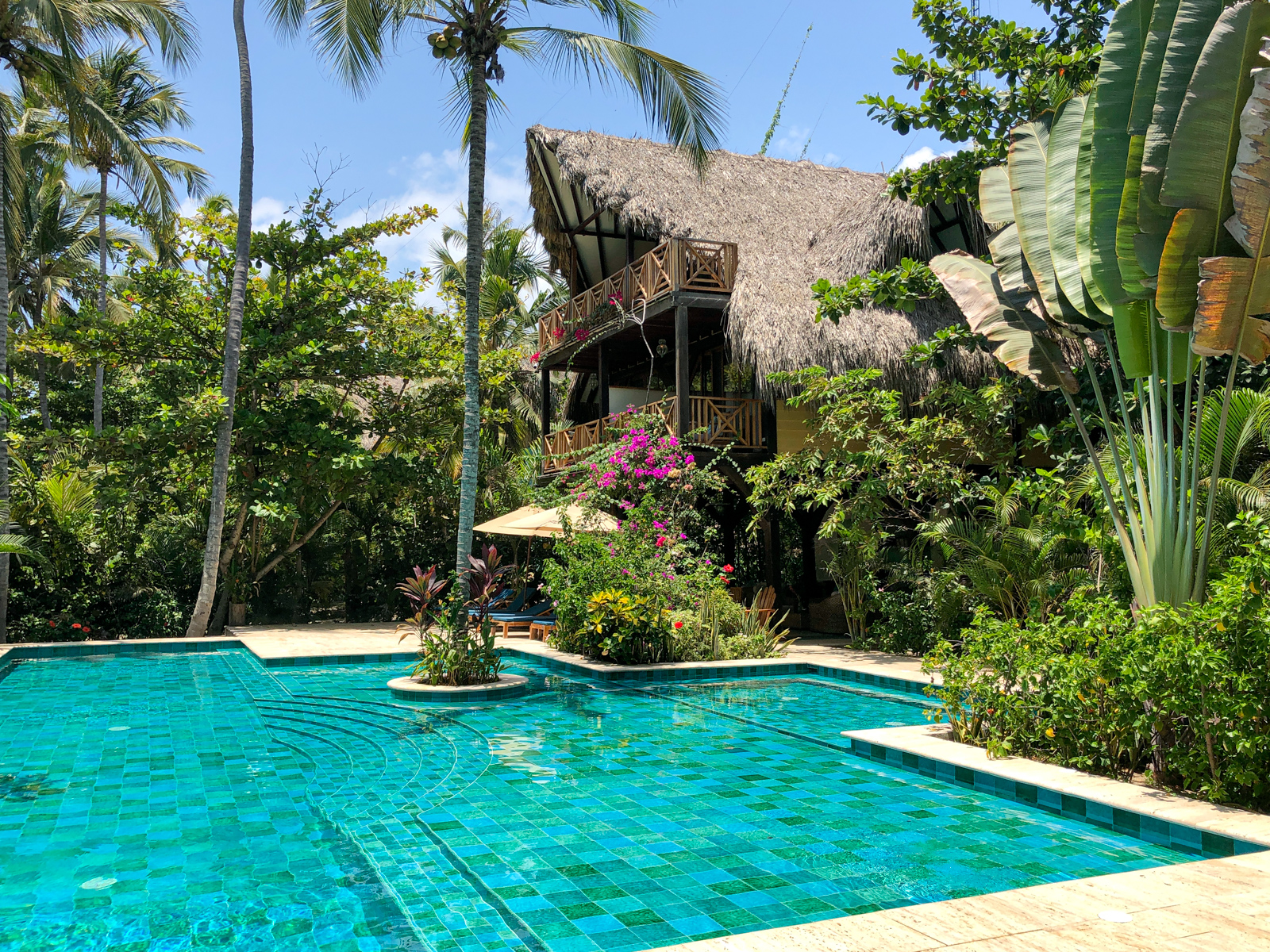 Back in 2011, during my first visit to the region, I hiked several hours into Parque Tayrona and spent a night sleeping in a hammock at Playa del Cabo.
Tayrona is a beautiful park where the wild jungle meets a stretch of coastline with sandy beaches.
Parque Nacional Sierra Nevada de Santa Marta is not far to the south as the crow flies and boasts Colombia's tallest mountain, the snow-capped Pico Cristóbal Colón (5,730 m or 18,800 ft).
Plotting a return visit seven years later, a relaxing stay at a villa was more my style. And so I invited my long-time Colombian friend Alejandra to join me.
When she saw the pool photos, she had the same visceral reaction I did. Let's go!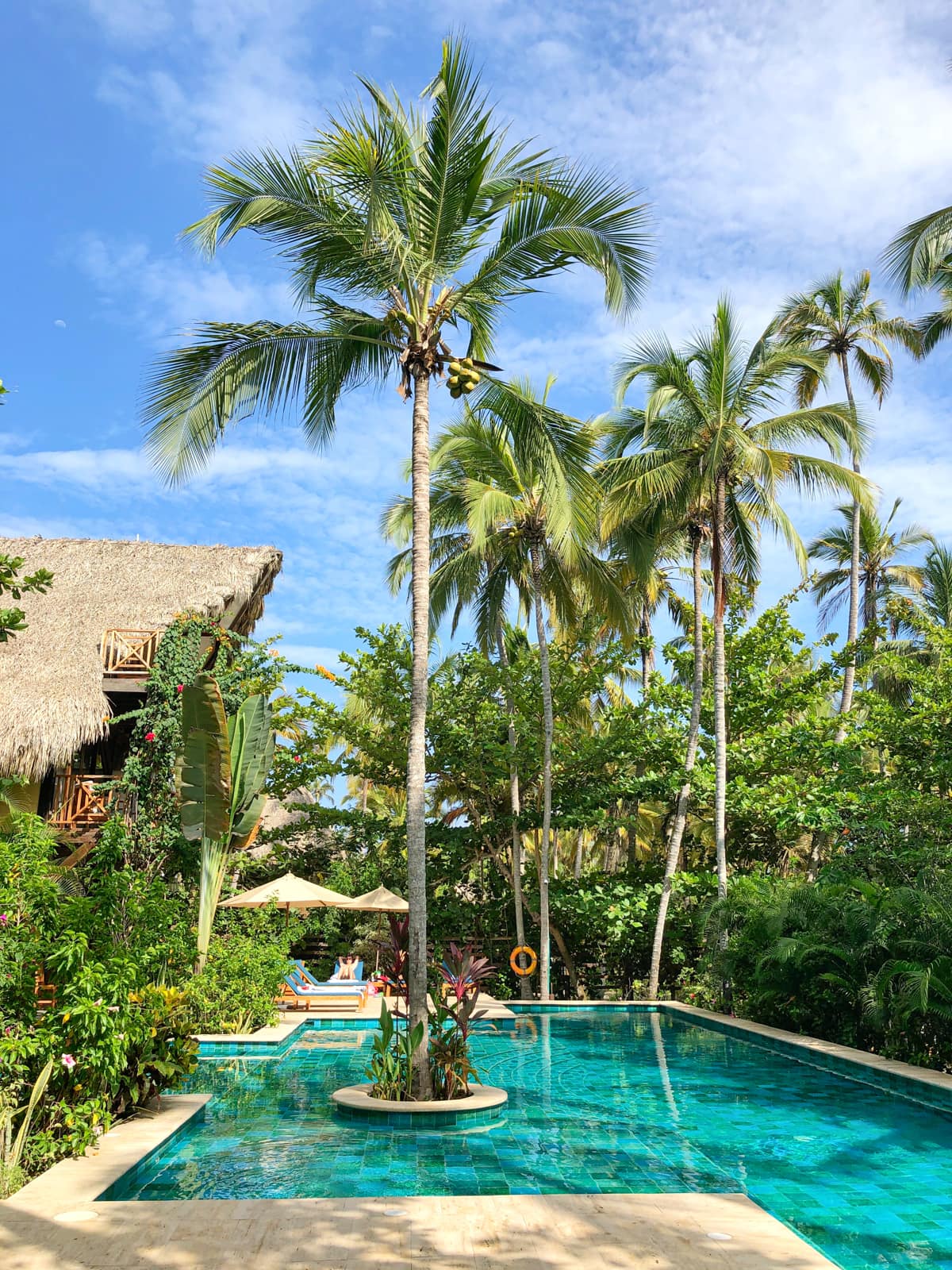 My three-week Colombian trip had gotten off to a good start in Bogotá, where I dined at Leo, Harry Sasson, Villanos en Bermudas, and Criterion.
From there, it was on to Medellín, where I'd based myself for seven years, making many friends along the way. Meals at El Cielo, Carmen, El Barcal, and Moshi were delightful.
After three years away, I didn't want to return to Colombia and not spend some time in nature. So, with Alejandra on board, I booked three days and nights at Cayena Beach Villa.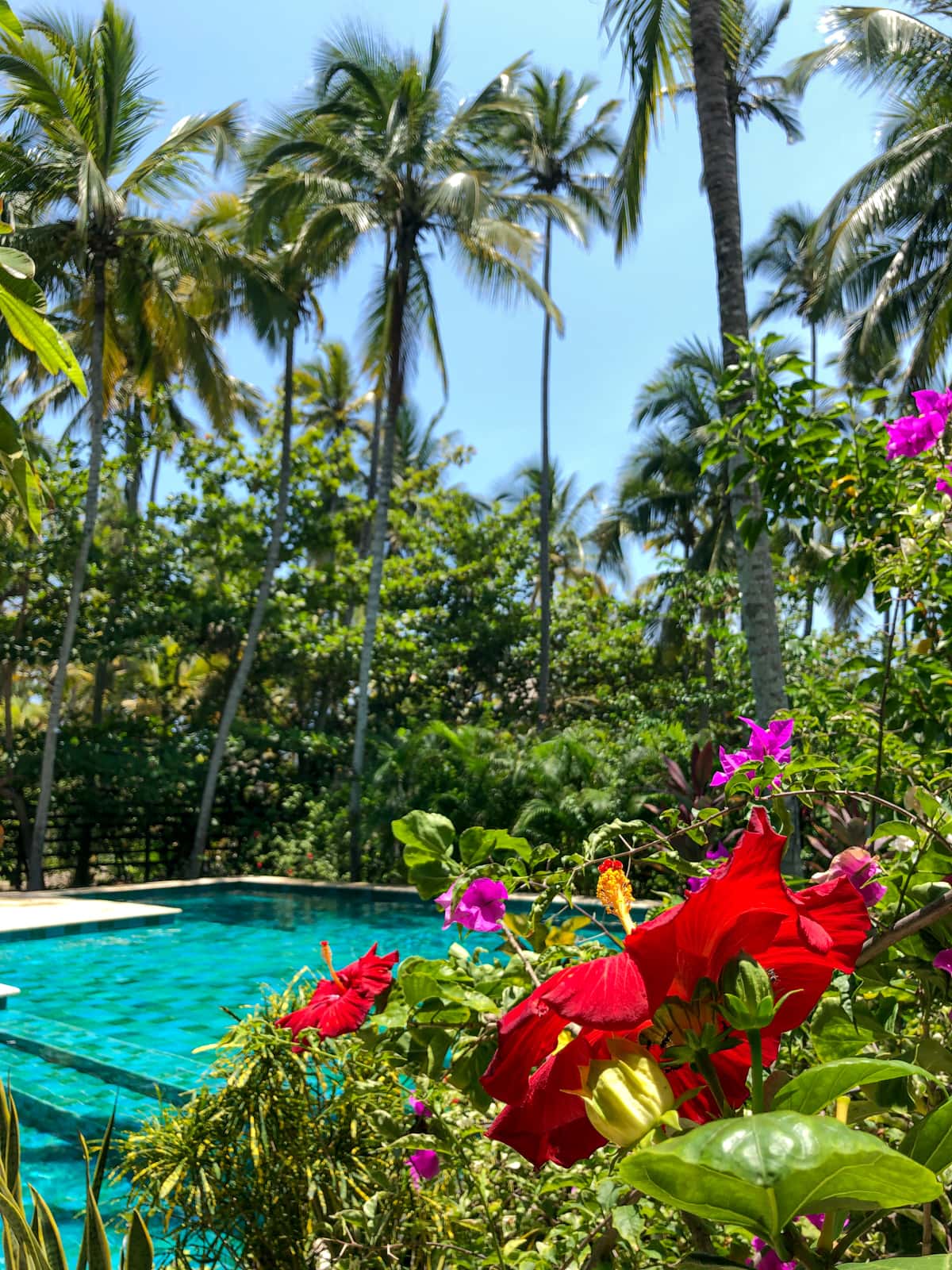 Cayena Beach Villa
The Pool
The first thing you notice walking into the hotel is the open-air design. The ground floor includes reception, the kitchen, a dining area, a sun terrace, and a pool with three depths.
There's a level for everyone:
The shallow end for the little ones.
Mid-level for sitting with a smoothie or cocktail and socializing.
A deep area allows for swimming the entire length of the 72-foot (22-meter) pool.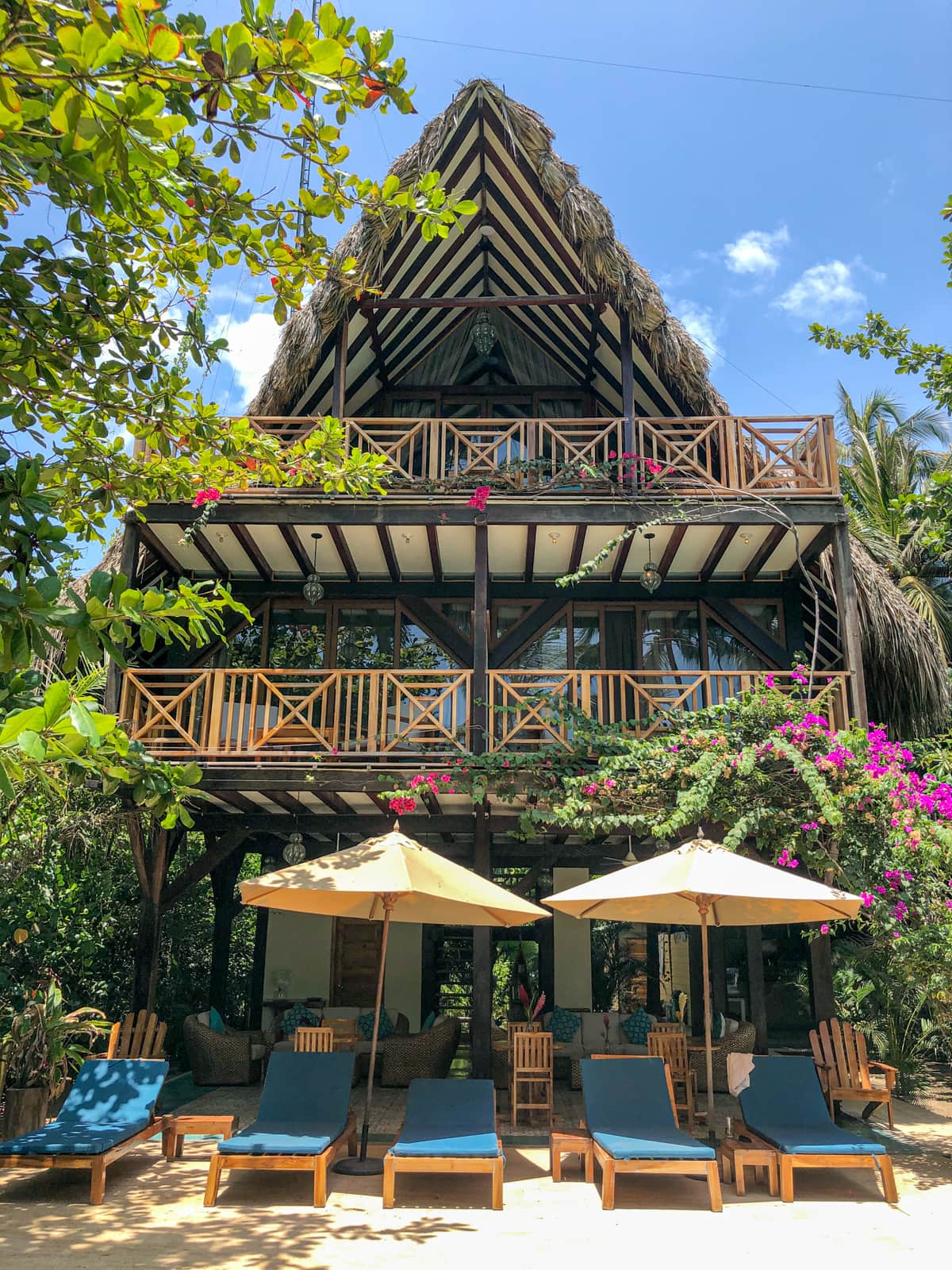 Surrounding the patio and pool are native plants and palms. Vines bursting with colorful flowers stretch up to the villa's second and third floors.
The wooden lounge chairs are sturdy and comfortable enough to enjoy all day. The umbrellas provide added shade as needed.
We lived (mostly) at the pool for three days -- it truly felt like paradise.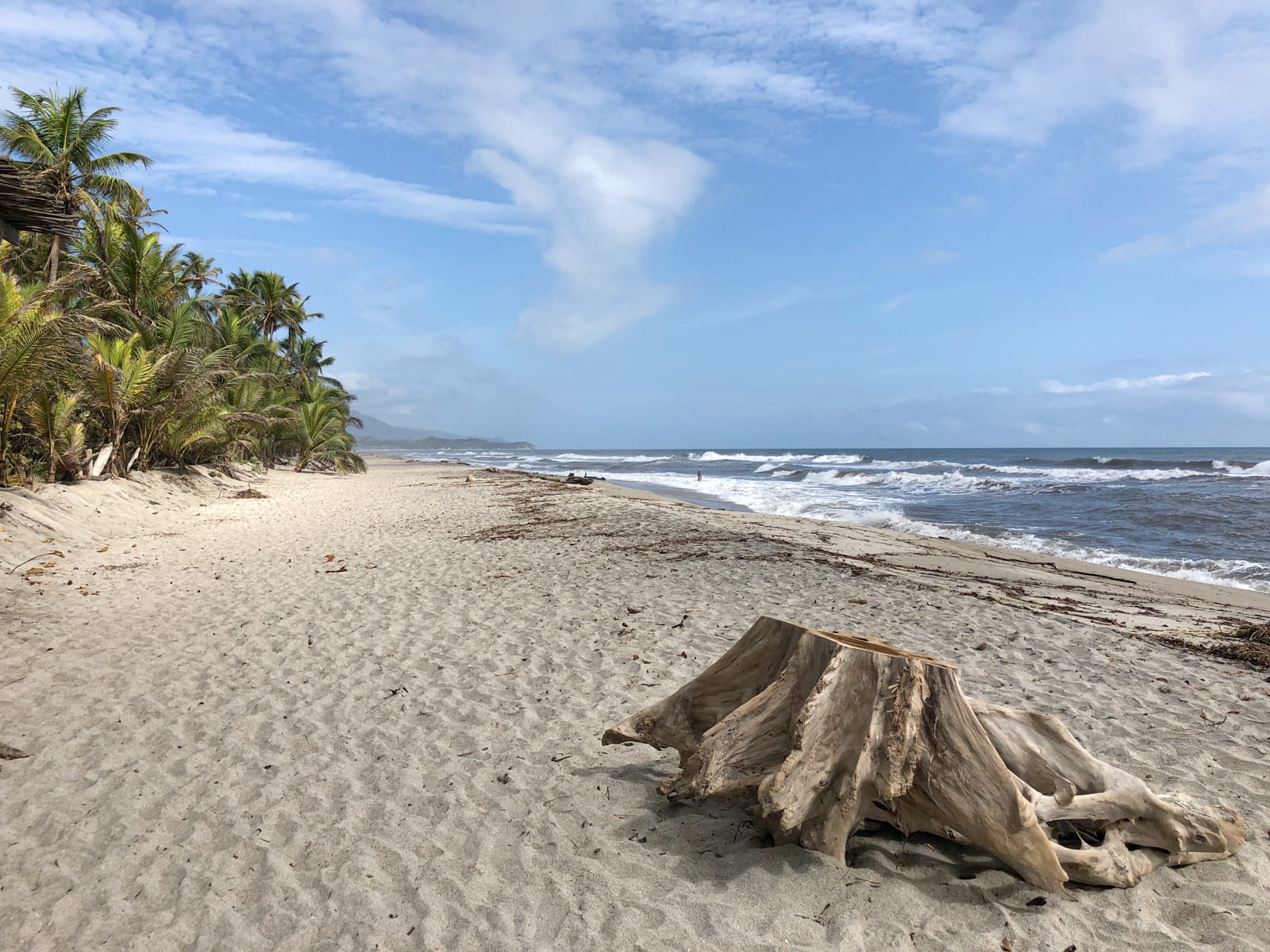 Costeño Beach
Time spent at the pool was broken up by walks on the beach. Costeño Beach may appear completely undeveloped, but there's more than meets the eye.
Cayena Beach Villa has low-key neighbors in the form of a hostel and some basic hotels. And by basic, I mean bare-bones.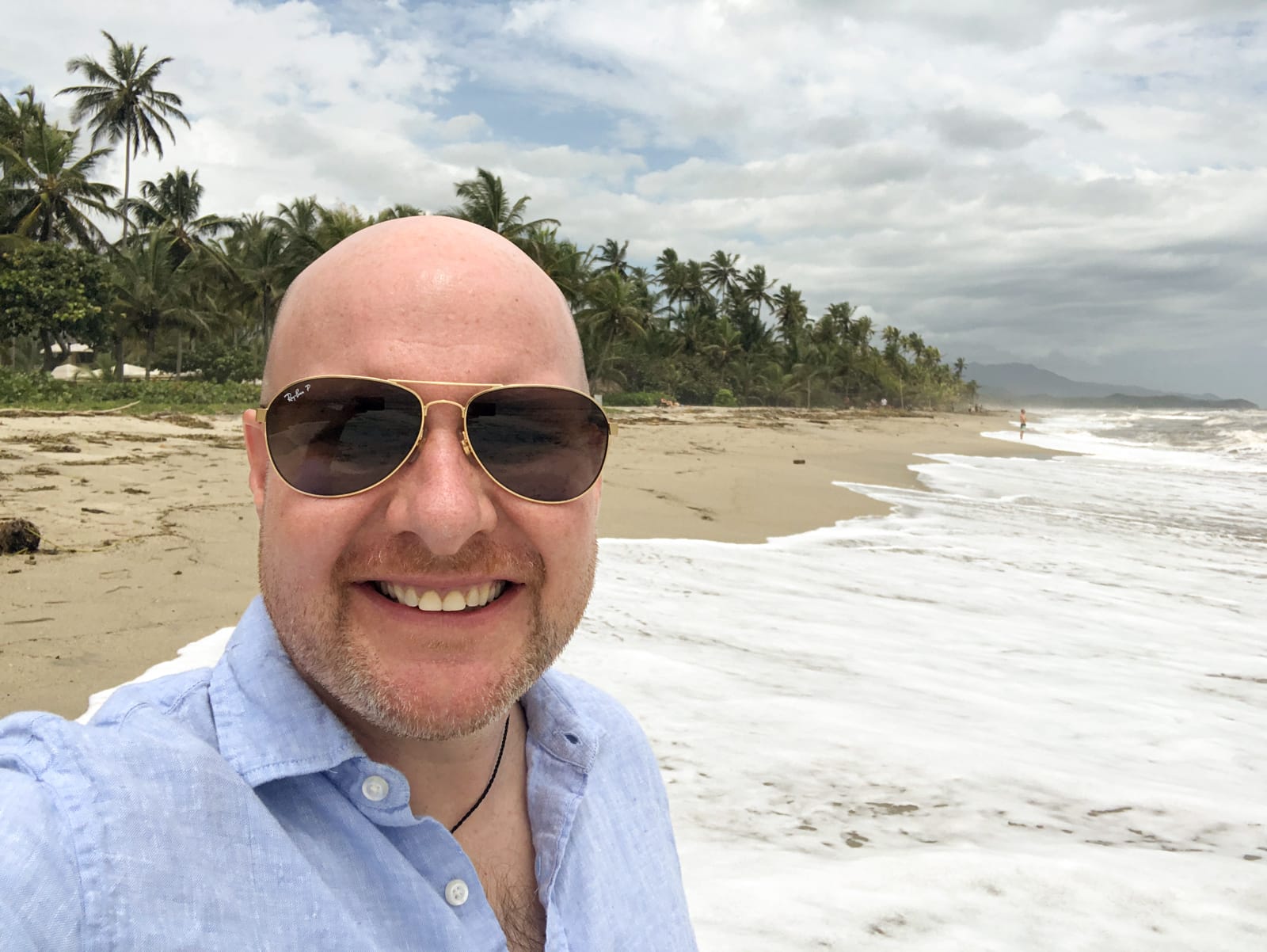 But, you almost wouldn't know it because the development in this area is still minimal.
There's sufficient space and palm trees between properties to give one the sense you're on your own in this unique location.
The surf is strong, so the sea isn't suitable for swimming. However, people do surf in it.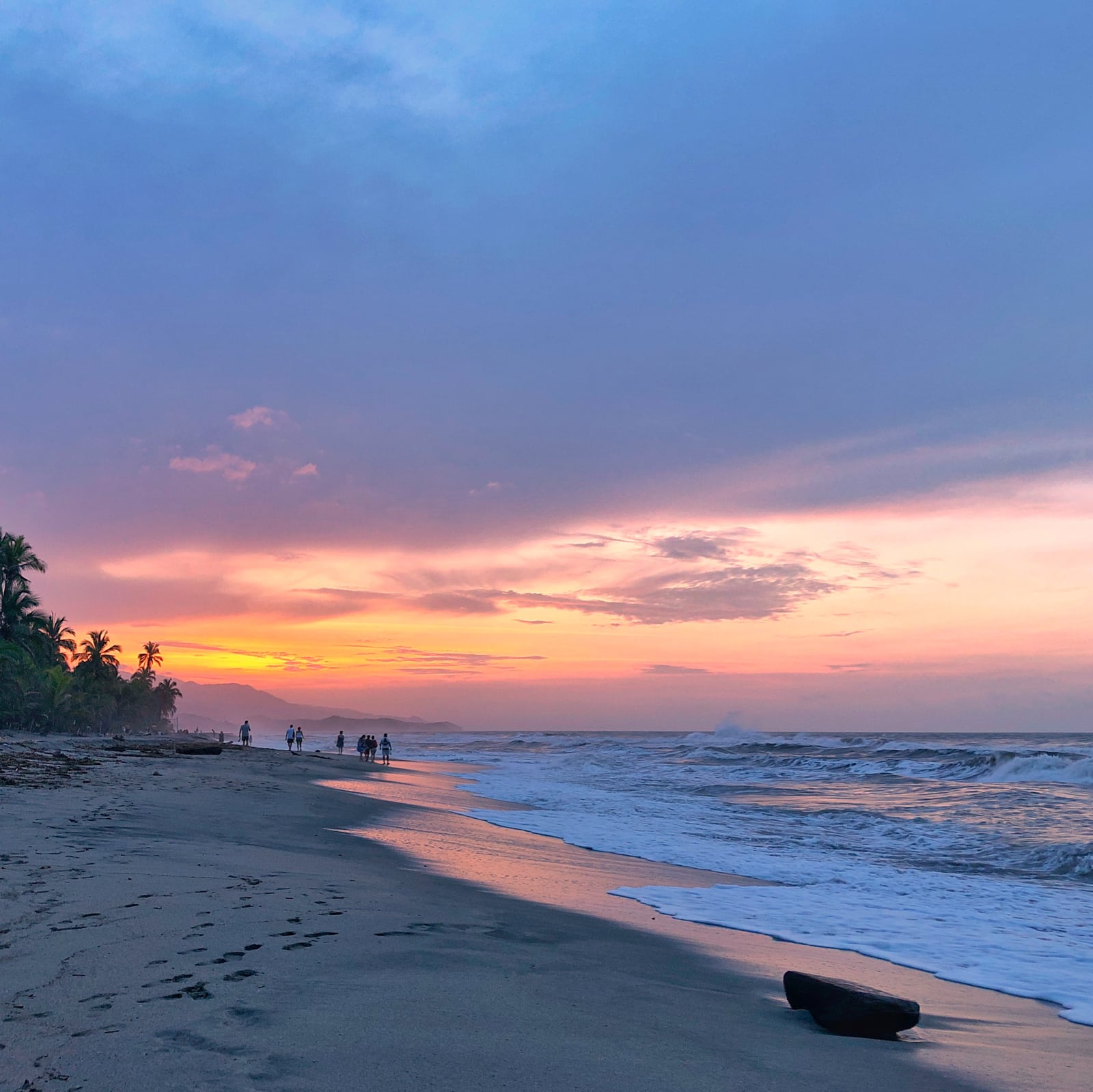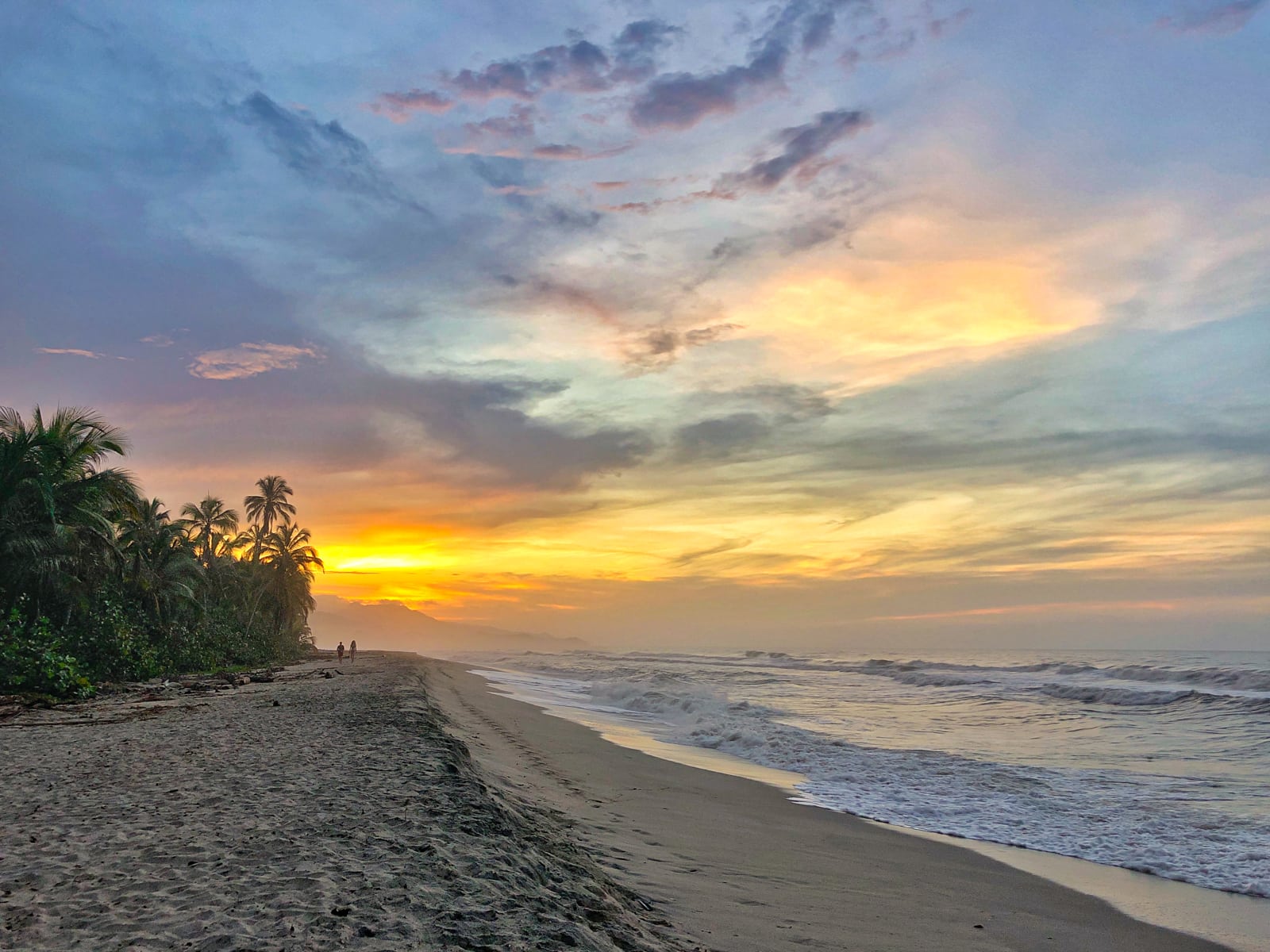 I was satisfied sticking to walks on the beach, knowing I could return to the fantastic pool at Cayena Beach Villa to go for refreshing dips all day long.
The sunsets on the second and third nights of my visit were stunning. I couldn't choose just one photo to share, so I'm sharing both.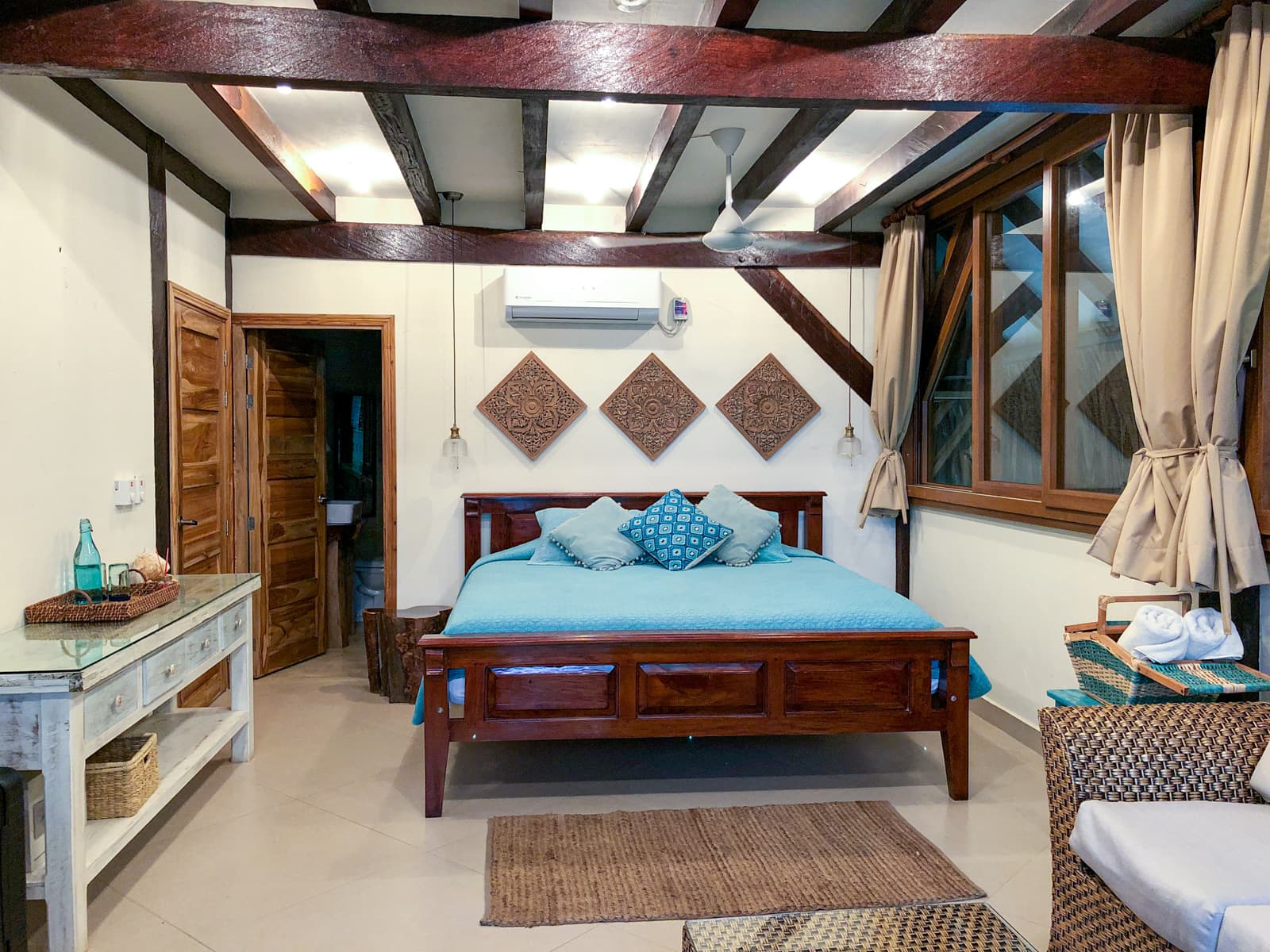 The Room
Considering I slept in hammocks the last time I was in the area, it was a big step up to sleep in a comfortable second-floor junior suite.
There was plenty of space, including a seating area, a semi-outdoor private bathroom, and a shared balcony facing the pool.
Additional room features included air conditioning, two ceiling fans, and blackout curtains. You'll have use of free Wi-Fi in the rooms and pool area.
Foliage blocked the view of the pool, but that didn't bother me as it also meant privacy. Besides, I spent little time in the room beyond sleeping.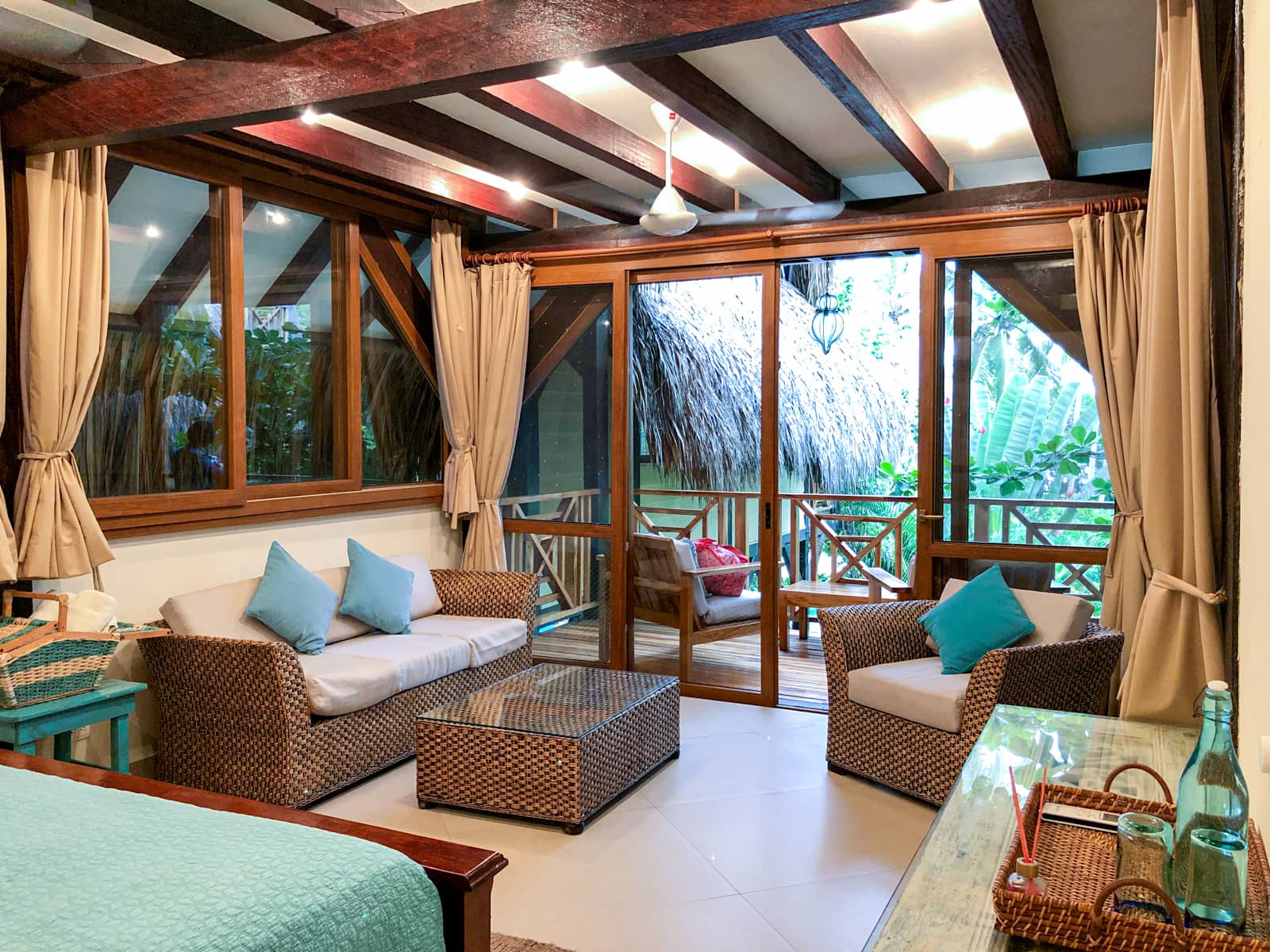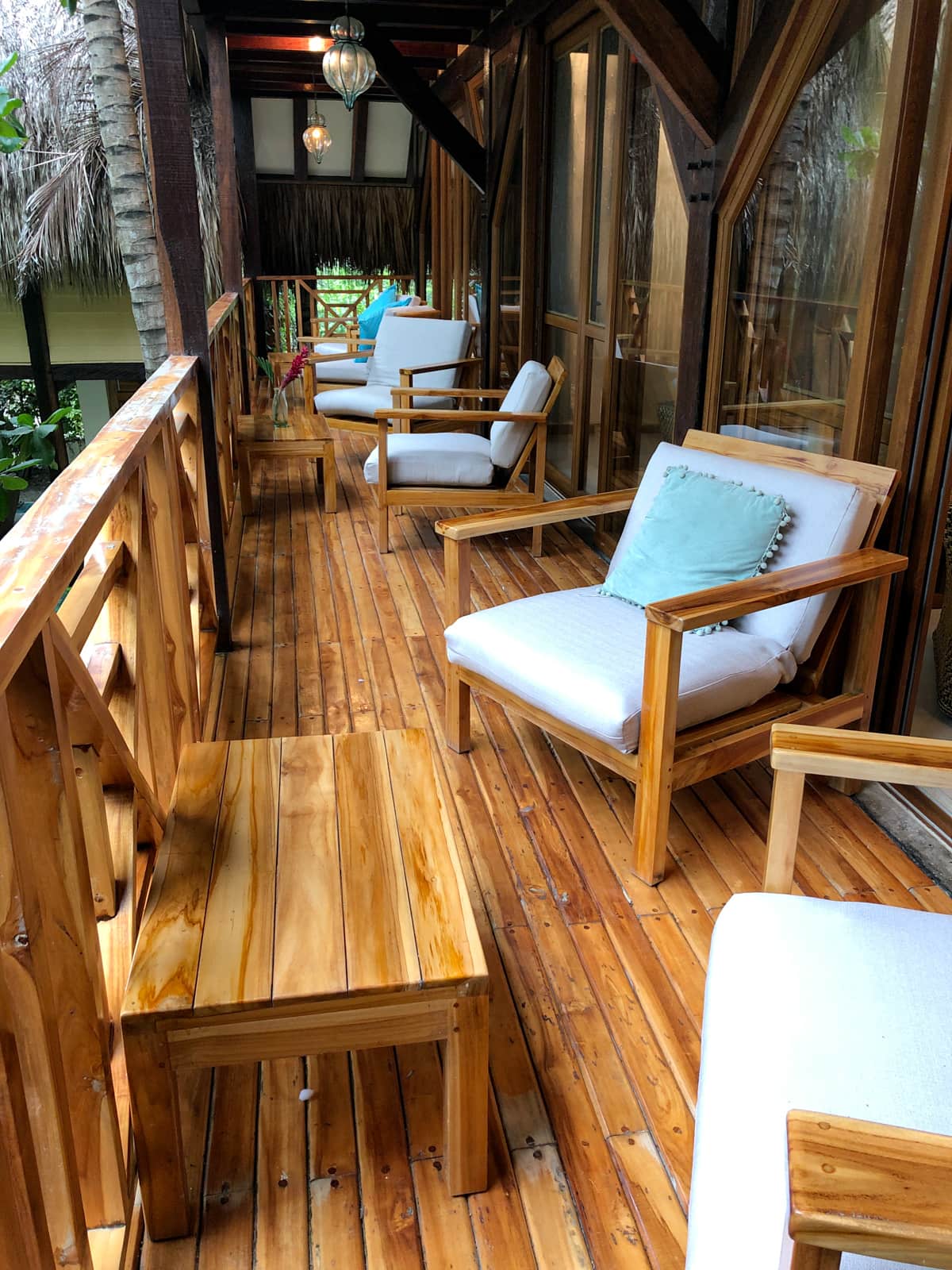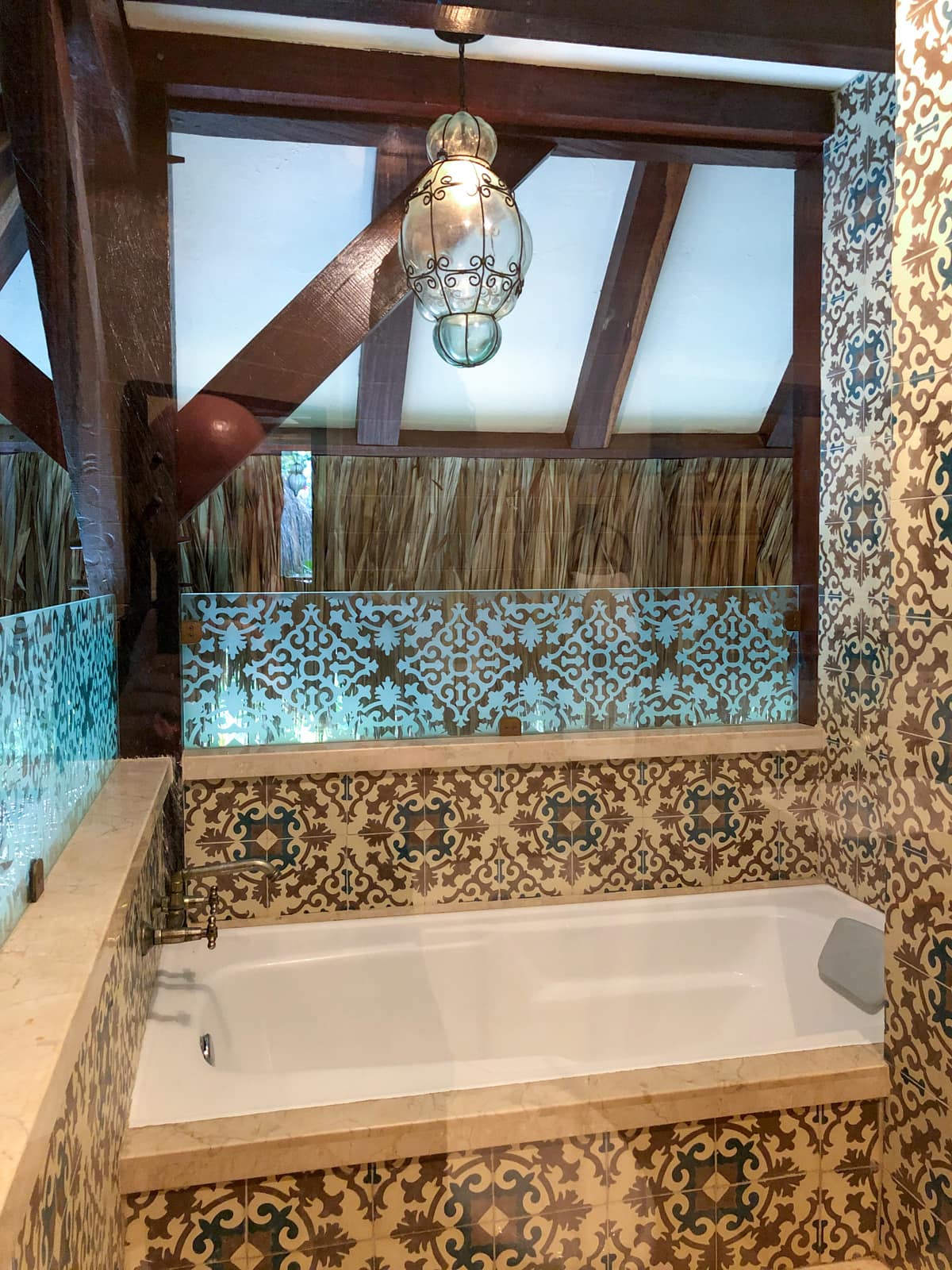 In addition to Junior Suites, Cayena Beach Villa offers third-floor Deluxe Suites with king-sized custom beds, a double-length personal balcony (also facing the beach), and two bathrooms (one for showering, the other with a toilet and sink).
These top-floor guest rooms are further off the ground, offering Caribbean Sea views and greater privacy, not to mention higher ceilings.
There's an entire two-story Back House with four luxury bedrooms, a gourmet kitchen, and a private dining area for large groups or families.
This house is only available to rent at certain times of the year.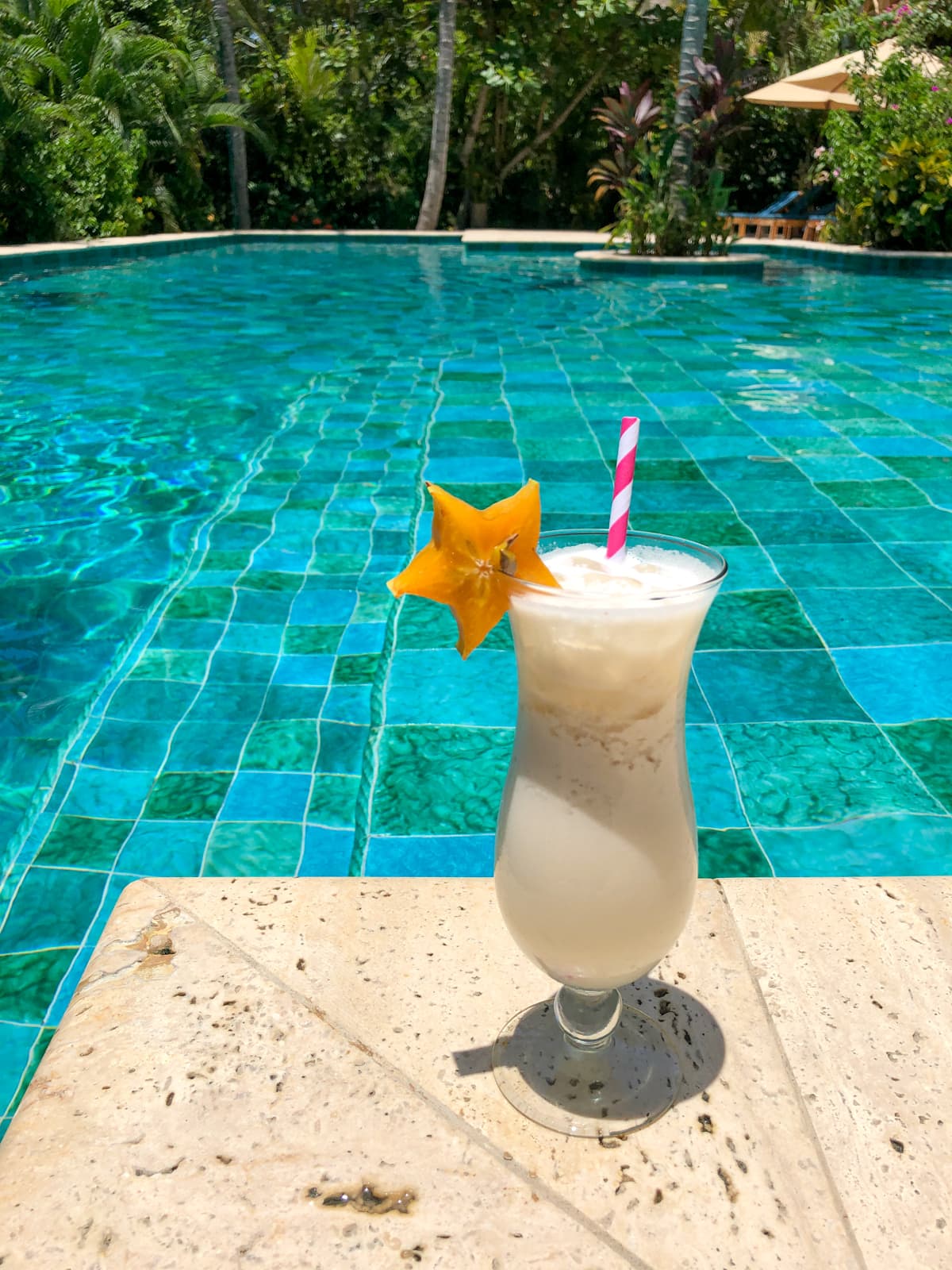 Food and Drinks
When I booked Cayena Beach Villa, my expectations were limited to the pool, beach, and room.
Often, a luxury property can get by on such features alone. But, I was pleasantly surprised by the food quality during my stay.
Meals are prepared by a professional chef, and it shows, especially at dinner.
The fresh tropical cocktails were also delicious. Paper straws show an attention to detail and consciousness about the environment, which I appreciated.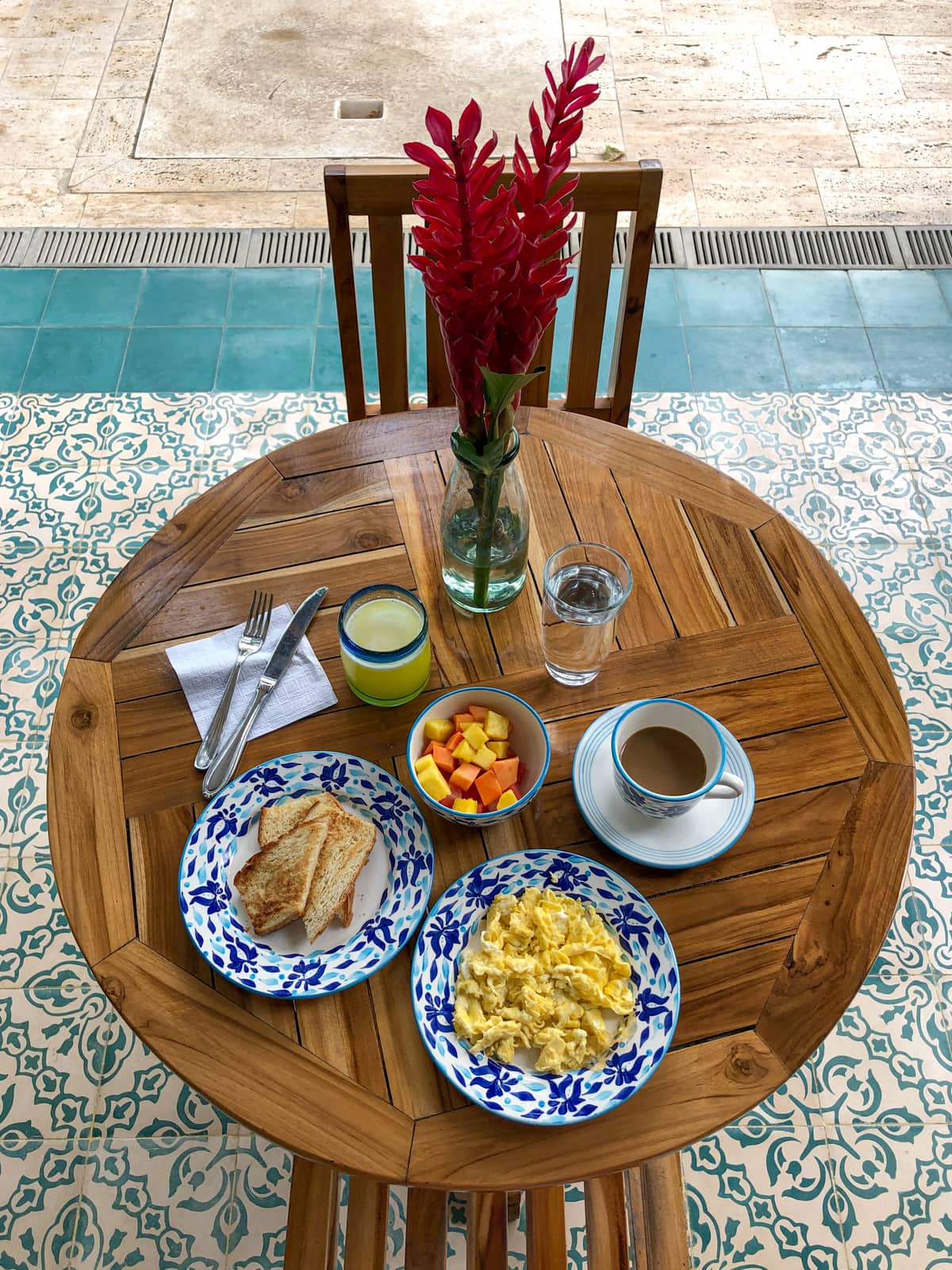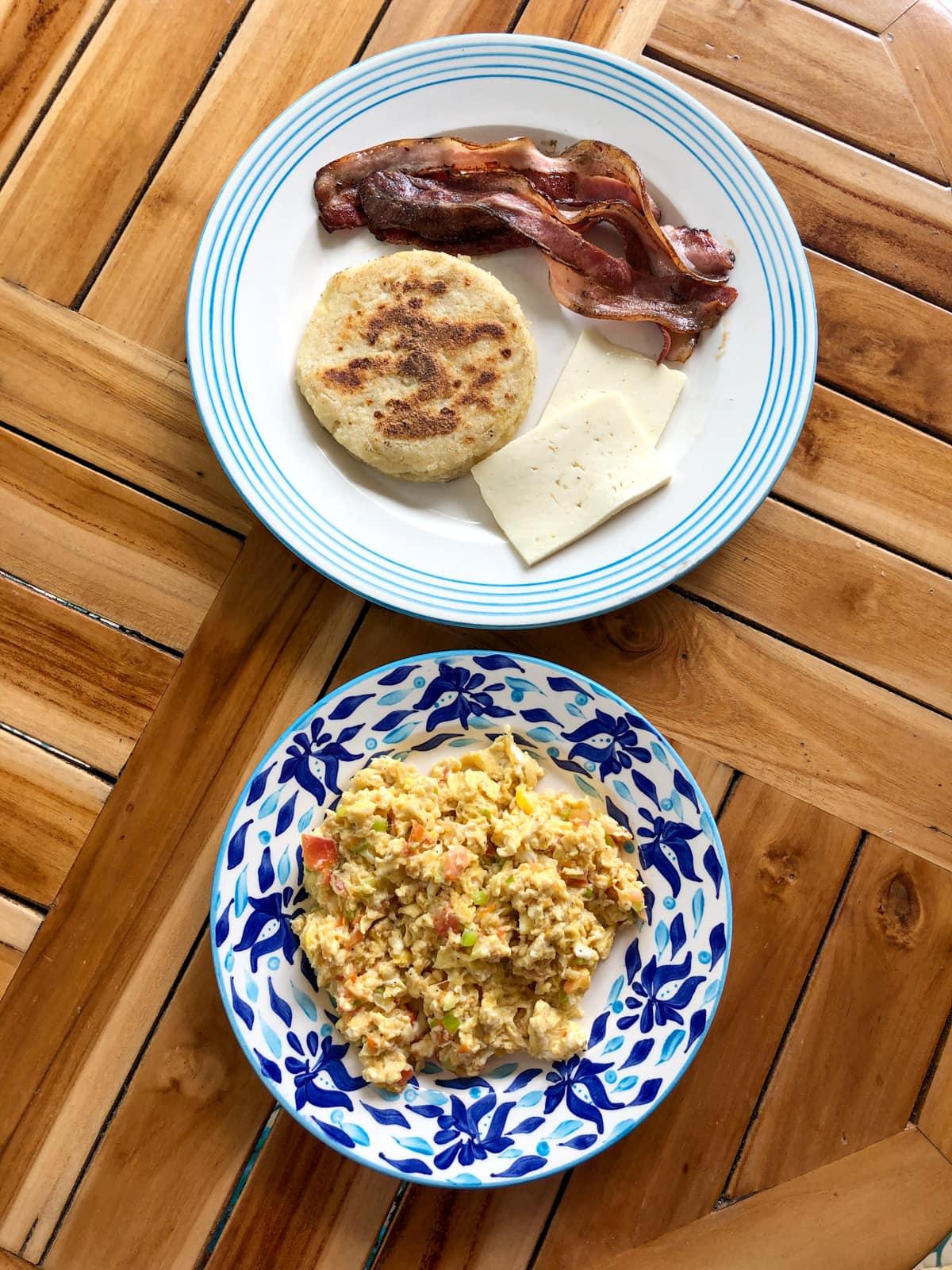 Breakfast
The villa is designed for guests to eat their meals by the outdoor pool, which was not a hard sell.
The breakfasts were my favorite. Scrambled eggs, bacon, locally-grown fruits, arepas with cheese (a staple of the Colombian diet), fresh-squeezed juice, and coffee.
Breakfasts and dinners are included in the nightly room rate, while lunches and drinks are extra.
See also: Breakfast at Brennan's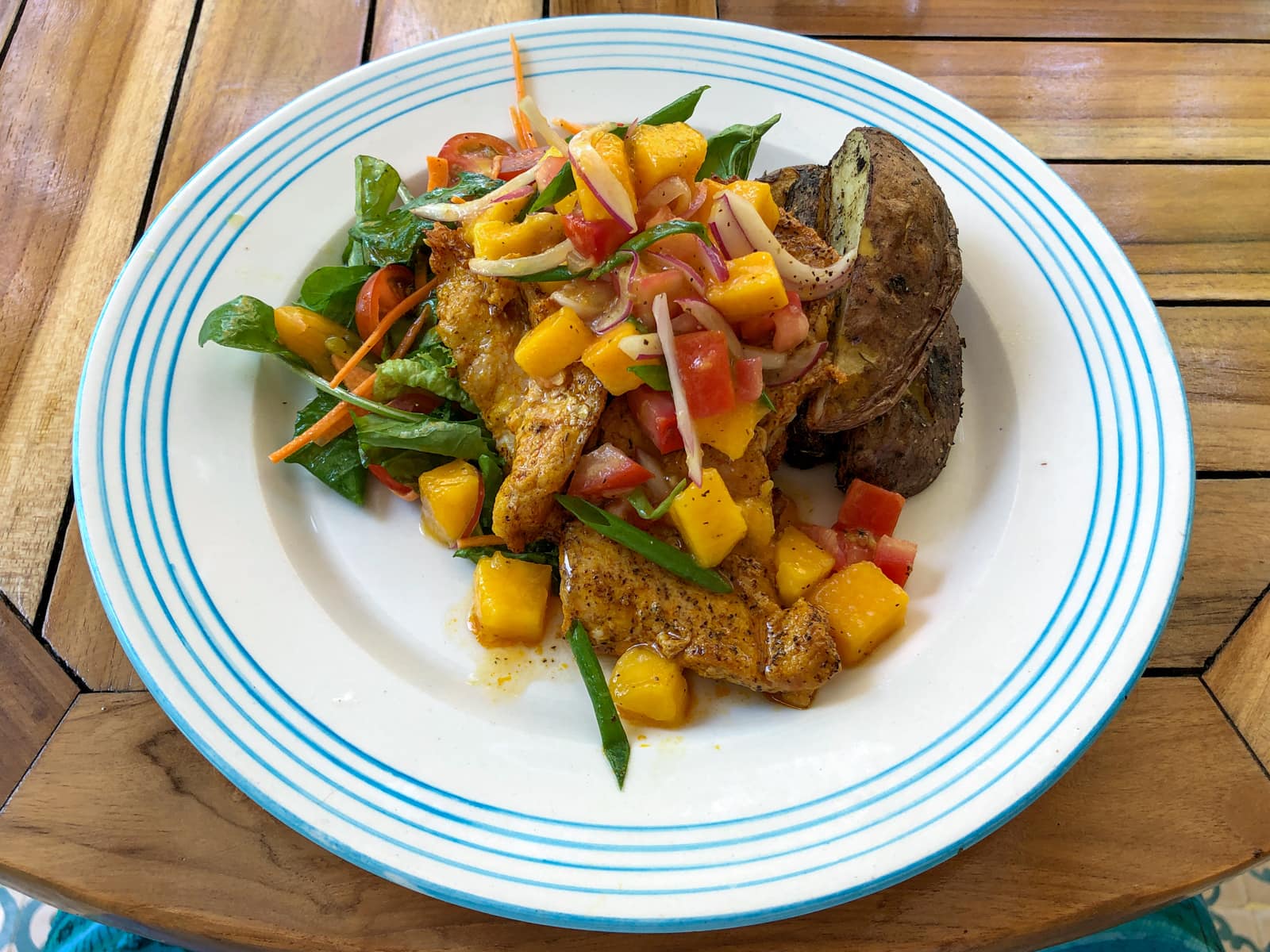 Lunch
It makes sense for lunch not to be included in the room rate; presumably, guests will spend their days exploring the region or going on tours.
Alejandra and I were happy to do neither, having already spent time on the coast doing those things.
During my 2011 visit, following my night in Parque Tayrona, I took a three-day 4x4 trip to La Guajira, a desert in the northernmost part of Colombia on Venezuela's border.
Trekking to the La Ciudad Perdida (The Lost City) is another popular activity unique to the region, although that jungle adventure takes five to six full days to complete.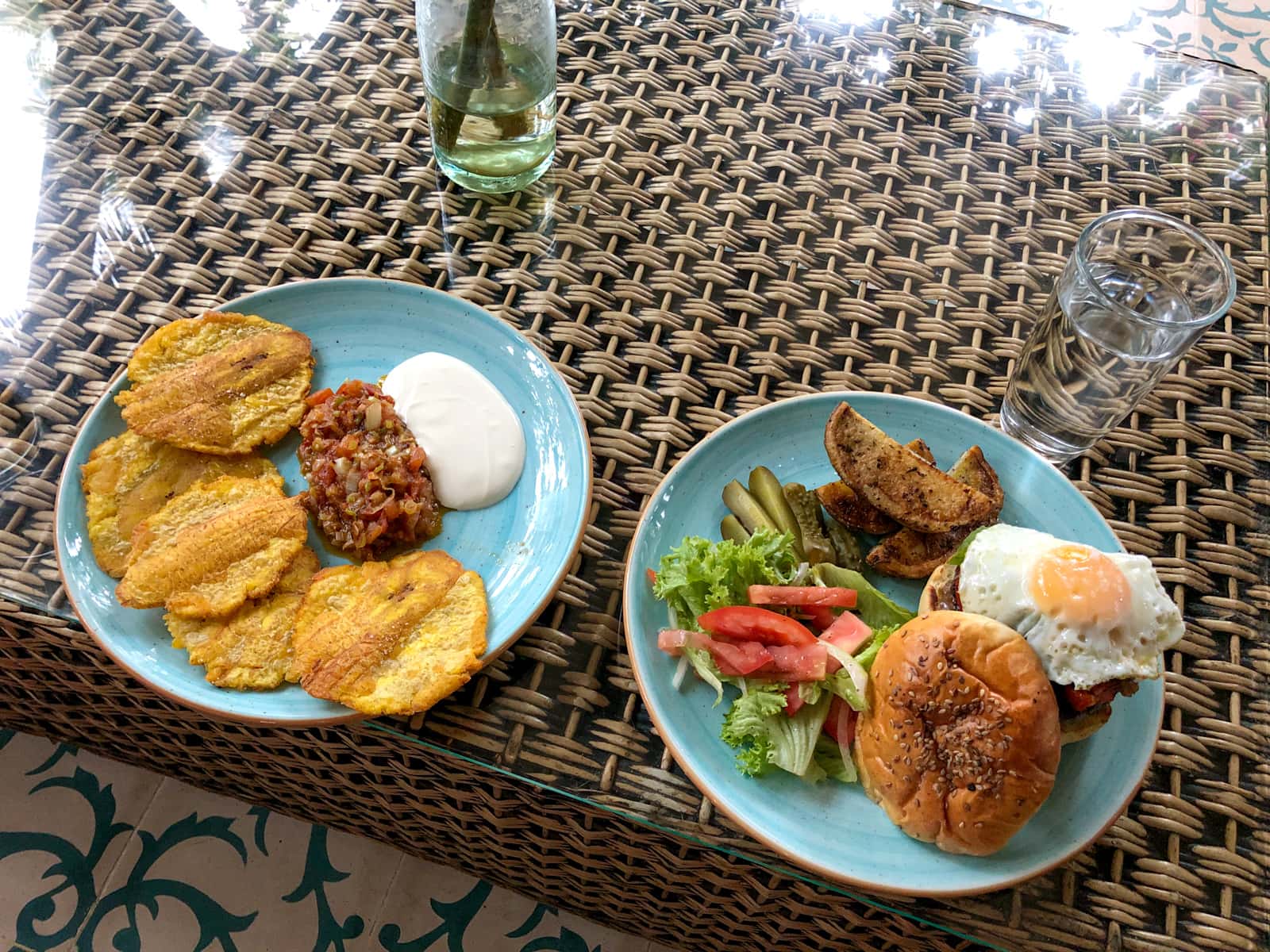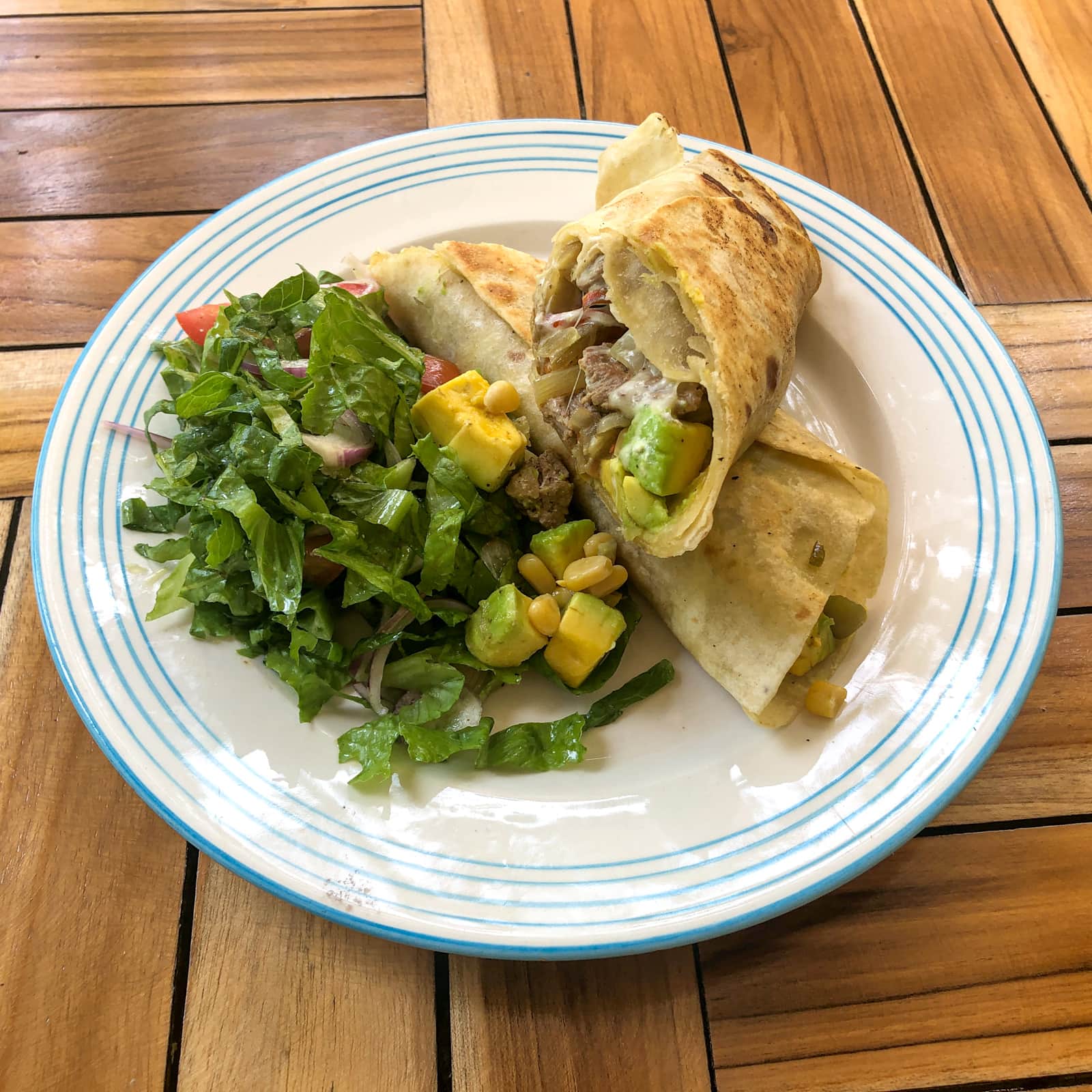 Returning to the food, our lunches included a cheeseburger with a fried egg (me), patacones with sour cream and salsa (Alejandra) on the first day, pork with mango salsa, and a wrap with salad. They were all delectable and enjoyed poolside.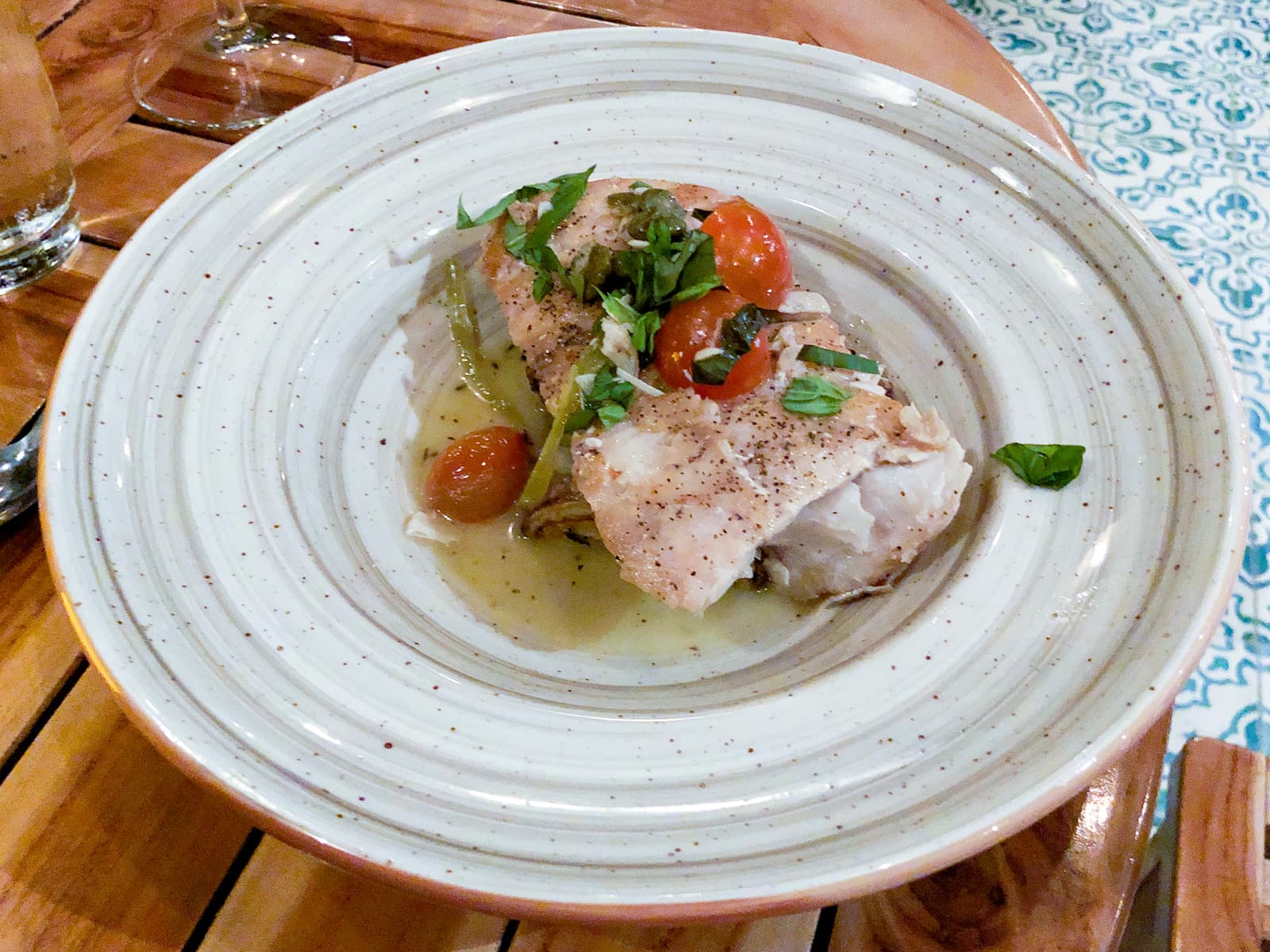 Dinner
Dinner each night consisted of three courses, starting with a soup or salad before proceeding to the main course, such as sea bass or steak with chimichurri sauce and couscous.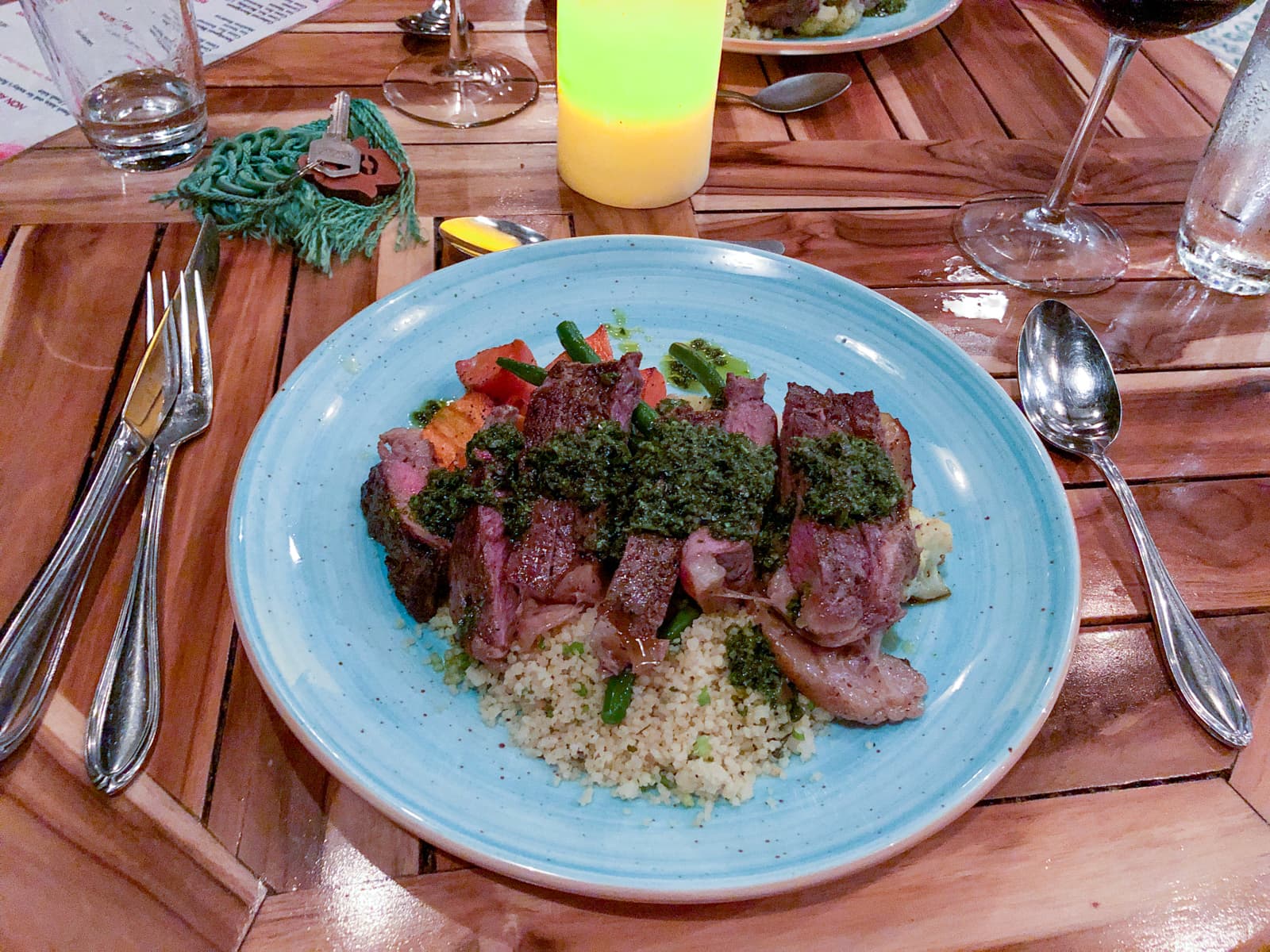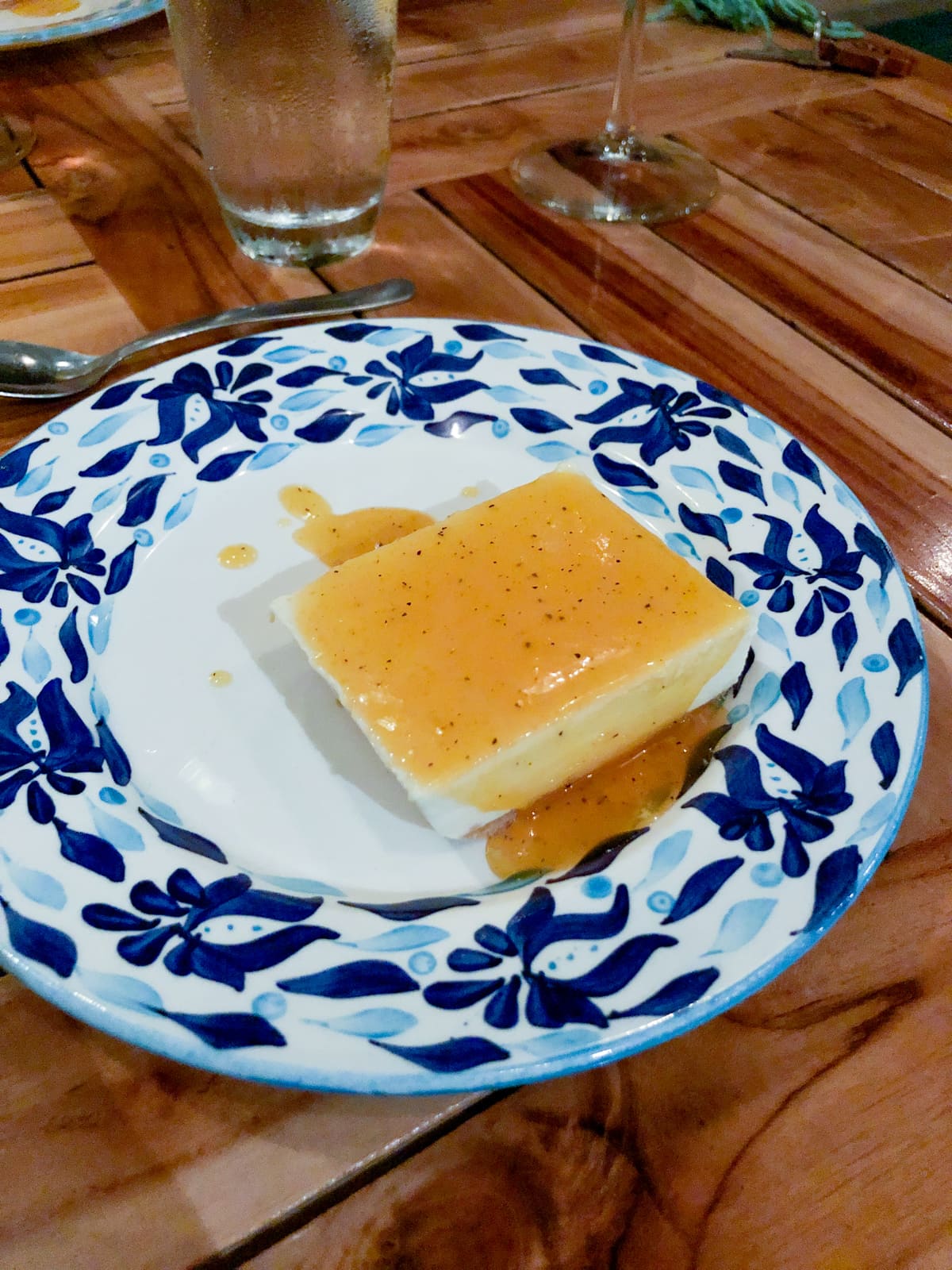 Desserts included cheesecake with passion fruit sauce and several sweet and simple creations.
As I said earlier, the food and Cayena Beach Villa surpassed my expectations, making the stay better. I wouldn't be writing about it on Feastio if that hadn't been the case.
And the friendly staff was more than accommodating, too.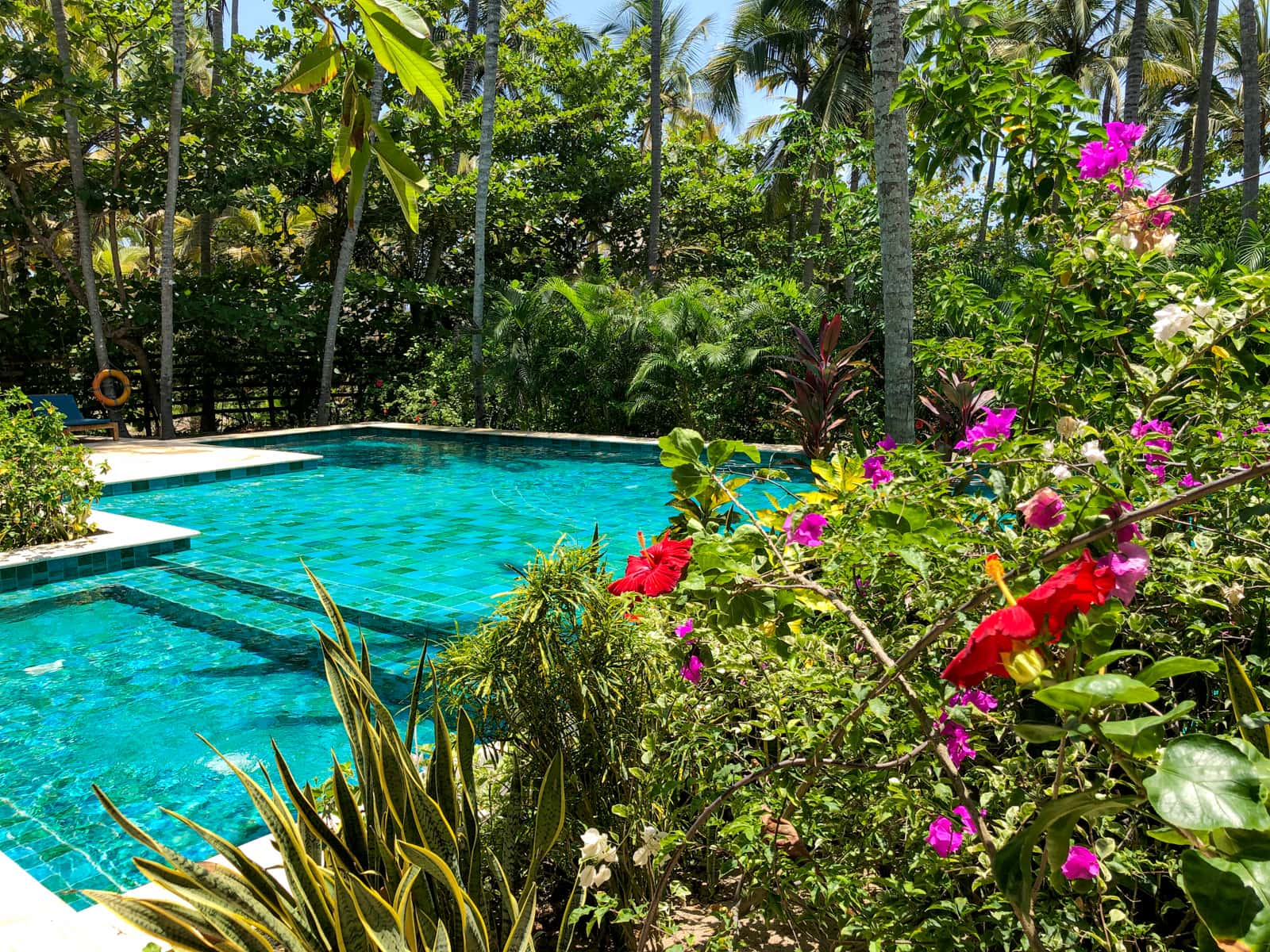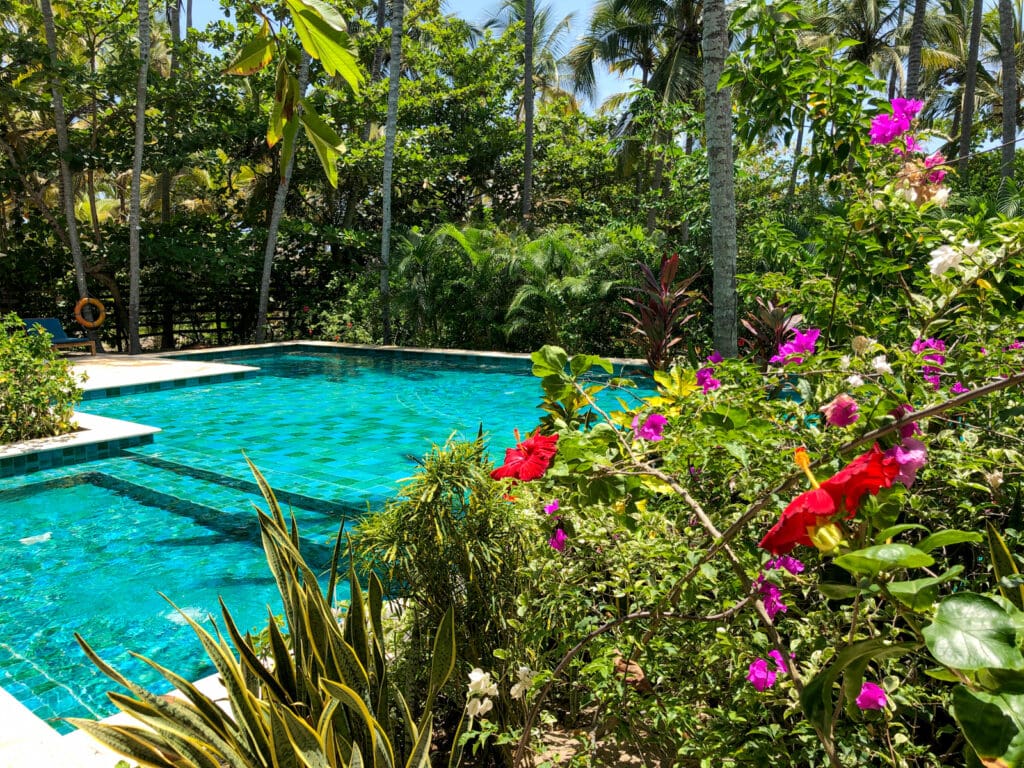 Plan Your Trip
By now, I hope I've convinced you that Cayena Beach Villa is THE place to stay if you're looking for a beach vacation rental near Santa Marta.
Colombia's Caribbean coast can be visited year-round; however, as this is a small boutique villa, rooms fill up fast, especially around Colombian holidays such as Semana Santa (April) and Christmas and New Year's Eve (December).
The easiest way to get there is to fly into Simón Bolívar International Airport in Santa Marta (the nearest airport) and arrange with the hotel for someone to meet you on arrival. It's an hour's drive from the airport to the hotel. If you're driving, there's free private parking.
To see prices and availability for an upcoming trip, check out Cayena Beach Villa on Booking.com.