The Domain in northwest Austin is more than just an outdoor shopping mall—it's a convenient hangout spot. And what better way to catch up with friends over Sunday brunch, get to know a date, or spend time with family than to dine at one of the best restaurants at The Domain?
You'll find everything from fantastic steaks and sustainable sushi to farm-to-table and creative tacos.
While I prefer to highlight independent and family-owned restaurants on Feastio, that's frankly hard to do at The Domain.
The dining options are primarily chain restaurants, some larger than others. However, as I hope to show, that doesn't preclude opportunities for good food.
So grab your appetite and come along as we dive into the best restaurants The Domain in Austin offers.
Where to Eat at The Domain
1. Perry's Steakhouse & Grille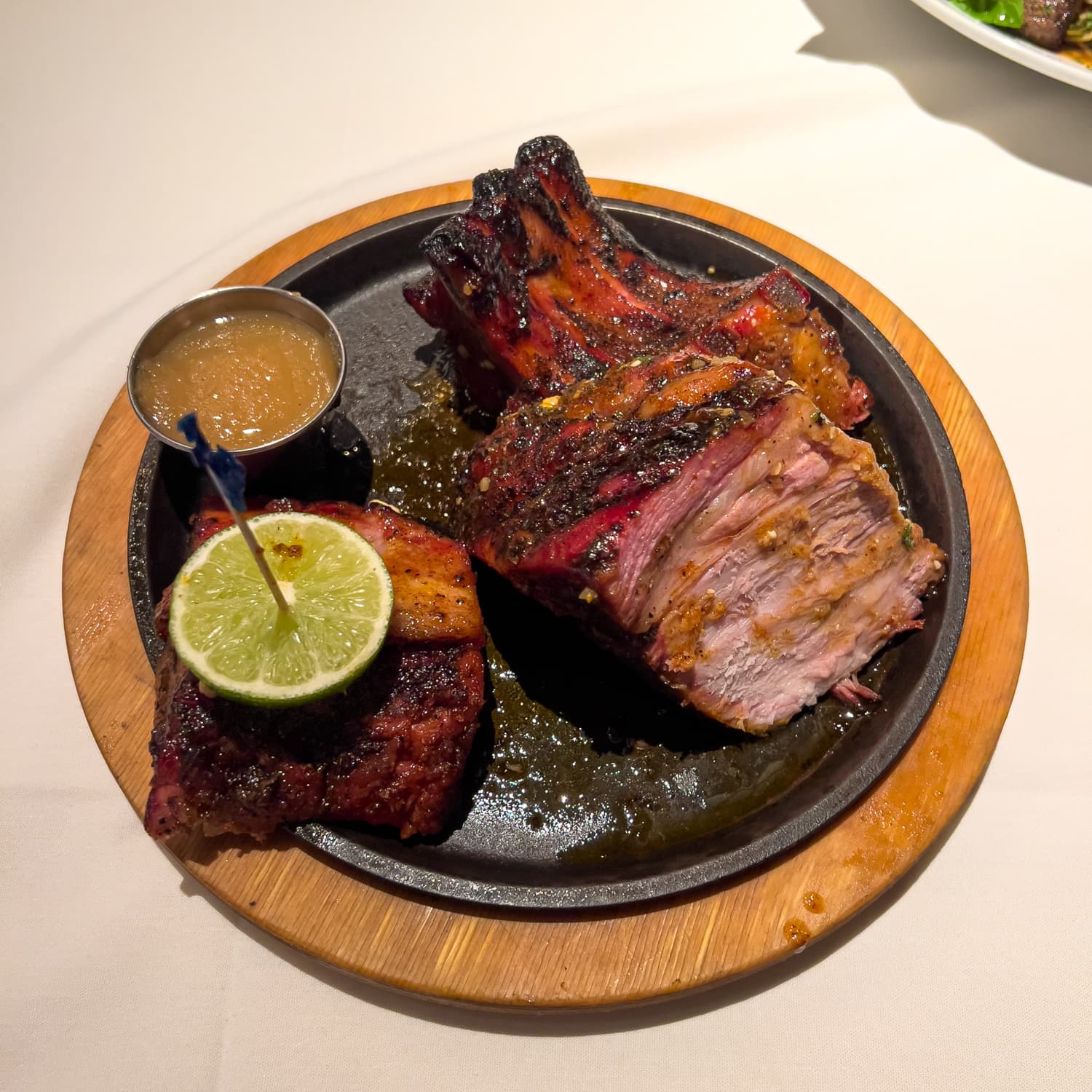 Perry's is renowned for its mouthwatering Prime USDA-aged steaks and signature seven-finger-high pork chop carved tableside.
But it's not just about the meat; the ambiance at this beloved Texas steakhouse is upscale yet inviting, perfect for date nights or special occasions.
My first experience with Perry's was a pork chop dinner at their downtown location with friends while I was still living in nearby East Austin.
After moving to North Austin a few years later, I picked Perry's Steakhouse & Grille at The Domain NORTHSIDE for a birthday dinner date.
The service and food were fabulous at both locations, which is why Perry's kicks off my list of the best restaurants at The Domain.
While Perry's has 13 locations across Texas and a presence in seven other states, their restaurant empire has humble roots. The Perry family entered the restaurant business in 1979 when they opened a Houston butcher shop and deli.
11801 Domain Blvd, Austin, TX, perryssteakhouse.com
2. Paul Martin's American Grill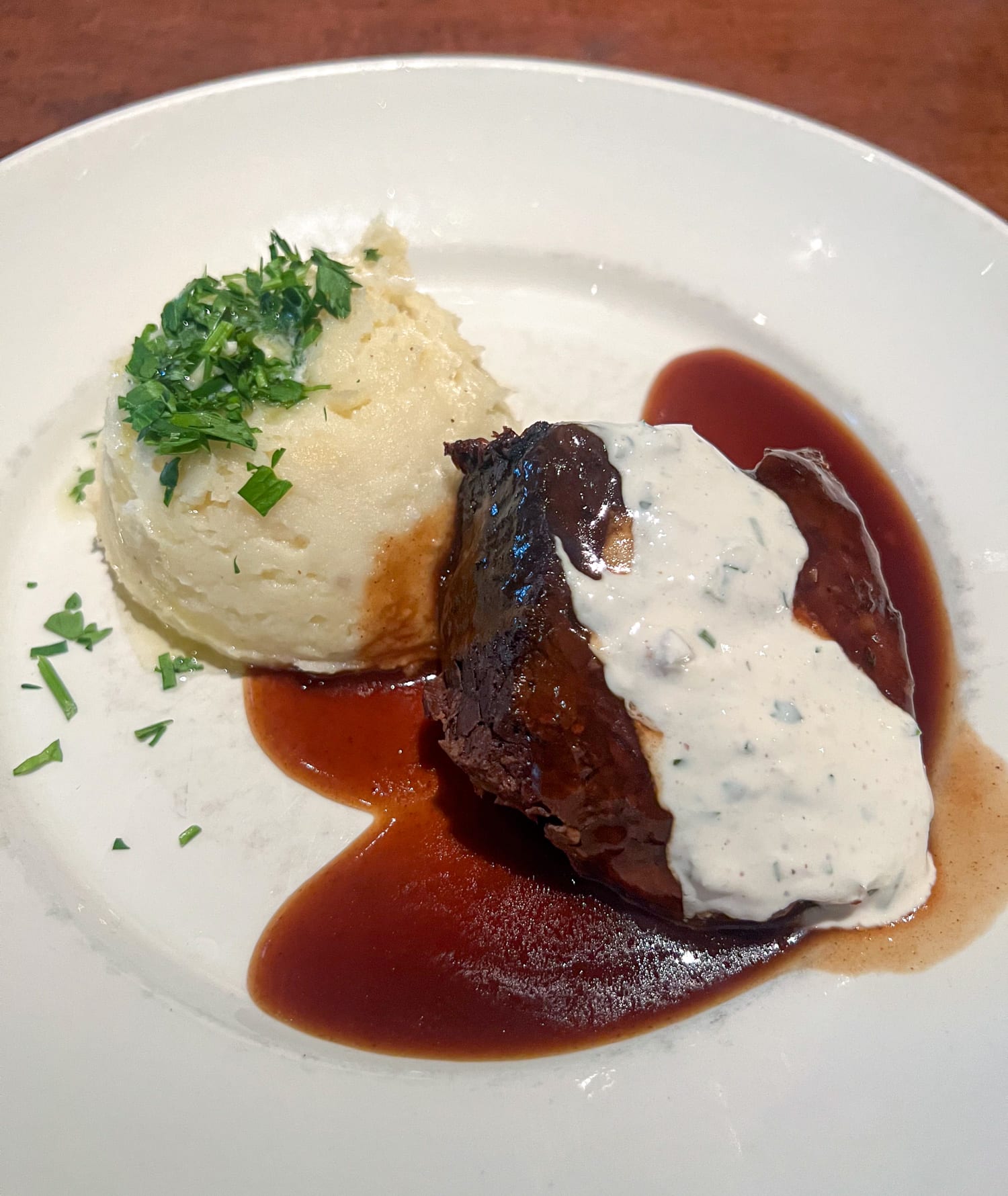 I have my girlfriend, Kel, to thank for introducing me to Paul Martin's American Grill. We went there for a celebratory dinner, and I was impressed by the high-quality food.
The cheddar biscuits with honey-thyme butter and braised short ribs with horseradish cream were excellent. Their signature warm butter cake served in a cast iron skillet with a scoop of vanilla ice cream was also memorable.
Sustainable steelhead salmon, Cajun BBQ shrimp, and St. Louis-style BBQ pork ribs were some of the other house specialties that caught my eye that night. Lighter main courses include burgers, salads, a spicy chicken sandwich, and seafood tacos.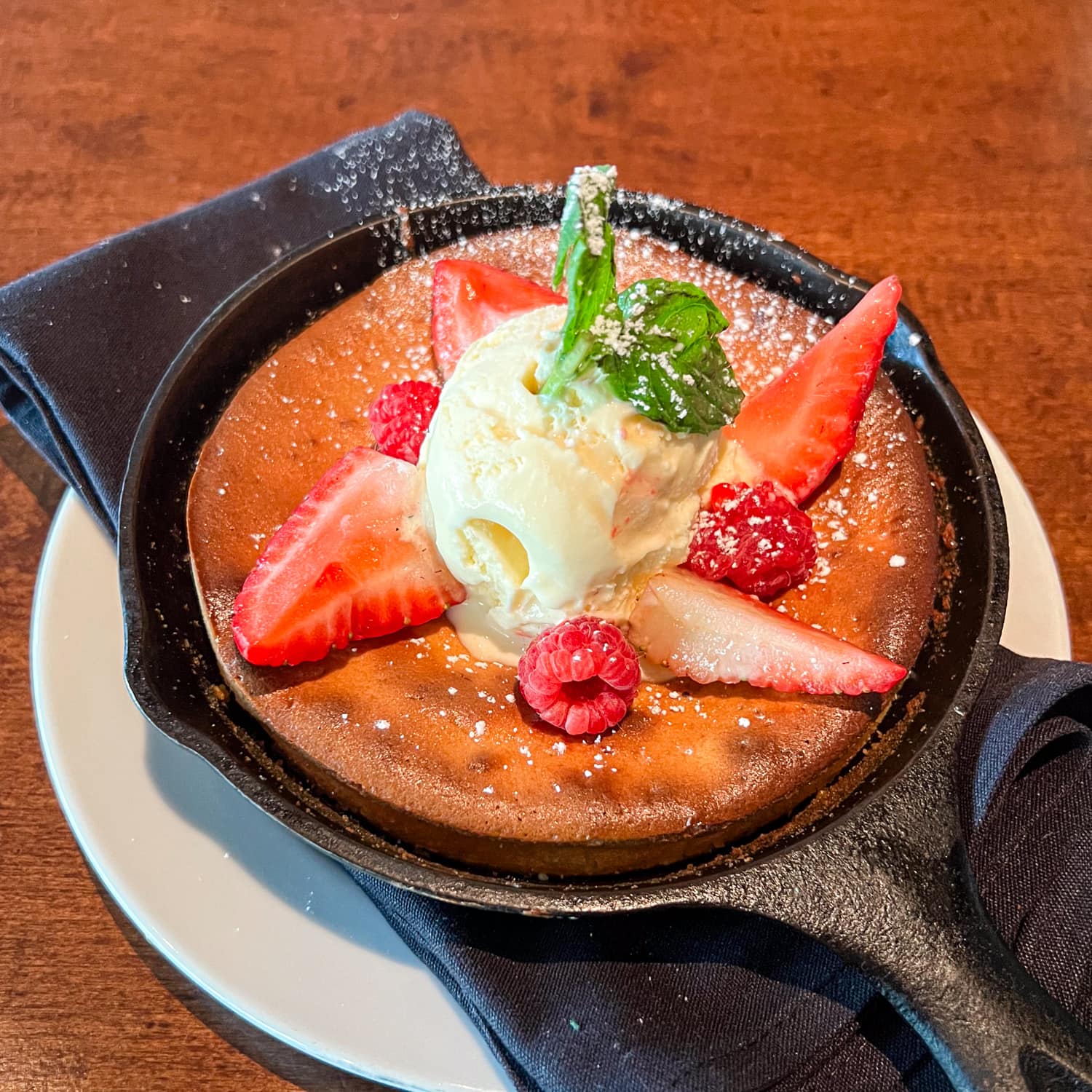 Louisiana native Paul Martin Fleming founded the American restaurant in 2007 and opened its first location in Roseville, California. He's since added five more restaurants in California, plus two in Austin and Scottsdale.
Paul Fleming is also the founder of two significantly larger national chains, Fleming's Steakhouse (also located at The Domain) and P.F. Chang's China Bistro (which he sold in 2012 for $1.1 billion).
3120 Palm Way #130, Austin, TX, paulmartinsamericangrill.com
3. Plank Seafood Provisions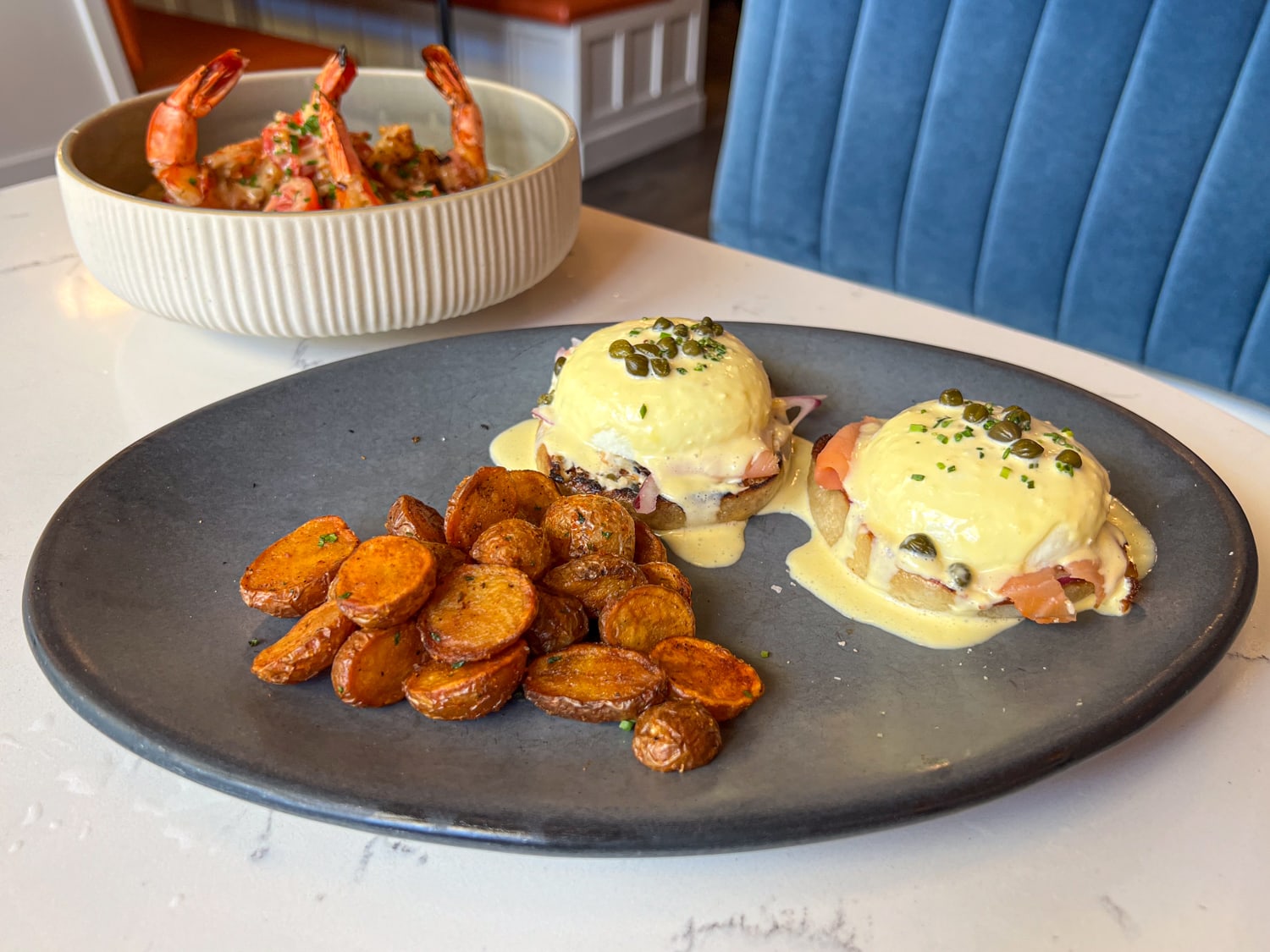 I have a growing appreciation for restaurants that provide transparency around their efforts toward sustainability.
Such was the appeal of Plank Seafood Provisions, an oyster bar and seafood grill that supplies a clickable map on their website to highlight where the food you're eating originated on Earth.
Speaking of eating, the opportunity to sample Plank restaurant's new brunch menu at The Domain in Austin was an invitation I couldn't pass up.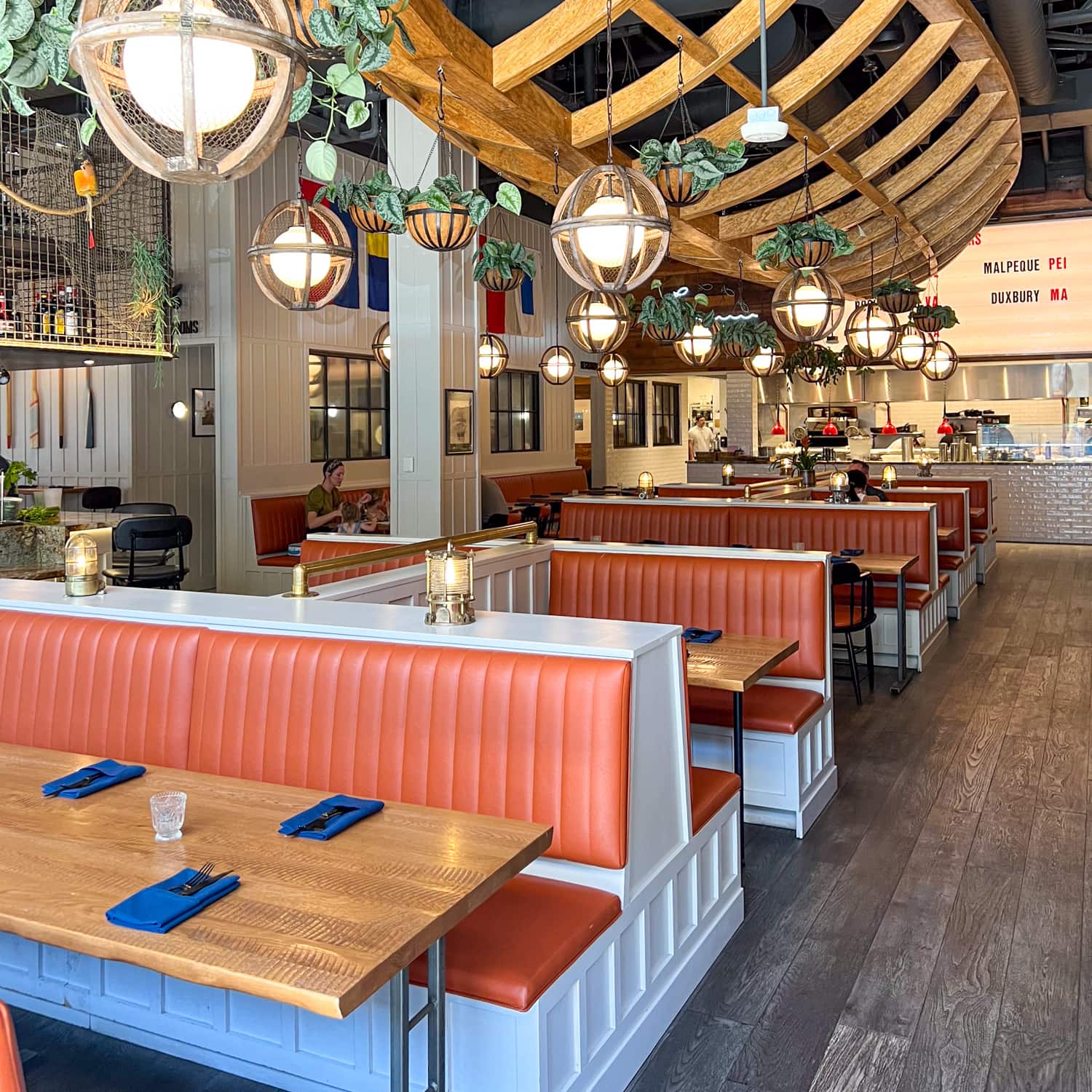 Craft cocktails, Maine oysters, smoked salmon Benedict, and bacon-wrapped shrimp with a crawfish beurre blanc sauce were equally enjoyable.
In addition to drink deals, Plank offers half-priced iced oysters during happy hour from 3 p.m. to 6 p.m., Monday to Friday.
Plank Seafood Provisions is owned by the Flagship Restaurant Group, an Omaha-based organization with a portfolio of a dozen distinct restaurant and bar concepts.
11410 Century Oaks Terrace #136, Austin, TX, plankseafood.com
4. AKB Hotel Bar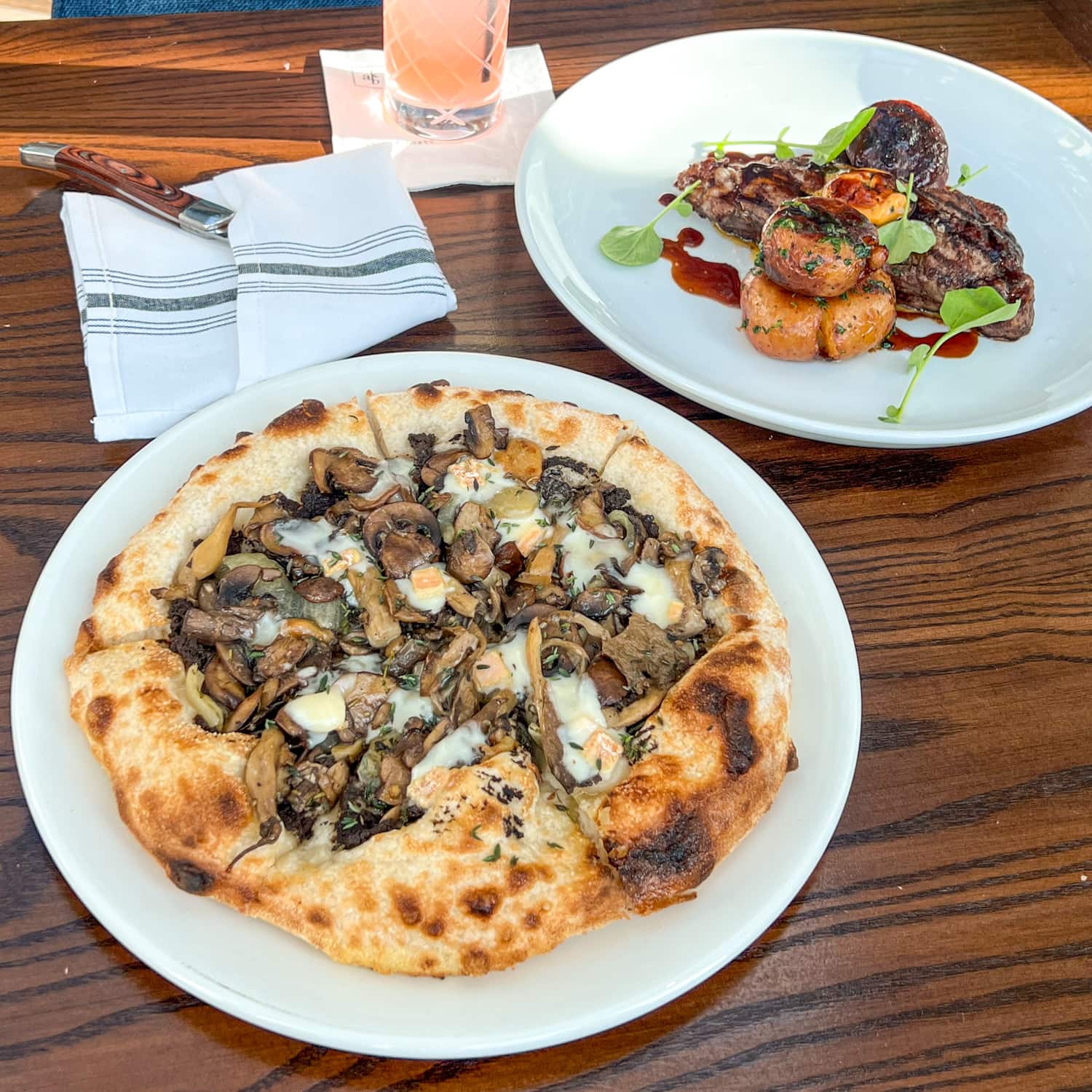 A new restaurant spicing up the dining scene at The Domain NORTHSIDE is AKB Hotel Bar at Archer Hotel Austin. This hotel restaurant opened in early 2023, taking over the space previously used by Second Bar + Kitchen.
During the day, the dining room is flooded with natural light, thanks to a glass atrium, and features two massive stars hanging from the ceiling.
Imagine sipping craft cocktails like the signature "Violet Sky," inspired by Austin's iconic sunsets, while munching on wood-fired pizzas and post-oak-smoked street corn.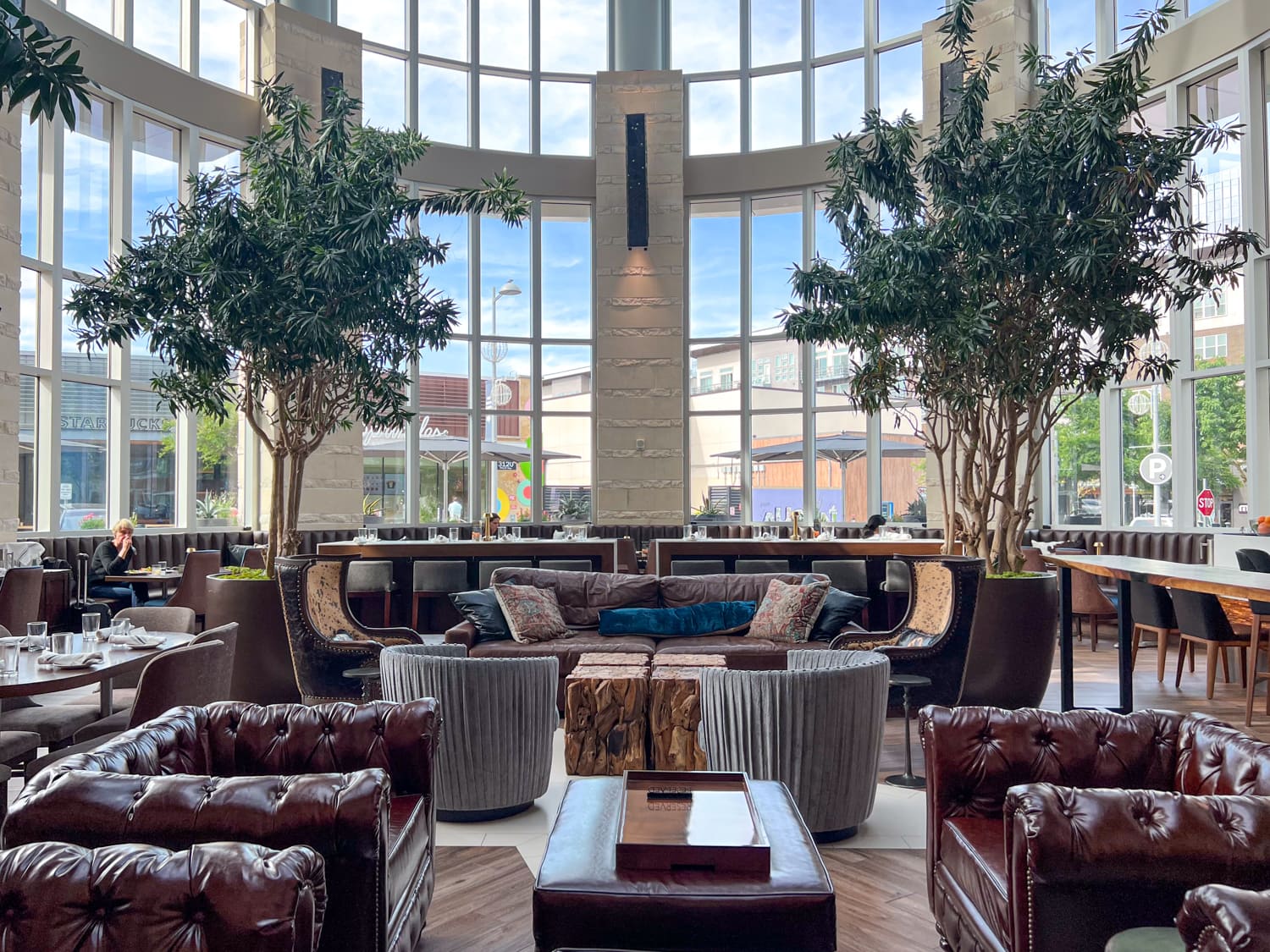 French-born executive chef Eric Francy is behind the menu. The food is top-notch, from a 10-ounce N.Y. strip steak that'll make you swoon to sumptuous desserts like a Garrison Brothers salted caramel bourbon shake.
And for my non-drinkers, they've got you covered with zero-proof cocktails that are just as exciting. So whether you're in the mood for a happy hour or a full-on feast, AKB Hotel Bar is a must-try.
3121 Palm Way #101, Austin, TX, akbhotelbar.com
5. Thai Kun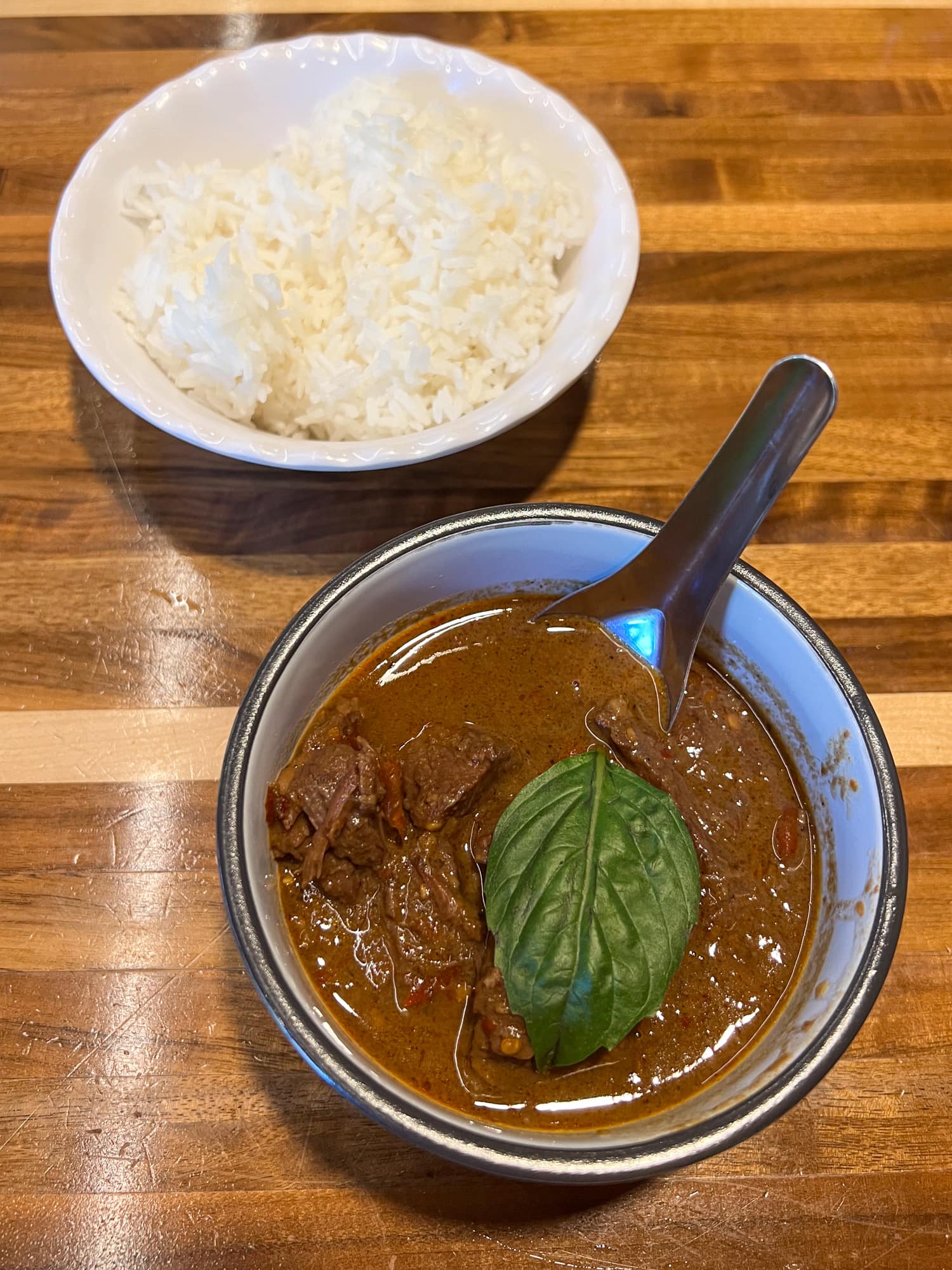 If you're craving authentic Thai street food with a modern twist, look no further than Thai Kun on Rock Rose Avenue.
Chef Thai Changthong, a Bangkok native, doesn't shy away from spices, so be prepared for a kick in some dishes that'll leave your taste buds tingling.
The chef built his culinary chops under the guidance of his father and, later, chef Paul Qui while working at Uchi and Uchiko (two of Austin's best restaurants).
In 2014, Bon Appétit magazine named Thai Kun, operating as a food truck at the time, one of America's 10 Best New Restaurants.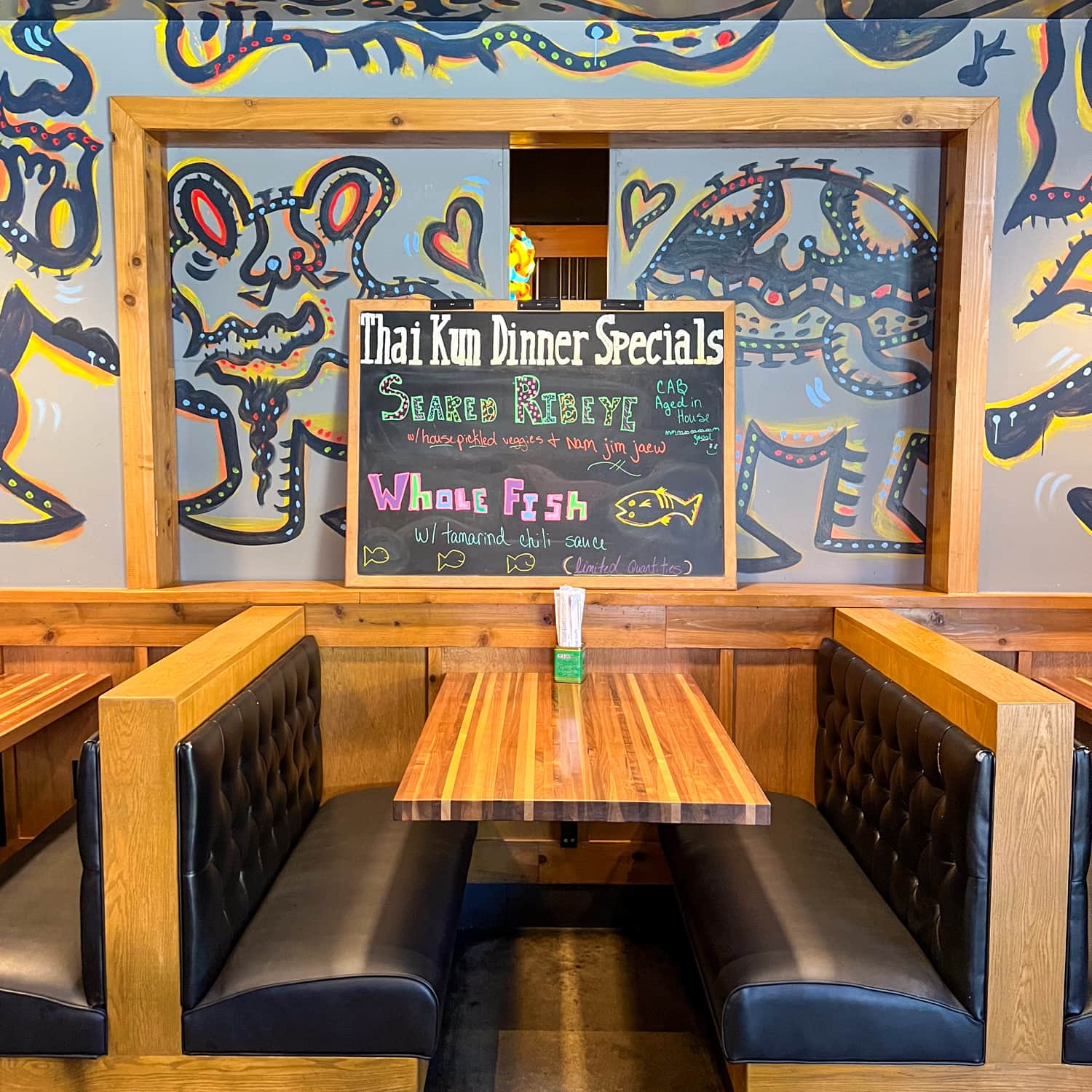 Food trailer success led to a stylish brick-and-mortar restaurant. Among the Domain's many places to eat, Thai Kun stands out with its vibrant atmosphere and savory dishes.
From classics like pad thai and green curry to inventive options like waterfall pork and short rib panang curry, the menu offers a variety of Thai cuisine.
Thai Kun's outdoor seating area is an excellent spot for people-watching, and the laid-back vibe makes it perfect for casual meet-ups.
After establishing his restaurant at The Domain in Austin, Chef Changthong opened a second Thai Kun in downtown Houston's POST Market (food hall).
11601 Rock Rose Ave, Austin, TX, thaikun.com
6. Blue Sushi Sake Grill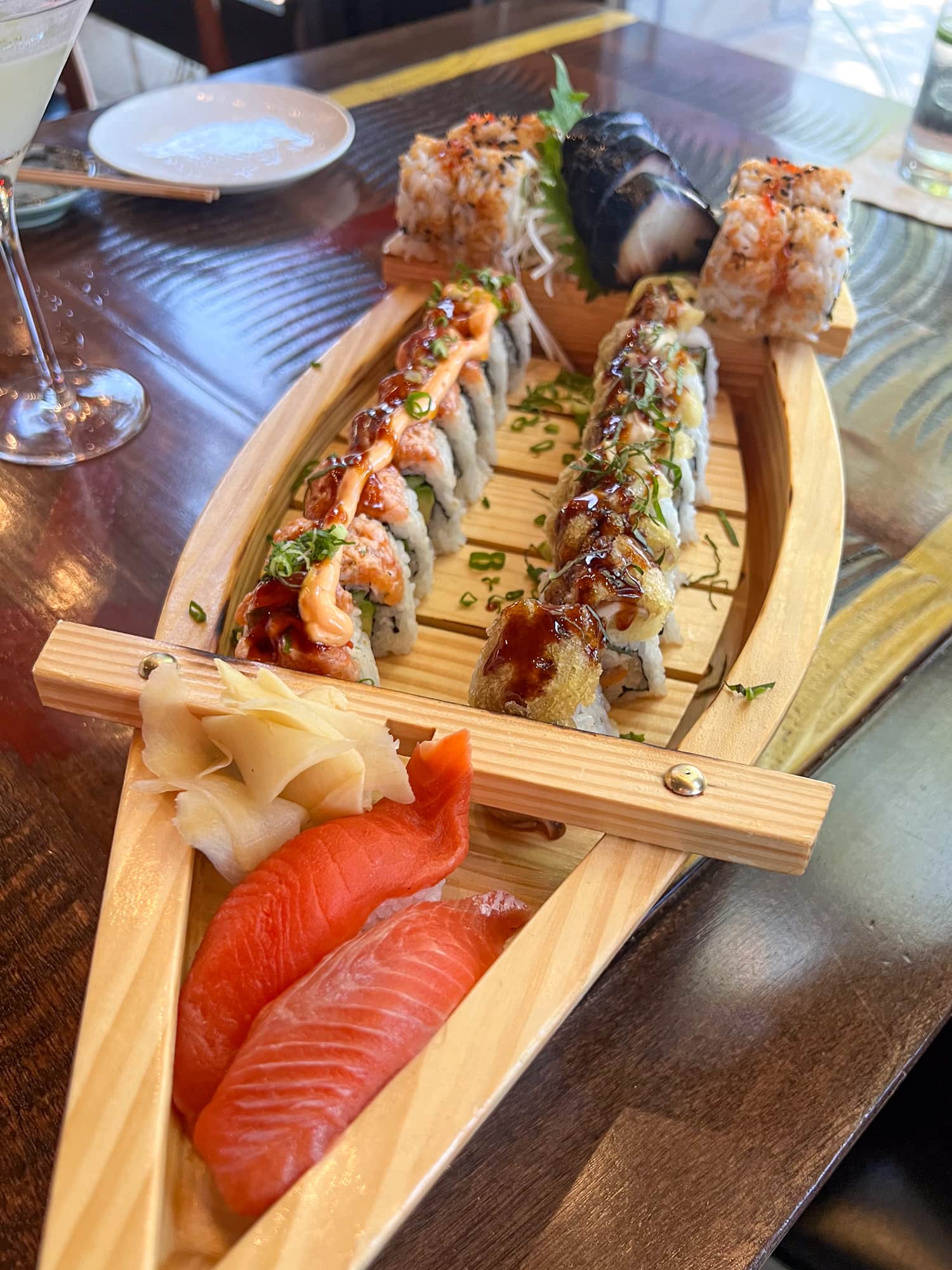 Sushi lovers were lined up outside Blue Sushi Sake Grill, waiting for them to open, when I arrived for lunch on a Sunday afternoon in late September.
Inside the sleek Japanese restaurant in the middle of The Domain was a slightly clubby atmosphere. A colorful Godzilla mural and hanging lanterns light up the place.
Our party of three was seated on the outdoor patio, which was helpful for taking photos but lacked the same decor and feel as the interior dining rooms.
I kicked off the meal with a Hapa Highball whiskey cocktail instead of choosing a sake, though their offerings of the latter are reason enough to return.
The sushi menu is extensive, and it will take some time for you to read through all the options. A highlight of my birthday lunch was the Black Tuna, a squid ink and soy-cured escolar sashimi sourced in Hawaii with a deep set longline.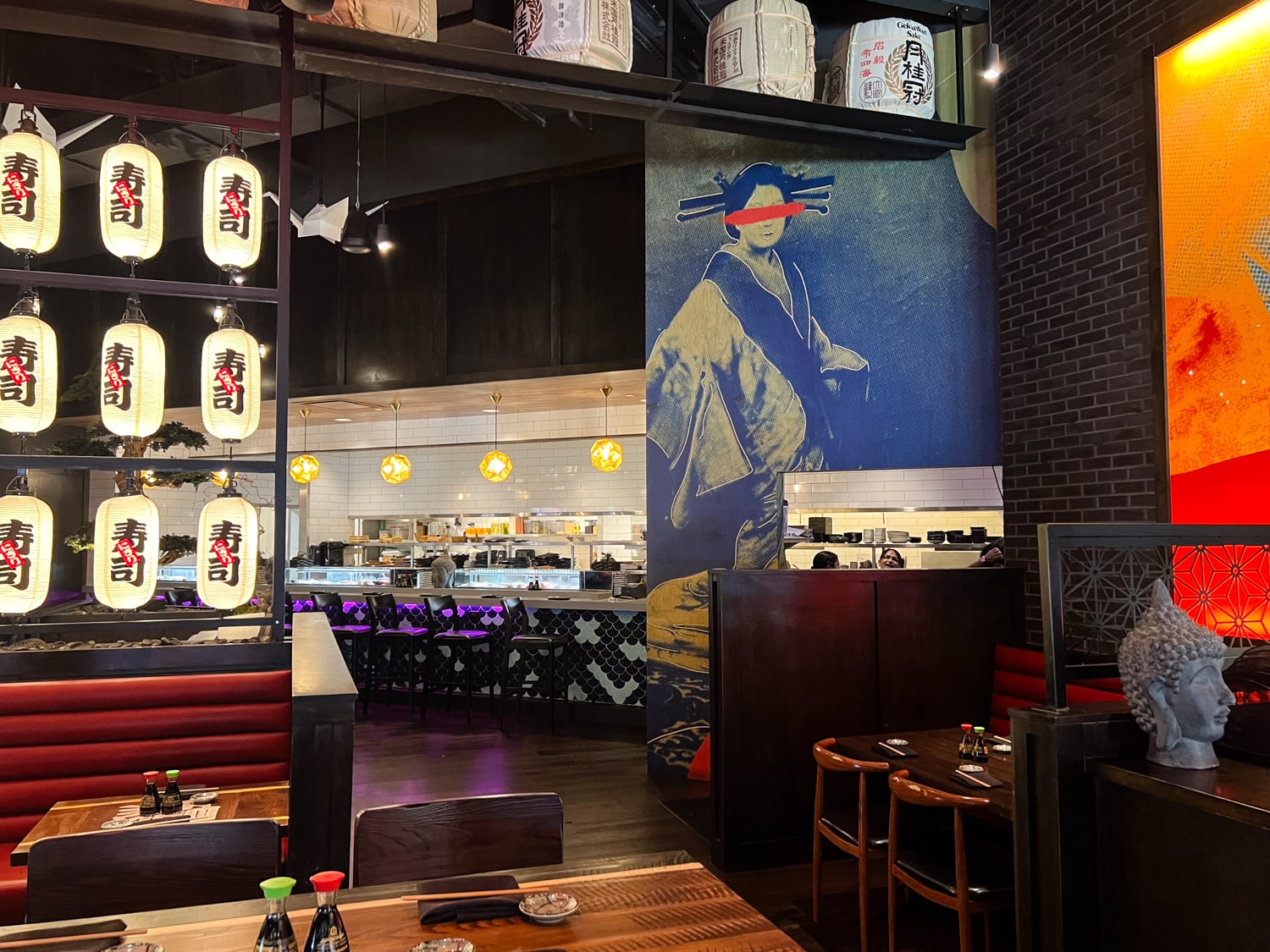 Like Plank Seafood Provisions, the Flagship Restaurant Group owns Blue Sushi Sake Grill, which emphasizes sustainable seafood sourcing through its Conscious Earth program.
As a result, you can relax and know that what's on the menu has been thoughtfully considered regarding how it will taste, how it was caught, and whether it's from a sustainable fish population.
Blue Sushi Sake Grill at The Domain in Austin is one of 20 locations in 12 states.
11410 Century Oaks Terrace Suite 144, Austin, TX, bluesushisakegrill.com
7. True Food Kitchen
I was introduced to True Food Kitchen by my Airbnb host, a chef I stayed with when I first arrived in Austin in 2016.
This fast-growing, health-conscious restaurant chain is all about serving dishes that taste amazing and make you feel fantastic. Think nutrient-packed bowls, seasonal salads, and gluten-free pizzas that don't skimp on flavor.
The atmosphere in their restaurants is casual yet stylish, with bright, airy interiors that make you feel like you're dining in a wellness retreat.
And let's not forget the drinks—fresh-pressed juices, natural sodas, and zero-proof cocktails are all on the menu (in addition to wine, beer, and regular cocktails).
Whether you're vegan, vegetarian, looking to eat a little cleaner or have a food allergy, True Food Kitchen offers a guilt-free dining experience that'll leave you satisfied and energized, it's the perfect spot for anyone who loves delicious food that's good for you.
True Food Kitchen has two restaurants in Austin (The Domain and Seaholm District downtown), plus four more in Texas (Dallas, Plano, Houston, and The Woodlands). They operate in 17 states, given their popularity, that's sure to increase.
11410 Century Oaks Terrace, Ste 100, Austin, TX, truefoodkitchen.com
8. Culinary Dropout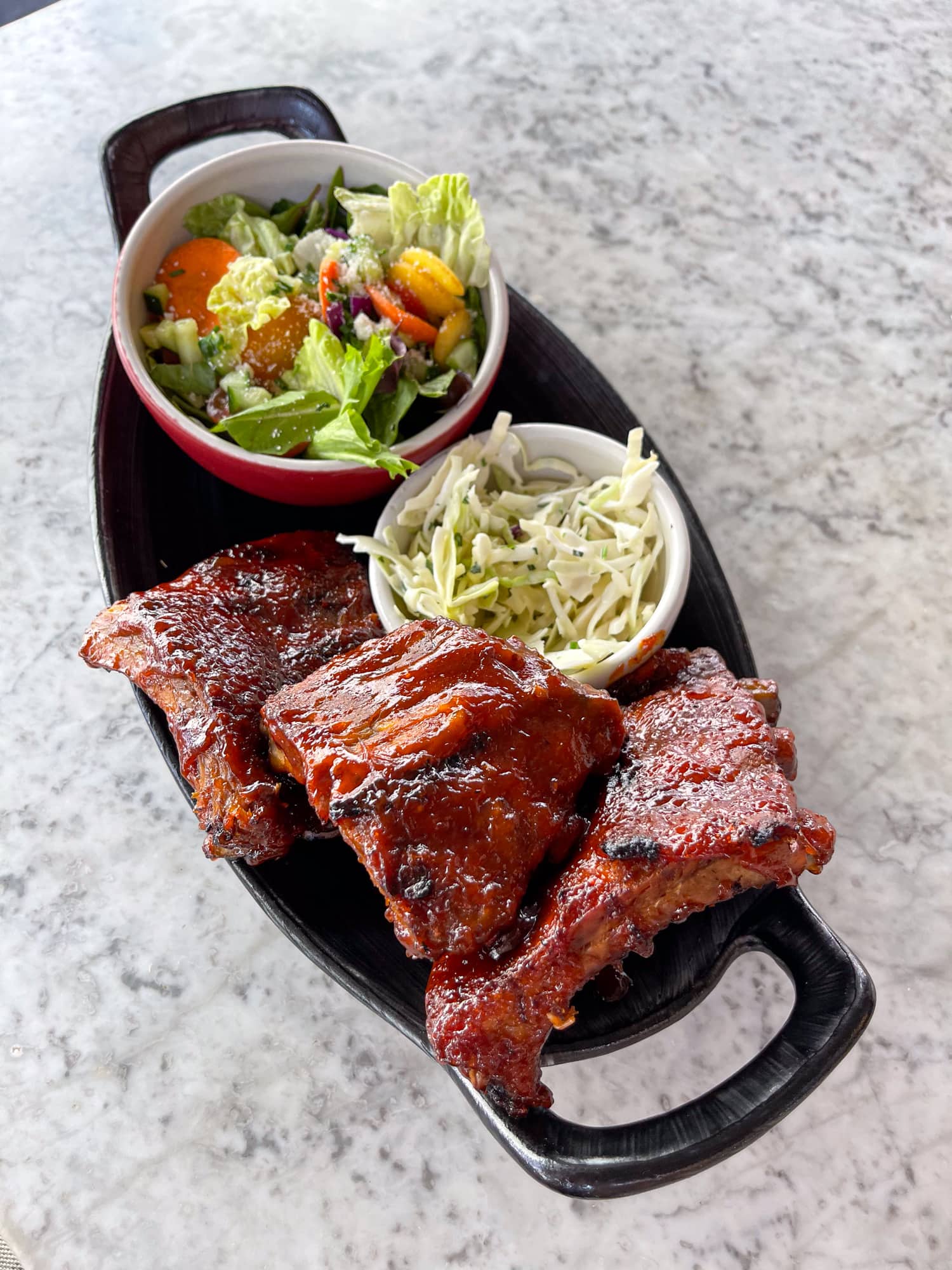 The first time I ate at Culinary Dropout, a British-style gastropub, I was drawn to the 36-hour pork ribs with jalapeno and molasses. They were tasty enough to leave a lasting impression.
Another signature dish is the soft pretzels with provolone fondue. Or you could go full-on Brit with beer-battered fish and chips.
Are you in the mood for BBQ pork belly nachos on Game Day? Go for those. Or lean healthy side with a choice of five salads, any of which you can add salmon, steak, chicken, or shrimp.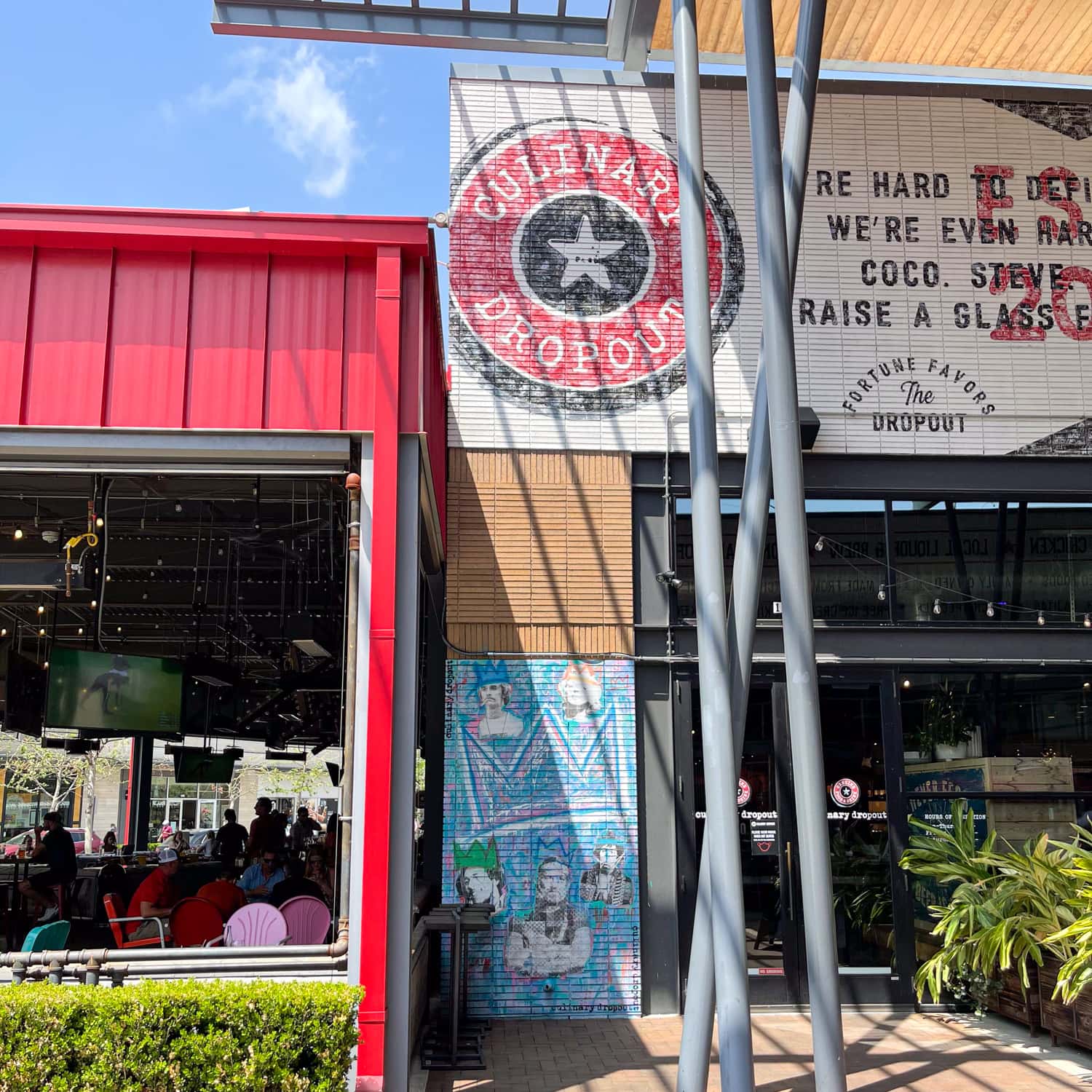 Like any good gastropub, Culinary Dropout offers a wide range of beers on tap, including local brewers Austin Beerworks and Austin Eastciders. And Spoetzl Brewery's Shiner Bock is available by the bottle. Sadly, no Guinness on tap.
An extensive craft cocktail menu, zero-proof drinks, and wine are also available.
Culinary Dropout has nine locations in six states, with more on the way. It's owned by Fox Restaurant Concepts, which also operates Flower Child, a healthy, fast-casual restaurant chain.
11721 Rock Rose Ave #100, Austin, TX, culinarydropout.com
9. Velvet Taco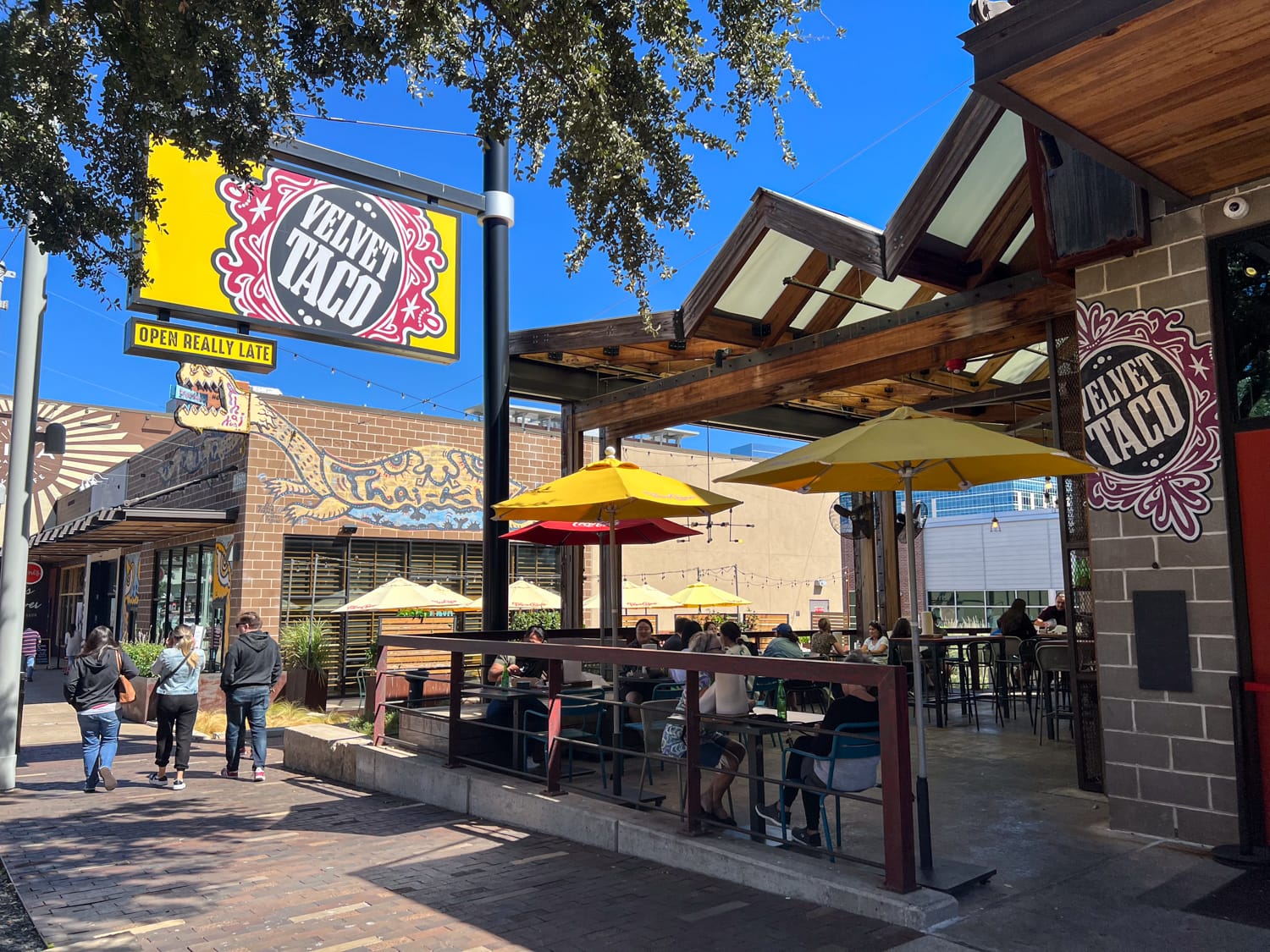 This isn't your average taco joint; it's a culinary adventure that takes the humble taco to new heights.
Imagine globally-inspired fillings like spicy tikka chicken, Nashville hot tofu, and Kobe smash burger, made with fresh ingredients and wrapped in a warm tortilla. Yeah, it's that good.
Plus, their Backdoor Chicken is a great deal. You get a whole rotisserie chicken, six tortillas, three sides, and two hot sauces for $15.
The vibe is casual and funky, making it a perfect spot for a quick lunch or a late-night snack after drinks at one of the rooftop bars on Rock Rose Avenue.
My first experience with Velvet Taco was at The Domain, and they opened my eyes to some of the creative ingredients you can add to a taco.
They've since opened a second location at 6th Street and Congress Avenue in downtown Austin, and a third location in Round Rock is coming soon. The chain operates in seven states across the Southeast, plus Chicago.
11501 Rock Rose Ave Ste 160, Austin, TX, velvettaco.com
10. North Italia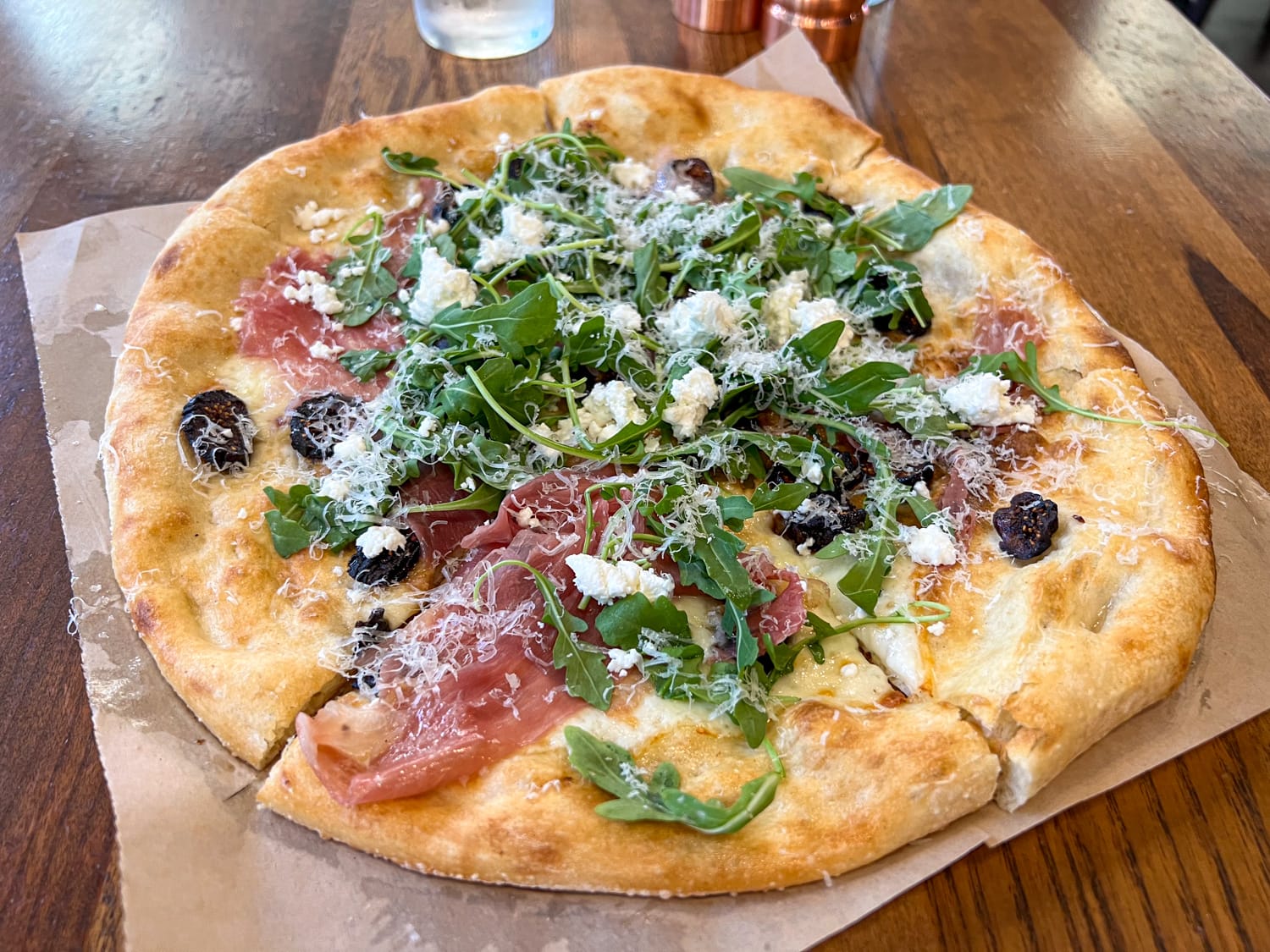 Are you craving some Italian amore in the heart of Texas? Say "Ciao!" to North Italia, one of the best restaurants at The Domain in Austin.
This is the perfect place for Italian cuisine made with quality ingredients. The handmade pasta? Excellent, from the tagliatelle with bolognese (a house specialty) to the strozzapreti.
Plus, their pizzas are wood-fired to perfection with toppings that range from classic Margherita to the more adventurous, like the Prosciutto with mission fig, goat cheese, and arugula (my favorite).
The atmosphere is warm and inviting, with an open kitchen that lets you in on the action. Whether you're there for a romantic date night or a lively dinner with friends, it feels just right. And the wine list? Bellissimo!
North Italia boasts dozens of locations across 14 states, from California to Washington, DC.
11506 Century Oaks Terrace Suite 124, Austin, TX, northitalia.com
Wrapping Up
As you can see, The Domain in Austin is more than just a place to buy new clothes at high-end boutiques—it's a restaurant hotspot.
Whether you're winding down from a long day of shopping or looking to kick off a night of good times, the best places to eat at The Domain have something for everyone. From fantastic steaks at Perry's to the health-conscious menu items at True Food Kitchen, the options are as diverse as they are delicious.
Sure, you'll find many chain restaurants, but as we've seen, that doesn't mean you have to compromise on quality or flavor.
So the next time you plan to hang out at The Domain, consider one of these restaurants to get your foodie fix.