The question of where to find the best brunch in Austin is a hot topic.
Based on years of extensive eating research, I've put together this list taking a few personal preferences into account.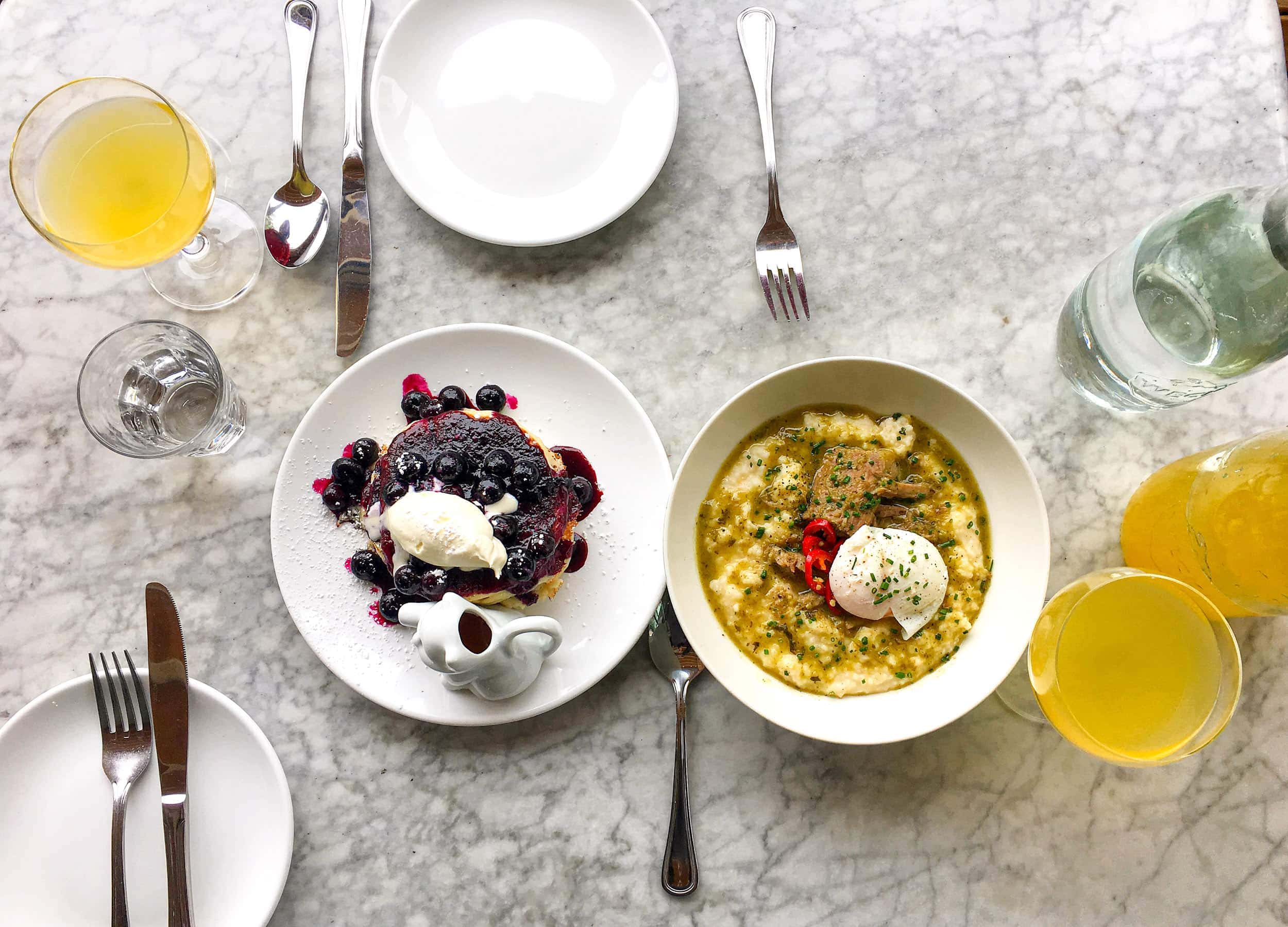 First, these recommendations focus on American-style brunch menus, which tend to be heavy on eggs, bacon, sausage, pancakes (mmm, pancakes), waffles, French toast, etc.
Second, a restaurant's interior design and ambiance are always crucial to me, which goes double for brunch.
Getting a group of friends or family together can often take a lot of coordination.
Picking a unique place will make your brunch experience that much more memorable.
Are you hungry yet? Good, me too. Feast your eyes on the best brunch places in Austin!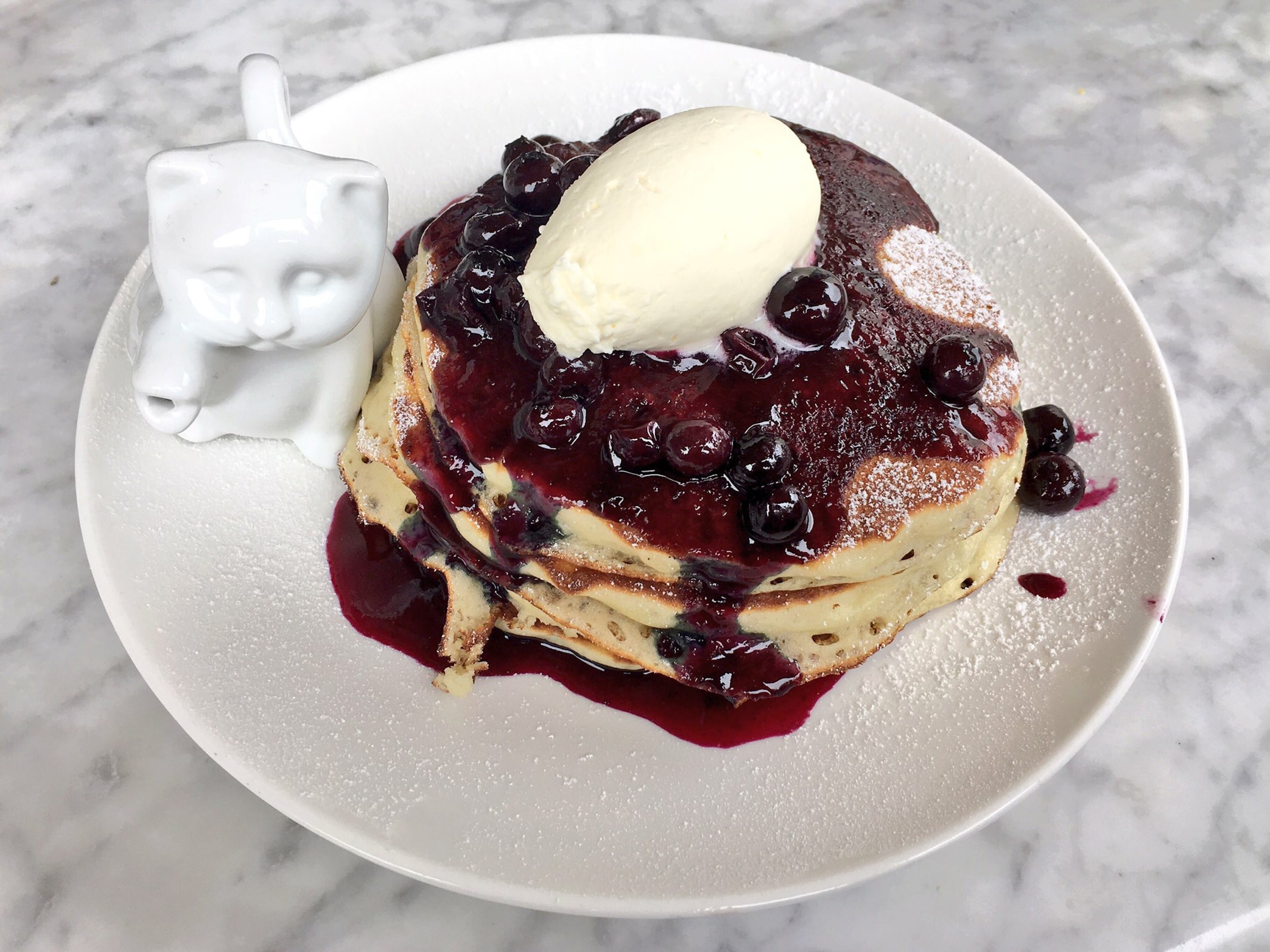 Top 3 Picks for Best Brunch in Austin
Launderette
Launderette is the darling of East Austin and one of the overall best restaurants in the city. The first three or four times I ate here, it was always for brunch.
Their signature buttermilk pancakes with blueberry maple compote and creme fraiche are the bomb.
I didn't even eat blueberries before I tried them on these pancakes, and now they're a regular part of my diet. Thanks, Launderette!
I recommend ordering the pastry of the day to nibble on while you make other decisions.
The current brunch menu features nine specialties, priced from $12 for the fried egg BLT to $18 for the asparagus benny with sourdough English muffin, poached eggs, taleggio, and truffle hollandaise.
Launderette also employs one of the best pastry chefs in the city, so try a dessert, too.
Brunch hours: 11 am - 2:30 pm, Saturdays and Sundays
2115 Holly St, East Austin, launderetteaustin.com
See also: Best Coffee Shops in Austin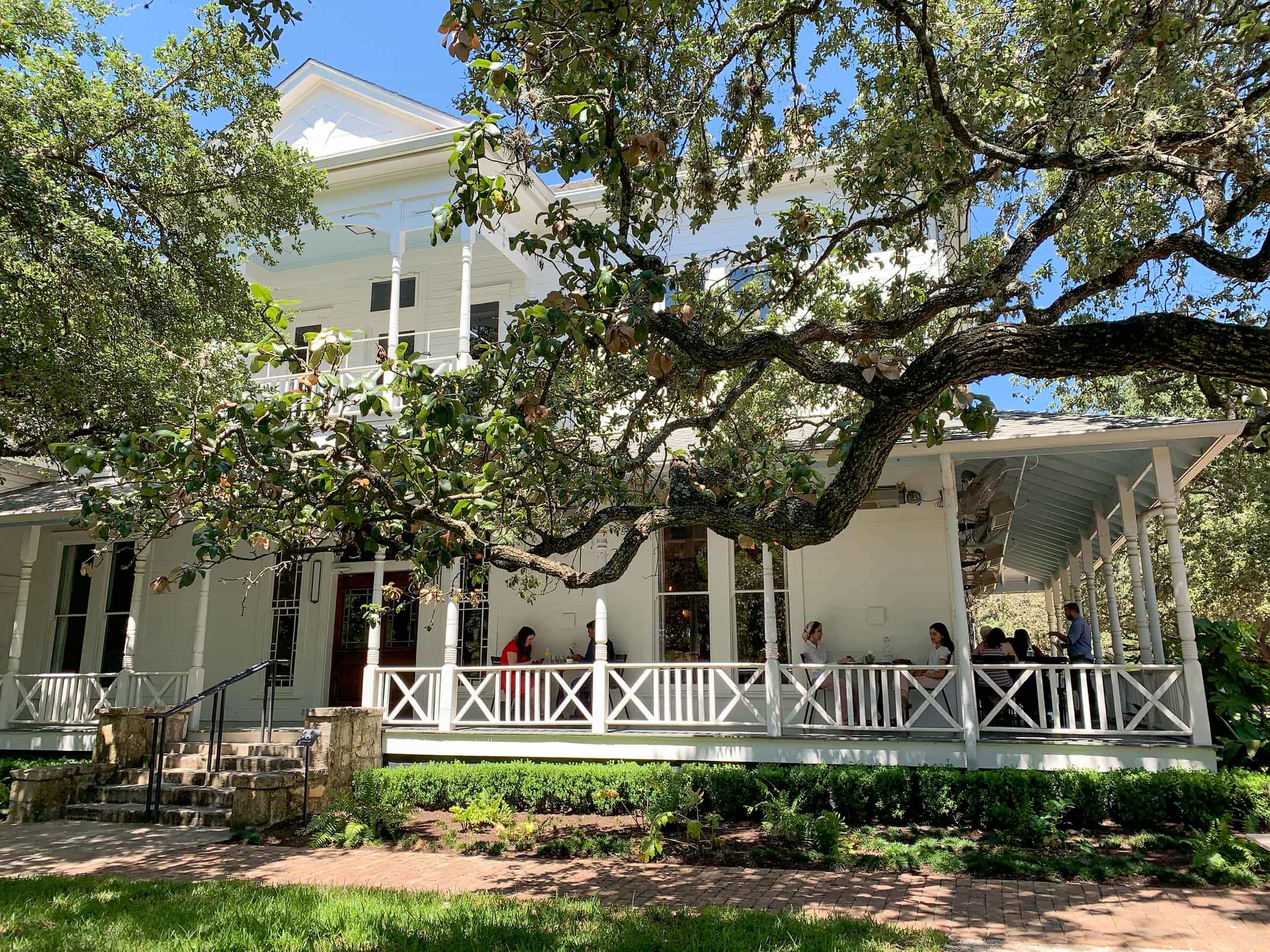 Mattie's
For the best Sunday brunch in Austin, go to Mattie's.
The renovated, century-old former farmhouse is in beautiful condition, inside and out.
The wrap-around porch offers a picturesque setting for brunch, as do the interior (and air-conditioned) dining rooms and bar.
Start sweet with the buttermilk biscuits with seasonal butter and local honey and a plate of three mini doughnuts with lemon curd and blueberries.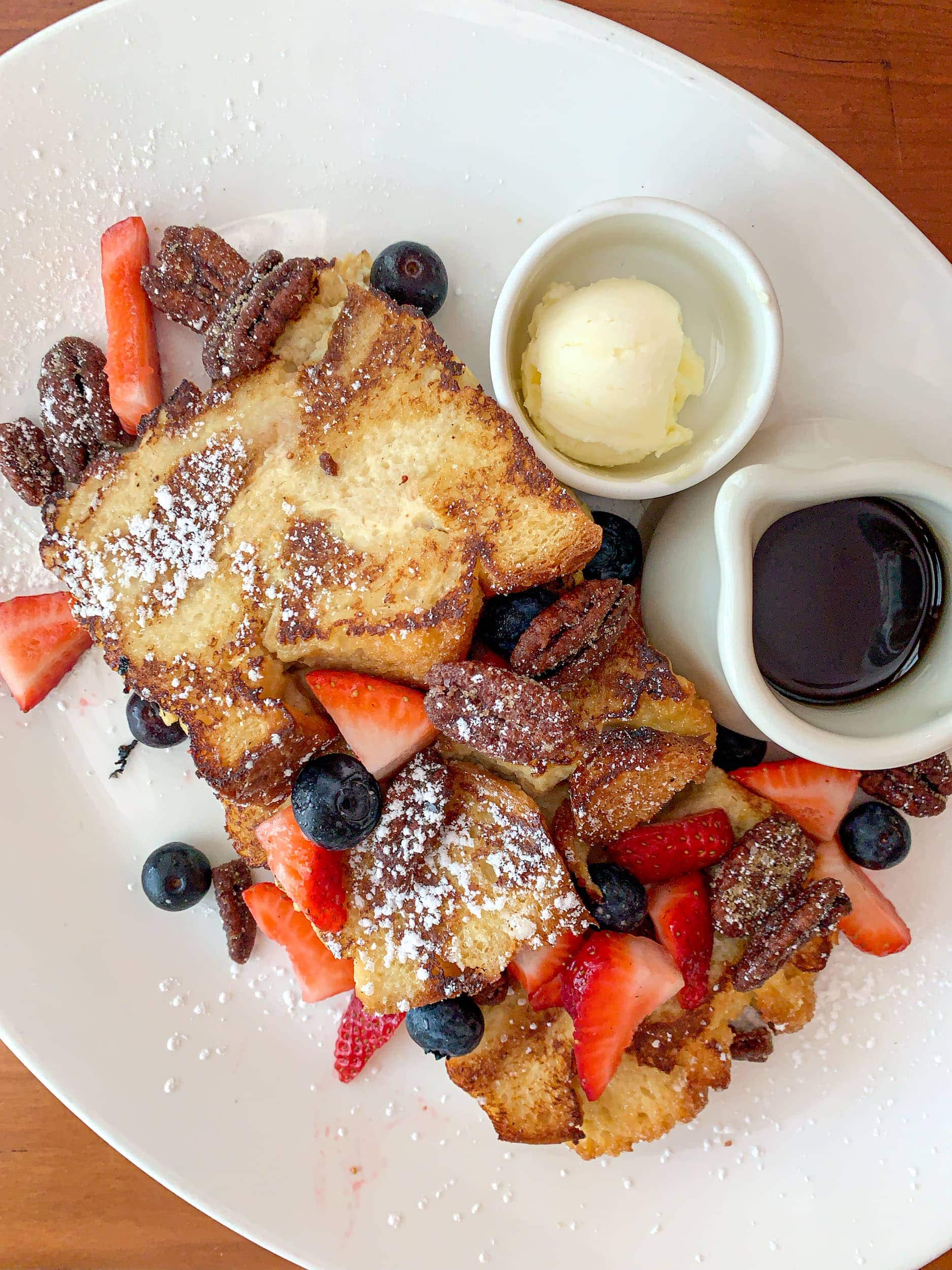 A housemade quiche, fried chicken eggs Benedict, and duck confit hash will all vie for your attention under the entrees.
I recently went with the brioche French toast with candied pecans, fresh berries, and bourbon-maple syrup.
I don't order French toast often, but this preparation may change that as it was incredible.
Try the 1965 milk punch with bourbon, cognac, and rum if it's a boozy brunch you're looking for.
It's available in a single five-ounce serving or by the carafe for a group.
And don't forget to keep an eye out for the resident peacocks which roam the grounds, including an all-white albino.
Brunch hours: 11 am - 2 pm, Sundays
811 W Live Oak St, South Austin, mattiesaustin.com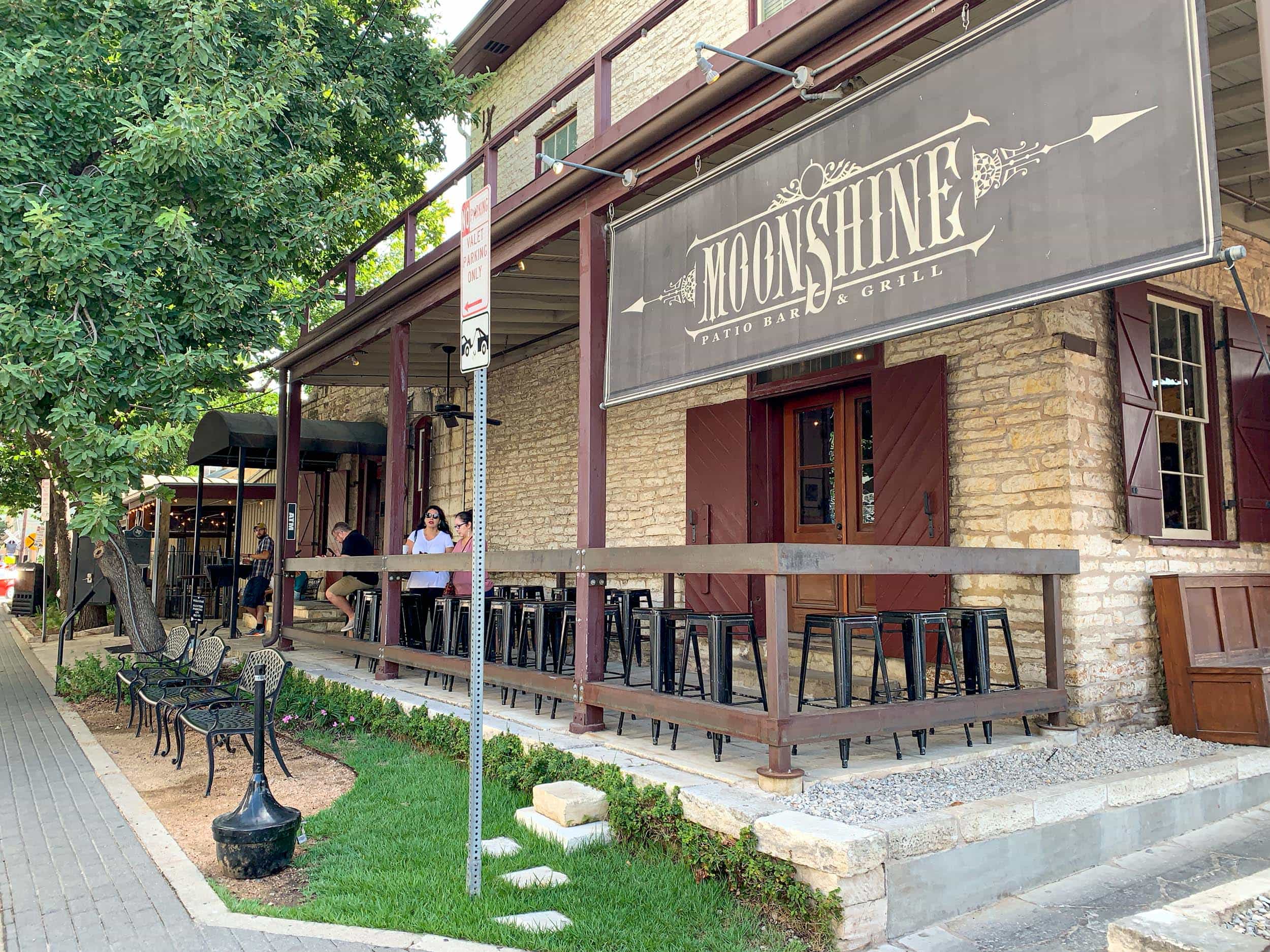 Moonshine Grill
If it's the best brunch buffet in Austin you're looking for, then look no further than Moonshine Patio Bar & Grill.
Housed in a mid-19th century stone building, one of the oldest in Austin, Texas, Moonshine serves an all-you-can-eat buffet of southern foods for just $18.95.
Add a $3 cold brew (with unlimited refills, if you ask), and it's a recipe for a good time at about $25 per person.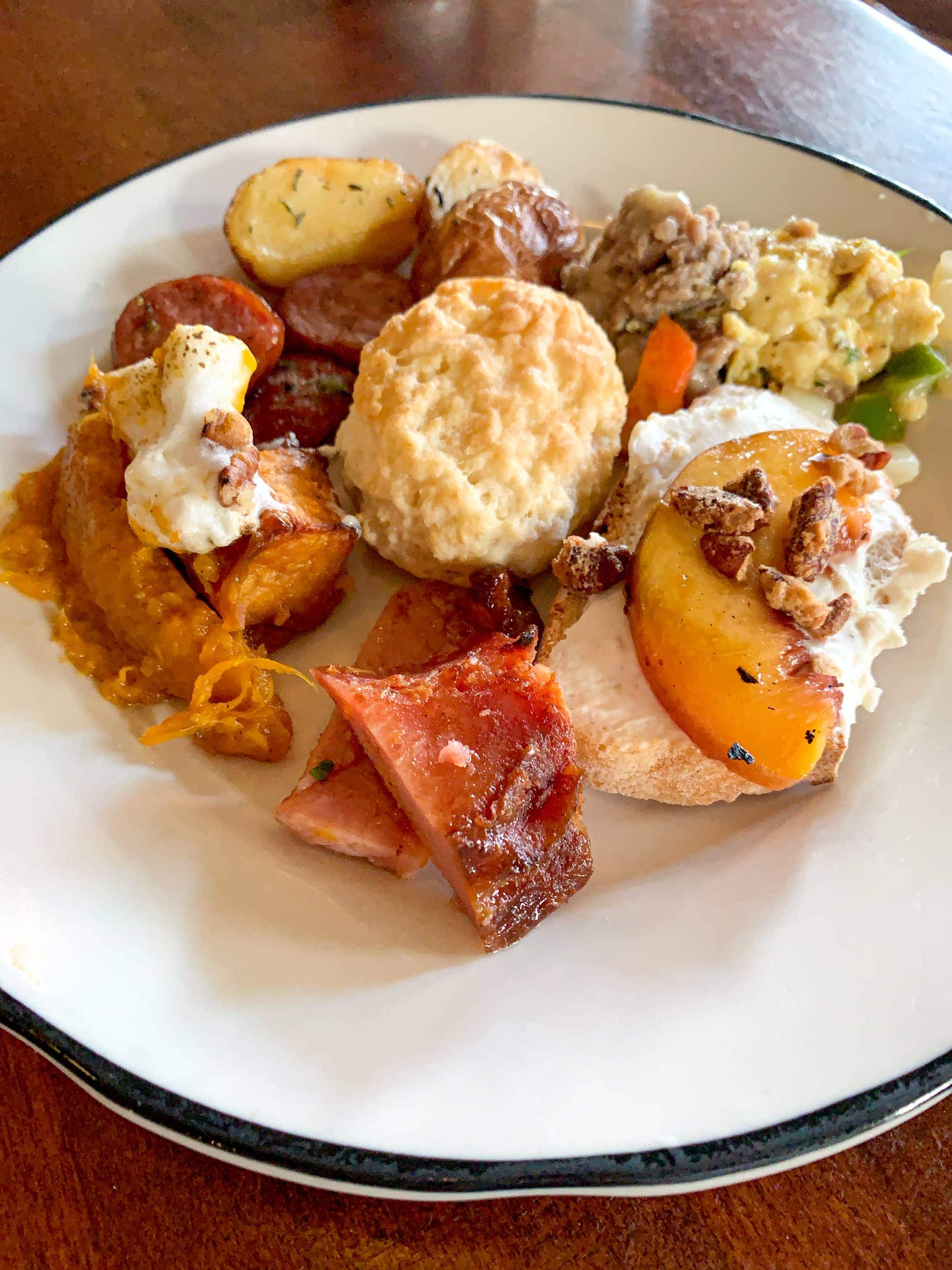 Highlights from my most recent visit include:
country ham
green chile cheese grits
baked macaroni with pimento cheese and bacon gratin
crostinis with goat cheese, honey, grilled peaches, and pecans
red velvet chocolate chip cookies
all three varieties of mini-muffins
Seating is available inside if you prefer easy access to the food and air-conditioning or outside on their covered patio (which has large fans).
There are also two small bars, one in the front and one off the patio. Arrive early to avoid a wait.
Brunch hours: 10 am - 2 pm, Sundays
303 Red River St, Downtown Austin, moonshinegrill.com
See also: Best Restaurants in Austin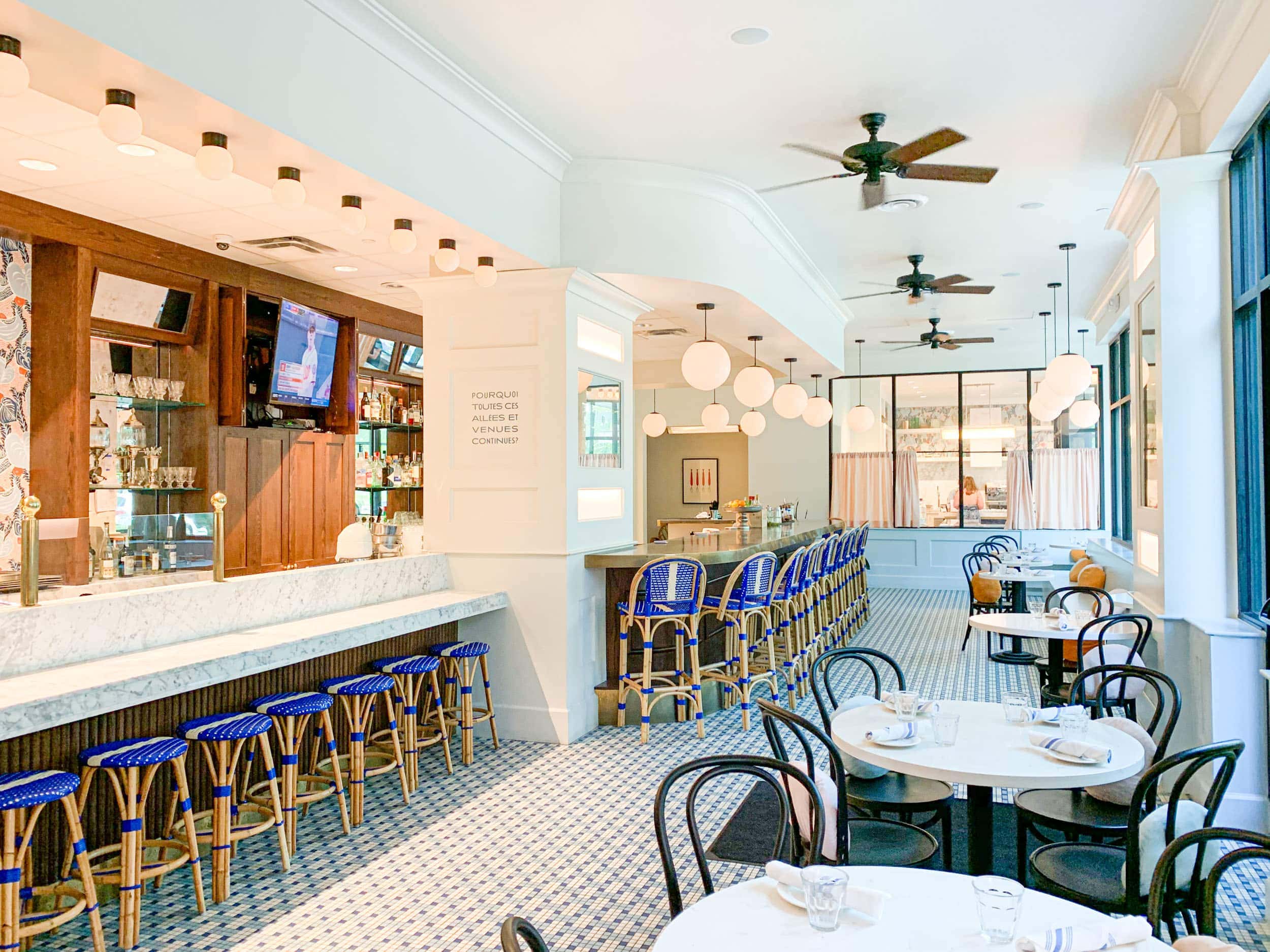 Best Brunch in Downtown Austin
Le Politique
Note: Le Politique closed during the pandemic, and its fate has yet to be determined.
If you're looking for the best brunch in downtown Austin, it's hard to beat the menu and French bistro vibes at Le Politique.
Just walking in the entrance lights up my eyes every single time.
As much as I love the interior design of the bar area, I usually sit in the main dining room for comfort or on the patio if it's not too busy.
My latest brunch at Le Politique was during their annual Bastille Day celebration, which featured a buffet. On a typical weekend, brunch is a la carte.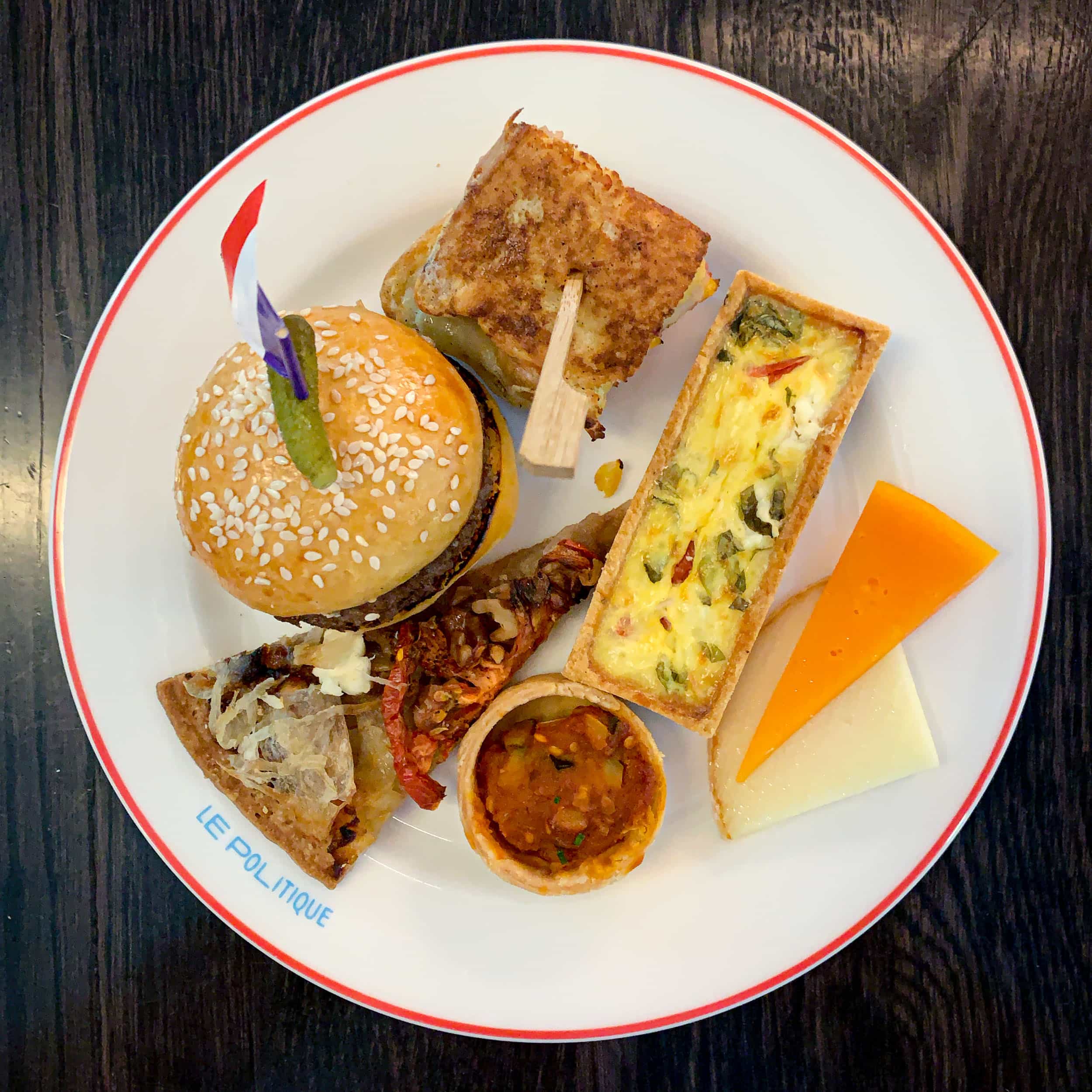 Brunch menu highlights include:
fresh pastries
French cheese plate
French onion soup
eggs Benedict
lobster roll with gaufrette potatoes
steak frites with red wine herb butter, fries, and bearnaise sauce
croque monsieur sandwich with ham and comte cheese and sauce mornay
You really can't go wrong here.
Brunch hours: 10:30 am - 3 pm, Saturdays and Sundays
110 San Antonio St, Downtown Austin, lepolitiqueaustin.com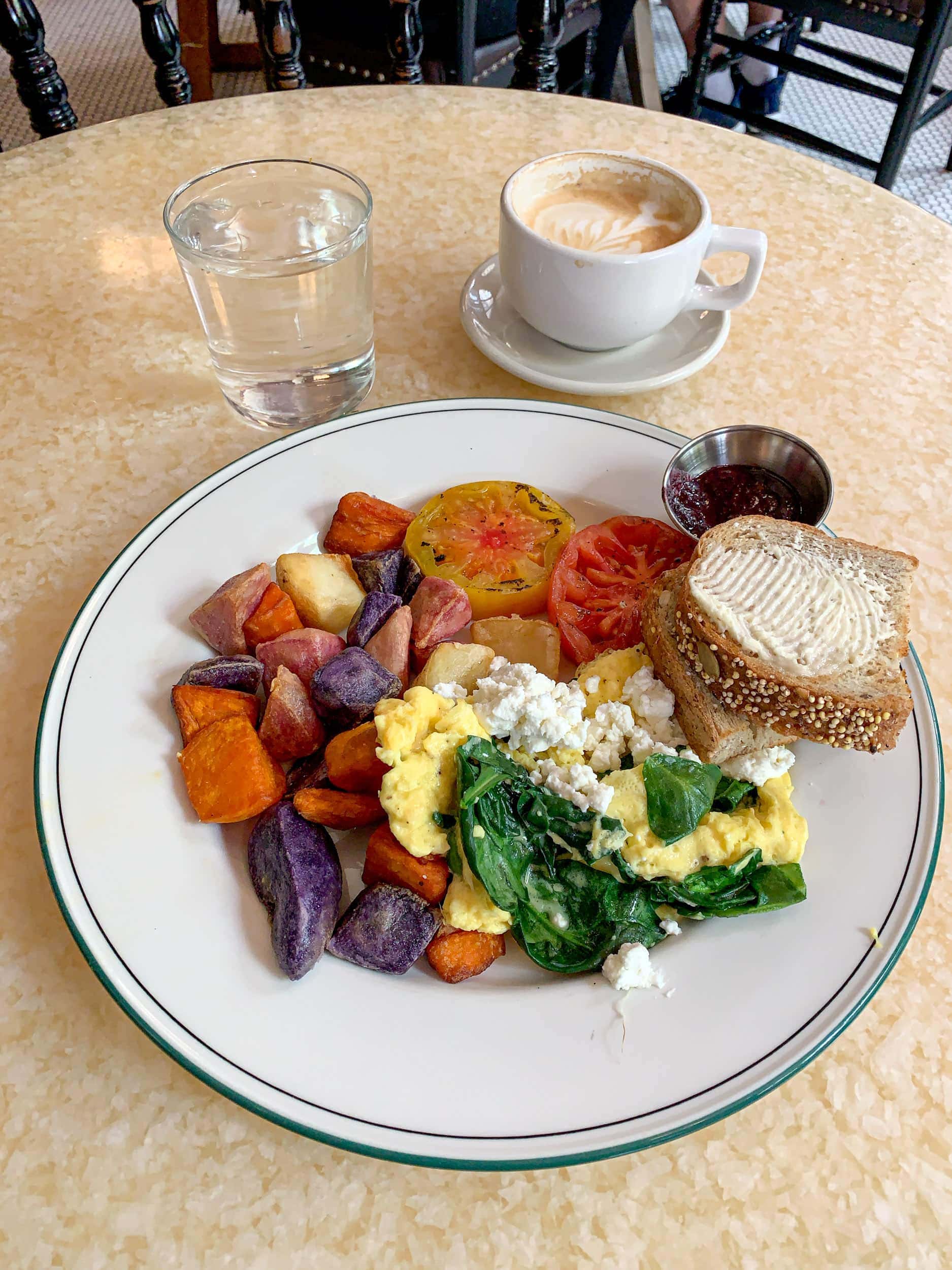 1886 Cafe & Bakery
Head to the 1886 Cafe & Bakery in the Driskill Hotel at 6th and Brazos for a blast from the past.
The Victorian-style cafe offers an all-day breakfast and lunch menu with ingredients sourced from local Texas farms and producers.
On a recent visit, I ordered the Hippie Hollow with scrambled eggs, spinach, goat cheese, heirloom tomatoes, country potatoes, and toast.
Try the Paris Texas Benedict with two poached eggs, brie cheese, ham, 1886 croissant, hollandaise sauce, and country potatoes if you're in the mood for something more decadent.
Huevos rancheros, avocado toast, hot fried chicken, and quiche Lorraine are a few of the many other options available.
Brunch hours: 7 am - 2 pm, daily
604 Brazos St, Downtown Austin, driskillhotel.com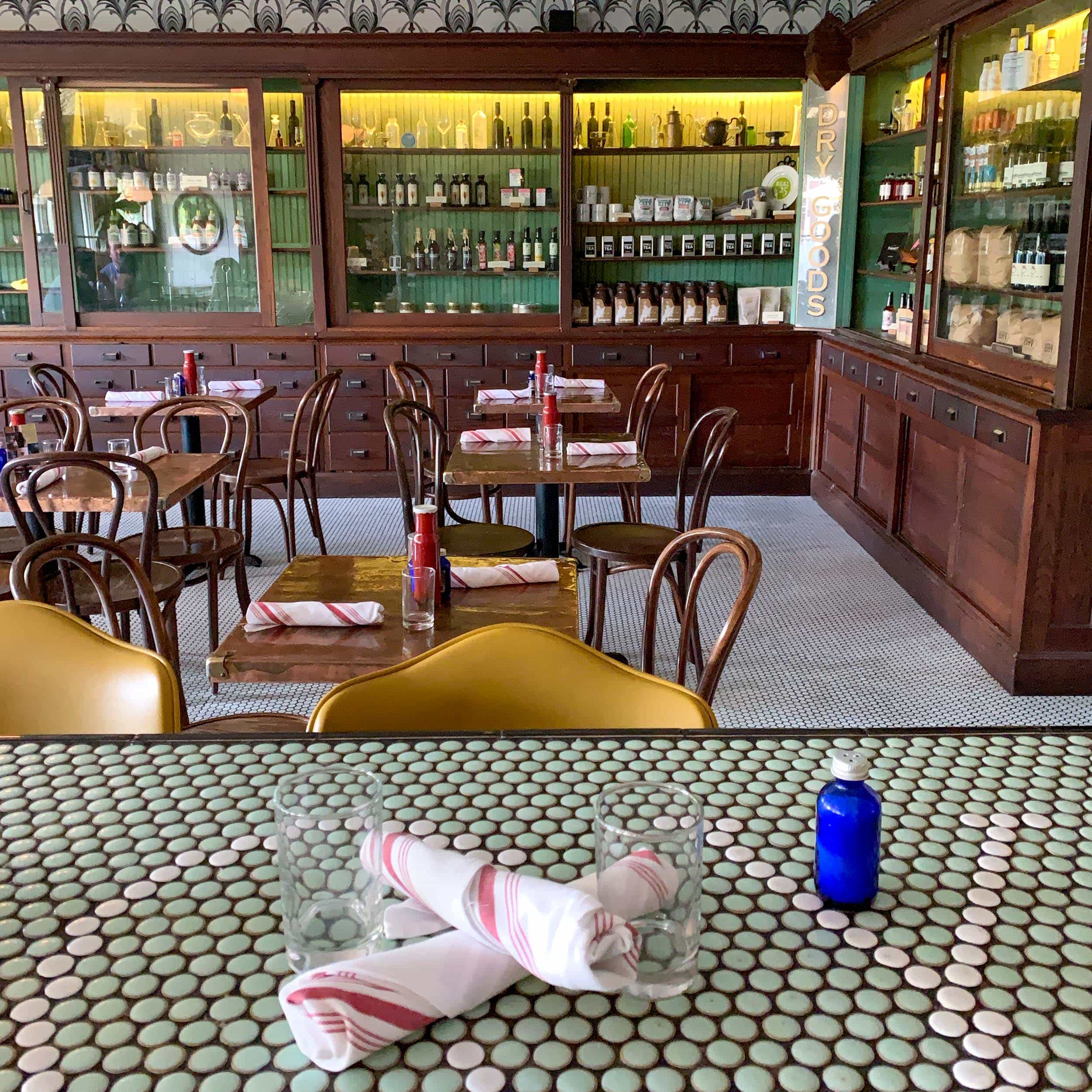 Best Brunch in East Austin
Hillside Farmacy
Hillside Farmacy was one of the first restaurants I ate at in East Austin, back in 2016 when I first visited (and ultimately moved to) the city.
Today, it's my pick for the best Saturday brunch in Austin.
The building was initially a drugstore in the 1950s, owned by Doc Young and his family. In the 1970s, it fell into disrepair.
The Hillside Farmacy team fully renovated it to open their restaurant, winning a Preservation Austin Award as a result.
The attention to detail here is impressive, from the Pinterest-worthy interior decor to the plant-filled patio.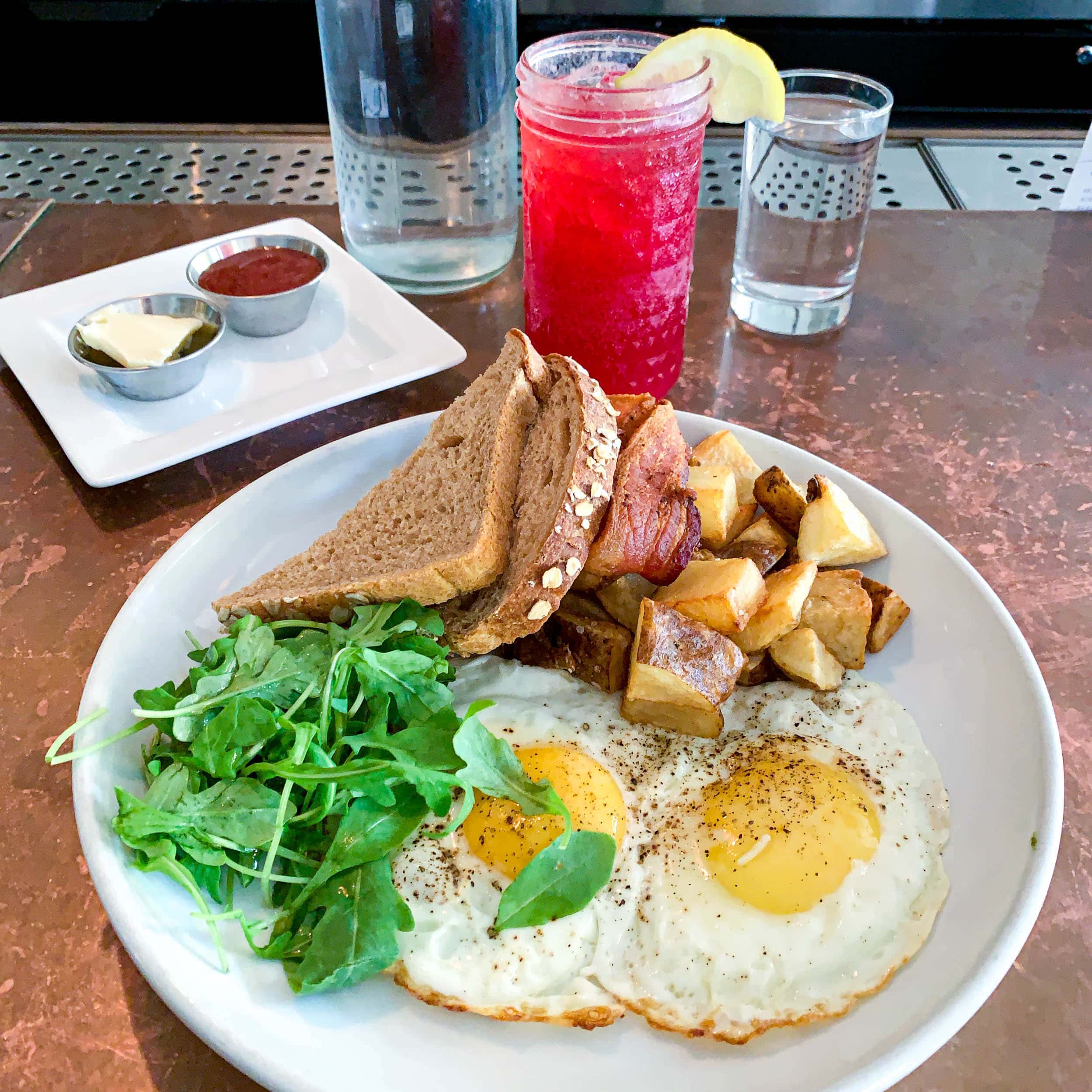 The weekend brunch menus feature eggs from humanely-raised hens at Happy Chick Farms in Lockhart, TX.
Diners have a choice of nine options, priced from $4.50-$14, including green onion biscuits and sausage gravy, ham and cheddar cheese grits, and smokey Denmark bangers and eggs. 
Raw oysters and shrimp are available daily, too.
The drink menu is extensive, with homemade fountain sodas such as the refreshing hibiscus lemonade available on their own ($4) or with booze for double the price ($8).
A house punch with gin, cava, hibiscus syrup, and grapefruit juice is available by the glass ($5) or bowl ($50 for 20 servings). Mimosas are $5 per glass or $17 for a carafe.
Brunch hours: 9 am - 3 pm, Saturdays and Sundays
1209 E 11th St, East Austin, hillsidefarmacy.com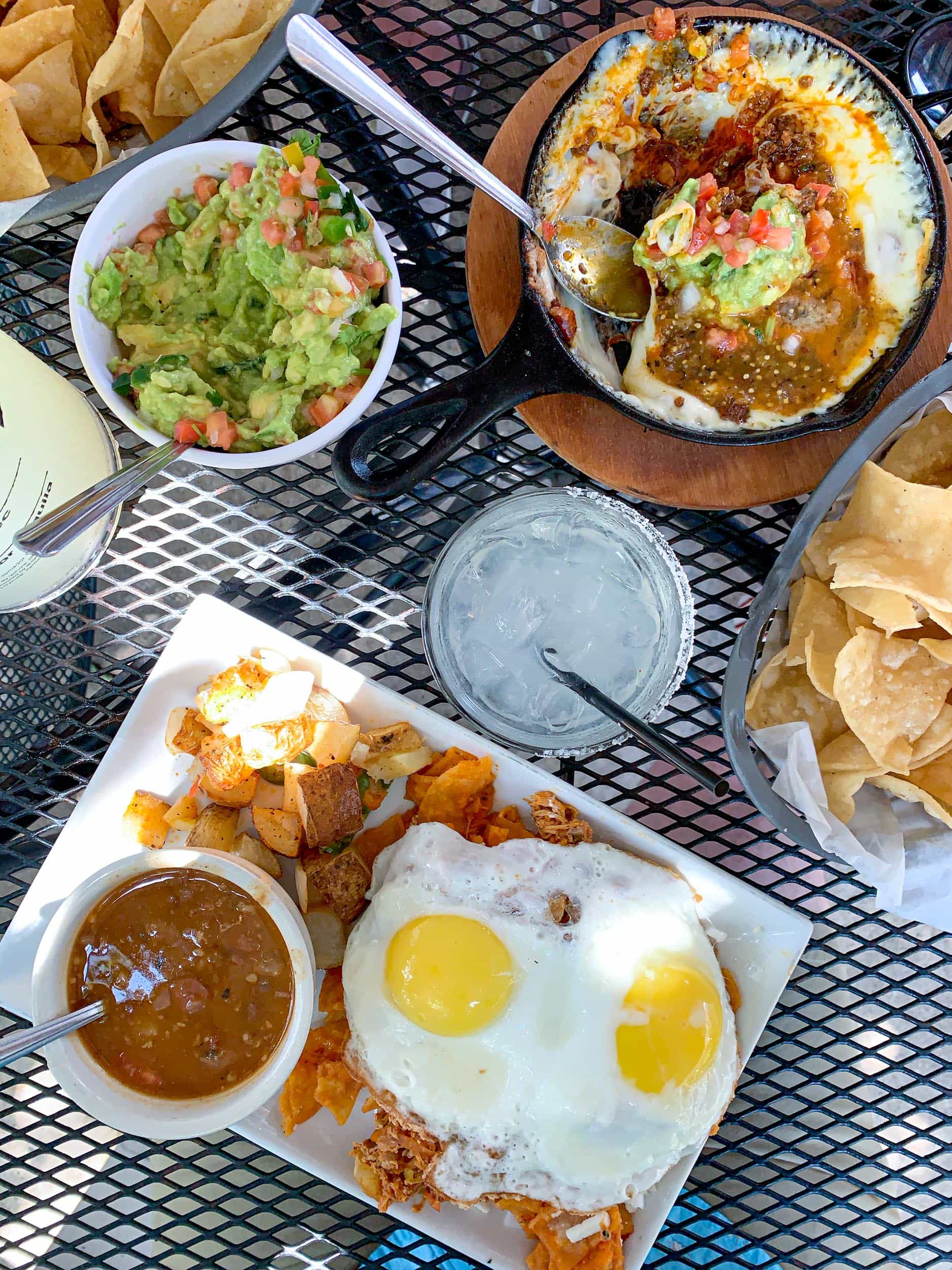 Gabriela's
And the award for "best boozy brunch in Austin with a skyline view and Latin music" goes to the Mexican restaurant Gabriela's.
Perched on a small hill, just east of the I-35 highway, the back patio is where you want to be while munching on queso and sipping $5 margaritas.
The live DJ playing reggaeton, salsa, and pop is sure to bring back memories from your last trip to Latin America.
The brunch menu at Gabriela's is one of the smaller ones on this list, but nearly everything in the recipes is made from scratch daily.
And at just $9-$12 per entree, it's a great value.
Menu highlights include chilaquiles, chorizo gorditas, and rum-flavored French toast.
Brunch hours: 11 am - 3 pm, Saturdays | 10 am - 3 pm, Sundays
900 East 7th St, East Austin, gabrielasdowntown.com
See also: Best Speakeasies in Austin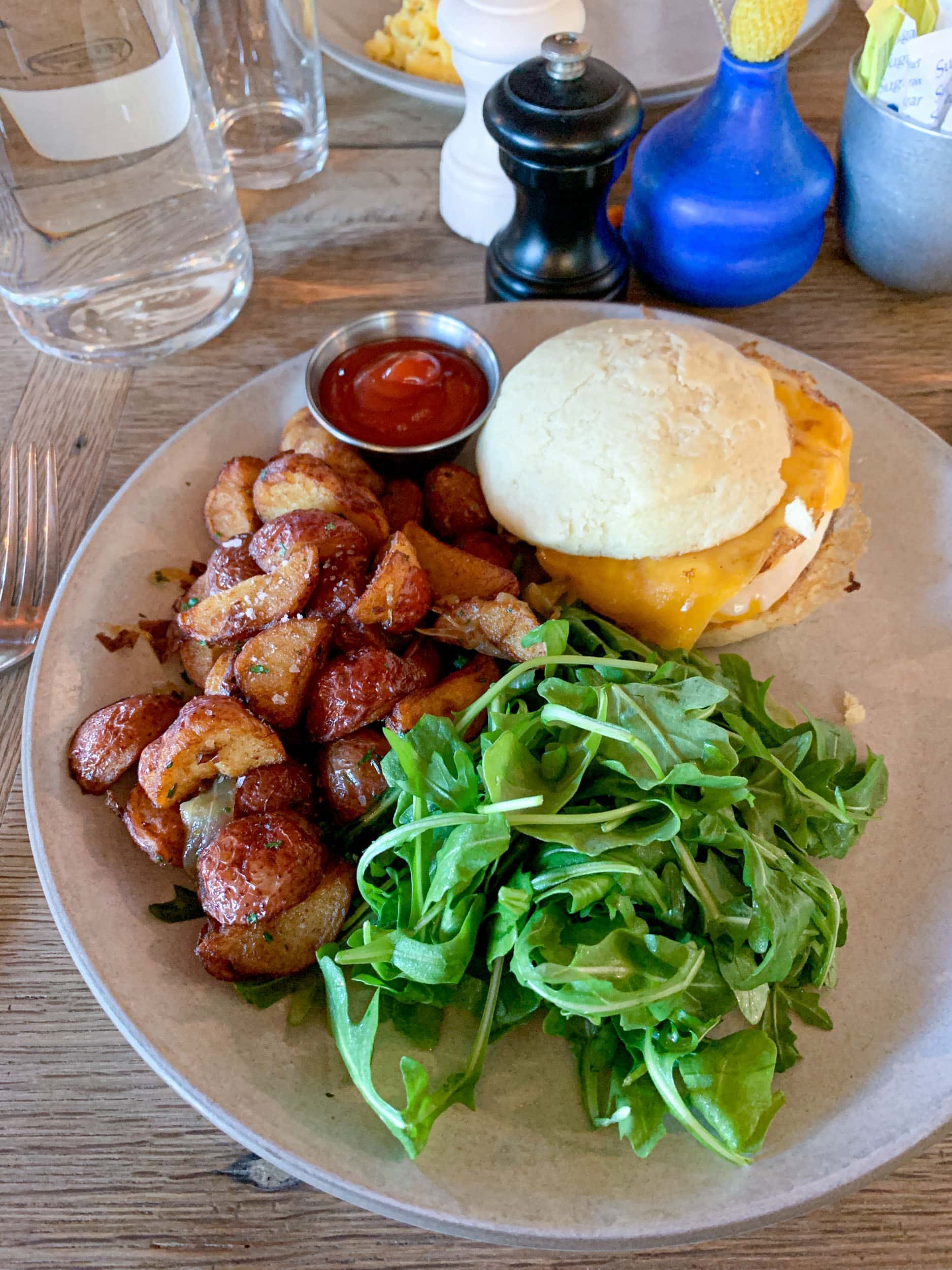 Best Brunch in South Austin
Cafe No Se
Cafe No Se has been one of my favorite brunch places in Austin since it opened in the South Congress Hotel.
The interior design is bright and modern. The blue and white hexagonal tilework on the floor adds color and makes an interesting backdrop to Instagram pics.
Brunch is available daily, which is the way it should be!
Freshly baked goodies are $4-$6 apiece and currently include a pistachio blackberry apricot croissant and blueberry violet kouign amann.
Starters include granola and yogurt, red quinoa porridge, and English pea beignets.
There are four salads to choose from, including a yellow tuna poke bowl with coconut rice I've ordered several times (with a side of avocado).
I can also vouch for the sausage, egg & cheese sandwich on a buttermilk biscuit, served with a side of potatoes and arugula salad (pictured above).
Entrees include brioche French toast, oatmeal hotcakes, a smoked salmon croissant, and a cowboy breakfast. We're in Texas, after all.
Along with Launderette, Cafe No Se has had some of the best desserts in town.
Brunch hours: 7 am - 3 pm, daily
1603 South Congress Ave, South Austin, cafenoseaustin.com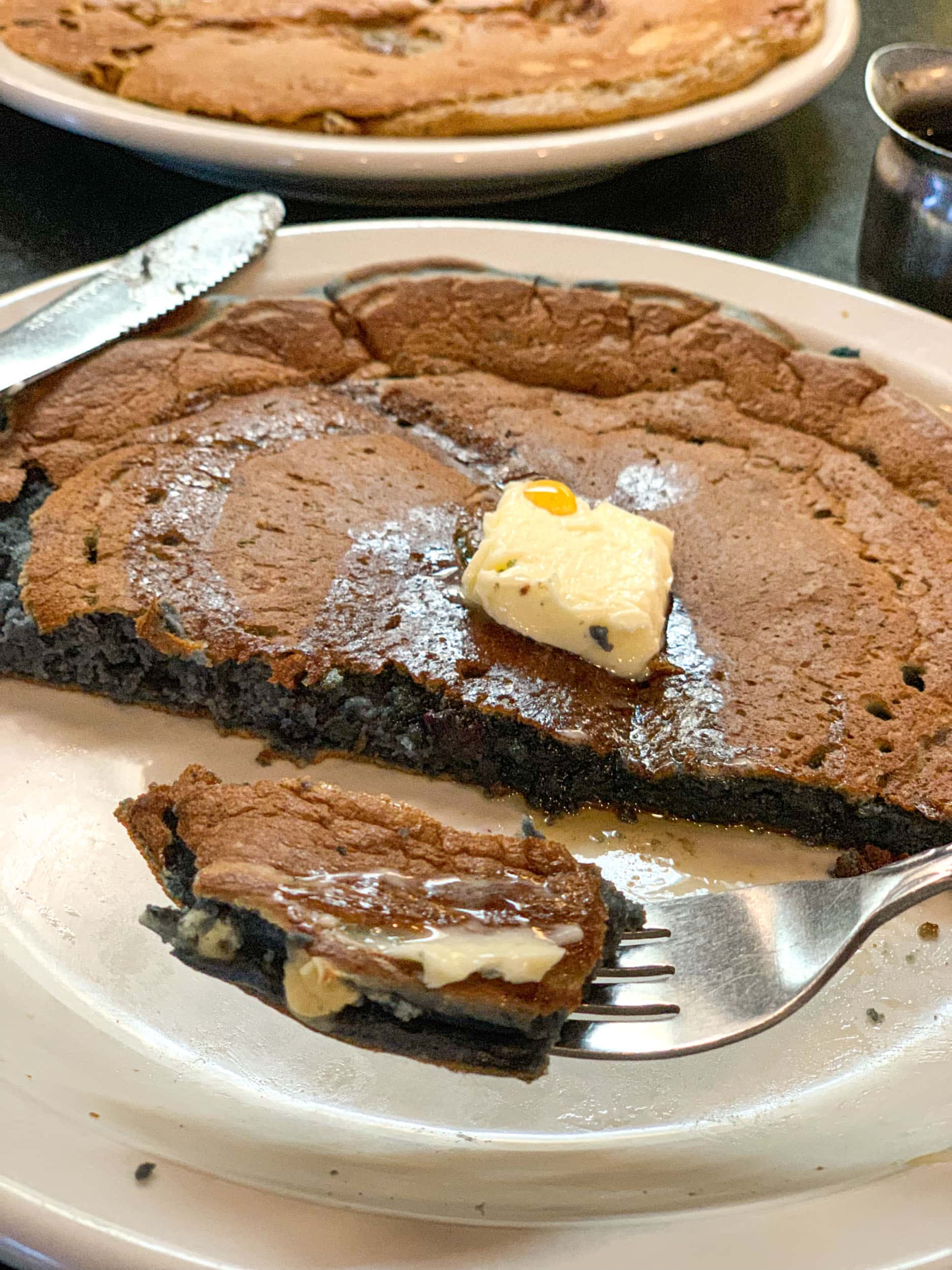 Magnolia Cafe
"Everybody knows, everybody goes," says the motto of Magnolia Cafe, which celebrated its 40th anniversary in 2019.
Go here if you're looking for a taste of old Austin before the tech companies and pricier places arrived.
The original location on Lake Austin Blvd opened in 1979. They expanded to South Congress 10 years later, in 1988.
This diner-style restaurant features an extensive menu, including breakfast any time of day (pre-pandemic, they were open 24 hours a day).
I recently stopped by for Saturday brunch and ordered the daily special -- blackberry cheese pancake with real maple syrup and a banana pecan pancake recommended by the waitress behind the counter.
The pancakes are the size of a large dinner plate. Seriously, one pancake will fill you up!
And at only $4 apiece (plus 75 cents per extra ingredient), it's the best value dish of any place I've been in this article.
But beyond the French toast and breakfast tacos, what sets Magnolia Cafe apart is the friendly vibe and funky decor.
On the weekends, go early, as a line out the door is standard. Seating at the counter is first come, first serve.
Brunch hours: 8 am - 10 pm, eight days a week
1920 S Congress Ave, South Austin, magnoliacafeaustin.com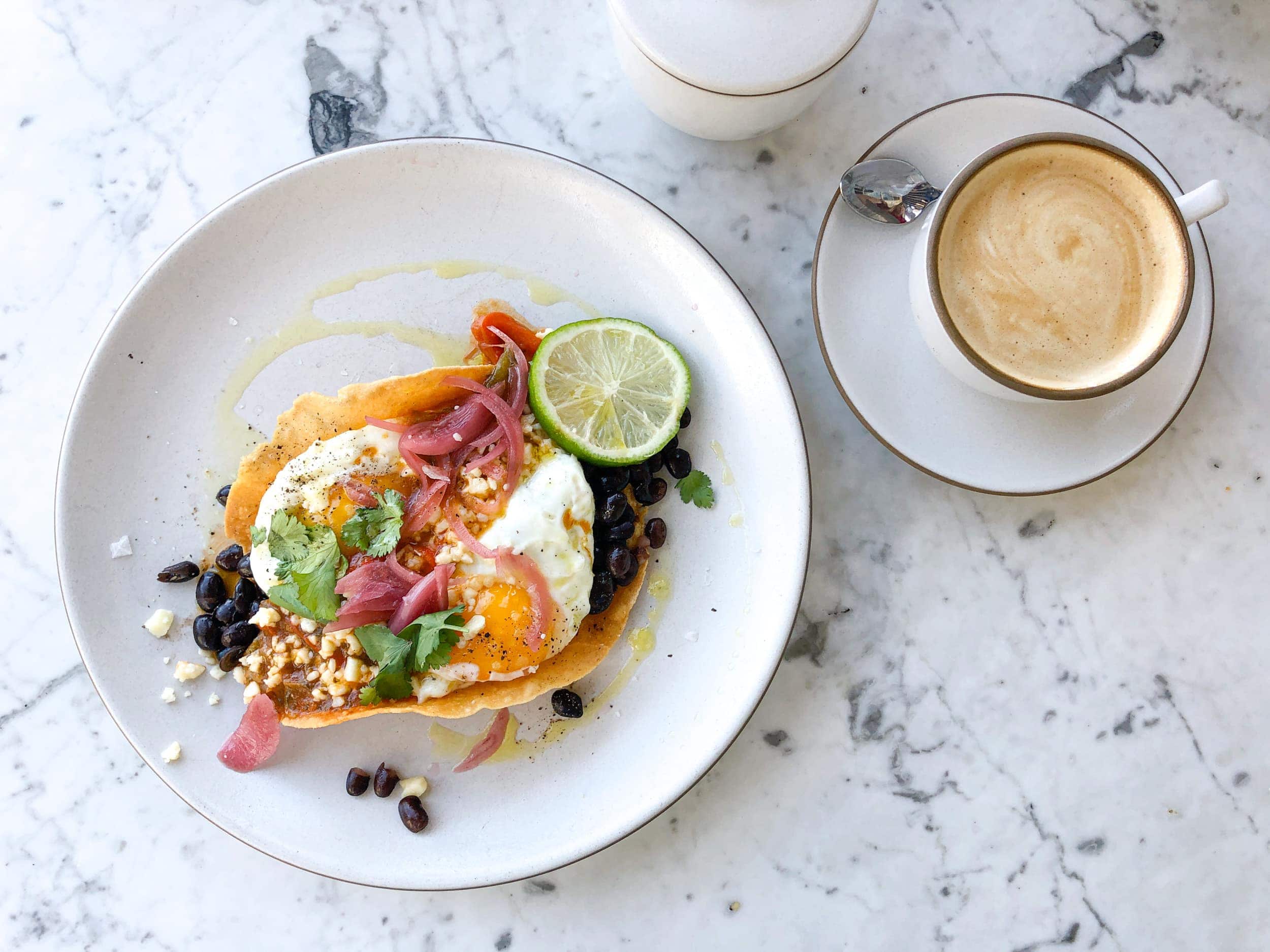 Best Brunch in North and West Austin
Josephine House
Josephine House is the sister restaurant of Jeffrey's, one of Austin's best restaurants.
Per their website, "the Clarksville cottage features a small marble bar for coffee or cocktails, intimate tables in the dining room, shady nooks on our patio, and a grassy front lawn for lounging."
My friend Laura and I chose one of the "shady nooks" on the patio for our brunch -- a peaceful spot to eat with friends, family, or that special someone.
Currently, fresh pastries include a strawberry lemon donut, vegan blueberry banana bread, and a Nutella morning bun.
Opting for savory over sweet, I ordered the huevos rancheros (pictured above) with a cappuccino.
My friend went with the lemon ricotta pancakes with strawberries & blueberries, cultured butter, and maple syrup.
Both dishes were excellent. I don't get over to the west side as often as other parts of Austin. If I lived closer, this would be my go-to weekend brunch spot.
Brunch hours: 9 am - 3 pm, daily
1601 Waterston Ave, Clarksville, josephineofaustin.com
Related: Breakfast at Brennan's Restaurant in East Austin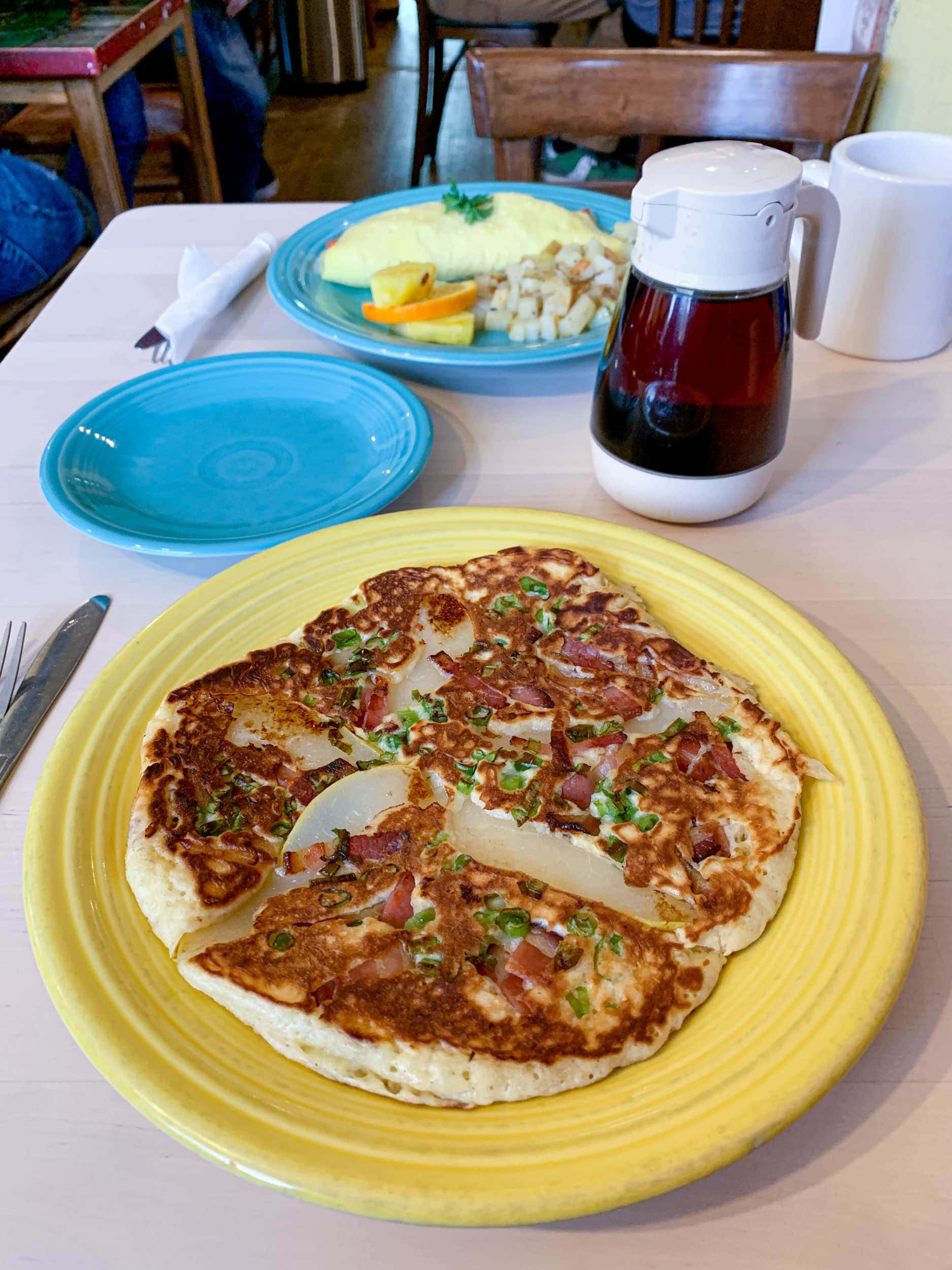 Pacha Organic Cafe
Speaking of my friend Laura, she was the one who recommended I try Pacha Organic Cafe.
Before it was a restaurant, this small building in North Austin served as a podiatrist's office for 28 years. Following a remodel, it opened for business in March 2000.
Pacha prides itself on using 90 percent organic ingredients, even if it costs them more to buy. The quality and care going into their food are evident.
The signature pear, bacon, and scallion pancake is a novel combination and one worth going back for again and again.
Additional breakfast items include tacos, French toast, and bagels.
Brunch hours: 8 am - 2 pm, Tuesday to Sunday
4618 Burnet Road, North Austin, pachacafe.com
***
Whew, I know that was a lot to take in! If you're still with me, thank you for reading about my picks for the best brunch in Austin.
I'll be updating this list annually as I continue to try new places.
Did you enjoy this story? Join me on Instagram and Facebook to share thoughts, ask questions, or keep up with my latest adventures.