Ordering malasadas at Leonard's Bakery in Honolulu, Hawaii, is an essential foodie experience.
Malasadas are a type of Portuguese doughnut, and this historic family bakery is named after the grandson of Portuguese immigrants to Maui in 1882.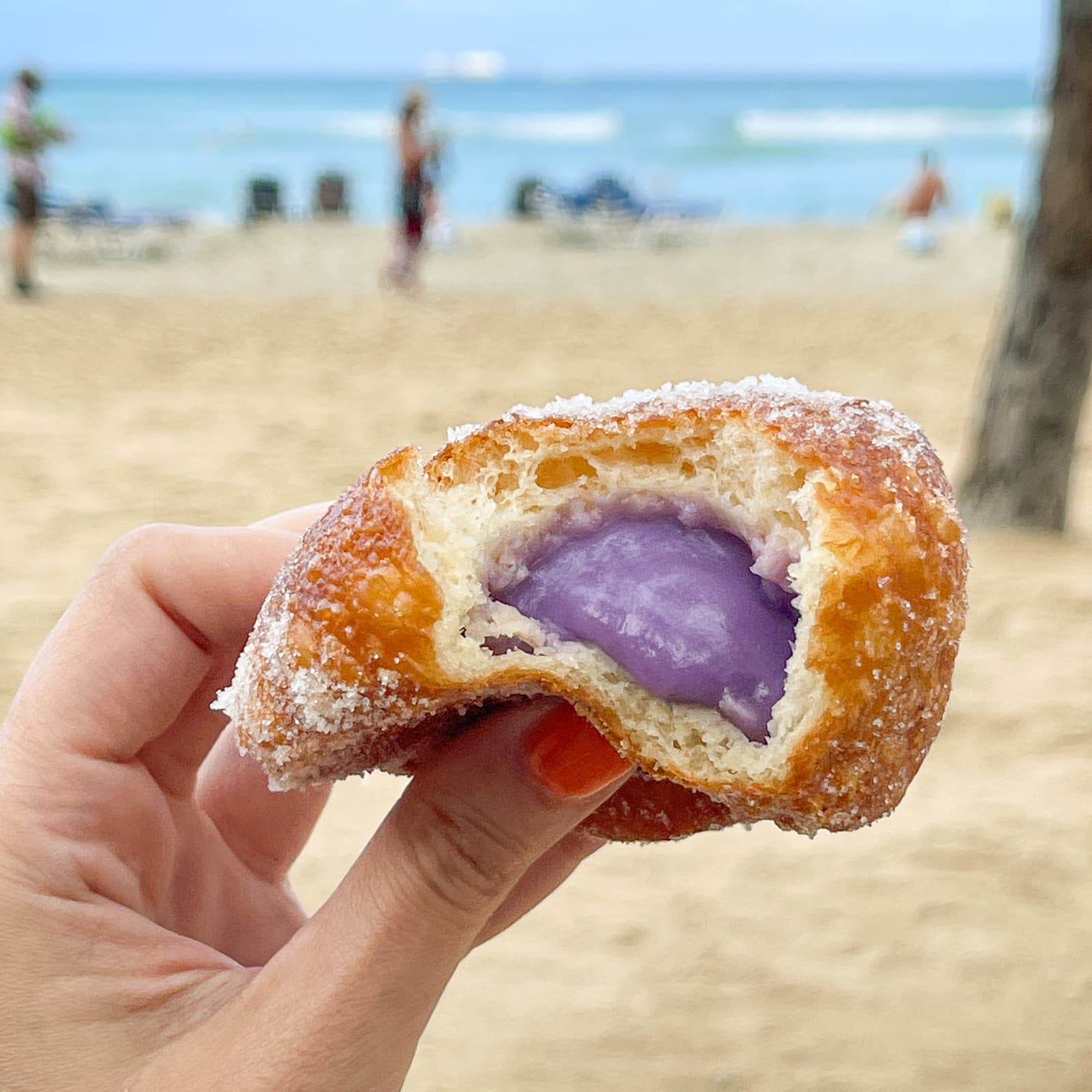 After moving to Honolulu in 1952 with his wife Margaret and their daughter, Leonard opened his eponymous bakery.
Malasadas were not originally on the menu, but when Leonard's mother suggested they offer them, he wisely took her advice.
In 1953, their fresh-baked doughnuts became a Hawaiian island hit. Nearly 70 years later, locals and visitors still line up for them every morning.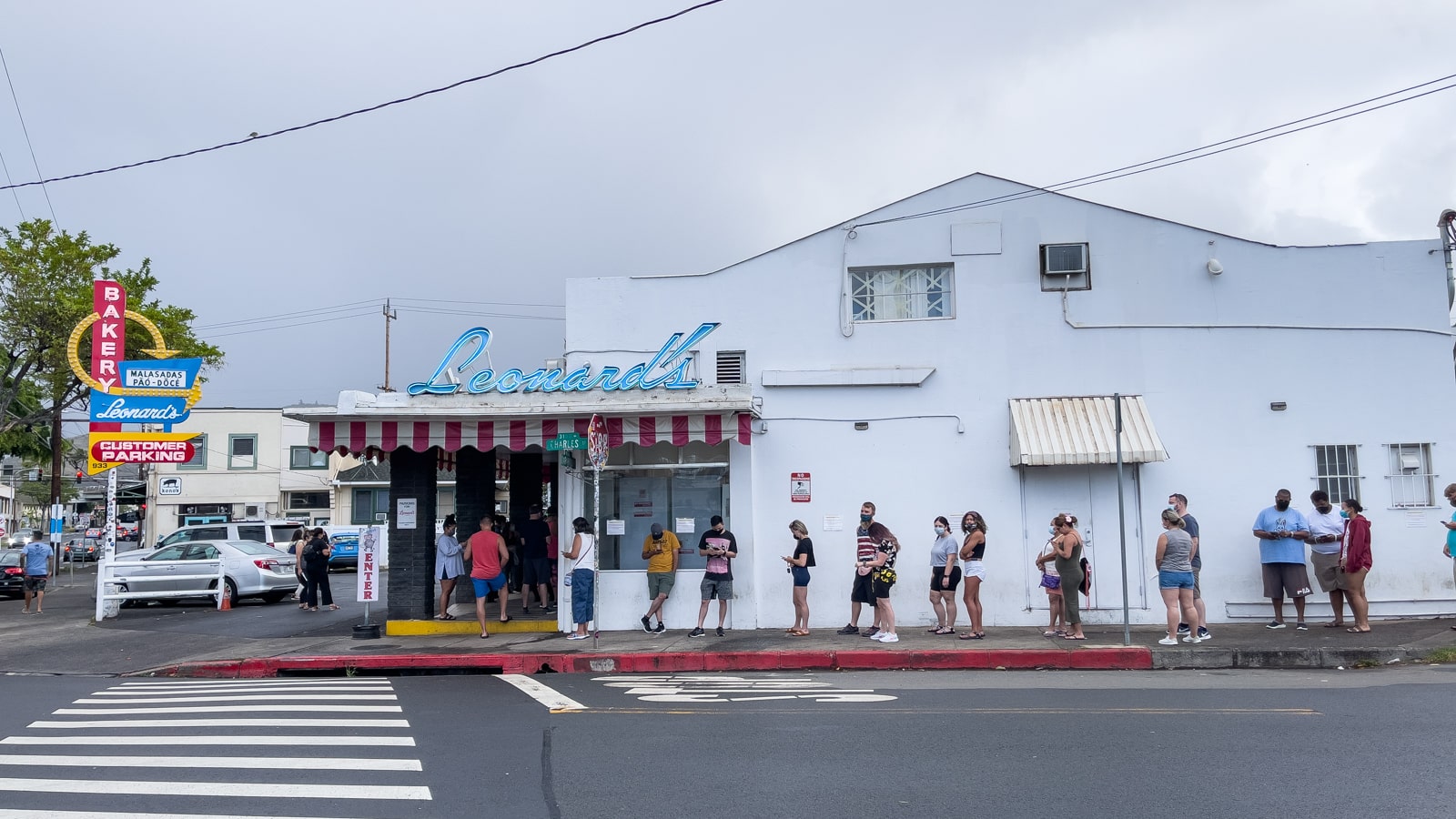 Visiting Leonard's Bakery
As I learned in San Francisco, jetlag is your friend when arriving early at bakeries.
And while Leonard's opens at 5:30 a.m., there was no need to go overboard about it. My girlfriend, Kel, and I arrived at 7:15 a.m. to a long line.
Granted, they were only allowing five customers at a time inside due to social distancing, but I doubt they have room for more, even in regular times.
It was about a 30-minute wait for us to get inside. By then, we'd already decided what to order.
Related: Hula Pie at Duke's Waikiki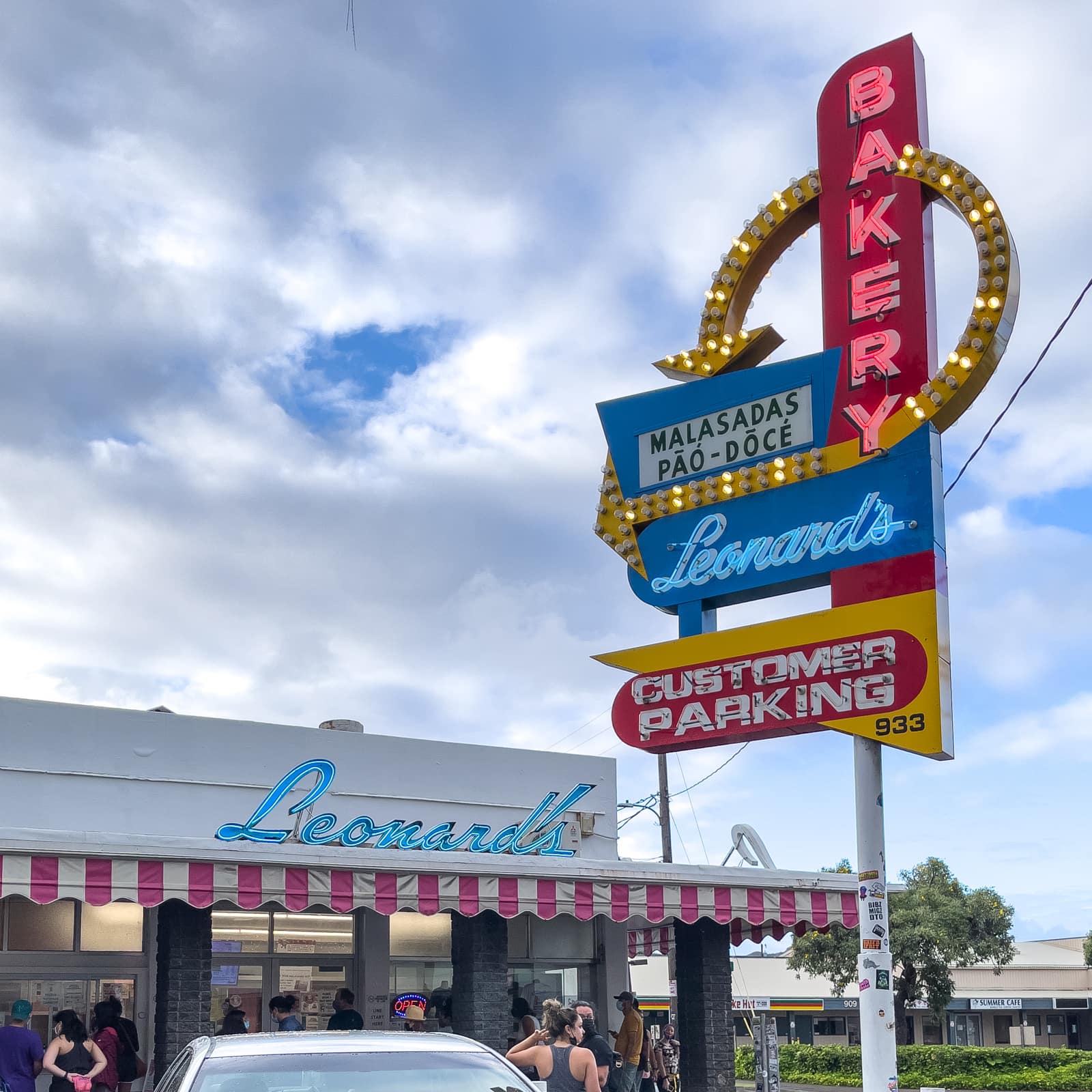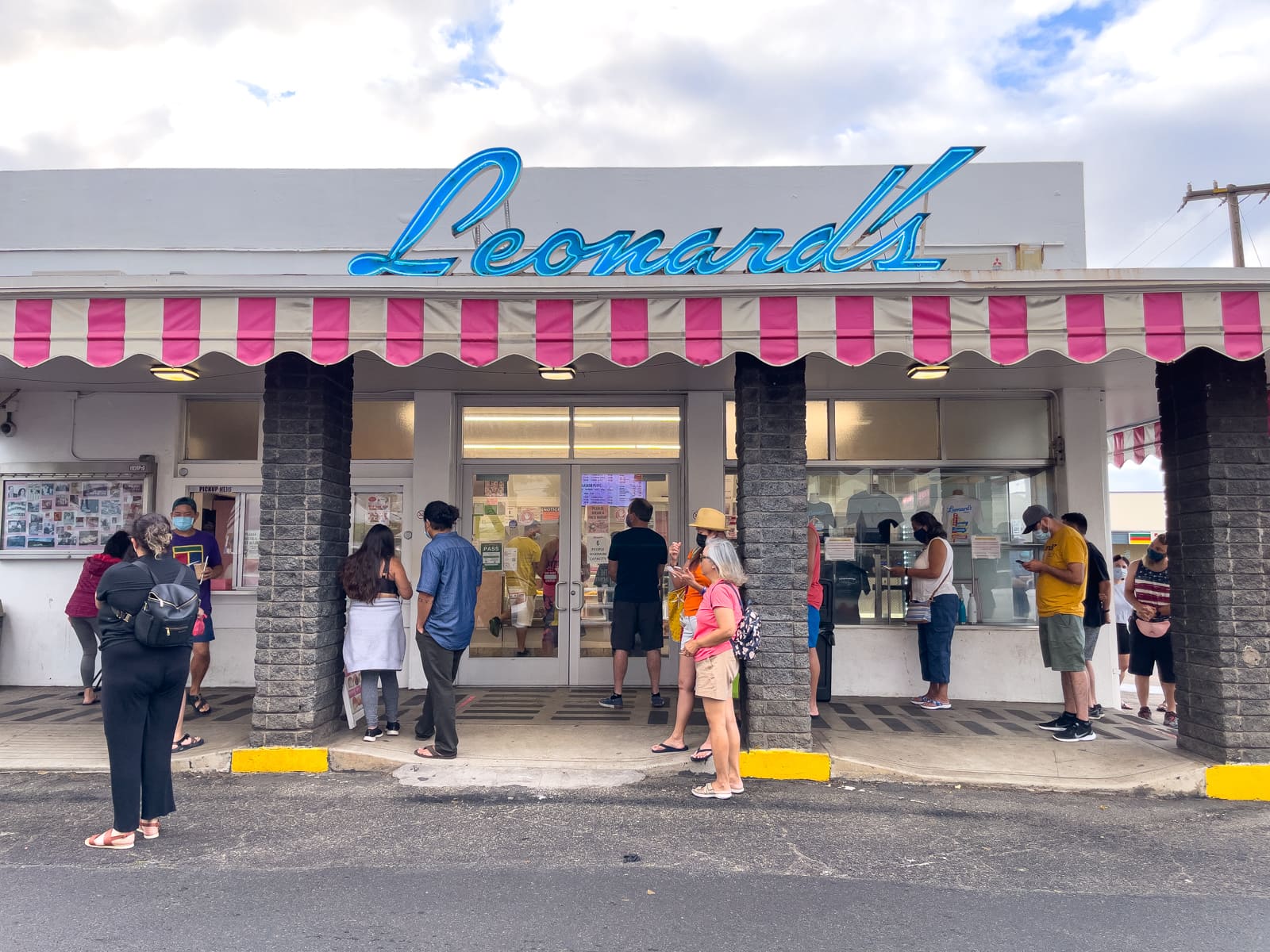 But first, what exactly is a malasada?
As the sign (pictured below) says, malasadas are a form of Portuguese fried dough.
The main ingredients are yeast, flour, eggs, milk, butter, plain sugar, and salt. Oil is used for deep-frying them, and they're topped with granulated sugar.
The result is a slightly crisp exterior and a pillowy-soft dough interior. Malasadas are a pure pleasure to eat.
Unlike an American doughnut, malasadas don't have holes in the center. And the more traditional ones don't have fillings, either.
Thankfully, Leonard's Bakery introduced malasada puffs for me and everyone else who enjoys a little something extra inside their pastries.
Related: 20 Boston Foodie Experiences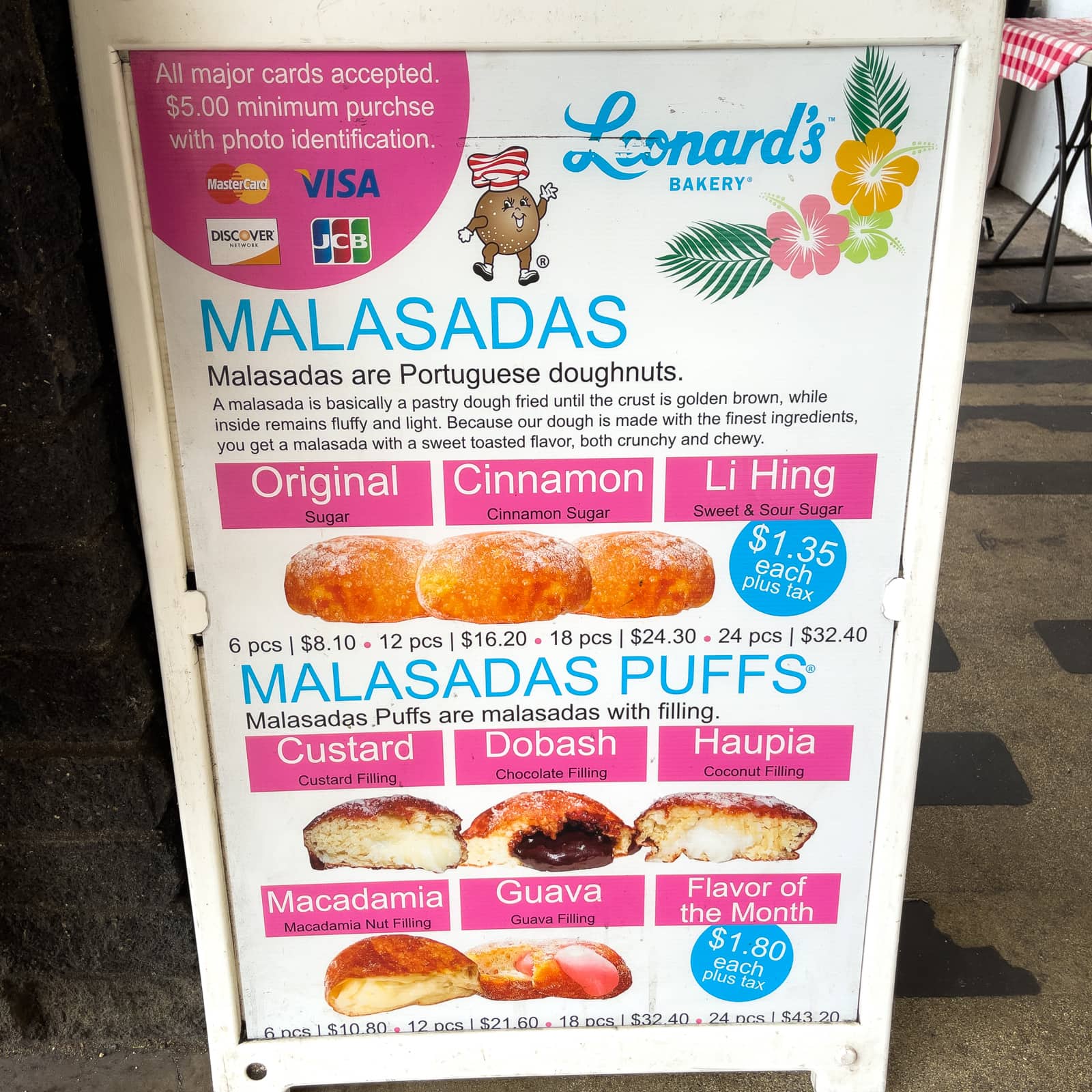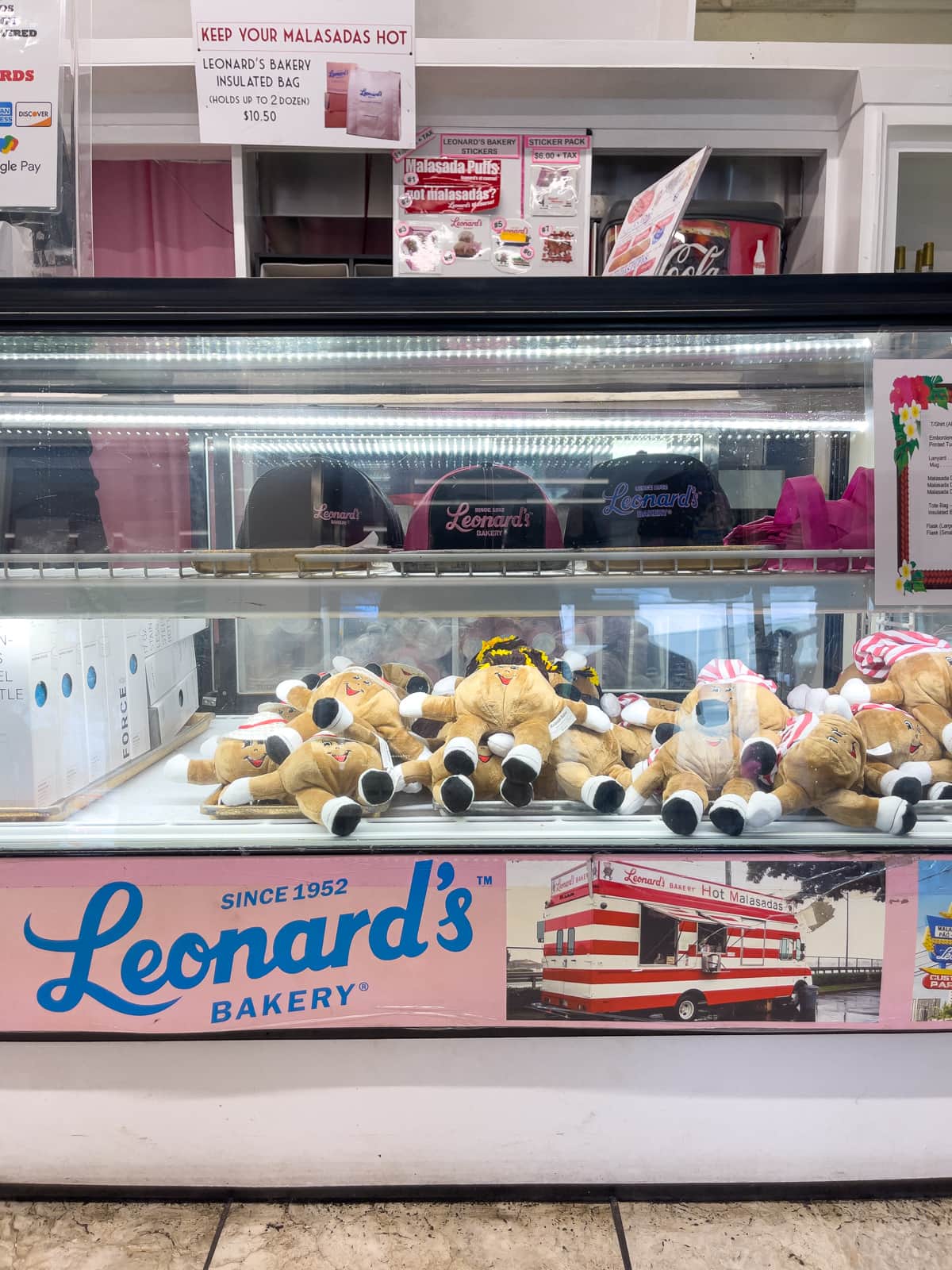 Inside Leonard's Bakery, souvenir hats and stuffed malasadas are sold.
The branding and designs are accurate to the original artwork from the 1950s, which creates a sense of nostalgia.
There's even a picture of their old red-and-white-striped food truck serving hot malasadas. Today, they're known as Malasadamobiles™.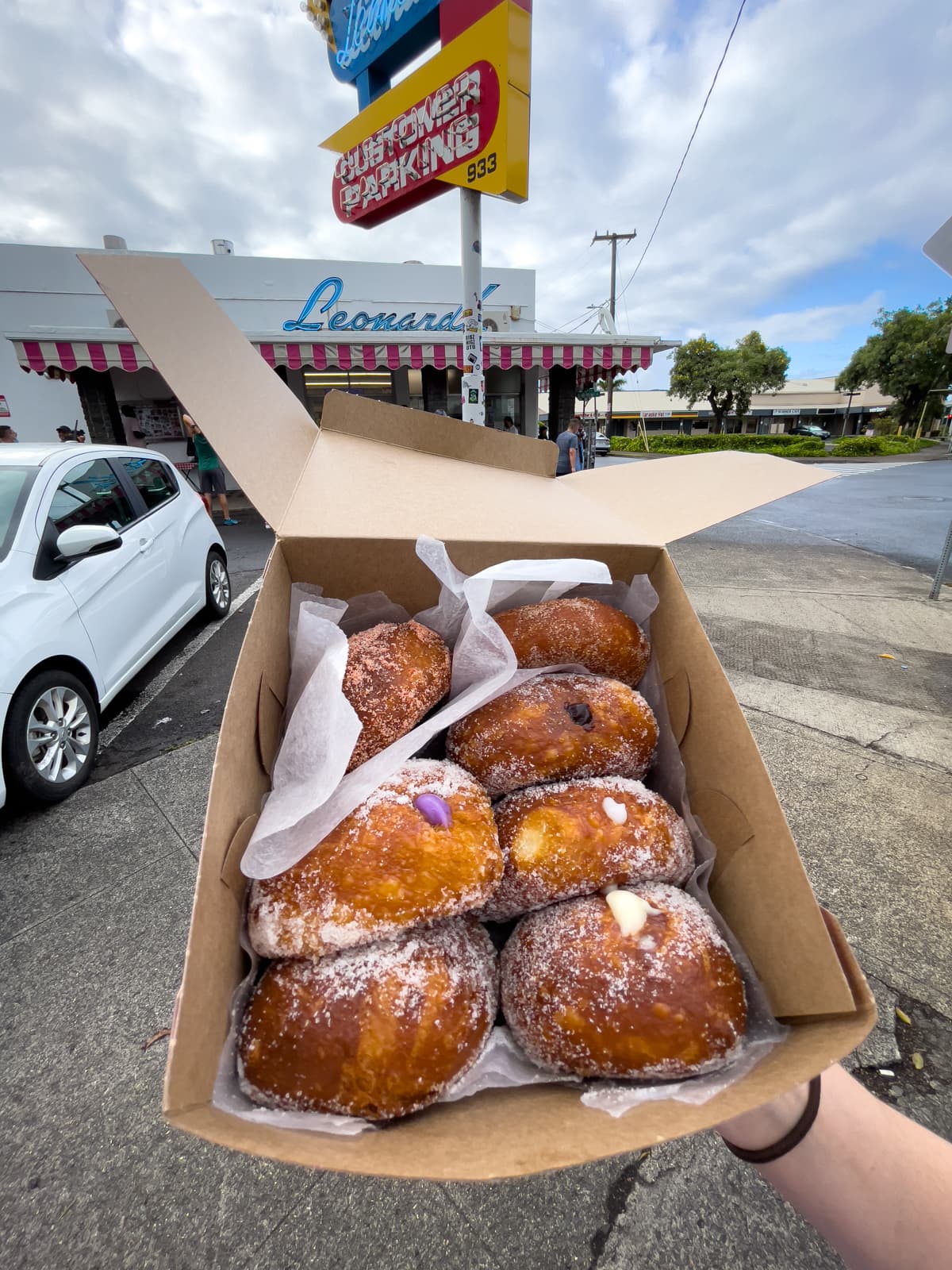 Our Malasadas
You must be wondering what we ordered after all this time—and drooling.
We filled up one of Leonard's trademark pink takeaway boxes with:
Original (sugar)
Cinnamon sugar
Li-Hing (sweet and sour sugar)
Dobash puff (chocolate)
Haupia puff (coconut)
Macademia puff
Yam (flavor of the month)
So, we got three traditional malasadas with no filling, plus four with filling.
We also wanted to try their pao doce (Portuguese sweet bread) and a few other things; however, they had cut back on production due to the pandemic.
Choices were limited across the entire menu, but it's not affecting their malasada production.
Related: Best Bakeries in Copenhagen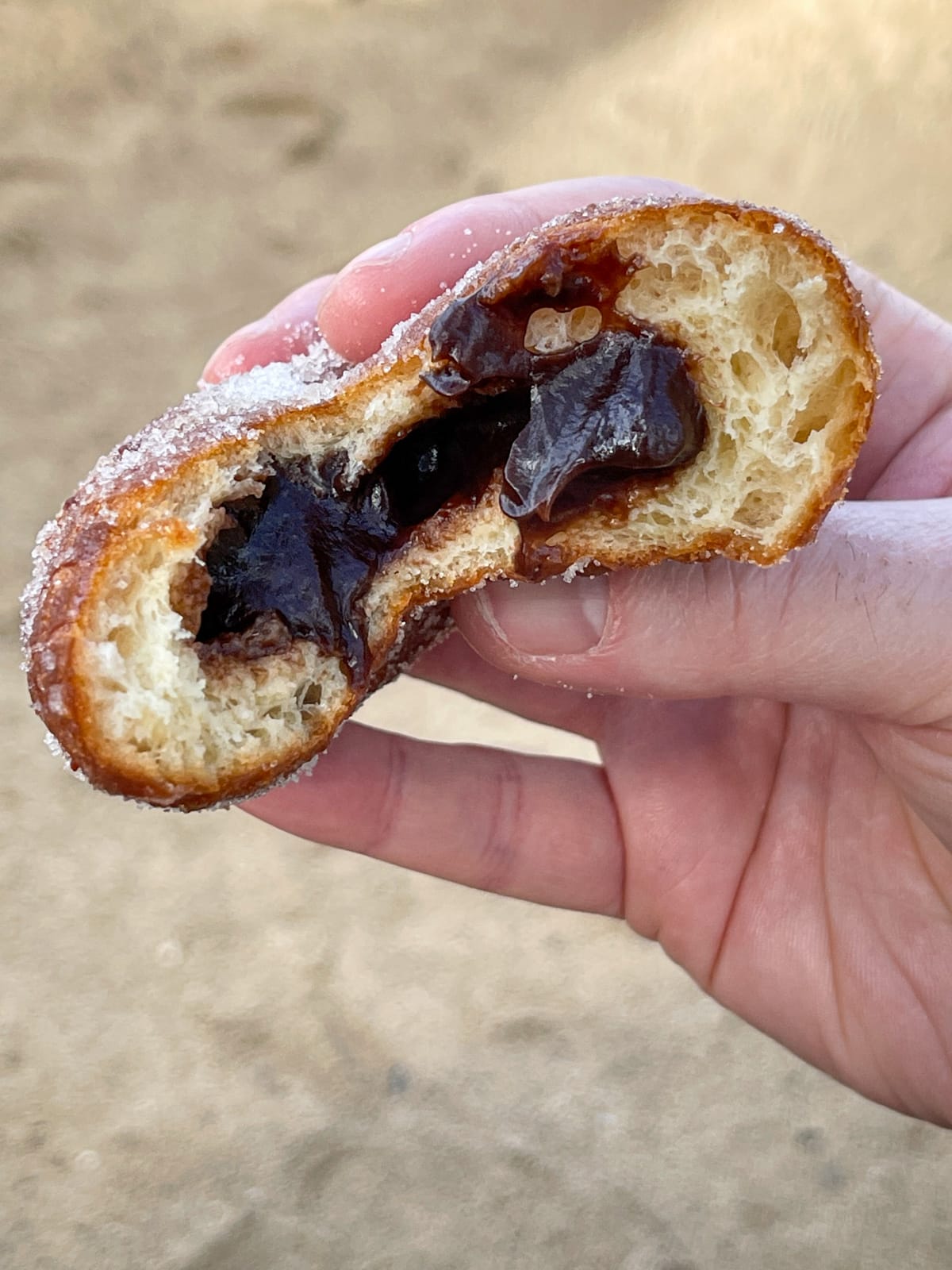 After 45 minutes of hanging out in and around the bakery parking lot, I suggested taking our winnings to Waikiki Beach.
A quick Lyft ride led us to the scenery on Oahu I hadn't seen in person since I was 13 on a family vacation, and it brought back memories of my first surf lesson.
Now it was time to make some new and tasty memories. We opened the box, and I grabbed the chocolate malasada first.
My fingers coated in sticky sugar, I bit into the sweet dough to reveal a dark custard-like filling. It would be my personal favorite.
I devoured the remainder and moved on to the monthly special: yam.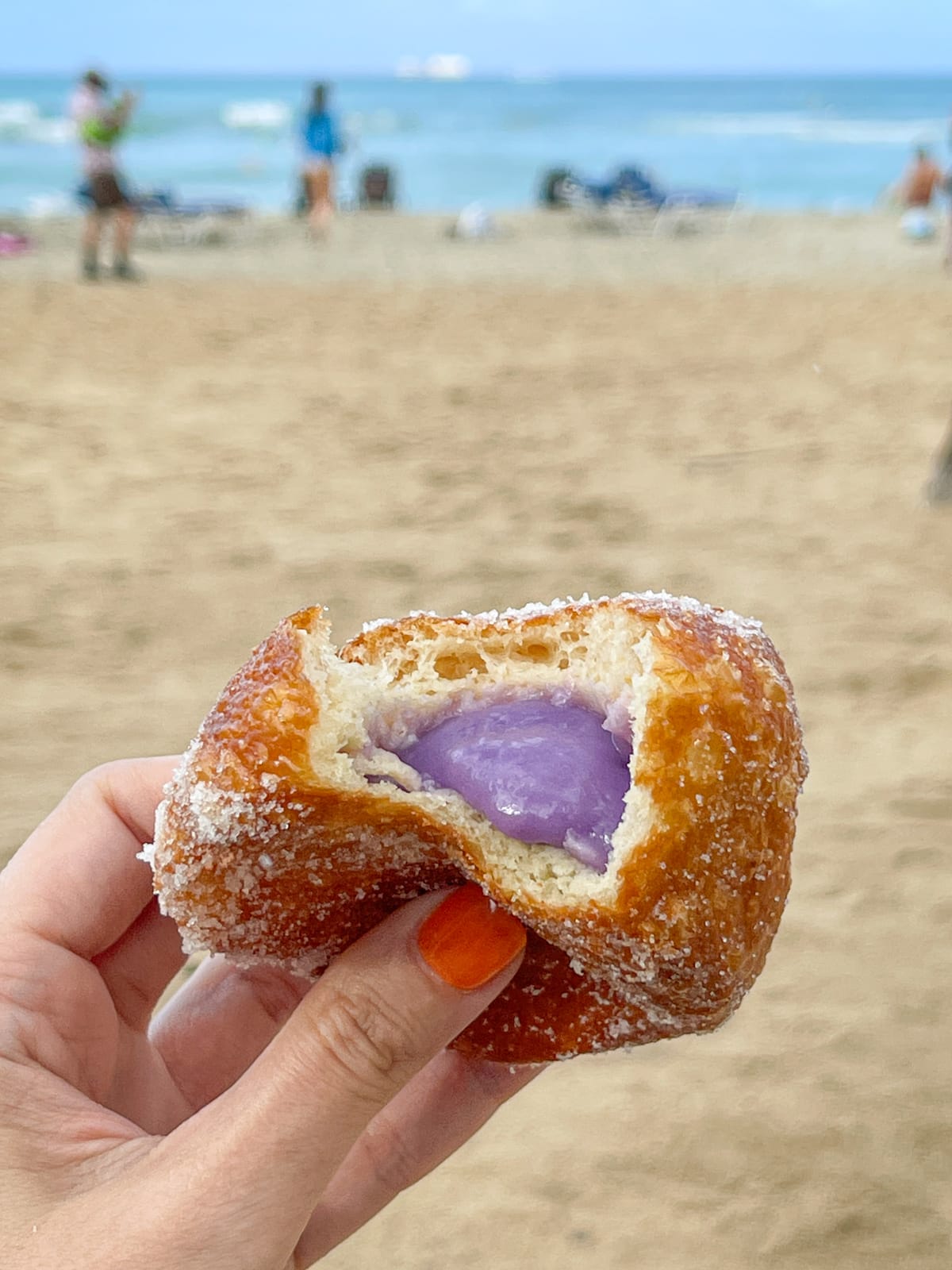 I was less impressed with the yam filling's flavor, which was rather bland than I was with its purple color. Two malasadas were my limit; Kel stopped after one.
We closed the box and put the rest in the mini-fridge at our hotel, the Hilton Garden Inn Waikiki, a few blocks away.
They kept well for several days, so as long as you have a safe place to store them, don't be shy when it comes to ordering what you want.
Leonard's Bakery, 933 Kapahulu Avenue, Honolulu, HI, leonardshawaii.com
***
In the video below, learn how to make malasadas with Christina Tosi and Roy at Leonard's Bakery.