Learning about Vietnamese coffee and the many ways it's served was a highlight of my first trip to Vietnam.
I'd only tried traditional Vietnamese iced coffee a few times in the United States before landing in Saigon at the start of our two-week adventure. I had much to discover.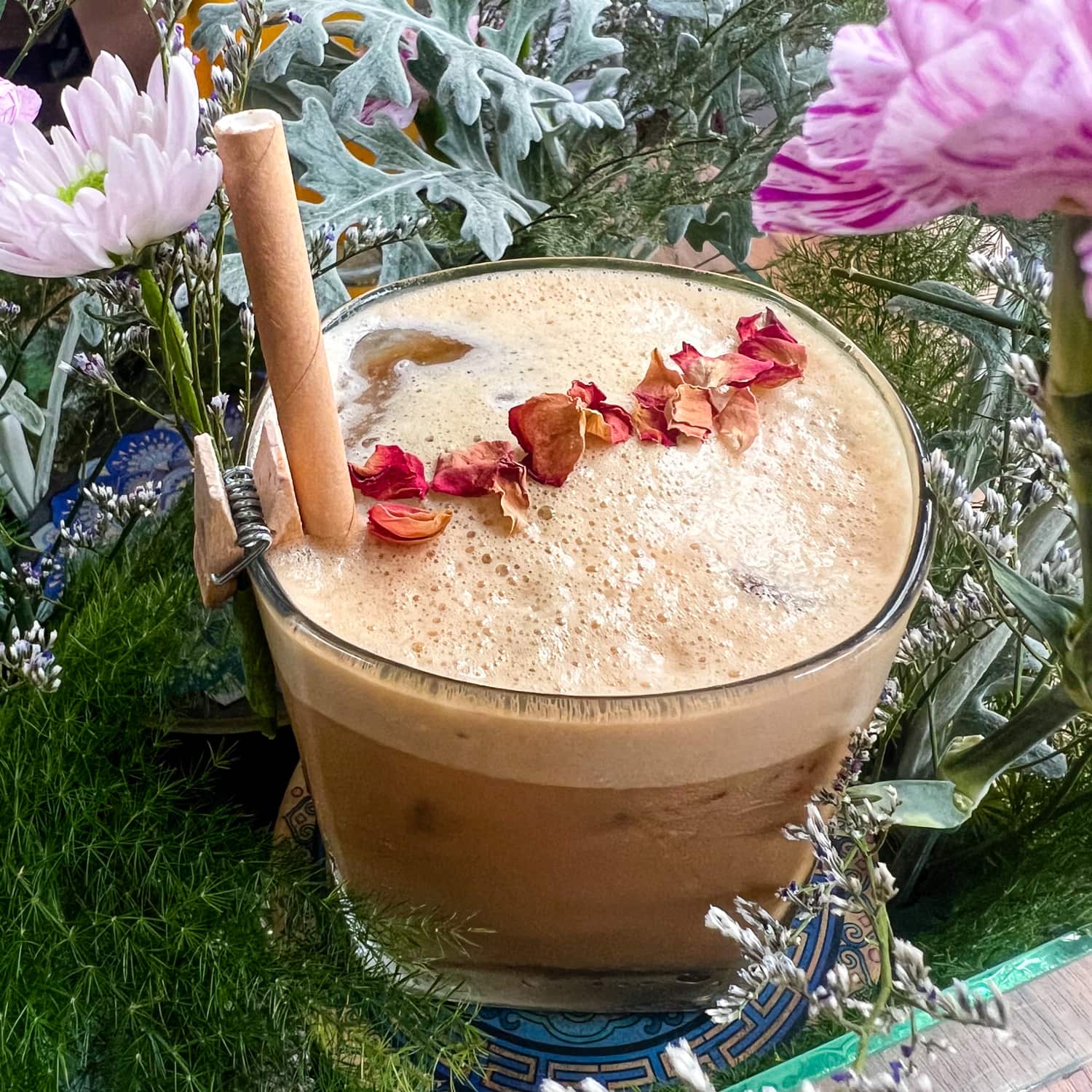 As Kel and I cafe-hopped through Saigon, Da Nang, Hoi An, and Hanoi, I could feel my appreciation for the Vietnamese coffee culture grow.
Coffee was introduced to Vietnam by French colonists in 1857, kicking off a multi-century agricultural boom.
Today, Vietnam is the world's second-largest coffee exporter; only Brazil exports more. Colombia, where I once lived and began drinking coffee regularly, is third.
The importance of coffee in Vietnam is evident on the city streets, where there seems to be a cafe on every block (and down most alleys, too).
Here, I'll highlight the typical types of Vietnamese coffee drinks on those cafe menus.
If you can get to Vietnam, there's no better place to try them—otherwise, check Vietnamese restaurants or an Asian market near you.
Types of Vietnamese Coffee
Drip Coffee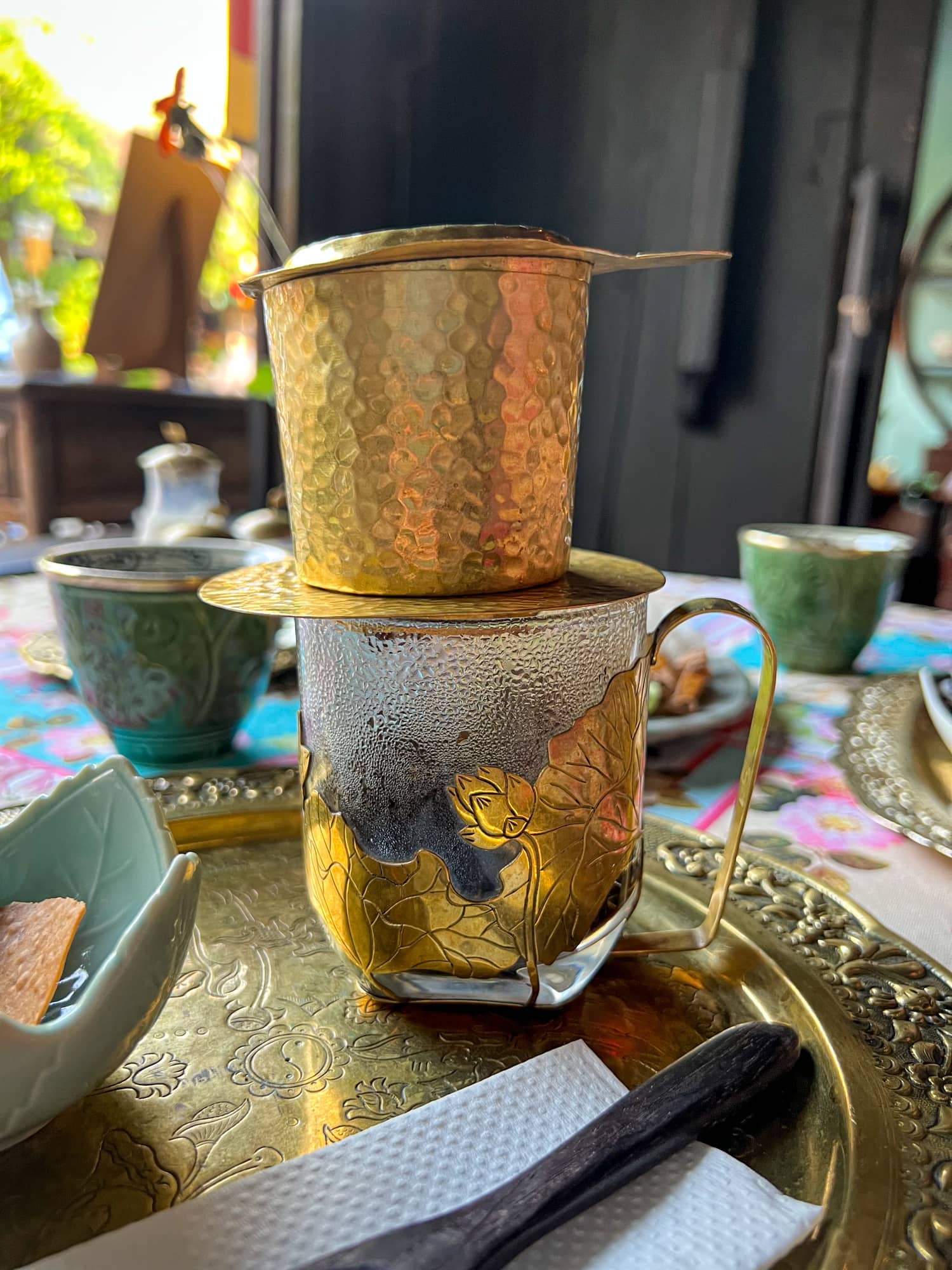 The most common method for brewing coffee in Vietnam is to use a phin, a traditional Vietnamese coffee filter.
The simple device is made of stainless steel or aluminum and includes four parts:
Filter plate
Brew chamber (small cup)
Gravity press (metal disc)
The Cap
Making Vietnamese drip coffee is similar to the French press and pour-over methods.
First, the filter plate is placed over an empty glass or mug, and then the small metal cup is placed on it. Two tablespoons of ground coffee are added, and the gravity press is placed over them.
Hot water is poured in until there's about a half-inch of water above the gravity press.
A brief 30-45 seconds pass while the grounds react, a process called "blooming."
Finally, more hot water is added until the brew chamber is full, at which point the cap (lid) is added to help lock in the heat.
At this point, if you're in a cafe, your glass with the metal filter on top will be delivered, leaving you to wait for the coffee to finish brewing (about five minutes).
No single-use paper filters are required, thereby reducing waste.
Hot Black Coffee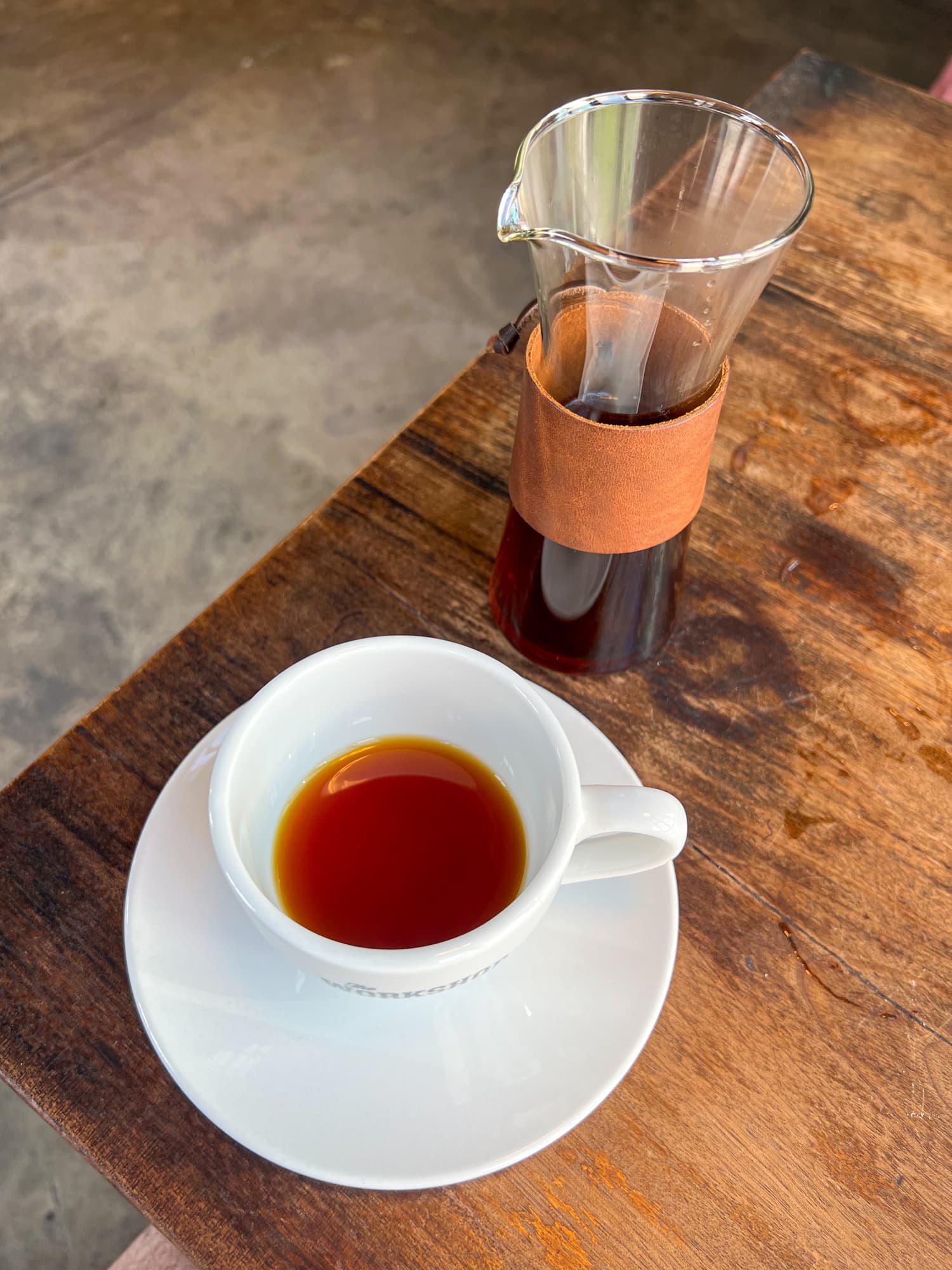 If you're after a hot black coffee (ca phe den nong), remove the phin from the top of the coffee and start sipping.
Up to 95% of the Vietnamese coffee beans grown are Robusta beans, which are twice as caffeinated as Arabica beans, more intense, and more bitter.
So, if you have difficulty drinking your first Vietnamese black coffee, add some sugar and sweetened condensed milk to cut the bitterness.
Iced Black Coffee
Since two-thirds of Vietnam has a tropical climate, hot coffee has limited appeal, and iced coffees are ubiquitous.
If you prefer an iced black coffee (ca phe den da), pour the resulting coffee into a glass with ice once your cup is brewed.
Iced Milk Coffee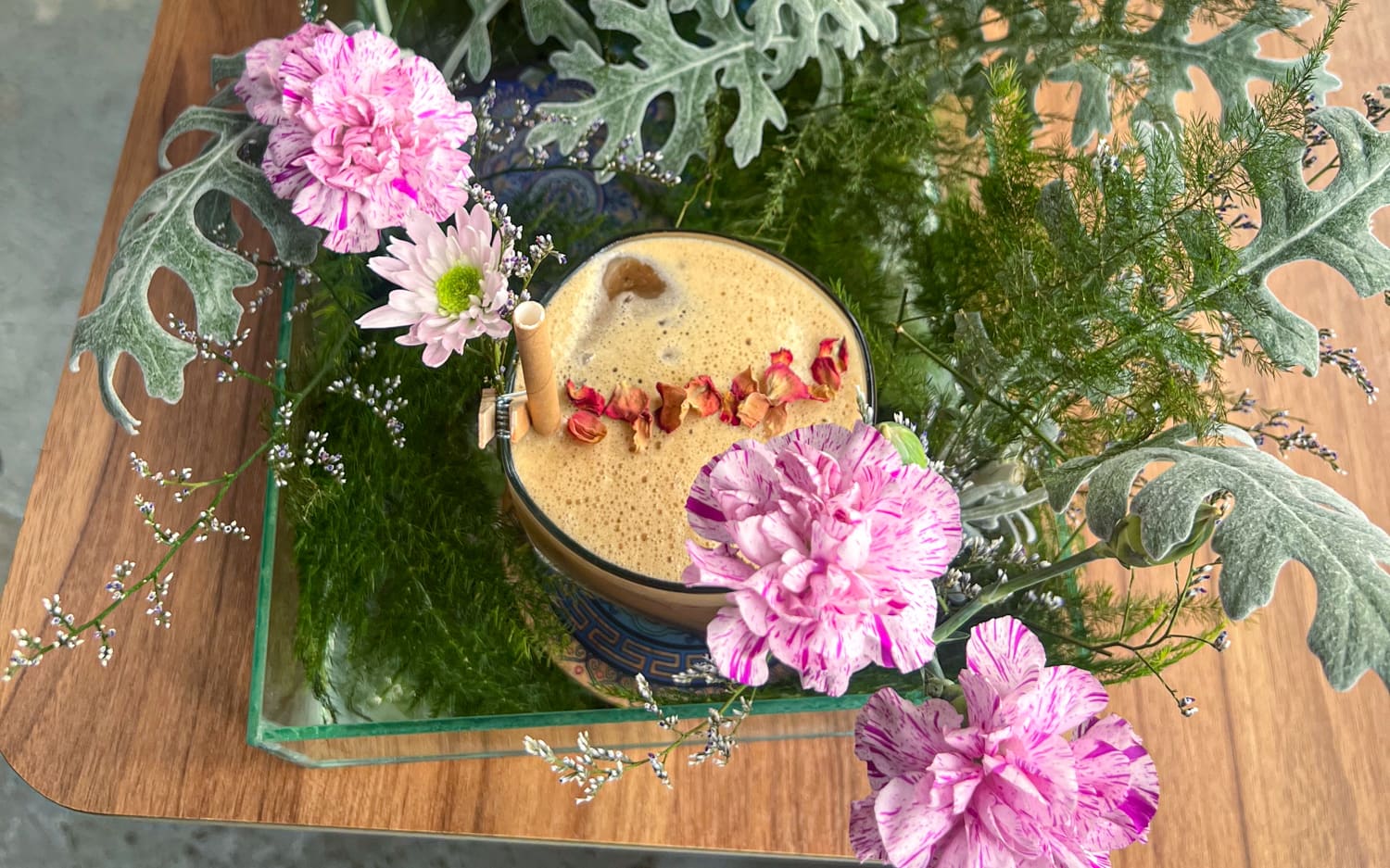 Aside from nitro cold brew coffee, I prefer sweet coffee with a creamy texture, so I gravitated toward Vietnamese iced coffee with condensed milk (ca phe sua da).
In the 1800s, fresh milk wasn't available in Vietnam. As the coffee industry and French-inspired cafe culture developed, sweetened condensed milk (which doesn't require refrigeration) was used instead.
Sweetened condensed milk helps counter the bitterness of the strong Robusta coffee beans and can make for some fun visuals when it's poured into the bottom of a glass or drizzled on the sides.
Iced White Coffee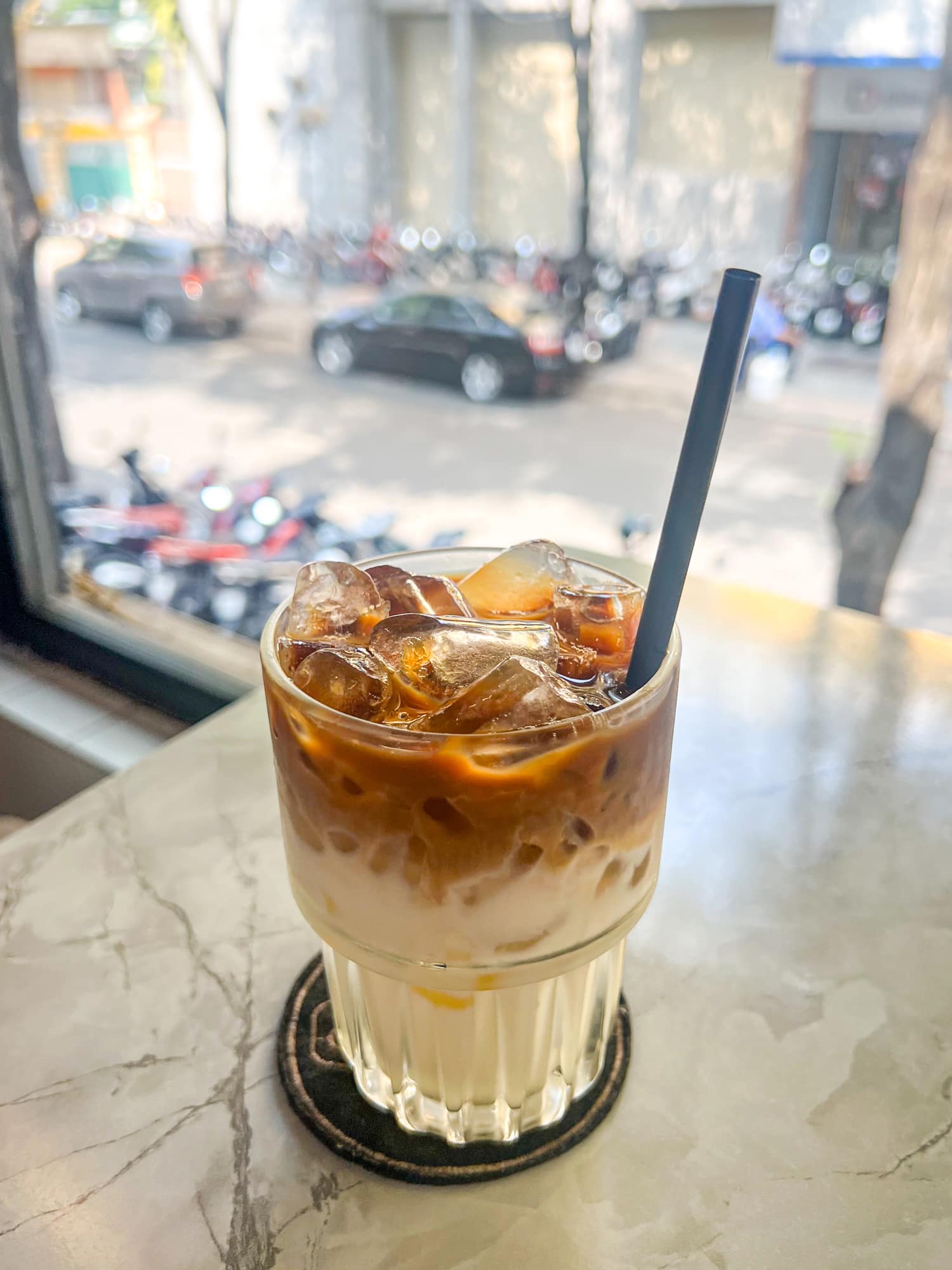 If you want to partake in Vietnam's cafe scene but aren't a huge coffee lover, you've got options.
Vietnamese white coffee (bac xiu) flips the ratio of coffee to sweetened condensed milk. Think of it as Vietnam's version of an iced latte.
I only had one iced white coffee during my travels, as it tasted more like I was drinking milk than coffee.
Most cafes offer alternatives to coffee, such as tea, cacao drinks, fresh fruit juices, and smoothies. We came across some truly creative options.
See also: Anan Saigon's Modern Vietnamese Cuisine
Egg Coffee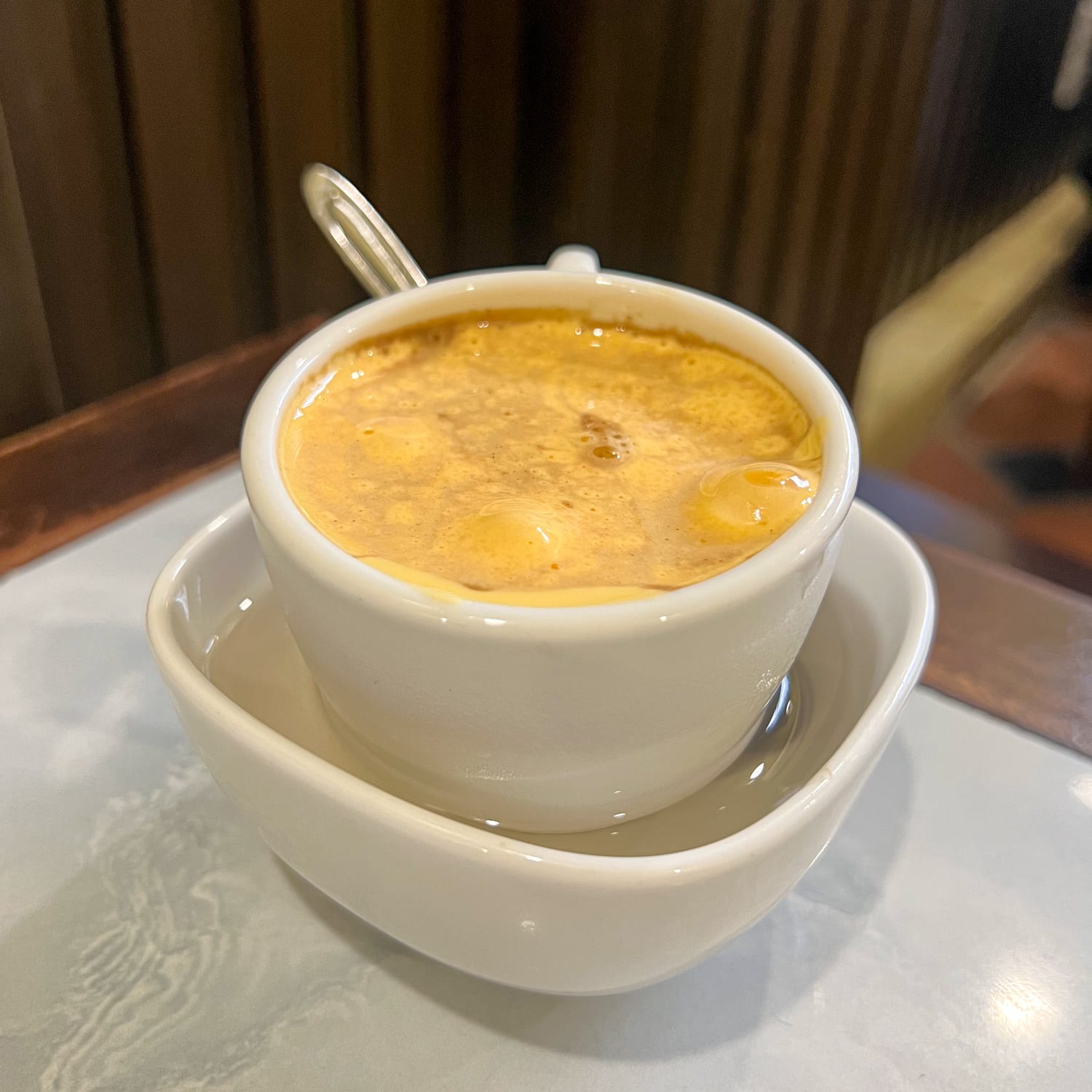 Hot
Necessity was the mother of invention in 1946 when a former bartender, Nguyen Vang Giang, sought a substitute for milk, which was in short supply due to the First Indochina War (known as the French War in Vietnam).
Giang whisked raw egg yolks with sweetened condensed milk, butter, and cheese into a thick foam, which he then dolloped atop Vietnamese coffee.
The result was a creamy dessert-like drink and an instant hit in Hanoi. Think liquid tiramisu.
Giang capitalized on his discovery and opened his eponymous coffee shop, Cafe Giang, a few blocks north of Hoan Kiem Lake.
Today, you can still enjoy his original Vietnamese egg coffee (ca phe trung) at Cafe Giang, now run by his eldest son. There, you'll find the classic recipe plus a lengthy list of variations.
Egg coffee is typically served hot and delivered in a warm water bath to maintain its temperature.
To enjoy this beverage as the Vietnamese do, use the small spoon provided to scoop up a taste of the foam before sipping on the coffee beneath.
At Cafe Giang, I also tried a hot egg coffee with Oreos, which was the same, with crumbled cookies on top.
I liked the chocolatey taste the cookies added, but two egg coffees in one sitting were too much for me.
Cold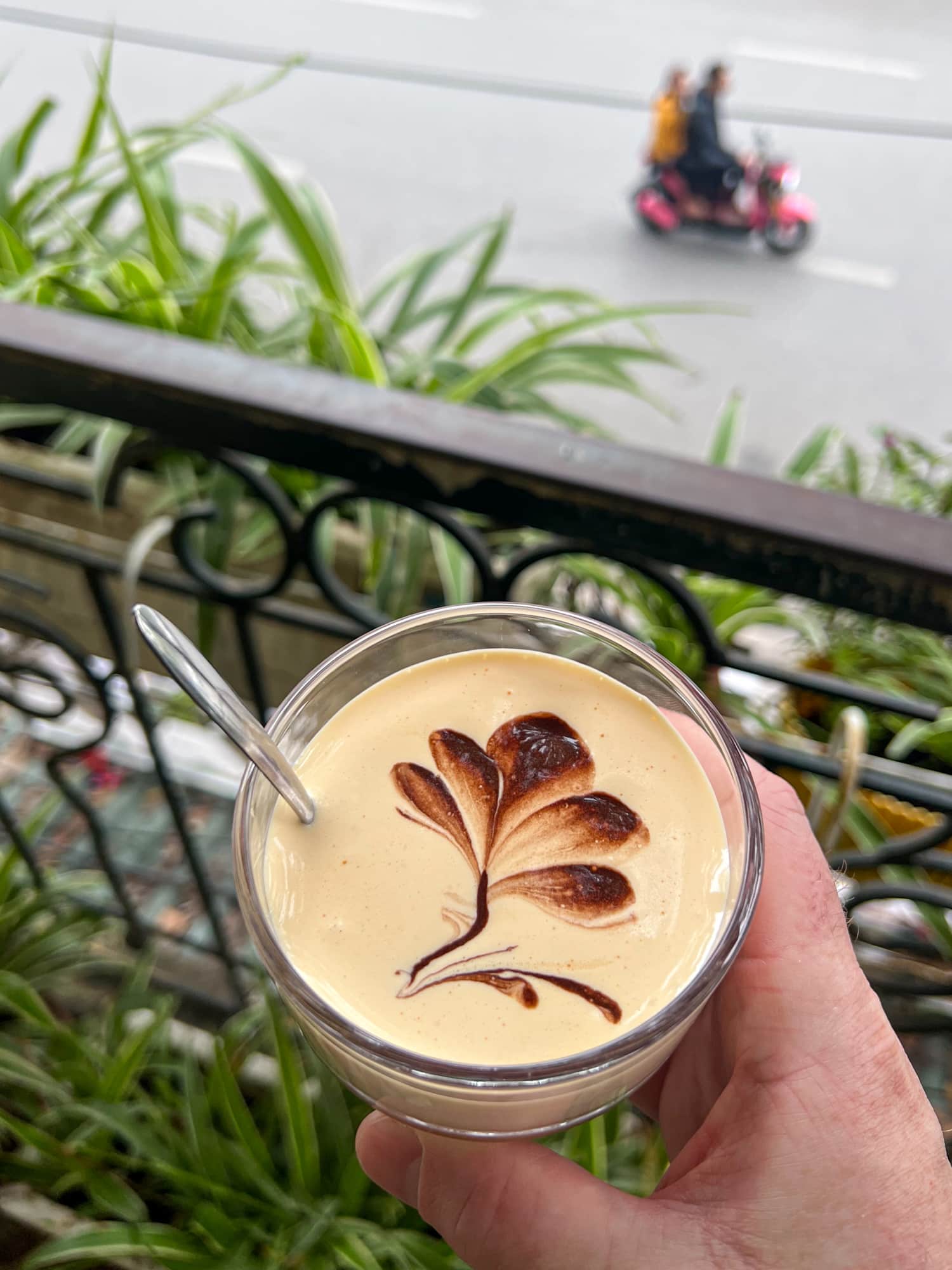 In the 1990s, the daughter of Nguyen Vang Giang opened Cafe Dinh, a few blocks from her father's cafe in Hanoi.
Here, you can find the family's original egg coffee in hot and cold variations and other drinks typical of Vietnamese cafes.
I used the opportunity to try cold egg coffee. The texture and consistency were similar to the hot version but with no need to be served in a water bath.
The presentation was excellent, and it tasted similar. However, I preferred the hot version because it felt a little luxurious.
Coconut Coffee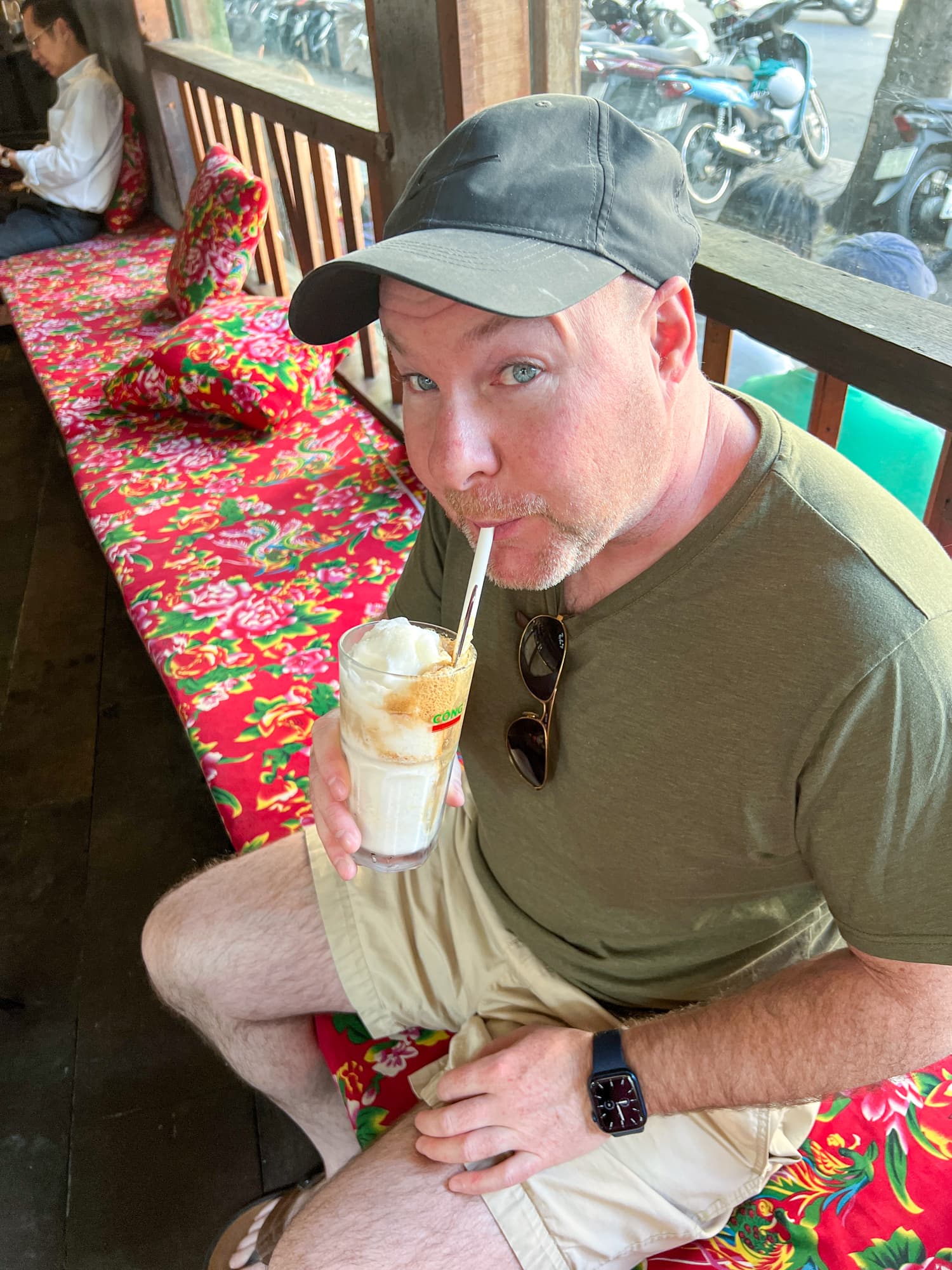 Upon landing in Vietnam, my first coffee was a coconut coffee (ca phe dua) at Cong Ca Phe, a chain of Vietnamese cafes that began in Hanoi in 2007 and has since expanded throughout the country.
What I received was akin to a thick and creamy coconut smoothie with a bit of cold Vietnamese black coffee.
Vietnamese coffee recipes vary; however, most call for blending sweetened condensed milk with coconut cream (or coconut milk) and ice.
While I love coconut cream and enjoyed the drink for what it was, I didn't order another coconut coffee. Like Vietnamese white coffee, there wasn't enough coffee flavor to it.
As I write this, though, I realize other cafes may have different ratios of coconut slush to coffee, and perhaps I gave up too soon!
Related: Coffee Culture in Milan
Yogurt Coffee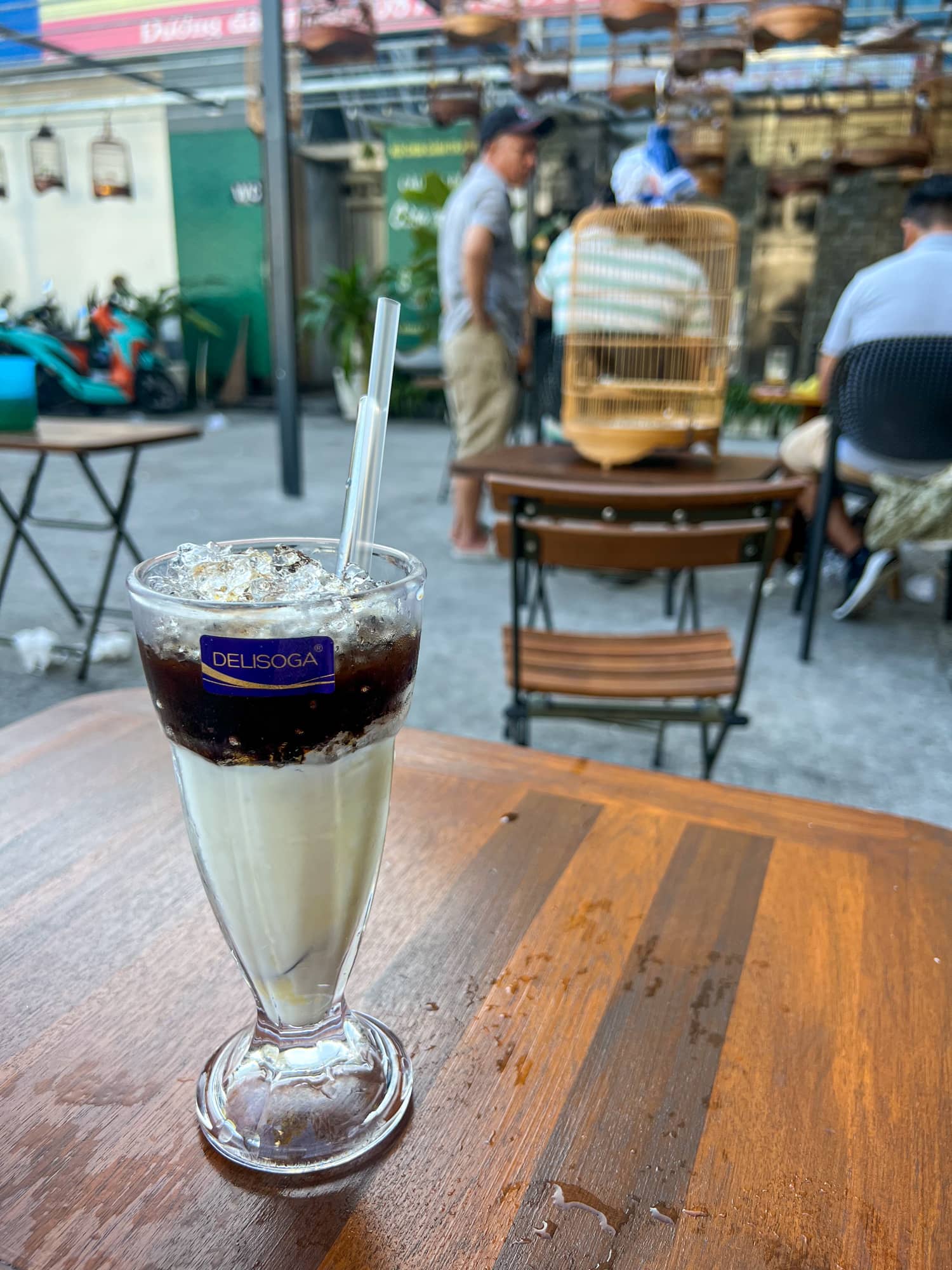 There's a first time for everything, including Vietnamese yogurt coffee. This drink is exactly what it sounds like.
Plain yogurt is added to a glass and topped with chilled black coffee and ice. A long spoon is provided to mix it all, and then you sip it through a straw.
As a matter of personal preference, I learned that I prefer to keep my yogurt consumption separate from my coffee consumption.
This was another typical Vietnamese coffee drink I had once in the country.
Smoothie Coffee
At this point in the list, it shouldn't be surprising that the Vietnamese people also enjoy a good coffee smoothie.
At its simplest, this is black coffee blended with sweetened condensed milk and ice. Of course, there are infinite variations.
My only regret from Vietnam is that I didn't make it a point to try an avocado smoothie coffee (ca phe sinh to bo).
Avocados appeared to be a popular option for making smoothies there, and I can't blame them.
I use avocados for smoothies at home for their creamy texture and healthy fats.
Related: Coffee Shops in Austin
Salt Coffee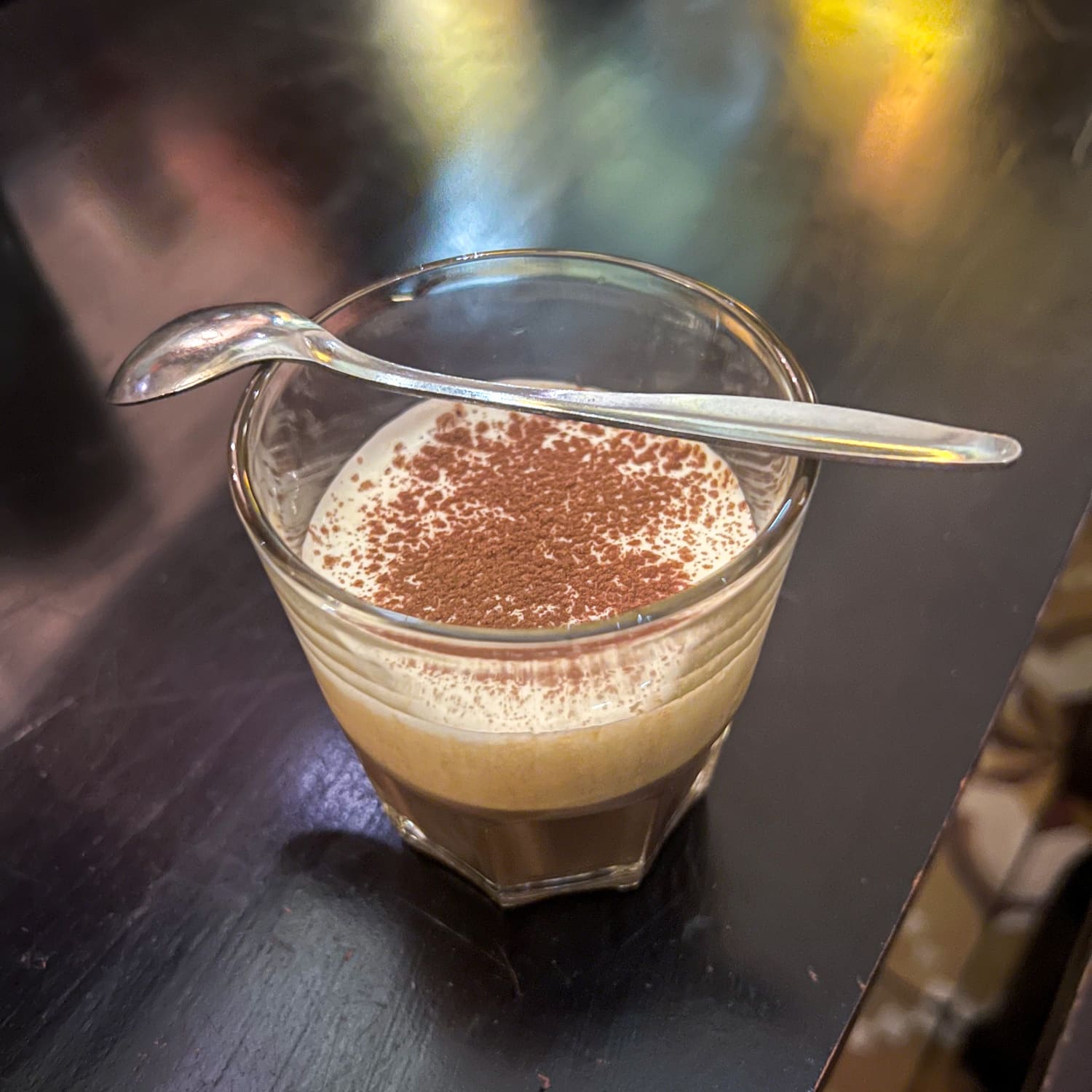 Finally, I will end this article with the most delightful surprise I experienced on a motorbike street food tour in Da Nang, a coastal city in Central Vietnam.
One of our stops was at a cafe where I tried salt coffee (ca phe muoi) for the first time.
This delicious drink is said to have been first served in Ca Phe Muoi, a cafe in the city of Hue about 55 miles (90 kilometers) up the coast from Da Nang.
Vietnamese salt coffee is typically made using a Vietnamese phin filter.
The only difference between making regular milk coffee and salt coffee is that fermented milk with salt is used in addition to sweetened condensed milk.
The salt is said to help cut the bitterness of the more robust Vietnamese beans while enhancing the sweetness of the milk.
At the charming cafe where I first encountered it, the coffee was delivered fully brewed, with a light foam on top and a dusting of cocoa powder.
One of our Vietnamese guides instructed me to scoop a spoonful of the salty foam to savor before sipping the coffee. I did, and my mind was blown by how delicious it tasted.
I've already found an Asian bakery close to home that serves salt coffee, so I can continue to get my fix.
Related: Explore Traditional Vietnamese Food
Final Thoughts
Touring Vietnam for the first time and delving into its coffee and cafe culture was great fun.
Considering how strong the coffee is there and that I typically drink less than a cup a day at home, I was surprised by how well I handled it.
I have a new appreciation for Vietnamese coffee, which goes well beyond Vietnam's best-known iced milk coffee.