The Italian tradition of aperitivo in Milan is one I was excited to take part in during my short stay.
I wanted to make my aperitivo experience memorable, so I went for a Negroni Sbagliato at Bar Basso, the bar where this classic Italian cocktail was accidentally invented in 1972.
If you're an American like me, you might be wondering what an "apertivio" is so let's cover that first.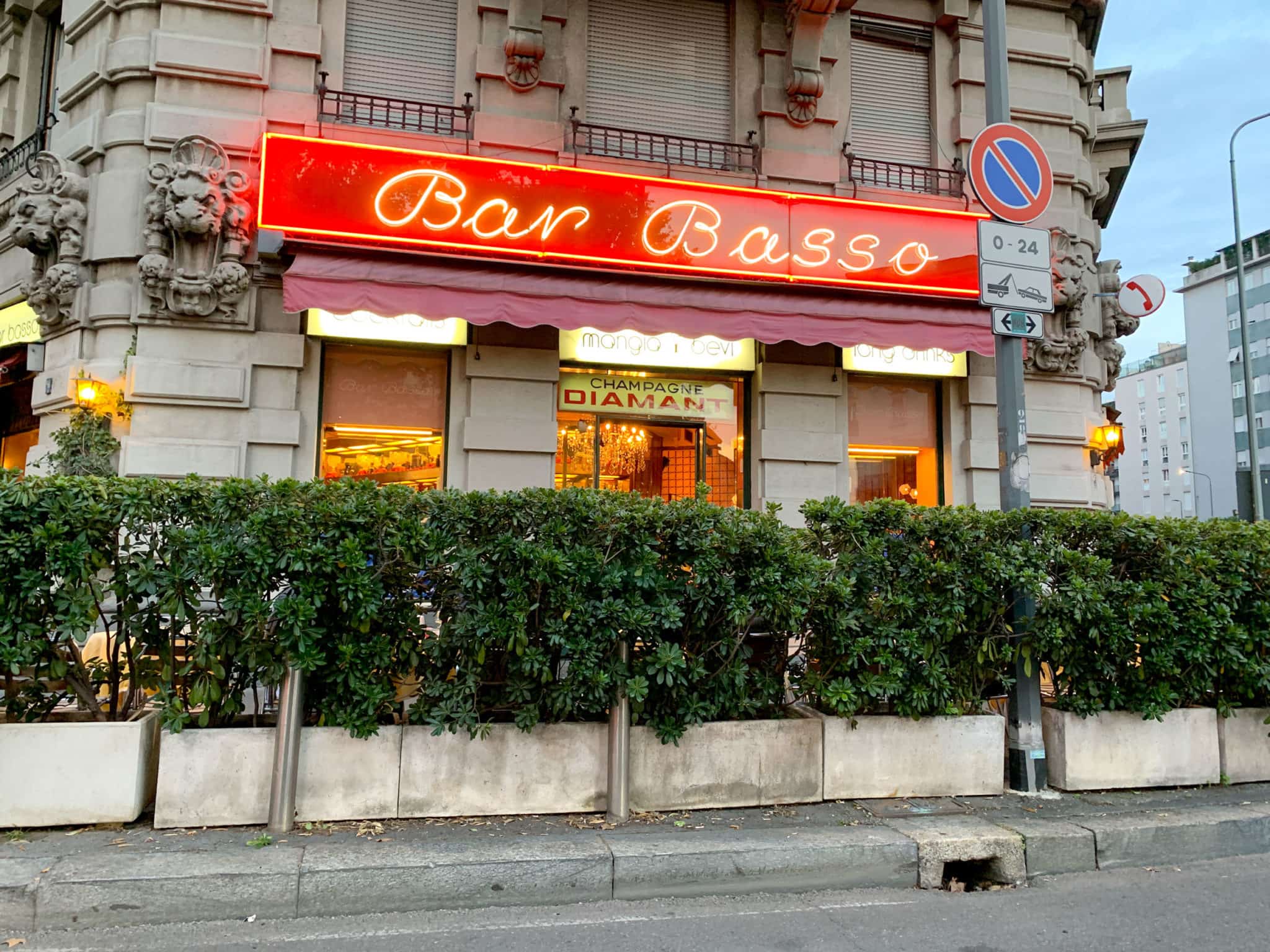 An Italian Tradition
Just as Italians enjoy gathering for coffee, they also like getting together at the end of the workday for a drink at their local bars.
Unlike the U.S., where the tradition of happy hour focuses on drink discounts to entice customers at this time of day, Italians are more measured. And more focused on proper digestion.
Which explains why popular aperitivo cocktails are made using bitter liquors like Campari (from Milan) and Aperol (from Padua).
The primary effect of these drinks is to get your digestive juices flowing ahead of dinner.
Snacks are often served as well, from the basics such as olives and potato chips to savory pastries and mini-pizzas.
In recent years, some bars have started offering buffets where patrons can graze on whatever they prefer as they sip their cocktail.
If you're on a tight budget, you might even be able to get a dinner's worth of food out of some buffets. I did this later in Florence one night just for kicks.
The most common Italian drinks ordered during aperitivo in Milan are:
Negroni - gin, vermouth, and Campari, garnished with an orange slice
Negroni Sbagliato - Prosecco, vermouth, and Campari, orange slice
Aperol Spritz - Prosecco, Aperol, and soda
As you can see, the difference between the Negroni and Negroni Sbagliato is sparkling wine substituted for the gin in the latter.
This was the mistake made by a bartender at Bar Basso that led to a new cocktail being born.
Another popular aperitivo cocktail is the Americano, which is like a Negroni except with soda water instead of gin. It's a lighter, less alcoholic drink.
Wine is also typical during aperitivo, especially sparkling wines like Prosecco, and their related cocktails.
The Bellini, created in Venice, is made of Prosecco and peach juice.
Expect to pay full price for your cocktail, possibly even a little more than the regular price, to account for the snacks provided.
Aperitivo time generally runs anywhere from 6 to 9 pm.
See also: An Introduction to Coffee Culture in Milan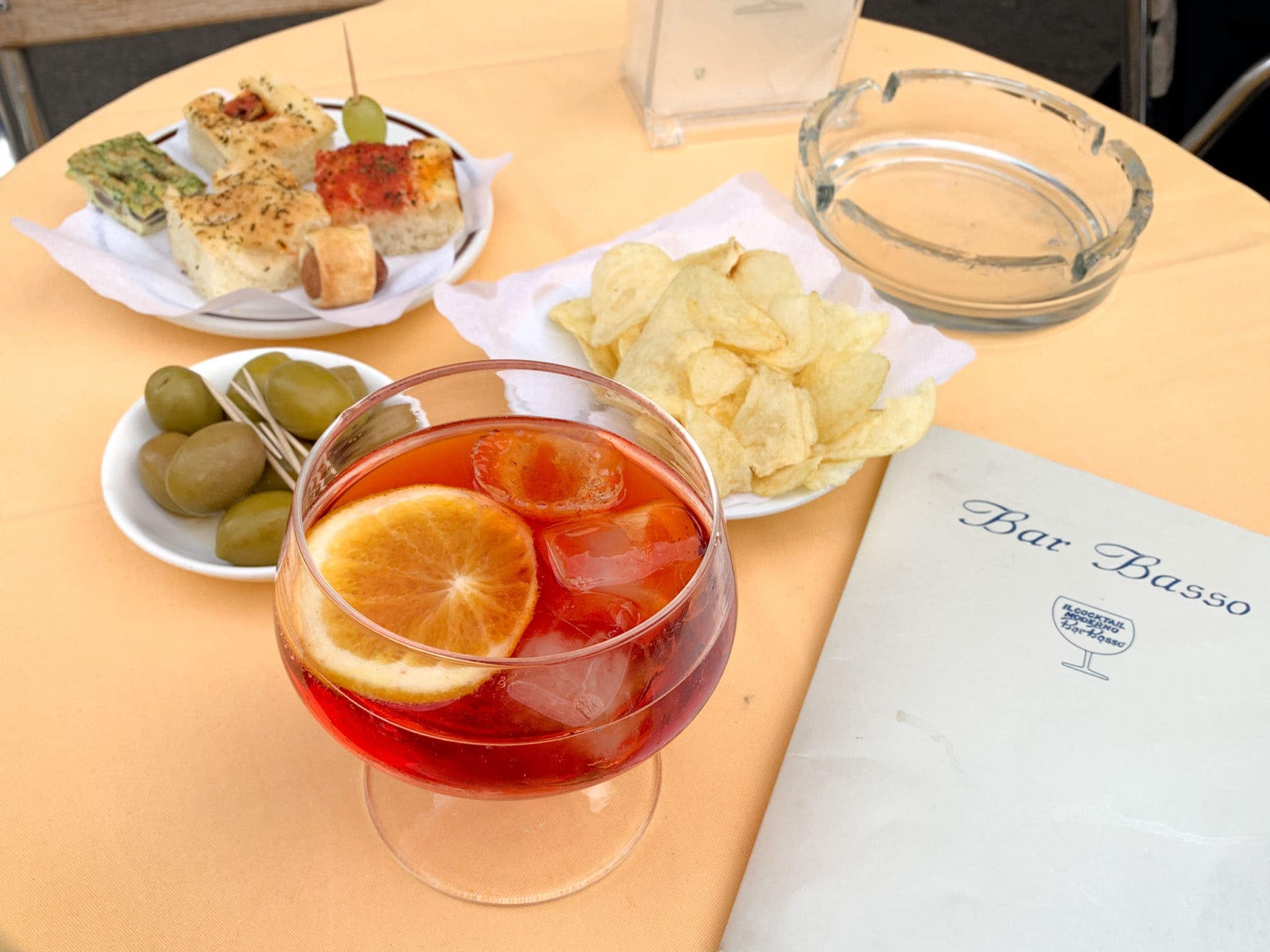 On my third and final night in Milan, I took an Uber to Bar Basso at about 5:45 pm. It's a historic bar, and the bright red neon sign is hard to miss.
It was a crisp October afternoon, so I wanted to sit outside, but I wasn't clear on whether I could sit down at a table or had to wait to be seated.
I alternated waiting patiently for attention and motioning my arms to speed things up.
Eventually, I was seated at a table near the bar's entrance and handed a menu.
Bar Basso boasts the ability to make over 500 mixed drinks, but I was there for their most famous one.
I ordered the Negroni Sbagliato for €10 ($11.50) and a few minutes later was brought a wide-rimmed glass with the bright reddish-orange cocktail, along with olives, potato chips, and some savory pastries.
I don't like olives, so I started nibbling on the chips. The pastries weren't anything special, but it's hard not to eat them when they're placed in front of you.
Before this trip to Italy, I'd avoided cocktails with bitters, because, well, they'd be bitter and that doesn't sound appealing. I've also stayed away from vermouth.
The deck was stacked against me enjoying the Negroni Sbagliato. However, I wanted to give it a try.
It was okay. I didn't love it, but I did thoroughly enjoy the setting and my first aperitivo in Milan.
See also: Nottingham Forest: One of the Best Bars in Milan
Need to Know
Address: Via Plinio 39, Milan
Hours: Mon, Wed-Sun 9 am-1:15 am
Dress: Casual
Did you enjoy this story? Join me on Instagram and Facebook to share thoughts, ask questions, or keep up with my latest adventures.