Breakfast at Brennan's Restaurant in New Orleans is the quintessential French Quarter dining experience.
Housed in a historic pink mansion dating back to 1795, Brennan's offers diners a private patio with sumptuous food, friendly service, and seven decades of tradition.
In 1946, Owen Brennan, an Irish-American, opened the Vieux Carré Restaurant across the street from The Old Absinthe House on Bourbon Street.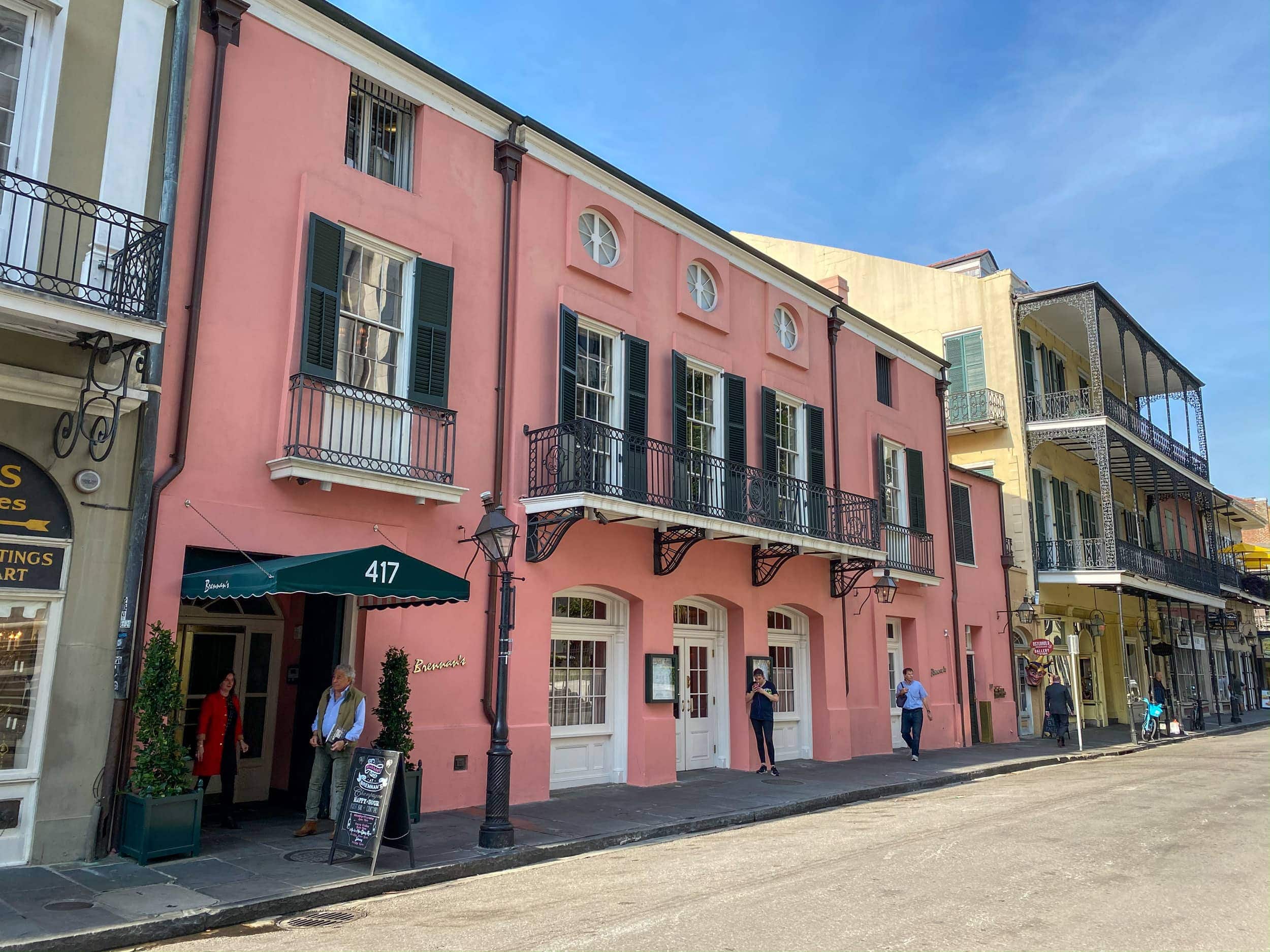 There, in its original location, breakfast was emphasized, and Banana's Foster was invented.
Ten years later, after Owen's passing, the restaurant was moved to its current location and renamed Brennan's.
My parents introduced my brother and me to breakfast at Brennan's during my first trip to New Orleans in 2017.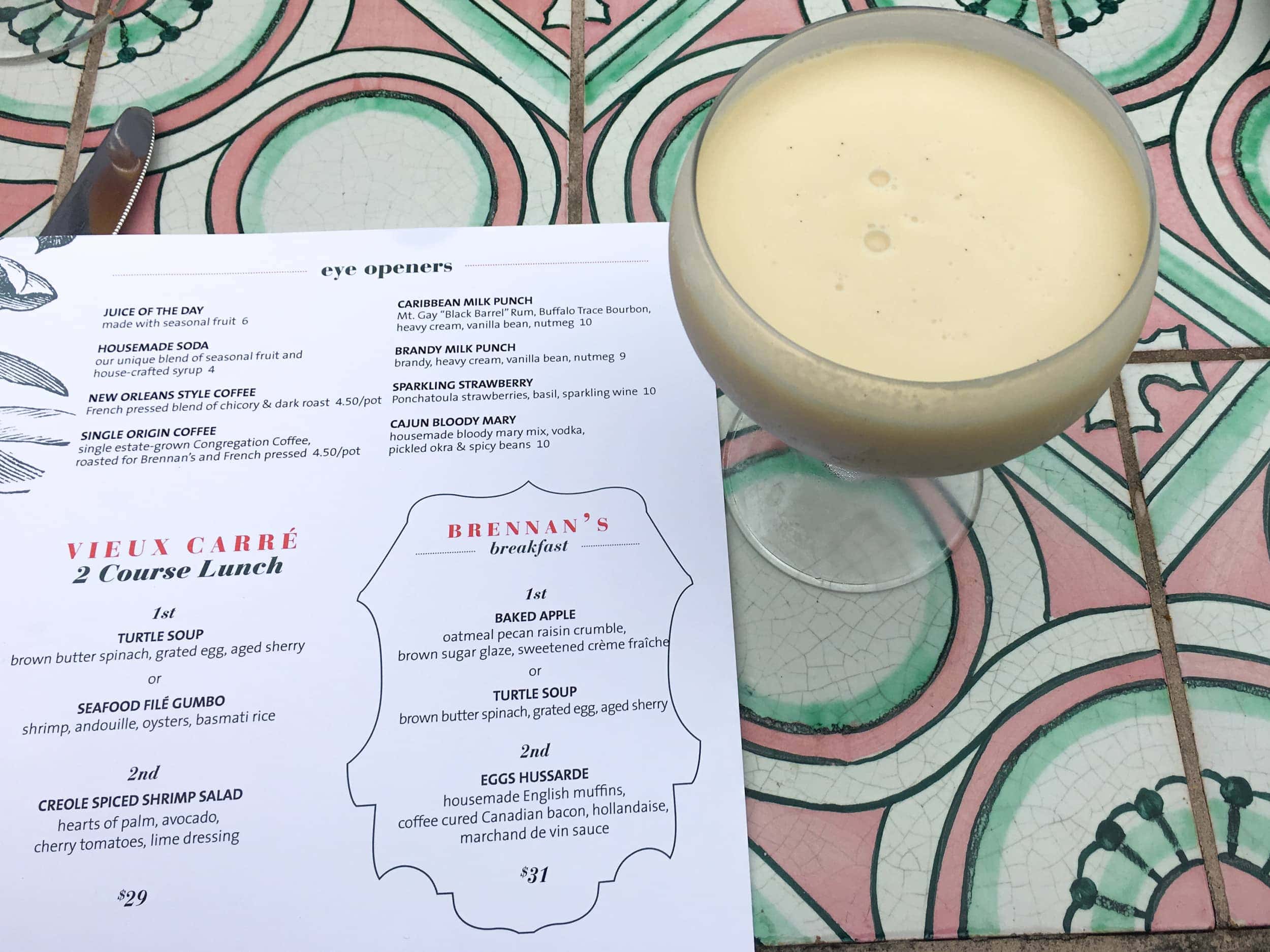 Breakfast Menu
The breakfast menu is full of elegant offerings.
Appetizers include gulf oysters with smoked chili butter, shrimp quenelles, crab and avocado toast, and Irish oats.
Adventurous eaters may want to give the turtle soup with brown butter spinach, egg, and sherry a try.
But it's the eggs that are the star of breakfast at Brennan's, and there's no shortage of luxurious options to choose from, including:
Eggs Hussarde, a Brennan's original, with coffee cured Canadian bacon, hollandaise, and marchand de vin sauce
Omelette a la Creole with Louisiana crawfish tails
Eggs Sardou (an Antoine's original) with crispy artichokes and parmesan creamed spinach
Eggs St. Charles Royale with speckled trout, spinach, Cajun caviar, and sauce maltaise
If indulging in eggs seems too light an affair, there's a whole list of entrees to consider, from ricotta pancakes to duck andouille and Creole-spiced beef tenderloin.
And don't forget dessert, which includes Brennan's famous Banana's Foster, baked Alaska, and pumpkin bread pudding, among others.
Caribbean Milk Punch
I began my breakfast experience by ordering a Caribbean milk punch with Mt. Gay "Black Barrel" Rum, Buffalo Trace Bourbon, heavy cream, vanilla bean, and nutmeg.
The milk punch was rich and creamy, a sweet start to what quickly became a memorable meal.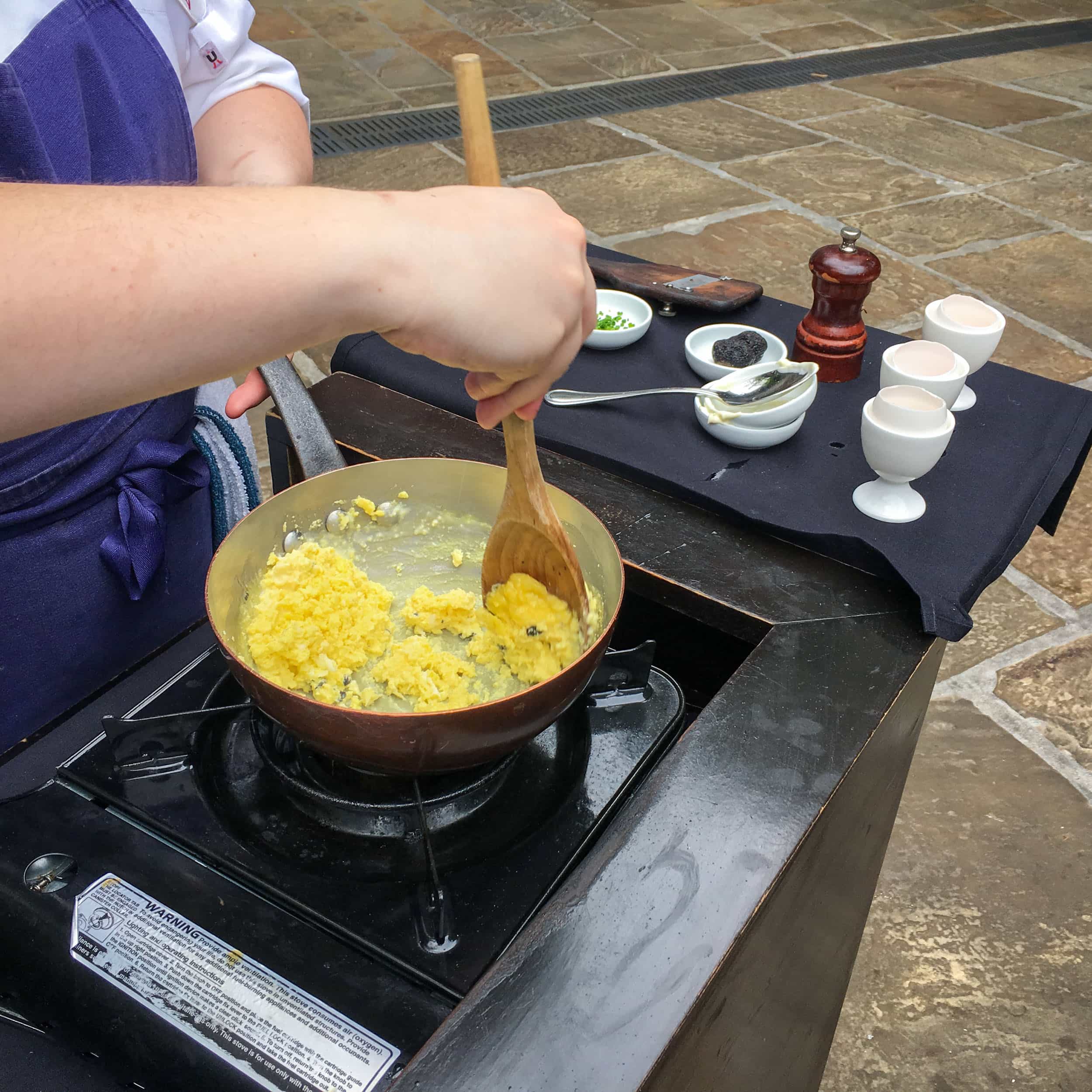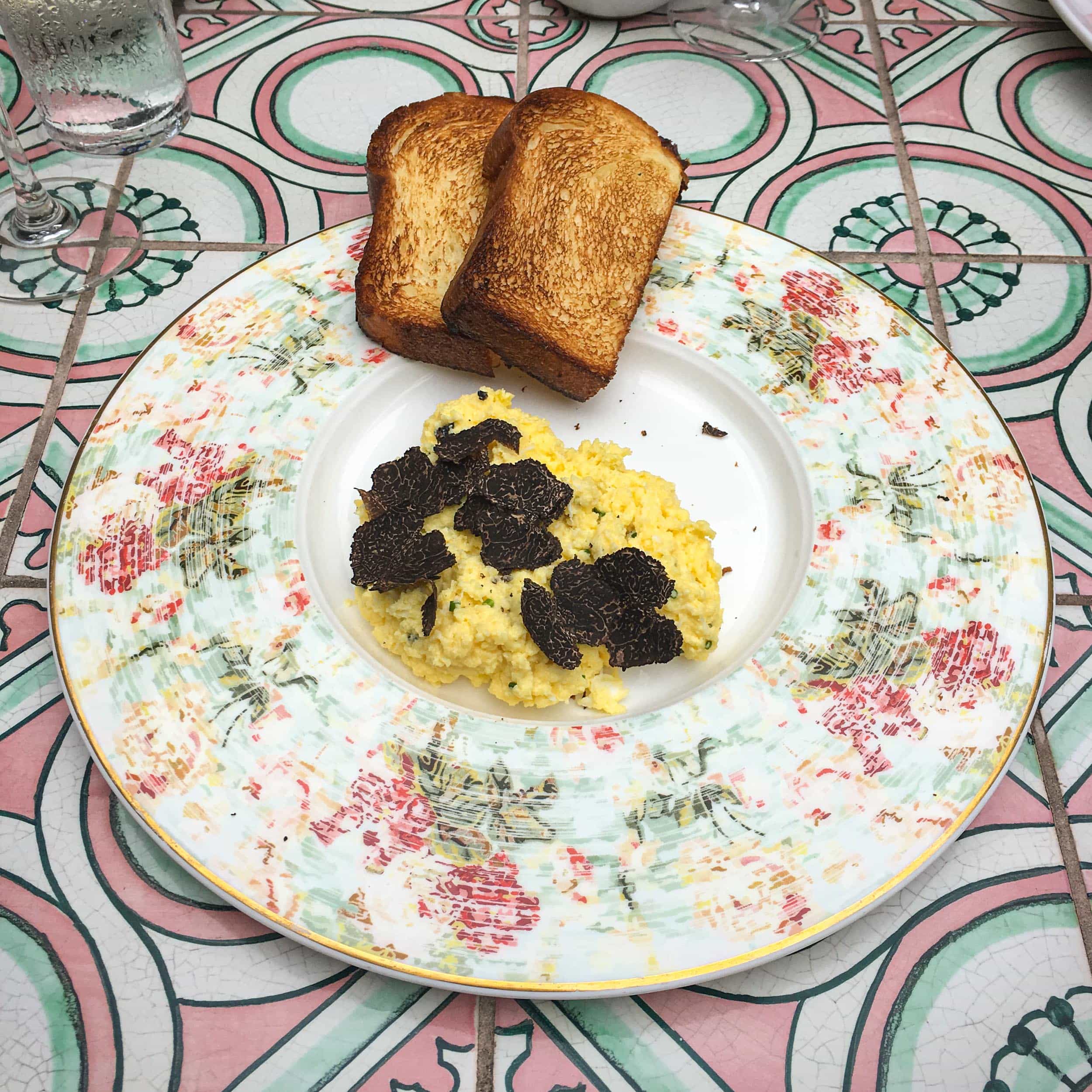 Soft-Scrambled Eggs
While it's no longer on the menu, at the time I ordered scrambled eggs prepared tableside.
Three duck eggs were cracked and gently scrambled in a pan with creme fraiche and chives.
Before serving, Perigord black truffles were shaved on top for a touch of luxury.
The eggs were served with slices of buttery brioche.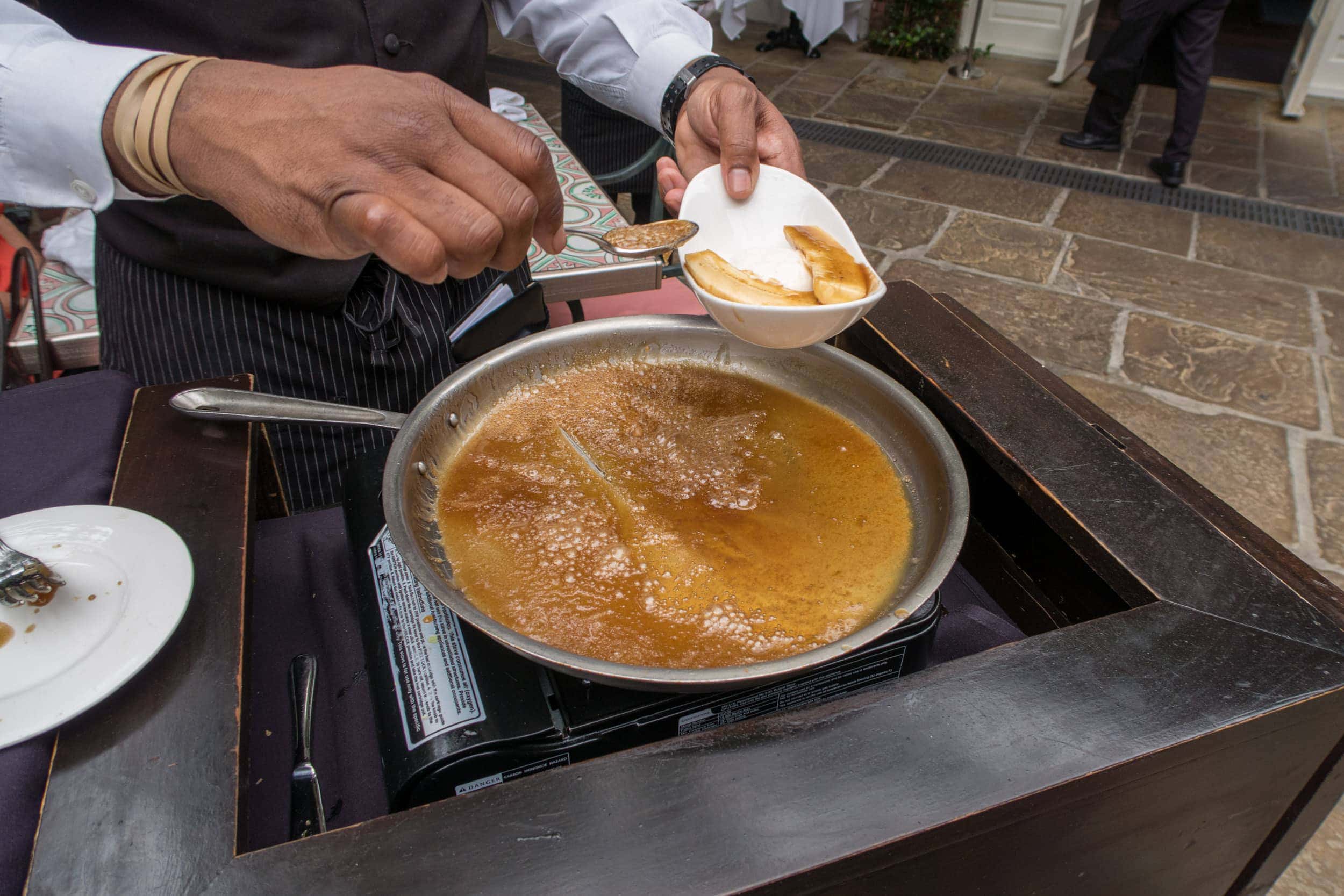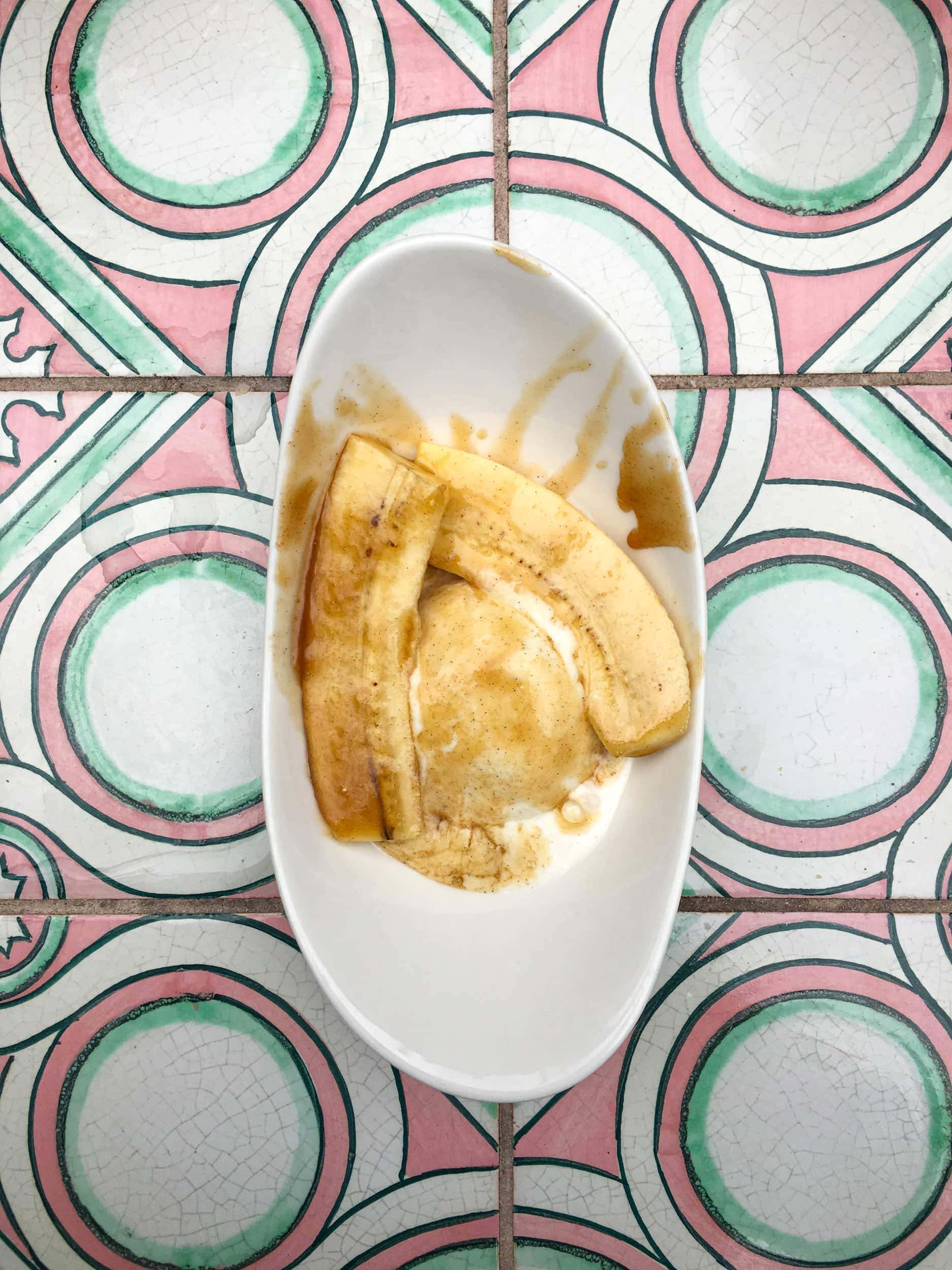 Banana's Foster
For dessert, we shared an order of Banana's Foster, also prepared tableside.
The dish is named Richard Foster, a friend of Owen Brennan, who was chairman of the New Orleans Crime Commission when it was developed in 1951.
Banana's Foster is made by combining butter, sugar, cinnamon, and banana liqueur in a pan.
Add peeled, sliced bananas. As they begin to soften, add rum, which you then ignite from the flame of a gas stove (or a lighter, if you're working on an electric range).
Stir the sauce until the flame goes out, signaling the alcohol has burned off.
Place the bananas atop vanilla ice cream and drizzle with the pan sauce.
Boozy bananas drenched in caramel sauce and scooped up with vanilla ice cream is as good as dessert gets.
***
Over a weekend full of incredible meals with my family, breakfast at Brennan's was my favorite.
Check out my list of the best restaurants in New Orleans for more of my favorites.
Plan Your Visit
Address: 417 Royal Street, French Quarter, New Orleans
Hours: 9 am - 2 pm, Monday to Friday, 8 am to 8 pm, Saturday and Sunday; 6 pm - 10 pm for dinner nightly
Dress code: dressy casual -- no tank tops, cut-offs, or athletic shorts
Reservations: recommended and available up to 60 days in advance, call ahead to confirm the patio is available -- make a reservation
Signature dishes: Banana's Foster, Eggs Hussarde, Bloody Bull cocktail
Cost: appetizers $10-$16, eggs $18-$27, mains $16-$38, dessert $10-$15
Did you enjoy this story? Join me on Instagram and Facebook to share thoughts, ask questions, or keep up with my latest adventures.