The best tacos in Austin, Texas, reflect Mexican street food culture and the skills and know-how required to make homemade tortillas from scratch.
There are hundreds of places to eat tacos in the Austin area, whether you're getting them from a mom-and-pop taco stand in a parking lot or a nationally-recognized restaurant.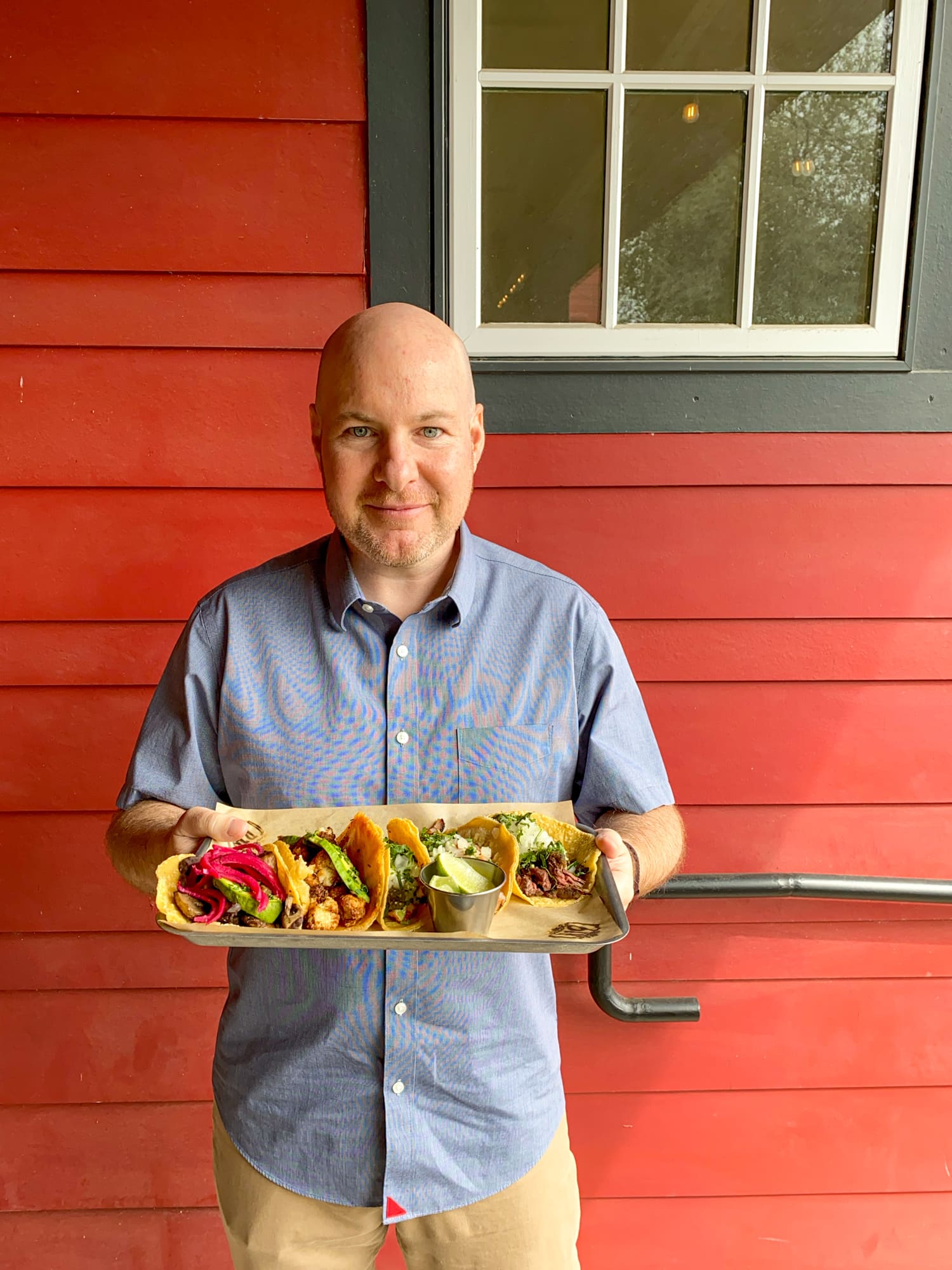 When I first moved to the Texas capital, Austin's taco scene seemed dominated by two homegrown chains, Torchy's Tacos and Tacodeli.
While I've eaten at both numerous times and enjoyed their offerings, I prefer this story to highlight smaller businesses, most with only one location.
Are you getting hungry? Good! Here are ten places for great tacos in Austin.
Top Austin Tacos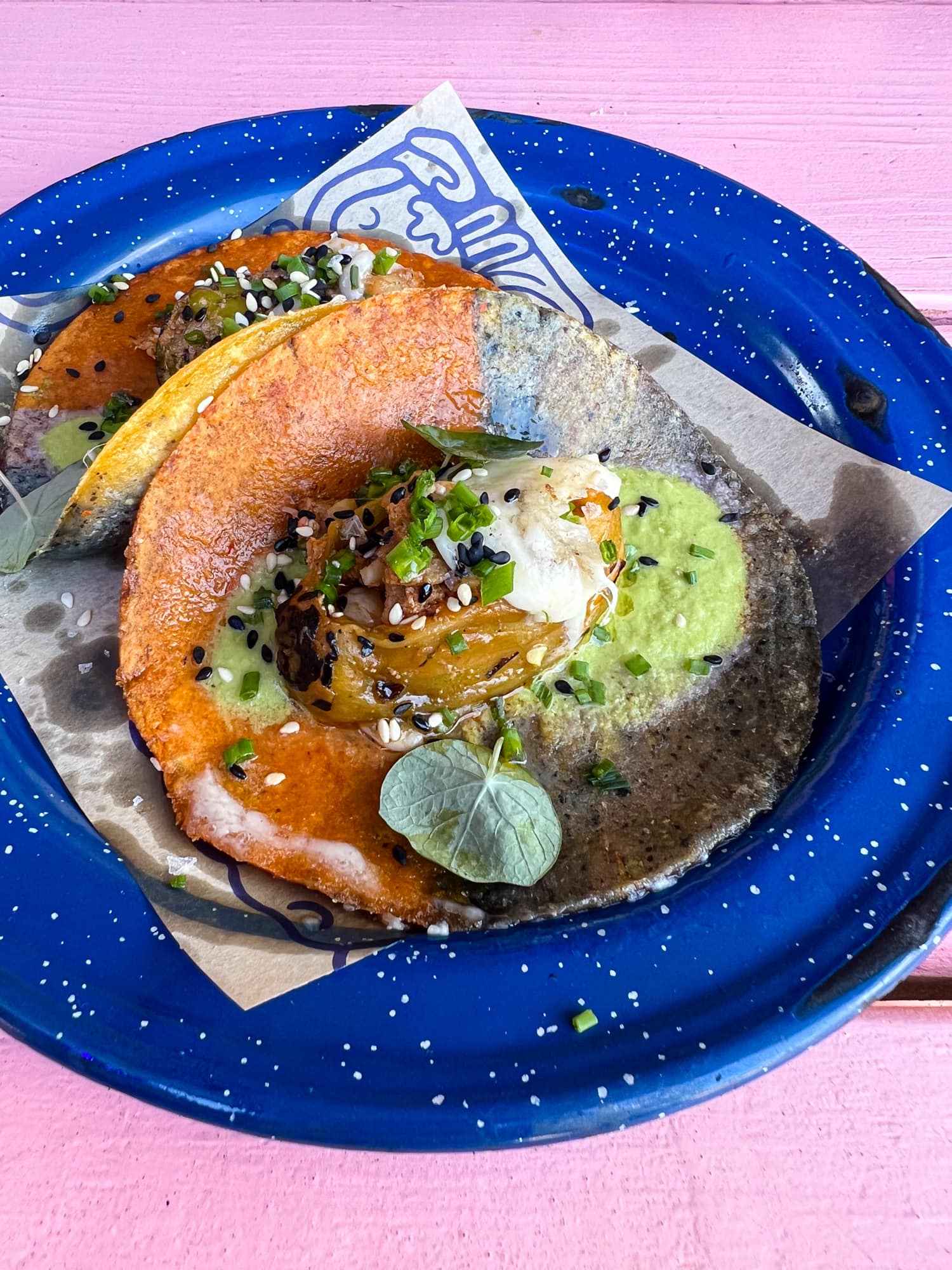 1. Nixta Taqueria
East Austin is home to Nixta Taqueria, one of the top taco spots in the country.
Within its first year of opening, Food + Wine named Nixta one of the ten best new restaurants in the United States. And in 2022, chef Edgar Rico won the James Beard Award for Emerging Chef.
The taqueria's name comes from nixtamalization, an ancient process developed in Mexico by mixing dried corn kernels with lime to transform them into a more manageable material.
Nixta sources its heirloom corn from Hugo Gomez Mendez, a farmer in San Martin Tilcajete, Oaxaca. The colorful corn is imported and ground in-house to produce the six-inch homemade corn tortillas.
My favorite tacos are the duck carnitas tacos and migas tacos.
Served at breakfast and lunch, the migas tacos feature duck-fat refried beans, while the breakfast tacos mix Tillamook cheddar cheese with scrambled eggs and fingerling potatoes.
Vegetarian tacos include cauliflower and seasonal sweet potatoes. There's a decent amount of outdoor seating, but it does get busy, so go early. Prices range from $6 to $13 per taco.
2512 E 12th St, East Austin, nixtataqueria.com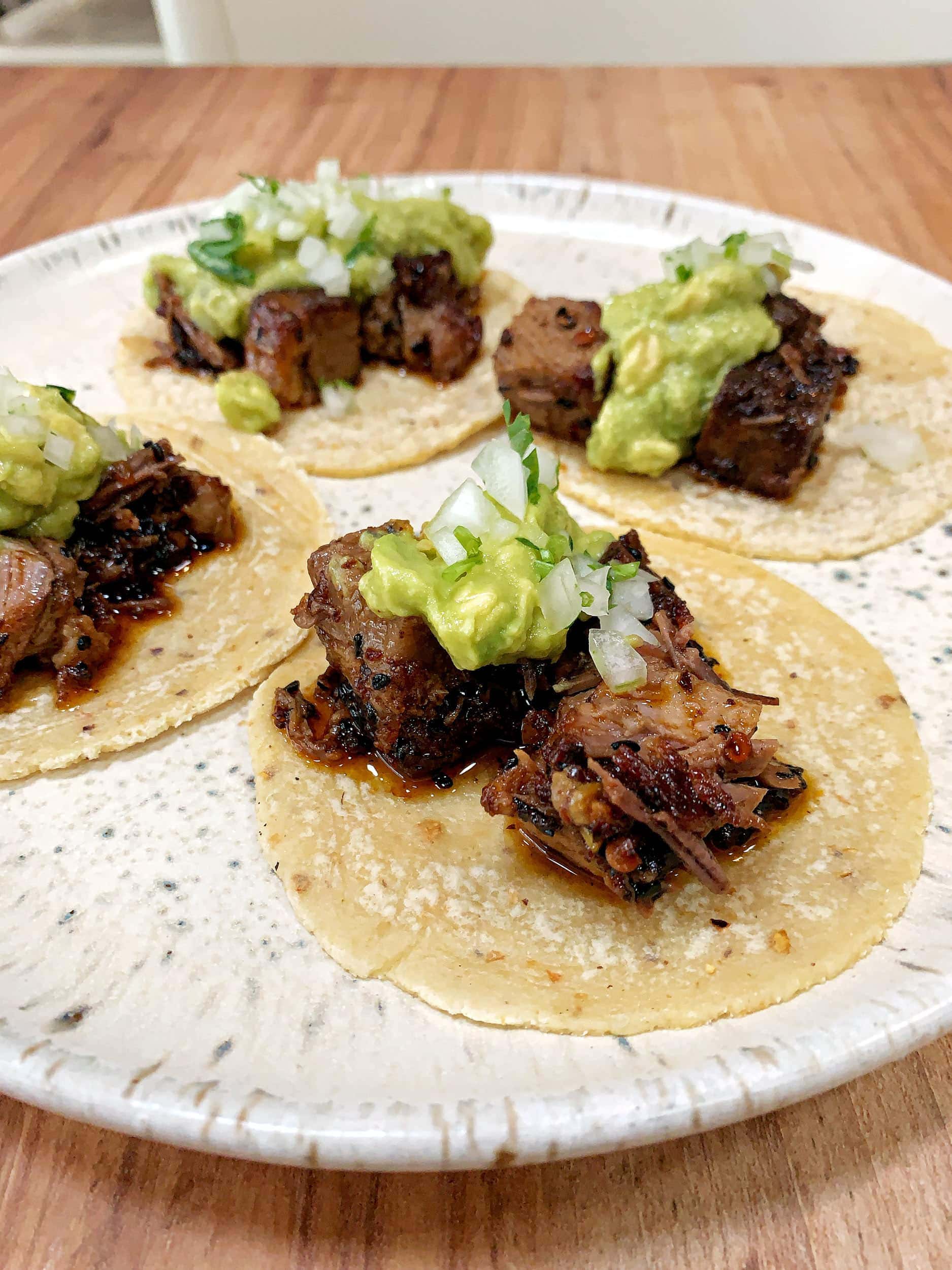 2. Suerte
In 2019, a year before Nixta Taqueria was named one of the country's best new restaurants by Food + Wine, Suerte was on the list.
Mexican chef Fermin Nunez leads the team at Suerte; his resume includes La Condesa, Launderette, and Uchiko.
Whether you're there for brunch or dinner, look for the Suadero Tacos, made with wagyu brisket, black magic oil, avocado crudo, onion, and cilantro.
You'll receive four small street-style tacos per order, and they'll blow your mind. The dish costs $23 and is worth every penny.
1800 E 6th St, East Austin, suerteatx.com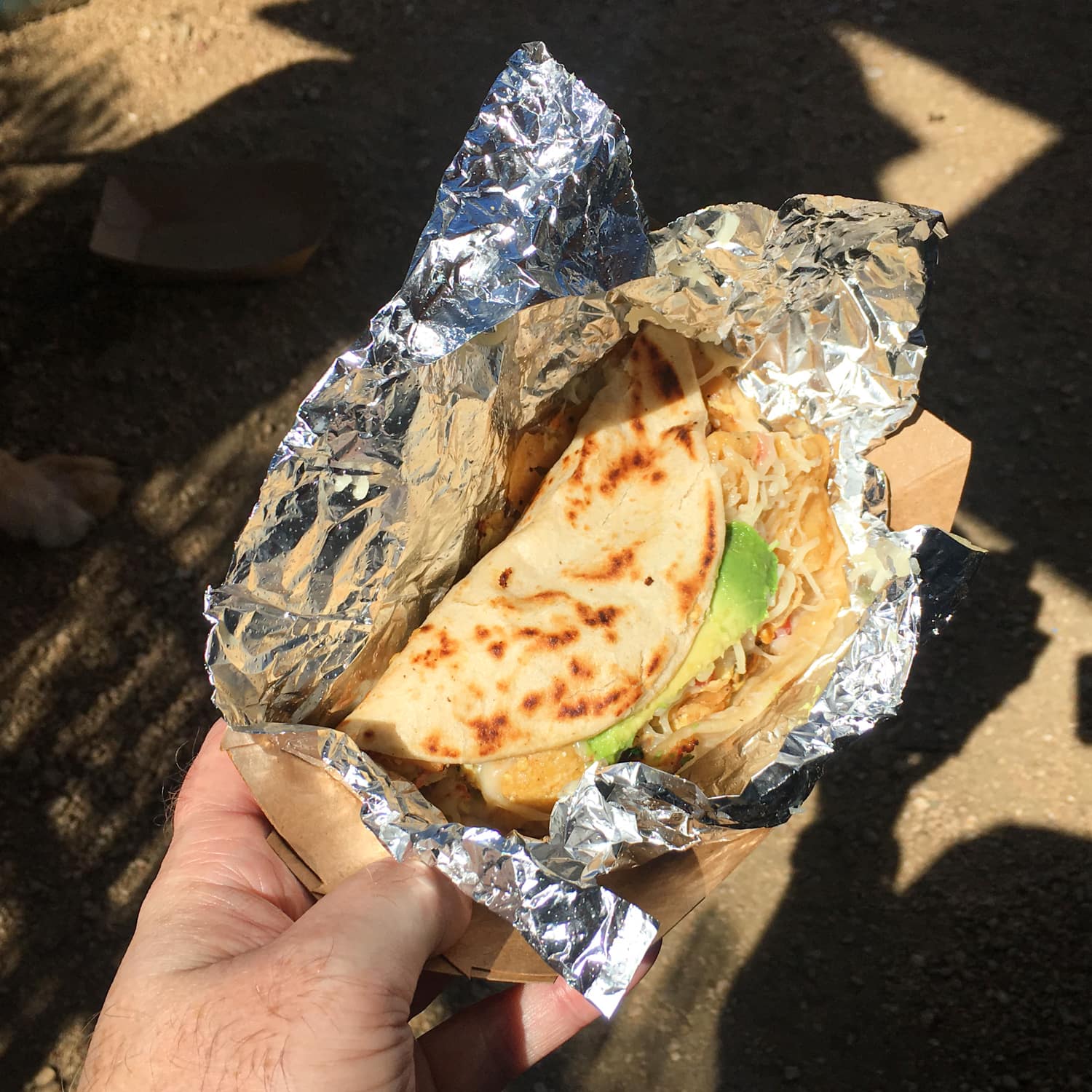 3. Veracruz All Natural
Reyna and Maritza Vazquez, sisters born and raised in Veracruz, Mexico, immigrated to the U.S. and opened their first food truck selling fresh juices in 2008.
A few years later, after upgrading to a larger vehicle, they began selling tacos and became known for making Austin's best breakfast tacos.
In 2015, The Food Network named their migas taco one of the five best in the country.
The seemingly simple breakfast taco consists of egg, tortilla chips, tomato, onion, cilantro, Monterey Jack cheese, and avocado on a flour tortilla.
On their menu, you can also find classic tacos like steak, chicken, fish, barbacoa, and al pastor.
The sisters' success has led them to expand to five locations in Austin, including a brick-and-mortar spot at The Line Hotel downtown. They've also set their sites on the West Coast, with plans to open in a Los Angeles location.
Various locations in Austin and Round Rock, veracruzallnatural.com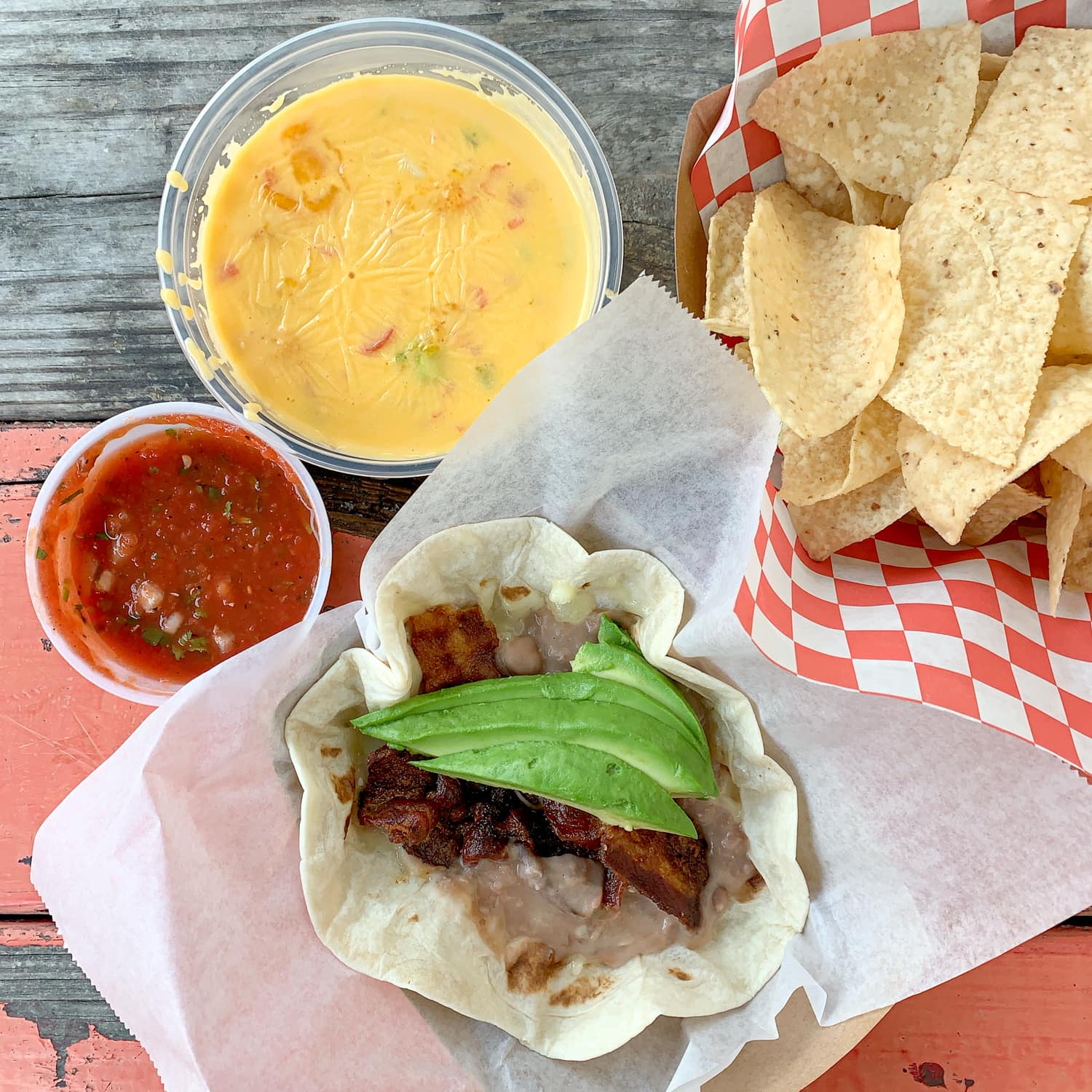 4. Pueblo Viejo
Drawing on the flavors of their hometown in Mexico, Nestor and Margarita have been running Pueblo Viejo since 2010.
I became a regular when I lived in East Austin, and they were operating out of an event space on East 5th Street.
Generous portions of meat and fillings meant one taco would often suffice for lunch at this great place.
The Taco Don Chago with cheese, beans, bacon, and avocado makes for a delicious breakfast, but their al pastor with pork and pineapple on flour tortillas became my go-to lunch tacos.
Today, you can try Pueblo Viejo's tacos at any of their five locations, including their taco trucks at Meanwhile Brewing and Cosmic Coffee in South Austin. Prices range from $3.75 to $5.35 per taco.
Five locations in Austin, puebloviejoaustin.com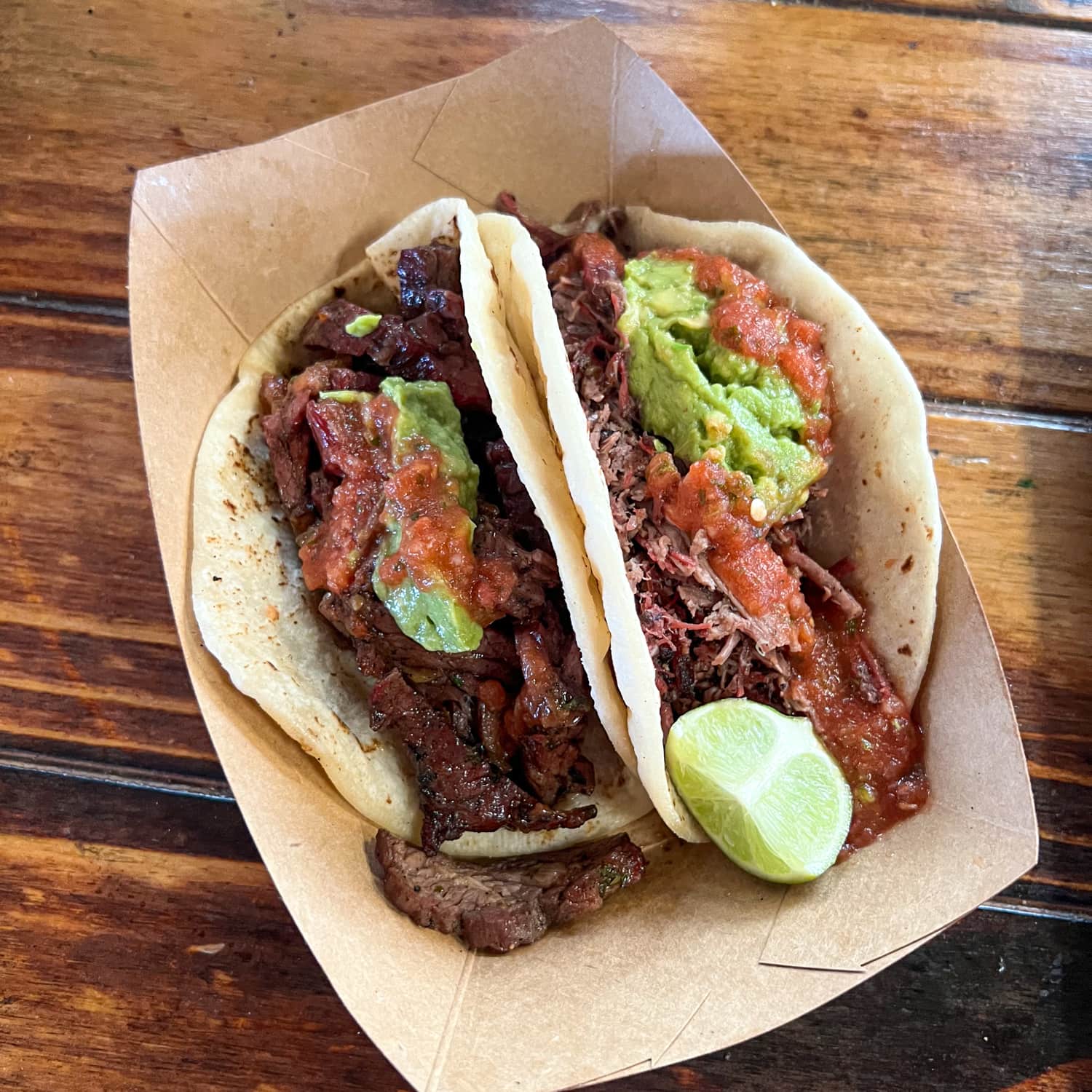 5. Valentina's Tex Mex BBQ
Pitmaster Miguel Vidal has successfully combined Tex-Mex flavors with Texas barbecue at Valentina's, one of the best food trucks in Austin.
The breakfast menu runs from 7:30 a.m. to 11:30 a.m. daily and features the Real Deal Holyfield, a sizeable taco with egg, potatoes, refried beans, bacon, and your choice of brisket, pulled pork, or cerveza beef fajita for $10.
Other delicious tacos include bean and cheese and potato egg and cheese. All three breakfast tacos are served with a tomato serrano salsa.
Once the breakfast menu ends, there's lunch to look forward to with smoked brisket tacos, smoked carnitas tacos, and cerveza beef fajitas.
For poultry fans (that's me!), there's a smoked chicken fajita taco and a pulled pollo taco (priced at $6.50 to $7).
11500 Menchaca Rd, South Austin, valentinastexmexbbq.com
Related: Best BBQ in Austin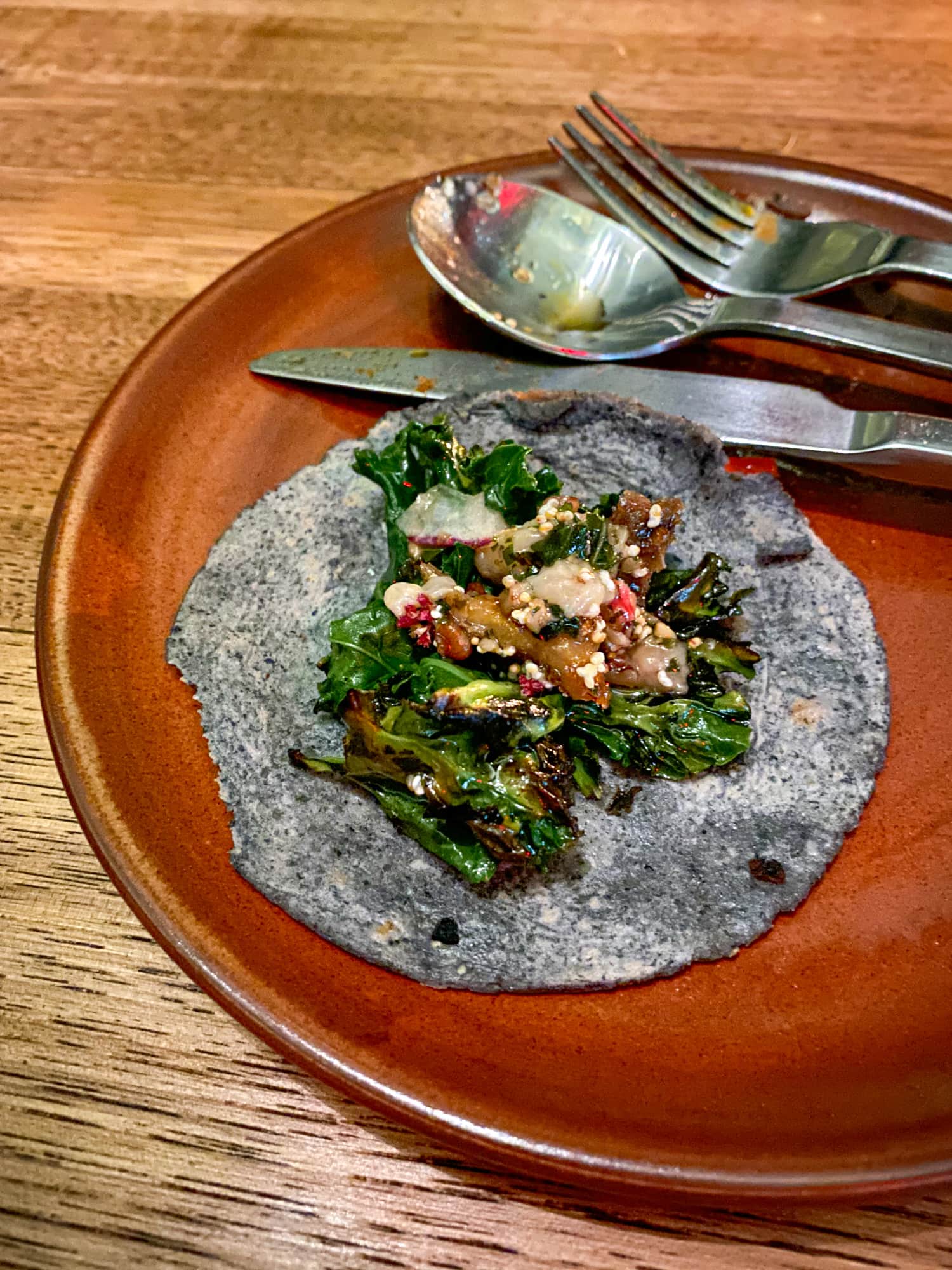 6. Comedor
For a memorable experience, try the bone marrow tacos at Comedor, a modern Mexican restaurant in downtown Austin by chef Philip Speer.
The $48 signature tacos are served family style and feature a few cow bones sliced in half, with the rich, gelatinous marrow waiting to be scraped out.
They're prepared with quelites (wild greens), smoked butter, and pecan gremolata (green salsa). Mix it all and add a large scoop to one of the fresh corn tortillas for a bite of fat and flavor.
For cheaper eats, take advantage of Comedor's happy hour, when three other kinds of tacos are available for $6 each:
Mushroom and beans
Lengua (tongue)
Cochinita pibil (Yucatan-style pork)
501 Colorado St, Austin, TX, comedortx.com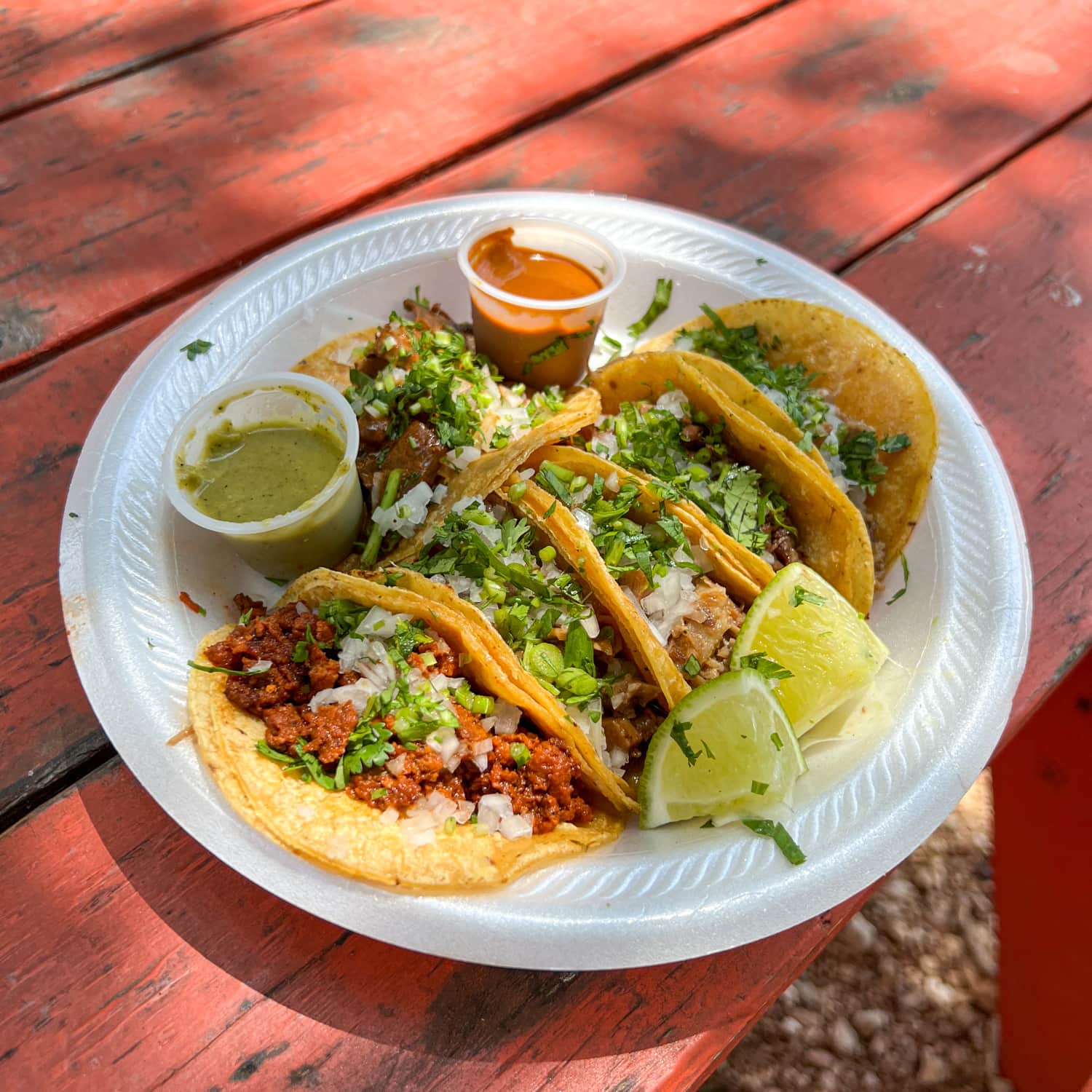 7. Cuantos Tacos
Mexico City-style tacos are on the menu at Cuantos Tacos, one of the best Austin taco trucks.
Each taco is two to three bites, so get a bunch if you're there for a meal instead of a snack.
To get the lay of the land on my first visit, I ordered the sampler plate with six types of tacos for $15.
My favorite was the beef cheek taco, and my least favorites were the pork stomach taco and the mushroom taco.
The most popular options are the suadero (brisket), cachete (barbacoa), carnitas (pork), and mushroom. Each costs $2.50, making them the cheapest tacos on my list.
1108 E 12th St, East Austin, TX, cuantostacosaustin.com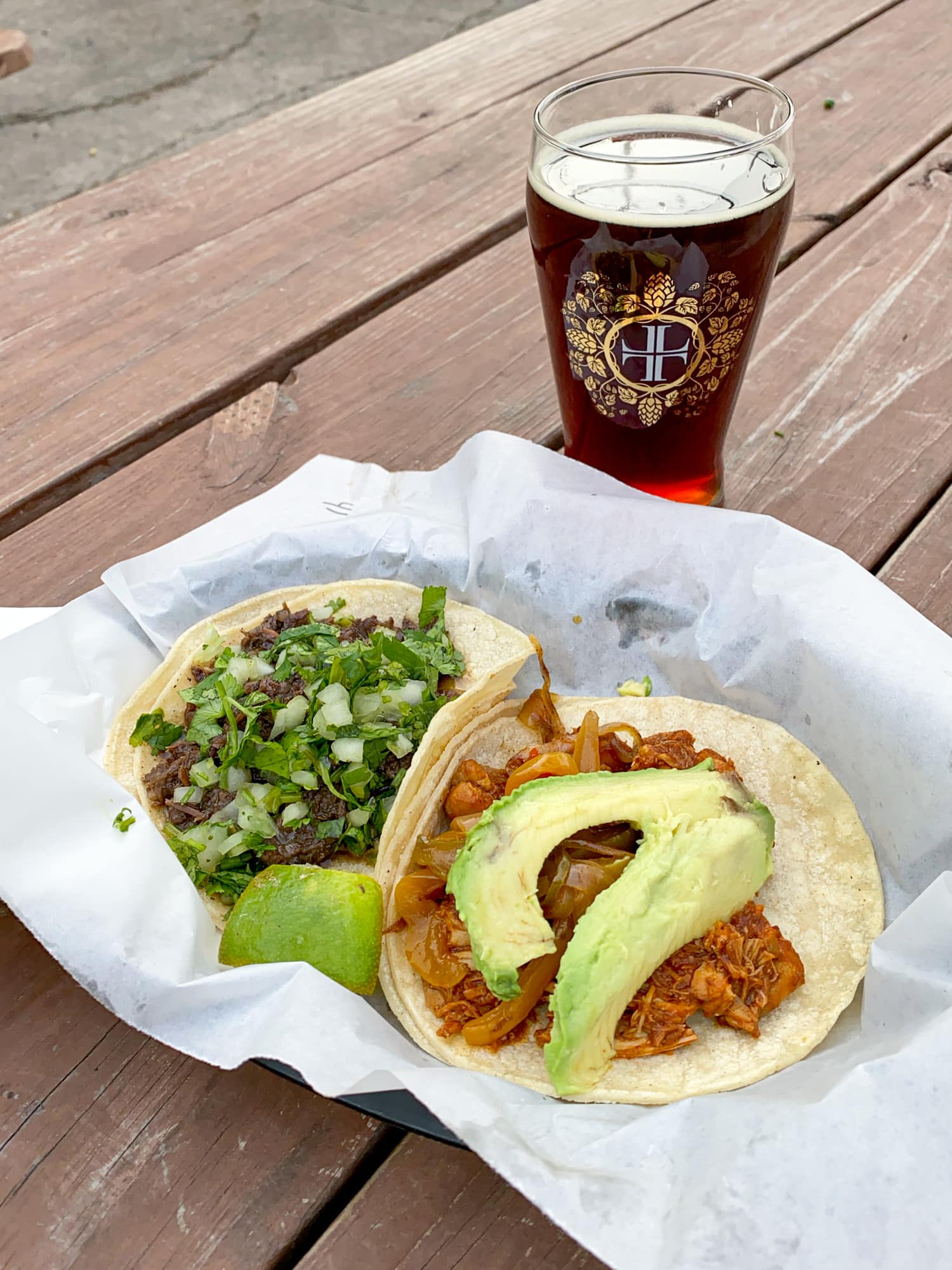 8. Lazarus Brewing
Yet another taco recommendation on Austin's east side; it's true. But the scratch-made tacos at Lazarus Brewing have earned their spot on this list.
Breakfast tacos are served on flour tortillas and include your choice of bacon, chorizo, carnitas, migas, and black bean.
They're available until 1 p.m. daily and cost $3.50 to $4.50 each; avocado and Mexican crema are available for an additional cost.
Beginning at 11 a.m., there are street tacos on corn tortillas with your choice of carnitas, al pastor, carne asada, pollo verde, chipotle chicken, and bean and cheese. The lunch/dinner tacos cost $3.50 to $5 each.
Wash any of them down with a delicious draught beer, and you've got the making of a fine meal.
1902 E 6th St, East Austin, TX, lazarusbrewing.com
Related: Street Food in Oaxaca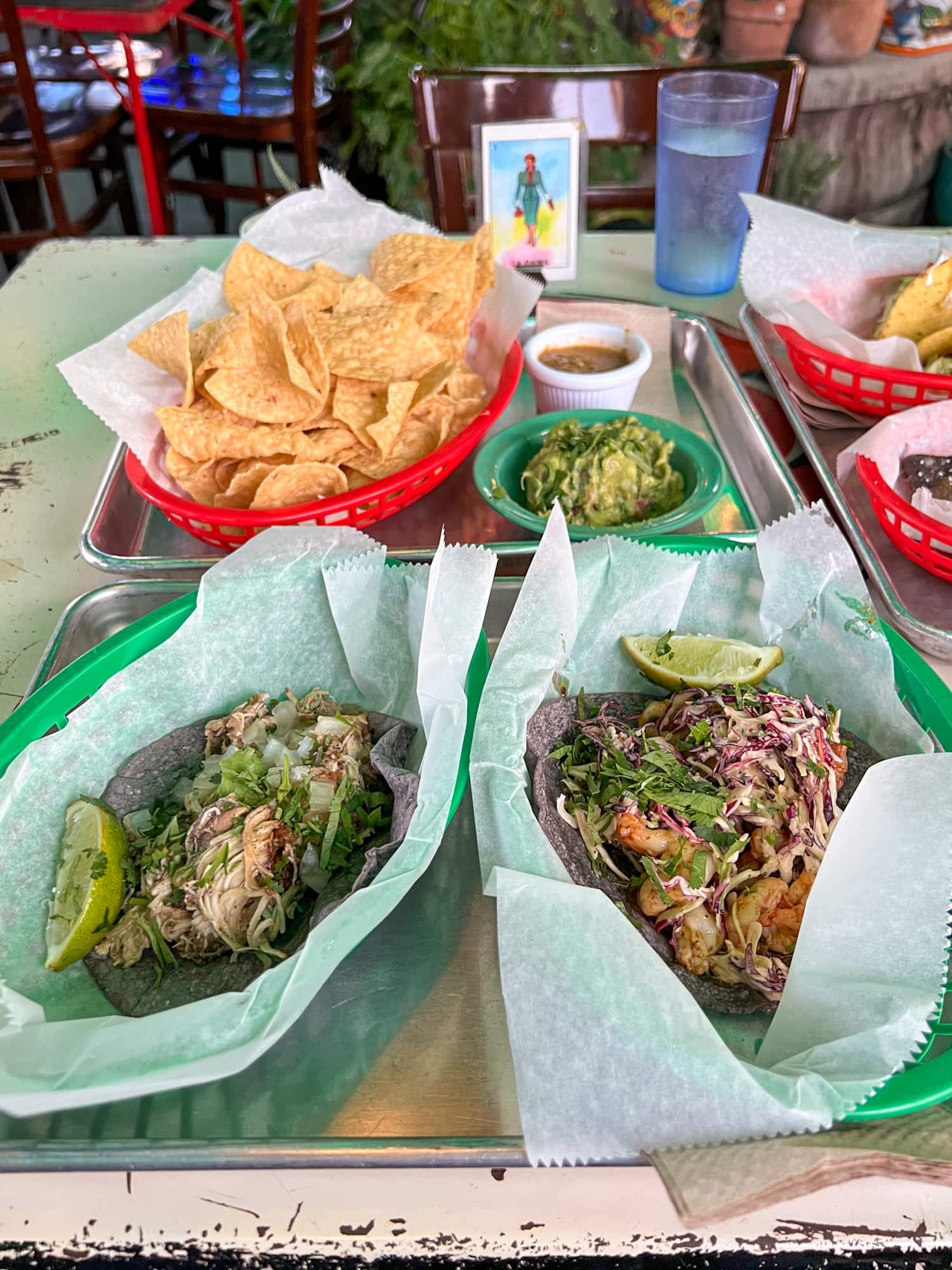 9. De Nada Cantina
Handmade blue corn tortillas, slow-roasted meats, fresh ingredients, and margaritas are on the menu at De Nada Cantina, a chill taco restaurant in East Austin.
There are lots of options to choose from here. The barbacoa taco is made with slow-braised beef cheek and habanero salsa. And there's a seared Gulf fish taco with Yucatan marinade and chipotle slaw.
Vegetarians will appreciate the camote taco with roasted sweet potatoes and chimichurri and the calabacitas made from a stew of squash, corn, onions, and tomatoes.
Crispy tacos include beef and mushroom picadillo. Most cost in the $4.25 to $5.50 range, the main exception being fish tacos for $8.50 apiece.
Breakfast tacos are available every day from 11 a.m. to 2 p.m.
4715 E Cesar Chavez St, East Austin, TX, denadacantina.com
10. Rosita's Al Pastor
Rosita's Al Pastor has been around since 1985 and still makes some of the city's most authentic Mexican tacos.
I always order the namesake al pastor tacos; the meat is sliced off a spit and served on handmade tortillas.
Barbacoa, carne guisada, chicken fajita, lengua (tongue), and tripa (tripe) are some of the other options.
1801 E Riverside Dr, South Austin, TX, instagram.com/rositasalpastor