Over the last 20 years, Chip and Joana Gaines have become synonymous with Waco, Texas. They've built a business empire, including the Magnolia Network, off their hit HGTV show Fixer Upper. In 2018, they opened Magnolia Table, a breakfast restaurant.
Chip and Joana both went to Baylor, as did my girlfriend, Kel, who did her graduate studies there, so I've slowly gotten to know this Central Texas city north of Austin.
Even though I don't watch HGTV, I was aware of the Gaines and their reputation for creating beautiful interior spaces and delicious food.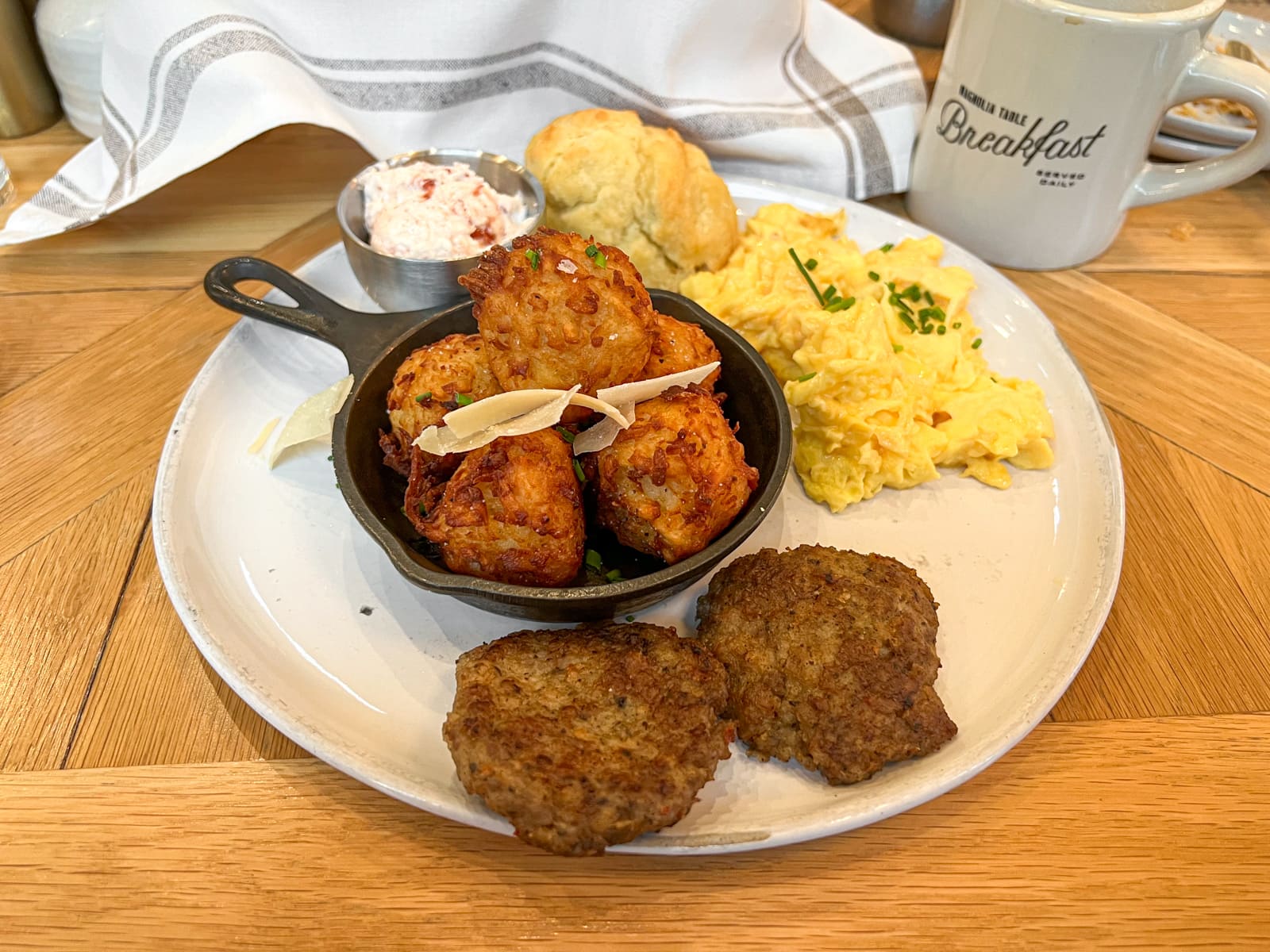 On our first trip to Waco for a Baylor football game (sic 'em Bears!), we stopped by Magnolia Market at the Silos, a large retail complex the Gaines opened featuring a home goods store, and bakery, cafe, and food trucks.
The weather was cold and rainy; walking into the various shops and getting a warm drink at the cafe (Magnolia Press) gave me a feel for their design aesthetic.
For our second trip to Waco, I booked a reservation for Magnolia Table weeks in advance to ensure we'd get in for breakfast and avoid long wait times for walk-ins.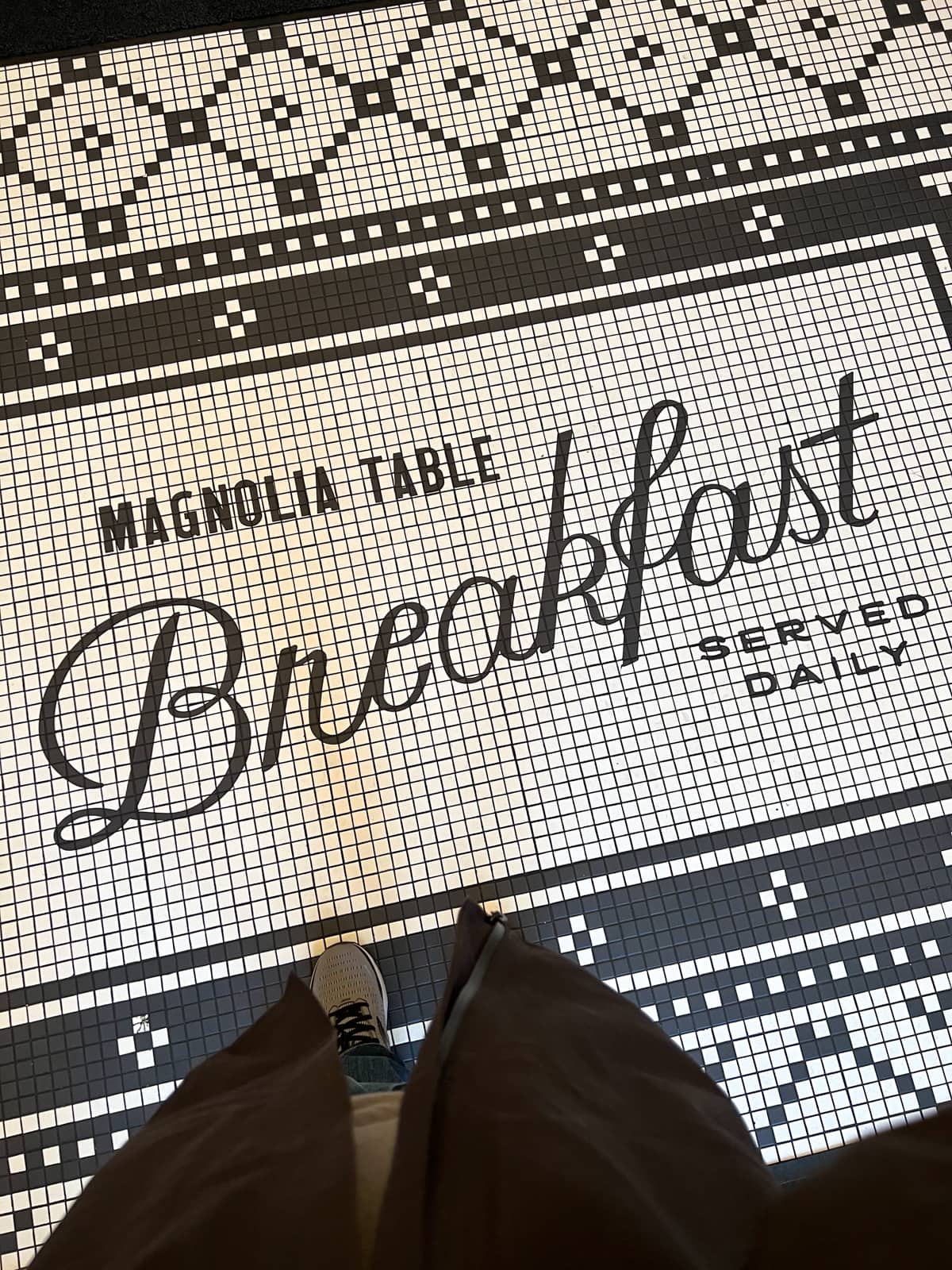 Arriving at Magnolia Table
Magnolia Table is just off Interstate 35, about an eight-minute drive south of the Silos in downtown Waco.
The location, practically in the shadow of a busy highway, struck me as a bit odd initially; however, the building pre-dates much of what we see around it today.
A Texas Historic Landmark plaque at the entrance tells the story:
The first Elite Cafe opened in downtown Waco in 1919 and was acquired by the Greek immigrant Colias family in 1920. The Colias brothers opened this Elite Cafe in 1941 on "The Circle," a traffic hub built on Waco's suburban edge in the early 1930s.

A highly recognized local landmark, and one of the best remaining regional examples of mid-20th century roadside architecture, the building exhibits a distinctive Spanish Colonial style popular in the southwest.

- Texas Historical Commission, 1995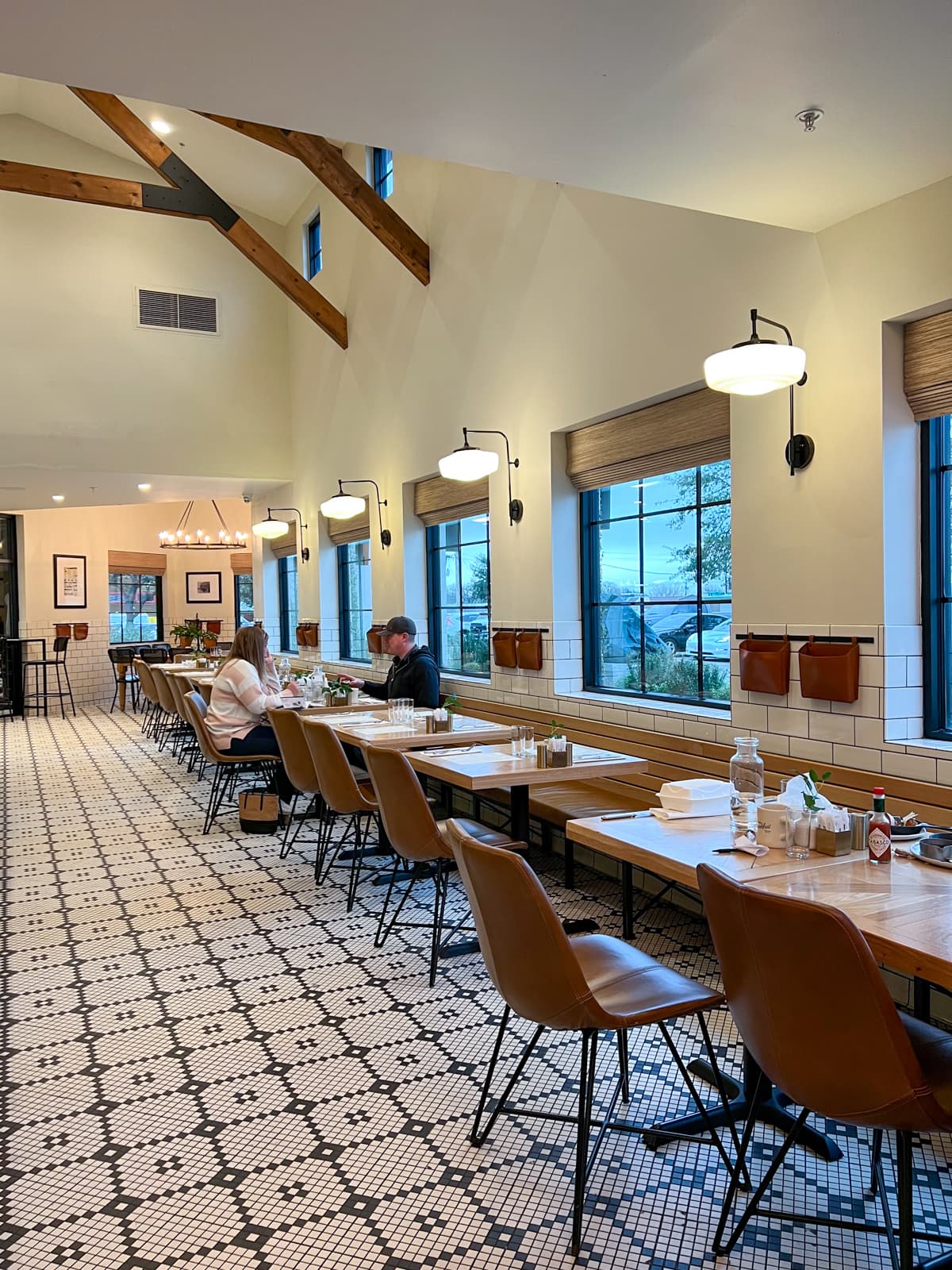 Interior Design
Stepping inside, I first noticed the black-and-white mosaic tile floor.
As my eyes scanned the space, I immediately appreciated the decor and attention to detail that's become a hallmark of Joanna Gaines' design style.
Comfortable leather chairs and bench seating run along two walls, making it easy to adjust table sizes by two.
Despite an overcast and drizzly morning, Magnolia Table was well lit and inviting.
The vaulted ceiling gave the dining room spaciousness while allowing for additional natural light. I was happy to be there and excited to read the menu in person.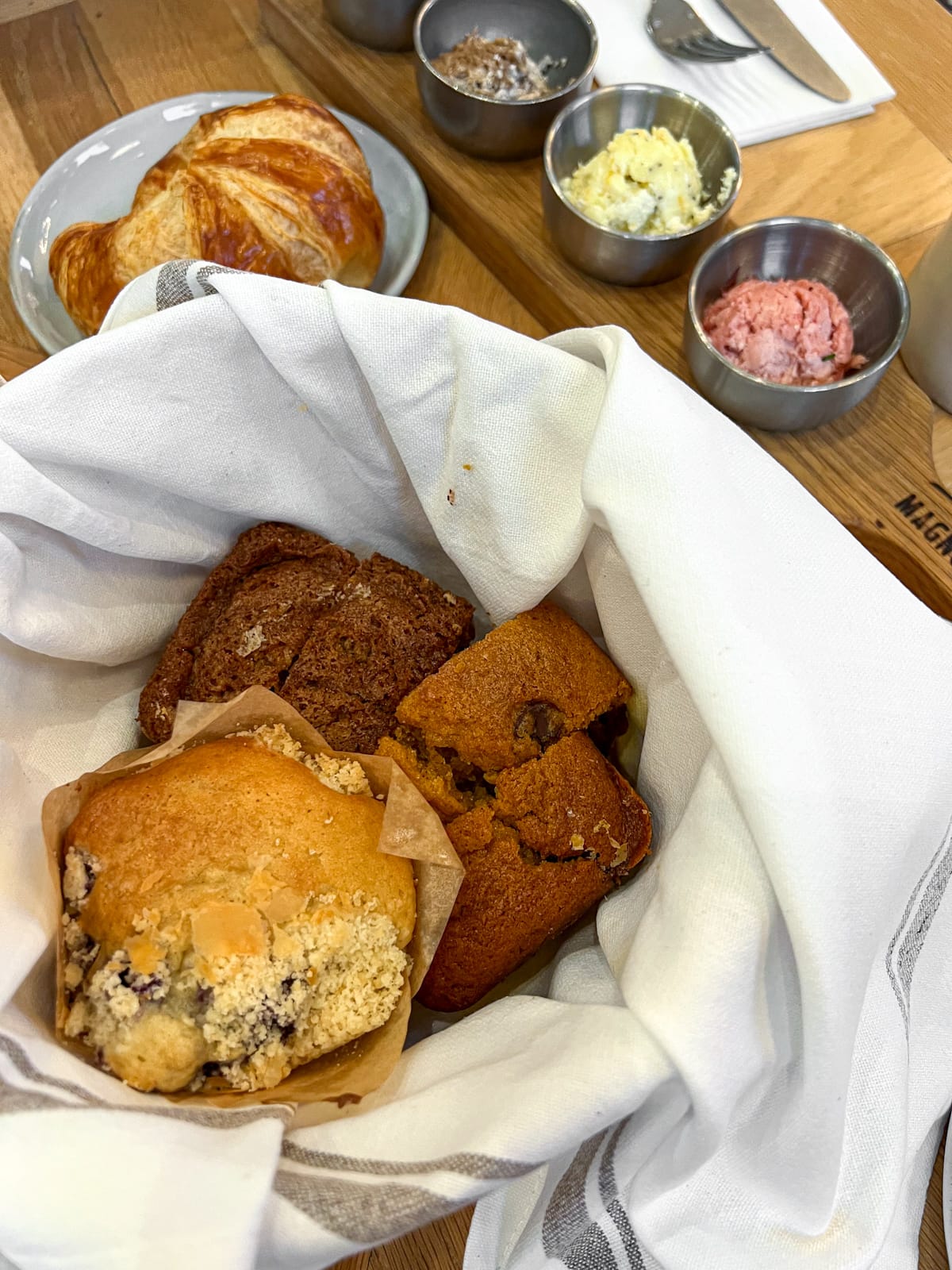 Breakfast at Magnolia Table
Pastries and Butter
The menu at Magnolia Table is updated with the seasons, so there may be minor differences between what you read here and what's available when you go.
Let's begin with the drinks, which include a variety of fresh juices, including a juice flight that gives you four options.
Lemonade, Alabama sweet tea, hot teas, and espresso drinks are also available (hot or cold).
Since I didn't get to try the pastries at Silos Baking Co. on our previous Waco trip, I intended to order some at Magnolia Table.
They're $3.50 each, but I recommend the bread basket for $10, so you can sample an assortment. A $4 butter flight also caught my eye; we ordered both.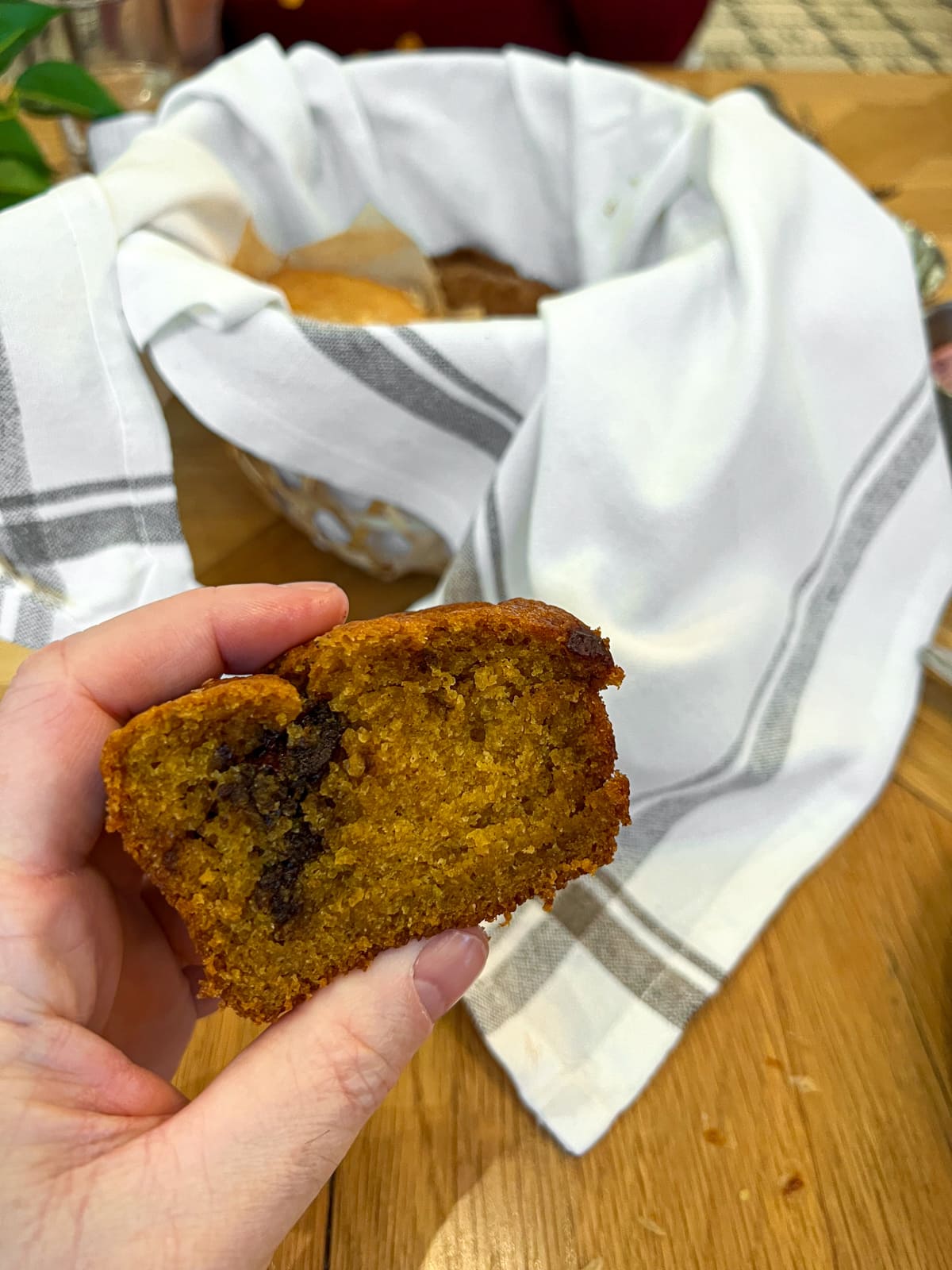 Before continuing with the rest of the menu, let's pause and take in this cake-like pumpkin bread with chocolate chips Kel and I both loved.
The outer crust was just a tad crunchy, while the interior was soft. Every bite brought smiles and satisfaction.
The butter croissant, chocolate croissant, and blueberry muffin were good; the zucchini bread didn't do much for me.
Related: Best Bakeries in San Francisco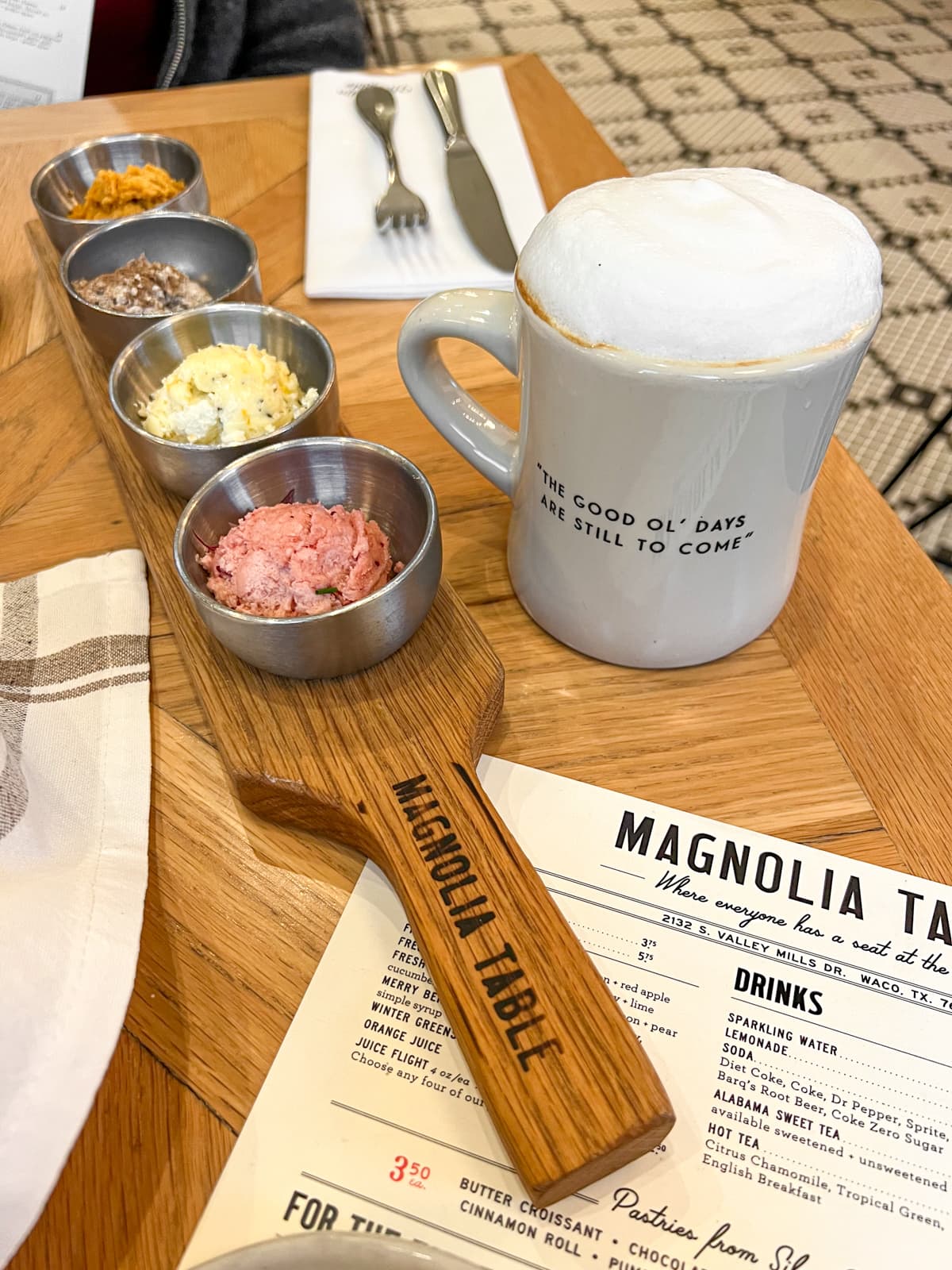 I was enamored with the butter flight when it arrived. One by one, I smeared the various flavored butter on bits and pieces of croissant.
The pumpkin was my favorite, followed by the orange rosemary, cranberry, and chai (which successfully evoked the flavor of my favorite tea).
Whether it's evident from the photo above or not, there was way more butter than we could eat, so we took the leftovers home.
Our server said they'd last two weeks, but we were still using them a month later, and they tasted fine.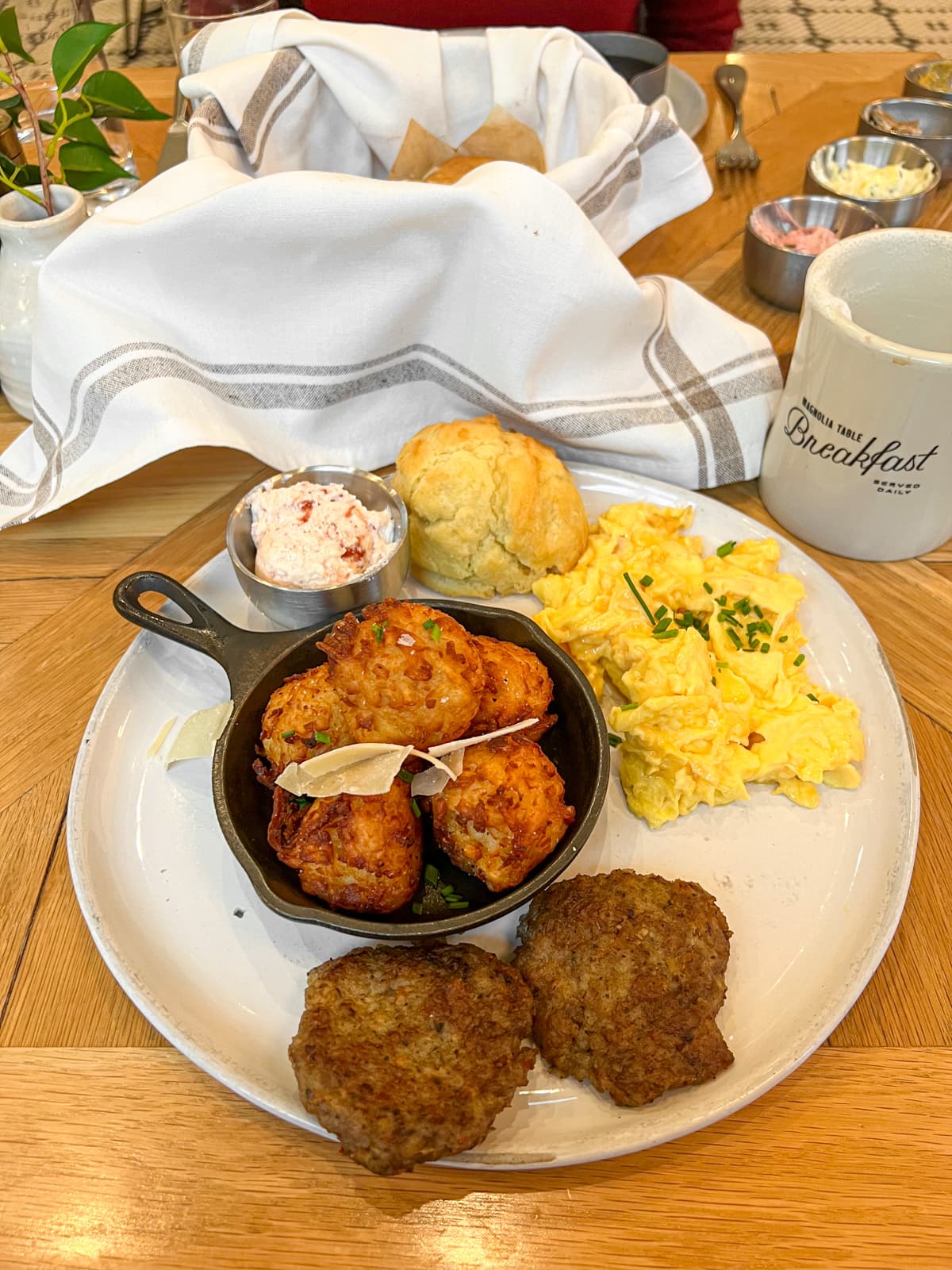 Entrees
There are about ten breakfast entree options at Magnolia Table, which all sounded amazing.
Pancakes, French toast, and eggs Benedict are all on the menu, plus oatmeal and a granola bowl. There's even a $2.50 egg and cheese breakfast taco.
I went with the farm breakfast for $14, which comes with two eggs however you like, housemade tater tots, and choice of biscuit or toast, and thick peppered bacon or house sausage.
When my plate arrived, I was taken aback by the mountain of round tater tots in the little black skillet. Points for presentation, and they just scored a few more.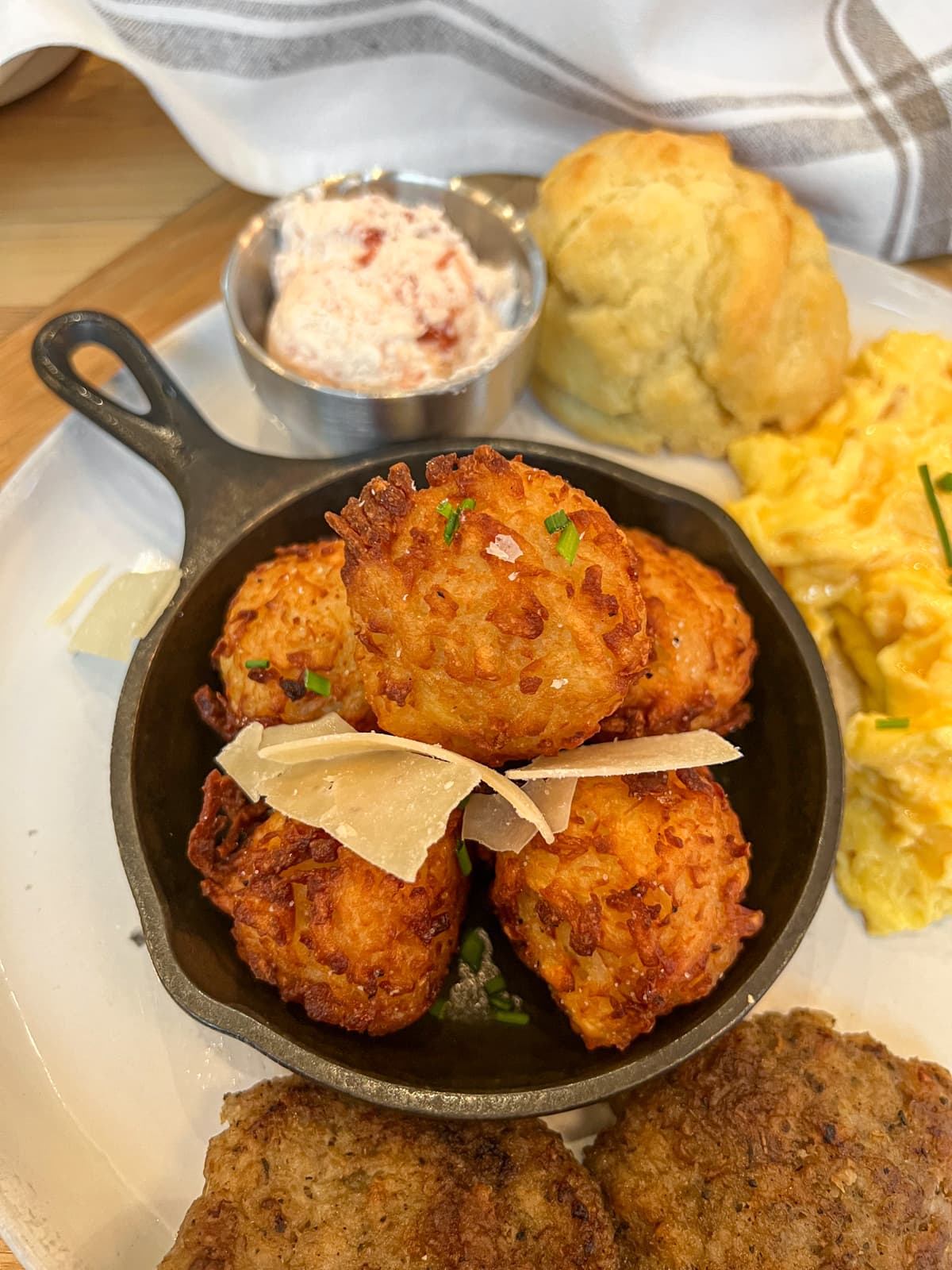 Their housemade tater tots, served with slices of hard cheese, are some of the best I've ever eaten.
Once again, I knew I couldn't finish them all and everything else, so I saved a few tots for takeaway.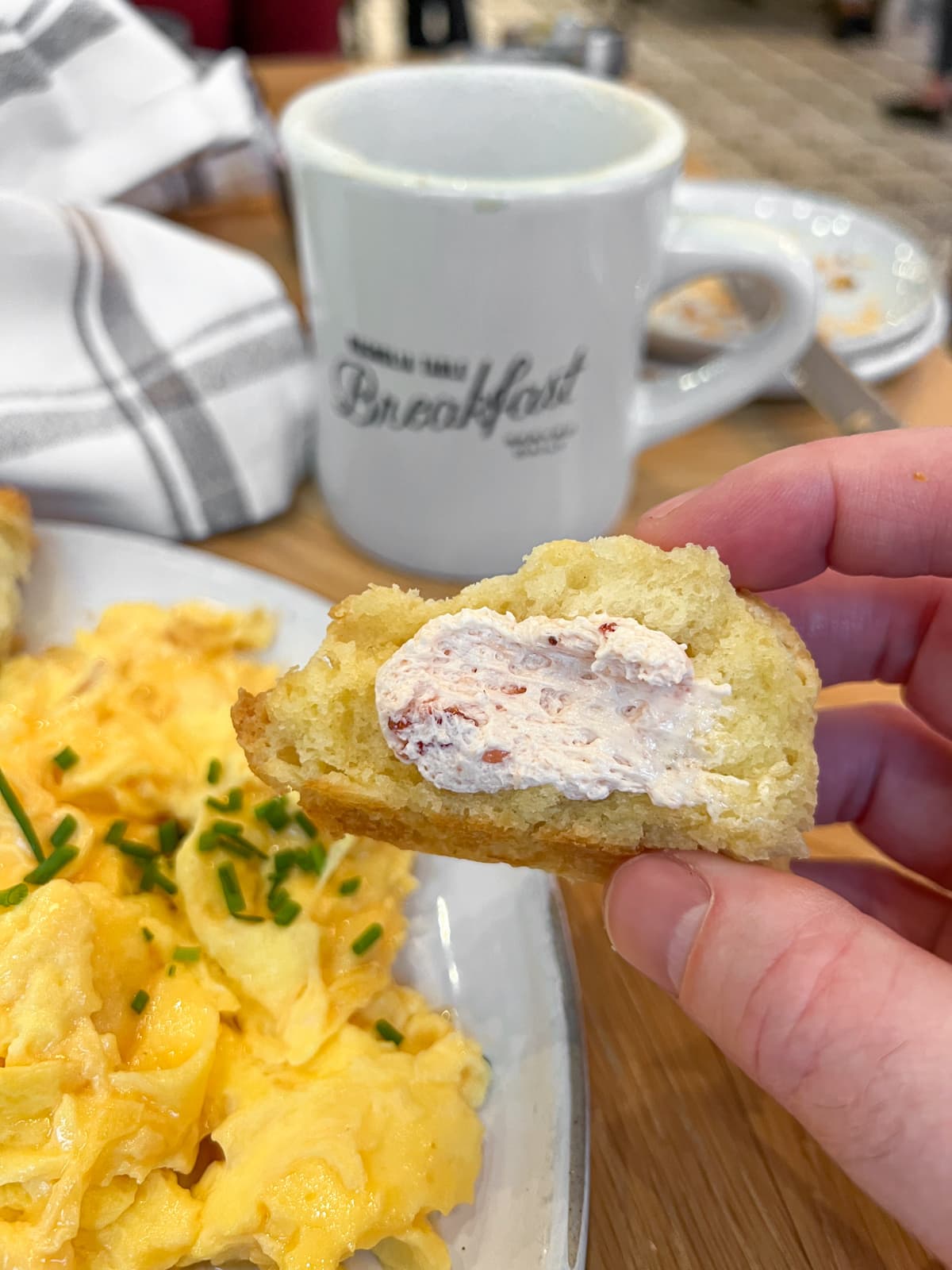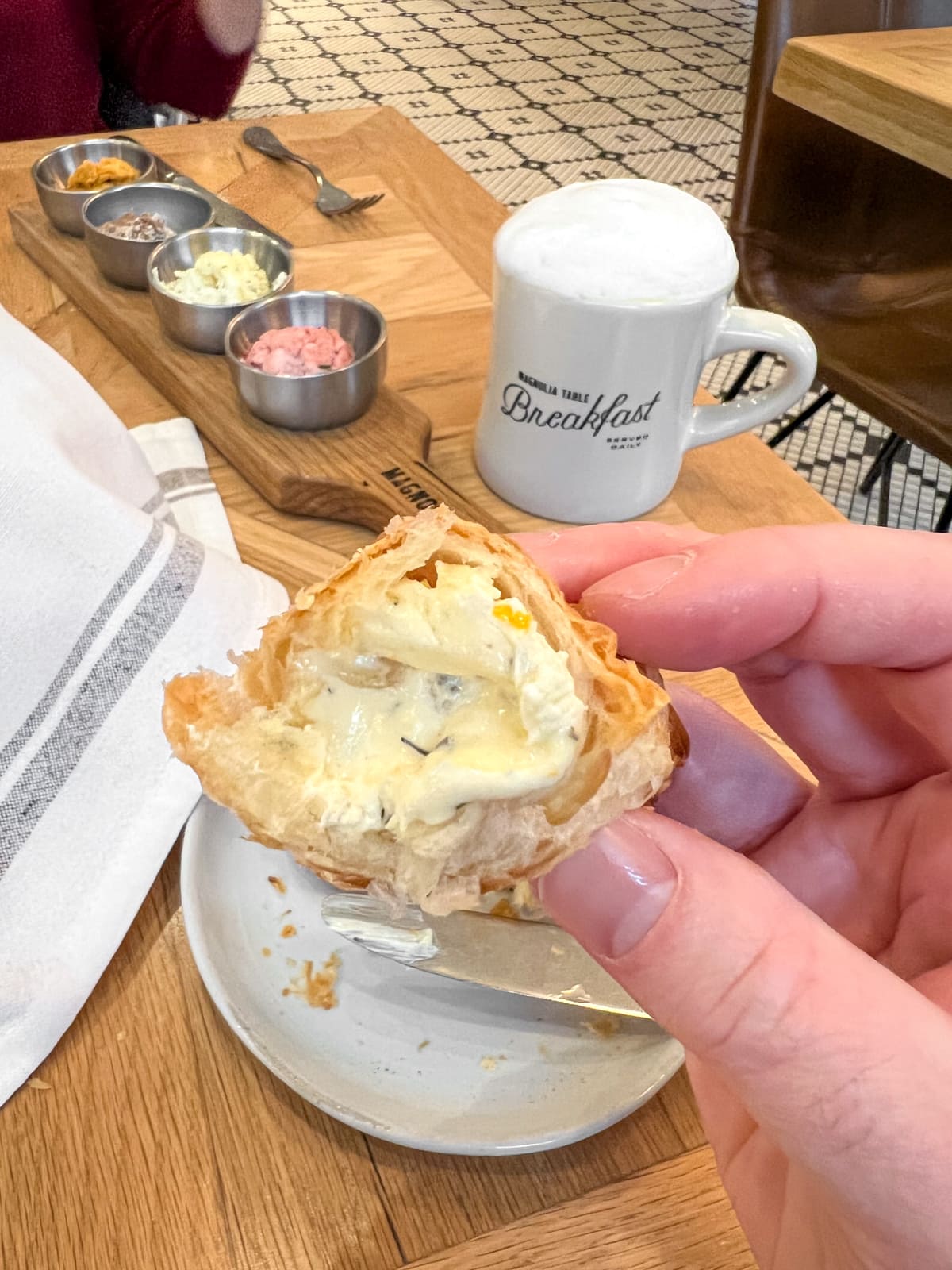 In addition to the five pastries in the bread basket, I also got to try Joanna Gaines' buttermilk biscuits, served with strawberry butter (my fifth butter of the meal, if you're keeping track).
Her biscuits, not surprisingly, are excellent, and they break apart easily to reveal a luxuriously soft interior.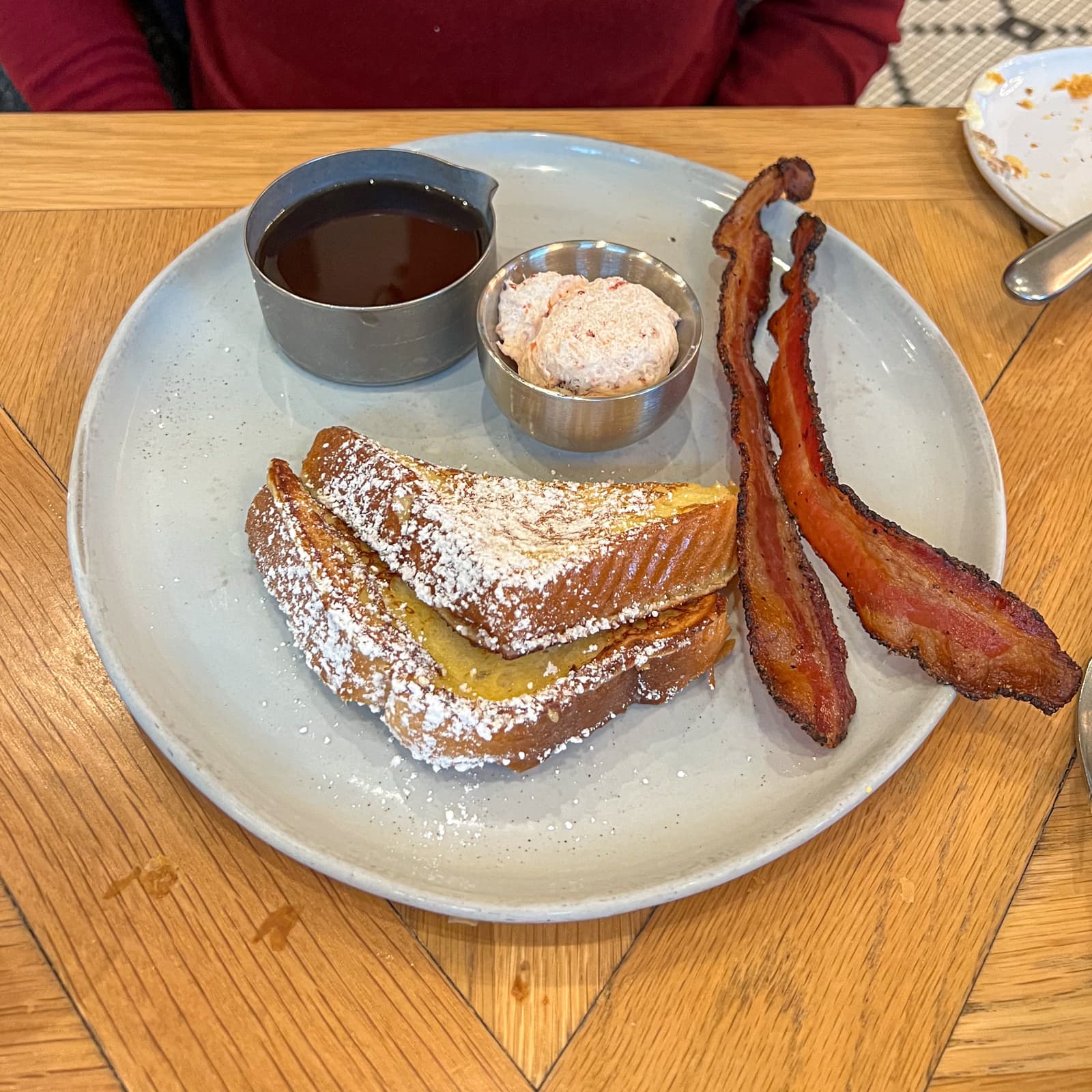 While buttering my biscuits, Kel enjoyed an order of French toast with maple syrup and thick-cut peppered bacon ($12).
She also got a biscuit with strawberry butter, her favorite of the five, if I recall correctly.
At this point, I was feeling super full. While you can generally count on me to order dessert at any new restaurant I visit, I had to tap out by this point at Magnolia Table.
They offer cakes and pies by the slice and a skillet chocolate chip cookie or brownie with vanilla ice cream. Next time Chip and Joanna, I promise!
Before I wrap up, I also want to mention that Magnolia Table serves brunch and lunch food. Avocado toast, salads, burgers, and sandwiches are available for $8 to $14 each.
Related: Best Brunches in Austin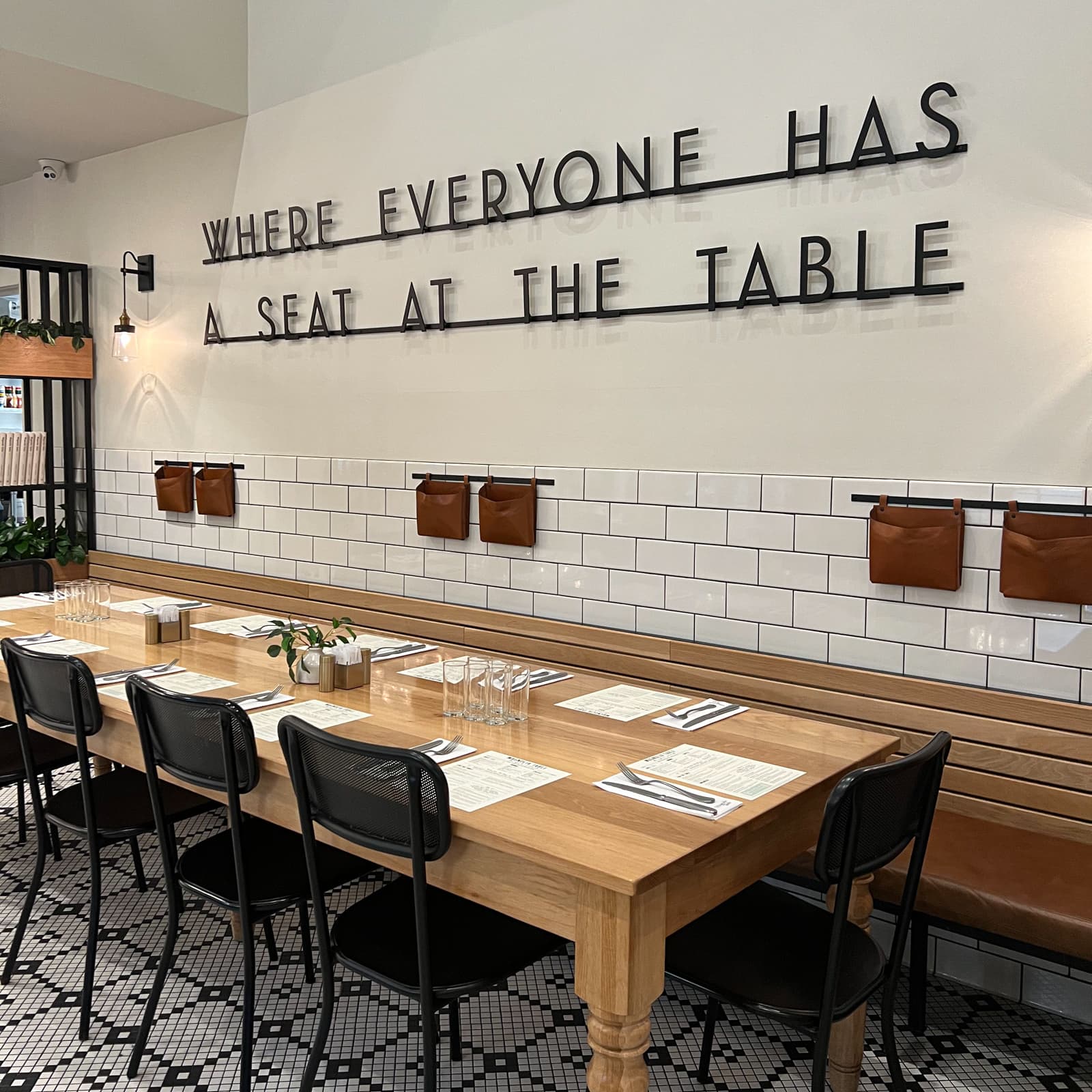 Final Thoughts
Was breakfast at Magnolia Table, Chip and Joanna Gaines' restaurant in Waco worth the effort?
Yes, totally! The food was all fresh and well-prepared, and the setting in a historic Waco building redesigned by the Gaines adds to the allure.
Would I recommend driving from Austin or Dallas to eat at Magnolia Table? Yes, again. It's worth the trip, especially if you're a fan of the couple or their show.
Unless you're just passing through town on the way to another city, I'd suggest checking out more of Waco while you're there.
If you liked breakfast at Magnolia Table, drive up to the Silos and go for a walk around the shops or check out Magnolia Press cafe.
All Gaines-ed out? Head to the Cameron Park Zoo to see white-handed gibbons, orangutans, lemurs, and lions.
Visit Magnolia Table
Address: 2132 South Valley Mills Drive, Waco, Texas
Hours: 6 a.m. to 3 p.m., Monday through Saturday
Reservations: Highly recommended and accepted up to 30 days in advance. Walk-ins are also welcome. However, there can be long wait times at peak hours. Make a reservation.
Can't make it to Magnolia Table in person? You can buy The Magnolia Table cookbook, a New York Times bestseller with 125 classic recipes inspired by the Gaines family, personal stories, and beautiful photos.