There's more to the Texas Hill Country than wineries and small towns, as I learned on my first visit when my girlfriend Kel expressed a desire to pick Fredericksburg peaches.
Peach season in Gillespie County runs from May to August every year. During this time, orchards and roadside markets overflow with more than 30 varieties of peaches.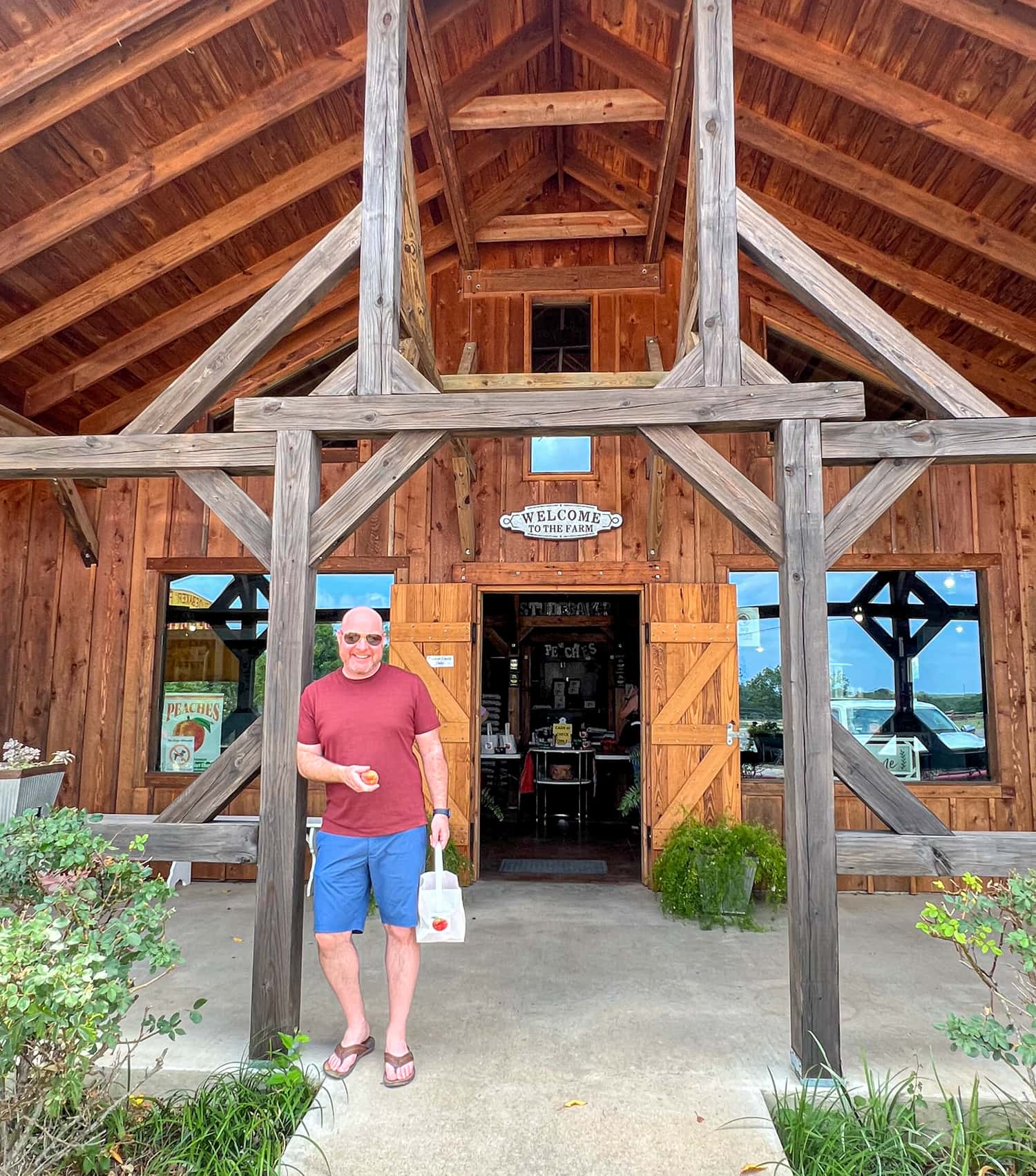 Being the overachievers that we are, it wasn't long before picking fresh peaches in an orchard turned into a story idea for Feastio.
How many ways could we enjoy the best peaches in Fredericksburg, Texas? What seasonal dishes with lots of peaches were being made? We spent two weekends there on a mission to find out.
Peaches in Fredericksburg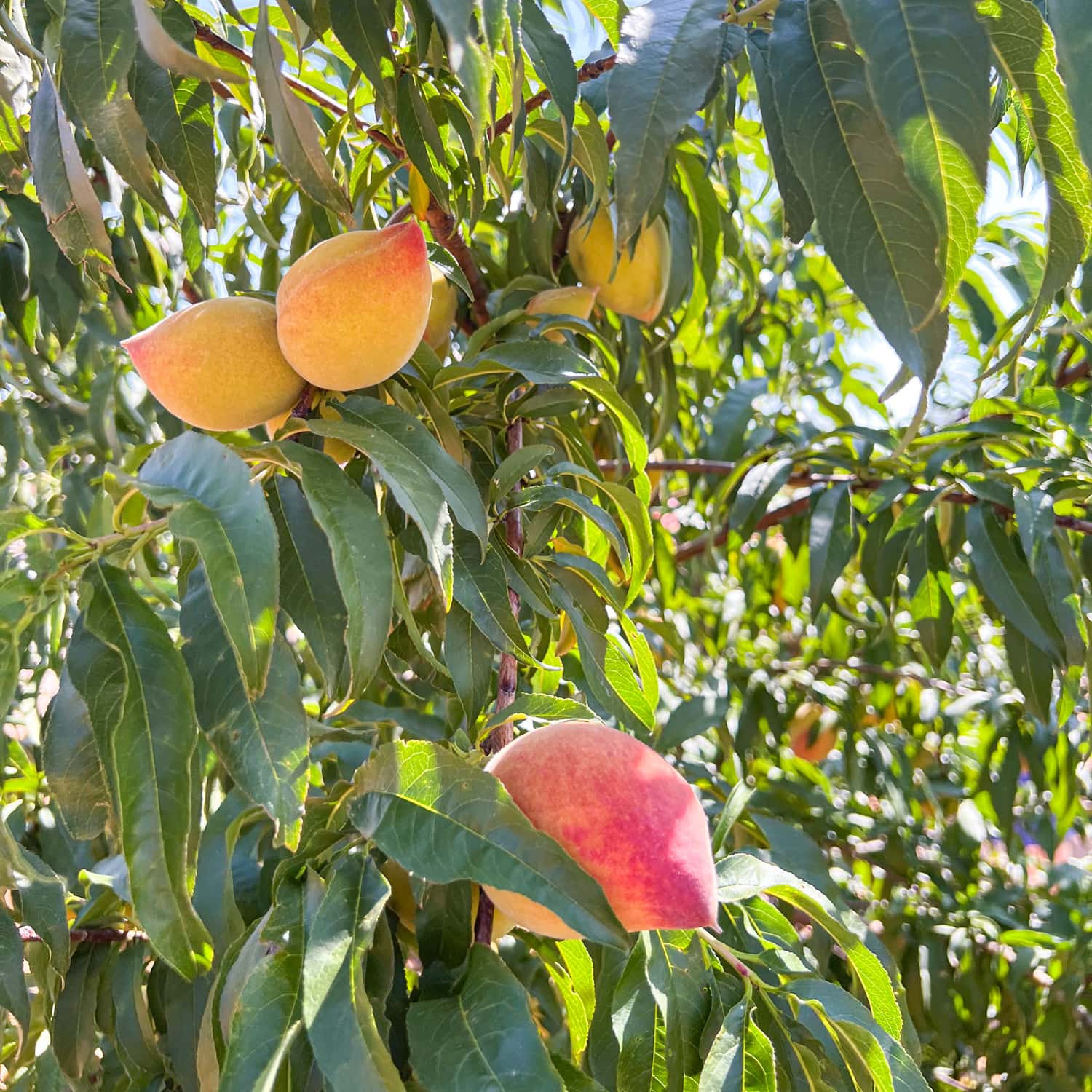 1. Peach Ice Cream
Jenschke Orchards
Our first stop on the peach train was Jenschke Orchards, about eight miles east of downtown Fredericksburg on Highway 290.
This family-owned and operated farm has grown and sold peaches and other fresh fruits since the 1960s. If you want fresh Fredericksburg peaches like Kel, this is the best place to do it.
Unfortunately, only pre-picked peaches were available for purchase the day we stopped by; however, there was still the opportunity to pick fresh strawberries (March to May) and blackberries (May to June).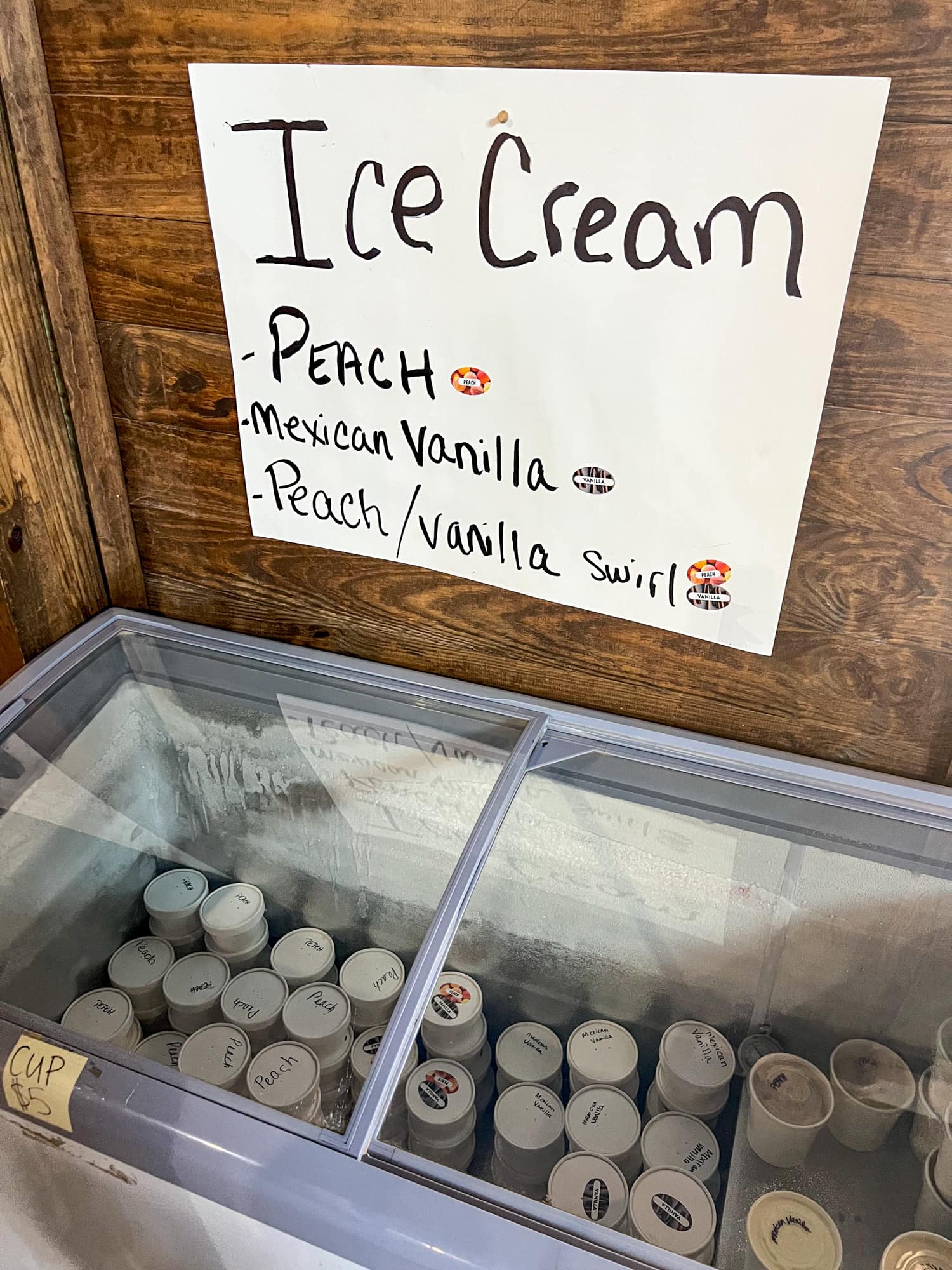 Instead of picking peaches, we collected a few dozen ripe red strawberries, later eating them at our Airbnb with leftover goat cheese from Slate Theory Winery.
Before leaving Jenschke Orchards, we also picked up a cup of homemade peach ice cream for $5. That night, we devoured it so quickly that I didn't even stop to take photos.
On our second trip to Fredericksburg, we returned to Jenschke to pick blackberries and got the creamy peach vanilla swirl, which was my favorite.
Jenschke Orchards, 8301 East US Hwy 290, Fredericksburg, TX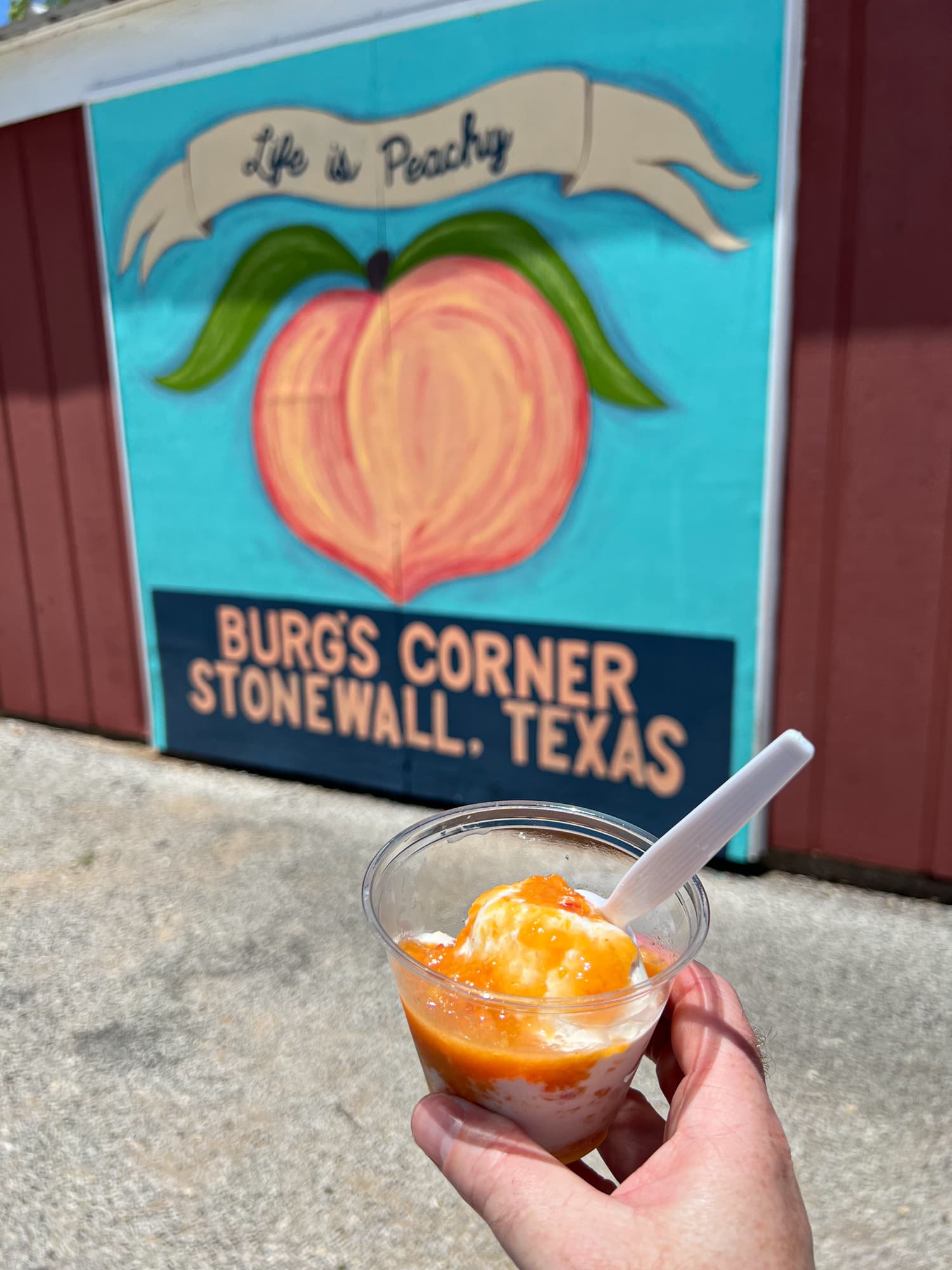 Burg's Corner
Burg's Corner is the retail store for Jimmy Duecker Orchards, a family-run farm in the peach business since the 1950s.
You can get one scoop of delicious peach ice cream or peach sherbert for $4. A heaping of fresh peach topping is a dollar extra.
This place was abuzz when we stopped by, and it's easy to see why once you're holding a cup of their fresh-from-the-farm ice cream.
Burg's Corner also sells fresh Stonewall peaches, peach cobbler, cider, jams, and other fresh produce.
Burg's Corner, 15194 US-290, Stonewall, TX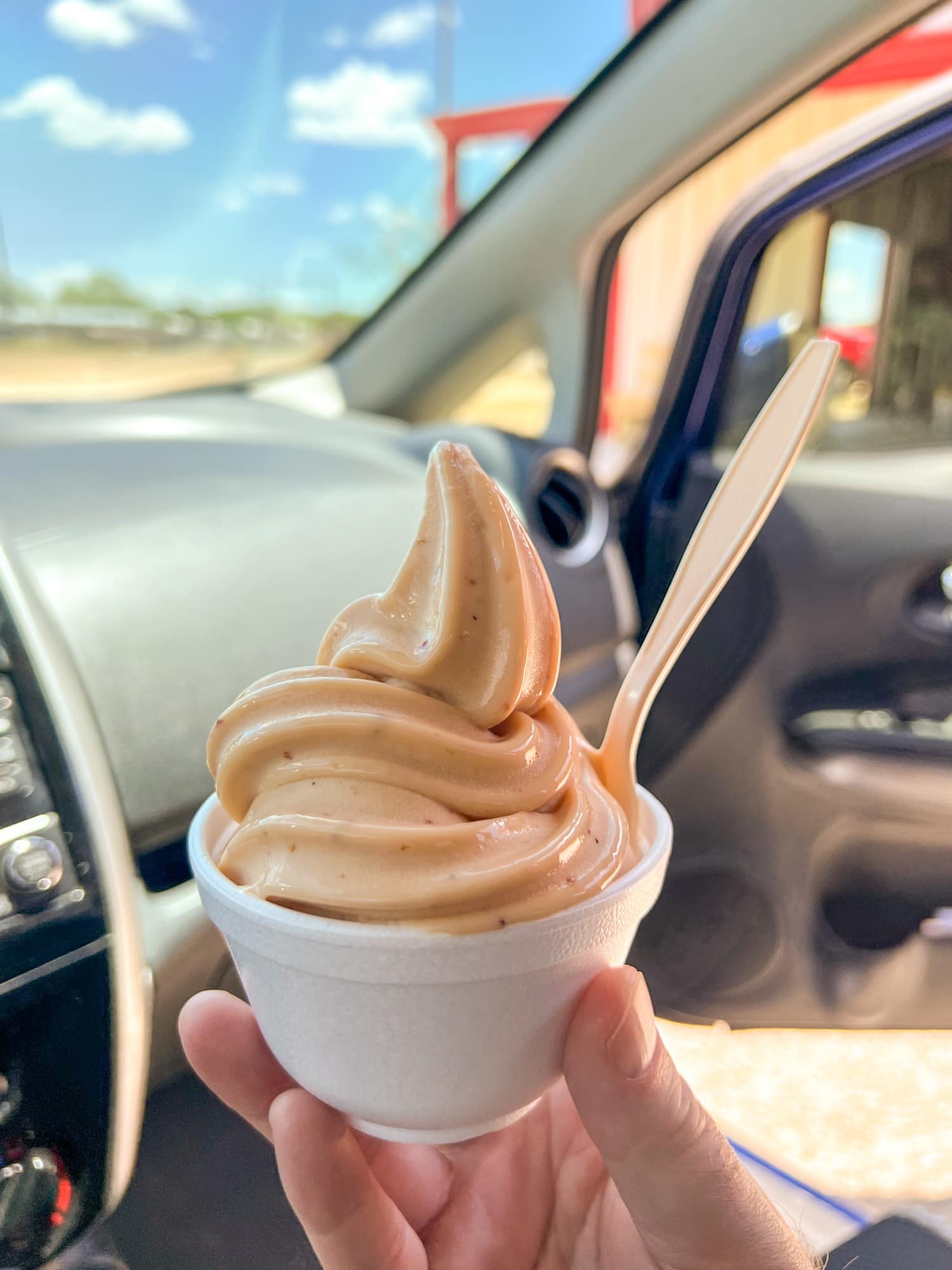 Gold Orchards
Kel's favorite peach ice cream was the soft serve from Gold Orchards, swirled into a cup for just a few bucks.
There's something so satisfying about eating the ice cream right away without having to wait for it to defrost. It was my second favorite.
Gold Orchards grow their peaches, so it's not surprising this family business makes mighty fine ice cream. The store is in Stonewall, about 14 miles east of Fredericksburg.
Gold Orchards, 14329 US-290, Stonewall, TX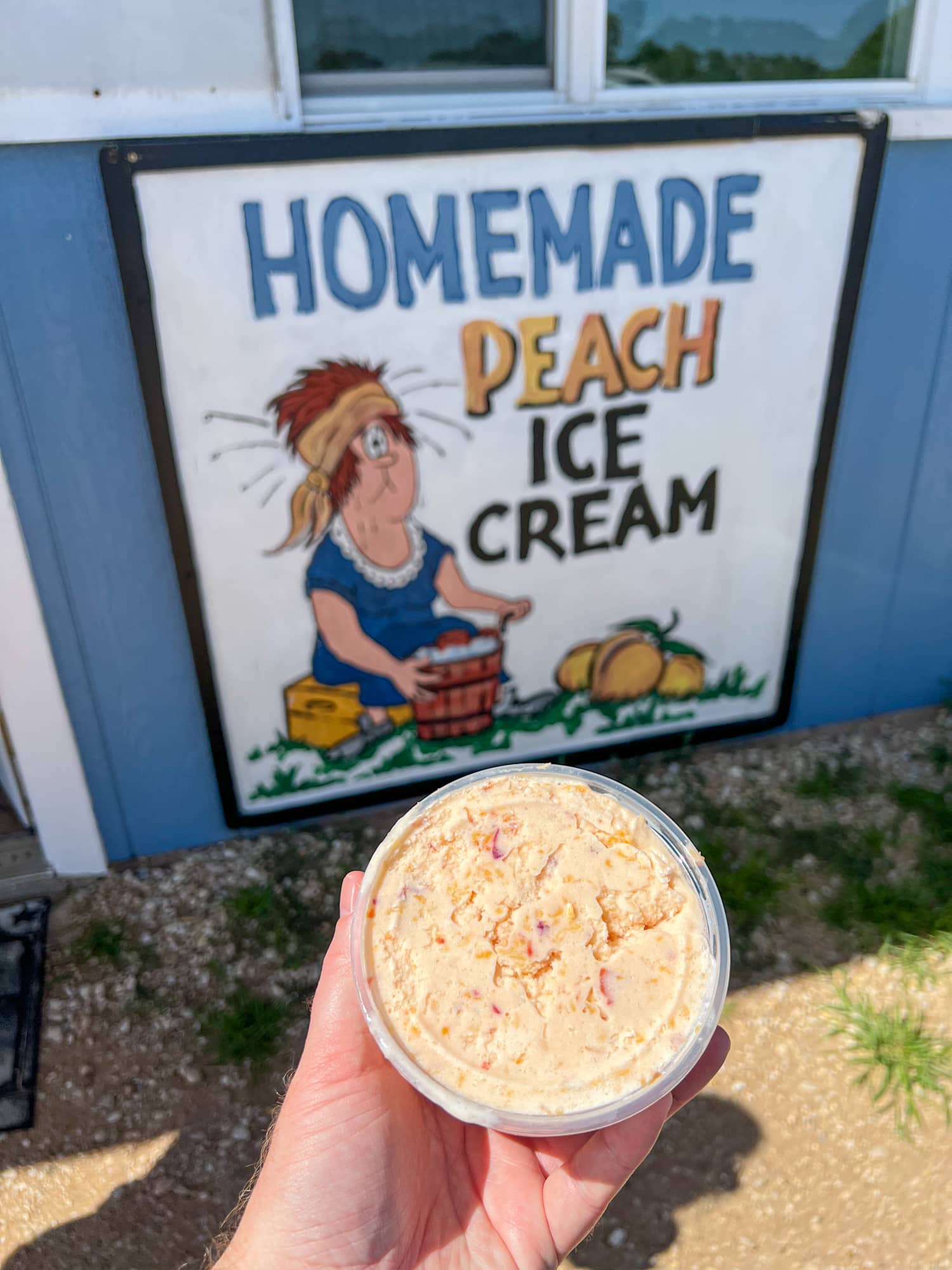 Behrends Orchard
The peach ice cream at Behrends Orchard, which was only open for a few hours each Saturday this spring, features chunks of fresh peaches.
Kel and I both appreciated this artisanal ice cream; however, I thought the texture was too icy. $3.50 per cup.
Behrends Orchard, 4579 US-290, Fredericksburg, TX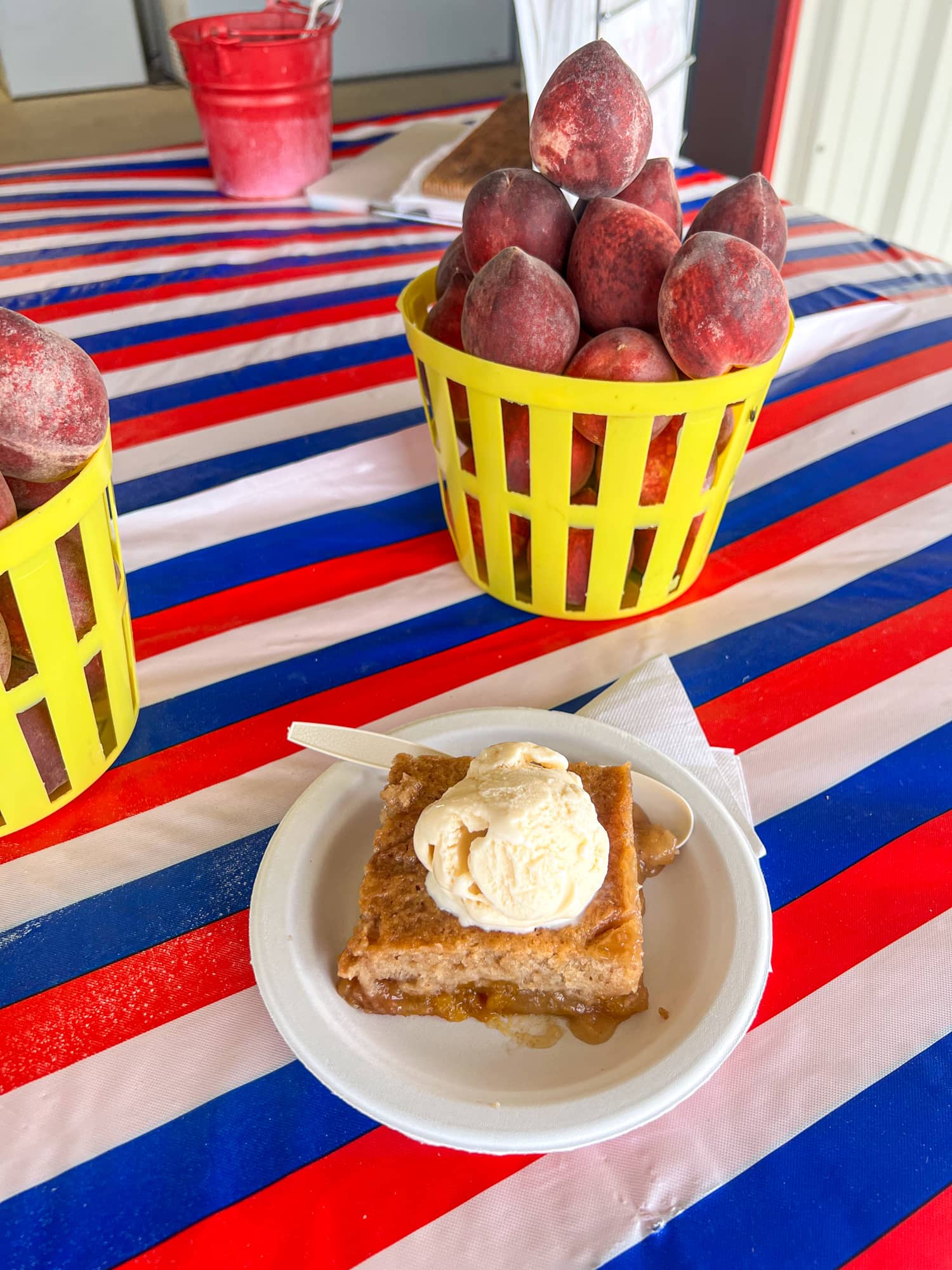 2. Peach Cobbler
When peaches are in season, you don't have to go far to find fresh-baked peach cobblers in the Texas Hill Country.
On one of our return trips to Austin, we stopped at Gold Orchards for peach cobbler a la mode (with vanilla ice cream).
Gold Orchards, 14329 US-290, Stonewall, TX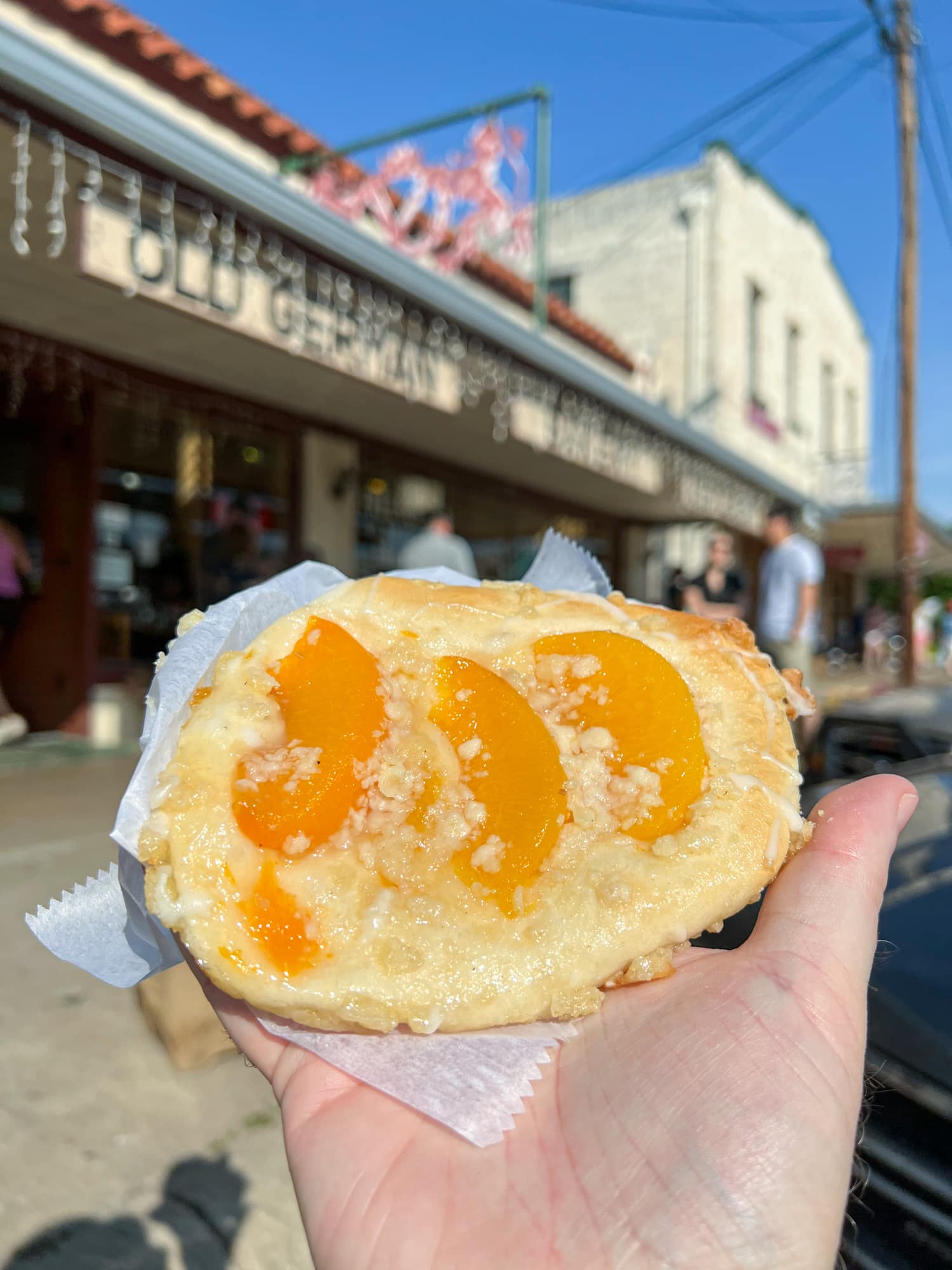 3. Peach Danish
Our next peach treat comes to us courtesy of the Old Germany Bakery & Restaurant on Main Street in downtown Fredericksburg.
We arrived at about 9 a.m. on a Sunday, and many people were waiting outside to be seated for breakfast. Thankfully, you can also grab a pastry to-go.
The cream cheese Danish options were plentiful, including:
Apricot
Blueberry
Cream cheese cherry
Cream cheese blueberry
Peach
Given this is an article about Fredericksburg peaches, it should be no surprise that I ordered the peach Danish.
Kel and I walked across the street and ate the sticky, sweet pastry while sitting on the wall surrounding the Marktplatz von Fredericksburg, the town's central park.
Old Germany Bakery, 225 W Main St, Fredericksburg, TX
Note: For seven months out of the year, a weekly Fredericksburg Farmers Market is held at the Marktplatz—Thursdays from 4 p.m. to 7 p.m.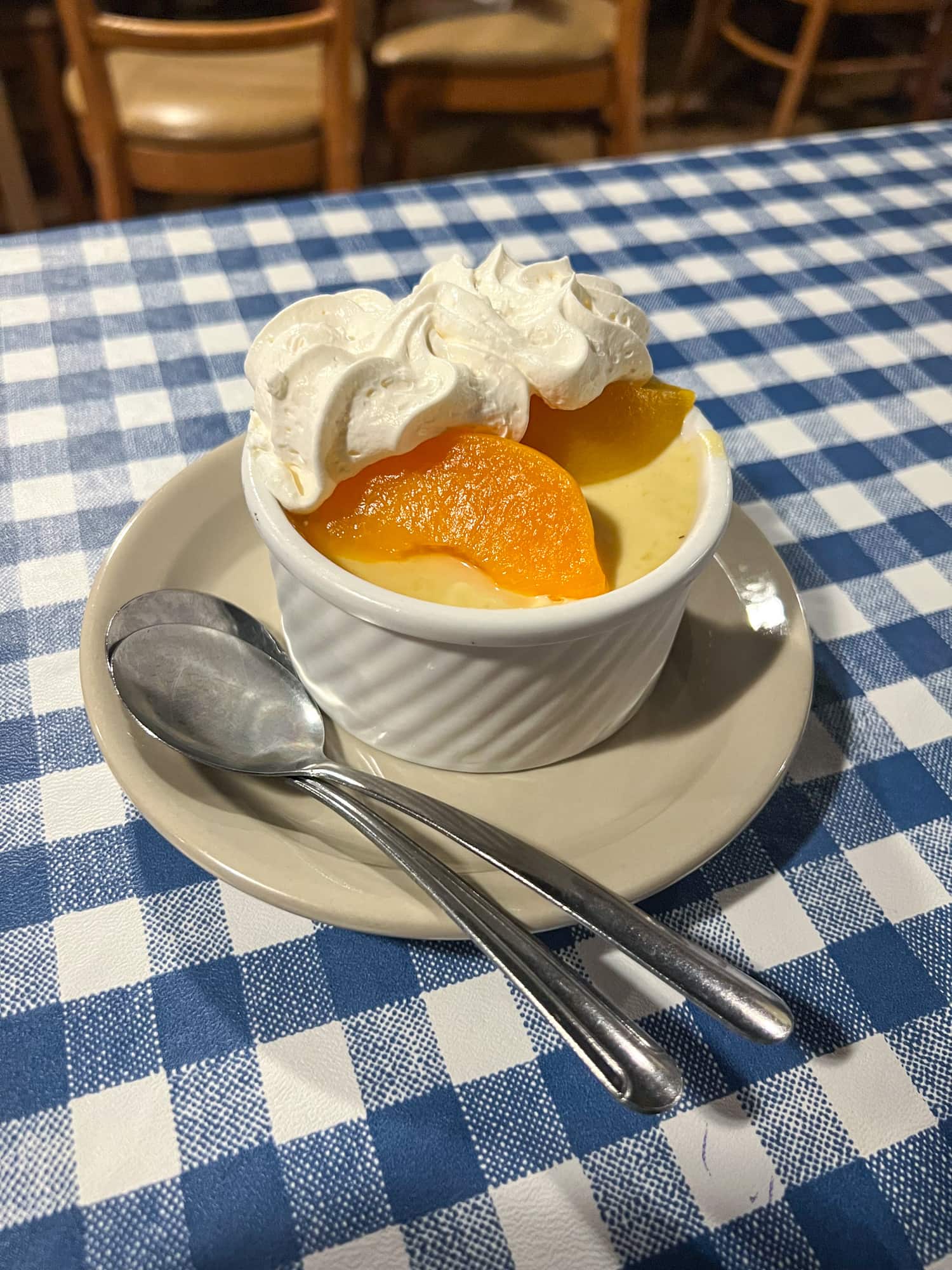 4. Bavarian Peach Pie
One night in Fredericksburg, Kel wanted to walk down Main Street to The Auslander, a German-American restaurant she'd been to, for dessert.
Once there, we had one thing on our mind: peaches! So, we ordered the Bavarian peach pie, served in a small white ramekin.
At first glance, it appeared basic—whipped cream and a few slices of Texas Hill Country peaches atop a custardy filling.
However, we discovered a crumbly crust at the bottom, adding texture. It was surprisingly delicious.
The Auslander, 323 E Main St, Fredericksburg, TX
Related: Best Restaurants in Fredericksburg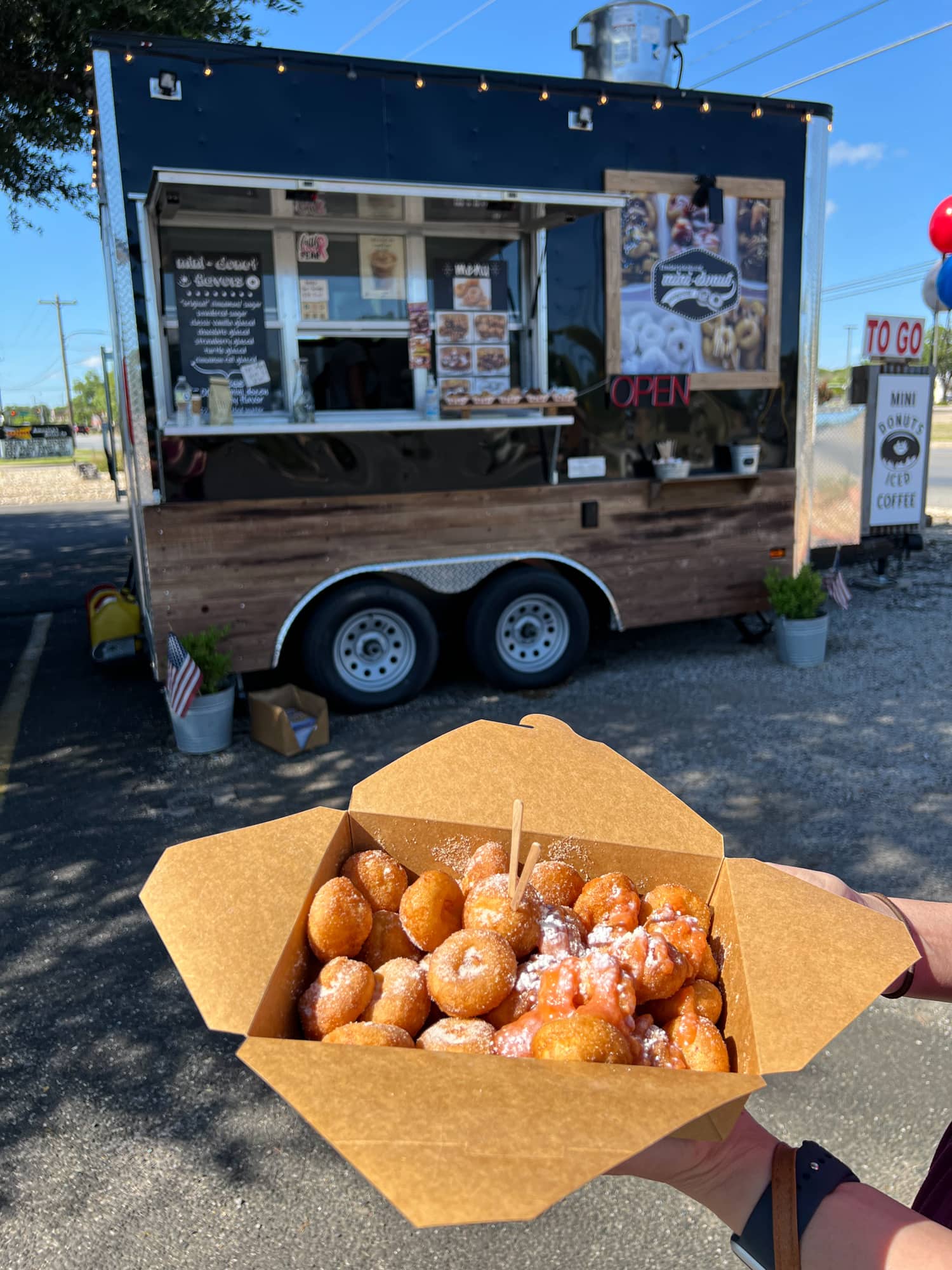 5. Fredericksburg Mini Donut Co
Look for Biedermann's Ace Hardware off Highway 290 as you enter Fredericksburg from the east to find Fredericksburg Mini Donut Co.
We stopped here for fresh mini donuts and found they were selling peach-glazed donuts, which we bought (along with an order of cinnamon sugar).
Once you start popping these doughy delights, it's hard to stop. I also enjoyed their cold brew iced coffee. The trailer is open from 8:30 a.m. to 2 p.m., Thursday to Sunday.
Fredericksburg Mini Donut Co (Trailer), 1102 E Main St, Fredericksburg, TX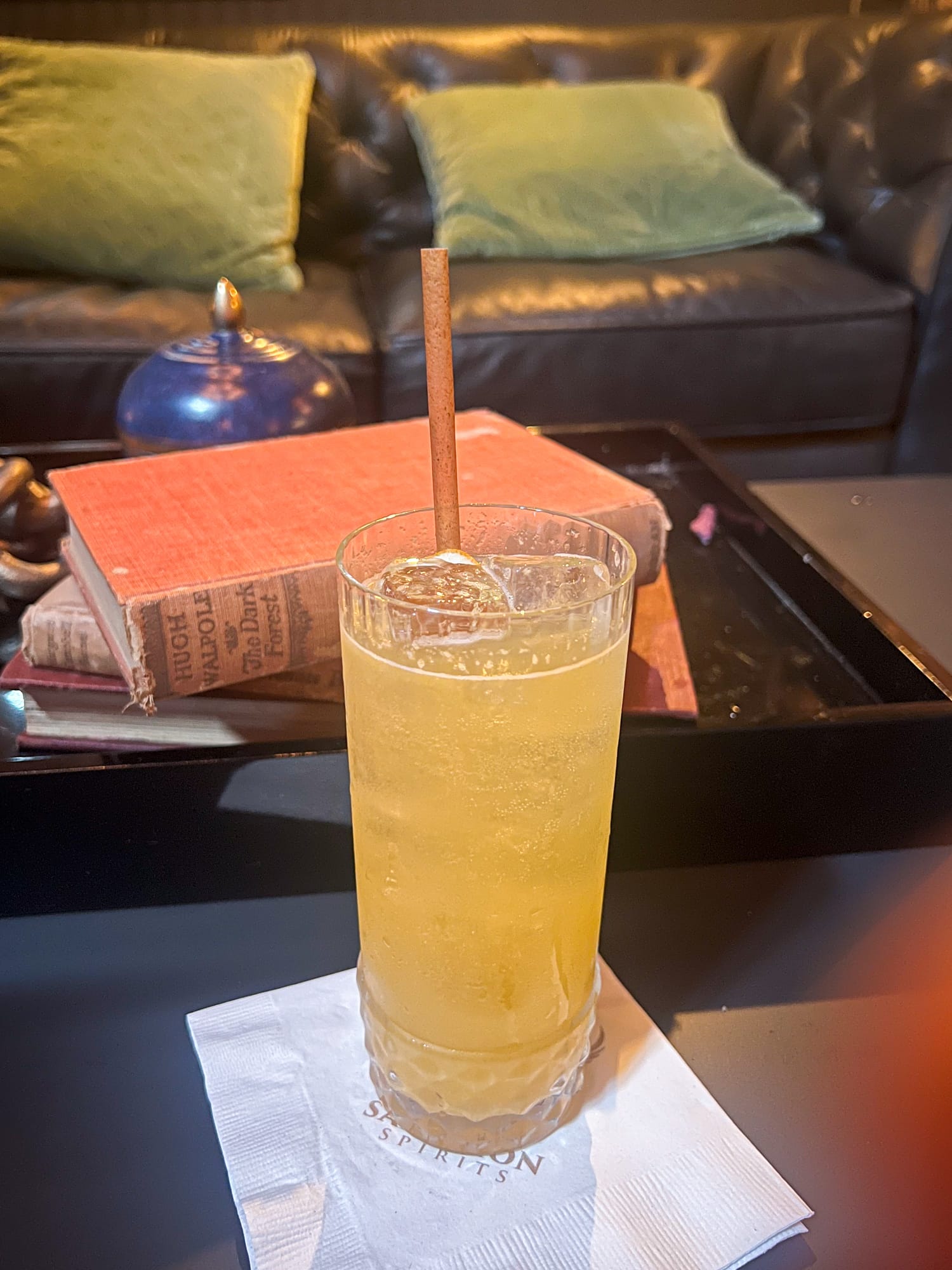 6. Peach Cocktail
We're now moving into the adult portion of the list with Just Peachy, a Salvation Spirits Vodka cocktail with peach gelee, honey, and lemon.
You can get one of these seasonal cocktails made with peaches from the distillery's orchard at The Speakeasy at Salvation Spirits.
Reservations are required for Fredericksburg's only speakeasy, so head to their website to make one a week or two before you visit.
The Speakeasy, 10091 US-290, Fredericksburg, TX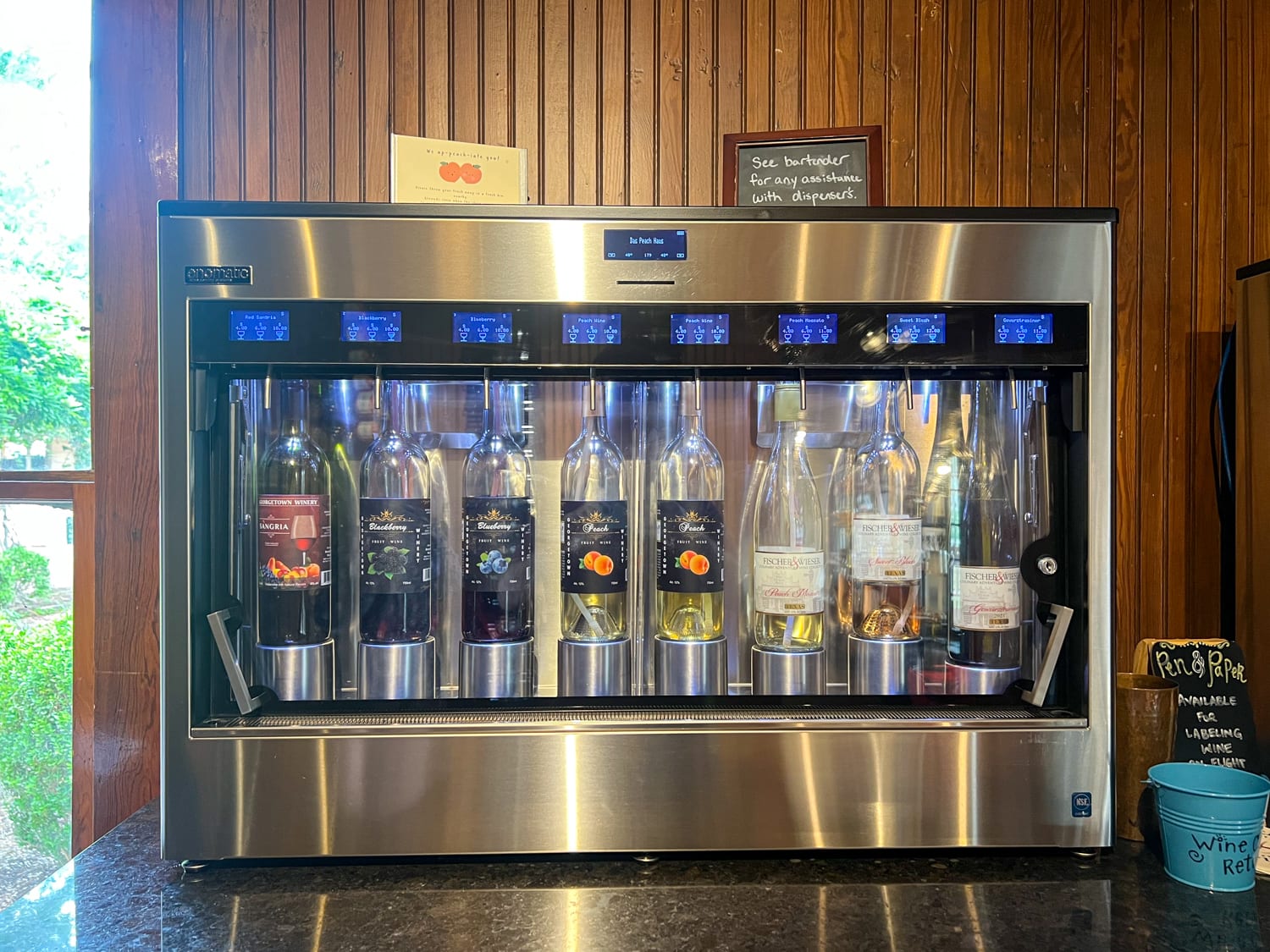 7. Peach Wine
Less than two miles south of downtown Fredericksburg is Das Peach Haus, a country store born from a peach orchard planted in 1928.
Kel loves sweet, fruity wines, and I wanted to ensure she could try some while we were in Texas Wine Country.
The wine tasting is a self-service experience, costing $4 per wine or $20 to taste five.
We tried the Peach Muscato by Fischer & Wieser (owners of das Peach Haus), Peach Fruit Wine by Georgetown Winery, and others.
They were super sweet, like dessert wines, which are too sweet for me. Kel's favorite wasn't the peach, incidentally, but the blackberry by Georgetown Winery.
Whether or not fruit wines are for you, dozens of other products are for sale, including peach preserves, jams, jellies, peach salsa, barbecue sauce, and peach cobbler.
For peach lovers, Das Peach Haus is a destination unto itself.
Das Peach Haus, 1406 S US Hwy 87, Fredericksburg, TX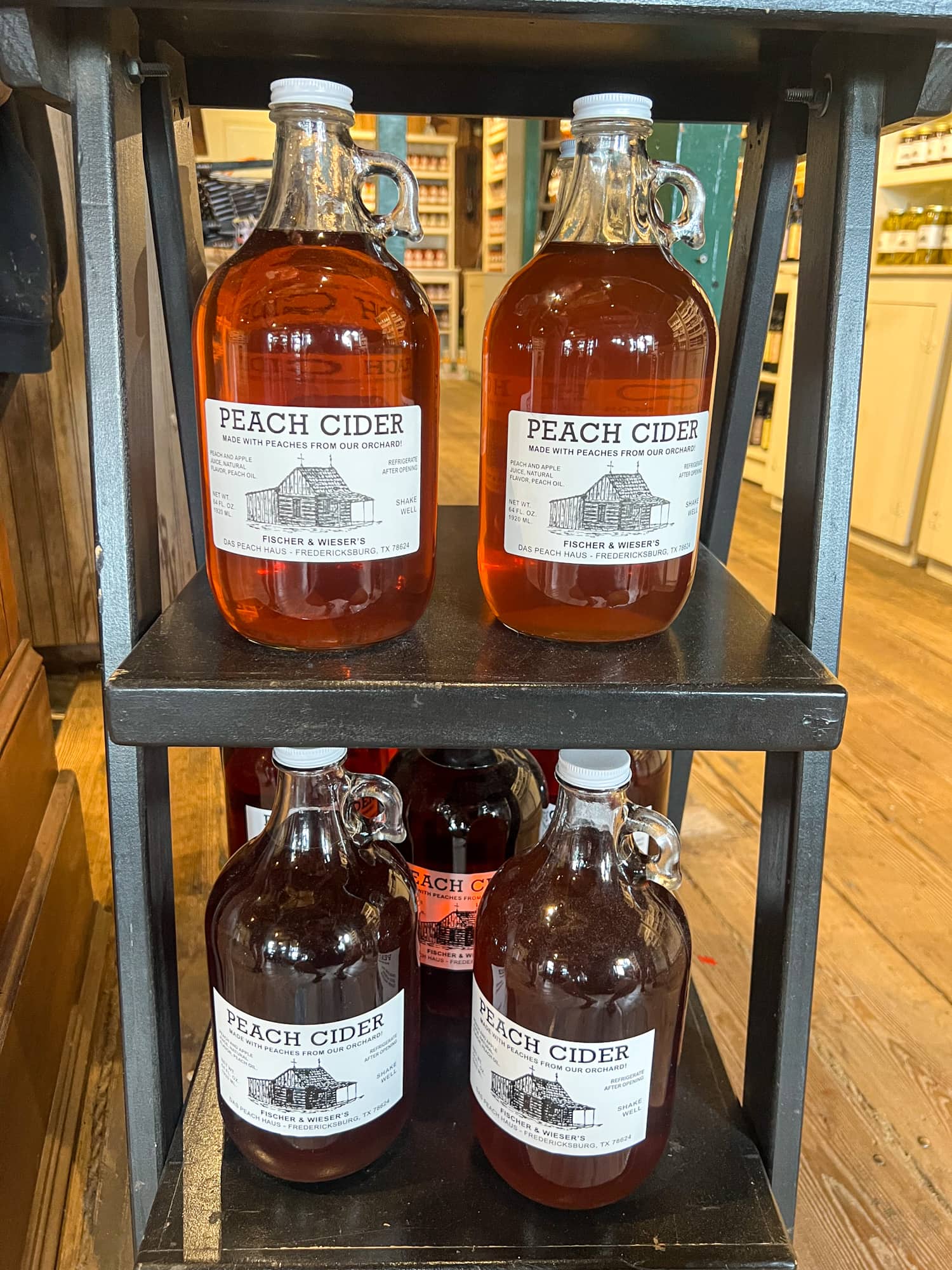 8. Peach Cider
I will plug Das Peach Haus again as they carry giant gallon-size bottles of peach cider made with Fredericksburg peaches from their century-old orchard.
Das Peach Haus, 1406 S US Hwy 87, Fredericksburg, TX
Tip: Next door to Das Peach Haus is Dietz Distillery, an artisan distillery by Dietz Fischer and his sister, Elle. Their father was one of the partners who helped build the Fischer & Wieser Specialty Foods brand, which owns Das Peach Haus.

They produce gin, peach, and pear brandies, an orange liqueur, seasonal eau de vie's (European fruit brandies), and raspberry vodka.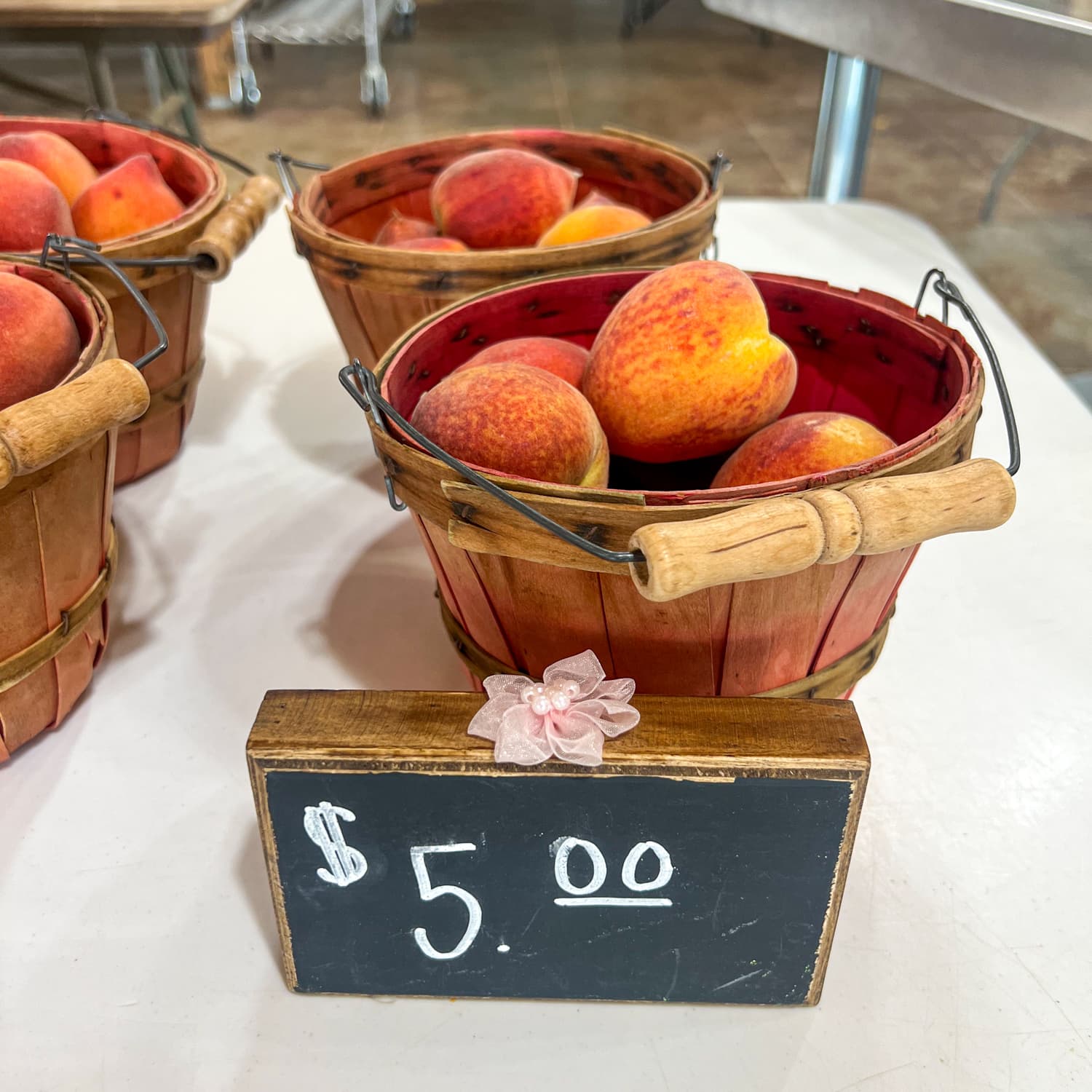 9. Fresh Peaches
Last, we come to the fresh Fredericksburg peaches with which I've tempted you with this entire story.
In addition to the Central Texas orchards I've mentioned, Kel and I stopped at Studebaker Farms, which offers a great selection of peaches. Here, I finally bought a bag of ripe peaches.
While it seemed like a lot, they went rather quickly between us. We made a homemade cobbler, kept a few at room temperature for snacking, and sliced the rest to freeze for later use.
Studebaker Farms, 9405 East, US-290, Fredericksburg, TX
Related: Lunch on a Farm in Tuscany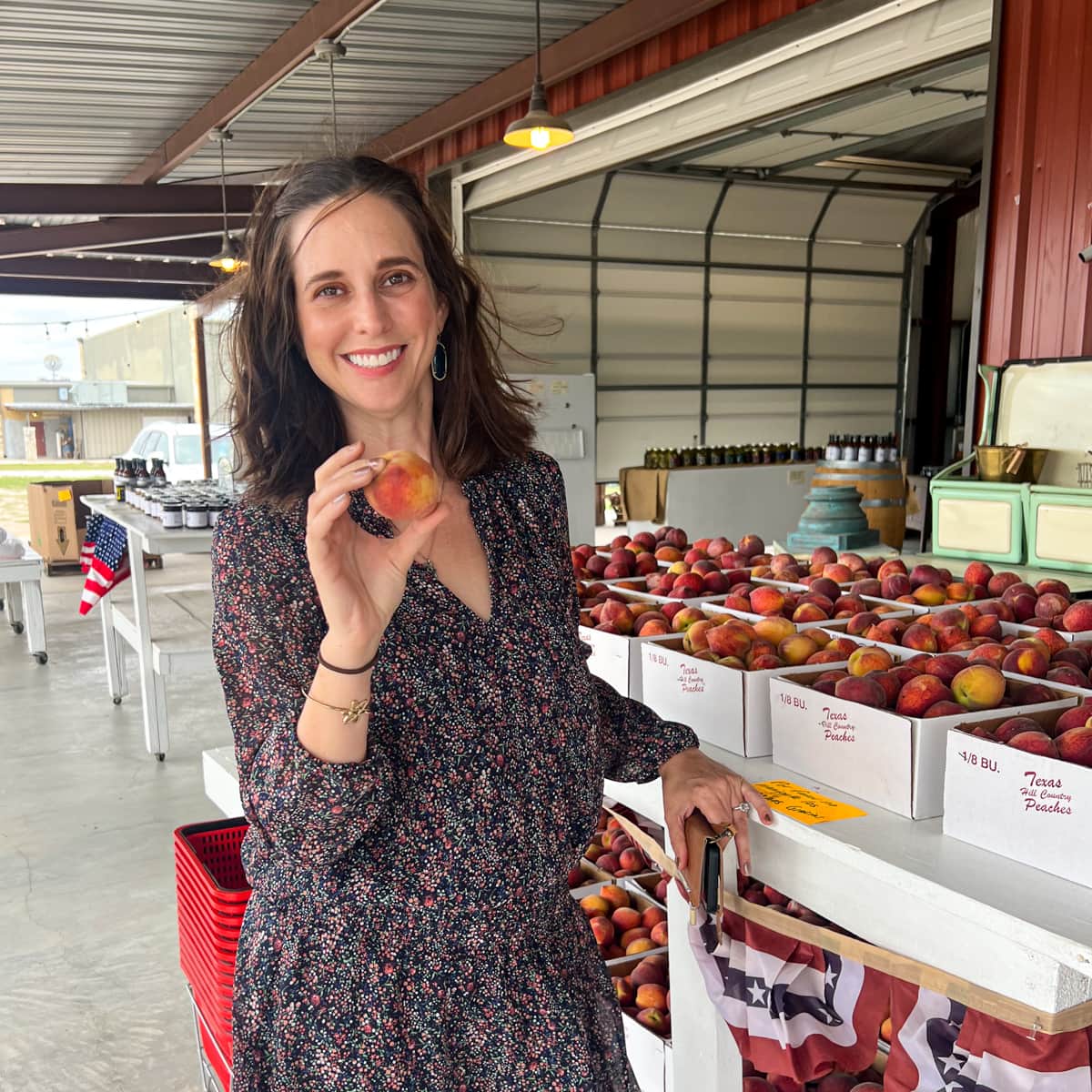 Believe it or not, we went to more peach places in the Fredericksburg area than the ones I've already mentioned.
I'd also like to recognize Donald Eckhardt Orchards, where we stopped to peruse different varieties of peaches, homemade ice cream, and an assortment of antique items for sale.
Some places I've already picked to visit on the next trip include Vogel Orchard and Engel Orchard.
Check out the tourism website and Hill Country Fruit Council to find more peach farms in Fredericksburg. 🍑