The best speakeasies in Austin require a little planning to visit.
The good news is your effort will be rewarded with fantastic and creative cocktails from some of the city's best bartenders, served in intimate spaces throughout downtown and East Austin.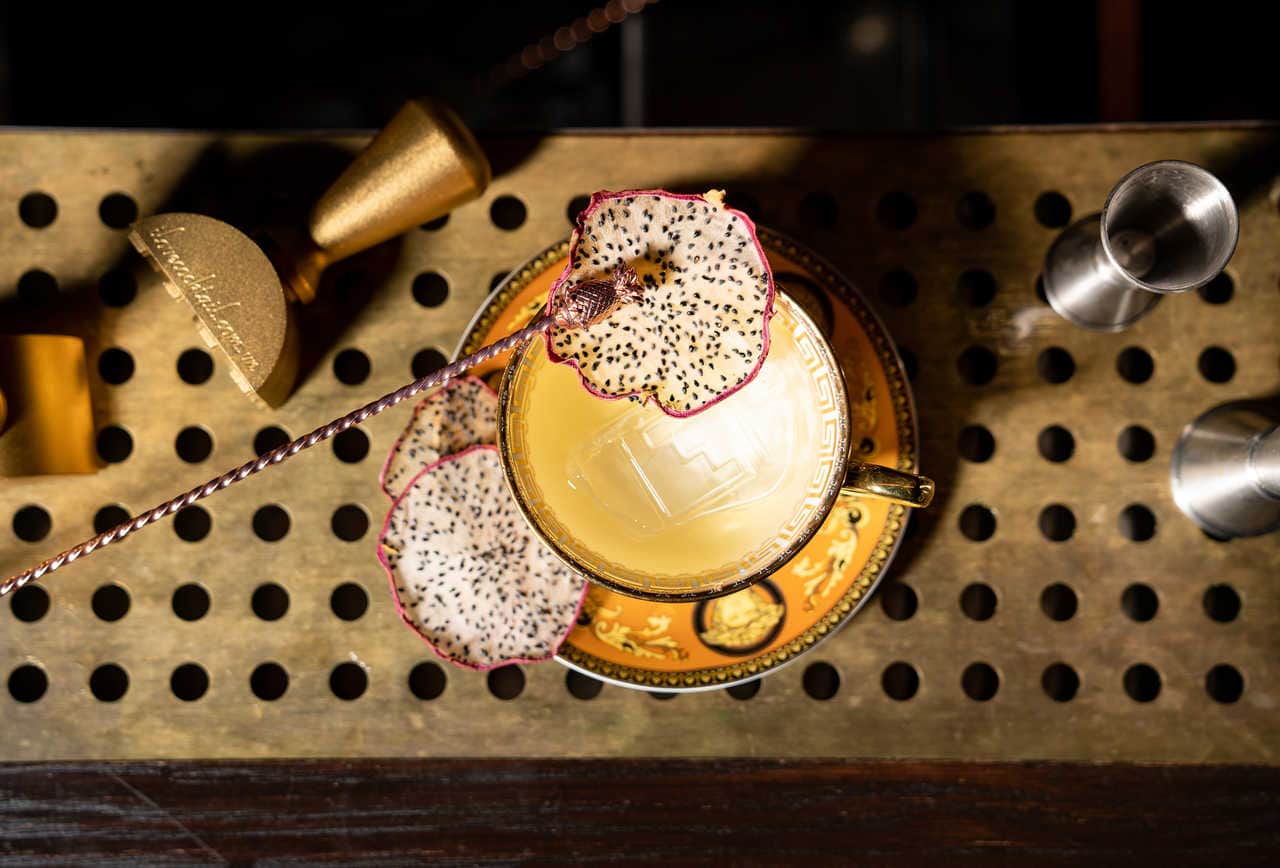 The following list is based on my personal experience since moving to the city in 2016.
Whether you're going out with friends, on a date, or just looking for a unique place to grab a drink, these speakeasies and secret bars are worth your time.
The 3 Best Speakeasies in Austin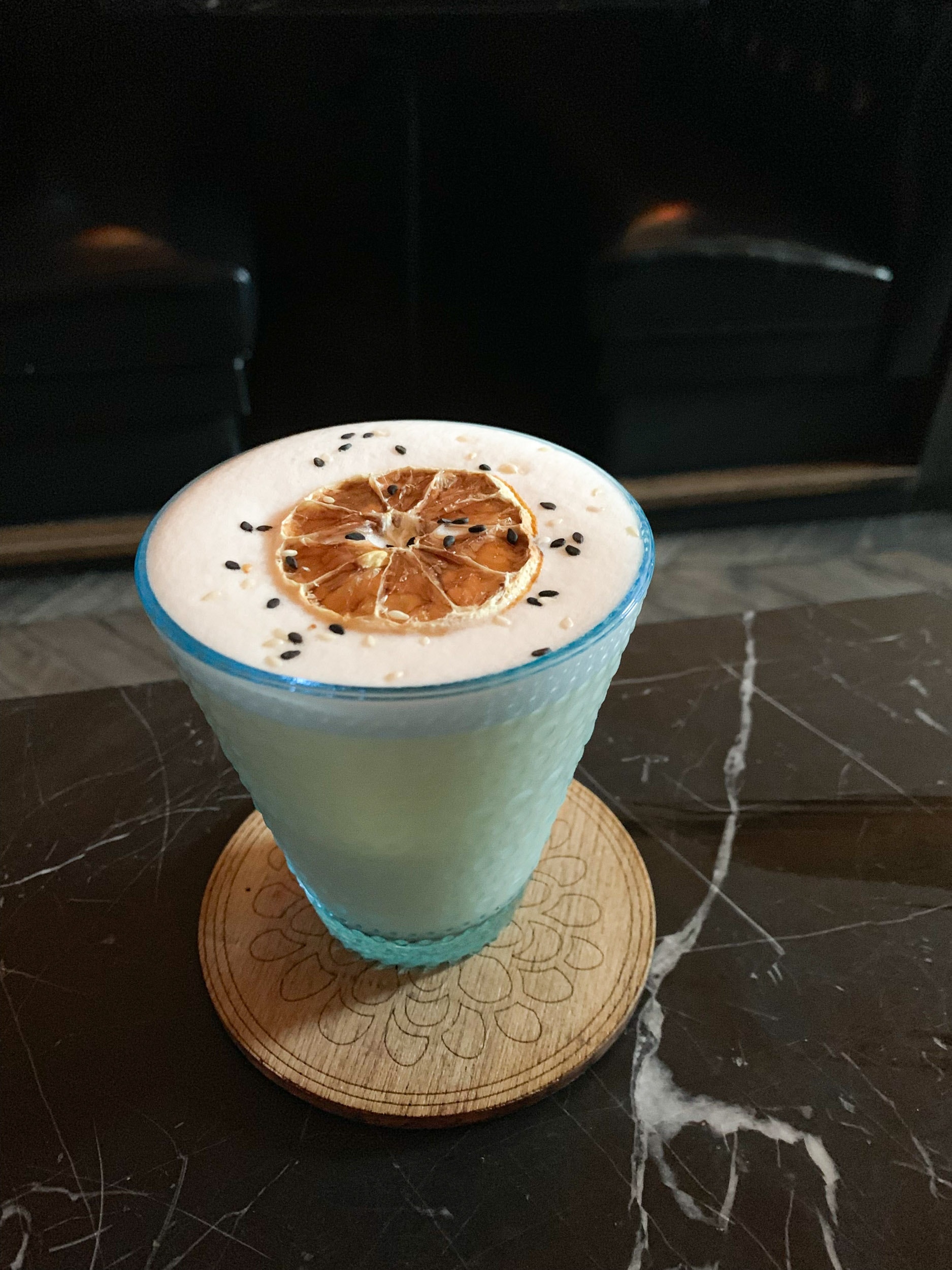 Midnight Cowboy
Opened in 2012, Midnight Cowboy was one of the first speakeasies to set up shop in Austin.
This small, shabby chic cocktail bar is an island of class amidst a sea of kitschy dives on Dirty Sixth, a section of 6th Street in downtown Austin catering to college kids and tourists.
As of 2019, the cocktail menu is in the form of a passport, with travel-inspired drinks to fuel your conversations.
The bartender makes some mixed drinks, such as the Greek-inspired Yah-Sas.
Others, like the colorful Alaska-inspired Kaleidoscope, are made table-side for your viewing pleasure.
Drink prices range from $12-$14. Discounts are available for some cocktails if you order two or four of the same. No beer or wine is available.
If they're fully booked, your time inside may be limited to two hours.
How to visit: Make a reservation via their website. Show up at our assigned time and push the button for "Harry Craddock." A member of the staff will greet you.
313 E 6th St, Downtown, midnightcowboymodeling.com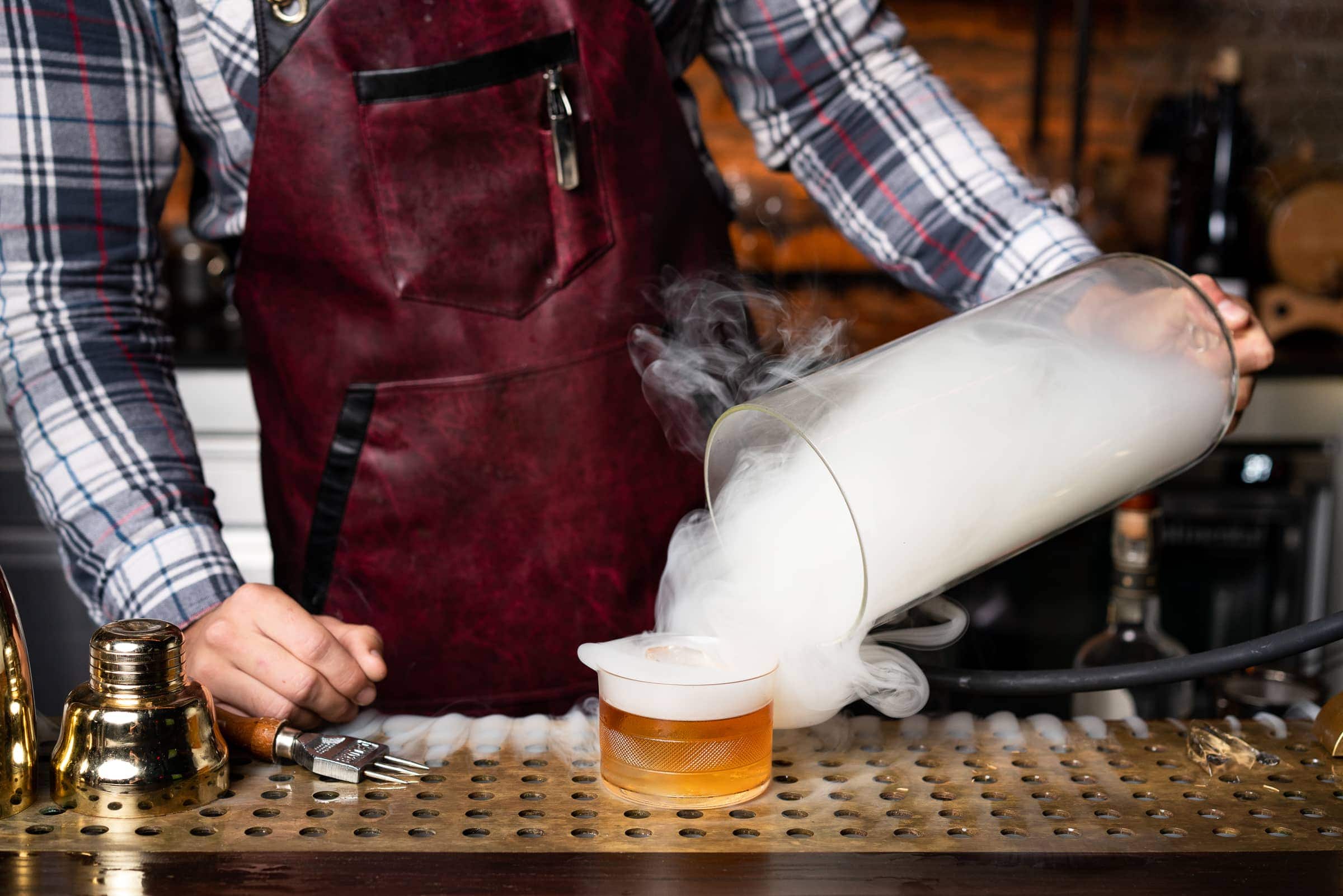 Here Nor There
Here Nor There is a relative newcomer to the Austin speakeasy scene, opening its doors in June 2018.
Unlike the other bars on this list, I was already living in Austin when it opened, so I had the opportunity to go early and go often.
It quickly became my favorite cocktail bar in the city.
Entering the bar is an experience unto itself, from needing a door code to walking down the artfully designed stairwell into the paws of a life-size bear.
The underground bar is dark and intimate. Where you're seated will depend on preference and party size.
I've sat at the bar a few times and enjoyed chatting with the bartenders and other patrons, but the sofas can be comfy, too.
The cocktails on the current menu evoke the flavors native to specific parts of the world visited by the bartenders. I've tried over a dozen drinks and enjoyed them all.
The only beer offered is Guinness, which is available on tap.
Contrary to what you may read or hear, you do not need to be a member to get a drink there.
That said, Here Nor There offers an annual membership with exclusive perks for $500. Membership is by invitation only.
There's a strict no photography policy to maintain the privacy of guests and members.
How to visit: Download the app from iTunes or the Google Play store. Fill out your profile and follow any directions. Once approved, you can request a reservation, preferably 24 hours in advance. If the booking is accepted, you'll be given a door code to use at the entrance.
612 Brazos St, Downtown, hntaustin.com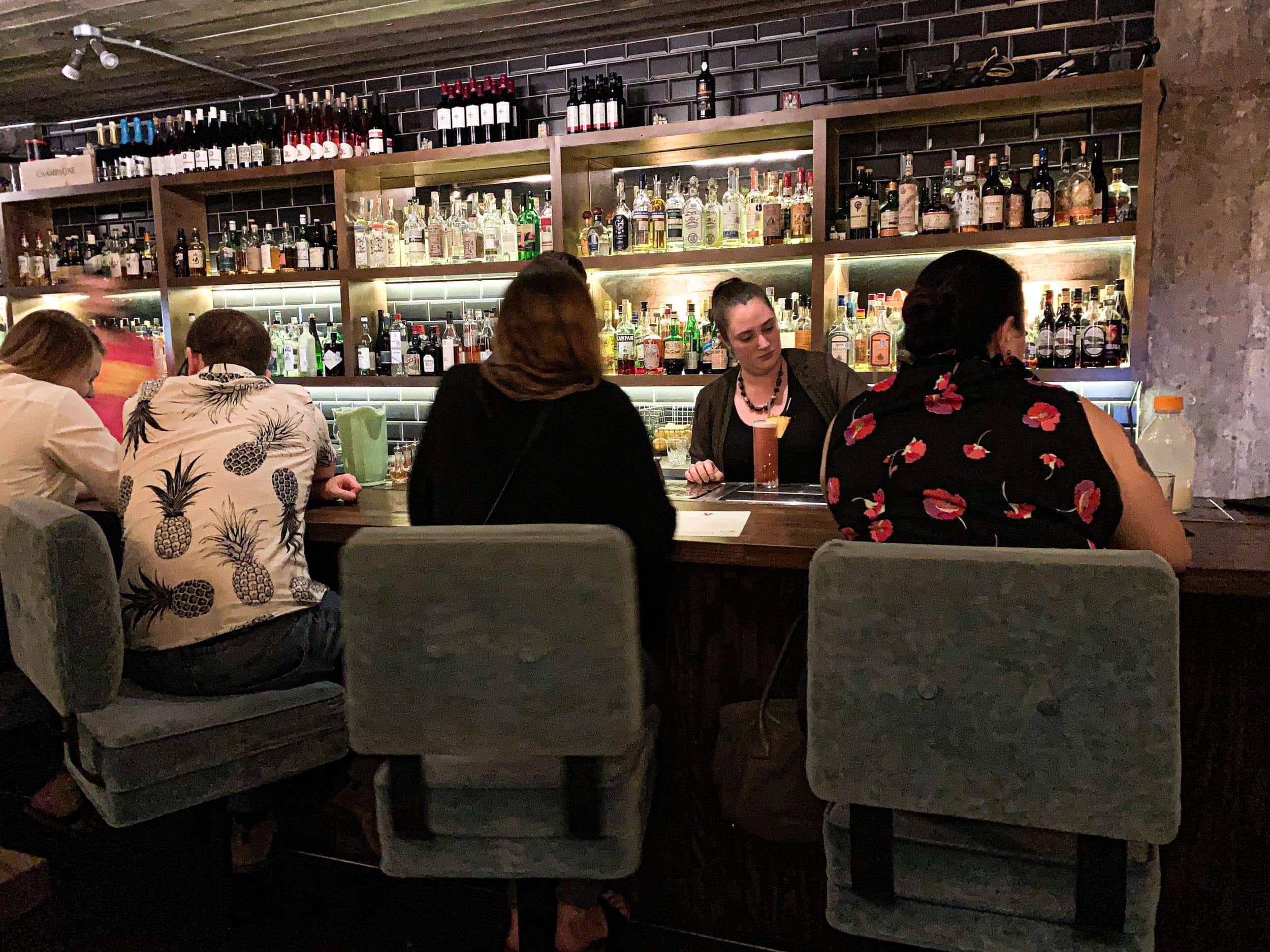 Small Victory
Small Victory was one of the first speakeasies in Austin I visited, and it remains one of my favorites today.
I like it because it's small and intimate, with the bar running along the left side, including plush, swiveling seats and two-person tables along the right side.
A few larger tables in the back can seat four to six people.
Small Victory offers a selection of wine and beer in addition to their cocktails, ensuring there's something for everyone.
Drink prices are about $12-$14, except for a Philadelphia Fish House Punch recipe dating back to the 1730s for $60.
Further classing up the joint are charcuterie and cheese boards, so you have something to nibble on during happy hour.
How to visit: Look for the glass door next to the parking garage entrance. First come, first serve.
108 E 7th St, Downtown, smallvictory.bar
See also: Best Speakeasies in San Diego
Best of the Rest: Secret Bars Worth a Drink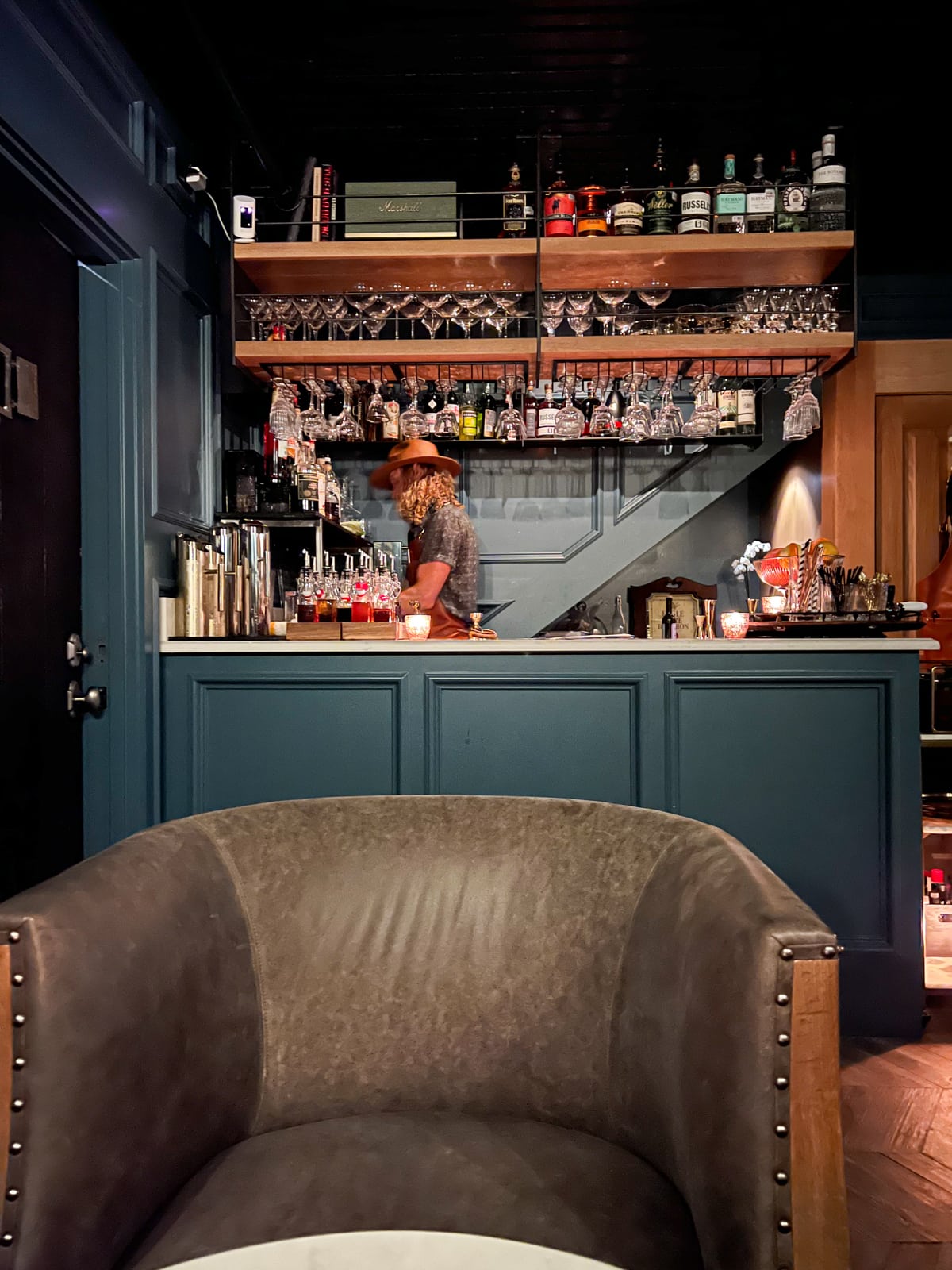 Kinfolk Lounge & Library
Austin's newest speakeasy is a 20-seat cocktail lounge and spirits library in the historical cellar of Moonshine Grill.
Kinfolk Lounge & Library's intimate space dates back to the 1850s.
However, you'd never know it from the terrific job the founders did in refurbishing the basement.
I booked one of the two-person tables for 9:15 pm on December 31, 2021, the second day it was open to the public. Reservations are for 1 hour and 45 minutes.
A sign for Kinfolk outside Moonshine Grill shows they're not trying to make too much of a secret of the new bar.
After checking in with Moonshine's staff, we were led down a staircase to Kinfolk.
Four two-person tables lined the right side, opposite the tiny bar pictured above.
A 10-person communal table occupied the center of the spirits library, in an adjacent room full of rare and collector-quality liquors.
I began with a well-crafted Gin Fizz using Still Austin Naturalist Gin, Kinfolk citrus blend, egg white, gum syrup, and Q Club Soda, while Kel got a strong tequila drink.
I followed it up with a tasty Mai Tai, reminiscent of our lunch at Duke's in Waikiki over the summer.
Mixed drinks are about $16-$18 apiece, which is on par with what you can expect to pay at Austin's best speakeasies.
Kinfolk will eventually be offering snacks by local providers, including charcuterie boards, fresh cheeses from Antonelli's Cheese Shop, SRSLY Chocolate, and macarons from La Patisserie; however, they weren't available at the time of my visit.
How to visit: Reservations are required and can be made up to 14 days in advance. To make one, visit their website or find them on the Resy app. Date night attire is recommended.
303 B Red River St, Downtown, kinfolkaustin.com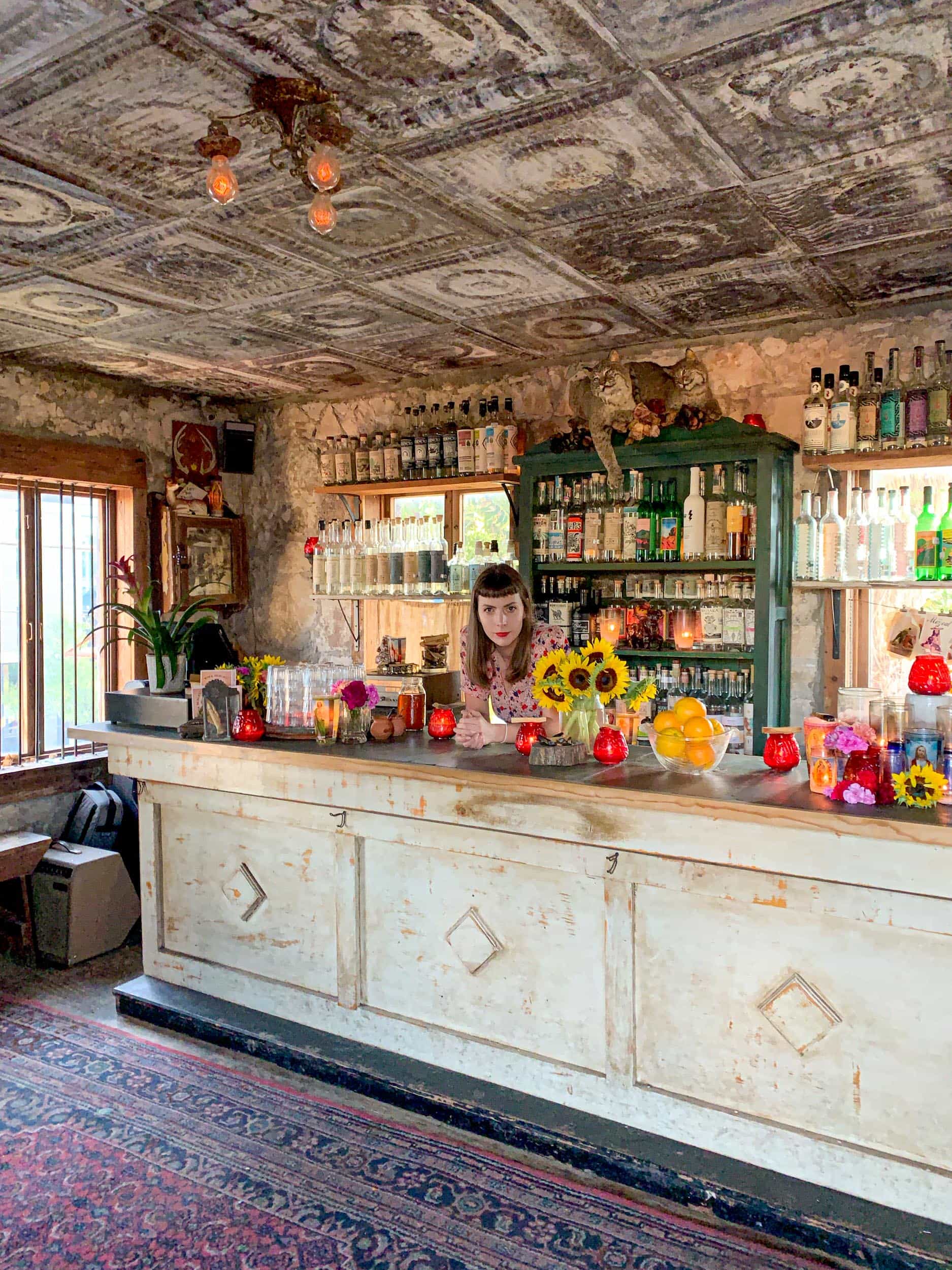 Mezcaleria Tobala
The tiny Mezcaleria Tobala is an Oaxacan-style mezcal bar on the second floor of Whisler's, everyone's favorite East Austin bar.
If you can pry yourself away from the expansive patio, head upstairs to taste some of their 180 varieties of mezcals, priced between $7-$35 per pour.
Mezcaleria Tobala is open Fridays and Saturdays from 7 pm to 2 am.
How to visit: Enter Whisler's and walk up the exterior staircase in the courtyard.
1816 E 16th St, East Austin, whislersatx.com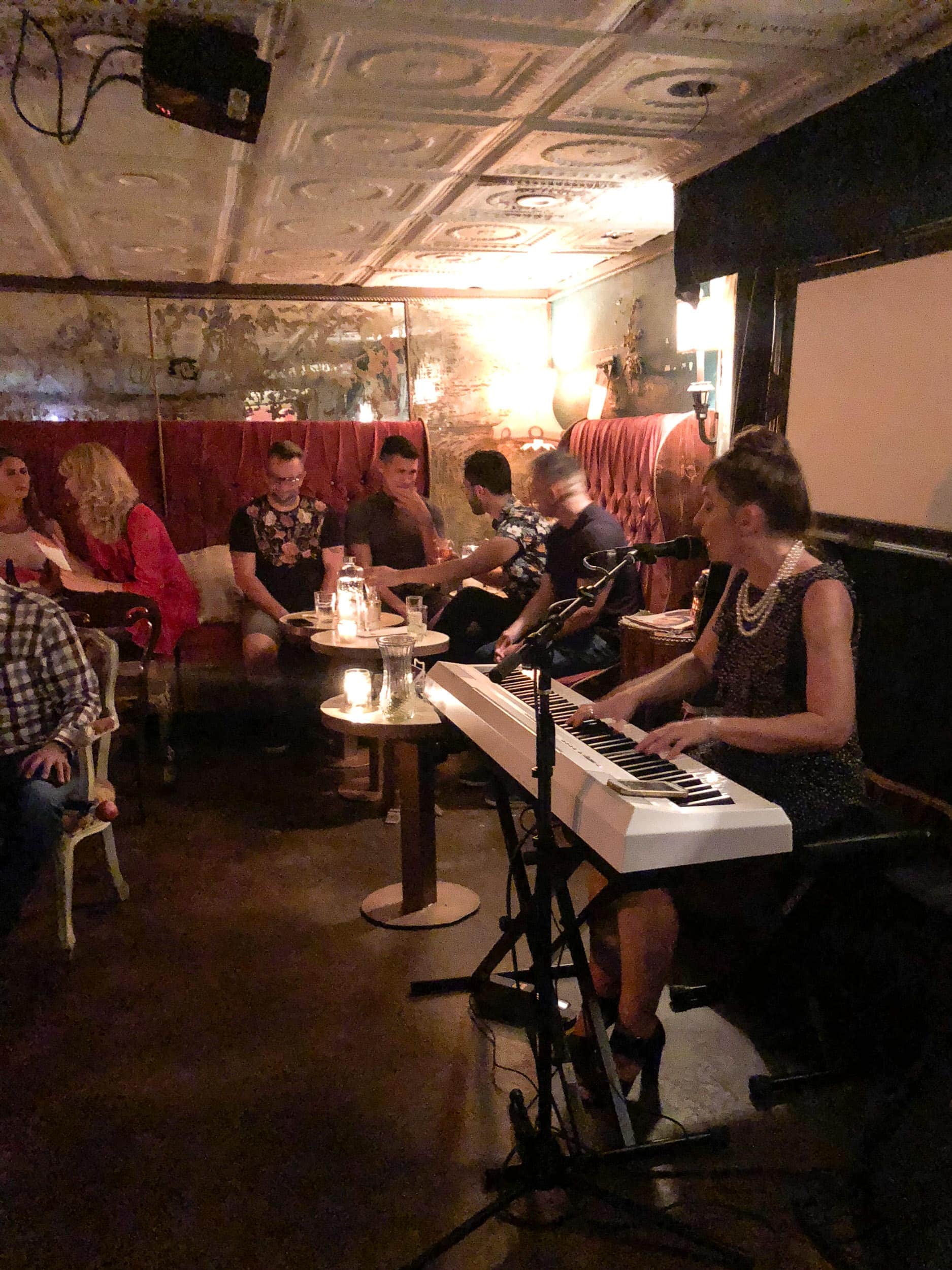 Milonga Room
The Milonga Room is a speakeasy in the basement of the Buenos Aires Cafe, an Argentinian restaurant in East Austin. It's a small space, with a low white-tile ceiling.
Many seasonal and classic Latin cocktails are available, including recipes featuring Fernet, an Italian bitter popular in Argentina.
Wine and beer are also available. Wine by the bottle is 50 percent off on Mondays.
How to visit: Reservations are required and available in one or two-hour increments. To make a reservation, email [email protected] Once accepted, you'll be provided a password. Knock on the blue door in the parking lot. Have your password ready.
1201 E 6th St, East Austin, buenosairescafe.com
Firehouse Lounge
The Firehouse Hostel and Lounge is located in the oldest firehouse in Austin (that dates back to 1885).
The lounge is more open and spacious than the other speakeasies on this list and features a stage where live bands and DJs perform regularly.
Firehouse Lounge is a well-known and popular speakeasy among Austinites and can be crowded on weekends.
How to visit: Enter the building and turn right. Slide the faux-bookcase door open. First come, first serve, and no reservations are taken—open Wednesday through Sunday.
605 Brazos St, Downtown, firehousehostel.com
See also: Best Bars in San Francisco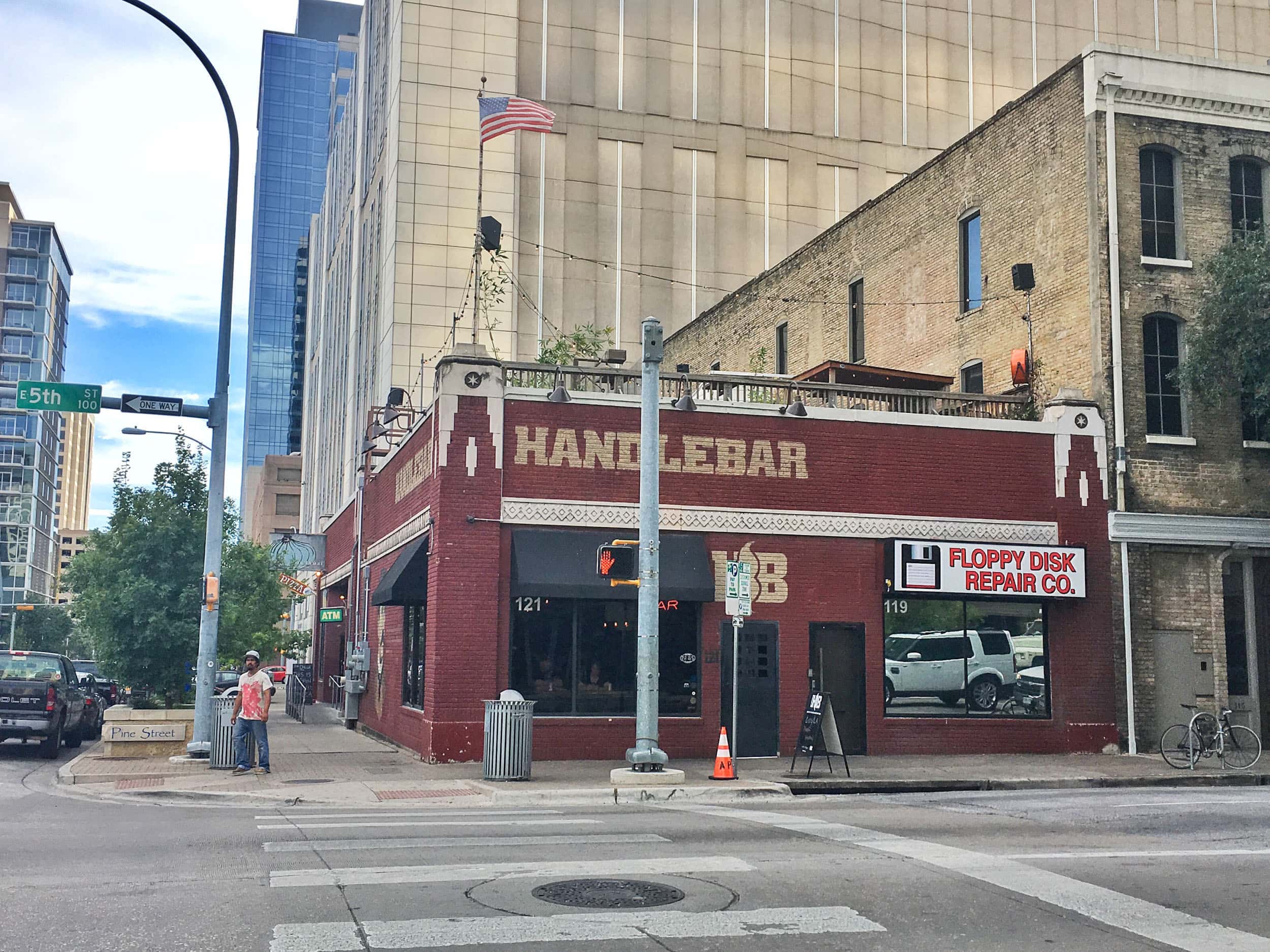 Red Headed Stepchild
Handlebar is one of my favorite rooftop bars in downtown Austin.
Its owners are also behind the funny-looking Floppy Disk Repair Co. sign, a front for their speakeasy: the Red Headed Stepchild.
The door code can be hard to come by as it changes monthly. Both times I've been, it was out of sheer luck standing outside the door and either following someone with the code inside or ducking in after people left.
Inside, it's dark and uninviting, despite the warm glow of the often-Instagrammed neon sign saying, "Mmm....your hair smells pretty."
I can't say much for the cocktail menu, either; it's more focused on serving classic cocktails than innovative signature drinks.
Overall, I feel like this bar is more of a novelty. I was glad to have seen the inside, but it didn't inspire me to become a regular.
How to visit: You'll need an access code that's not publicly provided and changes monthly. Ask around, ask a bartender at Handlebar, or try your luck at the door.
119 E 5th St, Downtown, floppydiskrepair.co
Garage Bar
The Garage Bar is easy to miss, as it's tucked inside an actual parking garage. However, once you enter this dimly lit bar/lounge, you'll forget the outside world.
I've gone a few times, and while I've enjoyed the mixed drinks and music, I don't find the interior as warm and inviting as other bars on this list.
How to visit: Look for the neon sign. First come, first serve, and reservations aren't necessary.
503 Colorado St, Downtown, garagetx.com
***
Thanks for reading my take on the best speakeasies in Austin, from the cocktail-focused to mezcal and everything in between.
Austin's bar scene is ever-evolving, and the continued influx of new residents ensures plenty of curious patrons.
Here are a few of the places I'd like to try next:
And, of course, I'll be keeping an eye out for any new arrivals to share with you here.
Did you enjoy this story? Join me on Instagram and Facebook to share thoughts, ask questions, or keep up with my latest adventures.