The signature buttermilk pancakes dripping with rich blueberry maple compote, topped with a large dollop of creme fraiche are a sight to behold at Launderette in East Austin.
Even better than the moment you see them arrive at the table is the first forkful of fluffy deliciousness you'll deliver to your mouth.
I've eaten a lot of pancakes in my life, and these are the best I've ever had. Even the presentation is well thought out, with cute little cats as vessels for maple syrup.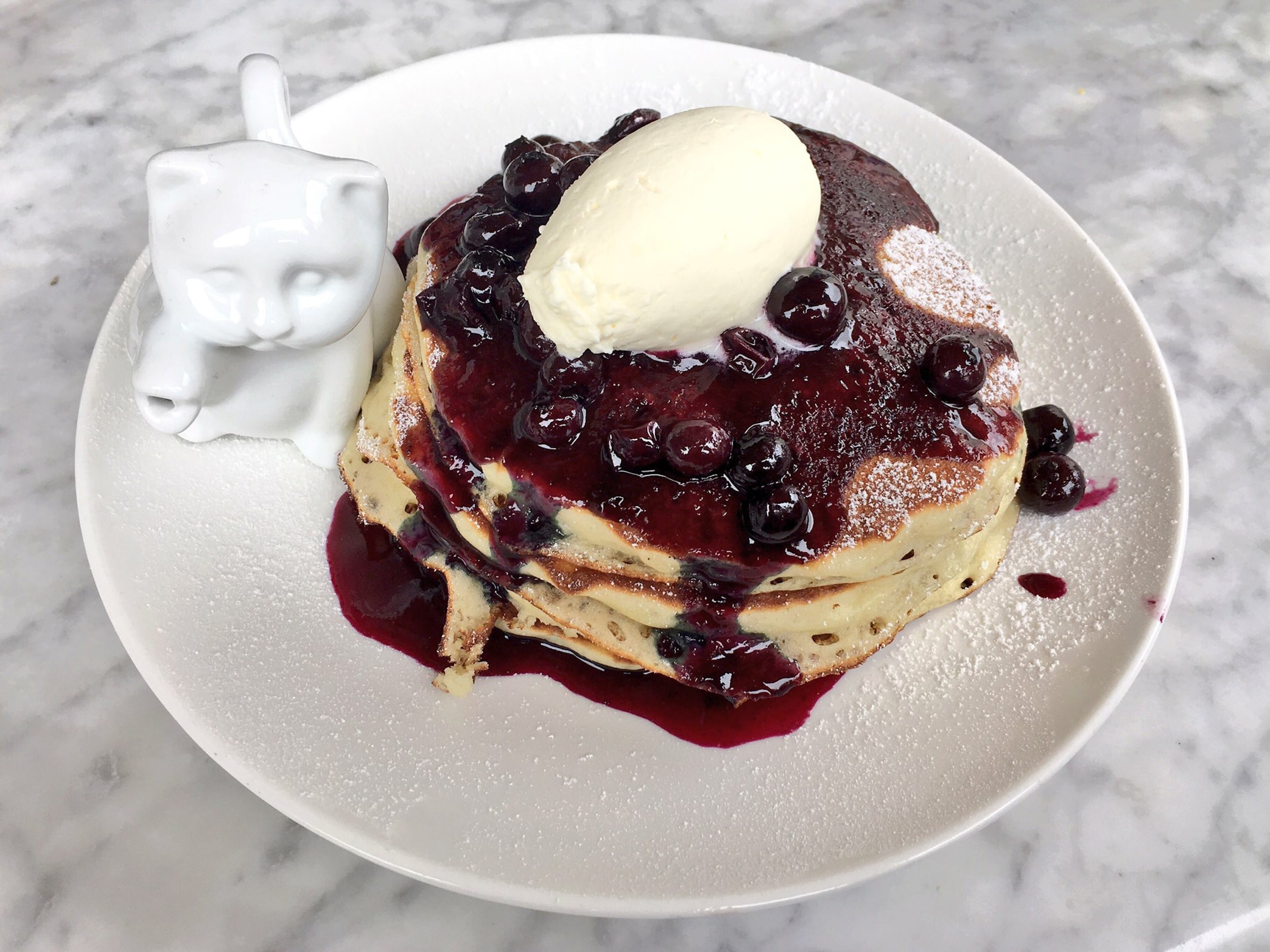 It may come as no surprise brunch was the first (second, and third) meal I ate at Launderette.
I began going in summer 2016 after moving to Austin.
My friend Nick had already experienced the pancakes and could hardly contain his excitement to go back (at every opportunity).
Once I'd tried them while sitting on the delightful covered patio, I understood why.
See also: The Best Brunches in Austin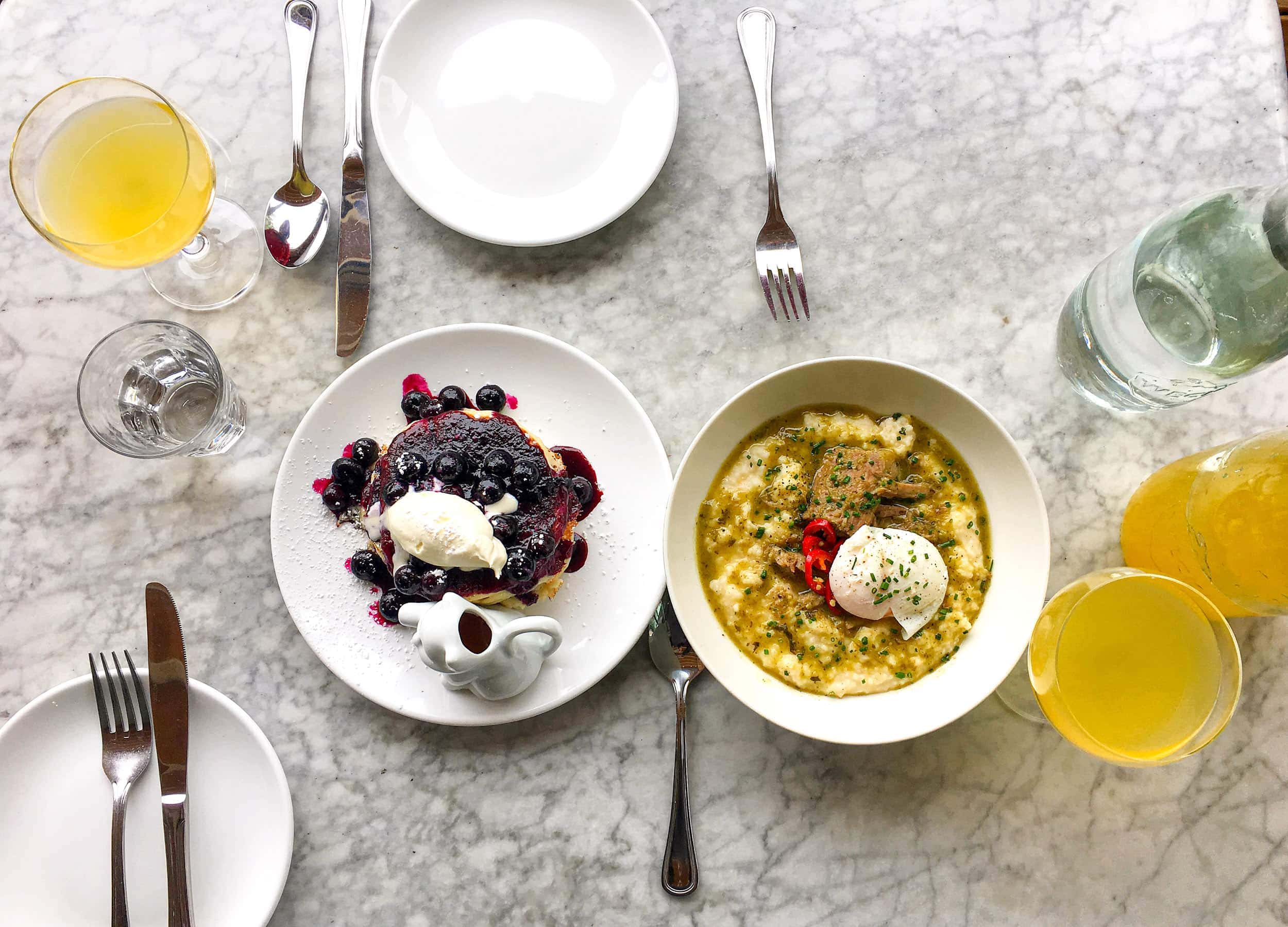 About Launderette
Launderette opened its doors in the Holly neighborhood of East Austin back in 2015. It was an immediate hit, both locally and nationally.
In Launderette's first year, this casual neighborhood restaurant serving modern American food with Mediterranean influences was named Restaurant of the Year by Eater Austin.
The accolades continued in 2016 when Food & Wine named it one of the best new restaurants in the country, and it was a James Beard Award finalist for Best New Restaurant.
So who's behind one of Austin's most beloved restaurants?
That would be chef Rene Ortiz, a Houston native who spent 20 years working around the world, and later opened La Condesa (Mexican) and Sway (Thai) in Austin.
His partner in this latest endeavor is Laura Sawicki, a 4-time James Beard Award semifinalist for Outstanding Pastry Chef.
As you'll see below, Sawicki's creative desserts are one of the reasons I continue returning to Launderette.
See also: Best Coffee Shops in Austin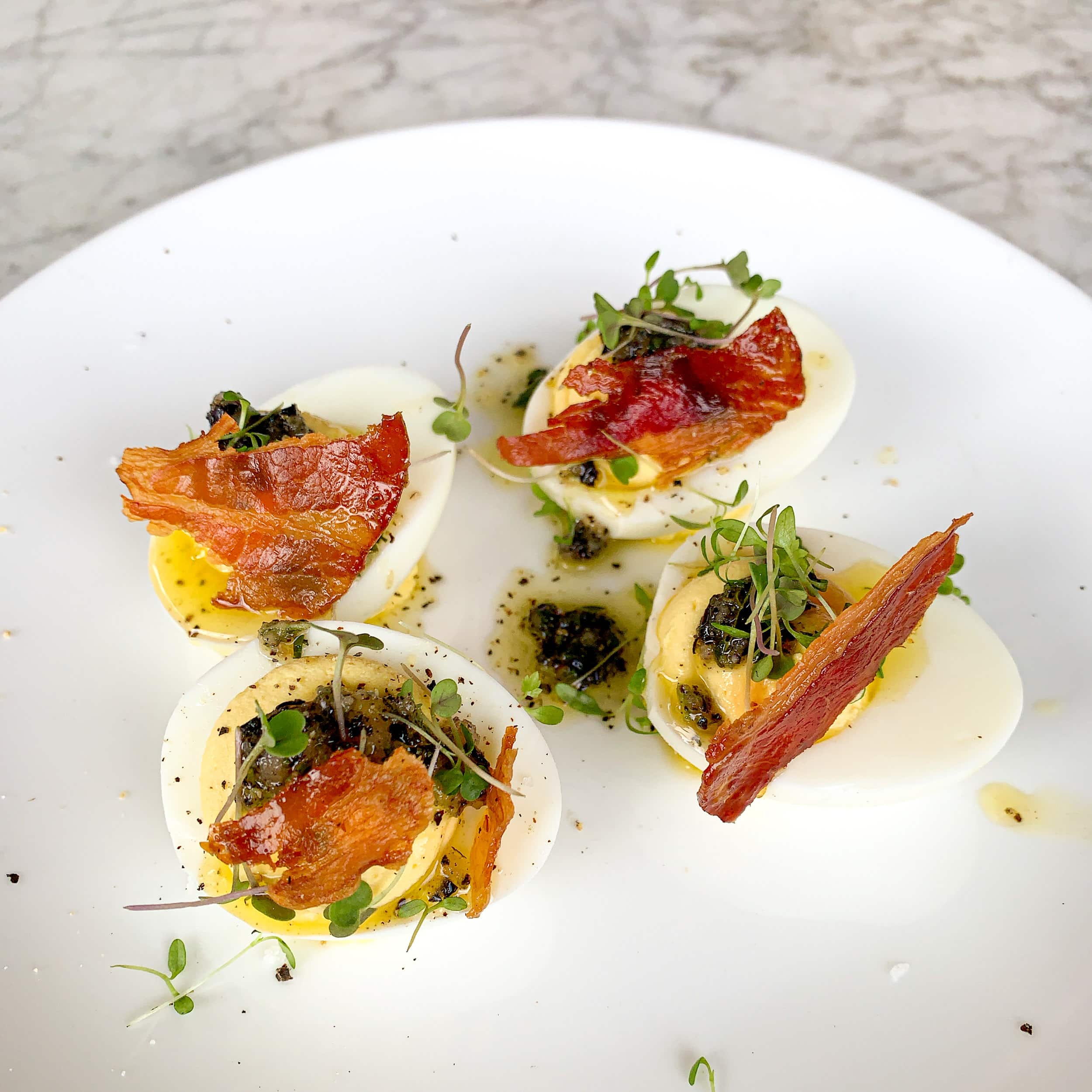 The Menus at Launderette
The menus at Launderette change often. Here's a taste of what's on offer right now.
Brunch
In addition to the buttermilk pancakes, there's a pastry of the day, zucchini bread, and whipped ricotta toast with strawberry, chamomile honey, Thai basil, fennel pollen.
Entrees include an everything bagel with salmon, asparagus Benny on a sourdough English muffin with truffle hollandaise, pork shoulder hash, a cheeseburger on challah, and a fried egg BLT. Prices are $12-$18 per dish.
Potato latkes and chicken sausage are a few of the sides available.
Lunch
The lunch menu features several items from brunch, plus:
Mussels with pancetta, green chile butter, olives, and grilled sourdough
Salmon with shishito, tomato, cucumber, farro, pistachio, and labneh
Turkey tartine with pancetta, tomato, cheddar mornay, focaccia, and herb salad
Small plates of beet hummus, striped bass crudo, deviled eggs (pictured above), and burrata with tomato jam, blackberry, pistachio, mint marigold, basil, and focaccia are also available.
Prices are $8-$18 per dish.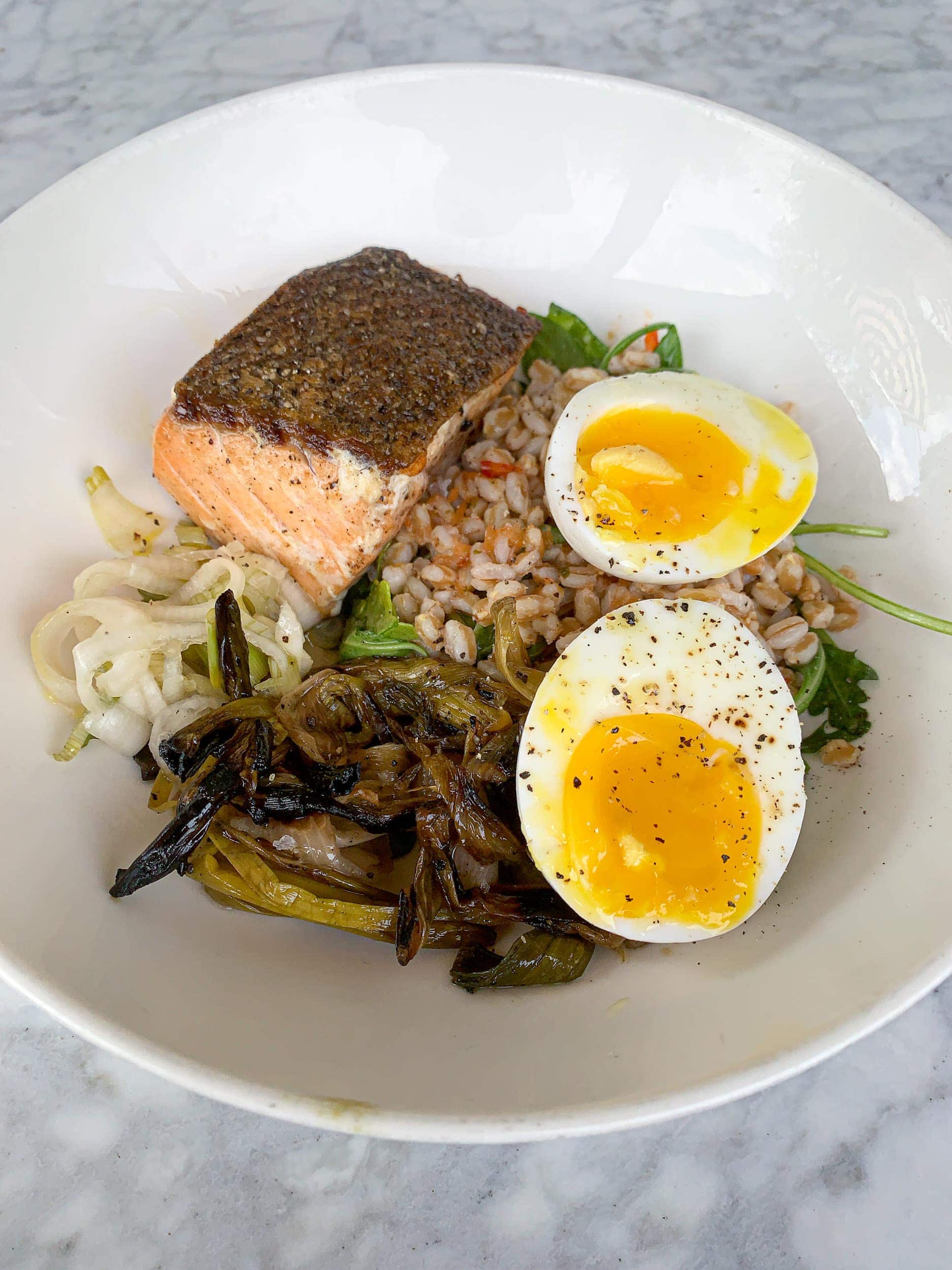 Dinner
Appetizers on the dinner menu include the beet hummus, bass crudo, and burrata, plus pierogies with ricotta, romesco, basil, smoked arbequina oil (the latter of which I can vouch for).
There's a crab and avocado toast on semolina bread and a salmon tartare on sourdough for $14 apiece.
Wood-grilled dishes include octopus, pork ribs with black garlic BBQ (another dish I can vouch for), hangar steak, and a whole branzino (European sea bass).
Dinner specialties include the mussels, chicken with braised greens, cavatelli with smoked tomato, the cheeseburger, and Iberico prawns with whipped lardo-shishito butter and red chile vinegar
A variety of vegetables are available as side dishes, too.
See also: The Best Restaurants in Austin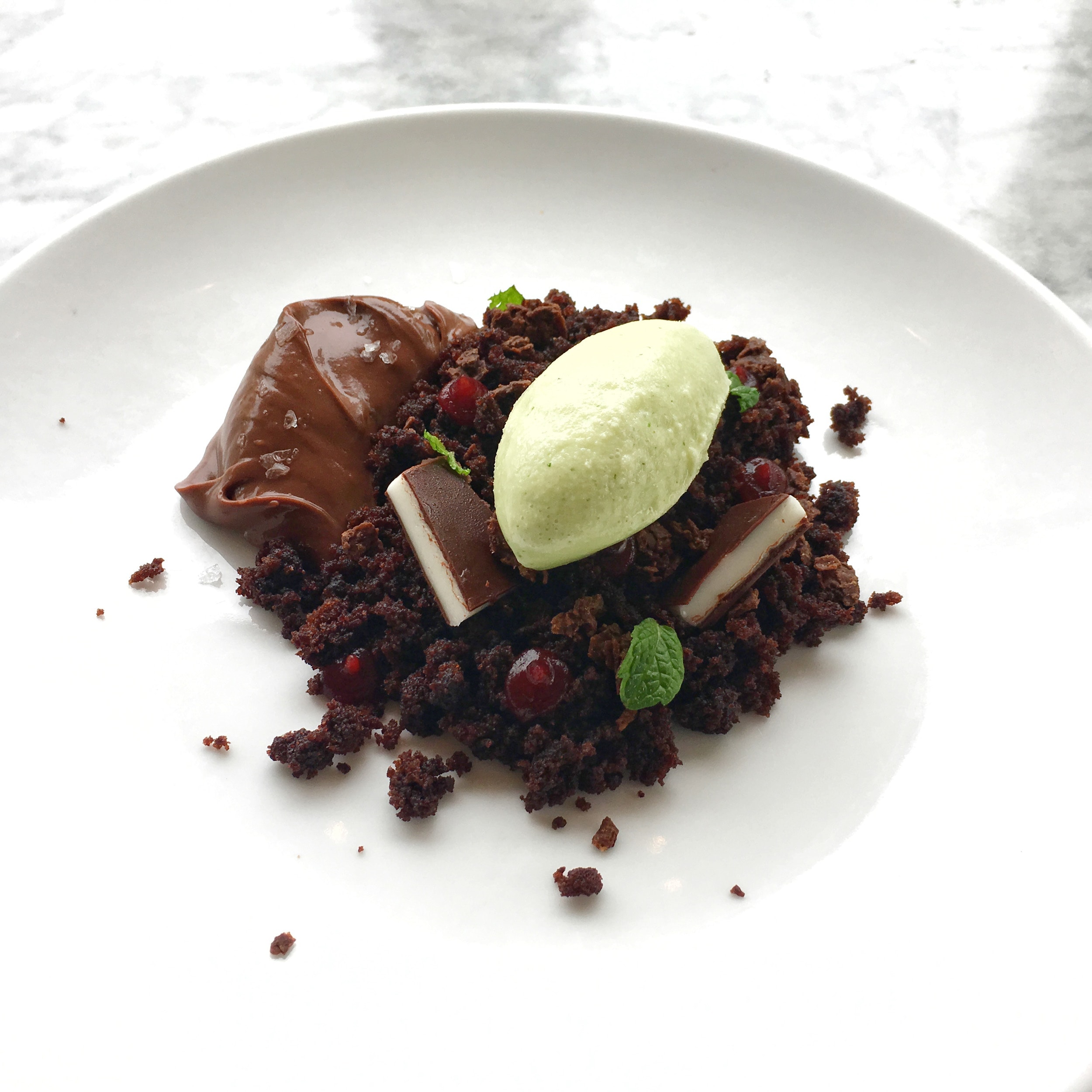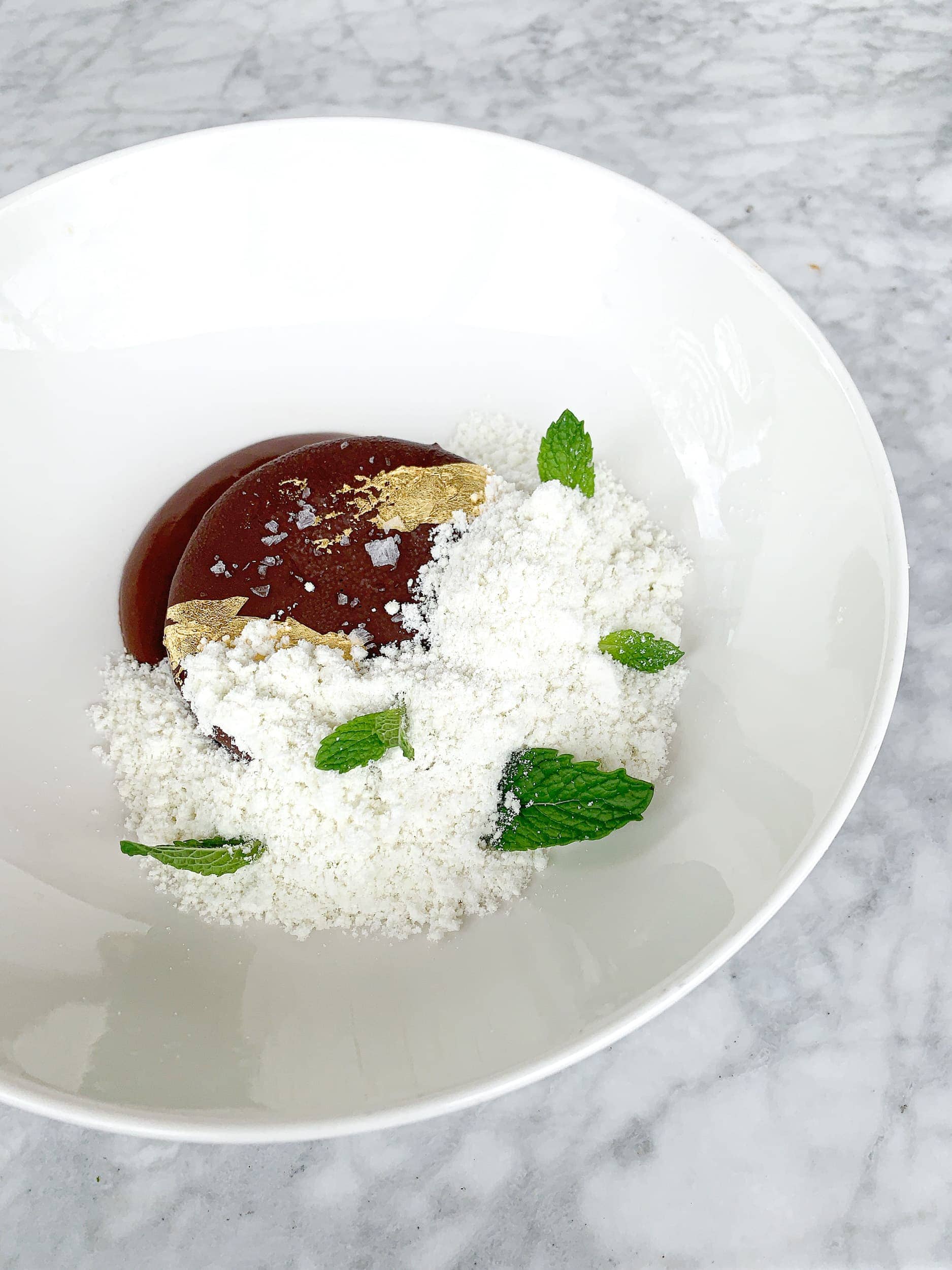 Desserts
Laura Sawicki is one of my favorite pastry chefs in Austin, thanks to her consistently excellent dessert menus at Launderette.
The photos above speak for themselves. These are Michelin-quality offerings in my humble opinion, and I feel grateful to have her in my home town.
The current dessert menus make me want to go back and order one of everything:
Key lime icebox pie with pickled blackberry, matcha, mint, hibiscus meringue, and sour cream ice cream
Chocolate cremeux with whiskey caramel, sunchokes, star anise, and buckwheat chocolate chip ice cream
Hummingbird cake with chamomile cream cheese mousse, pineapple Fresno chutney, banana ganache, bee pollen, and brown butter pecan ice cream
During dinner service, you can also order the popular birthday cake ice cream sandwich.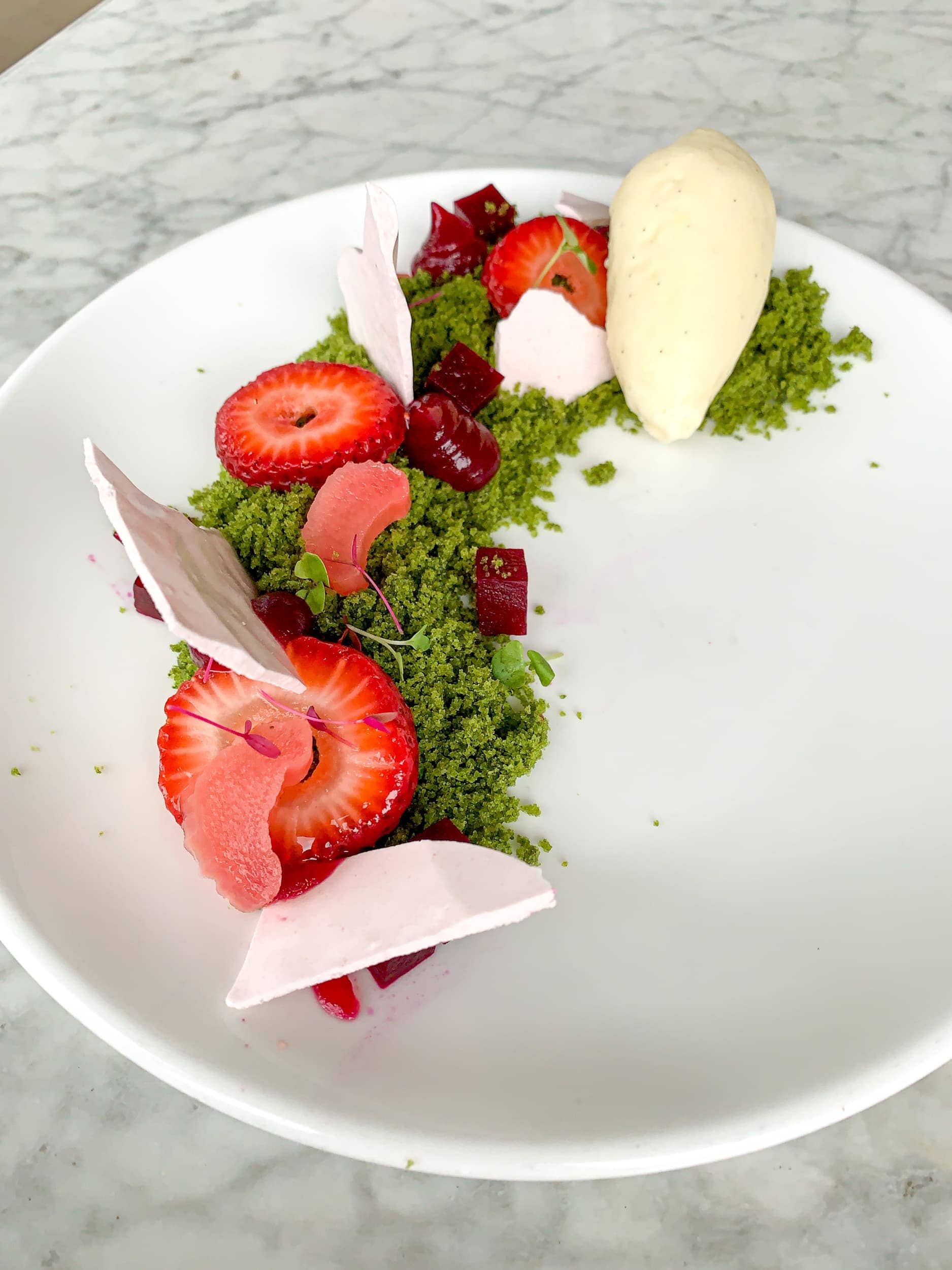 Kids
The kid's menu ensures Launderette is family-friendly. Dishes include comfort classics like grilled cheese and chicken tenders, as well as a choice of buttermilk or chocolate chip pancakes for brunch. Ah, to be a kid again!
Cocktails
As most of my trips to Launderette have been for brunch, I haven't tried a lot of their cocktails. However, I've been happy with the few I've had.
House cocktails include a variety of vodka, gin, tequila, mezcal, and whiskey options for $10-$14 each. Save money by hitting up happy hour from 5-6 pm, Monday through Friday.
If you're not drinking but don't want to miss out on the fun, there are a few mocktails including a grapefruit Fresno shrub and watermelon shrub ($5 each).
A selection of local beers, teas, sodas, and sparkling waters are also available.
See also: Best Speakeasies in Austin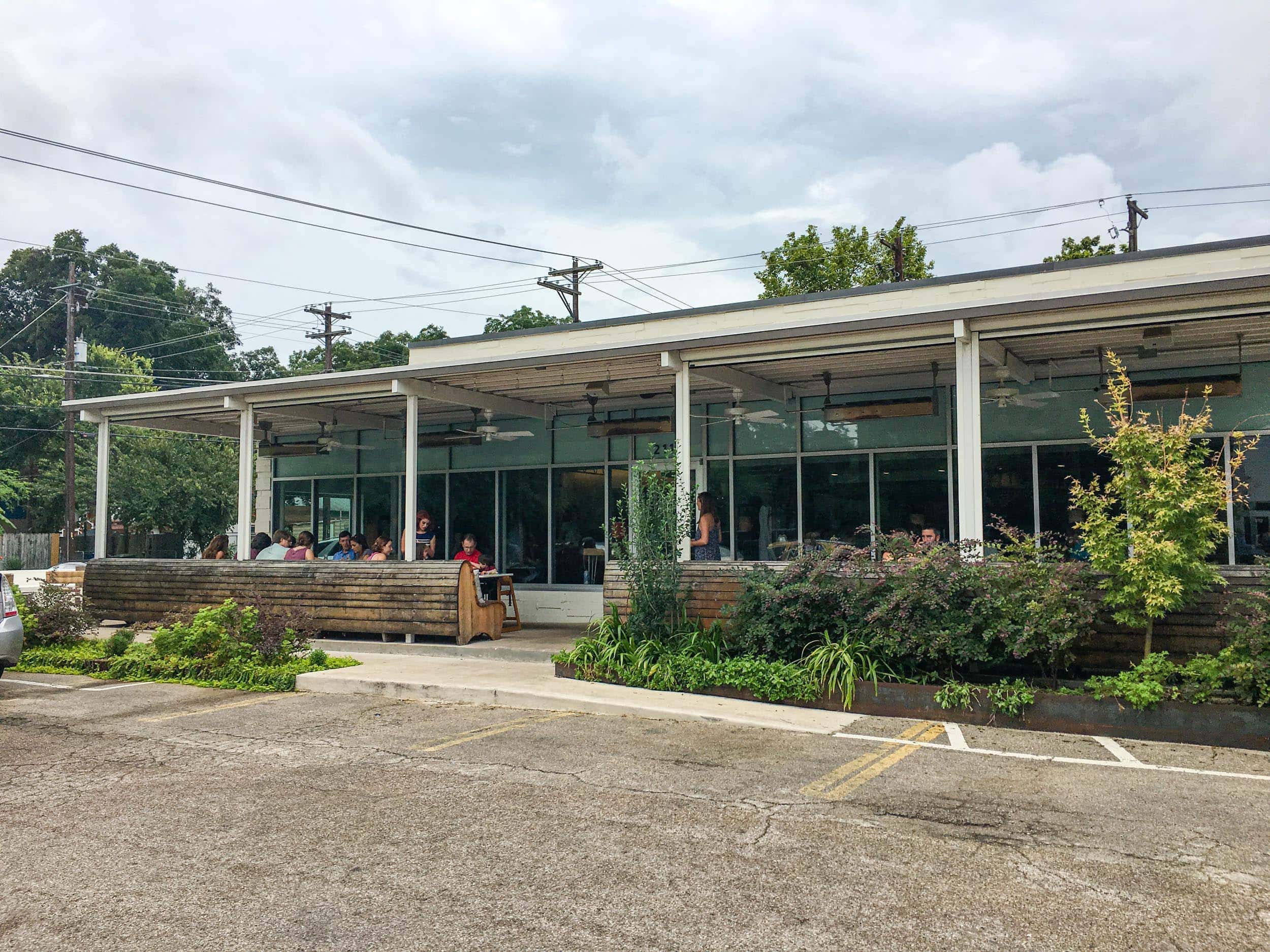 Plan Your Visit
Launderette (website)
Address: 2115 Holly Street, East Austin
Hours: lunch is 11 am - 2:30 pm Monday to Friday | dinner is 5-10 pm Sunday to Thursday, and 5-11 pm Friday and Saturday | brunch is 11 am - 2:30 pm Saturday and Sunday | happy hour is 5-6 pm Monday through Friday
Dress: casual
Reservations: Helpful for brunch, but not necessary. Walk-ins are also welcome. Make a reservation.
Did you enjoy this story? Join me on Instagram and Facebook to share thoughts, ask questions, or keep up with my latest adventures.