Prepare to set sail on a culinary journey in the picturesque waters of Penobscot Bay, Maine. Join me aboard the historic Schooner J & E Riggin, a National Historic Landmark, where the windjammer experience isn't just a cruise. It's a celebration of all things local.
Riggin co-owner and chef Jocelyn Schmidt creates magic in the galley below deck as her husband and co-owner, Captain Justin Schaefer, sails the boat.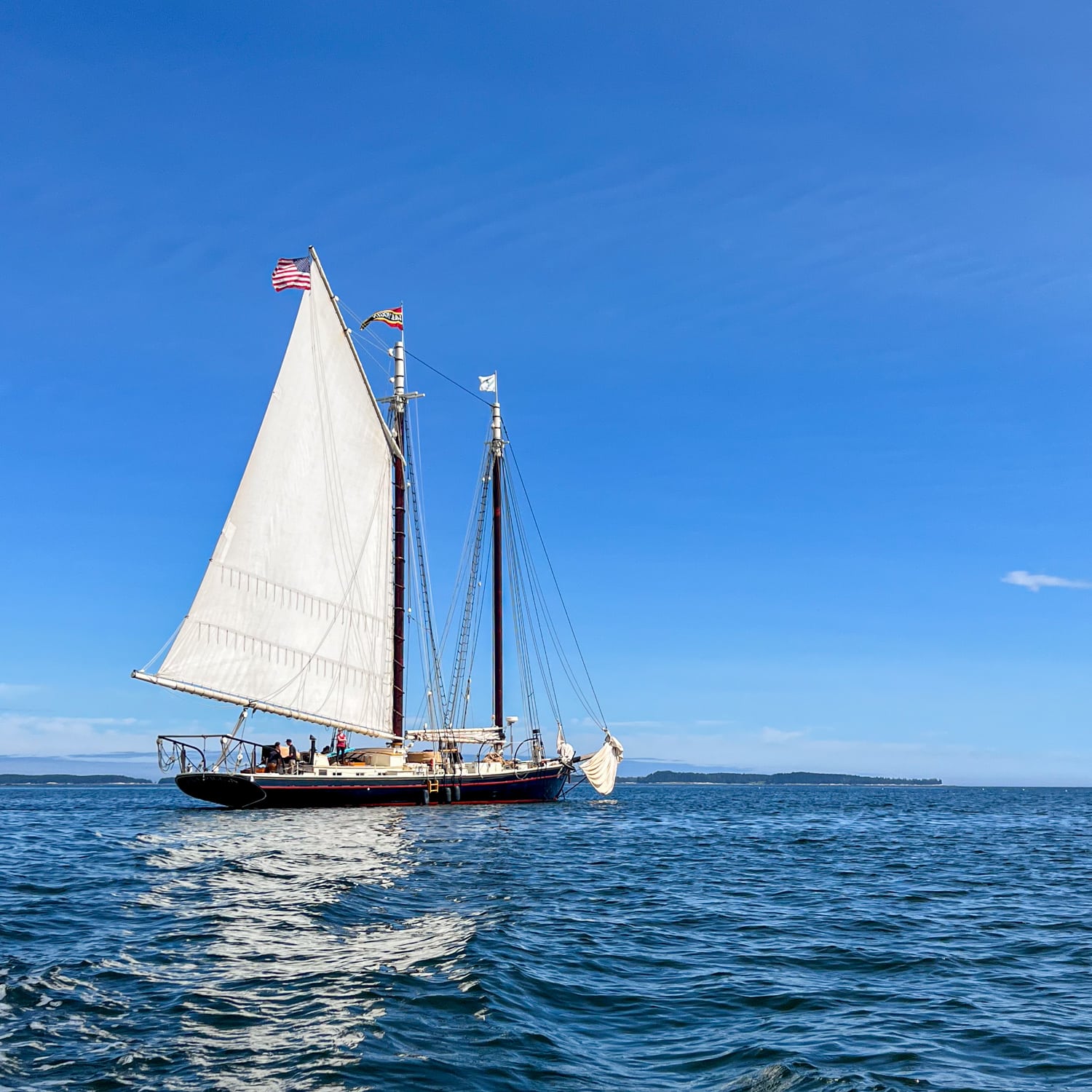 At the invitation of the J & E Riggin and Maine Windjammer Association, I recently had my first windjamming experience, a Maine Sip & Sail Cruise featuring local craft beers.
Imagine waking up on a 120-foot, double-masted schooner, greeted by the salty sea breeze and a breakfast spread featuring farm-fresh eggs, artisanal bread, and blueberries picked from the coastal fields of Maine.
As the sails catch the wind and you cruise around uninhabited islands, lunchtime approaches. The galley comes alive with the aroma of locally sourced ingredients, transforming into mouthwatering dishes.
But the culinary cruising doesn't stop there! As the sun dips, the J & E Riggin anchors near a small beach, setting the stage for a traditional Maine lobster bake.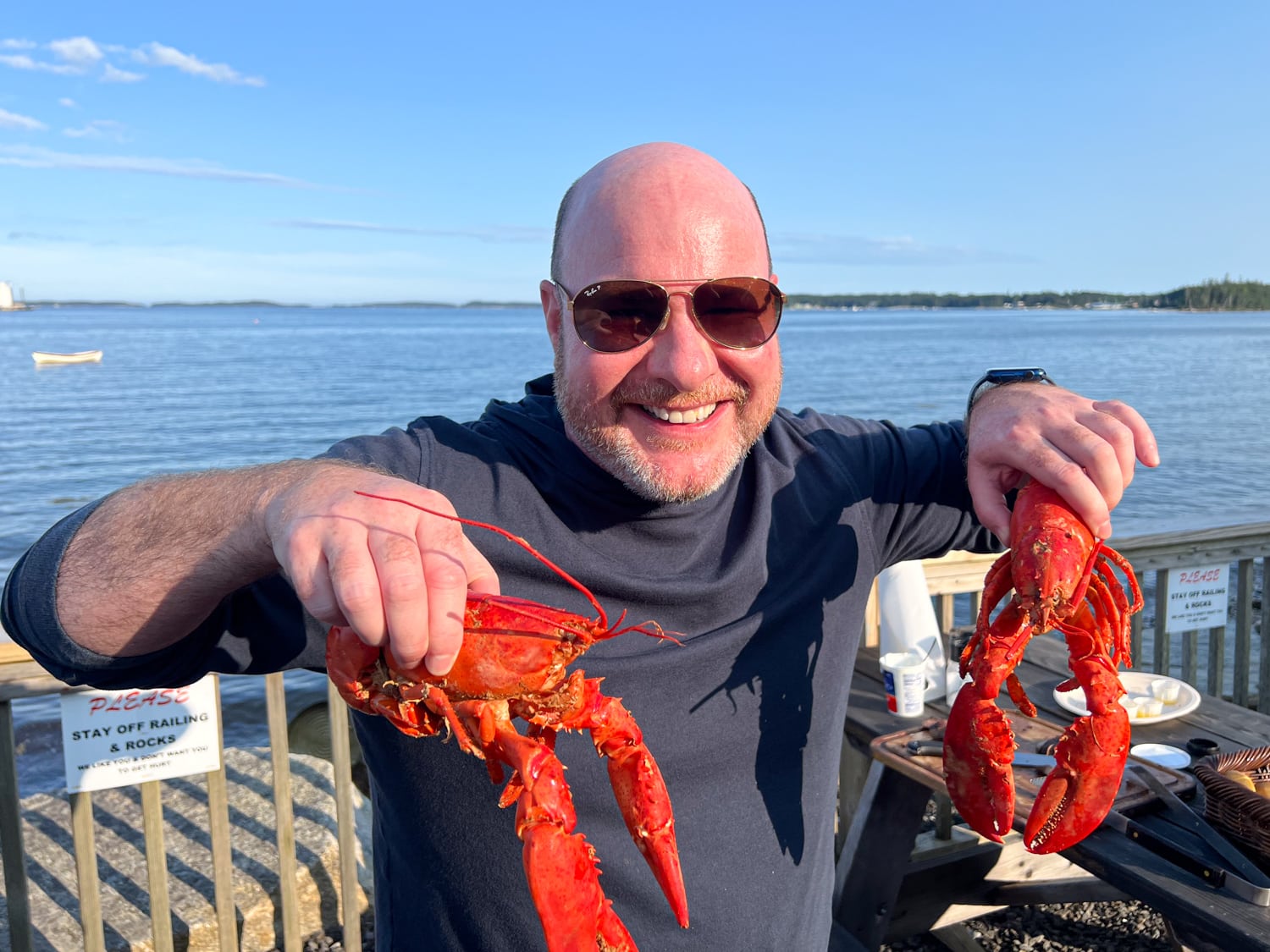 Picture yourself feasting on succulent lobster, corn on the cob, and potatoes, all cooked to perfection over an open fire, with the sound of waves lapping at the shore.
Dinners aboard the windjammer showcase the best of Maine's seasonal produce in a menu that's as creative as it is delicious.
And let's not forget the desserts, lovingly crafted to satisfy your sweet tooth, whether it's a seasonal strawberry rhubarb pie or a cheesecake.
So grab your sailor's hat and your appetite, and let's check out the fantastic meals you'll see served on a J & E Riggin windjammer cruise.
J & E Riggin Food
Guests are asked to arrive at the J & E Riggin at Windjammer Wharf in Rockland, Maine, between 5 and 6 p.m. on the first day of their cruise.
During this time, they board the boat and are shown to their cabins. Passengers can hang out until 6 p.m. when the Captain's Call (meeting) occurs.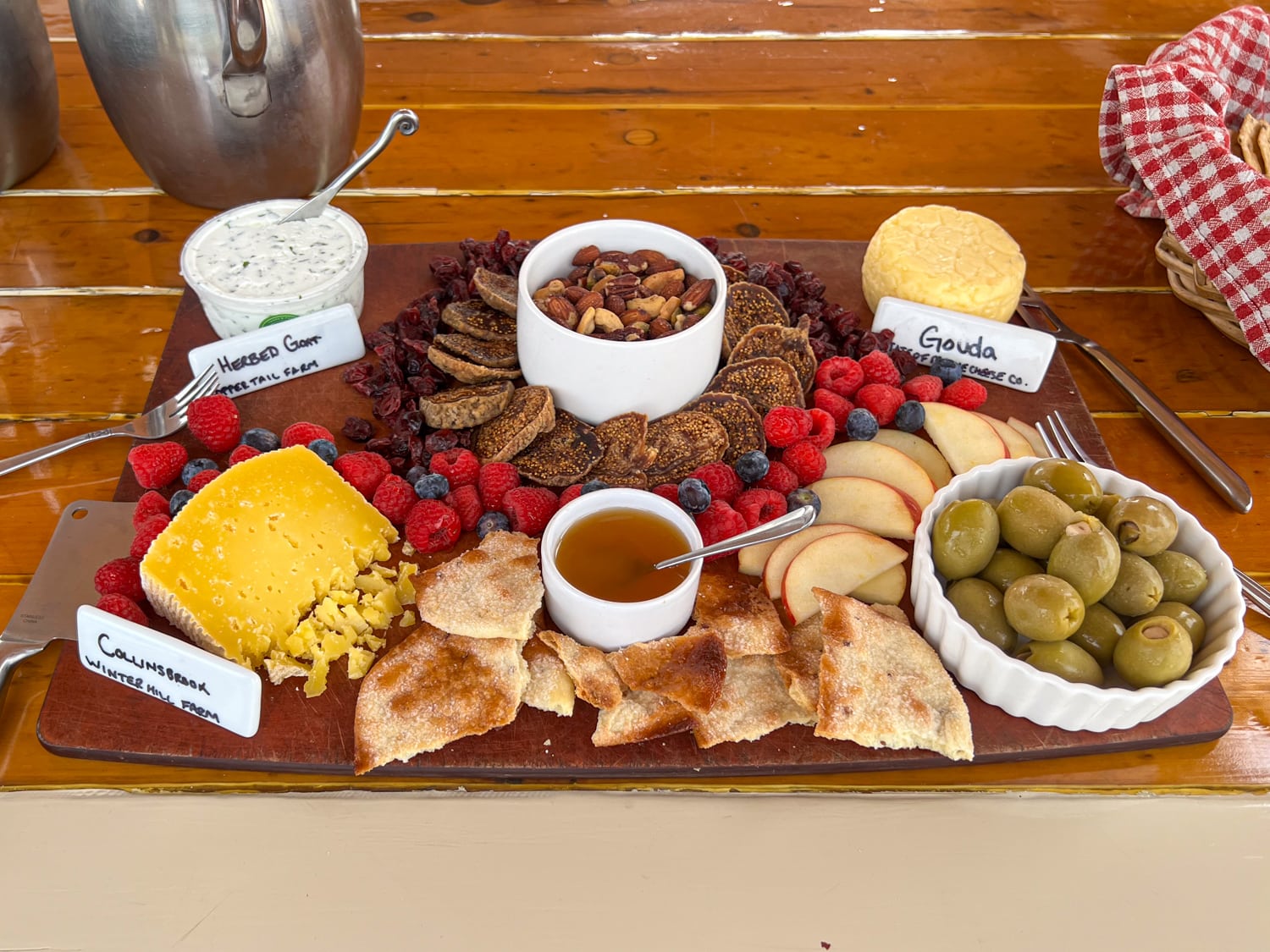 Once my luggage was tucked away in Cabin #3, I got my first taste of the locally sourced food we'd experience on our five-day cruise.
The galley crew brought up a cheese board for us to nibble on while we waited, including:
According to the J & E Riggin Ecotourism page, "Almost all meat, eggs, dairy and coffee are either raised locally or purchased locally."
The couple grows some of the vegetables and harvests honey from their apiary. The remaining fresh fruits and vegetables are bought at a local CSA (Community Supported Agriculture) and Farmers' Market.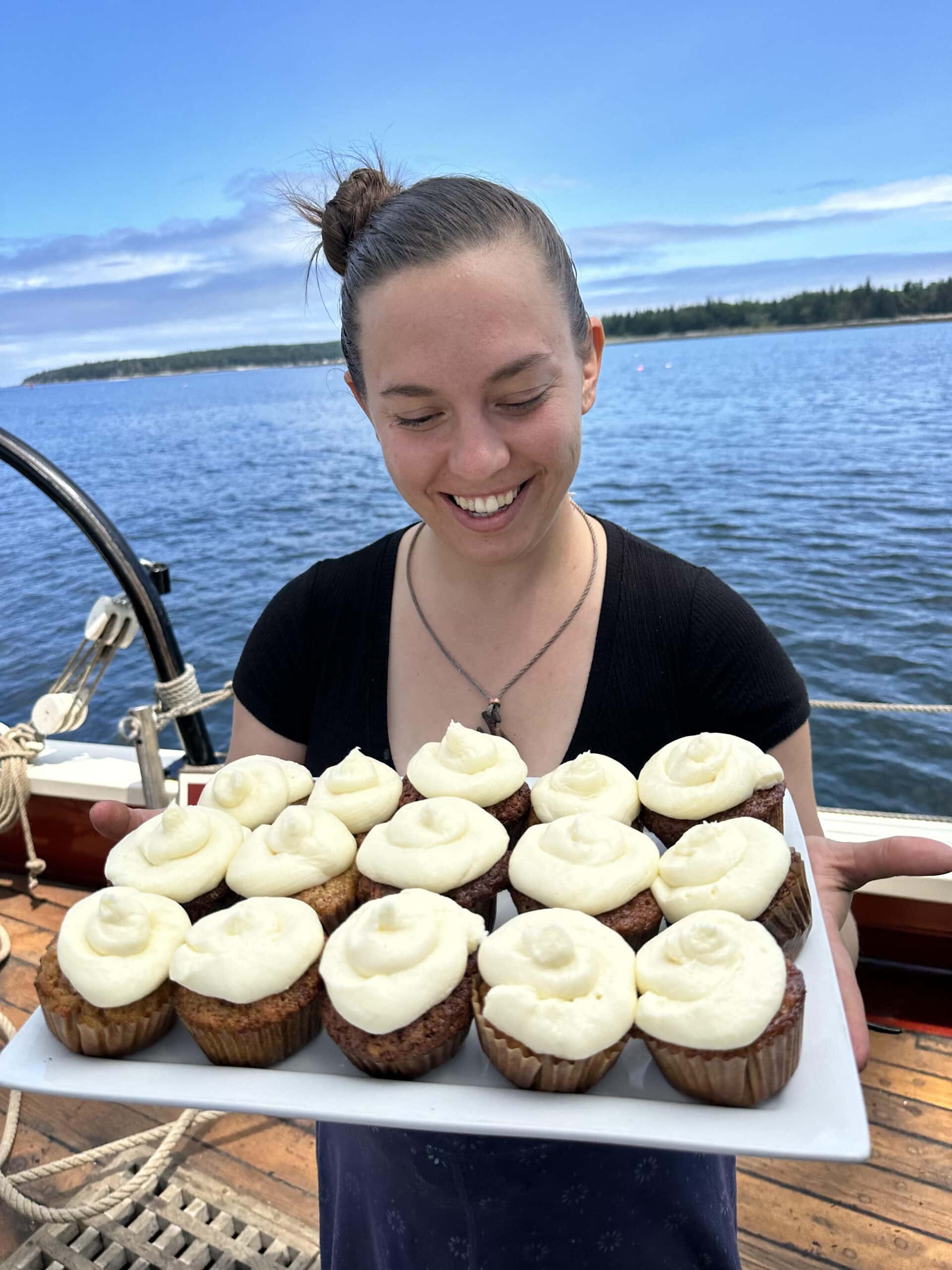 Meal Schedule
Captain Justin introduced Jocelyn and the crew members at the welcome meeting and briefly oriented us to the boat and meal schedule.
6 a.m. - Coffee, tea, and hot chocolate
8 a.m. - Breakfast
Noon - Lunch and dessert
5 p.m. - Appetizers
6 p.m. - Maine course and dessert
Before each meal, a crew member would ring the shiny bronze bell on the main deck. Meals are served buffet style, and guests are asked to help clean their dishes afterward.
I've organized this story by meal so you can get a feel for what we ate at breakfast, lunch, and dinner. And I saved the best for last—the desserts.
Coffee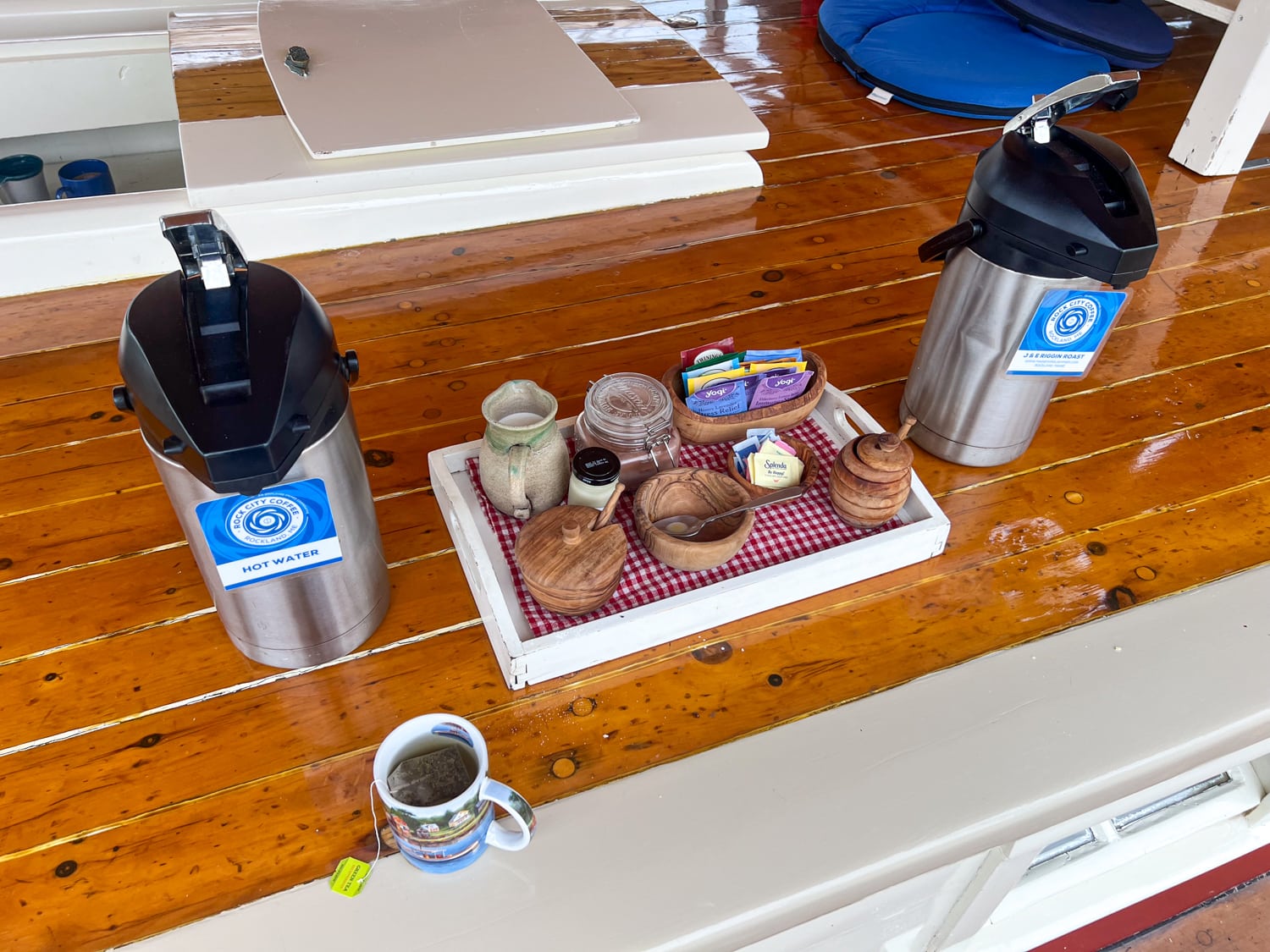 Each morning began with a coffee and tea service. Rock City Coffee produces the J & E Riggin roast in Rockland. I'd eaten lunch there the same day we boarded the boat.
Milk, cream, and sugar are provided, as well as honey for tea. Powdered hot chocolate is also available.
On the first evening, it's a Riggin tradition for each guest to choose a coffee mug to use throughout the cruise. I picked a colorful cup with a lobster boat.
Breakfasts
Our first night was spent sleeping on the boat in Rockland Harbor, and that's where we ate breakfast on our first foggy morning, too.
Everything offered is laid out toward the stern (rear) of the boat.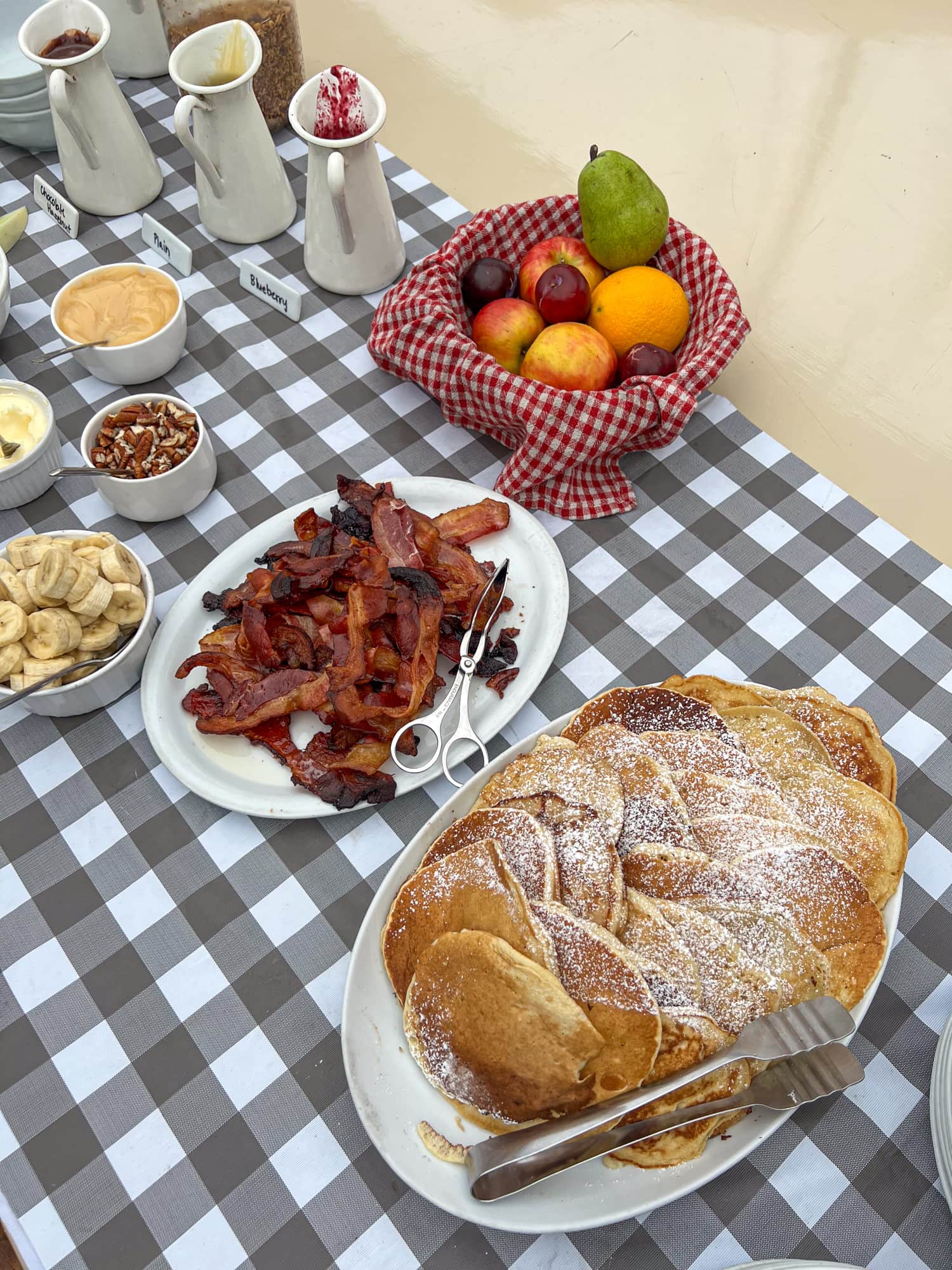 Jocelyn and her Galley Hand, Deegan, had whipped up buttermilk pancakes with bacon.
The flapjacks were served with Maine maple syrup, blueberry syrup, chocolate hazelnut sauce, lemon curd, fruit toppings, and whipped cream.
Homemade granola with milk, Greek yogurt, sliced honeydew melon, and fresh whole fruit were also available.
On our second morning, anchored between the islands of North Haven and Vinalhaven, we were presented with bowls of shakshuka, a mildly spicy tomato-based North African dish with a soft-boiled egg.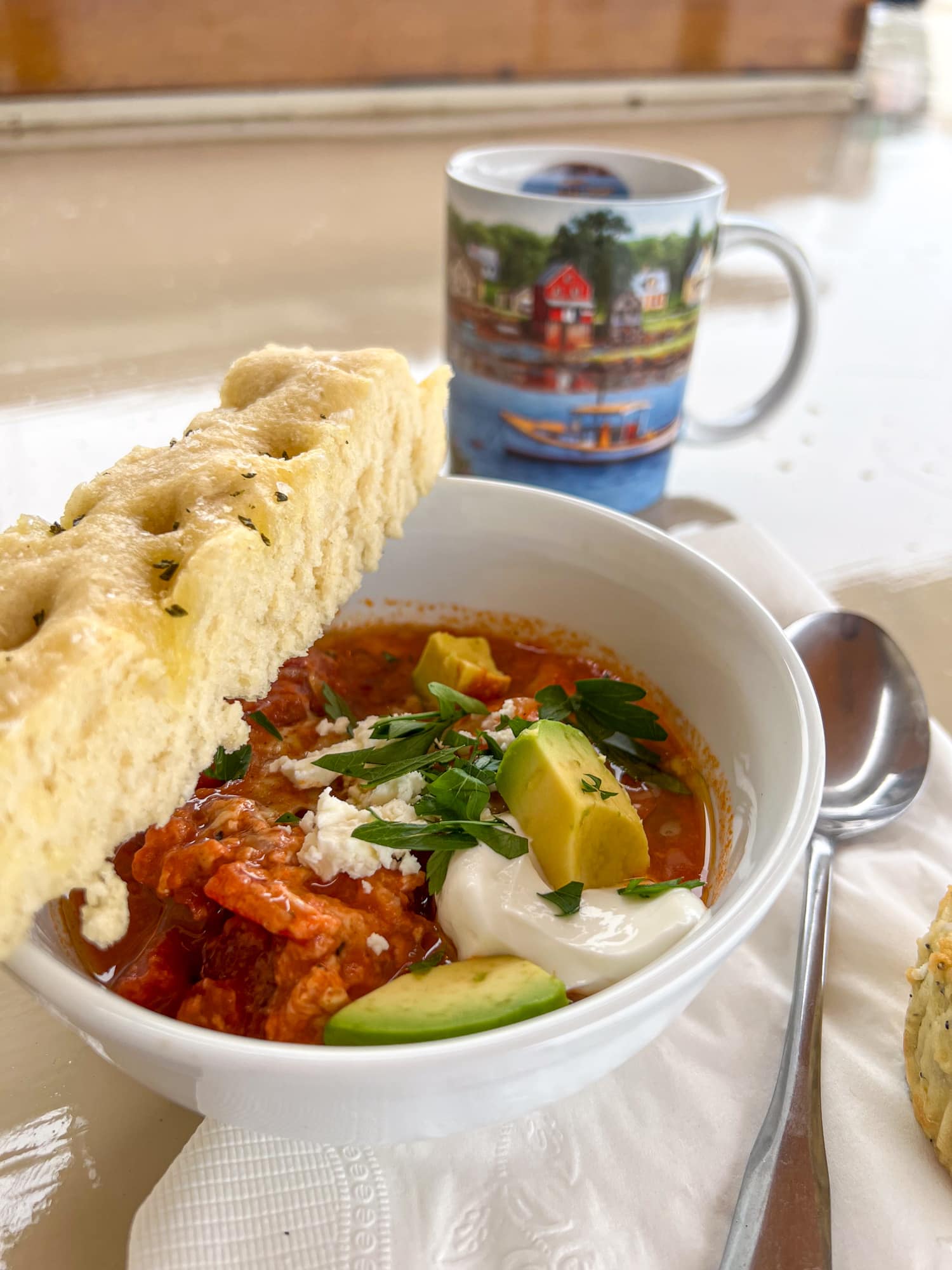 It was served with avocado, capers, olives, and Greek yogurt.
The fresh-baked rosemary focaccia was so good I went back for seconds. Sweet lemon poppy seed muffins were also present.
On Day 3, near Waterman's Beach on the mainland, south of Rockland, we were introduced to sugar bombs, a J & E Riggin "classic," in Captain Justin's words.
It's a muffin tossed in butter and coasted with cinnamon and sugar.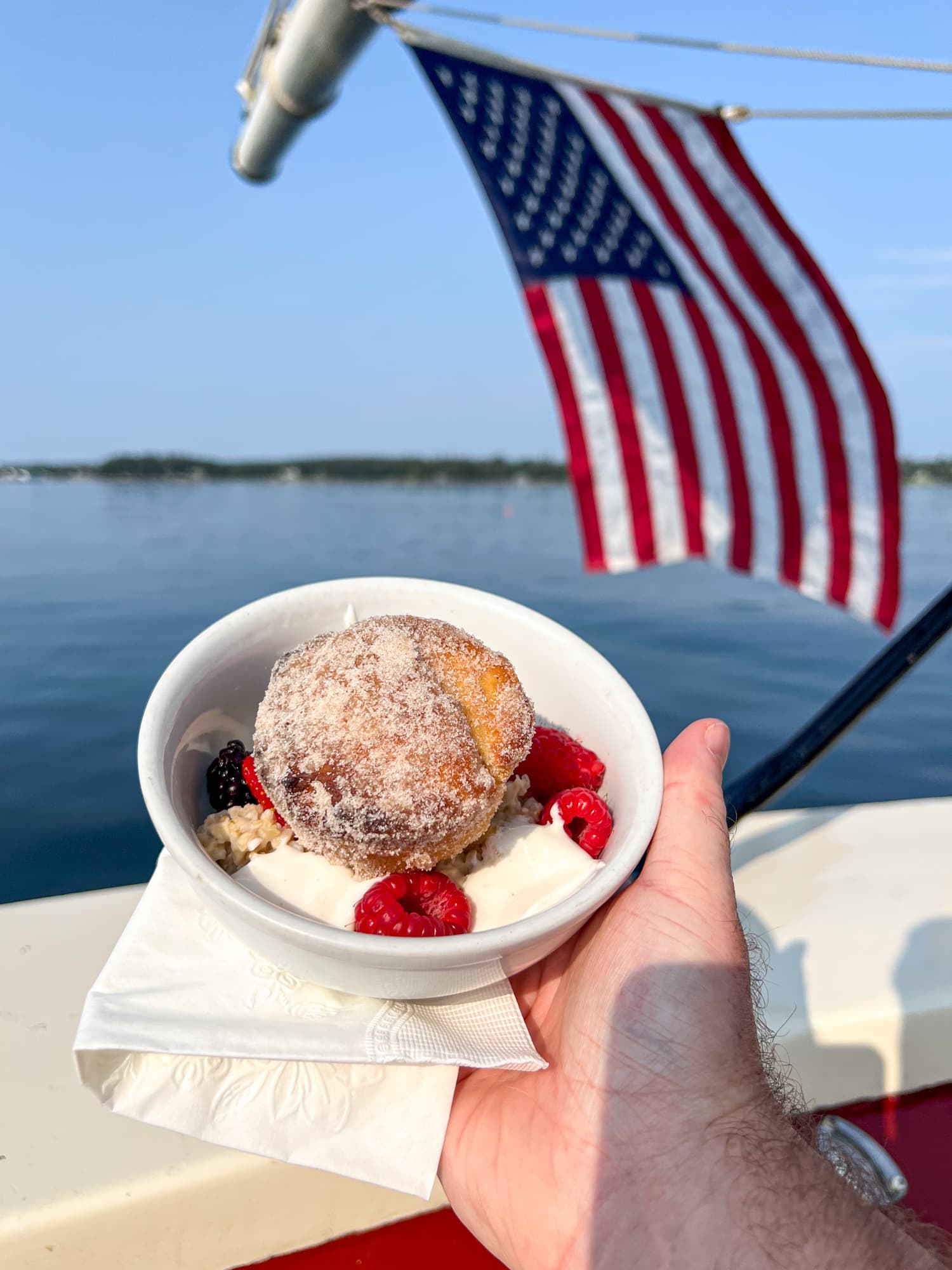 These sugary pastries were served with oatmeal, fresh fruit, cottage cheese, hard-boiled eggs, and Greek yogurt.
Our cruise ended just as I got the hang of living on a nearly 100-year-old wooden schooner and being fed like royalty.
On our last morning, we awoke to calm waters in a secluded cove on the western side of Vinalhaven, the largest of Maine's offshore islands.
A massive baking-sheet-sized tray of coffee cake was left on deck at 6:30 a.m. next to the coffee.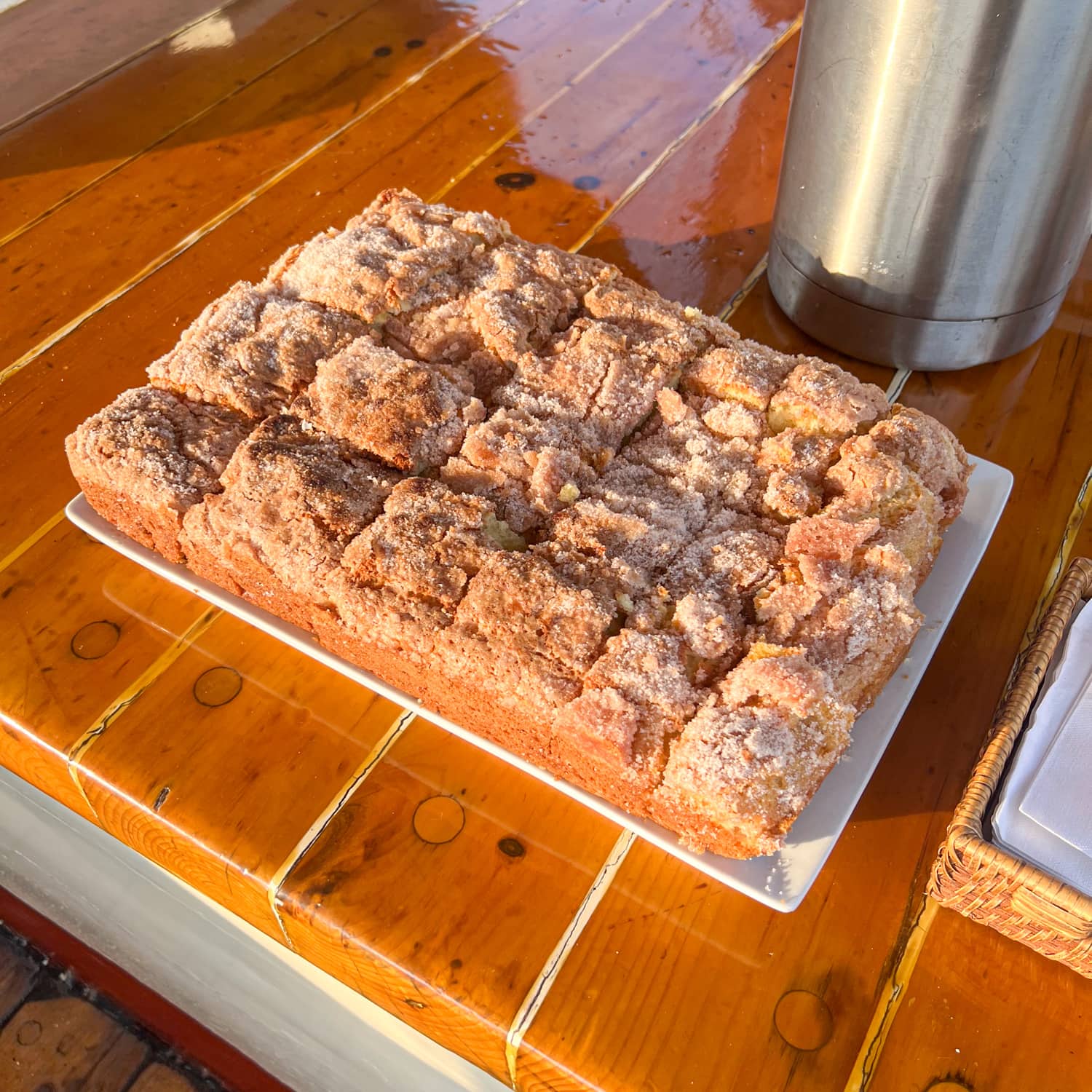 I grabbed a piece (okay, two) to tide me over until 8 a.m.
Later, we were introduced to a colorful spread of smoked salmon, avocado, cherry tomatoes, butter, and cream cheeses when the breakfast bell rang.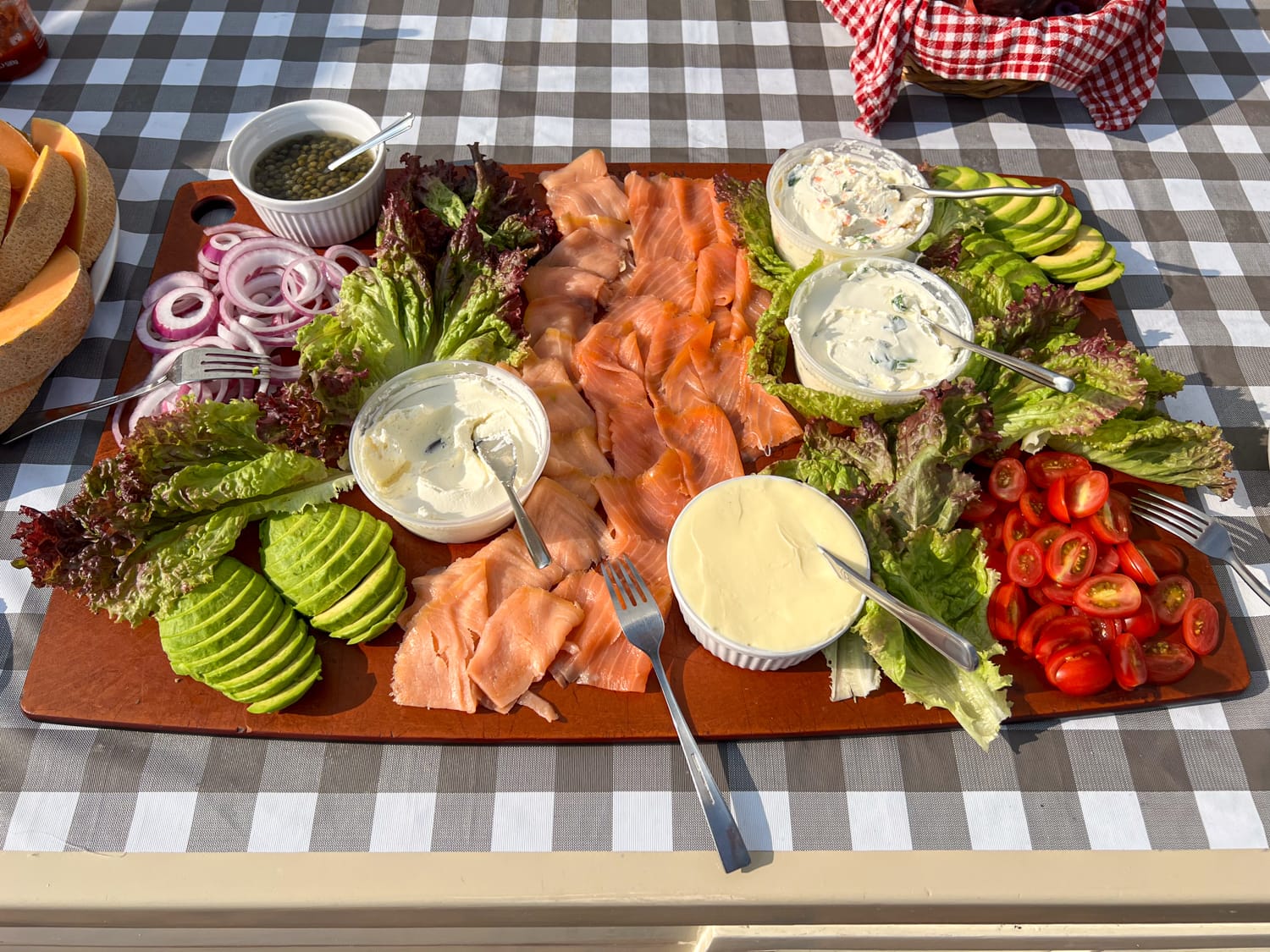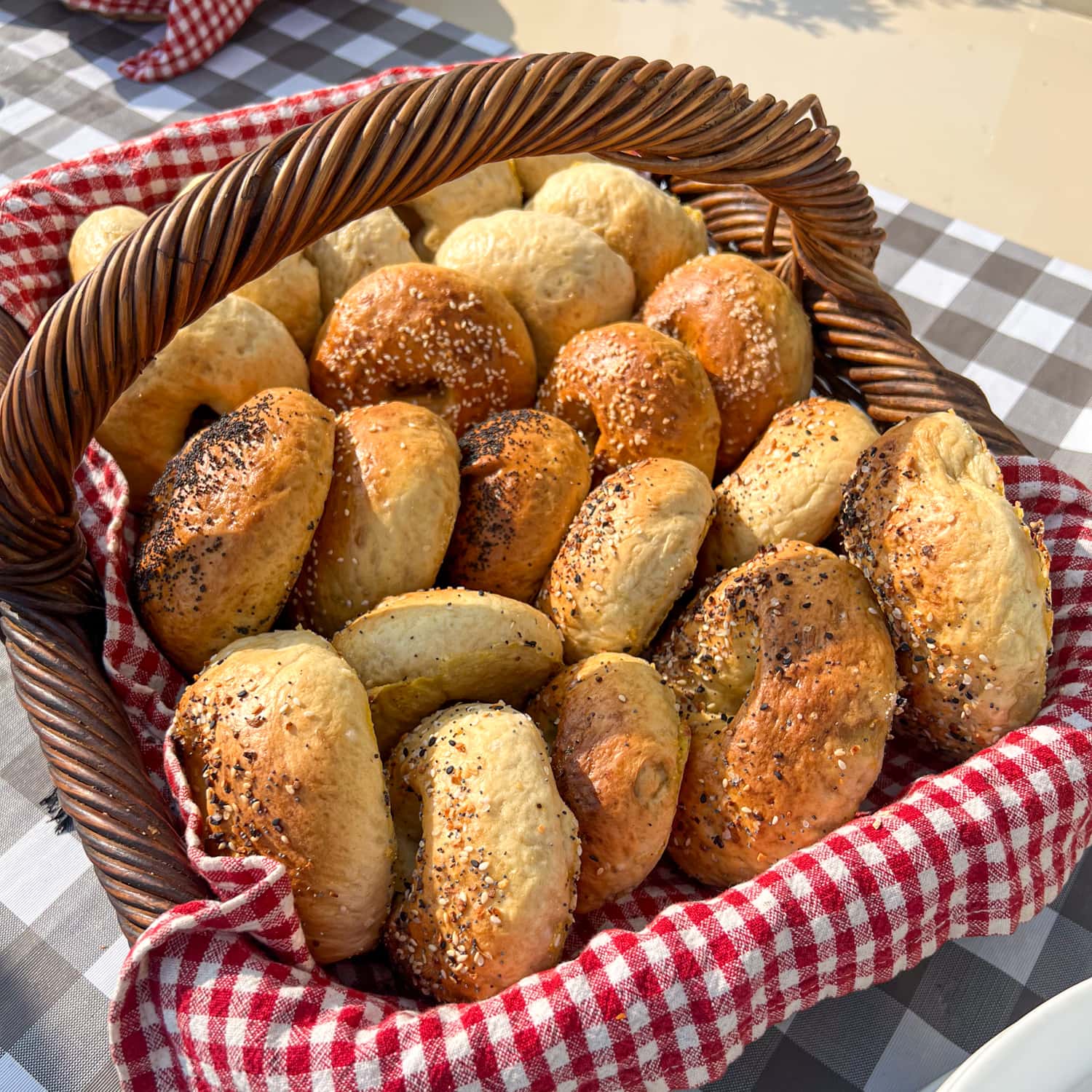 We could add these toppings to homemade New York-style bagels glowing in the morning sun.
I smeared on some cream cheese and took a little of the salmon, tomatoes, avocado, scrambled eggs, and sliced cantaloupe.
Lunches
Our first lunch was the only meal we ate below deck in the dinette.
We'd departed Rockland in heavy fog, and it was still drizzling when we dropped anchor off New Haven, one of the two Fox Islands.
The menu included warm New England clam chowder, salad greens with goat cheese, strawberries, beets, and biscuits with salted butter and honey from Jocelyn's apiary.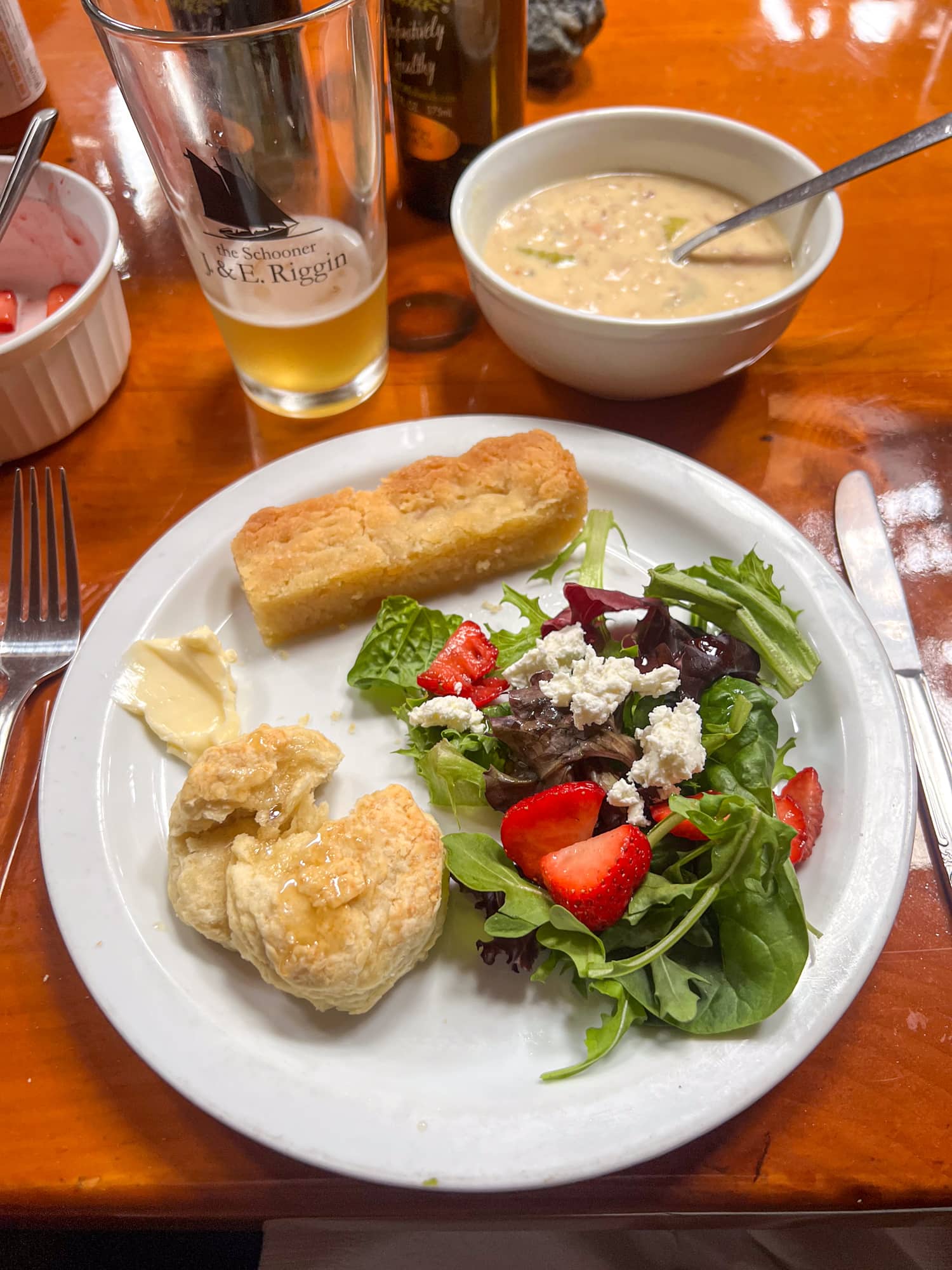 The cruise theme was Maine craft beers, so we were presented with two to try; I will cover our buzzworthy brews in a separate story.
Overnight pulled pork shoulder with housemade BBQ sauce on scratch-made brioche buns is everything you want in a lunch at sea.
Sides of warm potato hash and cole slaw completed the meal.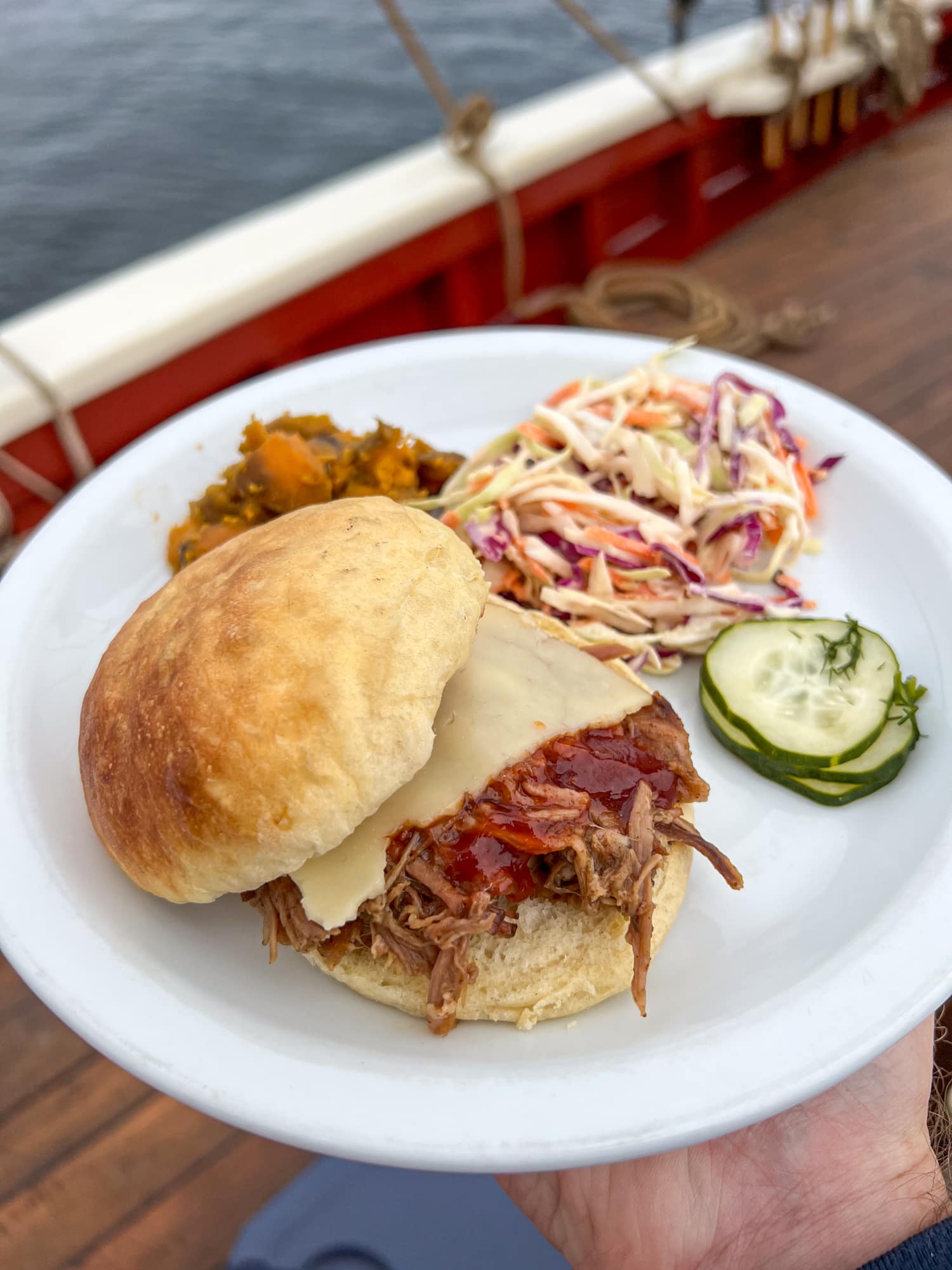 Incredibly, the pork shoulder could be left cooking throughout the night, given the use of a wood-burning stove (named Lucy) in the galley.
But, since a crew member is always awake (on watch, for safety purposes) at night, it's safe to cook meats overnight.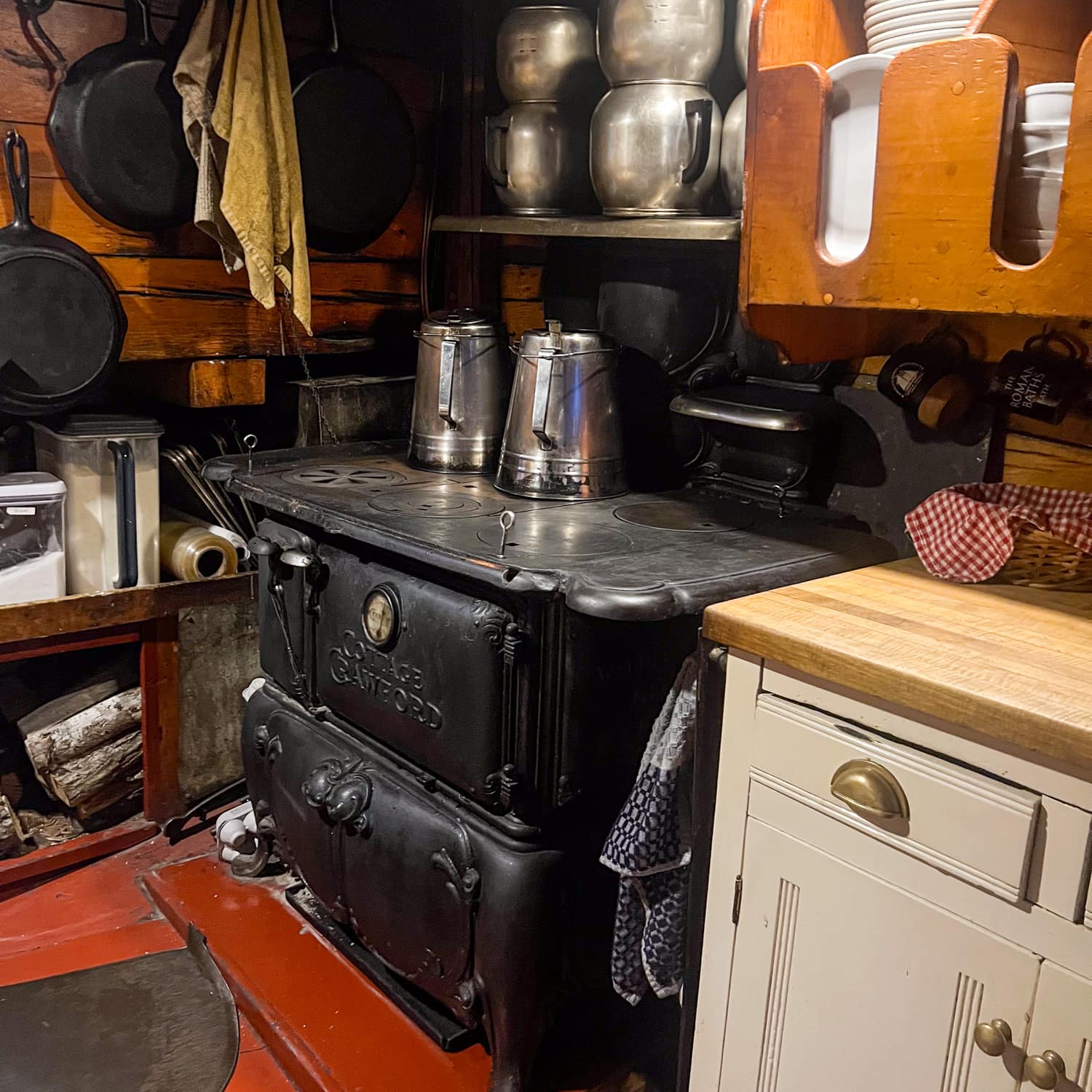 The day after enjoying a lobster bake dinner on Waterman's Beach, a lobster bisque was on the menu with salad and bread.
Some of the uneaten lobster had been used to make it, limiting food waste.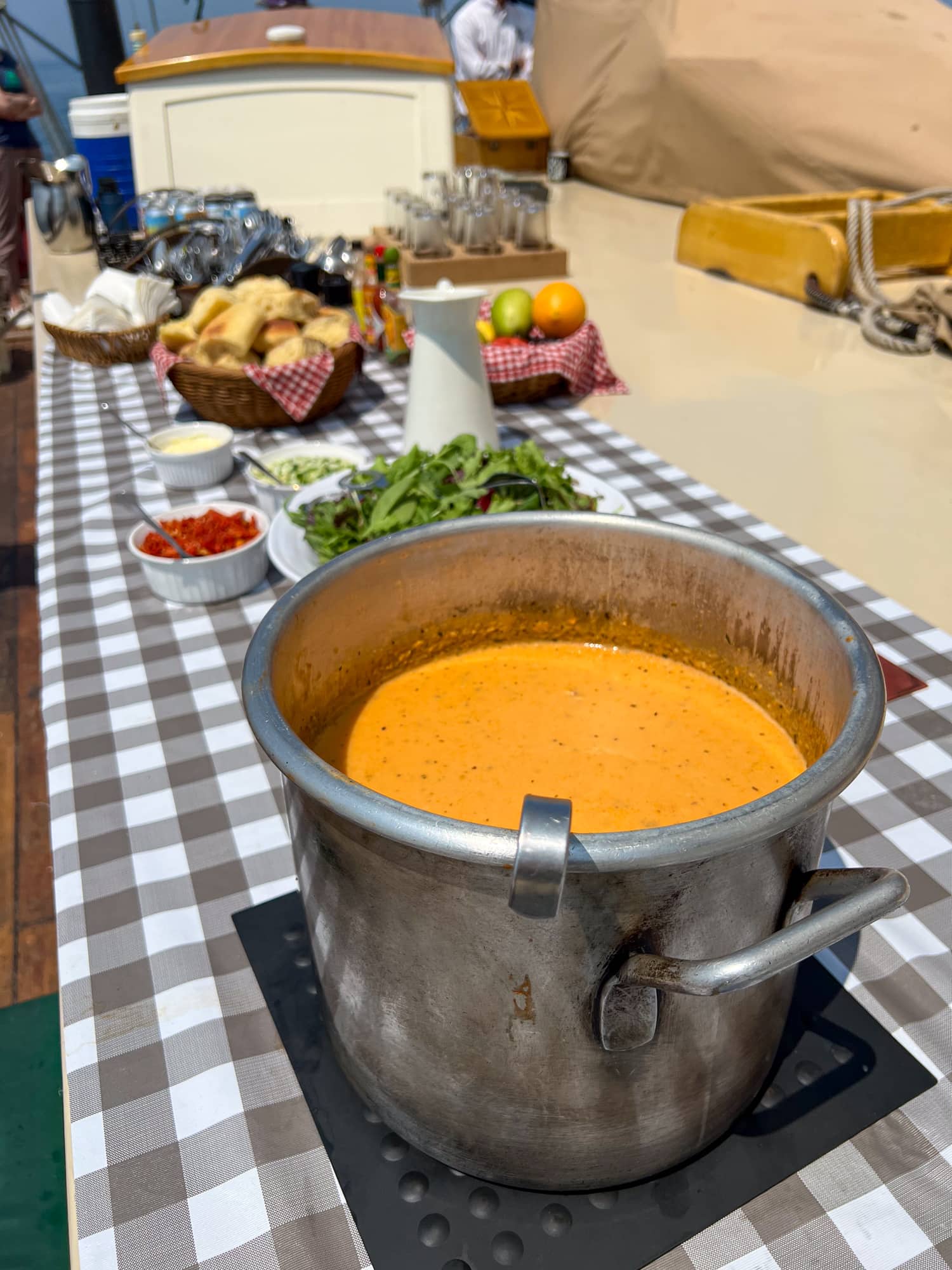 Dinners
Dinners aboard the Schooner J & E Riggin began with appetizers around 5 p.m.
We were treated to fresh oysters on the half shell from John's River, midway between Portland and Rockland, on our second night.
There were four salt options:
Icelandic Volcanic Lava Salt
Icelandic Birch Smoked Sea Salt
Himalayan Crystal Salt
Red Hawaiian Sea Salt
Three compound kinds of butter, French baguettes from the Atlantic Baking Company (Rockland), sliced radishes, lemon wedges, and a mignonette were also available.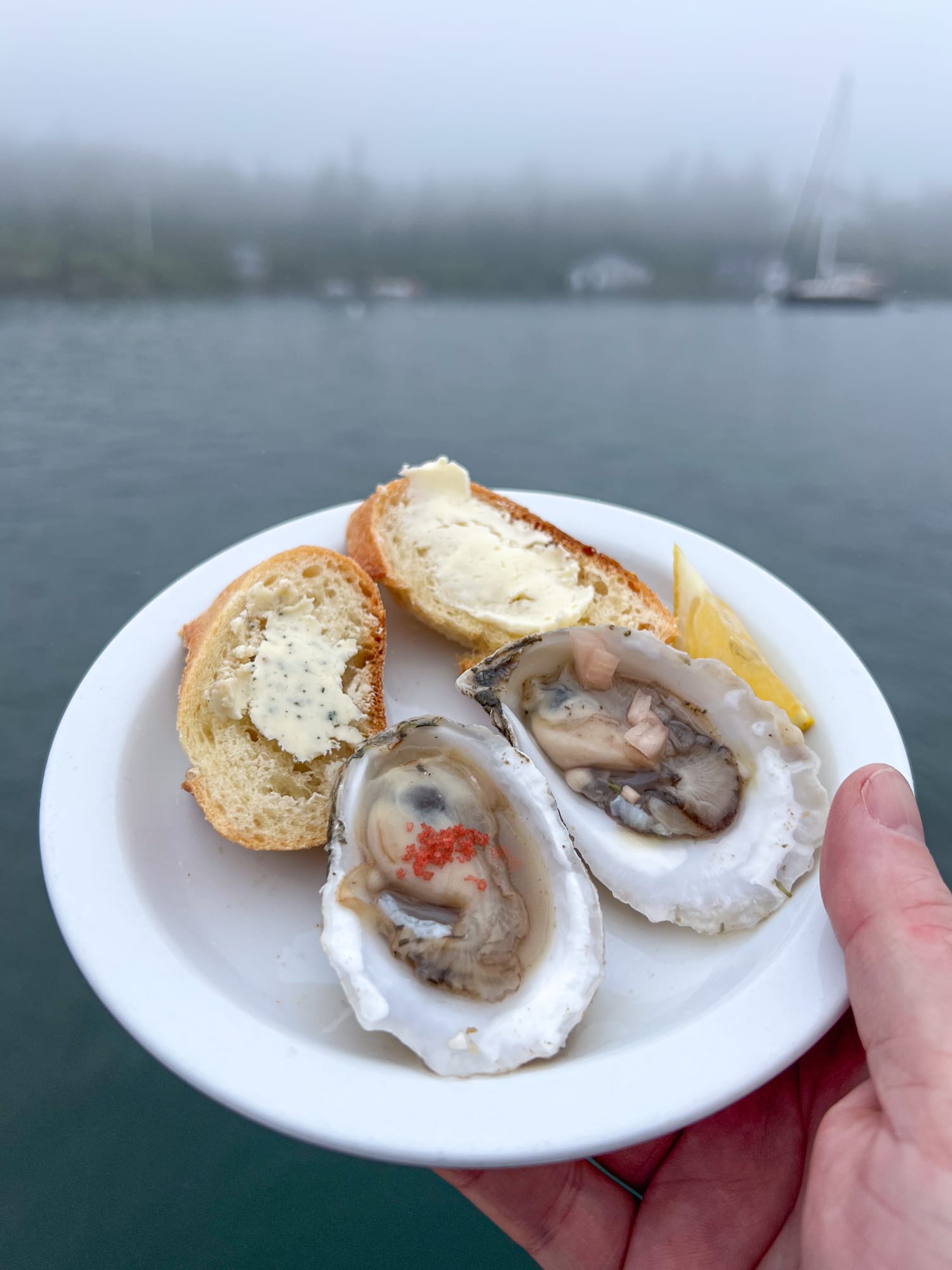 Our main course that chilly night on the water was an excellent lemon and white wine-poached Atlantic salmon with tri-pepper salsa.
It was served alongside lemon risotto, butternut squash, tomatoes, and roasted garlic scapes.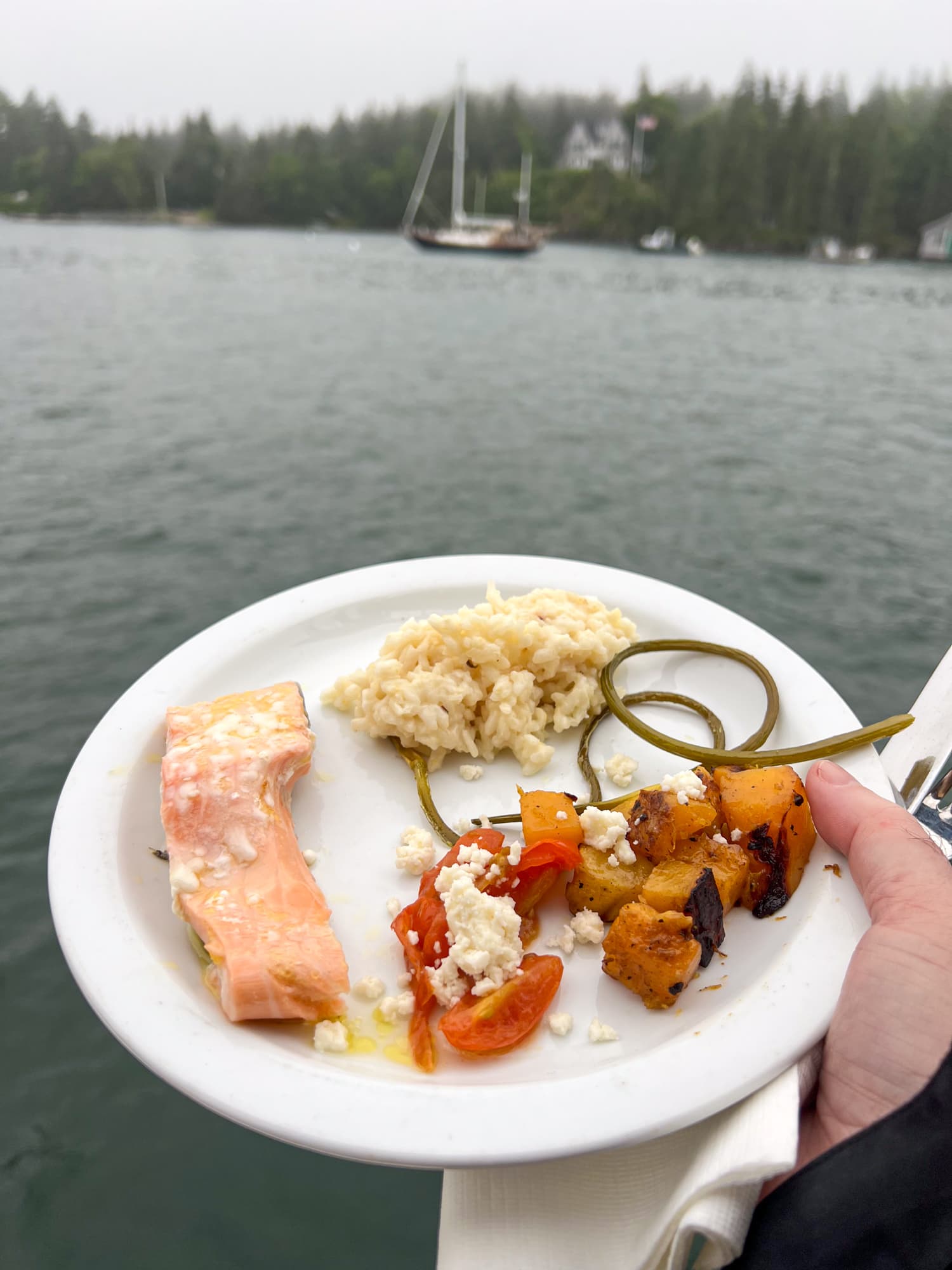 The next evening, we had one of our most memorable meals of the windjammer cruise, a traditional Maine lobster bake.
We'd dropped anchor off Waterman's Beach and were ferried by the Captain to shore on the yawl boat.
There, we were treated to a beer flight at Waterman's Beach Brewery and several pints of whatever beer we liked most.
While my fellow passengers and I were toasting a terrific time in Maine, the J & E Riggin crew, including Alex, the First Mate, and Elias, the Deckhand, set up a lobster bake on the rocky beach as the tide slowly approached.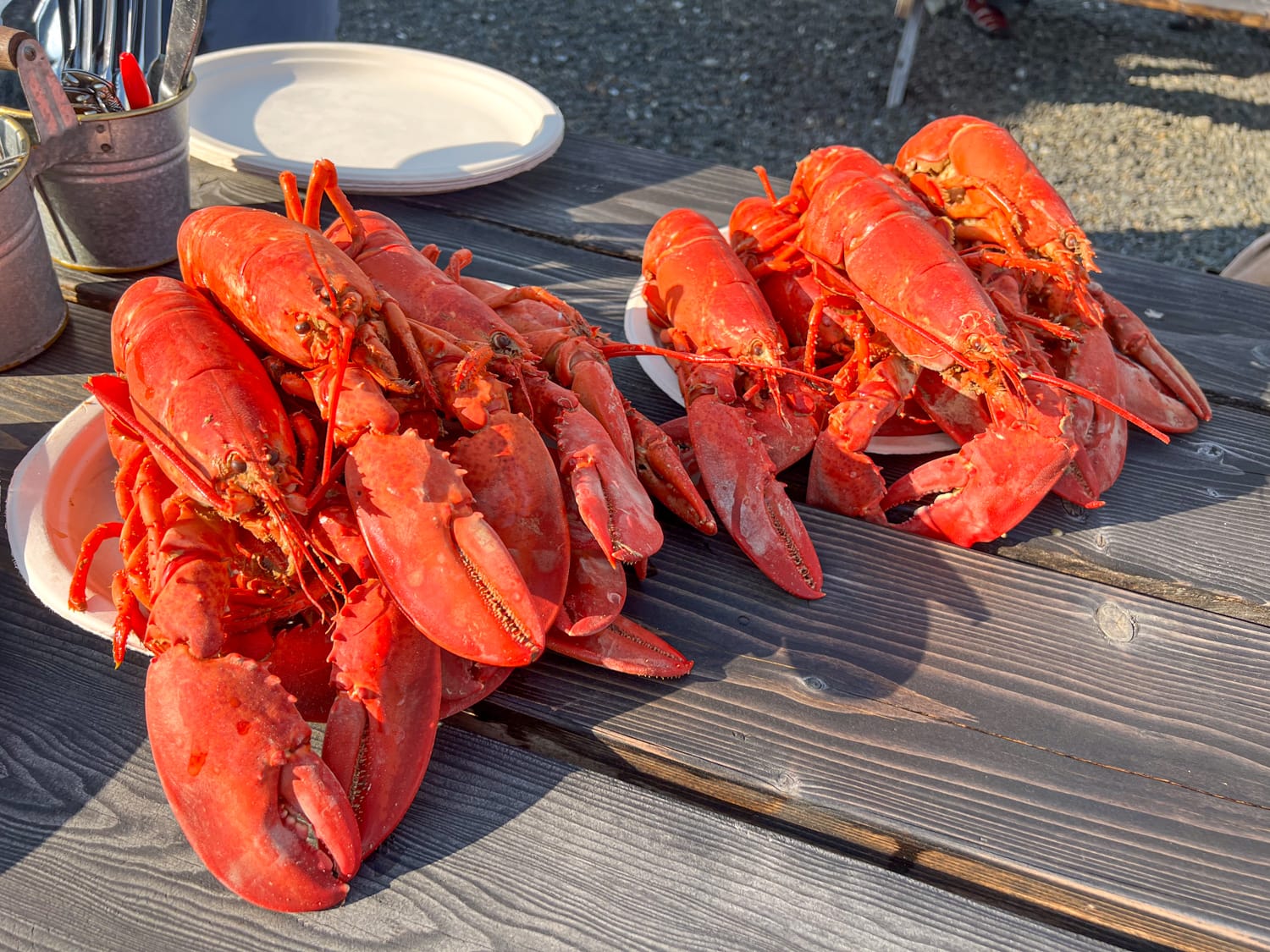 The appetizers were sliced watermelon, veggies and dip, and plenty of crunch potato chips.
That night, we dined on as much steamed Maine lobster as possible. Roasted corn on the cob and potatoes were served, as is tradition.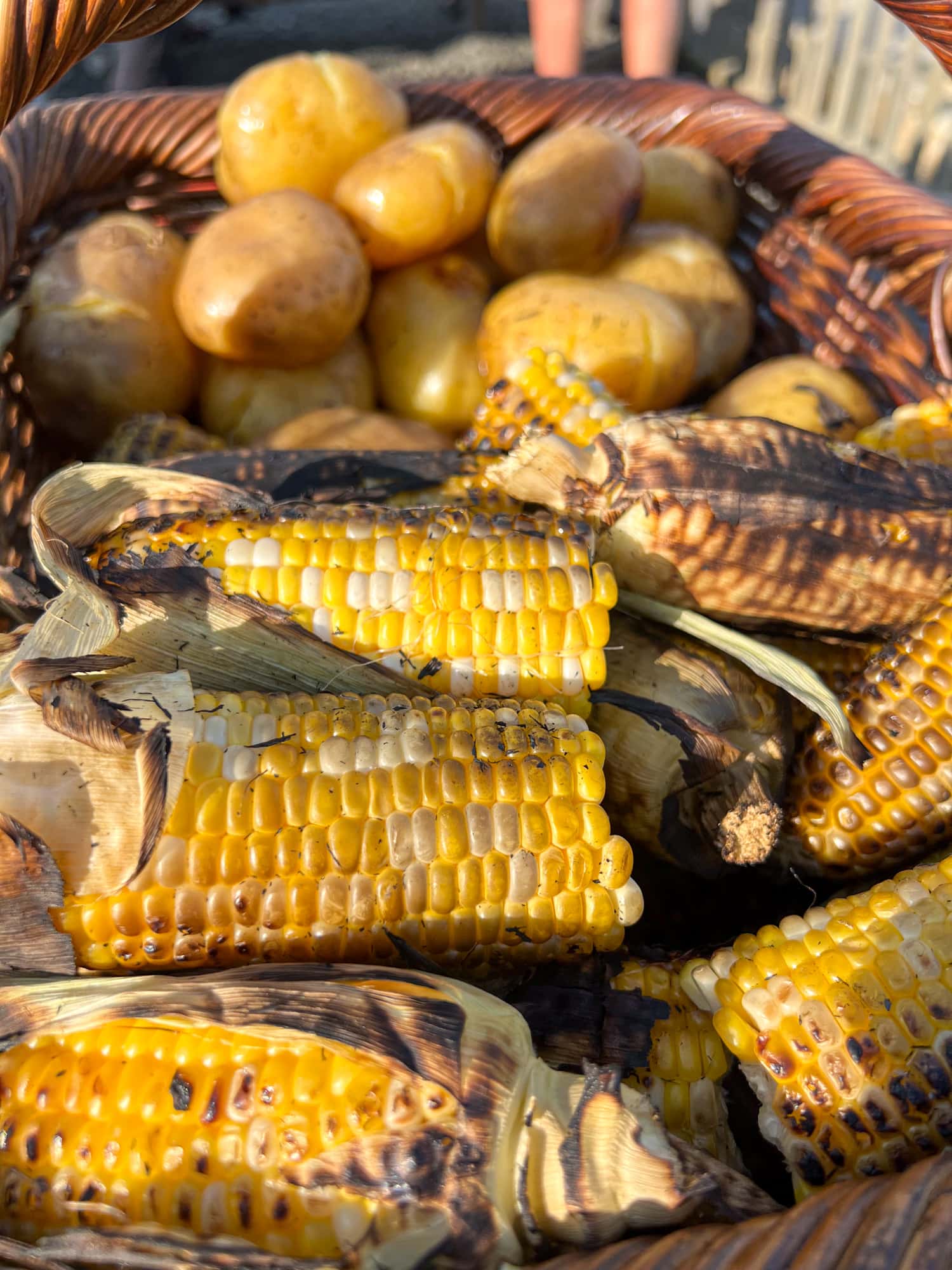 The fourth and final night of our Maine Sip and Sail Cruise began with prime rib canapes and deviled eggs.
Roasted red pepper and artichoke cheese dip with chips were also served.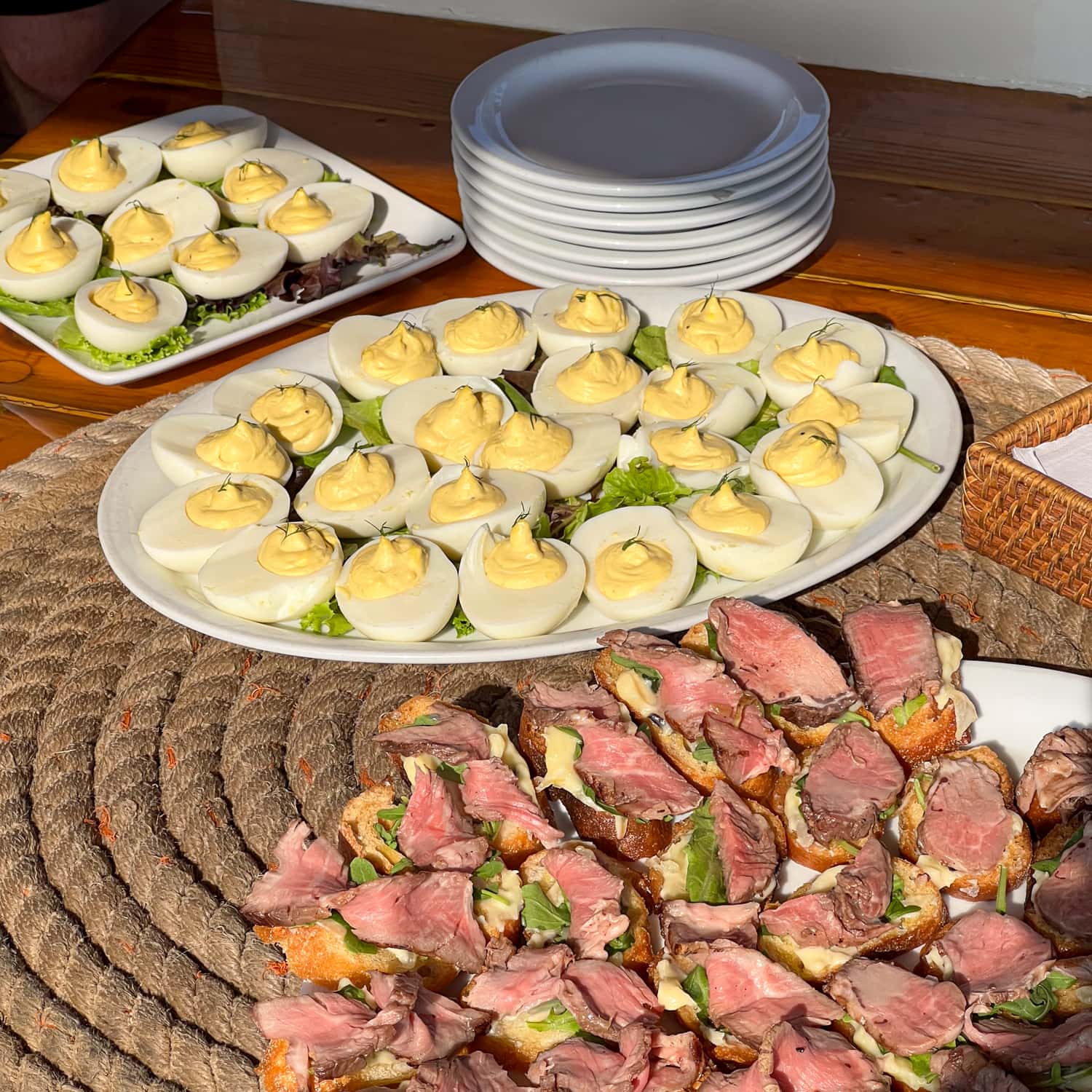 At 6:20 p.m., a giant sliced brisket was awaiting us. The meat was tender and tasty. It was accompanied by creamy polenta and Brussels sprouts.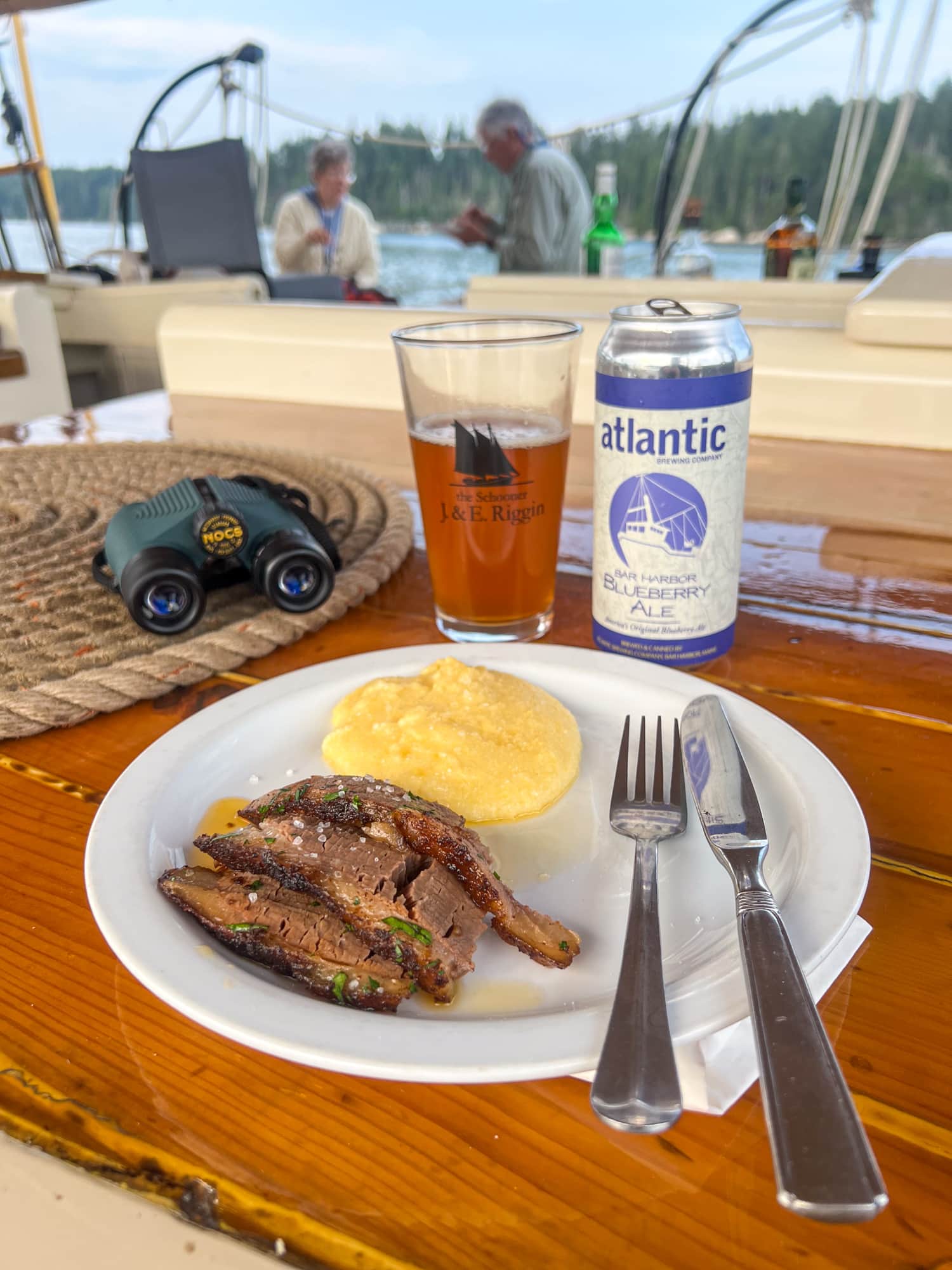 Each breakfast, lunch, and dinner impressed me, as did the desserts coming up next. Feast your eyes on these sweet treats.
Desserts
Candied ginger shortbread was served with our first lunch, and any thoughts I had of not gaining weight on the trip went out the window.
It seemed there was always enough for a guest to have seconds, so I did.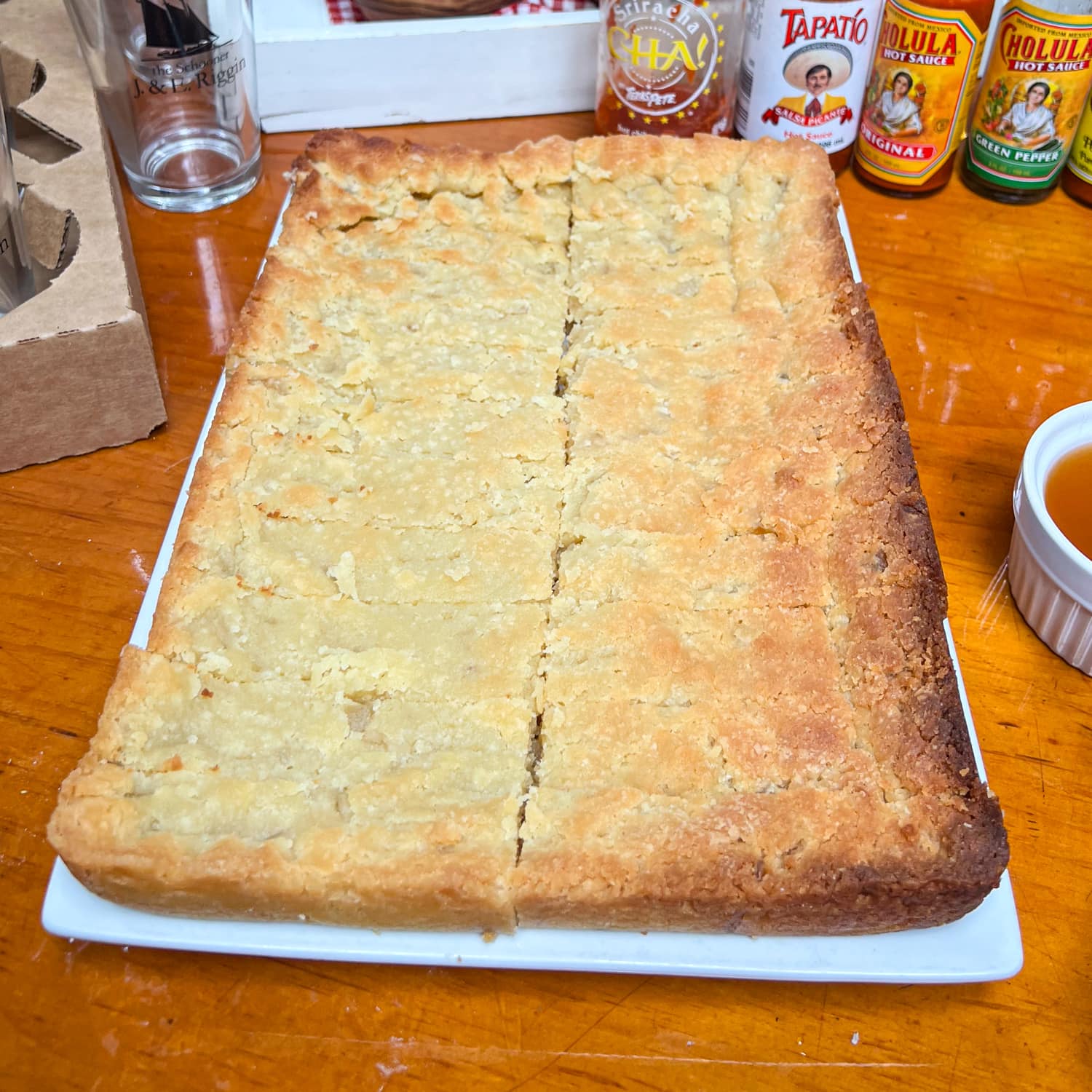 Another dessert served at lunch was a carrot cake cupcake with cream cheese frosting.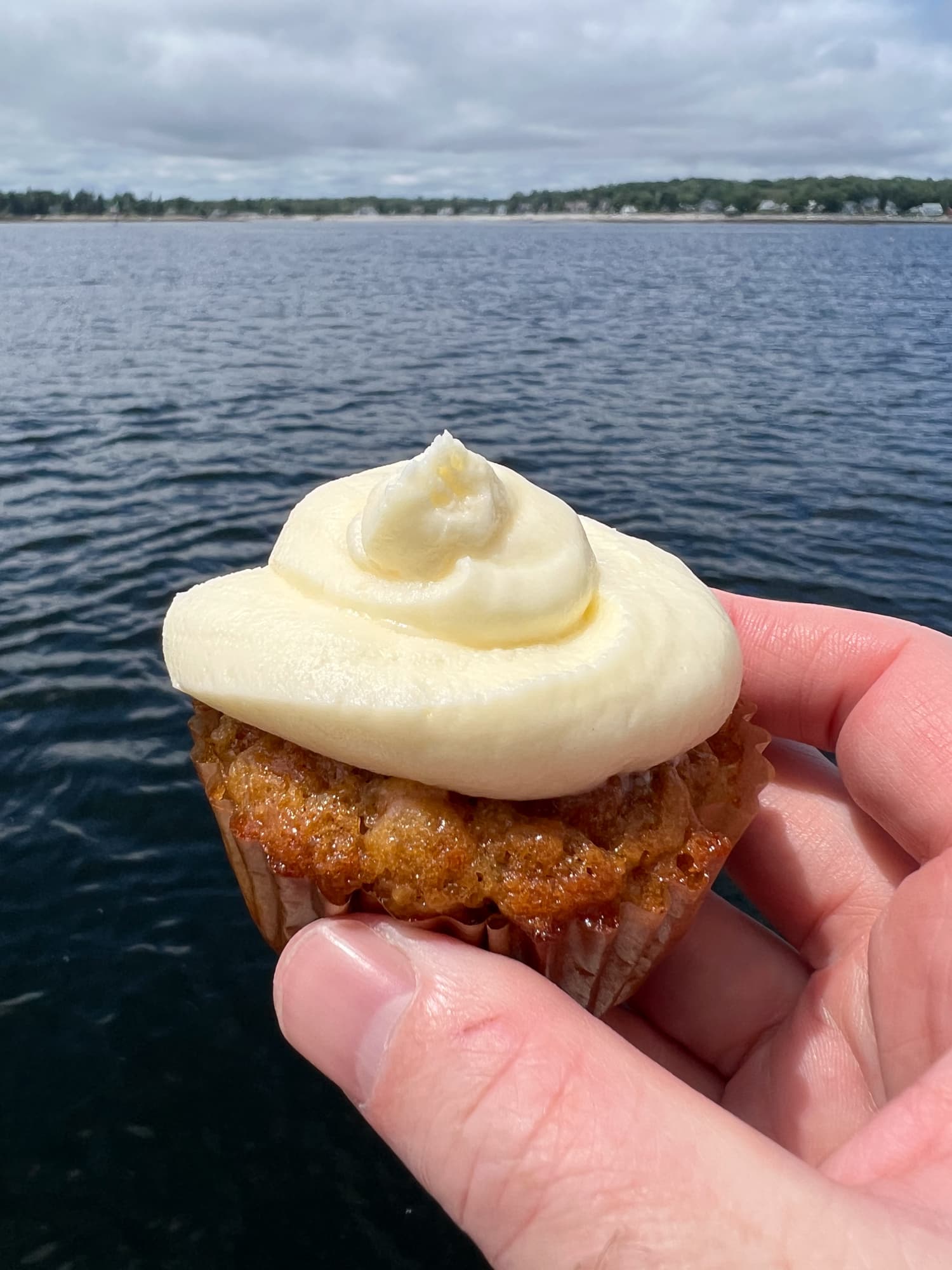 I received a friendly tip to check the galley before dinner was served on night two, and I found three fresh-baked strawberry rhubarb pies cooling on a shelf.
Slices were served with fresh whipped cream, and the leftovers were placed out on the main deck the following day for anyone to enjoy seconds.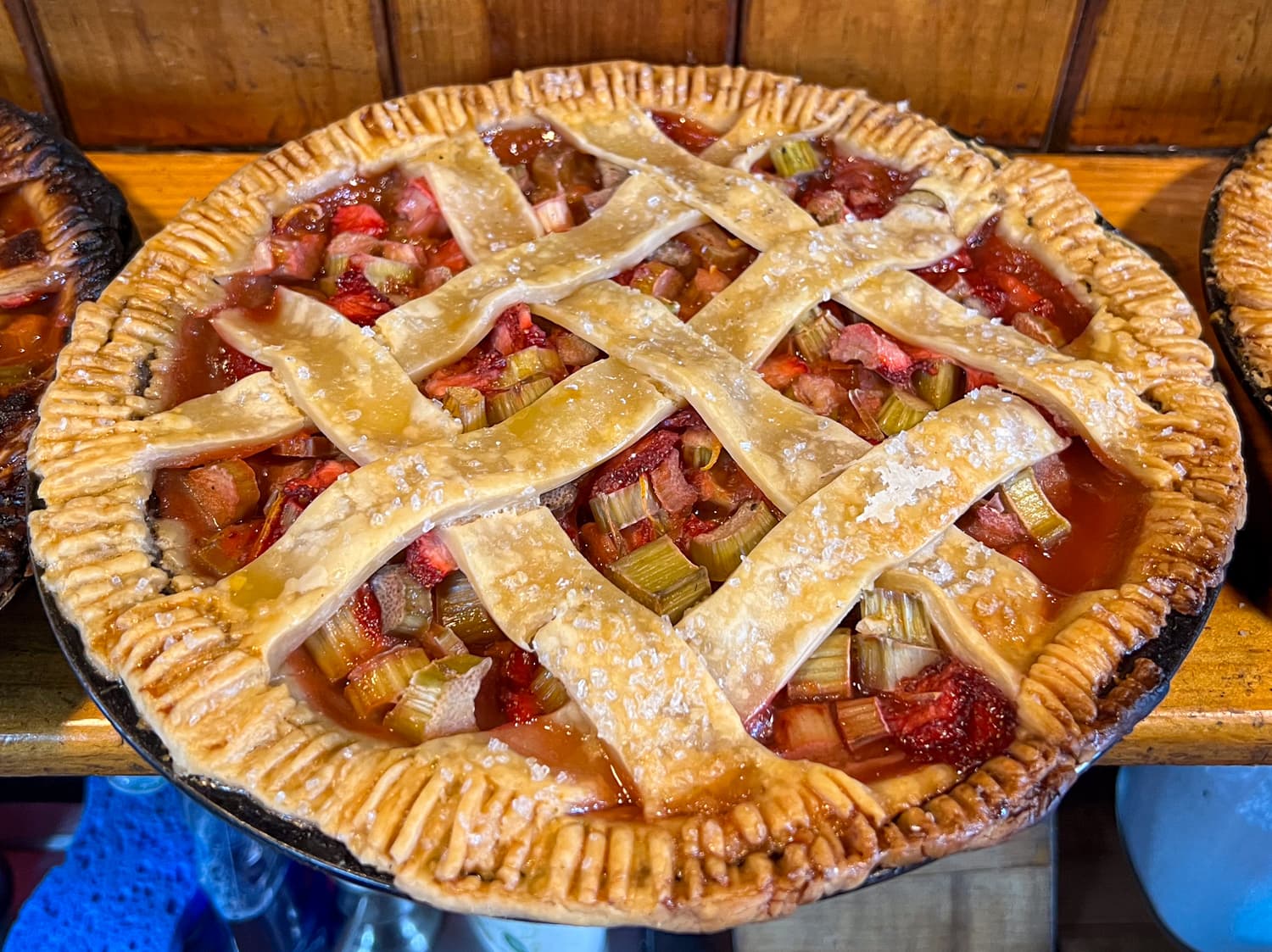 Jocelyn said guests preferred this to getting seconds after dinner. And I have to say it worked for me.
The next day, I was happy to eat another slice of pie with my morning coffee.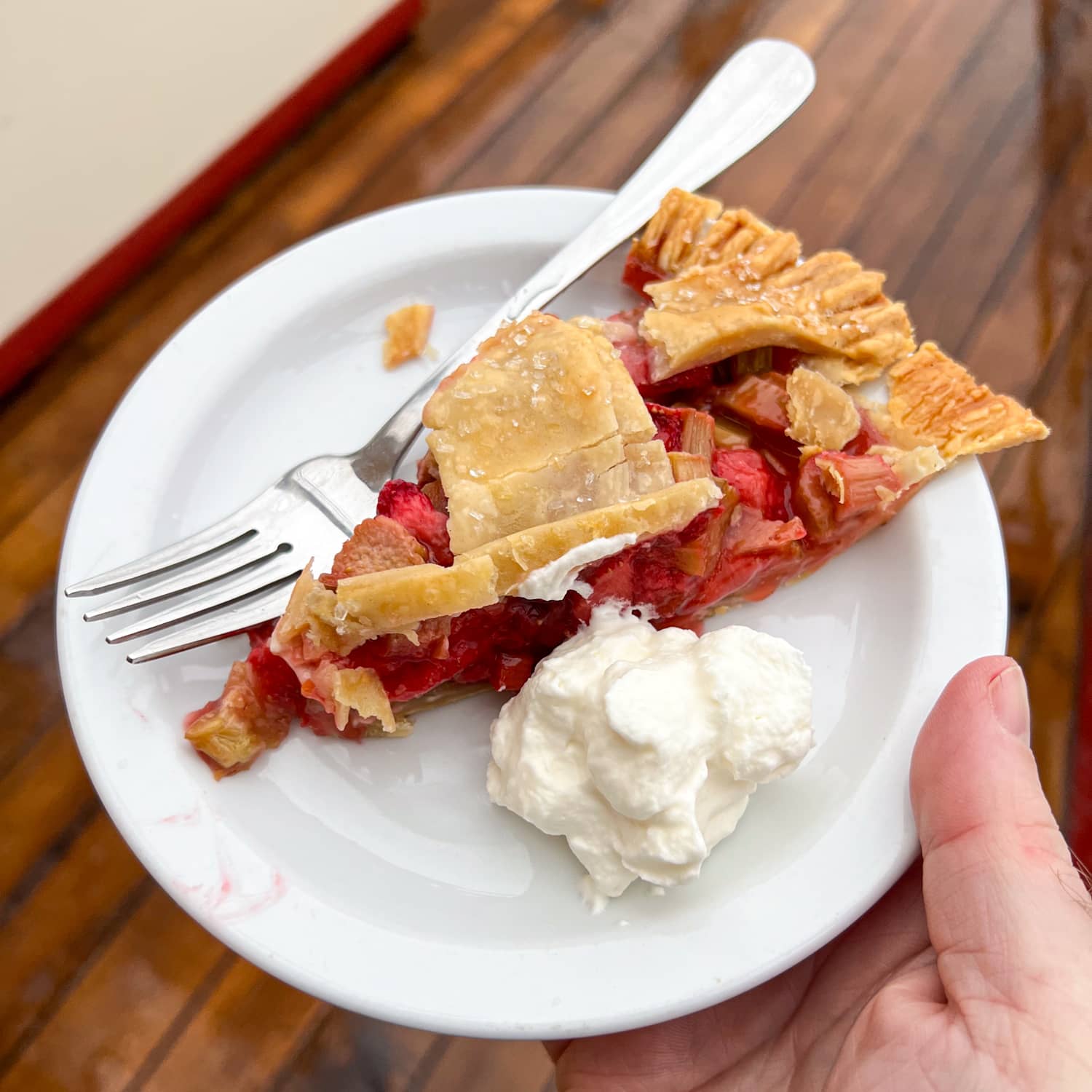 It was the afternoon of our fourth day on the J & E Riggin when we spotted fin whales gracefully coming up for fresh air. The rare whale sighting excited the crew and guests alike.
The wildlife encounter occurred during our lunch, so it's forever associated with the homemade lemon bars Jocelyn and Deegan had baked.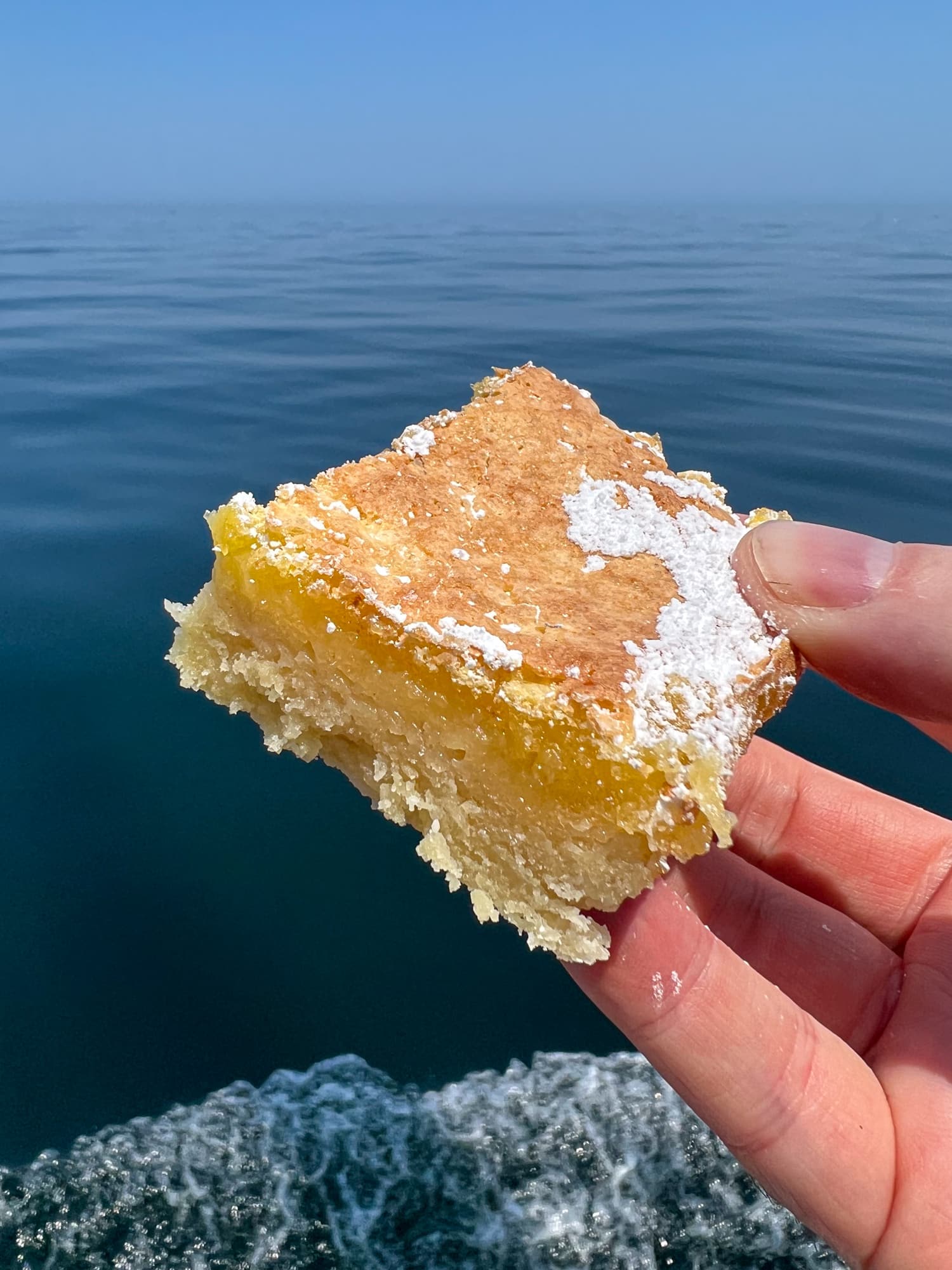 Another sweet memory from our windjammer cruise in Maine was the campfire s'mores dessert Captain Justin and crew cooked up for us.
After devouring lobsters and corn on the cob, I caught wind of them roasting marshmallows as high tide approached.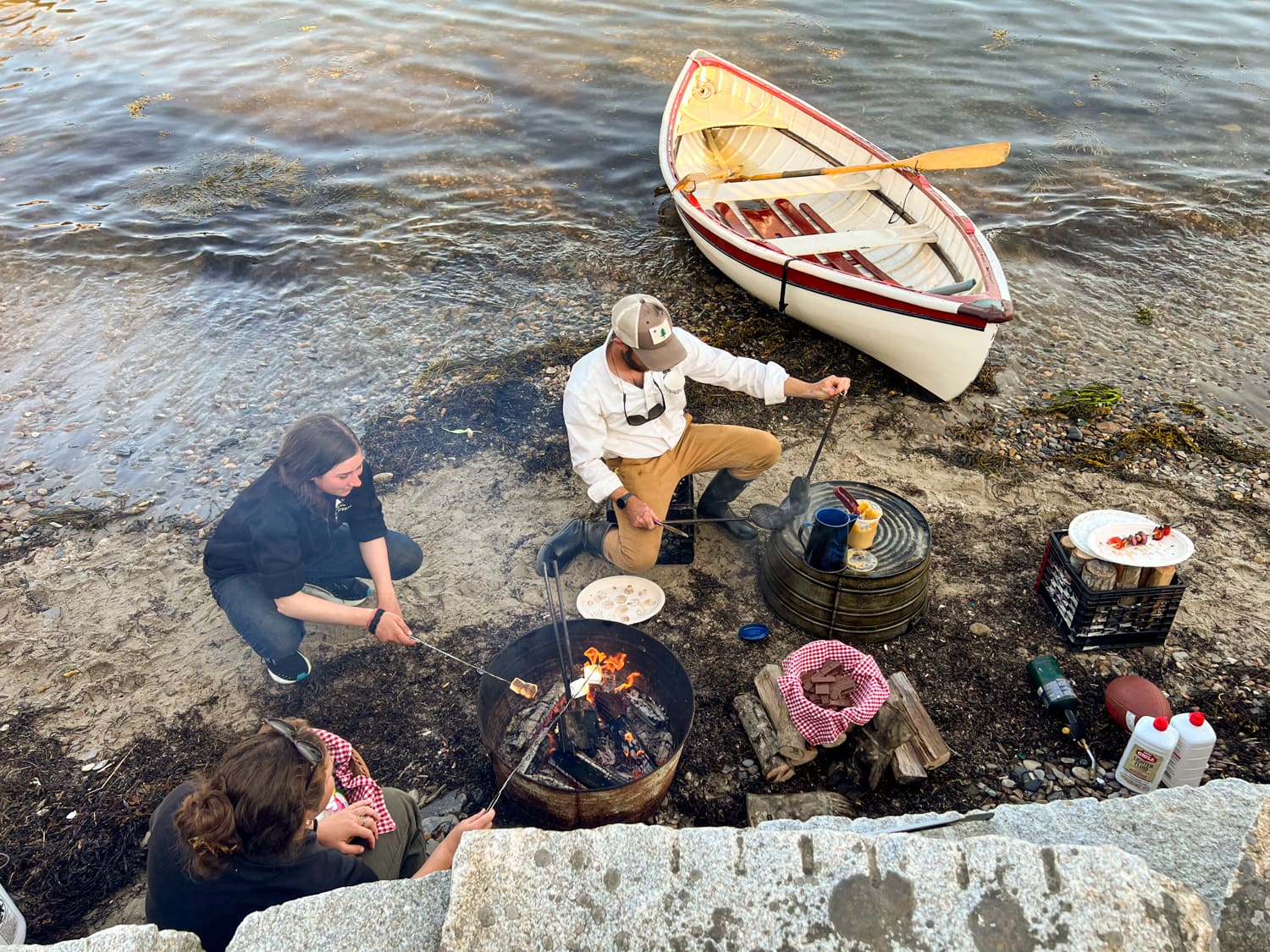 I couldn't figure out what they were up to until I was handed a s'mores taco.
The toasted marshmallow and melted Hershey's chocolate reminded me of the s'mores I had as a kid at sleepaway camp.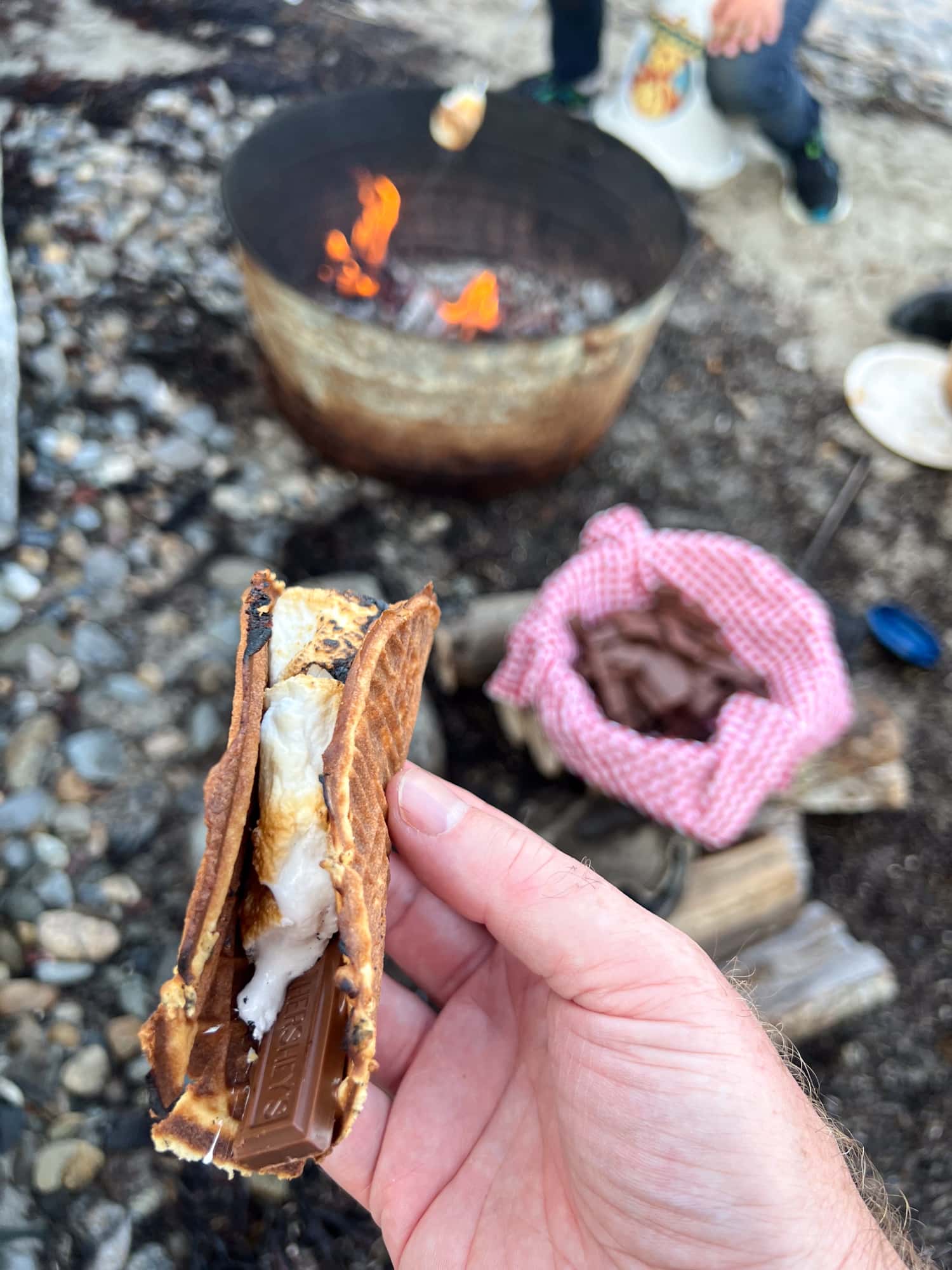 Jocelyn and Deegan served cheesecake with a salted caramel drizzle on our last night of the sailing trip in Penobscot Bay off the Maine coast.
It was a fantastic way to conclude our third dinner aboard the J & E Riggin.
And not surprisingly, there were a small number of slices laid out the following day for anyone who wanted them.
Related: Primo's Farm-to-Table Dining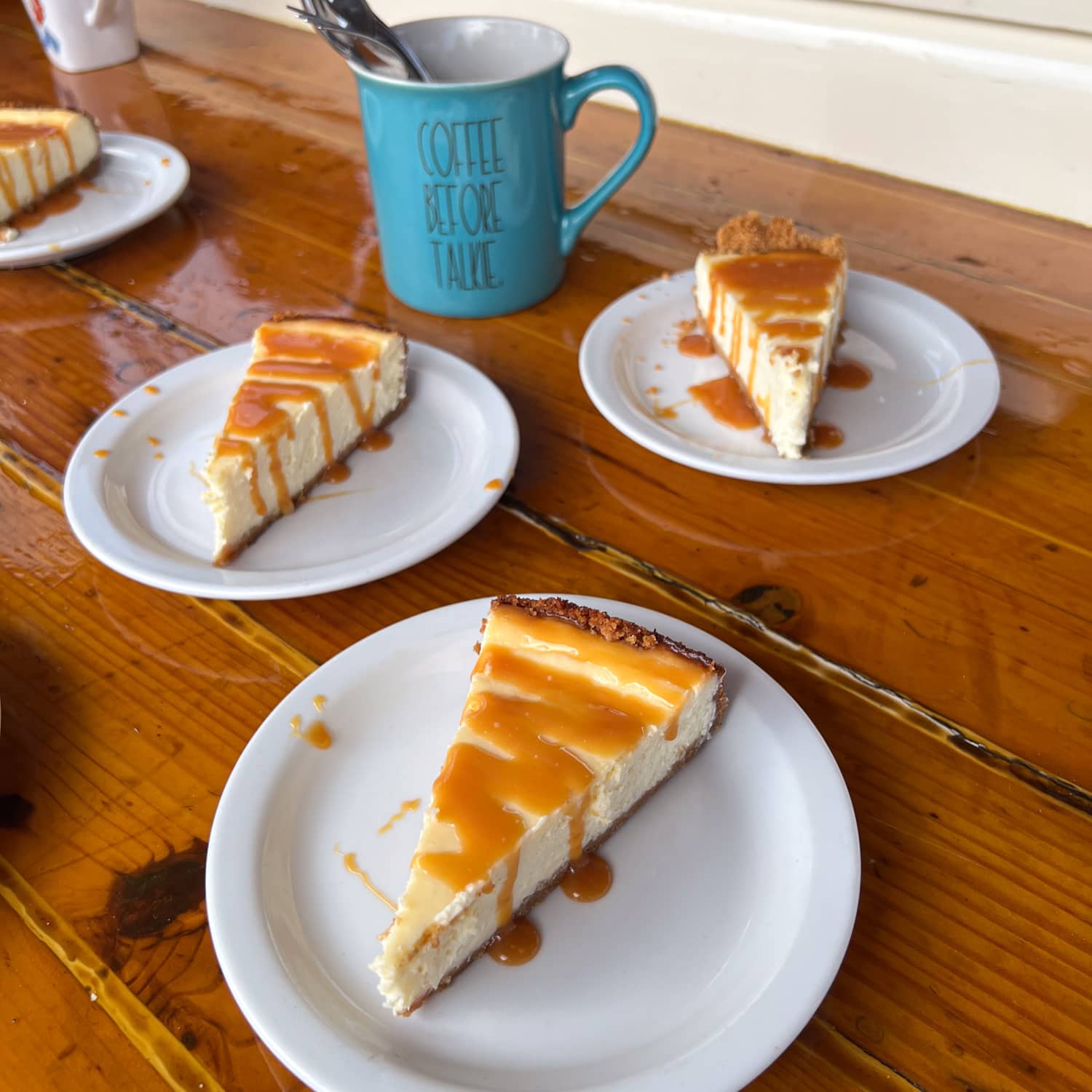 Closing Thoughts
The concept of windjammer cruises was new to me when I was first approached about partaking in this Maine sailing vacation tradition.
I had little idea of what to expect regarding the onboard dining experience.
My expectations were exceeded with every delicious meal. Jocelyn and crew feed their guests well, from a beautifully arranged cheese board to an epic lobster bake at a beachfront brewery.
It's all the more impressive when you see the tiny galley space they have to work with.
Whether you're a foodie, a gourmand, or enjoy good home cooking, a windjammer cruise aboard the J & E Riggin won't leave you wanting more.
Check out their full sailing schedule for more information.
_____
Disclosure: My all-inclusive cruise aboard the Schooner J & E Riggin was provided at no cost so that I could share my experience with readers. I received no further compensation, nor was there any outside influence.