Since moving to Austin, Texas, I've looked for the city's best bakeries. Head to any of these Austin bakeries when you're in the mood for something sweet, like cookies, cakes, and pastries.
Best Bakeries in Austin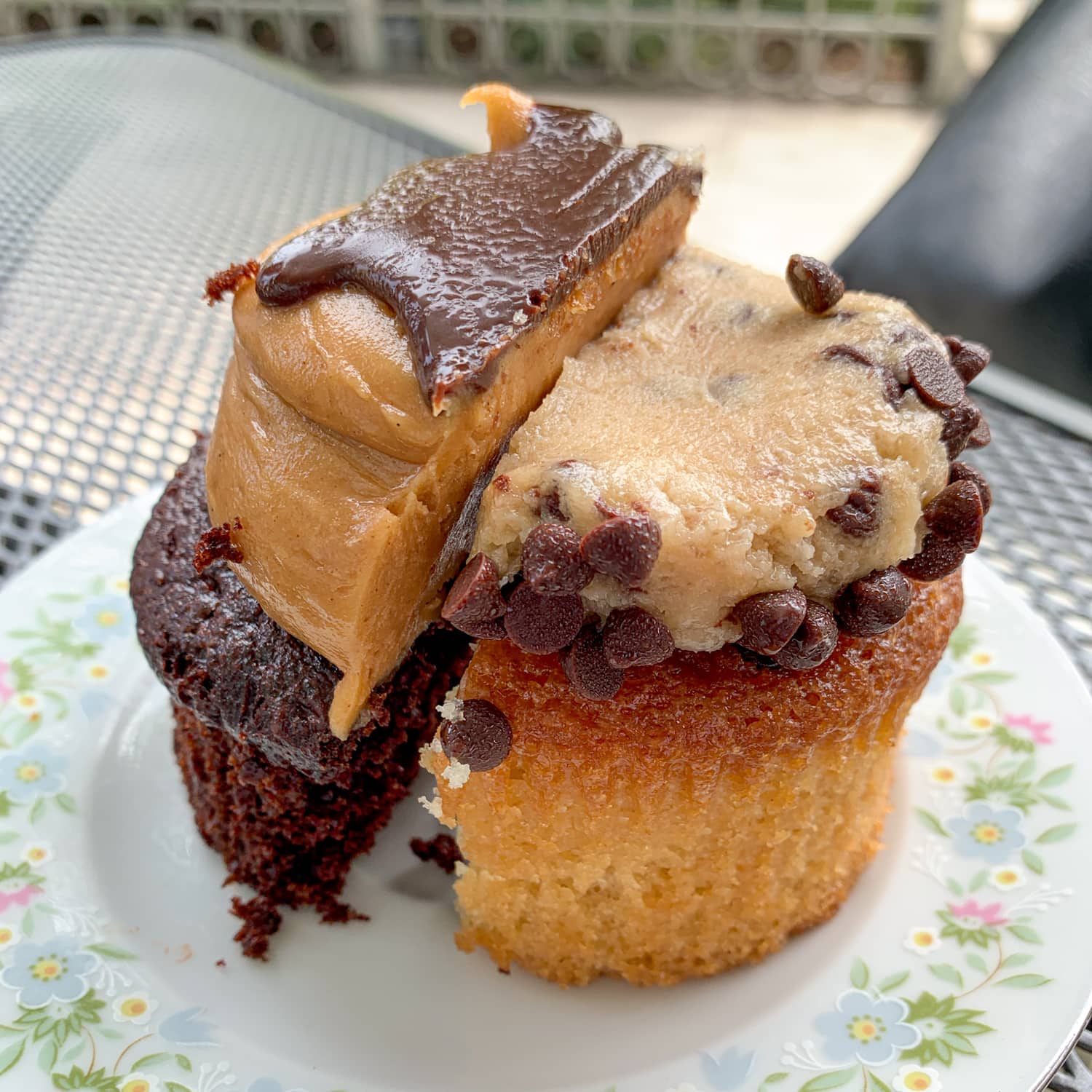 1. Quack's 43rd Street Bakery
My #1 pick for cupcakes in Austin is Quack's 43rd Street Bakery. Here you'll find a chocolate cupcake with peanut butter frosting that towers over the competition.
Over the years, I've tried other options, including cookie dough, red velvet with cream cheese frosting, chocolate whipped cream-filled, and pina colada.
Muffins, scones, croissants, and cookies are also available, as well as cakes and pies by the slice or whole.
Initially opened in 1983 as Captain Quackenbush's Intergalactic Dessert Co. and Espresso Cafe in downtown Austin, the owners of Quack's Bakery relocated to the Hyde Park neighborhood in the 1990s.
In 2018, Quack's expanded to a more picturesque second location named Lady Quackenbush's Cakery in the family-friendly Mueller neighborhood.
This was followed by Captain Quackenbush's Coffeehouse, which began serving South Austin in 2021. The third outpost features a stage for live music, beer and wine, and scratch-made baked goods.
411 E 43rd St, Austin, TX, quacksbakery.com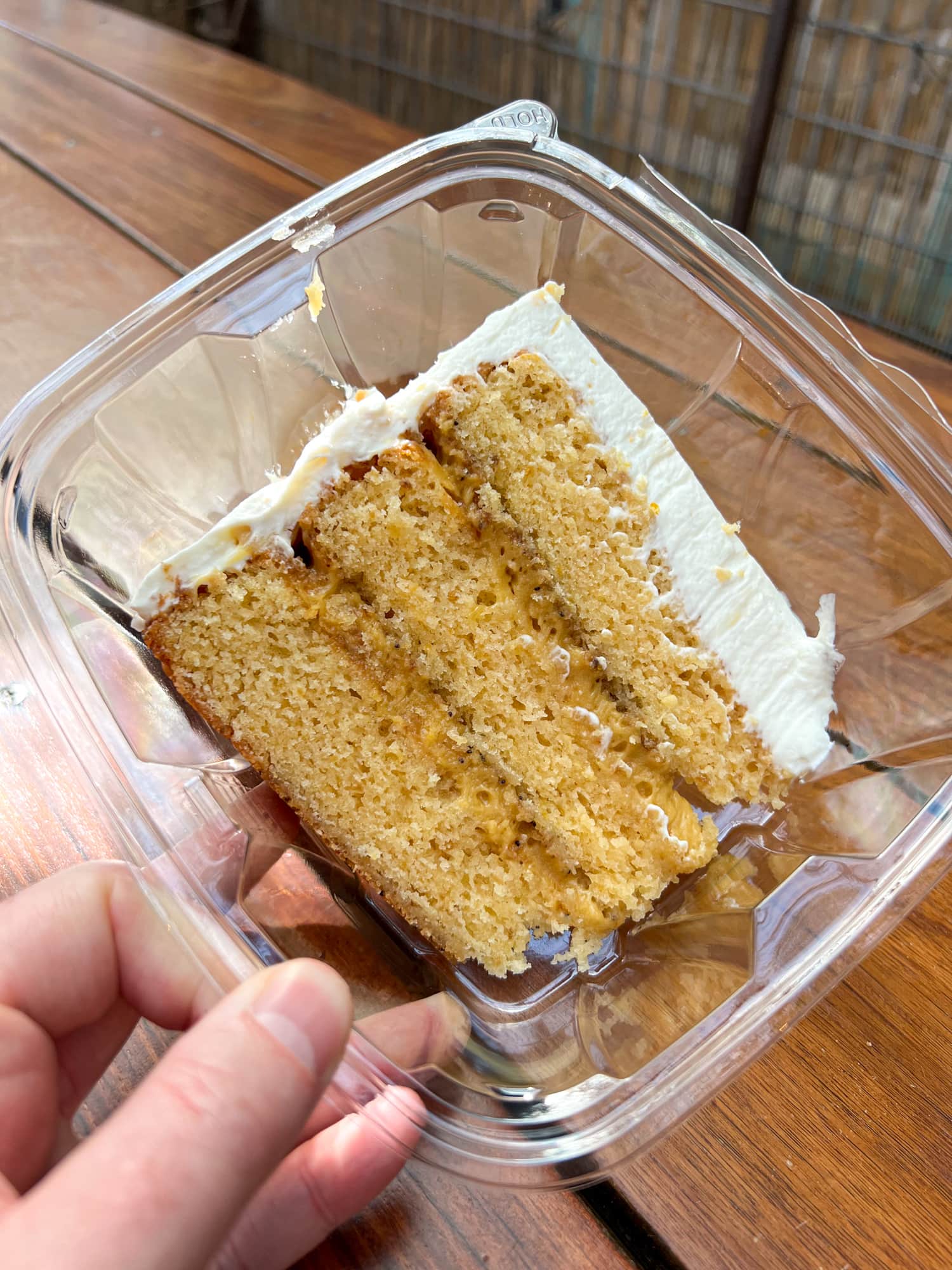 2. Paper Route Bakery
Update: Paper Route Bakery's last day of operation was June 10, 2023.
I discovered Paper Route Bakery when owner Aaron Seriff-Cullick was baking the best chocolate chip cookies in the galaxy.
In 2021, he began focusing on custom cakes, available to order online or by the slice from their bake shop at Cenote, a coffee shop in East Austin.
When I brought my girlfriend, Kel, to experience them, she ordered the Lemon Kiss made of lemon cake with honey poppyseed crust, lemon ganache infused with lavender & Limoncello, and Meyer lemon Chantilly cream.
I chose the Chocolate Fainting Couch, a chocolate cake with black onyx cocoa crust, cacao ganache infused with toasted brazil nut and chile pepper, and chocolate Chantilly cream.
Seriff-Cullick uses premium ingredients, including European butter, Belgian cocoa, organic flour, sugar, and pasture-raised chicken and duck eggs.
This attention to craft and quality helped Paper Route Bakery rise to #1 on Yelp's Top 100 Places to Eat in Texas for 2022.
Related: Austin's Best Coffee Shops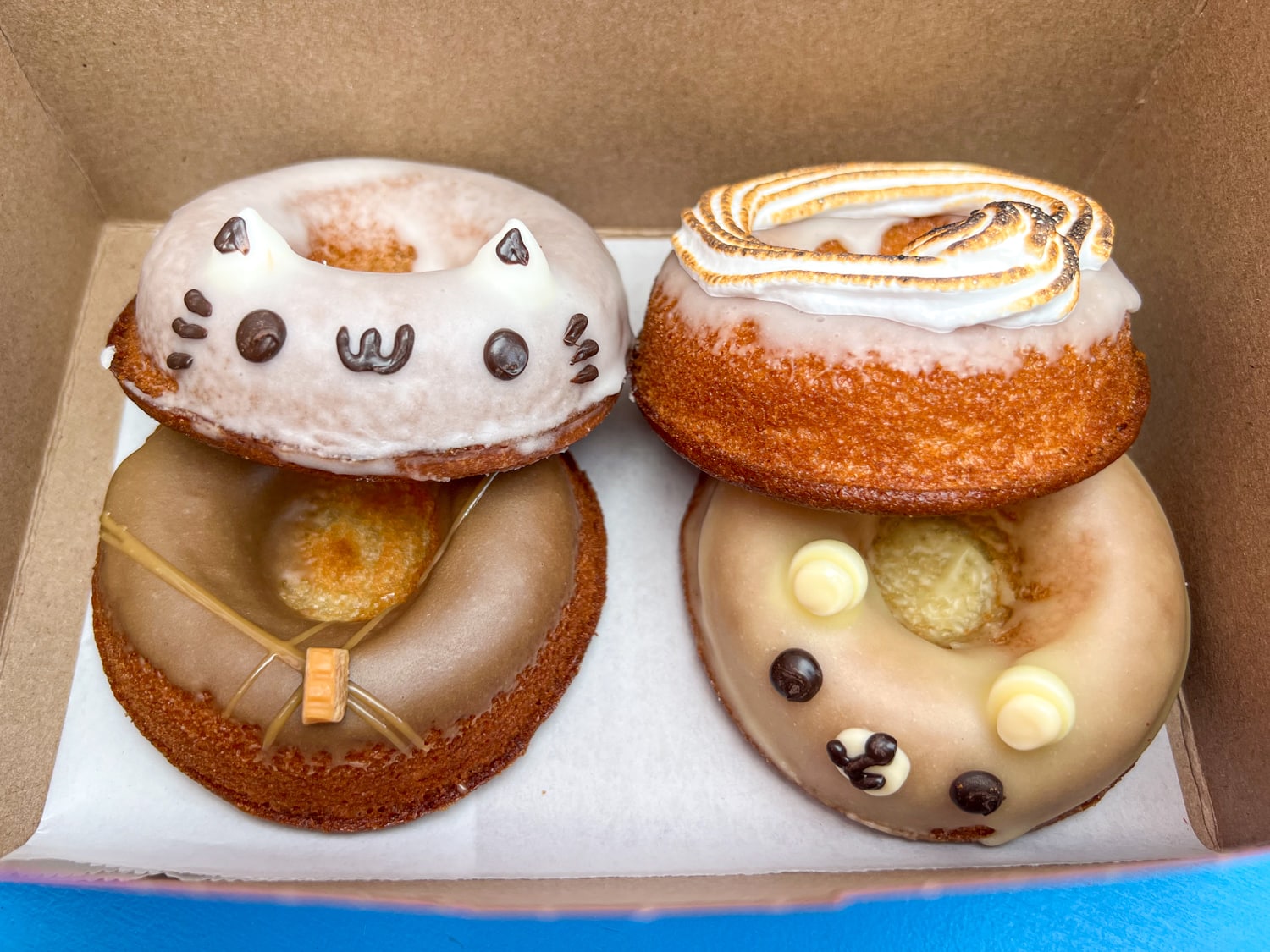 3. OMG Squee
Former freelance photographer Sarah Lim and her partner Michael DeAnda began OMG Squee out of their tiny home kitchen in 2016.
Their Asian-inspired pastries proved popular at local farmer's markets and pop-ups, leading to the 2020 opening of their brick-and-mortar location in East Austin.
Despite the tricky timing and everyday challenges of running a bakery, OMG Squee prevailed, as shown in Season 6 of Queer Eye (Netflix).
Kel and I drove by OMG Squee on several weekends only to find a line of customers out the door (and down the sidewalk).
When we finally got there early enough to avoid a long wait, we made the most of it, ordering:
Four mochi donuts (including lemon butter and Mexican vanilla)
A Taiyaki soft serve with bao custard and black sesame swirl, and dulce de leche
Milk tea with homemade boba (tapioca pearls)
A French macaron
The donuts are adorable enough to make any pastry fan say "squee" and reminded me of some we got at Kulu Kulu, a Japanese cake shop in Honolulu.
The soft serve ice cream in a fish-shaped Belgian-style waffle was fun; milk tea fans will appreciate the scratch-made boba. The OMG Squee kitchen is 100% gluten-free.
4607 Bolm Rd Suite A, East Austin, TX, squeeclub.com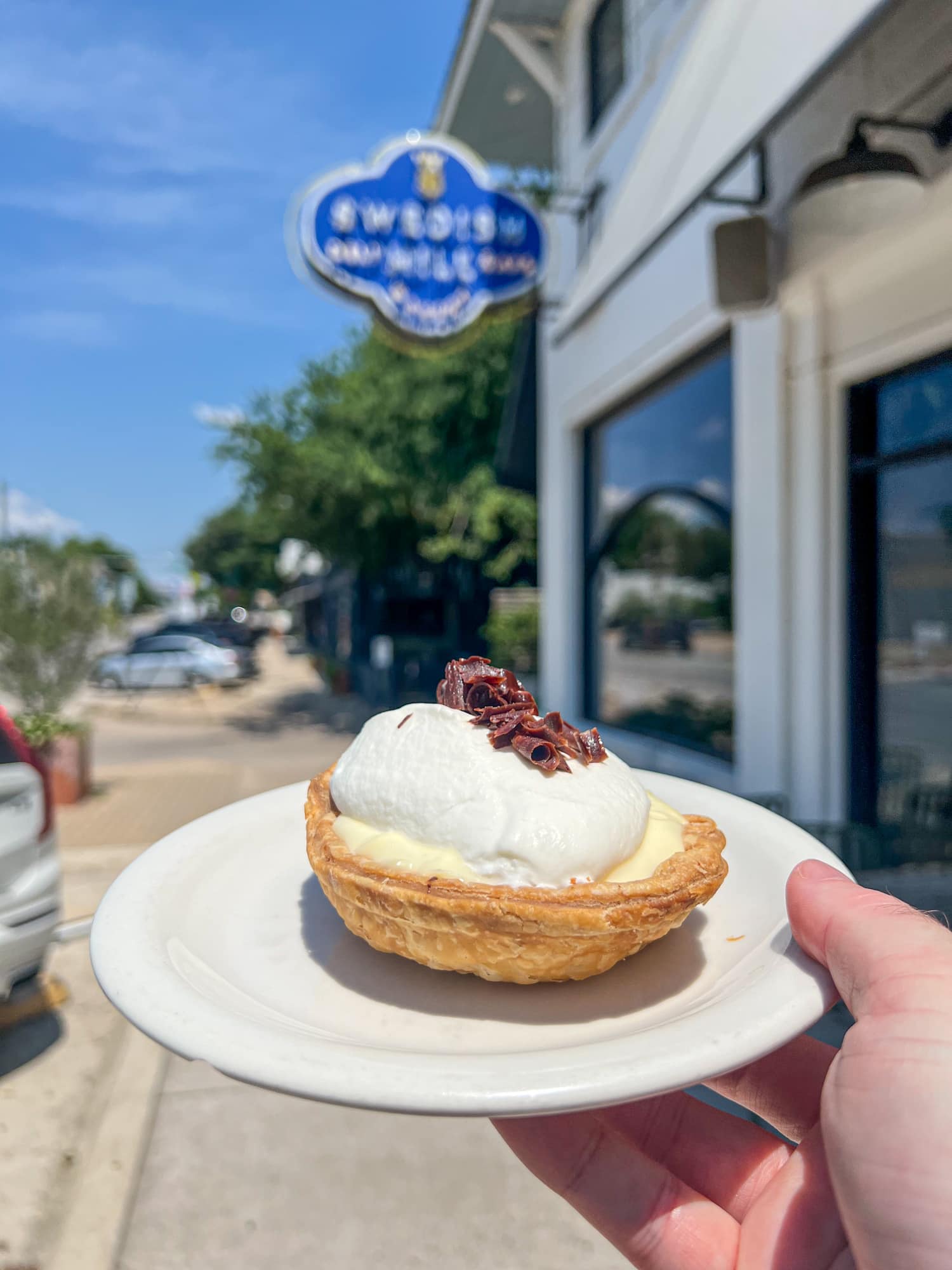 4. Swedish Hill
Swedish Hill Bakery is an attractive spot in the Clarksville neighborhood west of downtown Austin.
MML Hospitality acquired the space, home to Sweetish Hill Bakery & Cafe since 1975, renovated it, and opened Swedish Hill in 2019.
I like sitting at the 4-sided coffee bar here, though it can get noisy when they're busy.
Along with my cappuccino, I typically get sweet treats, like a salted chocolate chip cookie, a slice of their signature cakes, or banana cream pie.
Breakfast is served until 11 a.m. during the week and 3 p.m. on weekends. Almond croissants, breakfast sandwiches, bagels, and avocado toast are all on the menu.
Rotisserie chicken, soups, and salads are available after 11 a.m. You can try a signature sandwich or build your own. Wine and caviar are available if you're feeling fancy.
1120 W 6th St, Austin, TX, swedishhillaustin.com
Related: Best Bakeries in San Francisco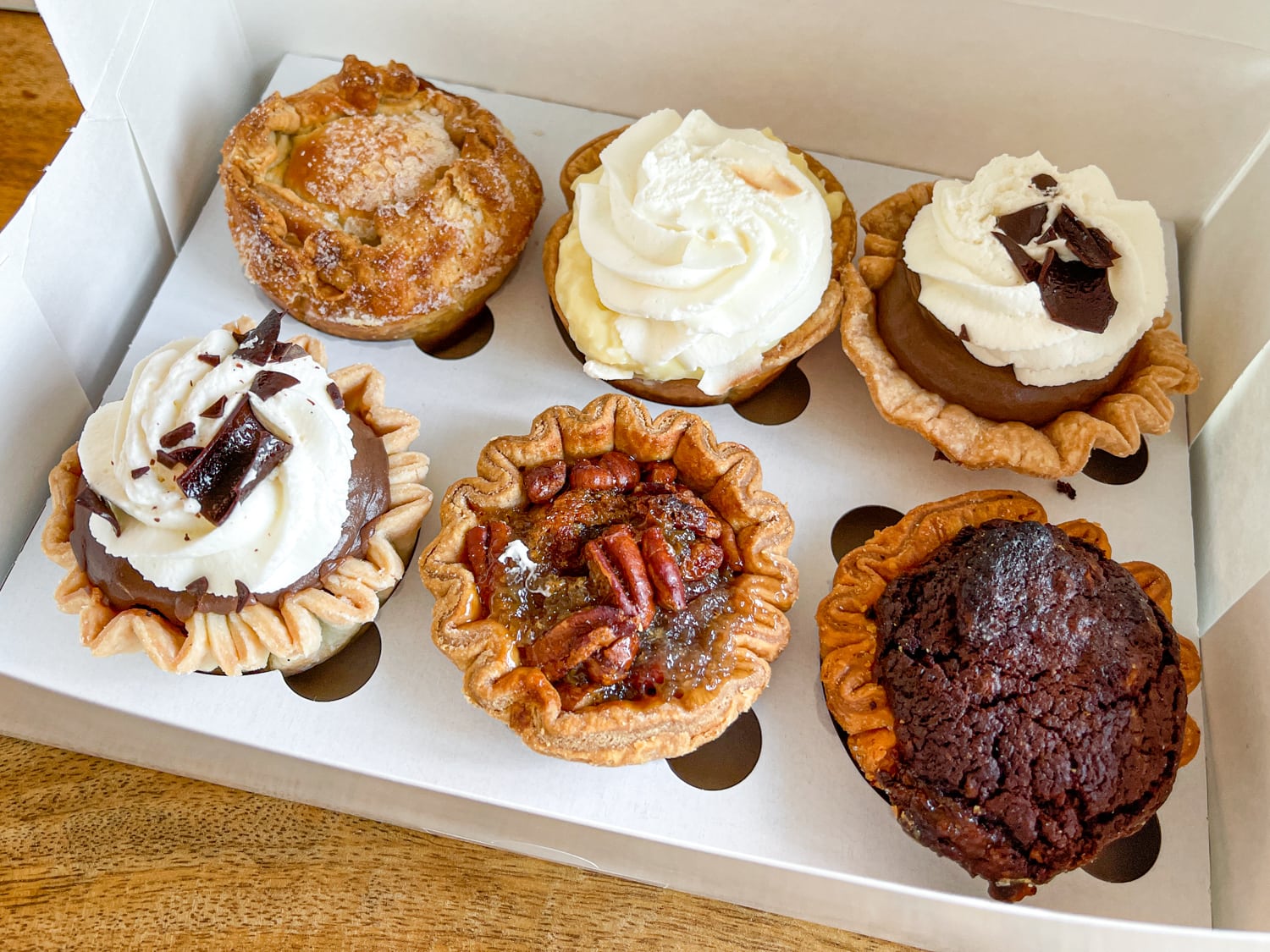 5. Tiny Pies
My first encounter with Tiny Pies was at the Austin Food + Wine Festival.
This small business is built on four generations of family recipes that Amanda and her mom Kit brought to pie fans in Austin. The idea for homemade pies you can eat with your hands came from Amanda's 9-year-old son.
The pies are made with natural ingredients and come in both sweet (S'mores, blueberry lemon cream) and savory (chicken pot pie, pulled pork mac 'n cheese); they sell full-size 9" pies too.
When my Mom passed away in 2021, my friend sent me a half-dozen tiny pies; they offered moments of sweet relief between the tears.
Tiny Pies are available locally and nationally. The original brick-and-mortar location is on Burnet Road, with other shops in South Lamar, Westlake, Lakeway, and Waco.
5035 Burnet Rd Ste. 100, Austin, TX, tinypies.com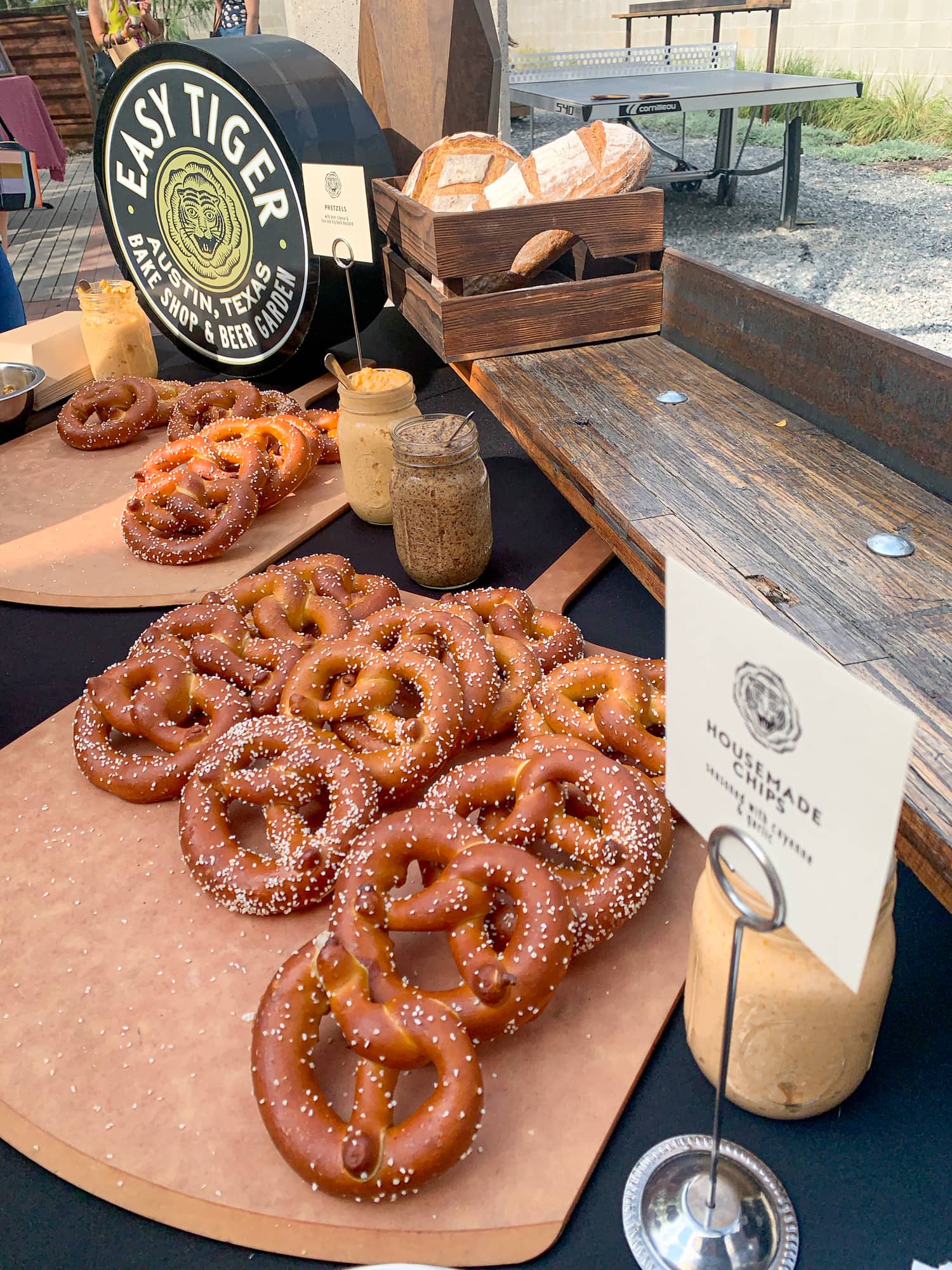 6. Easy Tiger
One of the first bakeries in Austin I got to know was Easy Tiger, a beer garden and bakery initially operating on 6th Street.
Easy Tiger is known for its fresh-baked salted pretzels and beer cheese dip (worth the extra $3).
The all-day menu includes seasonal toast on Hill Country sourdough, croissants, caramel banana bread, soups, salads, housemade sausages, sandwiches, and more.
If you plan a BBQ, pick up their fresh burger and sausage buns. You can also find their loaves of bread in local H-E-B and Whole Foods grocery stores.
While Easy Tiger's popular downtown location closed in 2020, they've expanded into East Austin, the Highland District of North Austin, and South Lamar.
Multiple locations, easytigerusa.com
Related: Best Bakeries in Copenhagen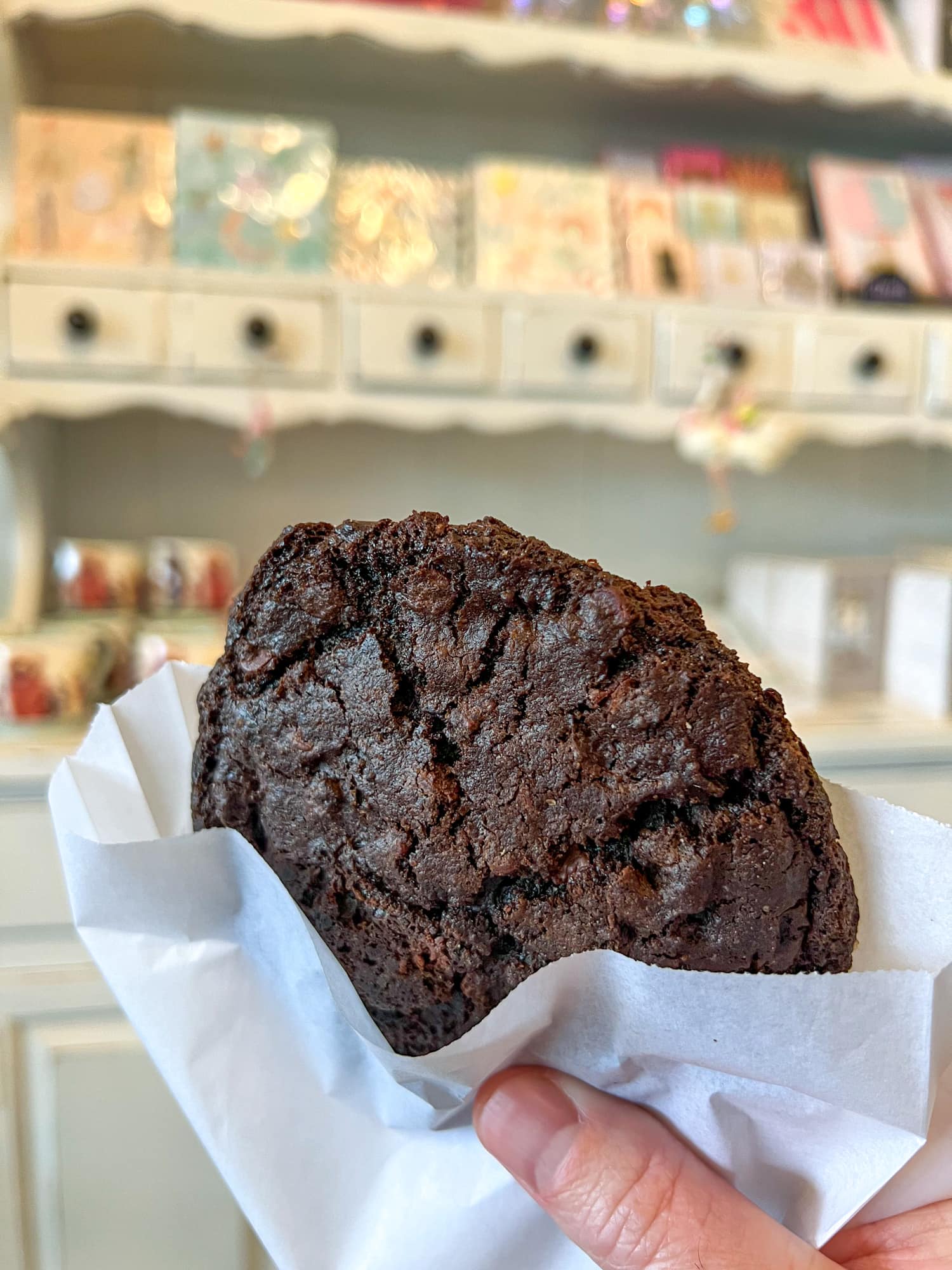 7. Hayleycakes and Cookies
If you've got a sweet tooth like me, check out Hayleycakes and Cookies, which has been "family owned, operated, and fought in since 2013.″
This cute bakery has a display case full of cupcakes and decorated cookies with fun and sassy sayings. To get a feel for Hayley's style, check out their Instagram.
I indulged in a double chocolate chip cookie and cookies' n cream cupcake when I stopped by to peruse their bakery items.
When I recently sold a piece of furniture online, the woman who bought it greeted me with one of the bakery's "You Are Awesome" sugar cookies.
Hayleycakes and Cookies offer special orders for cookies, whole cakes, and cookie cakes and also offers wedding cake tastings.
1700 S Lamar Blvd, South Austin, TX, hayleycakesandcookies.com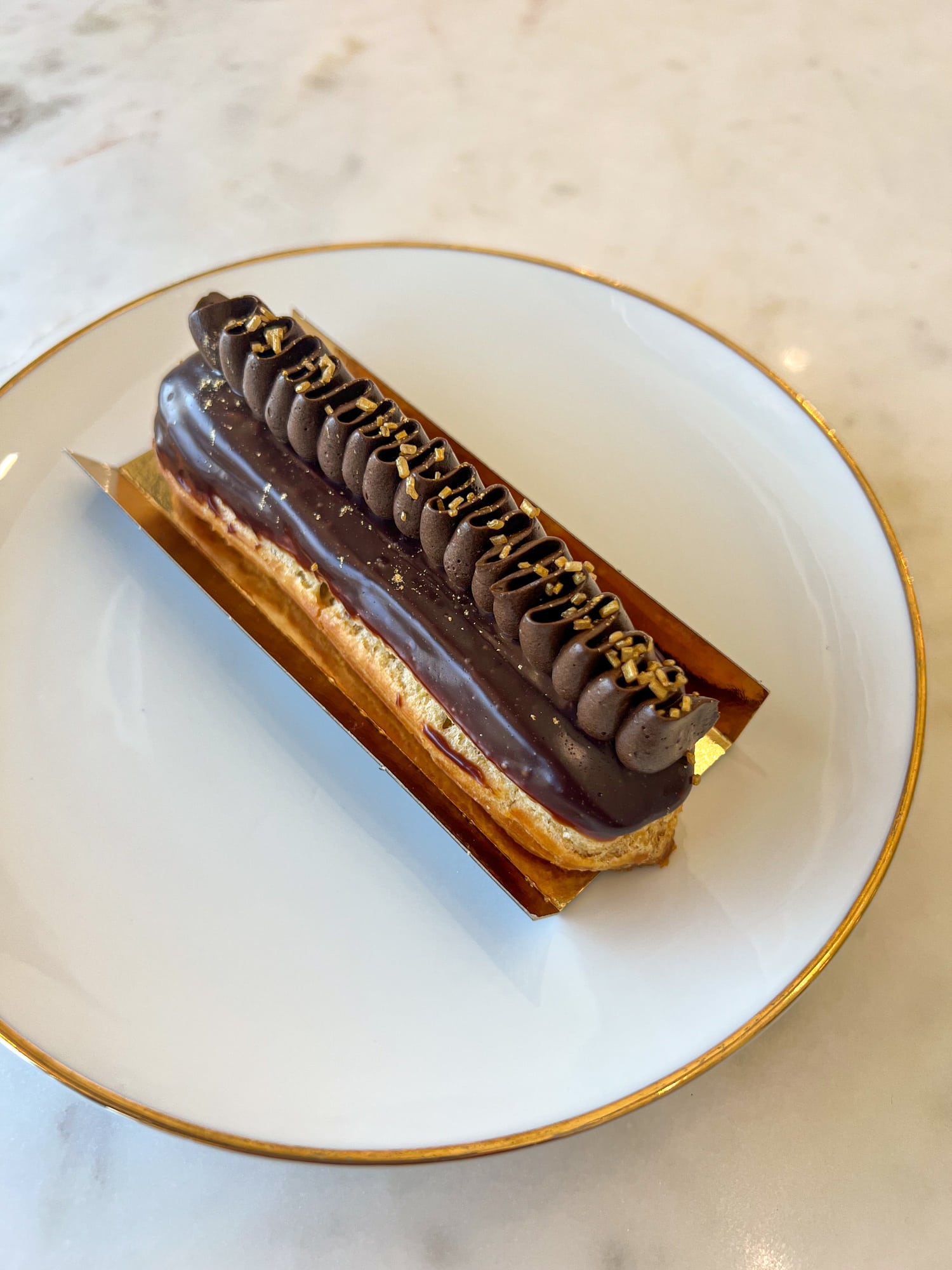 8. Rocheli Patisserie
Rocheli Patisserie is a relative newcomer to East Austin, opening in February 2021. This French bakery is a family affair; sisters Nelly and Linda Garcia own it along with their mother, Rosa Nelly Caballero.
Inside the bright and airy patisserie are a half-dozen tables and a display case full of enticing eclairs, tarts, macarons, and little birthday cakes for two.
If you like specialty lattes, you're in the right place, as their menu offers more than a dozen options, including lavender, red velvet, and Nutella.
Rocheli Patisserie hosts a monthly High Tea service, often coinciding with holidays like Easter and Mother's Day, that includes pastries and beverages for a set price.
If you'd like to get friends or family together for a private High Tea service, that's possible too.
Beyond creating one of the best bakery shops in Austin, Nelly Garcia mentors high school students and offers internships.
1212 Chicon St #102, East Austin, TX, rocheli.com
Related: Malasadas at Leonard's Bakery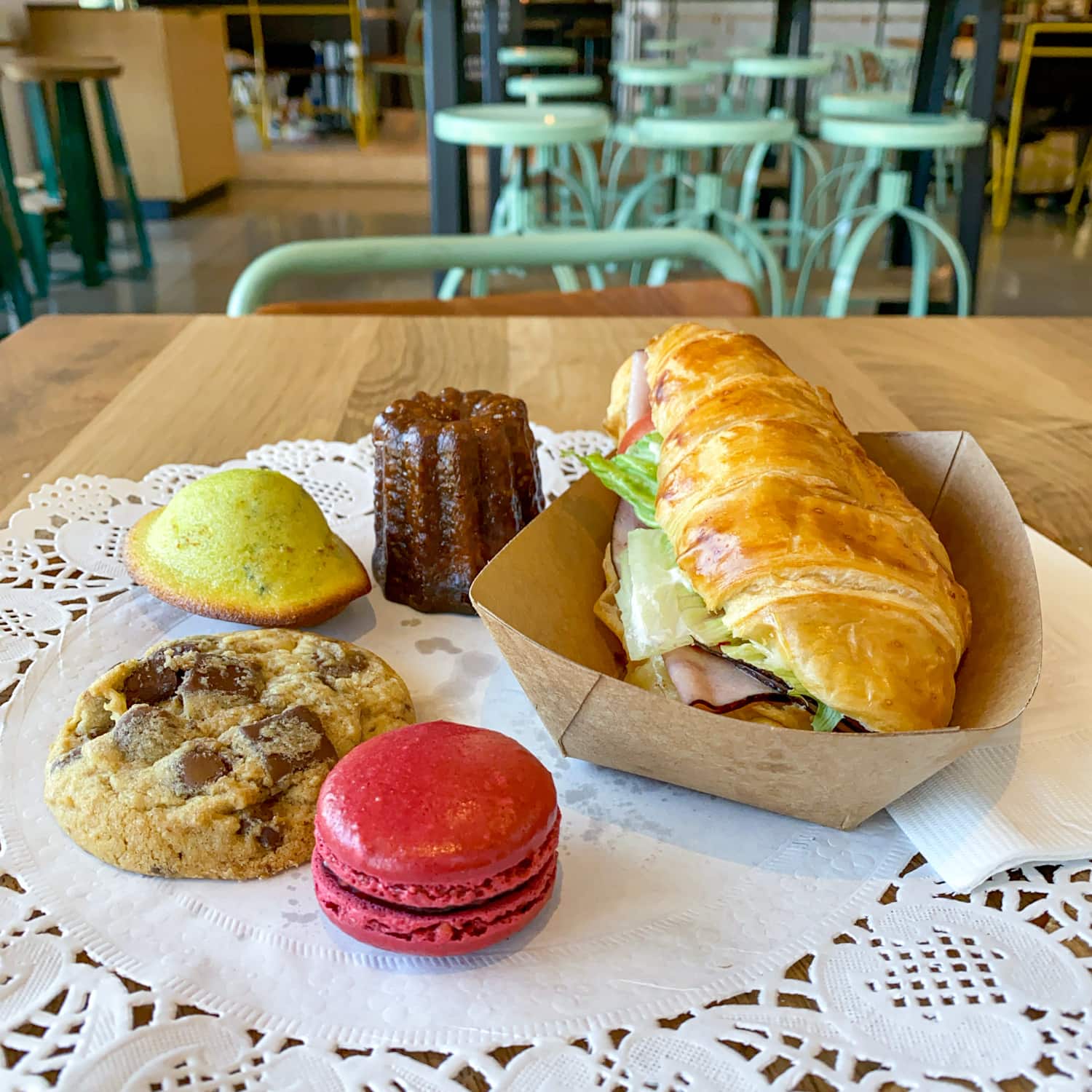 9. Julie Myrtille Bakery
French pastry chef Julie Myrtille left a career in finance in New York City to pursue her passion for baking.
She completed a two-year training program in France and became the youngest female chef inducted into the prestigious Academie Culinaire de France.
In Austin, she began selling homemade pastries at local farmer's markets. Her success led to her opening her namesake bakery in East Austin to great fanfare.
I stopped by soon afterward to sample a little of everything, including a ham and cheese croissant sandwich, soft-baked chocolate chip cookie, macaron, madeleine, and canele.
Francophiles can rest easy knowing there's more than one fantastic French bakery in Austin to appreciate.
1023 Springdale Rd Building 1D, Austin, TX, juliemyrtille.us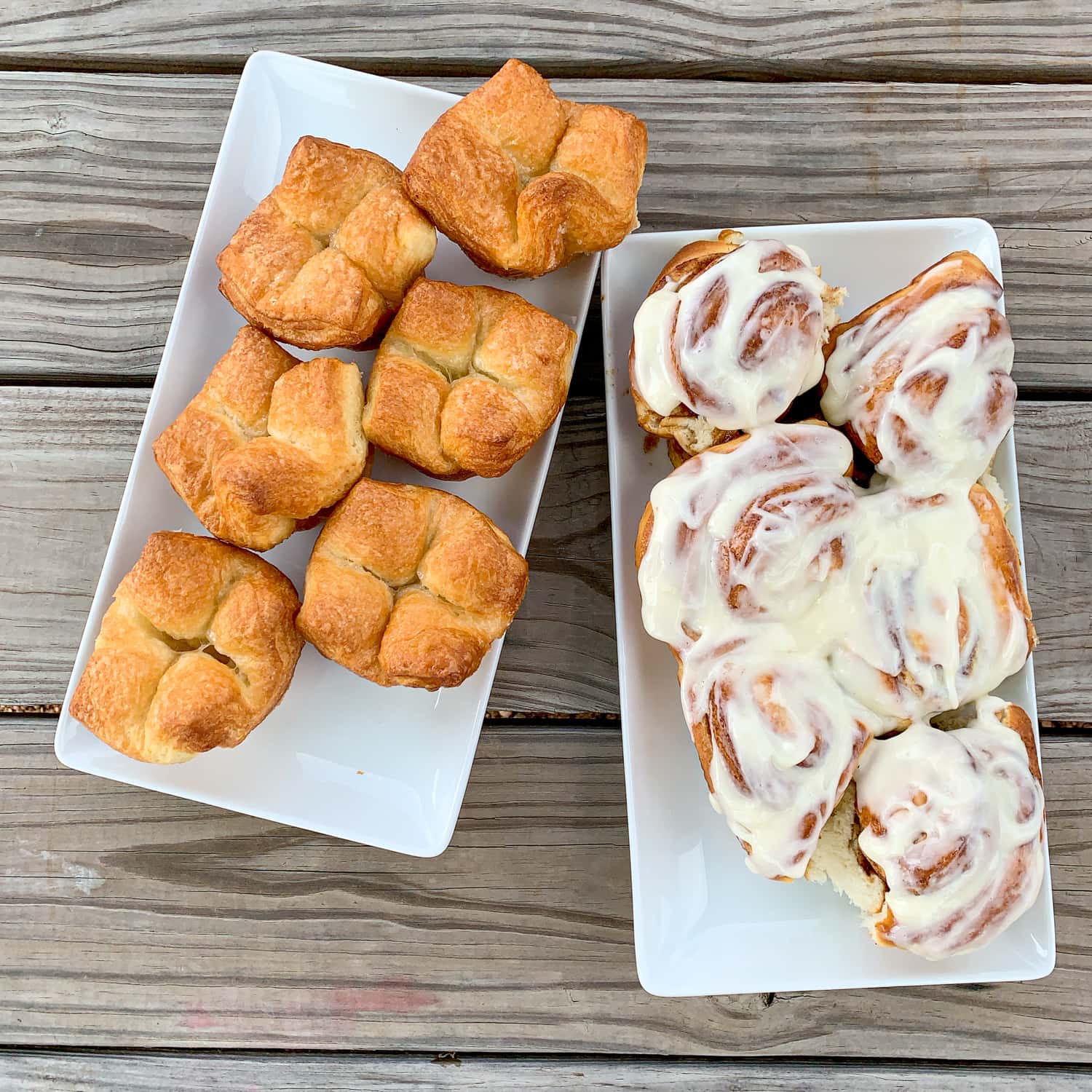 10. Teal House Coffee & Bakery
One of the local bakeries in South Austin that started as a food truck is Teal House Coffee & Bakery.
This small business started when the Phillips family began baking homemade cinnamon rolls and apple pies to sell to neighbors.
Their popularity led to a new food trailer and a brick-and-mortar shop.
I first tried their cinnamon rolls in 2019 during a meetup of Austin food bloggers. One taste of the sweet frosting is all it takes to see why these rolls took off.
Gluten-free and vegan versions of their signature cinnamon buns are available, and sweet and savory kolaches and croissants at affordable prices.
2304 S Congress Ave, Austin, TX, tealhouse.co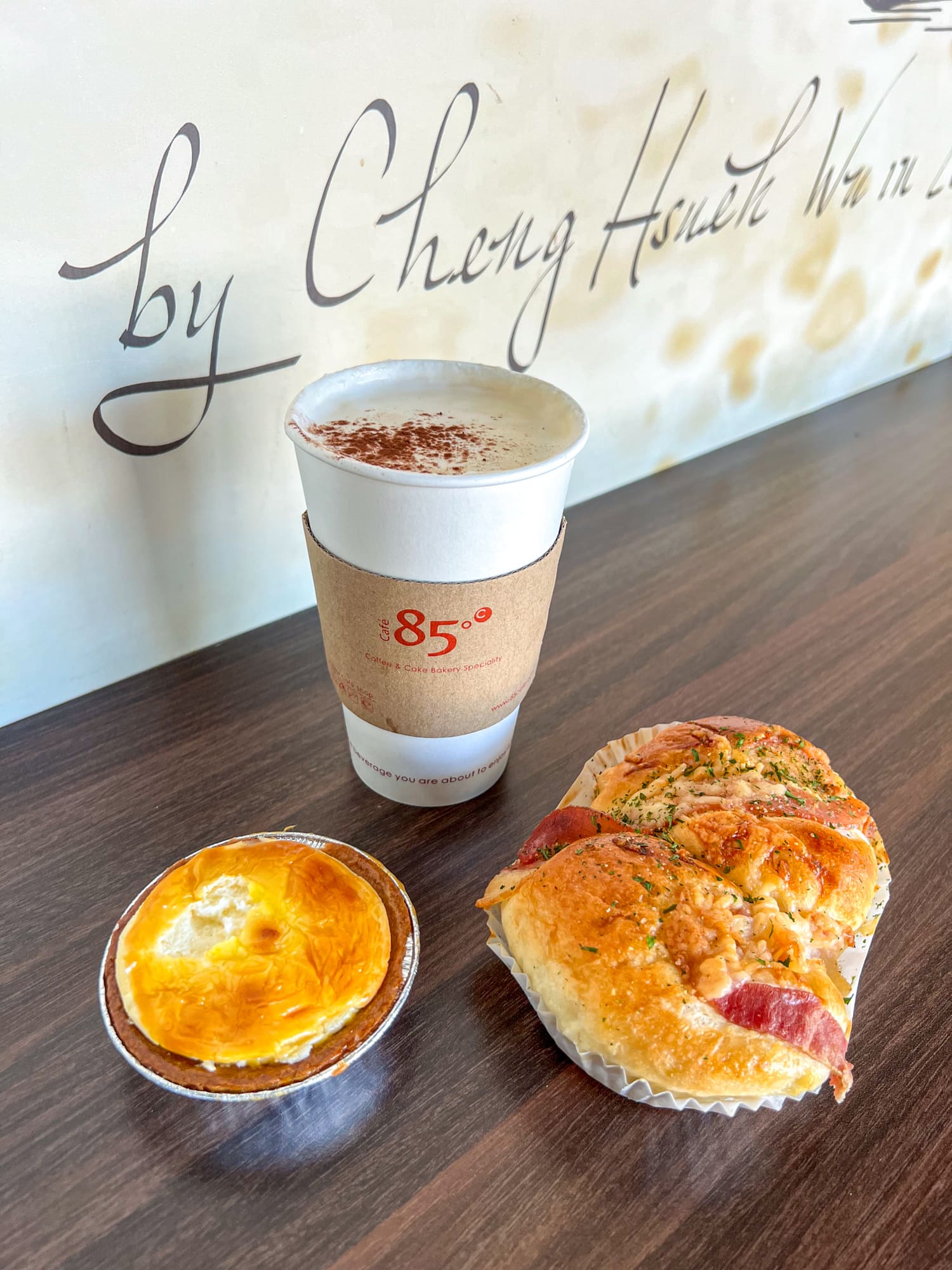 11. 85C Bakery Cafe
During my first trip to Vietnam, I became a fan of salt coffee after being introduced to it at a cafe on a street food tour in Da Nang.
When I returned to Austin, there was good news — I didn't need to look far for sea salt coffee. A Taiwanese chain, 85 C Bakery Cafe, has been selling them for years; they were even featured in Time Magazine.
Beyond 85 C Bakery Cafe's delicious coffees, every location features an in-shop bakery pumping out more than 50 varieties of delicious pastries all day long.
As I saw at some bakeries in Vietnam, you can grab a tray and work your way around the offerings, taking what you like.
Everything outside the refrigerated case (full of layer cakes, whole or by the slice) is individually wrapped.
In addition to the salt coffee, I tried a Hokkaido cheese tart, bacon and cheese pastry, and a slice of mango cake. Everything tasted fresh, and I'm a new fan!
11301 Lakeline Blvd #140, Austin, TX, 85cbakerycafe.com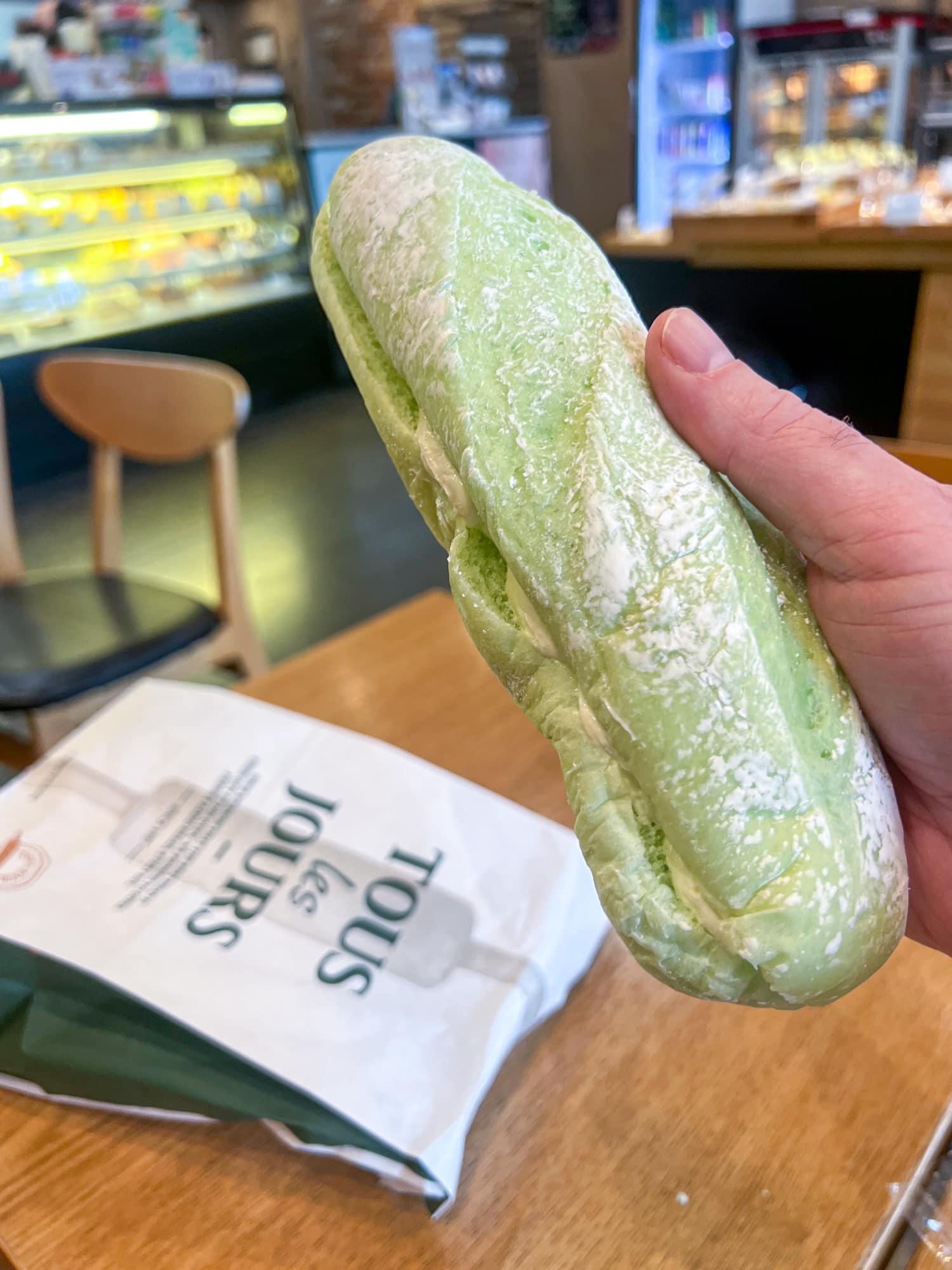 12. Tous les Jours
Hot off my discovery of 85C Bakery Cafe in North Austin, I prioritized visiting Tous les Jours, an international French-Asian bakery chain.
They're known for their soft bread. I tried the green honeydew melon, shaped like a French baguette but much softer. The cream filling added some sweetness to this tasty pastry.
Other exciting options include milk cream bread, red bean bread, taro buttercream bread, and purple sweet potato loaf.
Various danishes, croissants, fruit pastries, and donuts also fill the display shelves, and like 85C Bakery Cafe, trays and tongs are available to help you shop.
6808 N Lamar Blvd B-115, Austin, TX, tljus.com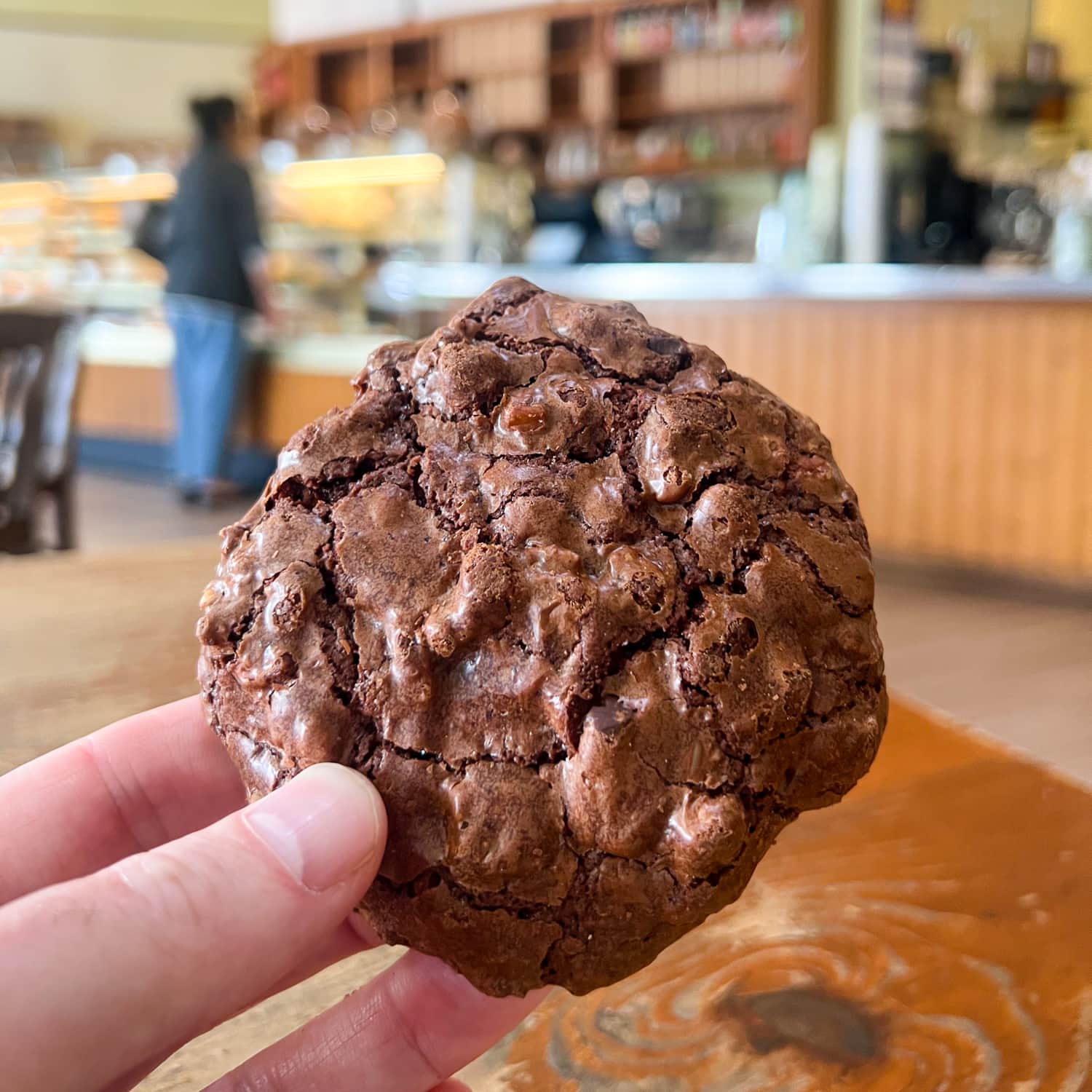 13. Upper Crust Bakery
Austin's Upper Crust Bakery has been a part of the community for more than 28 years.
Their casual cafe offers plenty of space to enjoy hot drinks and a pastry, or in my case, the Black Gold cookie, which had a brownie-like texture.
Whole cakes and pies are their specialties, though, and there are a lot to choose from, whether you're dropping by or placing a special order.
Chocolate Italian Cream
Black Forest
Carrot Cake
Red Velvet
Pecan (available all year)
Strawberry-Rhubarb (seasonal)
4508 Burnet Rd, Austin, TX, uppercrustbakery.com
***
Many of the best Austin bakeries are small, family-owned businesses that rely on their communities to succeed.
Let's all do our part to help by enjoying the wide variety of cookies, cakes, and pastries they offer.