The best beignets in New Orleans are sweet treats found throughout the French Quarter and beyond.
Traditional beignets (pronounced "ben-yays") are fluffy squares of fried dough blanketed with enough powdered sugar to guarantee a mess. They're the official state doughnut of Louisiana.
In recent years, savory beignets based on the French-inspired doughnuts have entered the conversation, often taking the form of small deep-fried spheres.
Wondering where to find the best beignets in New Orleans? You're not alone. My girlfriend Kel was keen to find out, so we made it our mission on a recent visit.
Where to Eat Beignets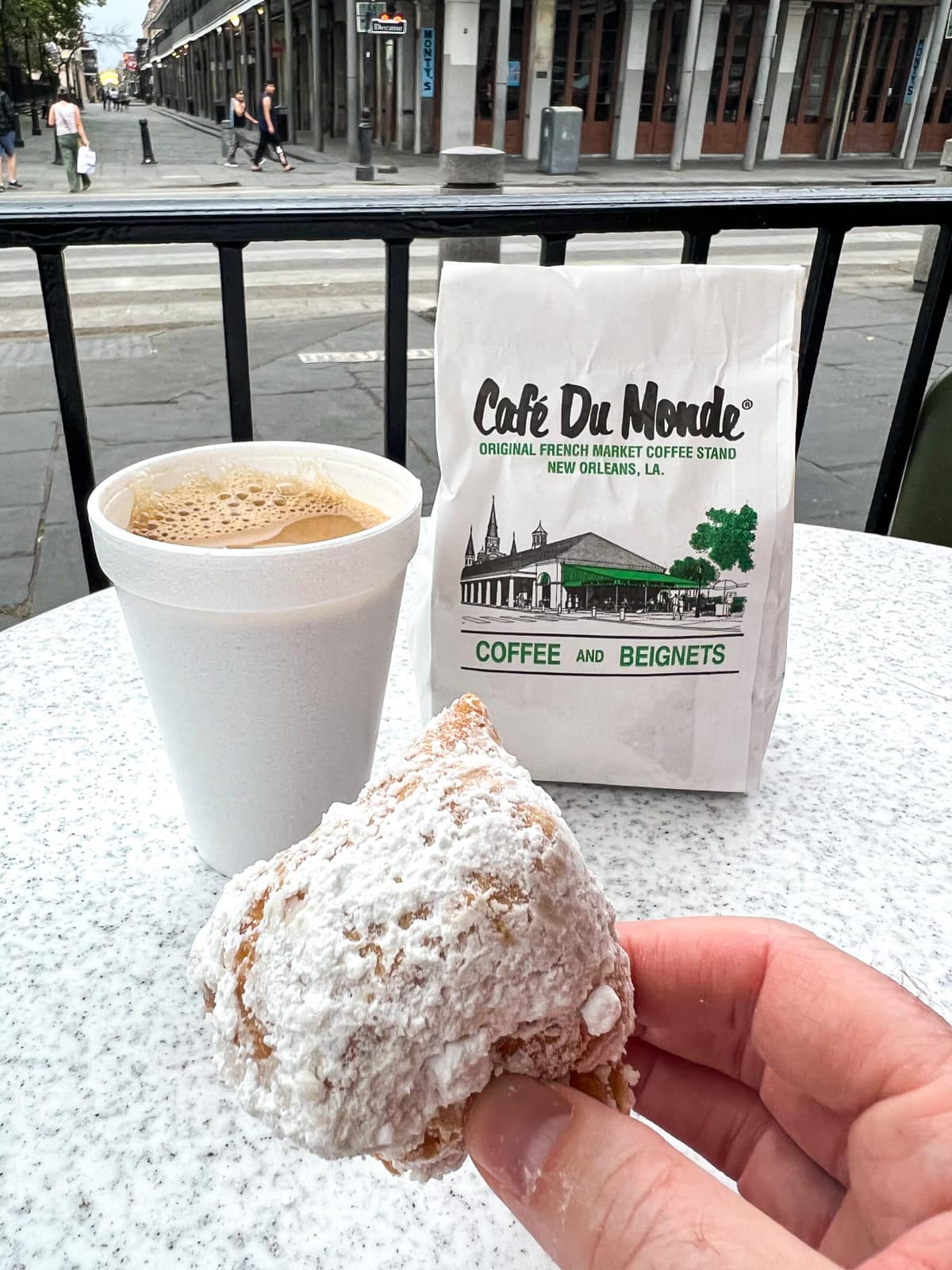 The search for New Orleans' best beignets began the moment after we checked into our Airbnb in the French Quarter.
Overcast skies and a tornado warning meant empty streets and businesses closing earlier than usual.
The famous Cafe du Monde off Jackson Square was not one of them, though the lines were much shorter than usual at this historic French Market coffee stand.
1. Cafe du Monde
Cafe du Monde is synonymous with beignets, and for a good reason. The coffee stand opened in 1862 and has served hot drinks and traditional beignets for 160 years.
The first time I tried beignets was at Cafe du Monde with my parents and brother. The place was packed, and powdered sugar was everywhere.
My Dad ordered four servings, and we received two towering plates of sweet fried dough, totaling a dozen beignets (three to an order).
I also tried my first cafe au lait at Cafe du Monde, a traditional dark roast coffee with chicory and equal parts hot milk.
Chicory coffee is made from chicory root, a caffeine-free alternative to coffee beans.
Digging into the sweet beignets with Kel brought back those memories and the time I ate them at Cafe du Monde's City Park location.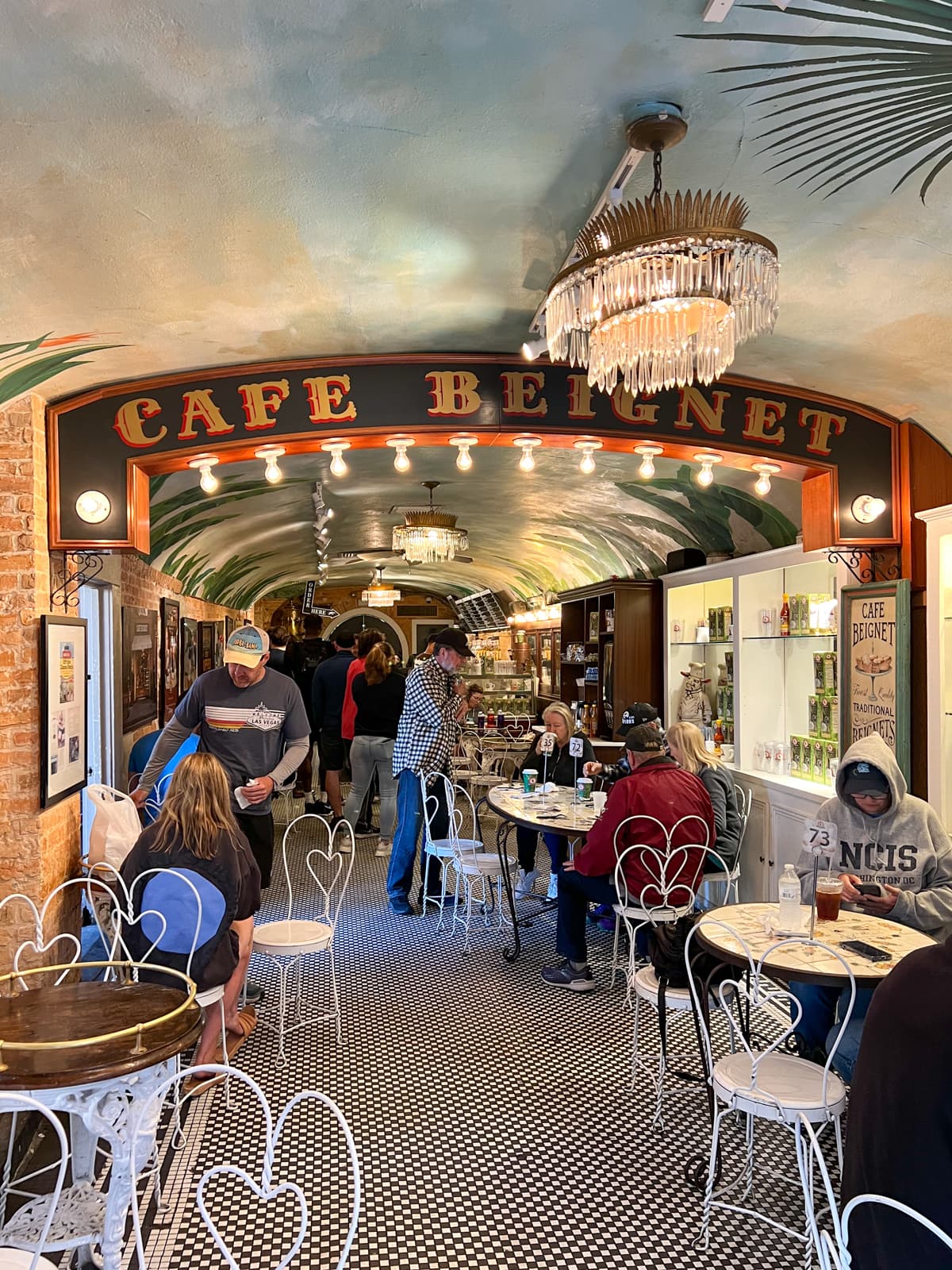 2. Cafe Beignet
Kel and I had been to Cafe du Monde before, so we knew what to expect. However, Cafe Beignet and the rest of the spots on this list were new to us.
We stopped by Cafe Beignet on Royal Street our first afternoon, but they'd closed early due to the weather, as had the location on Bourbon Street.
The following day, we were up early to try again. We arrived at the Royal Street cafe a little before 8 a.m. to find a line nearly out the front door.
The cafe is inside a converted carriage house dating back to the 1800s, explaining the uniquely-shaped ceiling and space.
While they serve a full breakfast and lunch menu, including pecan waffles, crawfish and grits, and jambalaya, we were focused on the fresh handmade beignets.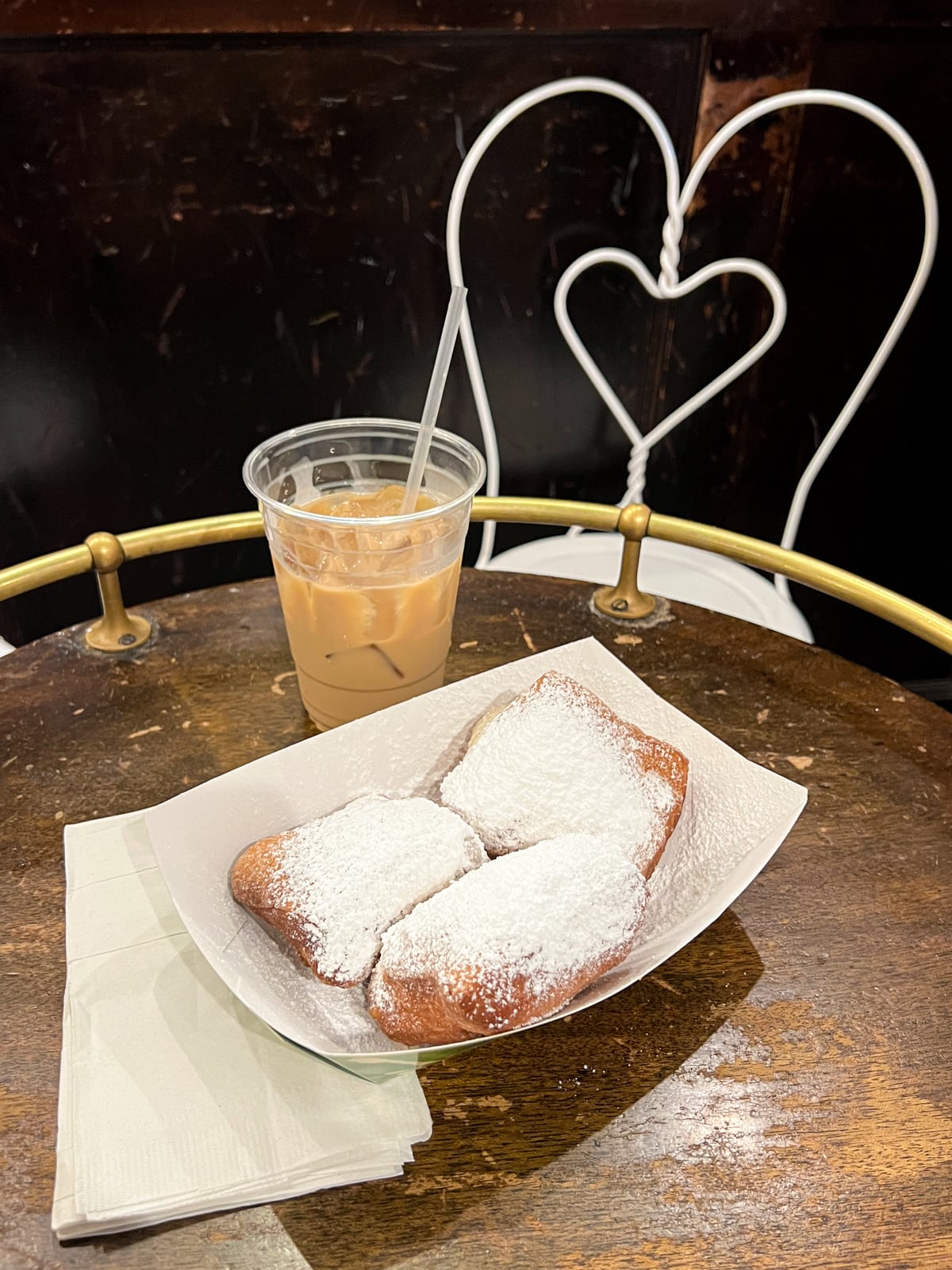 Like Cafe du Monde, they were served three to an order and blanketed with powdered sugar. I got an iced cafe au lait to wash them down this time.
Kel and I agreed that Cafe Beignets' fried dough was better than Cafe du Monde's the day before, though I think the latter suffered from being served in a to-go bag.
In addition to serving some of the best beignets in New Orleans, we also liked the Royal Street location's ambiance.
Beyond Royal and Bourbon streets, Cafe Beignet also has cafes on Decatur Street and Canal Street.
Related: Malasadas at Leonard's Bakery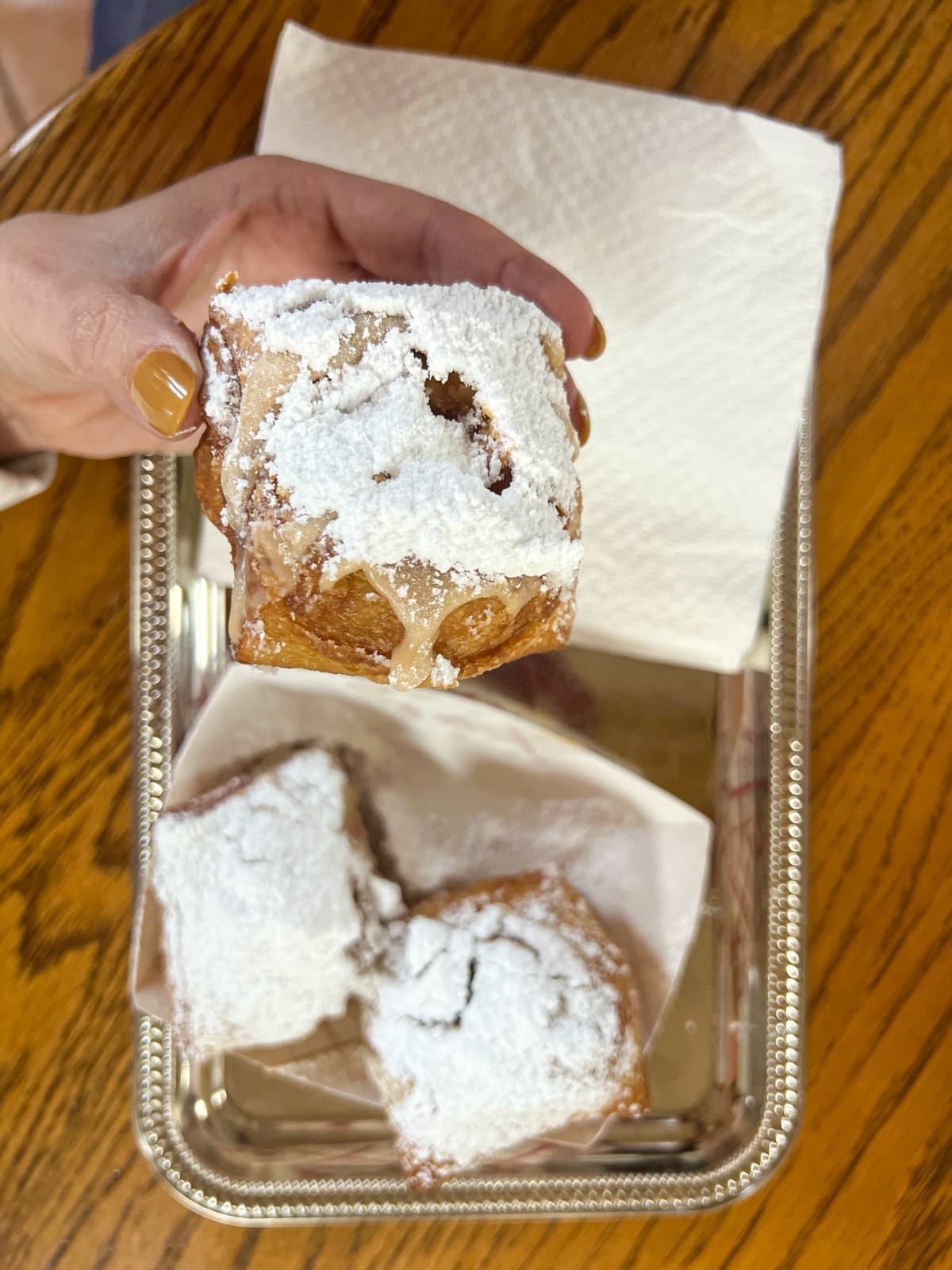 3. Loretta's Authentic Pralines
Next on our list of the best beignets in New Orleans is Loretta's Authentic Pralines, founded more than 35 years ago by Loretta Harrison.
Loretta was the first African American woman to own a praline company in the Big Easy and became known as "the Praline Queen."
We dropped by Loretta's North Rampart Street shop to try her praline beignets, which are served three to an order.
As Kel noticed, they benefit from both a praline filling and a praline icing on top, dusted with powdered sugar per tradition.
I almost always prefer a filled doughnut to one without filling, and the same now goes for beignets. Loretta took traditional beignets to the next level.
Additional menu options include chocolate beignets, crab beignets, and even burger beignets.
Sadly, Loretta passed away in February 2022. Her family will continue to operate the business in her honor.
Related: Fika - A Swedish Coffee Tradition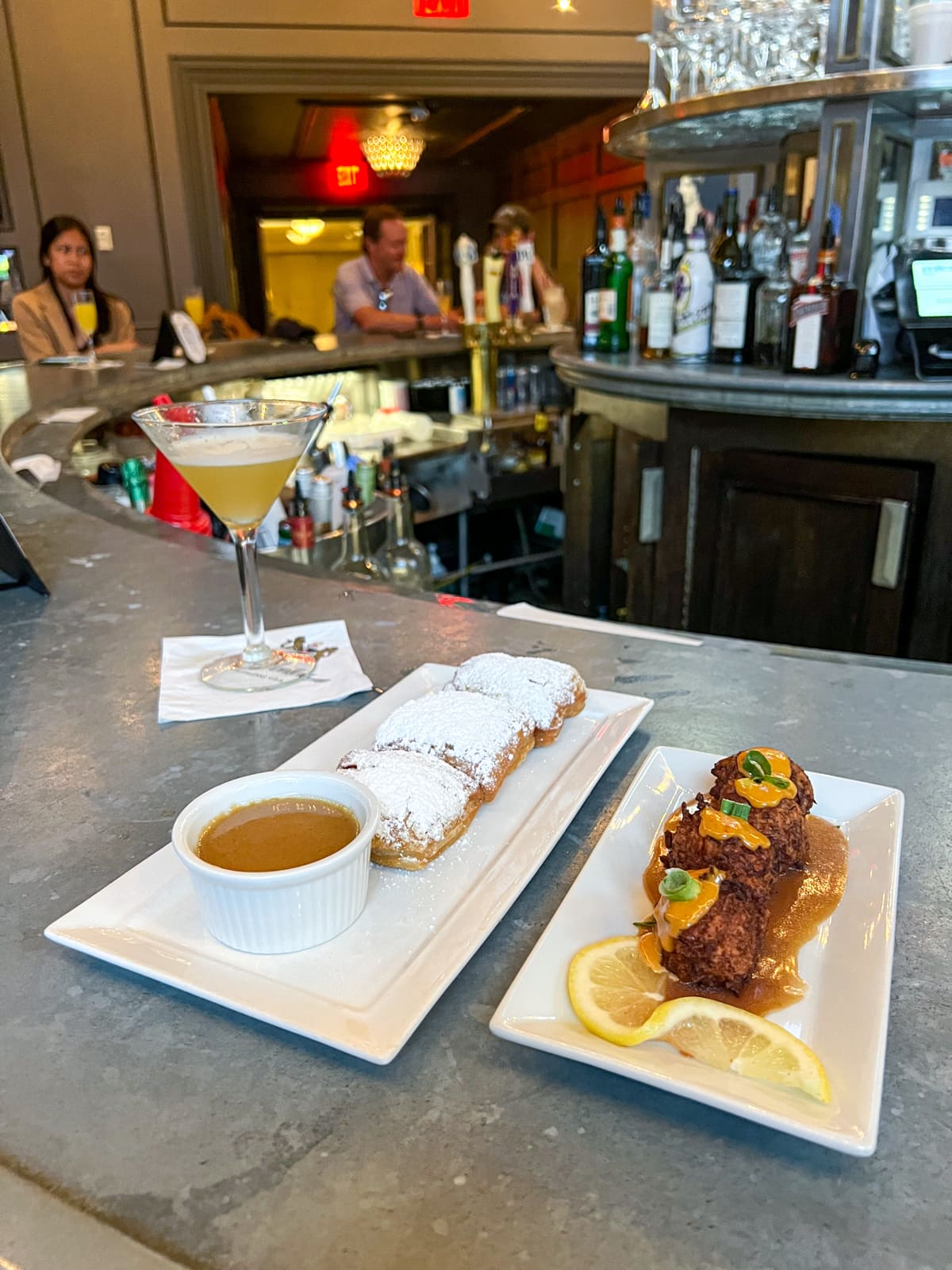 4. Criollo Restaurant
A mission within a mission played out when Kel and I arrived early at The Carousel Bar & Lounge at the Hotel Monteleone.
I'd wanted to not only see the rotating bar but sit at it for years while Kel had discovered the adjacent restaurant's beignets were available on the menu.
As we slowly spun around the room, we got drinks from the Carousel Bar and placed an order of beignets from Criollo Restaurant:
Traditional French Market beignets with praline sauce
Blue crab and corn beignets with Cajun brown butter and Remoulade sauce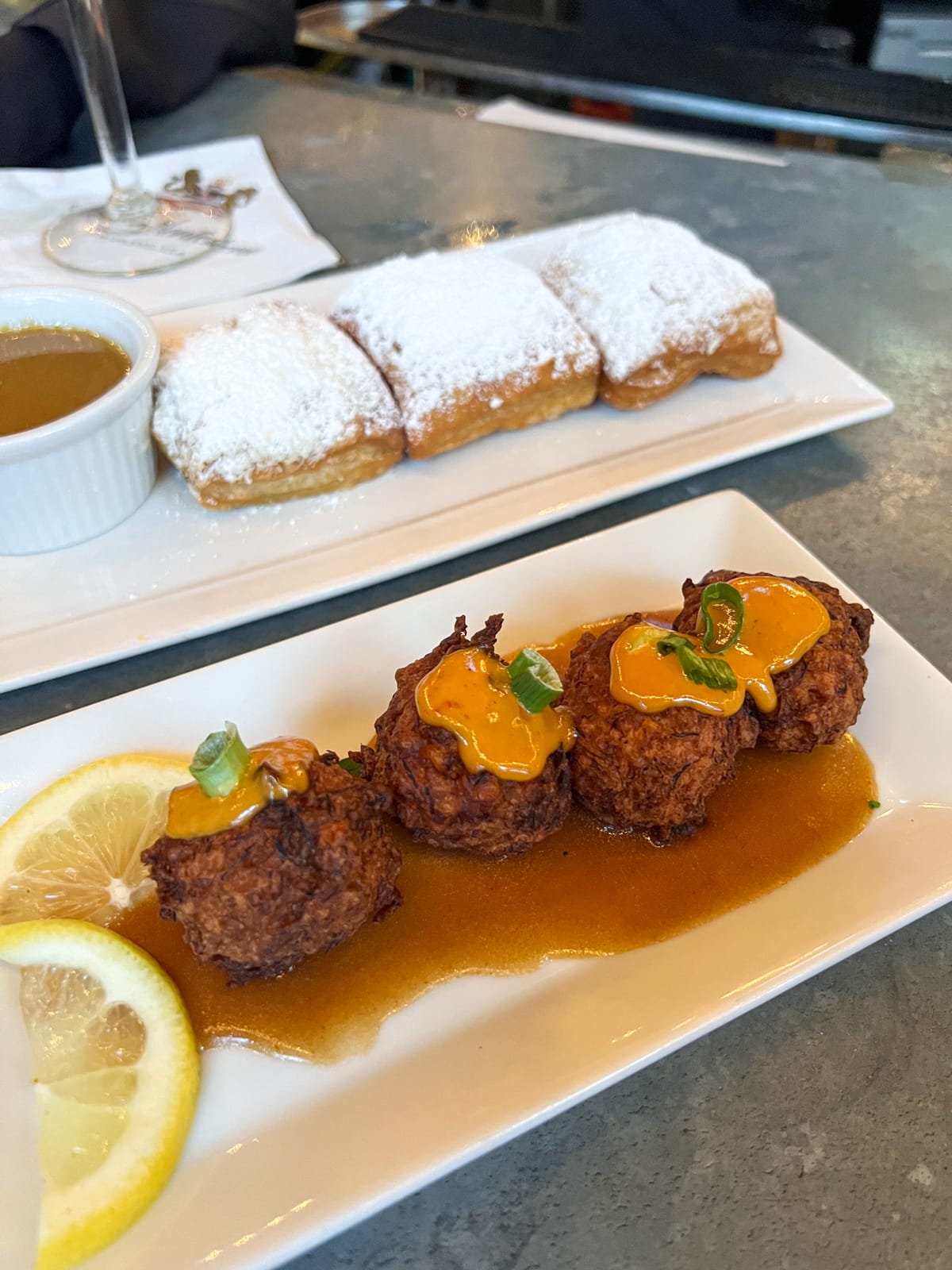 The traditional beignets were fine, on par with Cafe du Monde and Cafe Beignet, though the praline sauce for dipping was a nice added touch.
The hot beignets filled with crab and corn were nicely presented and pretty decadent. I felt high on the hog, sipping a cold brew Irish coffee while snacking on some of New Orleans' best beignets.
If you can get a seat at the Carousel Bar, I highly recommend taking it for a spin or two (I clocked it at about one rotation every 30 minutes). While you're there, try the beignets!
Related: Best Restaurants in New Orleans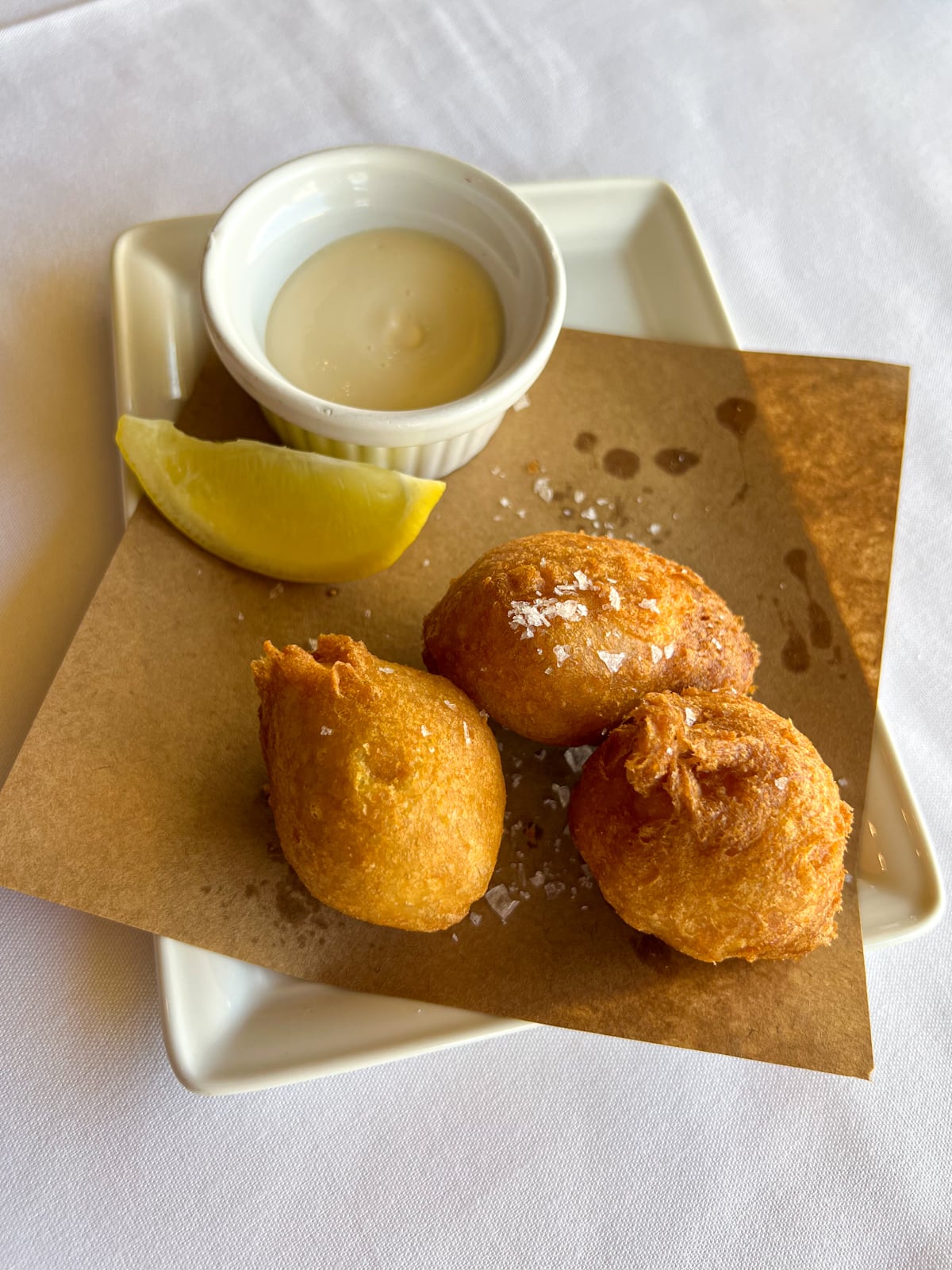 5. La Petite Grocery
Last but certainly not least, we're leaving the French Quarter for La Petite Grocery on Magazine Street, home to 2016 James Beard Award-winning chef Justin Devillier.
Chef Devillier is known for taking classic Lousiana dishes and adding a twist. One of the restaurant's signature dishes is blue crab beignets with a malt vinegar aioli.
Served three to an order, these crispy golden balls of joy are sprinkled with sea salt and served with a wedge of lemon.
The fancy beignets have a light and delicate crust, which gives way to a warm filling of blue crab too delicious not to mention here.
***
There are certainly more than five places to find beignets in New Orleans; however, I hope this list of top spots gets you started.