The opportunity to celebrate my birthday at Geranium, one of the best restaurants in Copenhagen, was a once-in-a-lifetime experience.
My time in the Danish capital was part of a three-week trip to Scandinavia for the Adventure Travel World Summit.
Following two weeks in Sweden, I hopped on a high-speed train to Denmark and began exploring the best bakeries in Copenhagen.
To warm up for the experience at Geranium, which has three Michelin stars, I had a terrific dinner at one-star Relae the night before.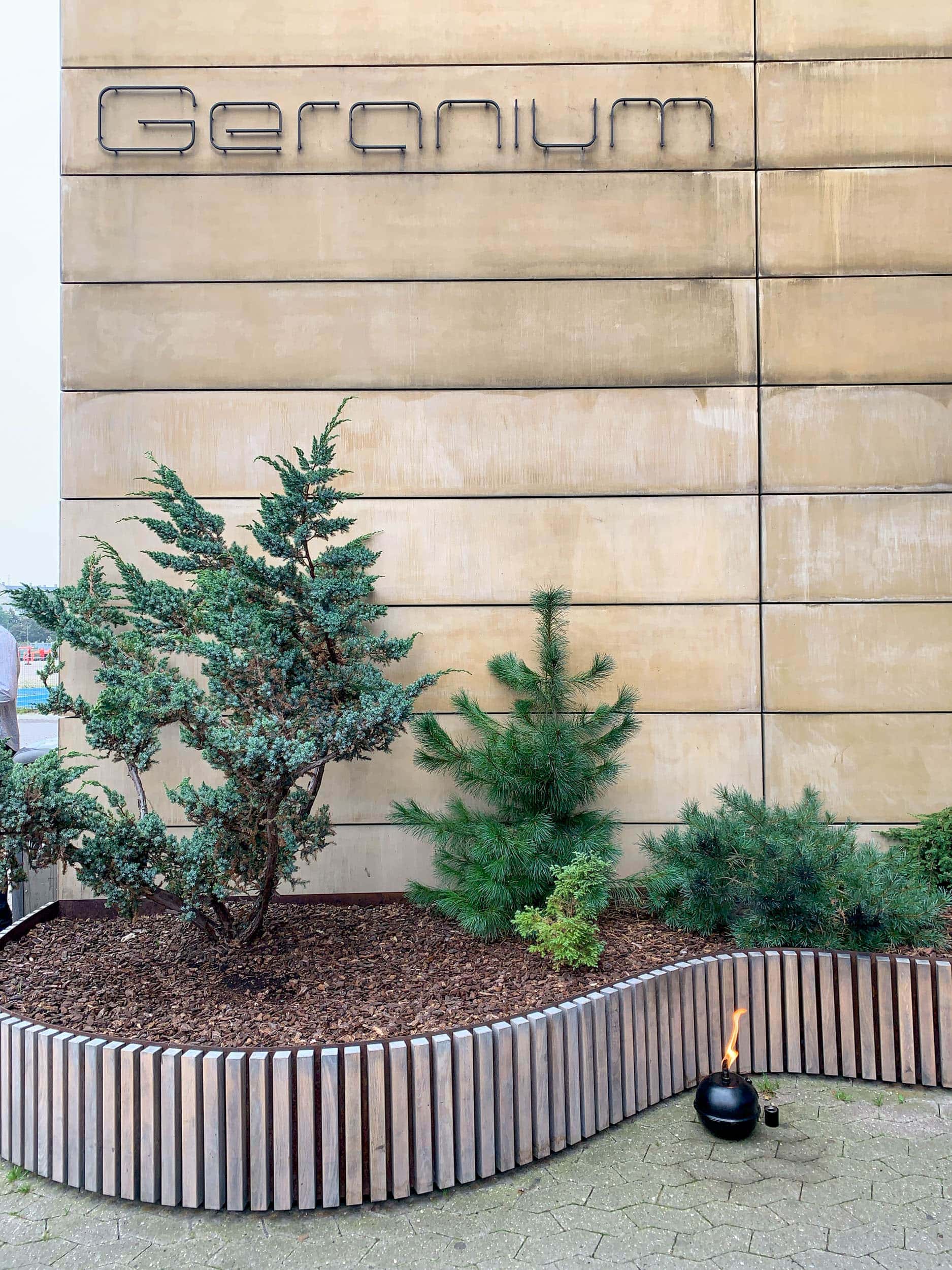 On September 25, with high expectations and a healthy appetite, I arrived via Uber at the restaurant ranked #5 on the World's 50 Best Restaurants list for 2019.
A few minutes before noon, I took the non-descript elevator to Danish chef Rasmus Kofoed's much-lauded Geranium restaurant.
Geranium occupies the northern corner on the 8th floor of Telia Parken, the national soccer stadium for FC Copenhagen and the Danish national team.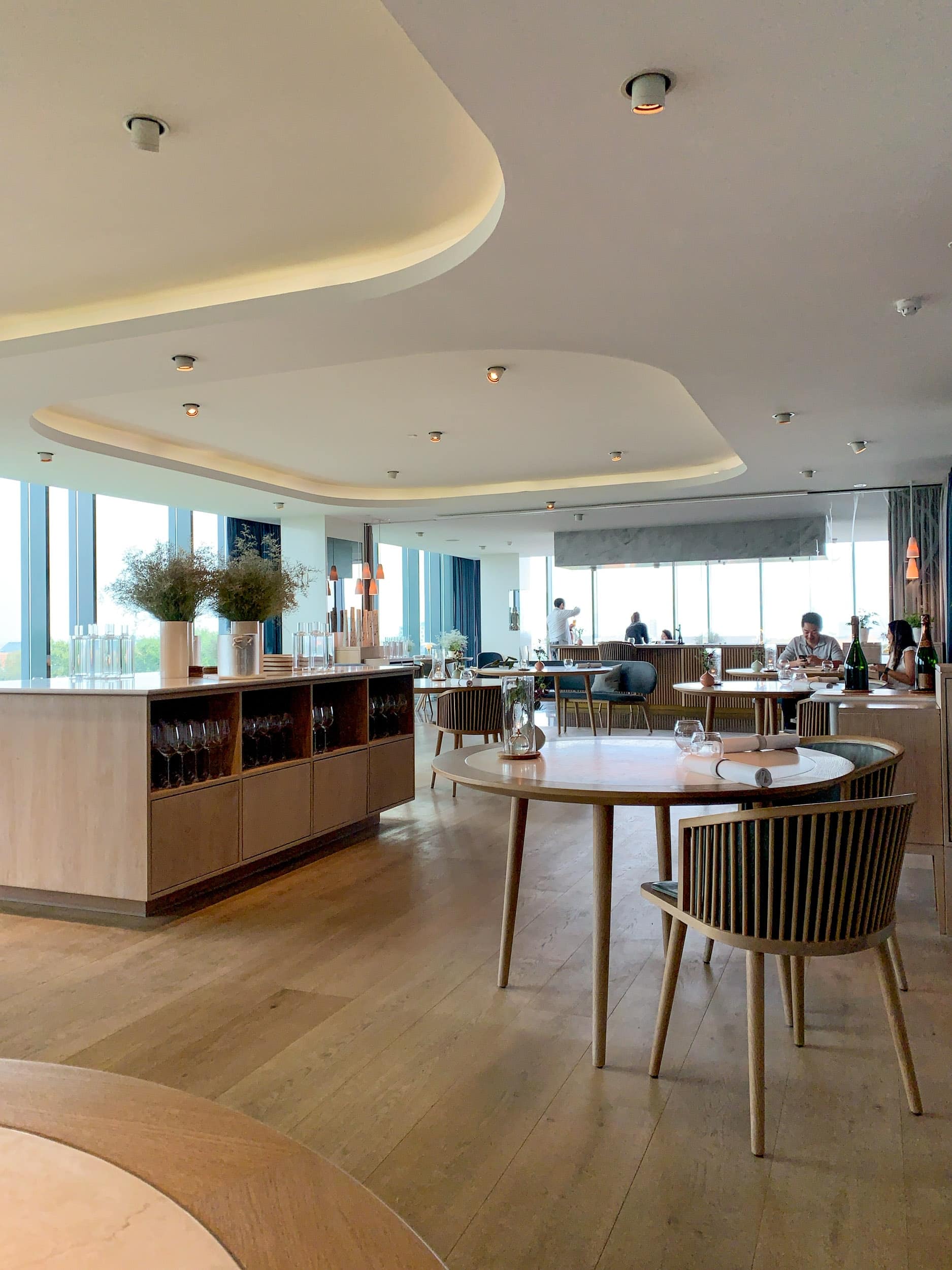 The main dining room looks out over a green space called Fælledparken (Common Gardens).
Later, on a restaurant tour, I saw that one prep kitchen had an inside view of the stadium's soccer pitch.
The dining room is modern, spacious, and brightly lit (even on an overcast day), thanks to floor-to-ceiling windows.
Most tables line the perimeter, with a few occupying spaces in the center.
Related: World's Best Restaurants: 15 Fine Dining Experiences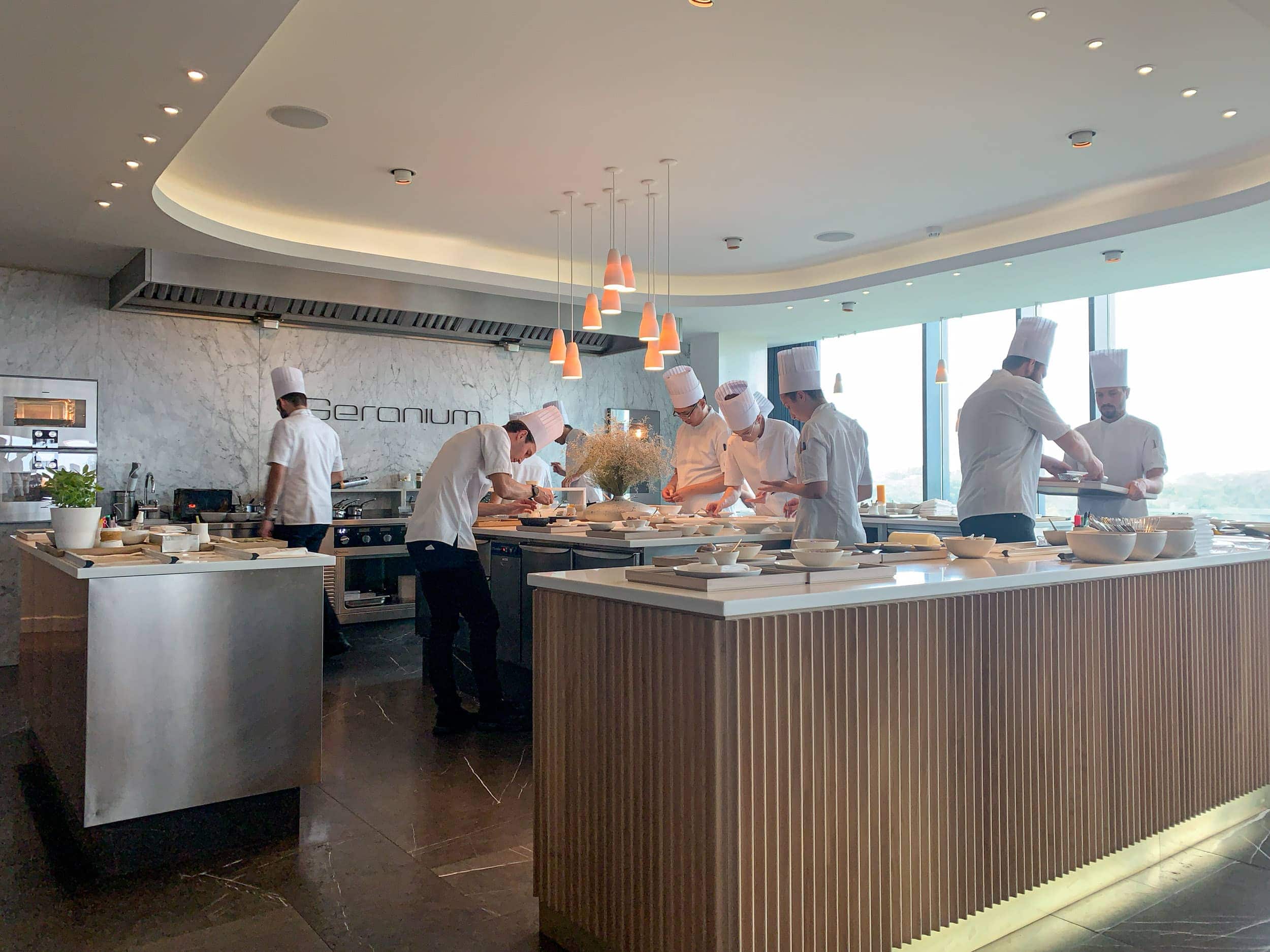 As one of the first guests for lunch that day, I was shown to my table near the open kitchen.
The spot was close to the action and gave me a full 180-degree view of the room.
To my left, I could watch the chefs at work. Looking forward and to the right, I could see most of the other diners that afternoon.
At 12:02 p.m., I was presented with a moist towel to cleanse my hands.
A handsome leather folder with a gold letter cutter and a paper envelope with a red wax stamp followed.
If I wanted to know the day's menu, I could slide metal through the paper to reveal all. And that's what I did, as I was excited to share the meal live on Instagram.
The Autumn Universe
The first five courses on the 2019 Autumn Universe tasting menu were labeled appetizers.
Appetizers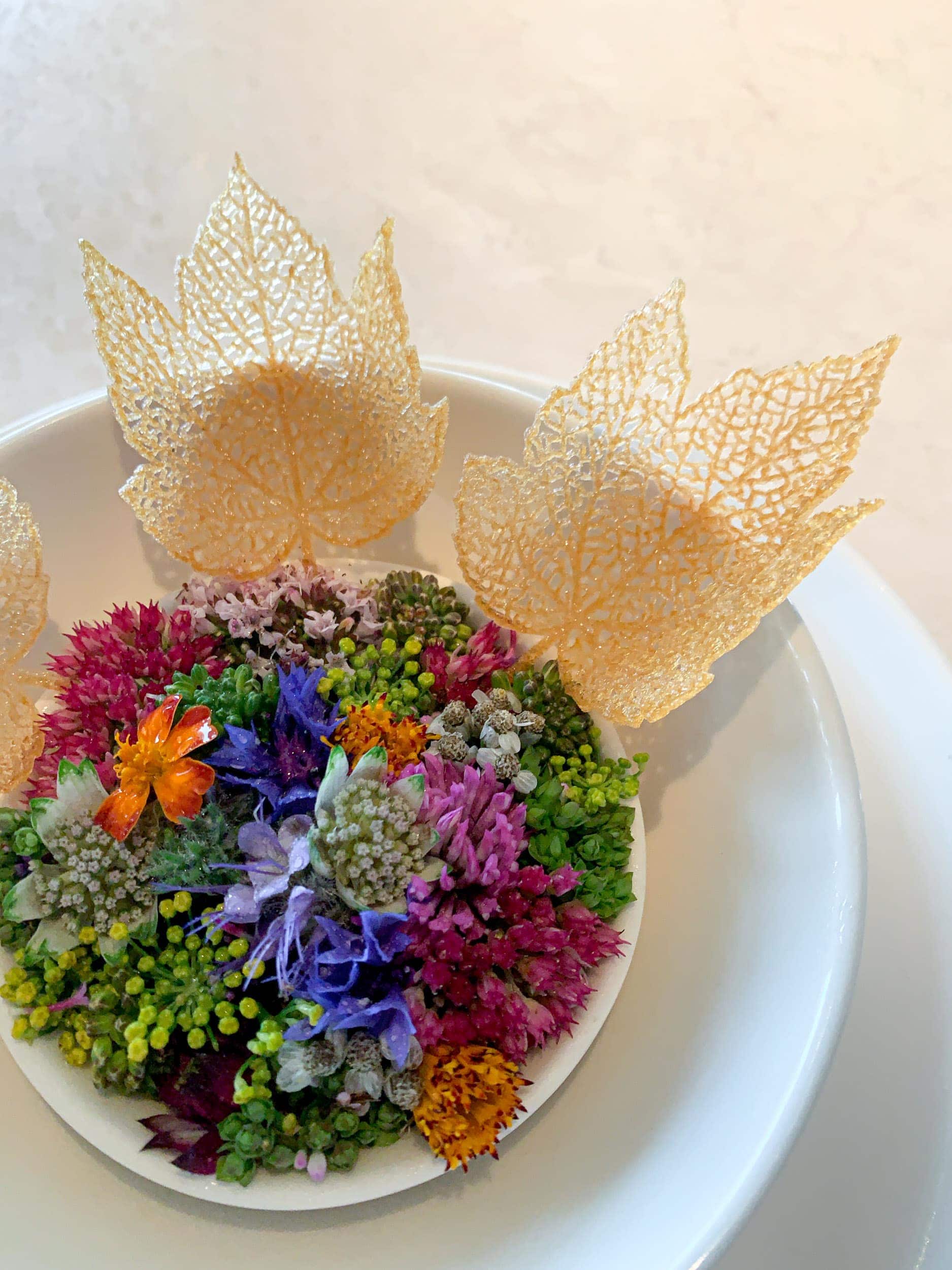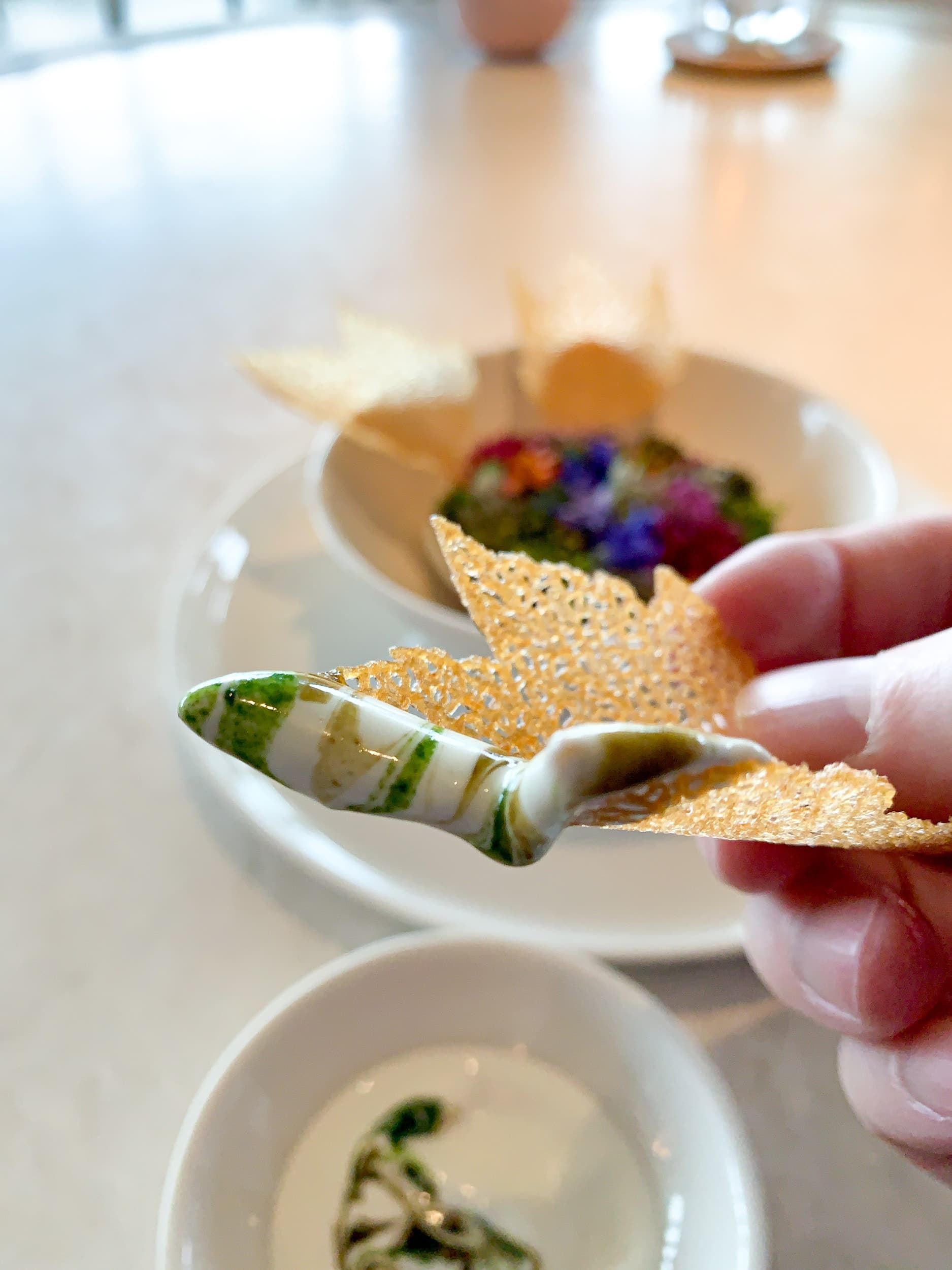 To begin the multi-course meal at Geranium, crispy Jerusalem artichoke leaves were presented with a pretty walnut dipping sauce.
The three delicate leaves set the stage for a lunch where attention to detail and execution was the rule, not the exception.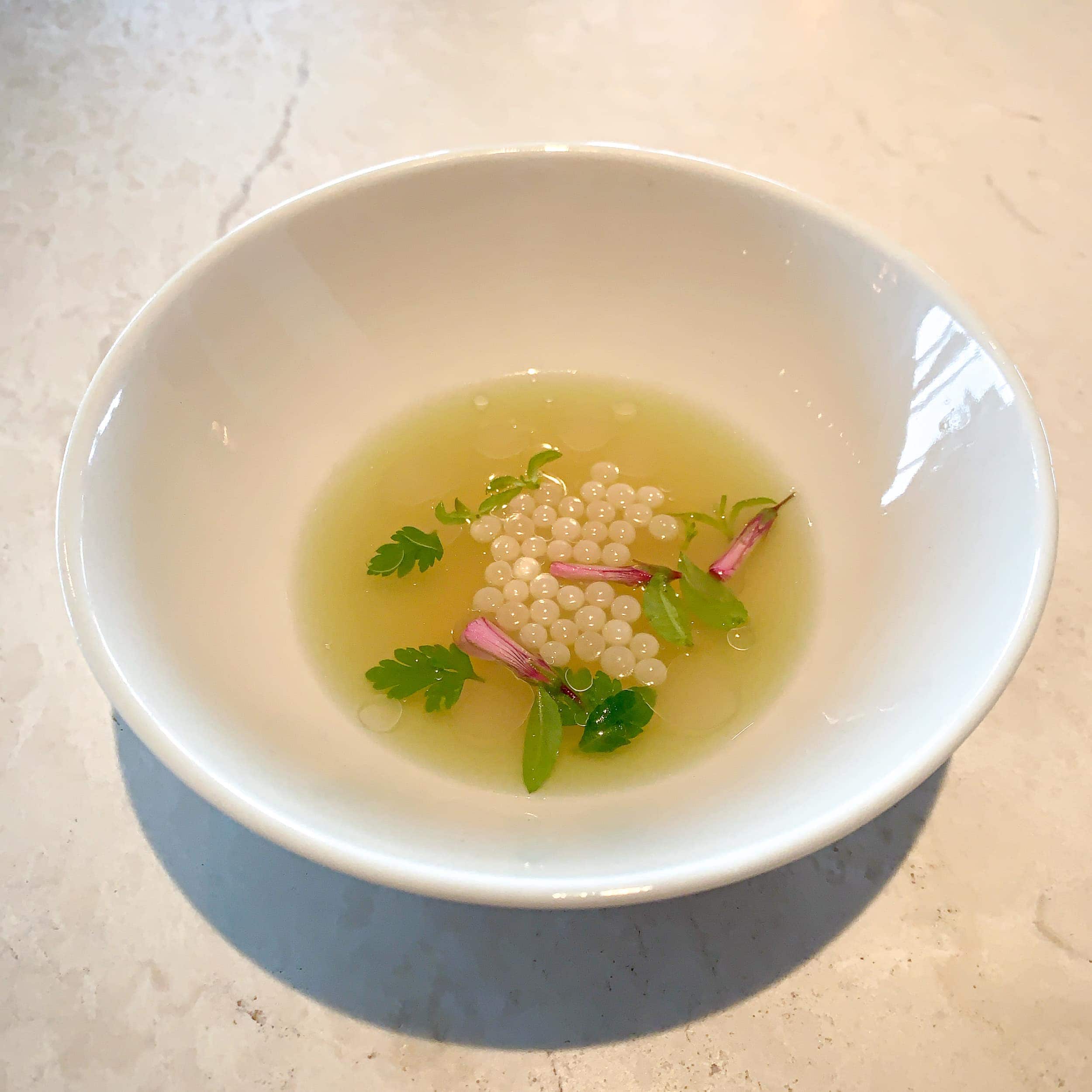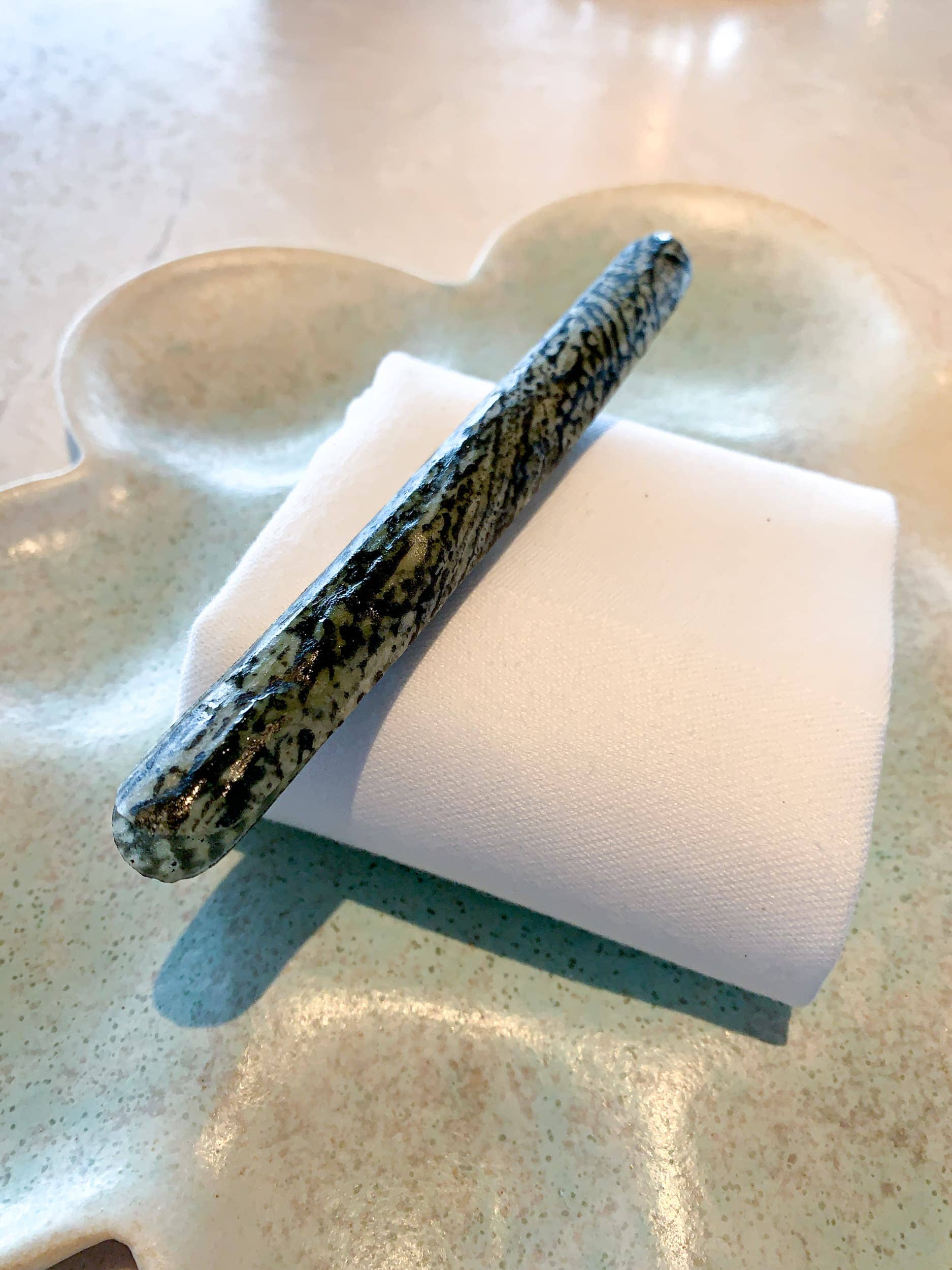 The third appetizer was a single faux razor clam filled with minerals and sour cream.
The shell, made of pastry dough, was edible, and the custom plate it was presented on was just as fascinating as the food.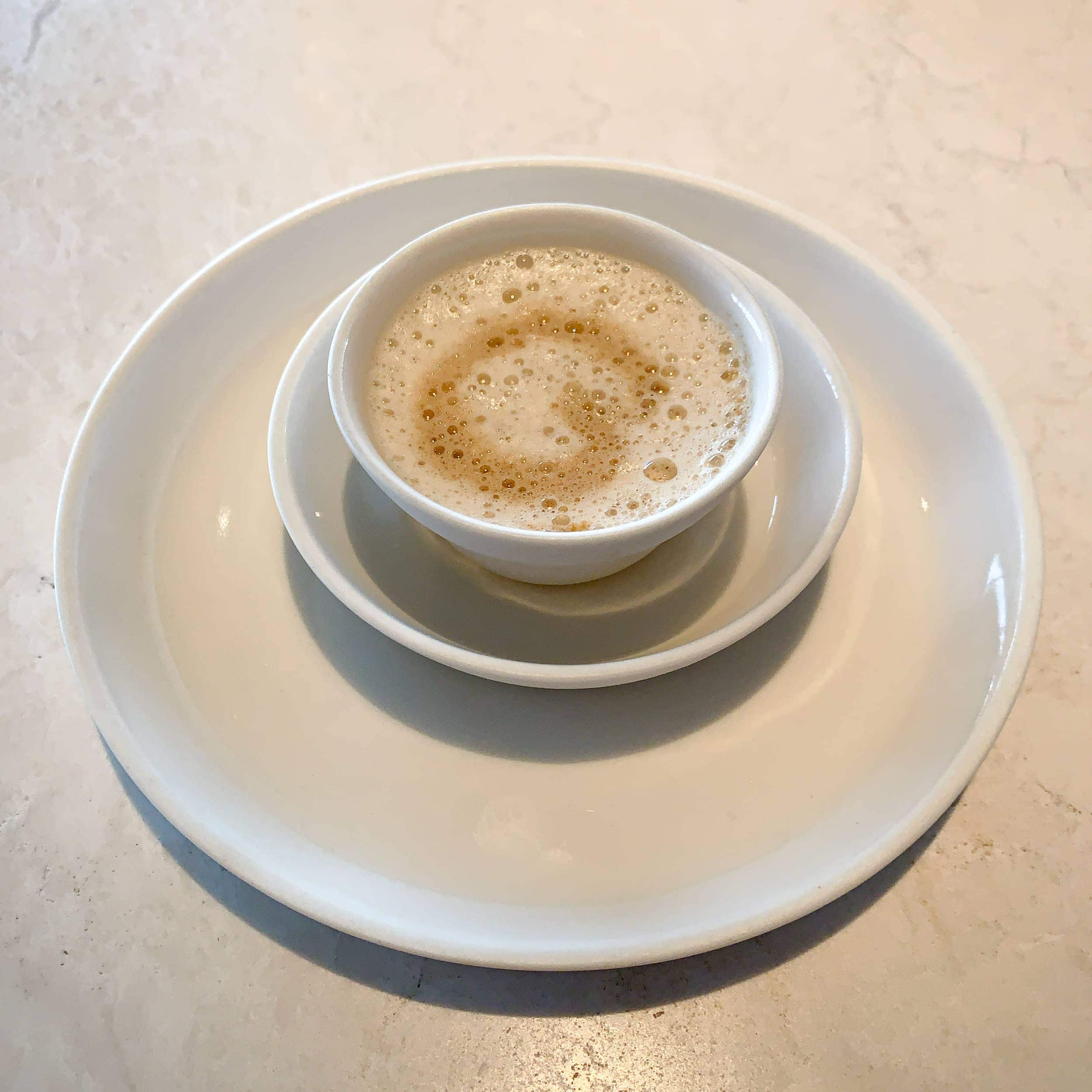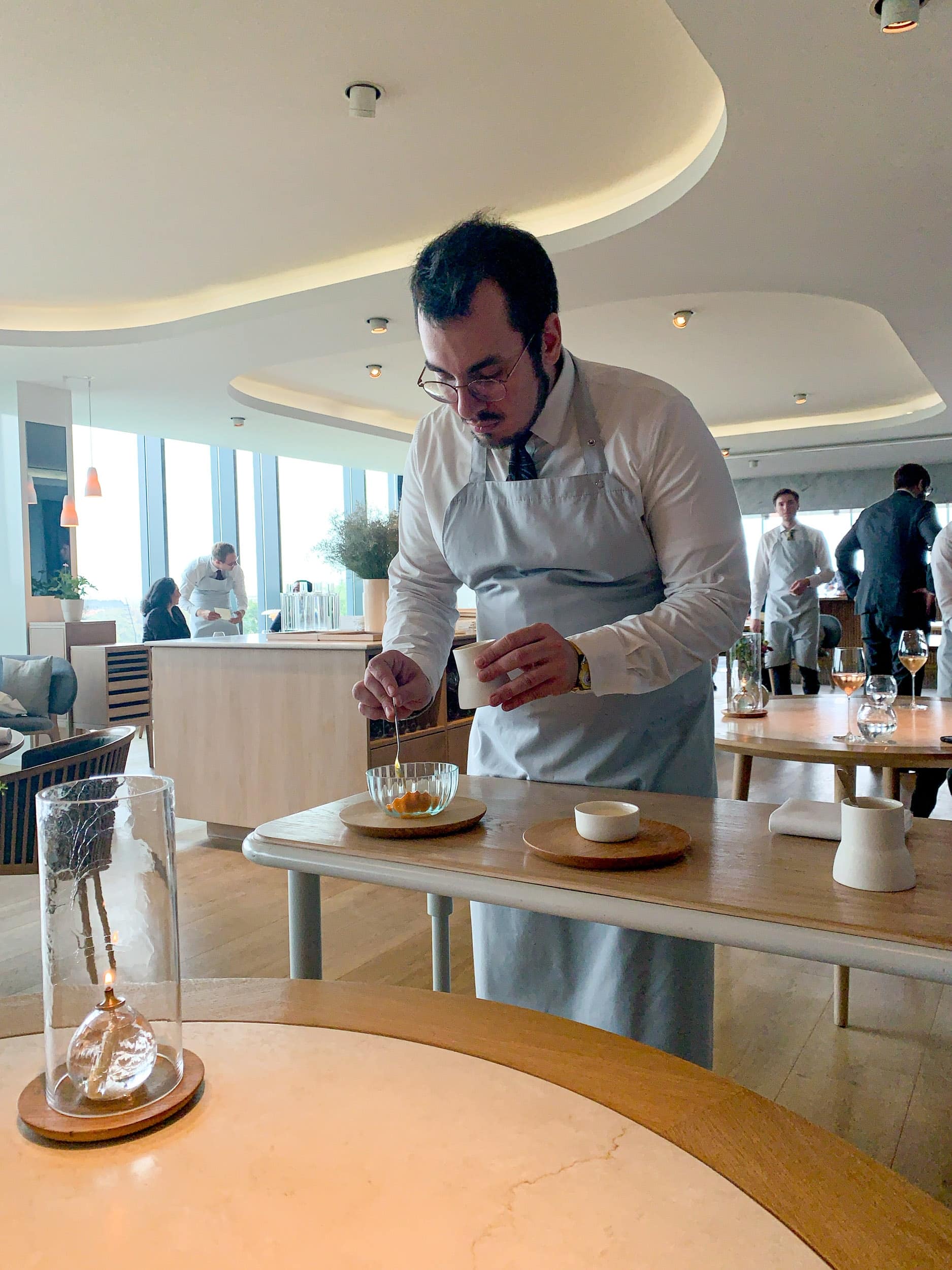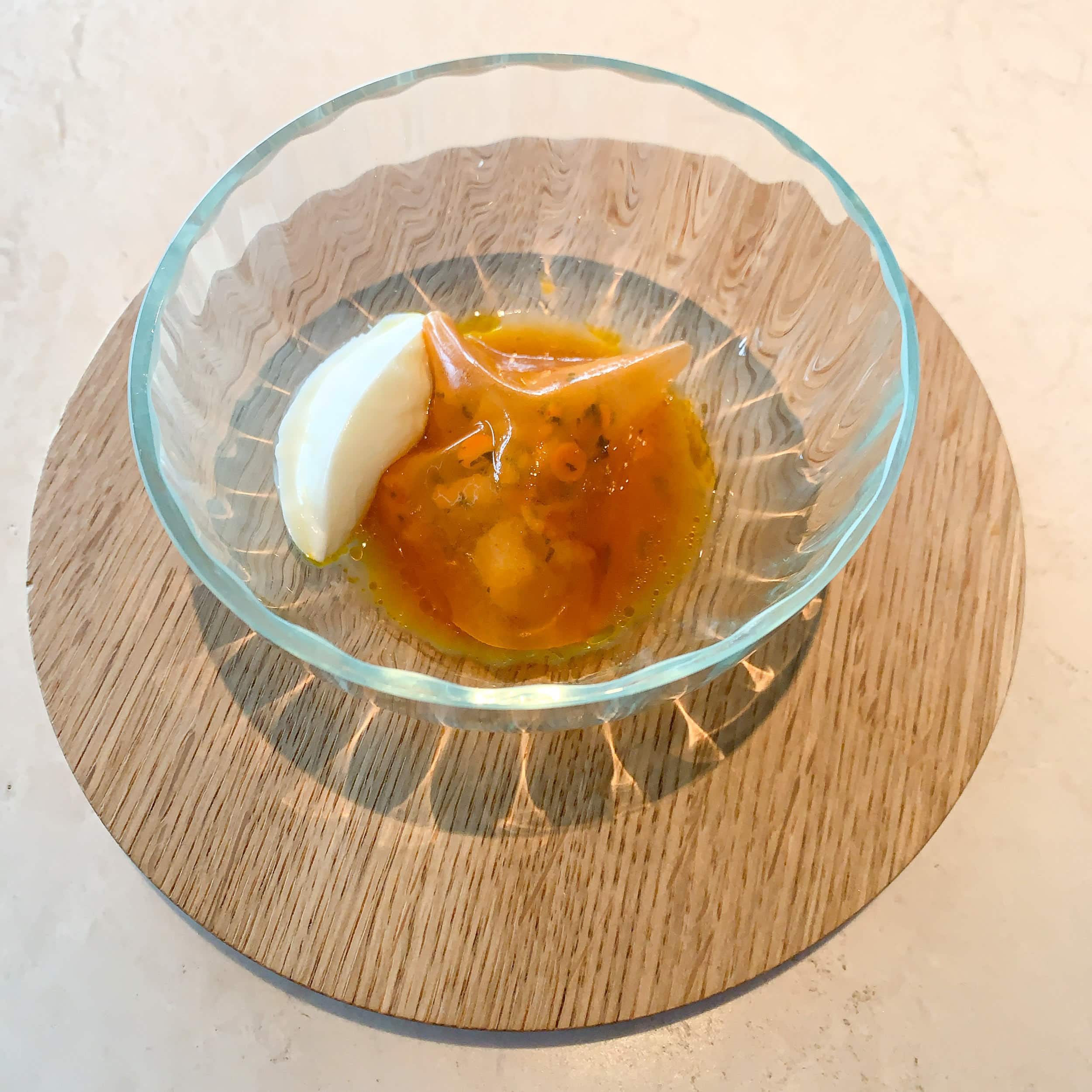 The fifth and final appetizer was prepared tableside by my affable Greek waiter -- lobster and milky cheese with juice from fermented carrots and sea buckthorn.
The ratio of restaurant staff to diners at Geranium is 1:1, meaning there is one staff member for every customer.
In addition to the waiter assigned to my table, I was served by various chefs and other staff.
The well-orchestrated service exemplified teamwork and appeared effortless throughout my three-hour lunch.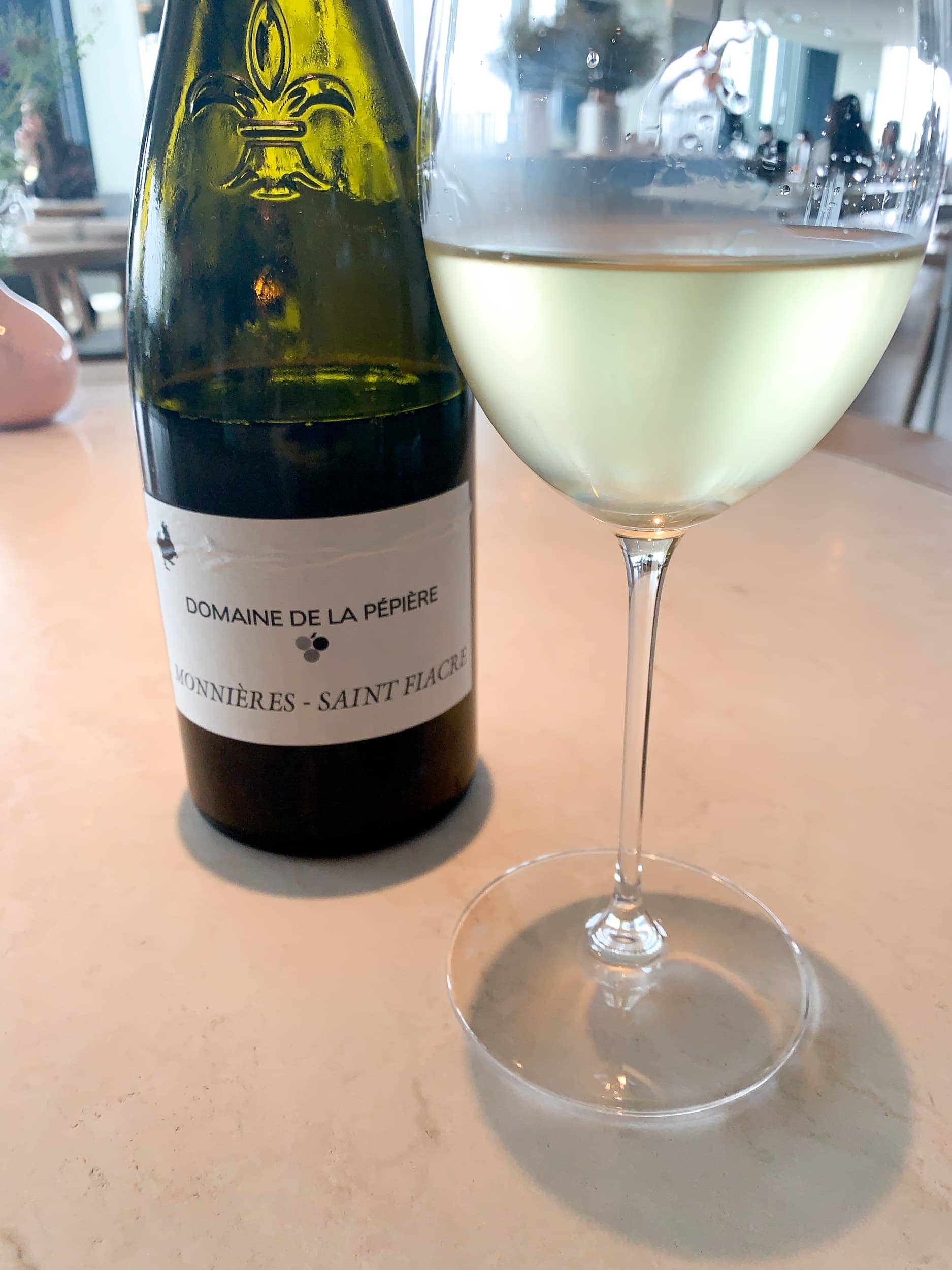 Geranium has an award-winning wine program led by Søren Ledet, an advanced sommelier who is also a co-owner of Geranium along with chef Rasmus Kofoed.
While I skipped the wine pairing, I couldn't help but indulge in one glass to enjoy with the next few courses.
I left the decision to the staff, who brought me a glass of 2013 Monnières - Saint Fiacre by Domaine de la Pépière, a pleasant French white wine from Brittany.
Dishes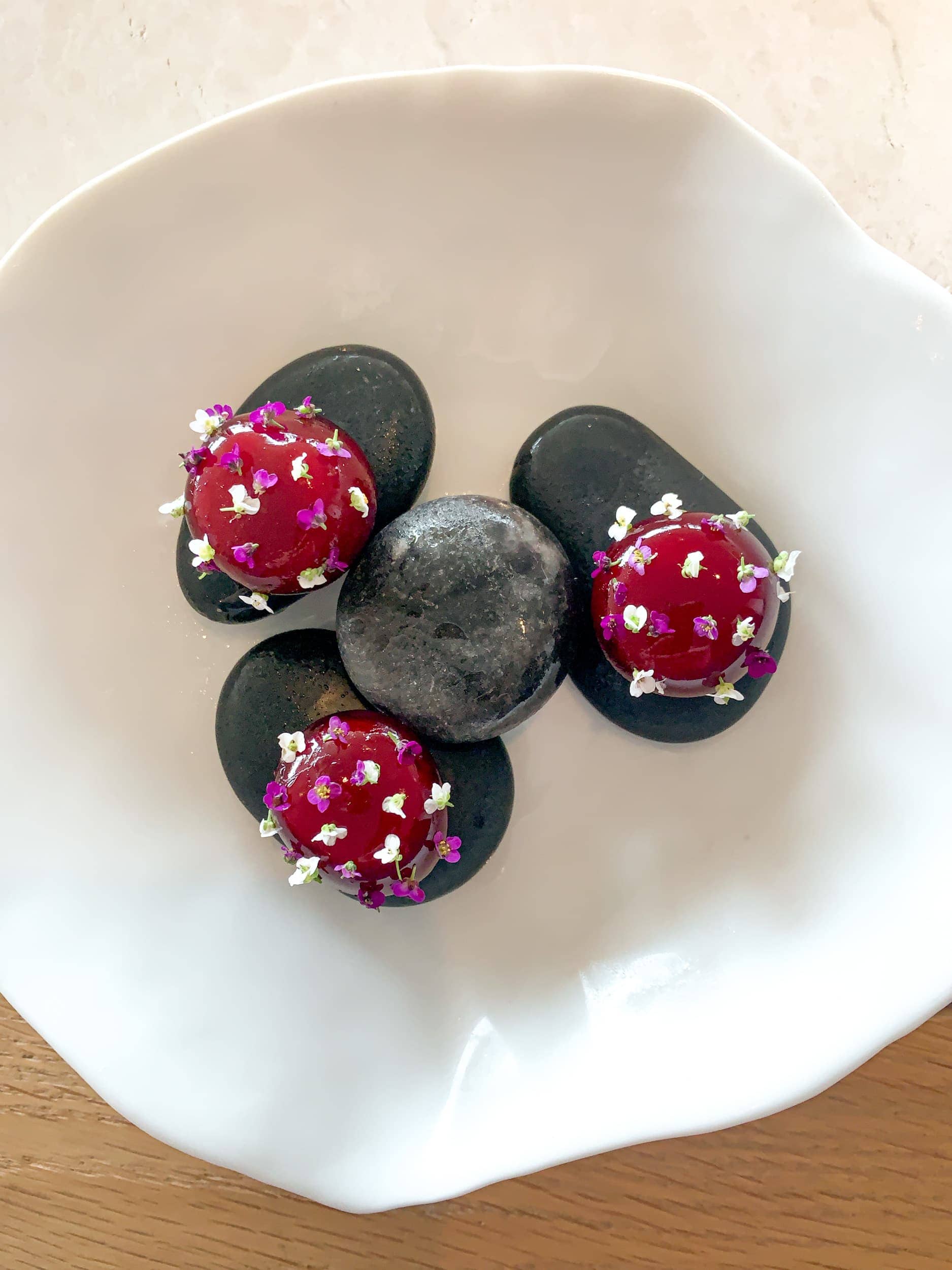 The first course following the appetizers was scallop "red stones" and horseradish.
This beautifully presented dish featured three flower-covered scallops on black rocks.
I love it when chefs use edible flowers; apparently, that's part of Kofoed's aesthetic because they were plentiful from this point in the menu.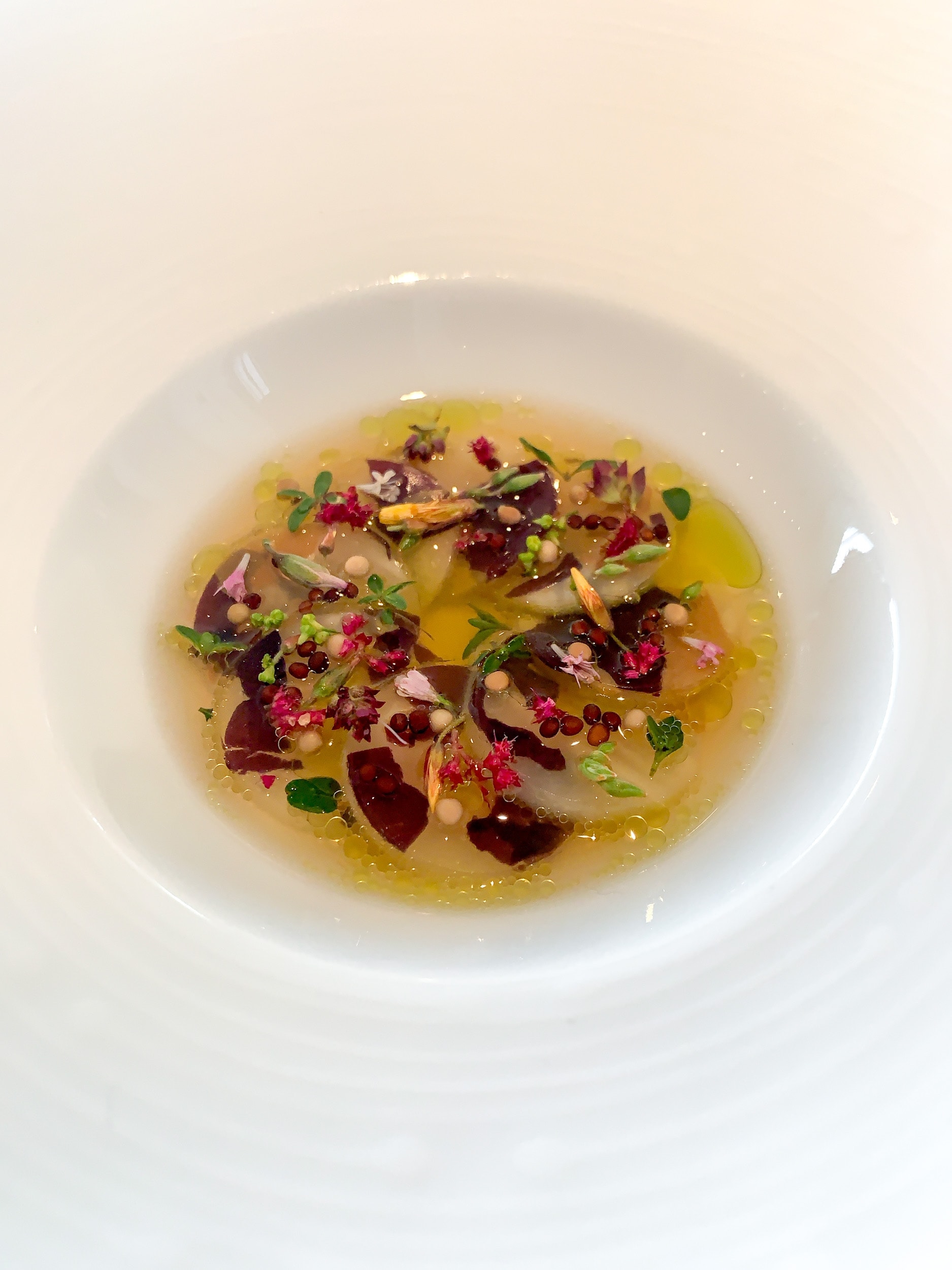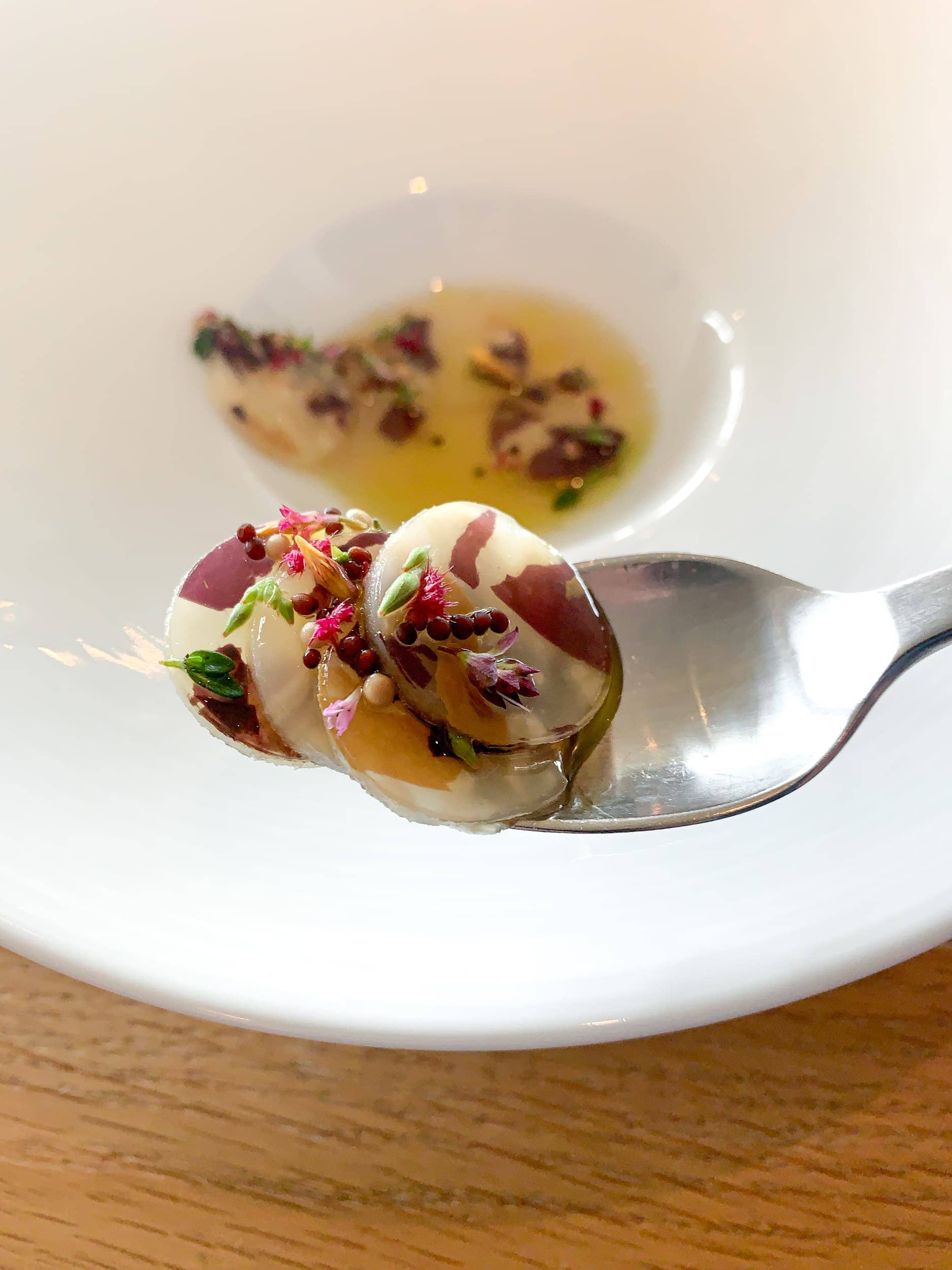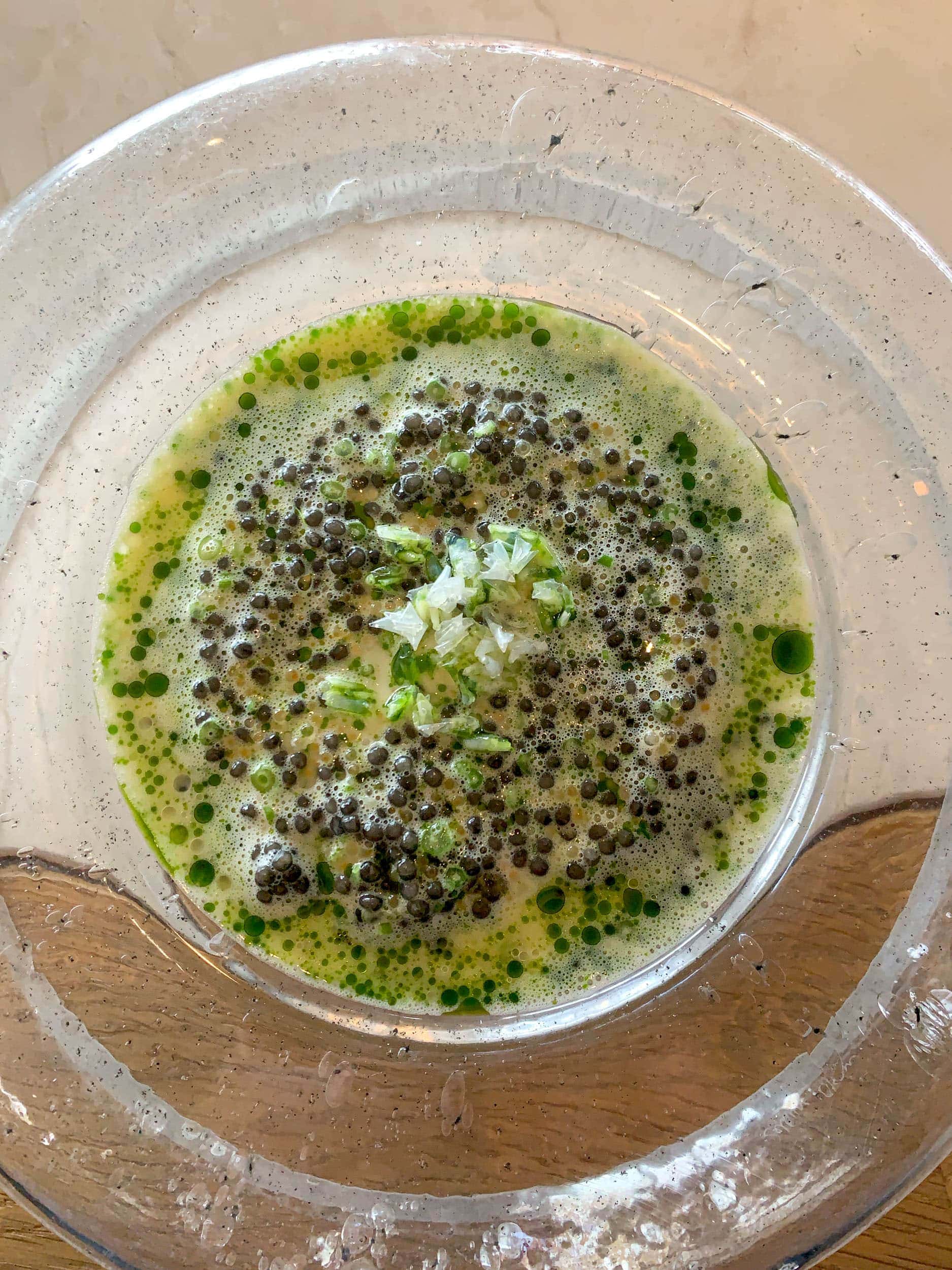 Geranium restaurant's signature "marbled" hake with caviar and buttermilk sauce was one of my favorite dishes of the day.
The round glass bowl was set down at the table with merely a sliver of white hake, upon which numerous spoonfuls of buttermilk sauce with caviar were poured.
The result was as artistic and colorful a fish presentation as I've ever seen.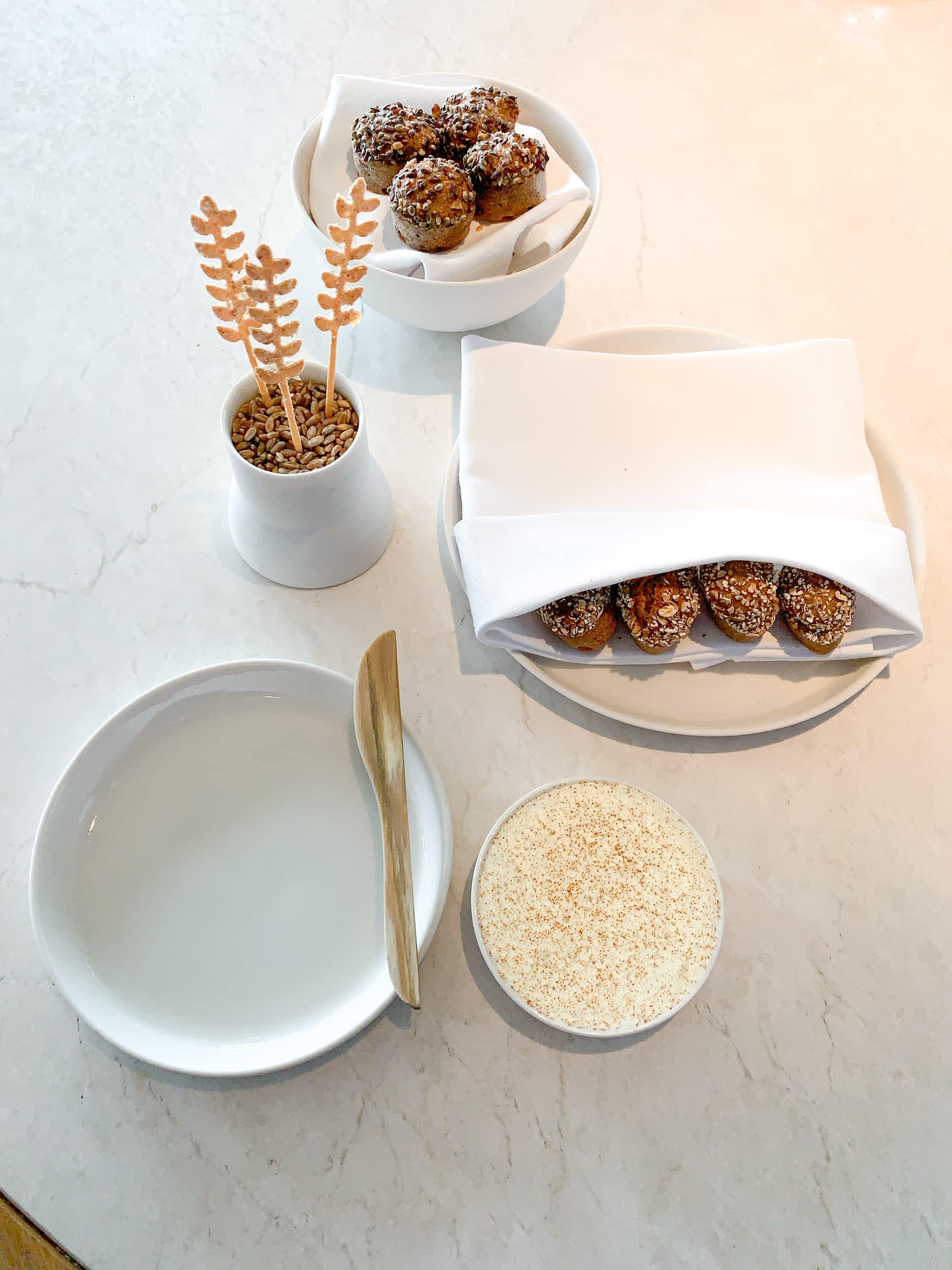 Interestingly, it wasn't until this point, almost halfway through the meal, that bread and butter were served.
I appreciated their thoughtful approach to ensuring customers aren't filling up on pieces of bread too soon. And it's a good thing, too, because I ate it all.
The butter was silky smooth and easily spreadable, making the experience all the better.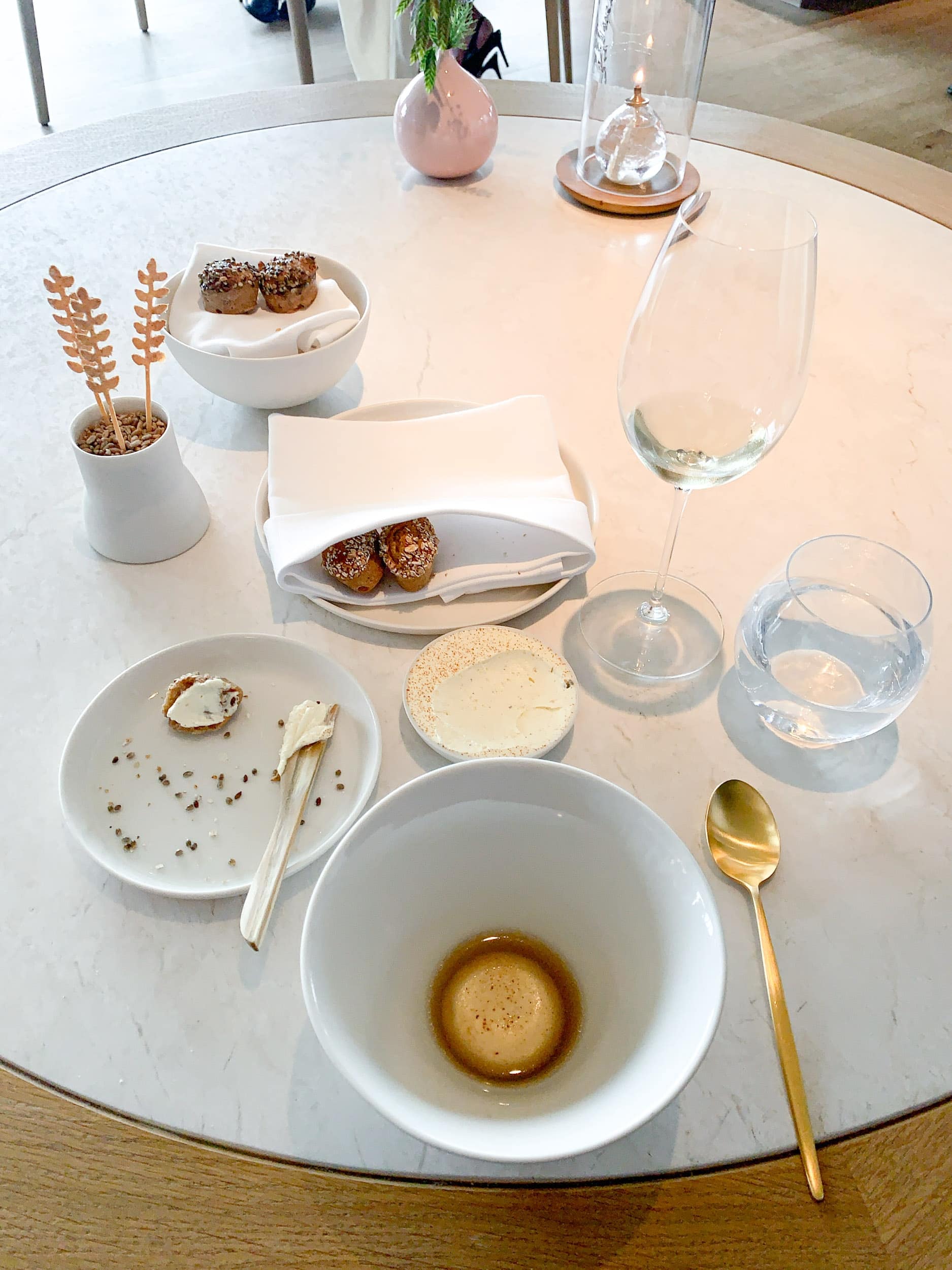 Before I could finish devouring the bread, a bowl of creamy trout with citrus herbs and fermented cauliflower was presented with a gold spoon.
I ate it in a few bites before finishing the bread and wine.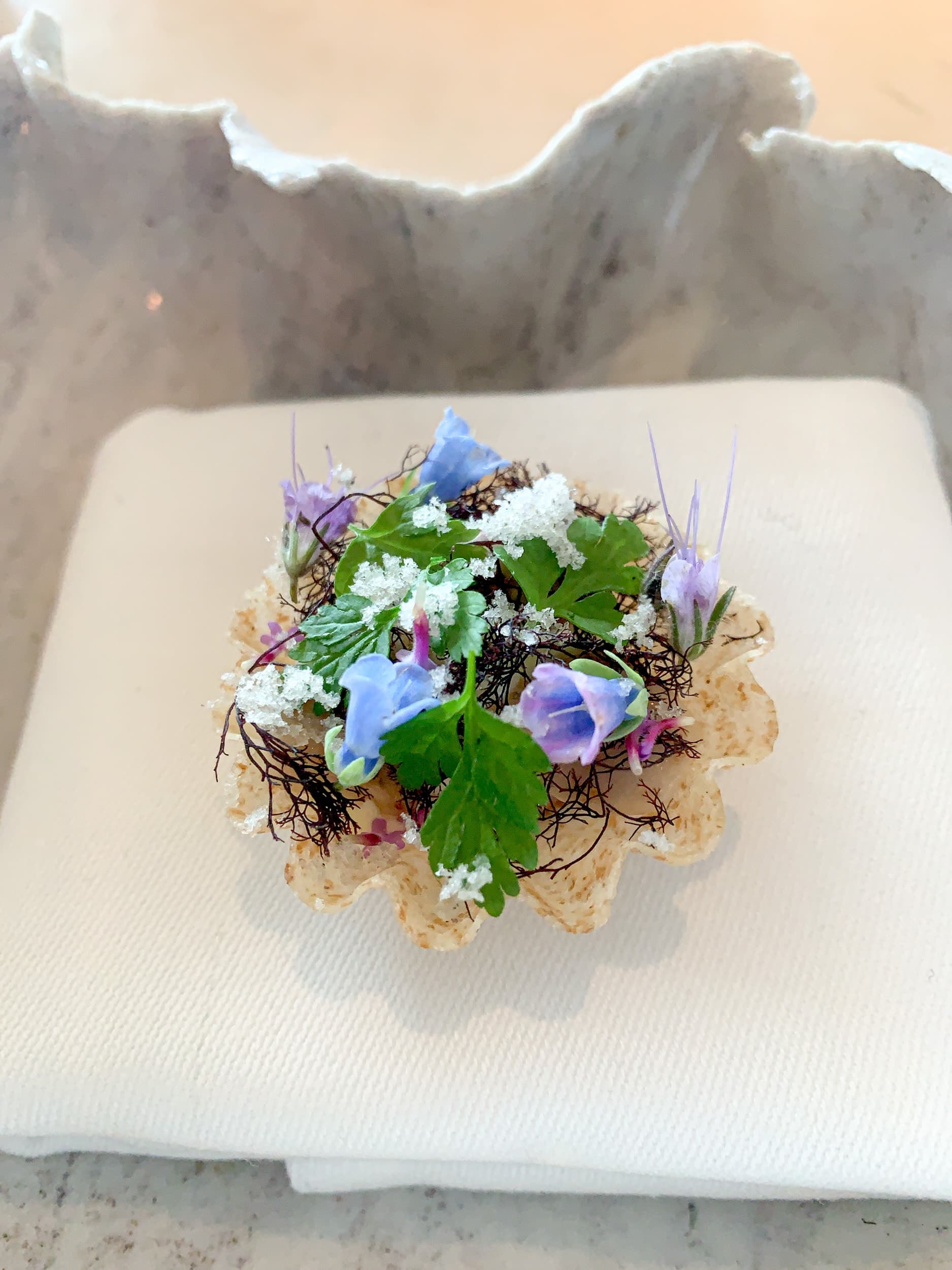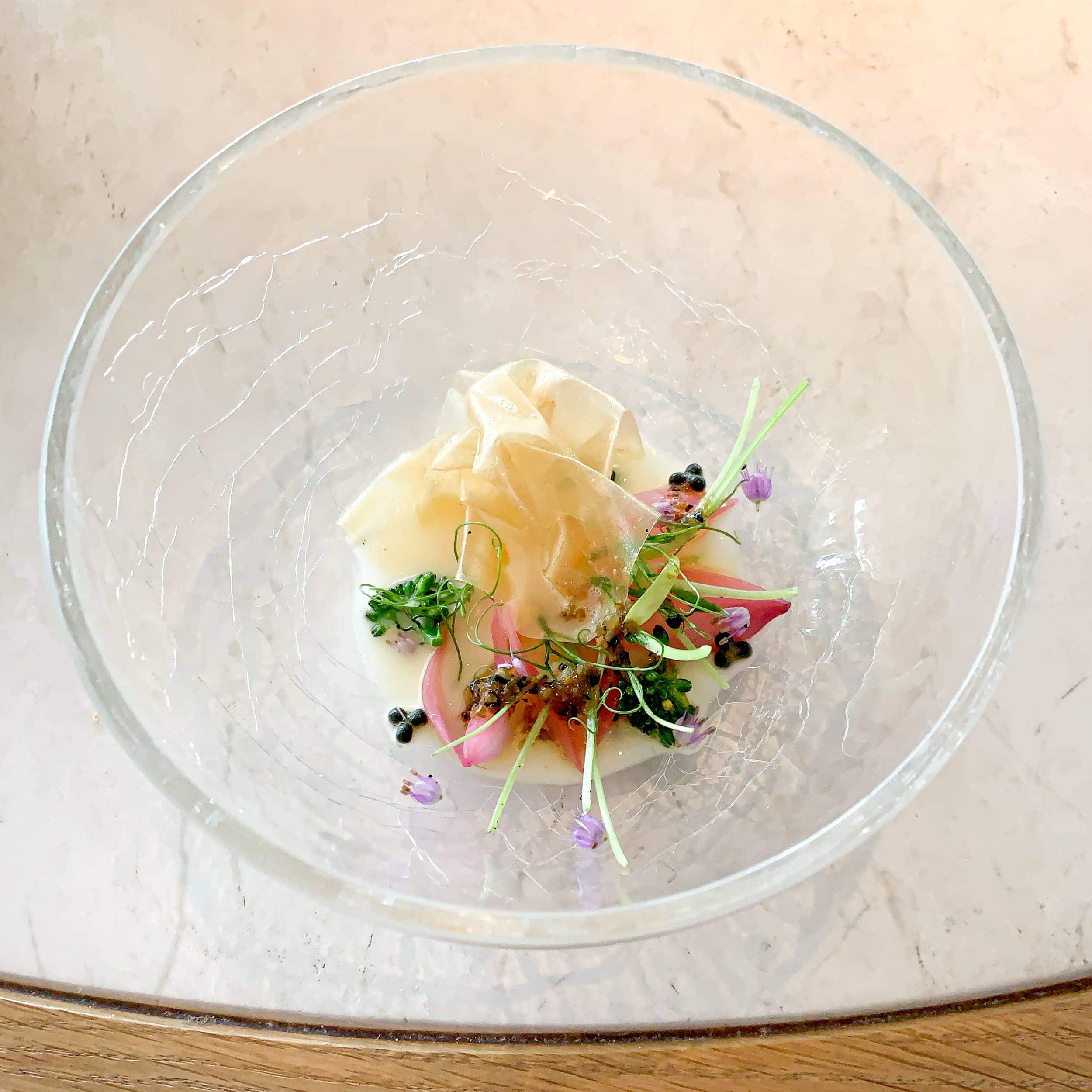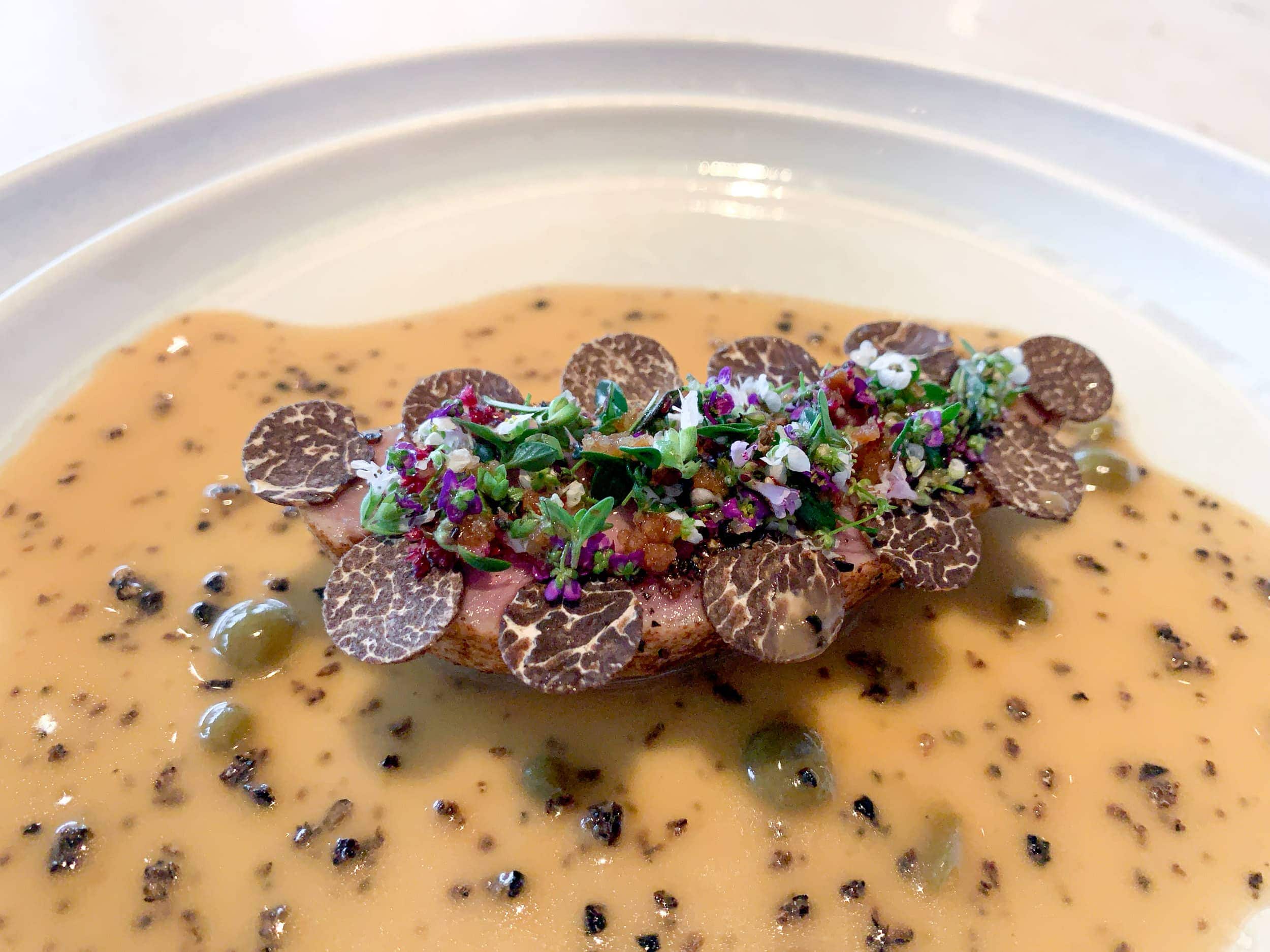 By the time the lamb with black truffles arrived, I'd already been spoiled by a dozen expertly-prepared dishes.
Once again, the presentation delighted me, the lamb holding 11 thinly-sliced discs of fresh black truffle and flowers for color.
Geranium Restaurant Tour
Following my thirteenth course of lunch, my waiter offered me a kitchen tour, saying, "there are no secrets at Geranium."
I would typically wait until the end of a meal to ask, so it came as a pleasant surprise to be offered before dessert was served.
Naturally, I jumped at the chance to go behind the scenes at one of the best restaurants in Copenhagen.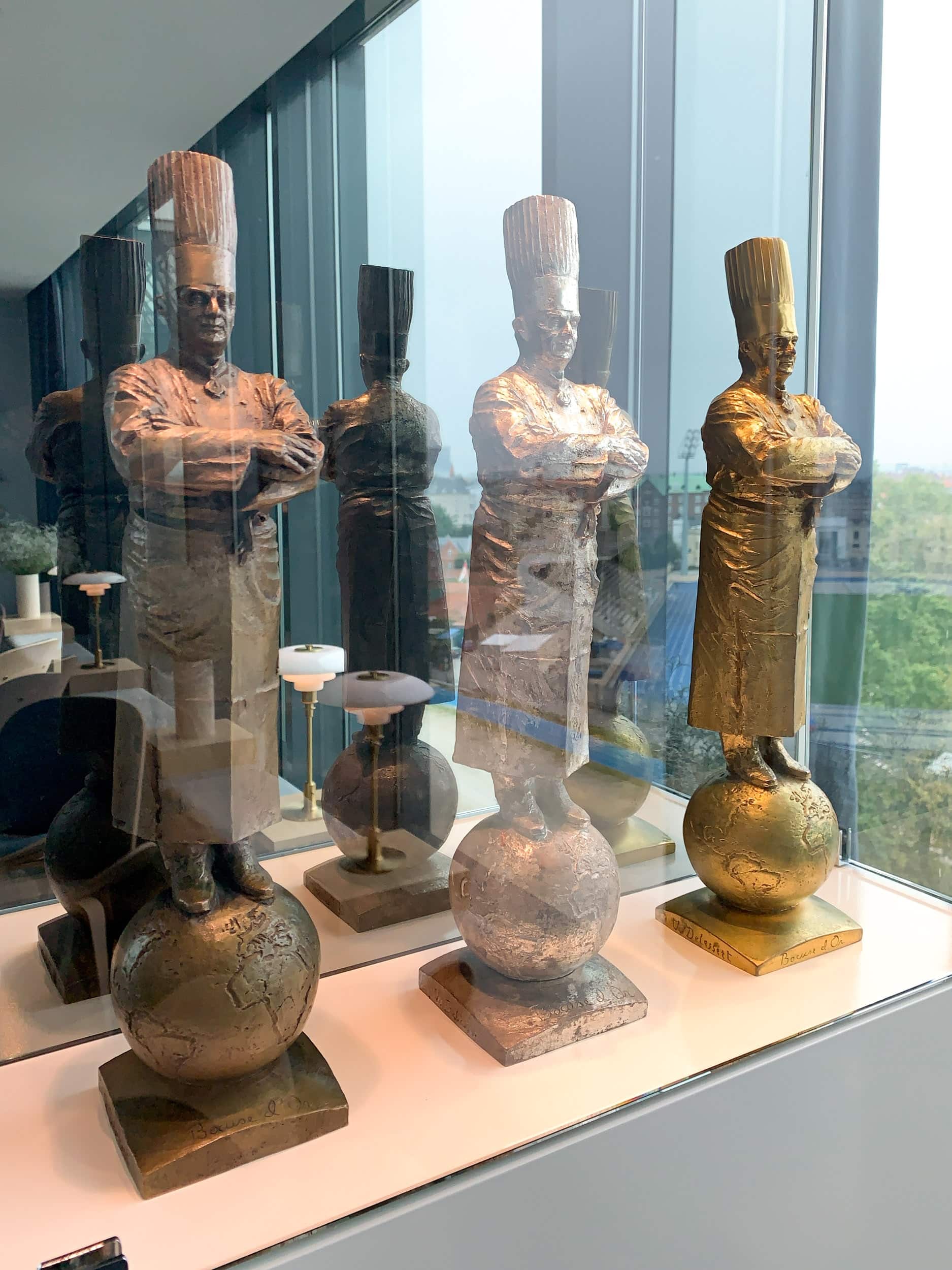 We began in the lounge at the opposite end of the dining room from the kitchen.
The three Bocuse d'Or trophies won by Rasmus Kofoed are proudly displayed in a glass case.
The Bocuse d'Or is a French competition, a culinary Olympics of sorts.
Chef Kofoed is the only person to win all three awards -- bronze (2005), silver (2007), and gold (2011).
While he wasn't working in Geranium's kitchen the day I was there, I felt his spirit and influence throughout the menu.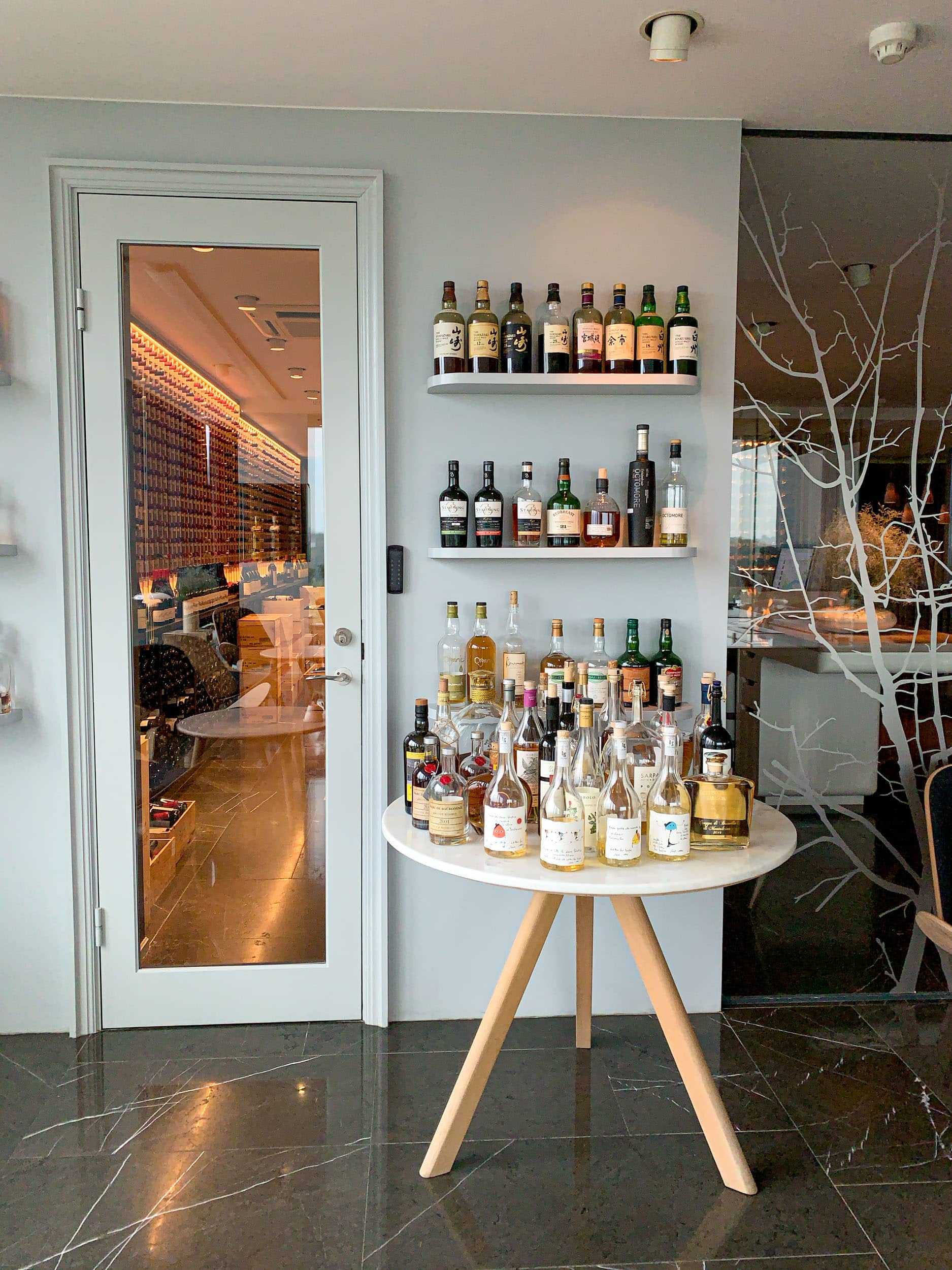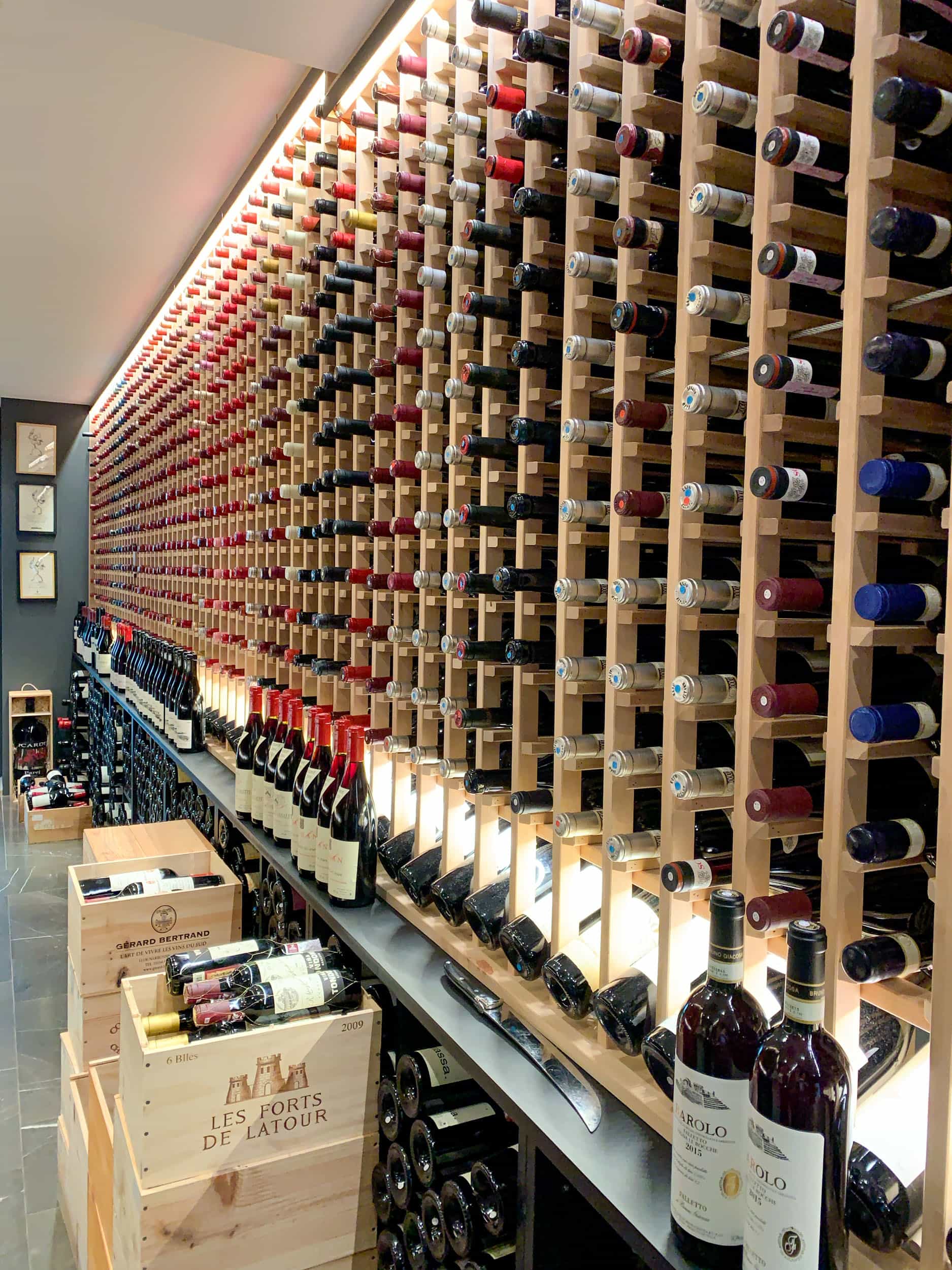 Next, I was led through Geranium's wine cellar, which looked nicely organized.
The other side opens into the Inspiration Kitchen, a private dining room and kitchen that can be reserved for 16 guests.
I believe it was here that I also caught a glimpse of the dry-age room. Various types of meat were hung up and aging; the top shelf was lined with jars of food items being pickled or fermented (maybe both).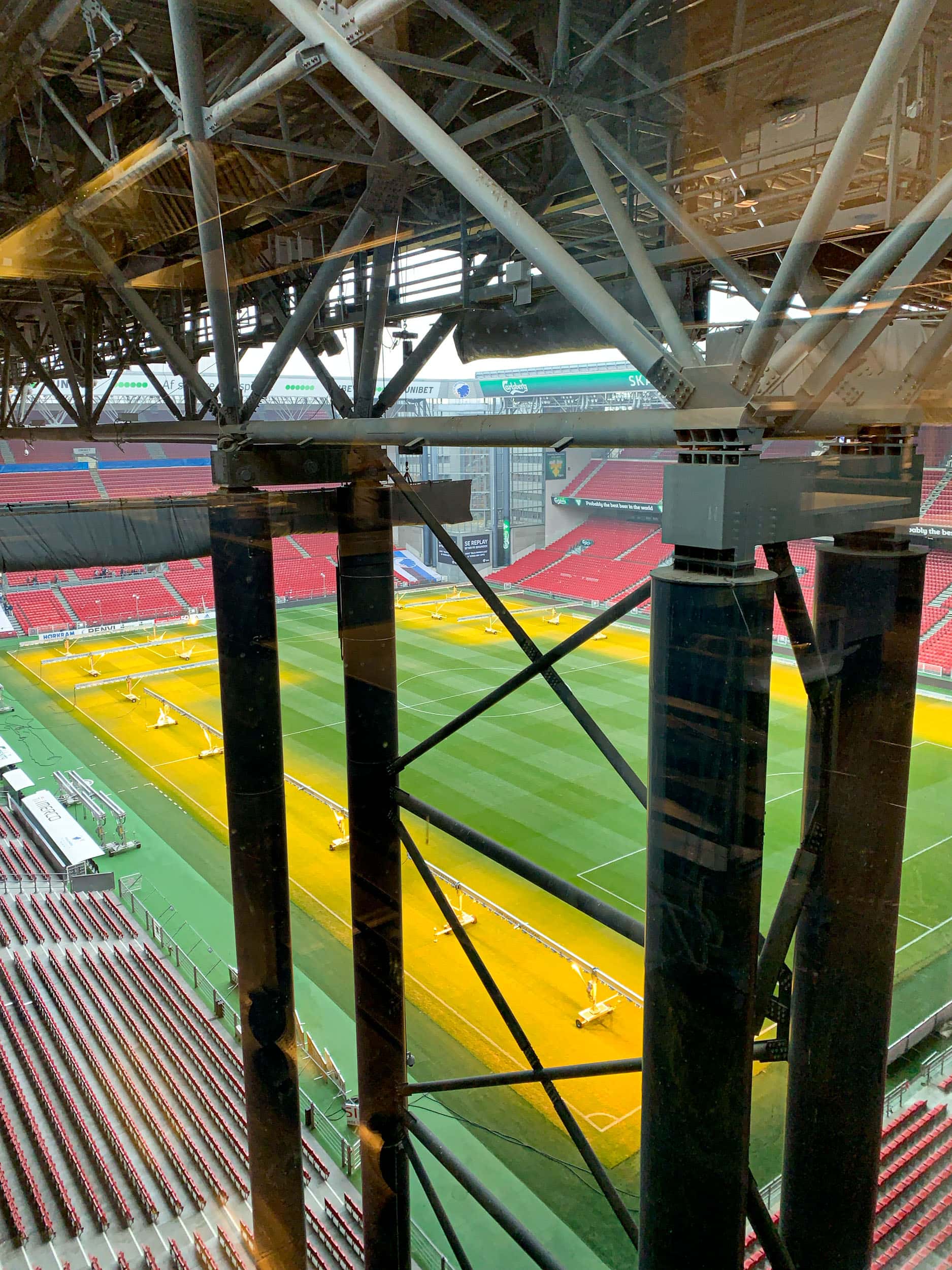 We left Inspiration Kitchen and entered a larger prep kitchen with a view of the soccer pitch used by FC Copenhagen and Denmark's national team.
Even though four support pillars partially block the view, the concept alone was fantastic regardless of practicality.
The tour ended in the kitchen in the main dining room.
Desserts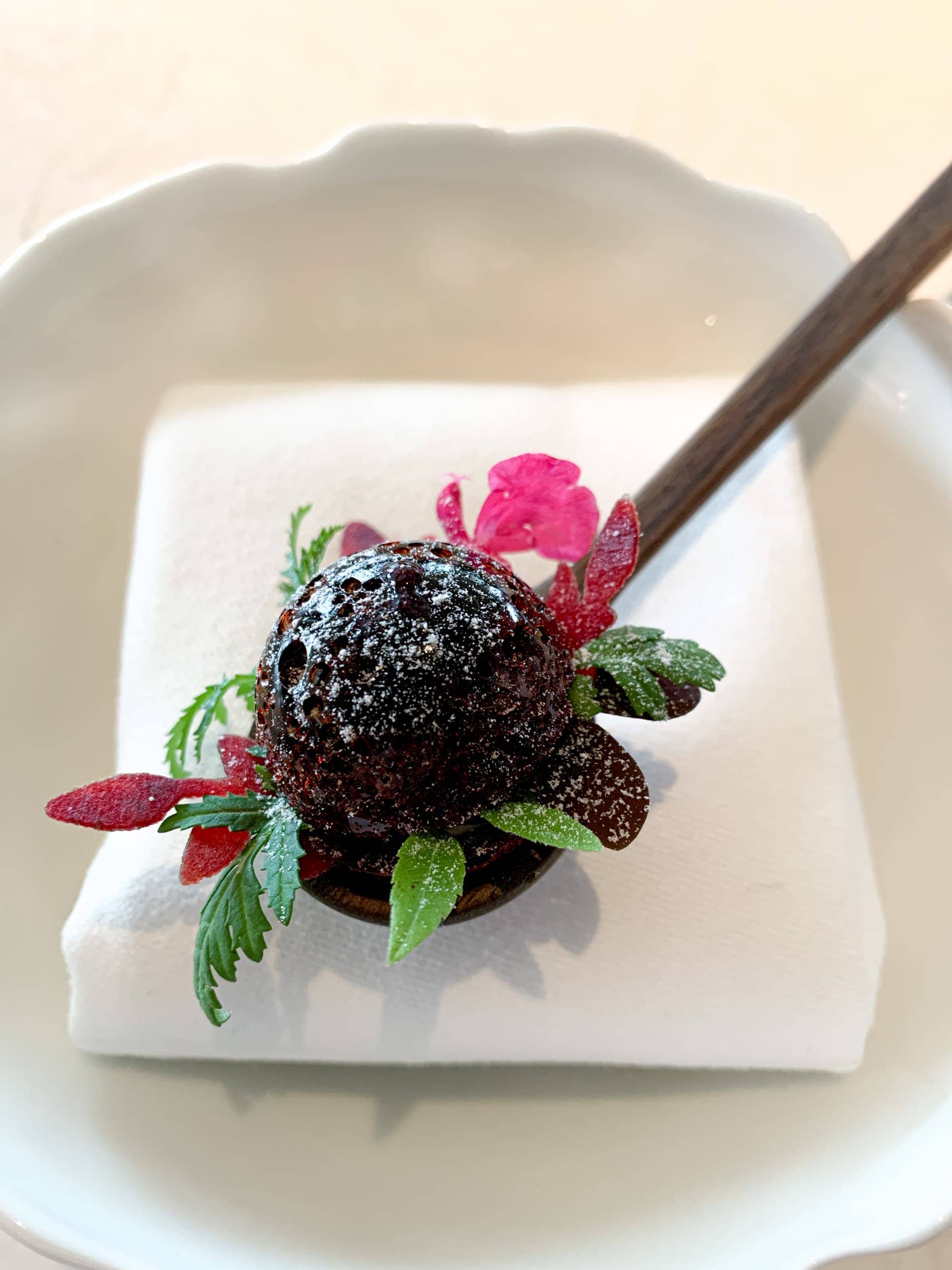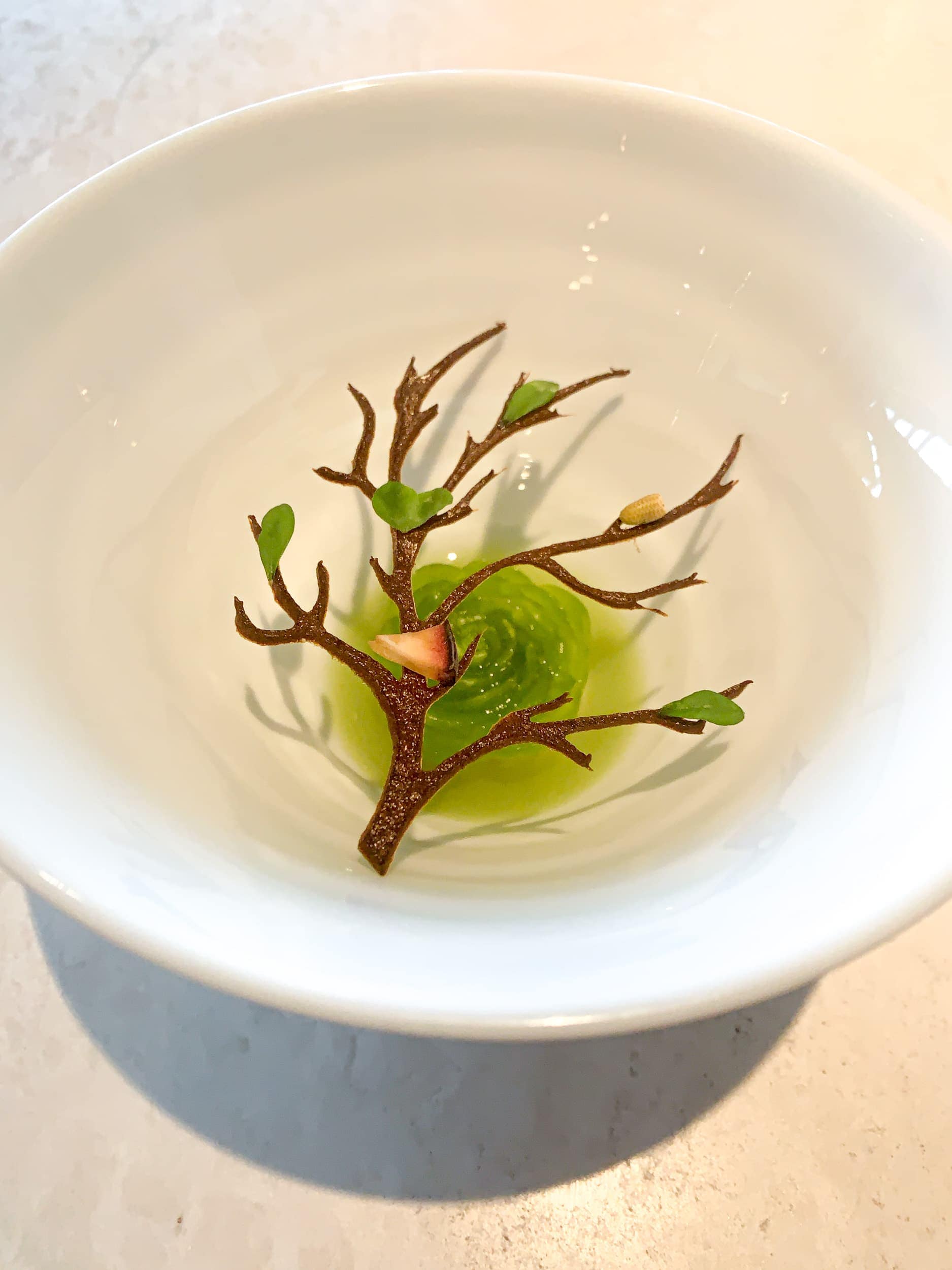 From the first bite of beetroot, blackcurrant, yogurt, and tagetes, it was clear lunch would finish strong.
Wood sorrel and woodruff, two types of plants, were wistfully displayed in a bowl with a branch made of chocolate.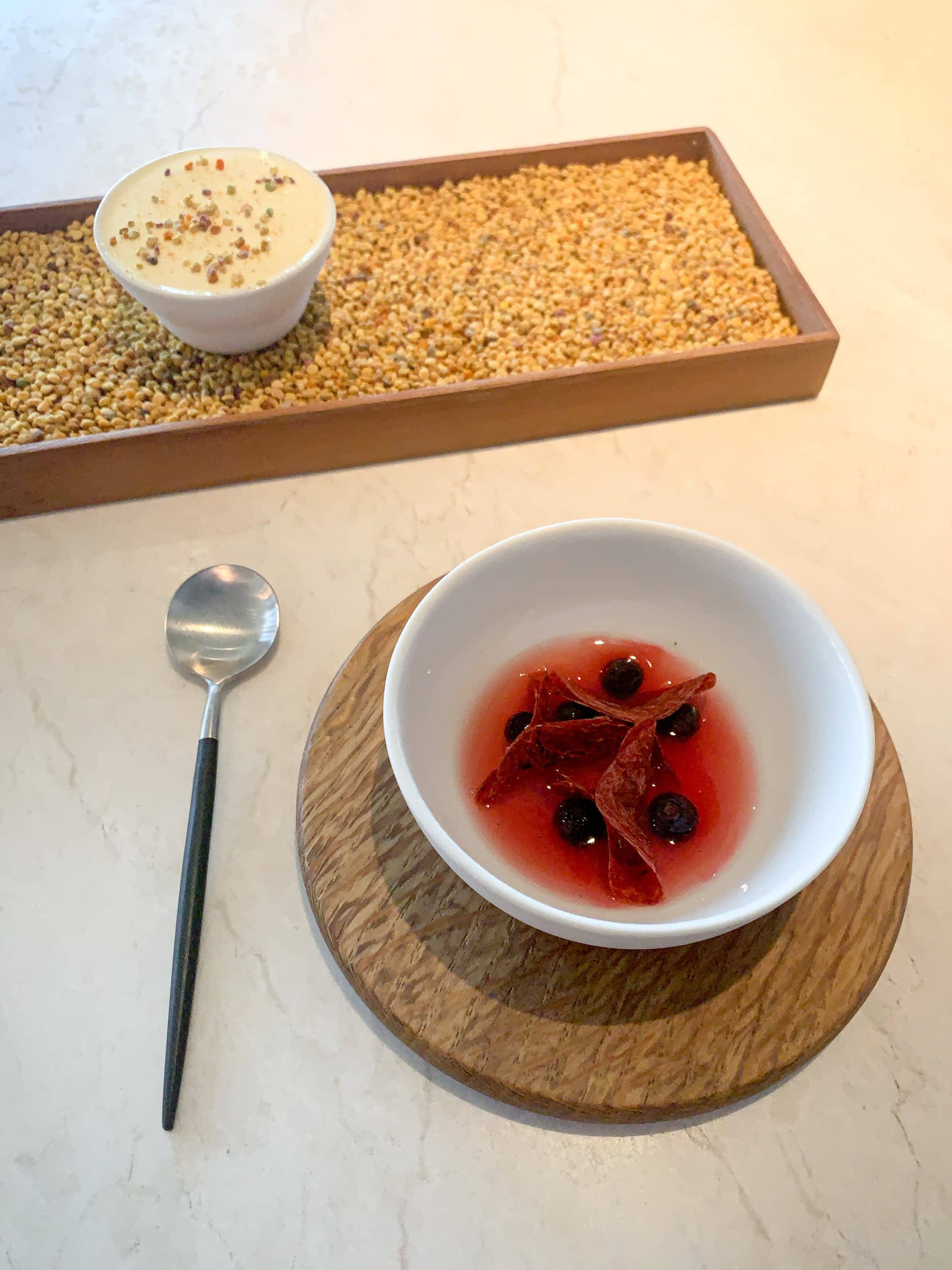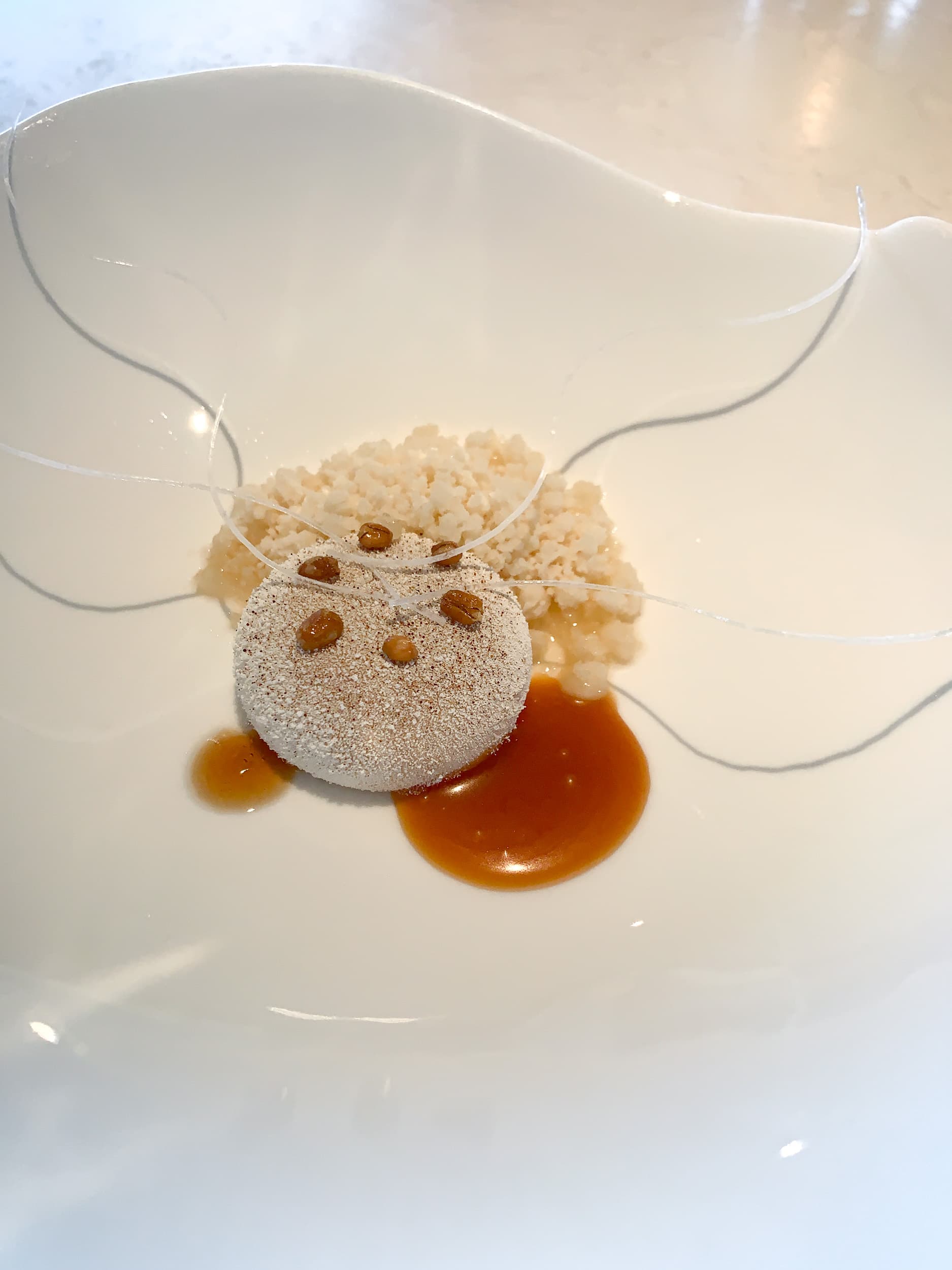 Among all the creative desserts, my favorite was the beeswax and pollen ice cream with grilled rhubarb and blueberries.
The flavor and smooth texture of the ice cream were incredible.
I ordered a coffee prepared tableside to extend my birthday lunch a little longer.
Coffee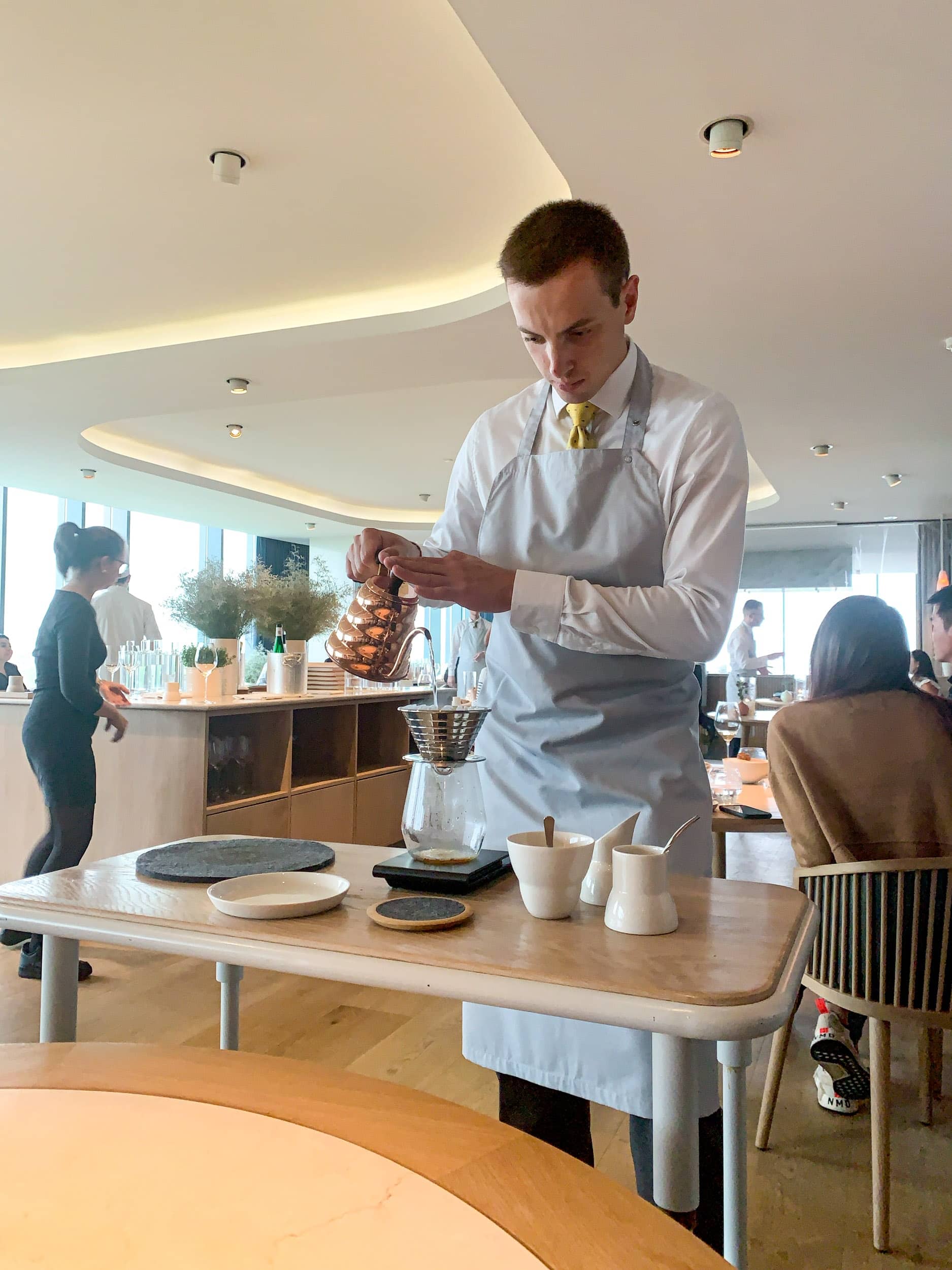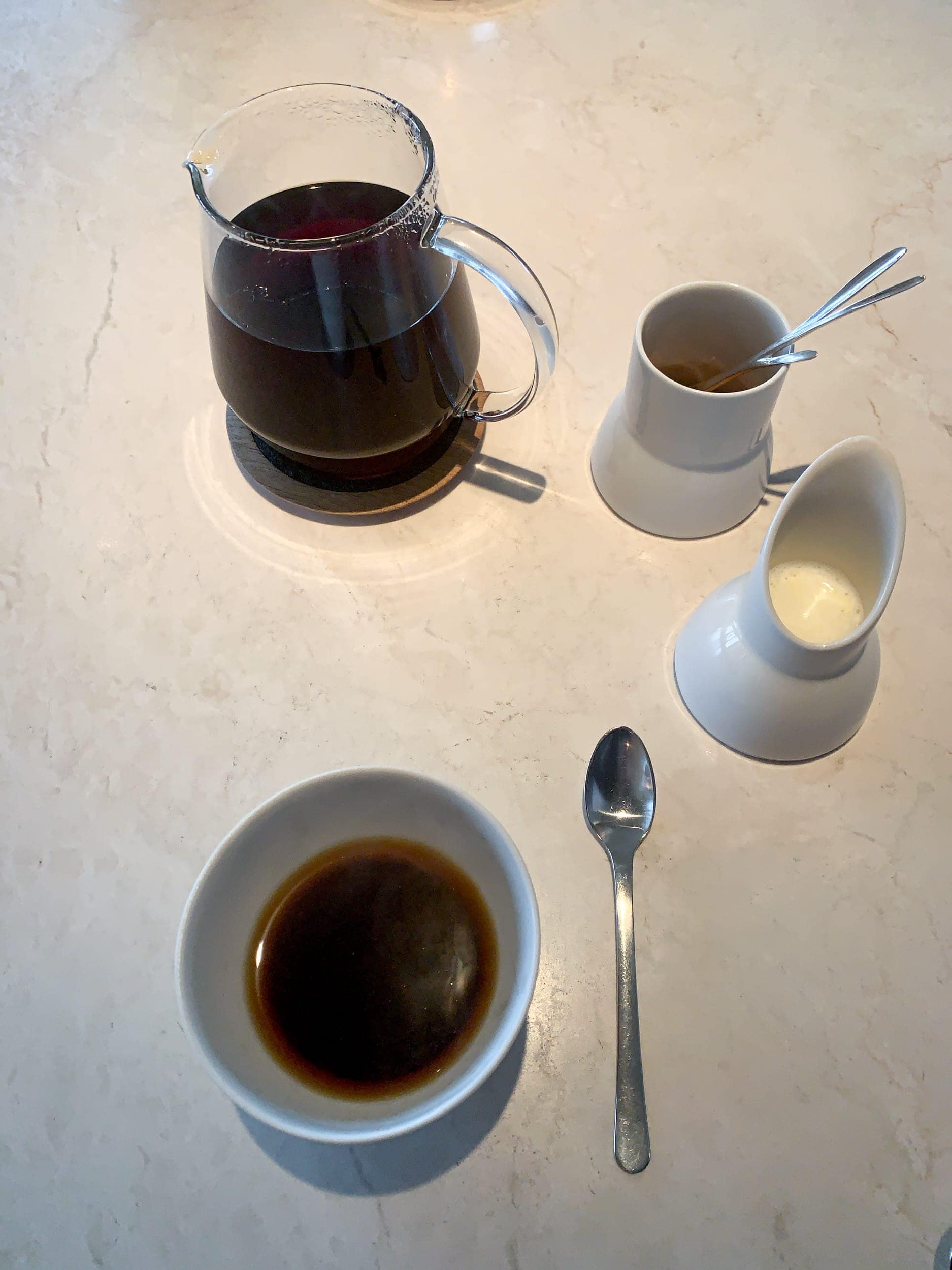 Geranium restaurant serves coffee produced by Coffee Collective, a Danish roaster.
Before my birthday, I'd met a chef friend who had worked in the fermentation lab at Noma over the summer.
We caught up over coffee and sourdough bread at one of Coffee Collective's Copenhagen cafes.
Birthday Cake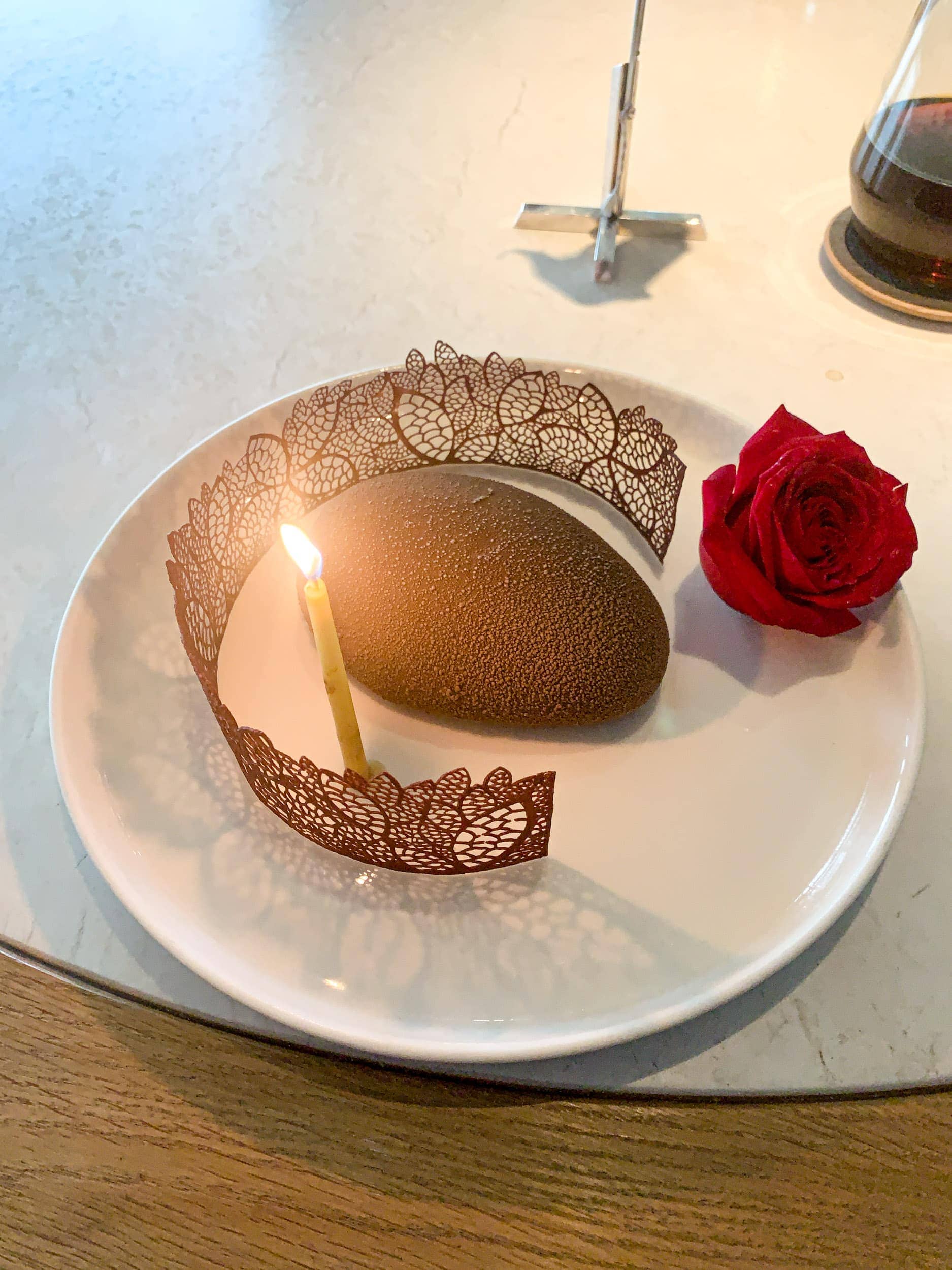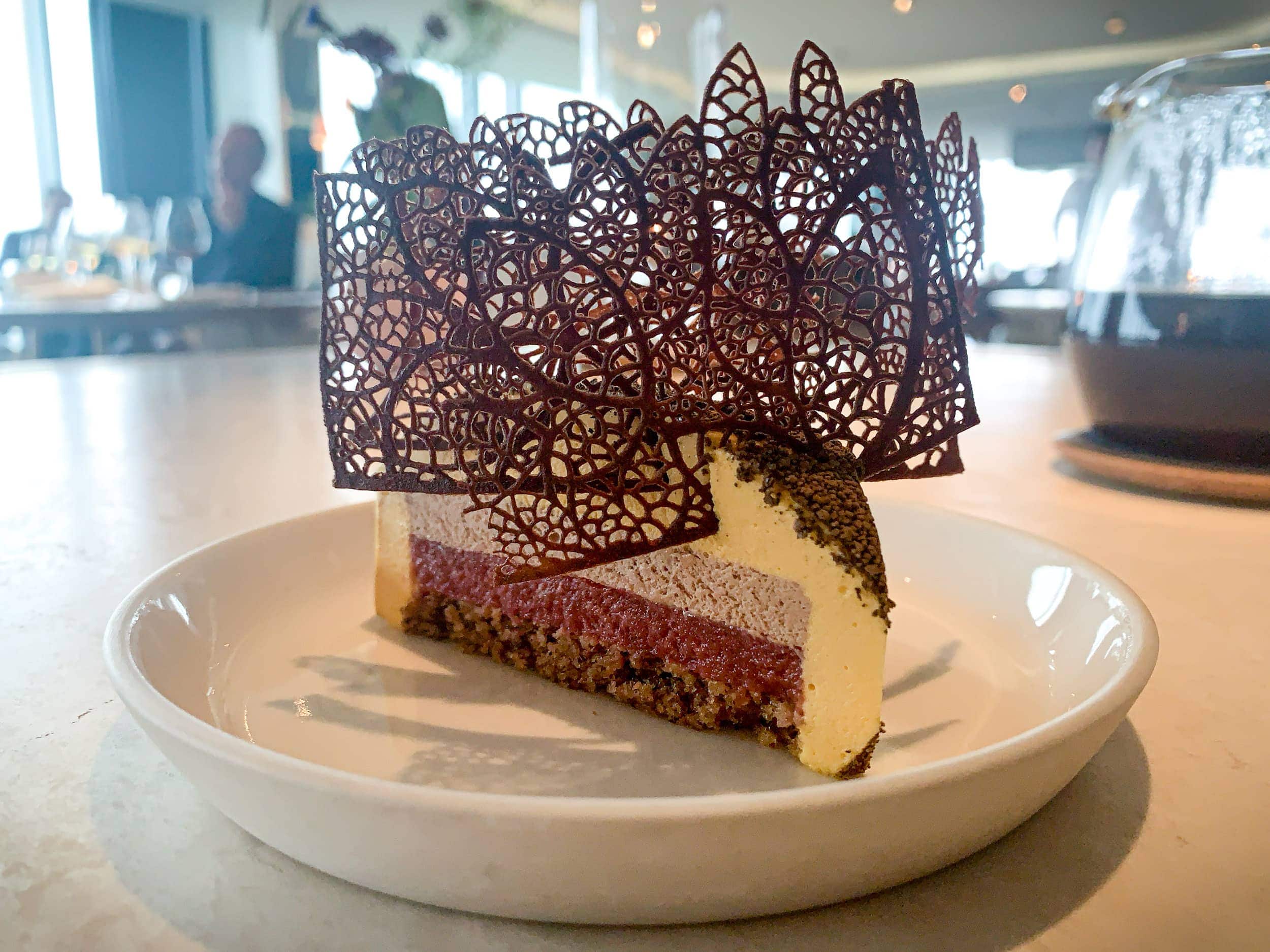 Seeing how I'd be dining alone, it was on me to mention I'd be celebrating my birthday.
I did this in writing when making the reservation online and casually mentioned it again in person upon being seated.
So after 17 courses, including four desserts, I wasn't sure there'd be anything extra offered.
And then it happened, an oval-shaped birthday cake with chocolate, a red rose, and a candle were brought out. I felt like a five-year-old kid again.
Of course, I made a wish (which I've since forgotten) and blew out the candle.
The cake was big enough to save two, and it was so good. I ate both portions!
But wait, there's more.
Sweets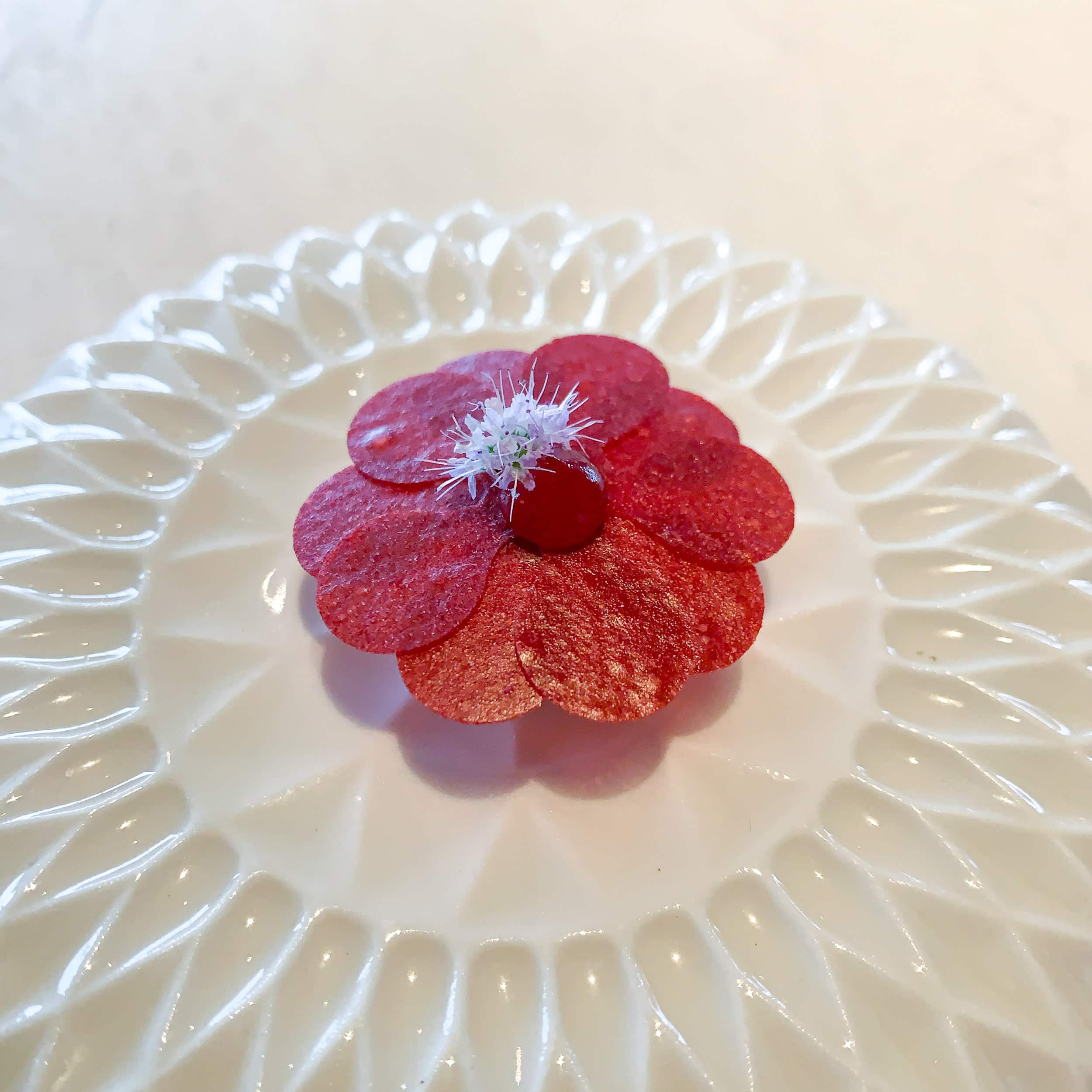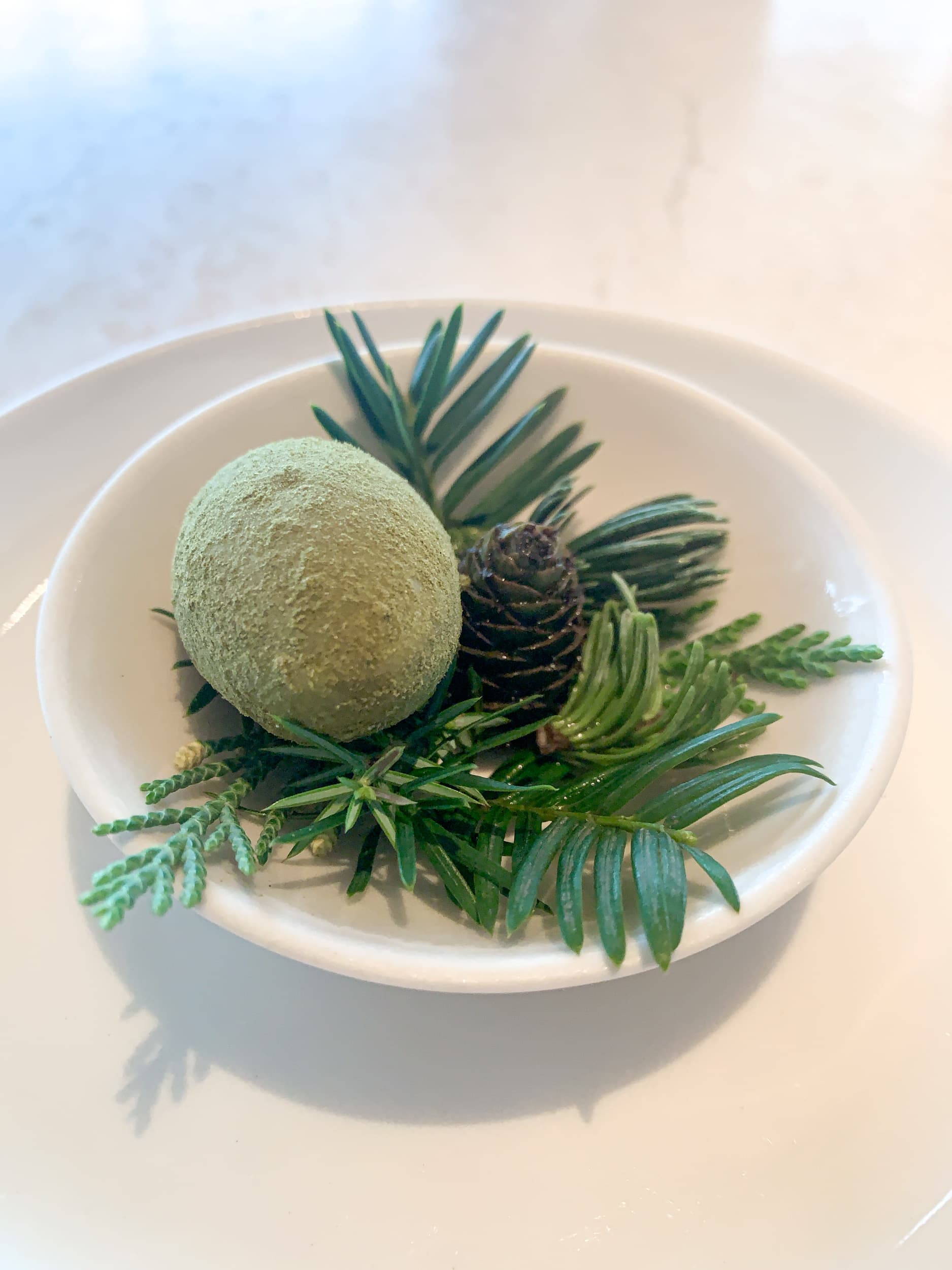 Two small sweets were presented. The green chocolate truffle was my favorite of the two, and I even liked it more than some desserts.
It was now 3:15 p.m., and the Geranium kitchen team had begun cleaning up as tables started to pay and leave.
On the other hand, I was in no rush to leave Geranium (or Copenhagen, for that matter). I preferred to linger, digest, and soak up the refined atmosphere for as long as possible.
Perhaps to no reader's surprise, my waiter invited me to stay as long as I wanted.
Pictures in the Kitchen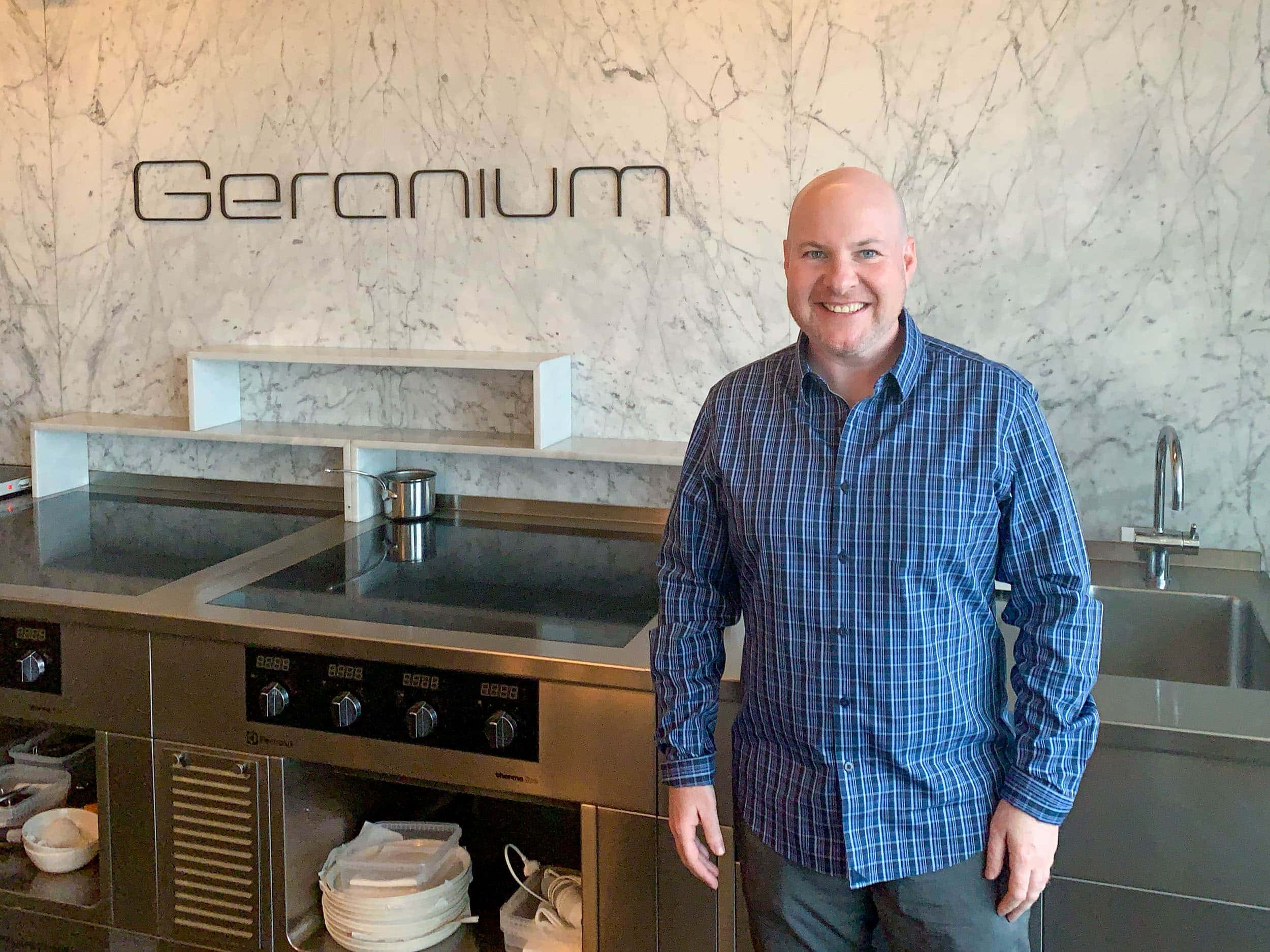 He also offered to take my photo in the kitchen as the food had all been served.
Not a minute later, he suggested a group photo with the chefs, something I wouldn't have suggested but was thrilled to accept.
Related: Best Cocktail Bars in Copenhagen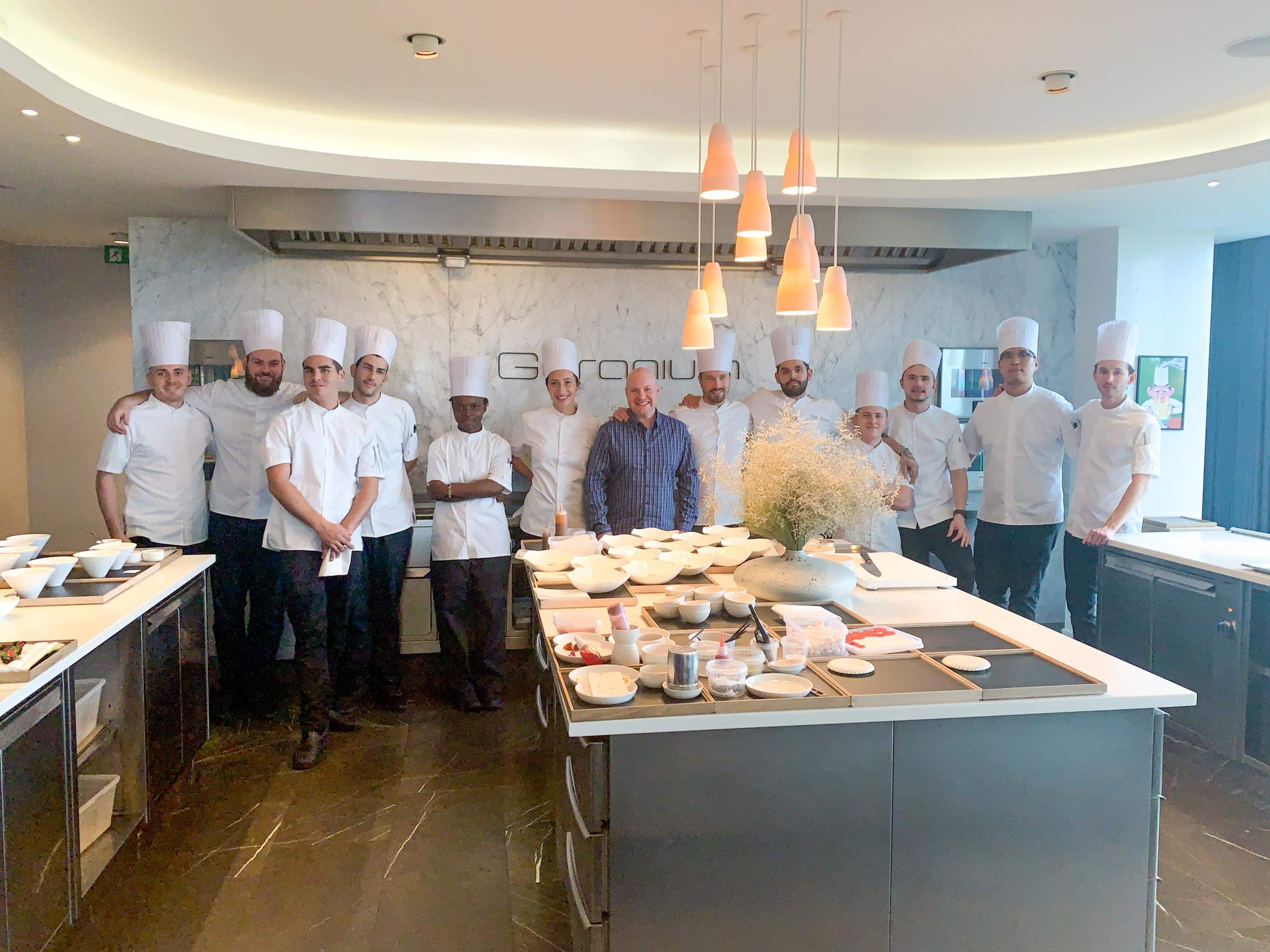 Final Thoughts
Given the accolades, I had high expectations for my birthday lunch at Geranium in Copenhagen.
The team over-delivered in every way. The food, atmosphere, and hospitality were all world-class.
The only other three-star Michelin restaurant I've eaten at so far was Eleven Madison Park in New York City.
Geranium was a step above that experience in terms of menu creativity, service (I liked that the chefs served some courses), and overall atmosphere (it's a smaller space and more casual).
What are the prices for a meal at Geranium restaurant?
Well, they're posted publicly on the website, so it was no surprise that my 17-course Autumn Universe tasting menu was 2,600 DKK (262 euros, or about $450 based on the exchange rate at the time).
The glass of wine was an extra 120 DKK (€12, $18). And I noticed as I wrote this that they didn't charge me for the coffee.
As it was one of the best meals of my life, I consider it money well spent.
Plan Your Visit
Website: geranium.dk
Address: Per Henrik Lings Allé 4, 8., DK-2100 Copenhagen, Denmark
Dress code: None stated. I recommend smart casual.
Reservations: Recommended and accepted up to 90 days in advance -- make a reservation
Cost: 3,200 DKK for the Summer 2022 tasting menu, 1,300 DKK for (no alcohol) juice pairing, 2,000 DKK for the least expensive wine pairing, and 18,000 DKK for the most costly "rare and unique" wines.