Consuming copious amounts of gelato is one of my favorite activities in Italy, so it was a given I was going to spend some of my free time eating the best gelato in Bologna.
My mission was aided by my friends Michael and Stephanie of Bologna Living. They'd moved to the city about a year earlier.
Upon arriving, I briefly considered signing up for a gelato tour and tasting at the Carpigiani Gelato Museum.
But, it's 35 minutes by bus from the city center, and I didn't want to give up the time required to get there and back.
Carpigiani began producing gelato machines in 1946.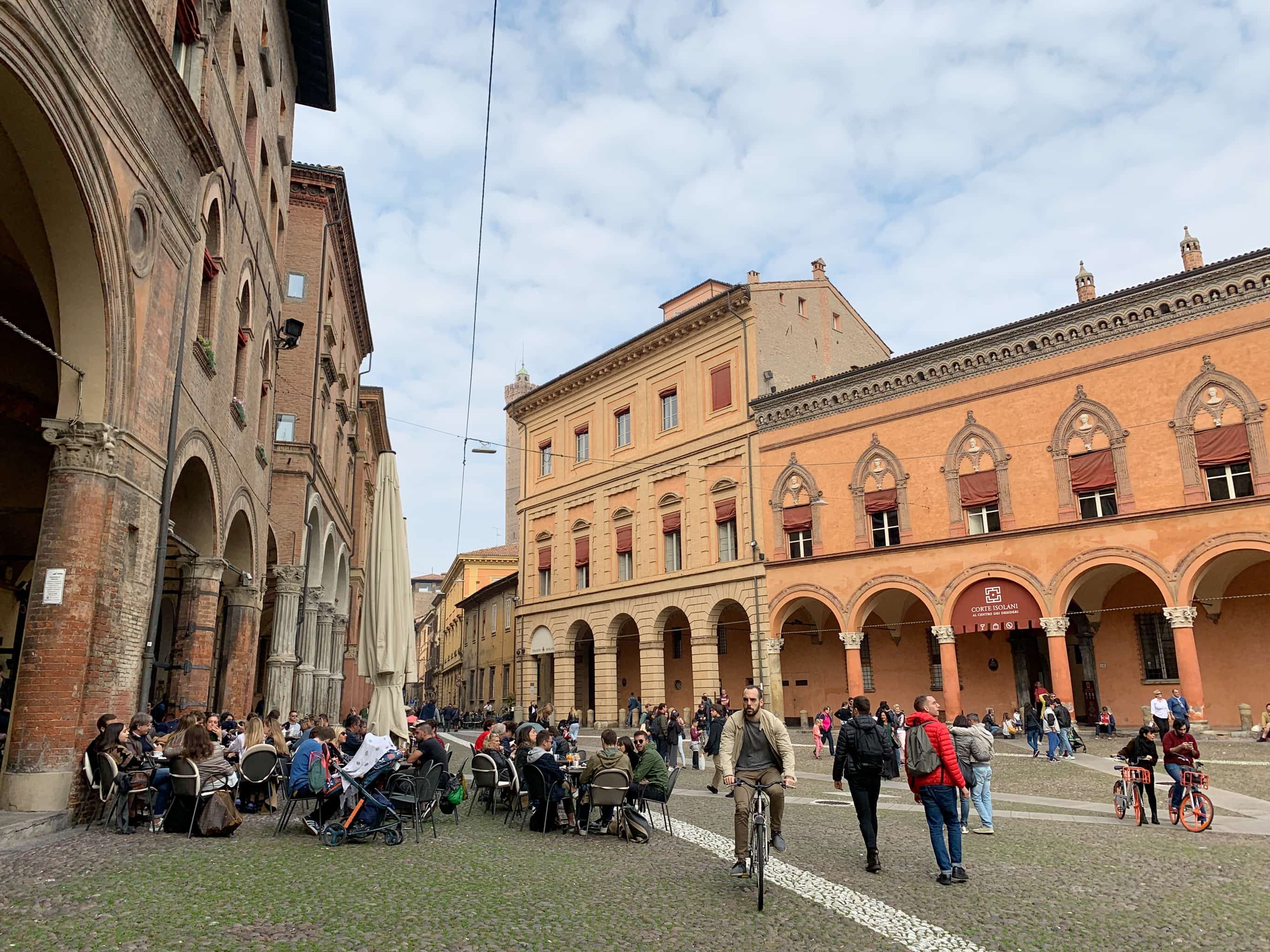 In 2003, they opened Gelato University, a school that attracts people from around who want to learn the art of making high-quality gelato.
The Gelato Museum was opened in September 2012 to share the history of gelato and educate visitors.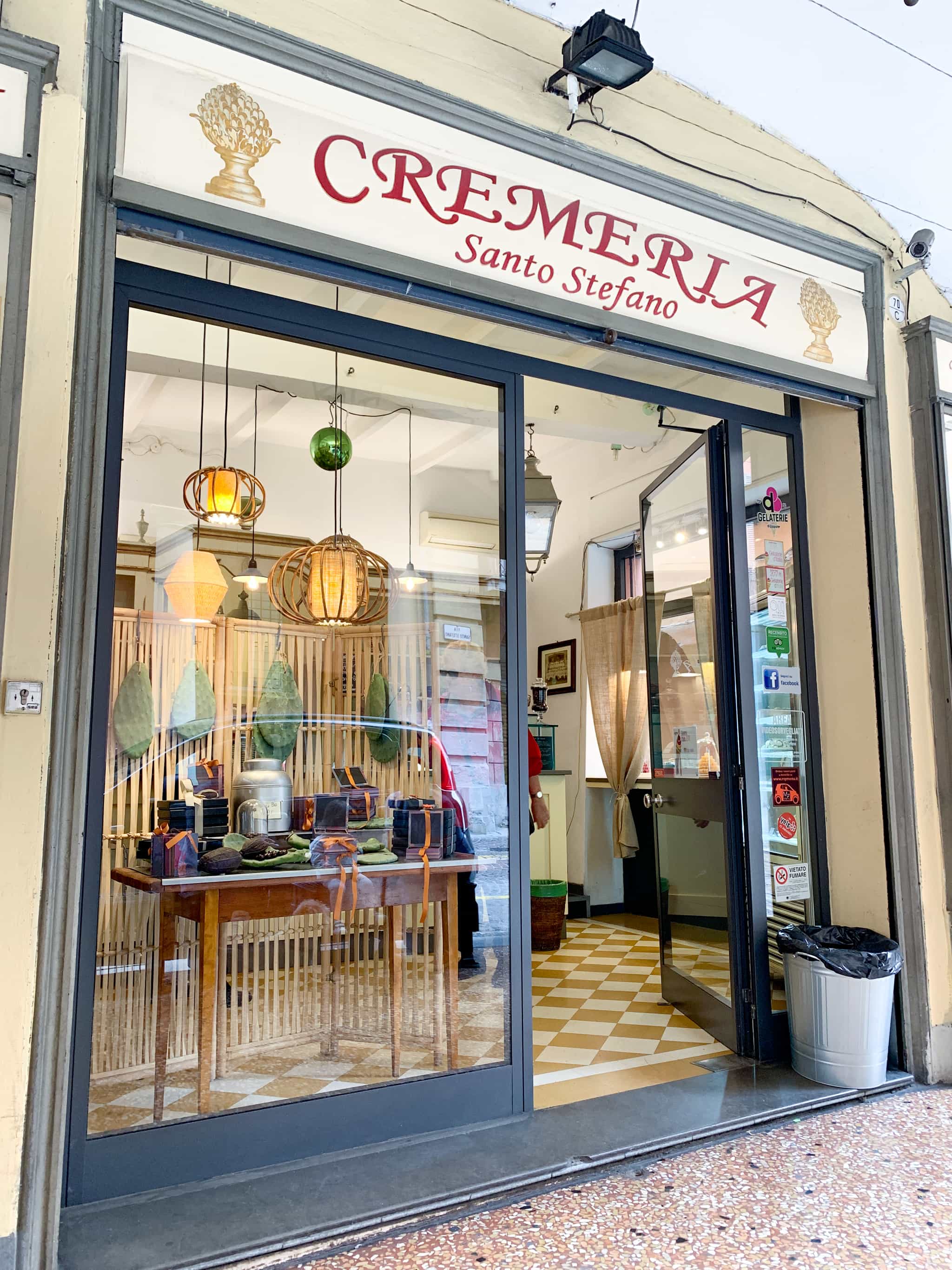 The Best Gelato in Bologna
Cremeria Santo Stefano
Address: Via Santo Stefano 70, Bologna
The first artisanal gelateria my friends recommended was the small, cutely decorated Cremeria Santo Stefano.
It's not just rated one of the best gelato shops in Bologna but in the whole of Italy.
I stopped by to sample the classics and seasonal flavors several times during my brief stay and left the city with it as my favorite place.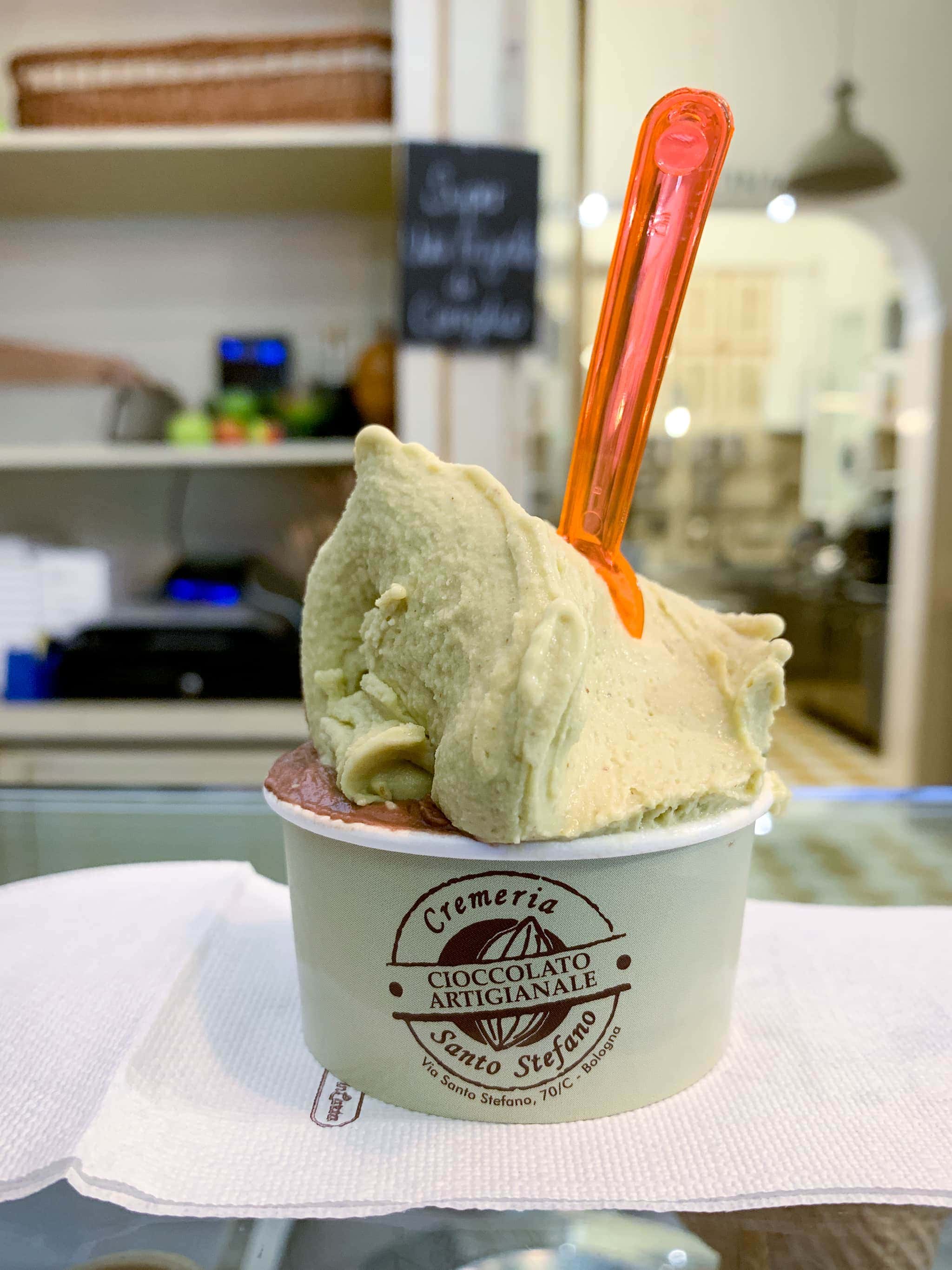 I ordered a two-scoop cup of chocolate and pistachio gelato on one visit.
Despite how thick, dense, and creamy gelato tends to be, it's arguably healthier than ice cream because it contains less fat and fewer, often no, preservatives.
Cremeria Santo Stefano, for example, uses all-natural ingredients, such as fresh fruit, and you can taste the difference.
I also think it's the better choice because the gelato is so rich that you're not left wanting to add extra toppings.
Frankly, one scoop is usually plenty. And I prefer it in a cup, so I'm not consuming the calories of a cone, either.
Related: Introduction to Italian Coffee Culture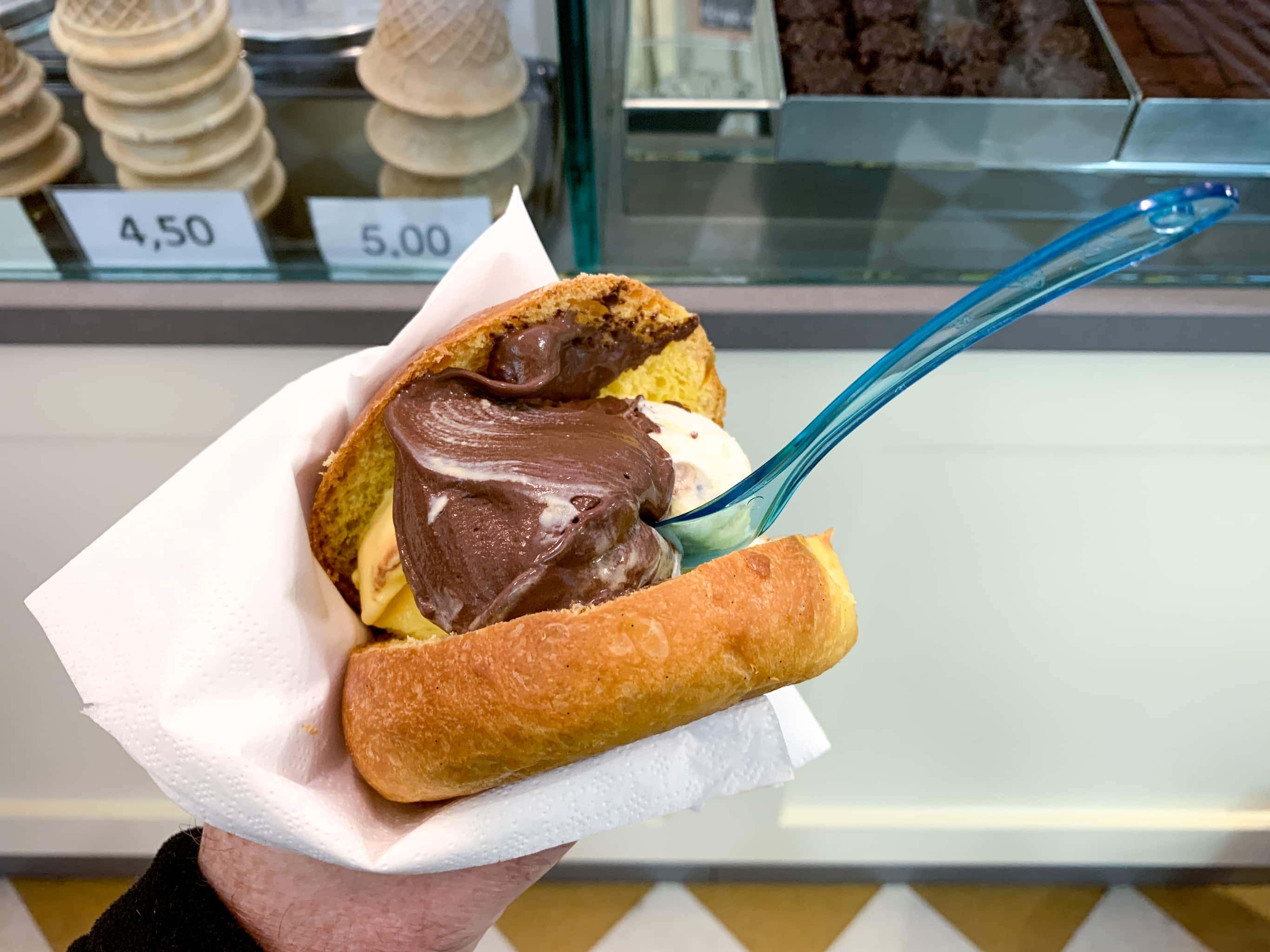 On another visit, Michael suggested I try the brioche con gelato, the Italian version of an ice cream sandwich.
I chose three flavors, including chocolate and vanilla. I can't recall the third, but the whole thing was a treat to eat.
Another bonus for eating gelato over ice cream is that gelato melts slower.
Even though my brioche with gelato looks like a potential mess in waiting, I was able to take my time while sitting outside on a hot day and not have it drip all over me.
And as if all this fabulous gelato in Bologna isn't enough, Cremeria Santo Stefano also makes some killer chocolate truffles. I couldn't resist buying a few.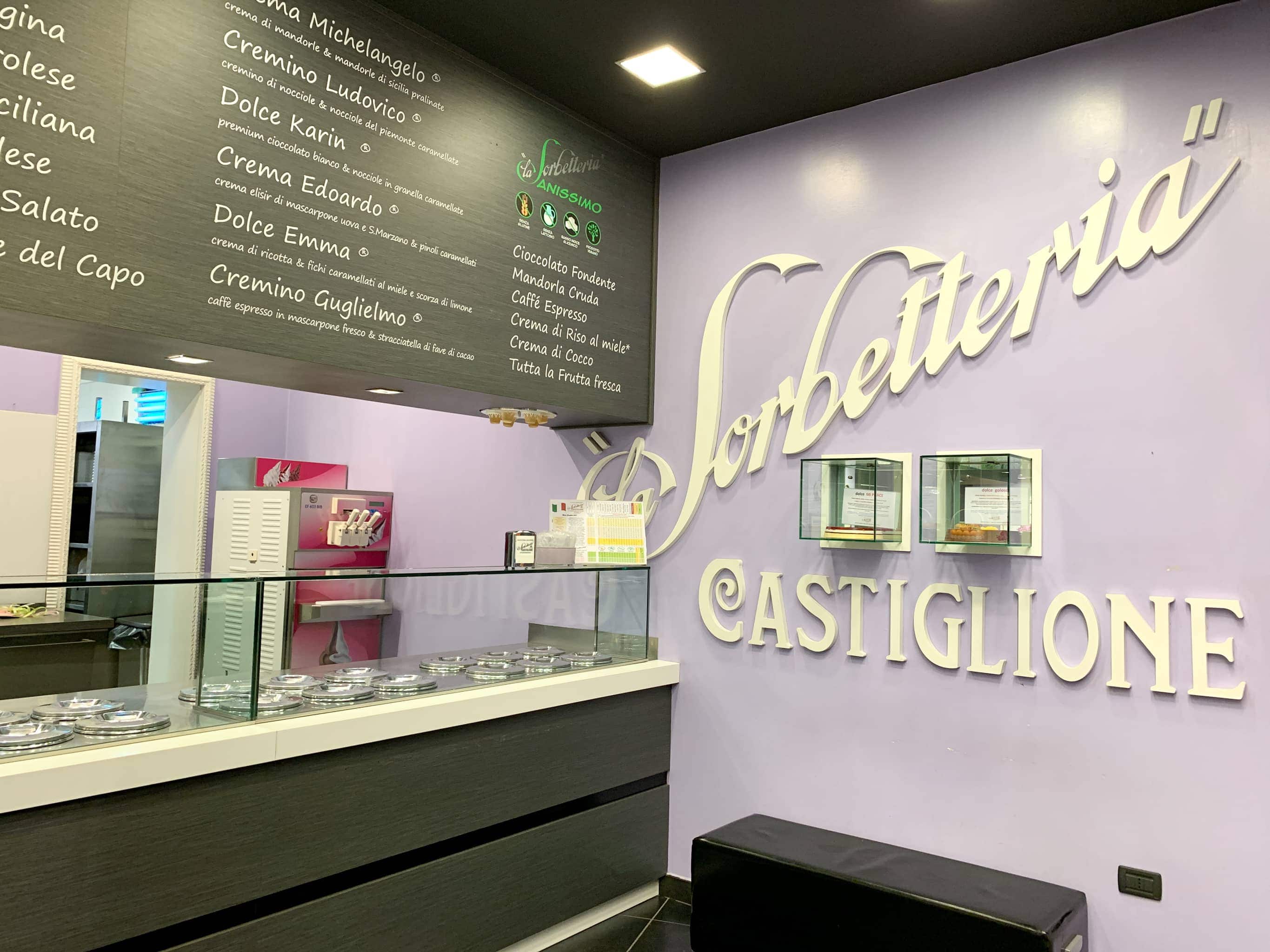 La Sorbetteria Castiglione
Address: Via Castiglione 44 d/e, Bologna
My friends also recommended La Sorbetteria Castiglione. I dropped by their shop after returning from my food and Ferrari tour of Emilia-Romagna.
The interior is more spacious than Cremeria Santo Stefano. However, it lacked some of the same charming design and decor.
I always try a few flavors before ordering a whole serving, but I have to admit I have my favorites and often stick to them.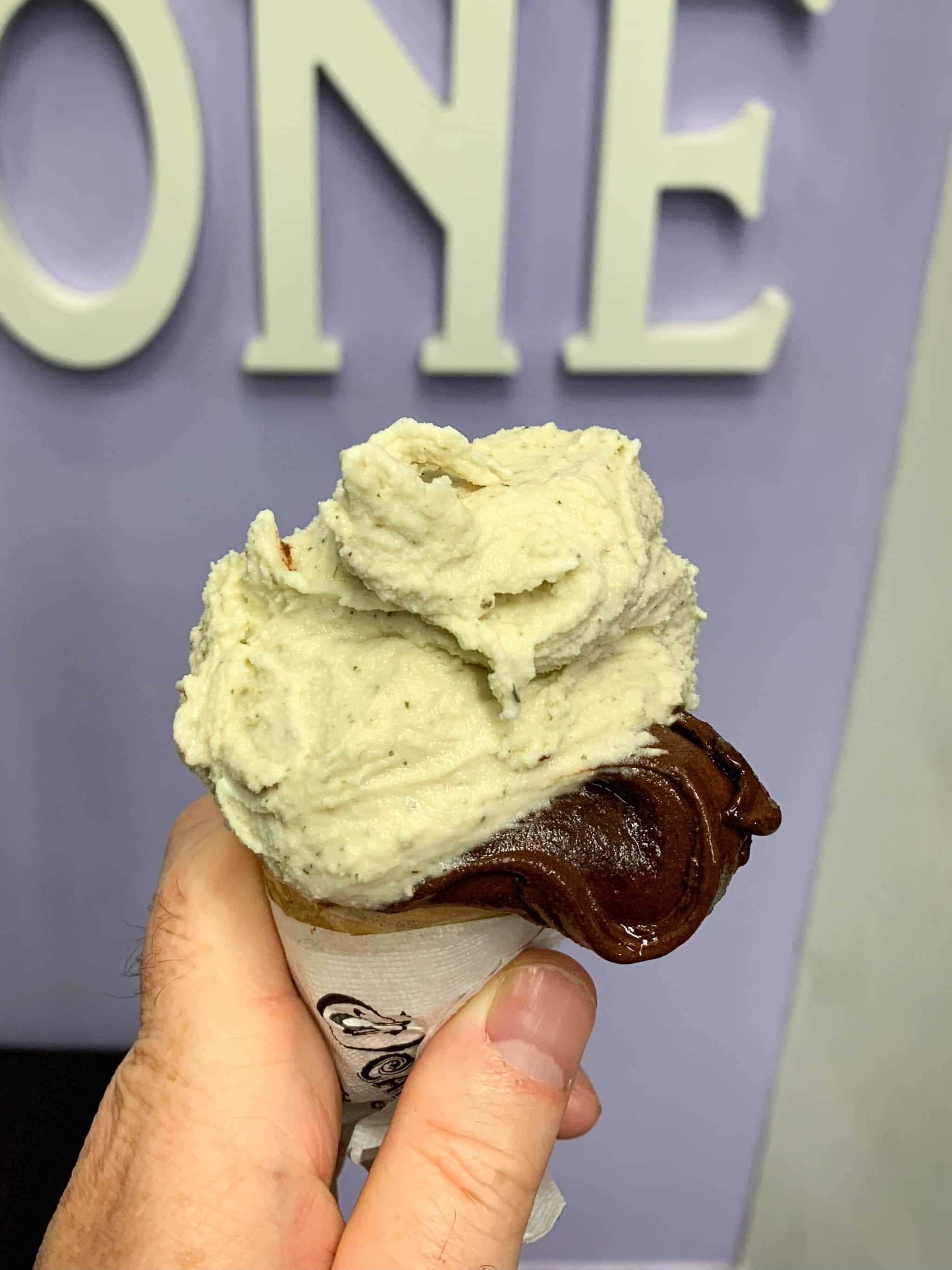 One of those classic flavors I love is chocolate, and another is mint. I love the mint chocolate combo, and La Sorbetteria Castiglione delivers on taste and quality.
Look at that photo above and tell me you don't want to eat that delicious gelato too!
Related: Best Gelateria in Girona, Spain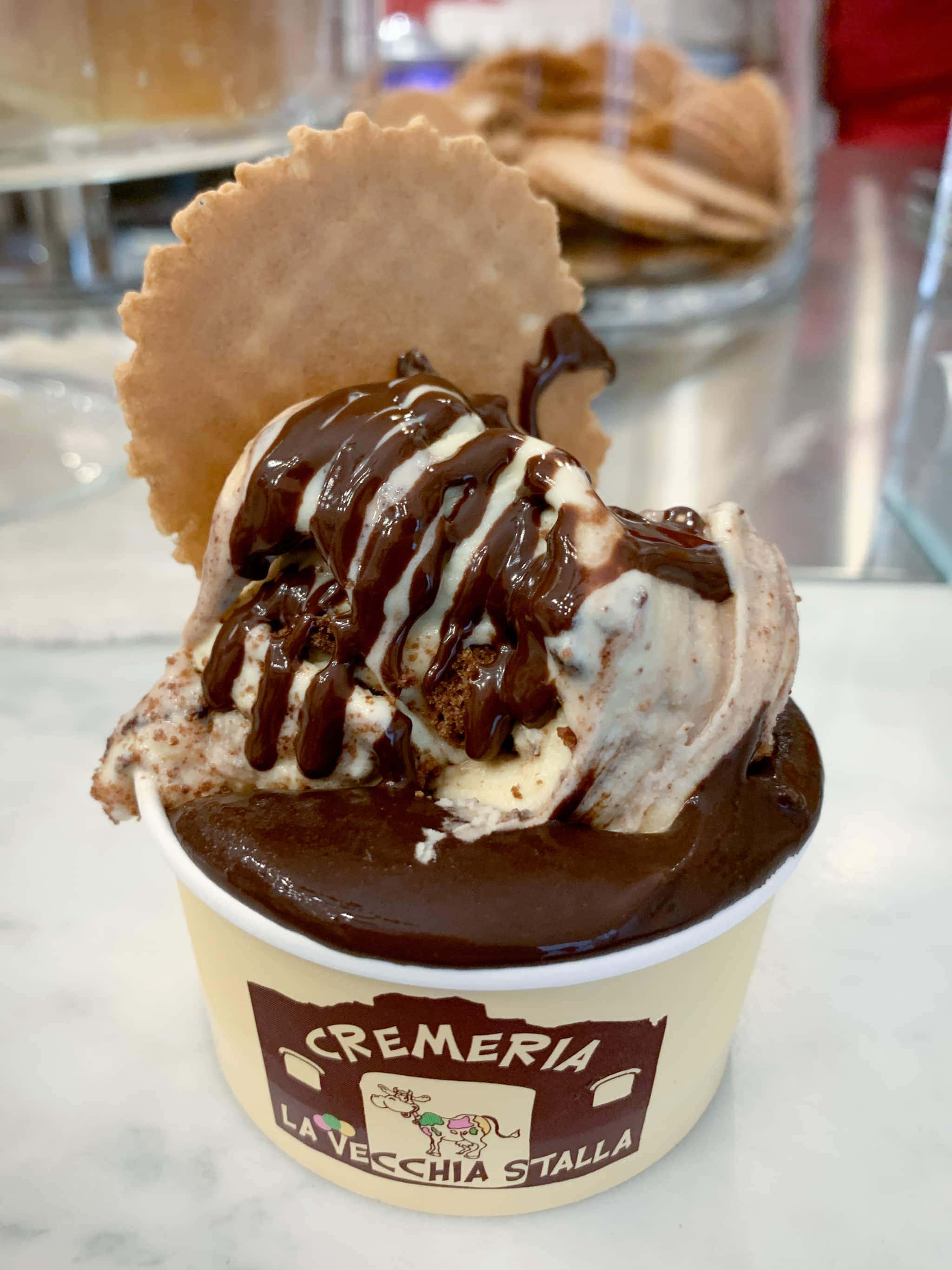 Cremeria La Vecchia Stalla
Address: Via Toscana, 90/A, Bologna
On my last night, I tried my third high-quality gelateria, Cremeria La Vecchia Stalla.
I ordered the chocolate with rum and cookies and cream, which was drizzled with some chocolate sauce and served with a wafer.
This Italian gelato shop also had a refrigerator full of pre-made desserts for those who want something different.
Related: Ristorante i Portici in Bologna, Italy
Other Recommended Gelaterias in Bologna
Not surprisingly, eating gelato in Bologna was one of my favorite food experiences in Emilia-Romagna.
Many more gelaterias are highly recommended that I didn't get to visit.
If I return to Bologna for a second visit, these are the places I'd check out next in no particular order: