The best bars in Nashville span the gamut from gorgeous rooftops with 360-views to speakeasies serving craft cocktails and dive bars offering locally-brewed beer in plastic cups.
The main drag, Lower Broadway, is lined with multi-level honky-tonks, some celebrity-owned, and other live music venues.
It's worth a walk and maybe even a drink to take in the scene; however, I encourage you to explore beyond Broadway for a good time.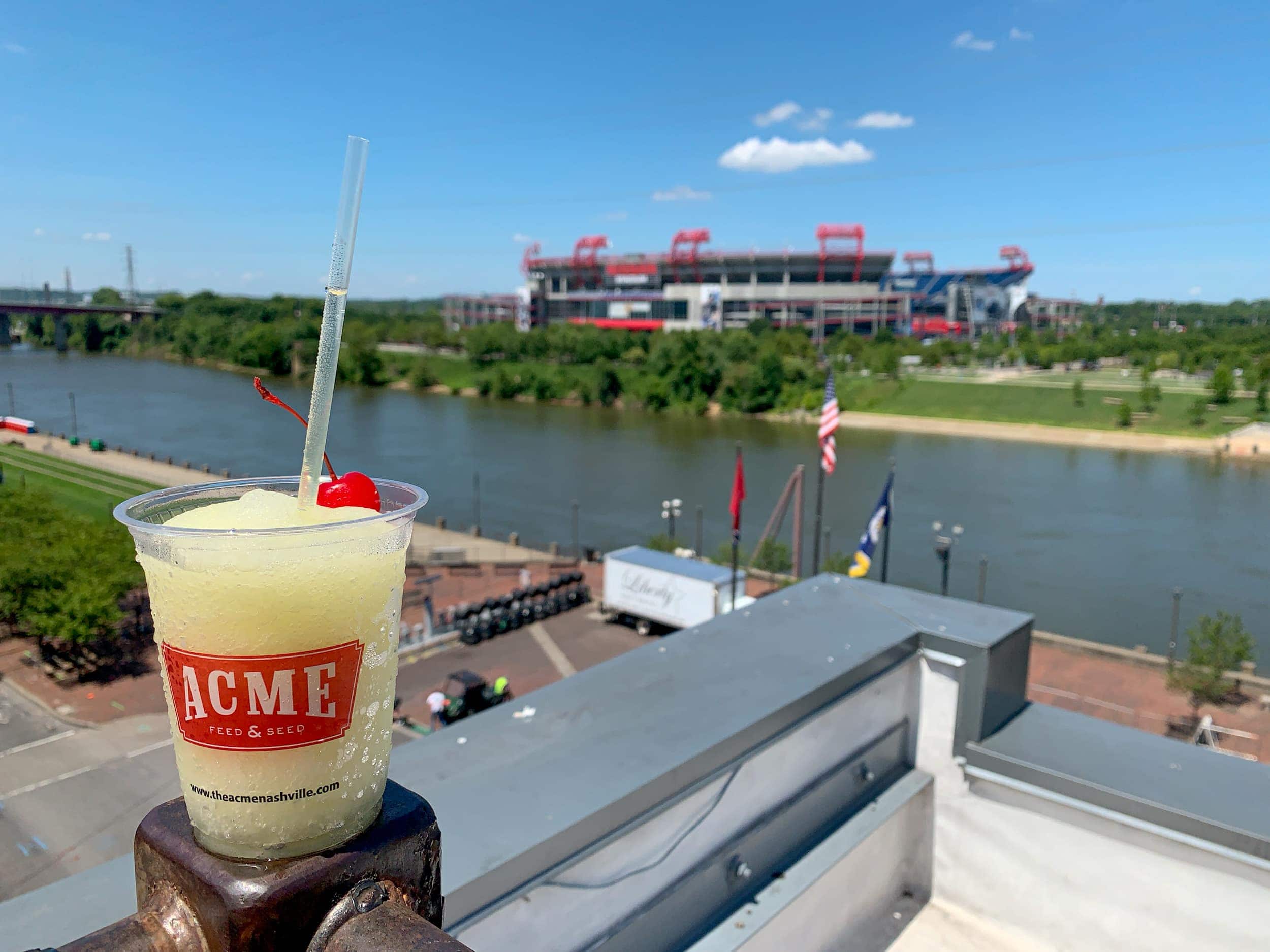 I've compiled a list of my favorite bars from my first trip to Nashville, which coincided with the July 4th celebrations.
In addition to a thriving bar scene, I can also attest to the city throwing one hell of a BIG fireworks display over the Cumberland River.
Where To Drink in Music City
Once I'd dropped off my stuff at Nashville Downtown Hostel, it was only a two-block walk to my first bar -- Acme Feed & Seed at the corner of 1st Avenue and Broadway.
I thank my friend Kristin, a Nashville native, for this recommendation.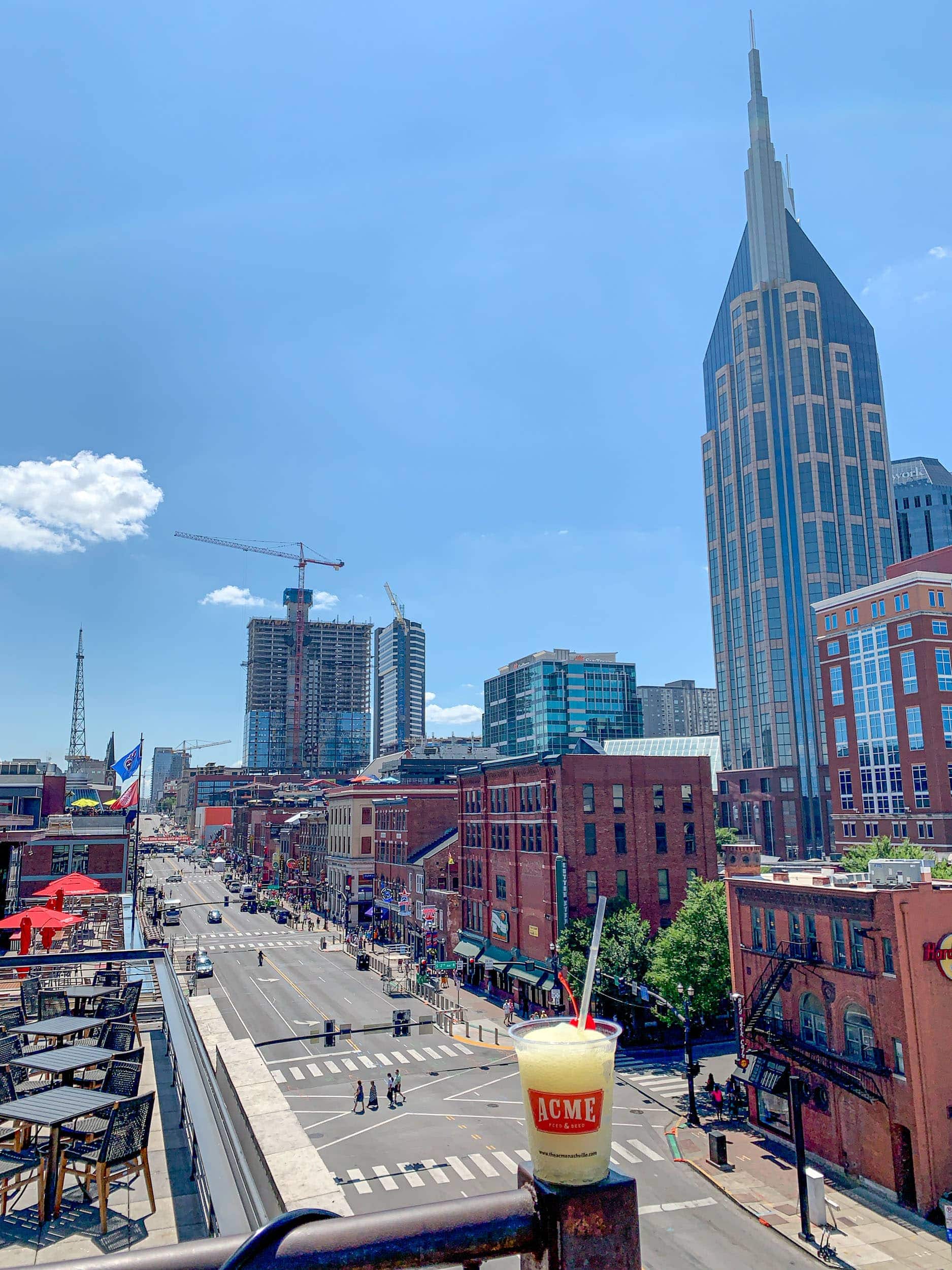 Acme Feed & Seed
Occupying a historic building dating to 1890, Acme Feed & Seed is a hot spot on prime real estate.
The spacious ground floor features a bar along the left side and a stage in the back for live performances.
The menu includes creative drinks like an Adderol Spritzer with blood orange vodka, Aperol, pineapple, Red Bull, and champagne float ($10).
Nashville is one of the country's most popular bachelorette party destinations. Therefore it's no surprise you can order Bridesmaid's Tears.
This $12 cocktail-on-tap is Tito's Vodka, grapefruit, St Germain, sage simple syrup, lemon, and orange.
I ordered the Ole Smoky Moonshine slushee and a hot chicken sandwich, quickly devouring the latter and taking the former to the rooftop bar.
East across the river, there's Nissan Stadium, home of the Tennessee Titans. To the west -- Broadway, the epicenter of Nashville nightlife.
101 Broadway, Downtown Nashville, acmefeedandseed.com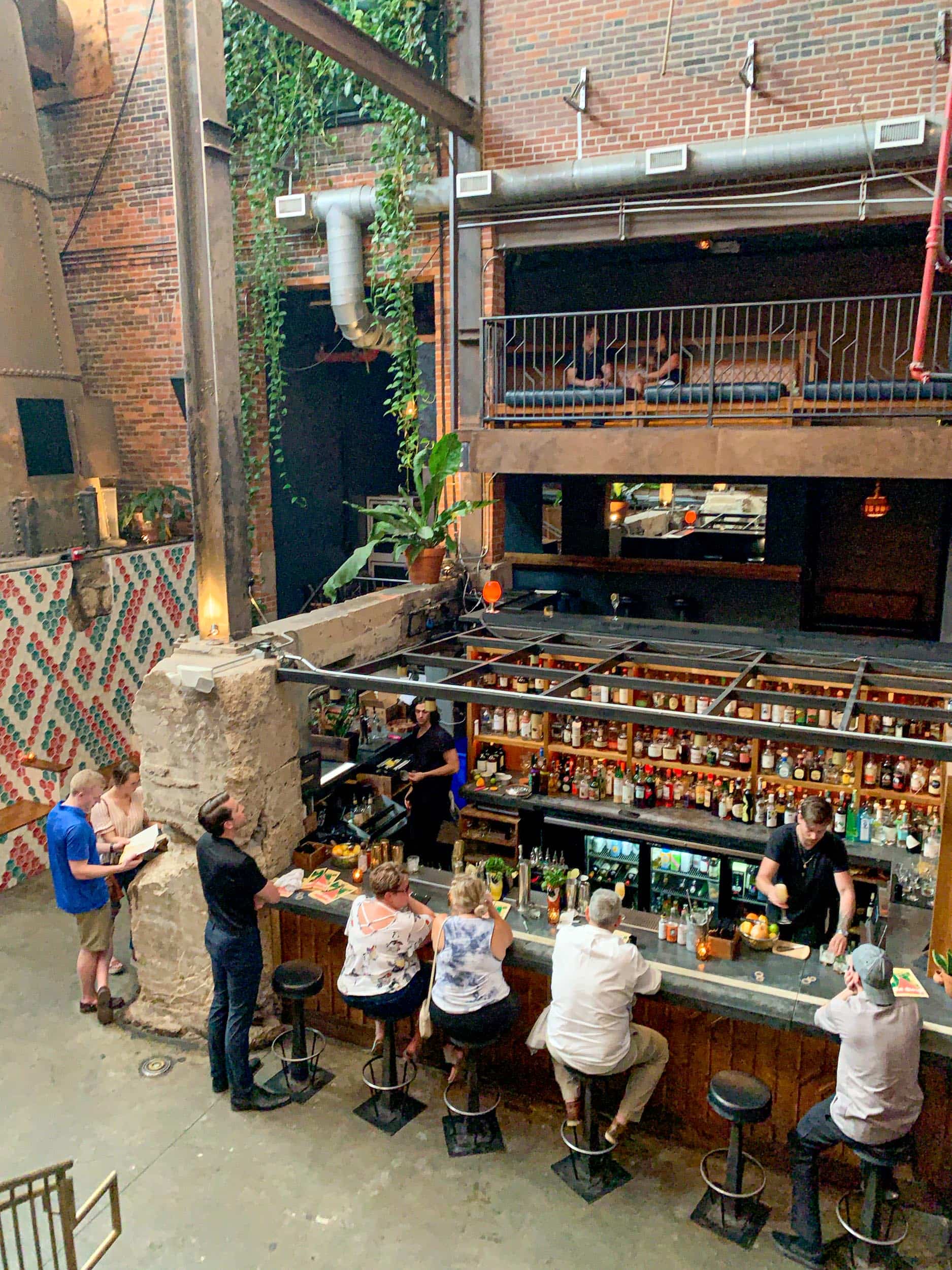 Old Glory
If you're looking for a one-of-a-kind bar experience, head to Old Glory, a five-minute ride southwest of downtown near the campus of Vanderbilt.
Opened in March 2016 by sisters Alexis and Britt Soler, Old Glory is a speakeasy housed in an old boiler room, complete with a smokestack.
The industrial space offers plenty of seating options, from the bar to booths and a little second-floor balcony that looks over the room.
The 60-foot high ceiling allows for plenty of sunlight, illuminating details like the colored tile work at the smokestack's base.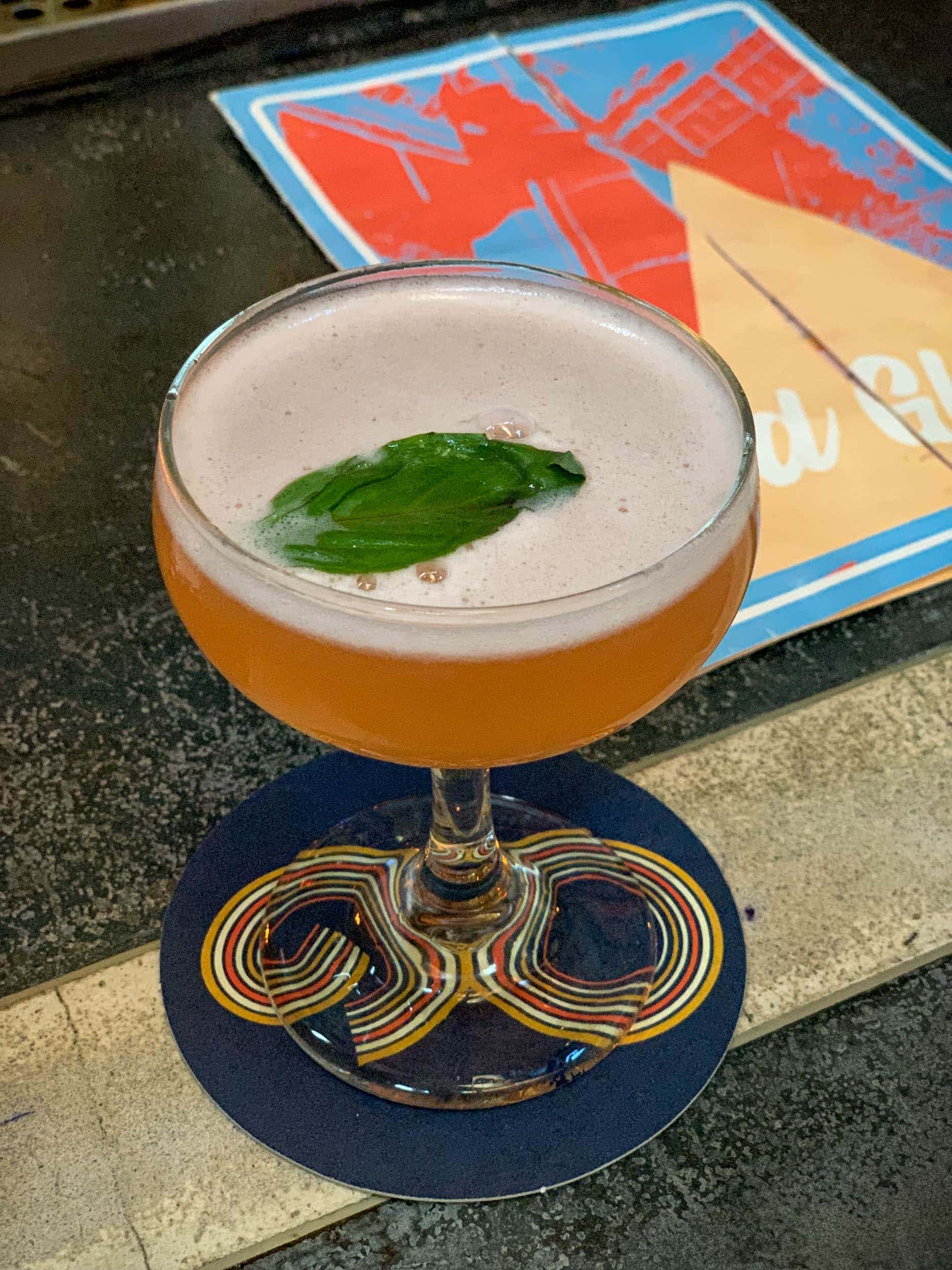 Old Glory is more than just a remarkable space. The craft cocktails deliver on taste and creativity.
I ordered the Second Base, featuring many of my favorite flavors -- Ford's gin, lavender, cucumber, Thai basil, Aperol, and lime.
The Asia-inspired 5-6-7-8 is made with vodka, roasted green tea, lemongrass, wasabi, citrus, and sake.
Choose Nature's Call with mezcal, celery, parsley, honey, yellow chartreuse, and smoked salt for a Mexican drink.
At $13 apiece, the drinks are expensive by Nashville bar standards, but it's worth it for the atmosphere.
1200 Villa Pl #103, Nashville, instagram.com/oldglorynashville
See also: Best Speakeasies in Austin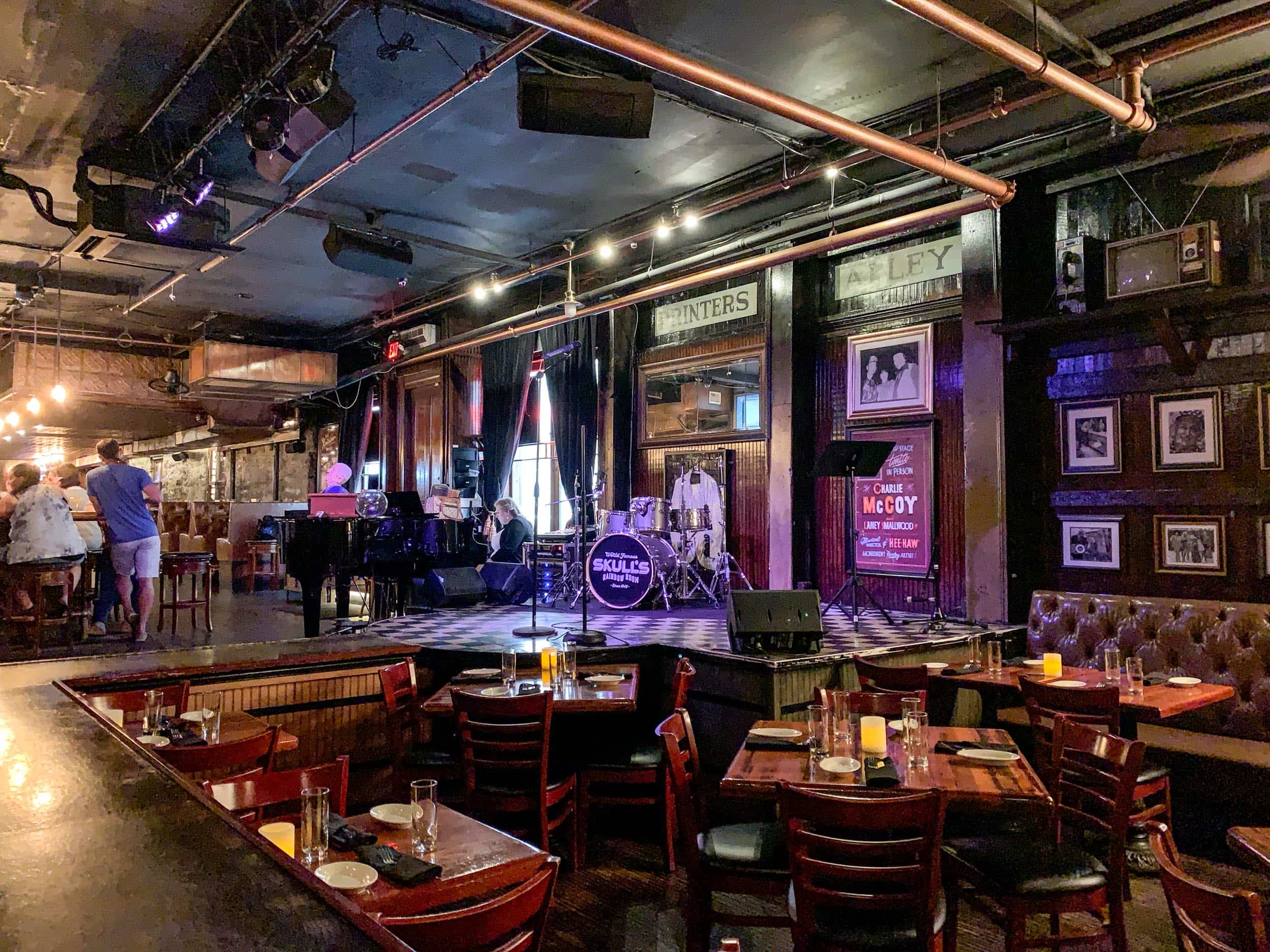 Skull's Rainbow Room
On my second afternoon in Nashville, I dropped into Skull's Rainbow Room, a speakeasy-style bar and jazz lounge dating back to 1948.
Famous musicians that have graced the small checkerboard stage include Elvis Presley, Johnny Cash, Bob Dylan, and Patsy Cline.
Today, there's live jazz seven nights a week, starting at 7:30 p.m. (except Thursdays, which kick off at 7 p.m.).
There are burlesque shows every Thursday, Friday, and Saturday night. Seating is first-come, first-serve, and there's a $20 cover charge.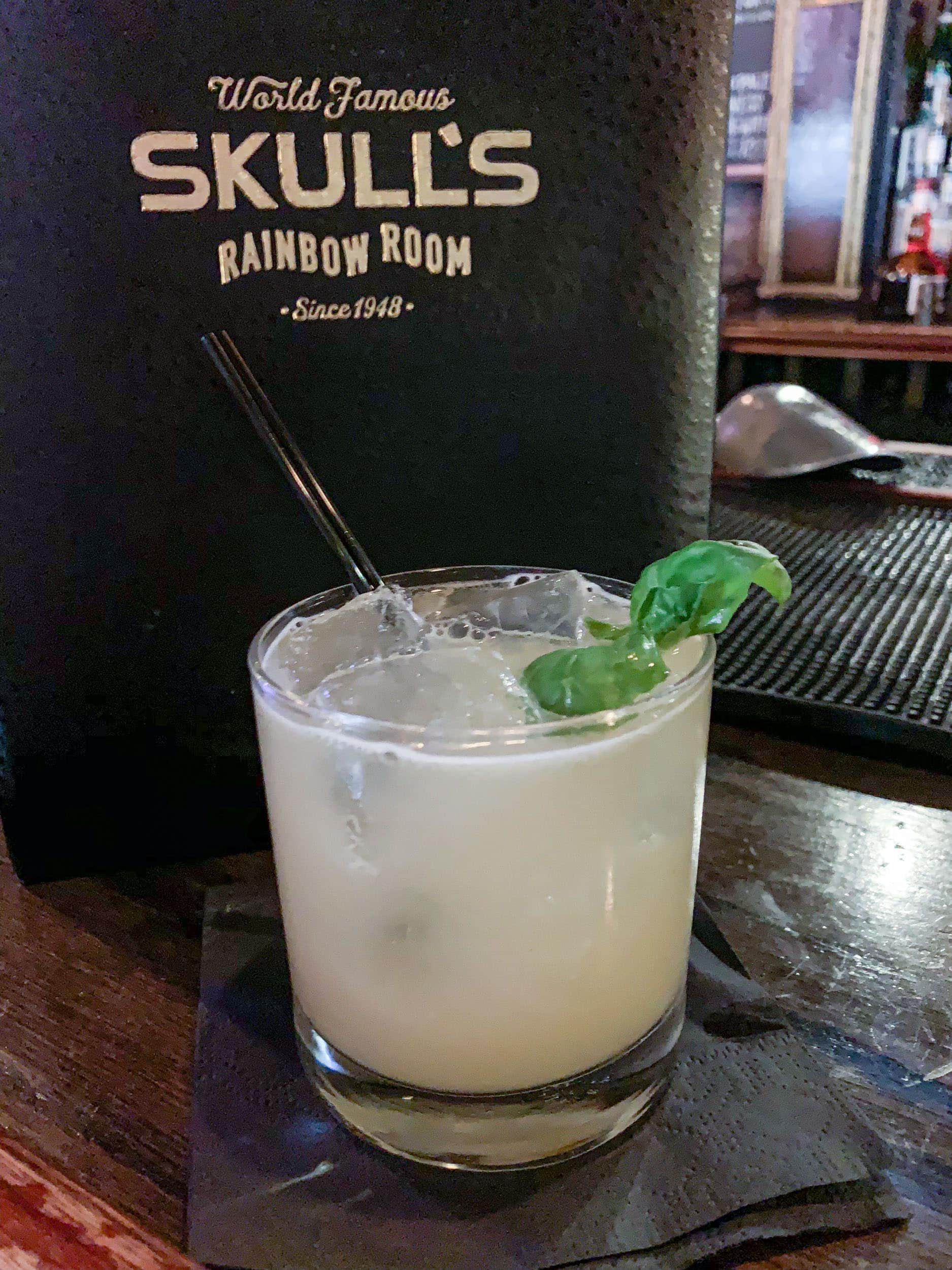 I may not have been there during one of the live shows, but at least I had easy access to the bar.
The seasonal cocktail menu offered 15 choices, all but guaranteeing there's something for everyone. Prices ranged from $13 to $17.
Lee is my last name, so I ordered the Heaven Lee with Malfy Gin (from Italy), Italicus, lemon, grapefruit, and basil.
222 Printer's Alley, downtown Nashville, skullsrainbowroom.com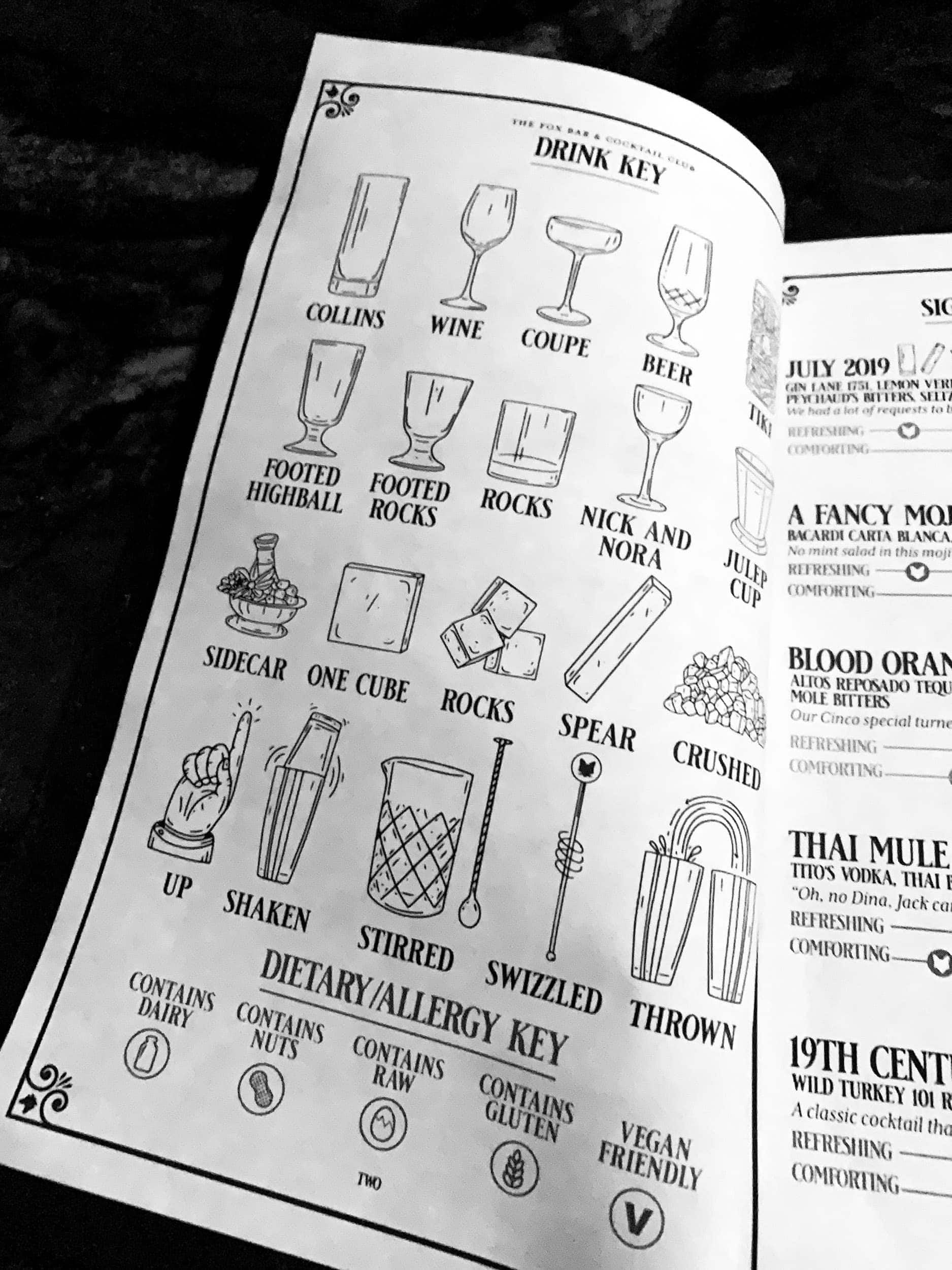 The Fox Bar + Cocktail Club
Following a fantastic night of country music at the Grand Ole Opry, I stopped by The Fox Bar + Cocktail Club in East Nashville for a nightcap.
The entrance to one of the best bars in Nashville is in the back of the building facing Gallatin Pike, adjacent to Mickey's Tavern.
You know you're on the right track to this hidden bar when you spot a large painted fox head on an otherwise black brick wall.
Inside, there's a small bar to the left with a stuffed fox perched atop it, some hi-top tables in the middle, and plush blue booths to the right.
It was a Tuesday night, so it was not too busy -- just like I like it.
The cocktail menu features an illustrated "drink key" with various glassware, ice cubes, and preparations.
If you prefer your drinks swizzled instead of stirred, you'll know what to order. A dietary/allergy key will help those with such concerns navigate the options.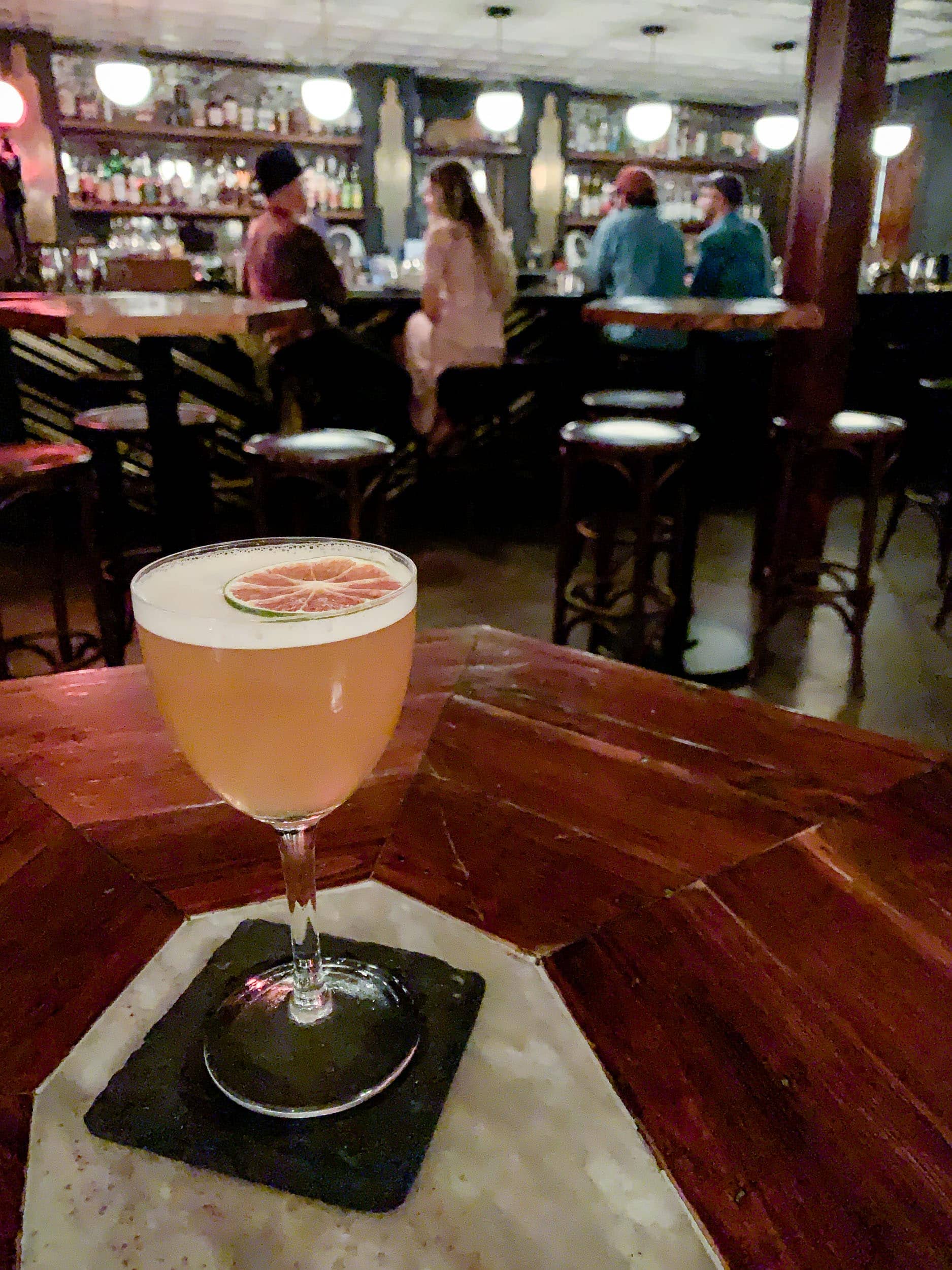 Each drink is marked on a scale from "refreshing to spiritous" and "comforting to adventurous."
I like a bar that goes to such efforts to educate its patrons. I'm sure it also cuts down on Q&A time with bartenders, which can slow drink service at peak hours.
As it was late and I would be heading to bed soon, I chose the Fox Daquiri, which is on the more refreshing and comforting side of the spectrum.
The Fox Bar's signature daiquiri is made with Appleton Reserve, Rhum Clement, El Dorado 5 Rums, lime stock, pineapple skins, sea salt, sugar, and lime oil.
Locals have the option to join the bar's Cocktail Club.
2905B Gallatin Pike, East Nashville, thefoxnashville.com
See also: Best Cocktail Bars in New Orleans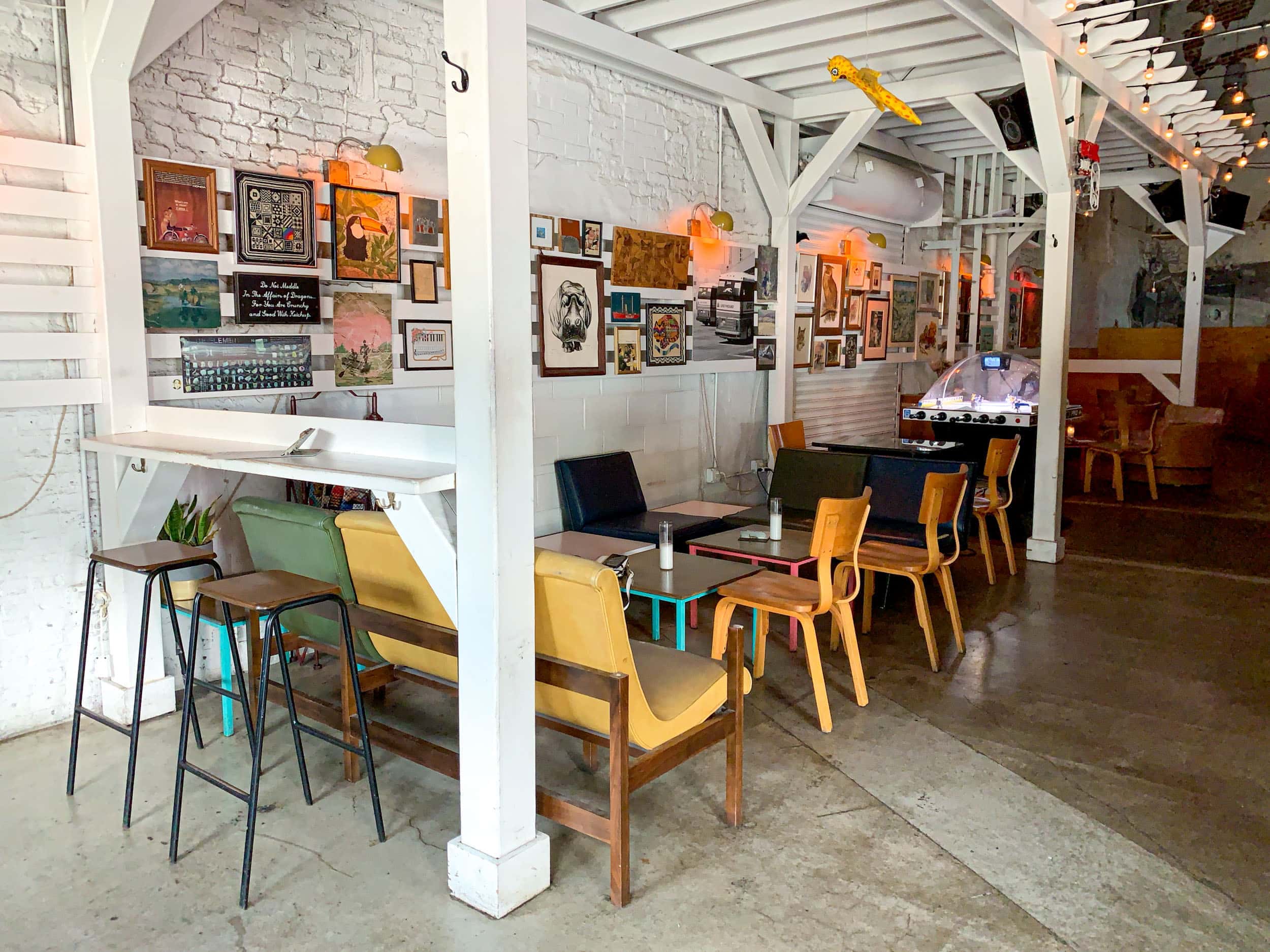 Bastion
On my third day in Nashville, I took a day trip to the Jack Daniel's Distillery in Lynchburg, TN.
I was back in time for happy hour, which I enjoyed at Bastion in the Wedgewood-Houston neighborhood, a few minutes drive south of the city center.
The bar's name is inspired by Bastian's lead character in The Neverending Story, one of my favorite childhood movies.
The whitewashed walls lightened the rustic but spacious interior.
Eclectic furniture and an air hockey game fill the floor while art and murals add visual interest. The bar is full of vinyl records.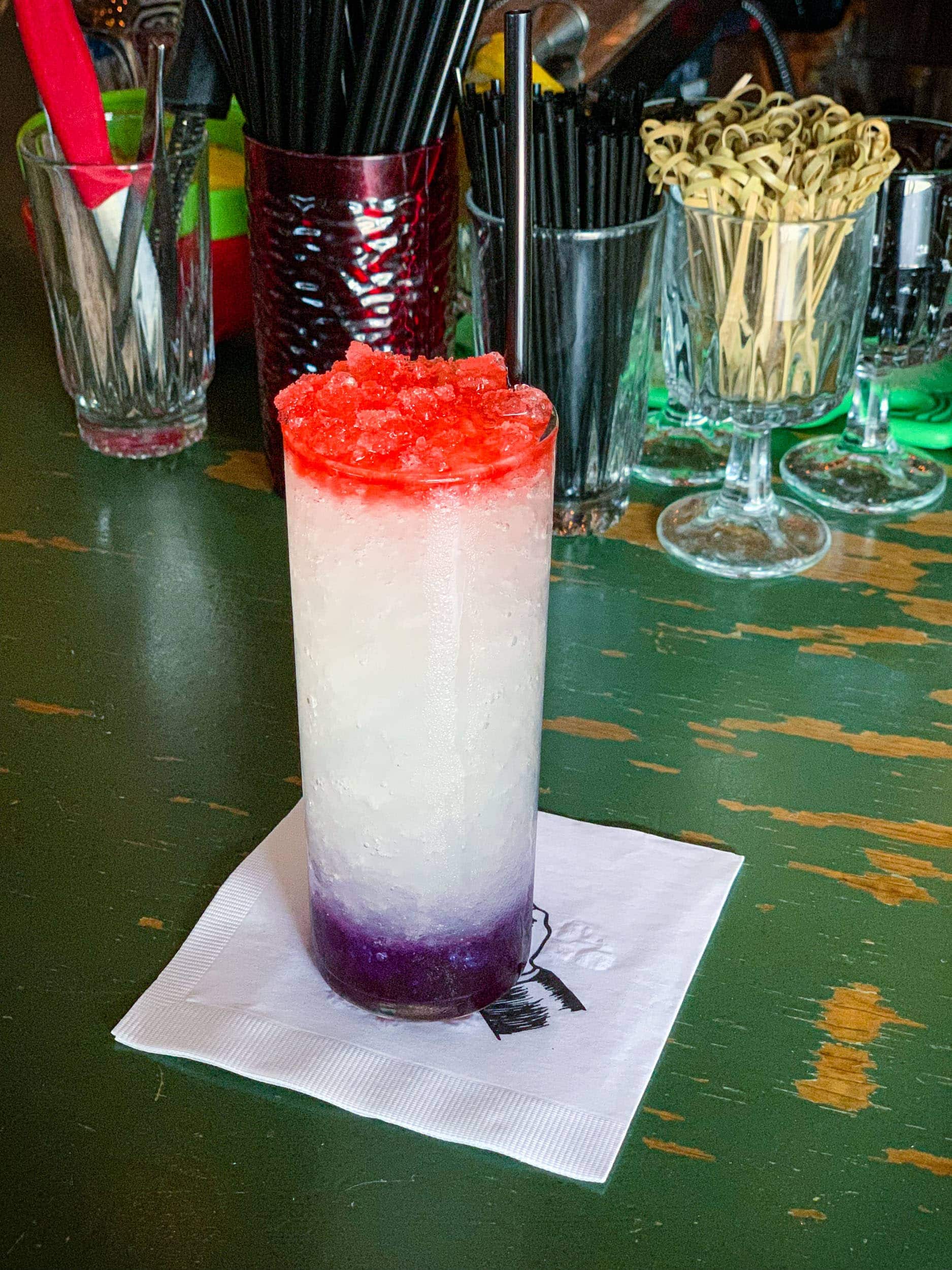 After perusing the menu and talking to one of the bartenders, I ordered the $11 cocktail du jour -- a red, white, and blue mixed drink reminiscent of firecracker popsicles.
I wished I had more time to hang out, but I still needed to get dinner before attending a U.S. men's national soccer match at Nissan Stadium.
Bastion is part of Strategic Hospitality, a family-owned company that runs the award-winning Patterson House cocktail bar and highly-acclaimed Catbird Seat restaurant (both of which I could not visit due to the holiday).
434 Houston St STE 110, South Nashville, bastionnashville.com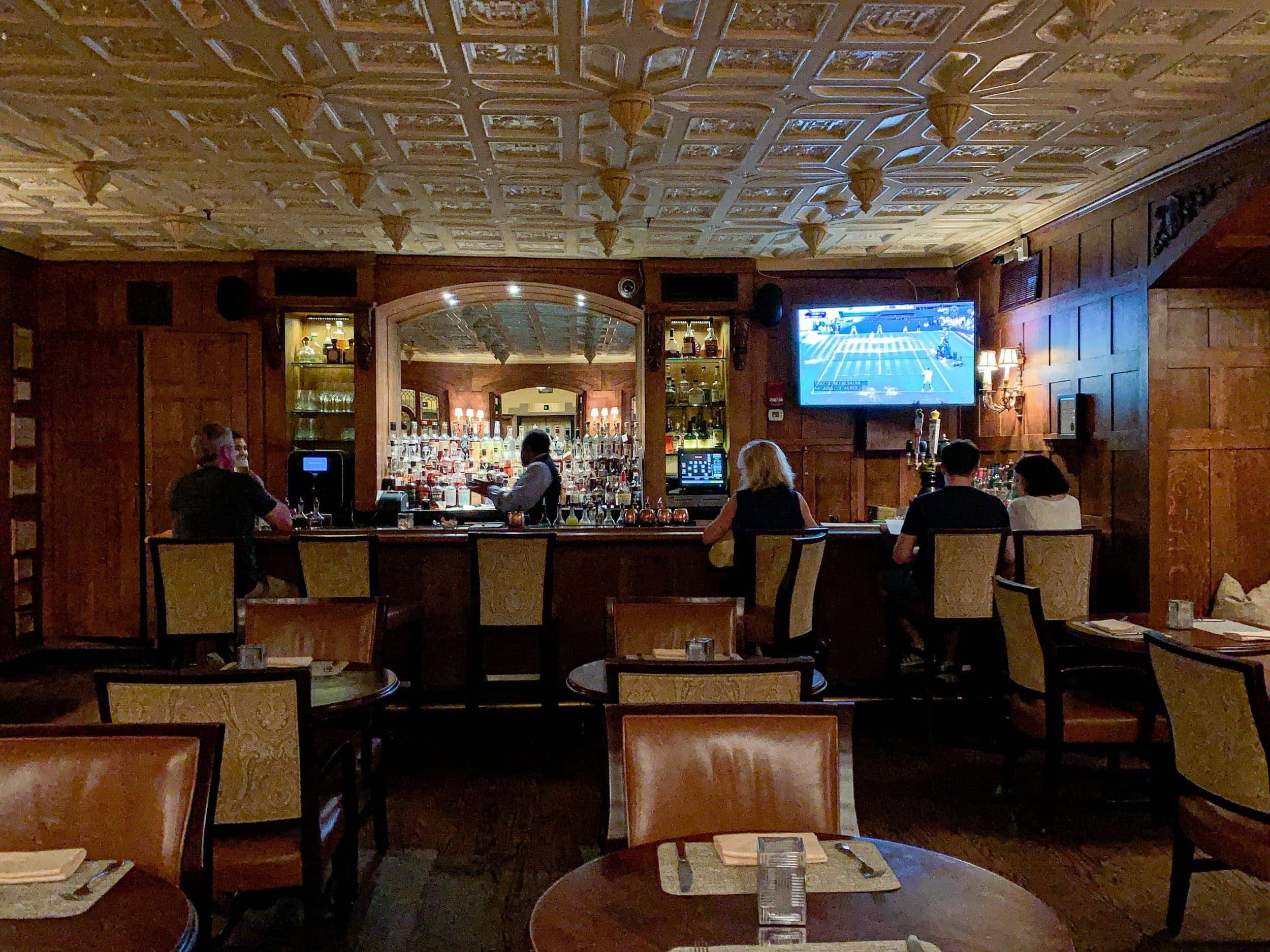 Oak Bar at Hermitage Hotel
Opened in 1910 and located a block from the Tennessee State Capitol, the Hermitage Hotel is a gorgeous luxury hotel in the Beaux-Arts style.
The grand lobby in Nashville's first million-dollar hotel will make your jaw drop, but that's not why we're here.
Go downstairs, and you'll find the Oak Bar, a legit Prohibition-era bar boasting Nashville's most extensive bourbon collection (208 varieties).
The detailed woodwork and ornate white ceiling offer a glimpse of a space once reserved for gentlemen only.
The stylish men's room next door, complete with a shoeshine station and telephone, has been preserved due to popular demand. It's worth a peek.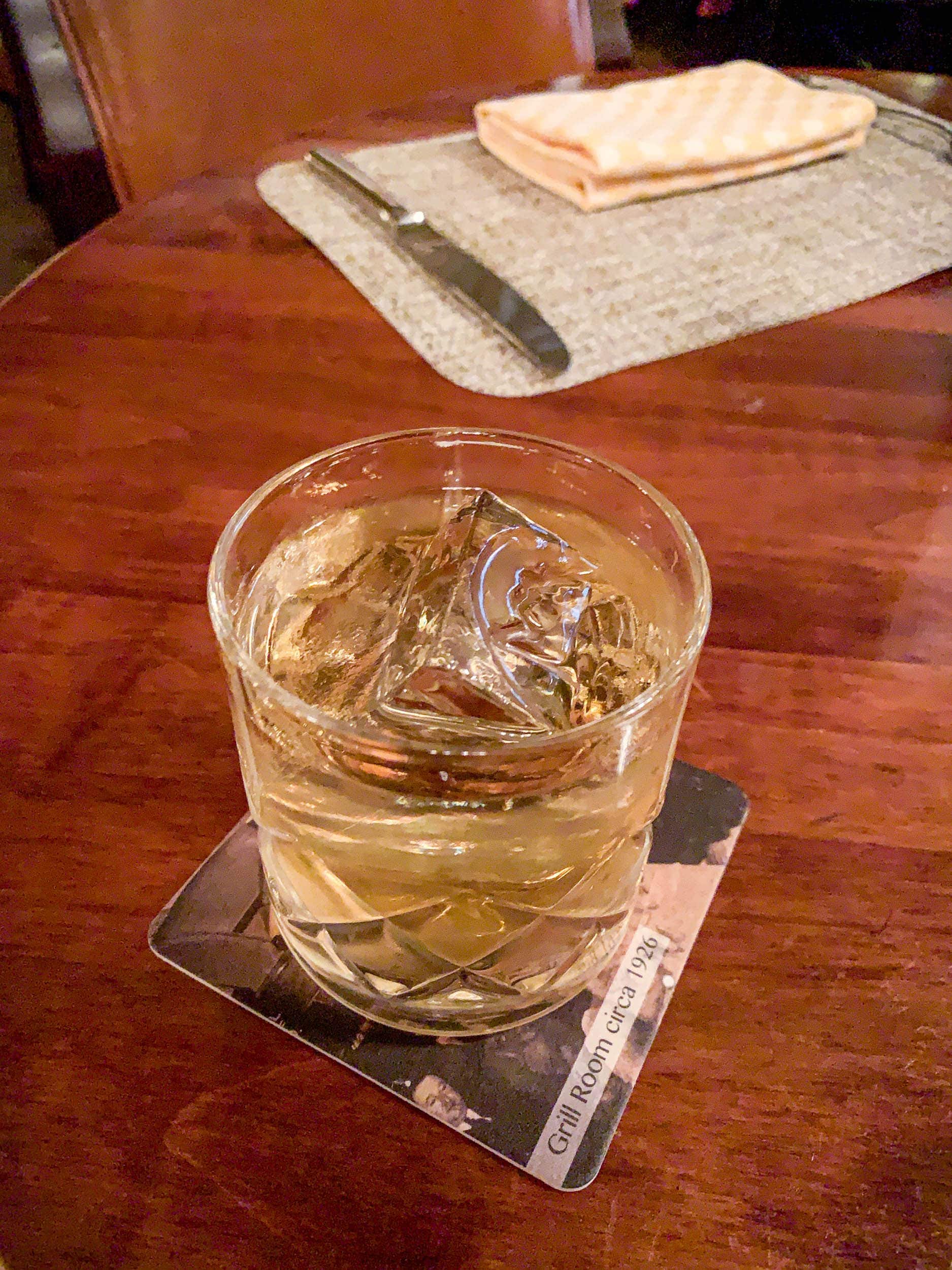 I tried a Jack Daniel's Tennessee Honey whiskey on the rocks with a splash of Sprite.
The crystal-clear block of ice was stamped with the head of Andrew Jackson, who served in Congress, representing Tennessee before becoming the seventh President of the United States.
Jackson died in Nashville in 1845 at the age of 78. A statue commemorates him on the grounds of the Capitol.
The Oak Bar pays tribute to Women's Suffrage with cocktails named after the movement's leading ladies.
See also: Dante NYC: An Italian Bar with 100 Years of History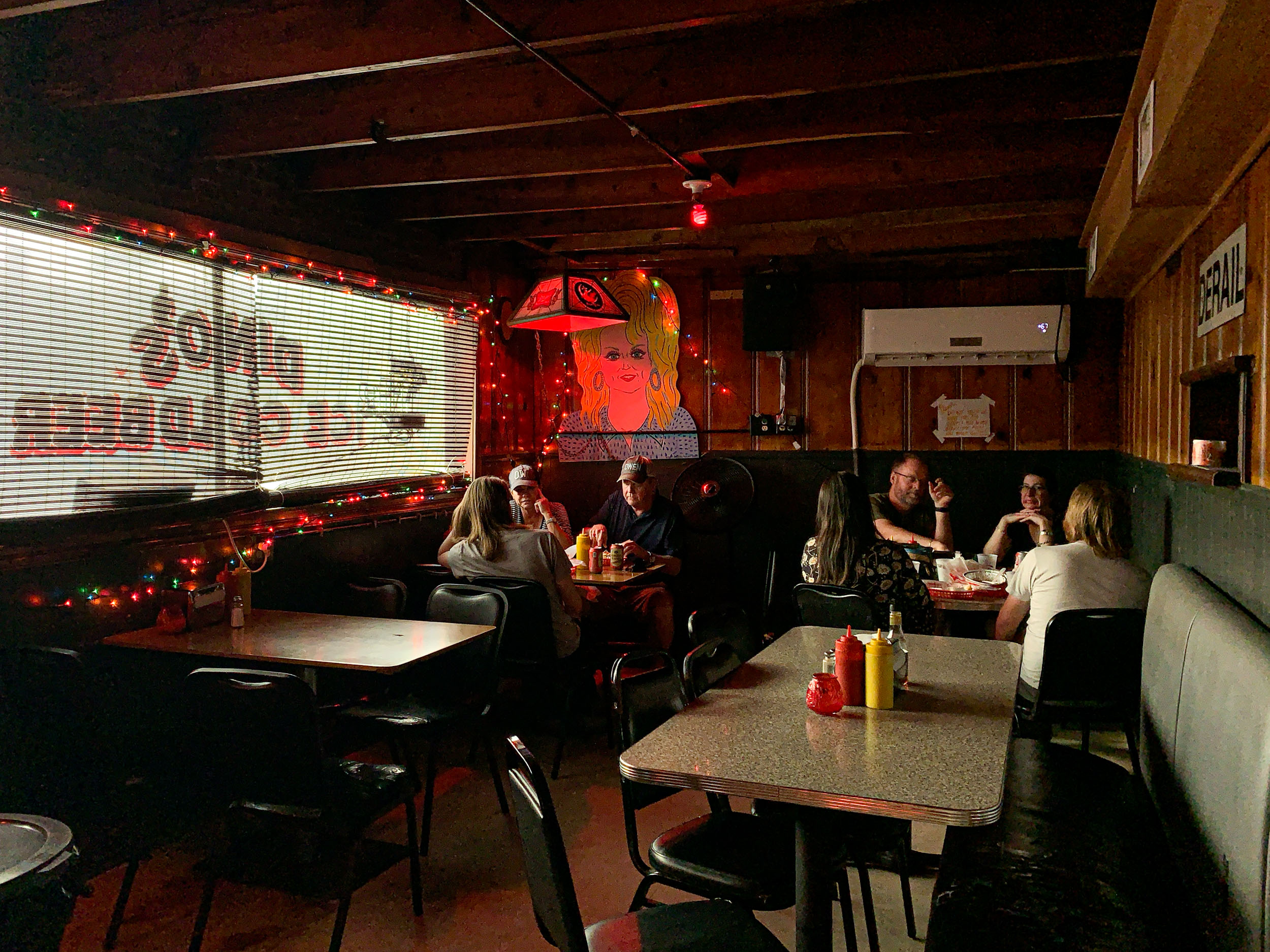 Dino's Bar
I squeezed in a quick trip to Dino's Bar in East Nashville between a mid-afternoon rain and the Fourth of July fireworks.
This greasy spoon was featured on one of my favorite episodes of Anthony Bourdain's No Reservations; however, I didn't know that then.
I prioritized Dino's after the bartender at Husk Nashville recommended it while I was devouring their incredible cheeseburger for lunch earlier in the week.
Dino's, thankfully, saw it fit to be open on a national holiday, while quite a few other great places I'd hoped to visit were closed.
A shot with a craft beer cost $7; the liquor options included rye, tequila, gin, vodka, mezcal, fernet, rum, and others.
Some of the great food options included cheeseburgers, grilled cheeses, hot chicken, fish and chips, and Frito pie.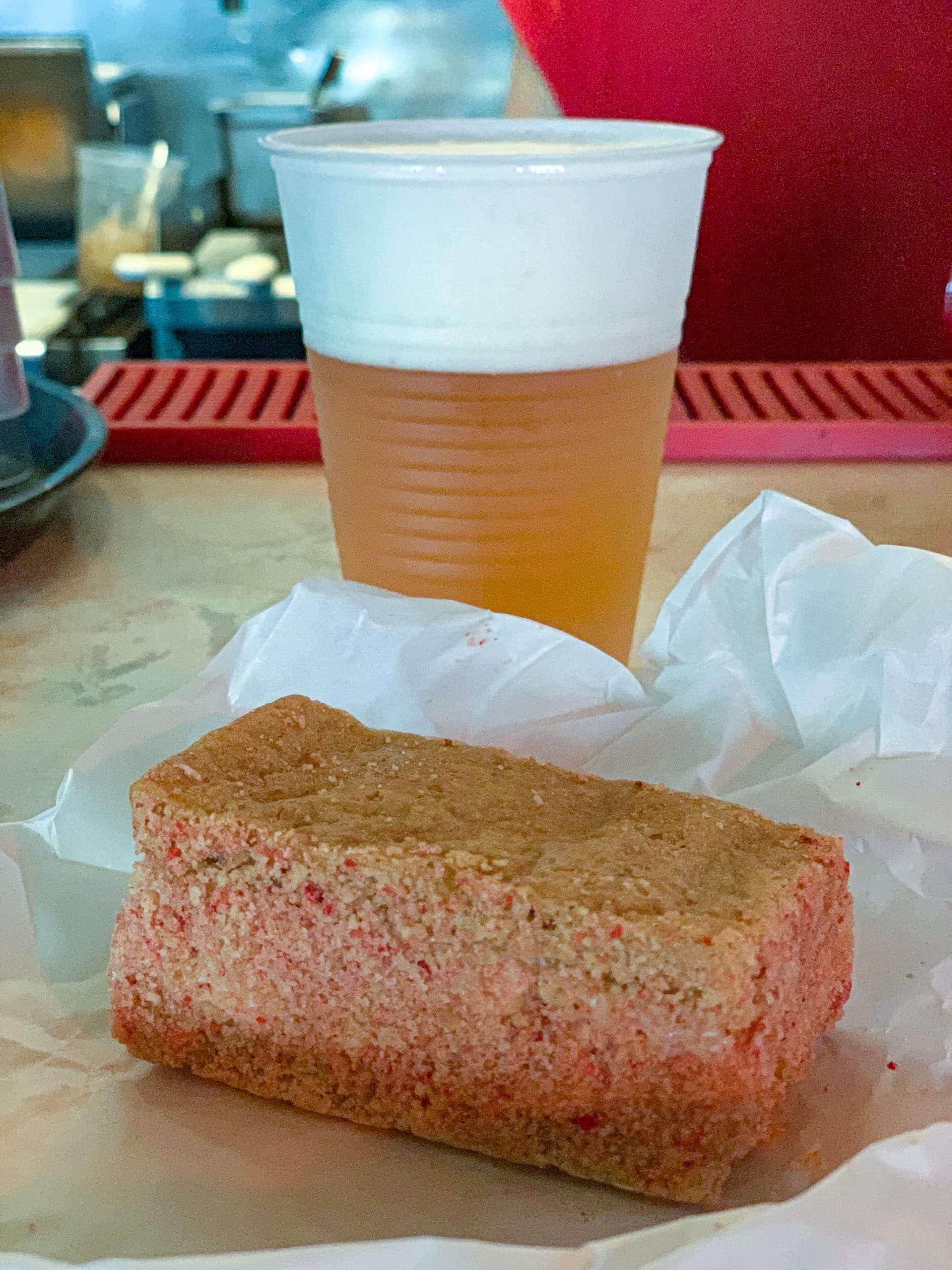 I'd already eaten dinner while taking shelter in a honky-tonk on Broadway during the rain showers, so I went with a TN draft beer ($5) and the strawberry shortcake ice cream sandwich ($5).
I realize an odd combo, but Dino's is a dive bar, not a place anyone would look at you weird for ordering ice cream with your cold beer.
I soaked up the atmosphere and my beer before heading downtown for one more stop before the fireworks.
Related: Memphis Restaurants To Try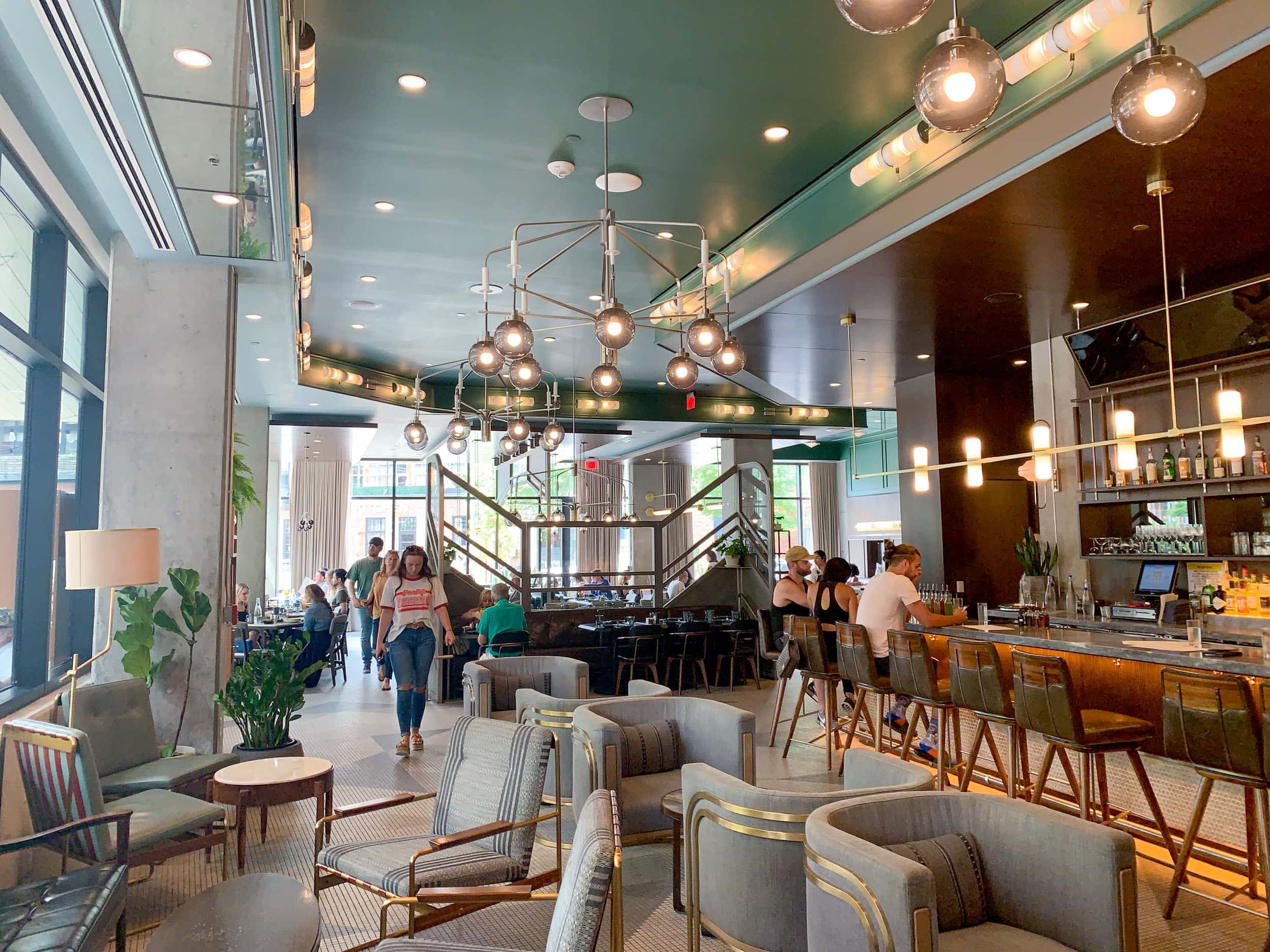 Marsh House
My last bar before the epic 30-minute fireworks show was at the Marsh House, a seafood restaurant in the Thompson Nashville Hotel.
I'd stopped in earlier that day for pastries from chef Lisa Marie White, a James Beard Award-winning chef (who no longer works there), and saw the U.S. Men's National Soccer team departing for their bus out of town.
I returned to try a dessert that wasn't available earlier and used the opportunity to get a cocktail.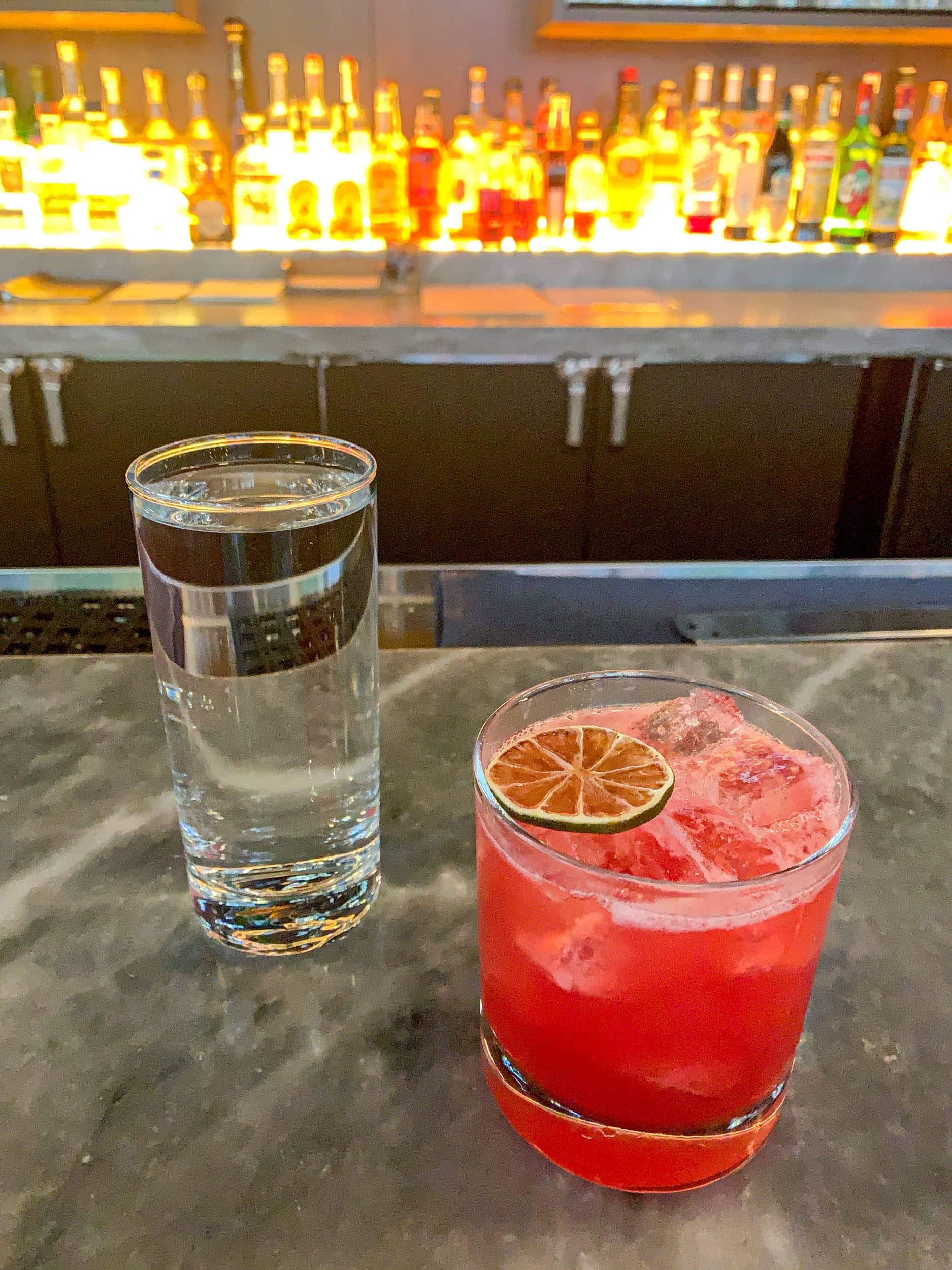 The $13 Delores is Cathead Vodka (from Mississippi), apricot, hibiscus, lime, and Peychaud's.
Whoever was responsible for the menu had a sense of humor. Another drink was named Vandelay Industries after the company George Castanza invented when filing for unemployment in Season Three of Seinfeld.
The Thompson Nashville also has a large rooftop patio that regularly has DJs.
401 11th Ave S, downtown Nashville, marshhouserestaurant.com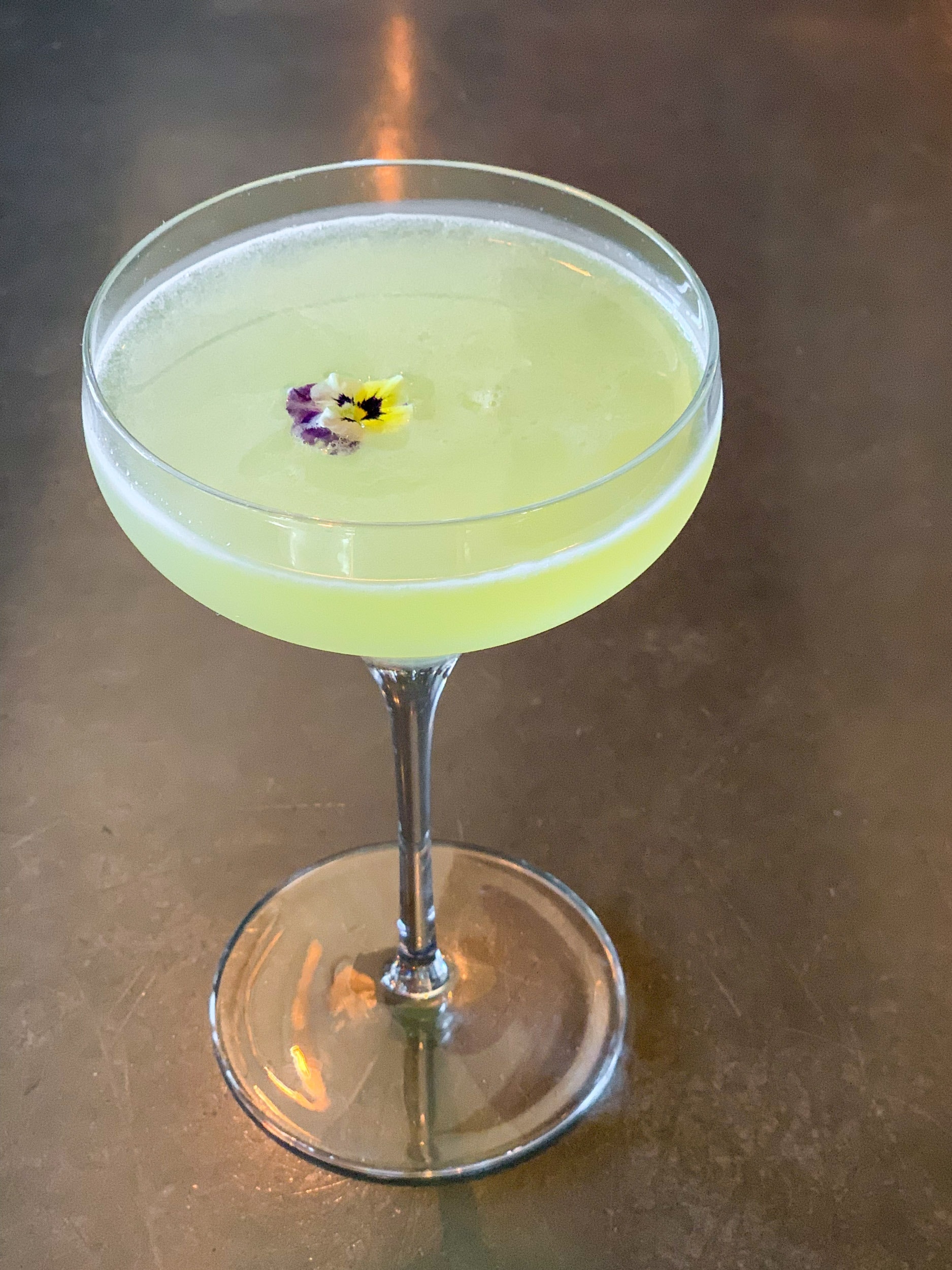 Josephine
Last but not least, I want to give a shout-out to Josephine, a new American restaurant in South Nashville by Andy Little, a two-time semifinalist for a James Beard Award.
The wrap-around bar was the perfect place to enjoy my first dinner in Music City, which began with a pretty Cathead Honeysuckle Vodka cocktail.
Josephine also offers an award-winning wine list, beer, and non-alcoholic options.
If you're looking for a place to celebrate a special occasion, I highly recommend drinks and dinner at Josephine.
2316 12th Ave S, South Nashville, josephineon12th.com