I impulsively flew across the country to San Francisco for a long weekend in my early twenties. At the time, seeking out the best bars in San Francisco wasn't even a consideration.
Instead, I went out for electronica the first night and a punk show the second. My third night was spent touring a subway tunnel filled with street art.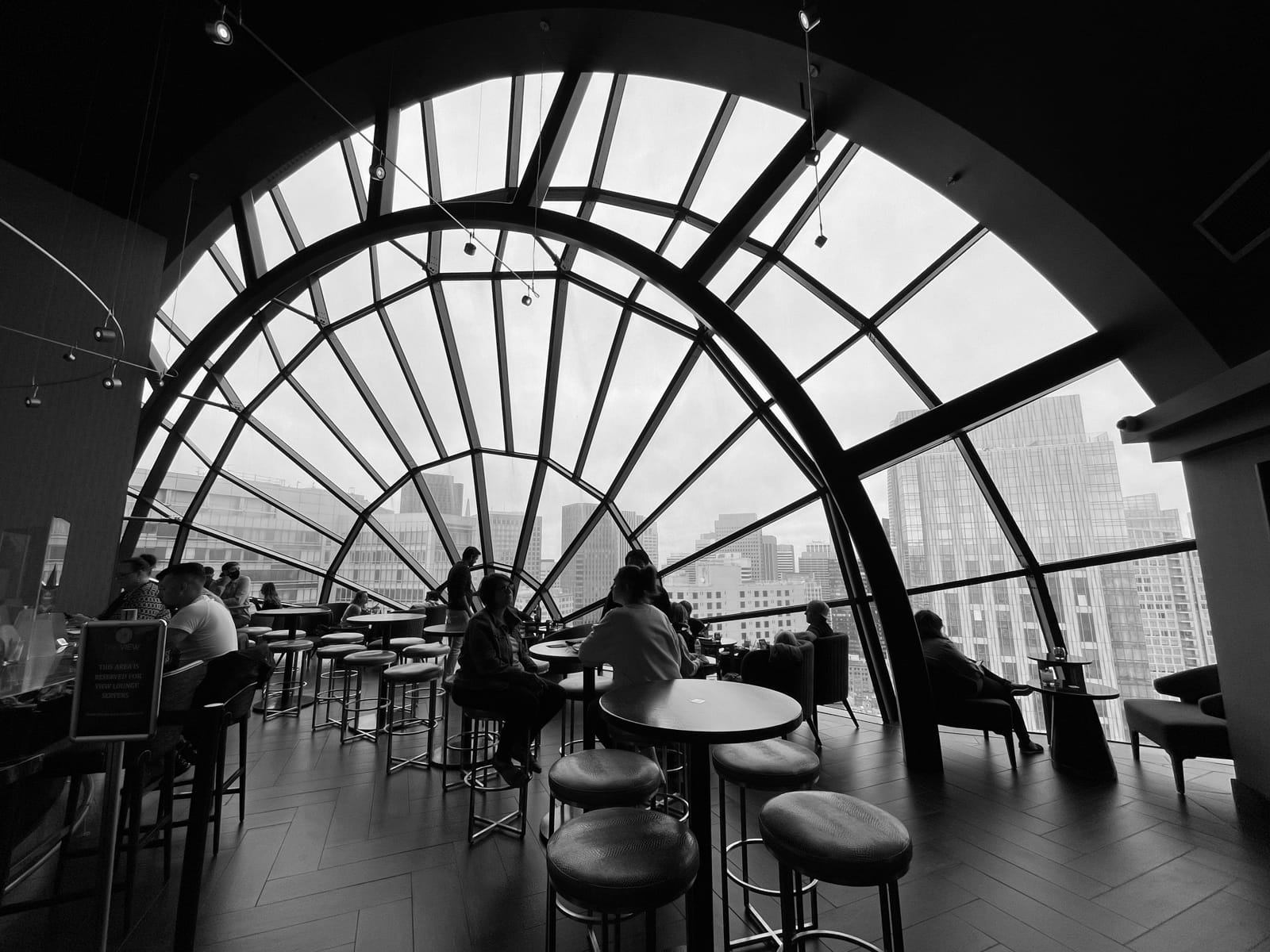 I didn't even see the Golden Gate Bridge. It was an atypical experience; I've wanted to go back to SF ever since.
My opportunity came en route to Oahu when I gave myself a weekend to explore.
This time, I saw the Golden Gate Bridge by ferry and land, visited the best bakeries, and explored five of the best bars in San Francisco.
My weekend left me wanting more, and I intend to add to this list on future trips.
Where to Drink in San Francisco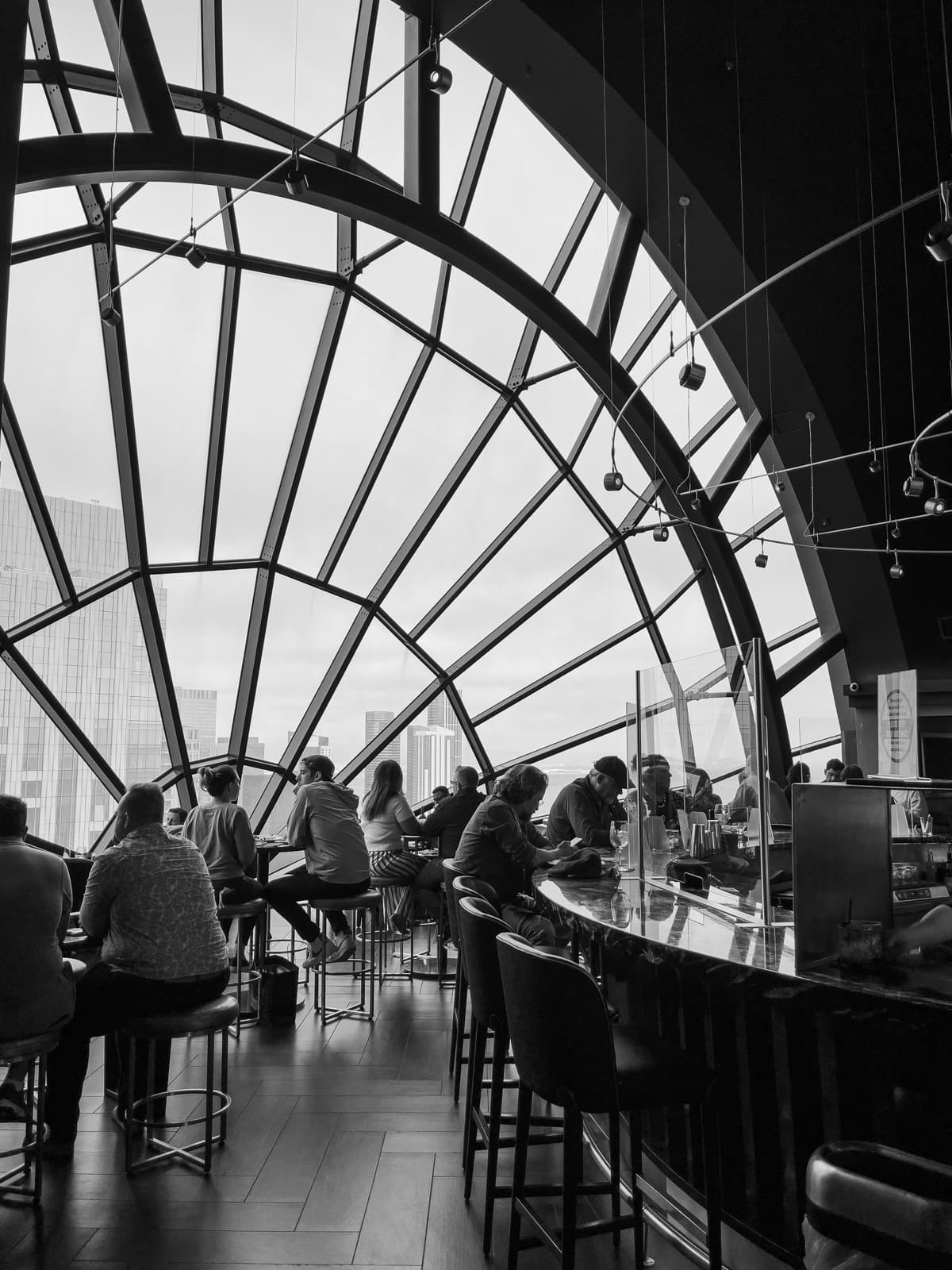 The View Lounge
Conveniently located a few blocks west of the Financial District and south of Union Square, The View Lounge on the 39th floor of the Marriott Marquis San Francisco offers panoramic views.
This Art-Deco-inspired space atop one of the city's tallest hotels provides a unique experience to relax and unwind after a day of sightseeing.
Inside, a mix of bar seating, high-top tables, and soft green chairs by the large windows offer plenty of options.
Between the two main lounges with the floor-to-ceiling windows, there are some nooks with additional seating and more privacy.
Be there when the bar opens for the best shot at a window-side seat. They fill up quickly on clear days.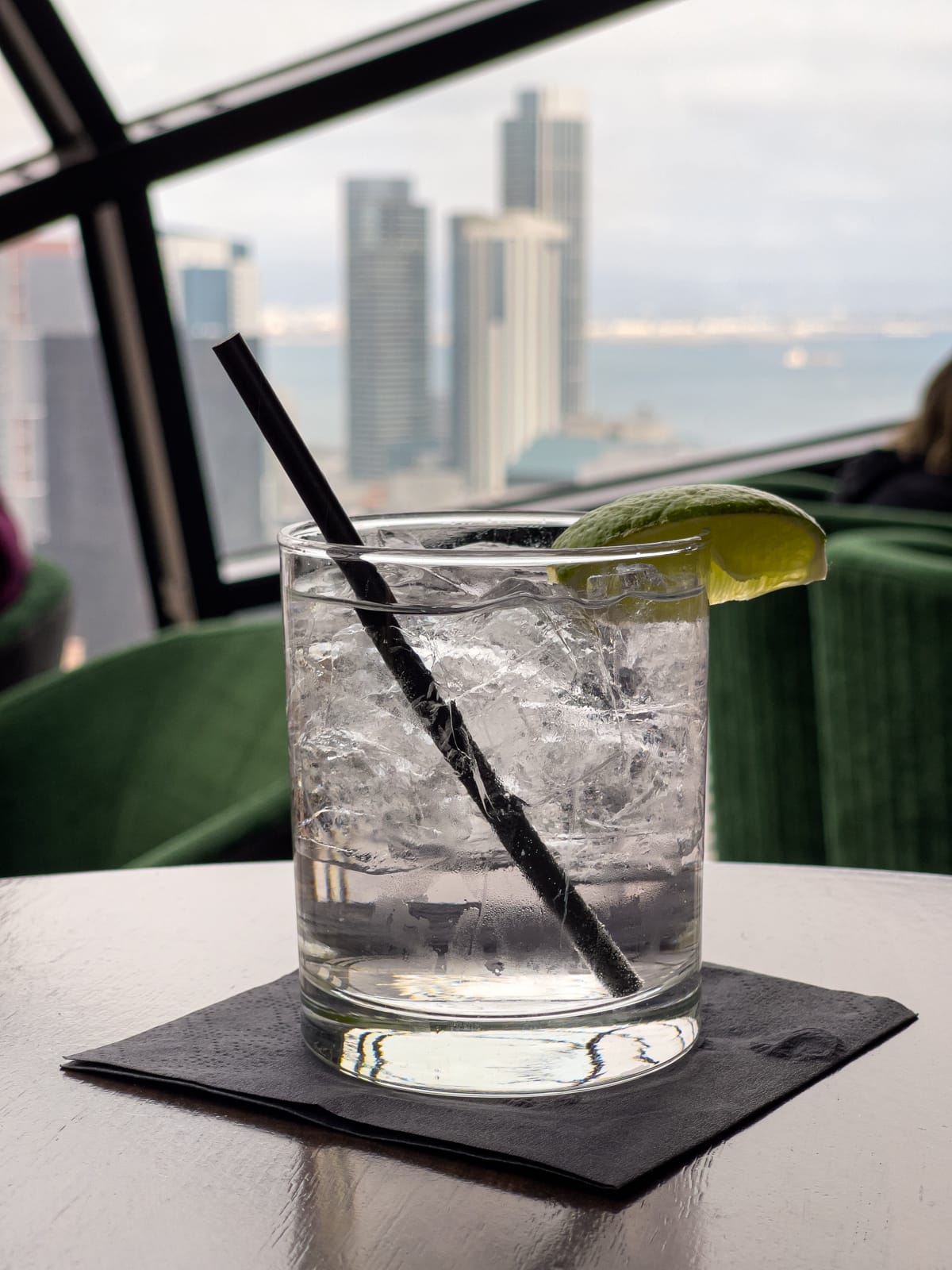 The bar serves craft cocktails, including signature cocktails like the SF Manhattan and rum Skyline Punch; however, I was in the mood for a Grey Goose and tonic.
After I finished my drink and paid the bill, I walked over to the other side of the bar, which was noticeably quieter.
A friendly waitress from Oahu began chatting with me and offered me a glass of water. Not wanting to leave, I began perusing the food menu.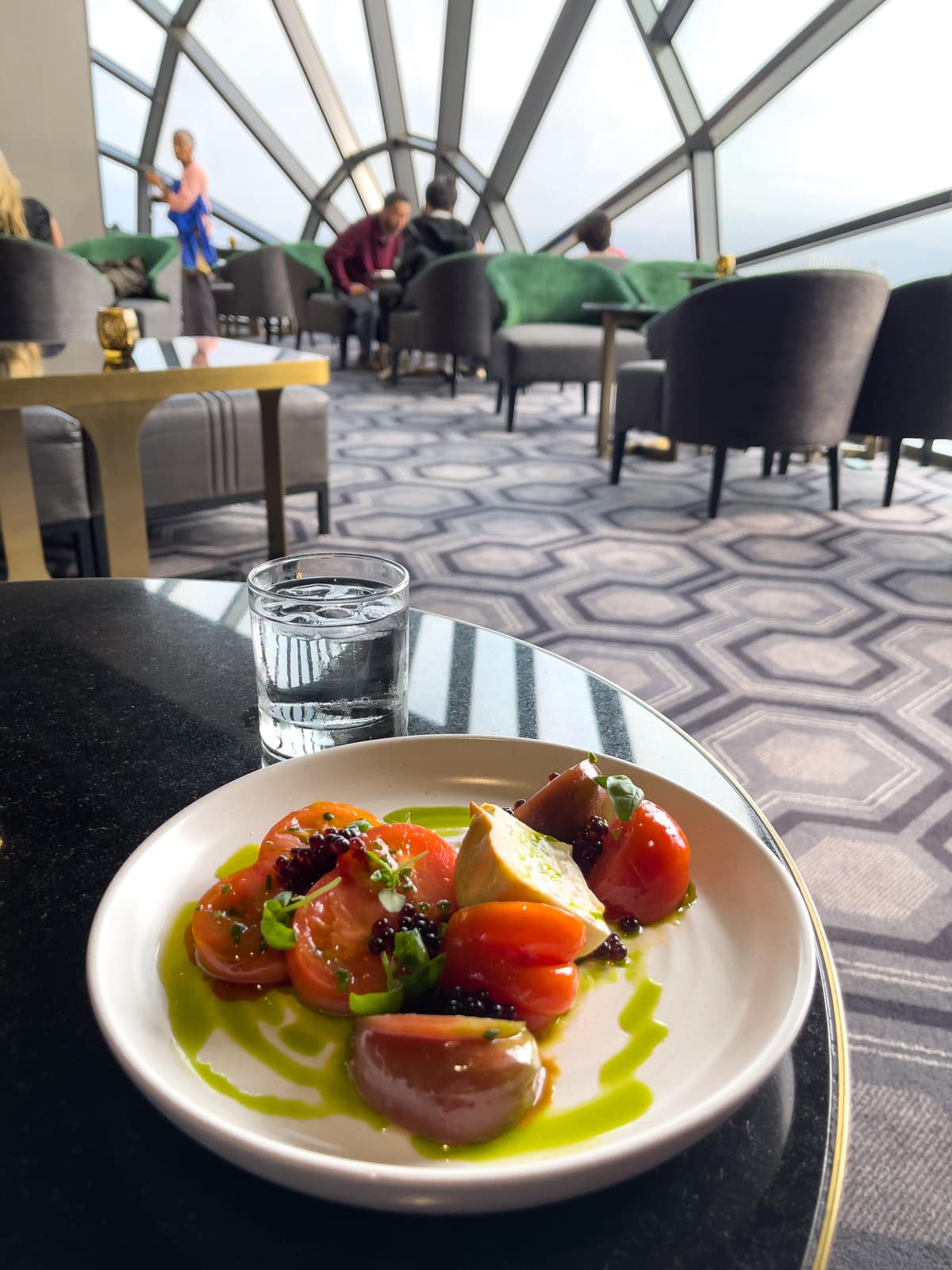 Small Plates
The cheese board and charcuterie options would be better with company. The Niman Ranch sliders with caramelized onions were tempting, as were the short rib tacos.
Ultimately, I opted for a colorful heirloom tomato salad with burrata. Afterward, sure I was ready to leave, I paid my second bill.
Then, my kind server said she'd make sure I got one of the window seats at this remarkable place.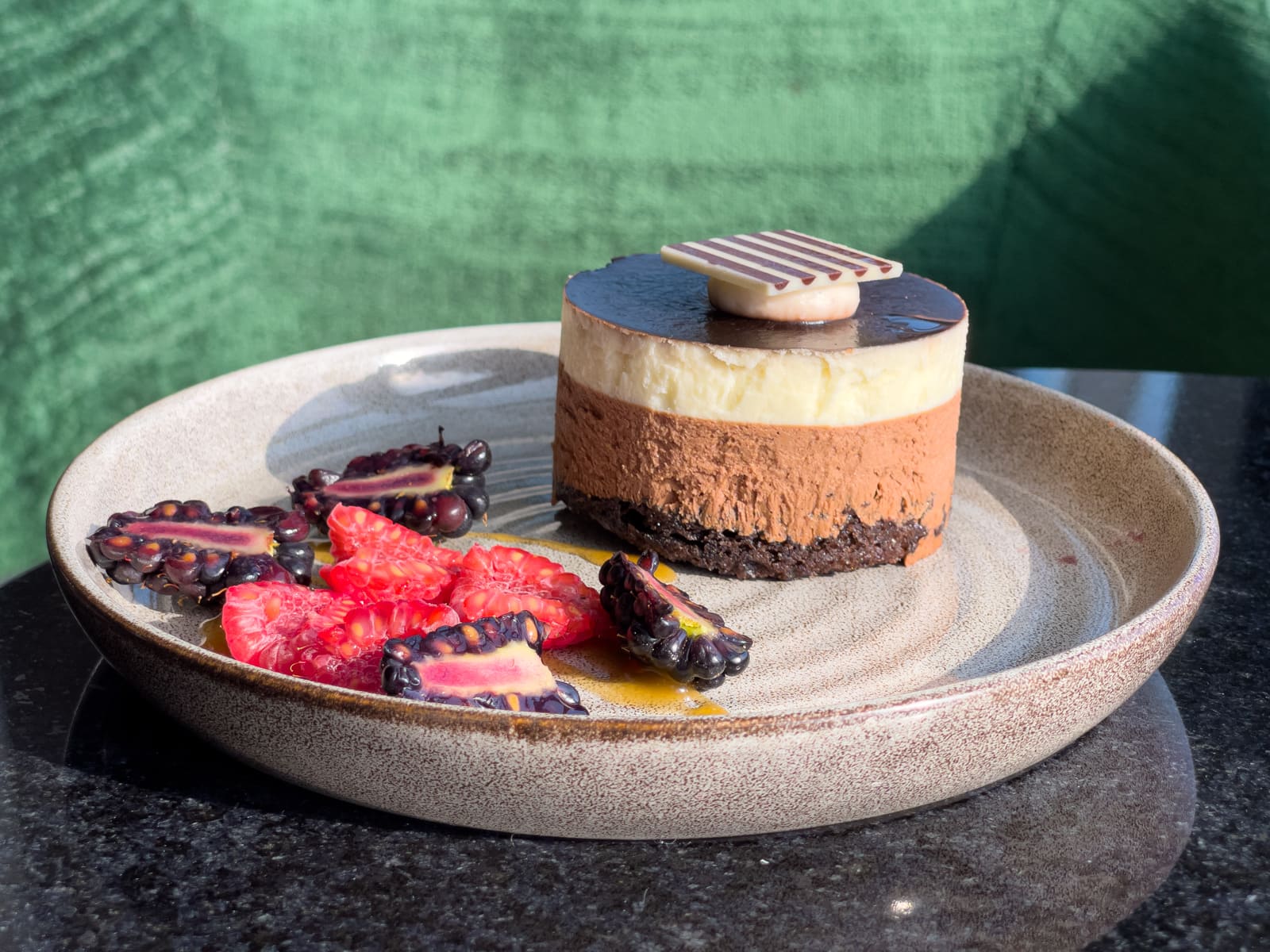 I ordered the triple-layer chocolate Marquis cake with local berries and sea salt caramel sauce to compliment the experience.
What began as a cocktail with a view turned into a terrific dinner with attentive service that left a lasting and positive impression.
The day's overcast skies had begun to lighten while I was there; however, I'd love to go back on a clear day and see the city view at night.
780 Mission St, San Francisco, marriott.com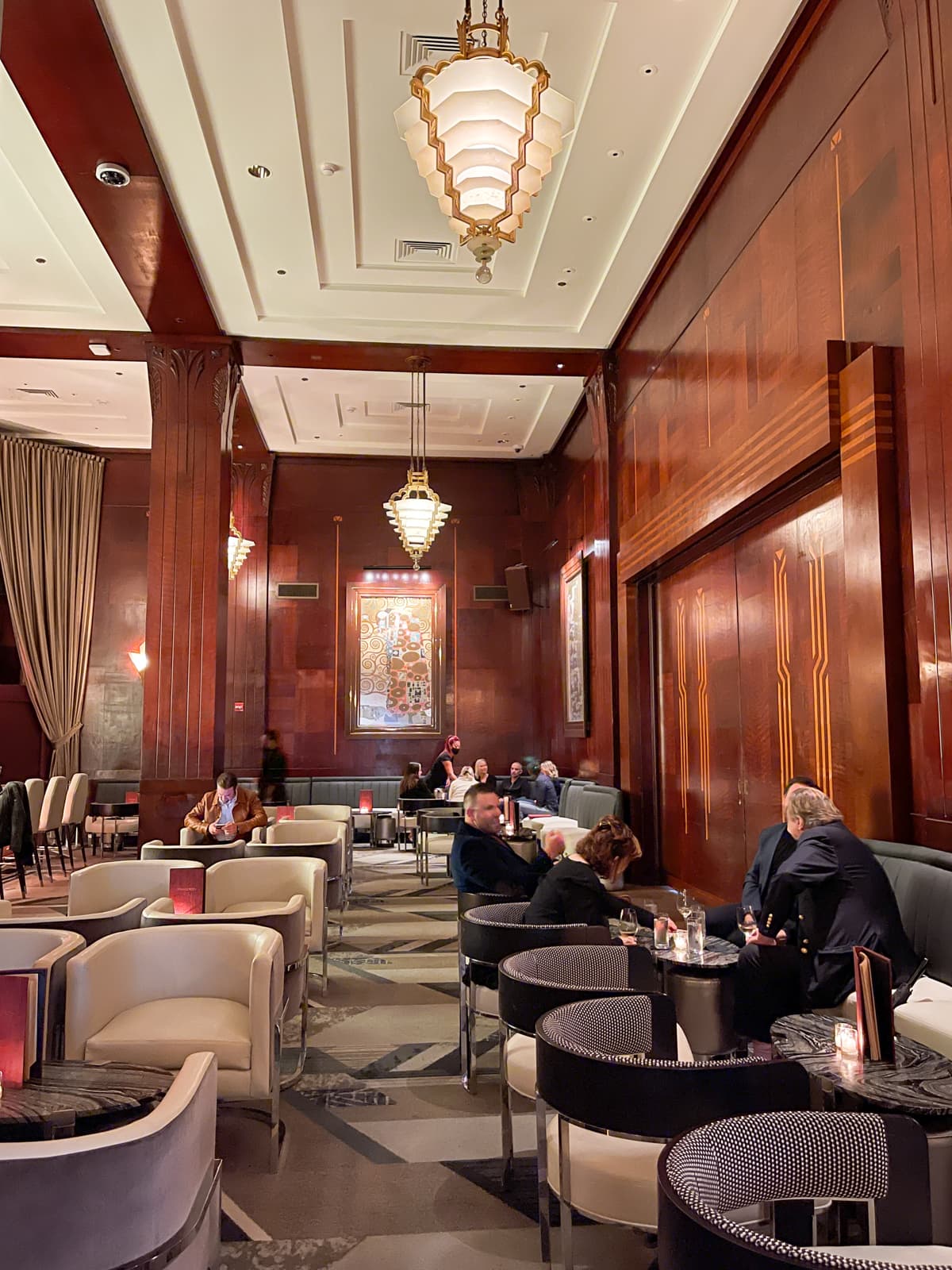 Redwood Room
I was unfamiliar with the Redwood Room when I booked my three-night stay at The Clift Royal Sonesta Hotel.
However, it turned out I was giving myself easy access to one of the best bars in San Francisco and one of the oldest, too.
Staying at The Clift was my first experience with a hotel booked through the American Express travel portal.
As a part of the American Express Hotel Collection, I received my third night free, plus a $100 dining credit for use at the Redwood Room and Frederick's, a new on-site cafe.
Sign up for an AMEX Gold card and earn 60,000 Membership Reward points if you spend $4,000 within the first six months. Use your points toward free flights, hotels, and more.

Disclosure: I receive bonus points for each referral through my link above, which supports me increating stories for Feastio.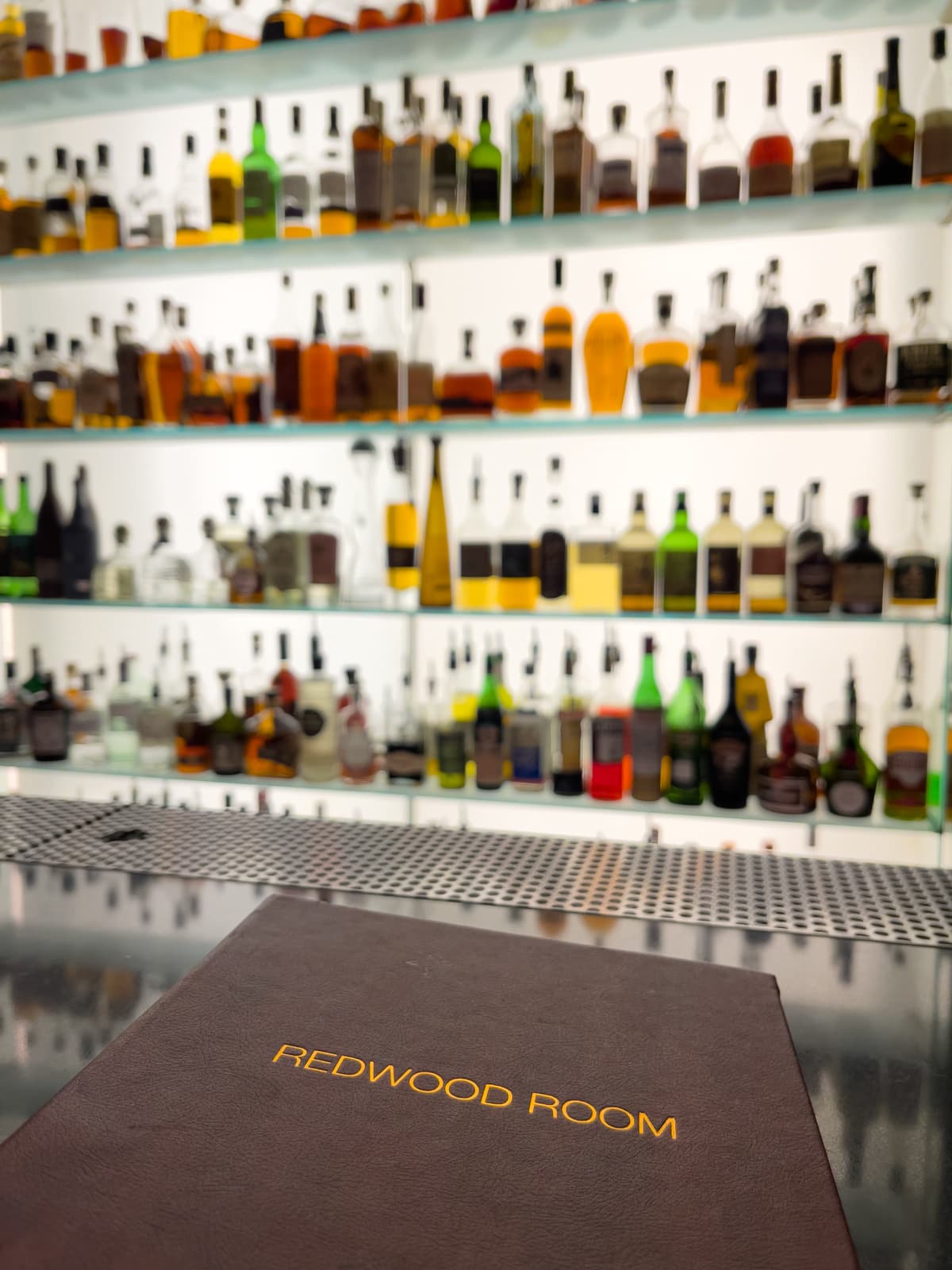 Like The View Lounge, the Redwood Room is inspired by the Art Deco movement.
Constructed in 1933 and open for business on December 6th, the day after Prohibition was repealed, the Redwood Room harkens to an era of high-class cocktail bars.
The paneling is taken from a single redwood tree, while the long bar was built from an 800-year redwood. In the early 2000s, the Redwood Room was refurbished.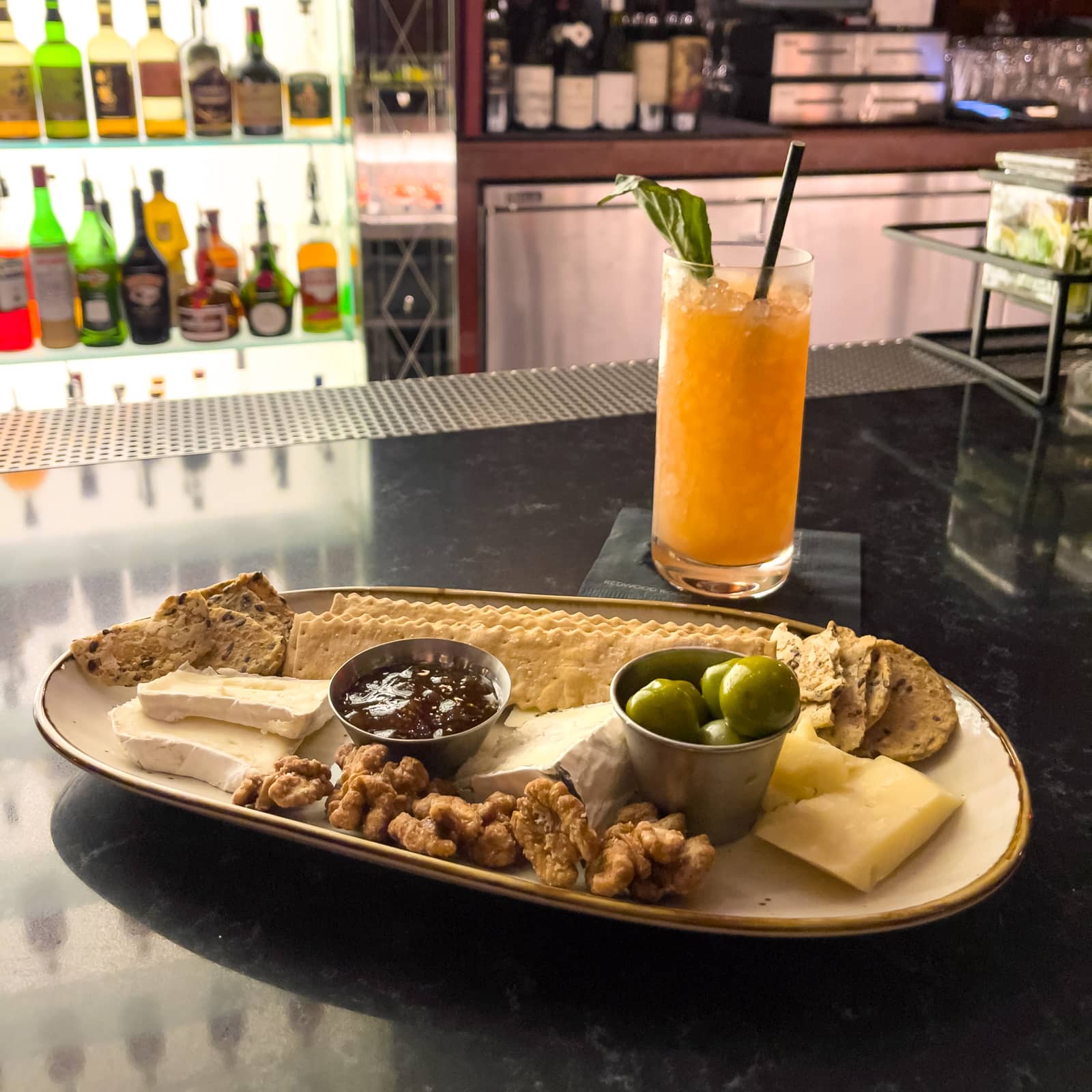 Dinner
An hour after my unexpected dinner at The View Lounge, I took a seat at the Redwood Room's bar, illuminated by a tall wall of spirits, some of which are rare.
I ordered a Summer in the City with Wheatly Vodka, Liquid Alchemy strawberry syrup, lime juice, Angostura bitters, and basil over crushed ice.
I'd planned to use my $100 hotel credit to sample the food. However, the creative menu had been paired down to a few choices due to the pandemic.
I went with the artisanal cheese plate with walnuts and olives. The Wagyu beef sliders with white cheddar would have to wait.
The Redwood Room maintains a smart casual dress code.
495 Geary St, San Francisco, redwoodroomsf.com
See also: Here Nor There Cocktail Lounge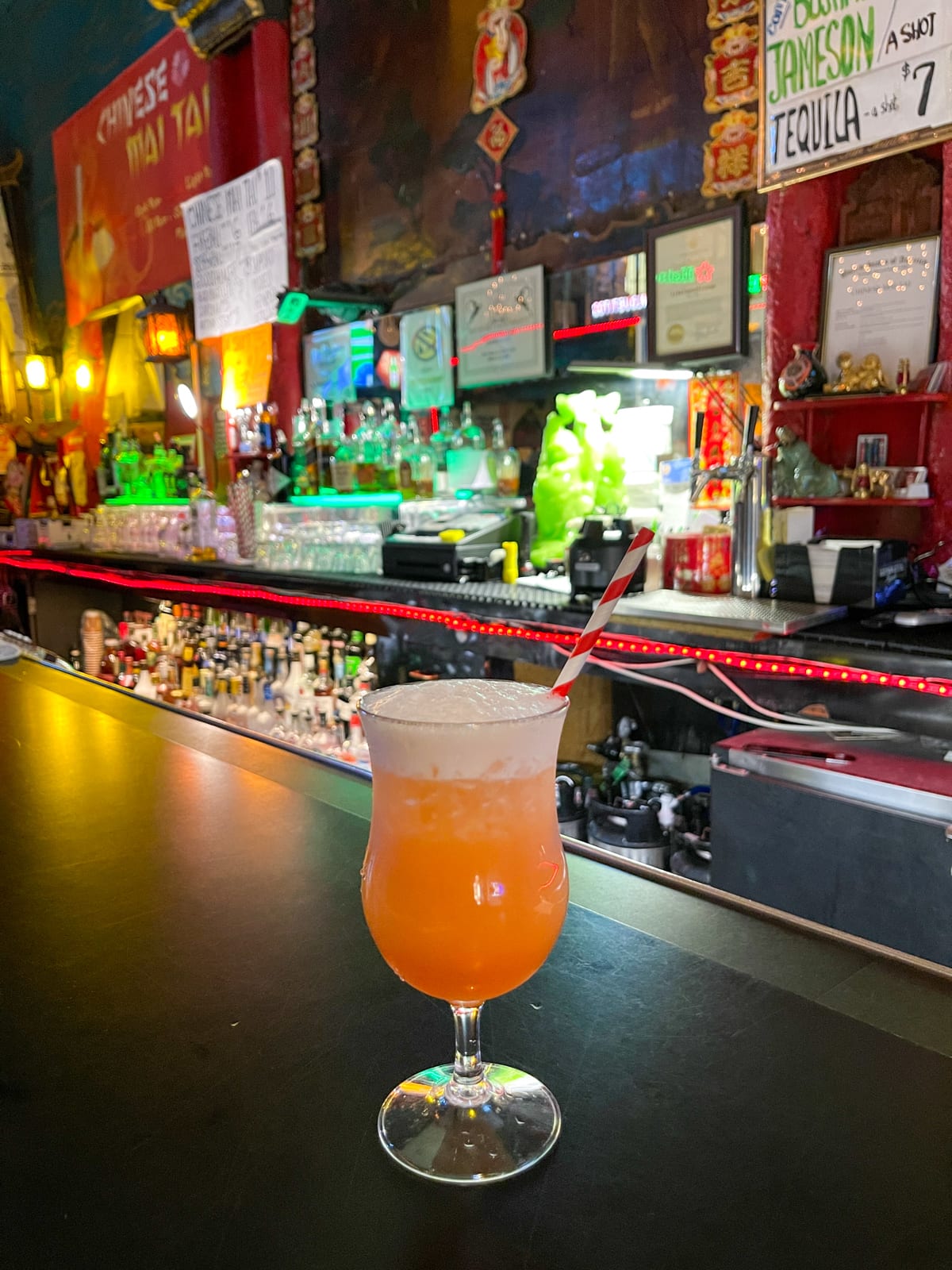 Li Po Cocktail Lounge
Operating from 2 p.m. to 2 a.m., seven nights a week, the Li Po Cocktail Lounge has been a destination dive bar in San Francisco's Chinatown for decades.
Dating back to 1937, this historic little bar has remained largely the same since it opened.
Li Po made a bigger name for itself 60 years later when it concocted its signature Chinese Mai Tai.
The potent cocktail is dark and light rum, 151 rum, Chinese liquor, and pineapple juice. It packs a powerful, albeit fruity, punch for $11.
It was one of Anthony Bourdain's favorite bars; he featured Li Po Lounge on his San Francisco episode of The Layover.
916 Grant Ave, San Francisco, lilpolounge.com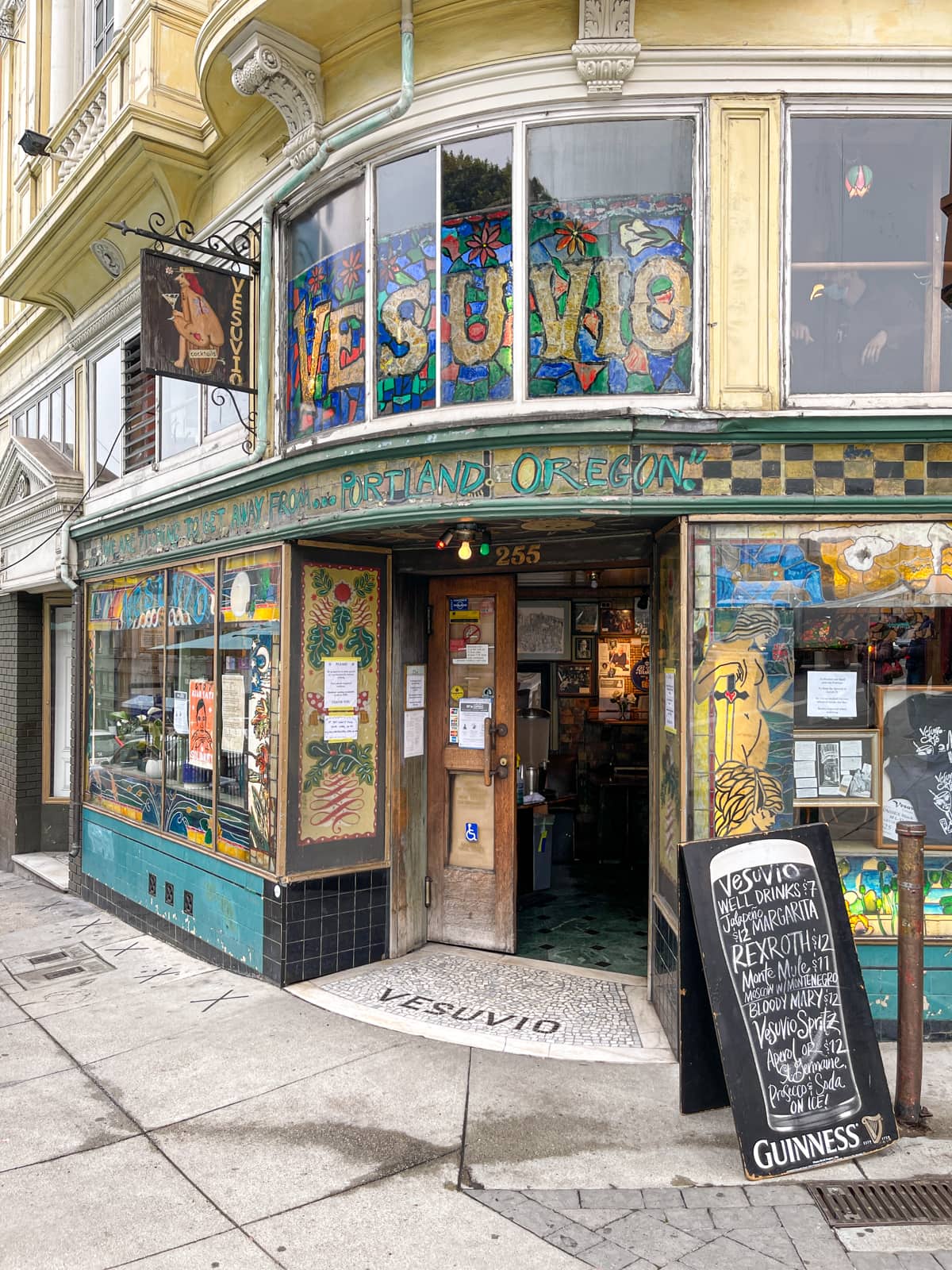 Vesuvio Cafe
Located in the North Beach neighborhood, Vesuvio Cafe is another historic San Francisco bar.
Opened in 1948, it was soon accompanied by the landmark City Lights Bookstore across the alley.
The bookstore was opened in 1953 by poet Lawrence Ferlinghetti and Peter D. Martin, who specialized in publishing Beat Generation writers.
By 1955, Vesuvio Cafe was a popular hangout for authors such as Jack Kerouac and Allen Ginsberg.
I studied both of those legendary writers in college and considered Kerouac, specifically, to be an influence on my life.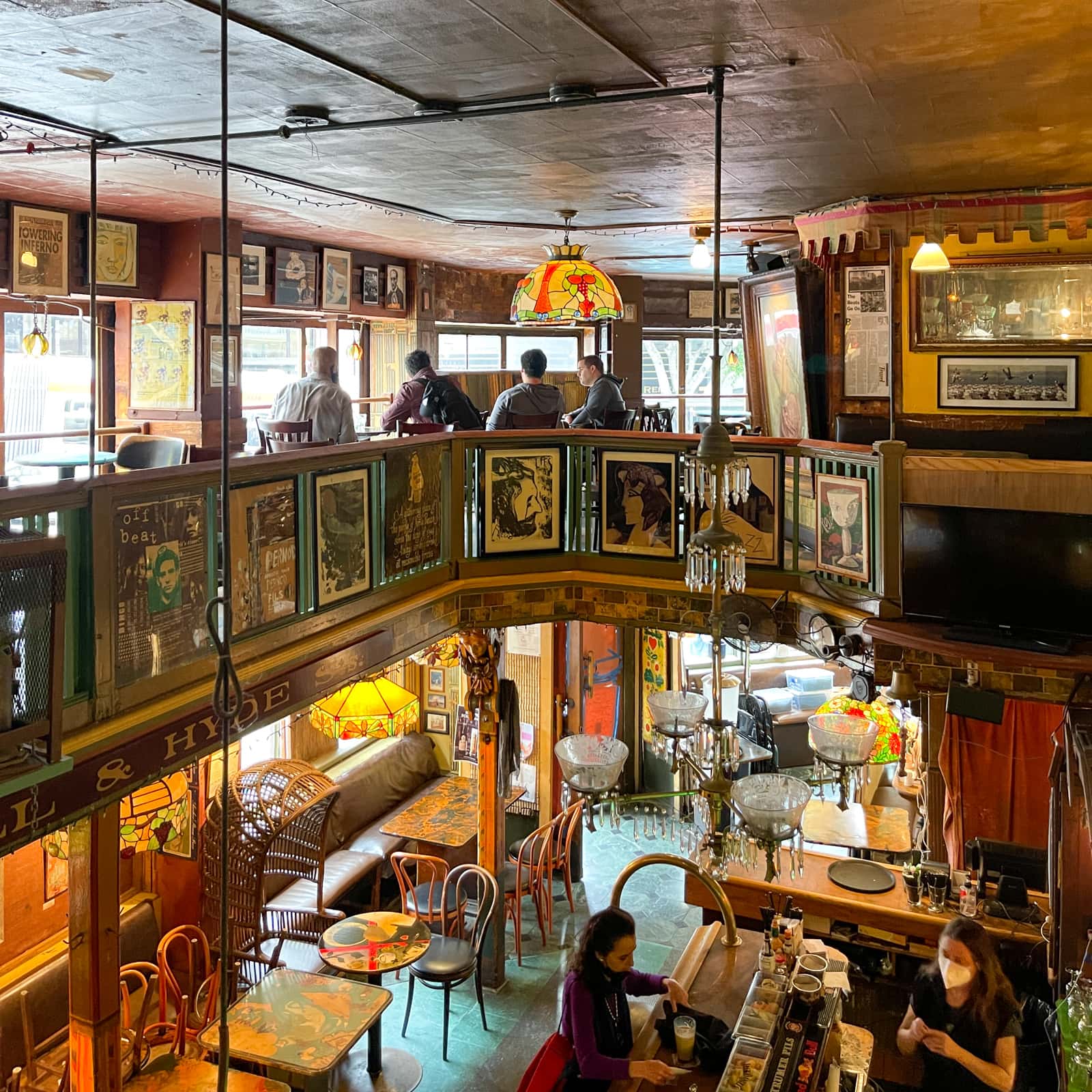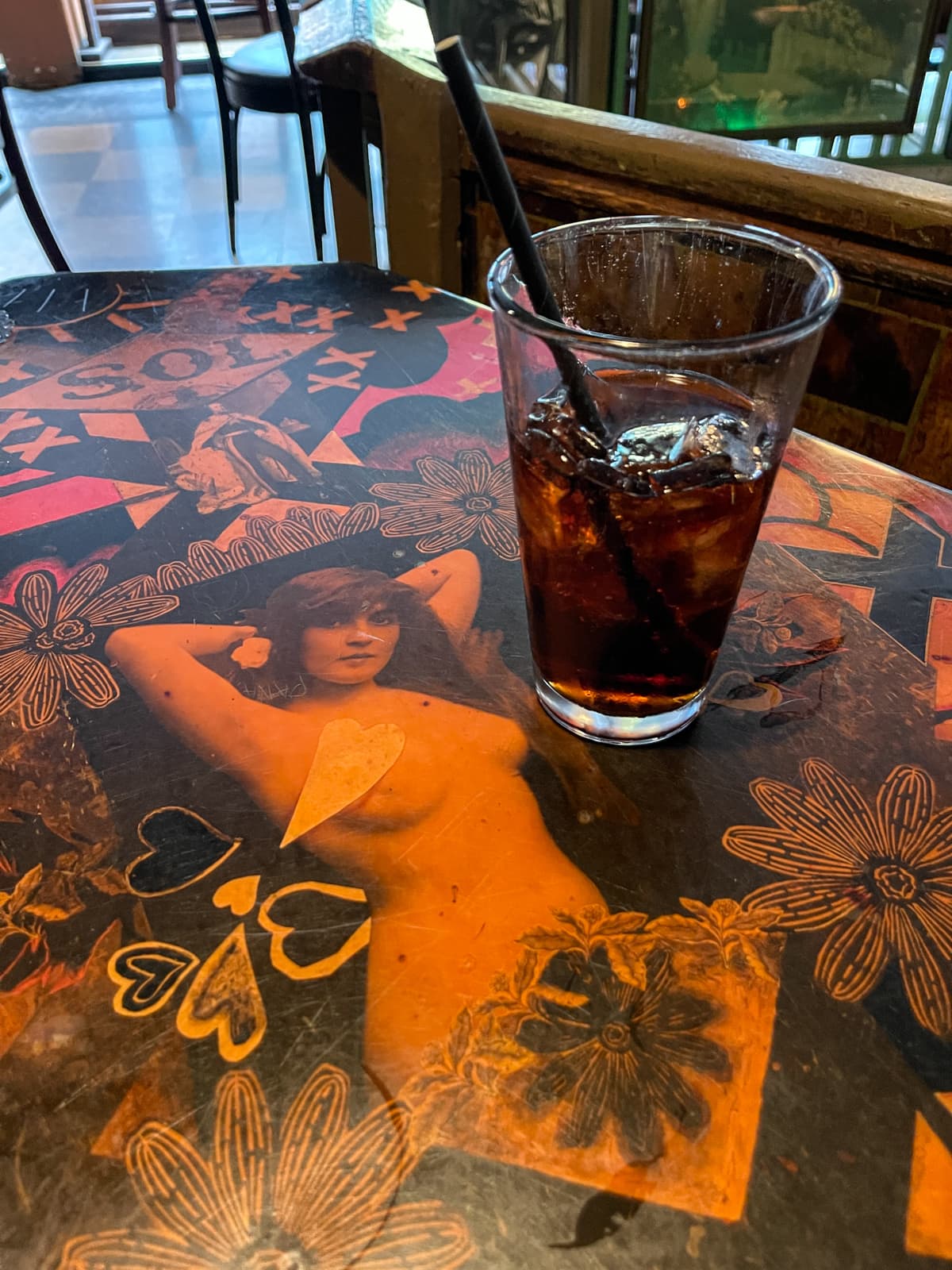 Vesuvio opens at 11 a.m. daily, and I arrived soon after. The two-level bar is chock full of Beat-era memorabilia, and it's a whole vibe.
I ordered a Diet Coke and made my way to the second floor, perusing the newspaper clippings and old photos along the walls.
The colored glass light fixtures hanging from the ceiling reminded me of one my parents used to have above our kitchen table when I was a kid.
Upstairs, I took a booth with a portrait of James Joyce above it. I'd read and enjoyed A Portrait of the Artist as a Young Man my senior year of high school.
Other early arrivals had taken tables near the windows, which overlook Jack Kerouac Alley and City Lights Bookstore next door.
Vesuvio has a nice air about it, and I imagine it's even better at happy hour with a few friends and a craft beer, perhaps paired with a poetry reading next door.
255 Columbus Ave, San Francisco, vesuvio.com
Trick Dog
As time was running out on my last night in San Francisco, I returned to the Mission District to drink at Trick Dog, currently ranked #77 on the World's 50 Best Bars list for 2020.
Unfortunately, this neighborhood bar was temporarily closed due to the pandemic.
Quick Dog is the name of the pop-up they began operating instead, which offers pick-up and delivery of fast-food-style sandwiches, plus beer, wine, and batch cocktails.
Cocktails are available at the service window, but I passed with no other customers hanging out. Thankfully, another of SF's best cocktail bars was around the corner.
3010 20th St, San Francisco, trickdogbar.com
Related: Find a Speakeasy in San Diego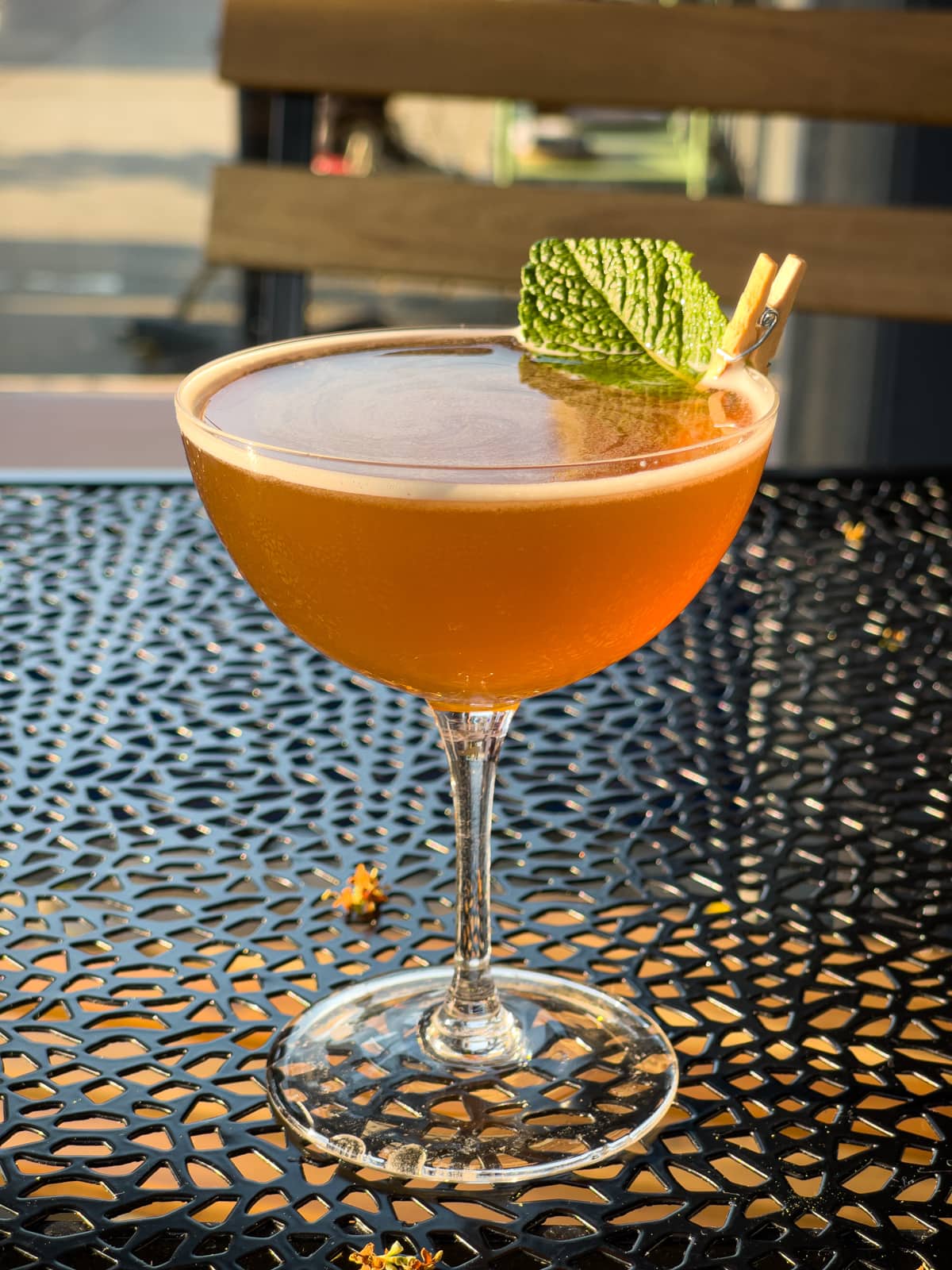 True Laurel
True Laurel is a lively cocktail bar opened by Michelin-starred chef David Barzelay (Lazy Bear) and bar director Nicolas Torres.
Serendipity struck again as I arrived while there was still outdoor seating available, the setting sun casting an orange glow against the sidewalk scene.
I scanned the cocktail menu, updated daily, and delighted in seeing the Old Cuba-Nah made with non-alcoholic cane rums, lime, mint, and Nosecco.
Did anyone know it's possible to make non-alcoholic rum? I certainly didn't!
Nosecco was also new to me. It's a California sparkling wine with less than 0.5% alcohol.
The cocktail (pictured above) was both delicious and looked the part. You'd never know it's essentially alcohol-free.
Why you may wonder, did I spend $15 at this popular bar if I'm not going to get a buzz?
My reasons seem to grow by the year and include:
Wanting to pay for the time and space I'm taking up at a busy bar.
Supporting different ways to cater to designated drivers and those who choose alcohol-free living.
Better sleep.
More energy the next day.
True Laurel was indeed a joy to experience. If I hadn't already eaten dinner, I'd have dug into their dinner menu, too.
753 Alabama St, San Francisco, truelaurelsf.com