I impulsively flew cross-country to San Francisco for a long weekend in my early twenties. At the time, seeking out the best bars in San Francisco wasn't even a consideration.
Instead, I went out for electronica the first night and a punk show the second. My third night was spent touring a subway tunnel filled with street art.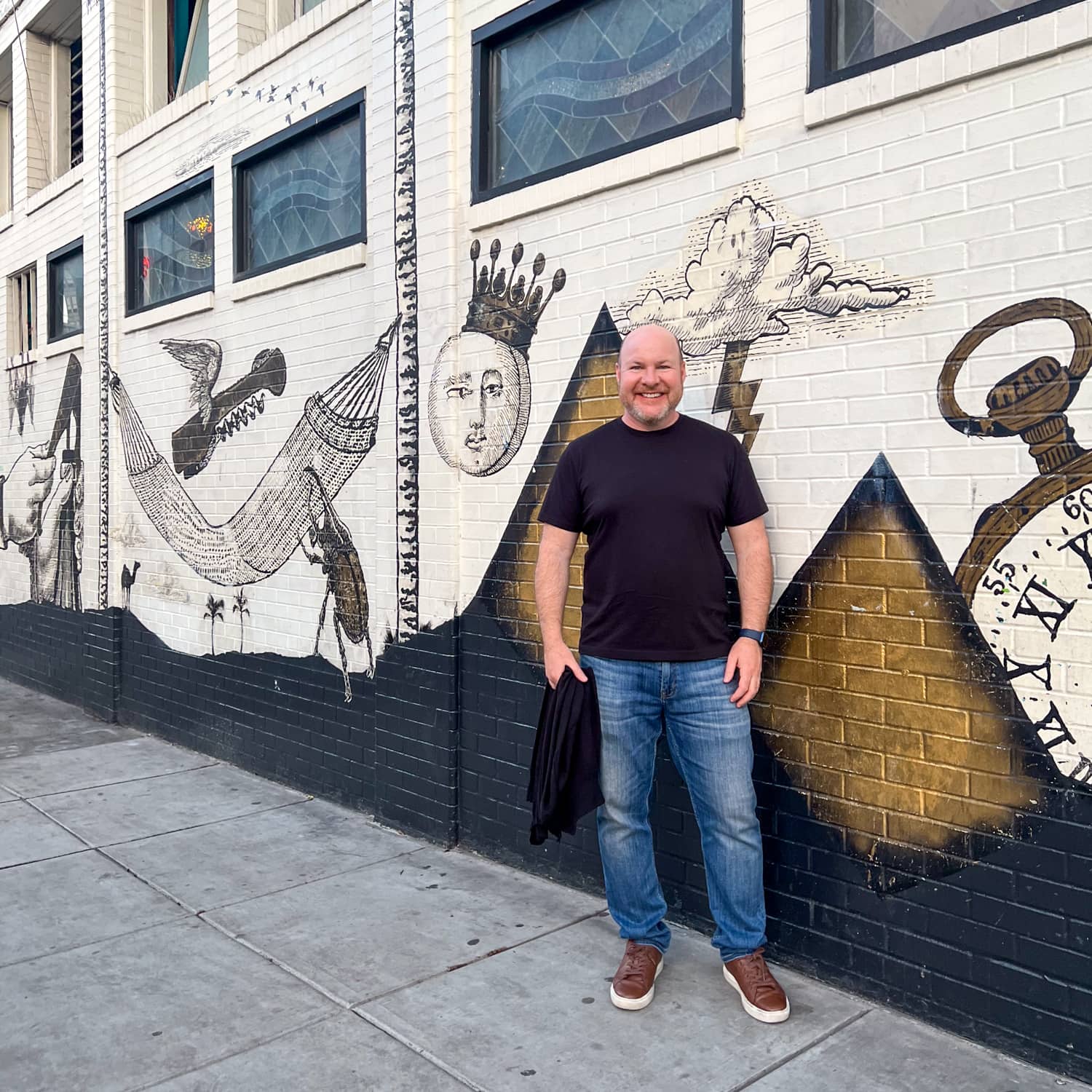 I didn't even see the Golden Gate Bridge. It was an atypical experience, and I've wanted to return to SF ever since.
My opportunity came en route to Oahu when I spent a weekend exploring.
This time, I saw the Golden Gate Bridge by water and land, visited the best bakeries, and explored some of the best bars in San Francisco.
My weekend left me wanting more, and after returning in 2023, I added new San Francisco bars to the list.
Where To Drink in San Francisco
1. The View Lounge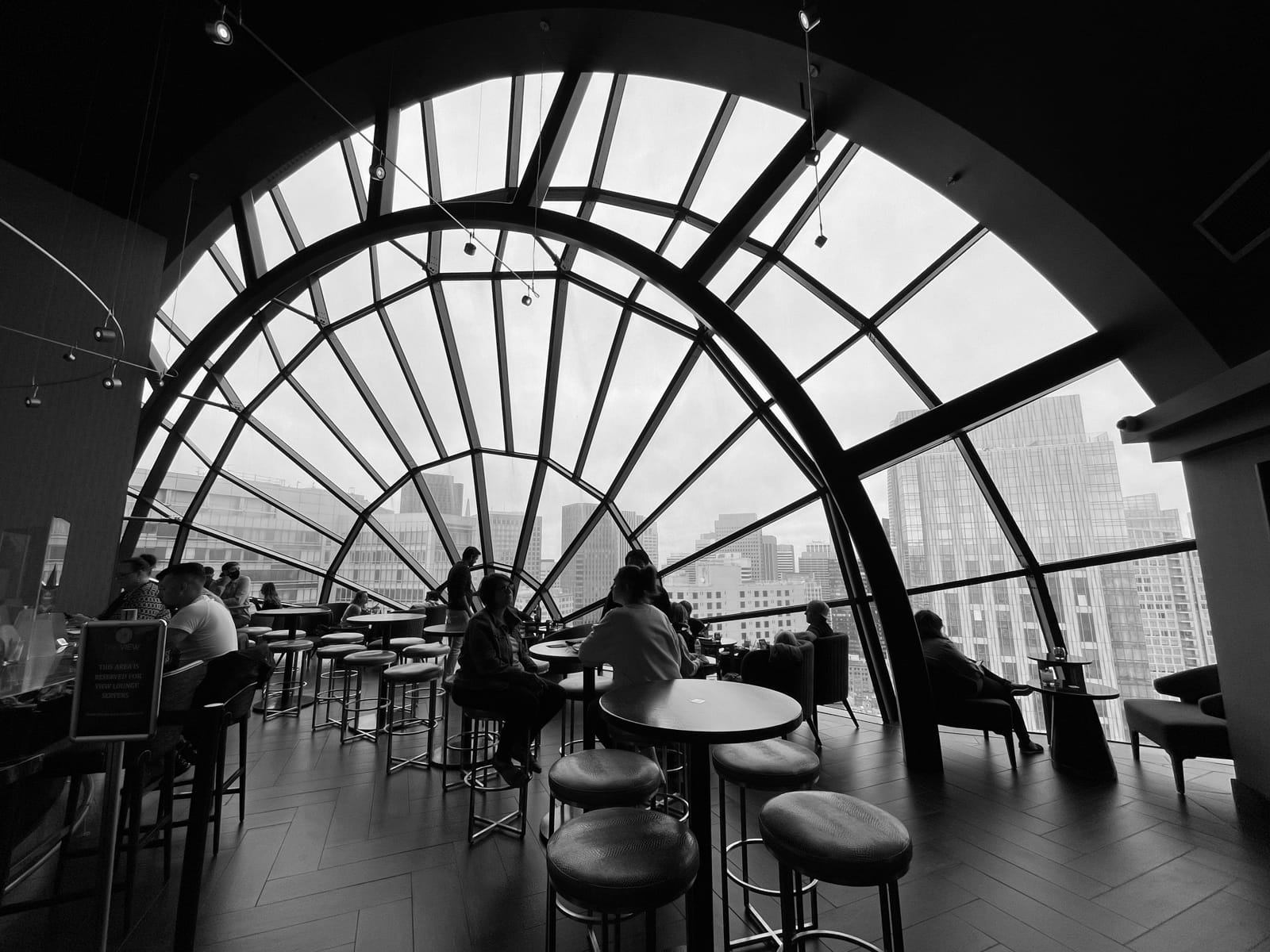 Conveniently located a few blocks west of the Financial District and south of Union Square, The View Lounge on the 39th floor of the Marriott Marquis San Francisco offers panoramic views.
This Art-Deco-inspired space atop one of the city's tallest hotels provides a unique experience to relax and unwind after a day of sightseeing.
Inside, a mix of bar seating, high-top tables, and soft green chairs by the large windows offer plenty of options.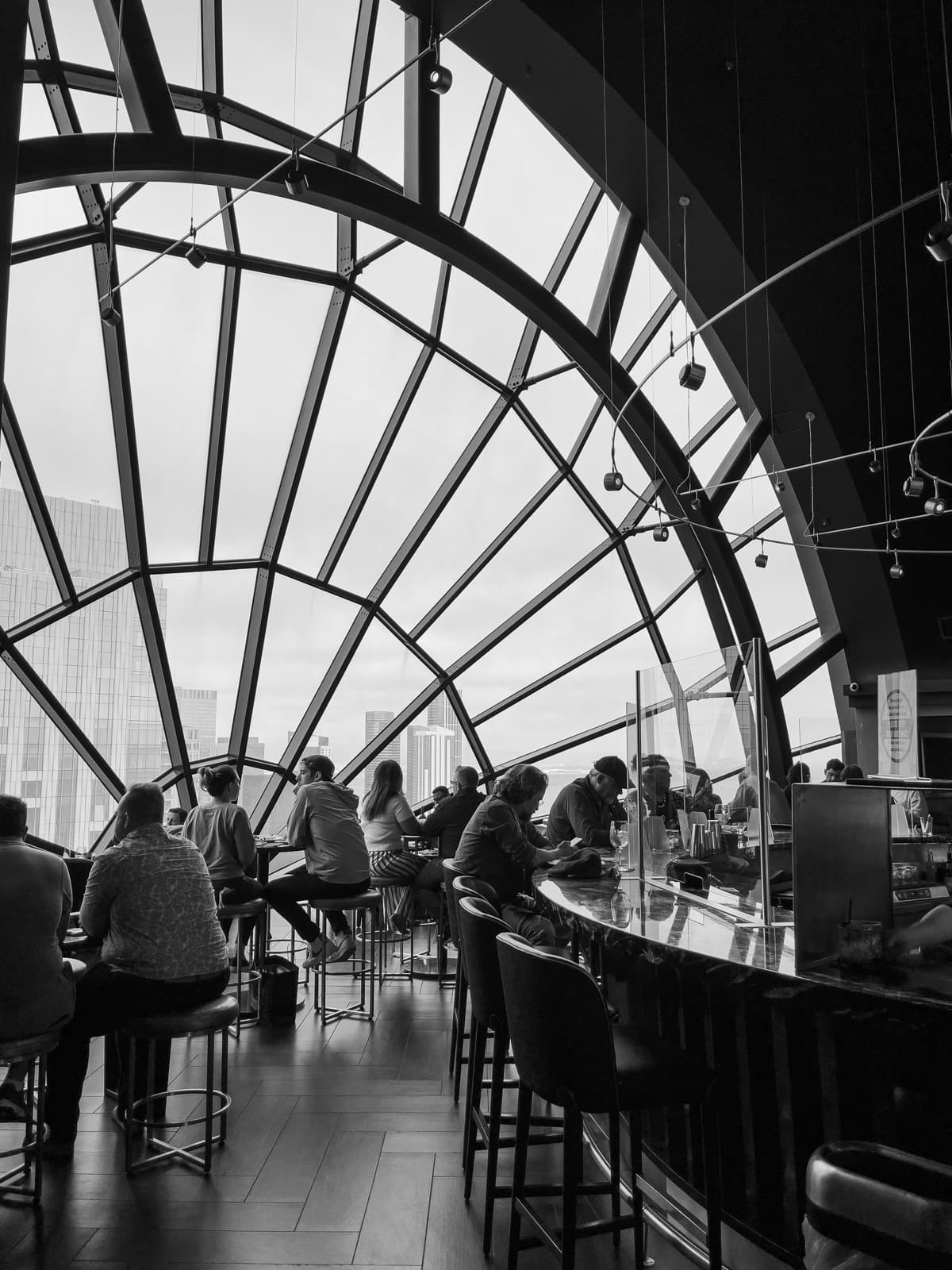 Between the two main lounges with floor-to-ceiling windows, some nooks have additional seating and more privacy.
Be there when the bar opens for the best shot at a window-side seat. They fill up quickly on clear days.
The bar serves craft cocktails, including signature cocktails like the SF Manhattan and rum Skyline Punch; however, I was in the mood for a Grey Goose and tonic.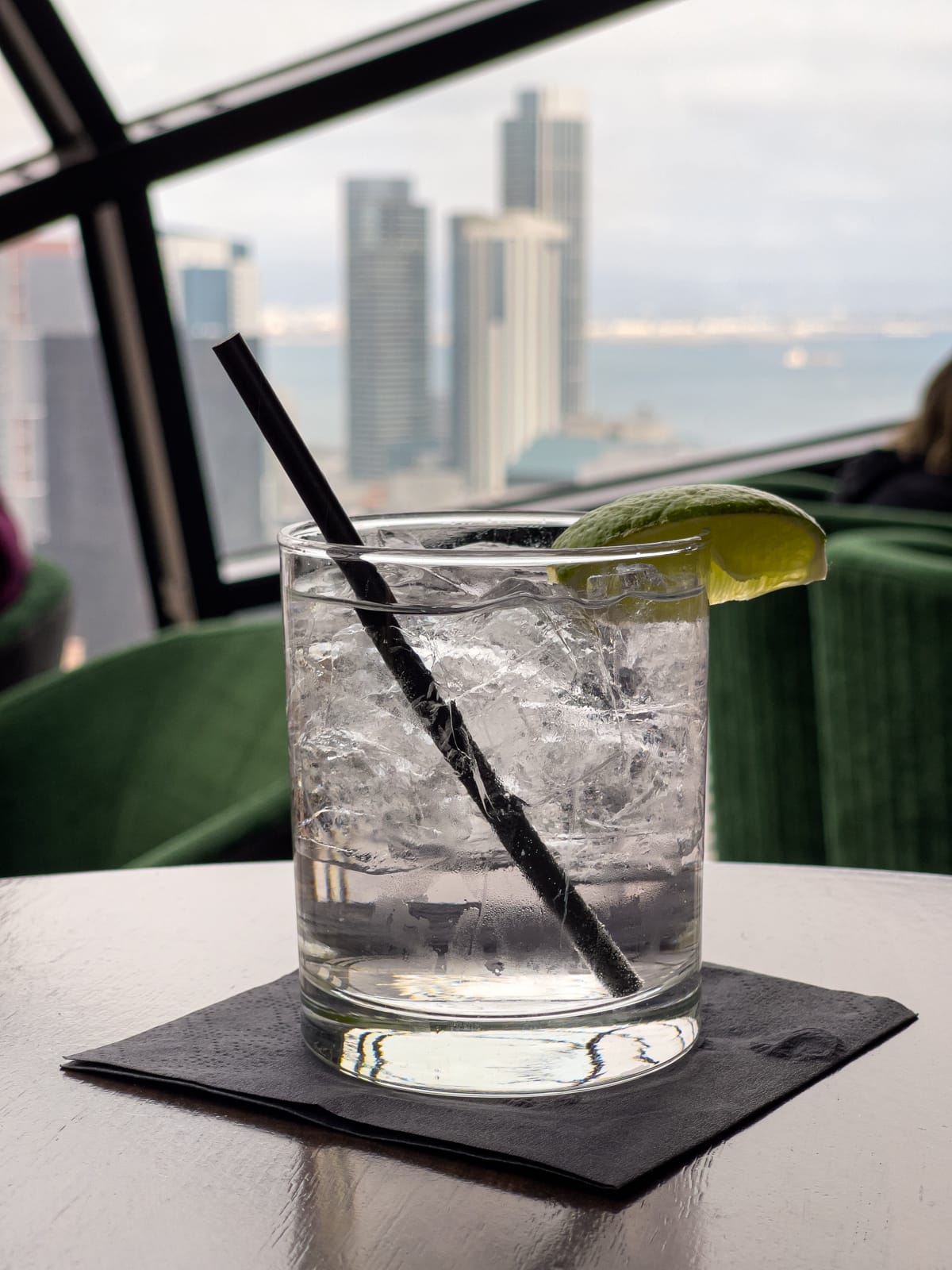 After I finished my drink and paid the bill, I walked over to the other side of the bar, which was noticeably quieter.
A friendly waitress from Oahu began chatting with me and offered me a glass of water. Not wanting to leave, I began perusing the food menu.
Small Plates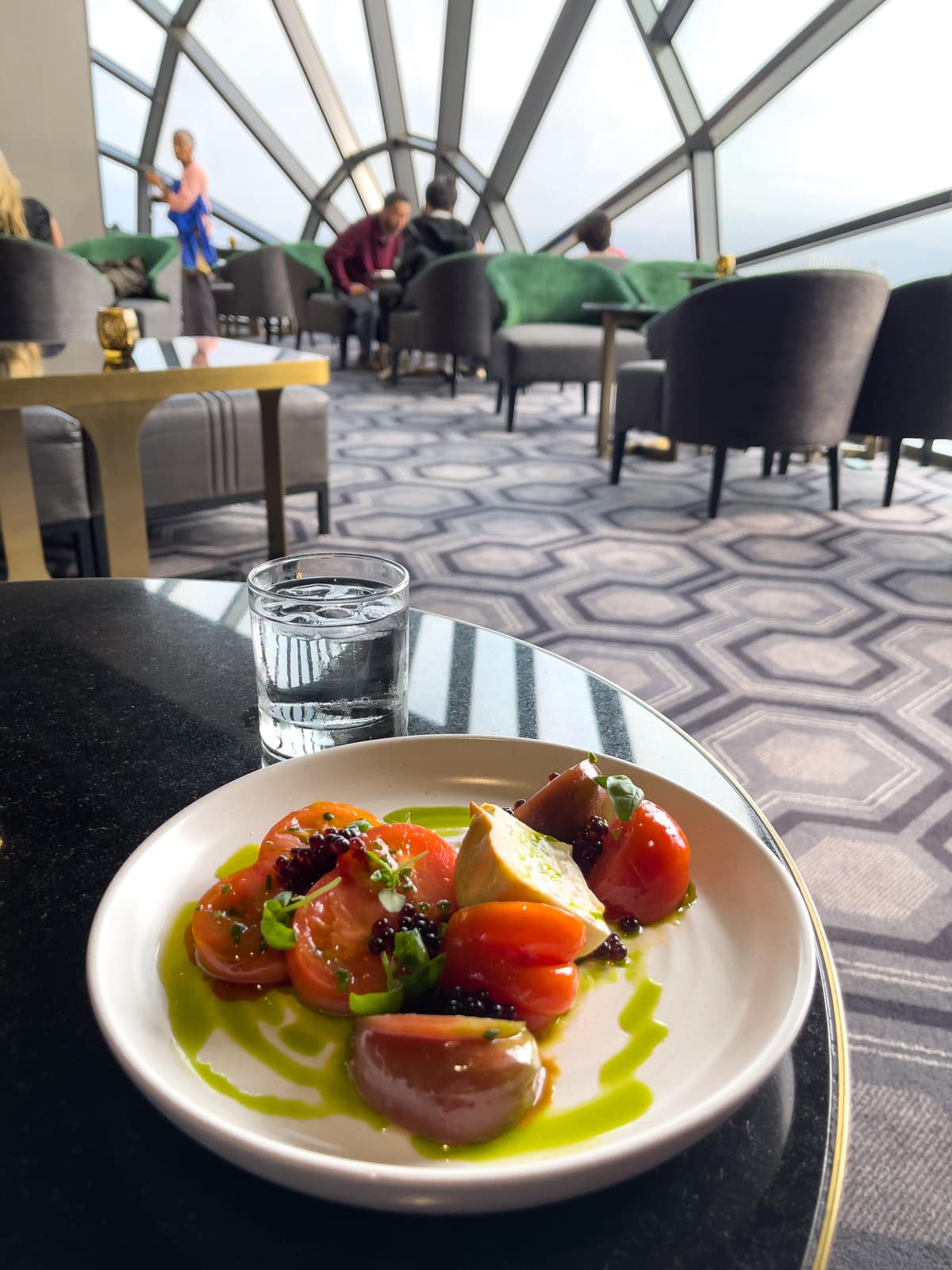 The cheese board and charcuterie options would be better with friends. The Niman Ranch sliders with caramelized onions and short rib tacos were tempting.
Ultimately, I opted for a colorful heirloom tomato salad with burrata. Afterward, sure I was ready to leave, I paid my second bill.
Then, my kind server said she'd ensure I got one of the window seats at this remarkable place.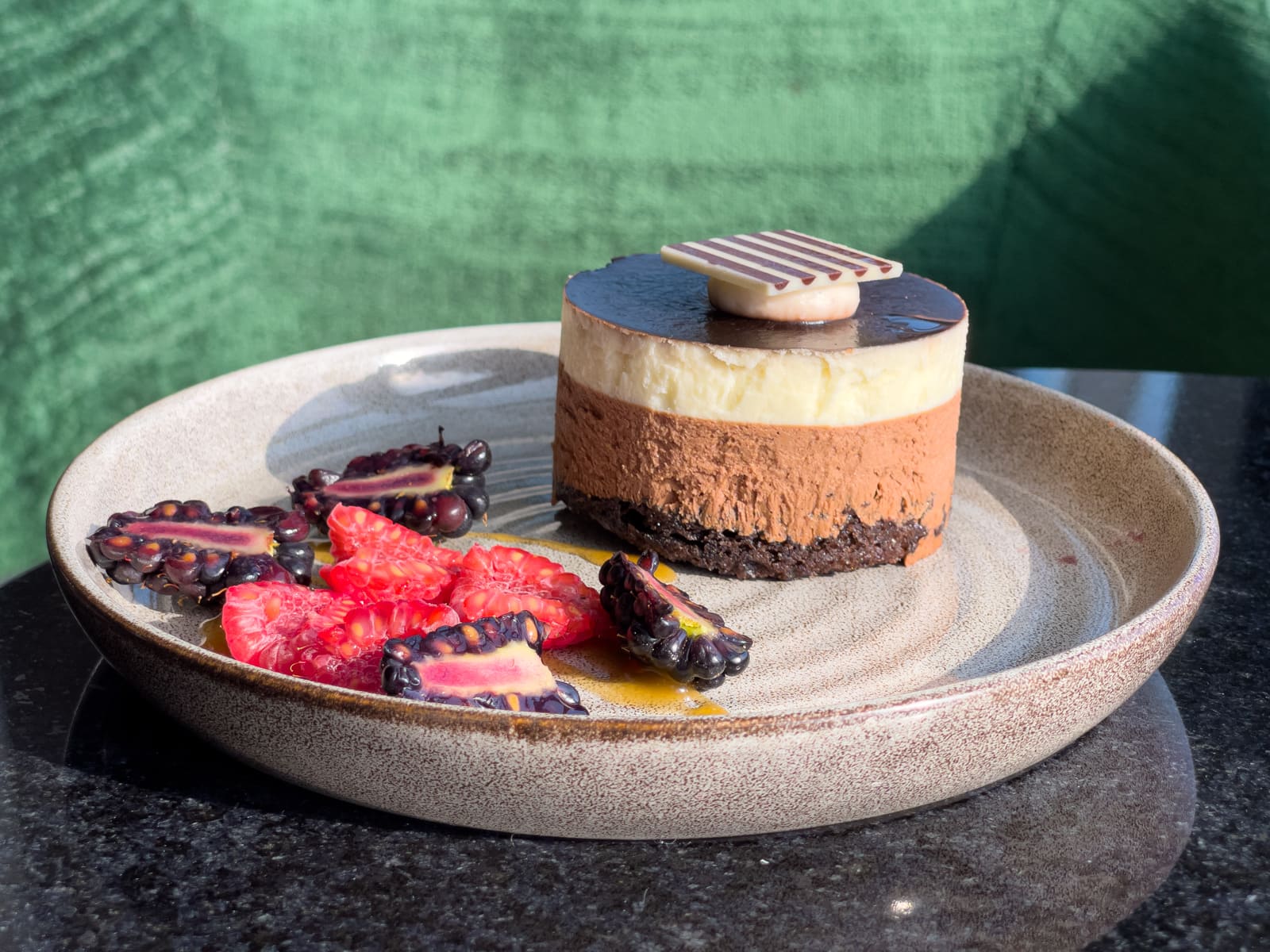 I ordered the triple-layer chocolate Marquis cake with local berries and sea salt caramel sauce to compliment the experience.
What began as a cocktail with a view turned into a terrific dinner with attentive service that left a lasting and positive impression.
The day's overcast skies had begun to lighten while I was there; however, I'd love to go back on a clear day and see the city view at night.
780 Mission St, San Francisco, marriott.com
2. Redwood Room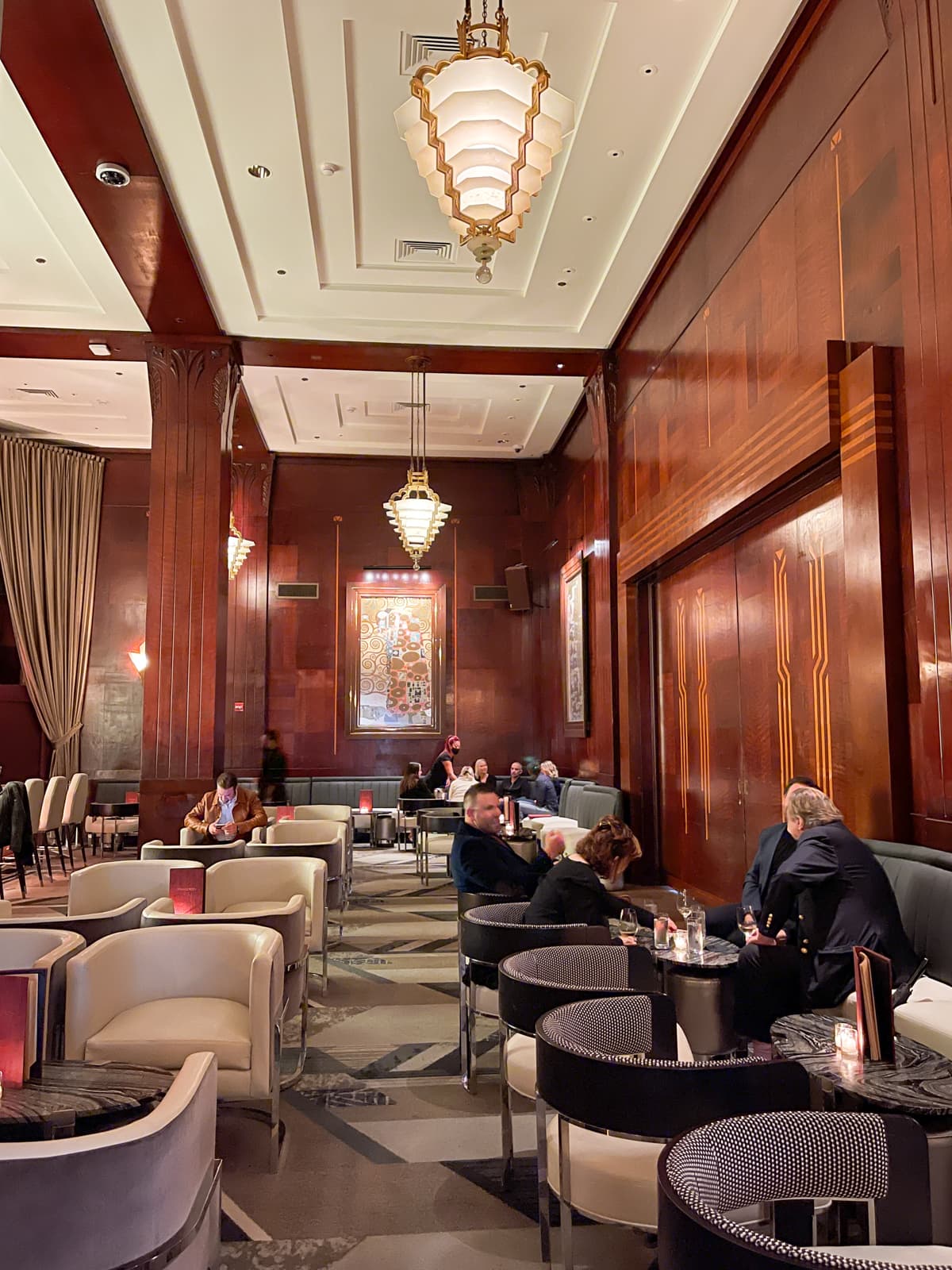 I was unfamiliar with the Redwood Room when I booked my three-night stay at The Clift Royal Sonesta Hotel.
However, I was giving myself easy access to one of the best bars in San Francisco and one of the oldest.
Staying at The Clift was my first experience with a hotel booked through the American Express travel portal.
As a part of the American Express Hotel Collection, I received my third night free, plus a $100 dining credit for use at the Redwood Room and Frederick's, a new on-site cafe.
Sign up for an AMEX Gold card and earn 60,000 Membership Reward points if you spend $4,000 within the first six months. Use your points toward free flights, hotels, and more.

Disclosure: I receive bonus points for each referral through my link above, which supports me in creating stories for Feastio.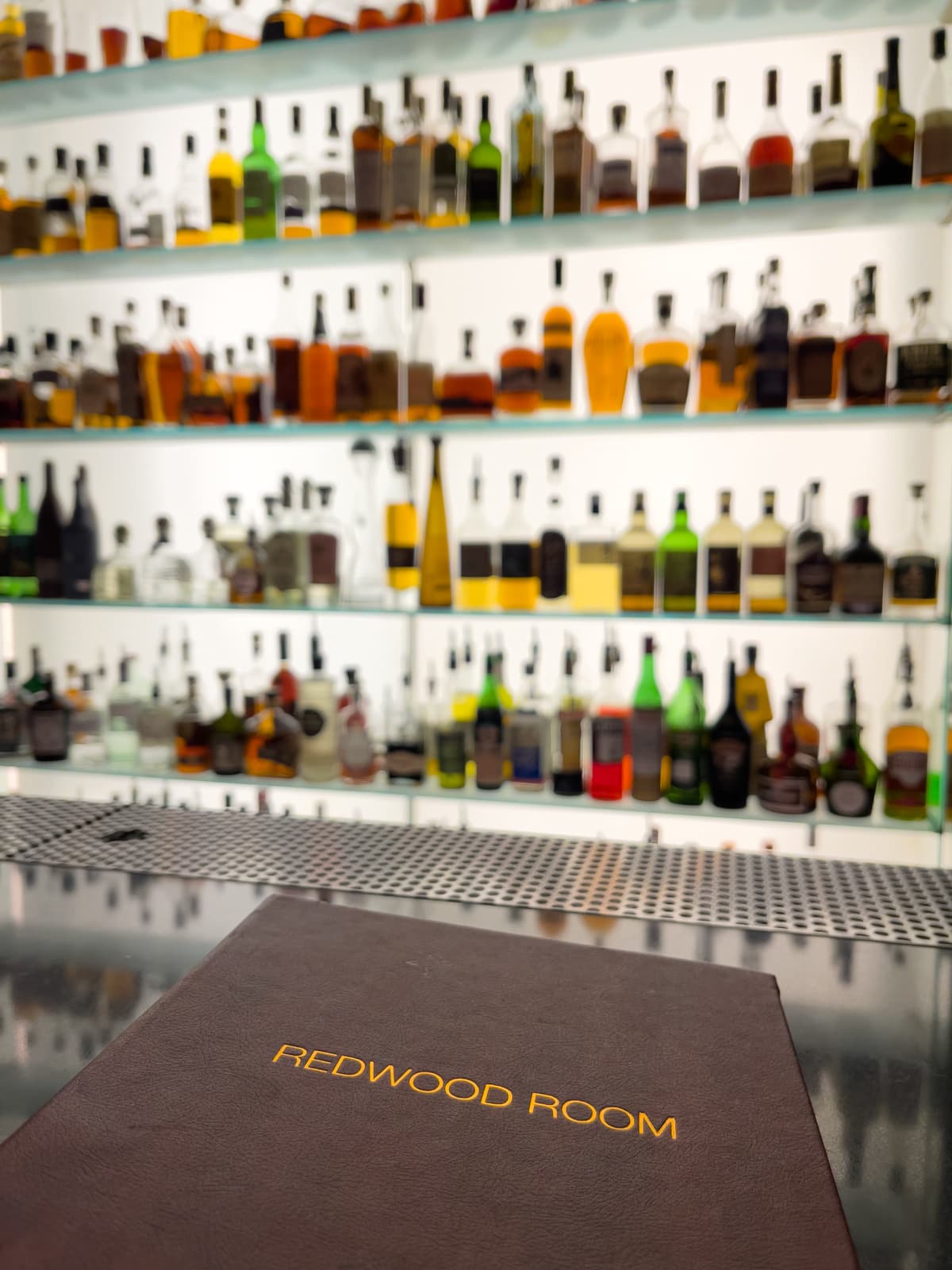 Like The View Lounge, the Redwood Room is inspired by the Art Deco movement.
Constructed in 1933 and open for business on December 6th, the day after Prohibition was repealed, the Redwood Room harkens to an era of high-class cocktail bars.
The paneling is taken from a single redwood tree, while the long bar was built from an 800-year redwood. In the early 2000s, the Redwood Room was refurbished.
See also: Here Nor There Cocktail Lounge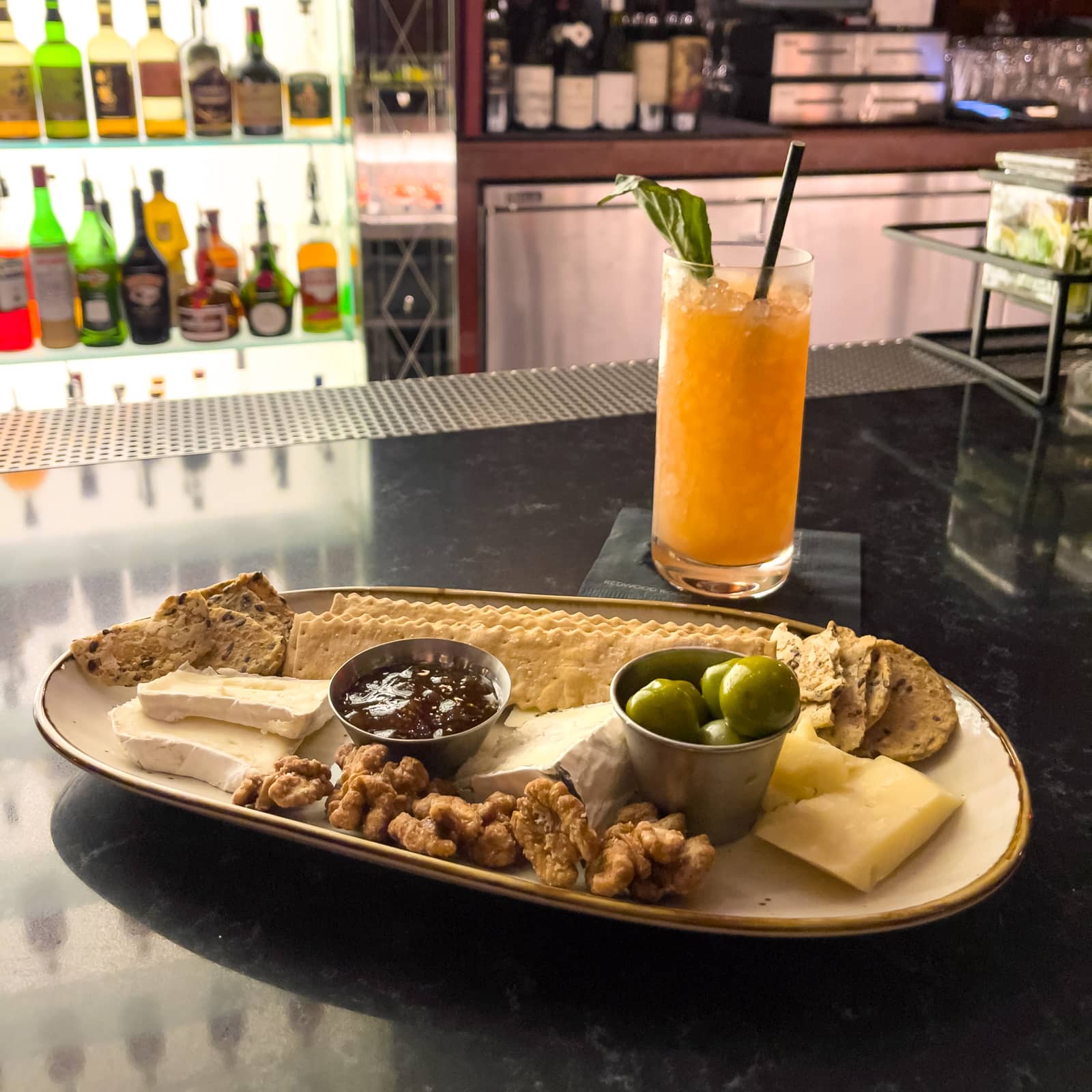 Dinner
An hour after my unexpected dinner at The View Lounge, I sat at the Redwood Room's bar, illuminated by a tall wall of spirits, some of which are rare.
After reviewing the cocktail list, I ordered Summer in the City with Wheatly Vodka, Liquid Alchemy strawberry syrup, lime juice, Angostura bitters, and basil over crushed ice.
I went with the artisanal cheese plate with walnuts and olives for food.
The Redwood Room maintains a smart casual dress code.
495 Geary St, San Francisco, redwoodroomsf.com
3. Li Po Cocktail Lounge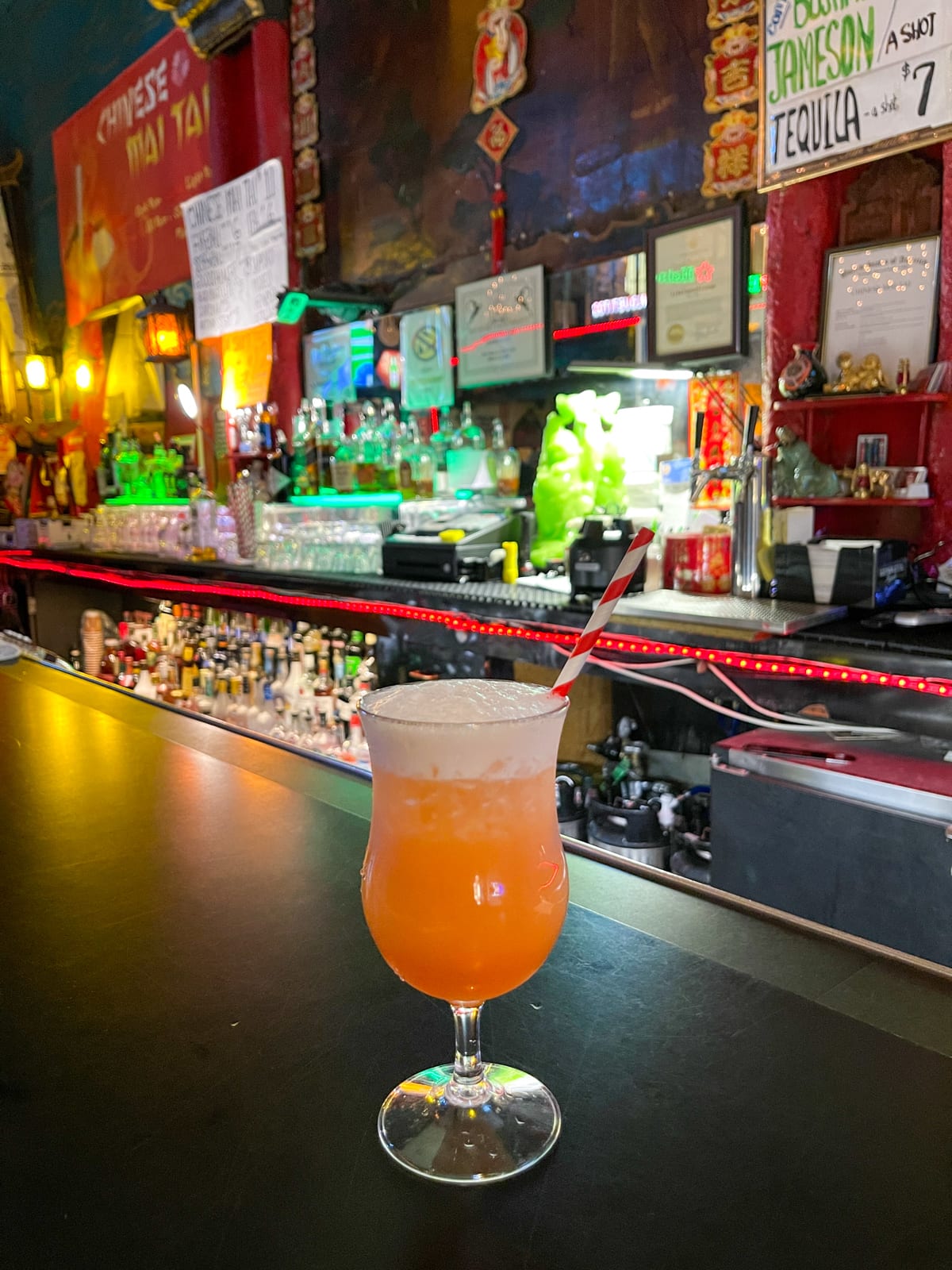 Operating from 2 p.m. to 2 a.m., seven nights a week, the Li Po Cocktail Lounge has been a destination dive bar in San Francisco's Chinatown for decades.
Dating back to 1937, this historic little bar has mainly stayed the same since it opened.
Li Po made a more prominent name for itself 60 years later when it concocted its signature Chinese Mai Tai.
The potent cocktail is dark and light rum, 151 rum, Chinese liquor, and pineapple juice. It packs a powerful, albeit fruity, punch for $11.
It was one of Anthony Bourdain's favorite bars; he featured Li Po Lounge on his San Francisco episode of The Layover.
916 Grant Ave, San Francisco, lilpolounge.com
4. Vesuvio Cafe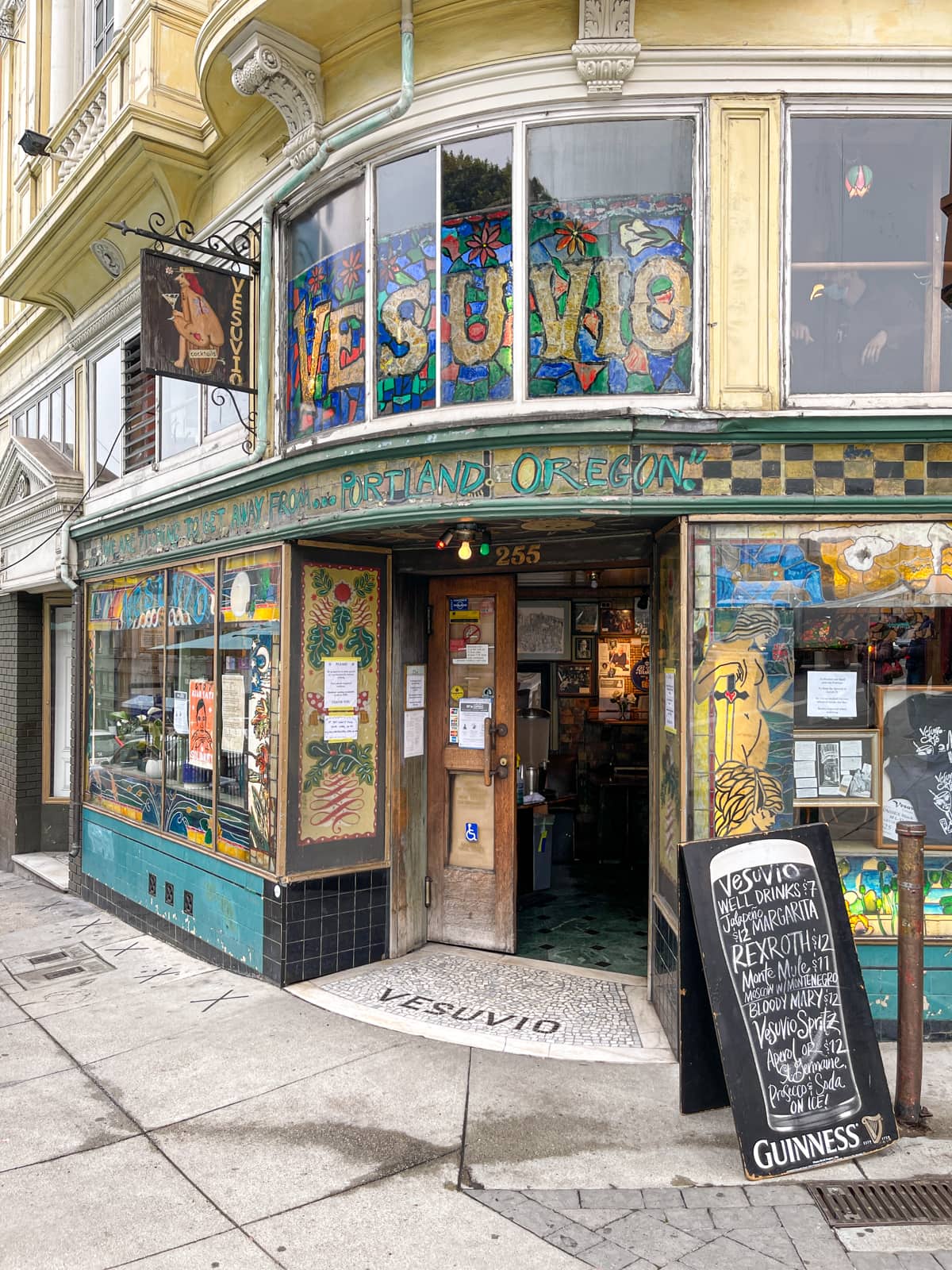 Located in the North Beach neighborhood, Vesuvio Cafe is another historic San Francisco bar.
Opened in 1948, it was soon accompanied by the landmark City Lights Bookstore across the alley.
The bookstore was opened in 1953 by poet Lawrence Ferlinghetti and Peter D. Martin, who specialized in publishing Beat Generation writers.
By 1955, Vesuvio Cafe had become popular with authors such as Jack Kerouac and Allen Ginsberg.
I studied both of those legendary writers in college and considered Kerouac, specifically, to be an influence on my life.
Related: Speakeasies in San Diego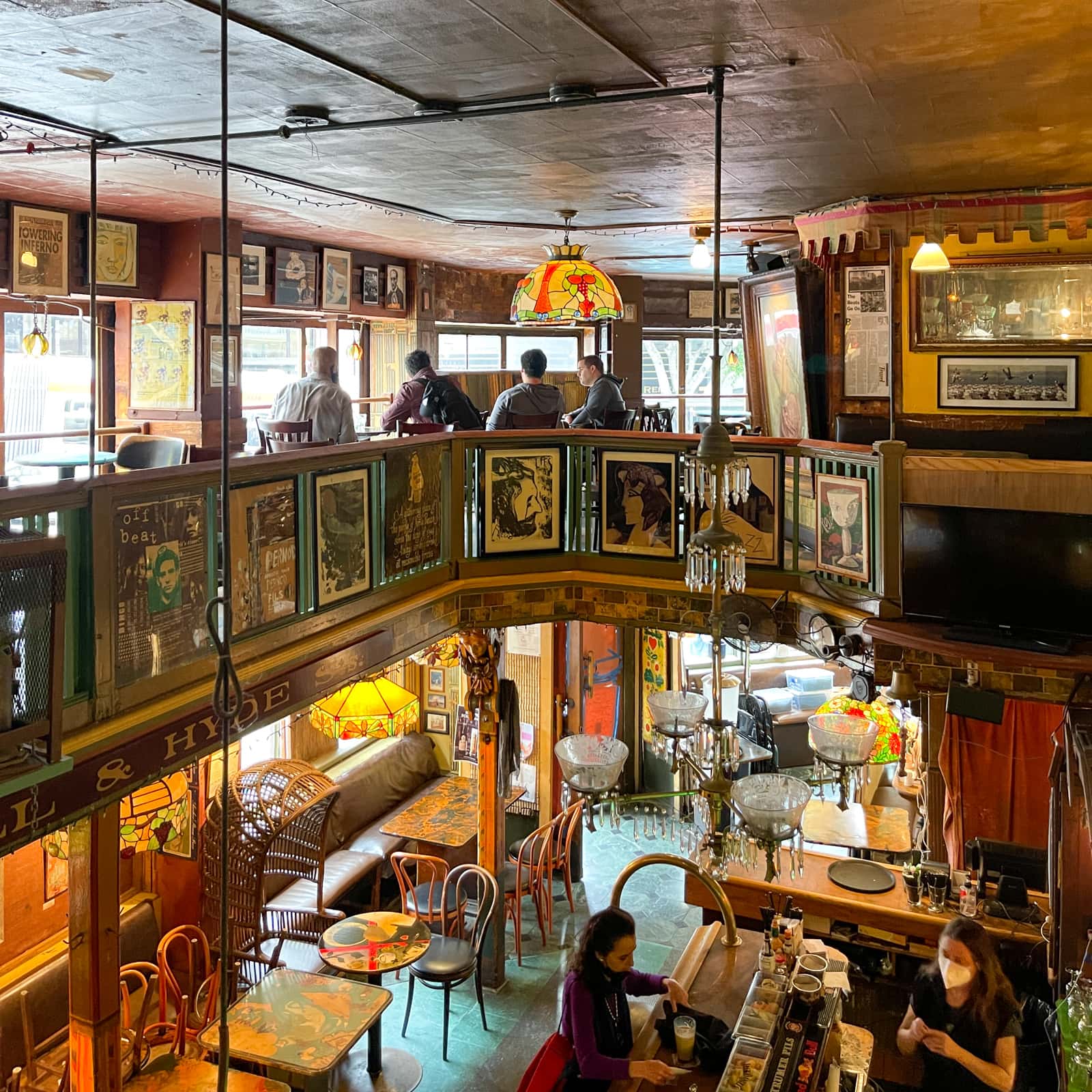 Vesuvio opens at 11 a.m. daily, and I arrived soon after. The two-level bar is chock full of Beat-era memorabilia, and it's a whole vibe.
I ordered a Diet Coke and went to the second floor, perusing the newspaper clippings and old photos along the walls.
The colored glass light fixtures hanging from the ceiling reminded me of one my parents used to have above our kitchen table when I was a kid.
Upstairs, I took a booth with a portrait of James Joyce above it. I'd read and enjoyed A Portrait of the Artist as a Young Man my senior year of high school.
Other early arrivals had taken tables near the windows, overlooking Jack Kerouac Alley and City Lights Bookstore next door.
Vesuvio has a nice air about it, and I imagine it's even better at happy hour with a few friends and a craft beer, perhaps paired with a poetry reading next door.
255 Columbus Ave, San Francisco, vesuvio.com
5. True Laurel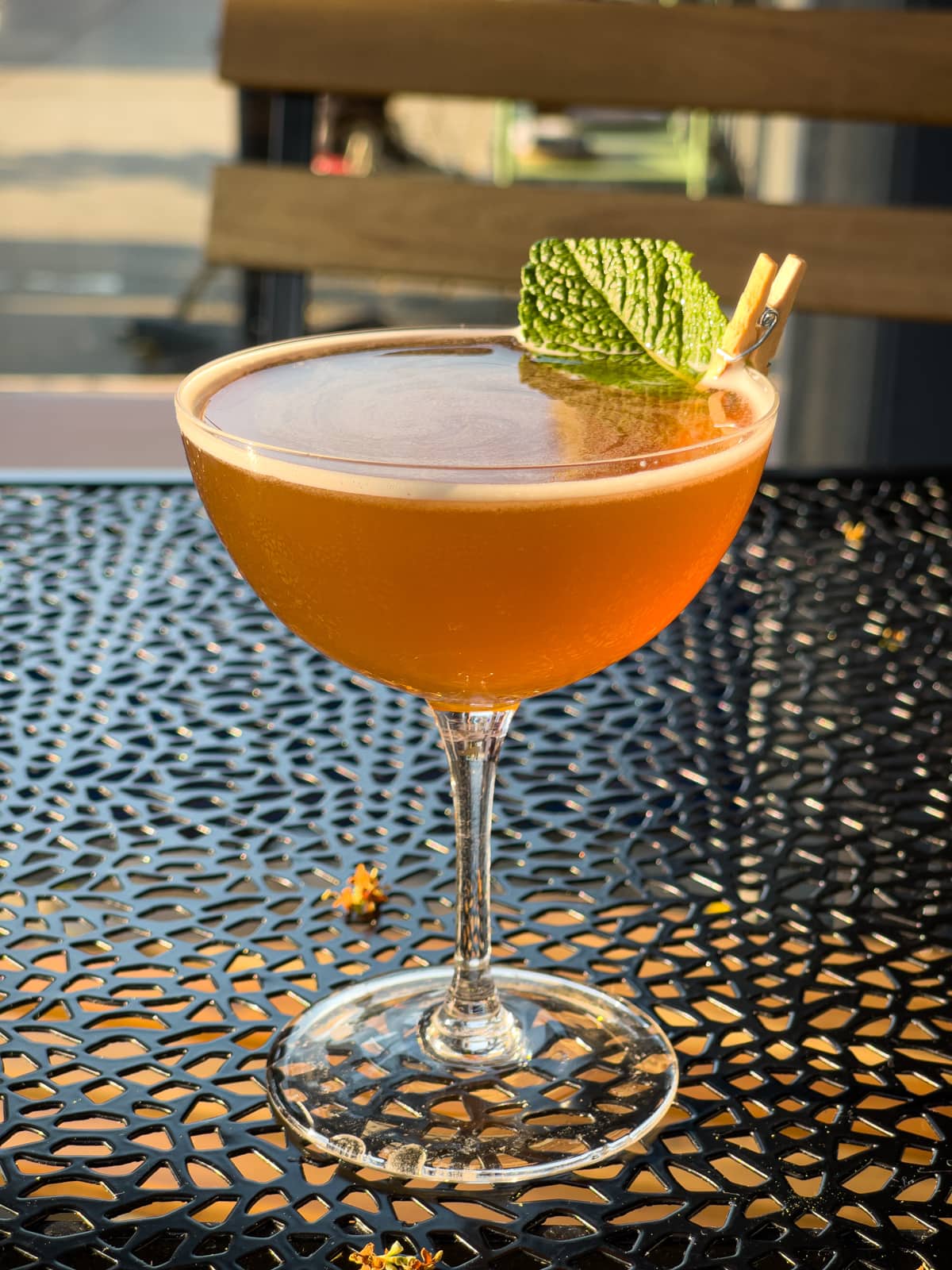 True Laurel is a lively neighborhood bar opened by Michelin-starred chef David Barzelay (Lazy Bear) and bar director Nicolas Torres.
Serendipity struck as I arrived while outdoor seating was still available, the setting sun casting an orange glow against the sidewalk scene.
I scanned the cocktail menu, which was updated daily, and was delighted to see the Old Cuba-Nah made with non-alcoholic cane rums, lime, mint, and Nosecco.
Did anyone know it's possible to make non-alcoholic rum? I certainly didn't!
Nosecco was also new to me. It's a California wine with less than 0.5% alcohol.
The cocktail was both delicious and looked the part. You'd never know it's essentially alcohol-free.
Why you may wonder, did I spend $15 at this popular bar if I'm not going to get a buzz?
My reasons seem to grow by the year and include the following:
Wanting to pay for the time and space I'm taking up at a busy bar.
Supporting different ways to cater to designated drivers and those who choose alcohol-free living.
Better sleep.
More energy the next day.
True Laurel was indeed a joy to experience. If I hadn't eaten dinner, I'd have dug into their food menu, too.
753 Alabama St, San Francisco, truelaurelsf.com
6. Bar Sprezzatura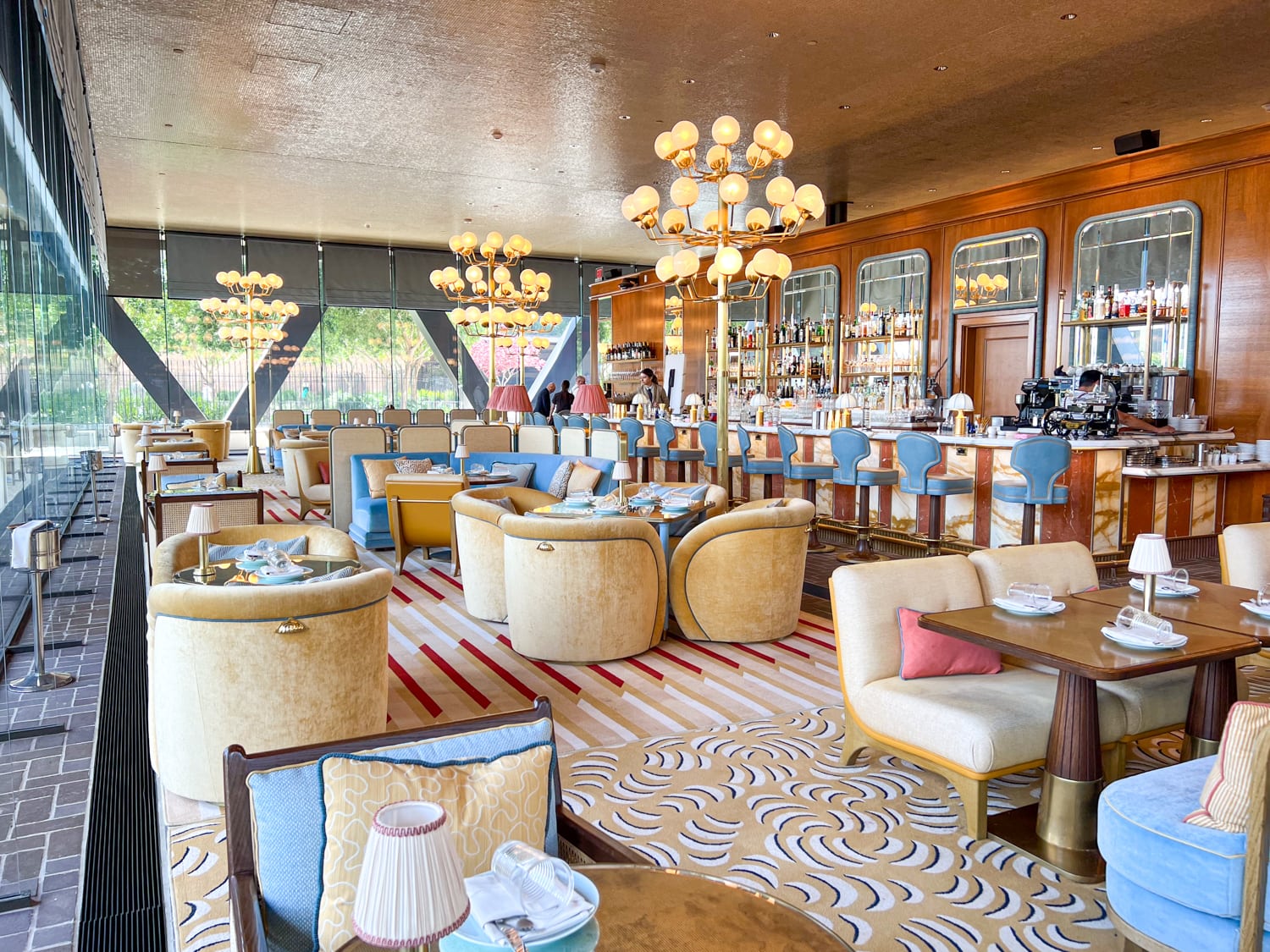 "Laid-back Italian elegance in the heart of downtown San Francisco" is how Bar Sprezzatura describes itself. And after reading early reviews of this lovely new aperitivo and cicchetti bar, I prioritized a visit.
The Venetian-inspired bar opened in November 2022 and updated its cocktail menu the day before I arrived in April 2023. Lucky me!
Italian-born partner and mixologist Carlo Splendorini is the man behind the magic.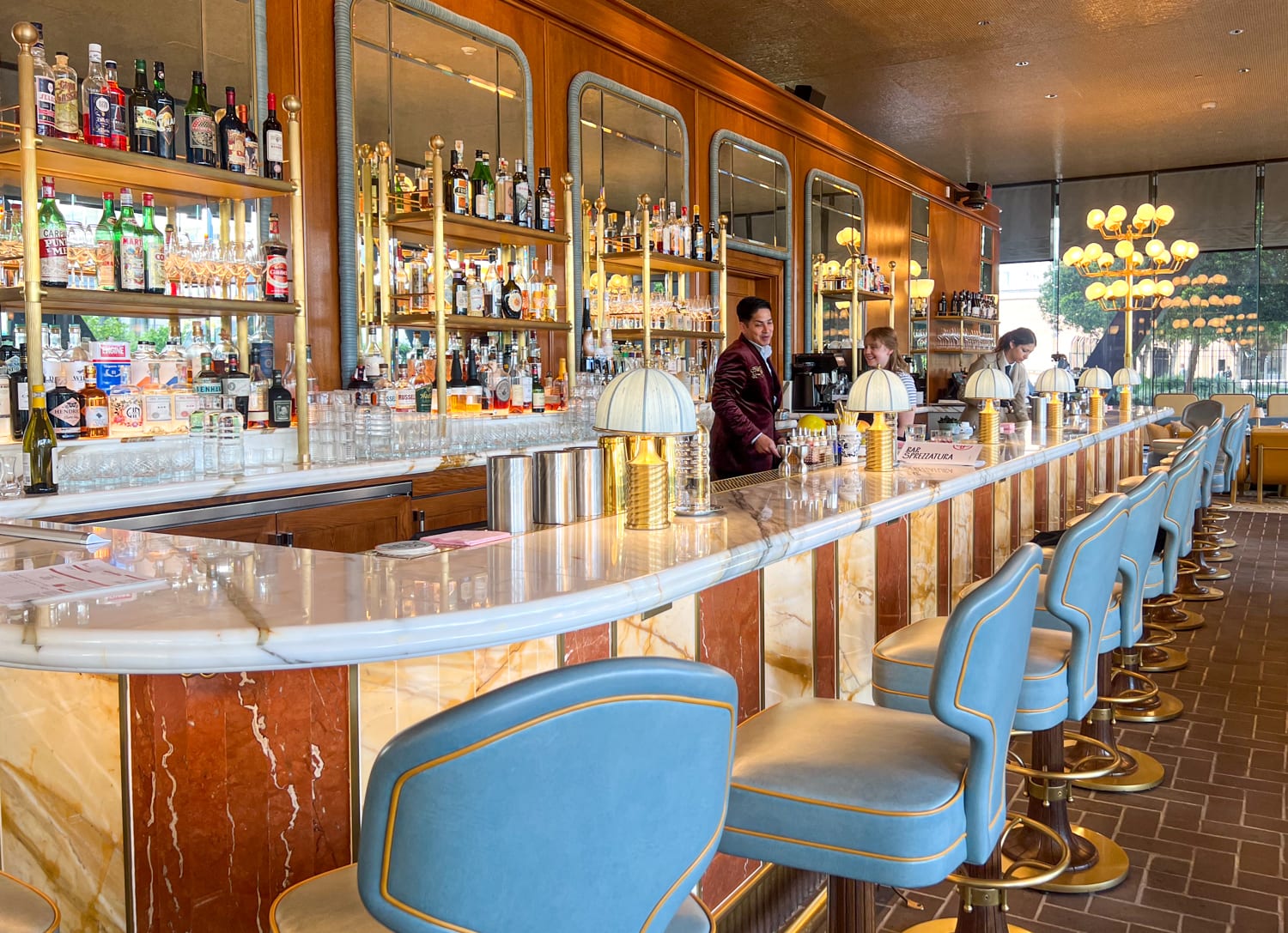 I walked in at 11 a.m. on a Friday for an early drink and loved it so much that I stayed for the delicious food, taking advantage of a 3-course lunch, their contribution to San Francisco Restaurant Week.
For a time, I had this spectacular space, designed by Martin Brudnizki, to myself. Natural light poured in through the floor-to-ceiling windows.
I began with one of the new cocktails, Lievitante, made with Hangar One Buddha's Hand Vodka, Italicus, Cocchi Americano, clarified lime juice, and Lambrusco.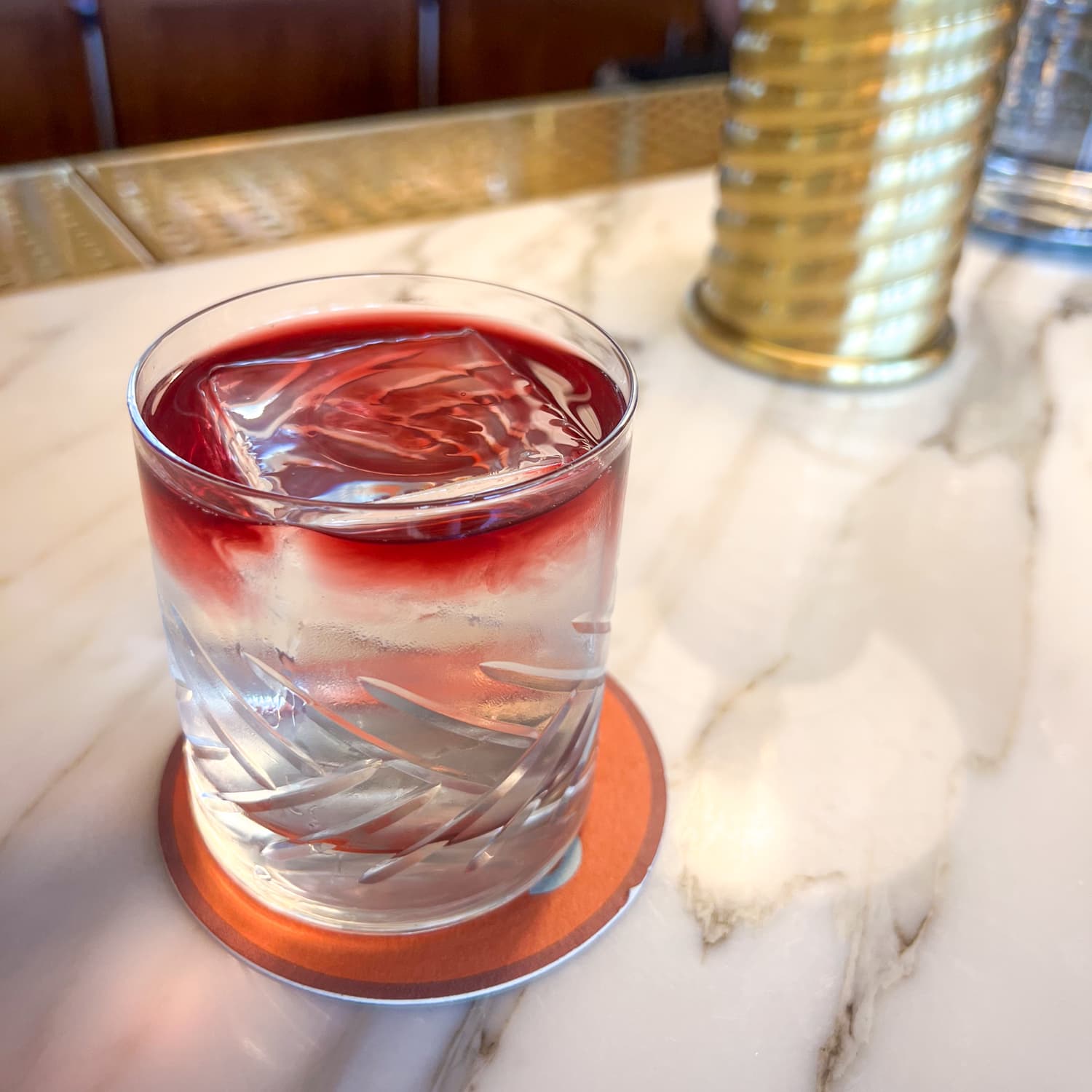 I savored every sip of this delicious drink with its terrifically clear ice cube, keeping it cold the entire time.
To continue enjoying the ambiance, I ordered lunch and a lighter Prosciutto & Melone spritz garnished with prosciutto-wrapped cantaloupe and balsamic balls.
Finally, after more than two hours at one of the best new bars in San Francisco, I forced myself to leave, already looking forward to next time.
One Maritime Plaza, #100, San Francisco, barsprezzatura.com
7. ABV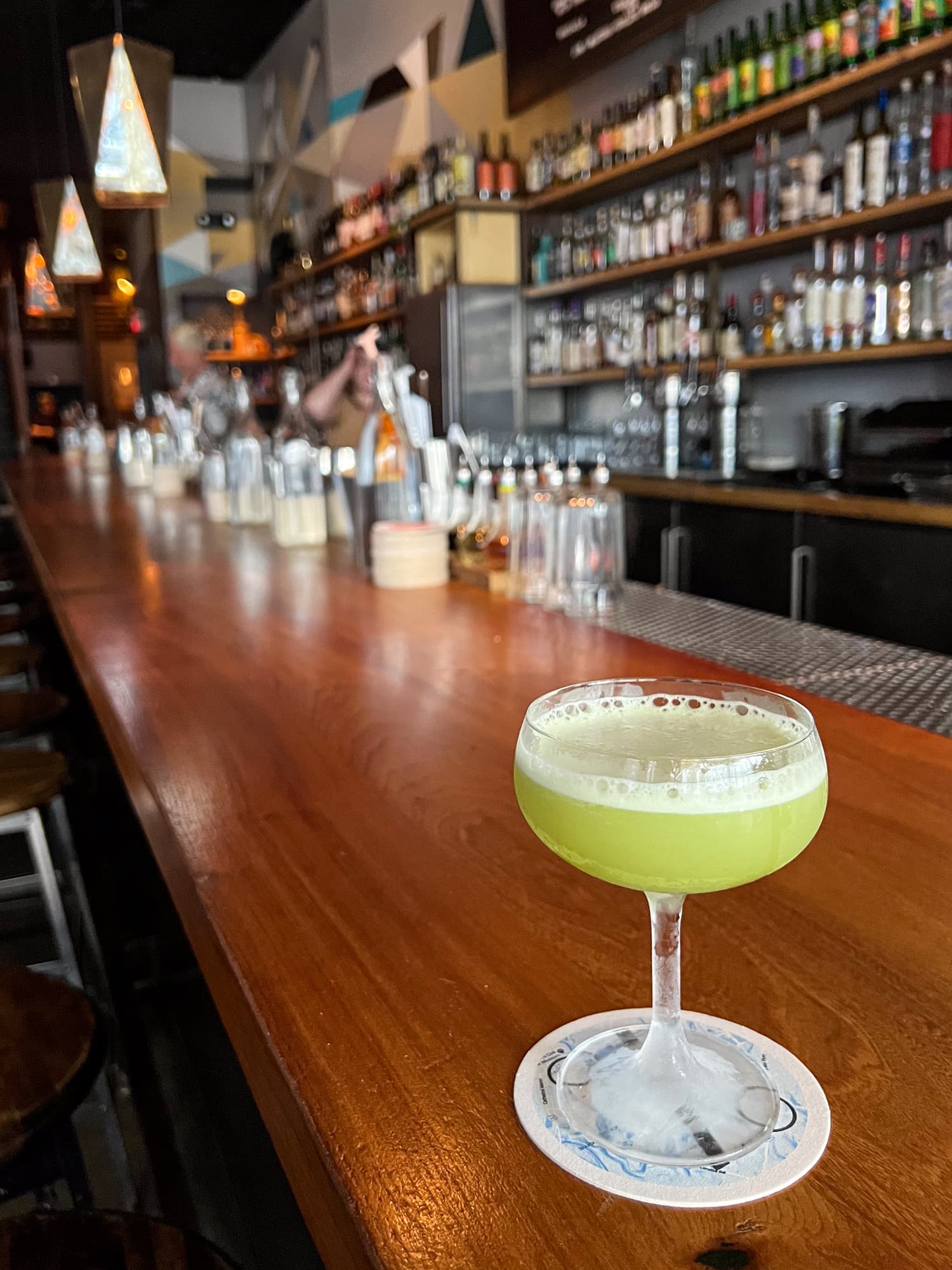 A ranking of #39 on The World's 50 Best Bars list for North America in 2022 brought ABV in the Mission District to my attention.
I dropped by for a tipple before dinner at Che Fico and found the sparsely-decorated ground-floor bar welcoming.
The creative menu is organized by spirit, with a page for low-ABV cocktails. The knowledgeable bartenders are there to help if you need it.
In the mood for something adventurous, I ordered the Tarragon Fix with blanco tequila, tarragon, lime, pineapple, and absinthe. It was tasty, herbal, and not too strong.
Punk rock I didn't recognize blared from the sound system, leading me to break out Shazam to keep up.
3174 16th St, San Francisco, abvsf.com
8. Novela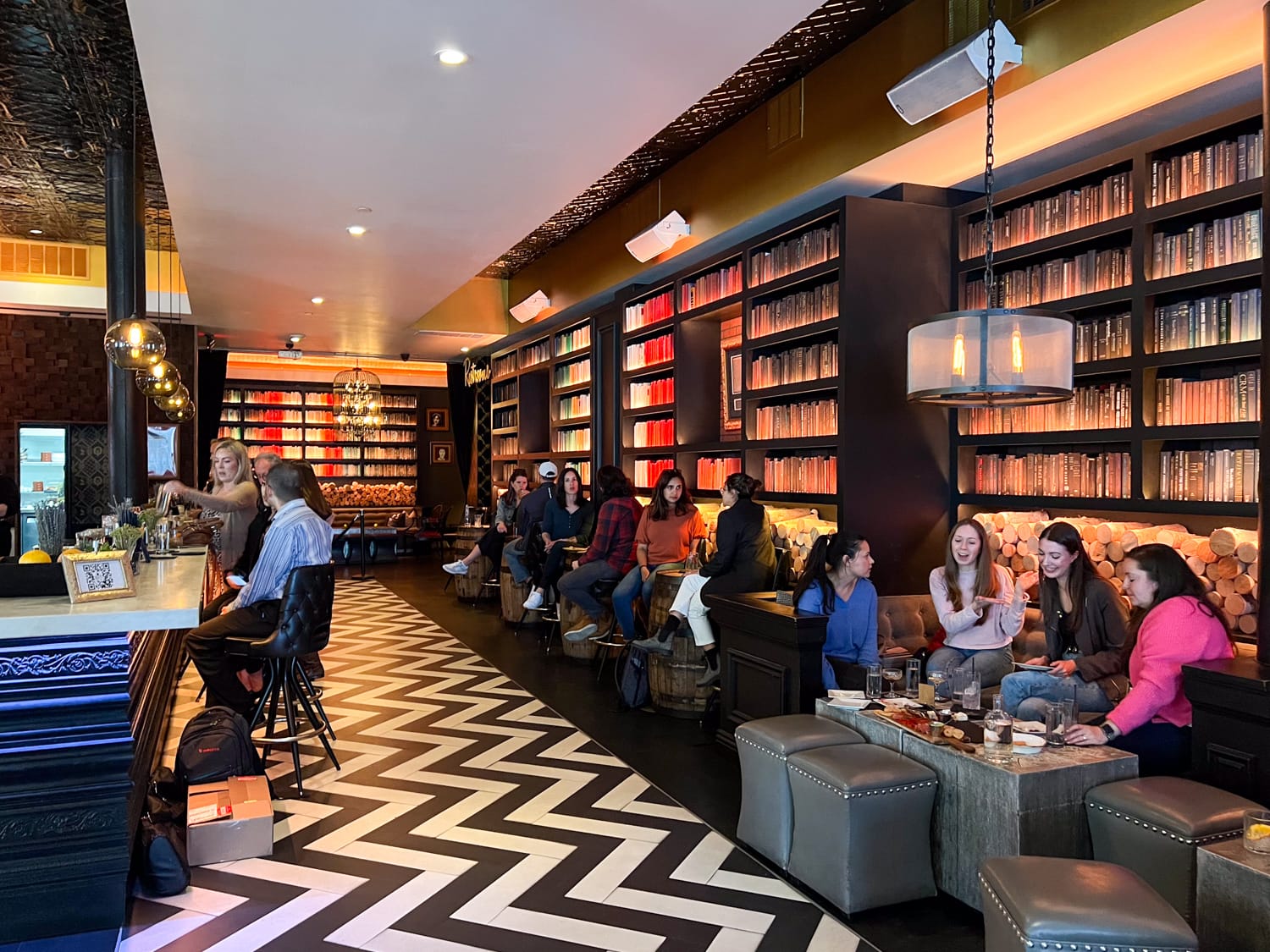 During my 2023 trip to San Francisco, I was with my girlfriend Kel, an avid reader.
I suggested we check out Novela, a literary bar lined with bookcases, photos of Hemingway, and a framed fragment of Jack Kerouac's writing.
The colorful space was as wonderful in person as it appears in photos, though the music was a little louder than I'd have liked. It's a bar, after all, not a library.
House cocktails are named for literary characters like Aster Grey and Jay Gatsby. Seasonal cocktails are classified as "refreshing & juicy" or "stiff & spiritous" to help guide you.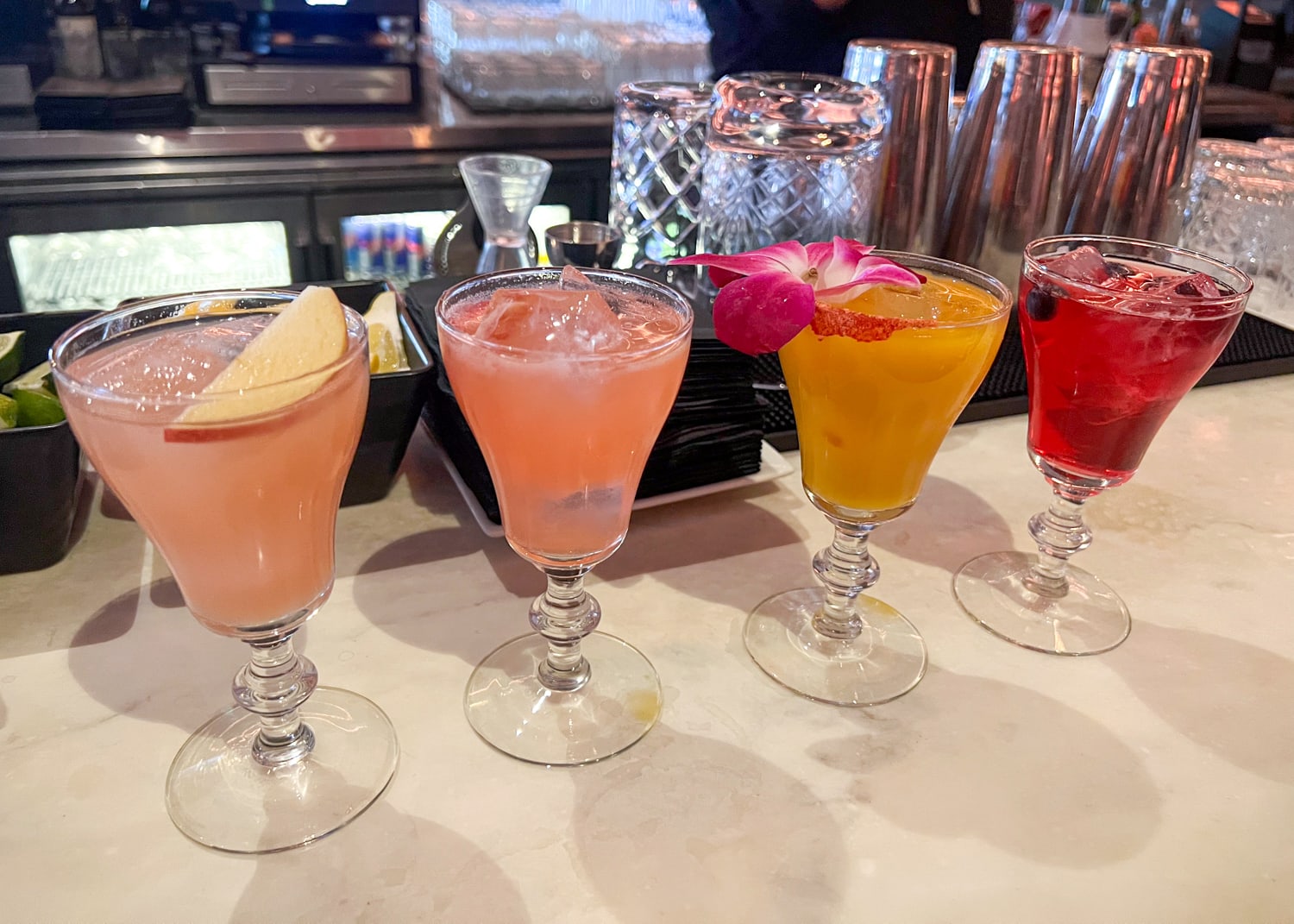 The punch on tap appealed to me, especially when you can get a flight of four for $20.
From left to right in the photo above, I tried the vodka peach, strawberry mezcal, mango rum, and blueberry bourbon. Each glass was garnished with fresh ingredients. The vodka peach punch was my favorite.
Meanwhile, Kel enjoyed the refreshing Stormlight with gin, Lillet, lavender, and lemon.
A small selection of wines and beer on draft and by the bottle and a few spirit-free drinks are also available.
The Spanish menu features artisanal cheese, charcuterie boards, oysters, tapas, and larger dishes like pan-roasted octopus and fried wagyu beef short ribs. Dessert includes churros and gelato.
662 Mission St, San Francisco, novelasf.com
9. Bourbon & Branch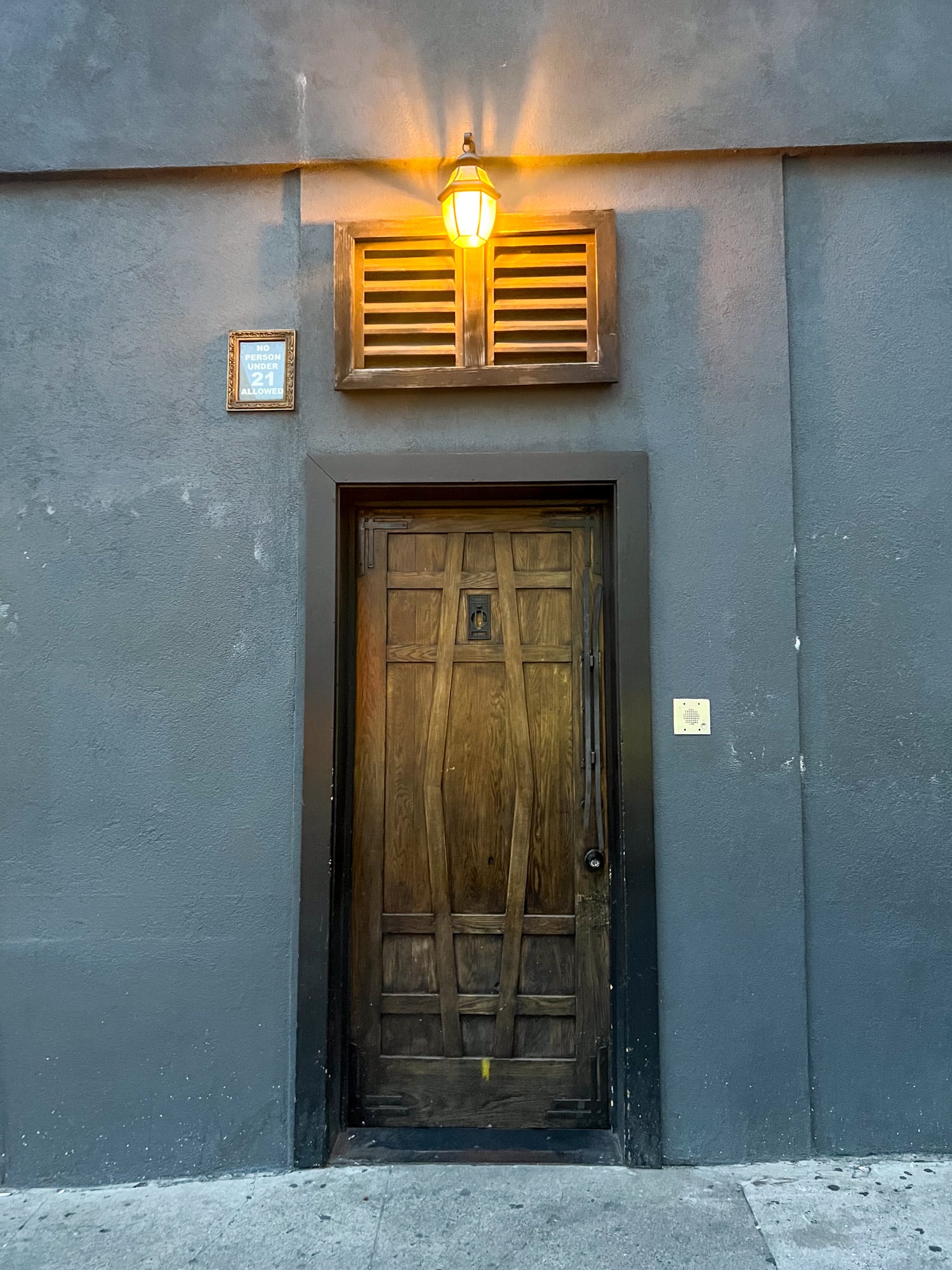 It's not a Feastio-certified list of top San Francisco bars without a speakeasy, and that spot is now filled by Bourbon & Branch.
This reservation-only craft cocktail bar is in the heart of the Tenderloin district and operated as a speakeasy from 1921 to 1933 during Prohibition.
Before you make a reservation, read the house rules on the website, which include a request to speak quietly and don't allow for cell phone use or photography.
Once your reservation is confirmed, you'll receive a password to provide on arrival.
If you make it inside, you can look forward to a good time with the friendly bar staff and some of the best classic cocktails in San Francisco.
The drink menu is divided into five categories:
Lighter Fare
Spirit Driven
Free Range
Ice Breakers
Fresh and Fancy
I ordered a gin drink with St Germain Elderflower liquor, lime, and bitters. And Kel sipped a Delicious Sour with Applejack, peach liqueur, and lemon.
We exited Bourbon & Branch through an adjoining (sister) bar, the Library, which is accessible without a reservation. You will, however, need to provide the publicly available password ("books") to enter.
501 Jones St, San Francisco, bourbonandbranch.com
10. Cityscape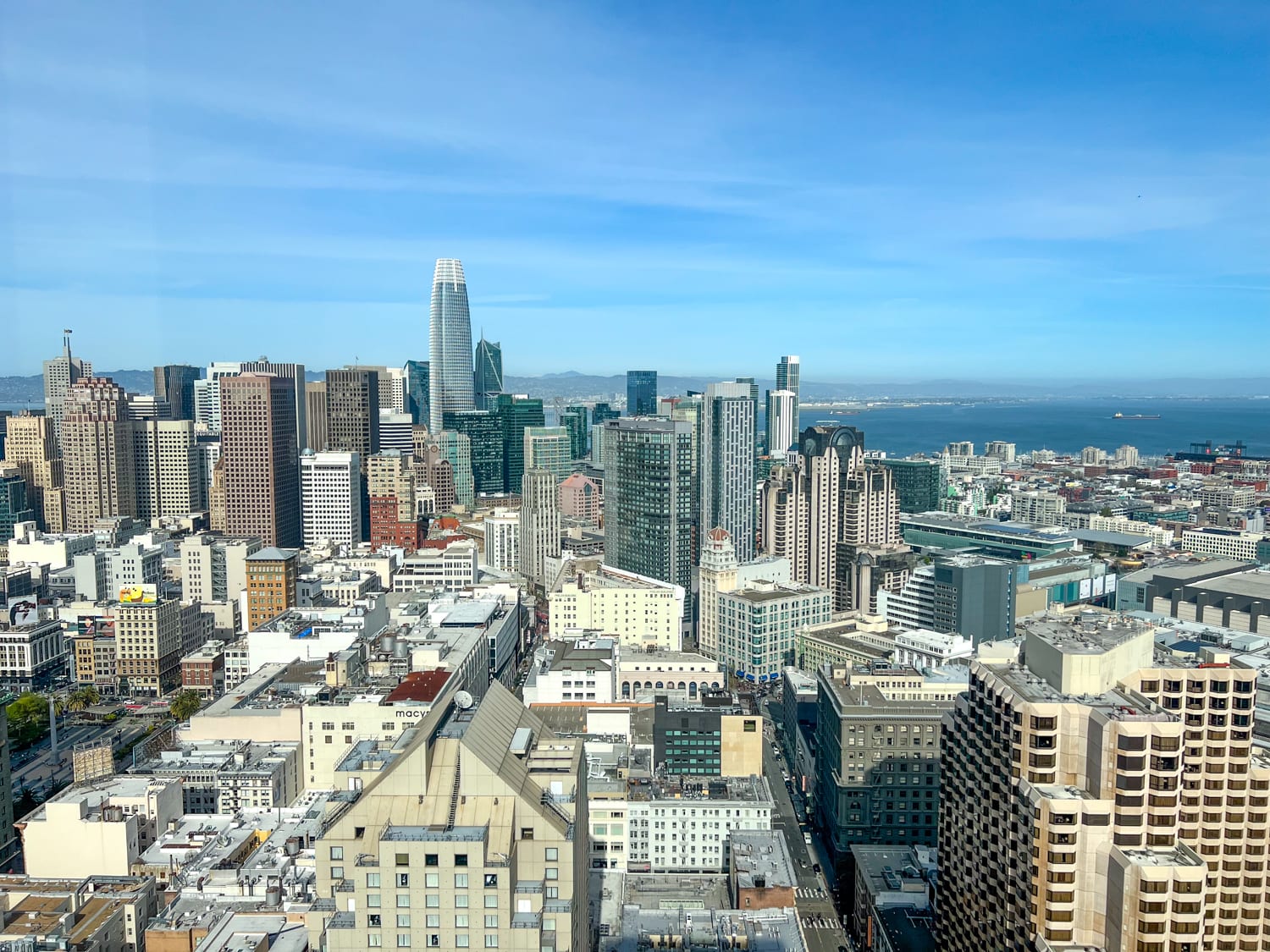 Cityscape is a block east of Bourbon & Branch, on the 46th floor of the Hilton San Francisco Union Square.
The city's tallest sky bar offers 360-degree views complimenting your preferred cocktail, wine, or beer.
We visited at 5 p.m. on a Saturday, and plenty of seats were available in front of the windows. The views were magnificent.
Kel and I shared a Basil Bay with Nolet's Gin, pear, lemon, basil, and tonic. We also snacked on an artisan cheese board and truffle potato chips.
Related: San Francisco to Sonoma Road Trip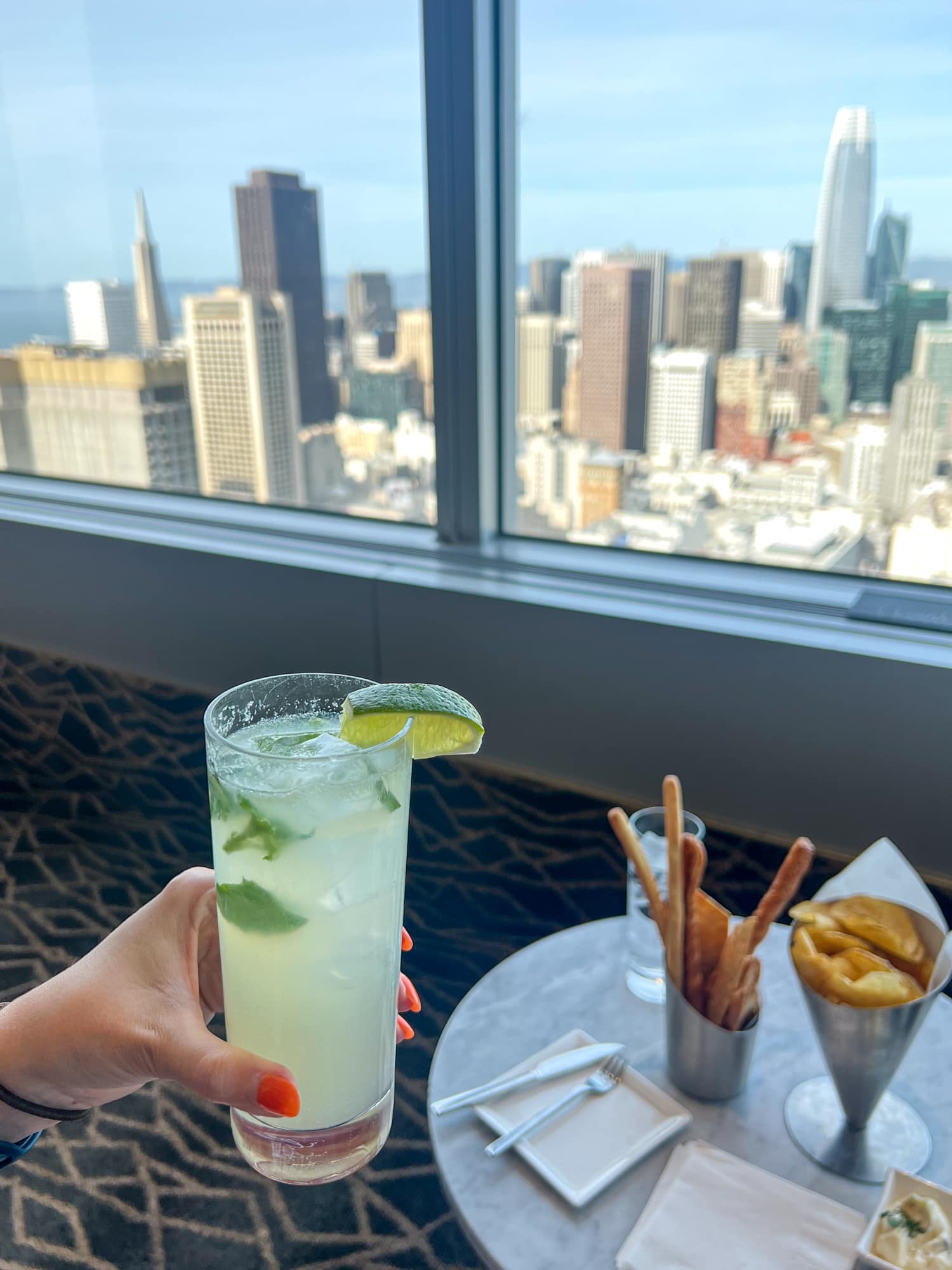 At $24, our cocktail was one of the most expensive I've bought in San Francisco. You're paying for the view; to me, it felt worthwhile.
If you prefer to skip the booze, there are a few zero-proof drinks for $14.
For parties with fewer than ten people, seating is first-come, first-served.
333 O'Farrell St, San Francisco, cityscapesf.com
11. The Buena Vista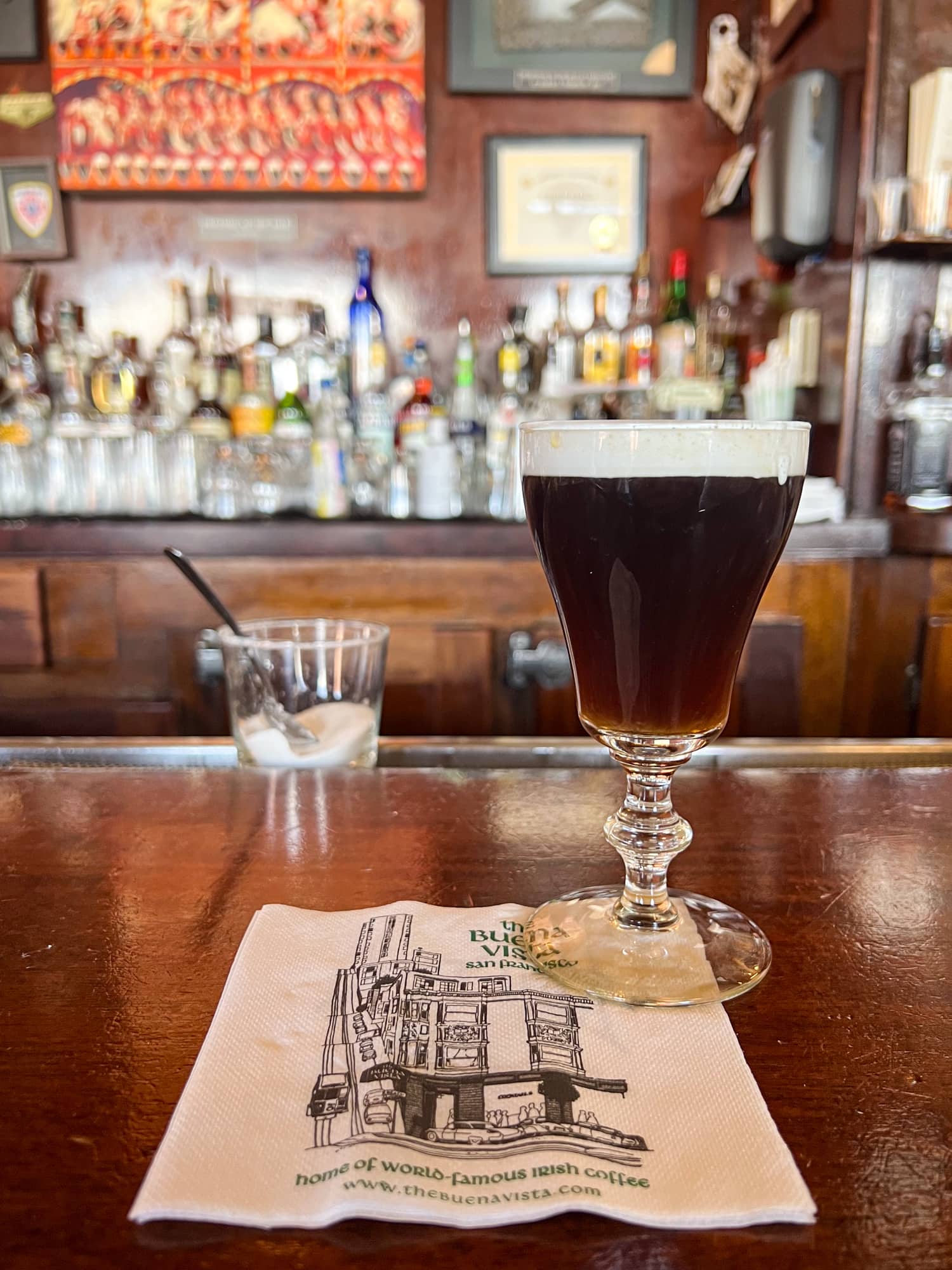 The Buena Vista is a few blocks west of Fisherman's Wharf, across the street from the Powell & Hyde Cable Car Turnabout.
The Buena Vista Cafe dates back to 1899 when it first opened across the street as a lodging and saloon for local dockworkers.
According to the plaque, it moved to its present location in 1907 and was renovated to the current Queen Anne style in 1911.
That's all well and good, but what put Buena Vista on the map was that it was the first bar to serve Irish Coffee in the United States in November 1952.
That's about nine years after the recipe was first developed by Joe Sheridan and served in Ireland. The Buena Vista's version was so good Joe Sheridan would later travel from Ireland to San Francisco to work there.
Given its popularity and the fact that it serves up to 2,000 Irish Coffees daily, it's a busy place. I lucked out with a short wait to grab a stool at the bar.
On the wall in front of me was a framed palm tree polo shirt from Hunter S. Thomspon, who used to hang out at The Buena Vista.
Buena Vista's Irish Coffee is still made according to the original recipe, using:
Tullamore D.E.W. Irish Whiskey
Peerless Organic Coffee
C&H Sugar
Heavy Cream
It's a great place to get a quick drink. And I do mean quick. The bartenders make them six at a time during peak hours.
For the non-traditionalists, a few more options from the specialty drinks menu include Mexican Coffee with tequila and Kahlua, Bailey's Irish Cream Coffee, and Skrewball Irish Coffee with peanut butter whiskey.
2765 Hyde St, San Francisco, thebuenavista.com
***
I'd be remiss not to mention Trick Dog in this list of the best cocktail bars in San Francisco.
On my first visit to San Francisco, I dropped by the converted warehouse turned bar, but it was temporarily closed.
Trick Dog is located around the corner from True Laurel (which is how I happened upon the latter) and was recognized for its inventive drinks in 2020 when it ranked #77 on the World's 50 Best Bars list.