Wine tasting in Fredericksburg offers visitors an ideal introduction to Texas wines.
This quaint town in Central Texas was founded by German immigrants in 1846 and is about an hour's drive north of San Antonio and an hour and a half west of Austin.
The Fredericksburg area is home to 50 wineries and vineyards, many growing grape varietals from France, Spain, and Italy.
The wineries are a part of the Texas Hill Country AVA (American Viticultural Area), a wine region covering over nine million acres.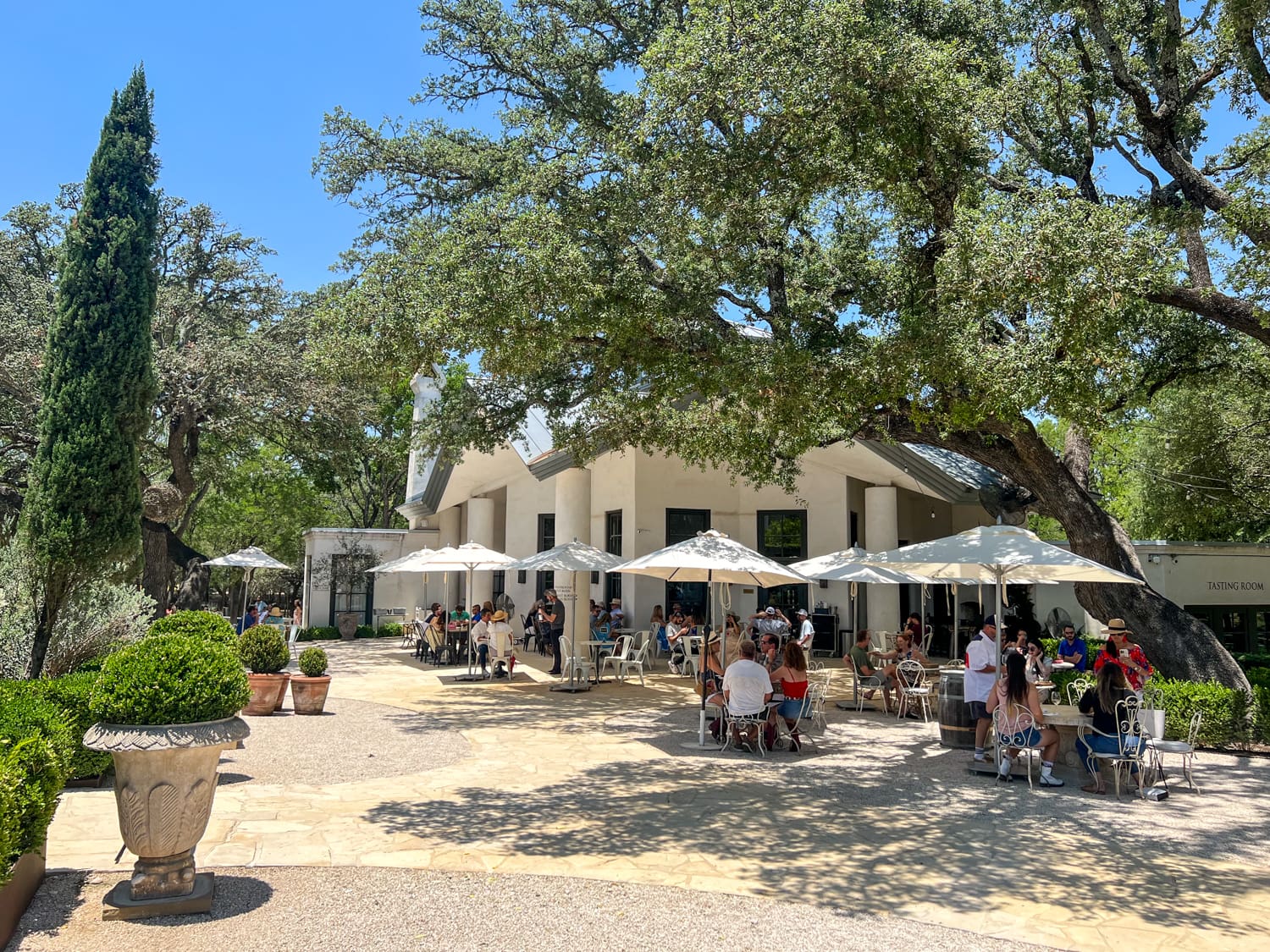 It's the second-largest AVA in the United States by area, even though vineyards use only a tiny fraction. The Texas Hill Country is one of eight AVAs in the state.
When I moved to Austin in 2016, I snubbed wines made in Texas. Why drink Texas wine when you can drink Napa Valley and Sonoma wines?
Even after learning Texas was the fifth-largest wine-producing state (after California, Washington, New York, and Oregon, in that order), I didn't pay attention.
Meanwhile, I visited wine regions like Temecula in Southern California and Chianti in Tuscany.
It wasn't until 2022, with a newfound interest in exploring closer to home, that I spent several weekends wine tasting in Fredericksburg, TX.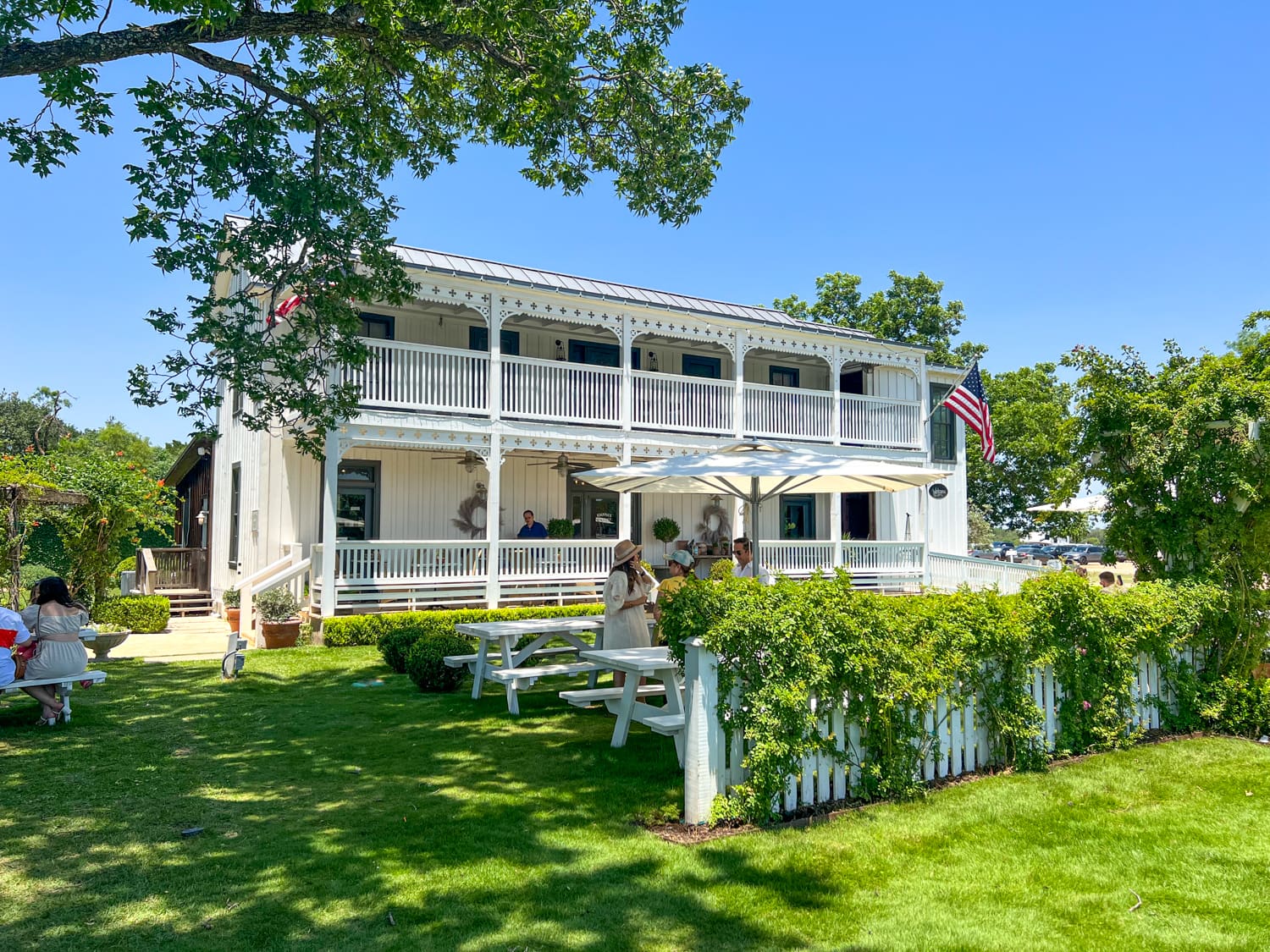 Fredericksburg Wineries
Aside from booking a 19th-century cottage on the main street in historic Fredericksburg, I didn't plan for our first visit, a Memorial Day weekend getaway.
I asked my friend Amy, a Texas wine specialist, for winery recommendations a few days before Kel and I departed. Meanwhile, my girlfriend asked her friend who lives in Fredericksburg for his tips.
I felt overwhelmed by the advice we received and my online research, which showed some wineries required reservations or only served wine club members.
I took a breath, relaxed, and realized we'd have a good time together regardless of whether we got to all the best wineries. And we could always go back.
Signor Vineyards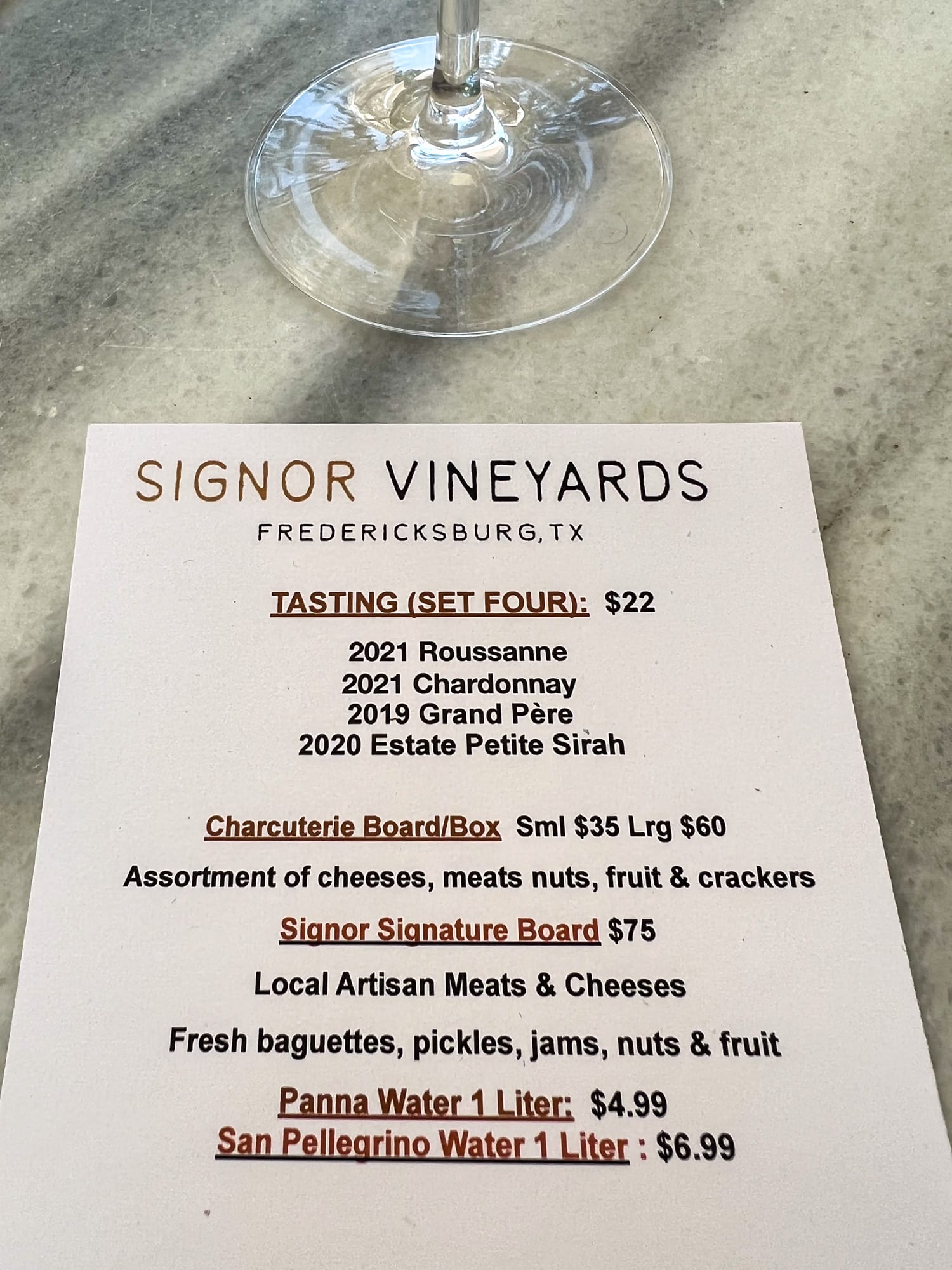 Our first wine tasting in Fredericksburg was at Signor Vineyards, a 200-acre estate that planted its first grape vines in 2015 and had its first harvest in 2017.
They're as new to producing Texas wine as I am to drinking it! But don't let that scare you away.
I chose Signor Vineyards as the first stop because they didn't require reservations. However, I was enamored with the beautiful property once we got there.
We told the hostess we were there for a wine tasting, and she sat us at a shaded table under a giant oak tree on their patio, perfect for people-watching.
The Signor wine tasting was $22 and included:
2021 Roussanne
2021 Chardonnay (my favorite)
2019 Grand Pere
2020 Estate Petite Sirah
Three charcuterie boards were available for $35 (small), $60 (large), or $75 (signature), and still and sparkling bottled water.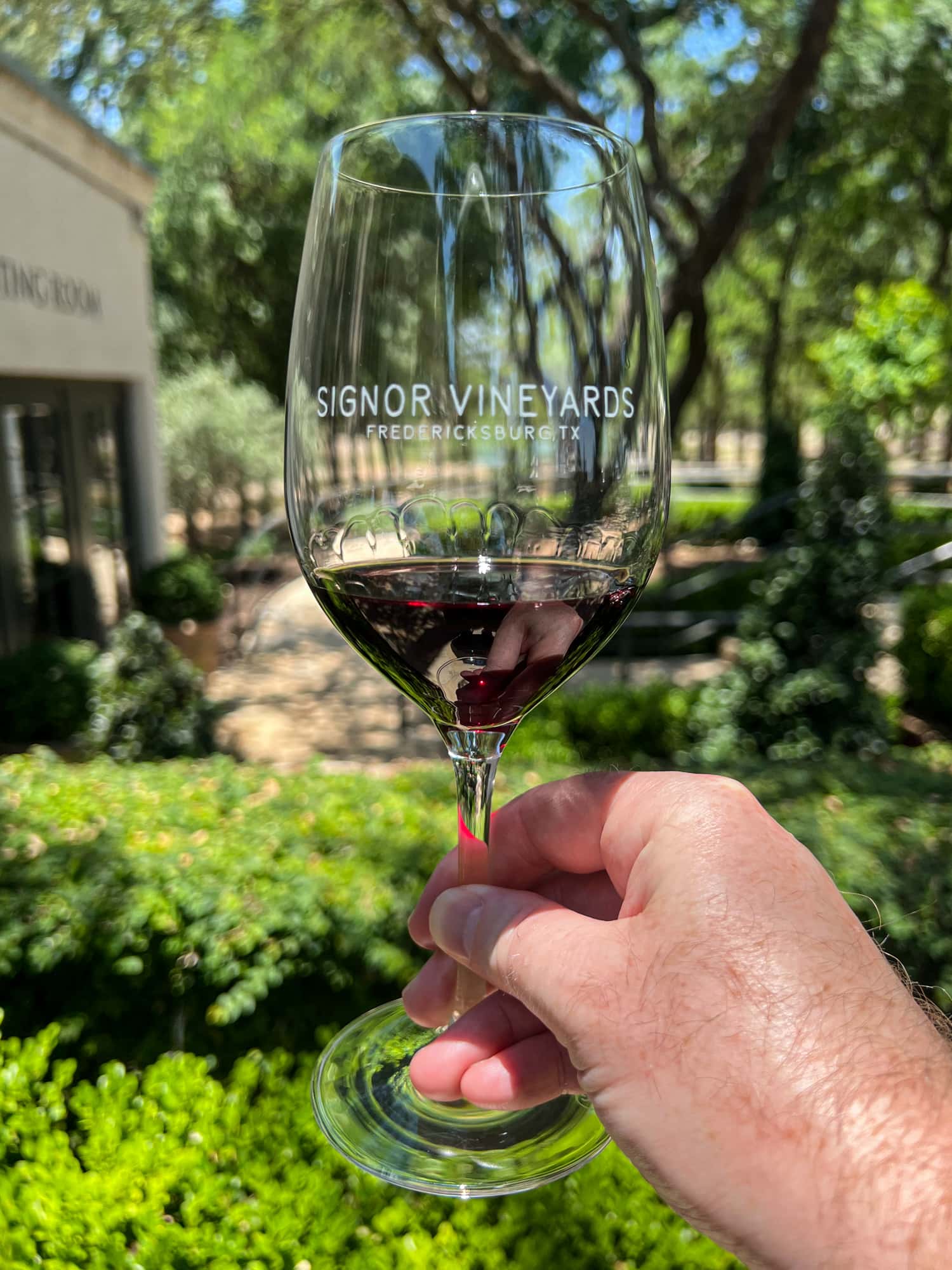 After tasting the wines, Kel and I walked around the property, separated by an ivy-covered wall.
The shaded patio is on the north side, which has a wine-tasting room. On the south side of the wall, it's a more casual vibe, with picnic tables on bright green grass and vineyard views.
You can buy a bottle from their wine barn, get gift ideas inside Joanna's Market, or hang out.
Signor Vineyards, 362 Livesay Ln, Fredericksburg, TX, signorvineyards.com
Slate Theory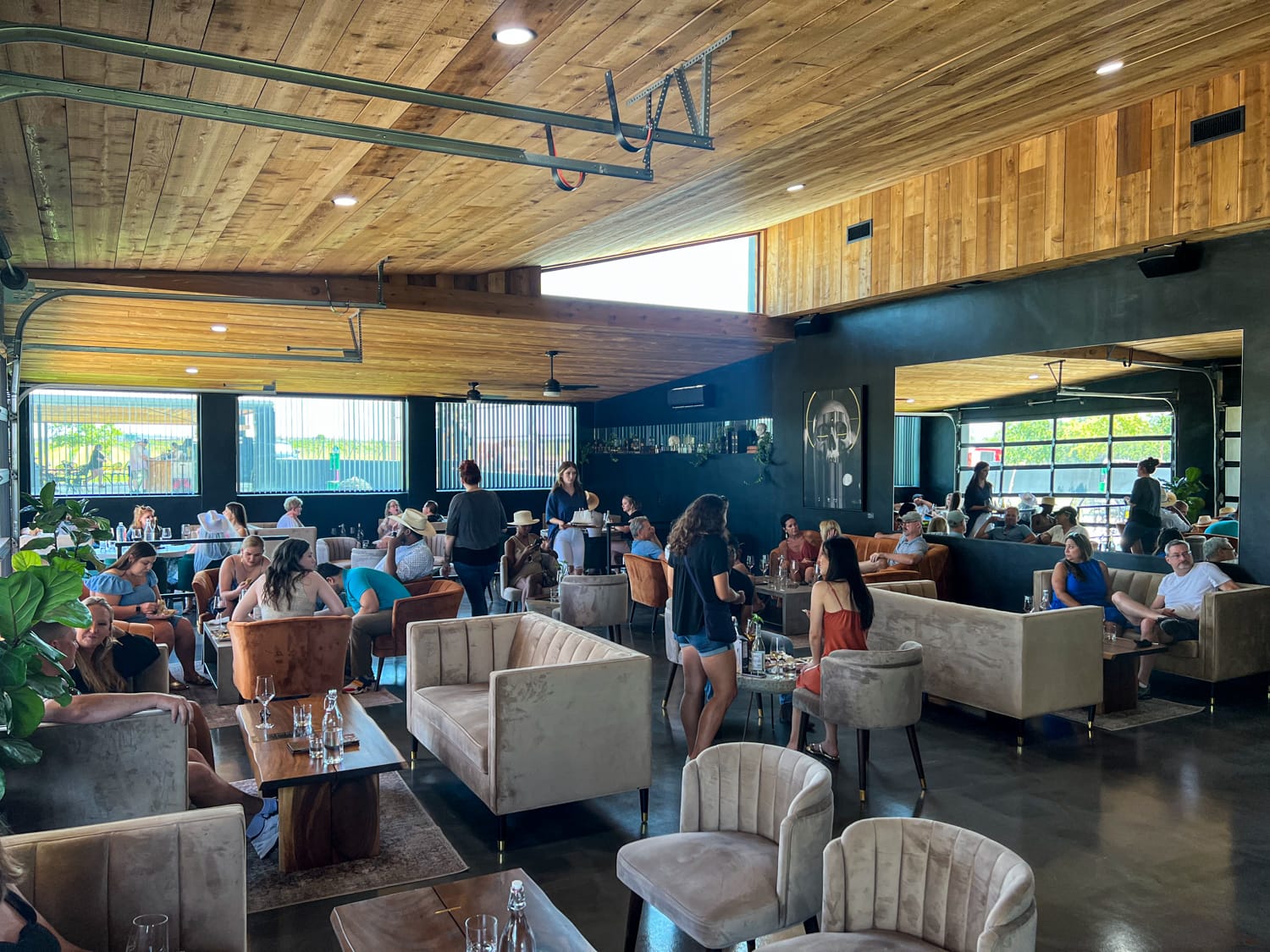 High off my first winery experience in the heart of the Texas Hill Country, I was excited to try our luck at Slate Theory on the opposite side of US-290 (aka "The Wine Road") from Signor.
Amy had informed me that it was a young winery known for its wine cave. I later learned they've only been open for six months and aren't finished building.
A tasting in the wine cave ($50) sounded like a unique experience for wine lovers, but they were fully booked. And the same for their 45-minute production wine tour ($45).
Besides the wine cave, guests can choose from shaded outdoor patios or an air-conditioned tasting room. Having just been outside in the Texas heat for an hour, we sat inside at Slate Theory.
Related: Top Restaurants in Fredericksburg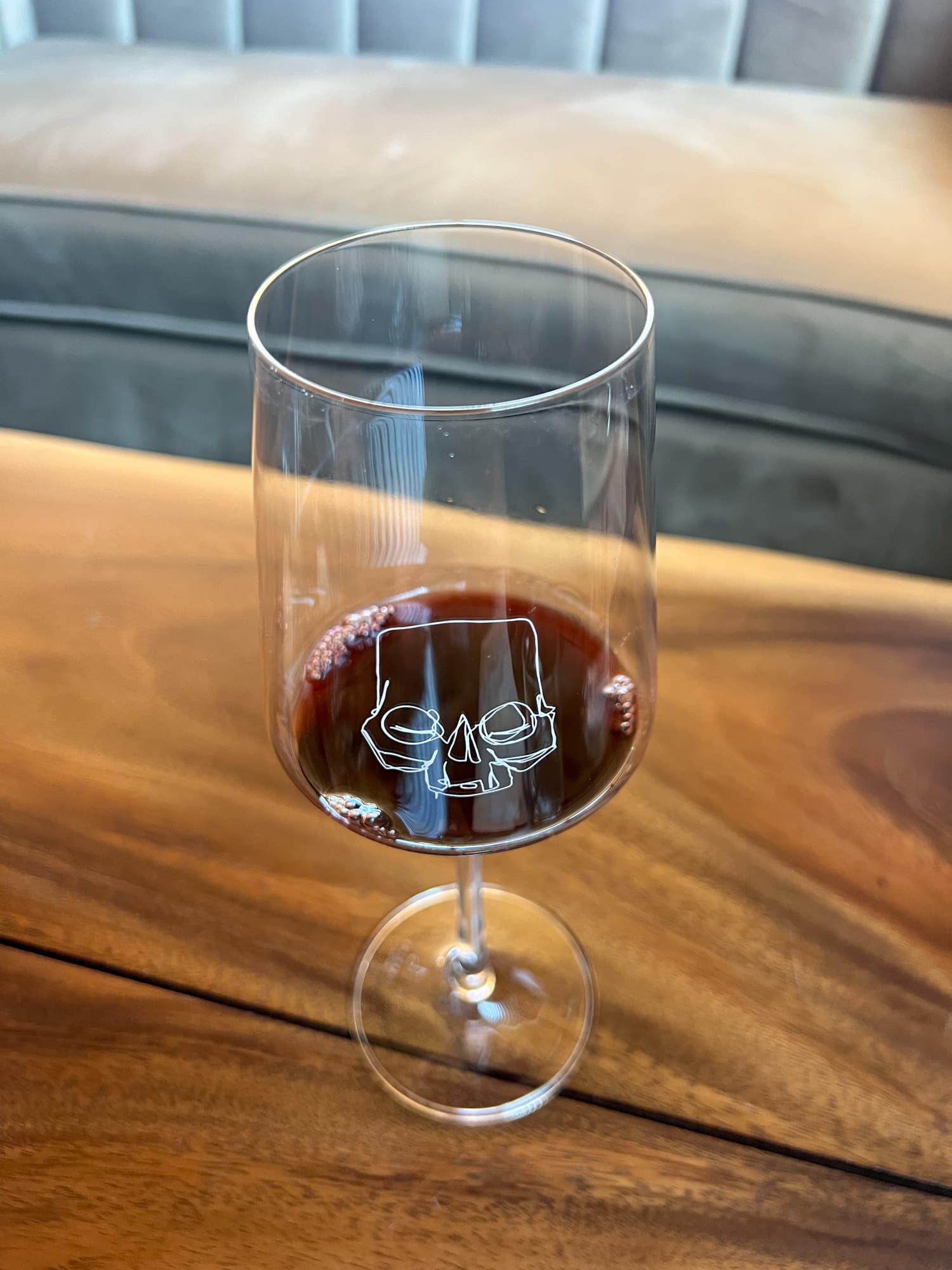 As we were seated on a couch in the corner of the far end of the tasting room, I told the hostess that I was hoping to see the wine cave as I would be writing about my trip.
The next thing I knew, Randy, the friendly owner of Slate Theory, was sitting with us. I introduced myself, and he offered to show us the cave after our wine tasting.
Slate Theory offers two wine-tasting options, a mix of whites and reds for $25 and red wines only for $30. I ordered the former, with fig and honey goat cheese and crackers.
The wine tasting included:
The Pharmacist 2020
Roussanne 2020
Merlot 2017
The Schizophrenic 2017
The Dissociate 2017
The Schizophrenic, a blend of Cabernet Sauvignon, Cabernet Franc, Merlot, and Petite Sirah, was one of the best wines of the weekend, and the Merlot was a runner-up.
Wine Cave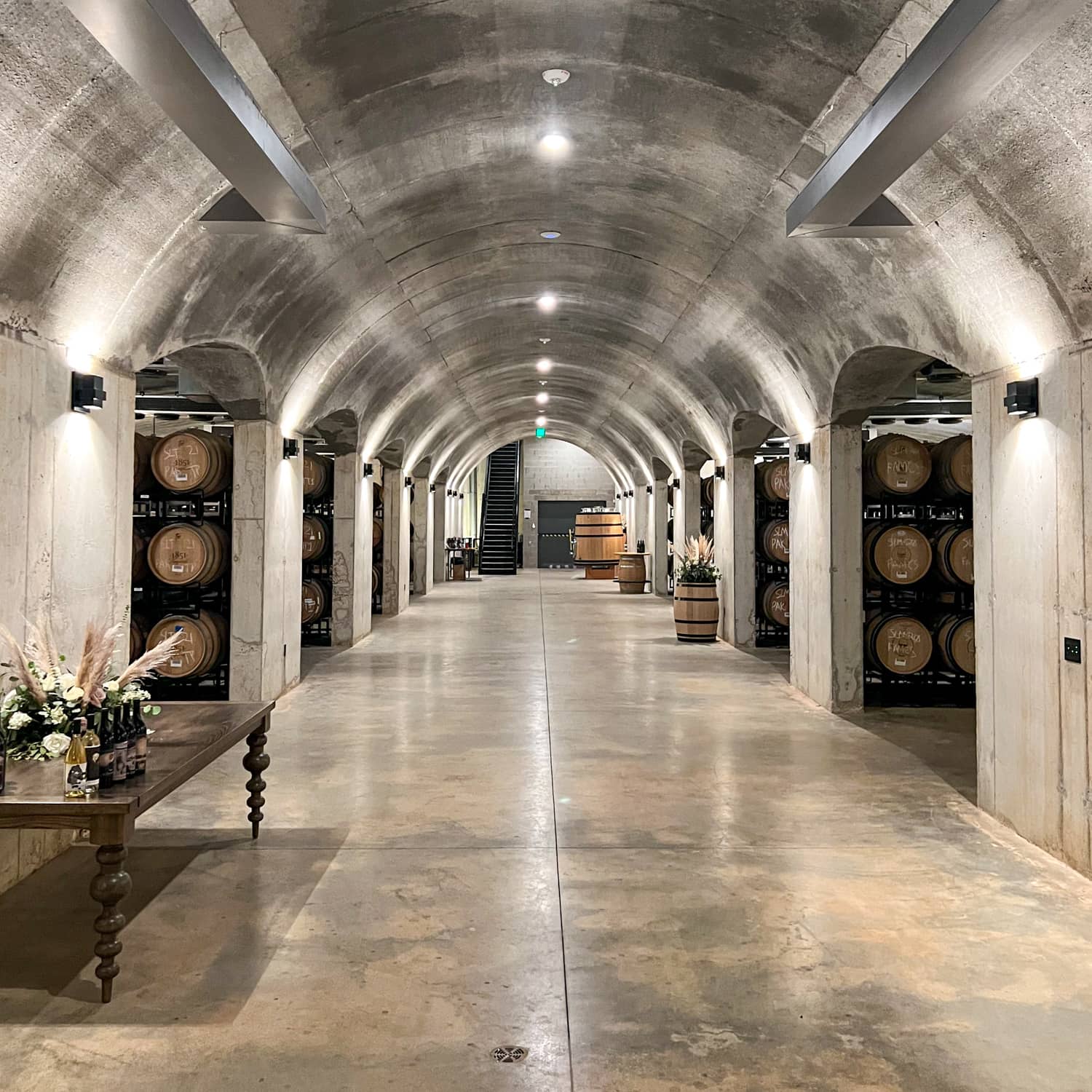 After a great experience tasting Slate Theory's wines, we reunited with Randy.
He walked us down to the underground wine cellar while giving a little background on why and how he started a winery without prior industry experience. The impromptu private tour was a pleasant surprise.
Barrels are neatly stacked in the wine cellar, allowing groups of friends to taste wines in semi-private spaces, each uniquely designed.
I was a little envious, but I look forward to reserving a cave wine tasting on a future trip to Fredericksburg.
Slate Theory, 10915 US-290, Fredericksburg, TX, slatetheory.com
William Chris Vineyards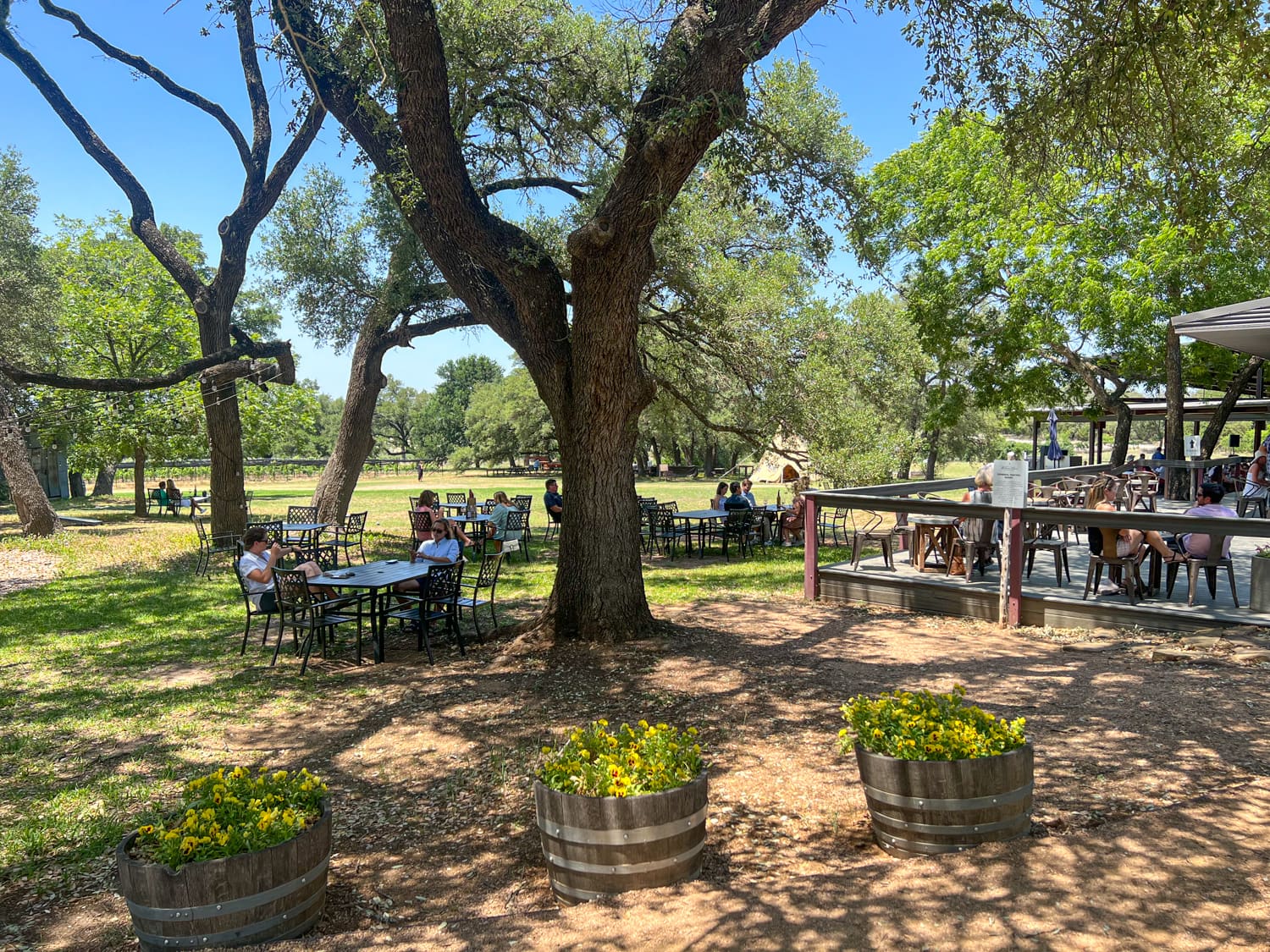 On our second day in the heart of Texas Wine Country, we visited William Chris Vineyards in Hye, about 20 miles east of Fredericksburg and 10 miles west of Johnson City.
This winery was the one I saw mentioned the most online. It was the Reader's Choice in Austin Monthly's "Best of ATX" issue (April 2022), cited in several "best of" articles, and recommended by both my friend Amy and Kel's friend.
William Chris Vineyards requires reservations for their tasting experiences on the weekends. I booked the Winemaker's Tasting for $30 per person via the website.
Kel and I arrived early, giving us time to walk around the grounds. There was plenty of outdoor seating, including a covered patio with live music and vineyard views.
I noticed more little kids at this winery than the others, and maybe that's because there was a giant teepee, free soap bubbles to be blown, and lawn games like cornhole.
Related: Wine Tasting in Seattle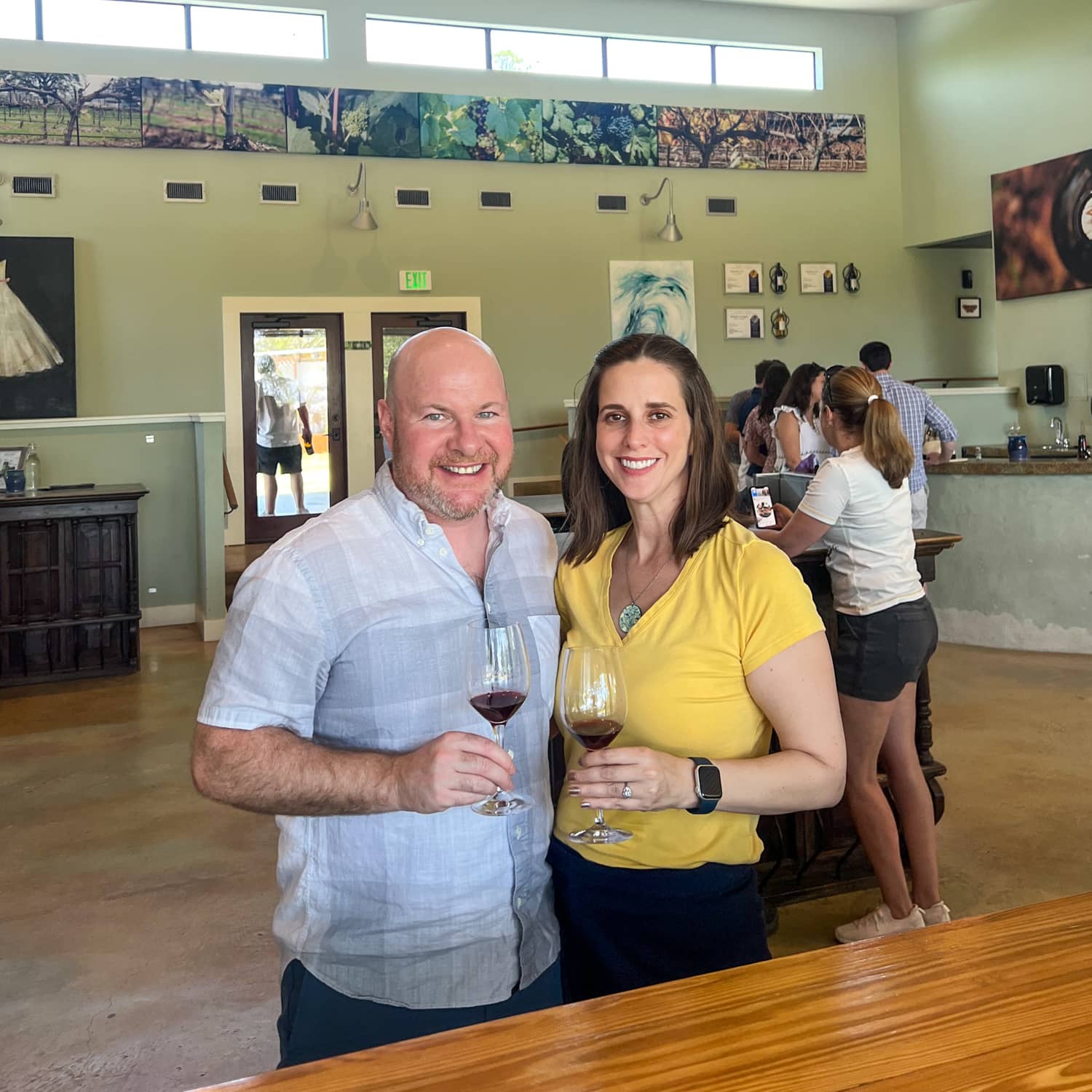 At 1:30 p.m., it was time for our wine tasting, so we returned to the welcome desk and were shown to the indoor tasting room.
I was surprised to see it was standing room only, given a typical tasting lasts 45 minutes.
Well into our experience, we noticed a few metal stools in the corner we asked to use. It felt more comfortable to be there once we were seated.
We tried five wines at William Chris:
2021 Mary Ruth
2019 La Pradera Blend
2019 Mourvedre, La Pradera Vineyard
2019 Cabernet Sauvignon
2019 Enchante
My two favorites were the La Pradera Blend and Mourvedre.
William Chris Vineyards, 10352 US-290, Hye, TX, williamchriswines.com
Kuhlman Cellars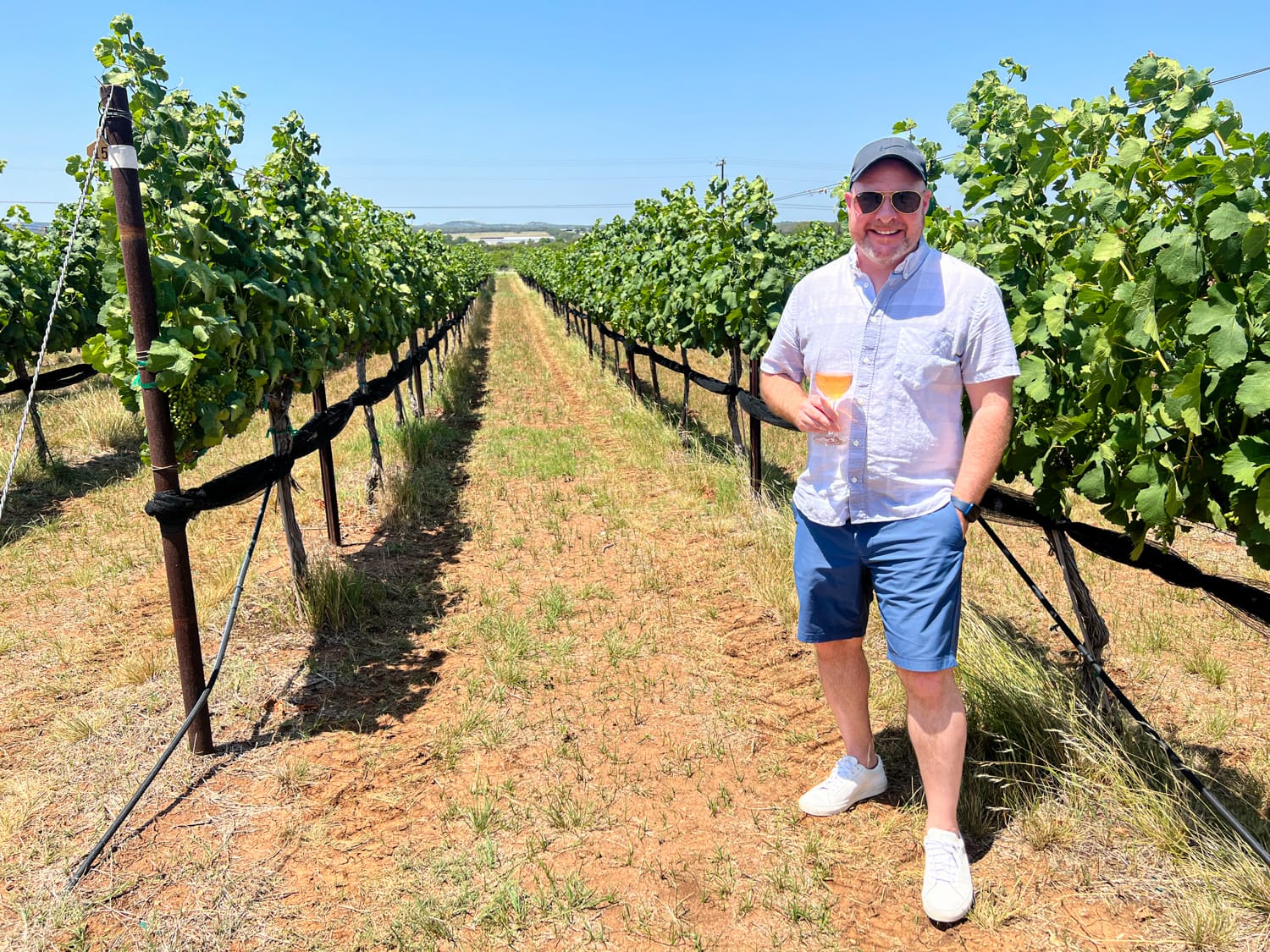 Given how far we'd driven out of Fredericksburg for our wine tasting at William Chris, Kel suggested we take the opportunity to visit nearby Kuhlman Cellars, too.
I hadn't researched this one; however, we were happy to share a glass of wine. A rose, to be specific.
We sat for a few sips in the air-conditioned tasting room, admiring the vineyard, before walking down to the grape vines.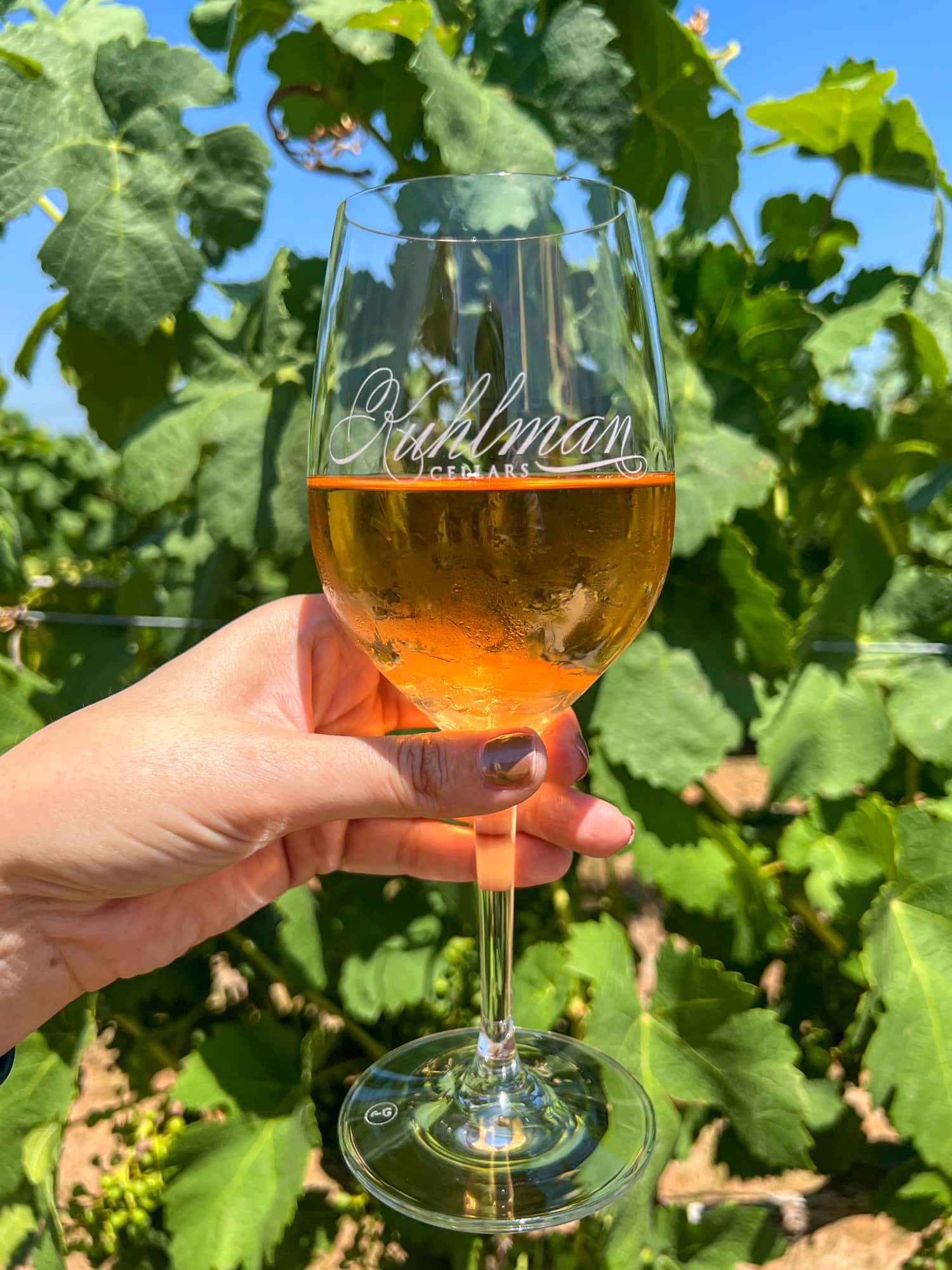 The tasting room and patio are slightly elevated from the vineyards and road and thus offer scenic views of the estate.
Kuhlman Cellars opened in October 2014. They accept walk-ins; reservations are recommended on the weekends.
Kuhlman Cellars, 18421 E, US-290, Stonewall, TX, kuhlmancellars.com
Das Peach Haus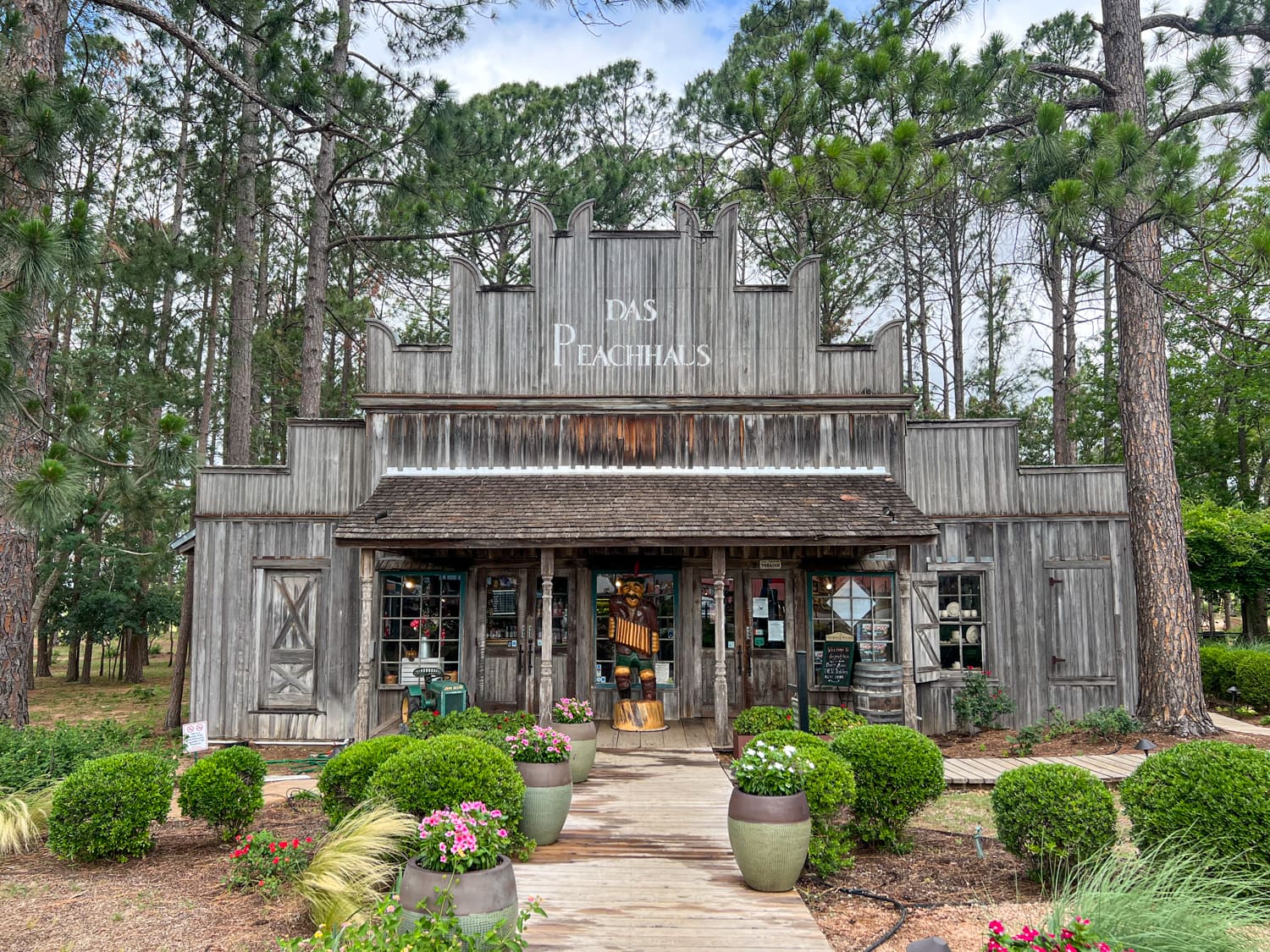 Our first experience with a sweet wine tasting in Fredericksburg was at Das Peach Haus, where Kel could try the fruit wines she prefers.
She'd been the designated driver until this point and left the lion's share of tasting to me. Now it was my turn to repay the favor.
This country store was originally a Lone Star Beer Warehouse constructed in 1913, closer to town.
Mark Wieser bought it in 1976 and moved it to his peach farm, where it has been used to sell jams, jellies, and 150 other products made by Fischer & Wieser ever since. (Case Fischer is Mark's business partner).
Related: Austin Food and Wine Festival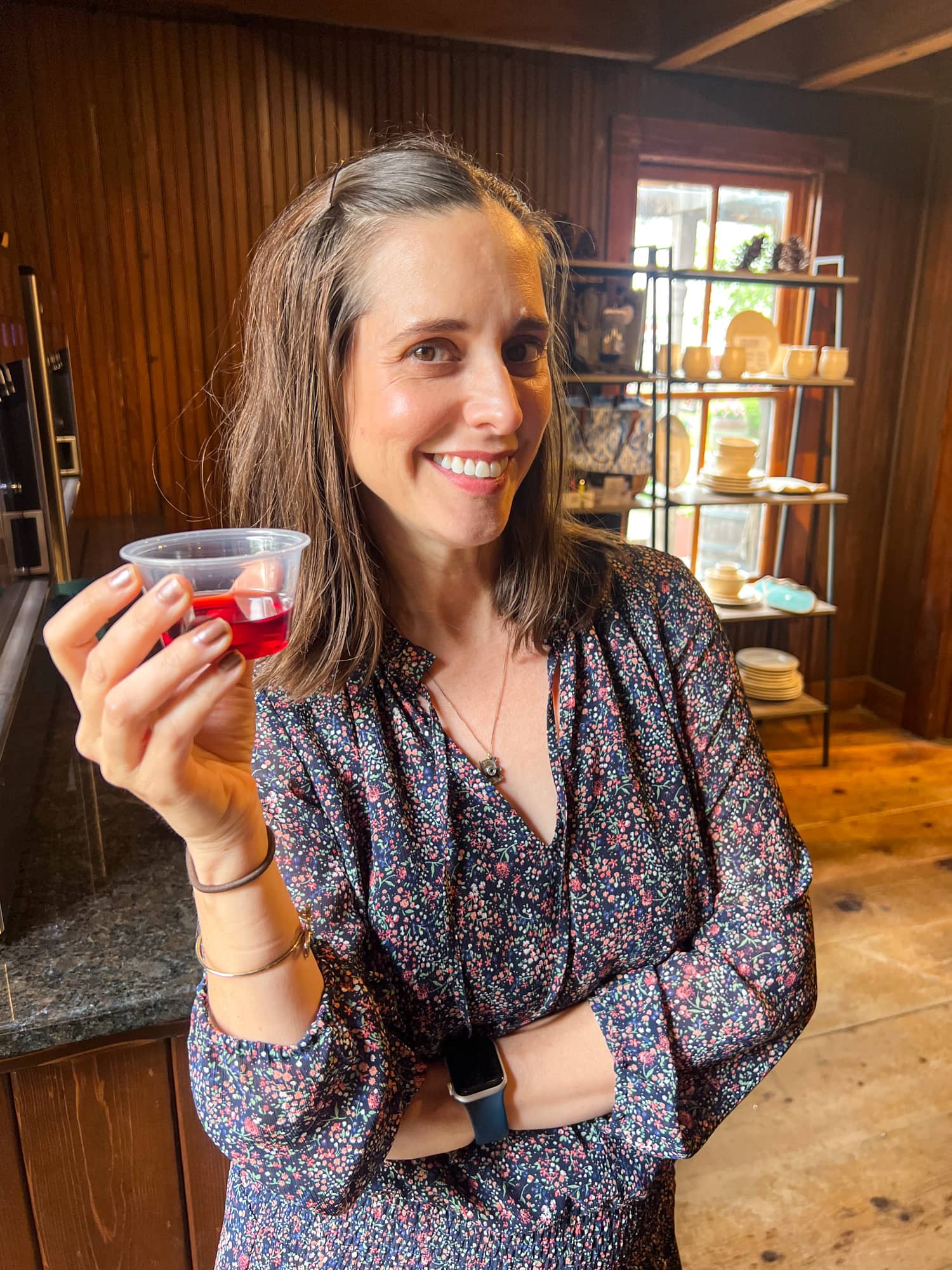 We found an attractive, well-organized general store full of food and drinks inside the historic structure, including fresh peach cobbler, cider, and wine.
The wine tasting is a self-service experience, costing $4 per wine or $20 to taste five. There were seven wines available.
Here's what Kel chose:
Peach Muscato by Fischer & Wieser
Peach Fruit Wine by Georgetown Winery
Blueberry Fruit Wine by Georgetown Winery
Blackberry Fruit Wine by Georgetown Winery
Sangria by Georgetown Winery
As you can see, most of the wines she picked were from Georgetown Winery, so we made a mental note to visit their tasting room in Georgetown.
Kel's favorite was the blackberry; they were all too sweet for me.
Das Peach Haus, 1406 S US Hwy 87, Fredericksburg, TX, jelly.com
Augusta Vin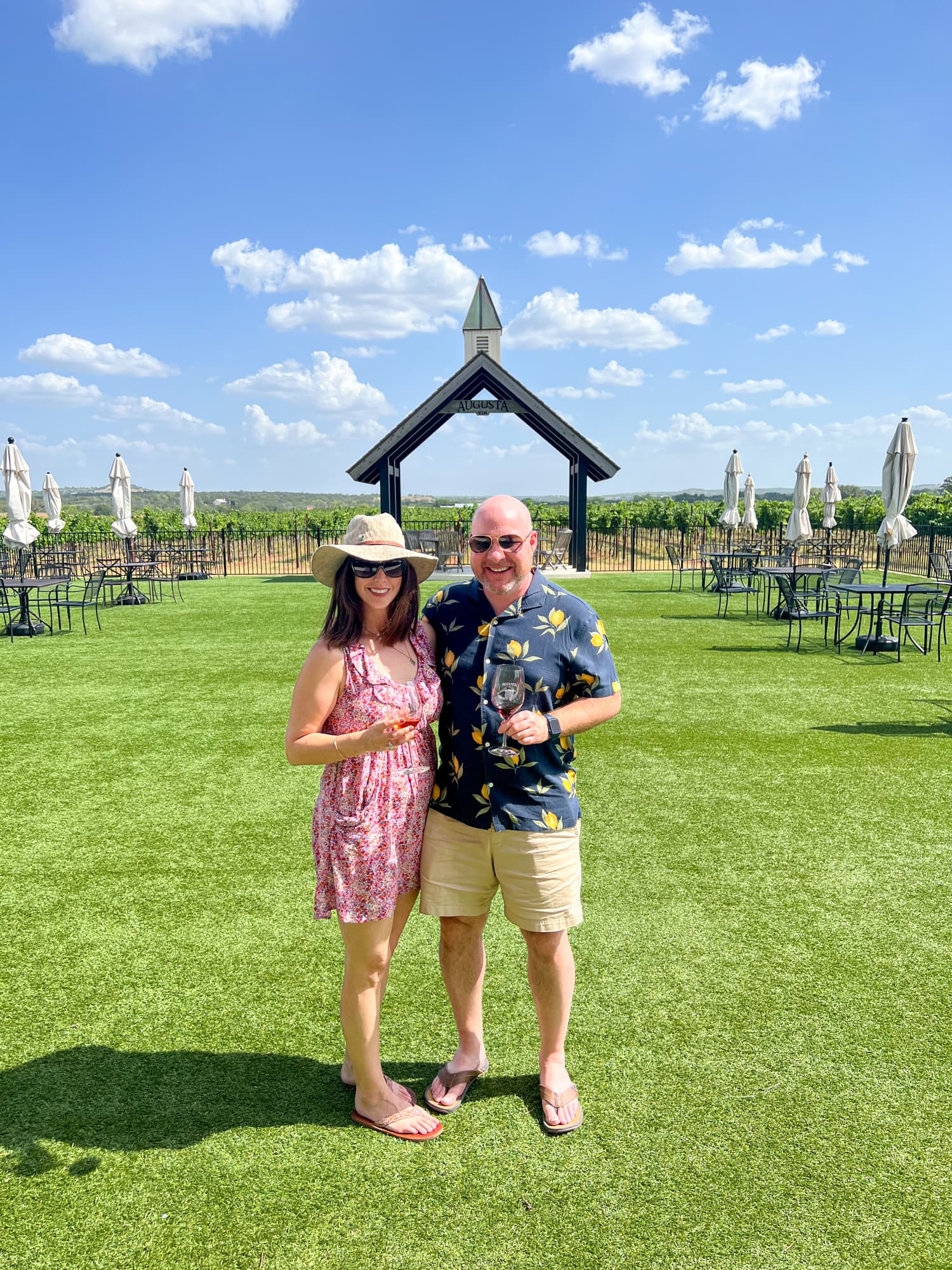 The first place I wanted to visit when we returned to Fredericksburg for the second weekend of wine tasting was Augusta Vin.
Their stunning timber-framed tasting room, completed in 2019, is set almost a mile north of South State Highway 16, helping you to feel immersed in their 60-acre vineyard.
There are many places to sit, including indoors if you prefer air-conditioning, several patios, and tables on the grass. Wine club members can access the second floor for panoramic views.
August Vin offers three tastings: mixed, reds only, and reserve wines. I chose mixed for $25, which included:
2021 Malvasia Bianca
Brisk White
2019 Malbec
2019 Aglianico
2018 Estate Petite Sirah
We snacked on brie and crackers for an additional $15.
When I asked the gentleman serving us for a photo outside on the grass, he mentioned it's common for there to be numerous wedding proposals on any given weekend. Given the lovely location, it's easy to see why.
August Vin, 140 Augusta Vin Ln, Fredericksburg, TX, augustavin.com
Heath Sparkling Wines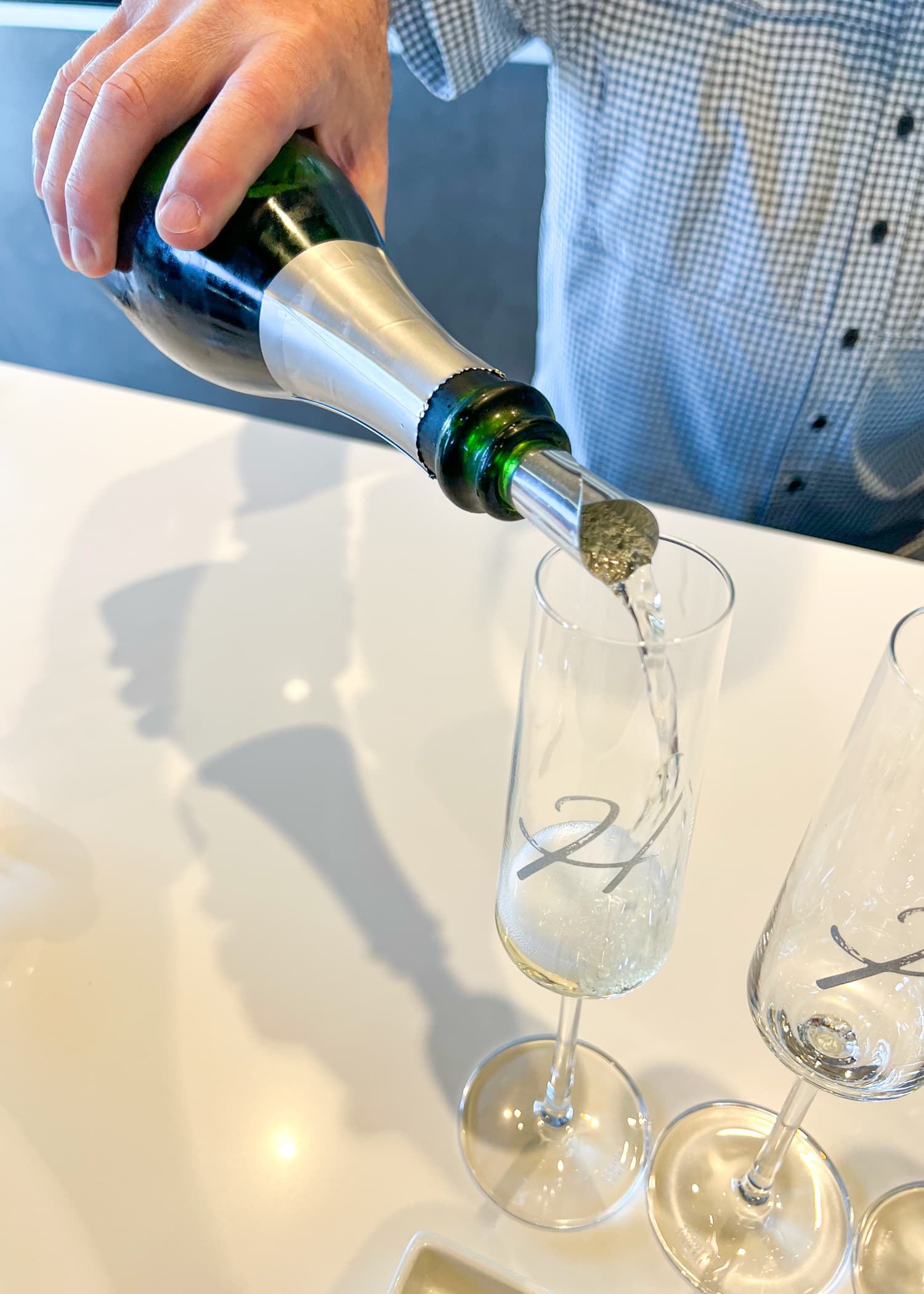 To add bubbles to our second weekend, I booked a visit for Heath Sparkling Wines, the first Texas winery to make sparkling wines.
Heath Sparkling Wines is named after Brian and Jennifer Heath, who've owned Grape Creek Vineyards next door since 2006.
The ultra-modern tasting room for their new endeavor opened in 2019 and offers guests a multimedia experience.
A standard tasting is $35 and includes four distinctive sparkling wines with food pairings:
Blanc de Blancs, 100% Chardonnay
Euphoria
Ebullience, primarily Pinot Grigio
Adoration, a Pinot Noir rose
As you can see, they have a romantic sensibility. Neither of Heath's wineries mass produces wines to maintain quality control; they only sell directly to consumers.
Heath Sparkling Wines, 10591 East US HWY 290, Fredericksburg, TX, heathsparkling.com
Fat Ass Ranch & Winery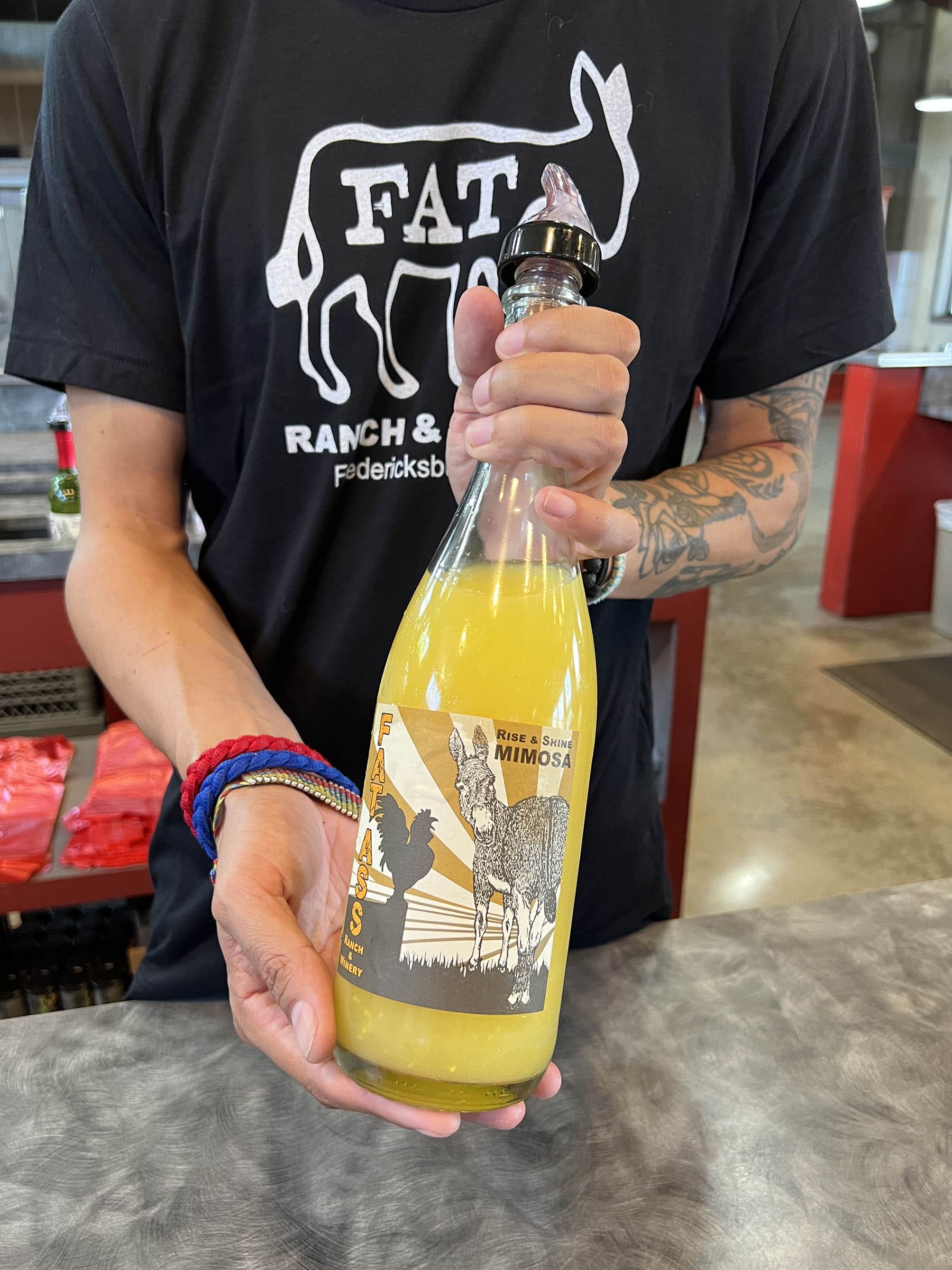 Our last winery of the second trip was another one in Kel's wheelhouse. Below is her experience in her own words.
Located on Highway 290 between Stonewall and Fredericksburg, Fat Ass Ranch & Winery beckons to sweet wine lovers. The $10 wine tasting includes five pours, with the opportunity to sub one.
I tried:
Sangria Blanca
Rise and Shine Orange Mimosa
Watermelon
Country Peach (subbed for Strawberry Fields)
Kiss My Chocolate
My favorite, the mimosa, would make a sweet addition to any Sunday brunch. But don't miss out on the seasonal peach made with Fredericksburg peaches.
The best deal is a Saturday-only special— a $30 wine tasting with a full-size frozen sangria and two wine tastings, one at Fat Ass and one at the Wine Garage next door, courtesy of a wine shuttle.
Visitors will get a kick out of the Wine Garage's car-themed wines and classic car collection.
Fat Ass has a smaller location in downtown Fredericksburg, ideal for tourists strolling Main Street.
The US-290 ranch suits those wanting to chill, hear live music, and visit the winery's namesake donkey, Jackson, who wanders the pasture.
Fat Ass Ranch & Winery, 51 Elgin-Behrends Rd, Fredericksburg, TX, fatasswine.com
Texas Heritage Vineyard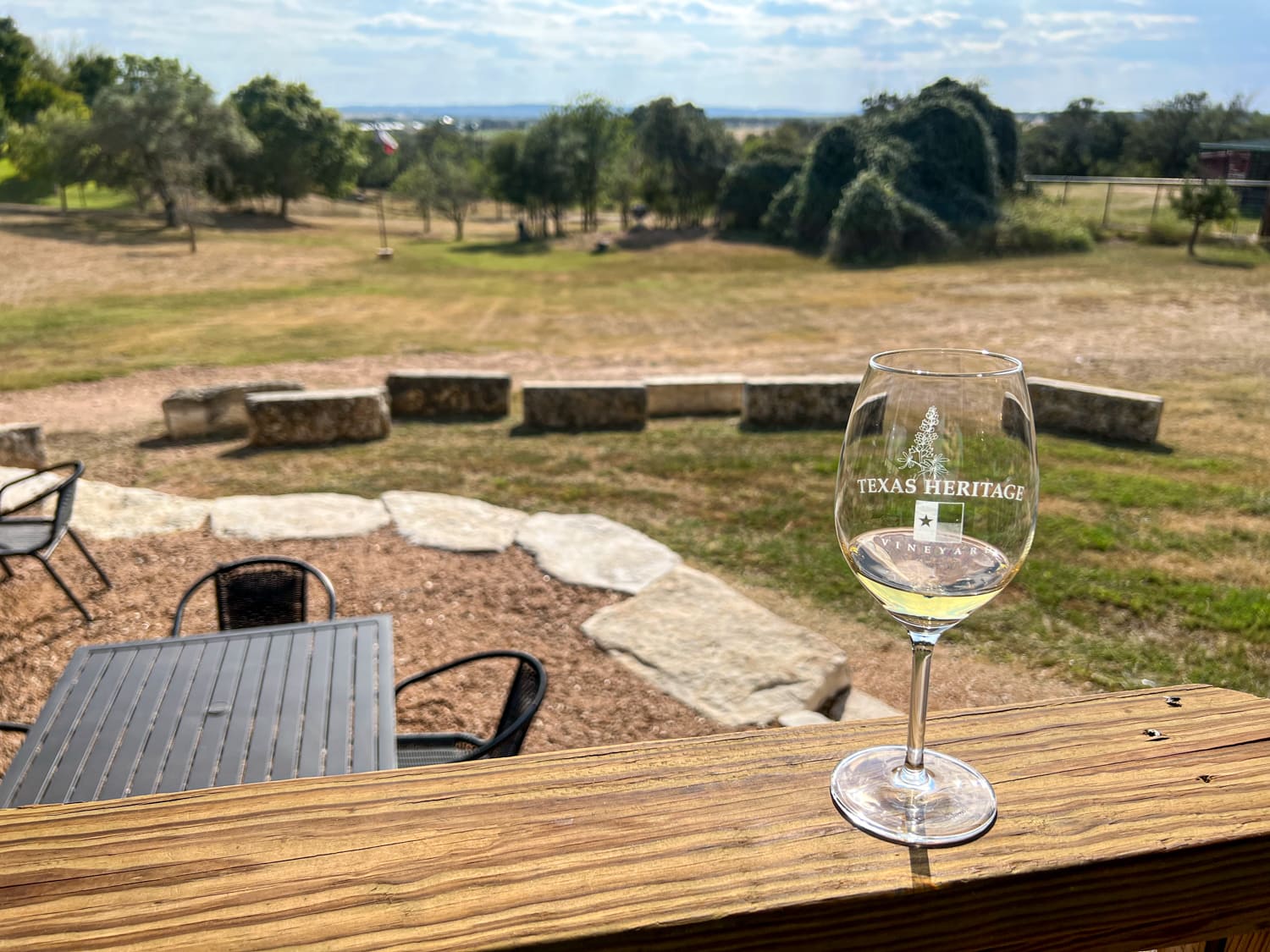 On a quick day trip to Fredericksburg to run an errand, we stopped by Texas Heritage Vineyard just outside town for a wine tasting.
The $20 tasting included a mix of five white, rose, and red wines. My favorite white was the '21 Fiore del Sol, and the 2019 Estate Field Blend was my favorite red.
The gentleman serving us was knowledgeable and friendly. Based on my feedback, he also offered me a complimentary taste of their 2019 Time Traveler, a white blend of Texas High Plains grapes (50% Roussanne, 50% Viognier) I also enjoyed.
Texas Heritage Vineyard, 3245 E US, US-290, Fredericksburg, TX, texasheritagevineyard.com
Rhinory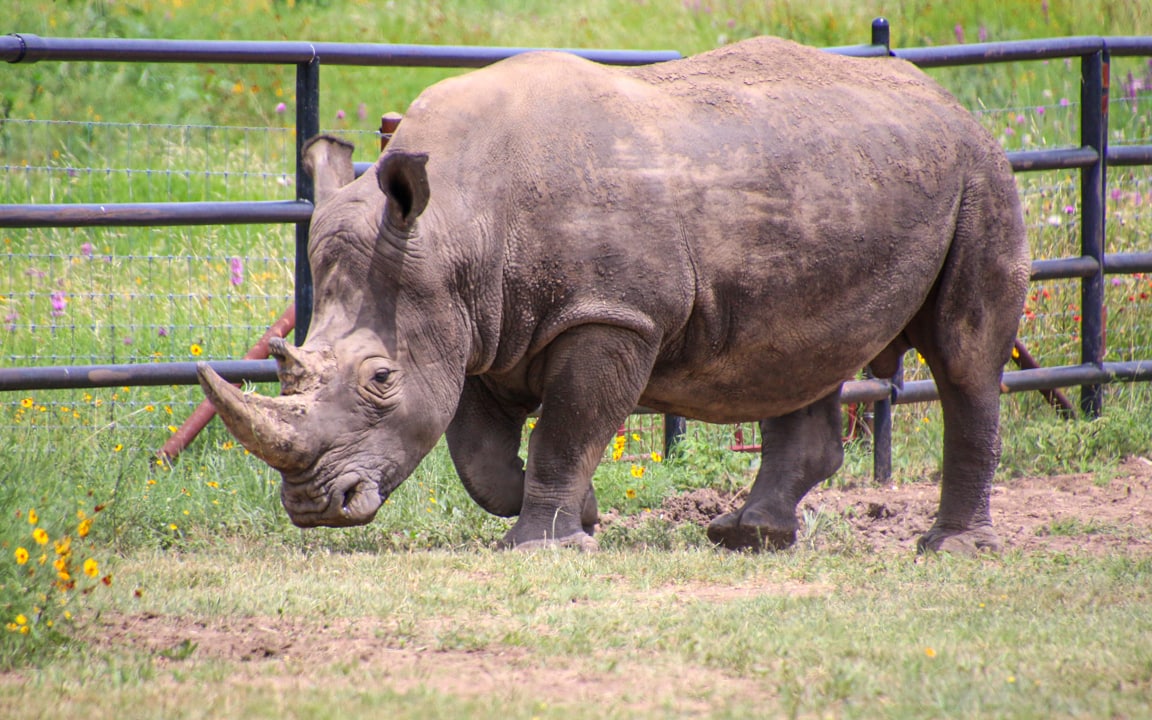 In 2023, we returned to Fredericksburg for more wine-tasting experiences. Number one on our list of places to try was the Rhinory, which pairs award-winning wines with rhino conversation.
Blake, the winery's resident southern white rhino, can be seen in his enclosure regardless of whether you pay for a wine tasting.
I signed up for the Reserve Tasting, which features five wines from Texas and South Africa for $30.
In addition to the air-conditioned tasting room, there's an outdoor patio and several seating areas around the rhino enclosure with oak trees and picnic tables.
For an additional cost, visitors can arrange for a guided tour with Rhinory's knowledgeable staff and the chance to meet Blake.
Rhinory, 13112 US-290, Fredericksburg, TX, rhinory.com
Wildseed Farms and Vineyards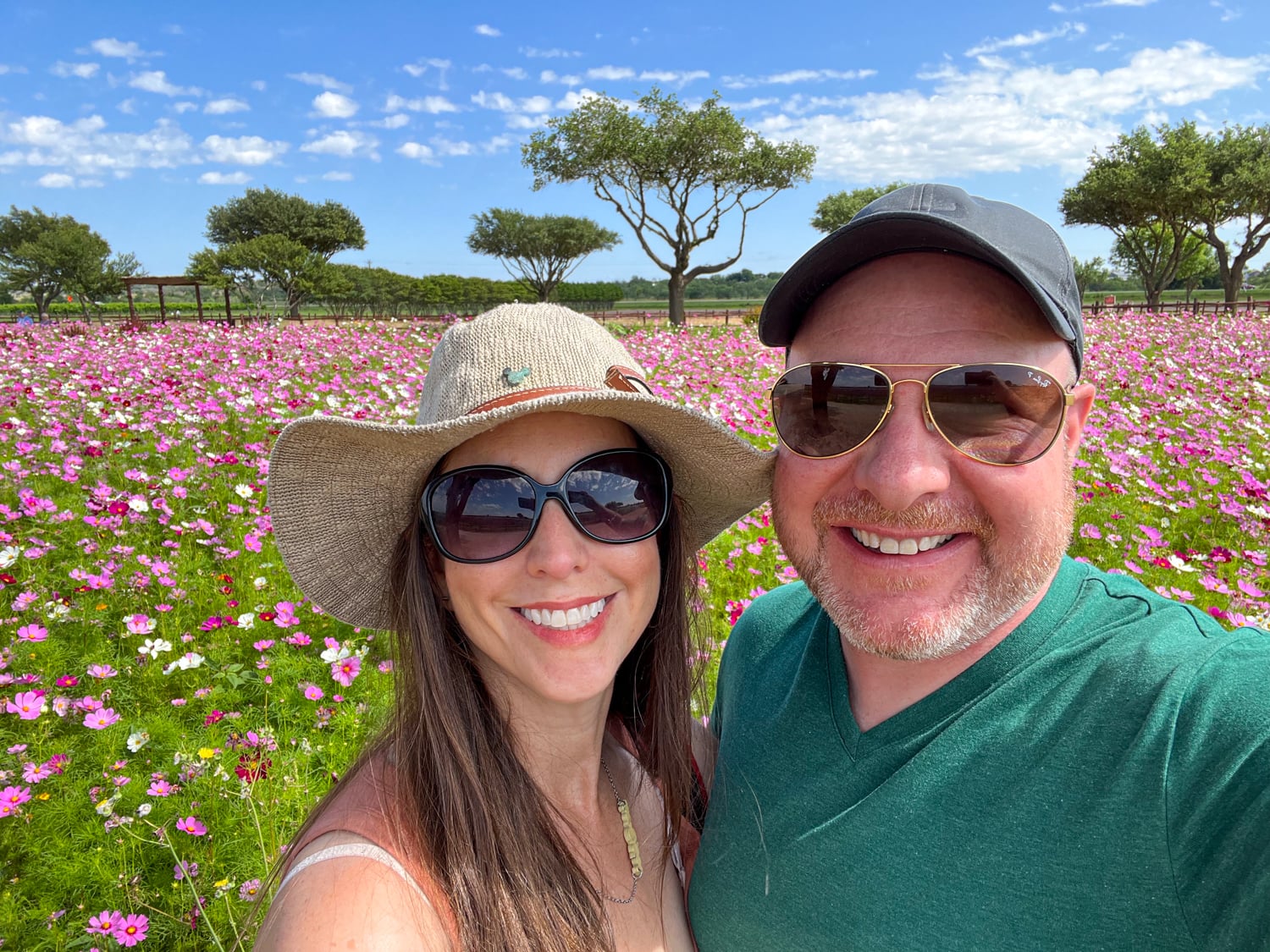 The Texas Hill Country is home to Wildseed Farms, the largest working wildflower farm in the country.
Go for a free walk through fields of wildflowers before heading into the tasting room to sample their wines.
We spent more than an hour here enjoying the beautiful scenery. Kel enjoyed their sweet wine tasting for $15, which includes sangria.
Wildseed Farms, 100 Legacy Dr, Fredericksburg, TX, wildseedfarms.com
Grape Creek Vineyards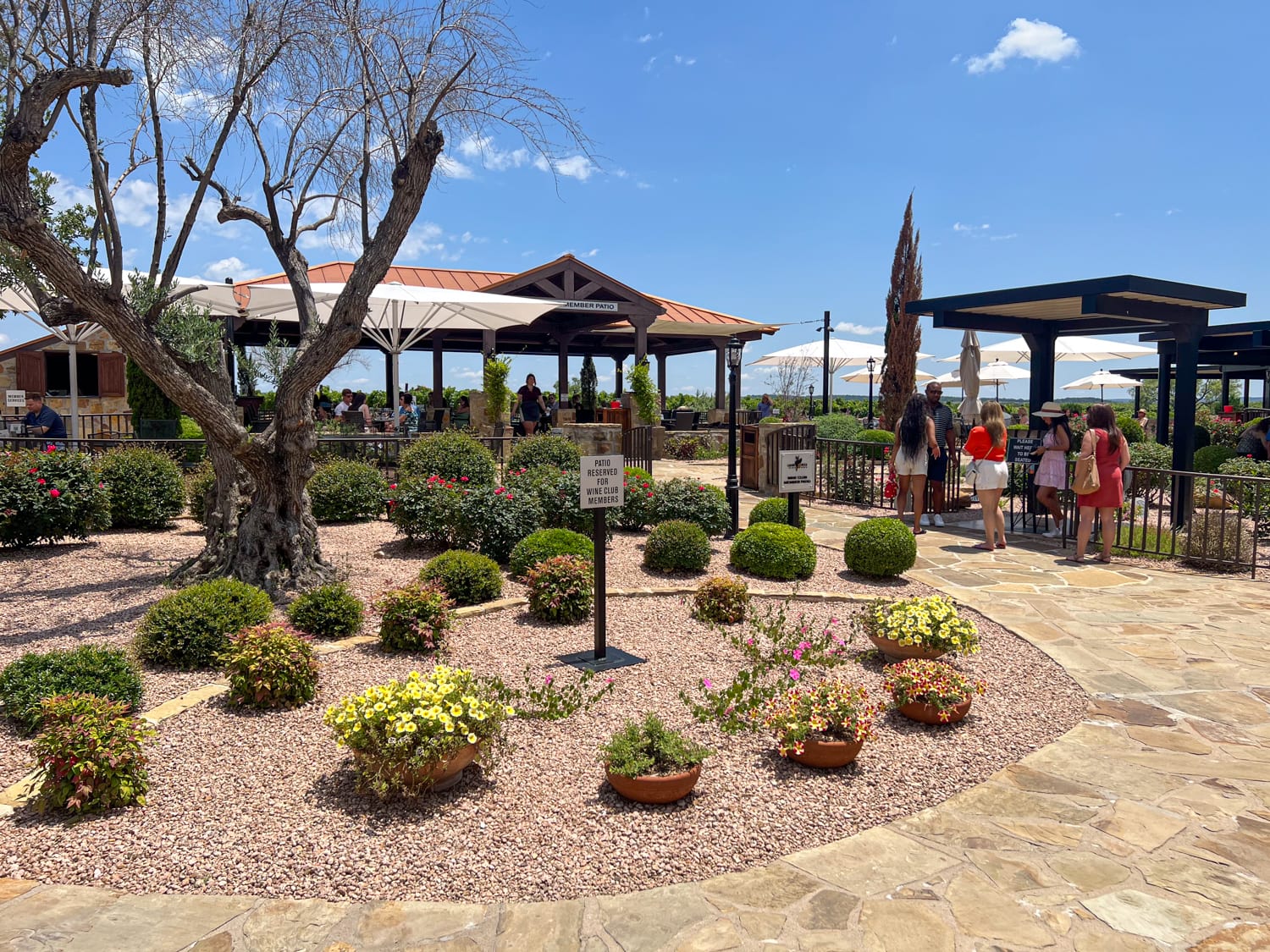 Last, I want to mention Grape Creek Vineyards, the sister winery to Health Sparkling Wines and the oldest winery on Highway 290. It began operations in 1983 and has a 100% direct-to-consumer sales model.
The landscaping is beautiful, but unless you're a wine club member or visiting with one, you'll only see them in passing. The outdoor patio is reserved for members, as is their restaurant.
I had made a reservation for a wine-tasting experience in one of their Tuscan-inspired tasting rooms. It was standing room only, with few windows.
The gentleman serving us was friendly and even poured a few samples of their sweeter wines for Kel to try. However, I left feeling like this winery is best enjoyed as a wine club member, not a casual visitor.
Grape Creek Vineyards, 10587 US-290, Fredericksburg, TX, grapecreek.com
Final Thoughts
I've now experienced several fun weekends in Fredericksburg.
Texas Hill Country wineries offer a more affordable experience for Austin, San Antonio, Houston, and Dallas residents versus flying out to California.
While exploring the Texas Wine Trail has been our focus, we've also visited Altstadt Brewery, Garrison Brothers Distillery, a speakeasy for happy hour, bakeries, and restaurants.
When not eating and drinking, we climbed Enchanted Rock at sunset, visited the National Museum of the Pacific War, and picked fresh strawberries and blackberries.
I'm excited to continue trying more Central Texas wineries on future visits, including Pedernales Cellars, Becker Vineyards, and Hilmy Cellars.