Perched 500 feet above the ground, The Loupe Lounge on the top of the Space Needle in Seattle, pairs wine tastings and craft cocktails with spectacular views.
The lounge sports the world's only rotating glass floor, treating guests to 360-degree views of the Emerald City.
Ahead of my first trip to Seattle, my girlfriend, Kel, suggested we give it a try.
I was already planning to visit the Space Needle, which was built for the 1962 World's Fair, so I set about the task of getting us a reservation.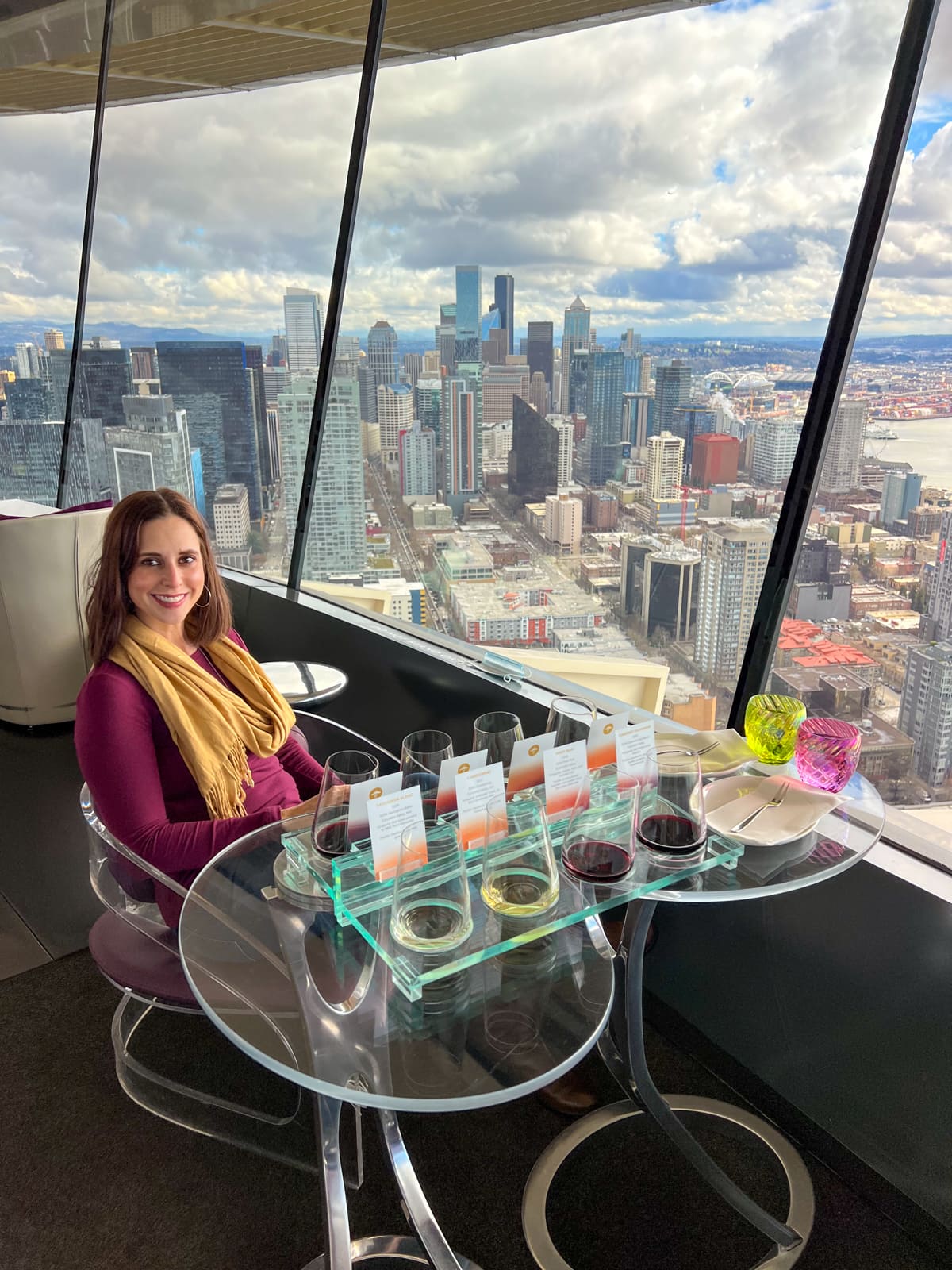 Booking a Table
Reservations for the Space Needle's Loupe Lounge are handled exclusively through the Tock app, and you'll need your credit card to pay for them.
You can make an advanced booking for a table up to two weeks in advance; new options are released every Monday.
The type of drinks and food vary; however, all of the packages include:
Access to the Space Needle (The Loupe Lounge and outdoor observation deck)
Table reservation for two hours
Drinks
Food
Tax
Tip
Valet parking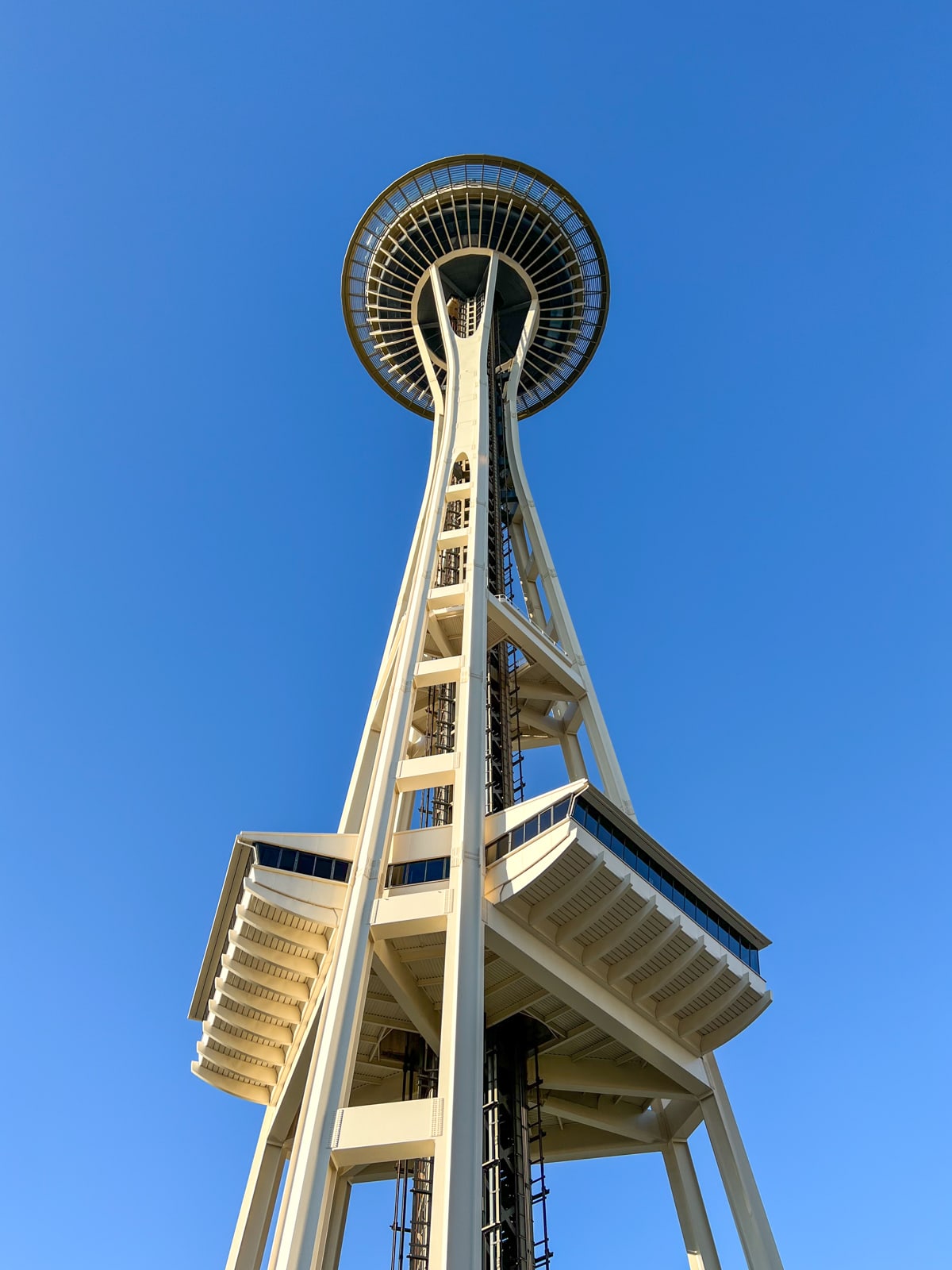 Food and Drink Packages
[Note: The Loupe Lounge appears to be experimenting with a variety of experiences and prices, as they've changed several times since I visited. They're also doing special offers, like a "Pride Experience" in June.]
We chose to do the least costly "Taste of Washington" experience, including four local wines, wagyu sliders, truffle fries, and an unexpected dessert.
When I booked our table in late February, the cost was $89 per person for a weekday.
As I write this a month later, the price has dropped to $60 per person ($75 on the weekend), making The Loupe Lounge an even better deal.
For a frame of reference, adult general admission to the Space Needle is $35, and all that gets you is a view from the top.
Additional choices include:
Captain's Table package - wine decanted tableside, hors d'oeuvres, wagyu sliders, truffle fries, Lunar Orbiter (dark chocolate, fruit, meringue, and macarons). $90 per person on weekdays and $110 per person on weekends.
Nitrogen Theory package - sample three craft cocktails mixed tableside, plus a Pacific NW cheese and charcuterie tower. It ends with a nitro Irish whiskey milkshake. $175 per person.
Space Cowboy package - flight of WhistlePig rye whiskeys (aged 10, 12, and 15 years), beef tartare, foie gras, venison tenderloin, wagyu ribeye, and dark chocolate cake. $185 per person.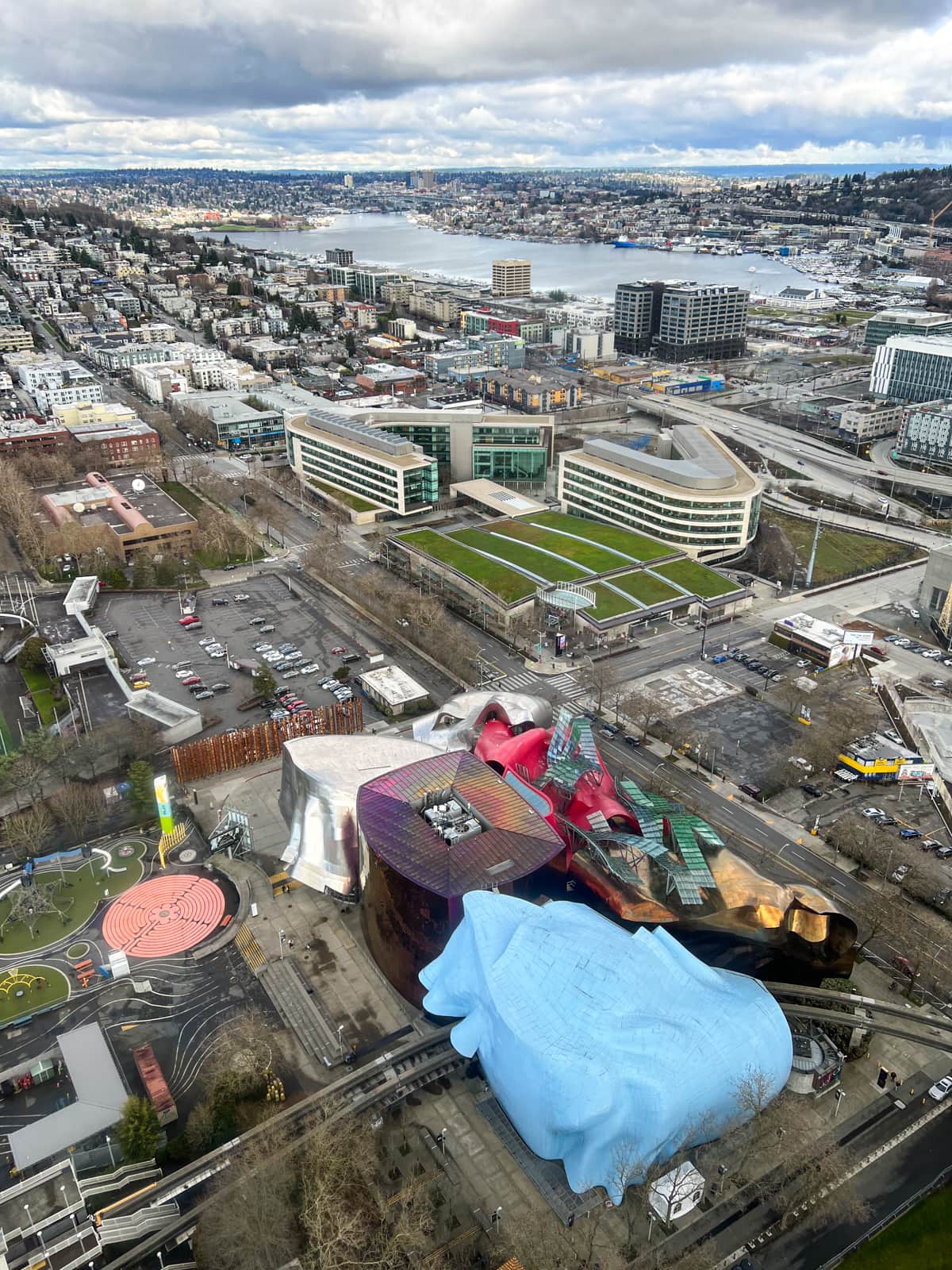 The Loupe Lounge Experience
We'd initially hoped for a 5 p.m. reservation to catch the sunset on the first night of our weekend trip. However, those time slots seemed to be the first to go. We got 2 p.m. on the afternoon of our arrival instead.
After checking into the Seattle Hilton, we took the nearby monorail to the iconic Space Needle, a short trip lasting no more than a few minutes.
Our reservation email had reassured us there was no need to arrive early, so we entered the base of the Space Needle right on time.
The host confirmed our reservation, and we waited along with a few others for the next elevator to go up.
The elevator rose quickly and smoothly, offering us scenic views of the city as we ascended the nearly 500 feet to The Loupe Lounge.
See also: Explore Pike Place Market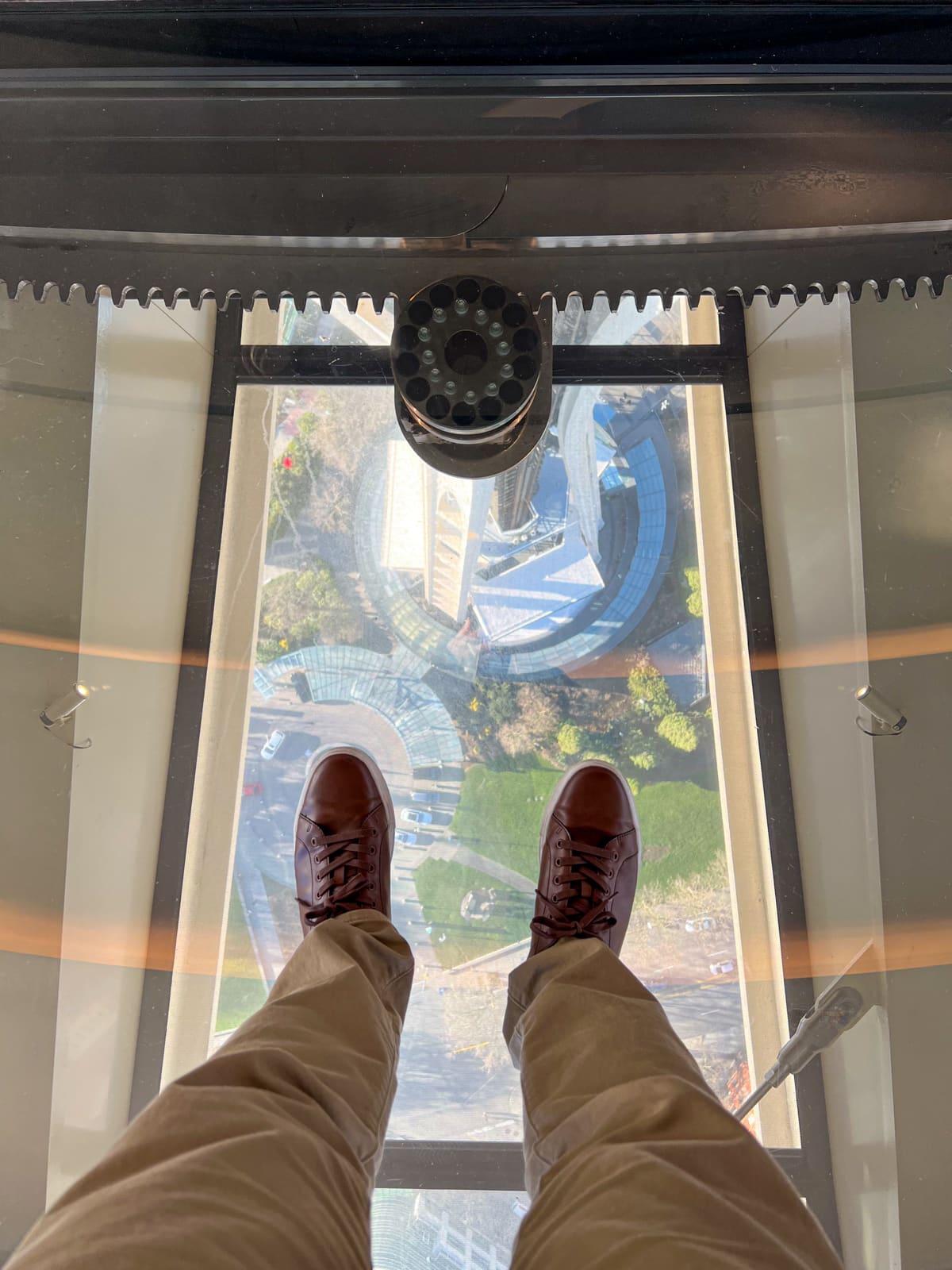 Exiting the elevator, we walked a short distance to the host stand for The Loupe Lounge, where we were promptly shown to our table for two.
Beneath us, the glass floor offered a window to the ground, a long way down. I preferred to look outward instead of downward.
I'd lucked out on the weather. While it was cold and coats were necessary, the sun came out while we rotated high above Seattle, about 360 degrees every 30 minutes.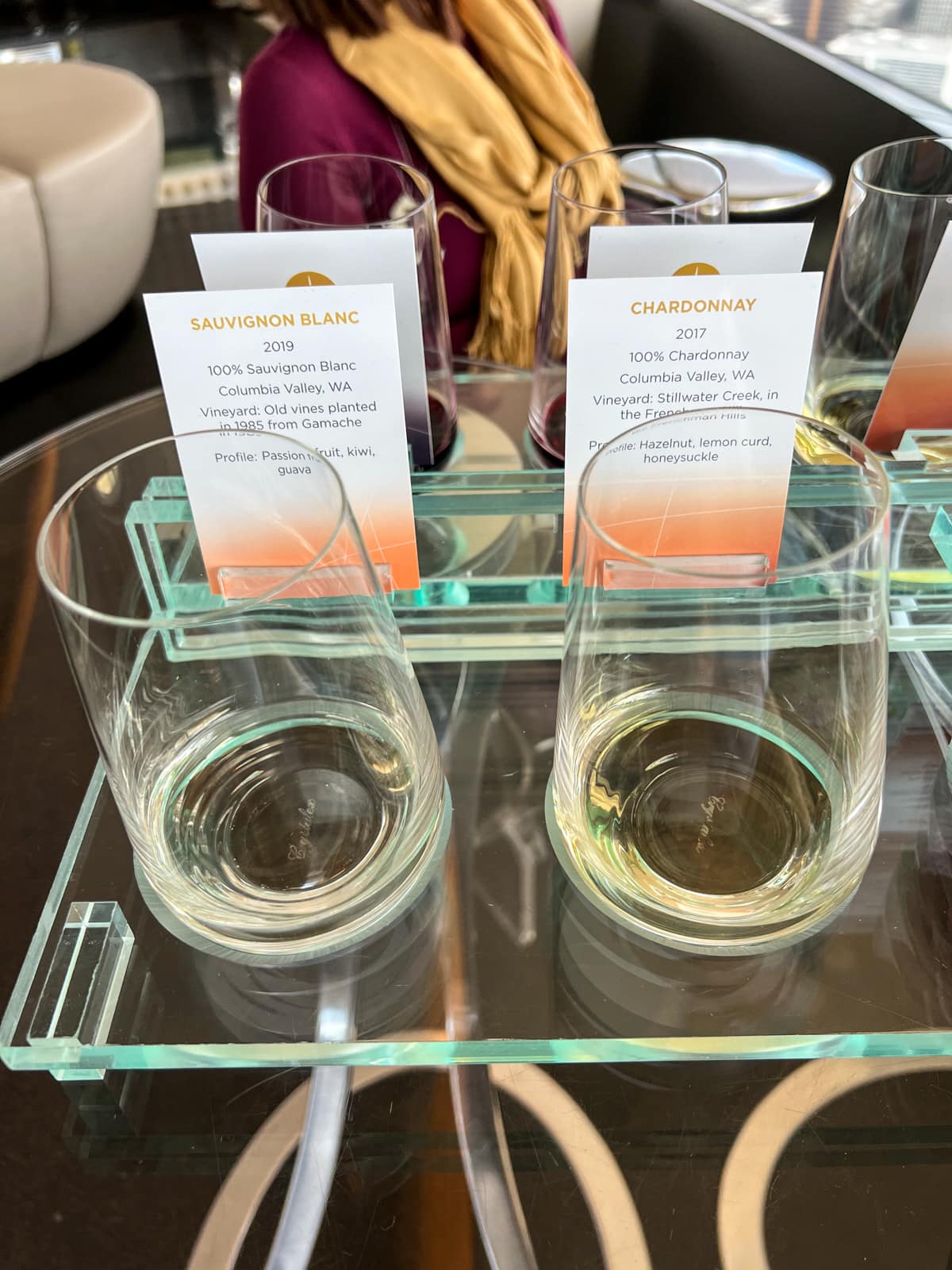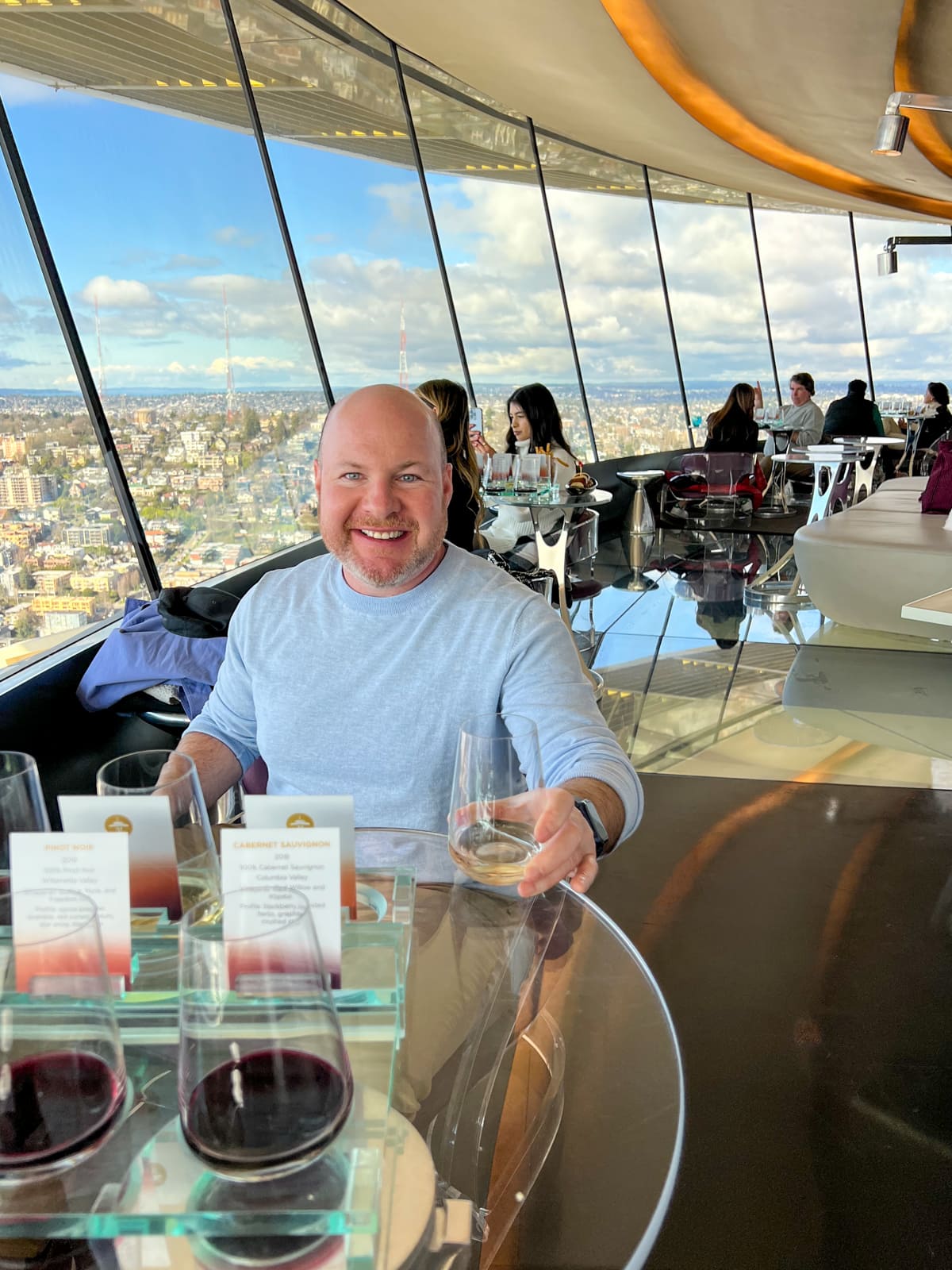 Wine and Wagyu
Our glass table was already set up with four glasses of wine per person and two glasses of water. Each of the four wines included tasting notes.
I liked three Washington wines, including a 2019 Sauvignon Blanc, 2019 Pinot Noir, and a 2018 Cabernet Sauvignon. Kel and I both disliked the 2017 Chardonnay.
By the time we'd taken photos and settled into sampling the local wines, a tray of two Wagyu sliders with Beecher's cheddar cheese arrived and two generous portions of truffle fries.
The snacks were salty and delicious, though not enough to constitute a meal.
Related: The Walrus and the Carpenter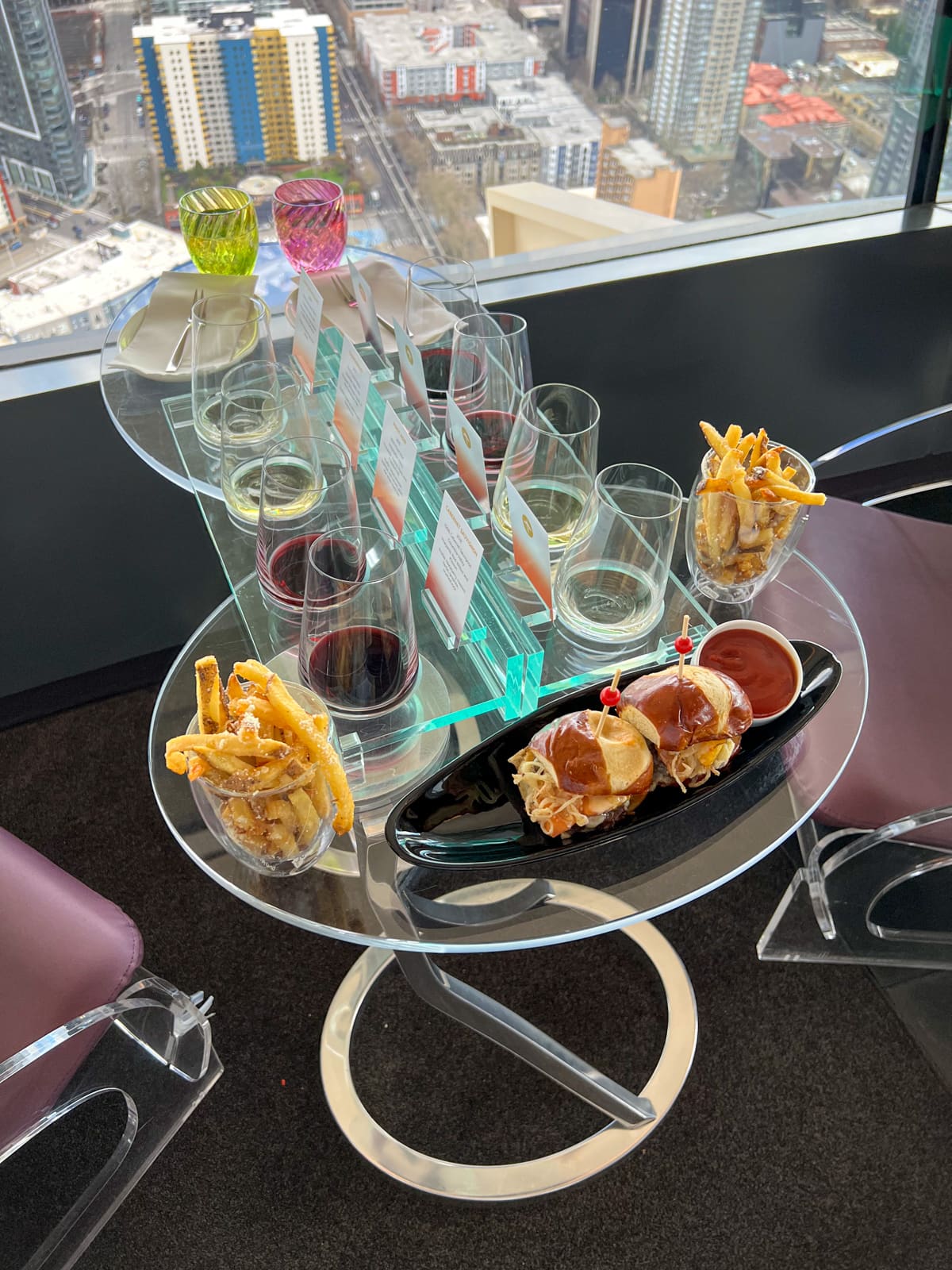 Cocktails
Once we'd finished the wines and food, Kel turned her attention to The Loupe Lounge's cocktail menu.
Admittedly, it looked appealing to me too! Mixed drinks are $20-$25 apiece.
She ordered the Mission to Mars with reposado tequila, amaretto, orange liquor, lime, and lavender bitters.
Related: Best Speakeasies in Seattle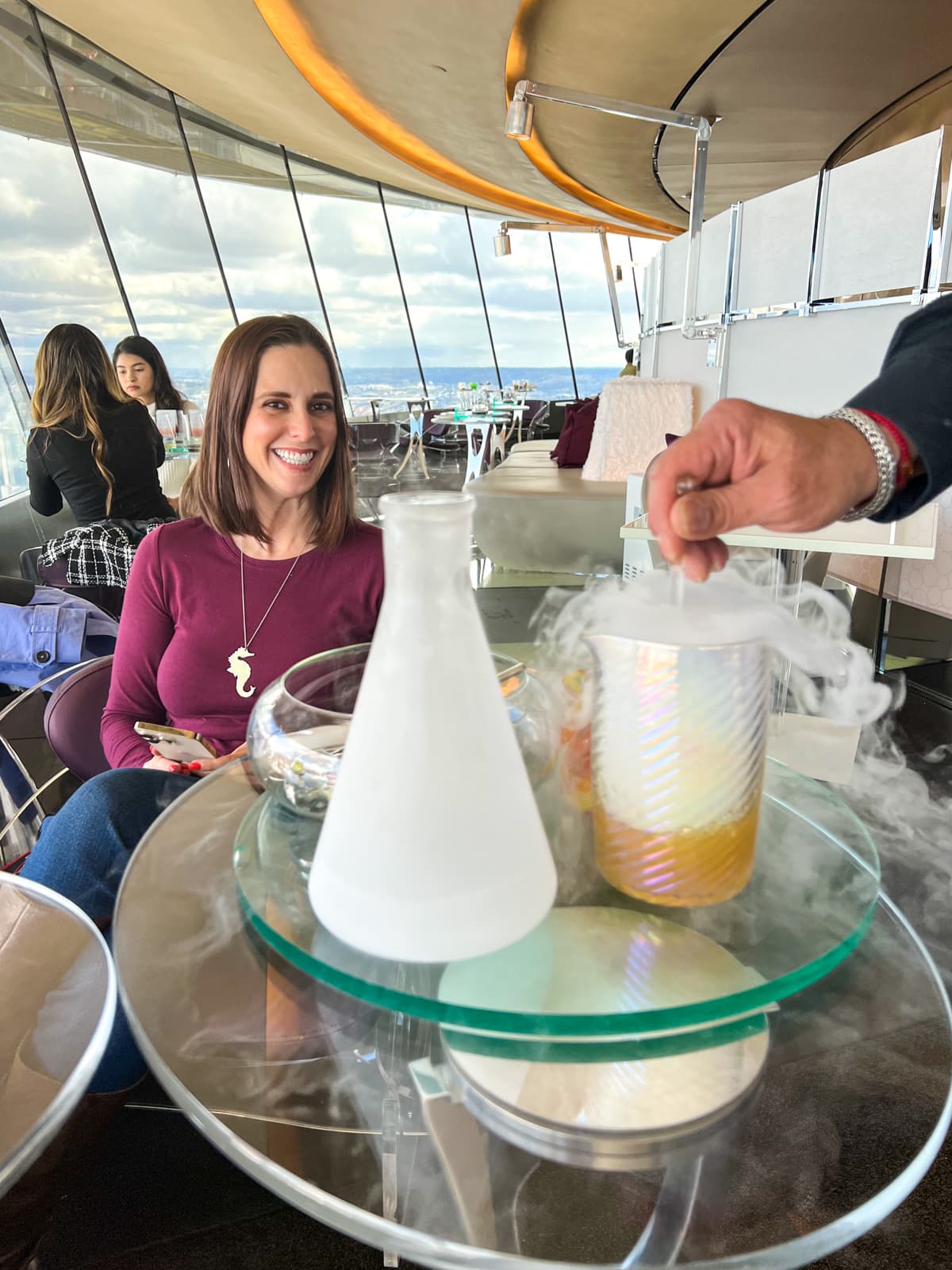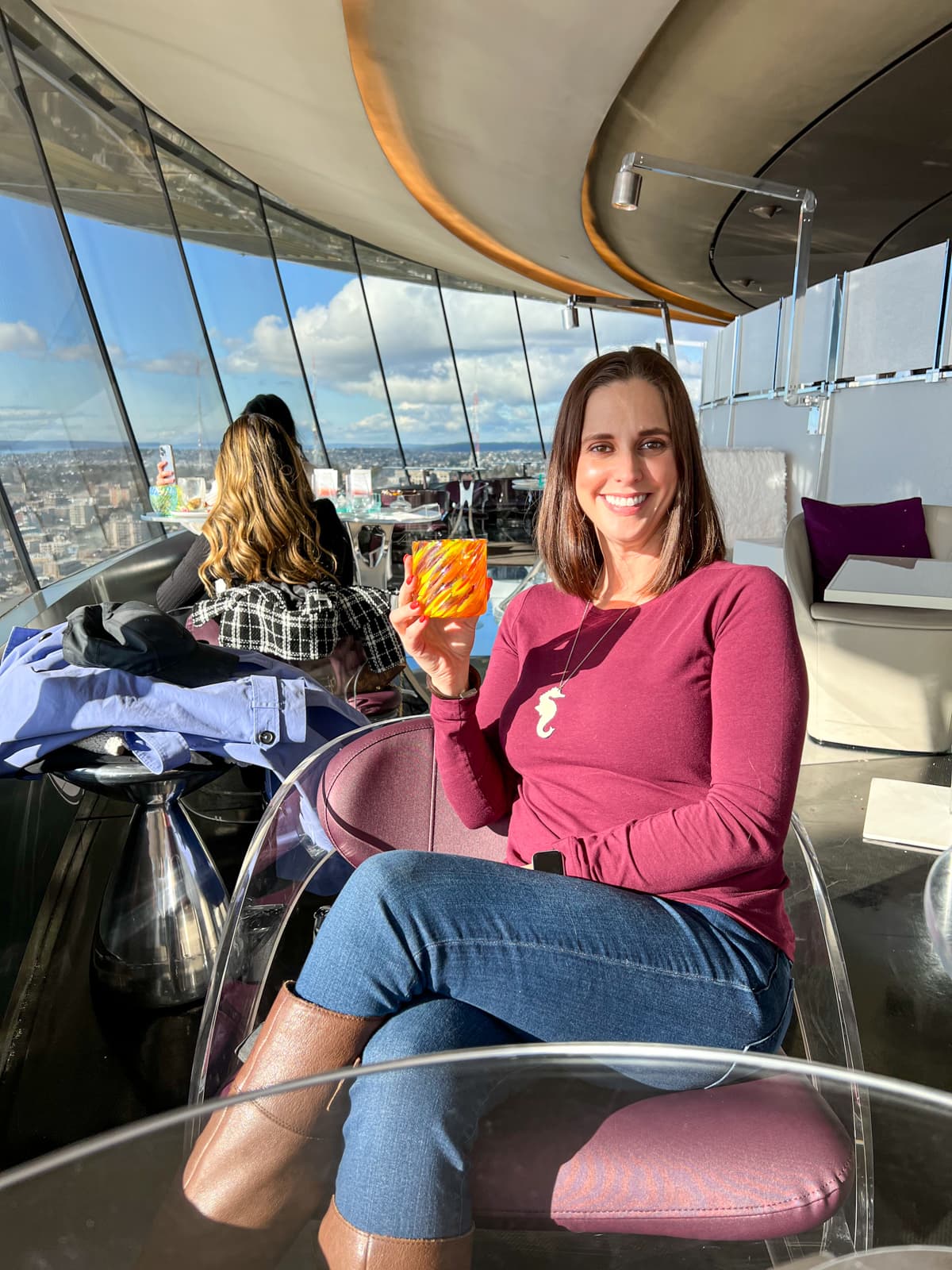 Our cocktail experience occurred tableside and involved plenty of liquid nitrogen to keep us captivated.
The result was a potent tequila cocktail served in a chilled orange and yellow glass. The glassware was gorgeous, setting off another round of photography.
Dessert
I thought the cocktail would round out our experience; however, there was a surprise dessert in the form of two macarons served on chocolate and garnished with sliced almonds.
The glass serving dish was neat, as it allowed for liquid nitrogen in the vase-like base to wistfully drift out around the macarons above.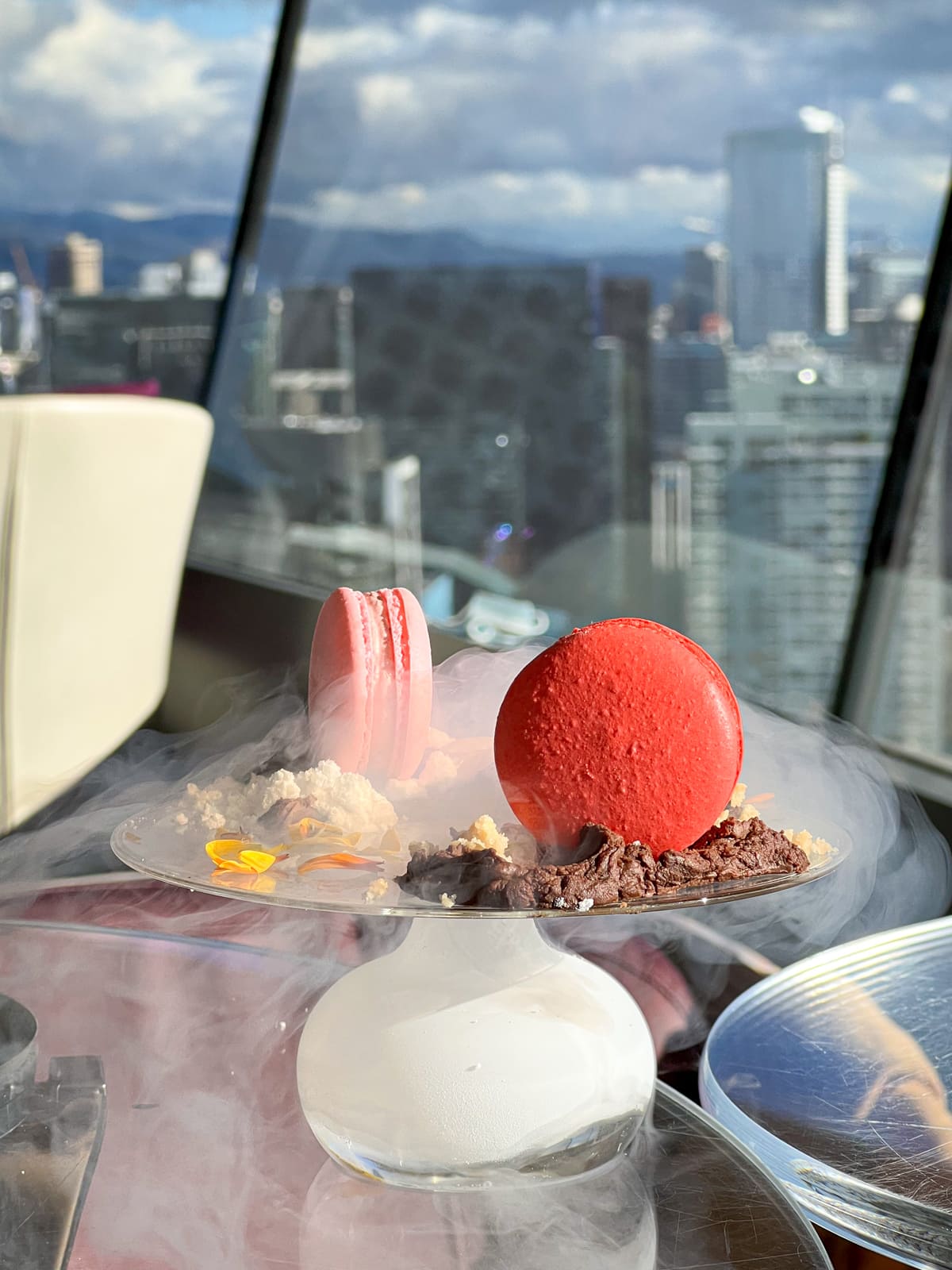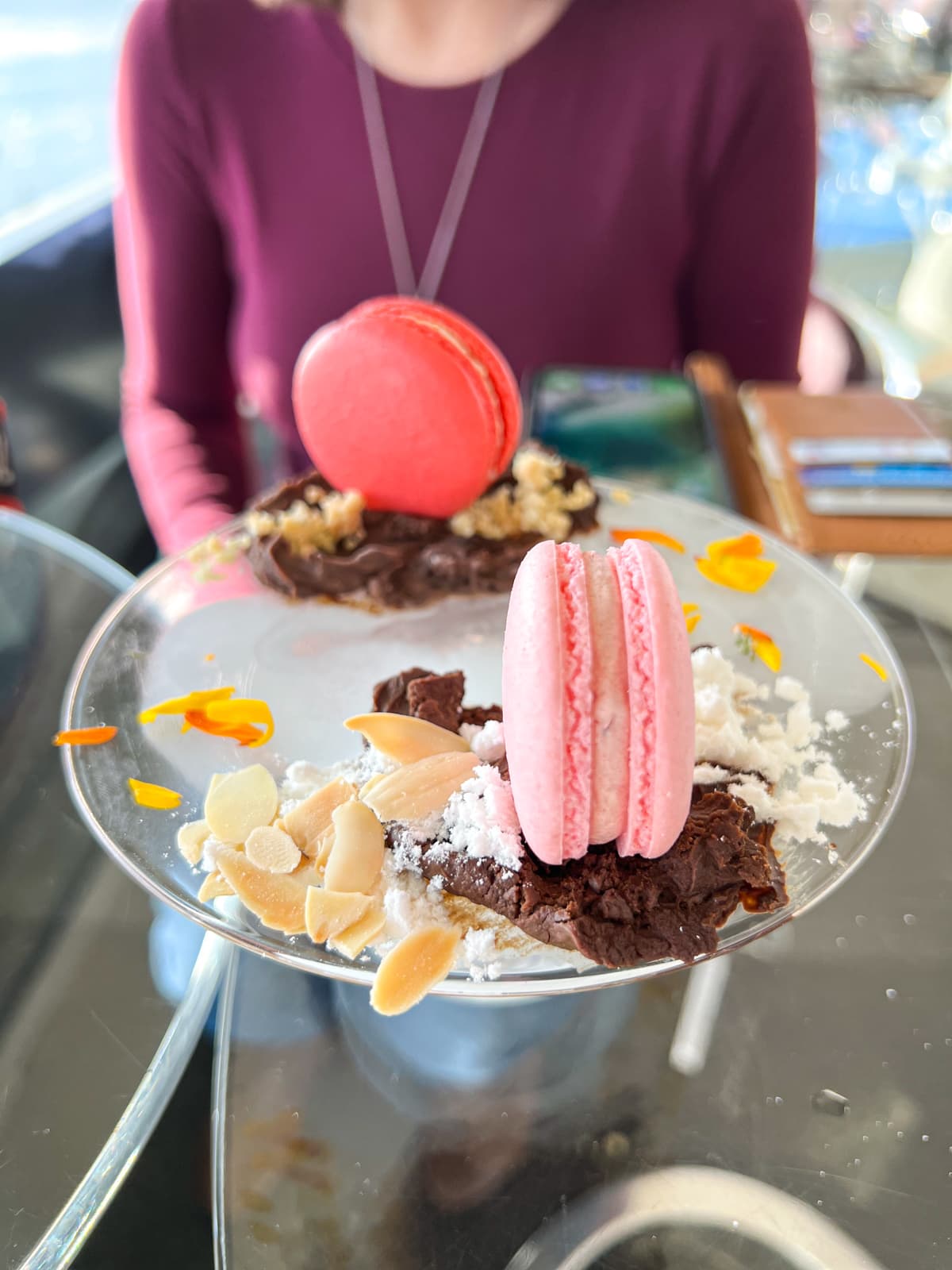 It was a sweet surprise and a fitting end to our two hours in the Space Needle's Loupe Lounge.
Related: Breakfast at Salish Lodge in Snoqualmie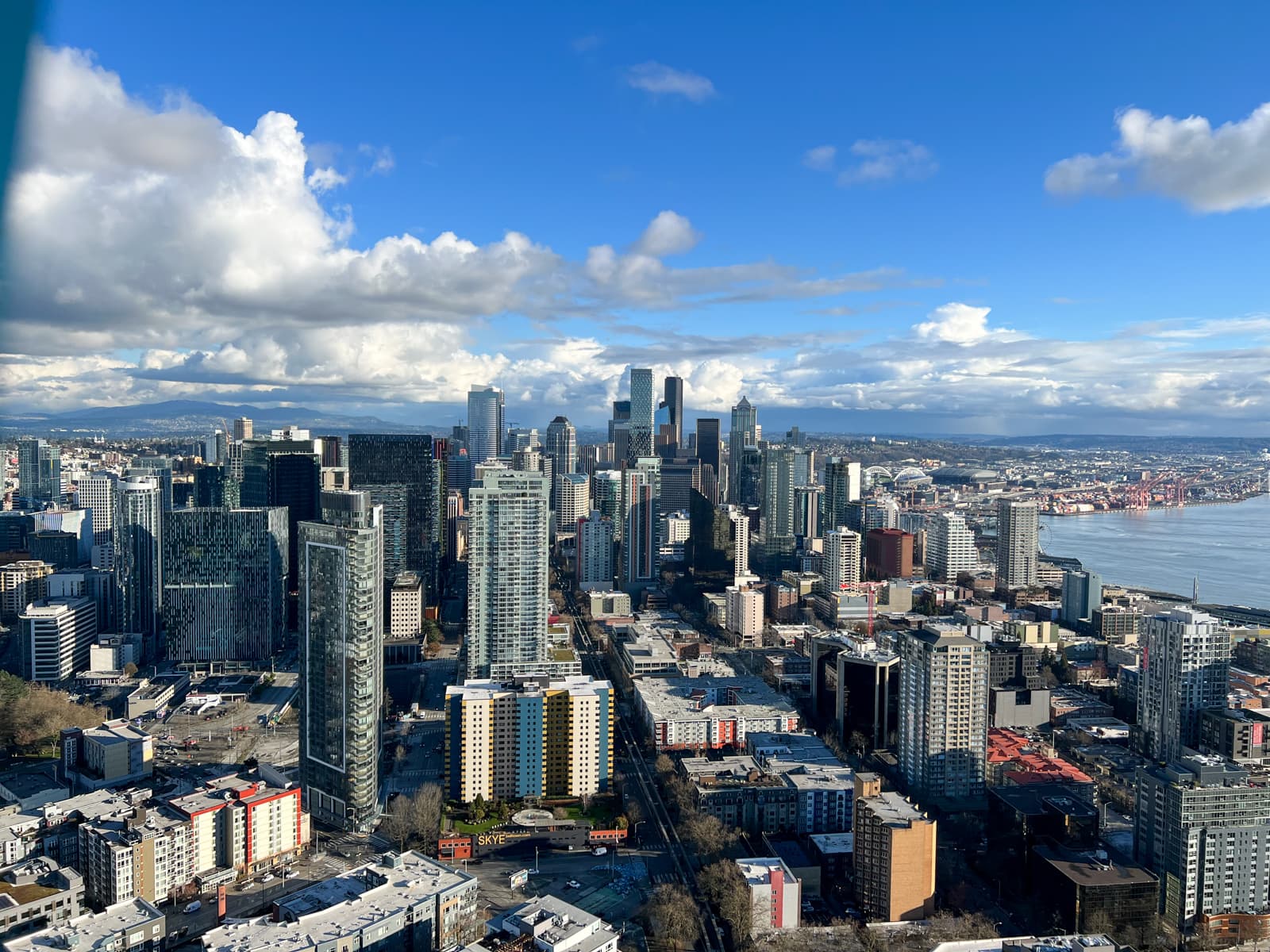 Upper Level
To reach the outdoor observation deck, we walked upstairs via the Oculus, a wood, steel, and glass spiral staircase added to the Space Needle during a recent multi-million dollar renovation project.
The redesigned observation area includes "floor-to-forever" glass walls that allow you to lean backward for photos (if you dare!). Glass benches offer places to sit and enjoy the amazing views.
In addition to downtown Seattle, it's also possible to see Mount Rainier, Puget Sound, the Cascades, and Olympic mountain ranges on a clear day.
***
If I've sold you on our memorable experience in The Loupe Lounge, with its unmatched views, click on the Space Needle's official website to see what they currently offer.
Enjoying Seattle's best view with a glass of local wine in hand is a memory I won't soon forget.