The best restaurants in Fredericksburg, TX, offer hungry guests farm-to-table fare, authentic German food, barbecue, and much more.
Every year, I spend several weekends in Fredericksburg, 90 minutes west of Austin, to learn more about Texas wines and the food scene.
When you need a break from wine tasting in Central Texas, head to any of these terrific restaurants. You'll be glad you did.
Top Restaurants
1. Cabernet Grill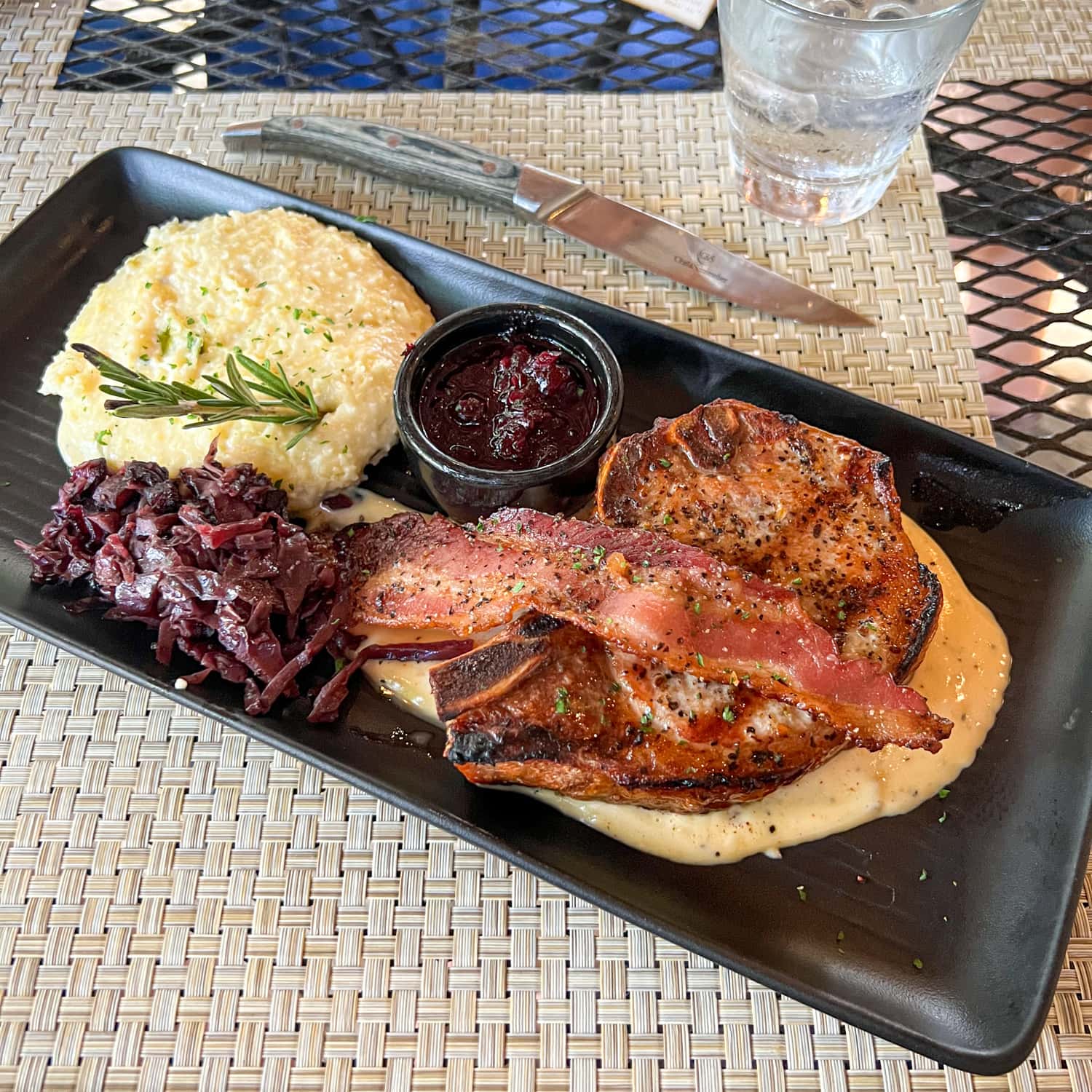 During my pre-trip research, the one place that came up more than any other was the Cabernet Grill Texas Wine Country Restaurant.
Executive chef Ross Burtwell and his wife, Mariana, purchased the Fredericksburg restaurant in 2002 and have been delighting diners ever since.
Mexican-born wine director Elizabeth Rodriguez joined the team in 2005 and has helped curate the nation's largest Texas wine list (approx. 140 choices).
Burtwell's son, Hunter, has followed in his parent's footsteps. After attending culinary school in Austin, he returned to work as Cabernet Grill's sous chef.
In 2019, Wine Enthusiast recognized Cabernet Grill as one of America's 100 Best Wine Restaurants.
The menu items at this fine dining restaurant are rooted in the Texas Hill Country, and the freshest ingredients are sourced from nearby farms and purveyors.
The Menu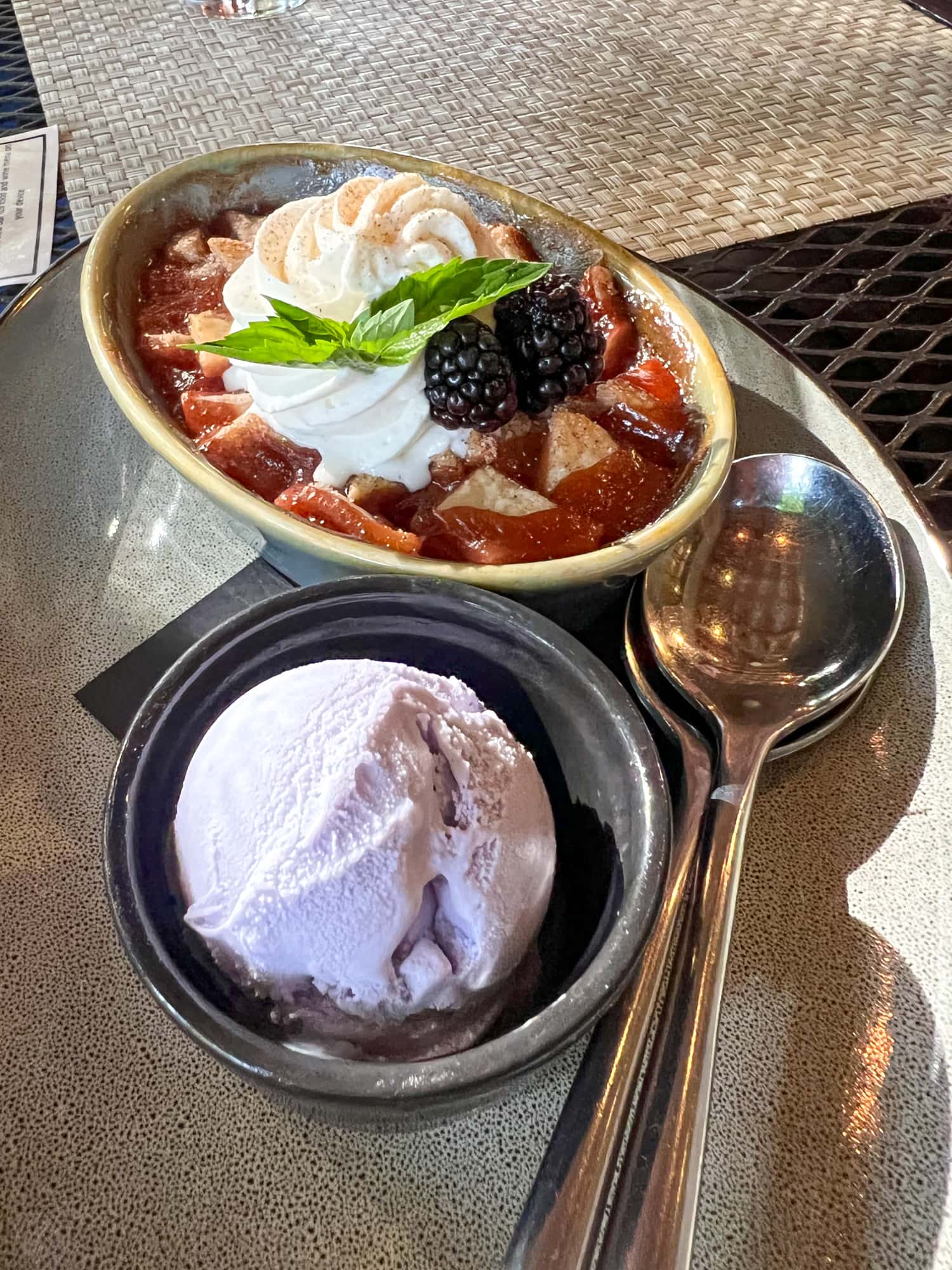 Are you feeling adventurous? Try the Texas Twinkies: bacon-wrapped jalapenos stuffed with beer sausage and redneck cheddar cheese.
Main courses include lobster-topped chicken fried ribeye, bacon-wrapped Texas quail, pecan-crusted chicken breast, and Certified Angus Beef steaks.
For our dinner, my girlfriend Kel, and I, shared the following:
Maple bourbon pork belly burnt ends
13-ounce Berkshire pork chop with bacon hollandaise sauce and three cheese grits
Fredericksburg peach cobbler with lavender ice cream
Everything was excellent, especially the pork chop; it was plenty of food for two people.
Due to its popularity, make a reservation a few weeks in advance if you'd like to get a table in the dining room.
Outdoor seating on a covered patio is first-come, first-serve. To avoid a wait, get there when they open.
Cabernet Grill, 2805 S State Hwy 16, Fredericksburg, TX, cabernetgrill.com
2. Sage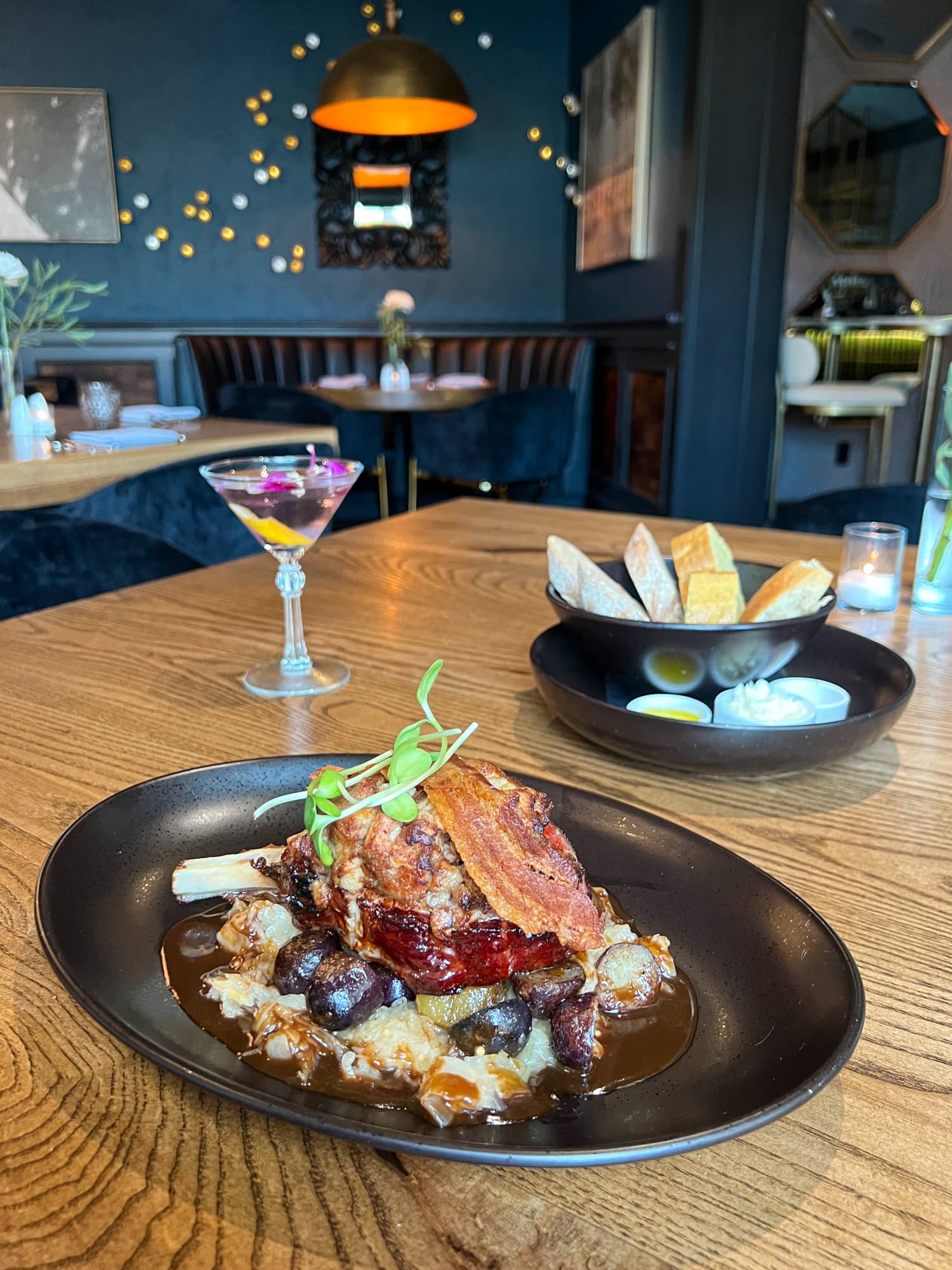 One of the newer Fredericksburg restaurants to open is Sage, "founded by a group of friends in a collaborative effort focusing on location, design, food, and wine."
The website for this New American restaurant piqued my interest as it described the "moody atmosphere and sultry ambiance" of the dining room.
Walking inside, there's a lovely lounge with leather chairs and dark wood-paneled walls to your right, opposite the small bar.
I fell in love with the dining room at first site, from the light fixtures to the heavy wooden tables and inlaid animal skins on the walls.
I also looked at their large outdoor patio, with a water fountain and outdoor fireplace, the perfect place for a romantic date.
An equally incredible menu matched the thoughtfully-designed spaces. The Cream Corn Brulee was the ideal accompaniment for the fresh-basked bread provided.
The Smoked Pork Chop with pork belly crumble, apple sauerkraut, black garlic jus, and marble potatoes was one of the best main courses I've eaten in Texas.
And Kel and I shared a memorable Gateau Opera with peach compote and sage brown butter ice cream for dessert. Sage is my new favorite spot in town.
Sage Restaurant and Lounge, 241 E Austin St, Fredericksburg, TX, sage-tx.com
3. Otto's German Bistro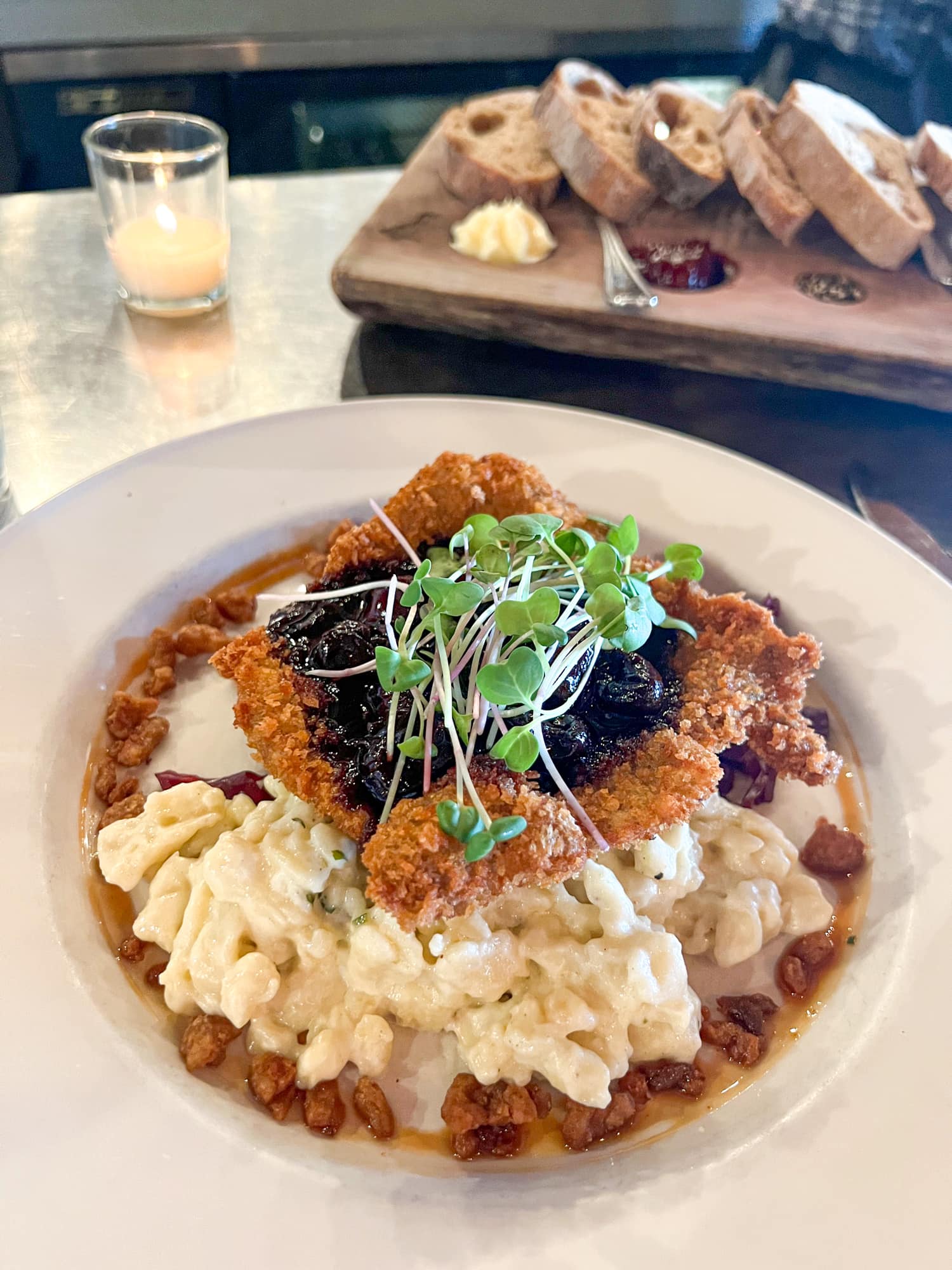 Fredericksburg was founded in 1846 by German immigrants, and their influence on the food culture is still evident today.
Otto's is one of the best restaurants in historic downtown Fredericksburg, TX, for farm-to-table German cuisine.
Kel and I arrived at about 5:15 p.m. and were able to be seated at the bar right away.
Not too long ago, Trey Blocker, founder of Salvation Spirits, met his future VP of Operations, mixologist Sean Lemaster, here.
We'd just come from a lengthy happy hour at The Speakeasy, so we skipped the cocktails and ordered dinner.
I got the foie gras with pickled strawberries and tomato confit, duck schnitzel with spätzle, and brandied cherries. Kel ordered the quail, and we shared a slice of the rich chocolate torte for dessert.
Otto's is super popular and takes limited reservations for their nightly dinner and Sunday brunch service. To avoid a wait, arrive early.
Otto's German Bistro, 316 E Austin St, Fredericksburg, TX, ottosfbg.com
4. Vaudeville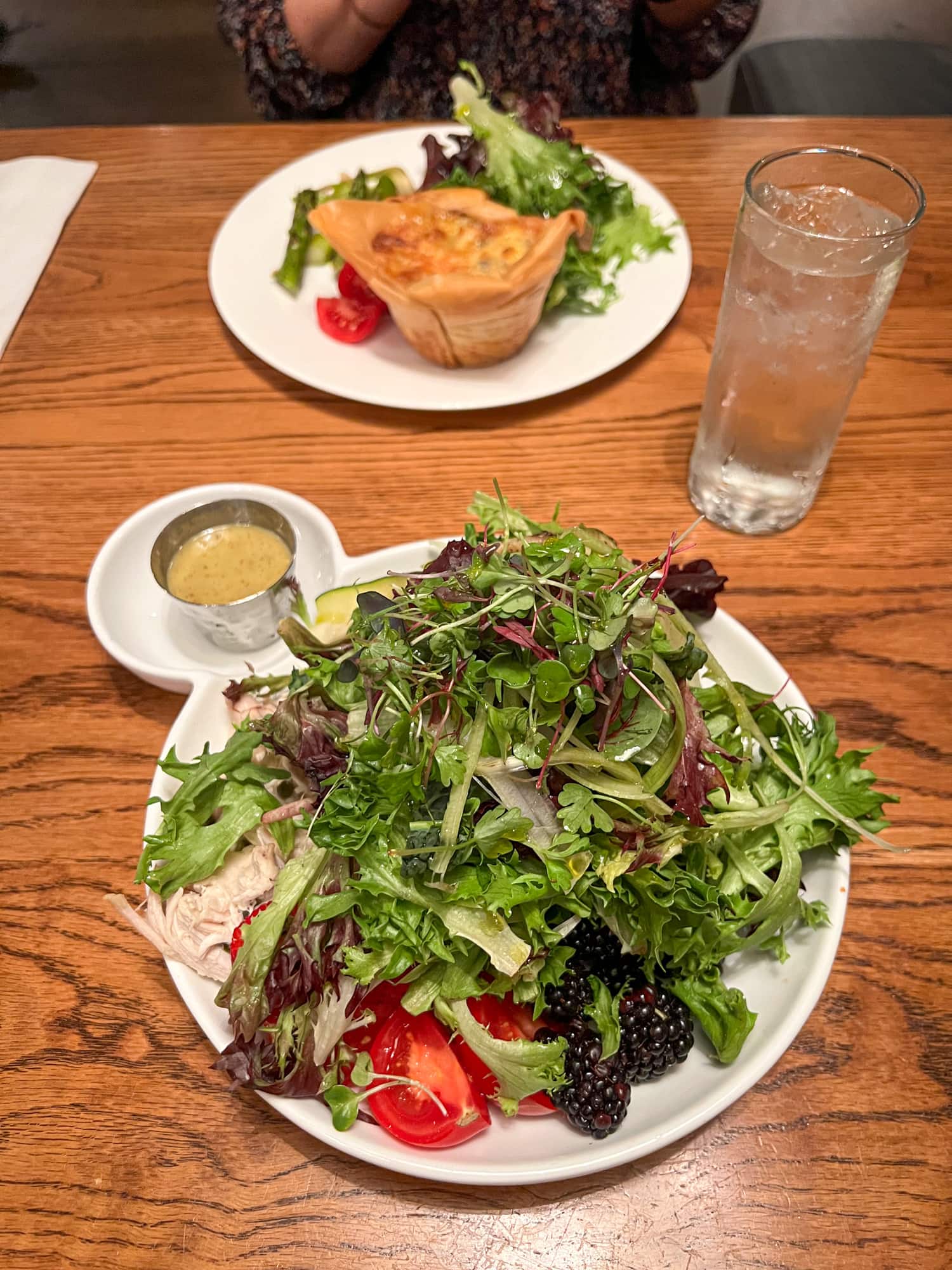 A block west of Otto's is Vaudeville, another of Fredericksburg's best restaurants. This chic basement bistro offers an intimate dining experience perfect for date night.
An a la carte lunch menu is available daily, and dinners are served on Friday and Saturday nights with the additional option of a 3-course prix-fix menu for $62.
Daily lunch specials include crawfish etouffee, lasagna Genovese, and buttermilk fried chicken. They also offer organic salads, sandwiches, and even caviar service.
Kel and I were number three in line to get a table when Vaudeville opened for Sunday brunch on our first visit to town.
I ordered the marinated chicken confit with seasonal fruit and balanced that out with a divine pistachio tiramisu and salted caramel cookie. Kel was happy with her quiche, served with asparagus and salad.
Dinner service includes entrees like a rack of lamb and wood-fired artisanal pizzas with toppings like black truffles, Moroccan spiced lamb, and Spanish chorizo.
Reservations are only available for parties of five or more, so if you're eating solo or with just one or two others, get there 15 minutes before they open.
Vaudeville, 230 E Main St, Fredericksburg, TX, vaudeville-living.com
5. Hill + Vine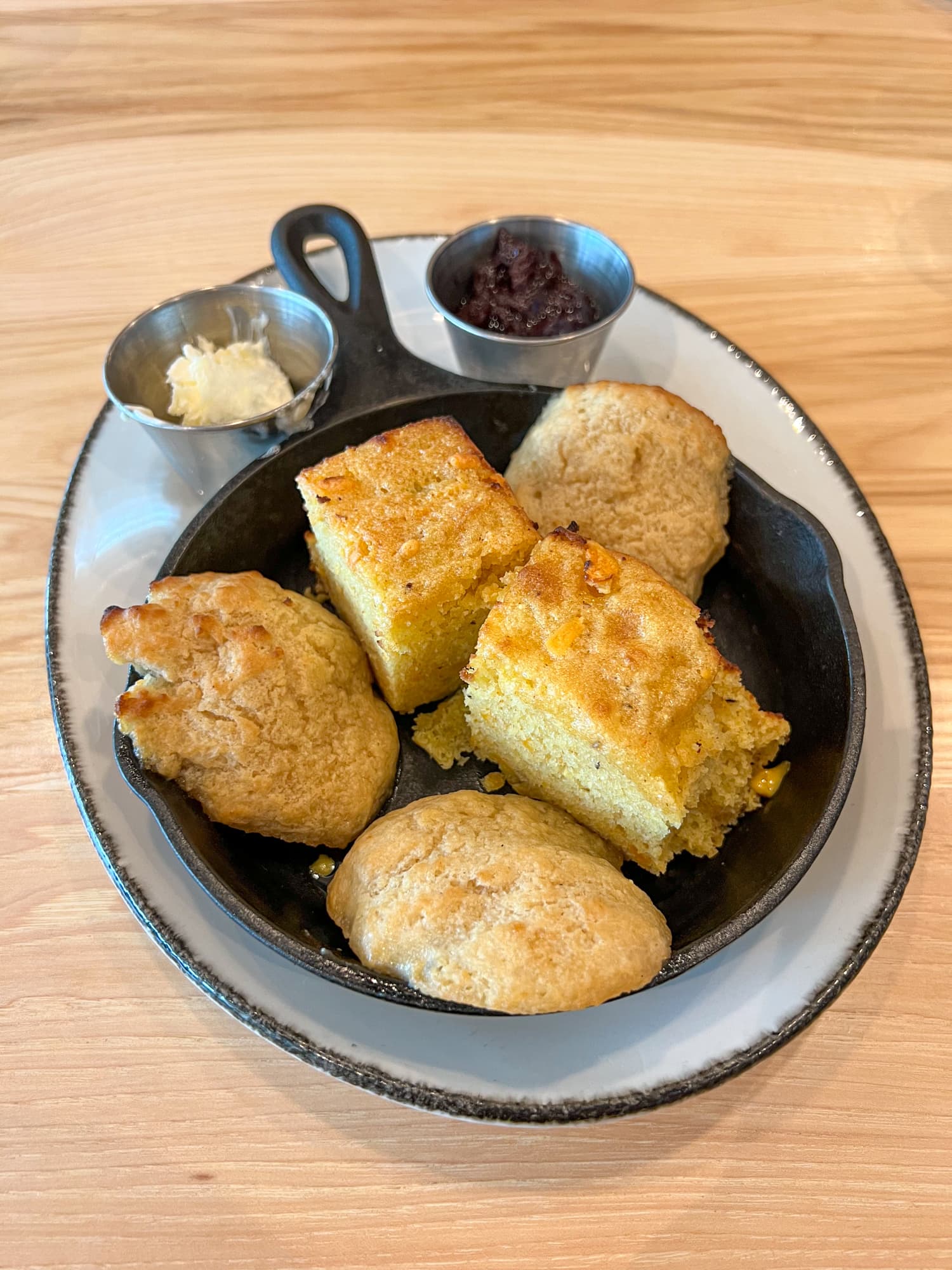 A few blocks west of Vaudeville is Hill + Vine, a restaurant recently remodeled and rebranded.
It's the only restaurant in Fredericksburg, TX, where you can order local wine and craft beers from a 1974 Volkswagen microbus turned bar while waiting for your table. This outdoor patio feature is aptly named "Das Bar Bus."
You can also enjoy live music in their courtyard on Thursdays, Fridays, and Saturdays.
Once seated inside this beautiful new restaurant, turn your attention to the Hill Country menu.
Signature dishes include smoked carnitas nachos, watermelon and green tomato salad, a Texas cheeseburger with locally-sourced wagyu beef, and chicken schnitzel.
Kel and I were there for their weekend brunch, so we began with the Texas Breadbox, including Shiner Bock beer bread (fantastic!) and jalapeno cornbread with local honey butter and berry jam.
We seriously considered the peachy pecan pancakes, seeing how peaches were in season, but ultimately gave the Texas Farm to Skillet a try.
This dish was made from two eggs (made to order) with cheddar cheese grits, sausage, and avocado. Presented in a cast-iron skillet, it was a little soupy but filling.
Hill + Vine doesn't take reservations; it's first come, first serve.
Hill + Vine, 210 S Adams St, Fredericksburg, TX, hillandvinetx.com
Related: Wine Tasting at Kuhlman Cellars
6. Eaker Barbecue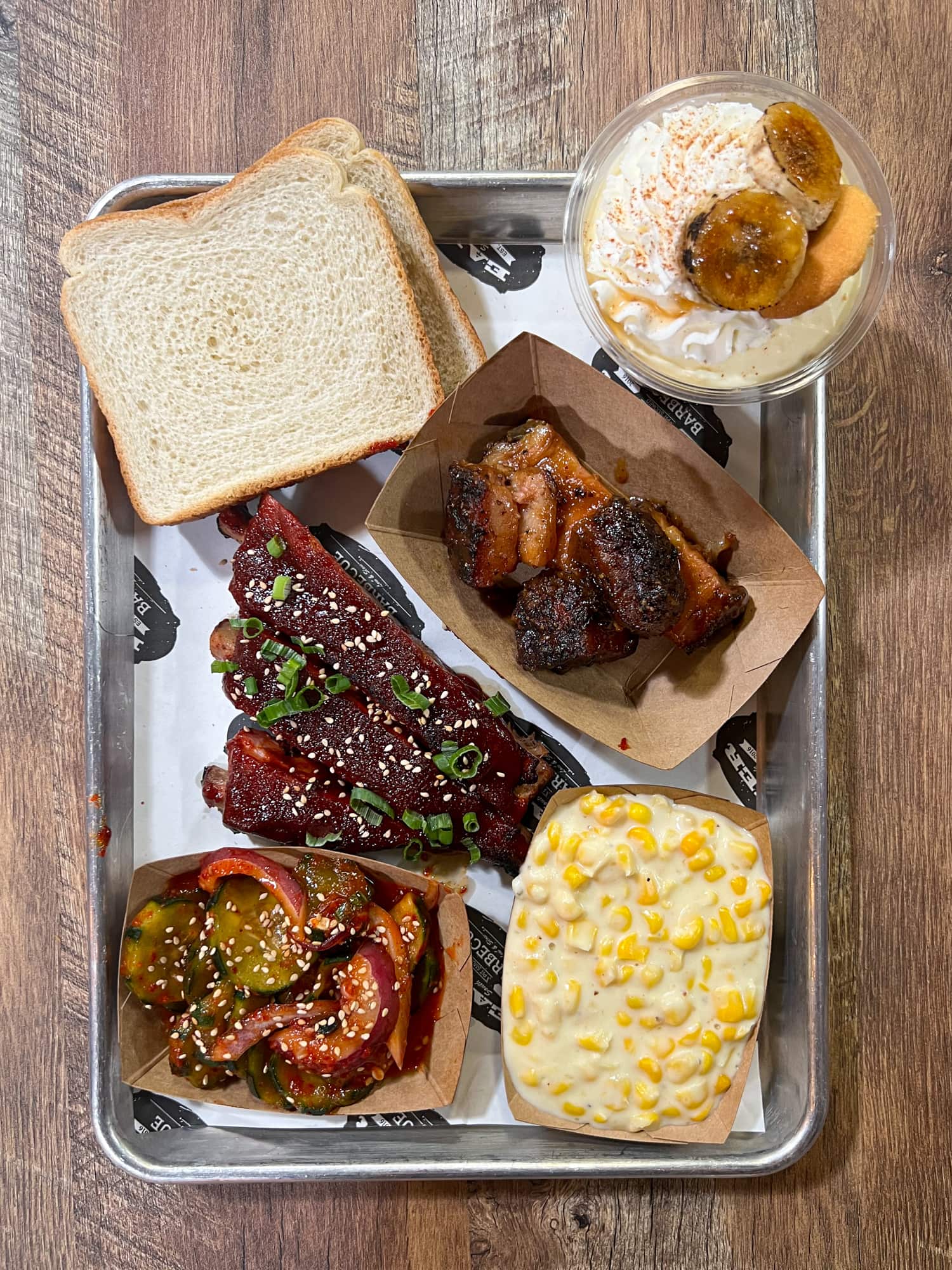 In 2018, Uvalde-born Lance Eaker and his Korean wife, Boo, began slinging "South Texas Style" barbecue from a food truck in Houston.
They began winning awards before moving to Hill Country in 2020 to open Eaker Barbecue, one of the best new restaurants in Fredericksburg, TX.
In 2021, Texas Monthly recognized the unique marriage of Texas BBQ with Korean cuisine, naming Eaker Barbecue one of Texas' top BBQ joints that year.
Kel and I stopped by for lunch, forgoing our usual order of brisket and beef ribs for spicy Gochujang ribs and peach bourbon-glazed pork belly burnt ends.
We got sides of creamed corn and Korean cucumber salad to accompany the meats. The boozy (bourbon) banana pudding would finish us off.
Kel commented that Eaker's pork belly was possibly the best she'd ever had. The melt-in-your-mouth bites of fatty goodness were indeed stellar.
Eaker Barbecue, 607 W Main St, Fredericksburg, TX, eakerbarbecue.com
Related: Best BBQ in Austin
7. Leroy's Tex Mex BBQ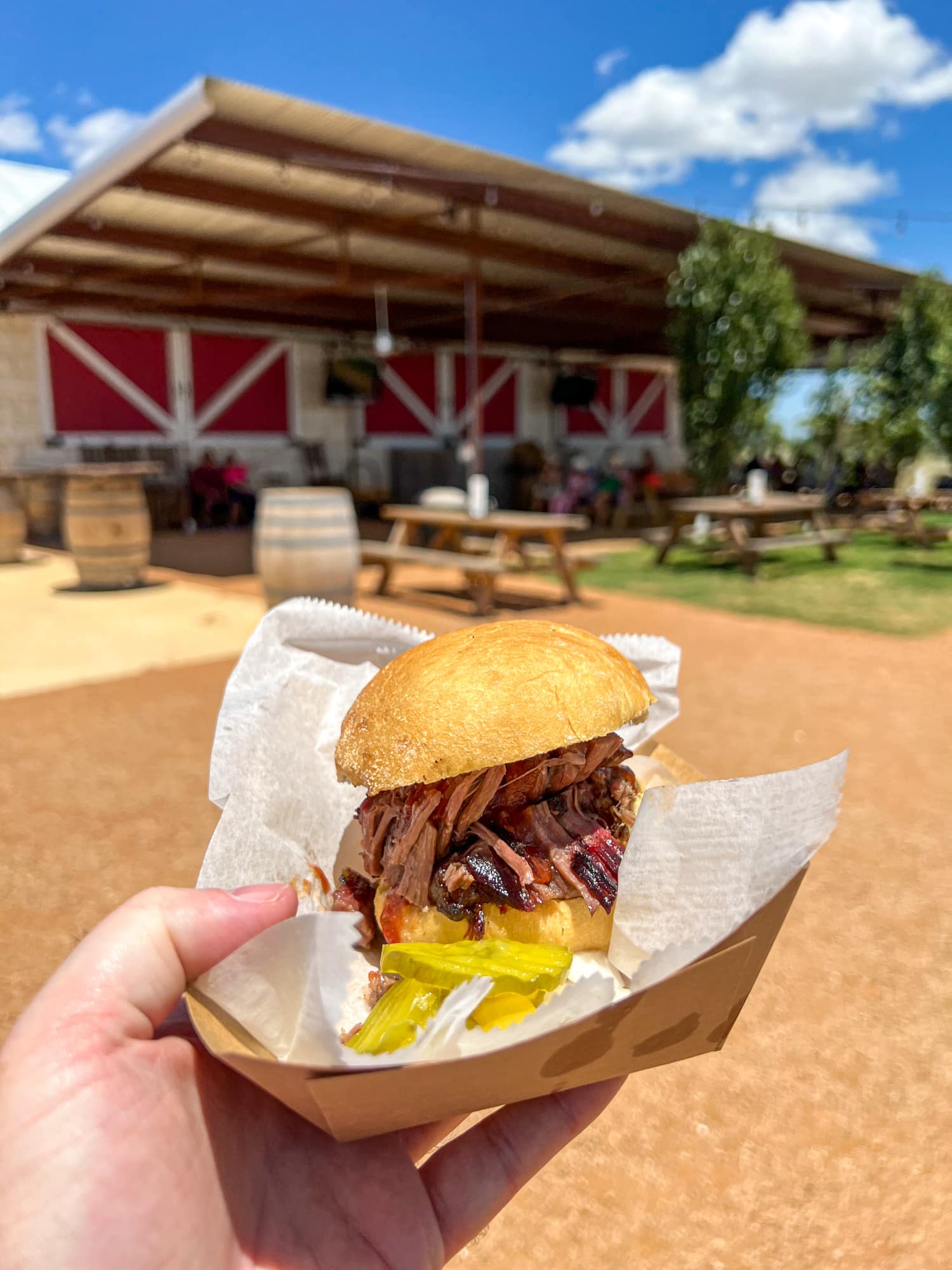 We discovered another new barbecue restaurant in Fredericksburg by happenstance.
Leroy's Tex Mex BBQ and Biergarten opened in 2021 at Jenschke Orchards, a popular spot for picking fresh fruit, including peaches, strawberries, and blackberries.
They serve breakfast, lunch, and dinner Wednesday through Sunday, plus a special Sunday brunch menu.
Breakfast from 7 a.m. to 11 a.m. features four plates:
Migas
Brisket chili and eggs
Huevos Rancheros
Guerro breakfast with eggs, avocado, and bacon or sausage
The giant $9 El Guerro taco is stuffed with sliced brisket, chorizo-infused refried beans, and a fried egg before being topped with queso and salsa.
The lunch and dinner menu features tacos, including brisket, pulled pork, pork belly, and chicken. A brisket burger is available Wednesdays only.
I went with the sliced mesquite-smoked brisket sandwich on a brioche bun, a hearty portion that will satisfy anyone's hunger.
I was too full to try the peach or strawberry cobbler, made with fresh fruit from the orchard, although I'm confident they'd be delicious.
Leroy's Tex Mex BBQ, 8381 US-290, Fredericksburg, TX, leroystexmexbbq.com
8. Chase's Place Cocktails + Kitchen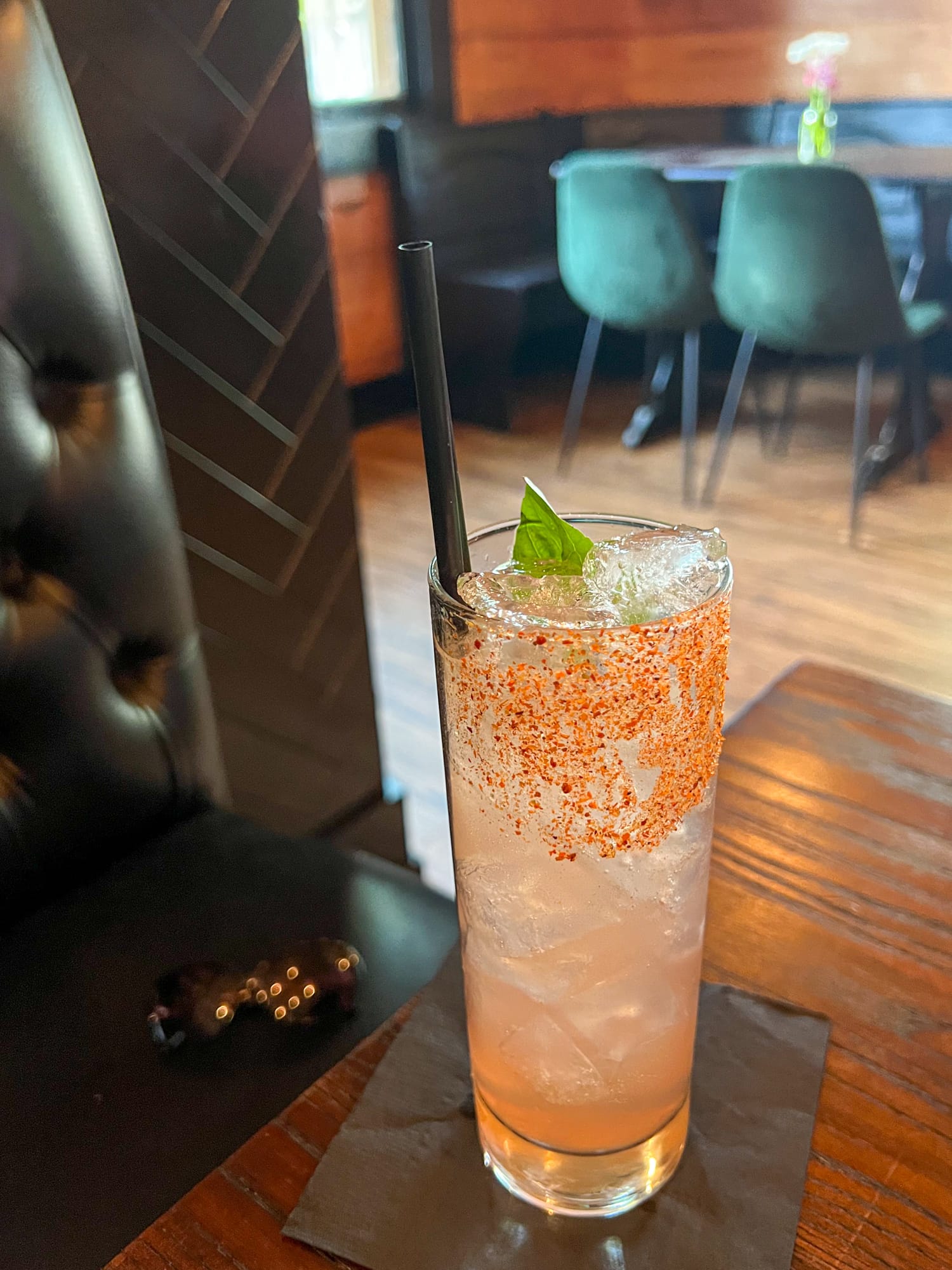 If you want to savor a craft cocktail with your meal, head to Chase's Place in a fully renovated house one block south of Main Street in Fredericksburg.
Chase opened his dream cocktail bar with his wife, Tara, in May 2020, a difficult time for anyone, let alone a new bar owner.
Nevertheless, they persisted and are now reaping the rewards of a business with two years under its belt.
Signature cocktails include the Woodstock Muel with Highway TX hemp seed vodka infused with Indica CBD flower and fresh ginger.
That felt a little too adventurous, but Kel and I were both on board for the Hill Country Spring with strawberry-infused vodka, perfect for cooling off at the day's end.
The dinner menu on any given day is small yet refined. Shareable snacks include lamb lollipops, shrimp ceviche, salads, pasta, and Chef's Plates.
On the night we were there, those included flank steak, Korean-style short rib, and the "Juicy Lucy" burger stuffed with melted cheese. We split what must be one of the best burgers in town and the side of French fries that comes with it.
Chase's Place, 313 E San Antonio St, Fredericksburg, TX, chasesplacecocktails.com
Related: Best Restaurants in Waco
9. Old German Bakery & Restaurant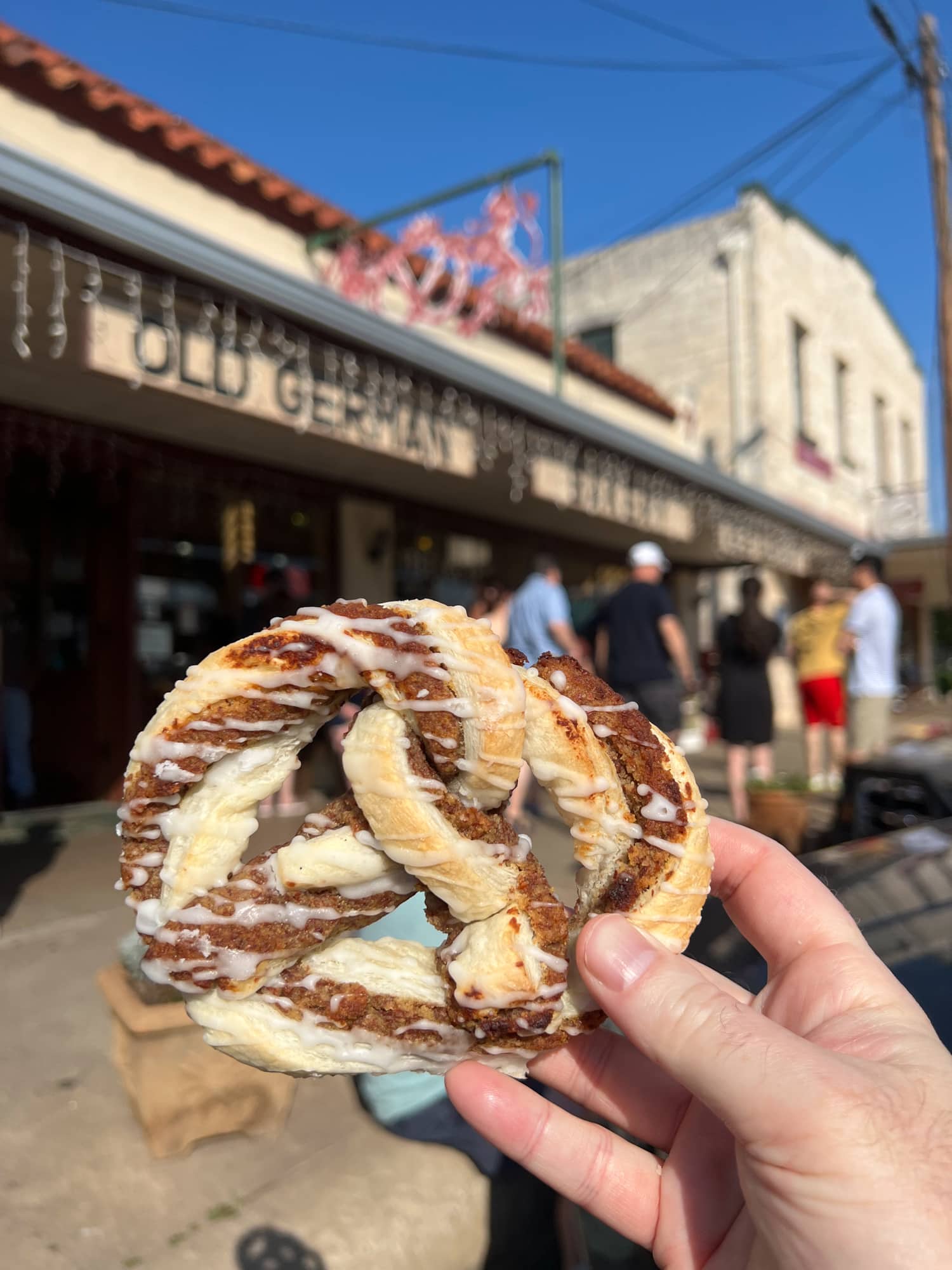 As we near the end of my list of the top places to eat in Fredericksburg, TX, we come to the Old Germany Bakery & Restaurant.
Everything at this 20-year-old, family-owned business is made from scratch using traditional German recipes.
The first time Kel and I stopped by at 9 a.m. on a Sunday, a dozen people were waiting for a table. Breakfast is served from 7 a.m. to 11 a.m., Friday through Tuesday.
Breakfast plates include Holstein schnitzel, a breaded pork cutlet with eggs and German pan-fries, and an applewood smoked pork chop.
Plus, there's a variety of omelets, German pancakes, and Nutella banana crepes.
Lunch begins at 11 a.m. and offers a further sample of authentic German cuisine, including schnitzels, sausages, and American favorites like country-fried steak, a Reuben sandwich, and grilled cheese.
Since Kel and I were excited to continue exploring the city, we grabbed a peach Danish and sweet German pretzel to-go.
On a future trip, we arrived earlier in the morning and enjoyed a sit-down breakfast. I tried the German pancake, which is similar to a crepe.
Old German Bakery & Restaurant, 225 W Main St, Fredericksburg, TX, oldgermanbakeryandrestaurant.com
10. August E's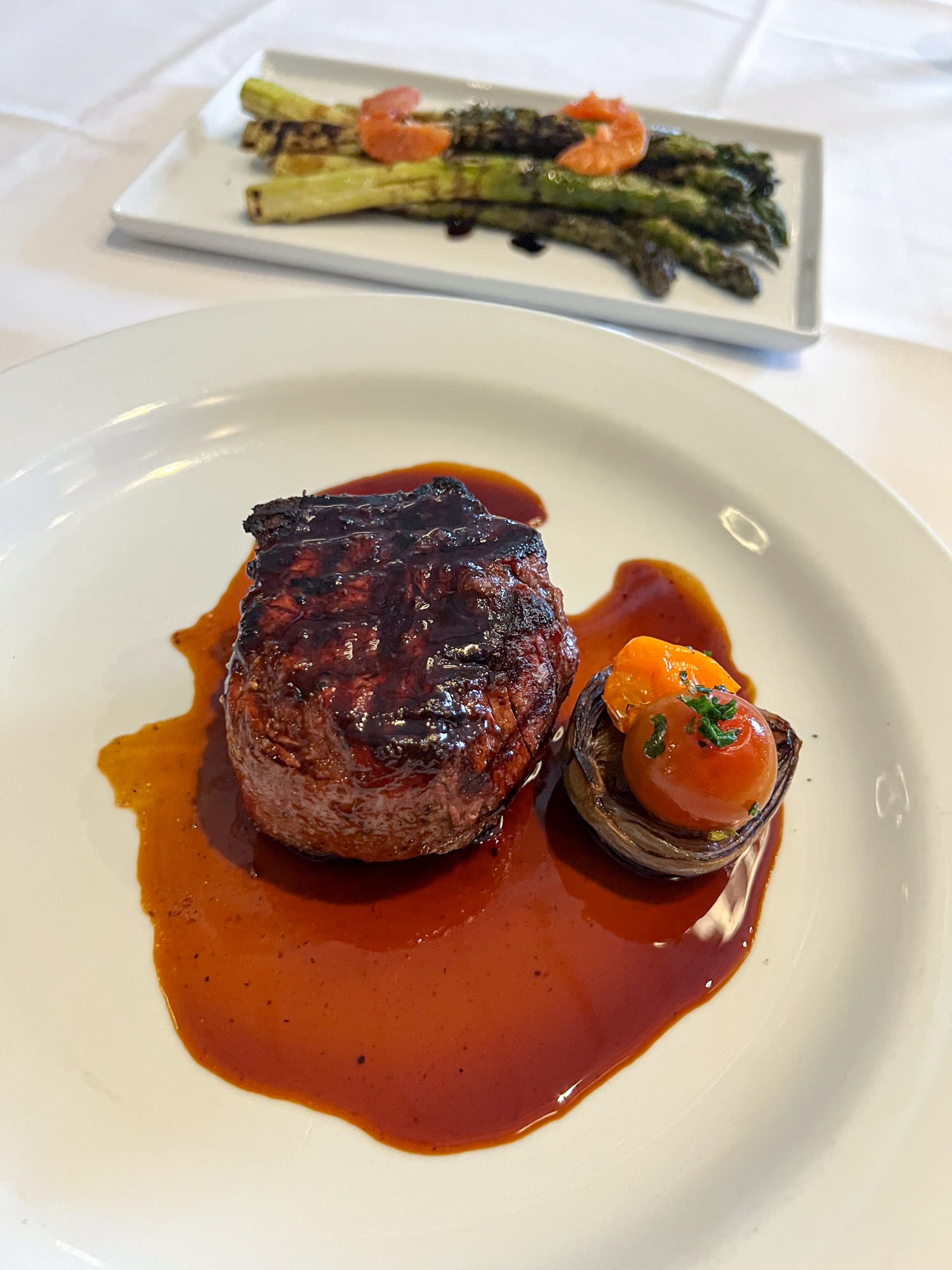 In a small town with few fine dining restaurants, August E's has served fine steaks and seafood since 2004.
Inside, you'll find a full bar with craft cocktails, a large open dining room with white tablecloths, and a 300-label wine list.
The dinner menu offers classic American cuisine made with local and seasonal ingredients.
Kel and I shared bacon-wrapped dates with sausage and pomegranate molasses to start.
Our appetizer was followed by a 10-ounce filet mignon with bordelaise sauce from 44 Farms and espresso cheesecake for dessert.
Other menu highlights include a signature lump crab cake with coconut curry, wood-grilled bone marrow, potato leek soup with coffee braised short rib, Chilean seabass, and a Wild Game Mixed Grill with deer, quail, and wild boar.
August E's, 203 E San Antonio St, Fredericksburg, TX, august-es-fbg.com
Emma + Ollie
Permanently closed as of January 2023. I'm leaving this entry as a reminder of the delicious food we had there.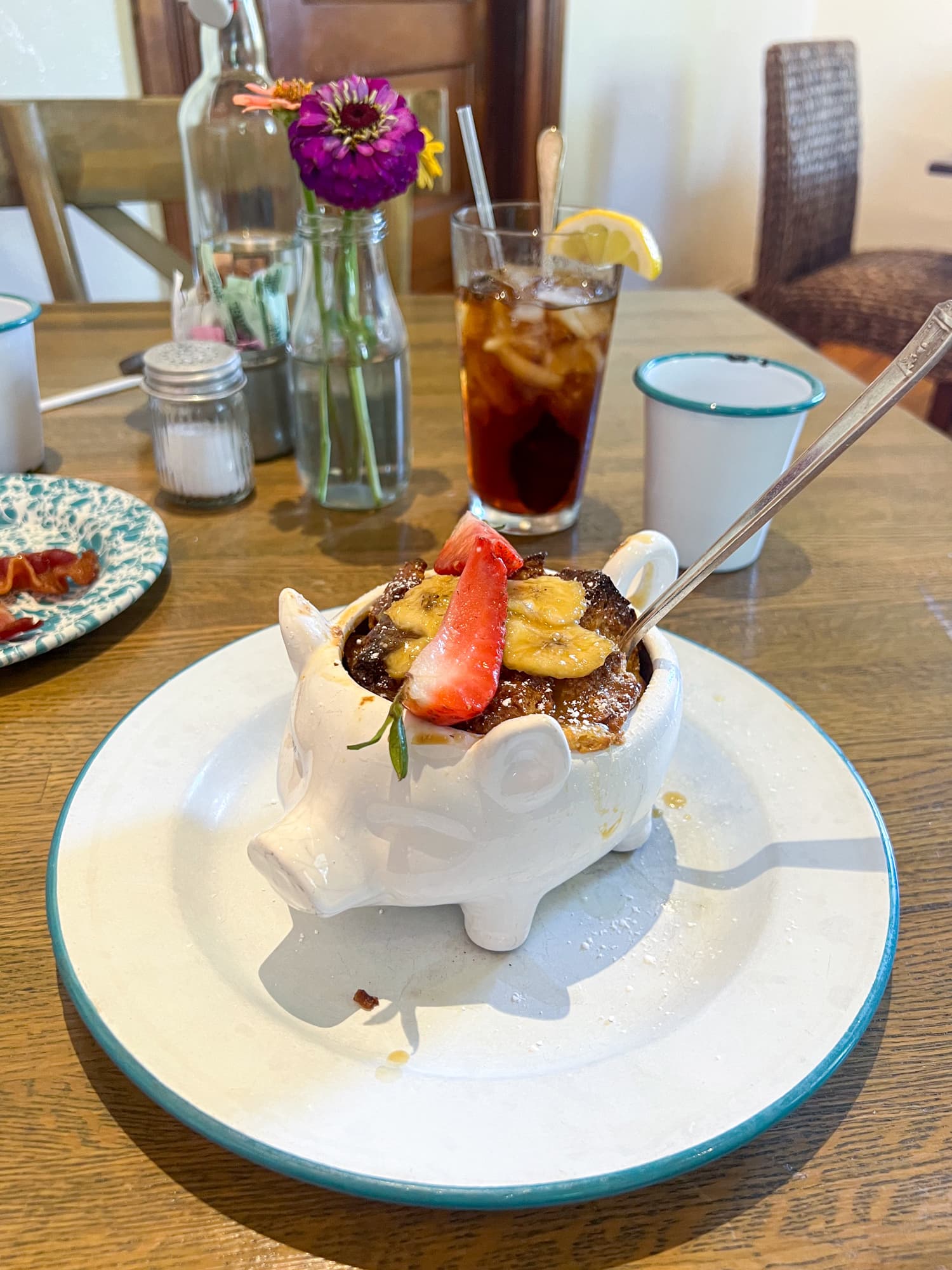 Upon arriving in Fredericksburg for the first time, I drove straight to Emma + Ollie on South Washington Street, a farm-to-table bakery and restaurant by Rebecca Rather.
It was 11:30 a.m. on a Saturday, so there was a 30-minute wait to be seated for one of the best breakfasts in town; a display case full of pastries helped tide us over.
Kel and I skipped the signature cinnamon roll for a fresh-baked fruit and cream cheese kolache. Rather sources ingredients locally, according to what's in season.
Once seated at our table inside one of the small dining rooms, I debated what to have for brunch. Chef Rather aims to offer comfort food like one's grandma used to make in a casual dining atmosphere.
Tomato toast with bacon jam, avocado toast with an over-easy egg, and eggs Benedict all sounded appealing. But, the bananas Foster bread pudding with fresh berries most captured my attention.
It arrived fresh from the oven, piping hot in a cute white ceramic pig.
***
As you can see, there's no shortage of good food in the Fredericksburg area of Texas Hill Country.
It's a great place to get away for a weekend, whether traveling solo, as a couple, with friends, or with children.
Culinary adventures await those willing to go out on a limb, and there are plenty of salads, comfort food, and Texas barbecue if you don't.